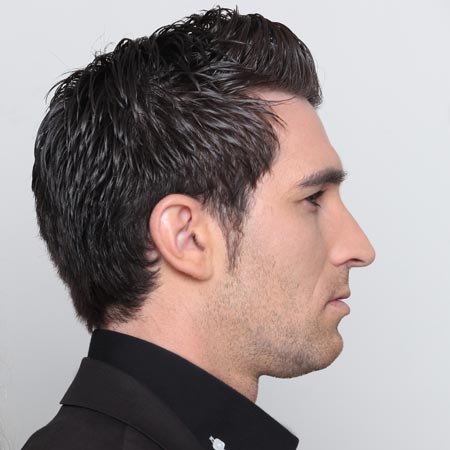 Short spiky haircuts for men 2013 are a classic as well as a go to look for 2013. Seen on stars like Ben Affleck, Won Bin, and Josh Duhamel, this short hairstyle for men is professional but can also be styled to party. The short spiky haircut is under an inch long around the sides and back but retains length on top. You can concentrating longer hair around the forehead or all the way along the crown if you want to the option to style a faux hawk. Both options can be slicked back as well.
After the haircut, there are 2 keys to getting this look right. First, if you're not wearing a button up shirt, be sure to get dressed before styling hair. Otherwise, your hair and shirt will suffer. Second, is to apply your hair product of choice correctly. A pomade or wax will work for fine to thick hair. Before applying product to hair, emulsify it by rubbing it quickly between palms. This will ensure even distribution throughout hair. Finally, when smoothing product through hair, don't use too much or work it all the way down to the roots. This will result weigh hair down and result in a flat and greasy hair, the opposite of the look you're going for.
Email Me Cool New Hairstyles!