All in all, 2013 was an excellent year for men's fashion and hairstyles, and one that will stand the test of time. Even the trend conscious Justin Timberlake won't regret this year's slicked back hair with beard combination, unlike some of his previous style choices, like cornrows or the infamous denim suit.
Based on your searches, the top men's hairstyles of 2013 were:
Looking forward to 2014, there will be new additions to this roster while some favorites will remain. Hair trends, especially for men, don't move lightening fast so if you have a great look, there's no need to immediately change.
The first three of these are hairstyles that can be styled out of the same long on top, short back and sides haircut. This is a great choice for the guy who likes to be first on the trends as well as wear different styles. Next, we have an update on the undercut and the last 2014 men's hair trend is a versatile short haircut than can also be worn various ways.
1. Slicked back hair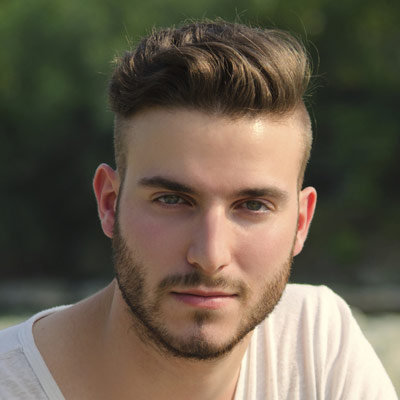 One of the top looks of 2013 is still going strong in the new year. Slick hair has been the most popular look for models, celebrities, and hipsters all over. If you have an undercut, comb hair straight back, on the diagonal, or across. Without an undercut, style hair with a defined part deep one side, combing hair in the opposite direction.
One notable change to the usual slick hair is an increase in height. This is a must for thick  hair but can also can be styled with medium hair. These products for thick hair will work for every hair type except fine.
2. Soft Slick Hair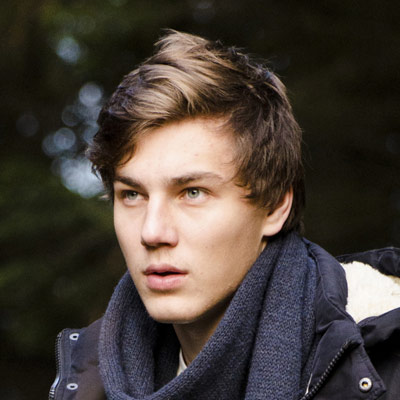 Another direction that the slick hair look is taking is keeping the form and subtracting the slick. It's the same hairstyle styled with a matte or clay product, like TIGI Bed Head Men Matte Separation Wax or Baxter of California Clay Pomade. Going with the softer look, this isn't meant to be as formal or keep every hair in place so it can be worn tousled or messy.
3. Forward Fringe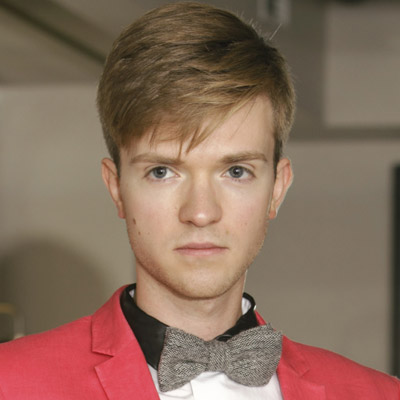 Fashion can swing like a pendulum, from one extreme to another. The polar opposite of slick hair is wearing medium hair loose and down over the forehead. This is on trend with the slowly emerging 90s comeback. This isn't little Macauley Culkin bangs but instead have modern and adult texture and form. For added edge, wear hair at the back, or all of it, messy in an updated version of that old favorite, bed head.
4. Undercut Fade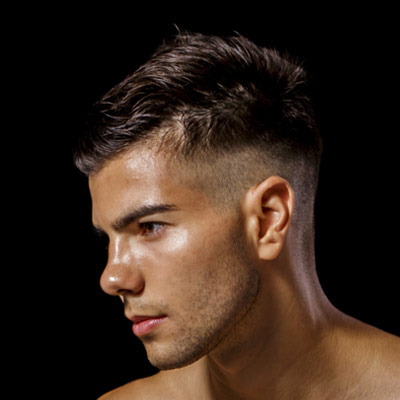 The shaved sides of the undercut are getting an update for 2014. Rather than shaving hair and leaving just the top long, this version shaves hair about 2″ from the hair line all around. It can be a dramatic contrast like above or a more gentle fade into the hairline. This is a clean cut look that can be paired with any hairstyle of your choice. It also grows out easily when you're ready to make a change.
5. Long Crew Cut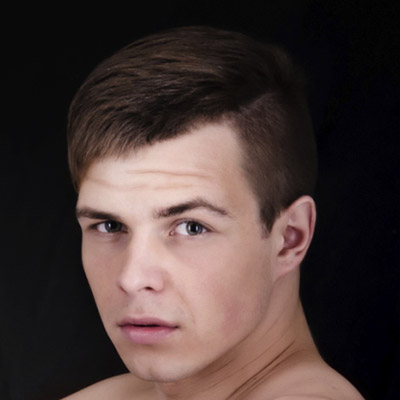 This is a cool version of the military-inspired crewcut with Caesar bangs worn longer. Defined lines, bold angles, and unique hairstyles are worn with undercut sides. For a punk-inspired look, get hair cut on an angle. This cool short haircut for men can be styled several different ways. This short but versatile cut can be worn it down, messy, slick, or spiked.
Want more great trends and tips?  Check out our "Men's Guide To Great Hair".
Part 1: How to talk to your barber or stylist to get a great haircut.
Part 2: Haircuts and Face Shape