Classic men's hairstyles are making a comeback because they look as good today as they did in the past. Slick styles, pompadours, and loose fringe are all here again. Now many of these styles are worn with other flattering features like undercuts and fades at the sides or matte product and textured styling on top.
Check out these pictures that show how modern barbering is bringing back all the best cuts but with a fresh update. These classic men's hairstyles with a modern twist combine the best of the past with the latest trends.
20. Clean Skin Fade + Slicked Back Hairstyle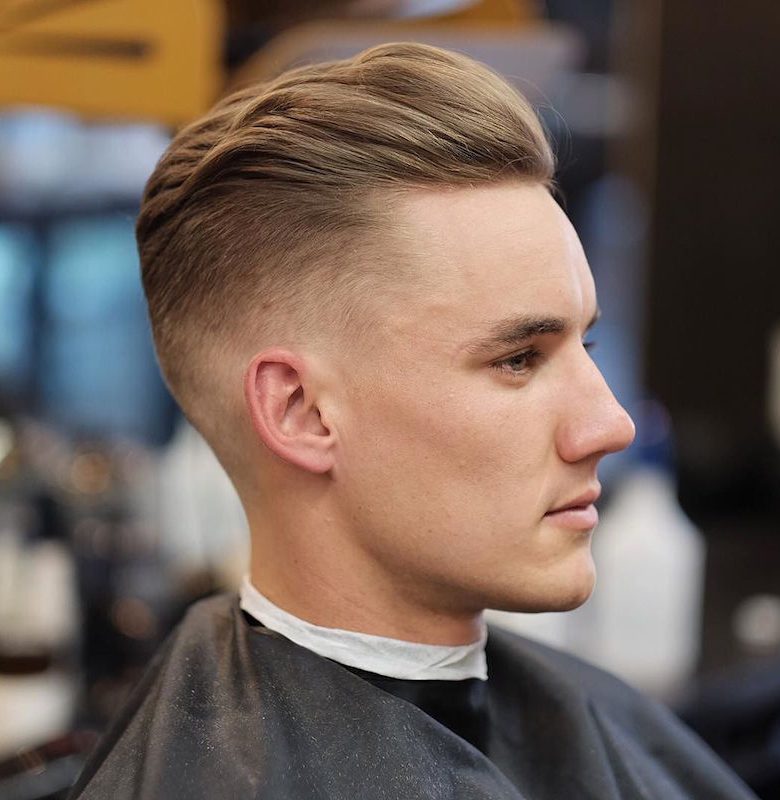 Haircut by Ben "Sugar" Kane
This is one of the most popular haircuts right now, replacing the previous long hair with undercut. Instead of the disconnect hairstyle that has no transition between short and long, this cut tapers down from short hair to even shorter.
Instead of the ubiquitous combover hair worn with shiny product, hair is brushed back with some texture. It's not quite a pompadour but a matte slick style with a modern edge.
19. Medium Length Hairstyle Scissor Cut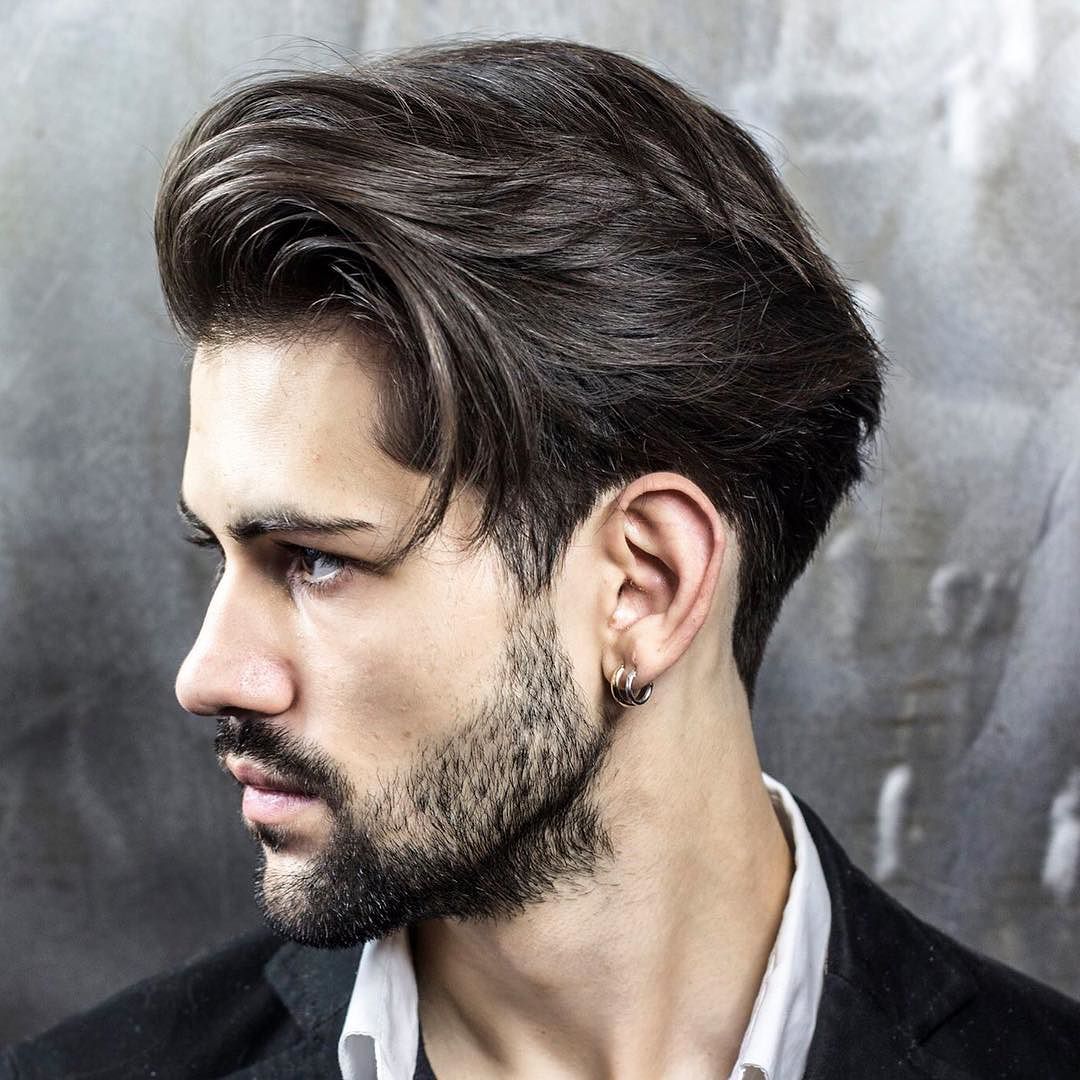 Haircut by Braid Barbers
One of the directions men's hair is going is longer on top with messier styles. This classic medium length men's hairstyle could be styled slick like Errol Flynn. Instead this style amps up the sex appeal by taking the swashbuckler's famous waves to the next level.
While hair is still groomed back, long hair on top is left in loose waves that add volume all over and curl into a touch of fringe at one side.
18. Long Hair On Top + Short Sides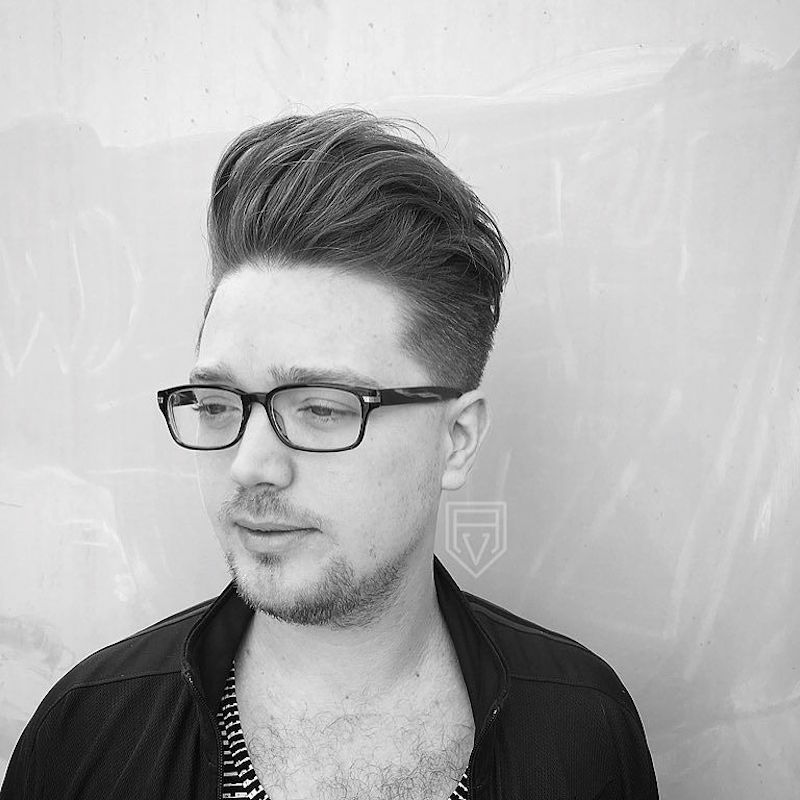 Haircut by Arya Varji
This classic long on top, short sides and back haircut is styled vintage with a modern twist. A version of the ever popular pomp, instead of slick this version is worn matte. It is also teased up for maximum height.
17. Bald Fade Undercut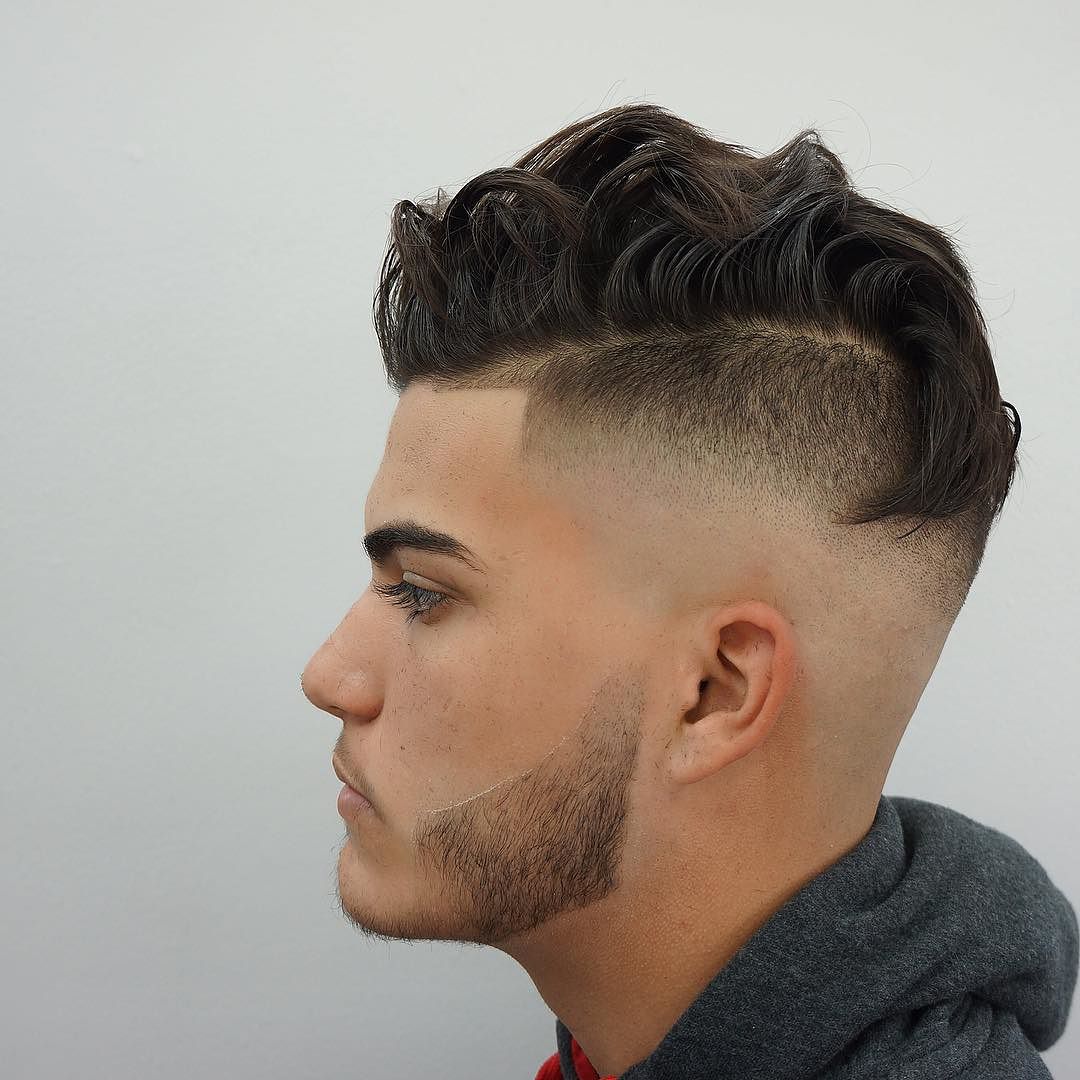 Haircut by criztofferson
In the nineties, music was all about loud soft loud. Now, men's hair is all about short-long short. This cool cut does just that with long hair on top and an angled skin fade at the sides. Hair is styled with wavy texture up top for effortless messy cool.
16. Long Fringe Swept Back
Haircut by Harry Karolis
If long hair up top is good, longer hair can be even better. This cool cut and style is a fresh version of the slick back. Sides are ultra clean cut with a low drop fade that just tapers hair short along the hairline. Hair up top is combed back but with some added wave.
15. High Pomp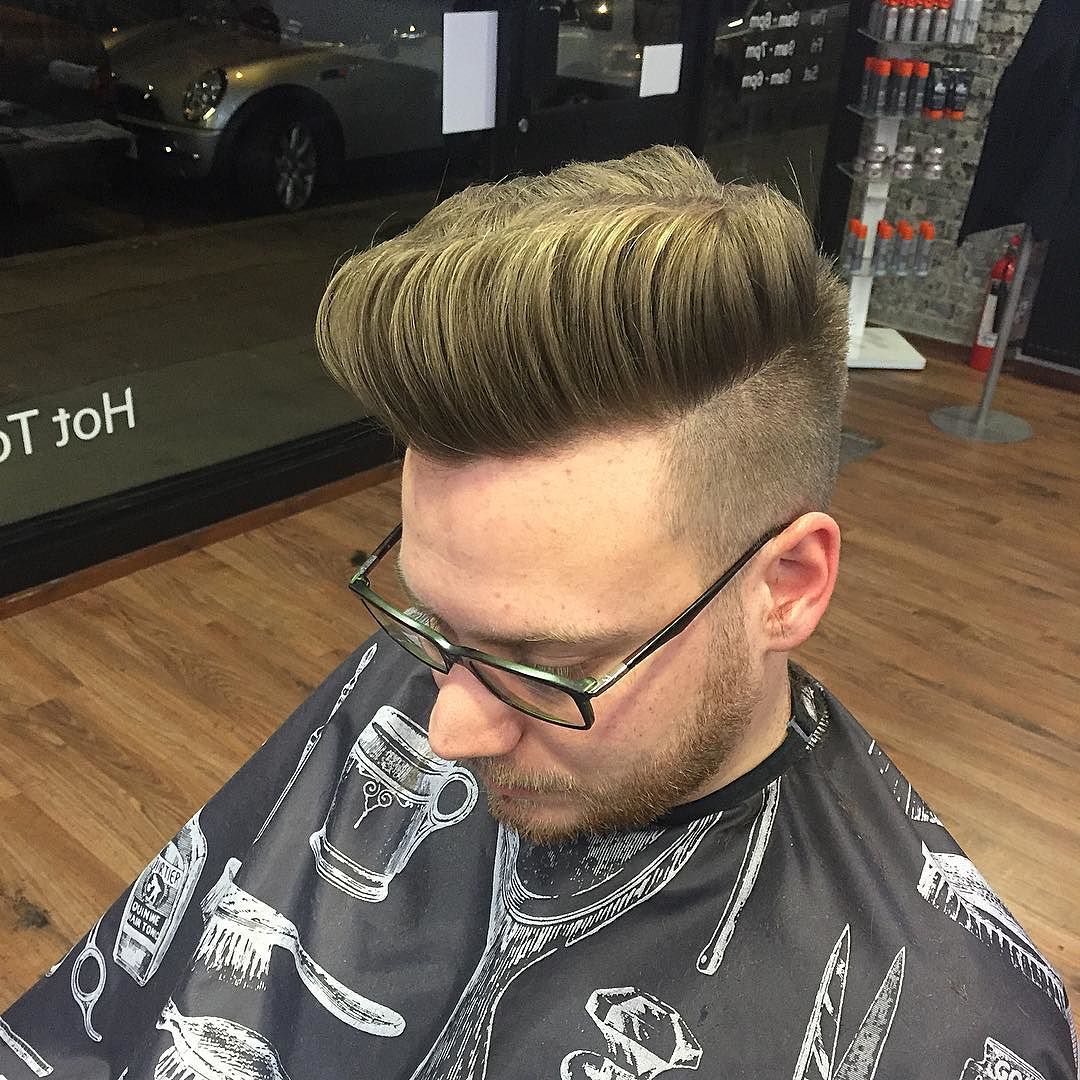 Haircut by Harry Karolis
Another direction men's hair is going is up. This pomp makes the most of thick hair by styling it vertically for a veritable wall of hair.
14. Huge Pompadour With a Twist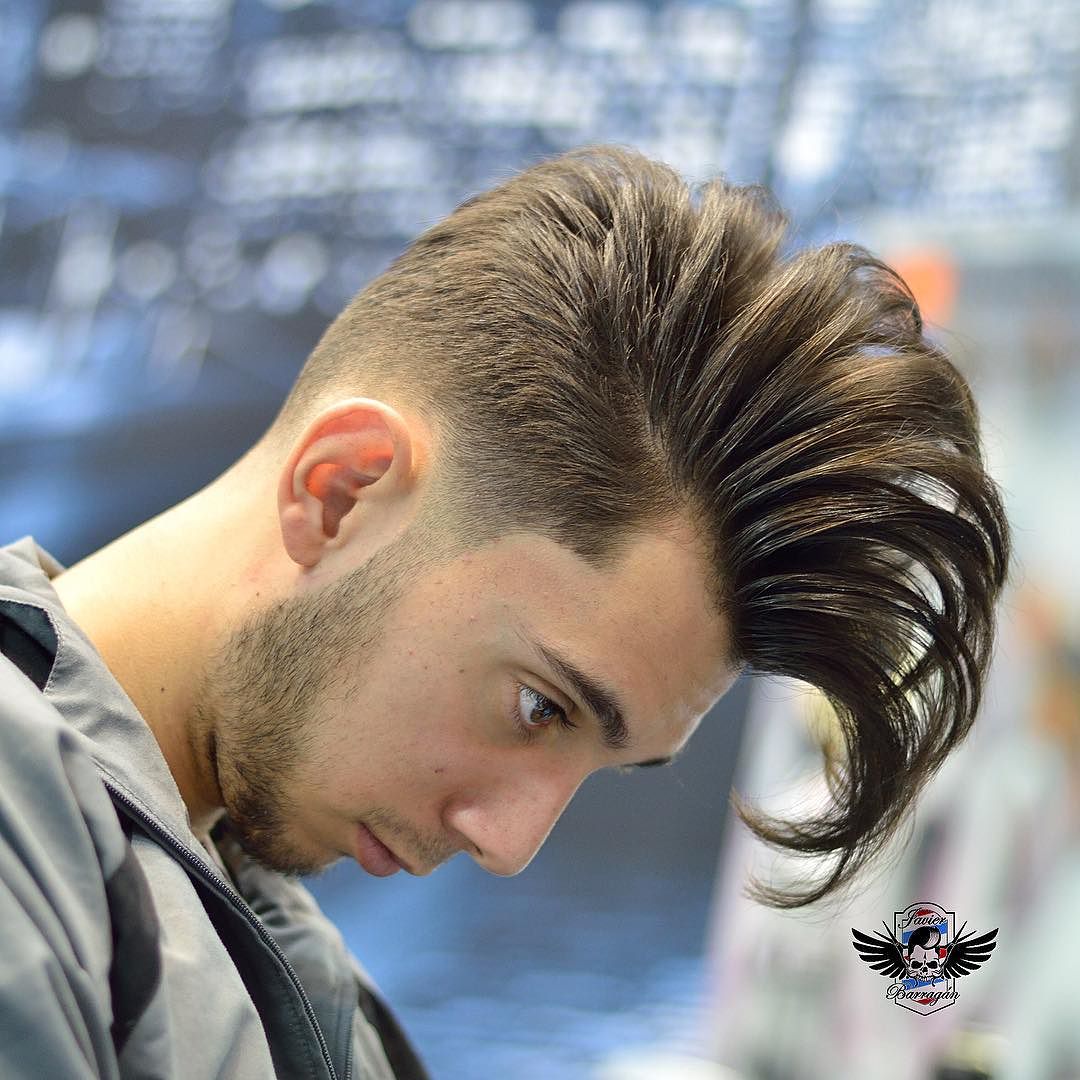 Haircut by Javier
Taking hair even higher, this unique style is a pomp on one side and a totally different beast on the other. On the pomp side, hair is parted and worked across to create this vertical wave of hair. Maybe not an everyday look for most guys but this pomp with a twist will set you apart from the crowd.
13. Rockabilly Wave + Skin Fade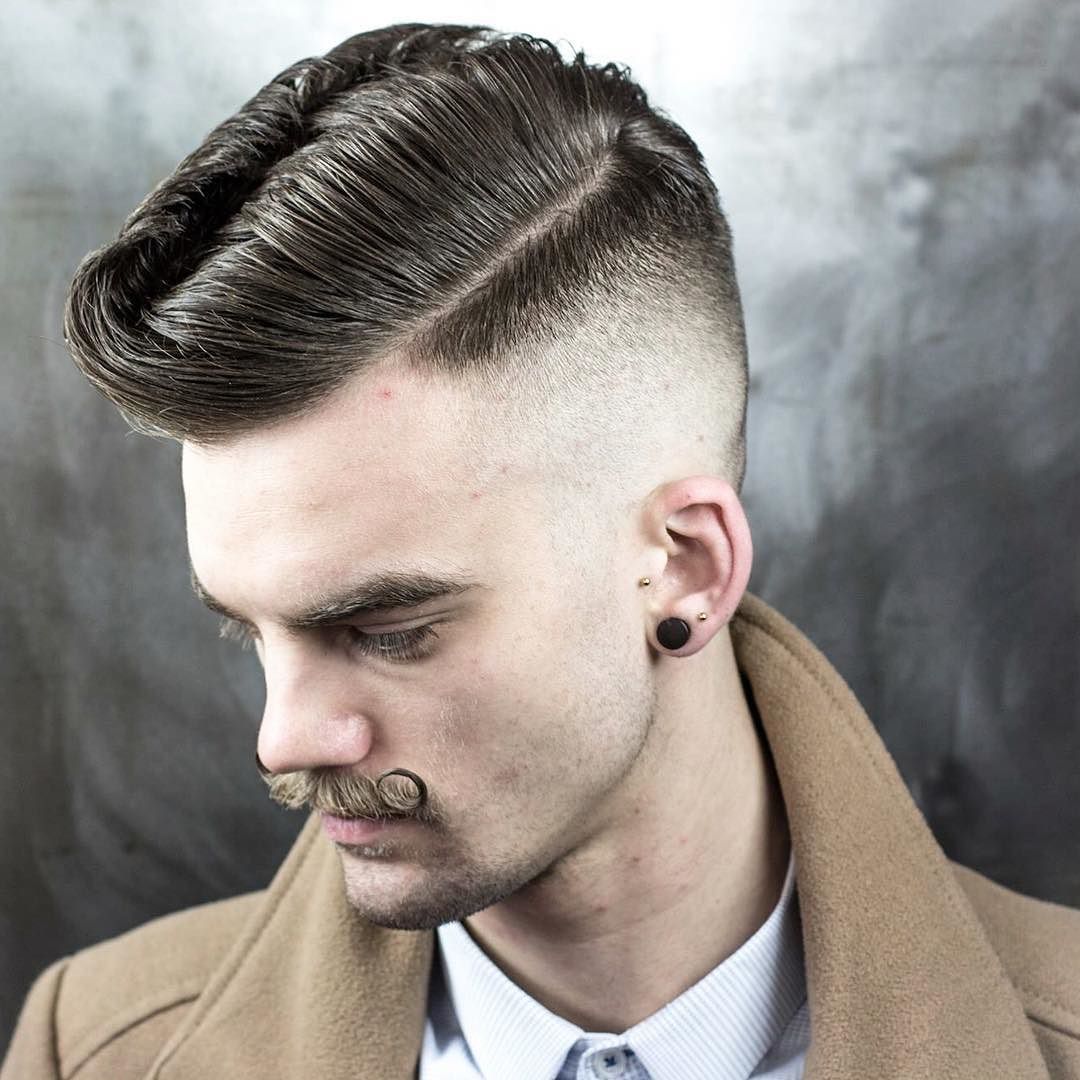 Haircut by Braid Barbers
Inspired by greaser styles, this is a fresh take literally creates a wave on top. Keeping in with the era, it is styled with the one and only Layrite Super Hold Pomade.
12. Natural Medium Length Hair

Haircut by Jody Taylor
Model Gwilym Pugh is rocking an enviable mane and beard in a vibrant titian red. Growing out a skin fade, the sides still look clean cut. On top, stylist Jody Taylor added a medium product for texture and movement that still has a natural, touchable finish.
A cool update on last year's hot beard and slick back hair, this softer version is equally as stylish.
11. High Pomp with Burst Fade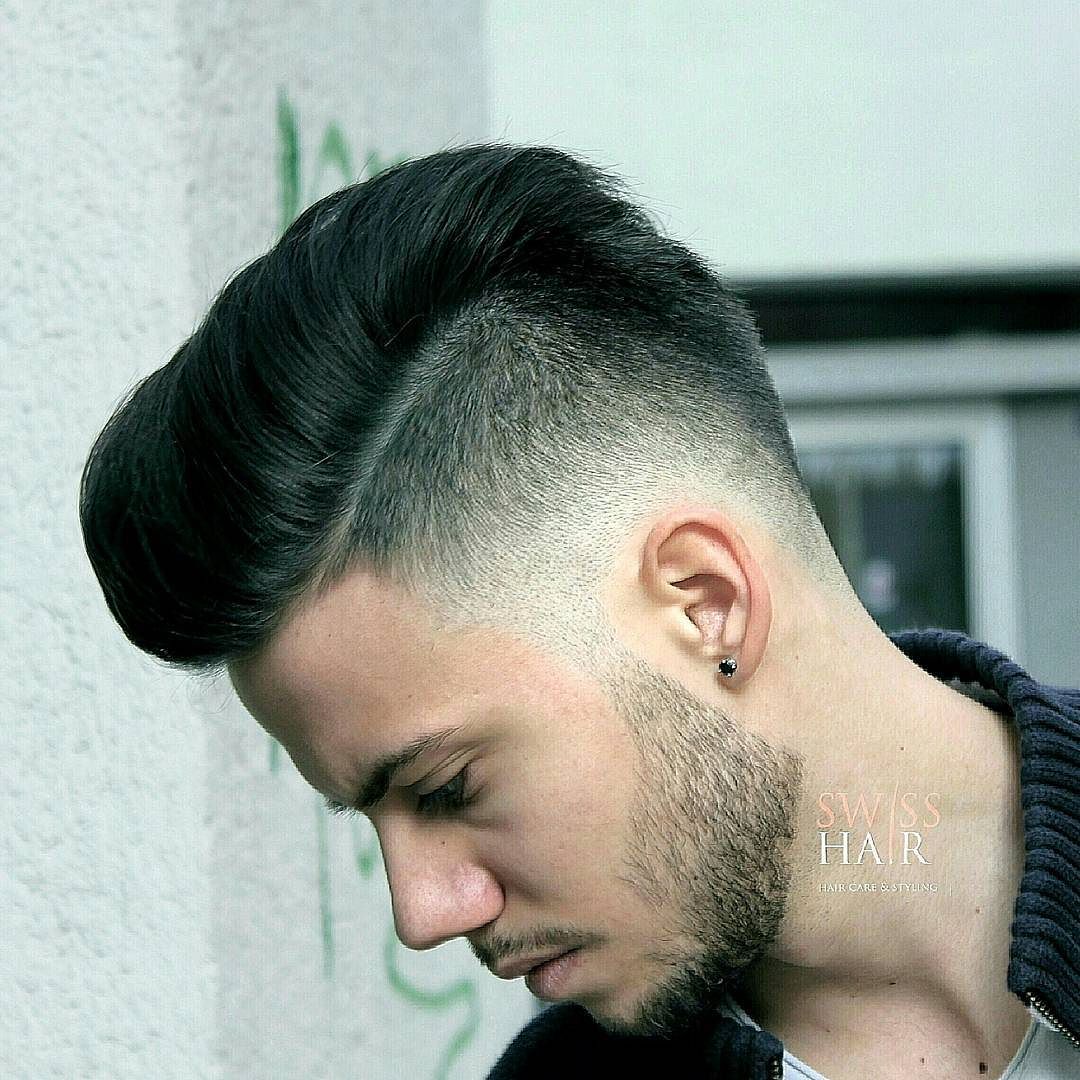 Haircut by Zainal
There are different ways to rock a fade so keep that in mind when asking for one. This temple fade cuts hair down to the skin behind the ears only, emphasizing how thick hair is everywhere else. On top hair is combed up and back with an ultra smooth finish. Use a blow dryer and just a little bit of product to get this look.
10. The Classic Men's Hairstyle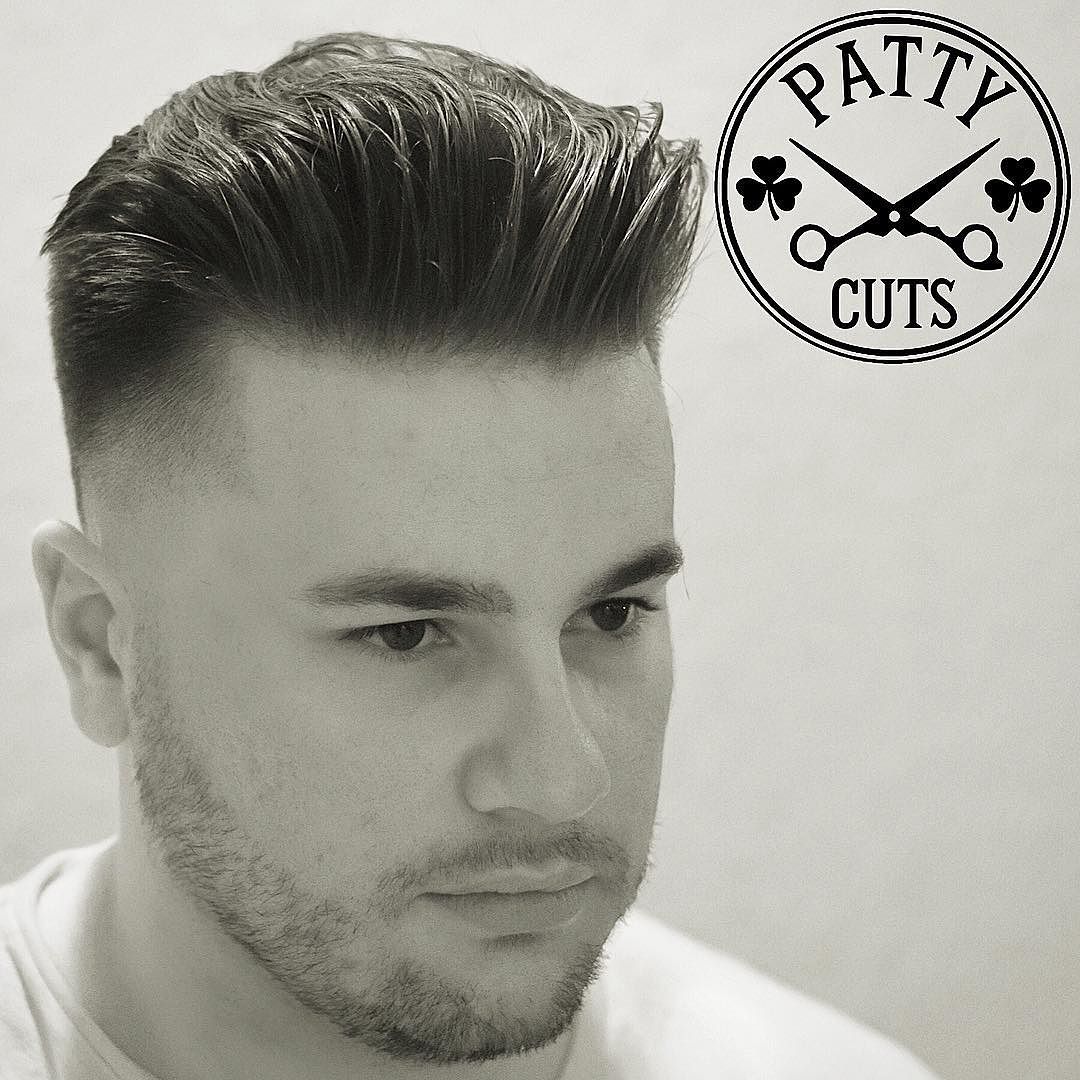 Haircut by Pat Regan
One of the absolutely classic men's hairstyles, this slick look with height works for preppy, hipster, rockabilly styles and even more. A burst fade will keep things fresh and cool looking.
9. Dry Slick Back + Hair Design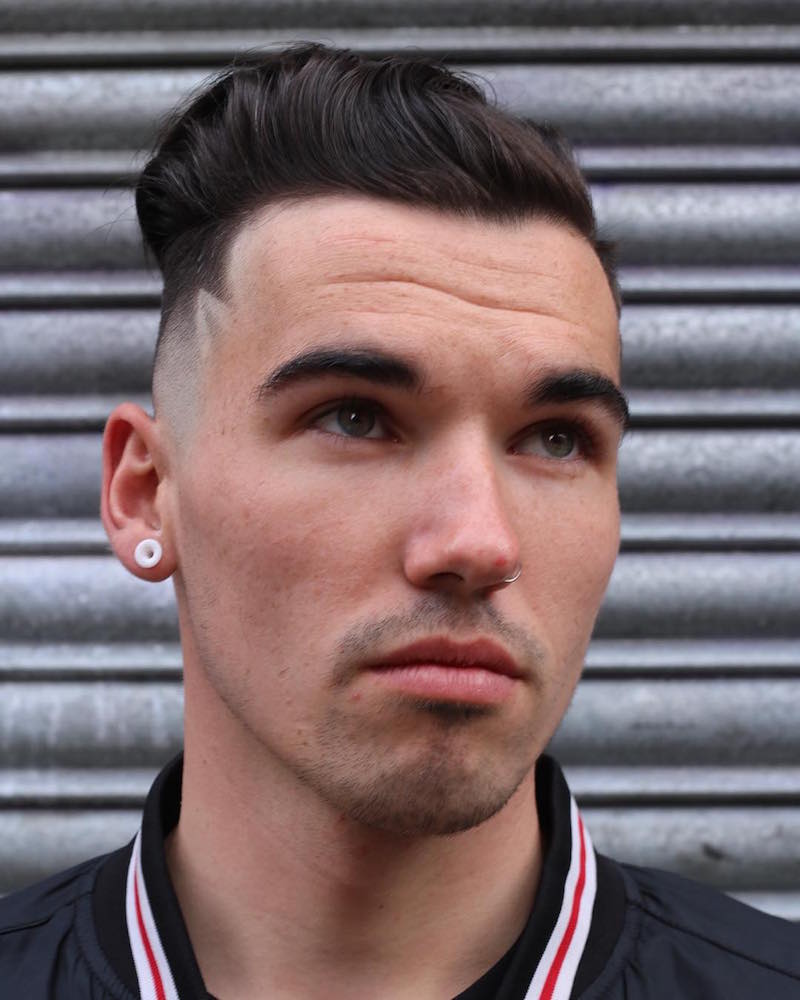 Haircut by Talitha Maddison
Another cool dry slick back with some curl and texture, the sides of this cut features a unique finishing touch. In addition to the skin fade, a shaved V at the temple adds a subtle yet effective hair design.
8. High Fade + Blow Dried Back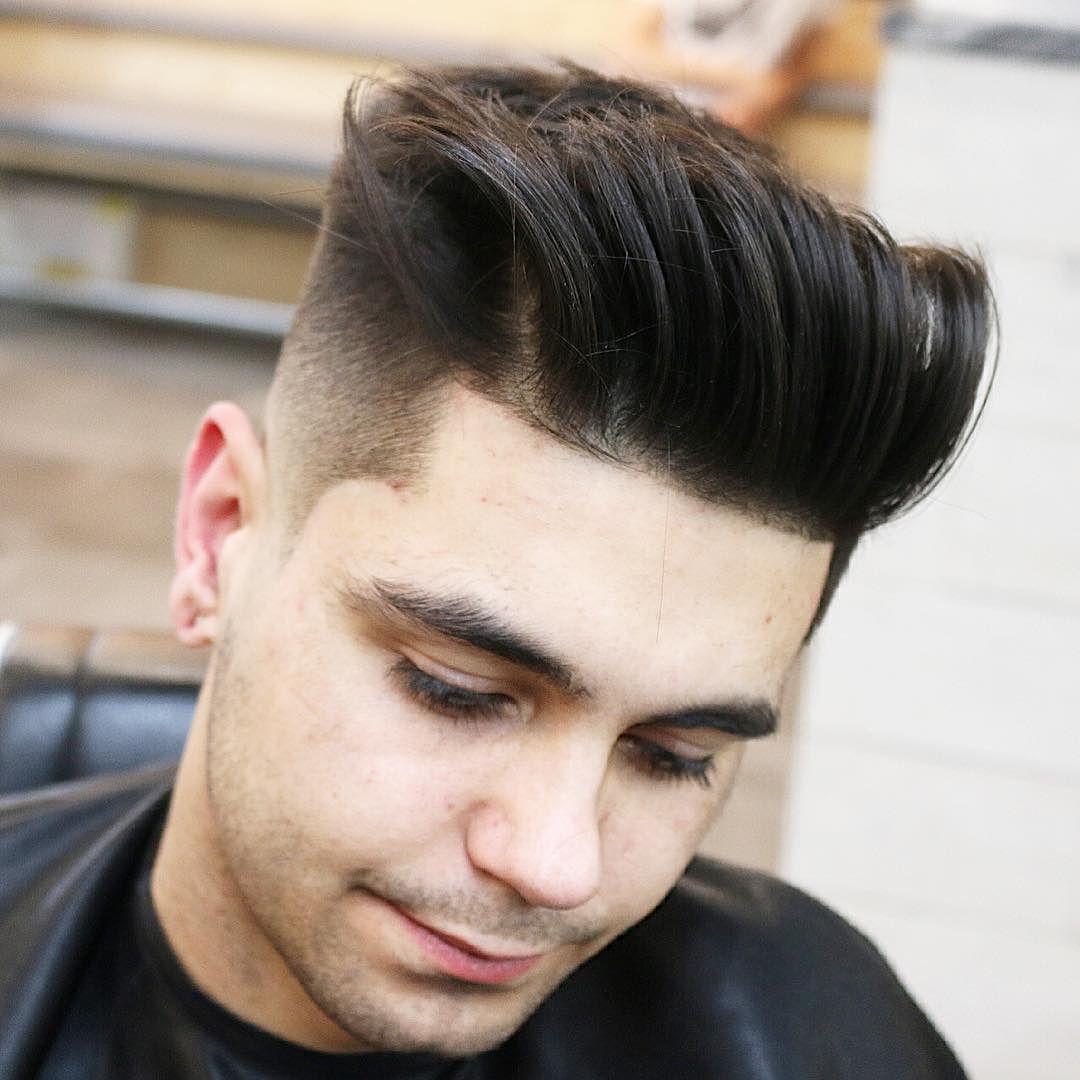 Haircut by Josh Lamonaca
An updated pomp, this 90s era style looks fresh again today. What sets this apart from the 1950s version is dry styling, curved ends and straight edges.
To get this look, have your barber or stylist show you how to handle a blow dryer. Just a few minutes of heat is all it takes to create this cool look.
7. Hard Part + Combover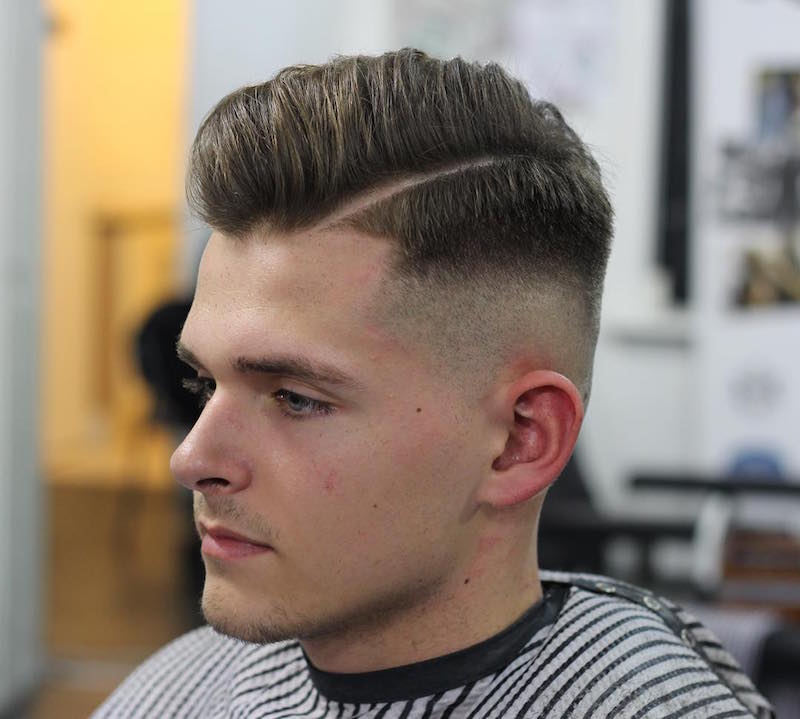 Haircut by Kieron The Barber Price
This classic cut has a few modern features. A lineup at the hairline and razor part add unexpected geometry. Instead of a cutting hair short below the part, hair is left almost an inch long with a high fade at the temples.
6. Mid Length Pompadour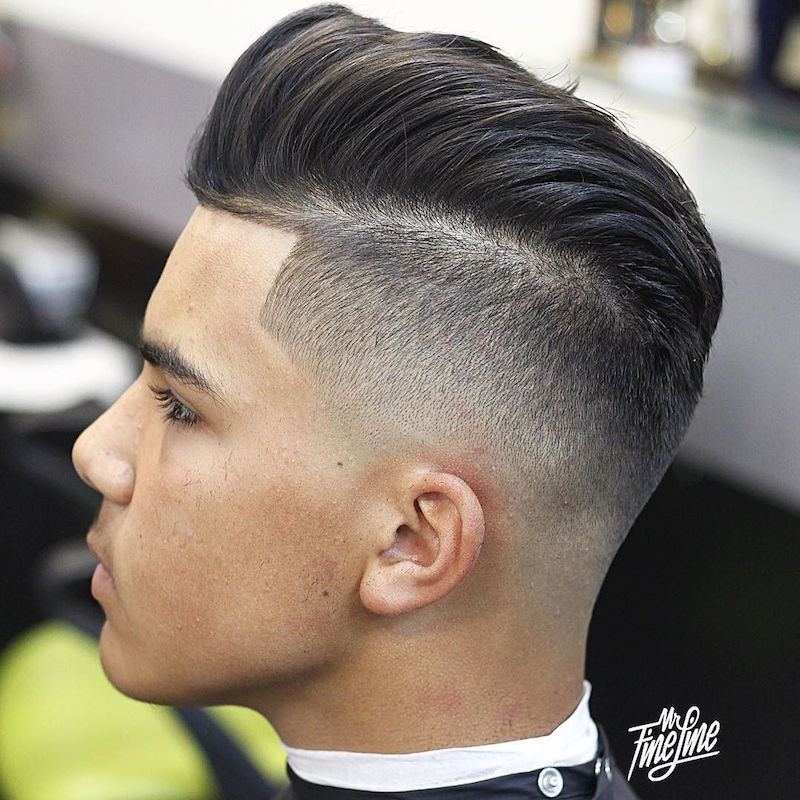 Haircut by John Delgado
This modern pomp is an ultra smooth look. Hair is almost vertical and the front and brushed back until it lies flat. Keeping with the clean cut style, a skin fade eliminates the hairline all around the neck.
5. Short Disconnected Pompadour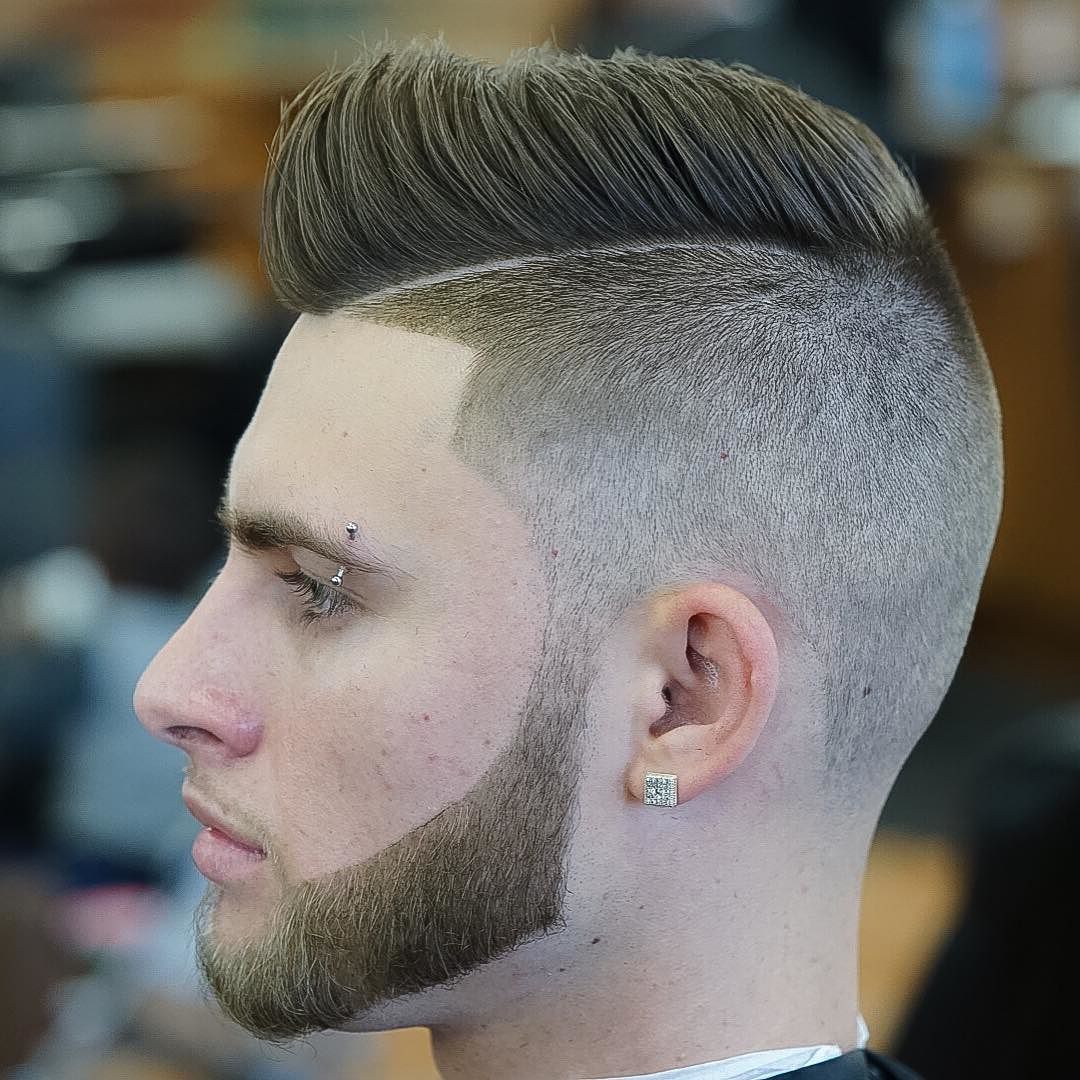 Haircut by Nick The Barber
This fresh cut shows that you can get plenty of height without needing lots of length. This disconnected haircut is about an inch and a half long on top and styled vertically for a modern pomp. A slight hard part is the only transition before a short undercut.
4. Skin Fade Blended With Longer Hair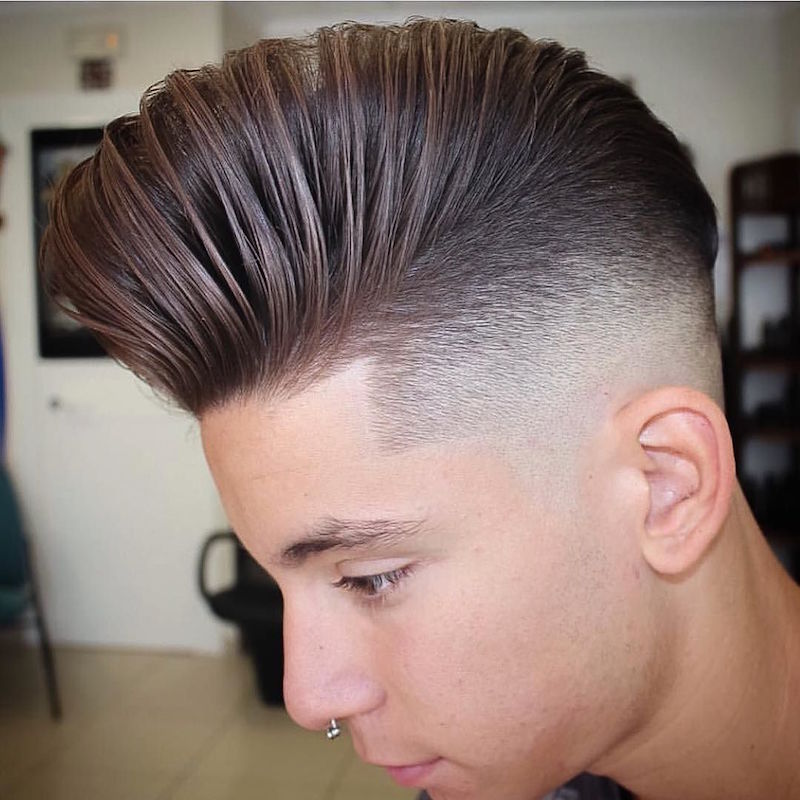 Haircut by Nick The Barber
This extreme pomp takes hair up extra high at the forehead with a perfect arc that meets the back of the head. A skin fade extends straight back from the temples, emphasizing the height up top.
3. Wet + Dry Slicked Hairstyle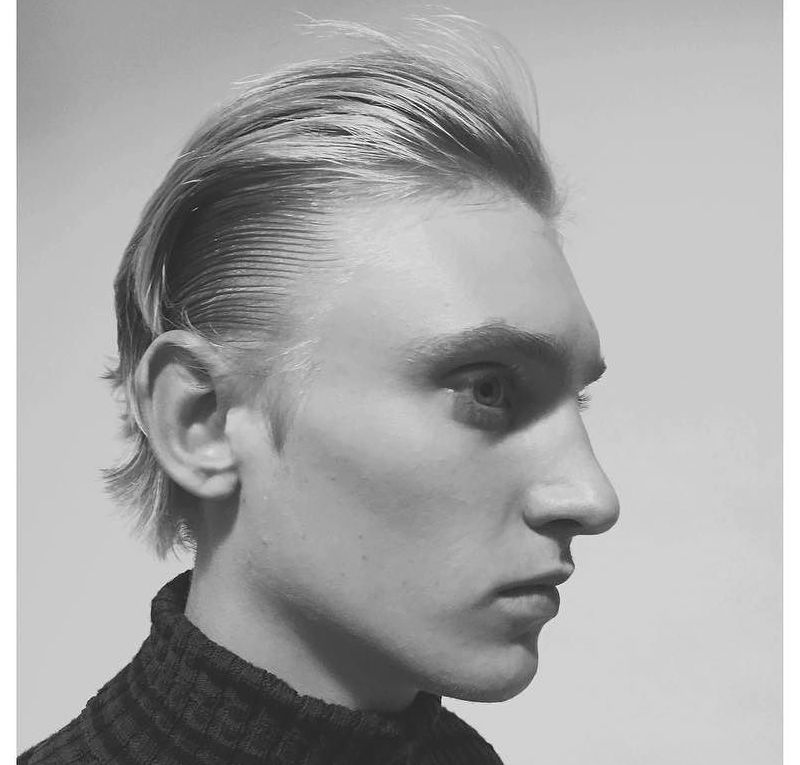 Haircut by Jody Taylor
This wet and dry combination is a fresh take on the old slick hair. Hair up top is combed back with minimal product. The something different is sides slicked back with visible product and comb lines. The model styling might work better for everyday by being slick or matte all over but all in all a cool new silhouette based on an old classic.
2. Undercut + Long Fringe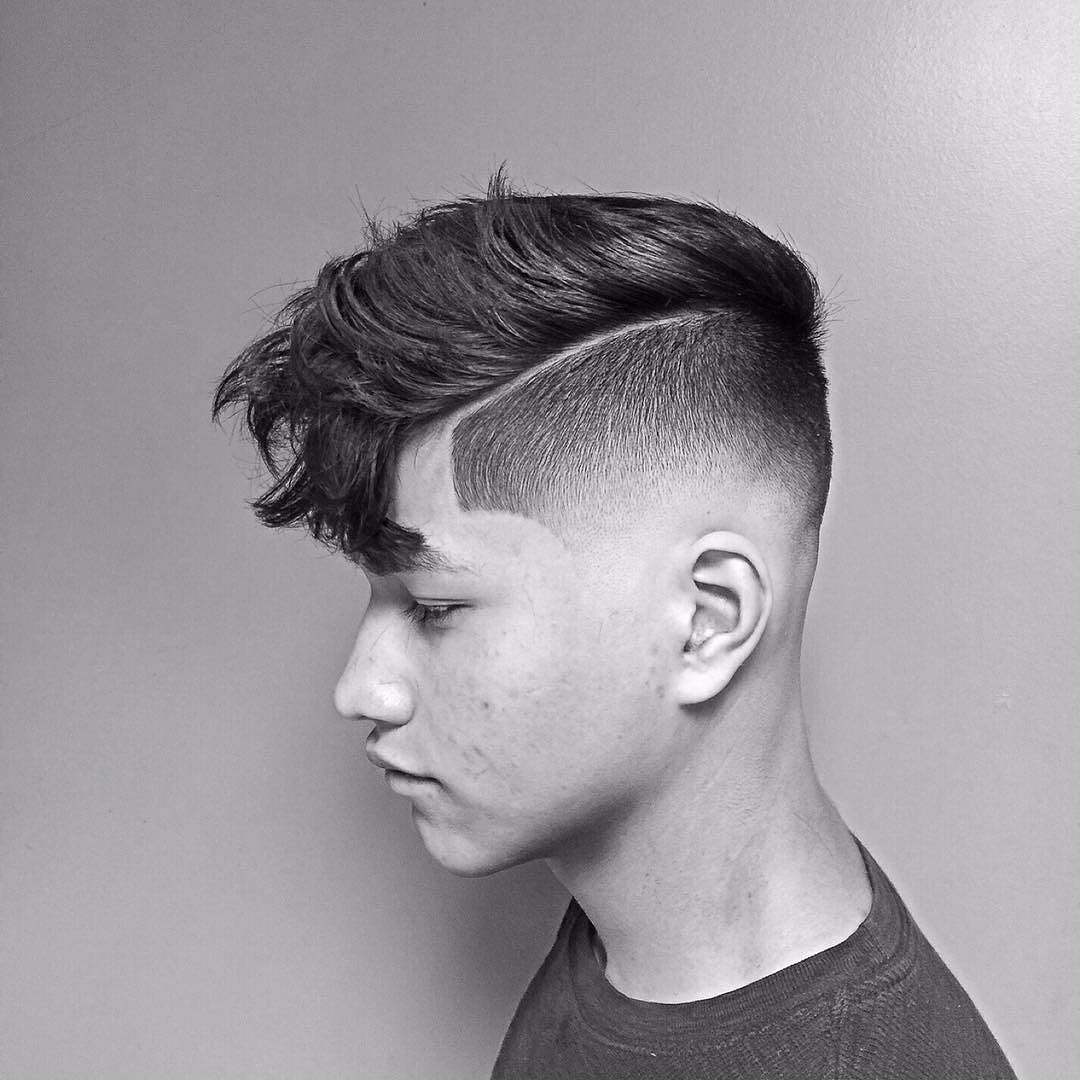 Haircut by Mikey
An expert fade makes so much more out of short hair. This cool style contrasts messy texture with fringe up top and a blurry drop skin fade at the sides. A razor thin hard part separates the two.
1. Step + Shadow Drop Fade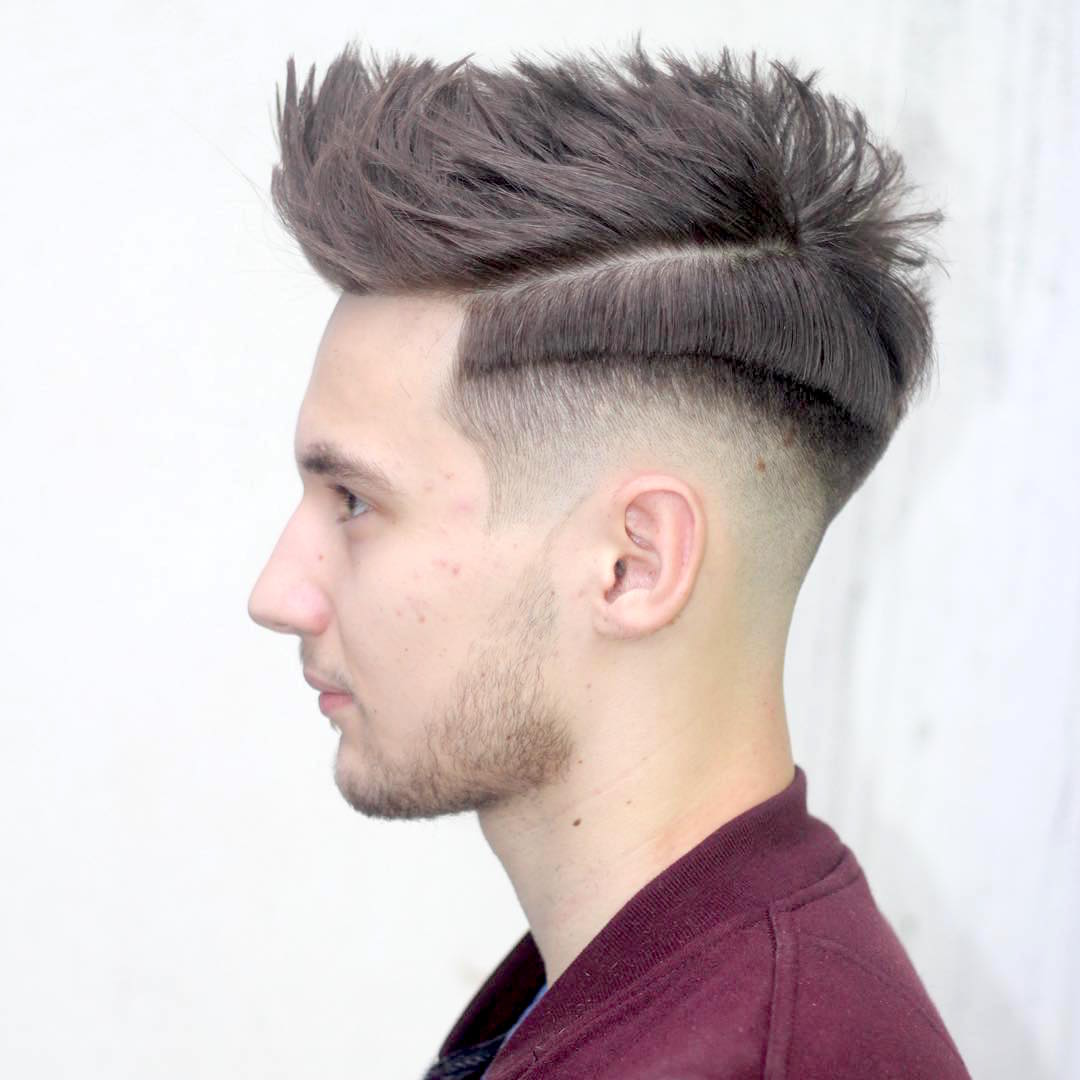 Haircut by Ryan Cullen
If all that texture on top isn't enough dimension, try this bold cut. The step, which is exactly what it sounds like it is, keeps hair dense up top before it tapers down into a skin fade. The step adds another facet to an already cool style.