Most men's haircuts are a variation of short back and sides, longer on top. These cool haircuts feature medium length hair on top for a wide range of cuts and styles. We've got volume, texture, waves and more. Check out these fresh looks for a few of the possibilities when it comes to medium length hairstyles for men and haircuts.
21. Skin Fade + Hard Part Pompadour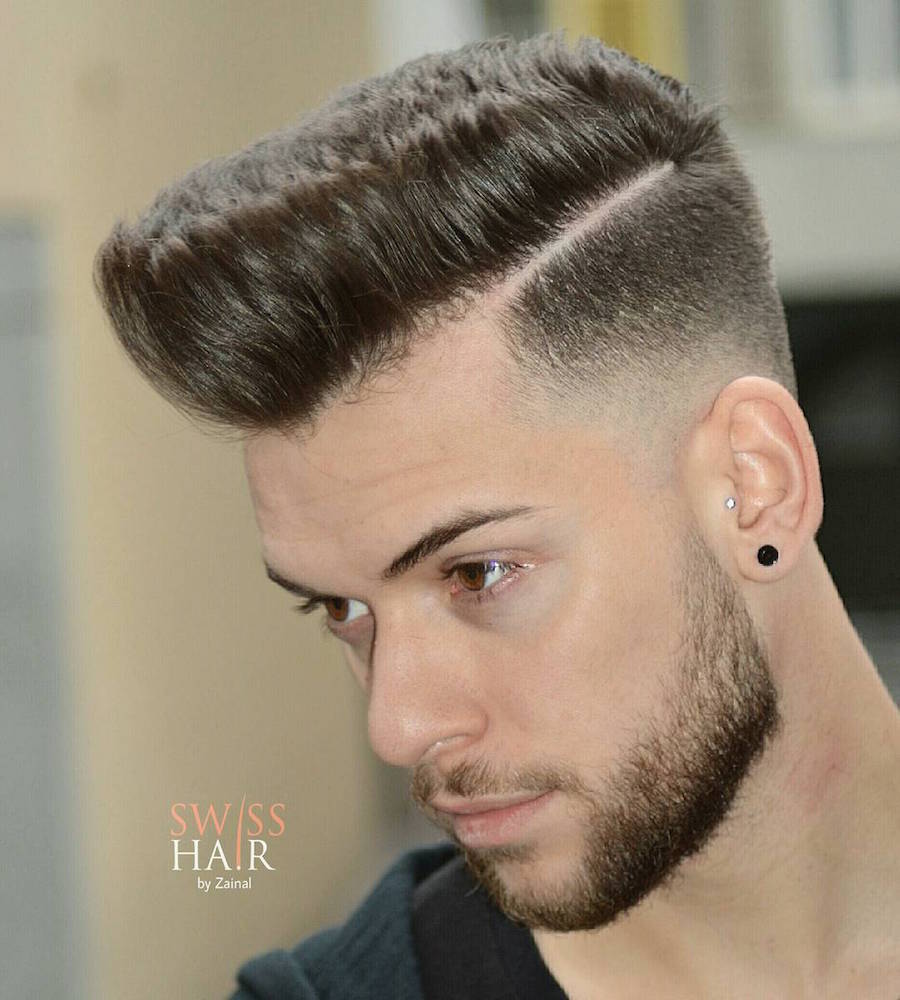 Haircut by Zainal
Gravity-defying is always a cool look. This pomp takes hair straight up with curved edges, setting it apart from a flat top style. The hard part extends the hairline while a low skin fade softens the neckline.
20. Mid Fade + Medium Textured Hair On Top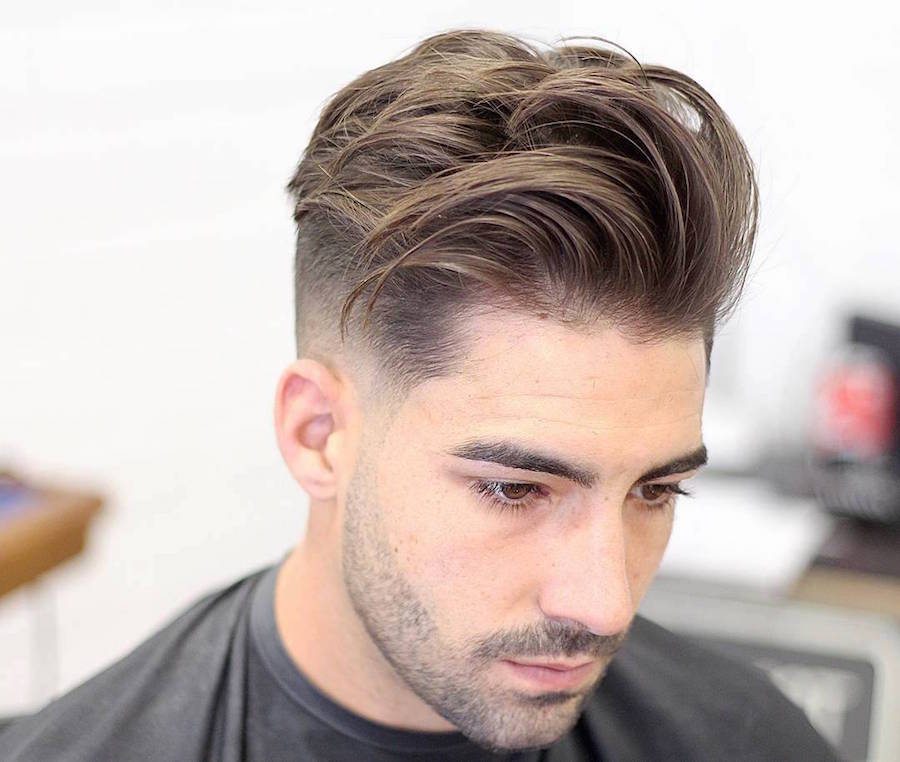 Haircut by Agus Barber
In contrast to the vintage pomp, this is a modern look with tons of texture. A blow dryer is key to achieving this style with minimal product.
19. Medium Length Hairstyle Blow Dried Back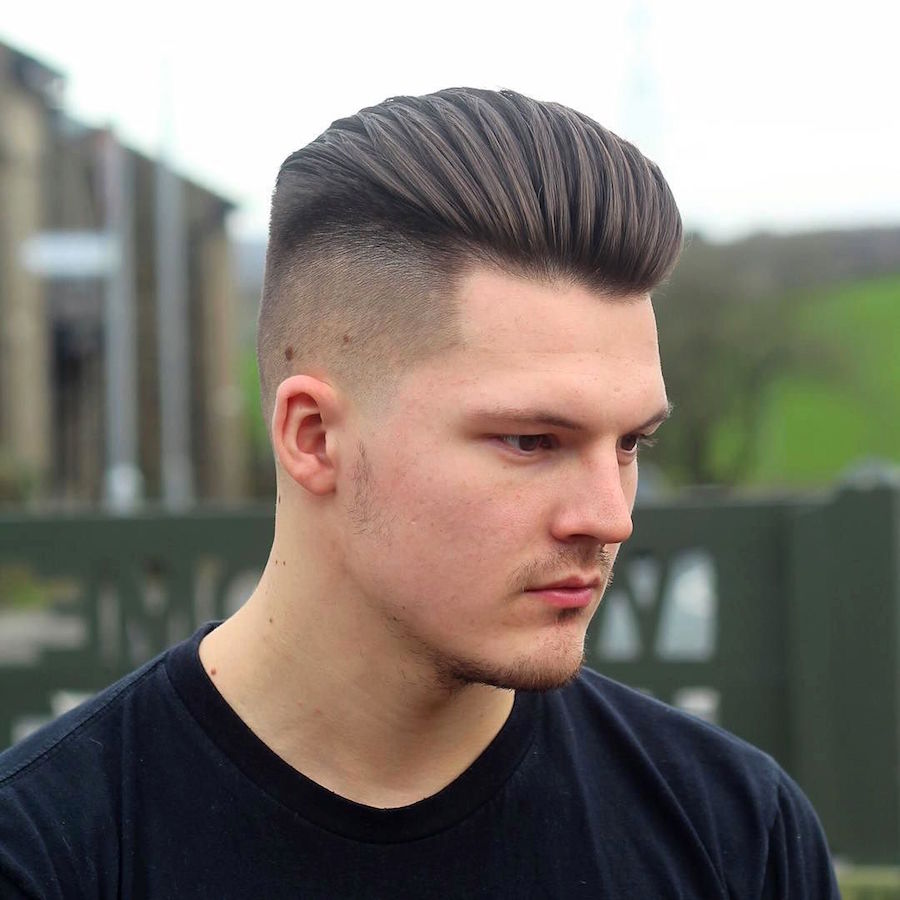 Haircut by Alan Beak
Here's some long slick hair with attitude. Hair is brushed back with visible comb marks but no shine. Undercut sides and tapered back for a clean finish.
18. Textured Crop + Heavy Fringe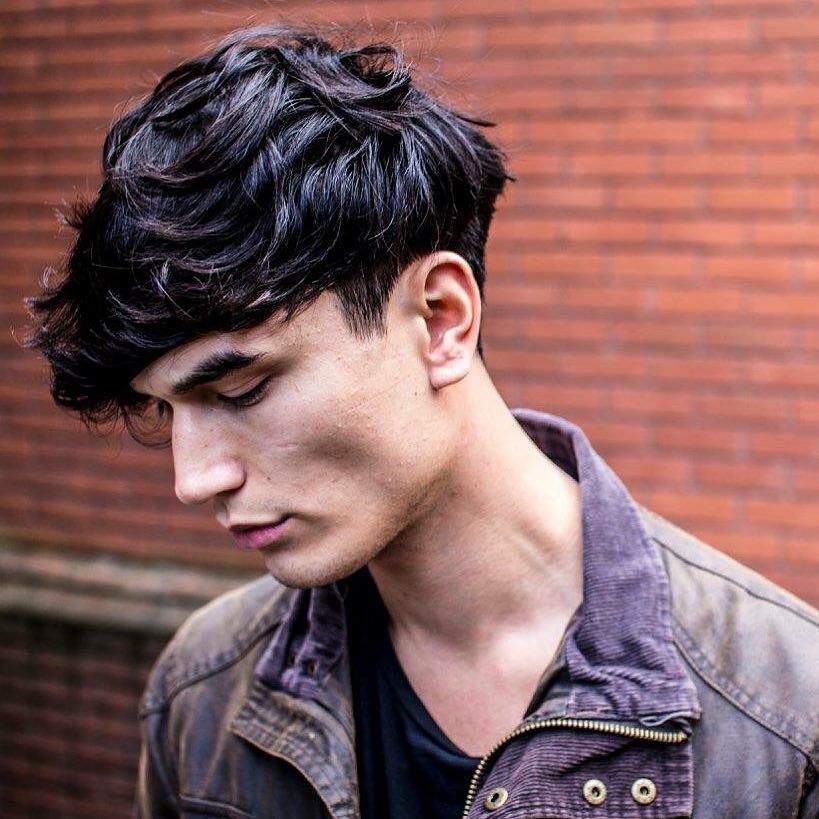 Haircut by Braid Barbers
Medium length is an excellent choice for curly-haired gents. This cut is heavy on the fringe with some length and weight around the sides and back. Use a texture paste to enhance wave and add some more you guessed it, texture.
17. Medium Length Slicked Pompadour + High Fade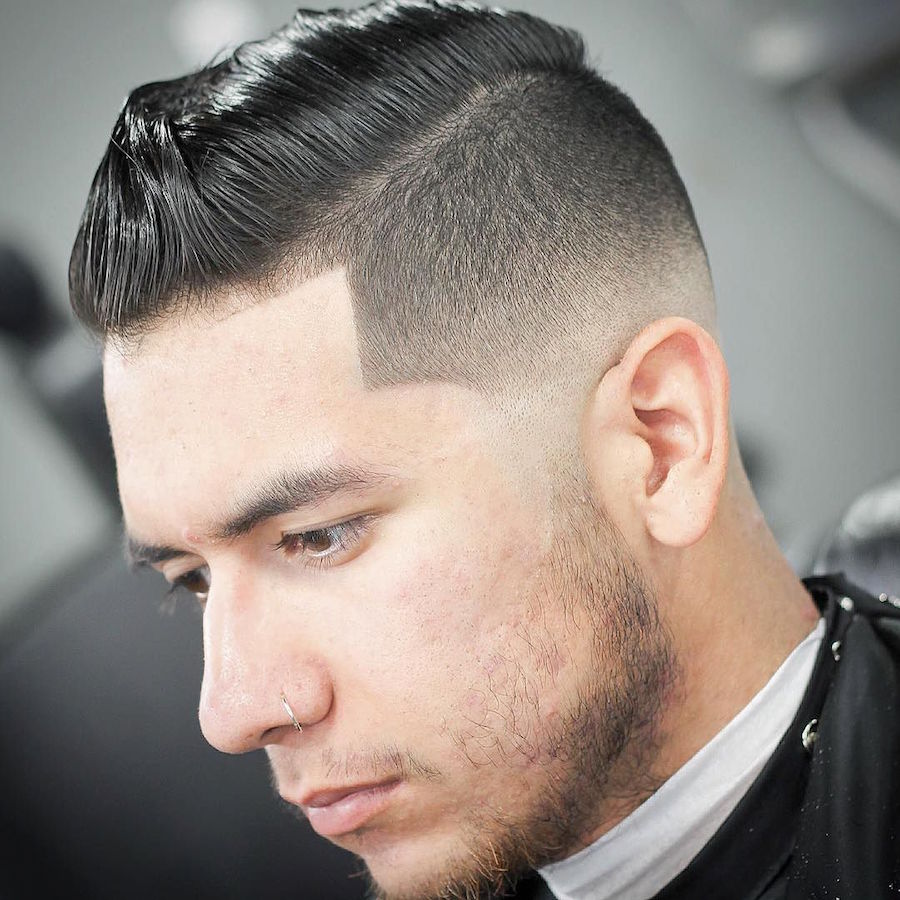 Haircut by Michael Kelley
Medium length hair on top allows for styling creativity. Taking the usual pomp to the next level, this fresh style adds a coiled twist at the forehead for added height and dimension.
16. High Fade + Wavy Medium Length Men's Hairstyle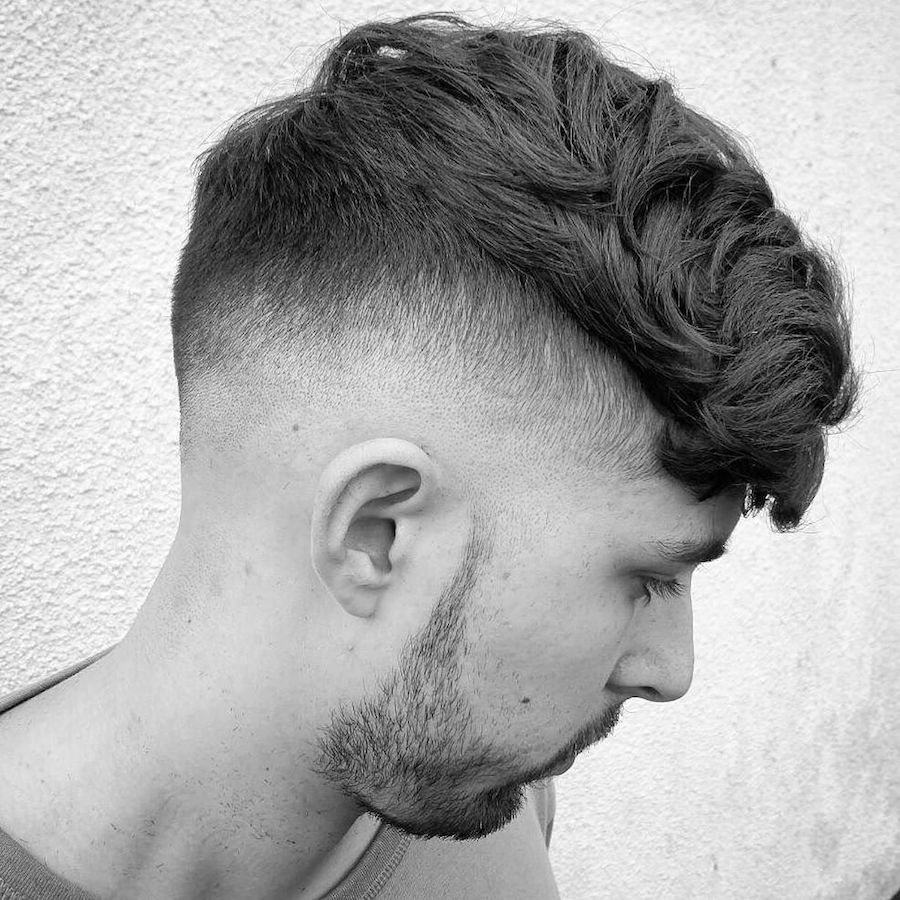 Haircut by The Greek
For guys with some wave in their hair, medium length haircuts bring out that natural texture. This layered cut with a high skin fade practically styles itself.
15. Cool Medium Length Pompadour Hairstyle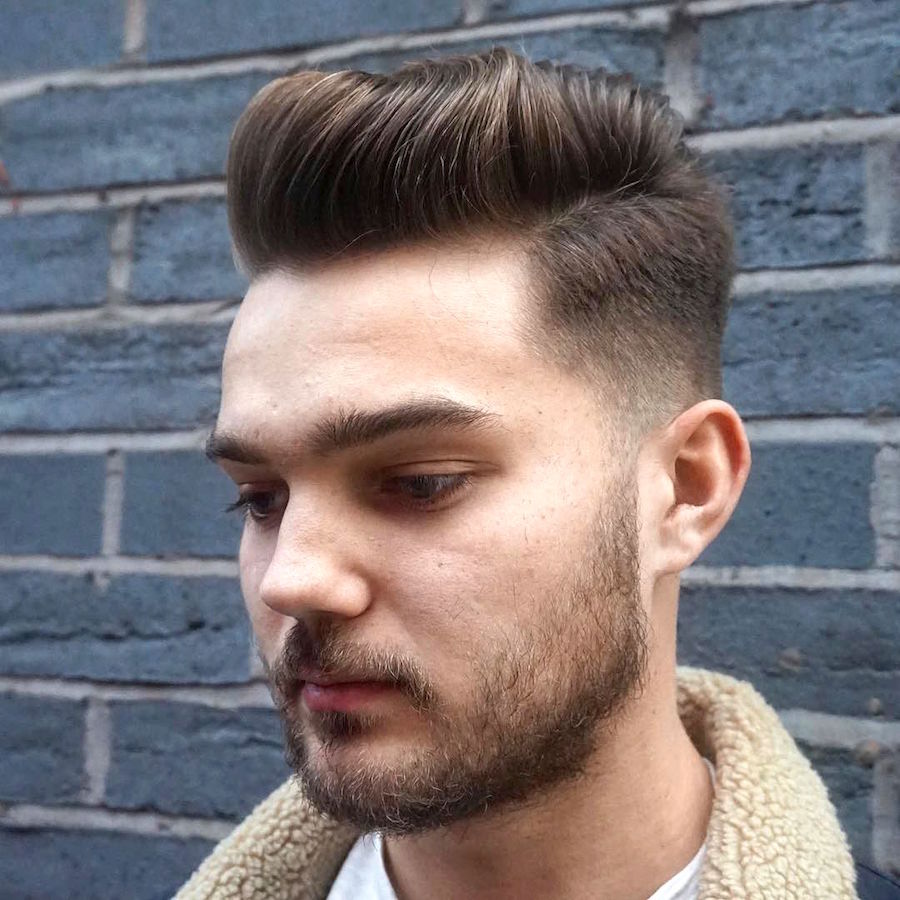 Haircut by Ross Parlane Barbershop
Another update of the classic pomp, this long on top cut adds a wave in addition to height. This is one of the most popular medium length hairstyles for men.
14. High Fade + Comb Styling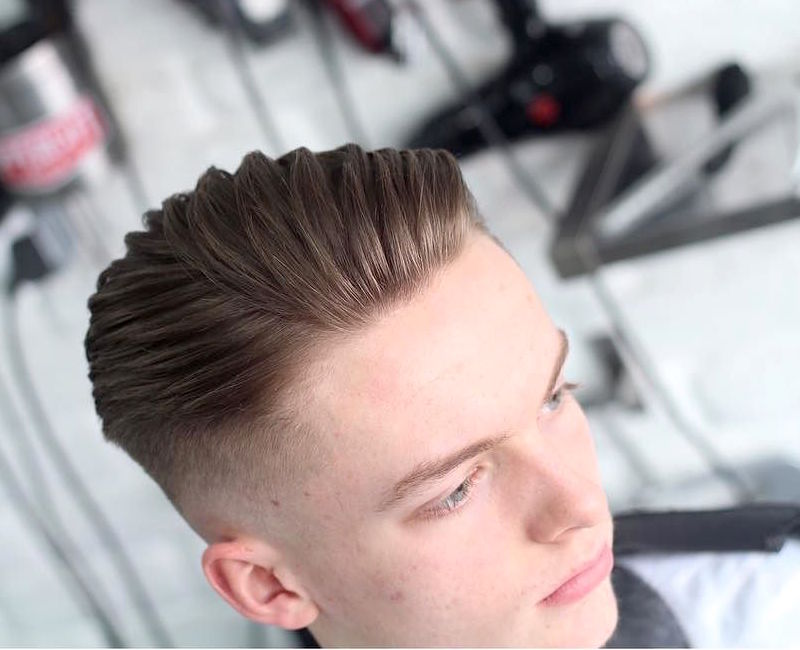 Haircut by Liam Twist
Reinventing the slick back, this fresh style works hair in two directions. After working product through hair, separate out a section of hair along the forehead, a quarter of inch back or so. Then comb hair back as usual.
Finish by combing the front section of hair on the diagonal. Look for a streaker comb to get these ultra wide-tooth marks. A totally cool medium length hairstyle.
13. Slicked Back Hair + High Fade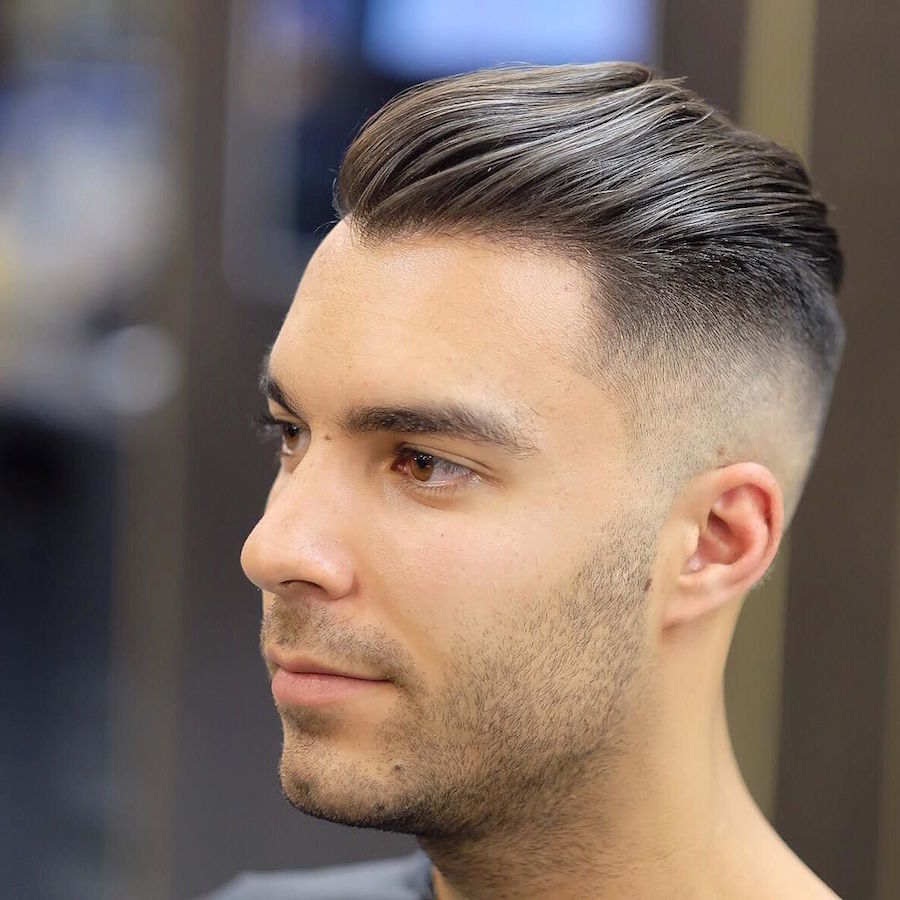 Haircut by Ben "Sugar" Kane
Easy to style looks are about the cut more than anything. With a slightly disconnected top and mid-high fade, the side are ultra clean cut. Hair on top is left long so it looks good growing out and in this slick back style. A medium length haircut that will always be cool.
12. Side Part Pompadour Hairstyle + Mide Fade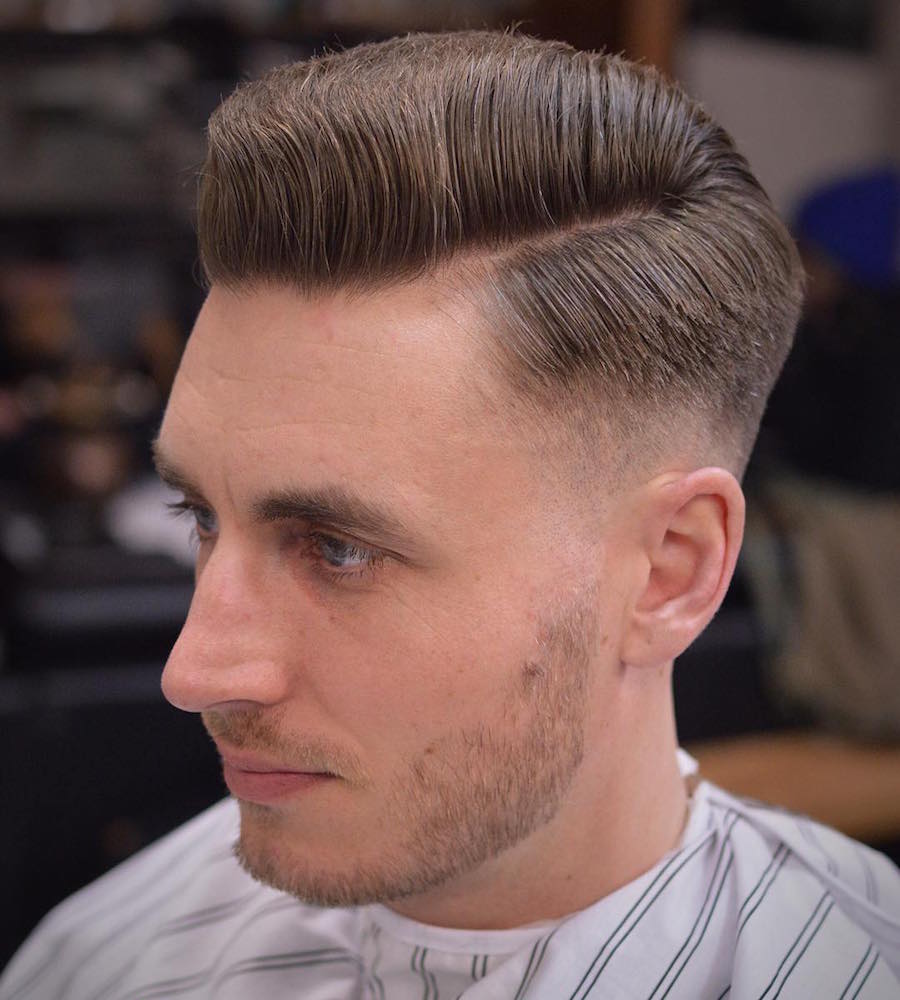 Haircut by Bryan at Squire Barbershop
A well-defined side part is an excellent addition to almost any haircut. A skin fade cleans up the neckline while the hair on top is groomed into the classic combover.
11. Cool Under-Hawk With Medium Hair On Top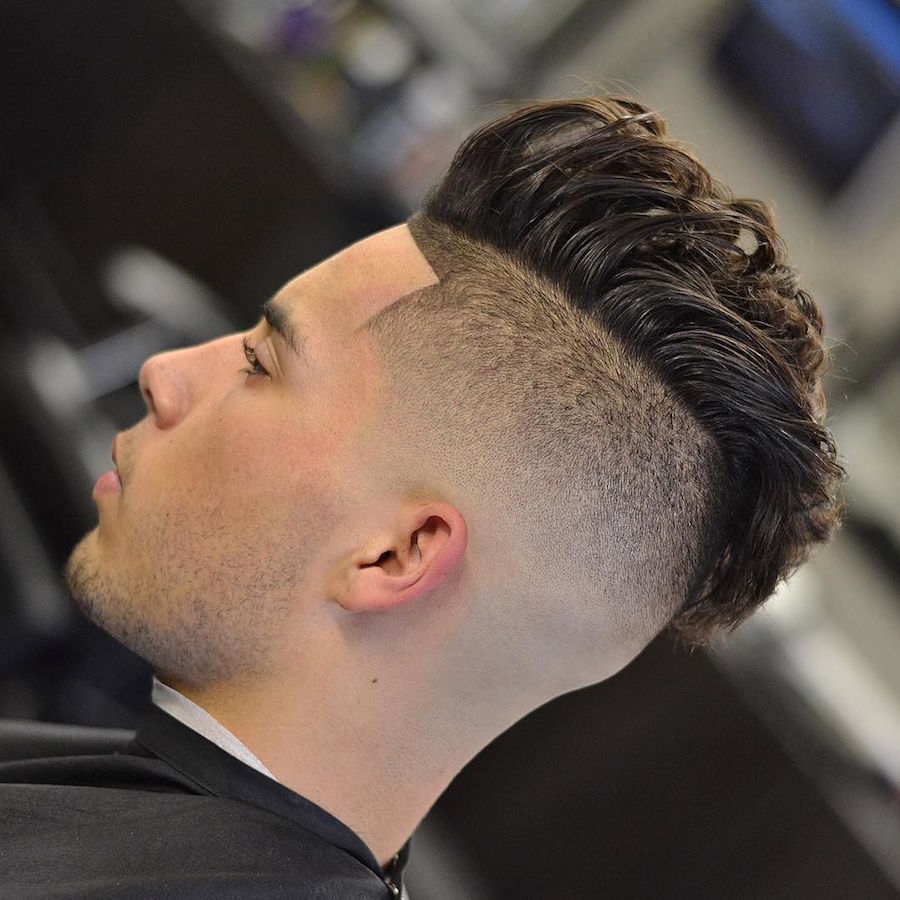 Haircut by Drew
Have fun with that length on top by styling hair straight up. This under-hawk combines an undercut and the mohawk style in a fresh way with lots of texture.
10. Classic Slicked Back Medium Length Hairstyle For Men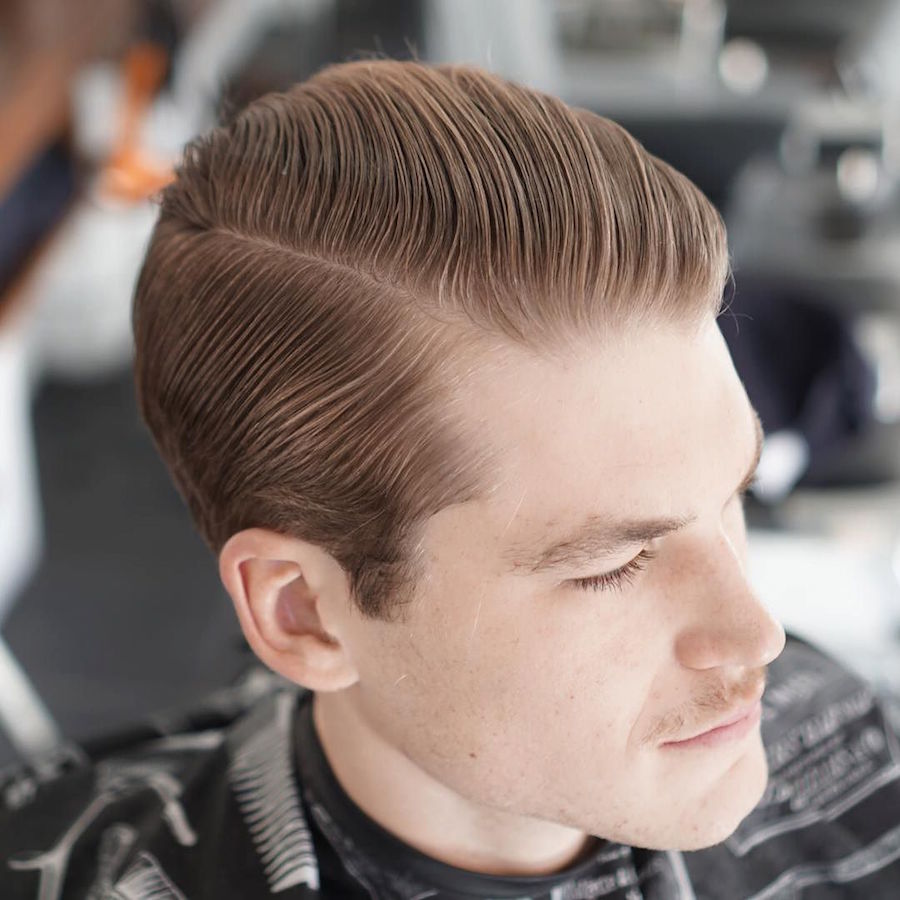 Haircut by Glassbox
For guys with fine hair, which is frequently lighter in color, those high volume styles are tougher to achieve. Instead, try this slick look with a side part and defined comb marks. A classic medium length hairstyle for men.
9. Classic Men's Combover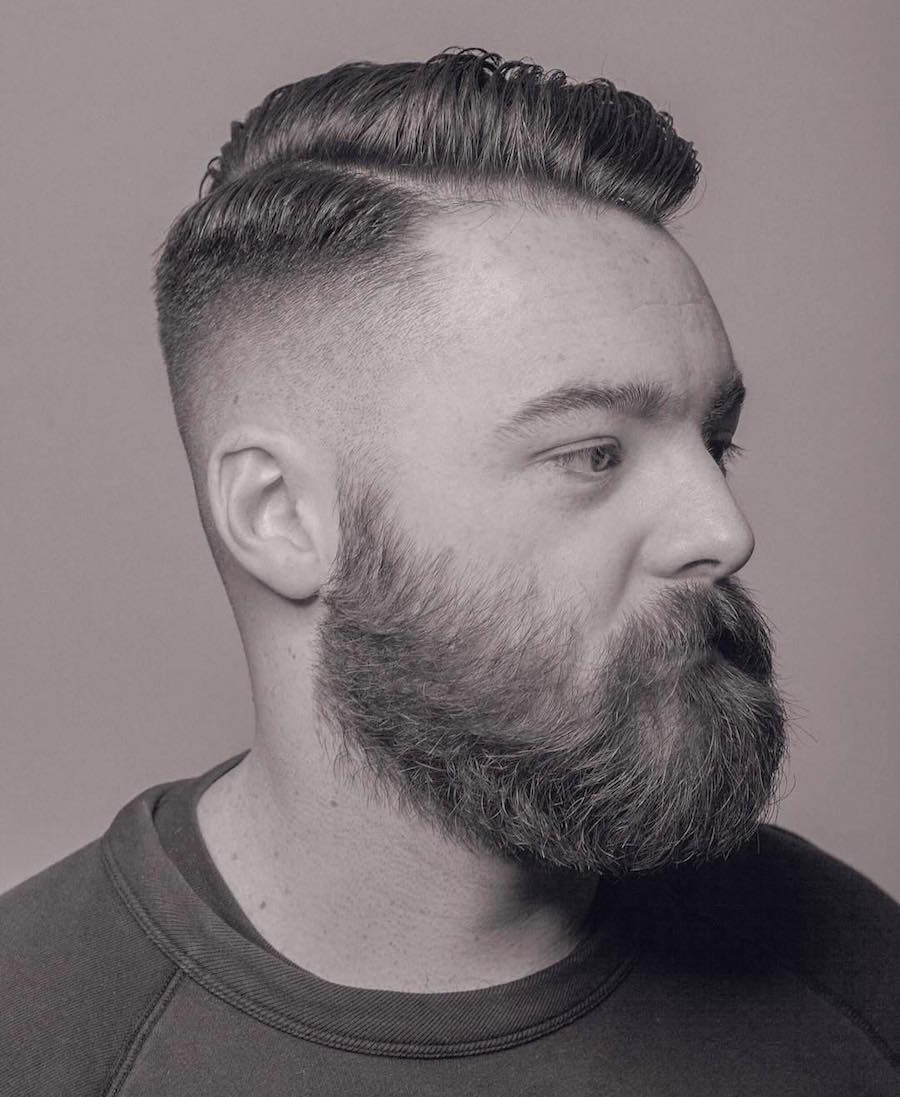 Haircut by Miguel Gutierrez
Long on top cuts and styles are frequently worn with faded sides. For something different, wear hair longer next to the part before it tapers down the skin. Keep hair from sticking up by ensuring it is cut long enough and add a touch of product.
8. Medium Length Thick Hair Blown Dry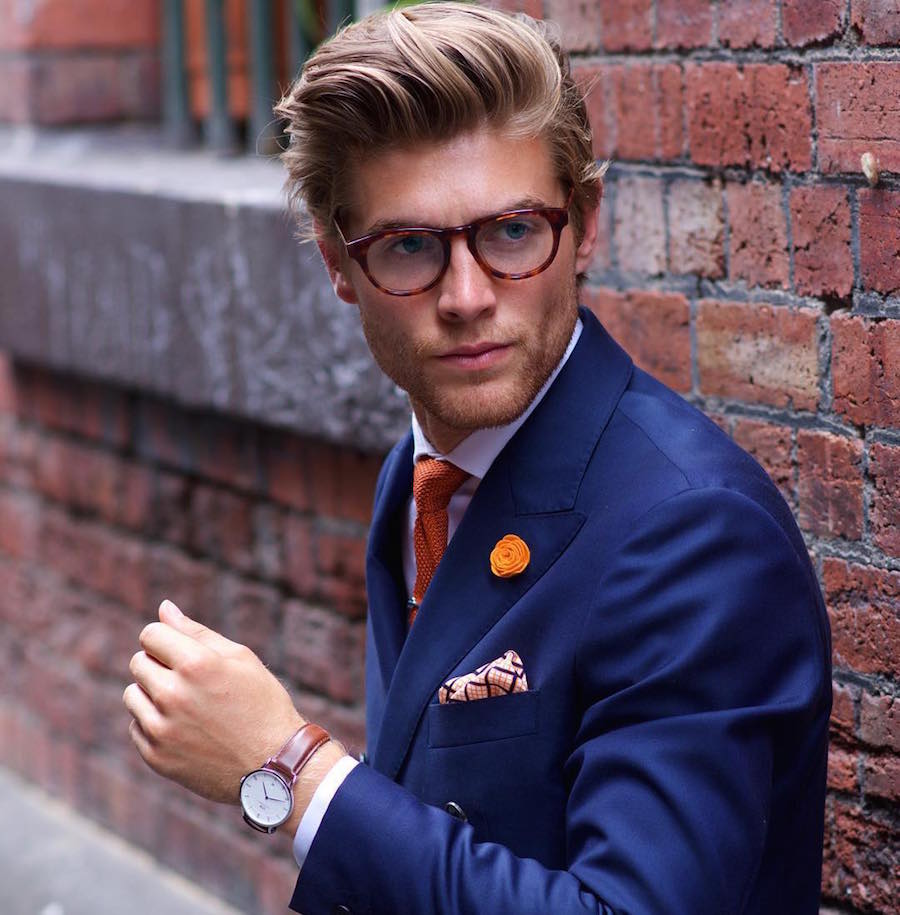 Haircut by Morris Motley
One of the most underused styling tools for guys isn't a product but a blow dryer. They are easy to use and take just a few minutes to achieve a high volume style that has more staying power than with hair product alone. This is a timeless medium length hairstyle for men to try over and over again.
7. Undercut + Long Fringe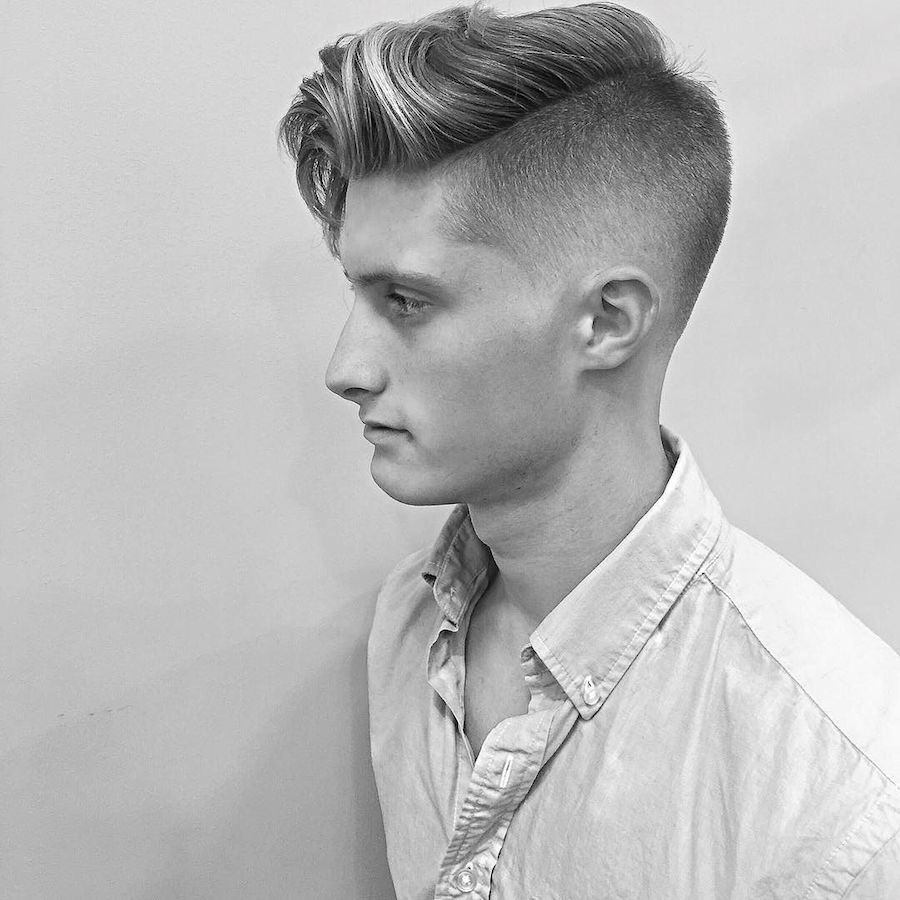 Haircut by Mikey
This disconnect hairstyle pairs long hair combed to one side with a blurry fade. Plenty of height, volume and a coiled fringe make this combover something special.
6. Textured Hair + Long Fringe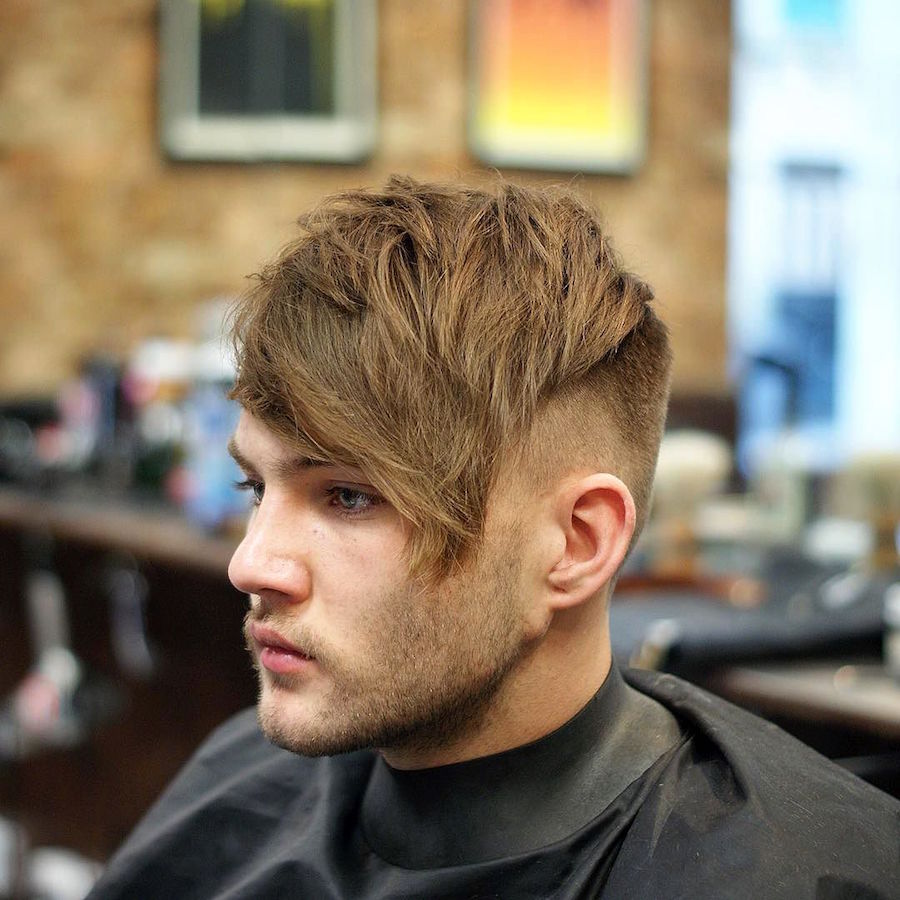 Haircut by fraser_hardgrind
As a reaction to all the slicked back styles over the past few years, we are seeing more forward fringe looks. This angular version features lots of texture and attitude. A super cool edgy medium length men's haircut.
5. Half Hard Part + Slicked Back Hair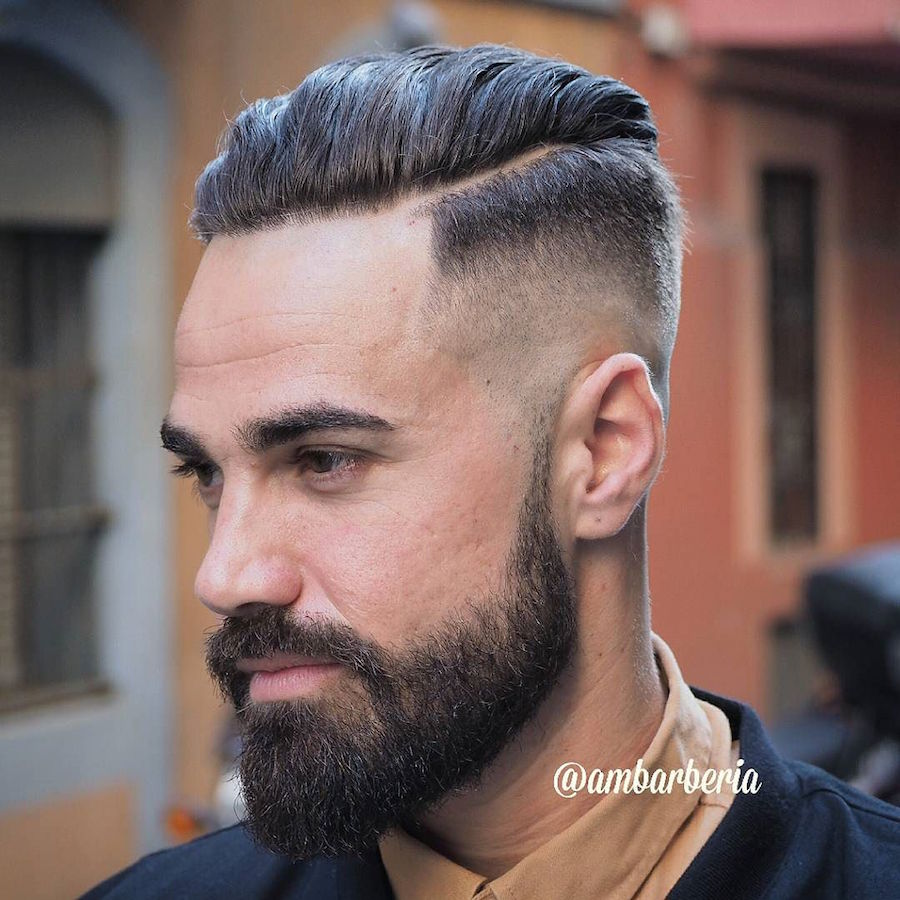 Haircut by Antonio Mateo
Mix up that slick style by combing it on the diagonal. Check out @ambarberia for even more fresh takes on this classic style.
4. Slicked Back Undercut Hairstyle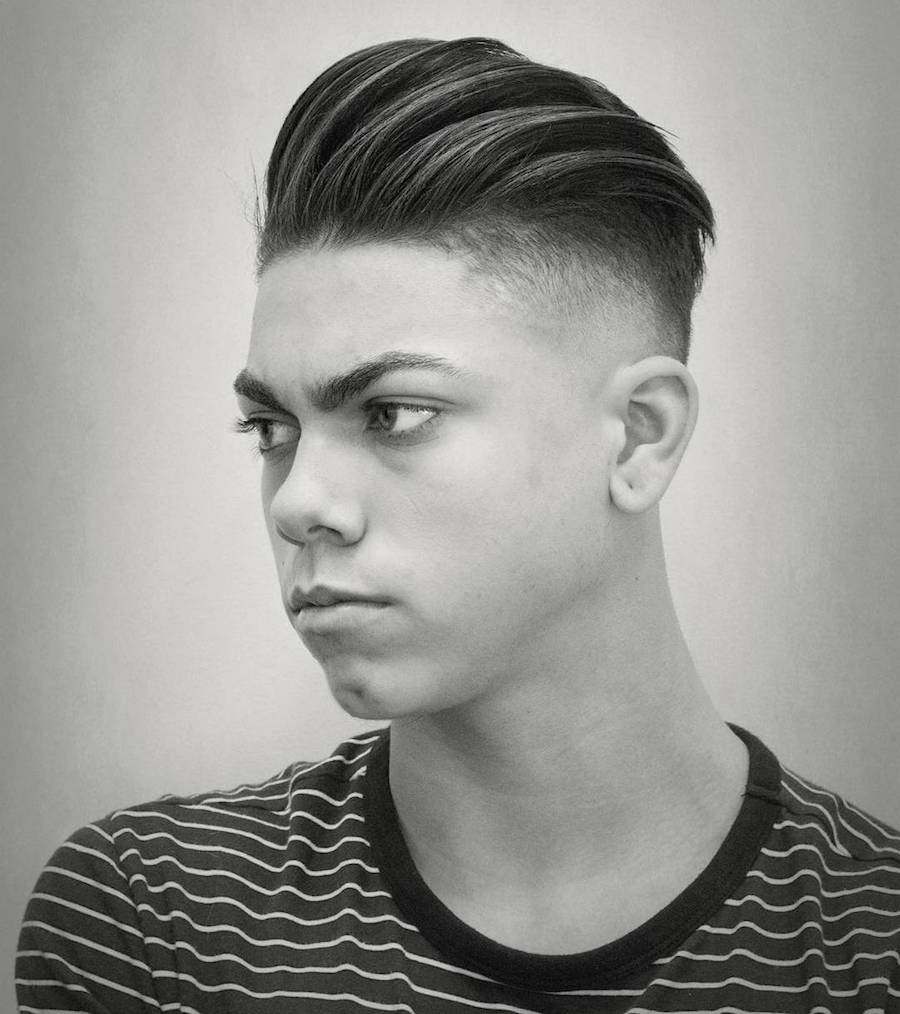 Haircut by Bryant Gutierrez
This slicked back undercut is the perfect combination of height and texture. An ultra high fade emphasizes thick hair up top. A cool medium length hairstyle to try out.
3. Hi-Lo Fade + Surgical Part + Pompadour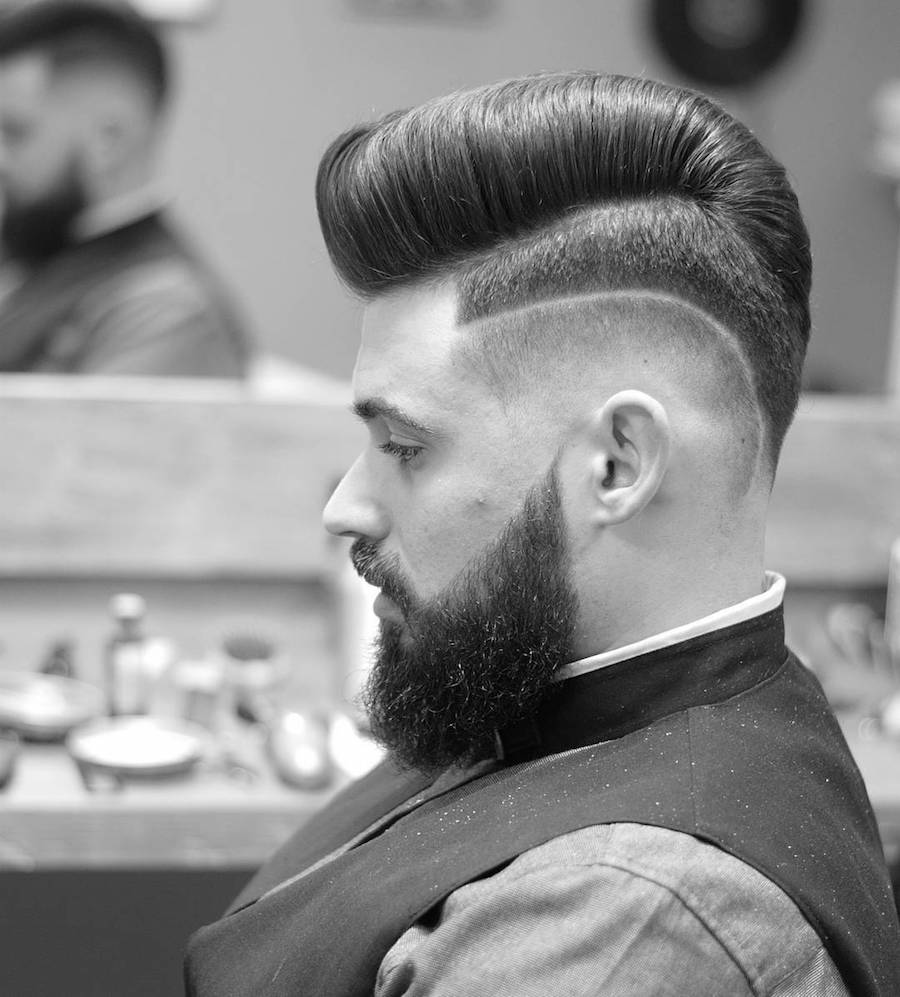 Haircut by Dimitris Lianos
As if the super slick pomp wasn't cool enough, the high low fade echoed by a razor part adds serious style to any cut.
2. Low Skin Fade + Slicked Back Medium Length Hair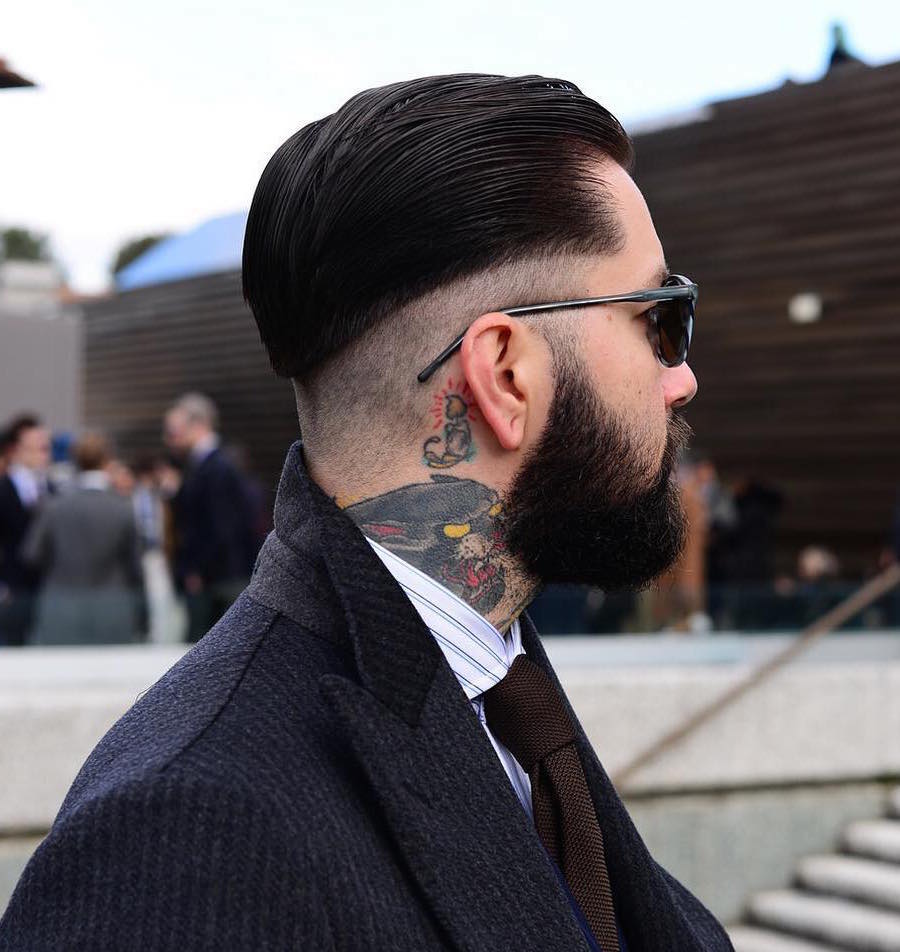 Haircut by The Korean Barber
There are endless ways to rock the fade. This low skin fade follows the lines of long hair on top and just looks badass.
1. Scissor Cut Medium Length Hair Slicked Back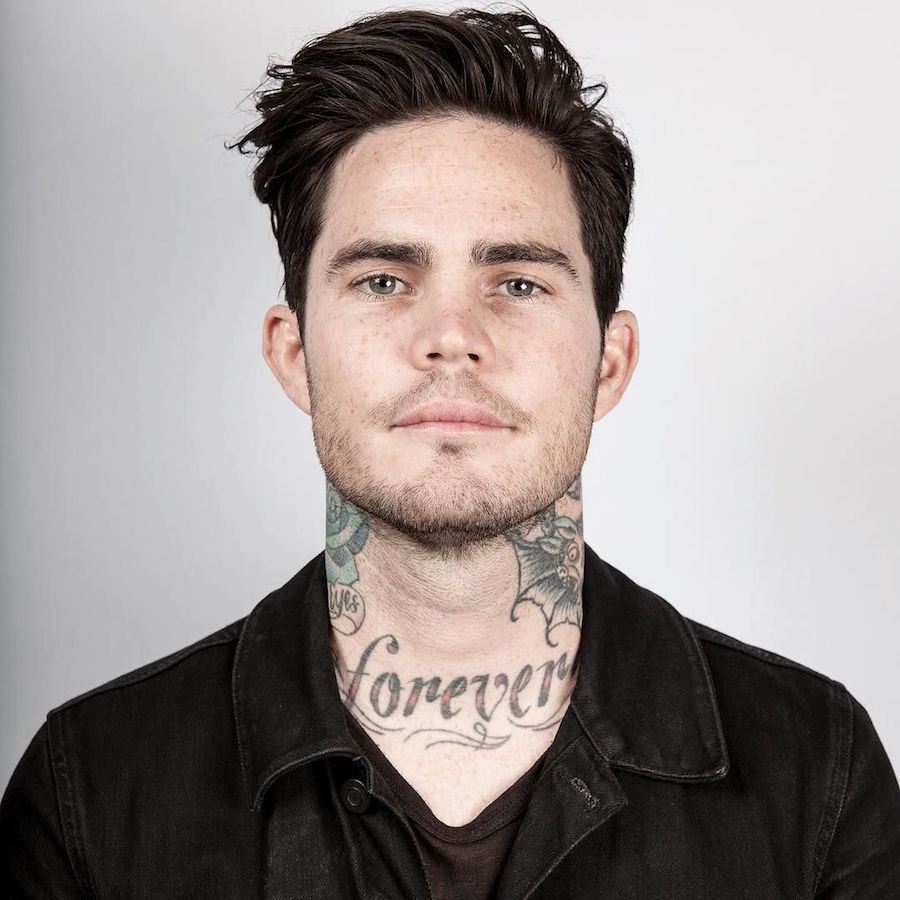 Haircut by Morris Motley
This medium length hairstyle for men is the ultimate in tousled texture. It also proves that not every long on top cut requires a fade. For more conservative workplaces, this cut works for a professional daily style while this is your look after hours.
There you have it a great list of medium length hairstyles for men that give you plenty of new options to try out for a new look.