This is about never seen before styles. We've searched the best barbers across Instagram for the latest, dopest, most unique looks, and have gathered 25 awesome new men's hairstyles to try out.
These fresh men's hairstyles feature fades, surgical parts and texture in ways you haven't seen before.
With options for straight, curly and kinky hair, there is definitely one that could be for you, if you're willing to try something new and totally different.
25. Blow Dry Pompadour + Sharp Hard Part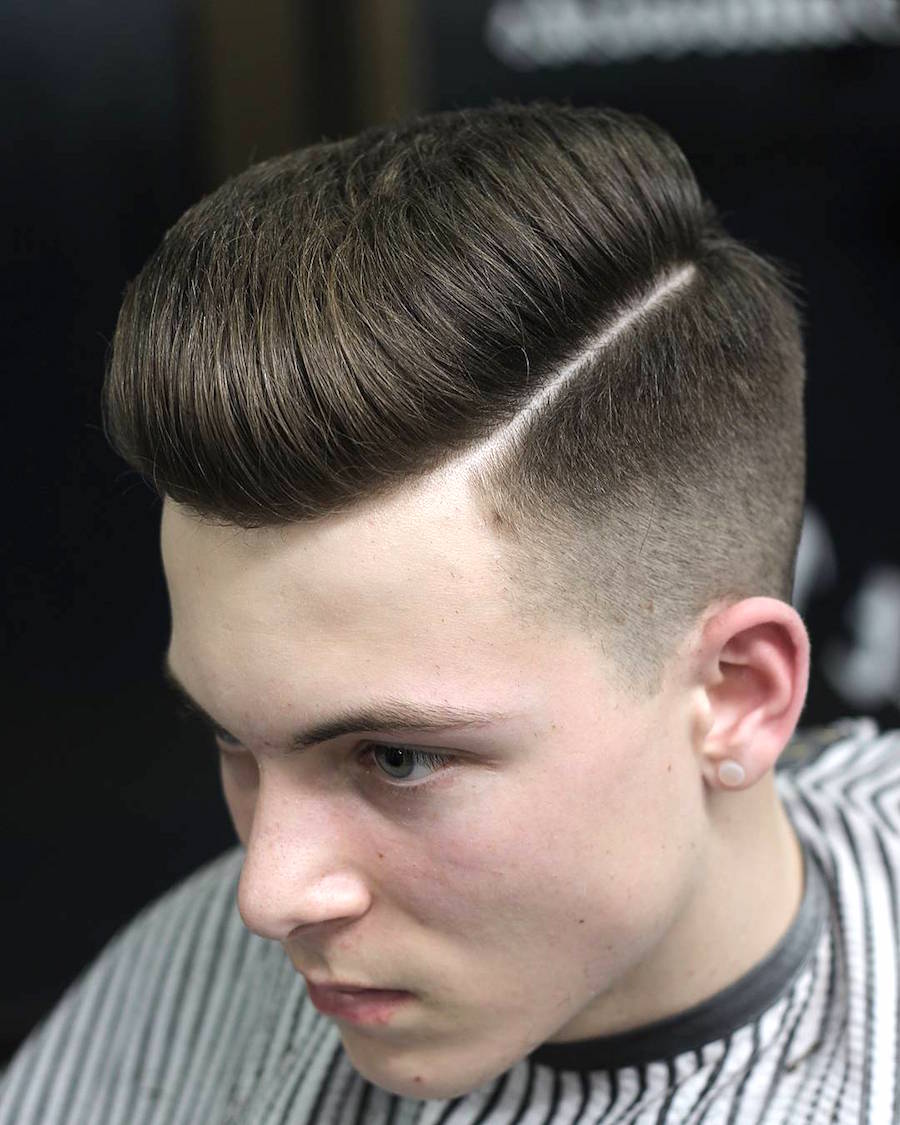 Haircut by Baldy
This hot look combines a blast from the past with the top men's hair trends we are seeing. The top is a perfect pomp with a modern matte finish. A surgical part and blurry fade bring the cut into the twentieth century.
24. Bald Fade + Surgical Part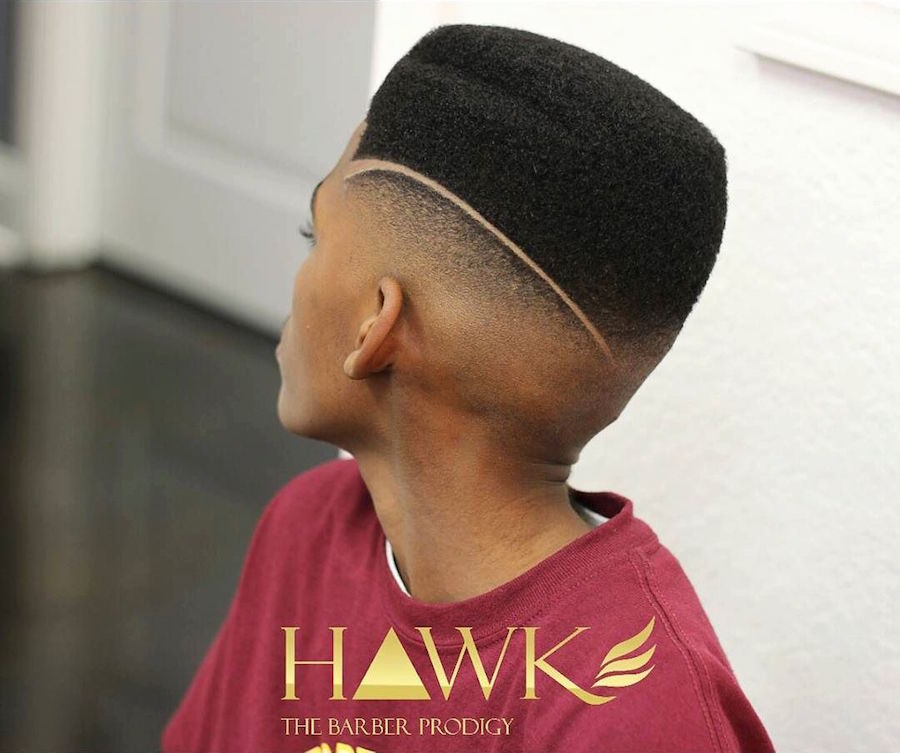 Haircut by Hawk The Barber Prodigy
A cool hair design is all about balancing angles and proportions. This cut gets it exactly right with an arced razor part that works with the flat top's rounded edges. A high fade down to the skin completes the look.
23. Bald Fade + Blown Back Style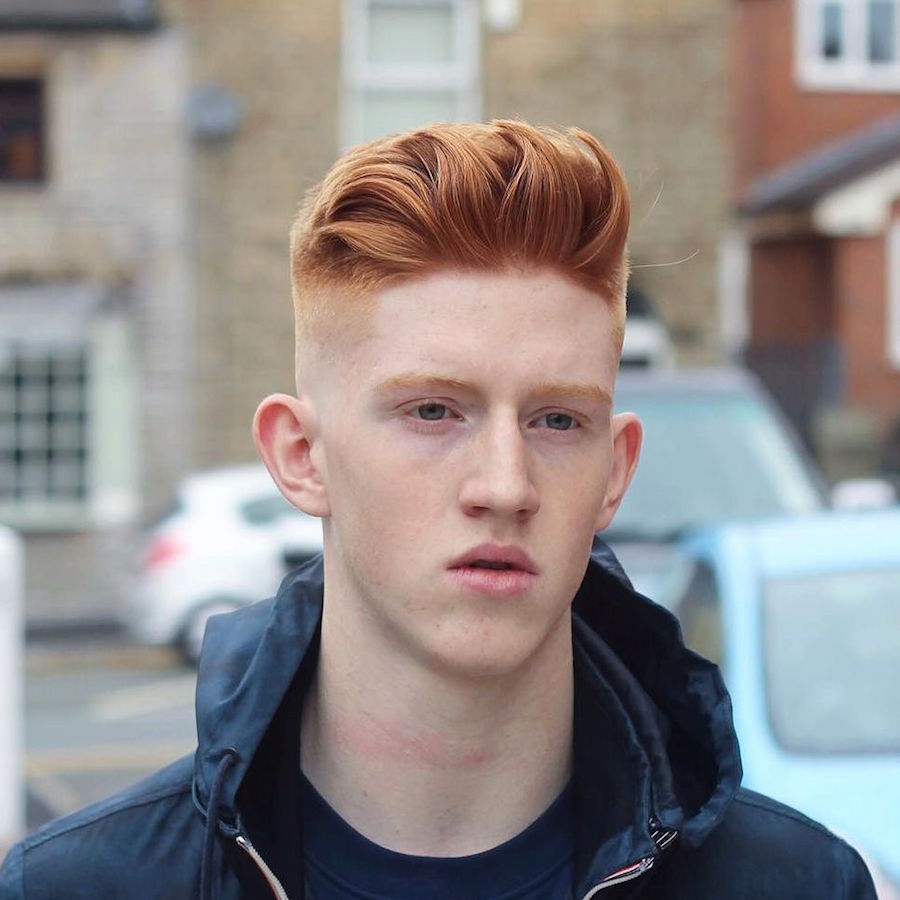 Haircut by Alan Beak
A variation on the slick look, this fresh men's hairstyle features pointed peaks that add texture to the usual brush back. A high bald fade keeps all the hair above the forehead.
22. Twist Curls + Double Hard Part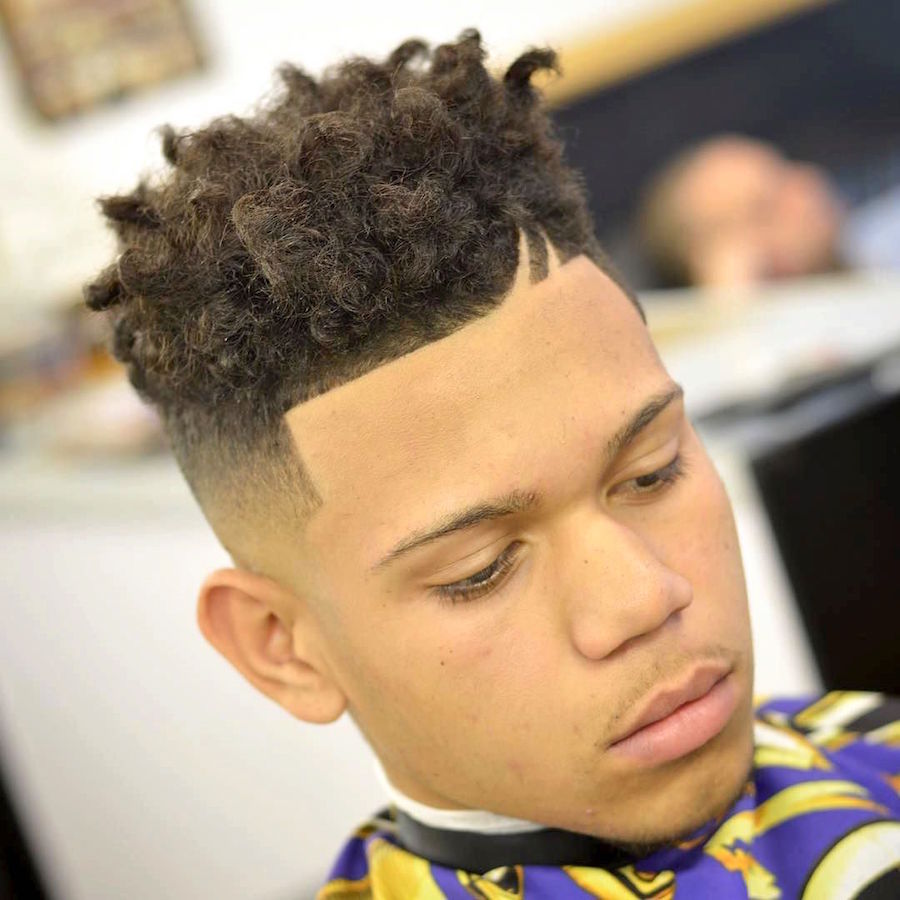 Haircut by Zeke
A high fade is a great way to wear curly hair for men. Hair can be worn long on top but is still easy to maintain. This cool cut adds a double hard part that leads the eye into twisted curls.
21. Messy Textures + Long Fringe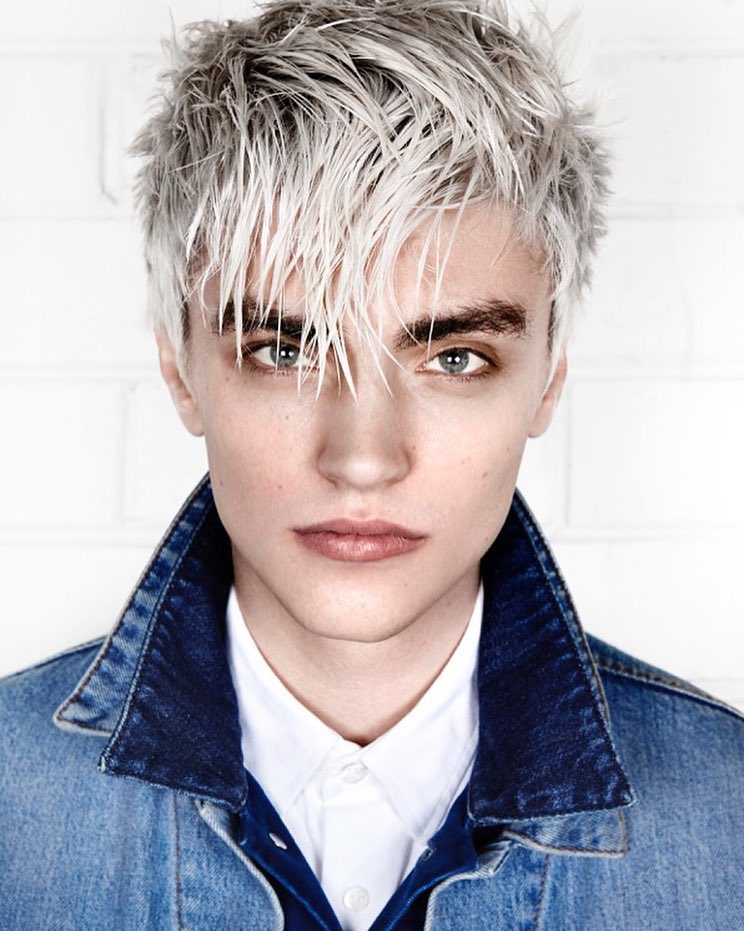 Haircut by Morris Motley
This year is not only bringing back bangs for guys but 1990s Leonardo DiCaprio bangs, minus the center part. Here Model Rory Pierce gets the look in platinum with lots of defined texture.
20. High Fade + Curls + Long Fringe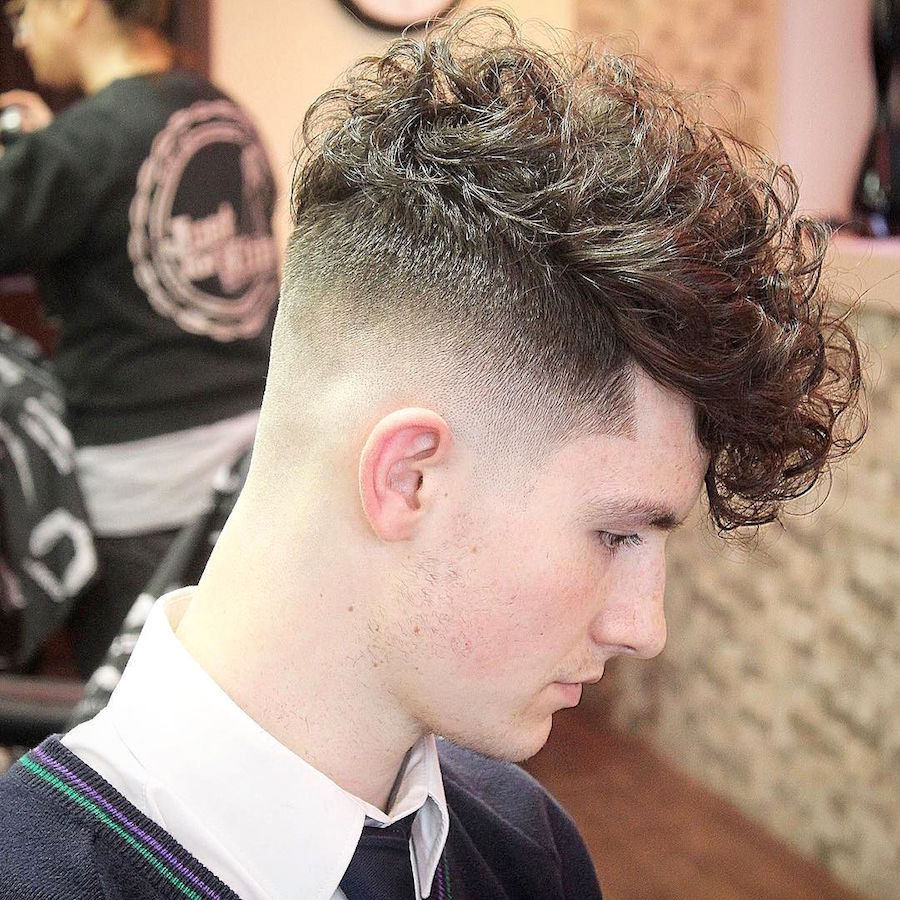 Haircut by Micky Graham
The forward fringe style looks great for guys with curly hair too. This cool look keeps hair on top long and styles it down over the forehead. A high fade and angular tape up gives a clean cut finish to the almost messy style.
19. High Fade + Half Hard Part + Messy Hair On Top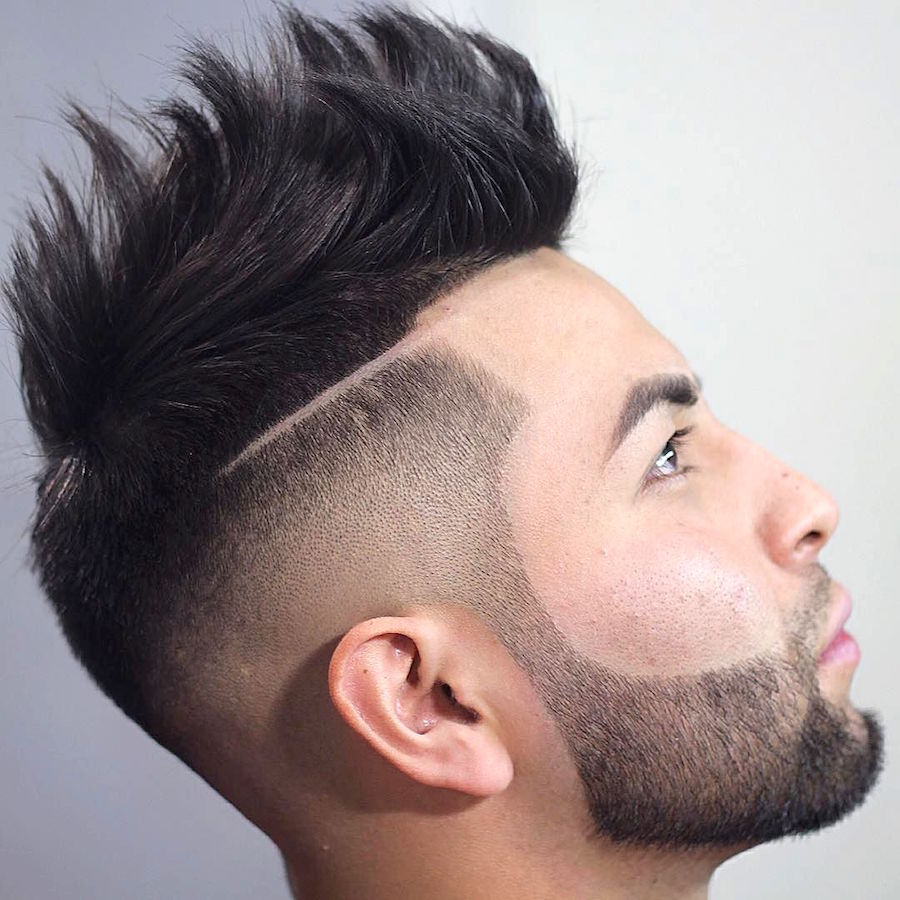 Haircut by Chris
A razor part is a fresh addition to any men's hairstyle. This tousled and textured faux hawk is balanced by the precision of a straight surgical part and blurry burst fade around the ears.
18. Long Messy Hairstyle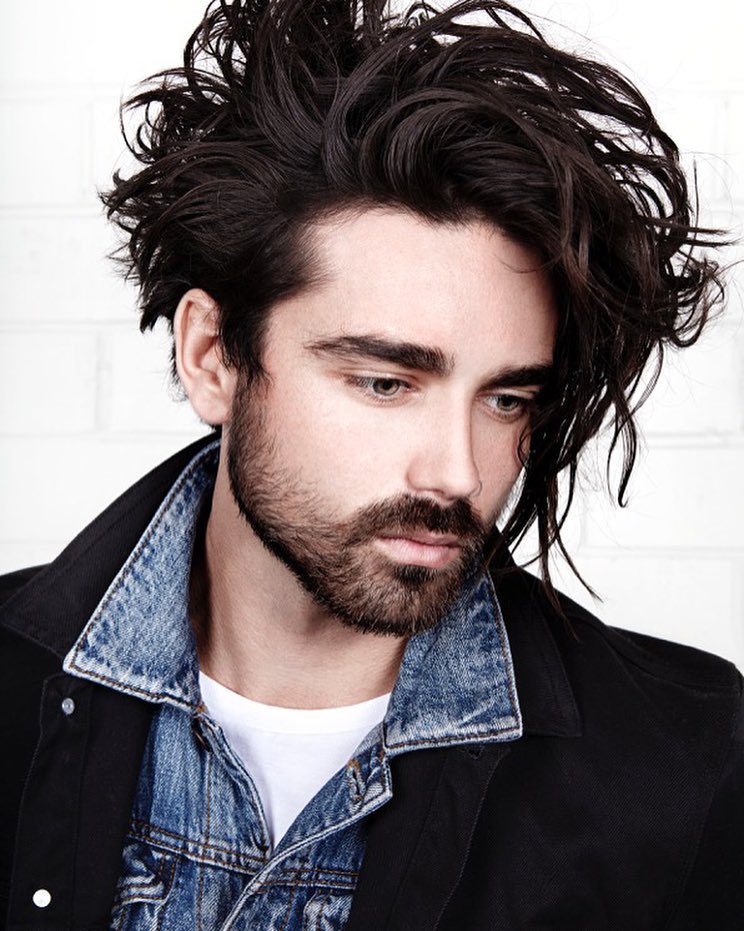 Haircut by Morris Motley
The best looking styles and easiest to maintain cuts work with your hair's natural tendencies. Sometimes that means wearing hair longer. This cool messy look is all about enhancing natural wave.
17. Drop Fade + Surgical Line + Natural Movement on Top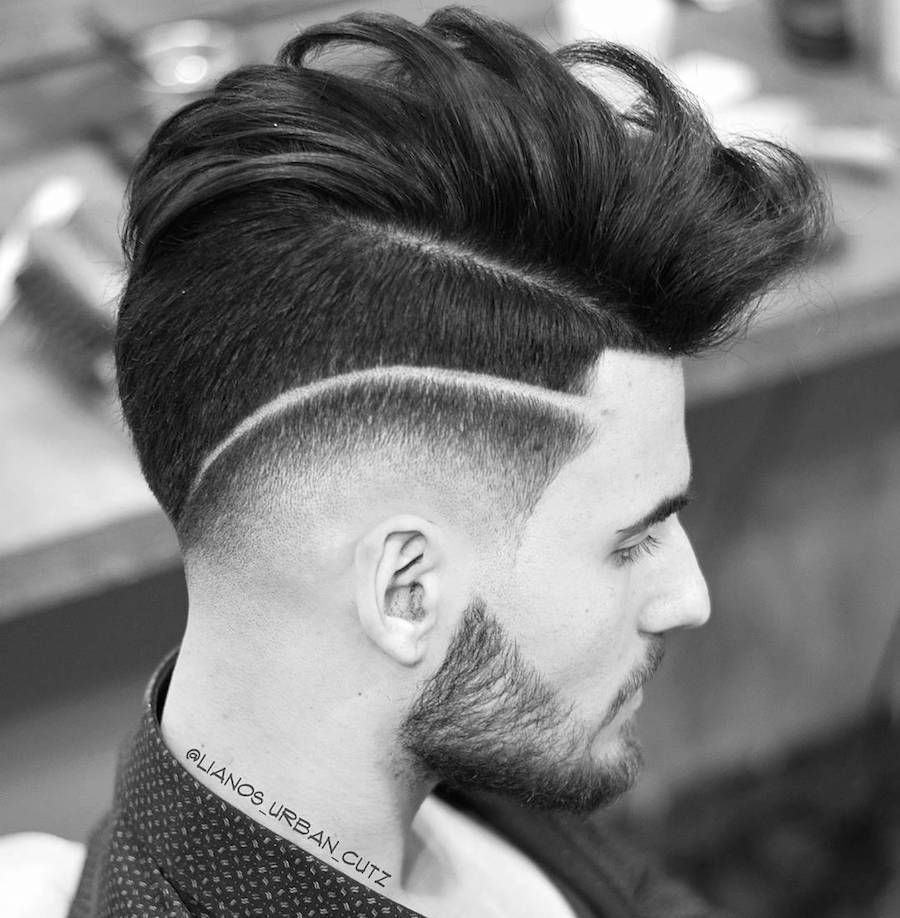 Haircut by Dimitris Lianos
This different look is all about curves. On top, hair arches over from a deep side part in loose waves. A pronounced surgical part mirrors the arc of the drop fade over the ear.
16. Slick Combover + Hi Lo Fade + Surgical Line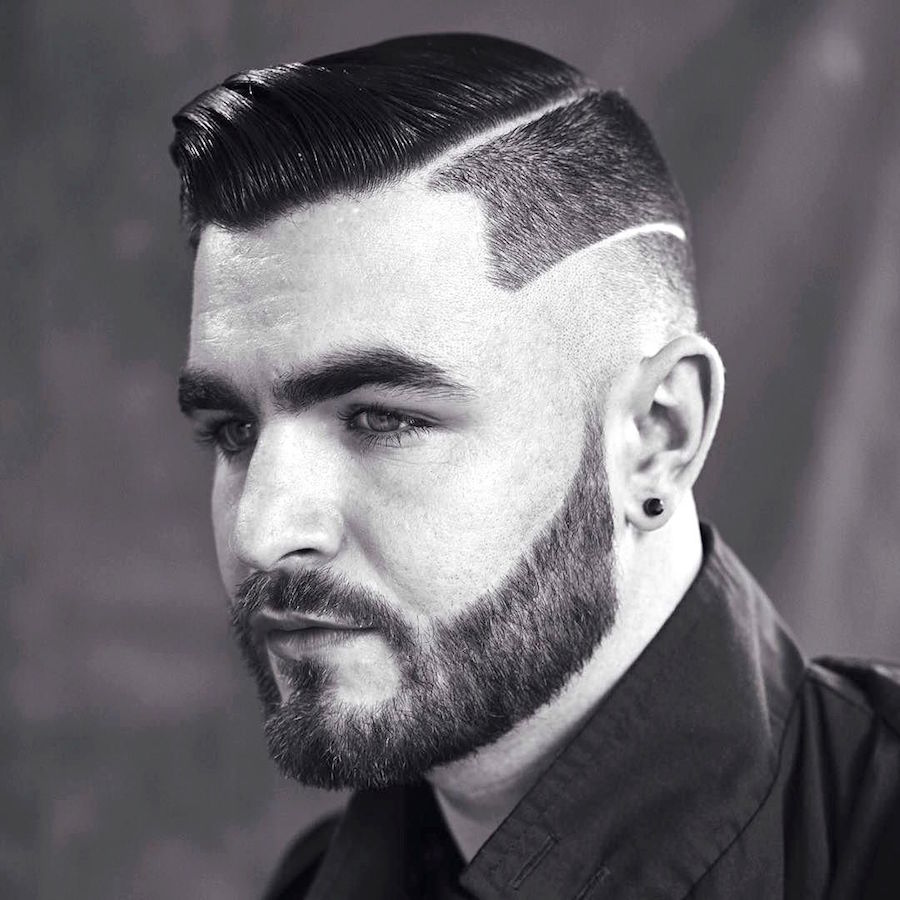 Haircut by Stell
With a fresh fade and razor part, you get an eye-catching cut that doesn't need any extra styling. This cut keeps it simple on top with a slick combover. A hi-lo fade and surgical line set you apart from the crowd. Just visit your barber frequently to refresh the cut.
15. Choppy Textures + Cool Feather Hair Design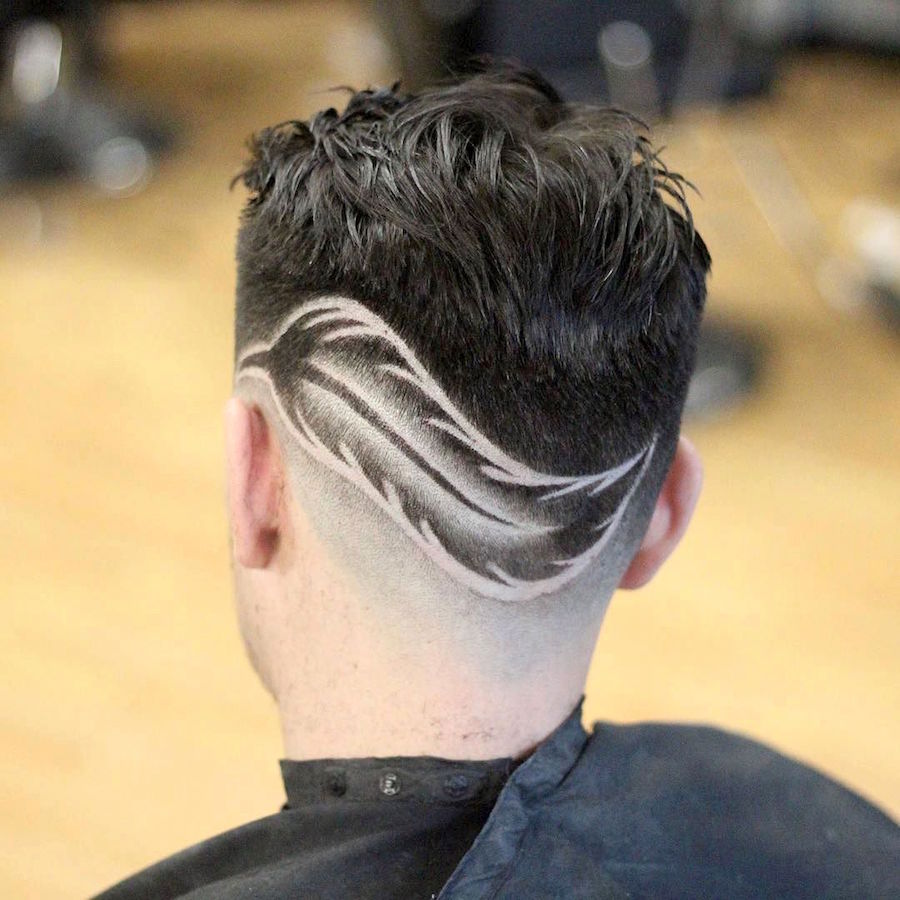 Haircut by Diaz
The artistry and creativity of hair designs is always impressive. This feather stands out against a tapered neckline and textured hair on top.
14. Longer Hair (Undercut) Blown Dry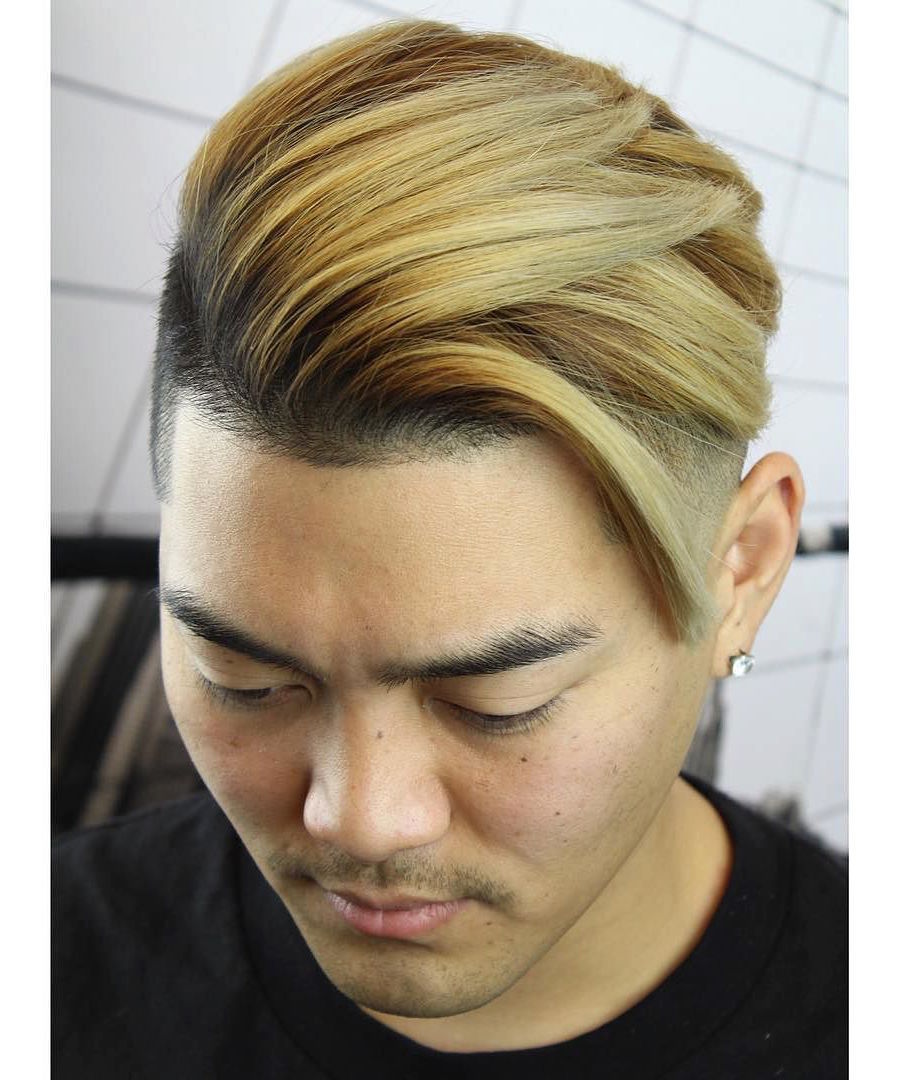 Haircut by klipperinstinct
Color is one way to get a fresh new look that many guys never consider. In addition to going blonder or platinum, there is also silver, black or any color of the rainbow. Hair color can be all over or streaks for less commitment. This blonde blow dried style stands out against a dark fade.
13. Skin Fade Undercut + Long Hair On Top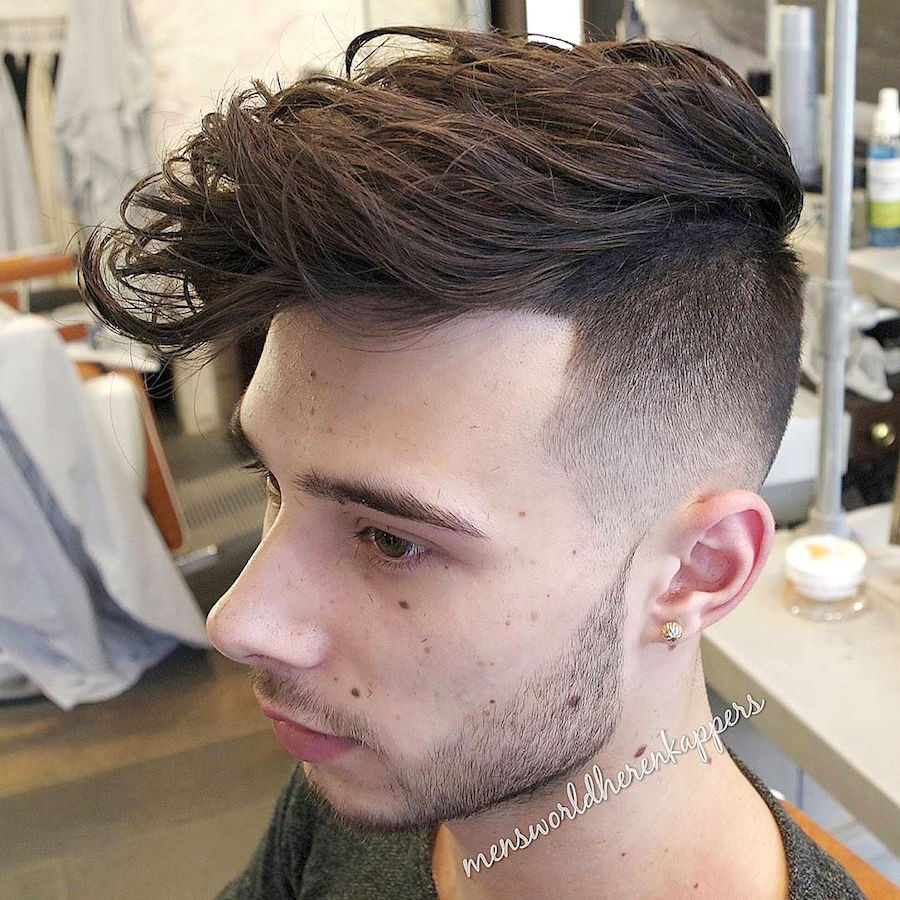 Haircut by Men's World Herenkappers
A disconnected men's hairstyle with plenty of length on top and ultra short sides can be styled so many different ways. Mix it up from the usual slick back with this messy textured look with just a hint of bangs.
12. Surgical Line Hair Design + Twisted Curls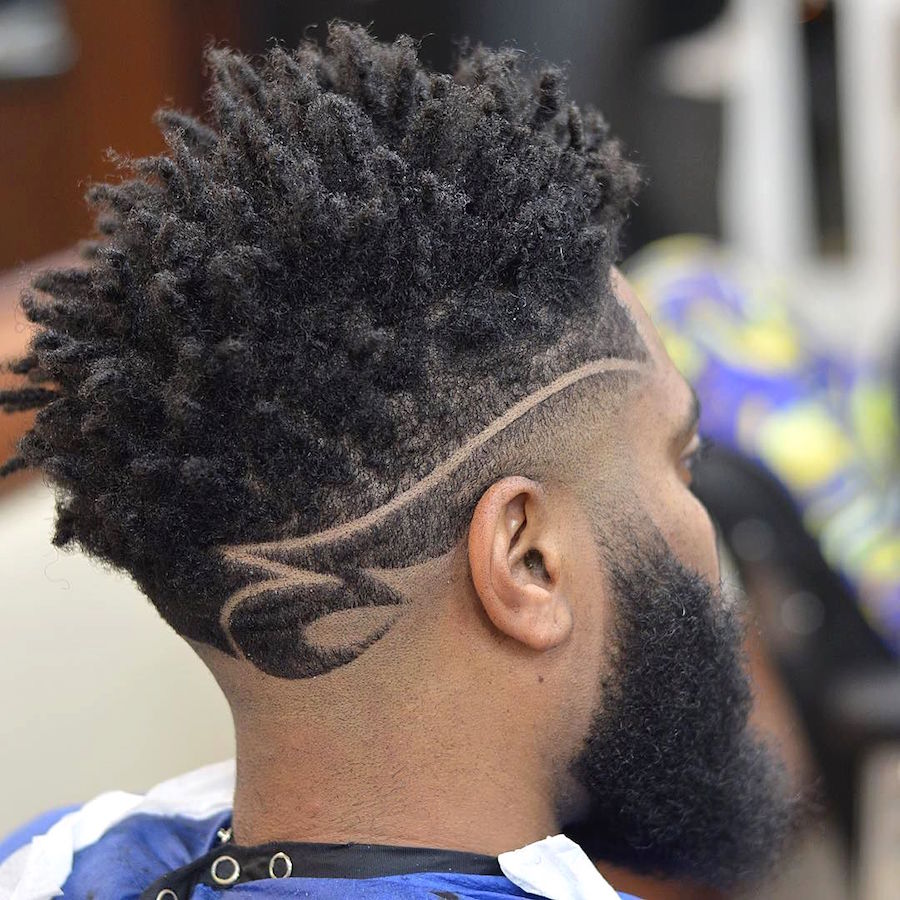 Haircut by changeman
Another one of the endless combinations of long hair on top, fade on the sides and shaved hair design. This unique style features a double design set off by a shaved neckline and tapered sideburns. Kinky hair on top is twisted for maximum height.
11. Cool Slicked Men's Haircut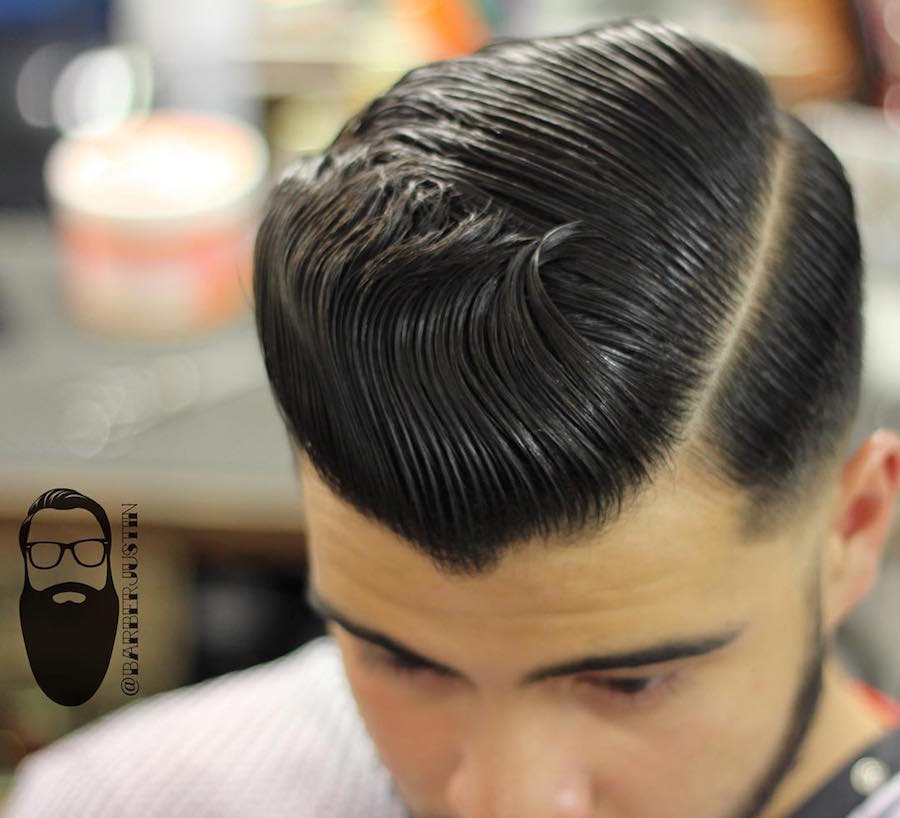 Haircut by Barber Justin
Get a fresh take on the vintage slick look by styling hair in multiple directions. Hair along the hairline is combed back with some volume and wave at the ends. The rest of hair is a combover with some shine. Get the look of a razor part without the stubble by sharply defining the part with a comb.
10. X-Ray Part + Clean Fade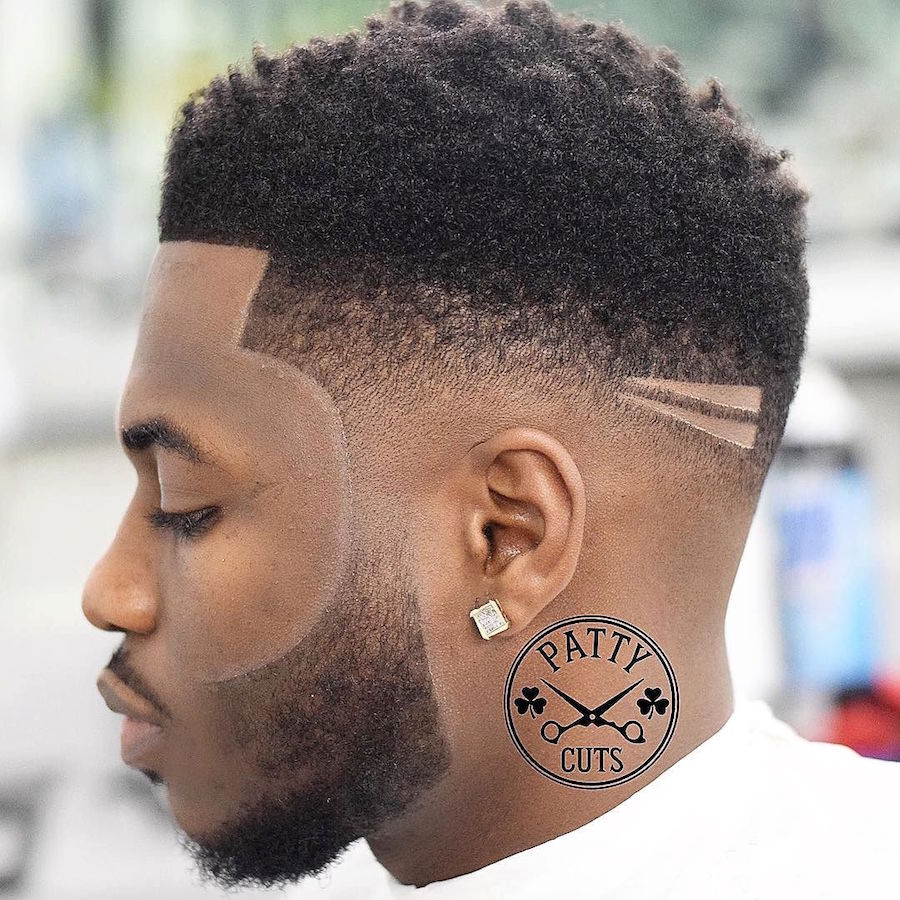 Haircut by Pat Regan
The x-ray part adds something special to an already great haircut. Hair is full on top with a hint of curl. The high fade is interrupted by parallel lines that make a statement.
9. Long Fringe + High Skin Fade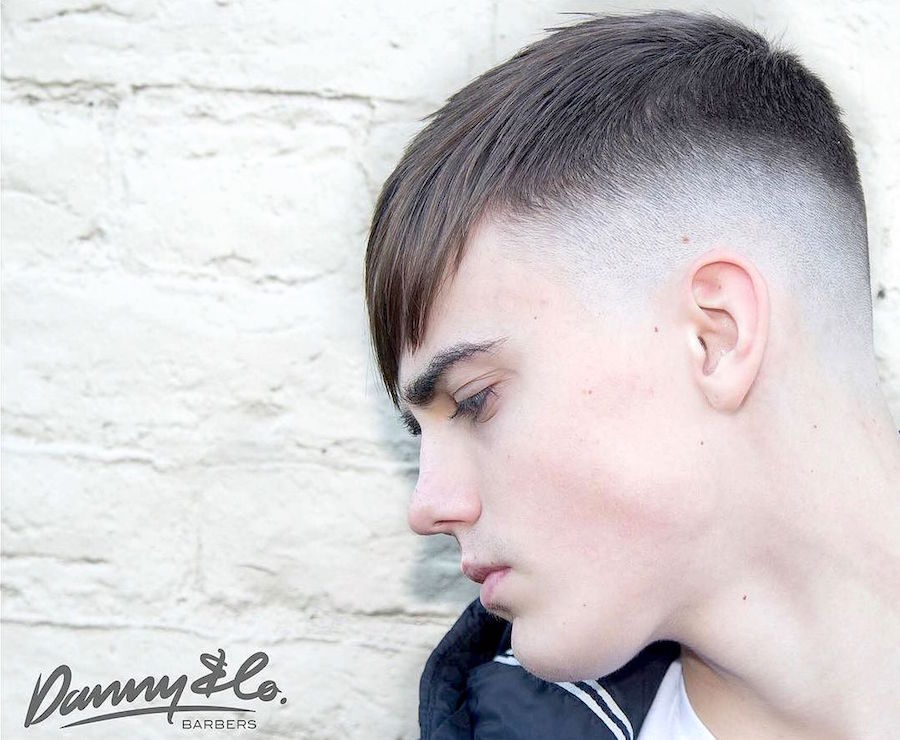 Haircut by Danny & Co. Barbers
Instead of the old slicked back undercut, this cool cut features a high blurry fade and hair worn in forward fringe. Switch to a matte product for this hairstyle.
8. Clean Fade + Side Hard Part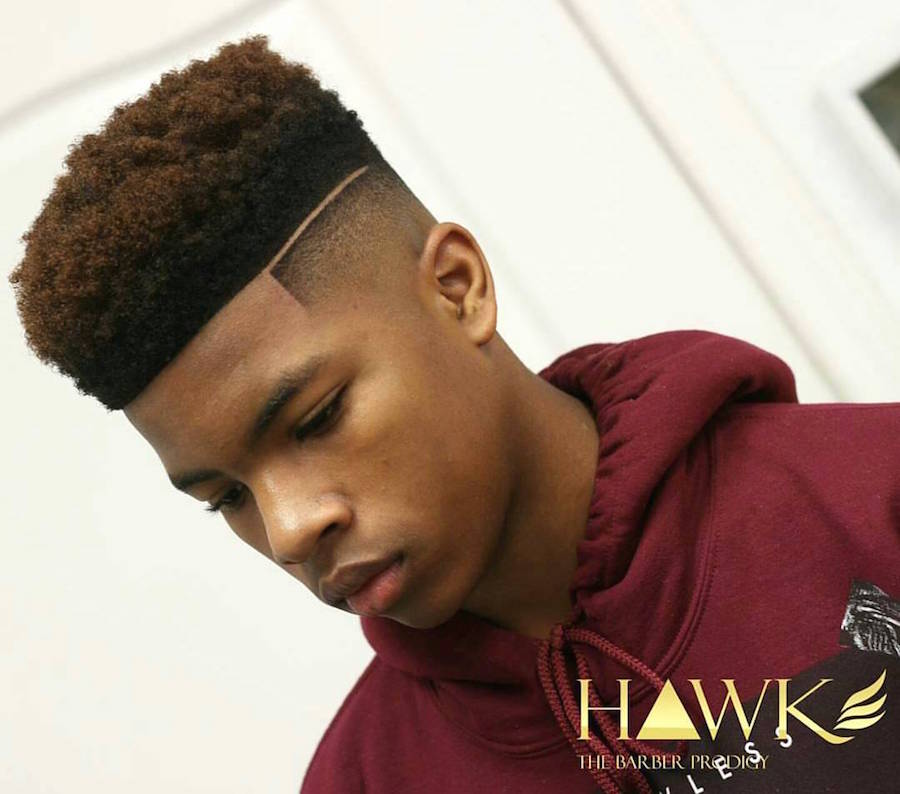 Haircut by Hawk The Barber Prodigy
This surgical part extends the hairline beyond the ear, creating a division between curls on top and a skin fade. Try a curl sponge to get the textured finish on top.
7. Long Textured Messy Crop + Heavy Fringe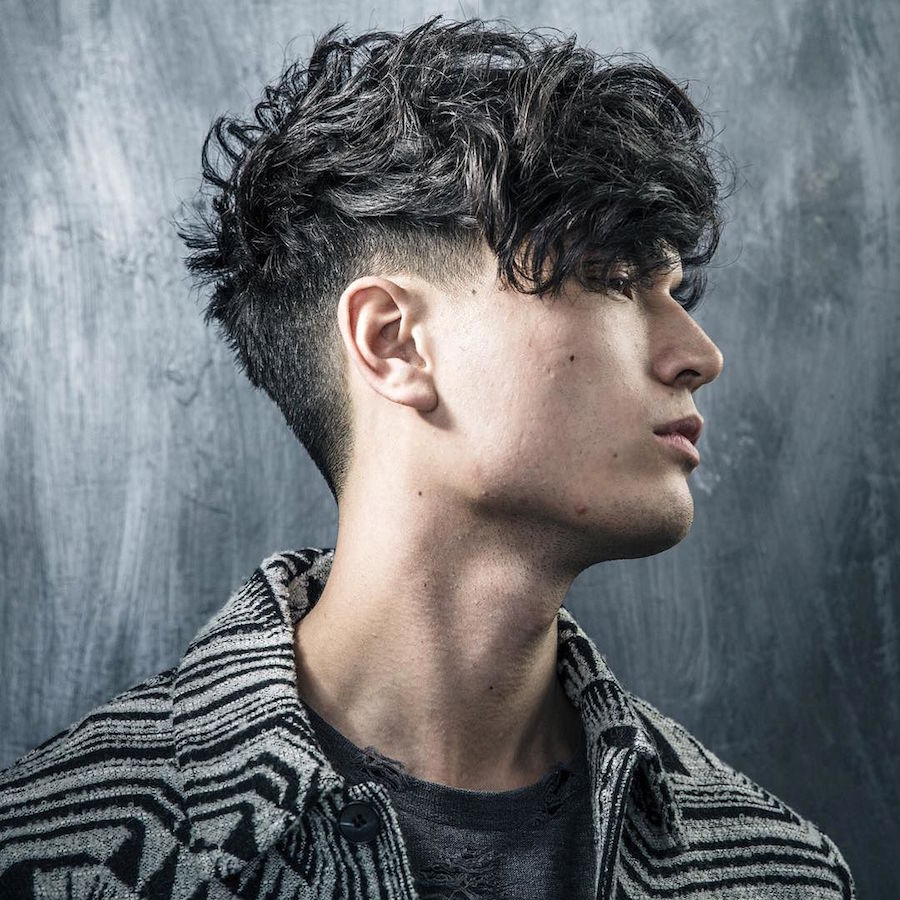 Haircut by Braid Barbers
This messy cool look styles curly hair over to one side with an emphasis on fringe. Get the look with a product that gives texture and separation rather than hold, like ADH Dry.
6. Long Messy Low Undercut Men's Hairstyle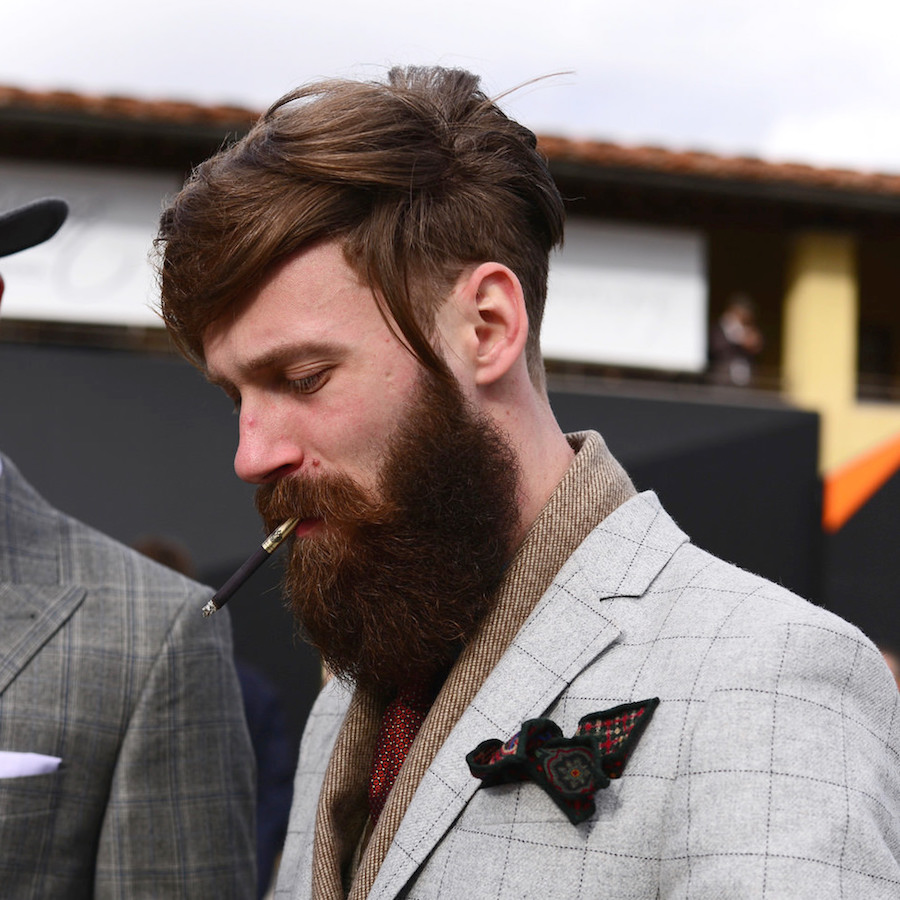 Haircut by The Korean Barber
Not only is this pattern mixing above beyond, so is this uniquely textured version of the combover. Hair is cut extra long on top with short sides and a temple fade for something different.
5. Short Sides + Long Hair On Top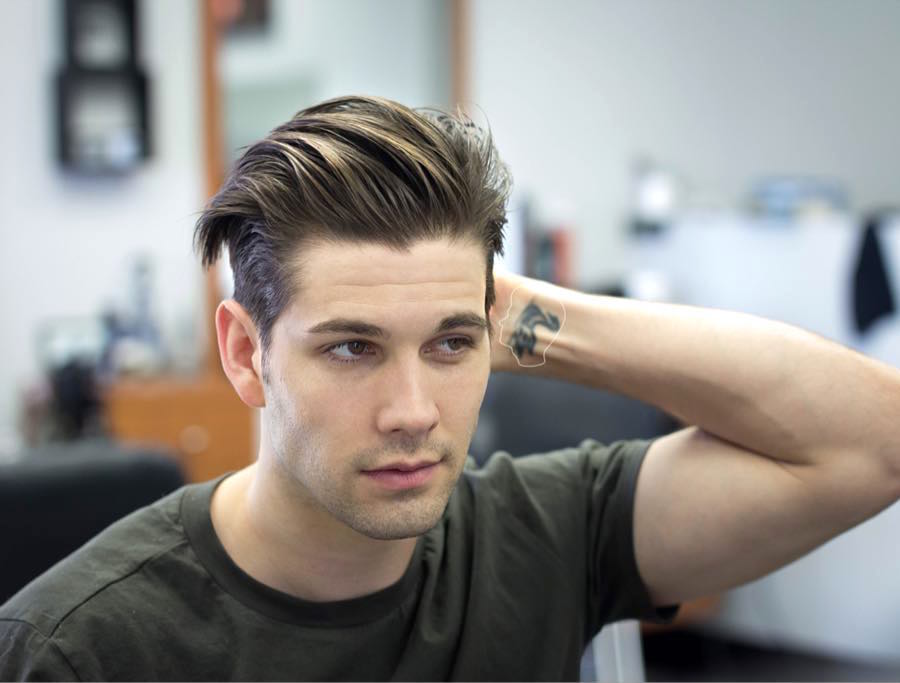 Haircut by Andrew Does Hair
This slick back with separation is all about blow drying plus a little bit of product for texture. The technique is flat wrapping, brushing hair while holding it close to the scalp while blasting it with low and slow heat. It is easier to visualize than explain so get your barber to show you how it's done. Finish with ADH Dry.
4. Awesome Curve Top
Haircut by Chris Boos
This dope cut takes the flat top to the next level. Instead of right angles, an arc of hair extends from the curve of the head to meet height on the other side. A tape up and surgical part emphasize the curved profile.
3. High Skin Fade + Long Hair Men's Hairstyle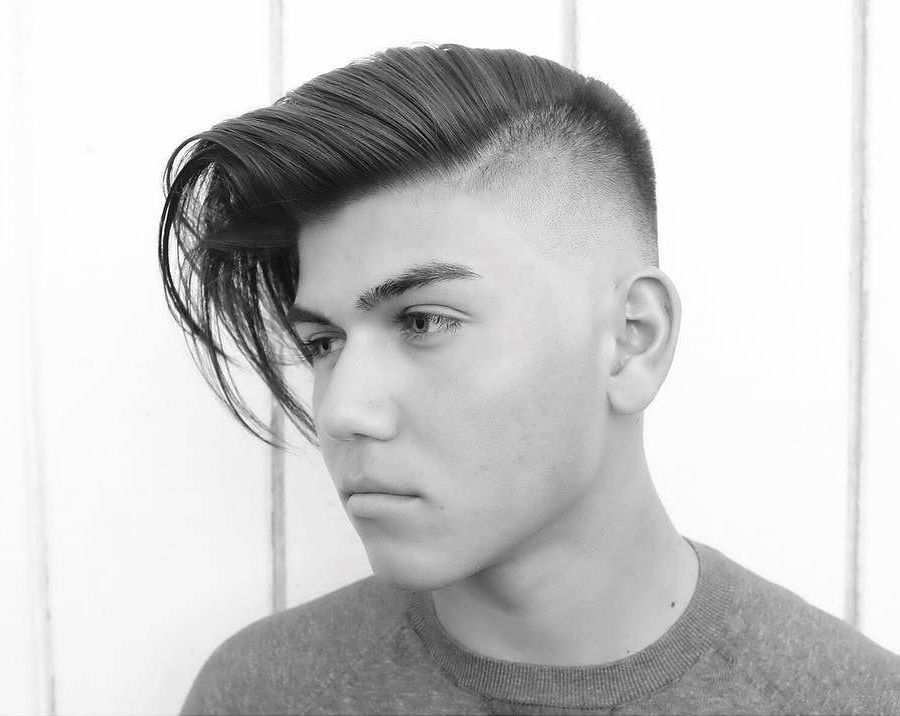 Haircut by Scissor&Bone
An update on the undercut, this high skin fade keeps hair ultra short on the sides but with soft tapered edges. This cool look won't work for everyone though. It looks best with angular features. Always consult your barber for the most flattering cut for you.
2. High Fade + Side Hard Part Pompadour Mohawk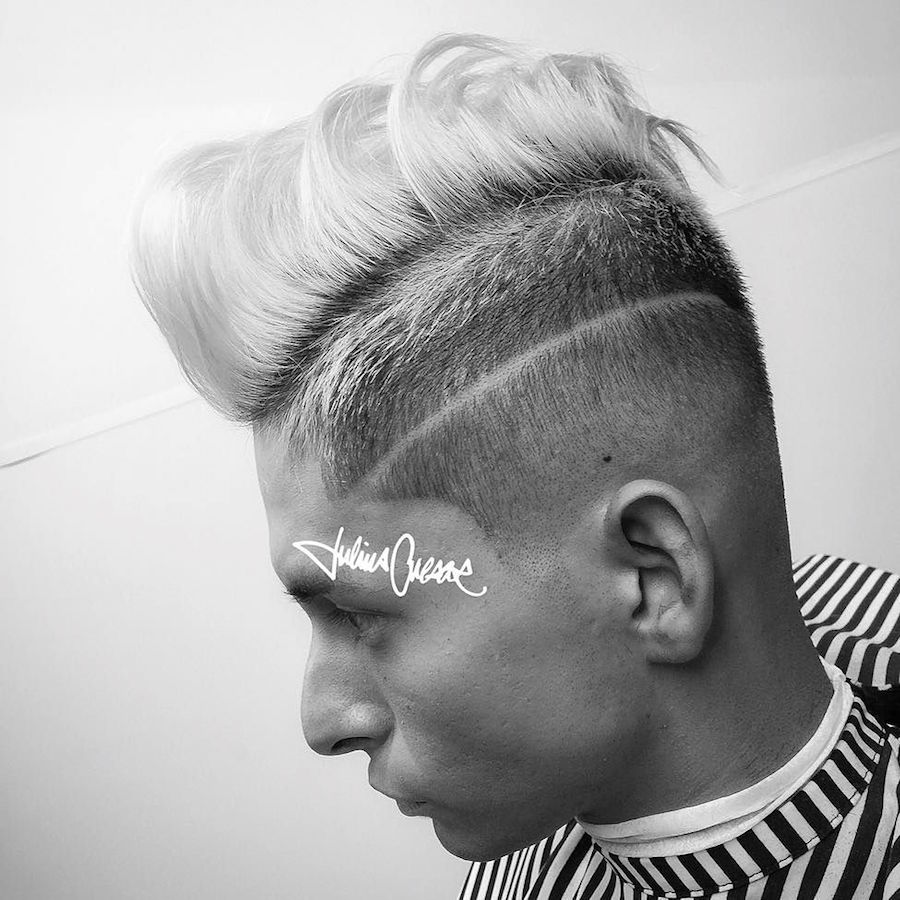 Haircut by juliuscaesar
Somewhere in between a mohawk and pomp, this cool look combines height with a combover type style. Add in color, a fade and surgical part for a unique style.
1. Side Surgical Part + Slicked Back Haircut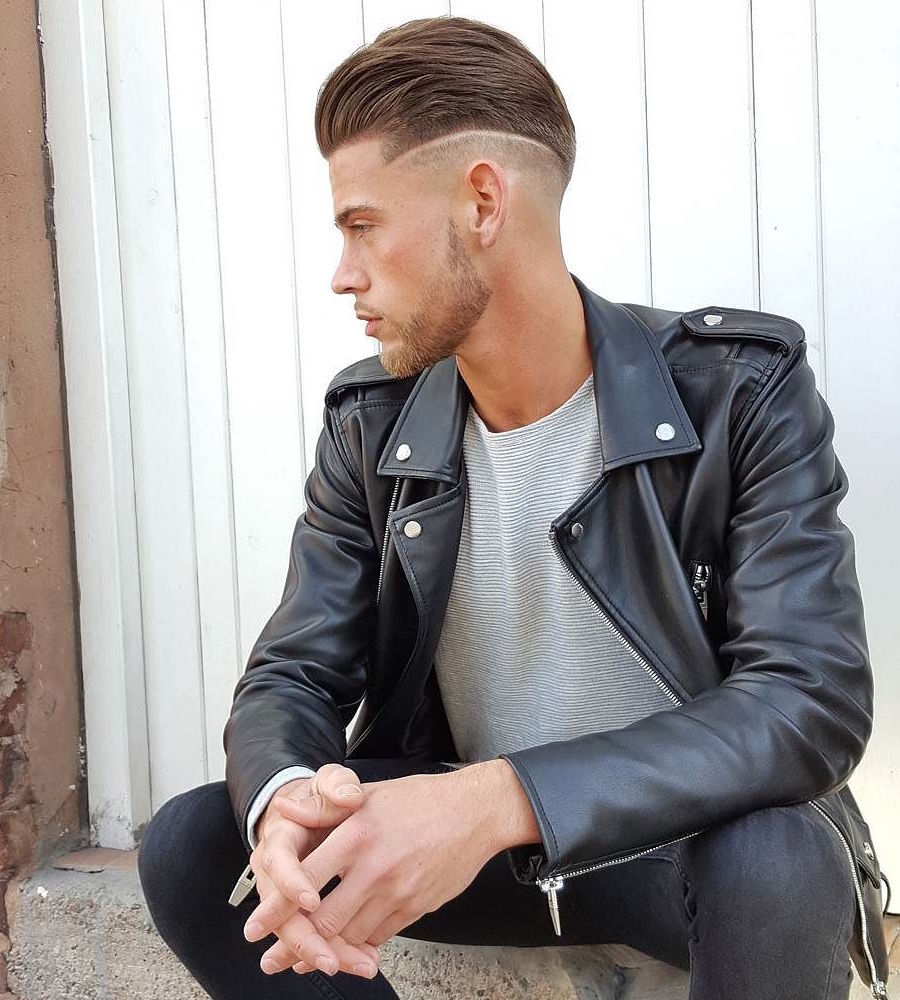 Haircut by L. Buckley
The pomp is a huge trend this year, especially with some updates. This bold look starts with the classic tall slick back and duplicates the arc with a shaved part and skin fade.
We use affiliate links and may receive a small commission on purchases. Please read our disclosure.