It's very easy to get that same haircut, buy that same product, and style your hair exactly as you have always done over and over again. Low risk, easy.
But it's kind of boring and doing the "same old, same old" is not going to get you noticed. Stay cool and try out some contemporary looks and modern men's hairstyles.
When you go to the barber for your next haircut, take a picture of a new and totally different style than your usual cut. Simply tell your barber this is how I want my hair to look. Be bold, take a plunge into the unknown, and have some fun!
You will be amazed at how people look at you differently and in a very positive way when you step out the door and walk back into your daily life. Here are 35 cool men's hairstyles for you to try out and completely transform your current look.
35. Long Wavy Hair Undercut Hairstyle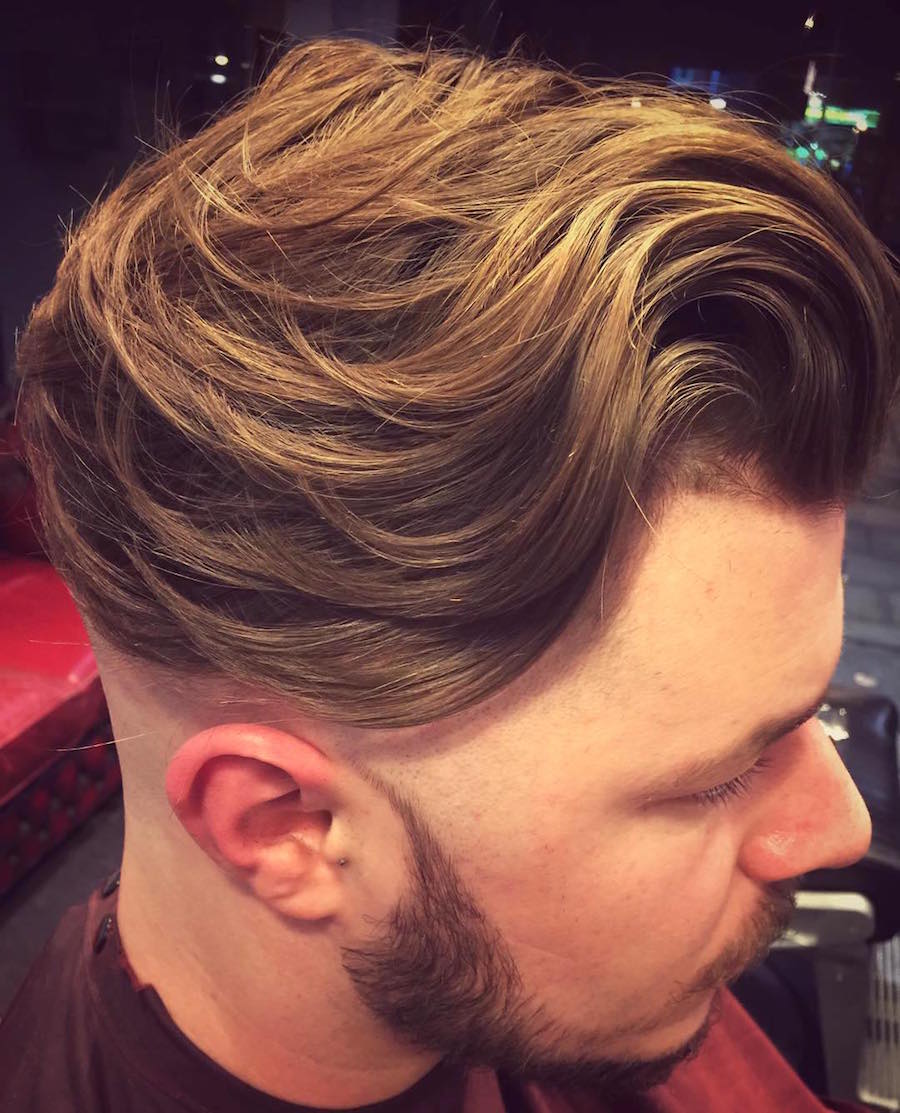 Haircut by Louisa Harper
We always want what we don't have. For straight hair that means adding some wave-like this unique curled combover style that ends in a whorl at the back.
34. Cool Hair Design + Undercut Hairstyle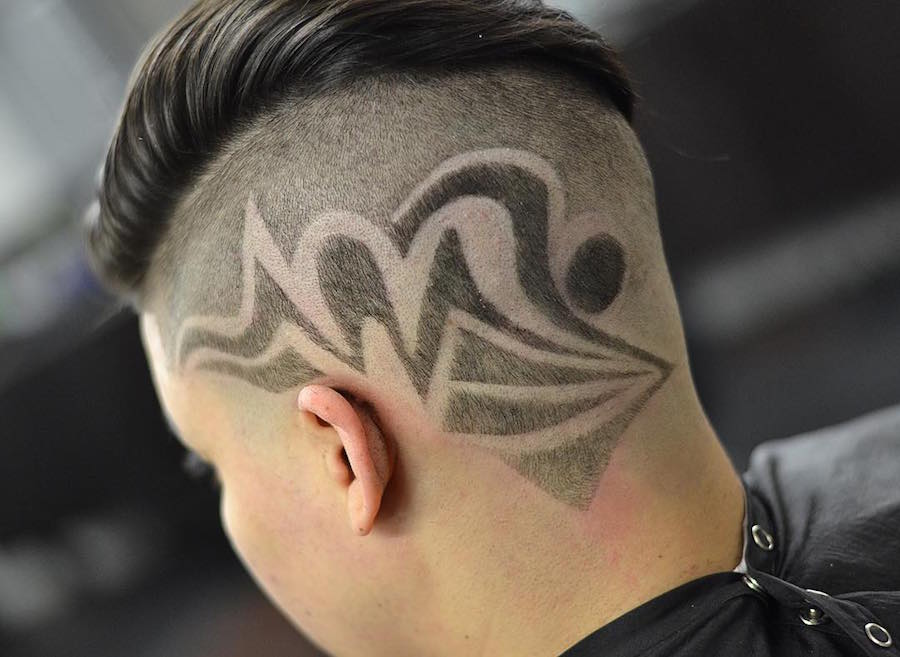 Haircut by Drew Da Barber
For a unique look that doesn't need styling, it's all about hair designs. An undercut or fade are the canvas for your barber's skills and creativity.
33. Classic Men's Short Haircut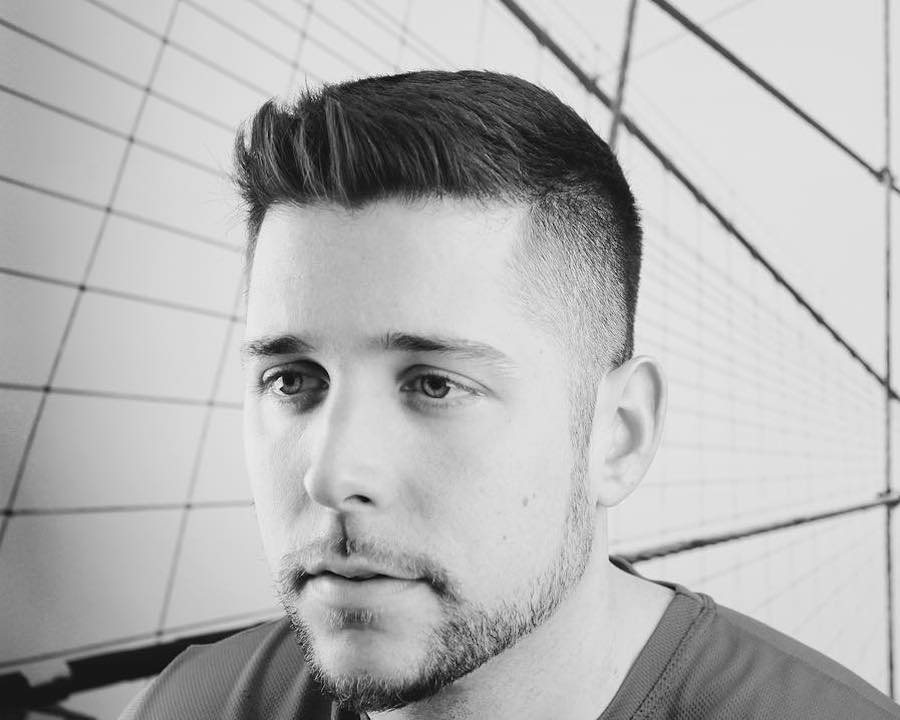 Haircut by Keller
An update of a classic cut is always a winner. This new crewcut keeps hair short and spiky on top but adds a temple fade that seamlessly blends into a short beard.
32. Short Haircut + Burst Fade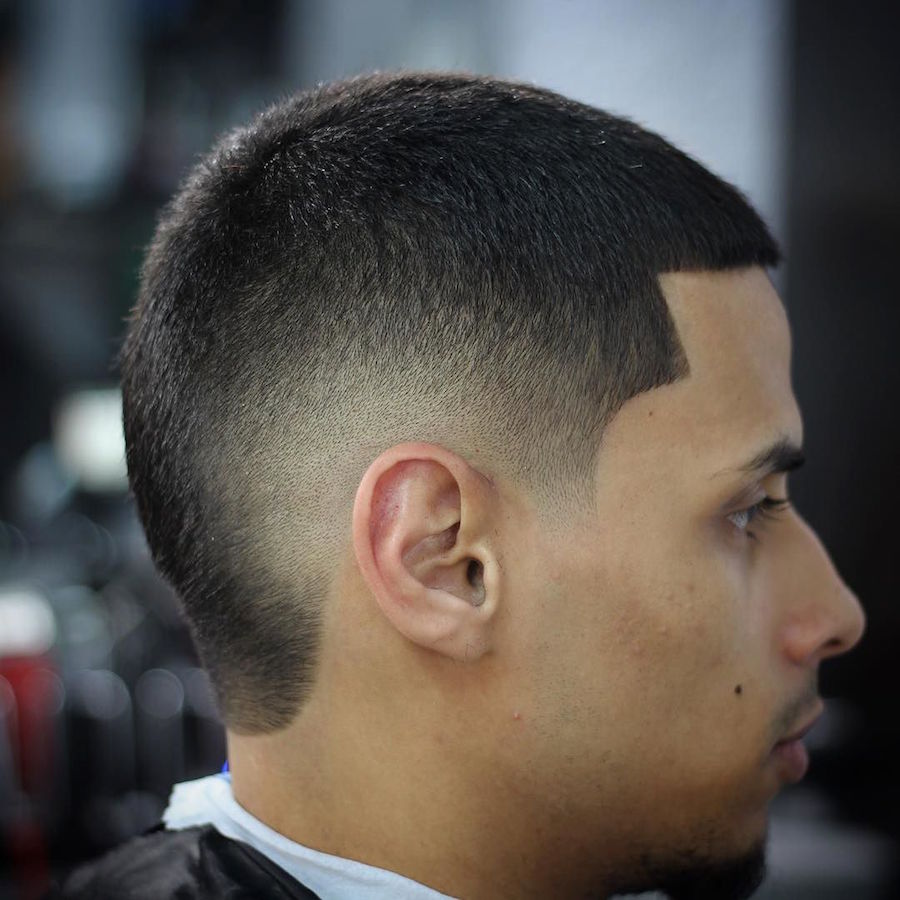 Haircut by The Mohawk Barber
Spice up that buzz cut with fresh lines and blurry fades. This ultra short style adds interest with a burst fade around the ears, tight angles at the temples and a curved neckline.
31. High Skin Fade Pompadour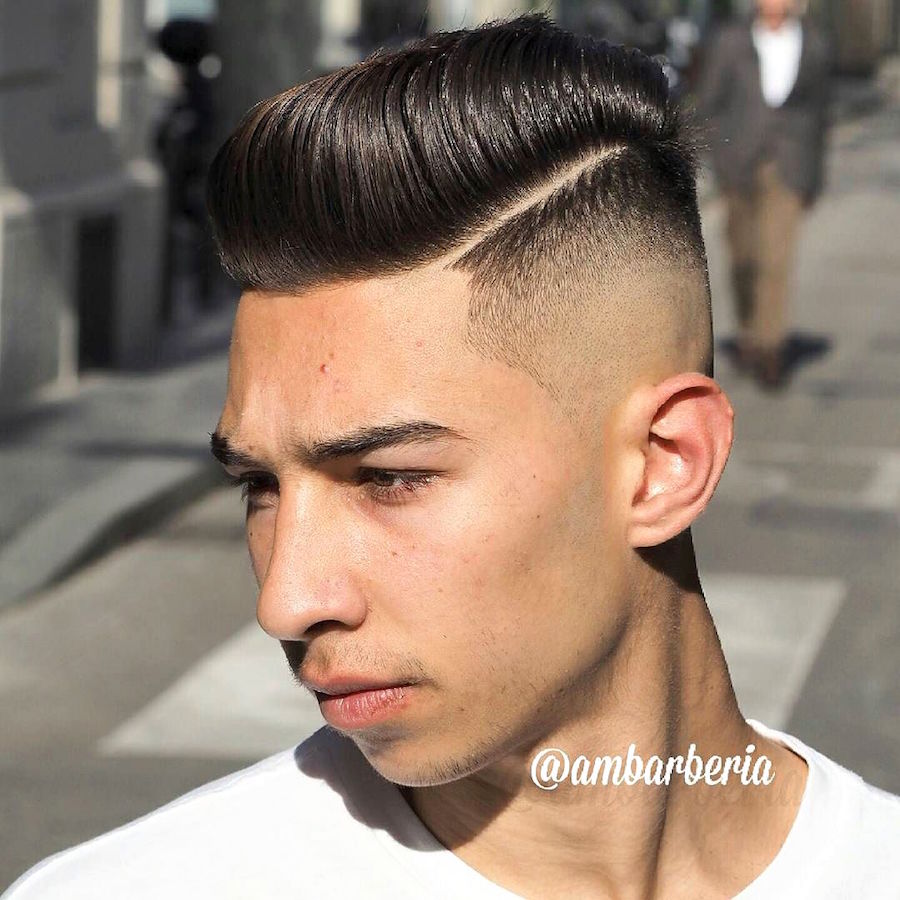 Haircut by Antonio Mateo
This combination is one of the top men's hair trends of the year. The top is left long and styled into a retro-inspired pompadour. A hard part and high fade update the look.
30. Long Hair Texture + High Skin Fade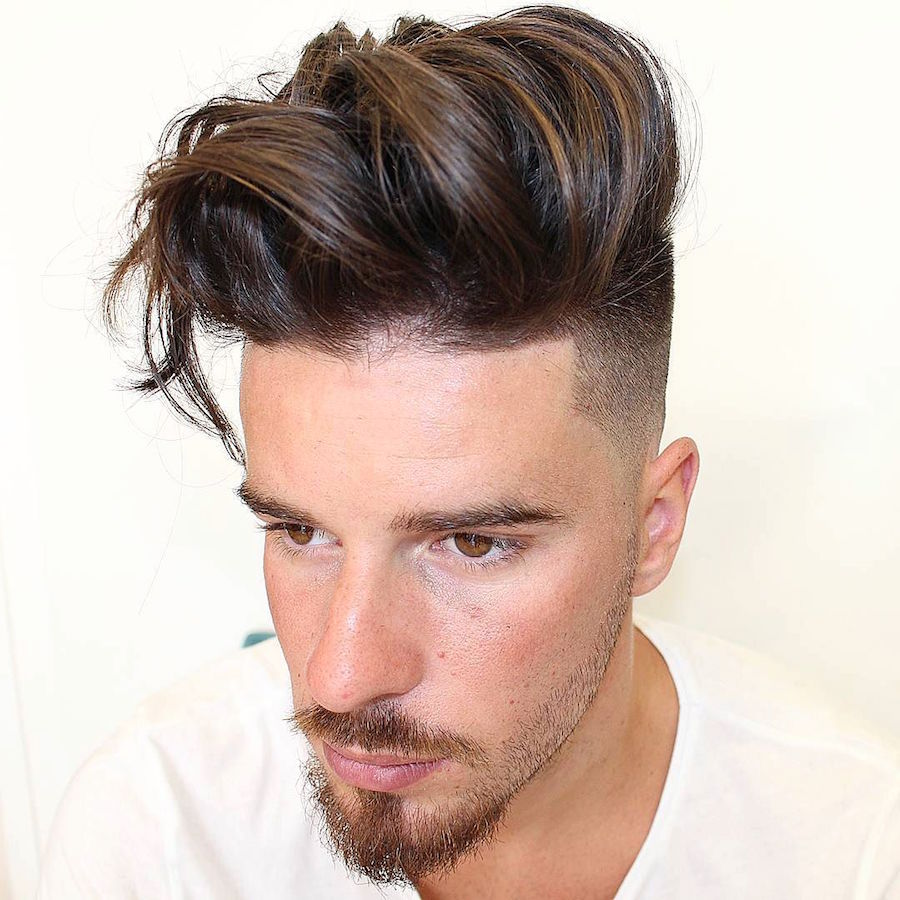 Haircut by Agus Barber
Instead of the messy look, this year is all about adding texture. This style has tons of height and is loosely divided into sections and twisted for that tousled texture.
29. High Skin Fade + Short Curly Hair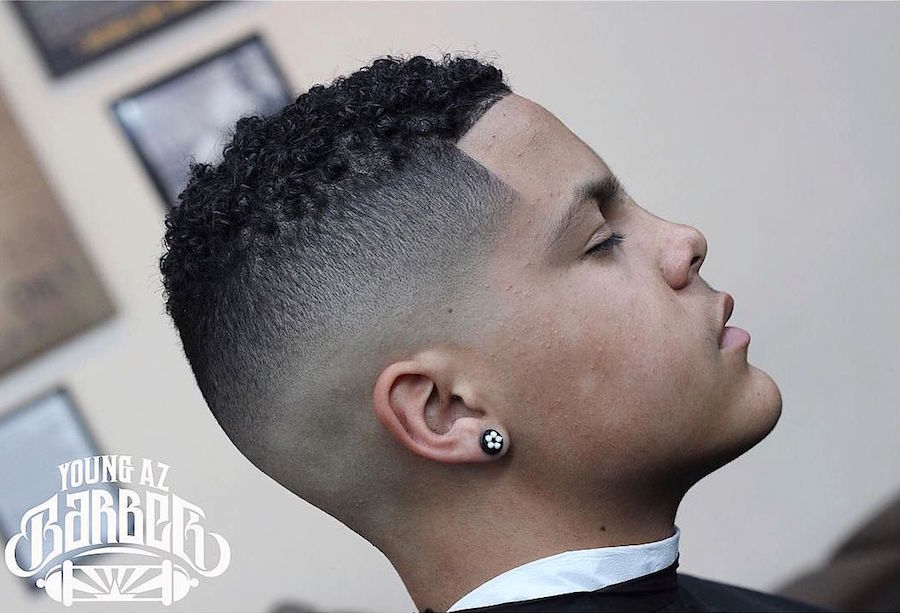 Haircut by Gabriel Sotelo
The high fade with a little bit of length on top works for every hair type. Here, tight kinky curls are left up top while the rest of hair is cut down to the skin for a no maintenance, high style look.
28. Short Texture + Bald Fade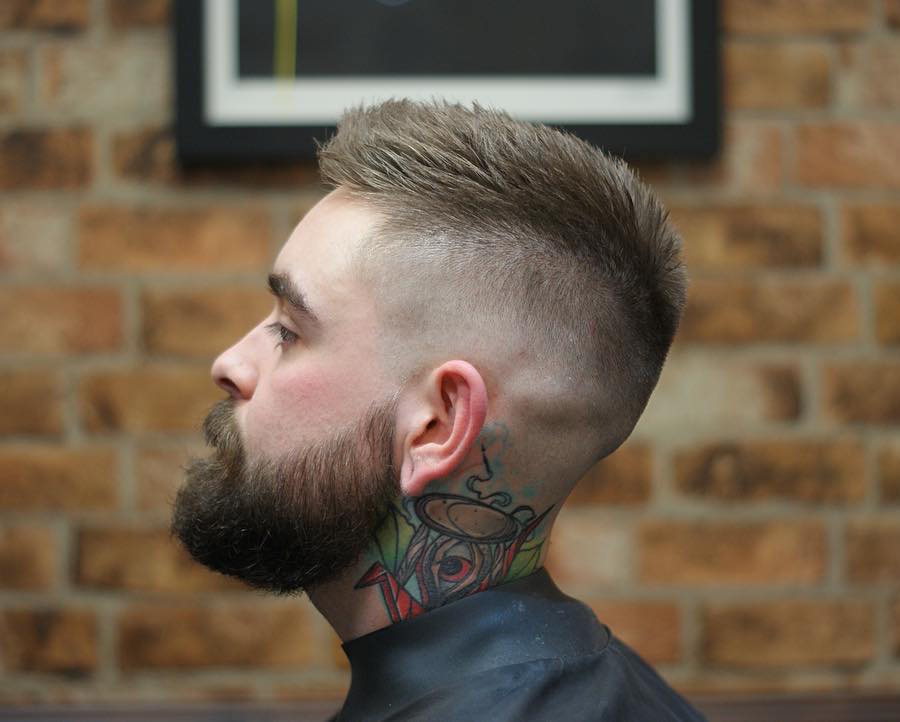 Haircut by Ryan Connor
This short style is cut choppy on top for a textured spiky finish. The high skin fade is ultra clean cut and looks great growing out so you can visit the barber at your leisure.
27. Thick Choppy Textures + Drop Fade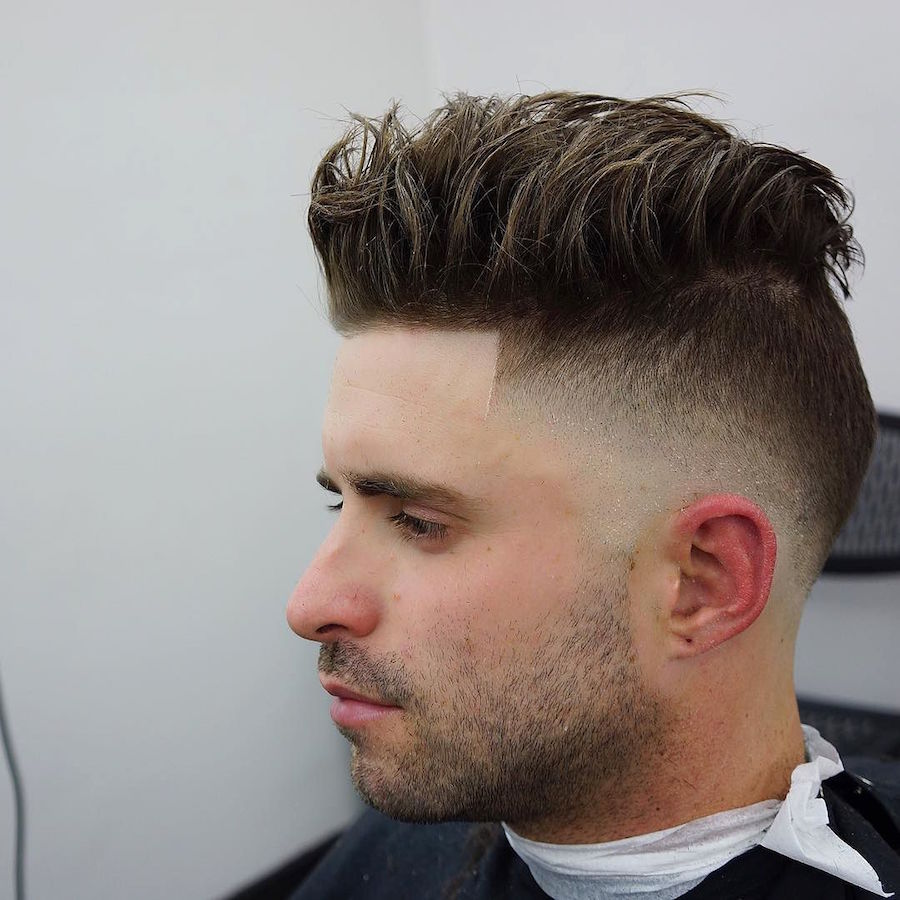 Haircut by criztofferson
This fresh style contrasts a blurry fade with a line up and ultra short straight hair with long textured spikes up top.
26. Hard Part + Slicked Hair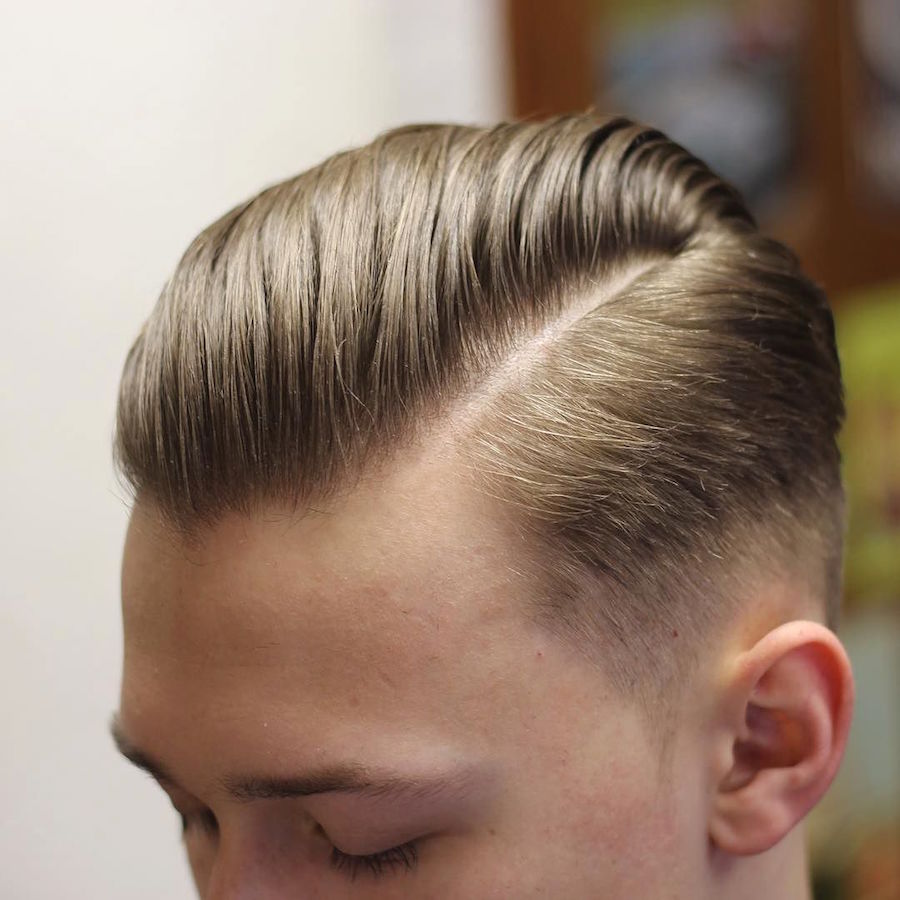 Haircut by Paul Fitz
This side part hairstyle gets the perfect finish from Layrite Pomade and a streaker comb that creates perfect lines.
25. Side Hard Part + Step + Medium Texture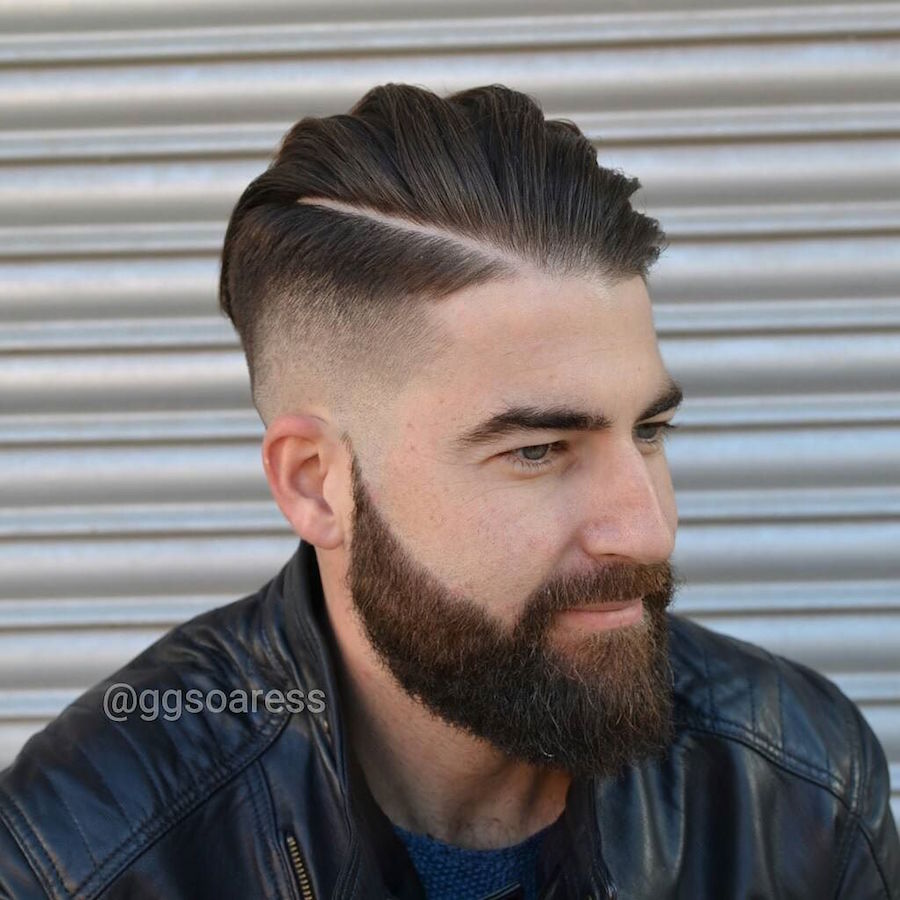 Haircut by Gabriel Soares Torrubia
Talk about perfect lines, this fresh take on the combover adds volume in graduated sections.
24. Short Crop Hairstyle For Men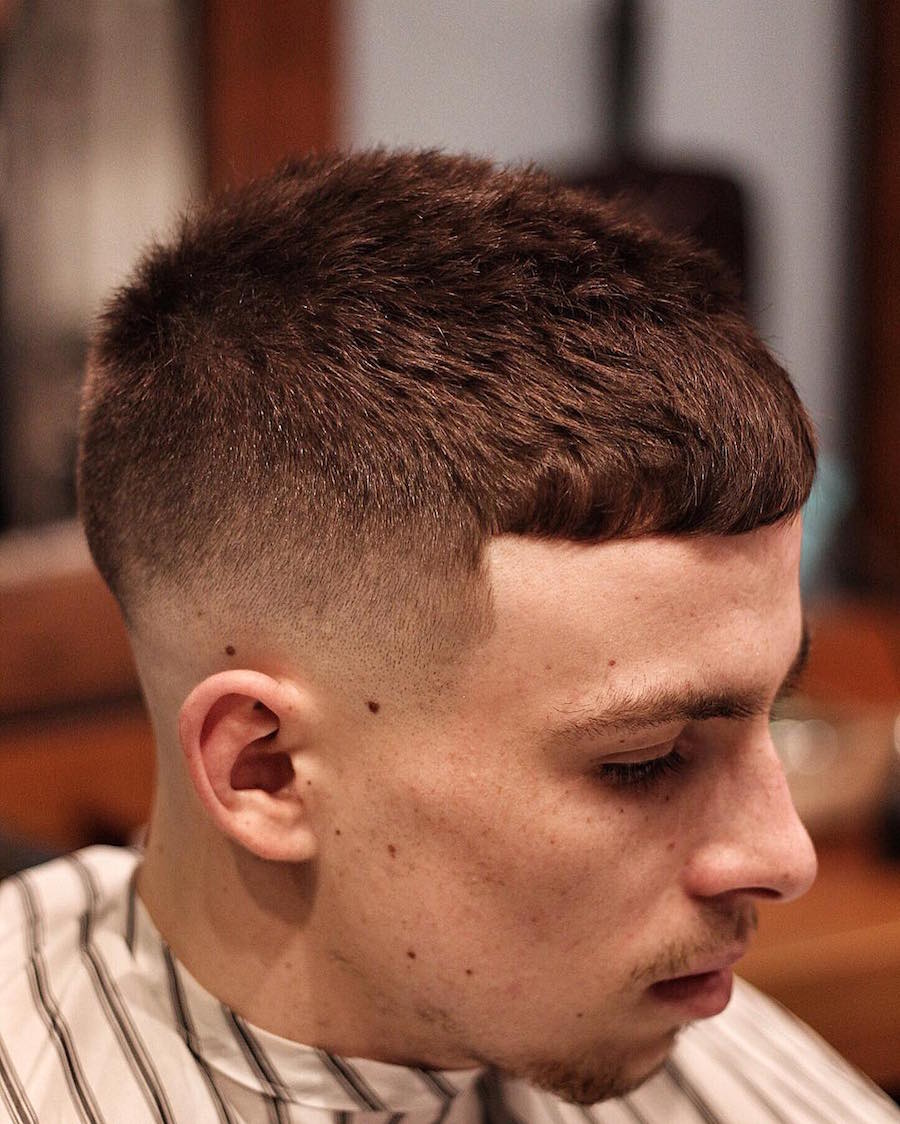 Haircut by The Gentleman Barbers
This ultra short cut isn't short on style. This ultimate chop still features texture at the back, a hint of fringe and a low fade along the hairline.
23. Waves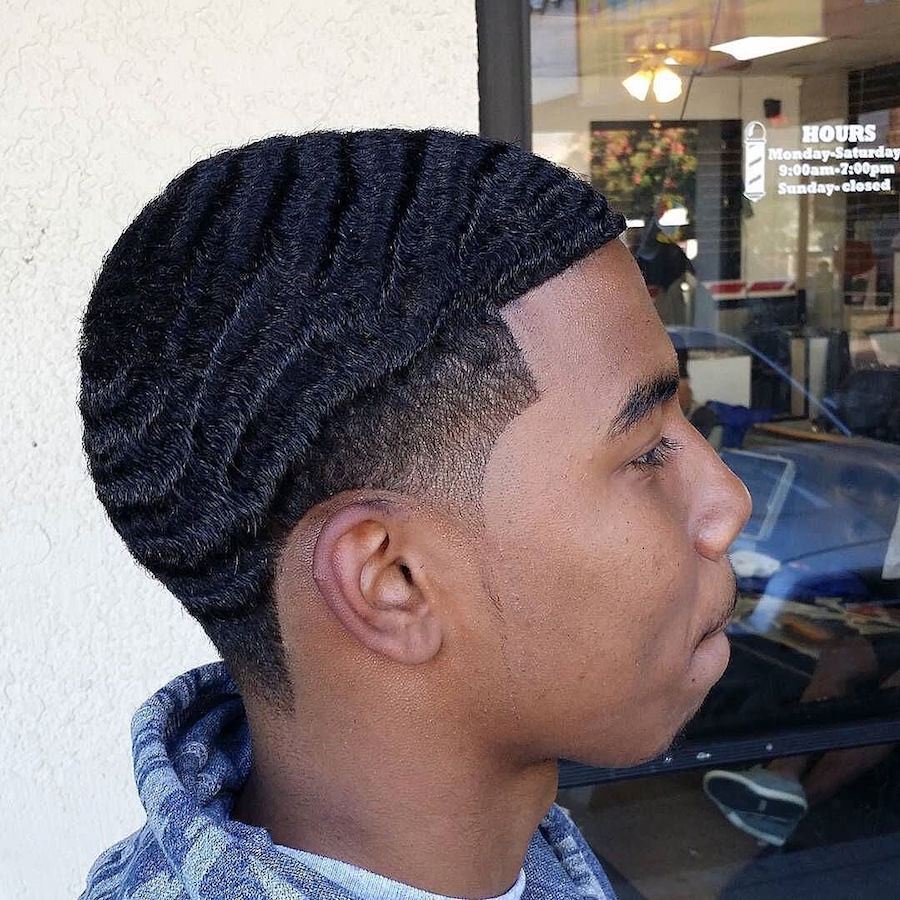 Haircut by wavyquis @ DreamCuts Barbershop
For guys with black hair, don't just get any old buzz. Mix it up with waves that add texture all the way around.
22. Mid Skin Fade + Step + Combover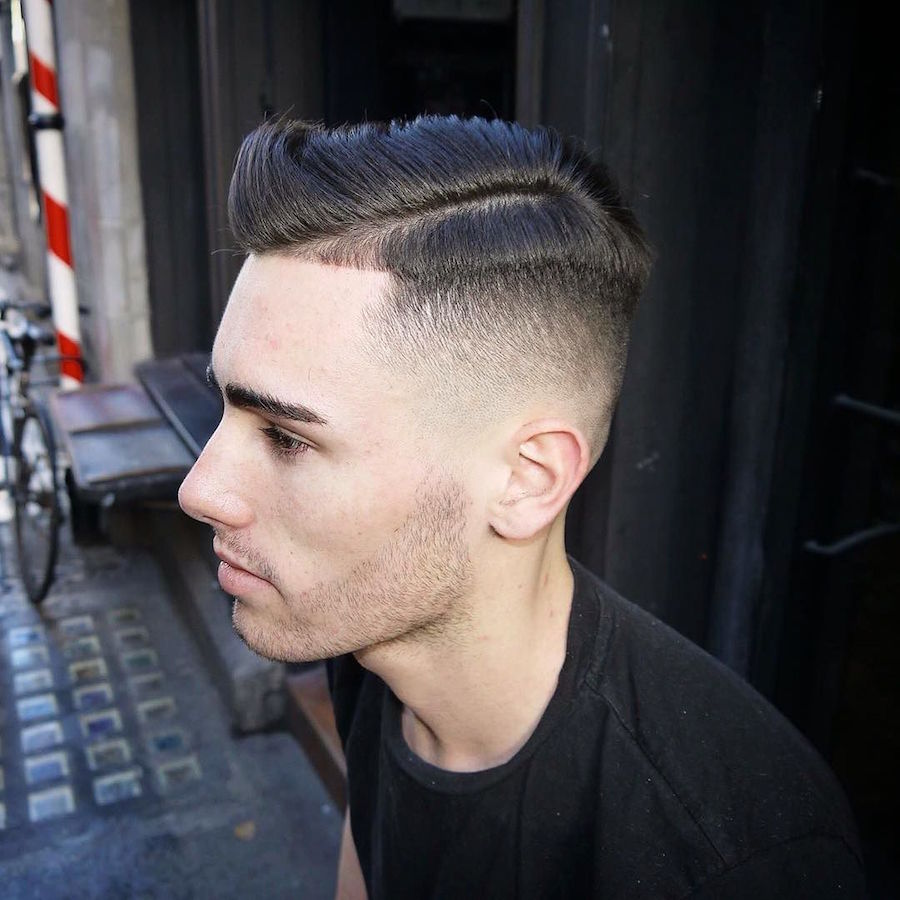 Haircut by HaydenCassidyHair
A hot new men's haircut is the step. Instead of the seamless fade, this cut literally steps hair from long to short.
21. Slicked Back Hairstyle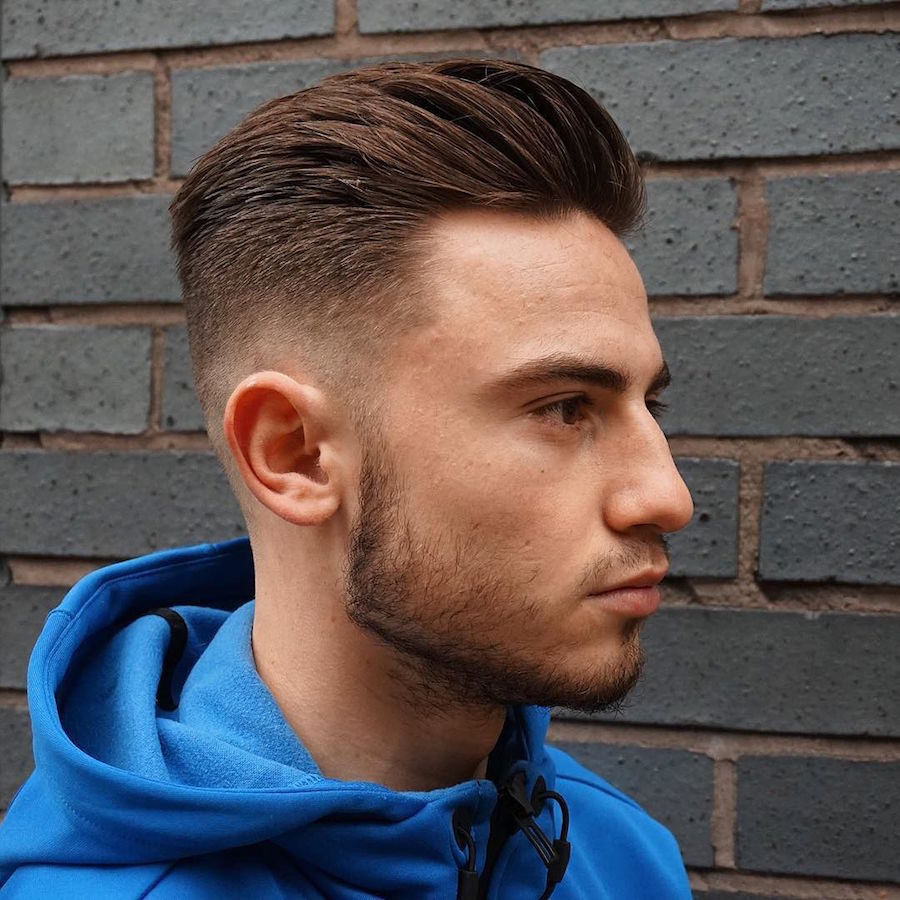 Haircut by Ross Parlane Barbershop
The classic slick back always looks good and never gets old. If you are new to styling your hair, it's a good one to start with.
20. Thick Hair Undercut + Hair Design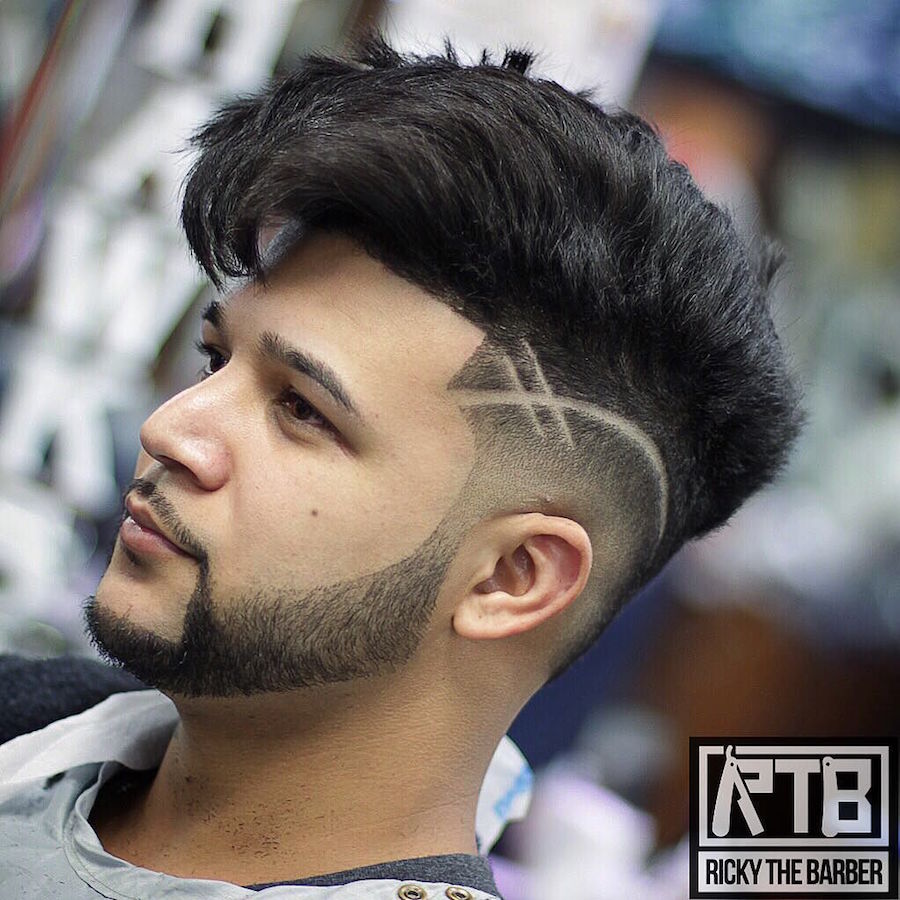 Haircut by Ricky The Barber
This long on top cut curls over the forehead in that vintage greaser style. But that's not all. A hot hair design adds arcs and lines.
19. Cool Curve Hard Part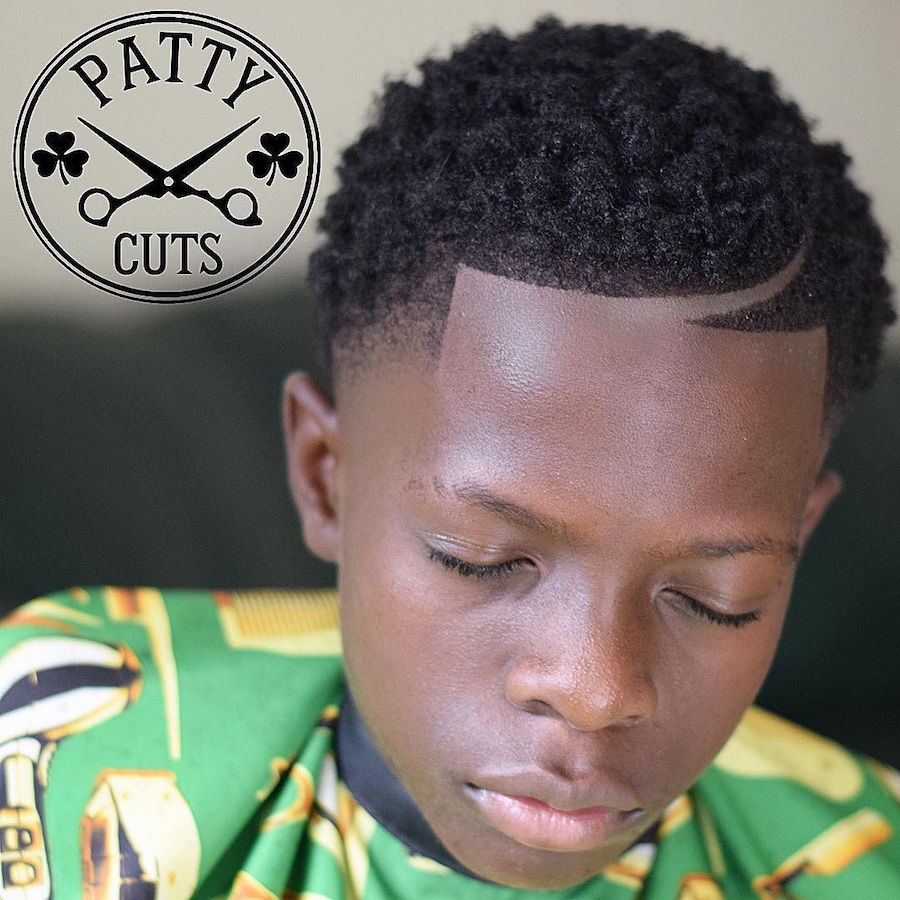 Haircut by Pat Regan
A fresh take on the lineup, this hard part creates a whole new hairline.
18. Slicked Back Hair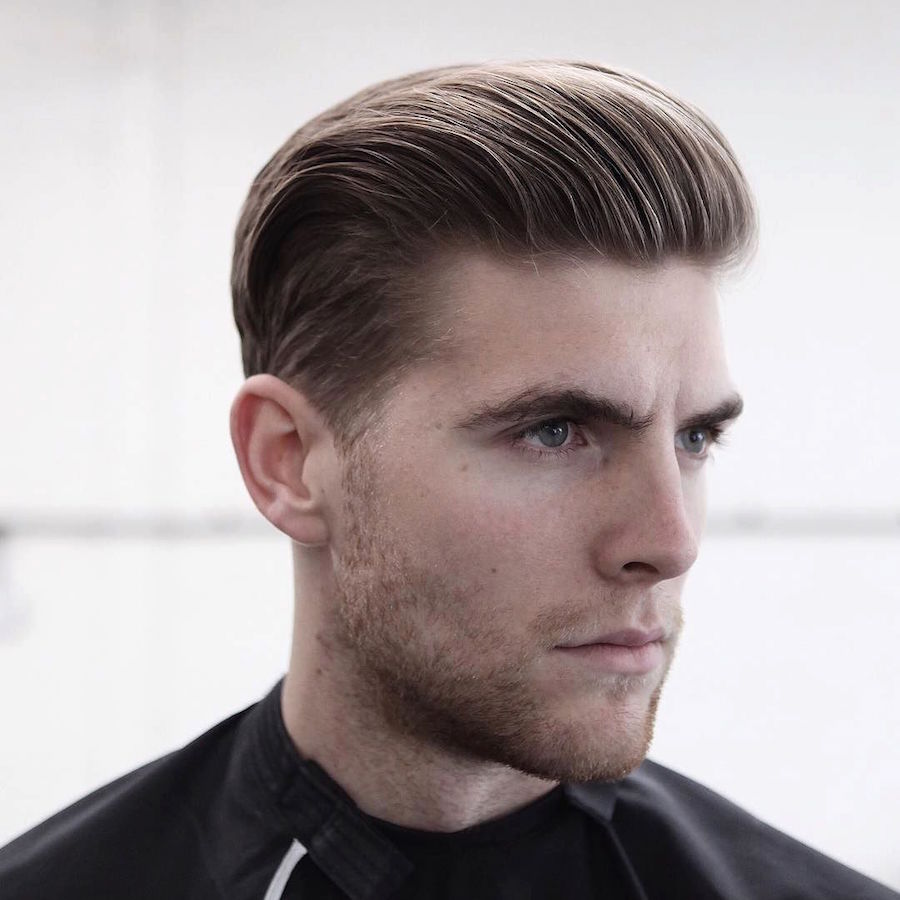 Haircut by Morris Motley
This long on top cut is impeccably groomed. Just apply product and comb is straight on back. For guys with fine hair wanting to rock this slick back, this is how it's done.
17. Short Pompadour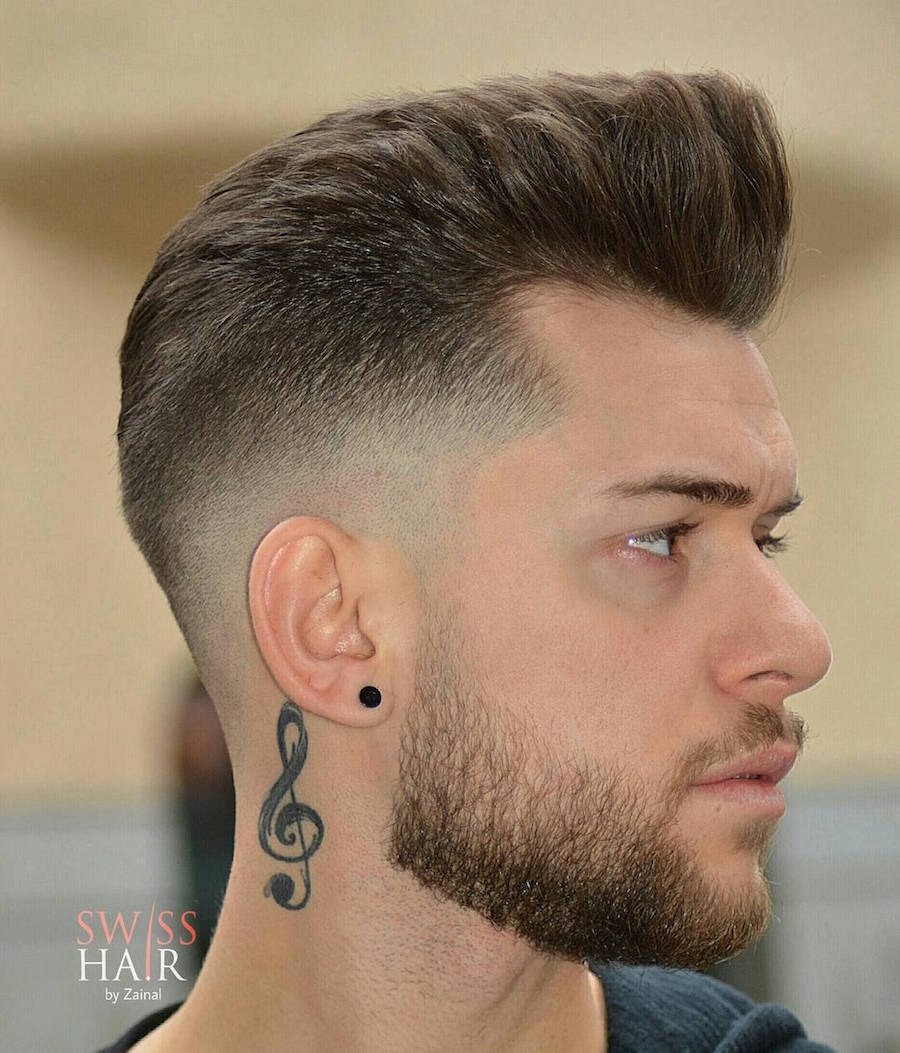 Haircut by Barber and Hairstylist Zainal
This short haircut for thick hair gets the look of a pomp with much less length.
16. Undercut Crop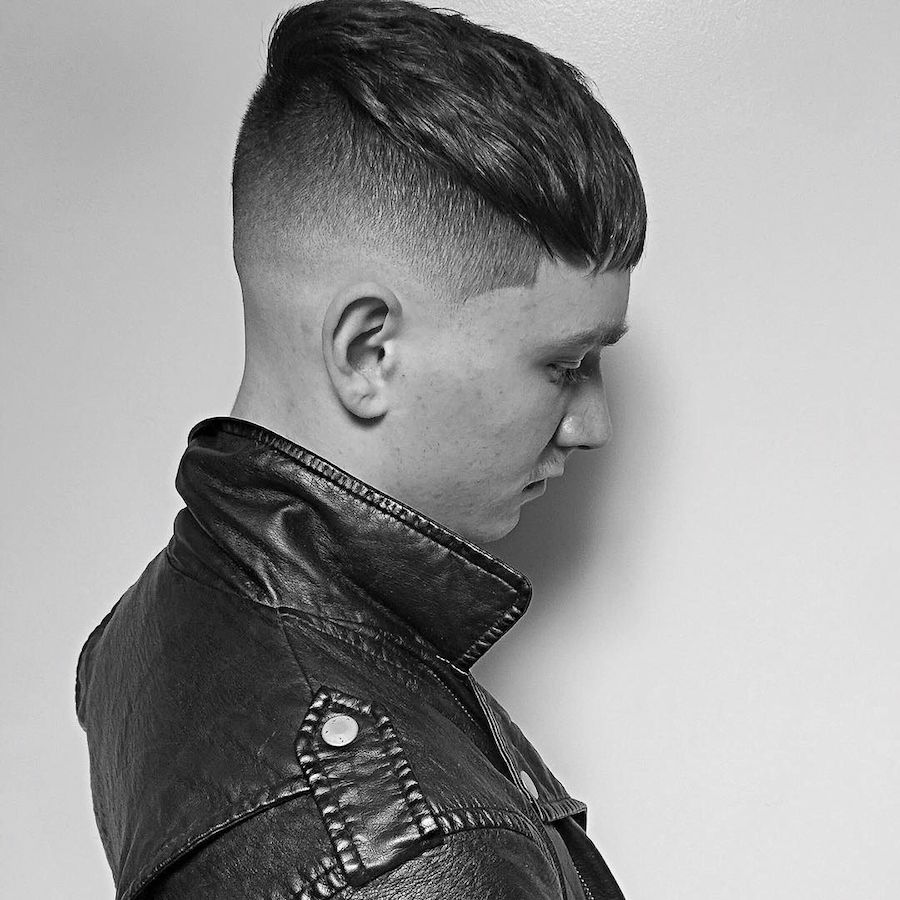 Haircut by Mikey
Instead of the slick back, this unique style pushes hair straight forward to create fringe over the forehead.
15. Fine Hard Part + Combover + Side Fringe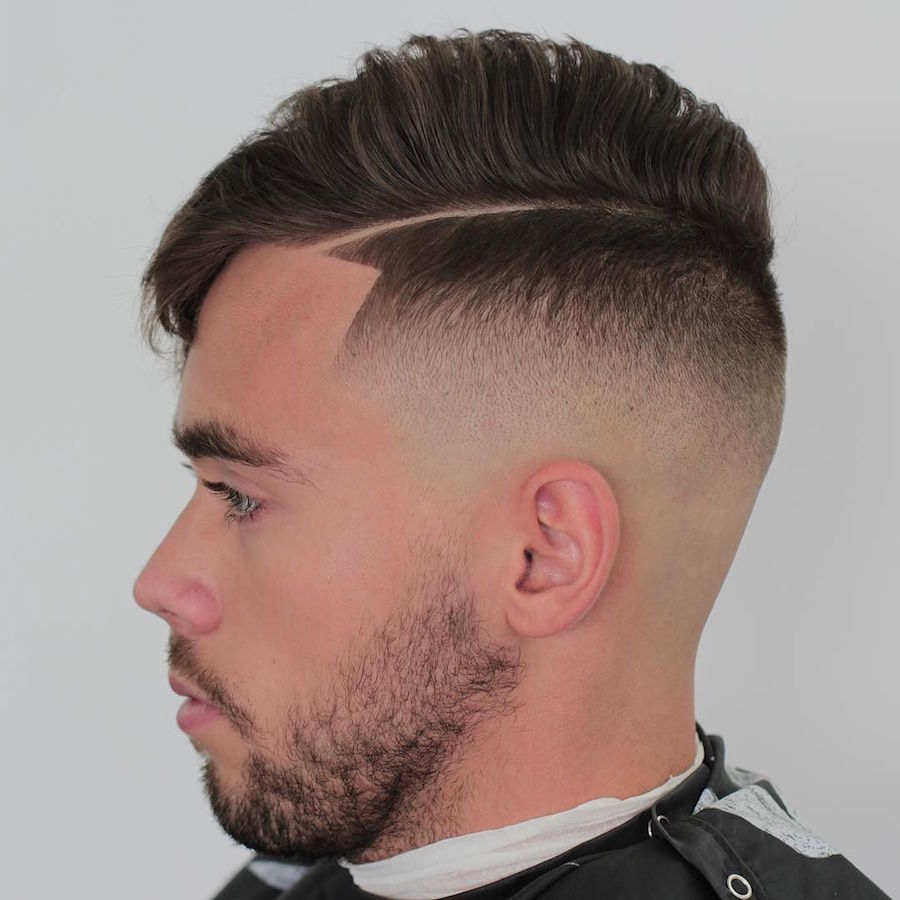 Haircut by Mark Marrero
An ultra fine hard part stands out against dark hair. This cool style also features plenty of volume and waves worked over to one side.
14. Medium Textures + High Fade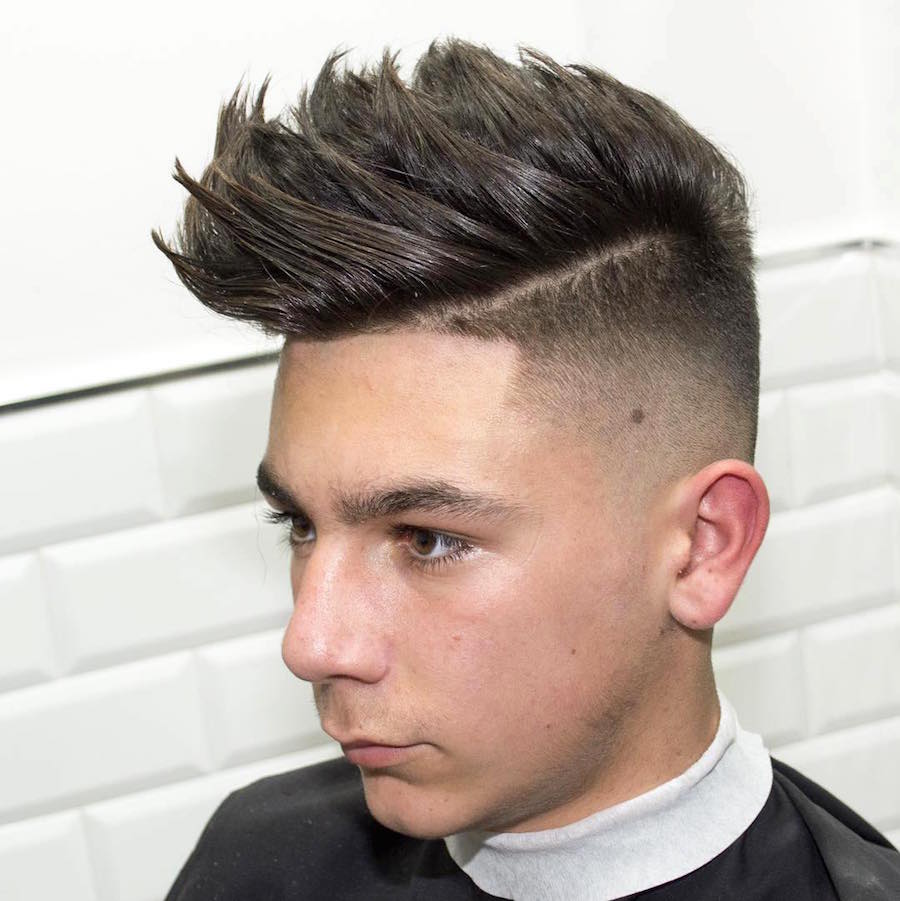 Haircut by Javi The Barber
Modern spikes are all about texture. This cool vertical look features messy peaks like choppy water.
13. Short Slicked Combover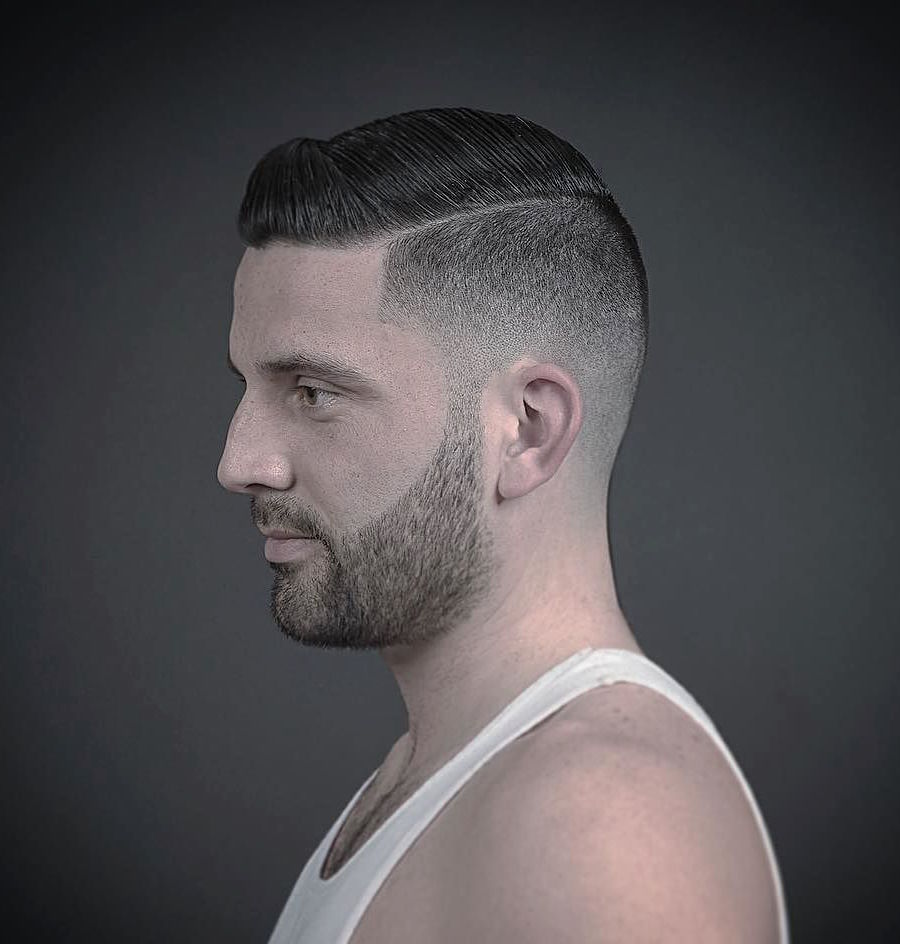 Haircut by His & Hers Parlour
A cool slicked comb over pompadour hairstyle with a high fade. Use a shine finish pomade to get this look.
12. Long Curly Hair + High Fade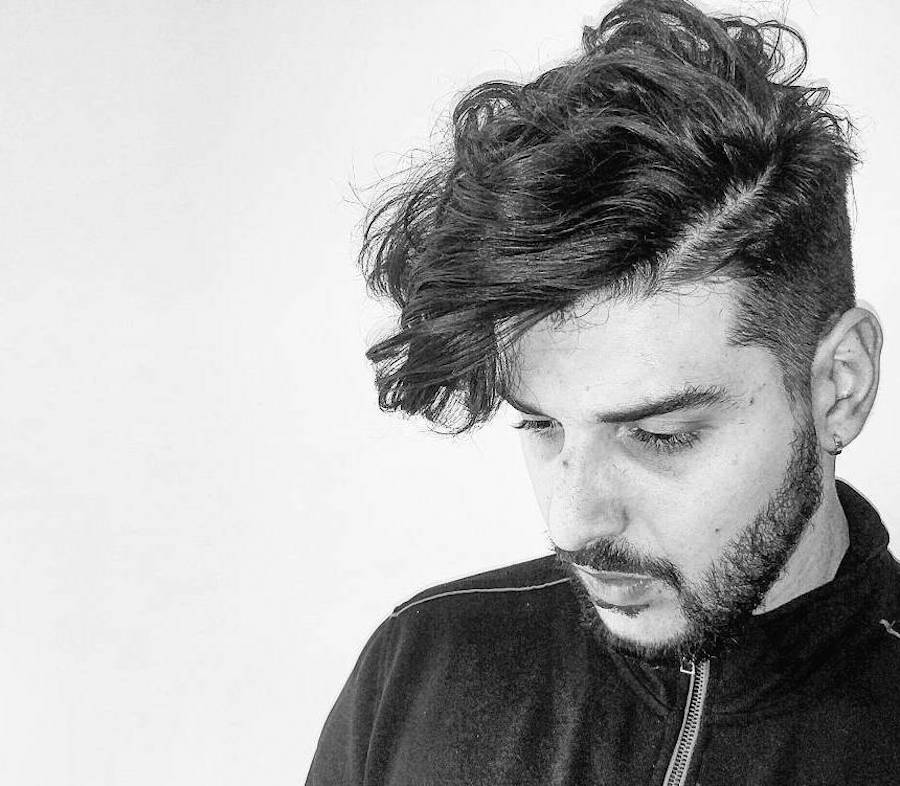 Haircut by Emilio
With the texture trend, guys with curly hair have it made. Just go for a long on top, short sides cut and use enough product to keep hair under control.
11. Super Clean Fade Pompadour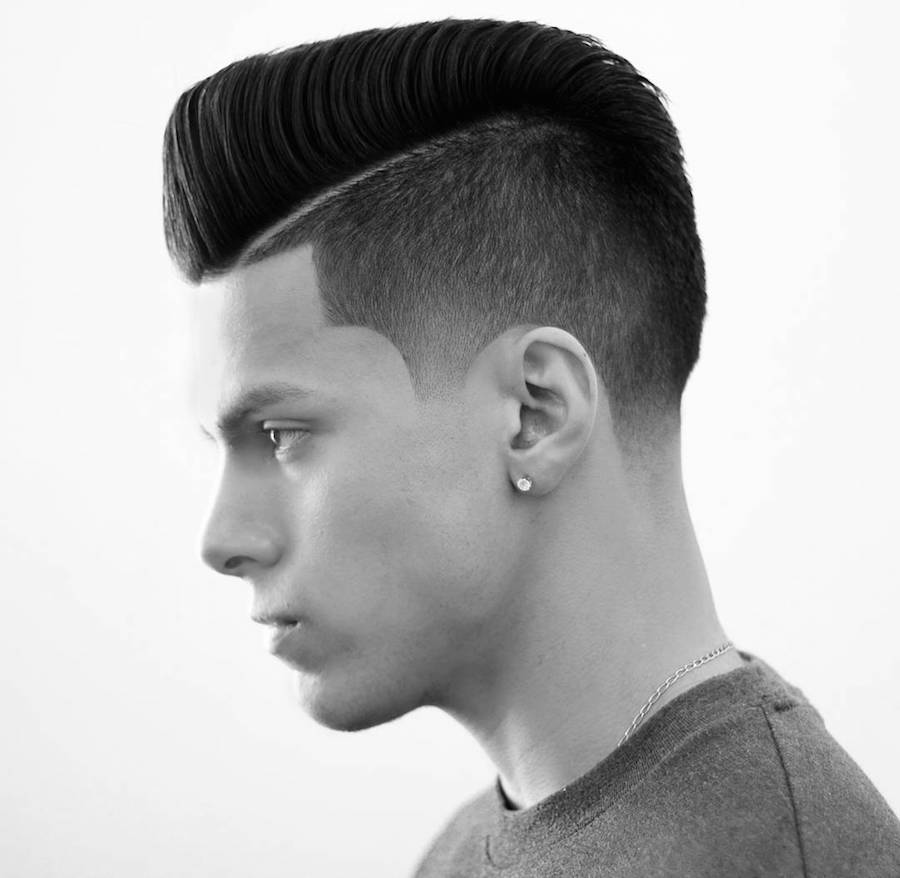 Haircut by donnyblends
Great cut, great style. There's nothing more to say.
10. Taper Fade + Waves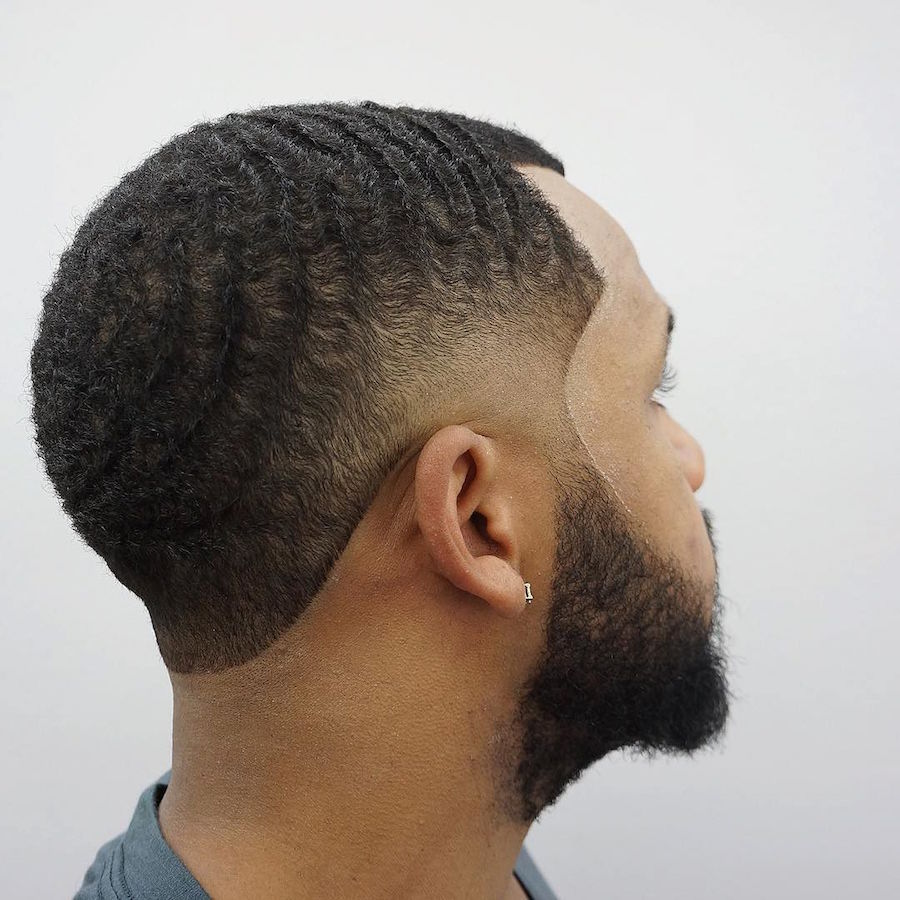 Haircut by criztofferson
360 waves are cut in concentric circles around the head. You can wear them close together or farther apart, as seen in number 23 above.
9. Wavy Textures On Top + Short Sides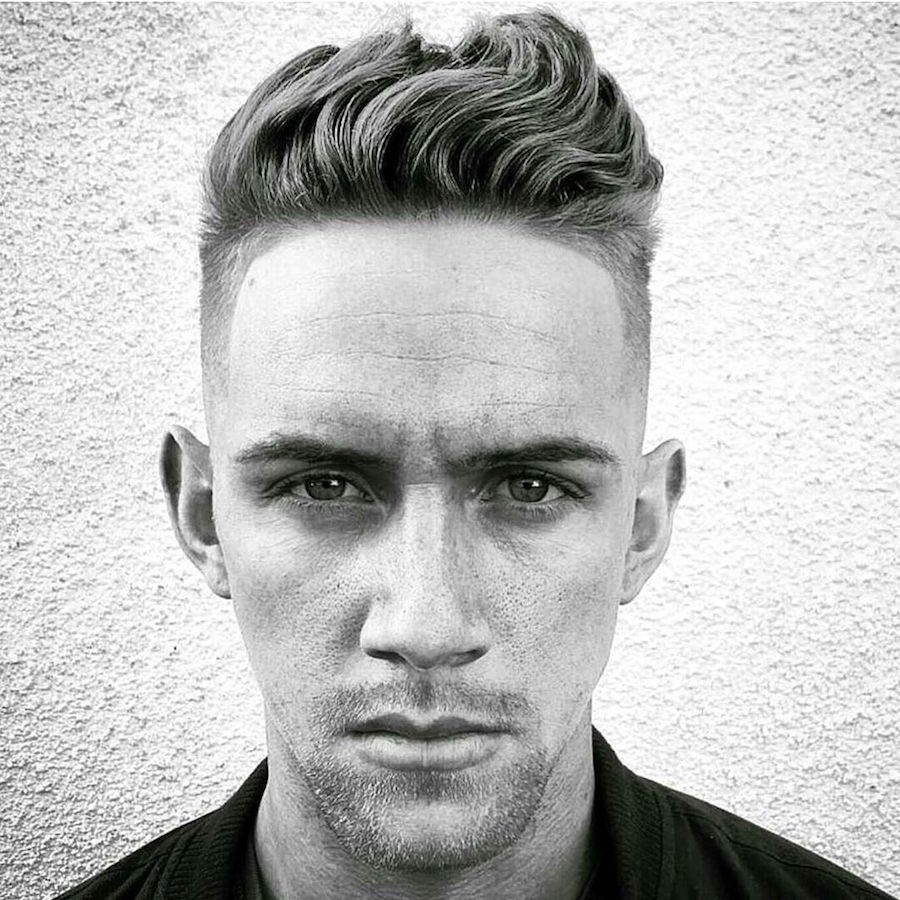 Haircut by The Greek
In addition to looking cool and staying clean cut, ultra short sides make tall hairstyles look even taller. This cool style gets texture and dimension from wavy hair.
8. Curve Hard Part + Waves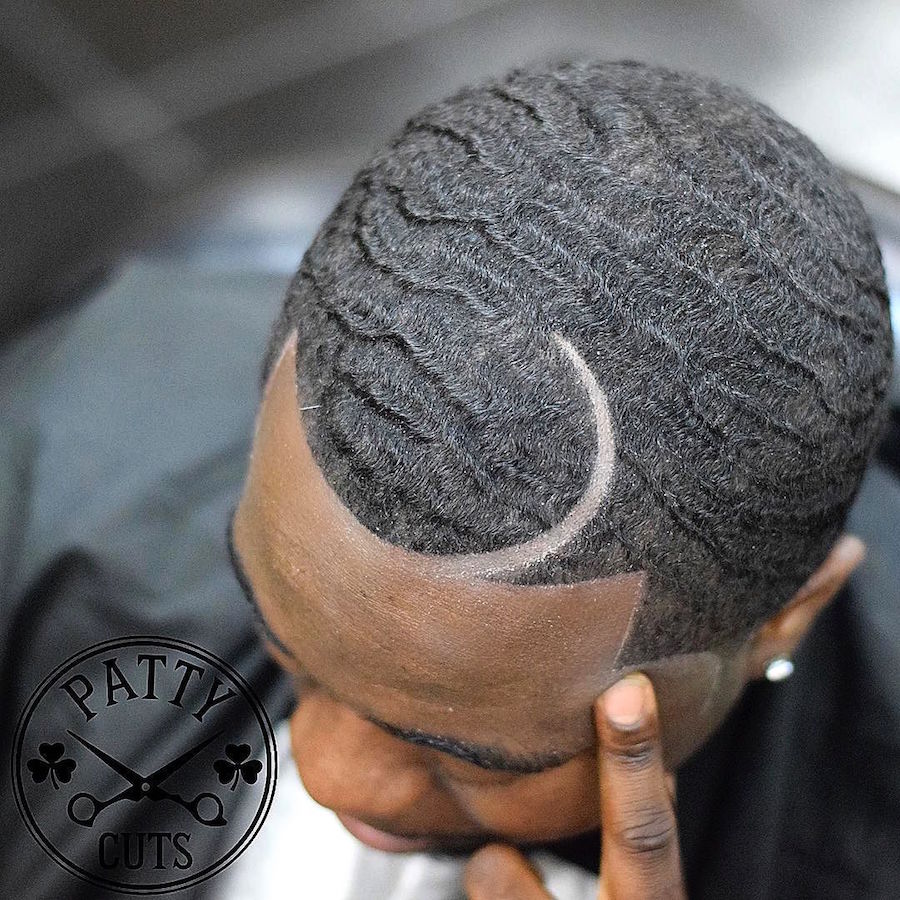 Haircut by Pat Regan
Interrupt the straight line up with an arced hard part.
7. Low Skin Fade + Choppy Spikes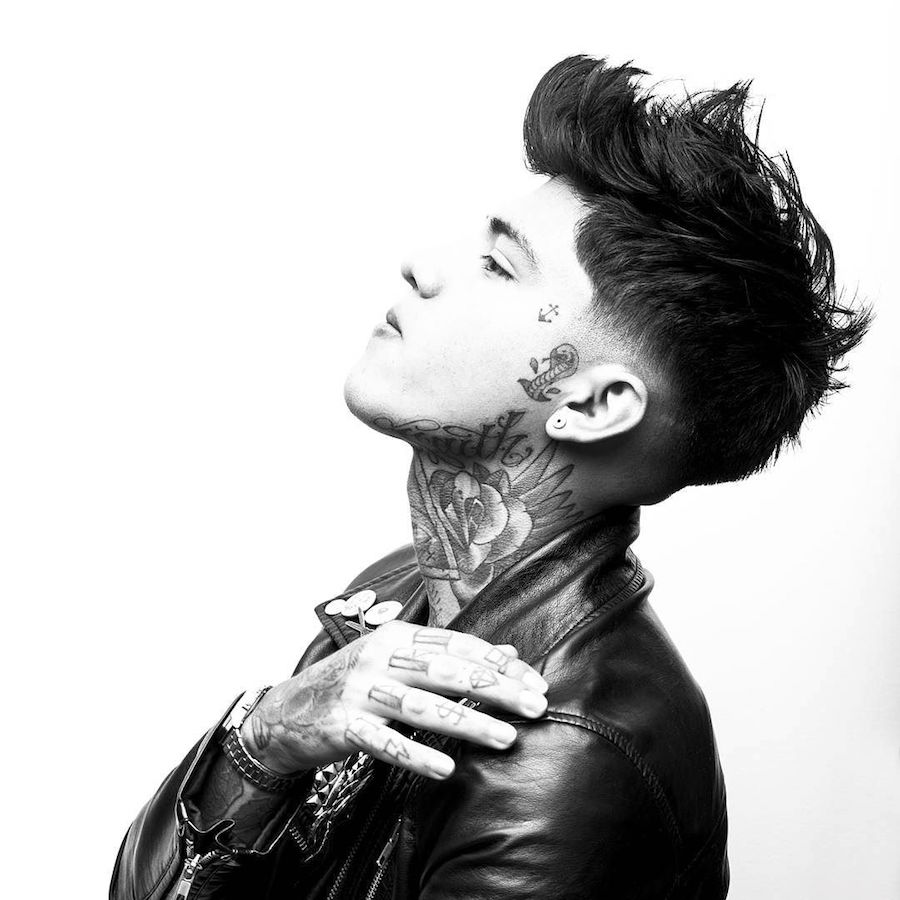 Haircut by Miguel Angel Cifuentes Robles
The messy spikes are cool but what's even cooler is the low fade that creates a fresh new hairline.
6. Skin Fade Textured Crop + Fringe Swept To The Side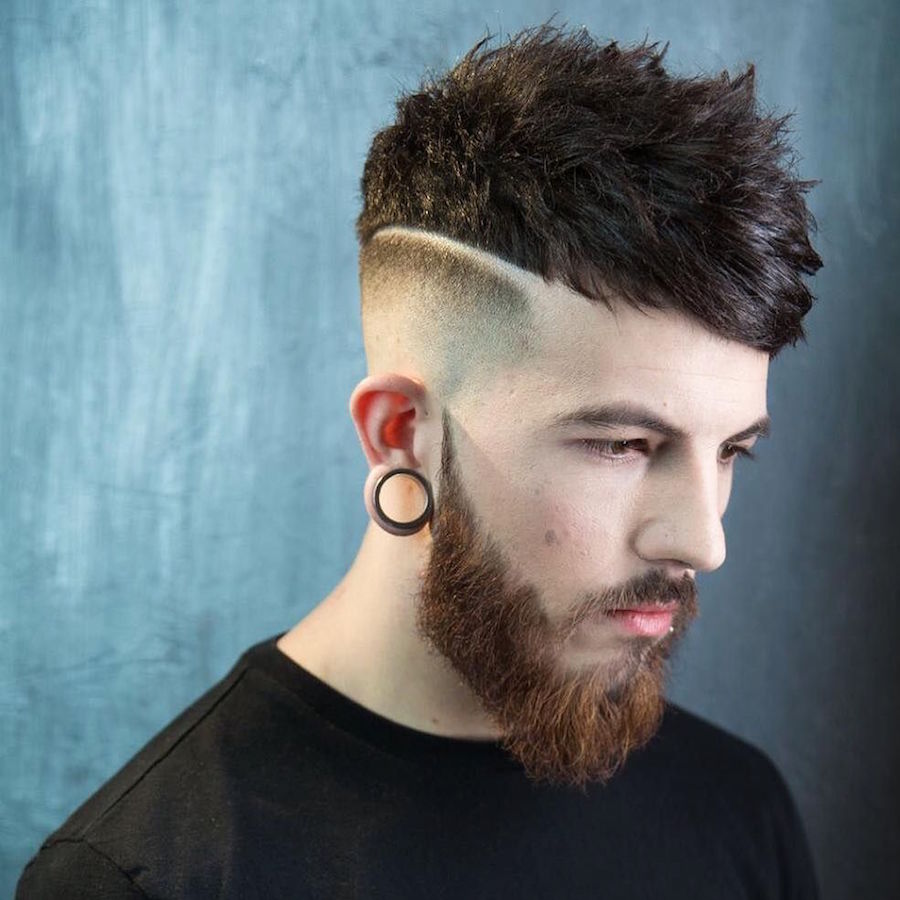 Haircut by Braid Barbers
This hot new men's hairstyle has got it all. A layered and feathered cut creates texture. A hard part draws the line between long hair and short and a high fade cuts hair down to the skin.
5. High Fade + Medium Length Textures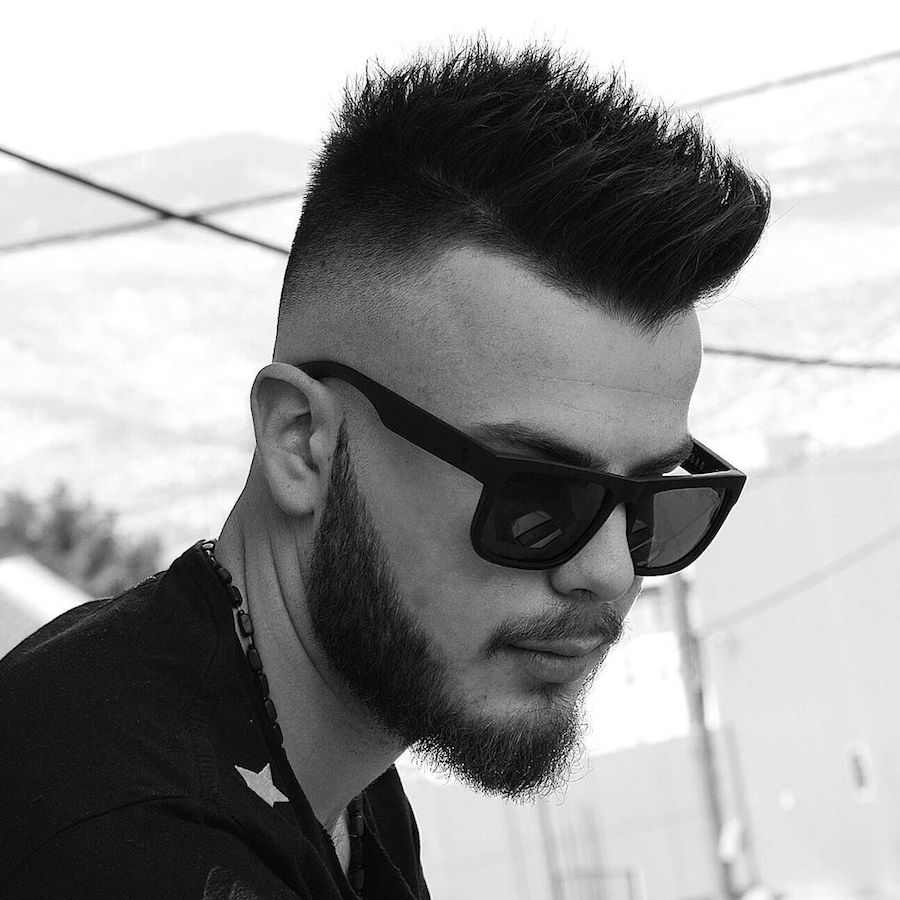 Haircut by Dimitris Lianos
With spikes on top, a mid fade angles hair down towards the back.
4. High Fade + Hair Blown Back Dry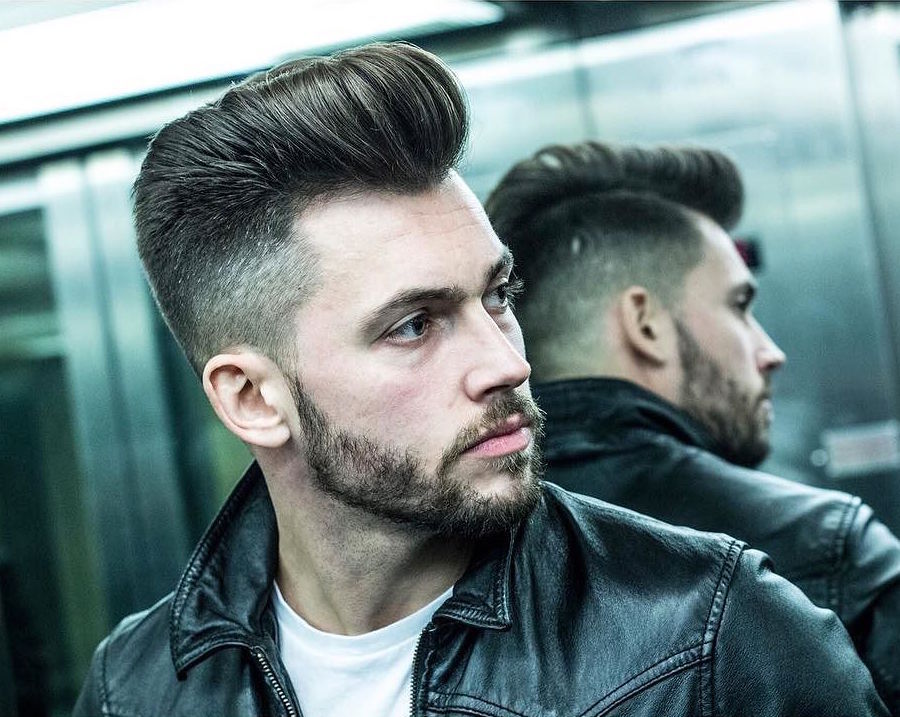 Haircut by Robert Braid
This greaser style looks great today, especially with a taper fade at the sides and back.
3. Incredible Fade + Hard Part Pomp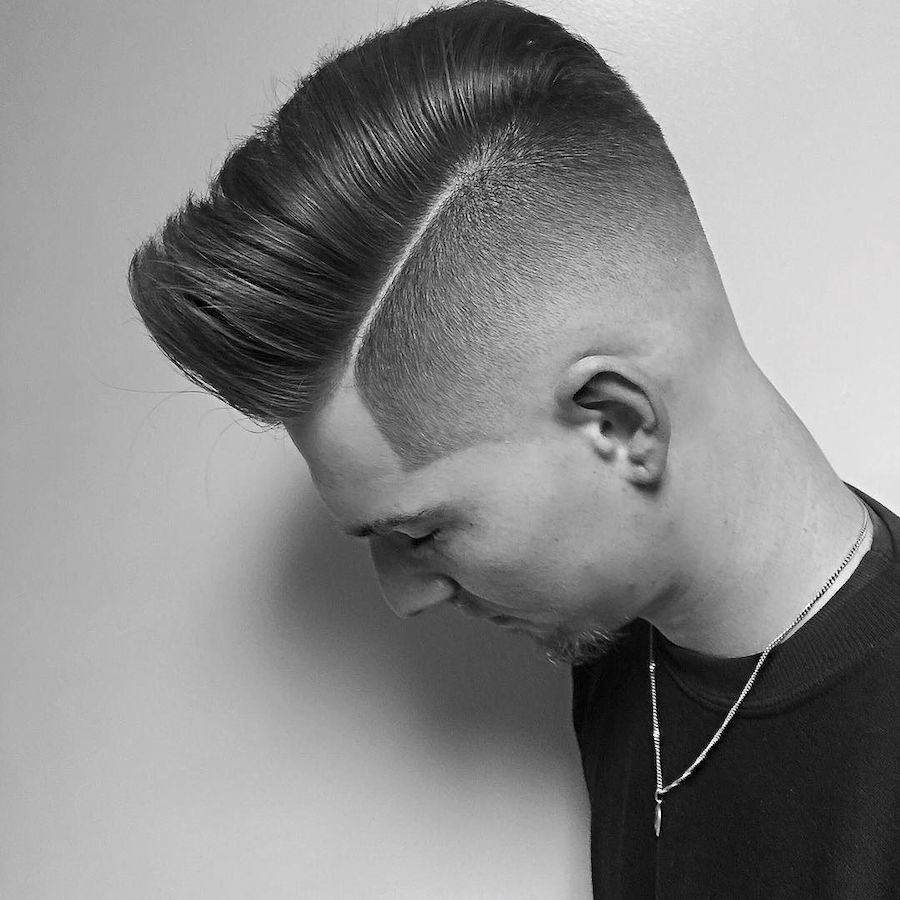 Haircut by Mikey
This cool cut is created to work with how hair grows. The part was placed where it naturally occurs, keeping styling and growing hair out easy. The fade is contoured to work with the head shape. To finish off the look requires some blow-drying skills to keep hair full of volume and in place.
The best barbers will work to ensure you can style hair on your own and that there is no awkward growing-in period. Learn more about this cut here.
2. Dry Textured Hair + Side Hard Part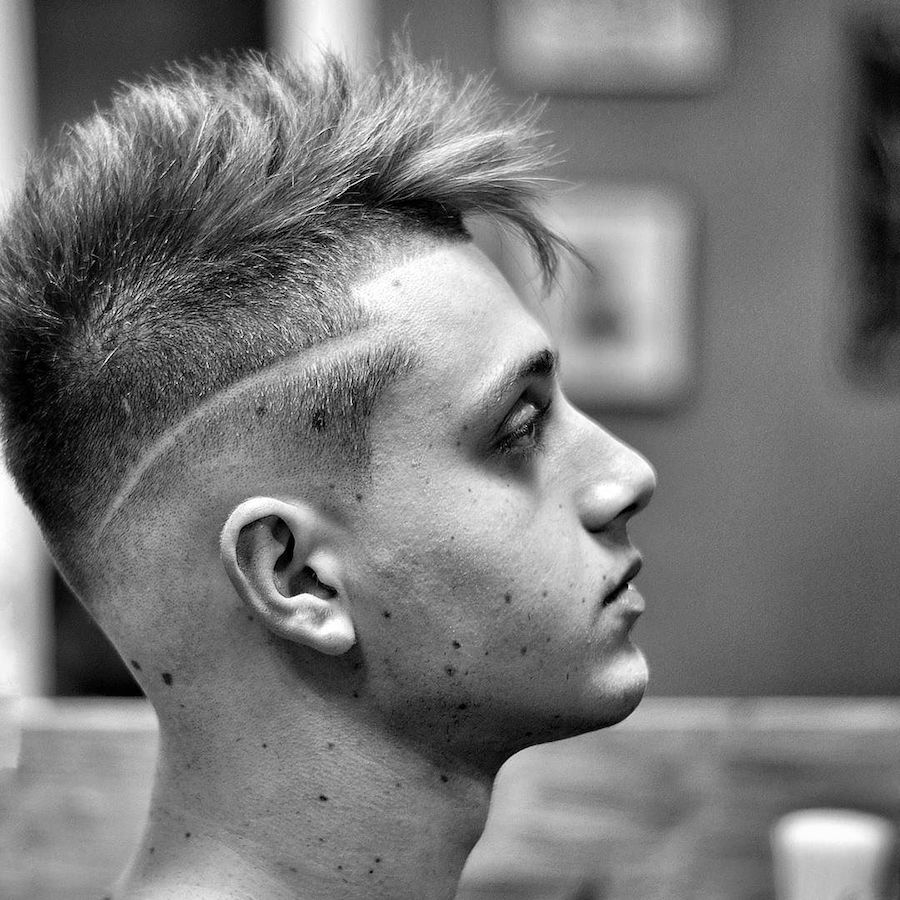 Haircut by Dimitris Lianos
This unexpected style will ensure you stand out from the crowd. A line up zags into a curved razor part at the temple and fades into skin below. Up top, hair is textured and spiky with a wisp of fringe.
1. Cool Curly Hairstyle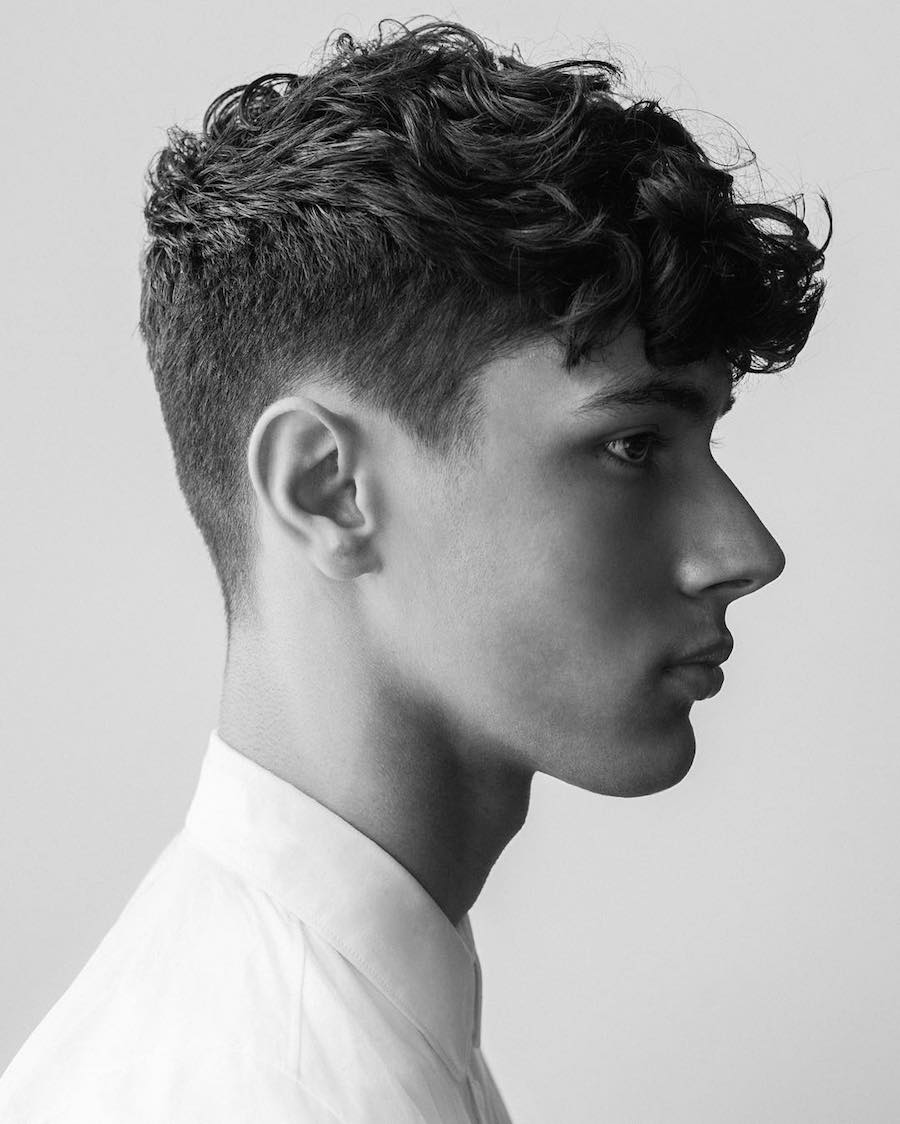 Haircut by Whitney VerMeer
The haircut for guys with curly hair is stylish and clean looking. Equally good at home, at play, or at work. Hair has length on top but is layered and graduated to concentrate curls along the hairline. The sides are short and tapered down to the neck.
We use affiliate links and may receive a small commission on purchases. Please read our disclosure.