Bryce Harper, right fielder for the Washington Nationals, makes his presence known on and off the field. He was the overall first pick in the 2010 Major League Baseball Draft, was selected for the 2012 All-Star Game, becoming the youngest position player to ever be selected, and has been chosen as the No. 2 corner outfielder in the MLB by professional baseball analytics.
Off the field, he is a gentleman with style and panache. Harper's flair for fashion is evident in uniform through his range of hairstyles and beards. That's not to mention this year's signature hair flip.
Here are 5 of Bryce Harper's haircuts and beards as seen on his personal Instagram.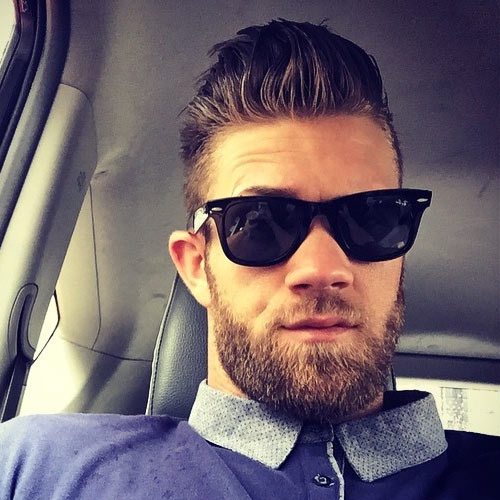 Rocking the good looking and popular slicked back hair with a beard. The beard is groomed short with a bit of extra length at the chin. Hair is styled with plenty of texture and height, making this a combination that can be worn with formal or casual looks.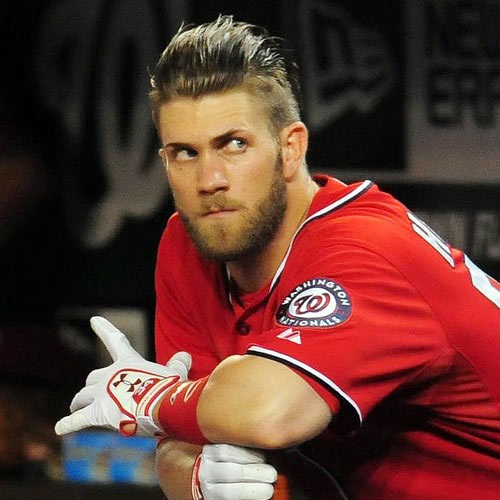 This medium length hair on top with undercut sides takes slick hair to the next level with lots of height. This it the cut that is featured in the celebratory hair flip. It's all about lots of length and thickness on top with undercut sides.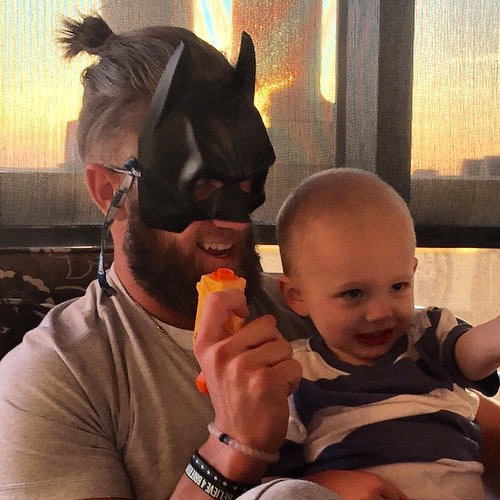 Here's a rare opportunity to see Batman with a beard. (Why aren't there more superheroes with beards?) On top, Harper pulled his medium length hair back into the latest man bun trend, the half ponytail. This hairstyle works with an undercut hairstyle or long hair all over. His beard here is a Garibaldi, with a wide rounded bottom.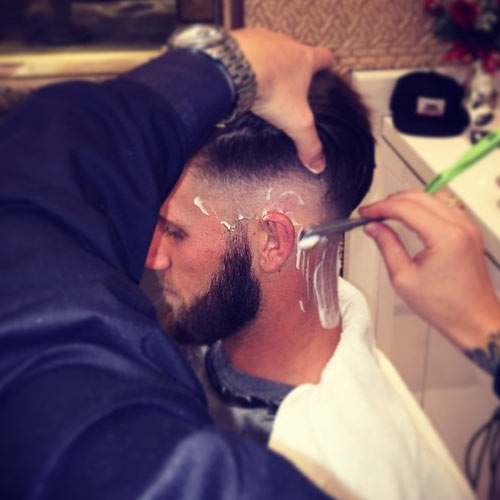 Going back a few haircuts, here's a low skin fade done by a barber the old school way, with a straight razor. The fade is this year's top hair trend for men and there's a version out there for every guy.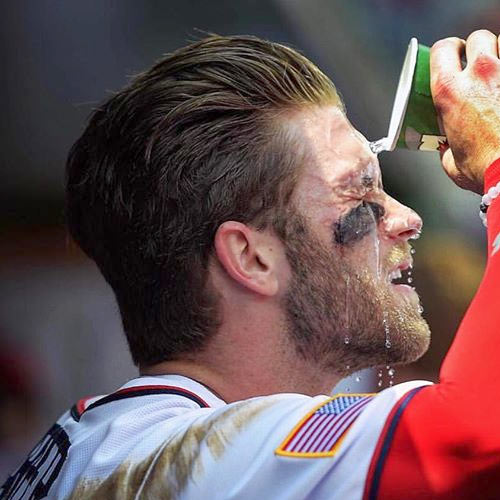 This is one of Harper's most recent looks. Thick hair is cut short at the sides and back and left longer on top. It's styled slicked back, which works well with a baseball hat and batting helmet. The beard is trimmed short. It's a great look to try. And if you have a reason to wear eye black, add that too.
With a slew of cool haircuts and beards, Bryce Harper is on his way to becoming the Beckham of baseball. All of these haircuts are stylish enough for the board room, not just the baseball diamond.