We have a wide variety of fresh new haircuts for men, including some modern undercuts, new pompadours, textured looks of all hair lengths and cool hair designs plus many examples of super clean fades.
Check out these pictures to find your next cut. Be sure to bring it with to show your barber exactly what you want.
60. Medium Length Textured Hair With Step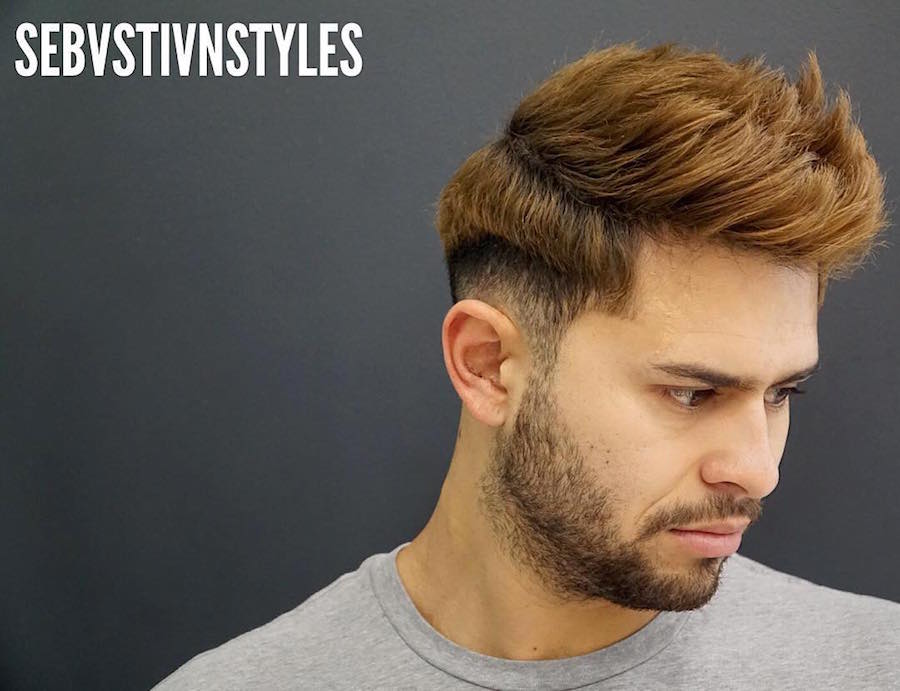 Haircut by Sebastian Styles
A fade is all about a smooth transition but the step is meant to be bold and abrupt. This cool cut differentiates between long and short with an arced step as well as lighter hair color.
59. Skin Fade + Diffused Hair On Top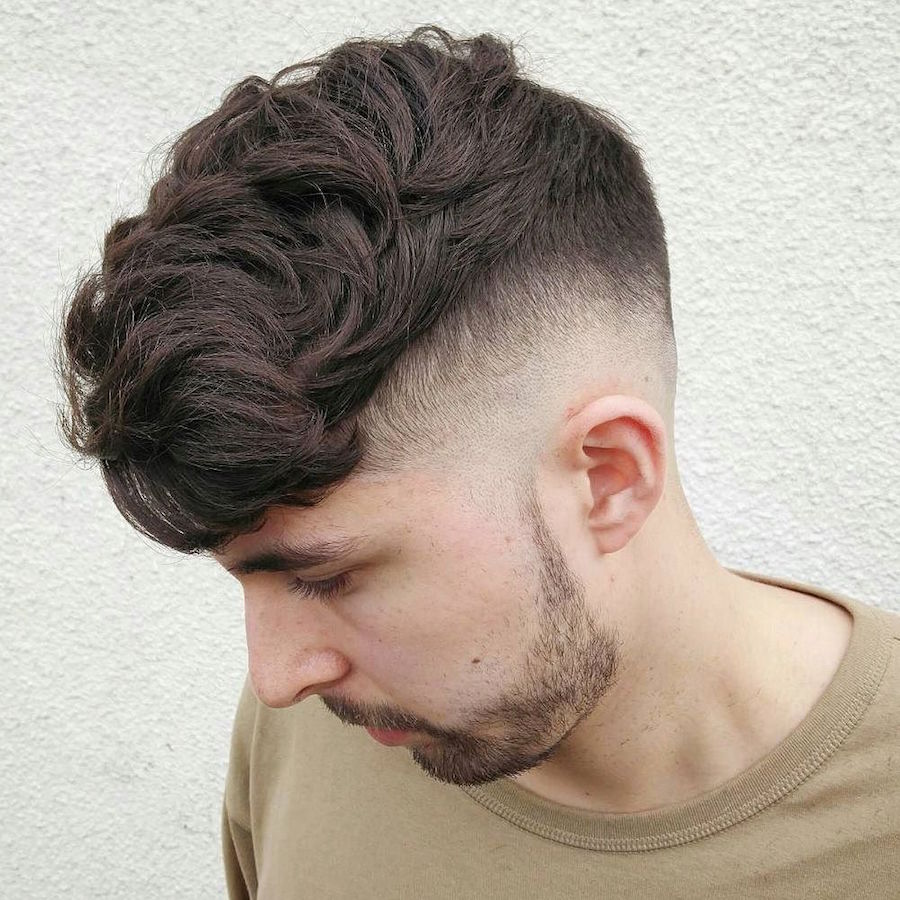 Haircut by "The Greek"
Learning how to use product isn't enough. Adding some blow dryer skills will take every style to the next level.
Here, wavy hair is enhanced by using the diffuser that comes with most hair dryers. This attachment protects hair from direct heat and hair damage. The result is frizz free hair and smooth textured waves.
58. Long Textures + Super Clean High Fade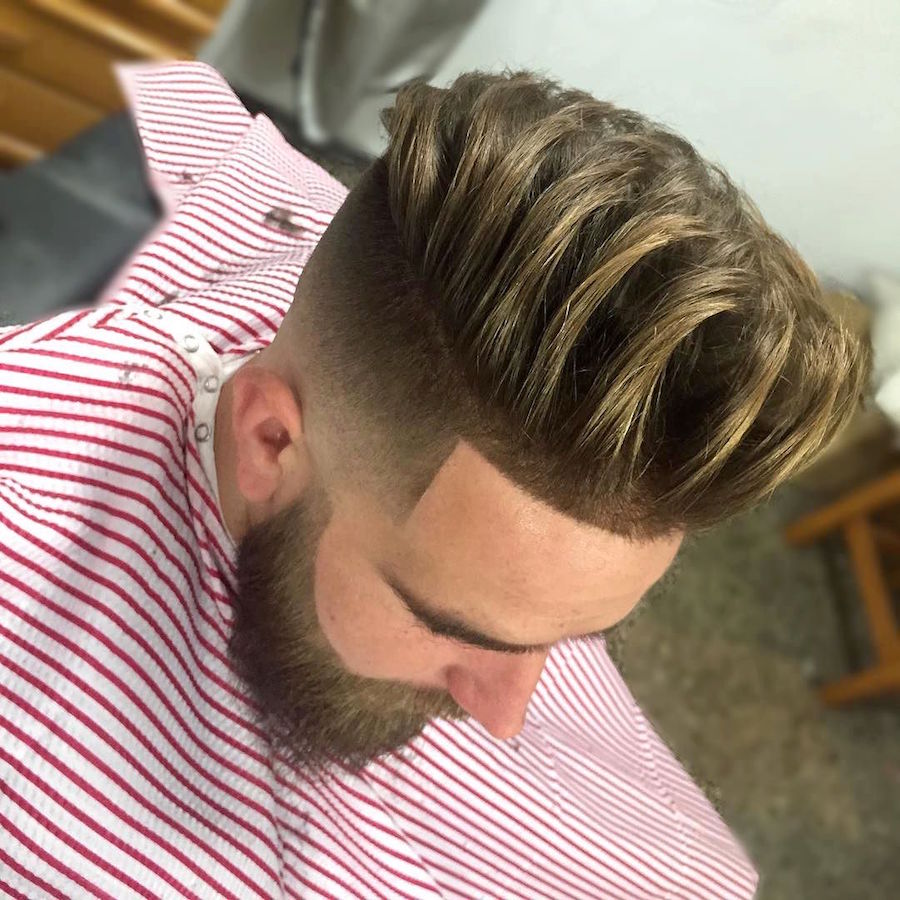 Haircut by Privilege Barbershop
One of the trends we are seeing these days is big hair. And by big, we mean tall. This fresh styles hair vertically with textured spikes.
57. Modern Pompadour + Skin Fade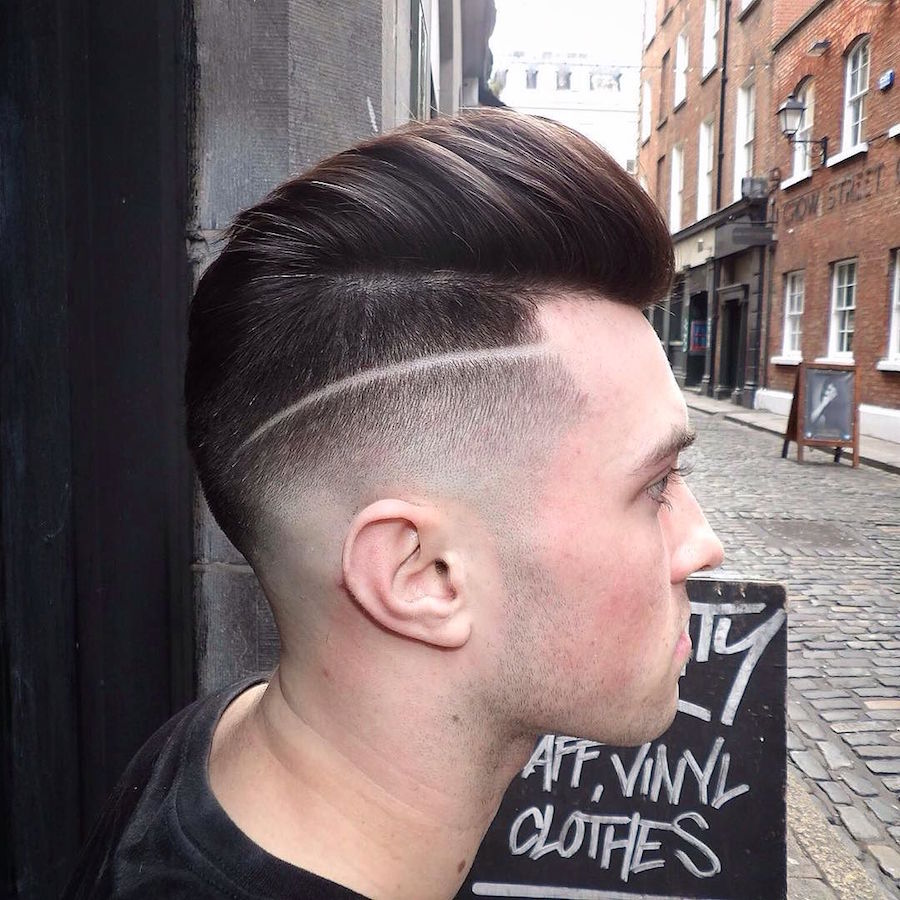 Haircut by Hayden Cassidy Hair
Standout style can come from contrasts or repetition. This cut achieves the latter with a shaved line that mirrors the arch of the pomp up top.
56. Longer Top + Fringe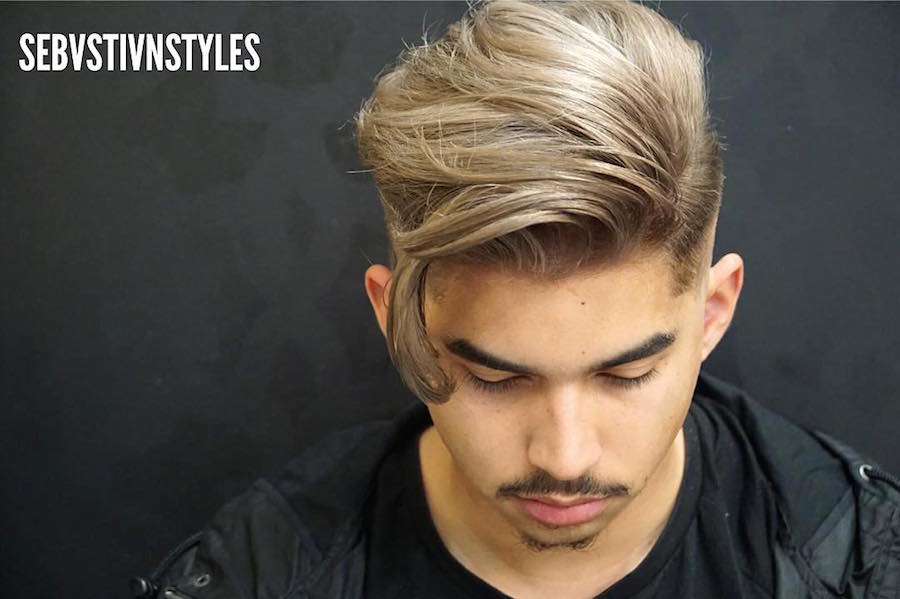 Haircut by Sebastian Styles
In addition to getting taller, slick styles for men are getting looser. Kind of like Donald Draper after a night of drinking.
55. Cool Undercut Hairstyle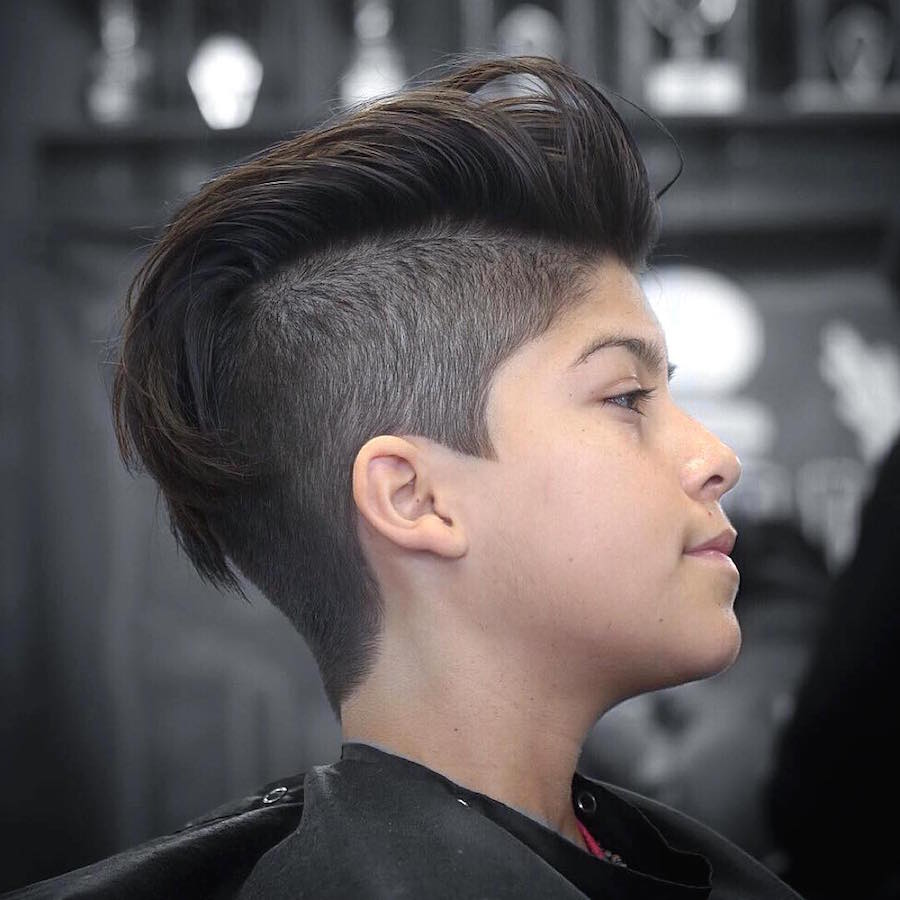 Haircut by Diego Elizarraras
An emerging men's hair trend for guys of all ages is this mohawk-inspired profile. It's not a mo' or a faux though. It is long slick hair styled straight back.
54. The Messy Combover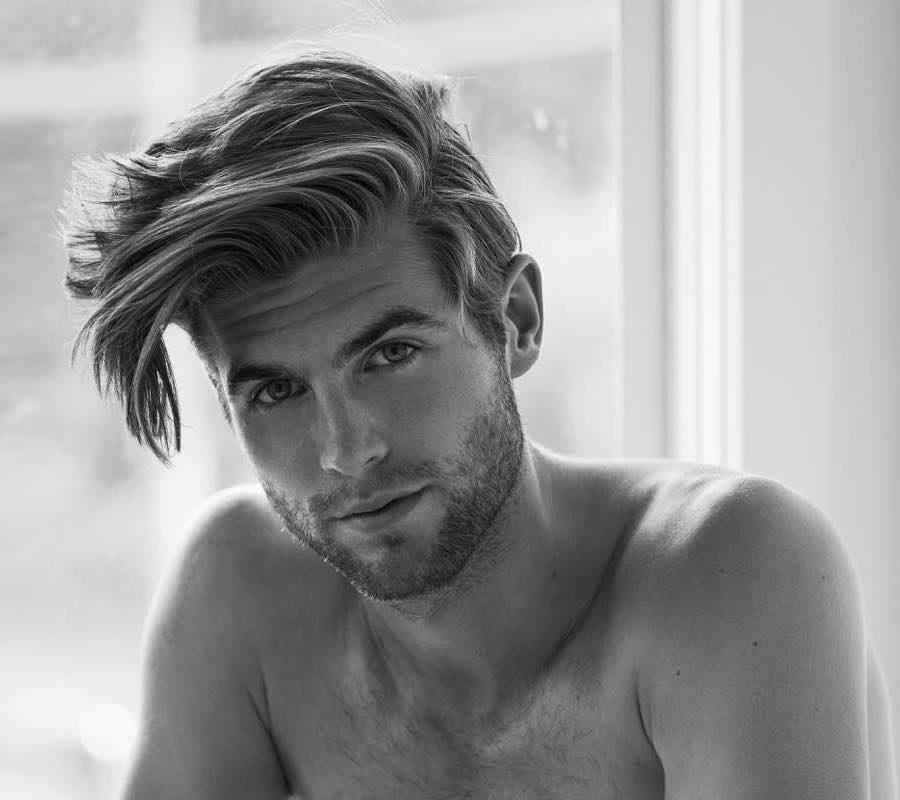 Haircut by Morris Motley
All the time tested trends are getting updated for the new year. Here the classic hipster combover is getting a preppy makeover by being worn messy and parted as far over as possible. This business hairstyle after a surf look is the ultimate casual look.
53. Short Slicked Pomp + Hard Part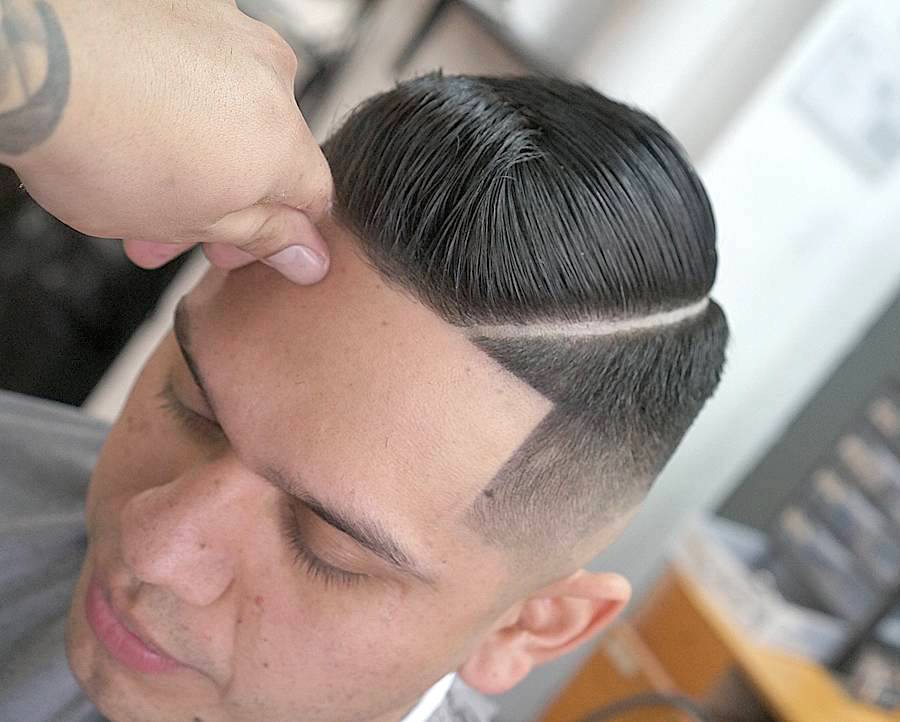 Haircut by Barber Eddie Jr
This cut and style are all about precision. Tight corners, a blurry fade and hard part are paired with cool pomp on top that is both slicked back and to the side.
52. Curve Hard Part + Ultra Short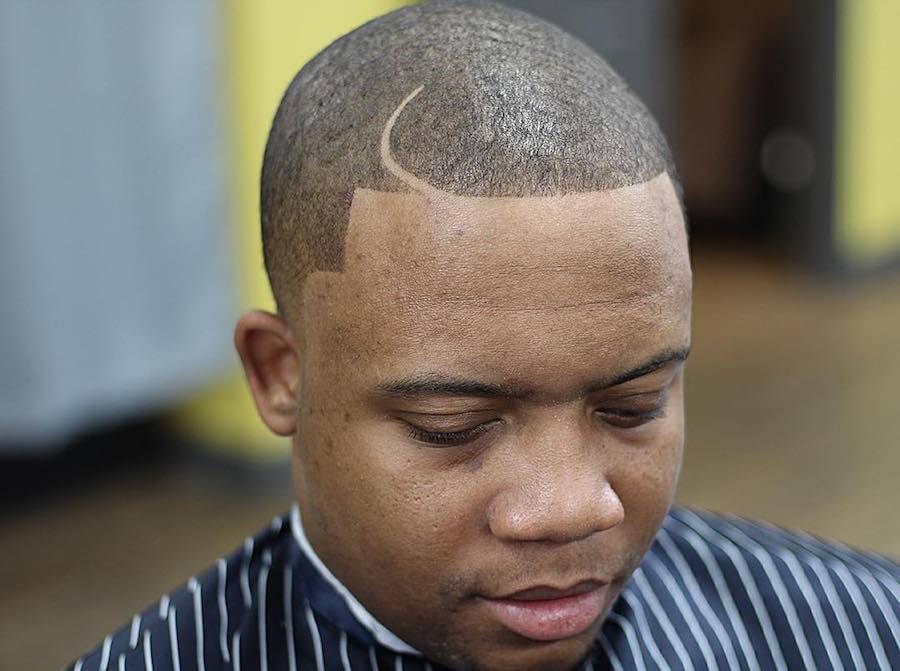 Haircut by Rich Payne
When the low maintenance buzz doesn't have enough style, make a statement with a curved razor part.
51. Longer Fringe + Short Sides = Cool Haircuts For Men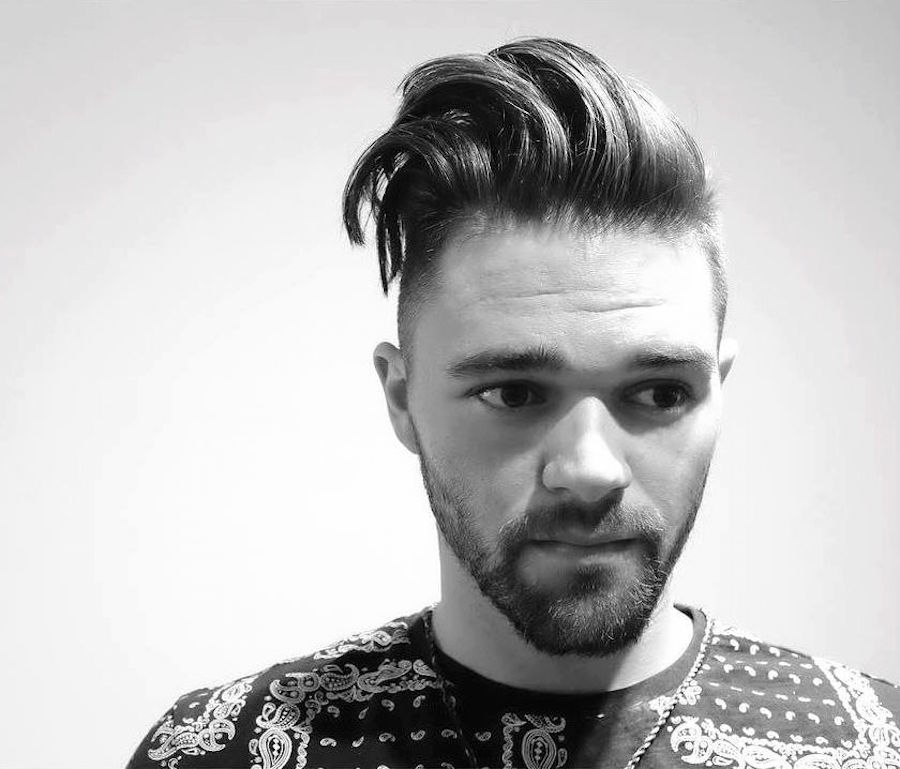 Haircut by scissorandbone
If you're not heading to an office, wear those slick styles matte and messy instead.
50. Cool Slicked Back Undercut Fade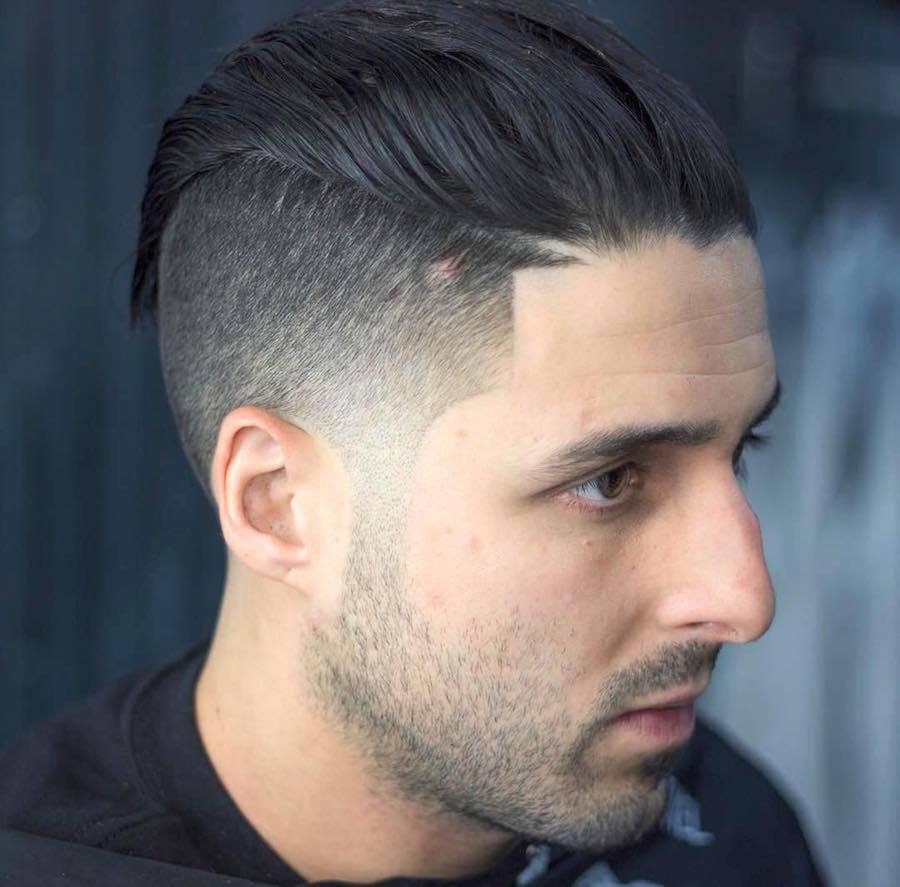 Haircut by Sophie
When slicking long hair back, check out the rear view to see how hair looks. It might benefit from being pinched into a V-shape rather than left loose.
49. Classic Men's Haircut Medium Length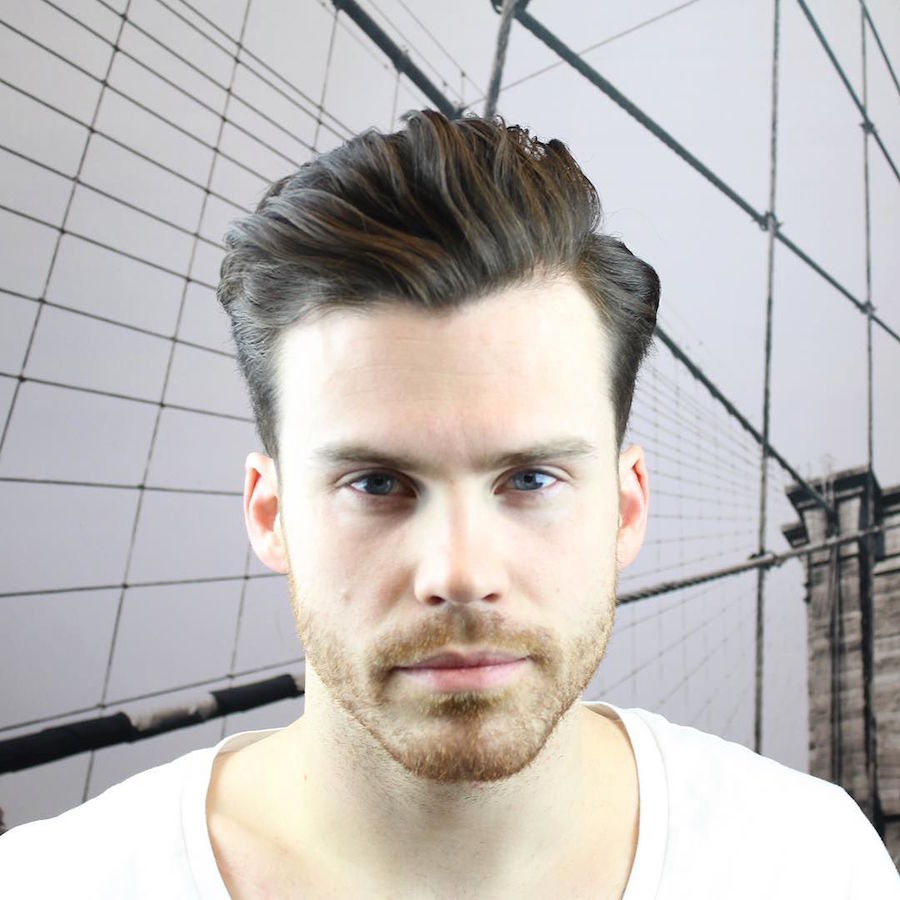 Haircut by Keller
Not every cut has to have faded sides. This classic cut will never need an update.
48. Awesome Short Haircut With Textures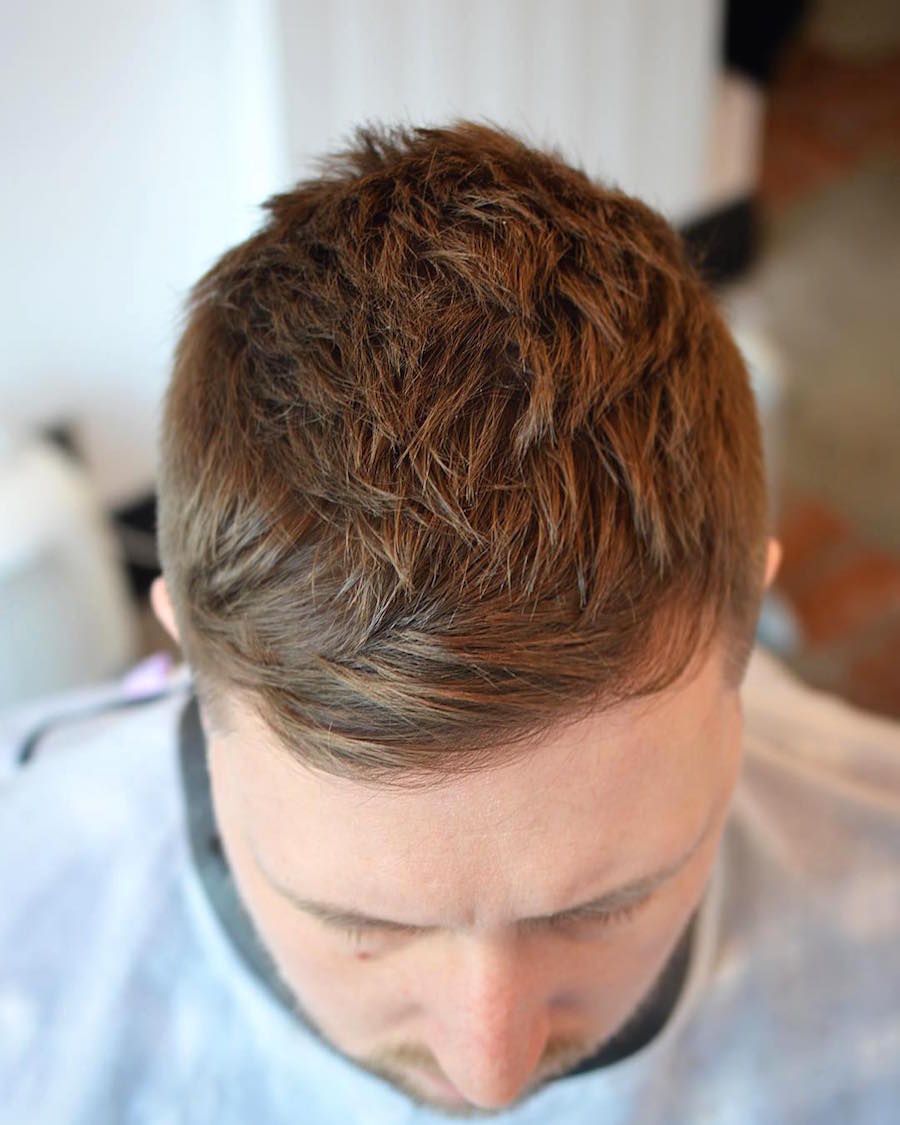 Haircut by deakinandwhite
Simple styling elevates this cool short men's haircut. Use a lightweight product and gently work it through hair with fingers for texture. Finish by pulling hair above the forehead in one direction.
47. Preppy Classic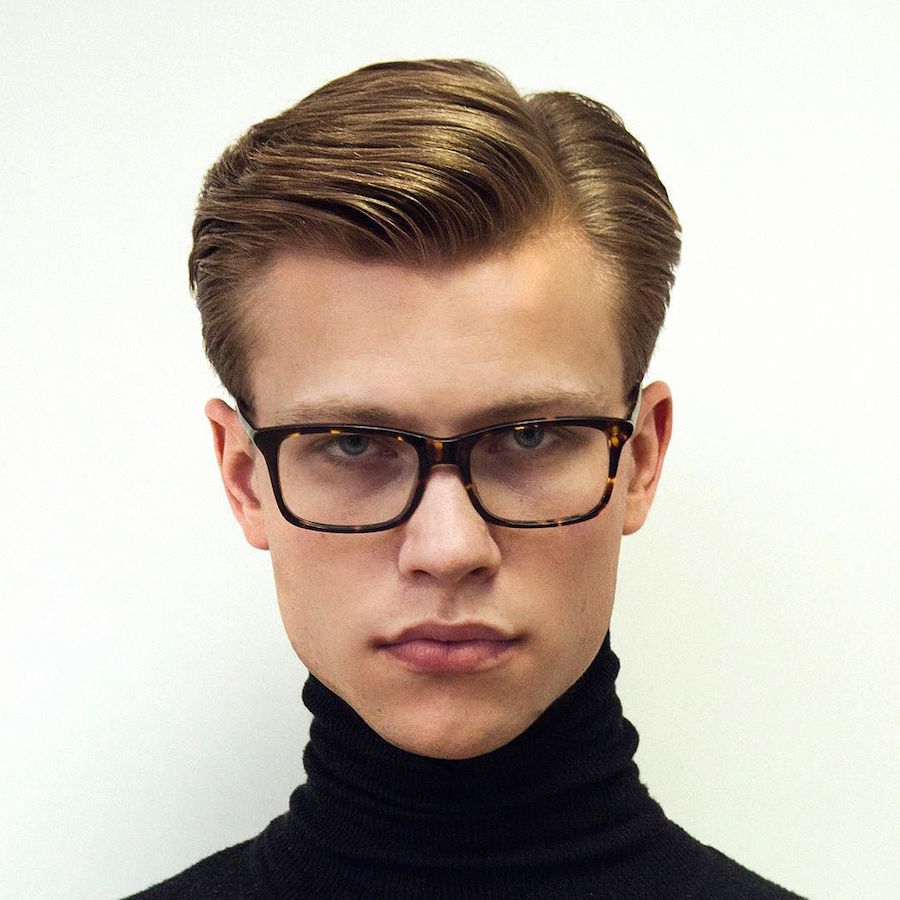 Haircut by Sid Sottung Academy
The ultimate preppy hairstyle emphasizes length with vertical graduation and triangle layering. Use a a grooming cream for light hold and sheen.
46. Very Short Pompadour + Hard Part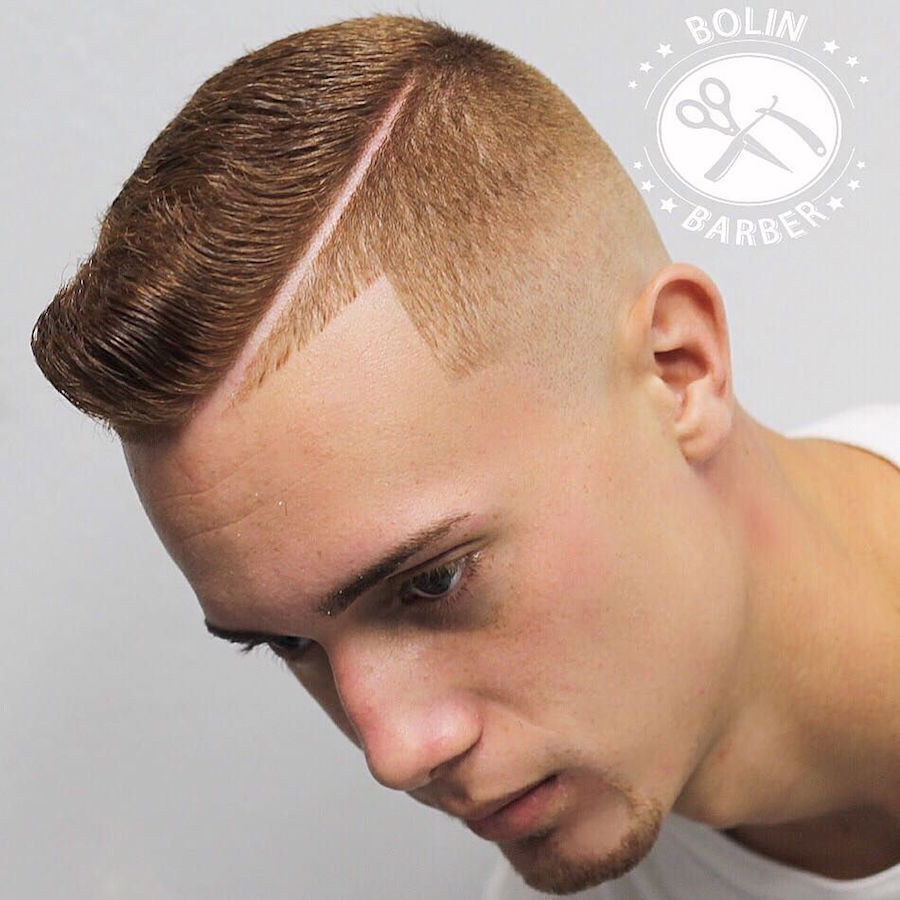 Haircut by Ivan Rodriguez Hernandes – Bolin Barbers
For busy or active guys, the best haircuts look great with minimal styling. This short pomp takes seconds to comb across while the line up, fade and razor part keep everything ultra clean.
45. High Fade + Hard Part + Slicked Curls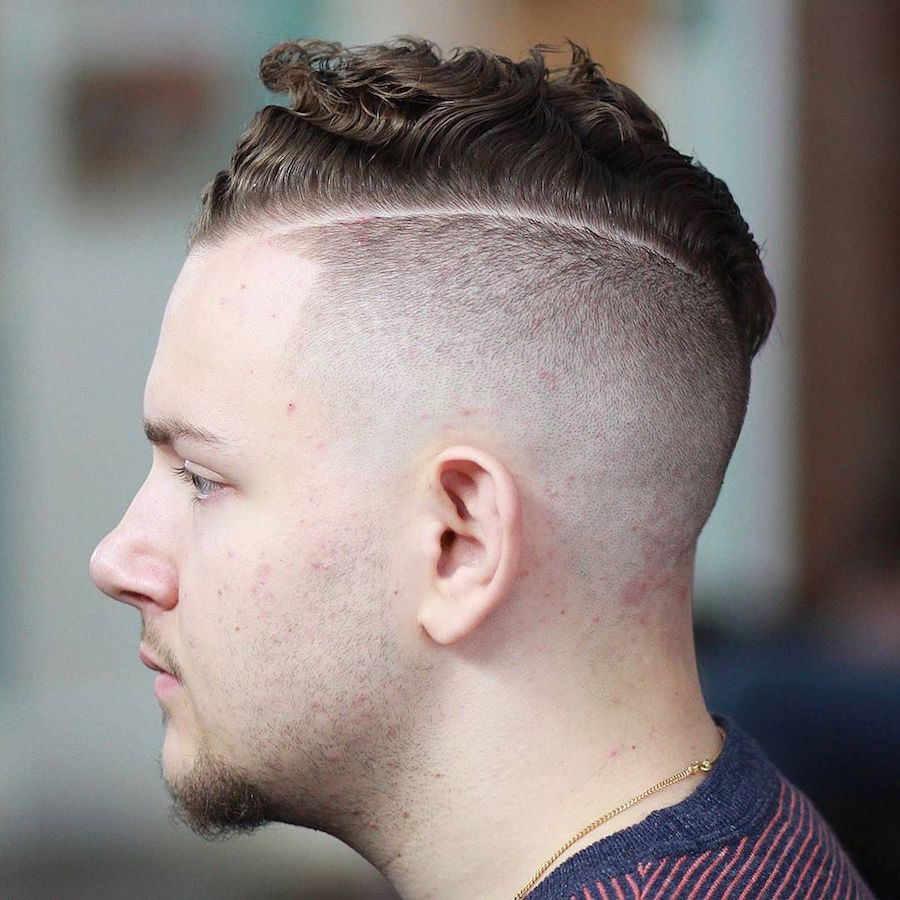 Haircut by Evan Anthony Demers
The slick combover looks even better with curls. The key is finding the right product for your hair that combines hold and curl definition.
44. Big Combover + Fade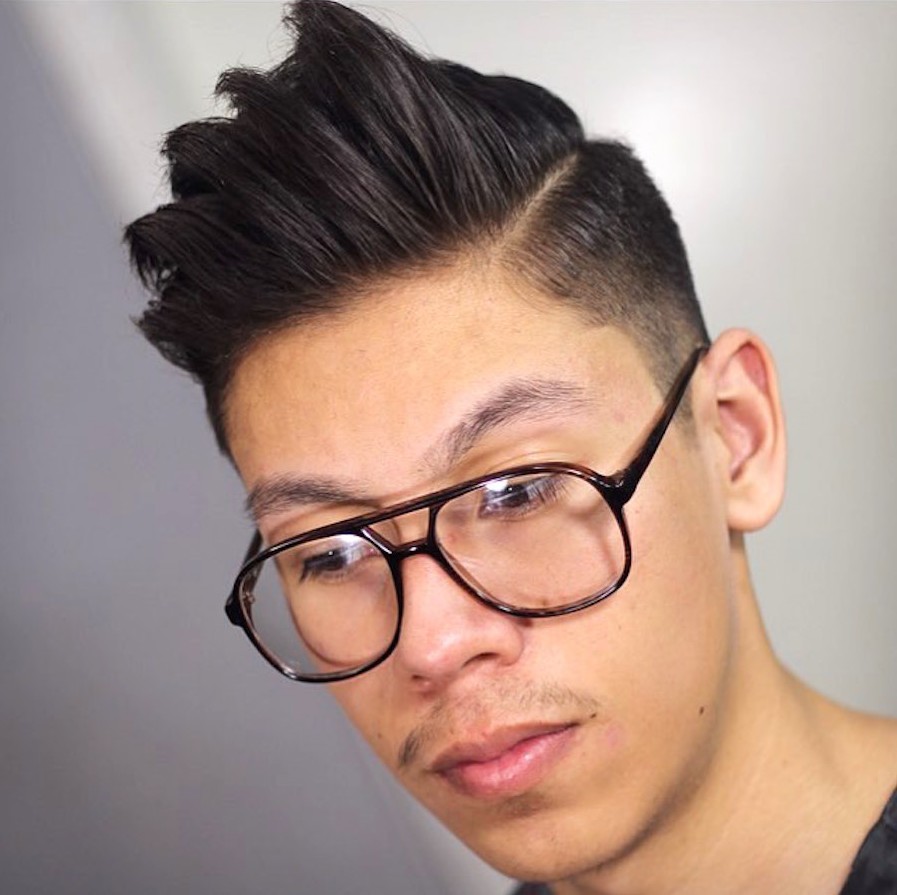 Haircut by Chris
This is a next level combover with tall hair that descends in five defined waves. It's not an everyday style but a great choice when you want to stand out from the crowd.
43. High Skin Fade + Medium Length Texture On Top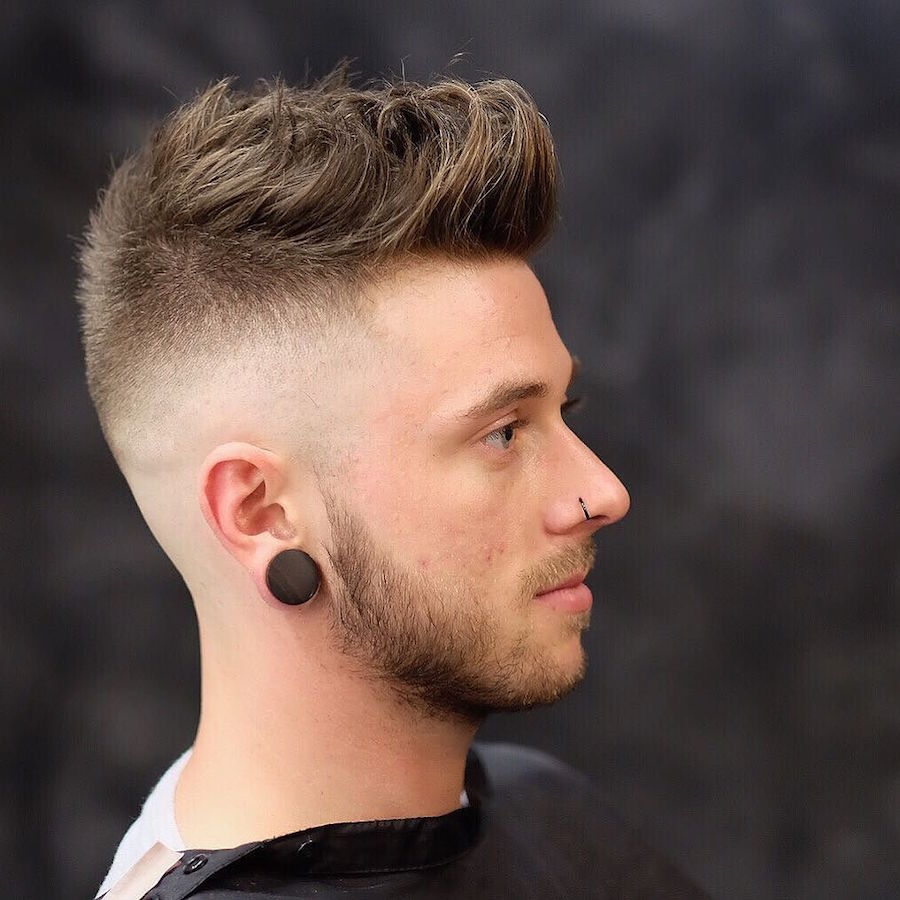 Haircut by Rokk Man Barbers
This cool and clean cut style goes long to short from front to back and top and bottom.
42. Clean Skin Fade + Natural Curls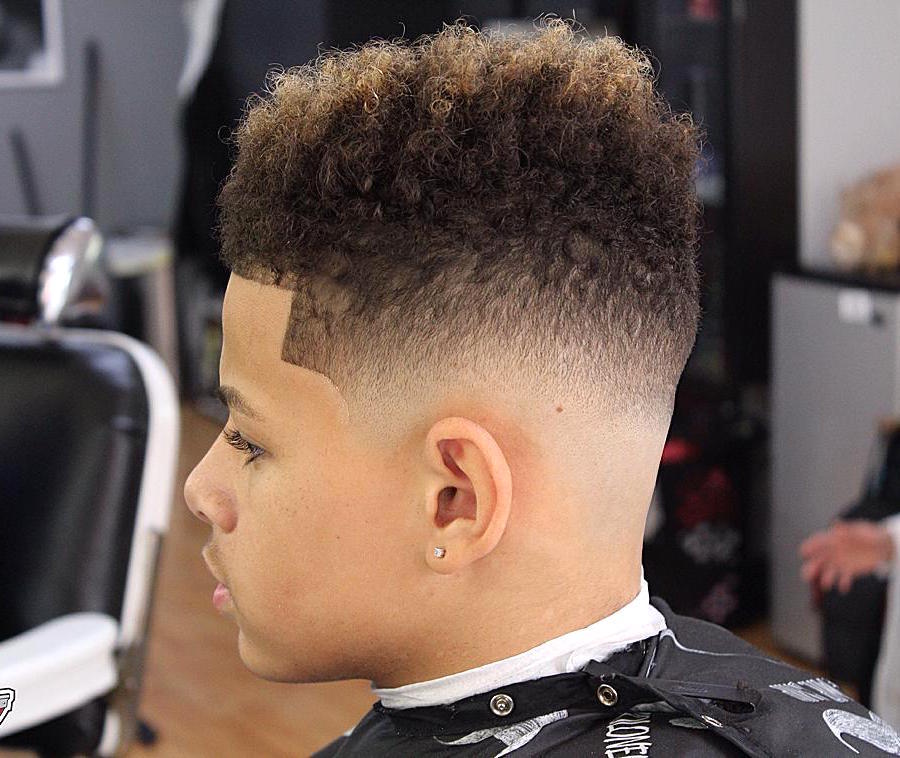 Haircut by Eddied Up
For a fresh take on the flat top, this cool cut adds height up top with tight curls cut into a rounded profile. A skin fade and line up keep sides tight and short.
41. Bald Fade + Short Textured Hair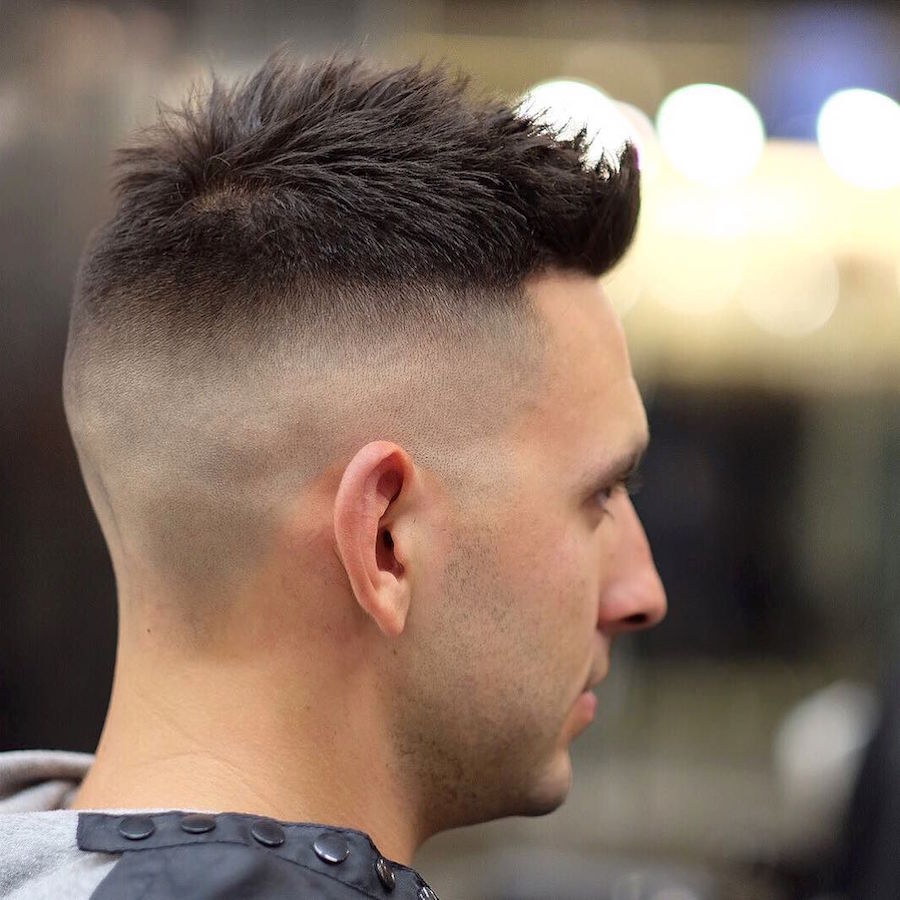 Haircut by Rokk Man Barbers
Military-inspired haircuts are also coming back. We've seen lots of undercuts and fades but these high and tight styles are also short on top. Style hair with a light to medium hold product to add texture and vertical fringe.
40. Tall On Top + Short Sides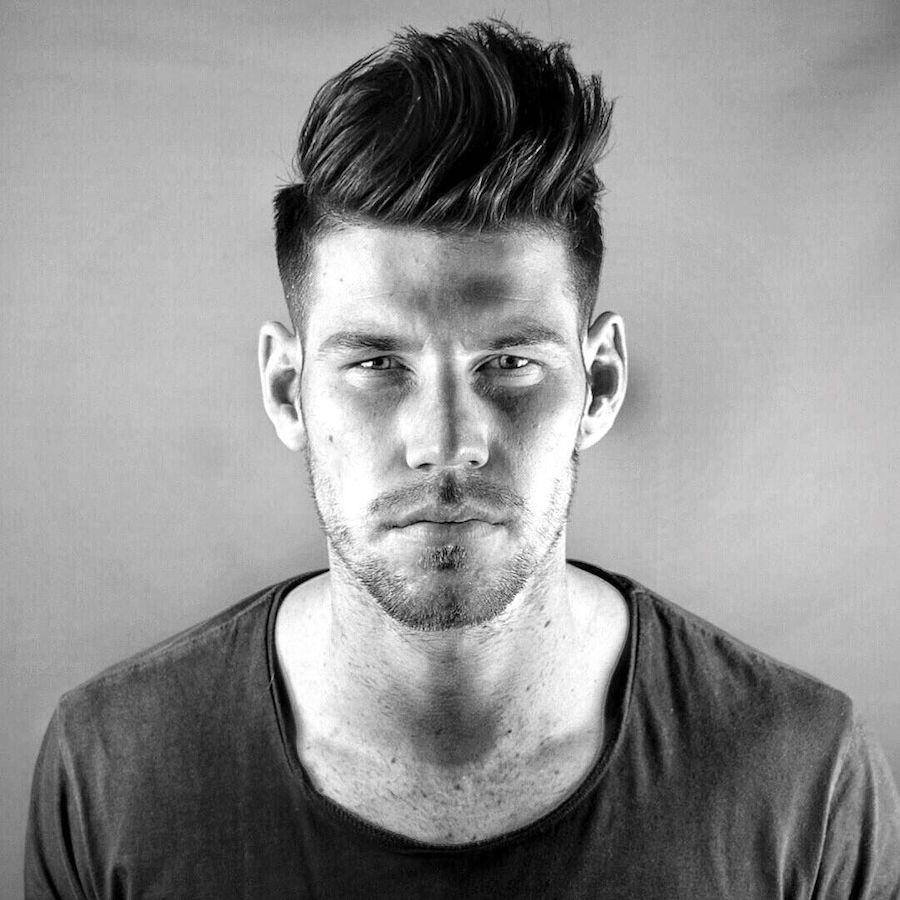 Haircut by Deano Braid
Achieving this type of volume requires a product with hold and plenty of it. This cut uses Layrite Cement for strong hold that lasts all day with a matte and textured finish.
39. Big Volume Pompadour Undercut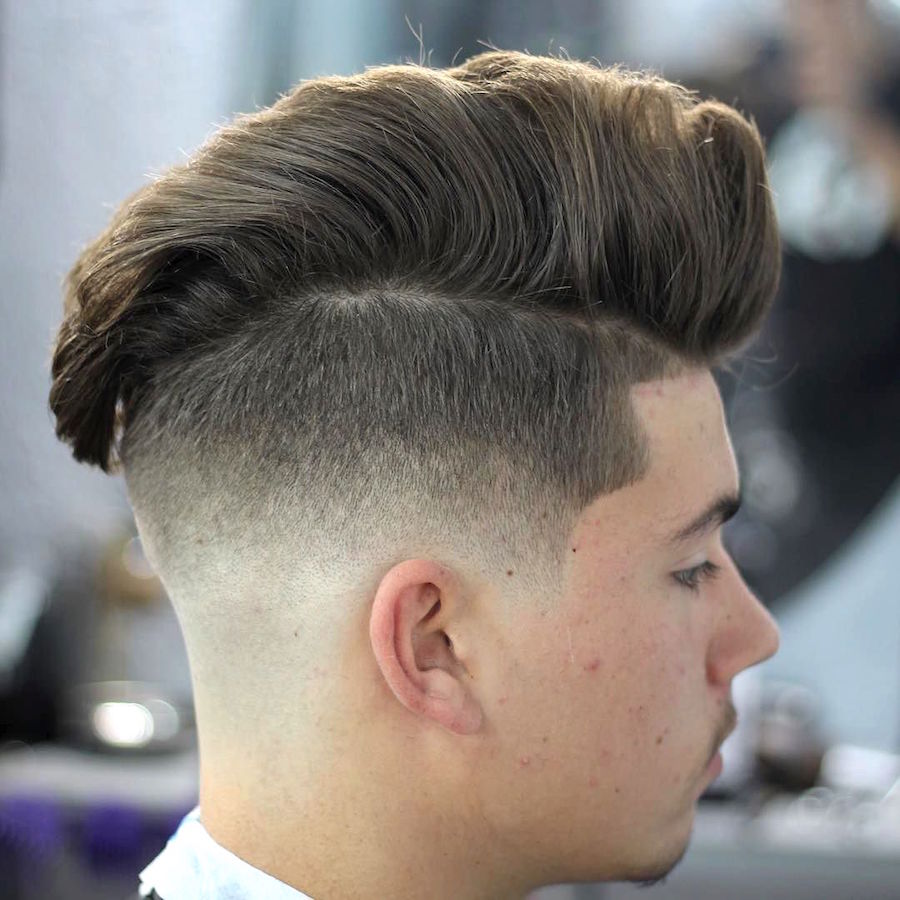 Haircut by The Mohawk Barber
Is it a pompadour? It is a mohawk? More like something in between the two but whatever you call it, this is a high volume, high impact style.
38. High Skin Fade + Slicked Back Hair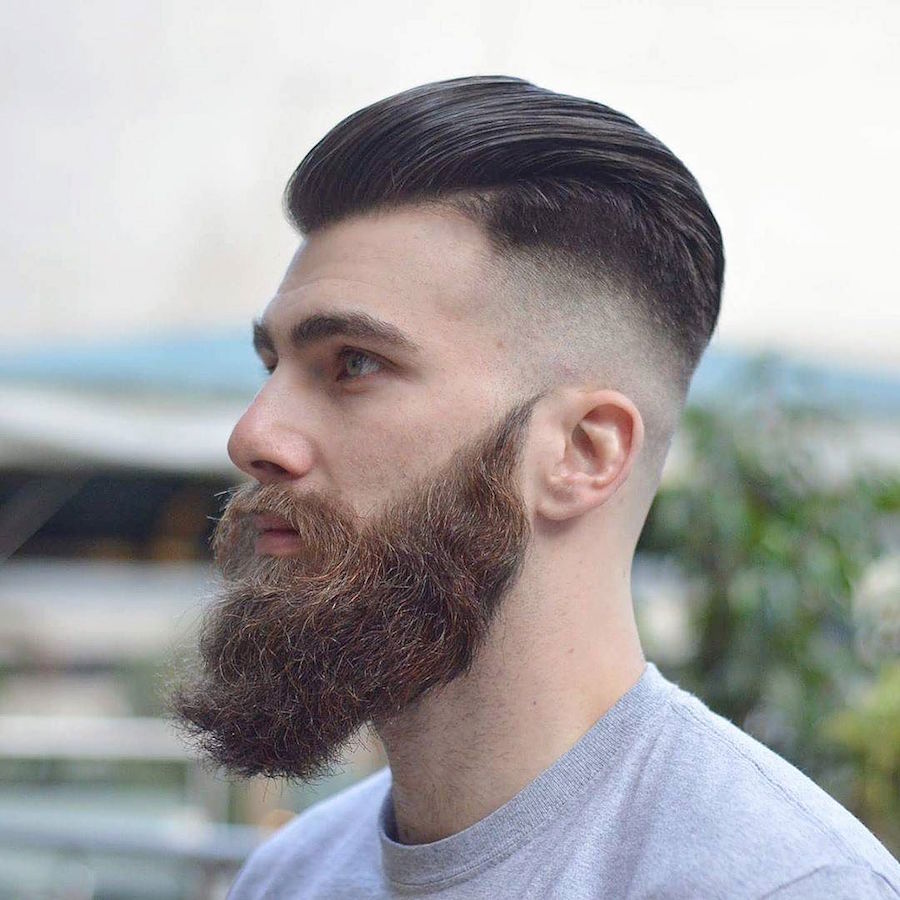 Haircut by Hard Grind Barber Shop
Similar to the undercut with beard styles that were so popular last year, this version is updated with a high fade that follows the arc of the hairline.
37. "Point Fade" Pompadour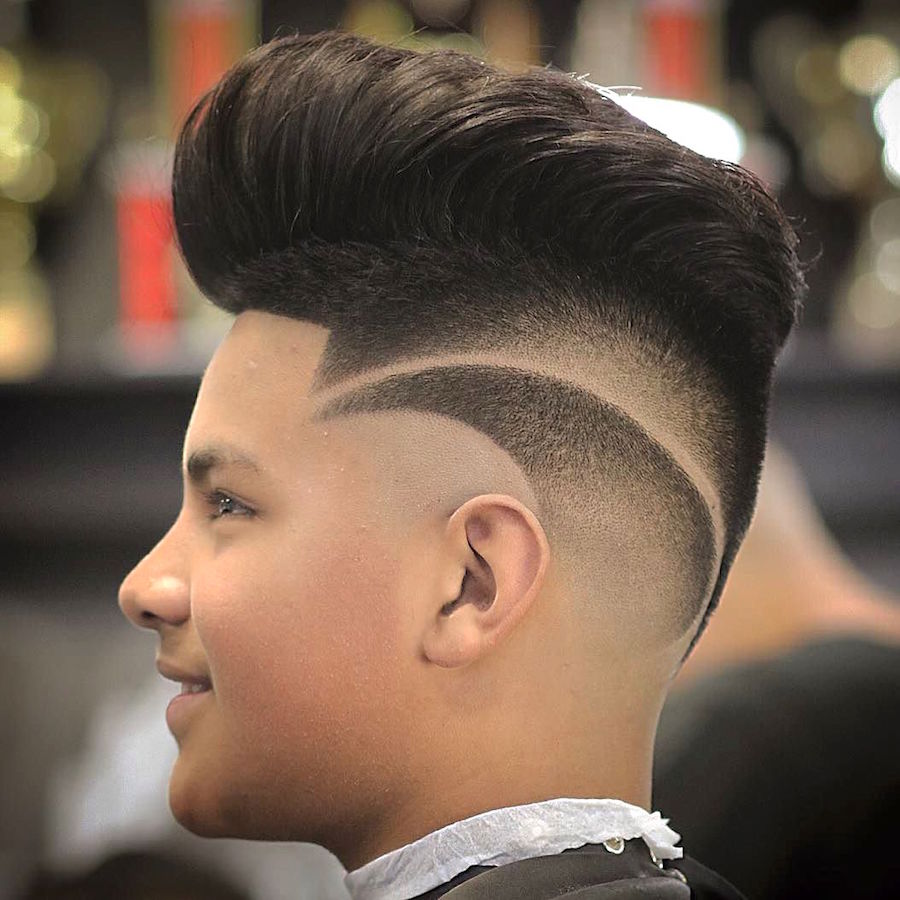 Haircut by Diego Elizarraras
When you find a barber who is a master of their craft, you find creative cuts like this. The point fade is a bold hair design that takes a combination of skill and artistry.
36. Cool Undercut Mohawk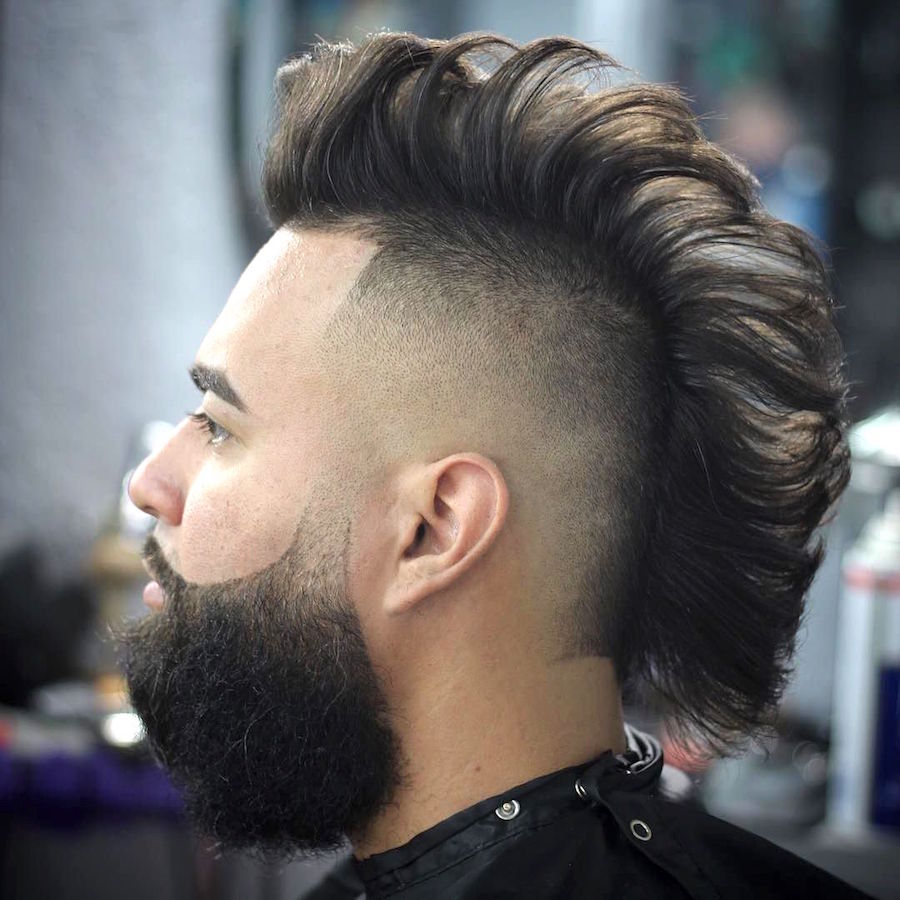 Haircut by The Mohawk Barber
The full mohawk is usually paired with an undercut but this version adds a touch of subtlety with a blurry fade instead.
35. Clean Skin Fade + Natural Waves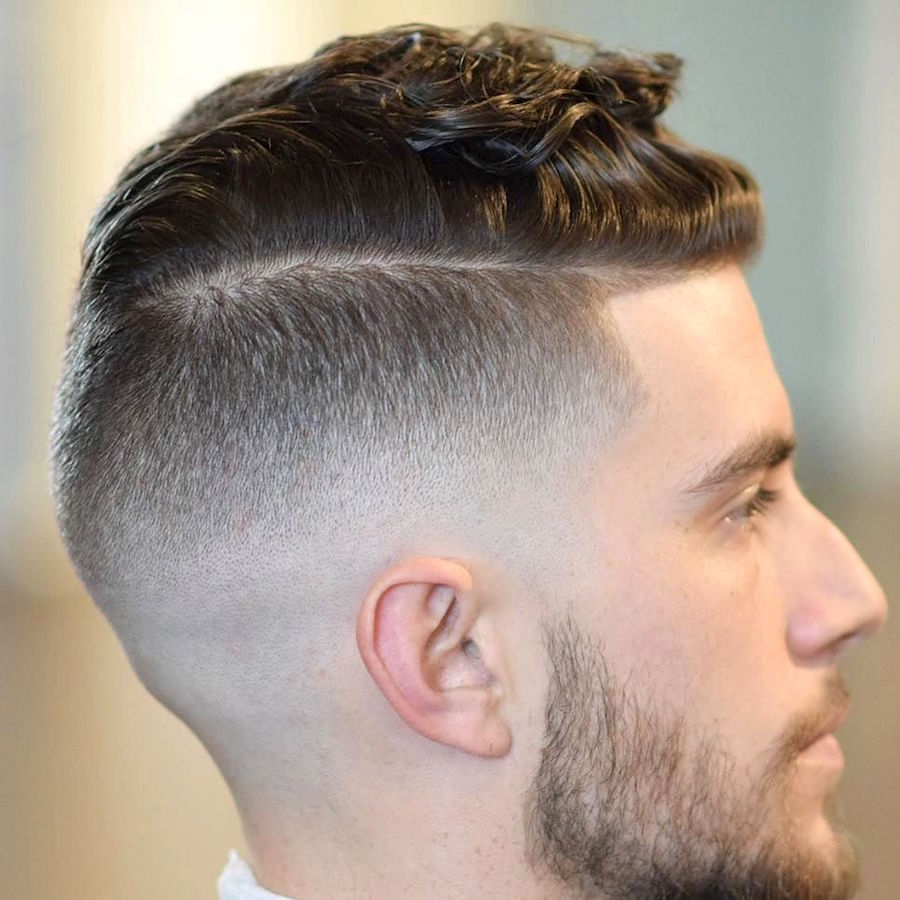 Haircut by Paul Charles Sheaffer III
Slicked back curls with a skin fade is the ultimate combination of short and long.
34. Mid Fade + Curls Cut Short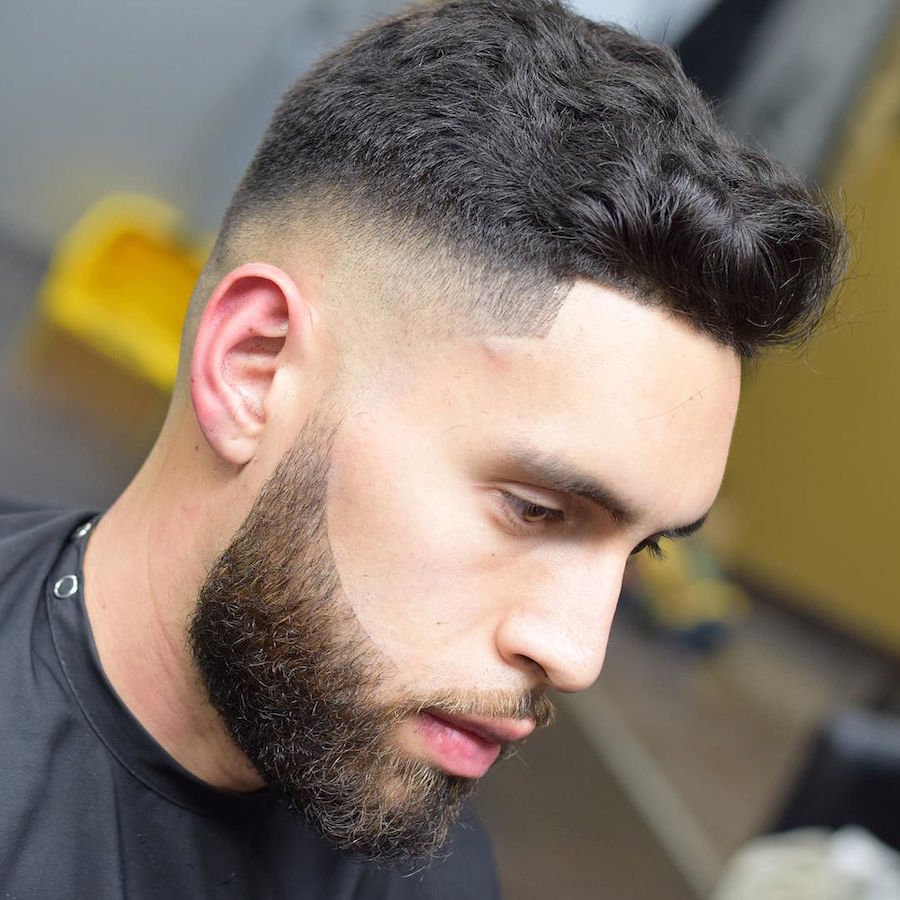 Haircut by Eddie Rosdvo
This is a great haircut choice for guys with ultra thick hair because it show off full growth while keeping it in check and clean cut.
33. Sectioned Longer Hair Slicked Back + Short Sides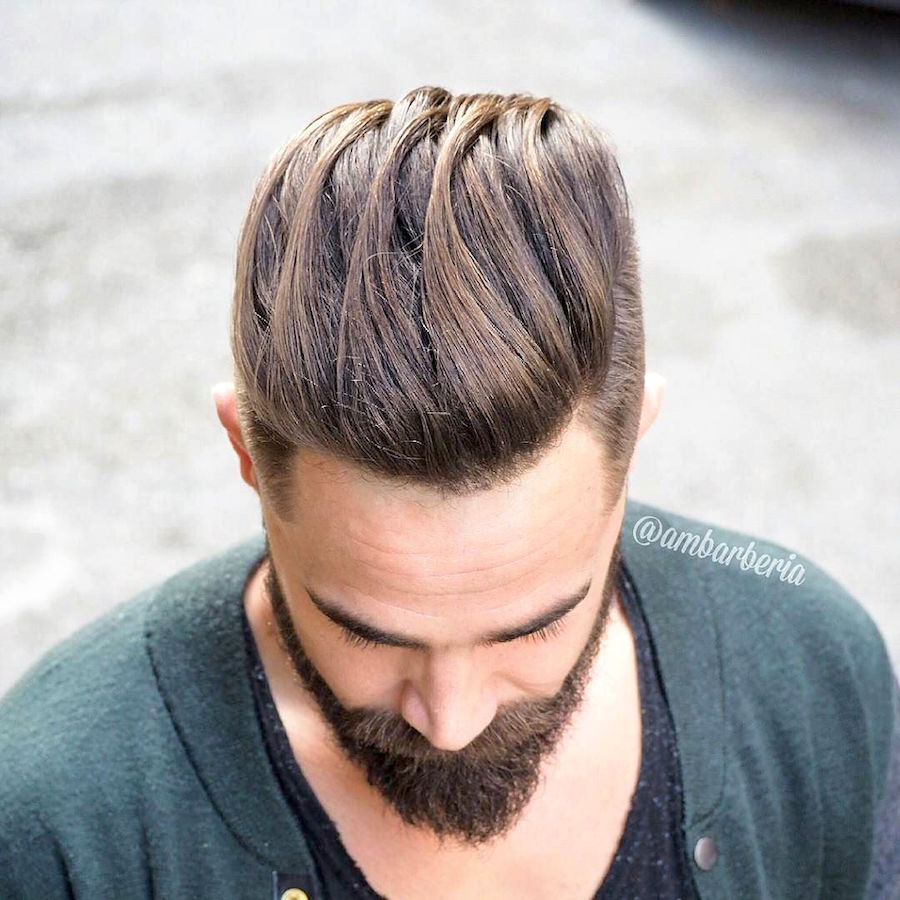 Haircut by Antonio Mateo
The slicked back style gets a makeover with faded sides and texture on top. Get your barber to show you how to style this look at home.
32. Cool Pomp Haircut + Mid Fade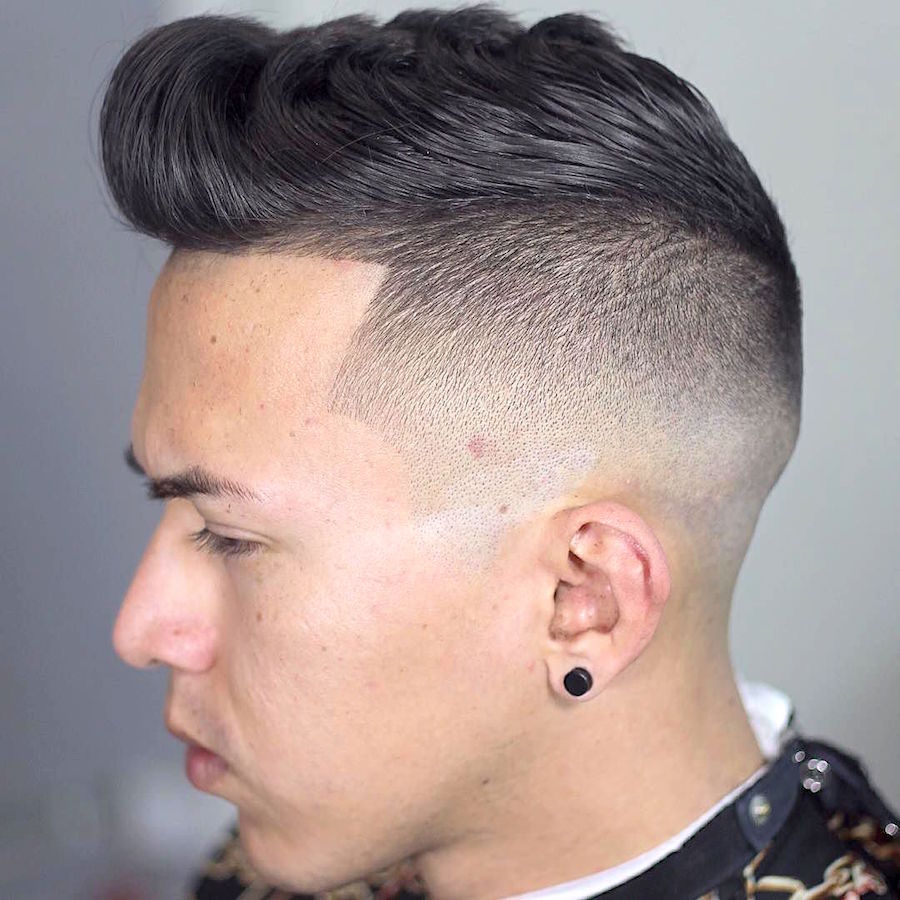 Haircut by Chris
A wavy pomp on top and mid fade at the sides add up to a fresh and clean style.
31. Clean Drop Fade + Curly Messy Hair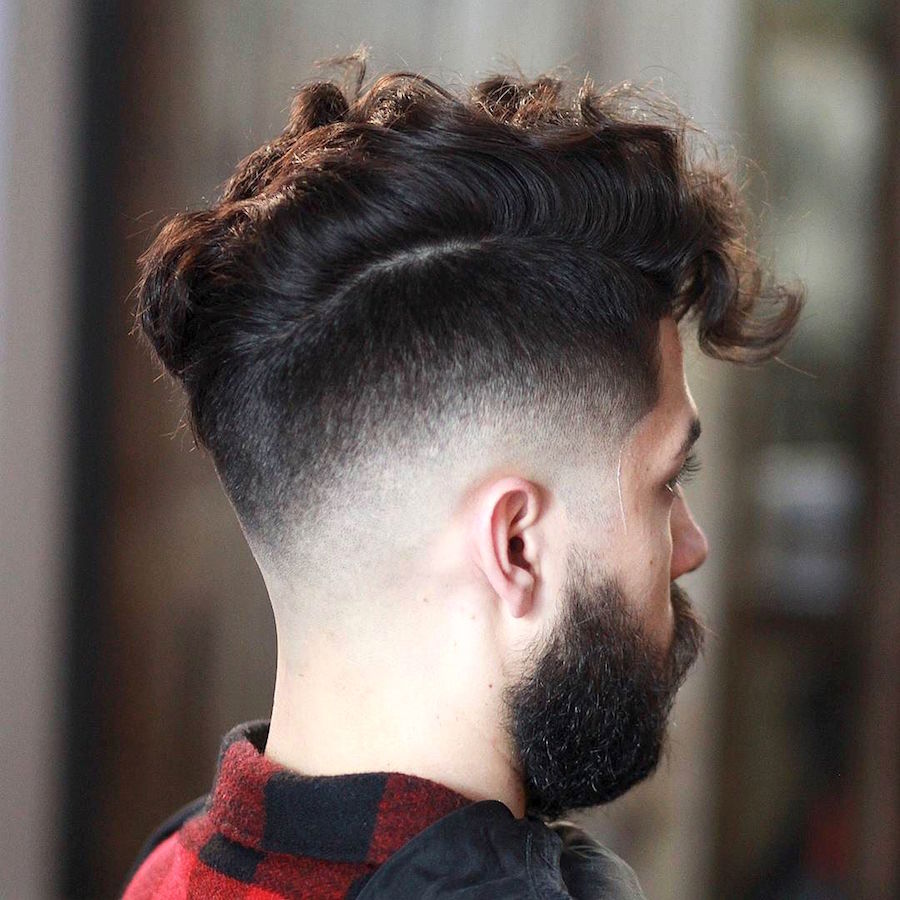 Haircut by Evan Anthony Demers
This most excellent men's curly hairstyle is worn without product. It's all about the right cut on top plus a low fade on the sides.
30. Low Taper Fade + Hard Part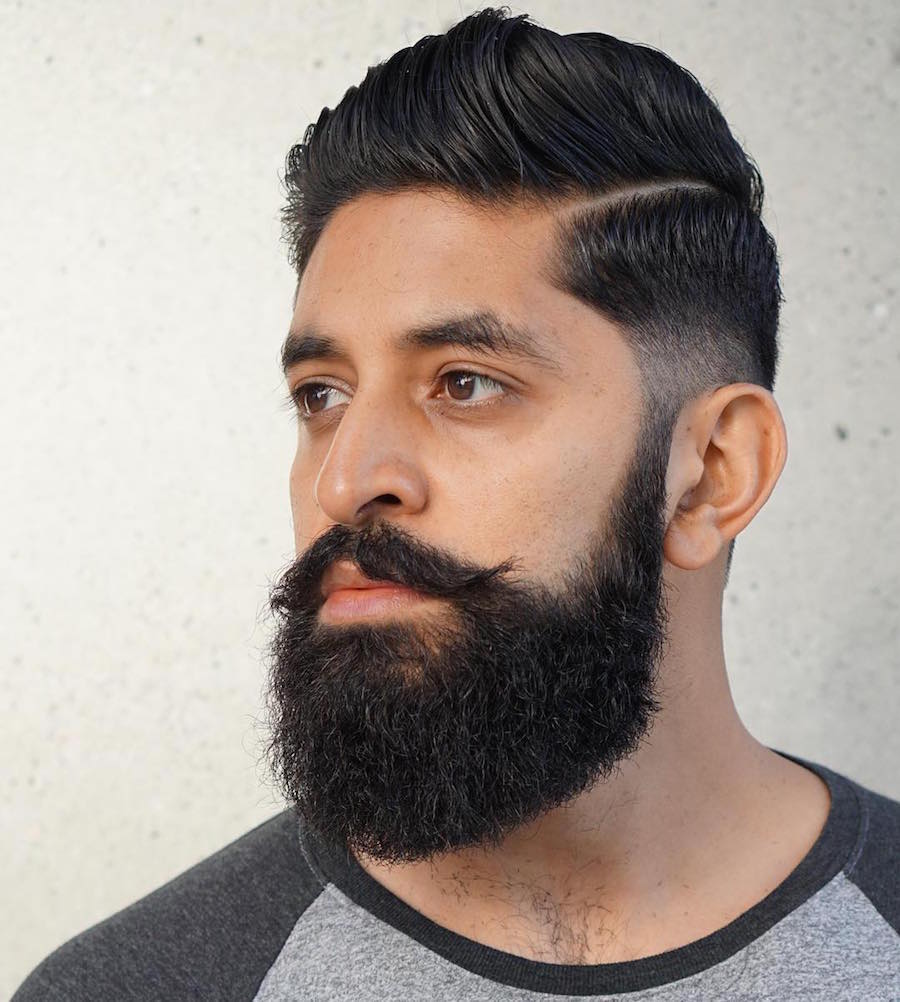 Haircut by Erick
Here's another refresh of the so last year combover. The part is worn as far over to one side as possible and defined with a razor. Hair on top is styled with plenty of volume.
29. Longer Fringe Styled Back + Short Sides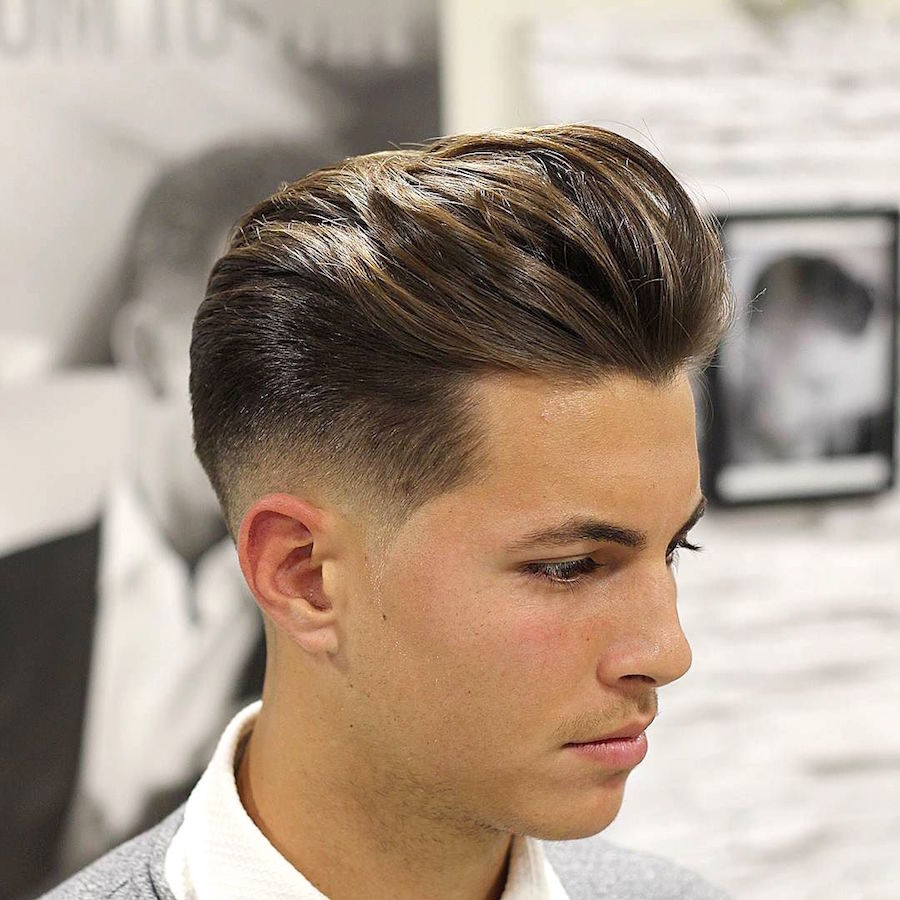 Haircut by Agus Barber
Yet another way to wear one the top hair trends, texture. It's a slicked back pomp but hair at the front is loose and piecey.
28. High Fade Blended Into Medium Hair + Longer Fringe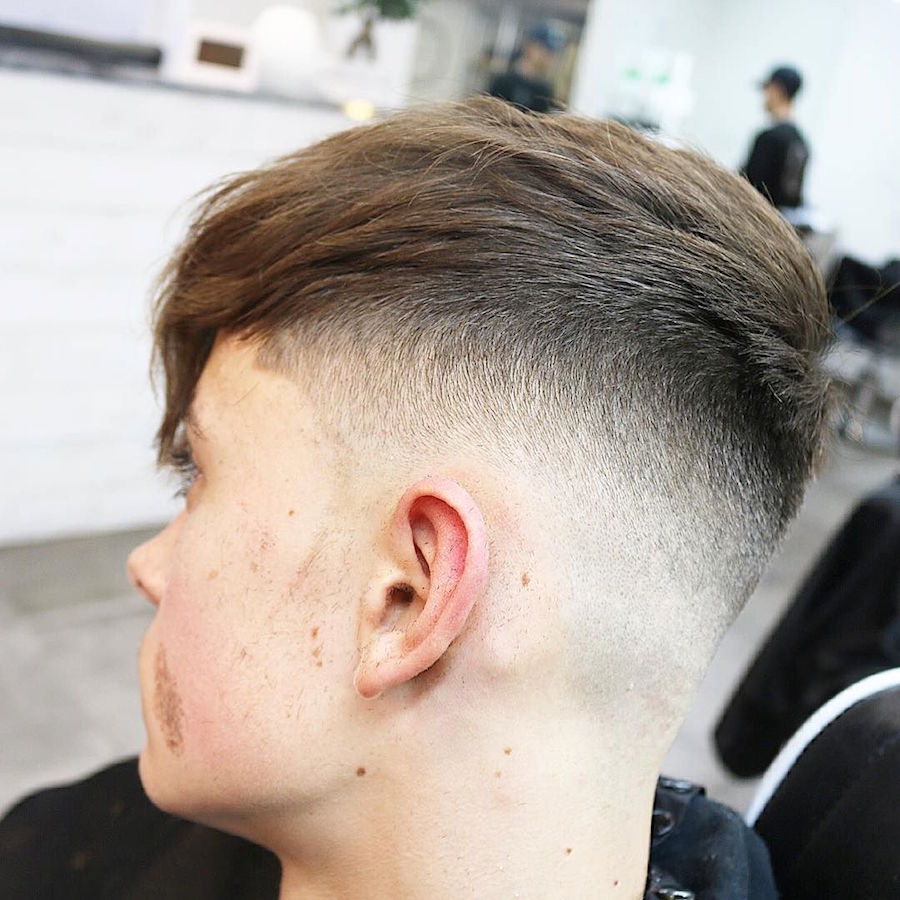 Haircut by Menspire Salon
The taper fade is all about being seamless. This fresh cut takes it to the next level by seamlessly blending short hair into long as well as down to the skin. Long hair is styled into forward fringe, the exact opposite of the slick back, and a hot emerging trend.
27. Longer Hair Textured + Disconnection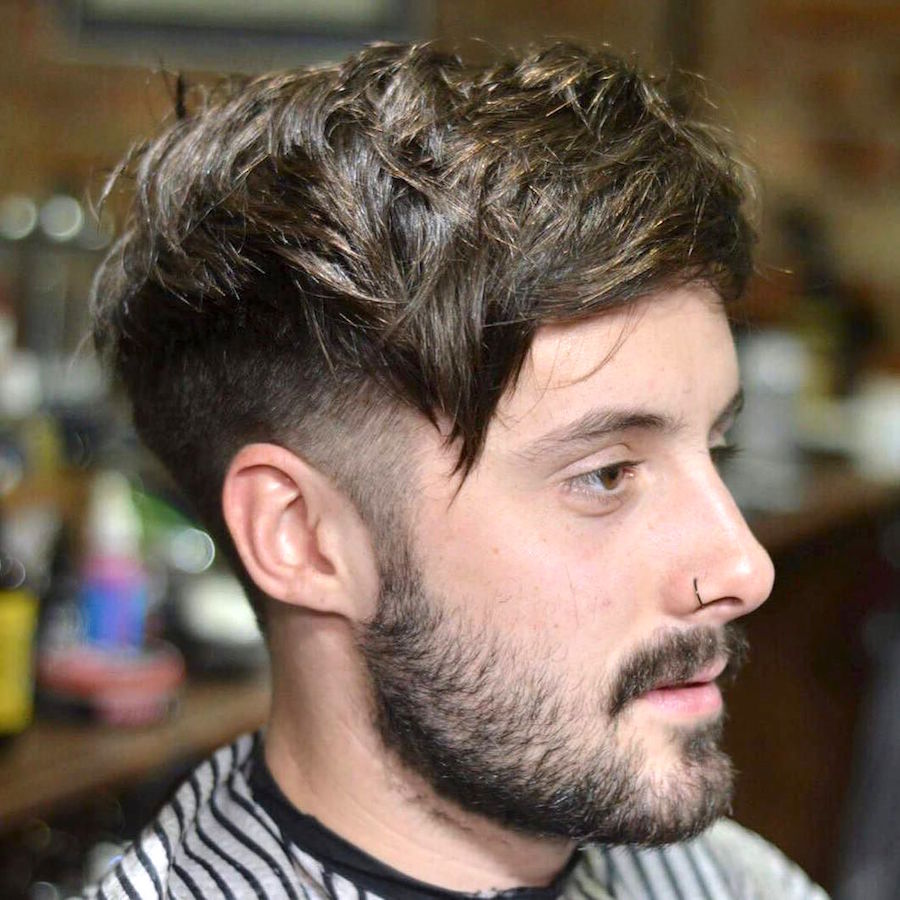 Haircut by Mark Hardgrind
This cool men's haircut balances the messy with the clean cut. Thick hair on top is tamed with layering and texture while the sides are undercut short.
26. Short Textured Haircut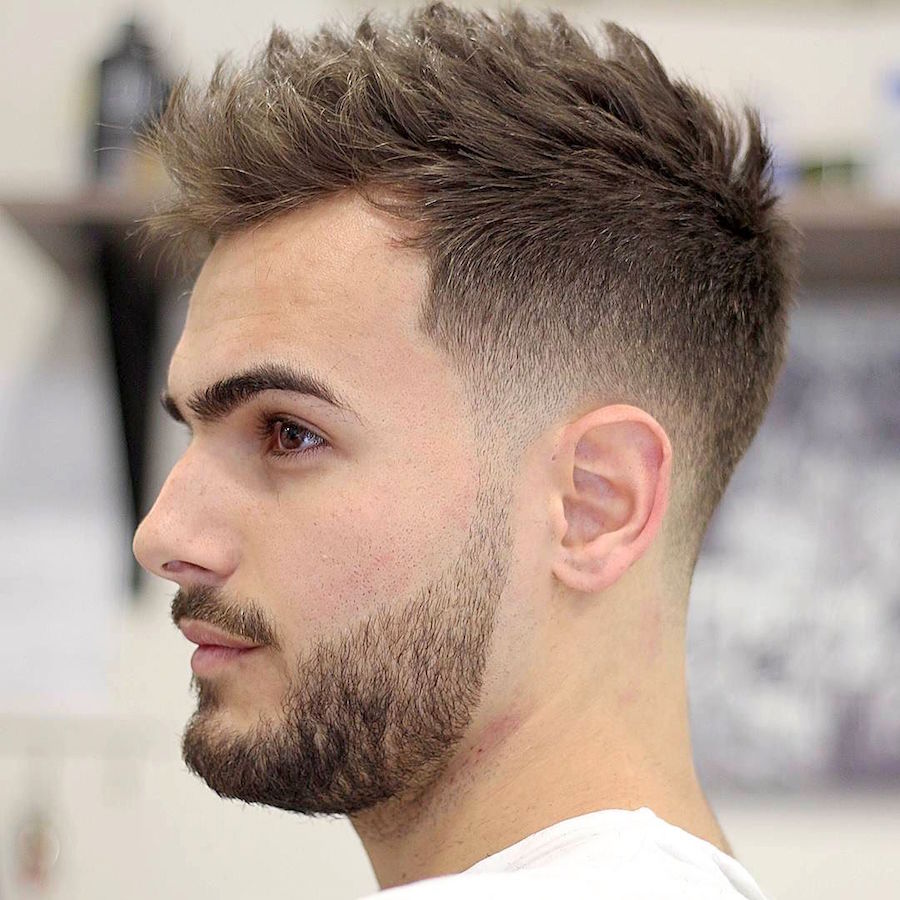 Haircut by Agus Barber
This is how to wear spiky hair. It's more about texture than definition and matte than shiny.
25. Skin Fade + Hard Part + Long Side Fringe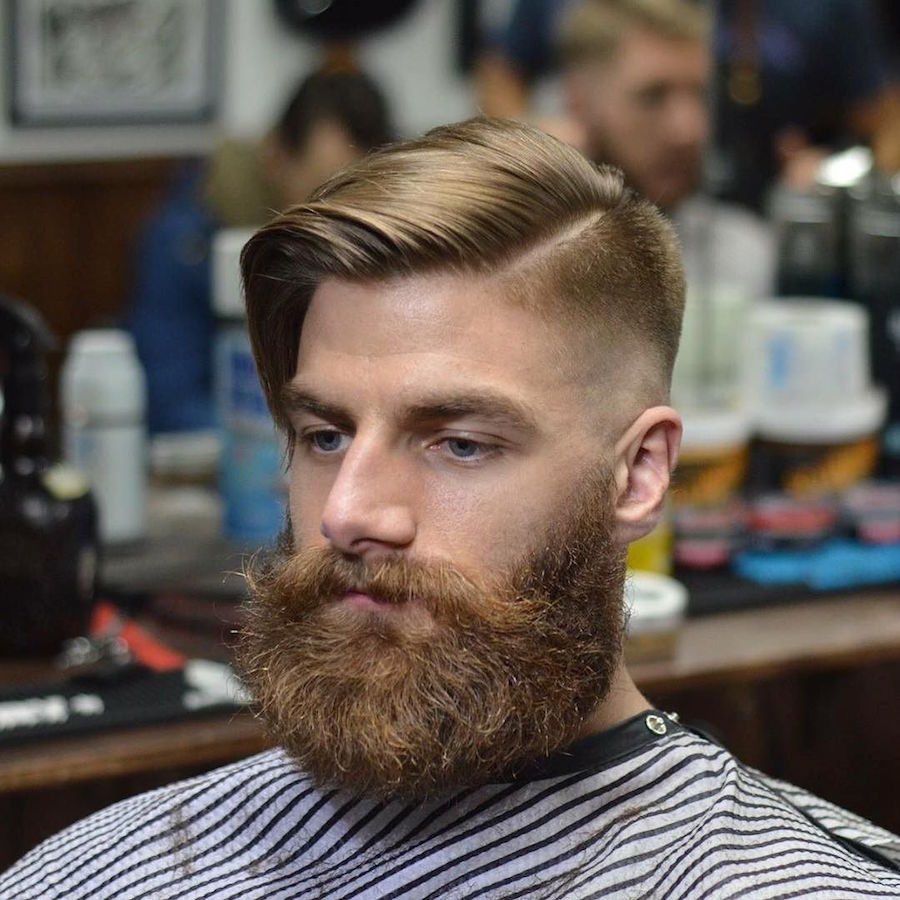 Haircut by Mark Hardgrind
The full beard contrasts delightfully with an ultra polished combover. Long hair is styled with Layrite Grooming Spray for a smooth finish and finished with Uppercut Featherweight for hold and texture.
24. High Fade Pompadour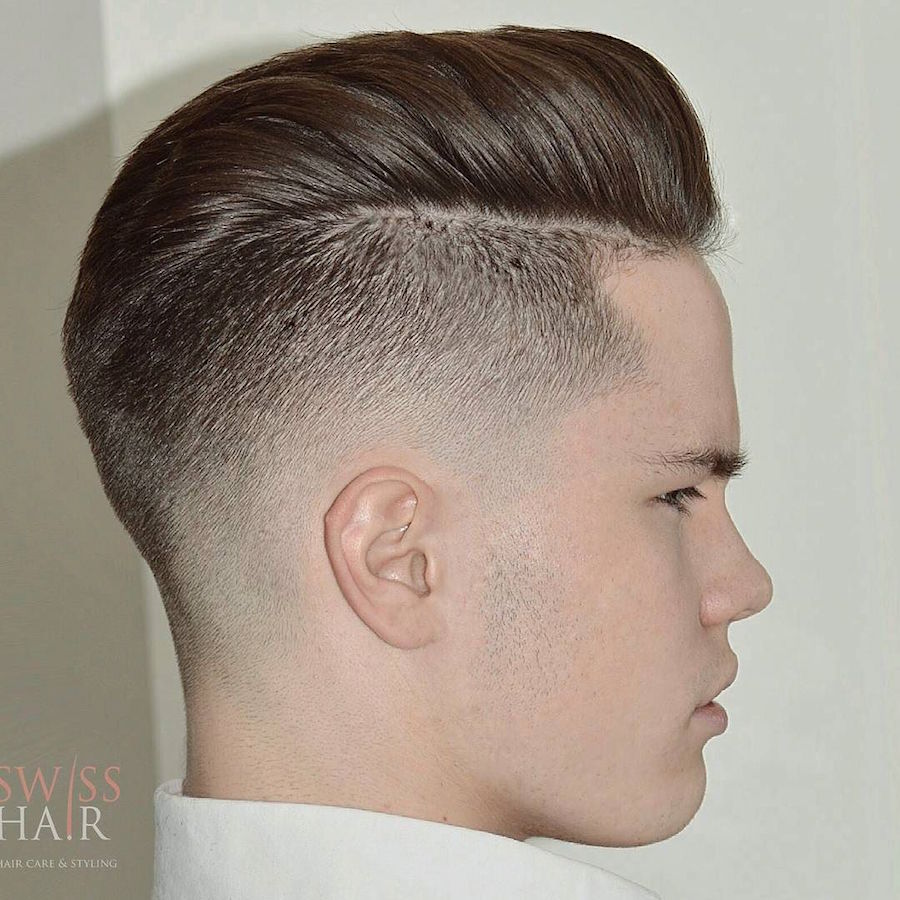 Haircut by Barber and Hairstylist Zainal
This pomp is smooth all over from the semi-gloss hair to the taper fade.
23. High Fade Hard Part + Curls On Top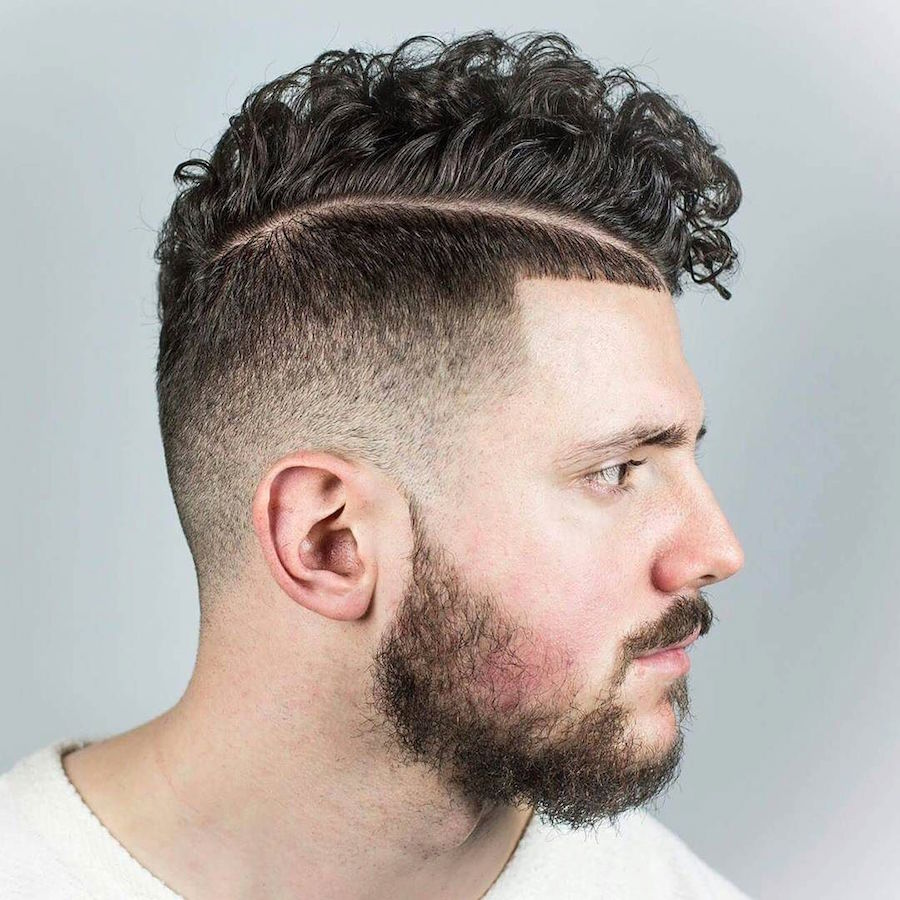 Haircut by Gary Milne
With the right cut, you can let curls go wild. This fresh style pairs curly volume on top with a fade hard part.
22. Drop Fade + Big Natural Curls + Volume On Top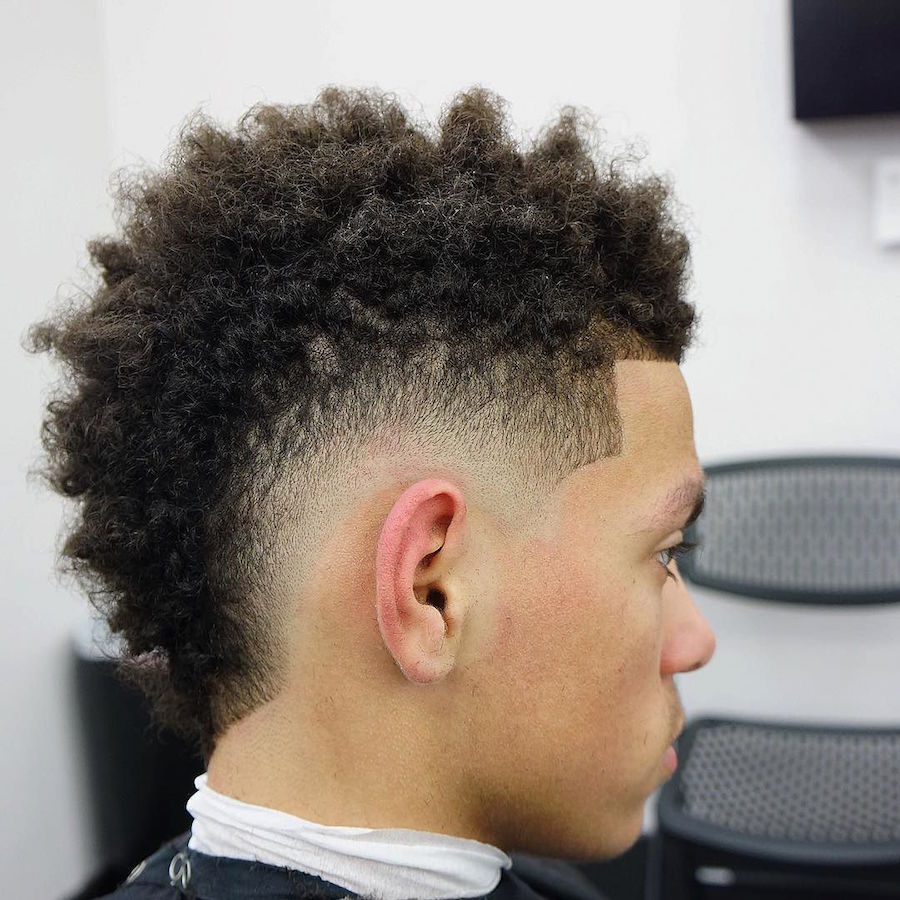 Haircut by criztofferson
Yet another mohawk inspired style, this wide frohawk features big natural curls down the center of the scalp and a burst skin fade at the sides.
21. Mid Fade + Natural Movement On Top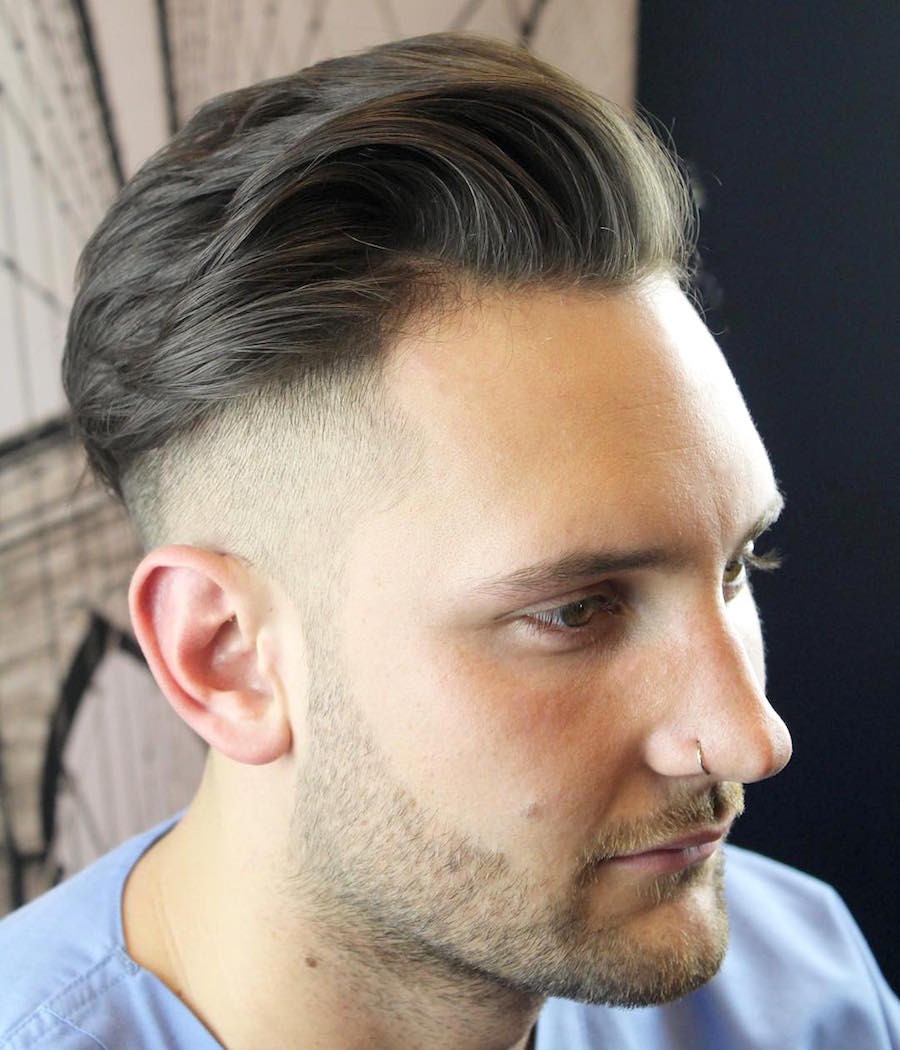 Haircut by Keller
This brushed back look is all about keeping hair natural.
20. Curls + High Fade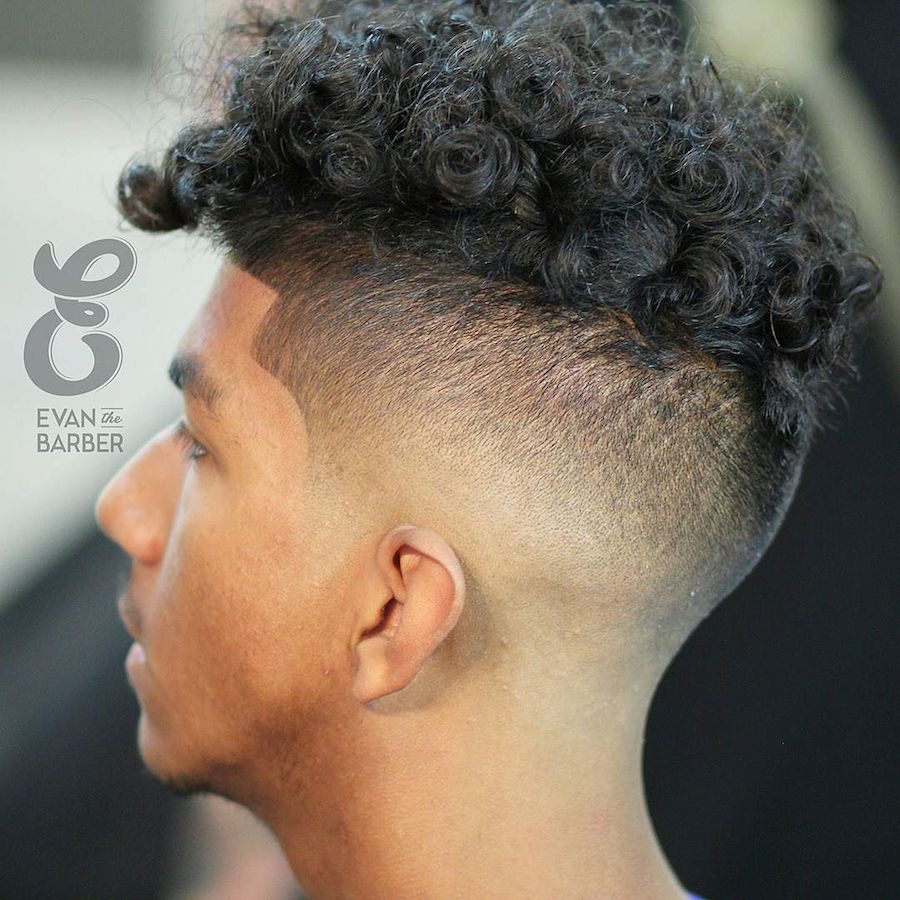 Haircut by Evan Anthony Demers
Another high and tight style but with hair left longer on top to let curls loose.
19. Cool Hair Design + Short Hair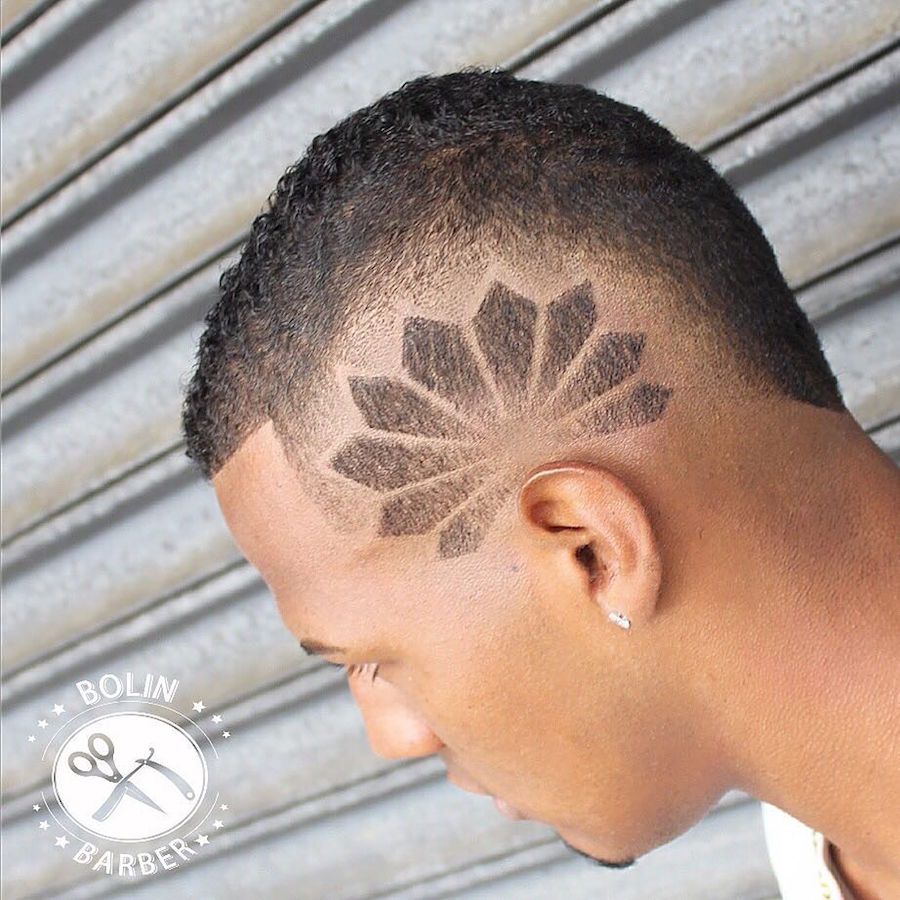 Haircut by Ivan Rodriguez Hernandez
Hair designs are still going strong. The only limit is your imagination.
18. Long Textures + Curls + Short Sides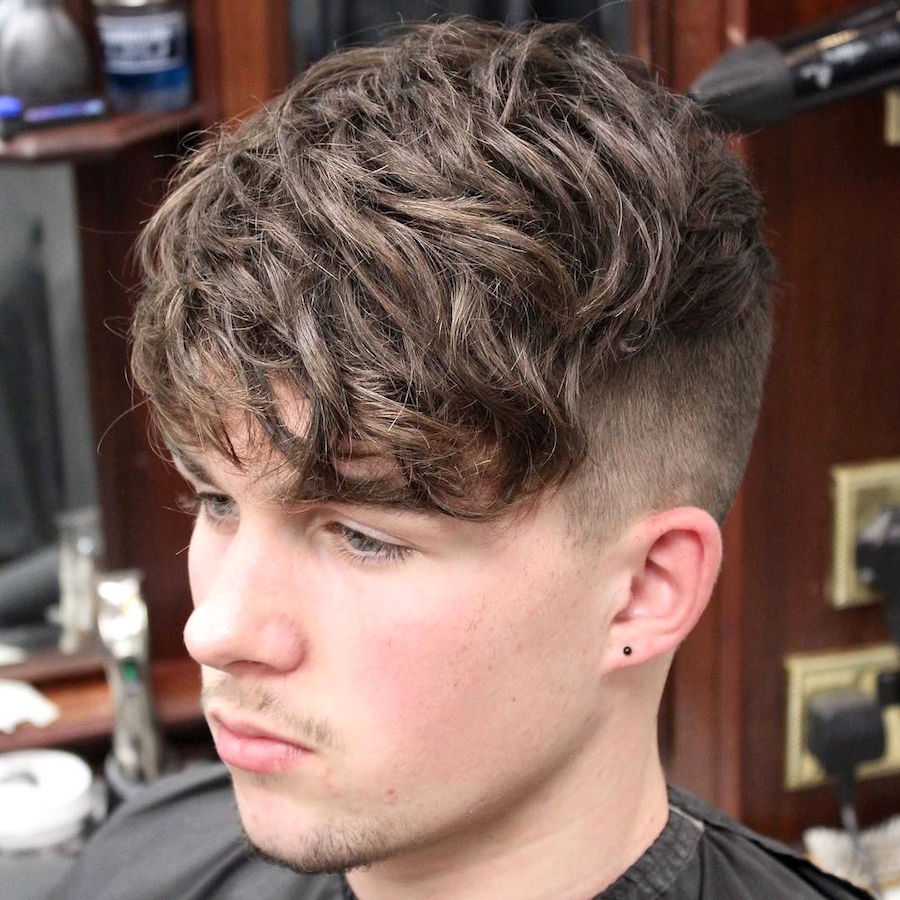 Haircut by Jamie Roberts
The forward fringe style works for all hair types. Here curly hair is layered to cut out weight and enhance wave. Add product if you need to tame frizz or add shine, otherwise it should be fine without.
17. High Fade On Both Sides + Long Fringe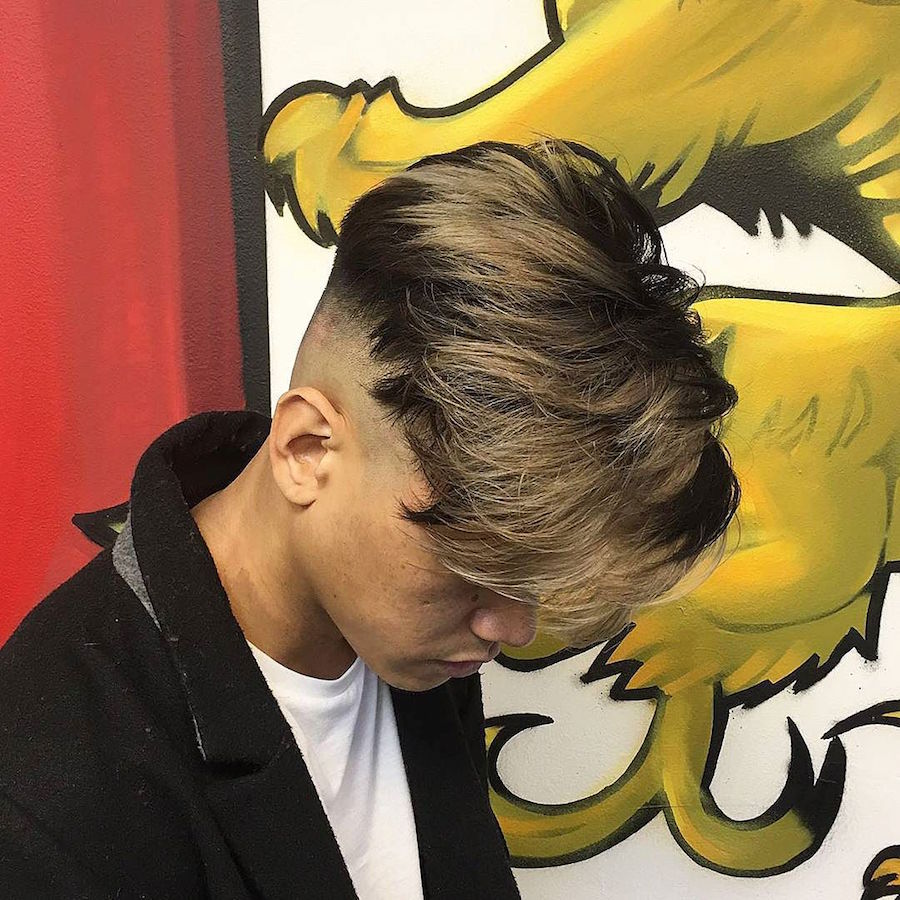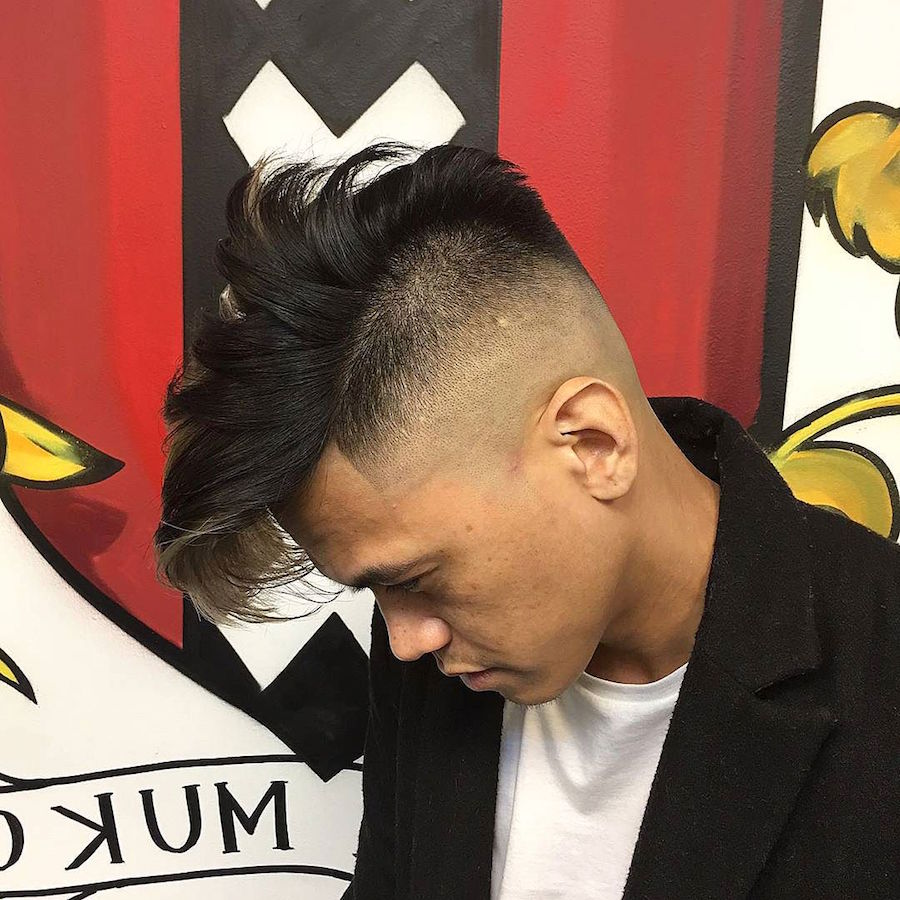 Haircut by Ruben Djirlauw
Another trend we're seeing this year is the same classic styles worn looser and product free. This cool look could be a combover but instead it is worn loose. A blast from the blow dryer can be plenty of hold.
16. Undercut + Fine Hard Part Pompadour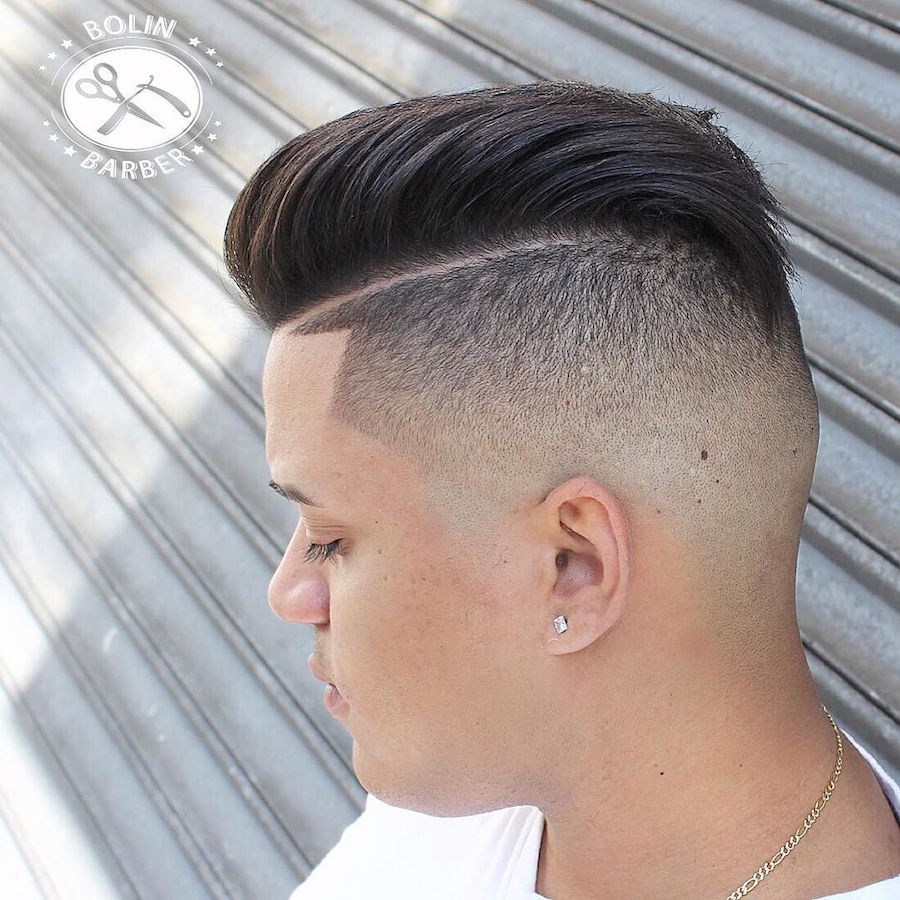 Haircut by Ivan Rodriguez Hernandez
A smooth all over pomp is more than combing hair straight back. To get these defined sides, comb hair towards the center, which also creates a cool looking V at the back.
15. Longer Textures On Top With High Fade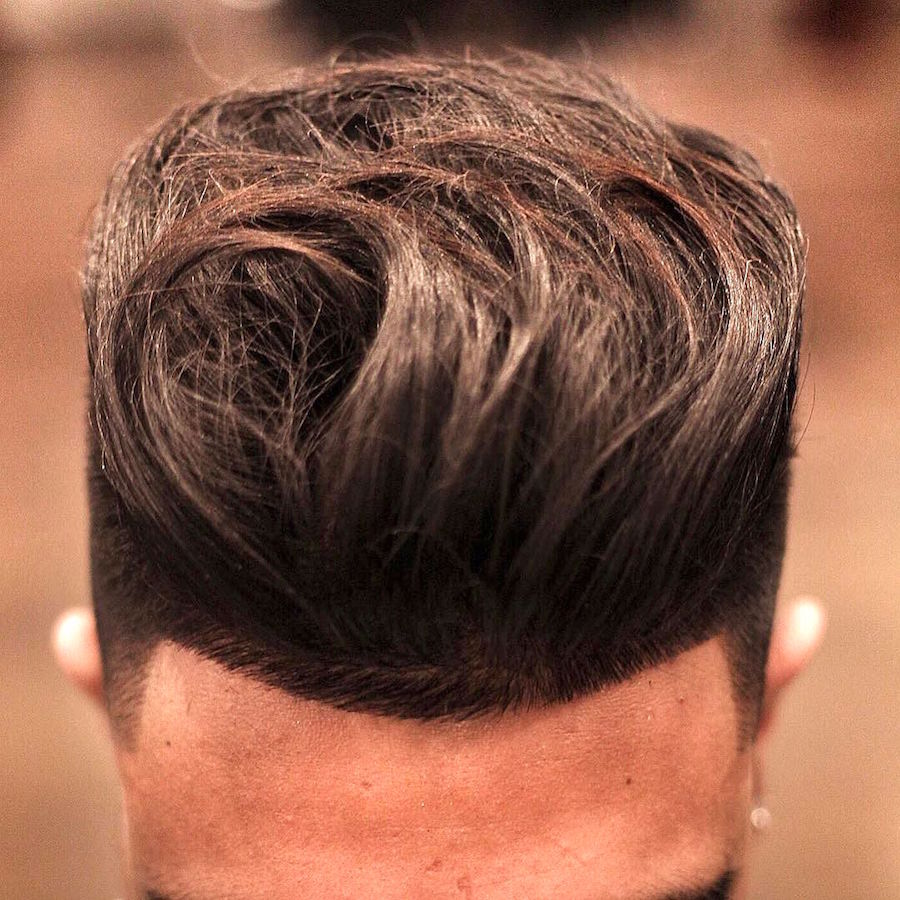 Haircut by The Gentleman Barbers
This look is all about texture hold. It uses a combination of Evo Hair Styling Powder for the former and Fudge Hair Cement for the latter. An angular lineup completes the hot look.
14. High Fade + Big Pompadour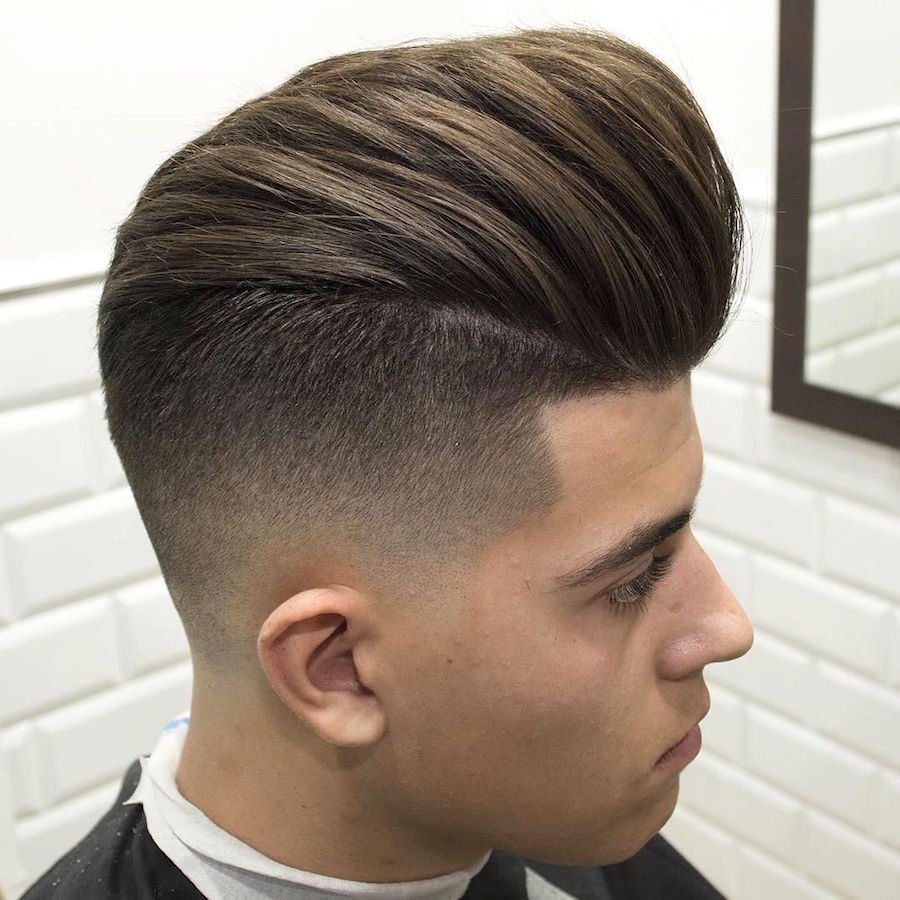 Haircut by Javi The Barber
Not every hair type can achieve this extreme height. If you can, check out Elegance Hair Wax to get all the hold you need.
13. X-Ray Part + Skin Fade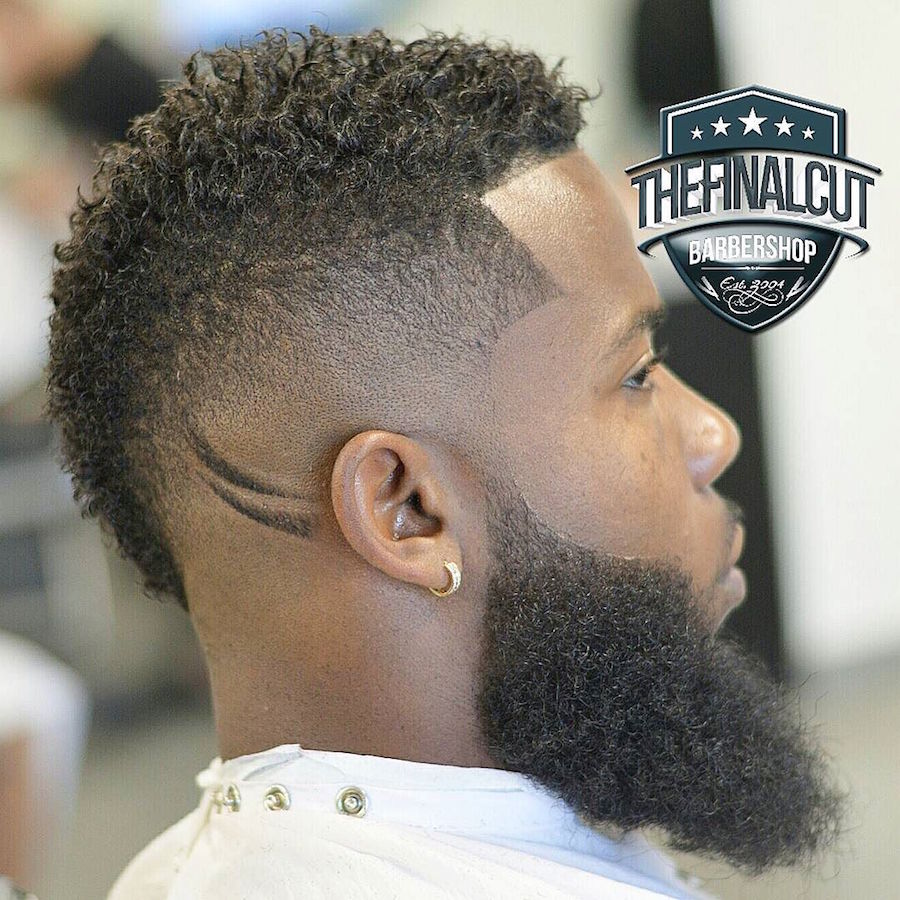 Haircut by The Final Cut Barber Shop
There is so much going on here – A long beard, short and wide mohawk with skin fade on the sides plus a subtle hair design behind the ears.
12. Long Natural Curls + Side Hard Part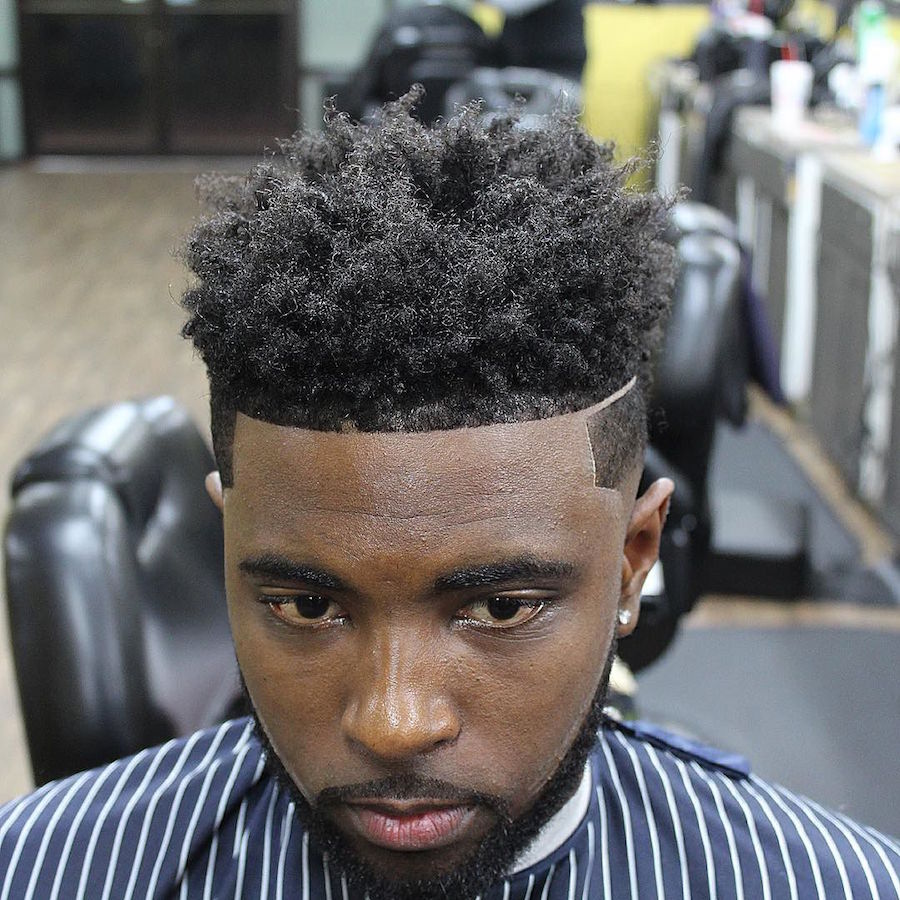 Haircut by Rich Payne
Sometimes a subtle detail can transform a cut from ordinary to something beyond. The razor part extending the lineup does just that with this cut featuring long natural curls.
11. Crispy Undercut + Messy Hair On Top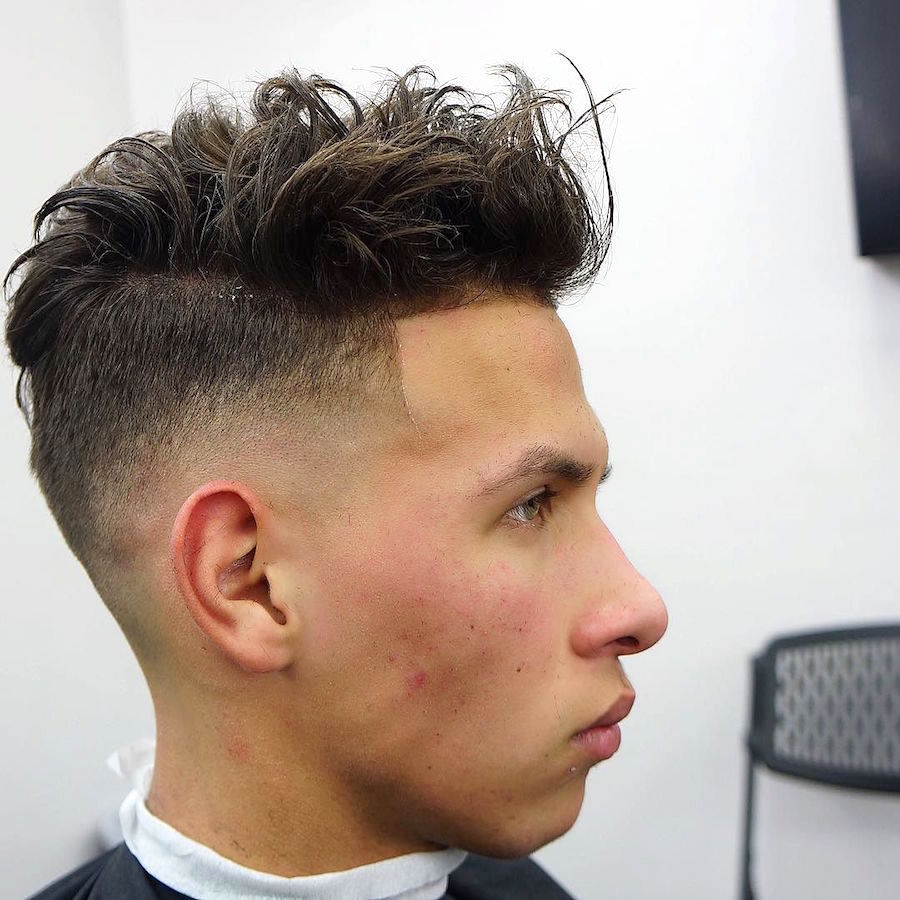 Haircut by criztofferson
Whether hair is wavy or curly, this year's texture trend means enhancing natural texture with product and a bit of messy styling.
10. Fade + Hard Part + Very Short Men's Haircut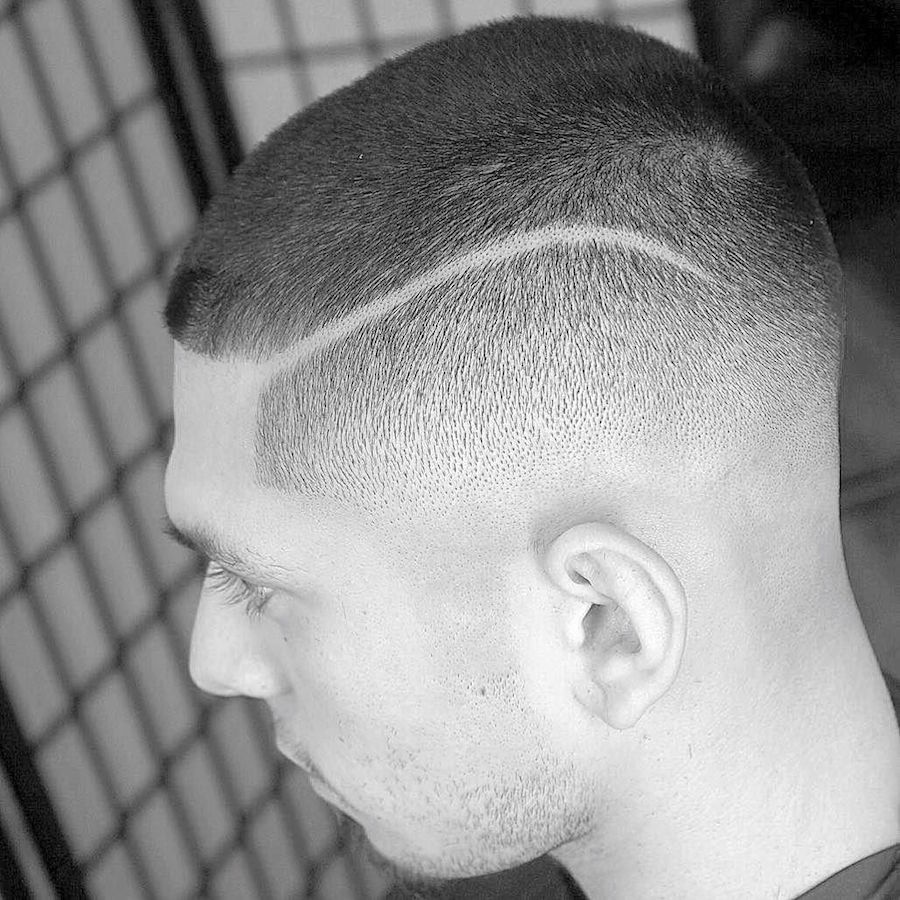 Haircut by DTown President
Don't try this cool buzzcut at home. This shaved hairstyle is enhanced with a blurry fade punctuated by a curved razor part.
9. Scissor Cut Cool Long Textures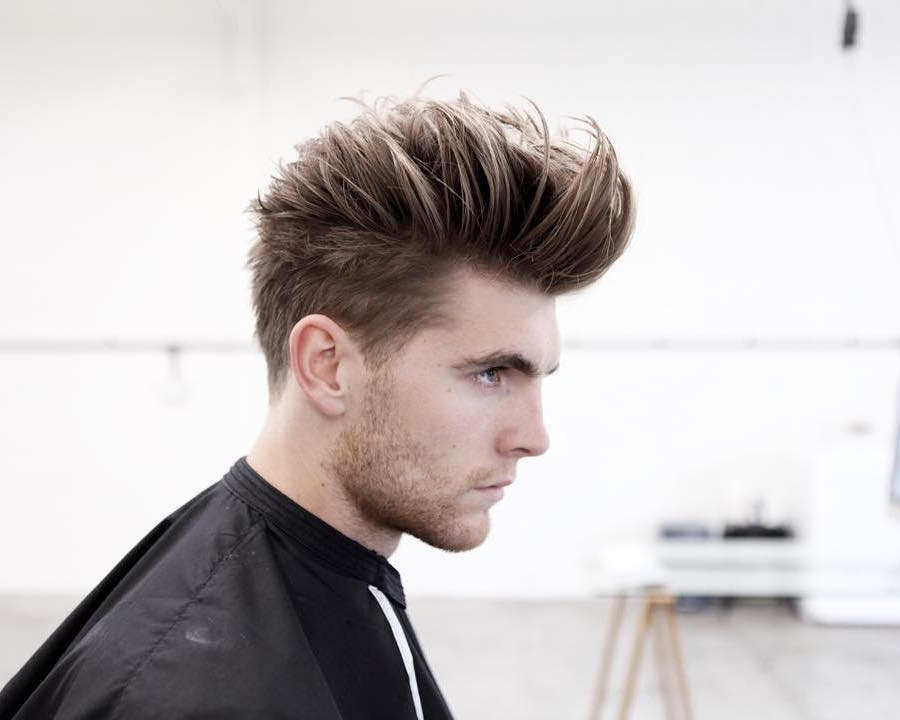 Haircut by Morris Motley
Inspired by the greats – James Dean, Elvis Presley and Morrissey – this hot style adds in the best of this year, tons of height and texture.
8. Undercut Styled To Side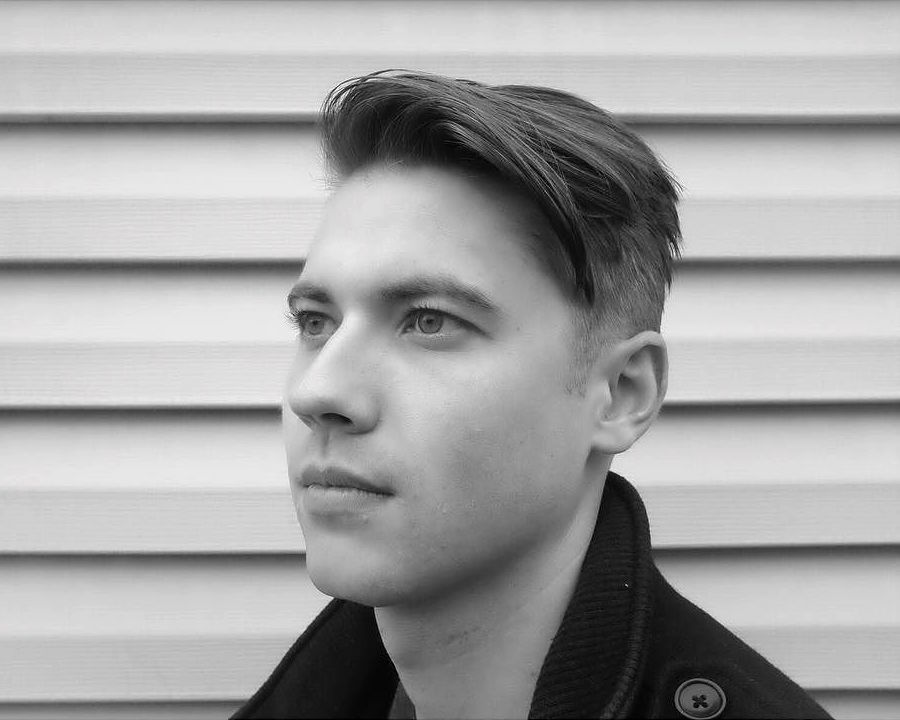 Haircut by scissorandbone
This multidimensional cut is an undercut when styled to the side but blended when pushed back.
7. Long Textures On Top + High Fade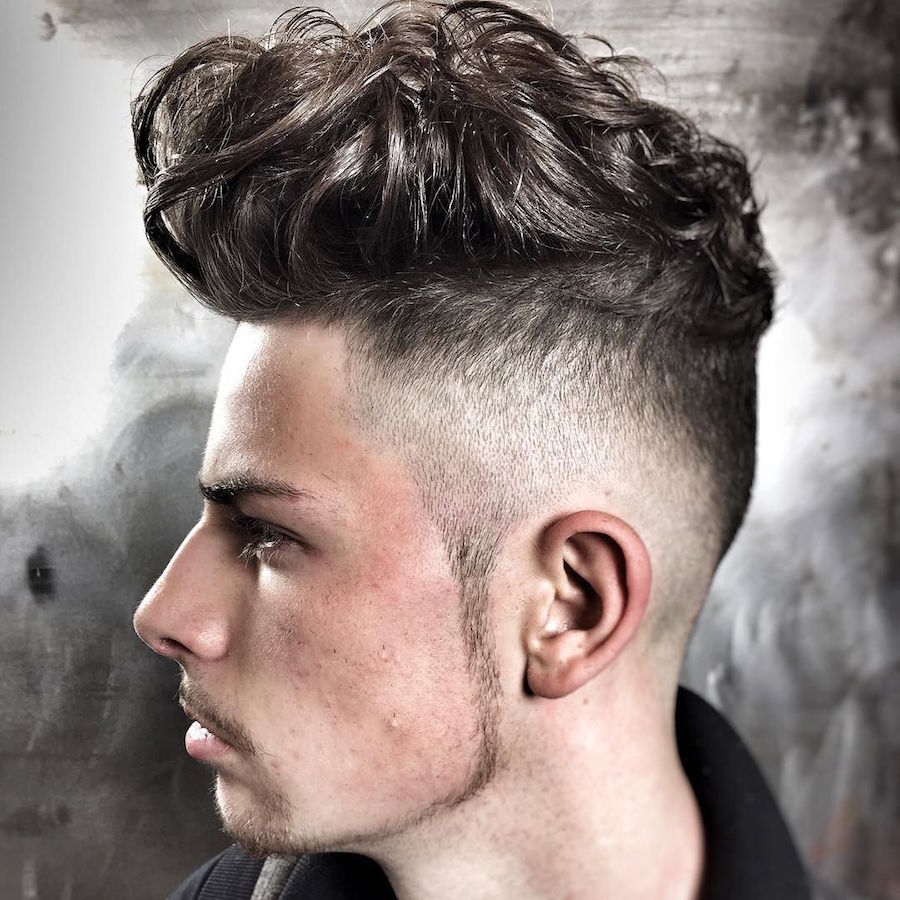 Haircut by Lou Scissors + Robert Braid
The classic quiff styled with wavy curls plus a burst skin fade.
6. Cool Monochrome Hair + Thick Textures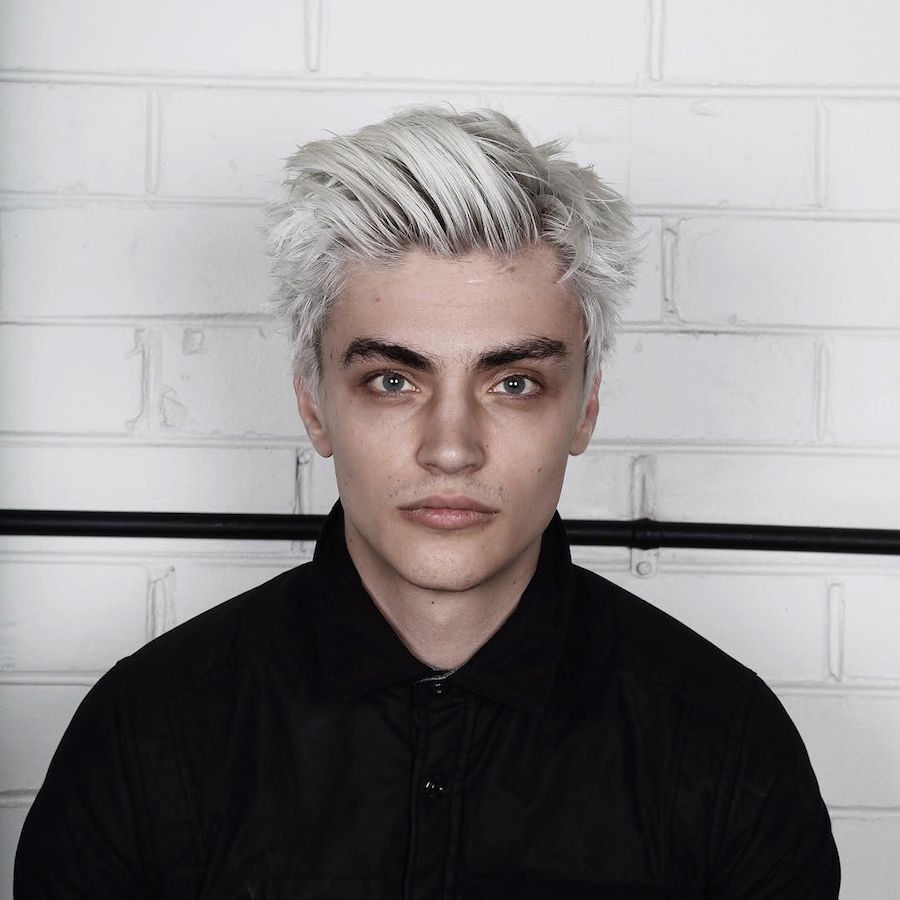 Haircut by Morris Motley
Guys, do not be afraid of using hair color to make a statement. This ultra bleached cut is almost white but would also look great in silver.
5. Fresh Clean Skin Fade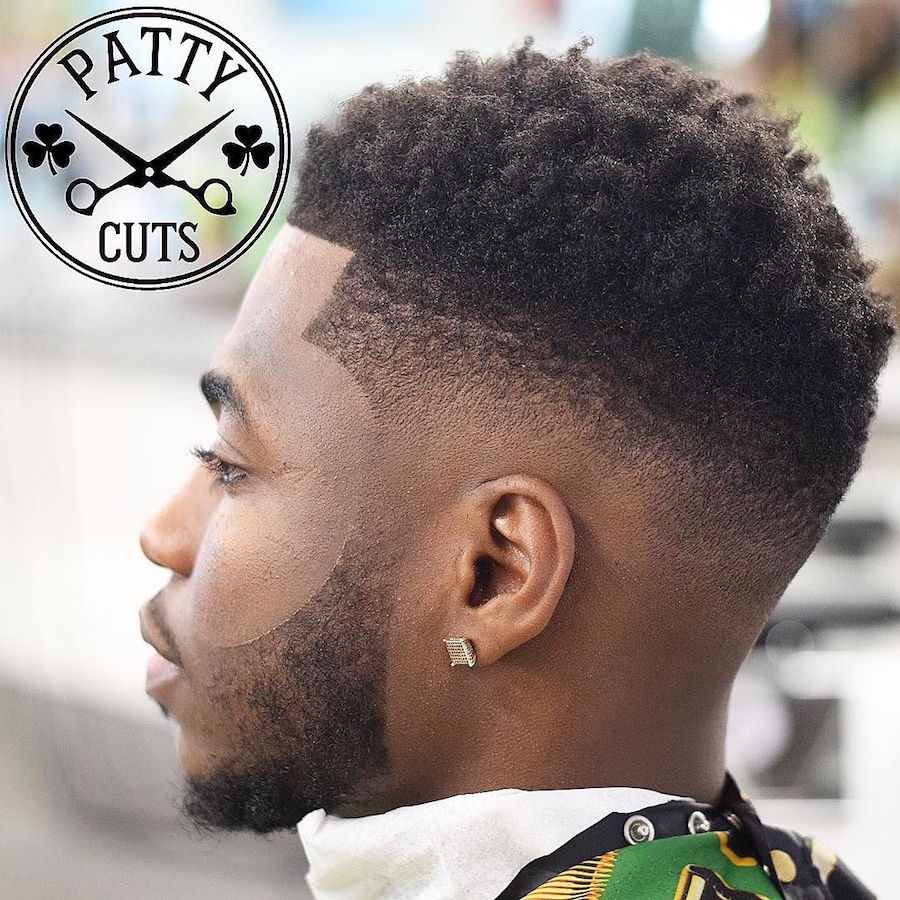 Haircut by Pat Regan
When you have curly hair, all the texture is already there. The cut is all about shaping and ultra clean cut sides.
4. Modern Undercut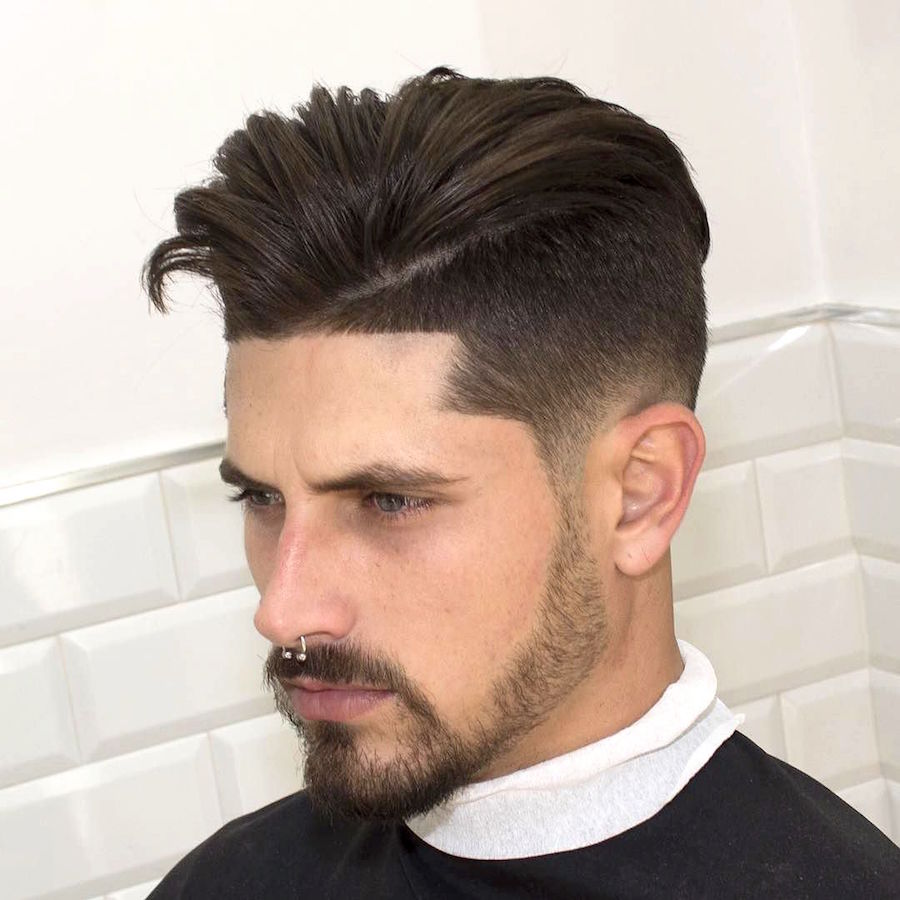 Haircut by Javi The Barber
One way to refresh the combover is moving the part further over to one side. The other is to move it towards the center, like above. Then style hair on the diagonal and back for a high volume, high texture finish.
3. Long Curly Fringe + Undercut On Both Sides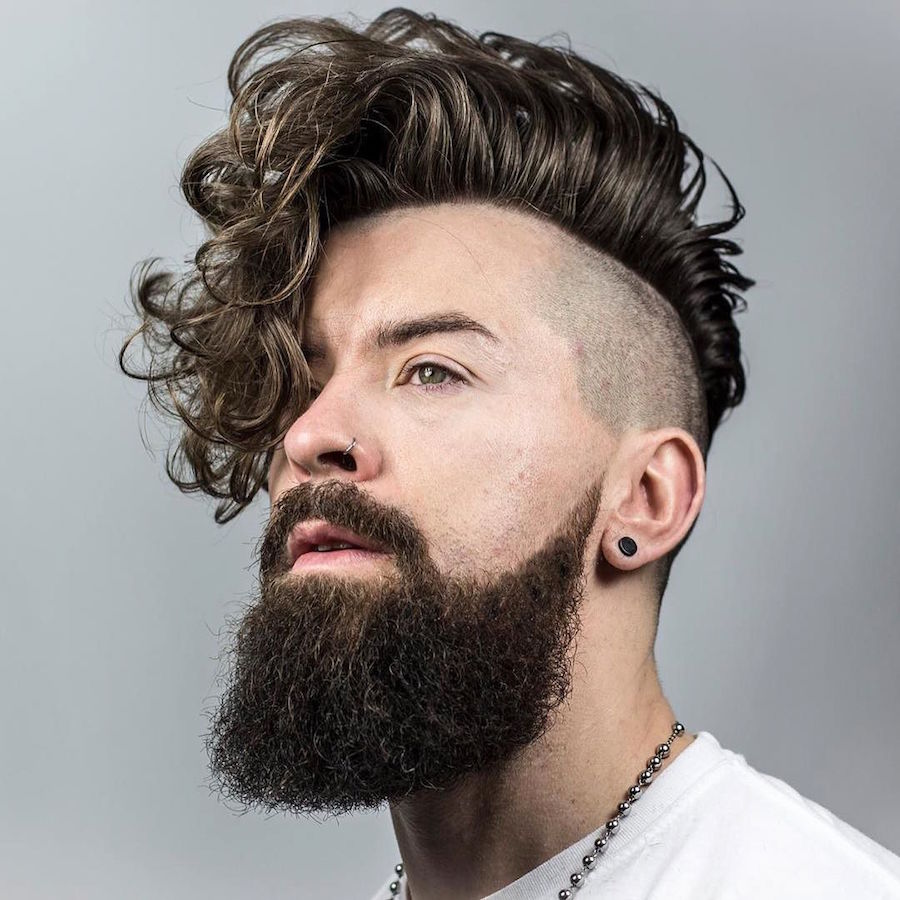 Haircut by Braid Barbers
Ross Oliver Smith, bearded model and Man Club member, is rocking a fierce undercut and wild curls.
2. Halfway Hard Part + Sectioned Pompadour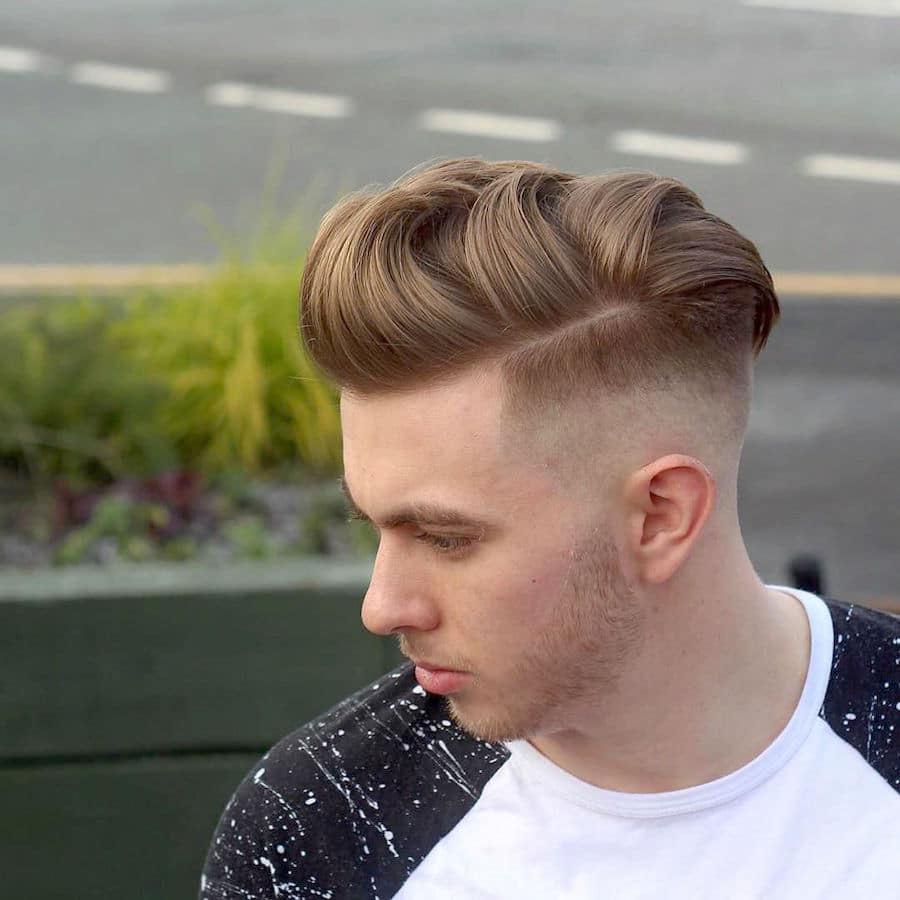 Haircut by Alan Beak
Adding textured geometry to hair is a combination of heat and a comb. Ask your barber how to make this look work for your hair.
1. Cool Hair Design Undercut + Thick Textures On Top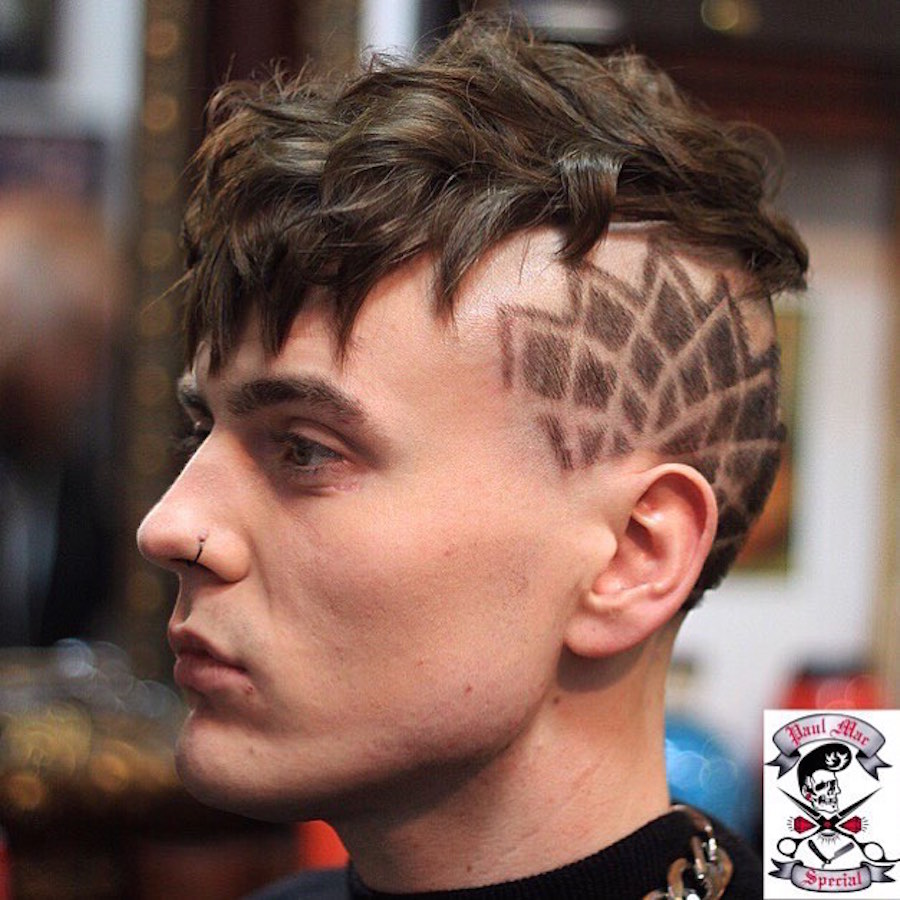 Haircut by Paul Mac Special
This innovative cut and style works so well together. The petals of the geometric lotus hair design are echoed in the textured fringe up top. That's how it's done, folks. That's how it's done.
So there you go, 60 totally sick new haircuts for men. Get yourself a brand new look!