As the beard trend progresses, facial hair is getting bigger and bushier. Here's one way to rock the full beard styles 2015. It's long without being scraggly and groomed to perfection. Of course, what's on top matters too. This cool cut and style is by Mr. Liptrot of the Nomad Barbershop. Here's how to get the complete package.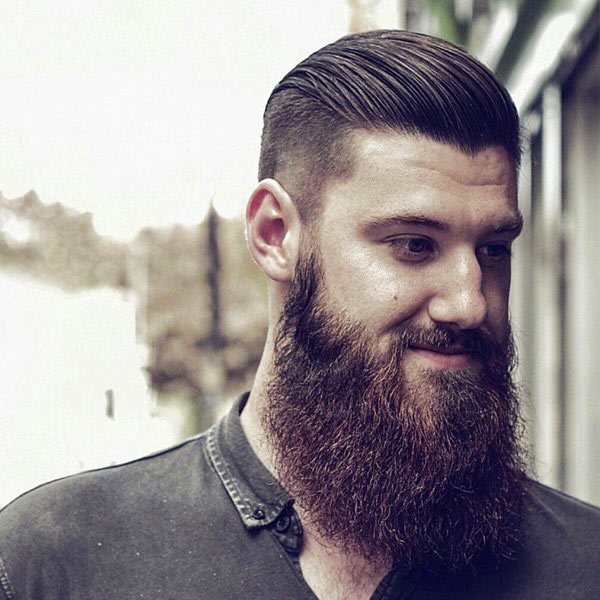 As always, an undercut and slick hair complement the beard. Hair on top is left quite long and slicked straight back with Layrite Pomade. There is a touch of height to this slick back but not much so there's no blow drying required.
The haircut features undercut sides shaved to one length. Another alternative would be to fade the sides down to the skin. Or try this cool temple fade that also looks excellent combined with facial hair.
Now on to the badass beard. There are many ways to trim and groom beards ranging from compact to bushy and square to rounded. This cool style is the latter two, bush and rounded. The wide facial hair works will with the simple slick black. This long and full beard is a great choice for guys with long faces.
A beard this length requires some maintenance and grooming to look it's best. At this length, facial hair has some history and benefits from cleansing and conditioning. Beard oils condition hair and keep it soft. Occasional cleansing also removes any buildup of food, smoke, and anything else you encounter. Last, brush that beard to distribute oils, keep it flat, and make hair manageable. The Billy Jealousy Beard Envy Kit has everything you need with Esquire Grooming Award-winning Beard Wash and Control plus a brush.
Beards are cool. Slick hair is cool. Undercuts are cool. As you can see, all three together are far greater than the sum of it's parts.