This isn't a top 10 list because based on reviews, we only found eight Austin barbershops that we can recommend. Otherwise, the order is based on number of Yelp reviews, rating, and how established the barbershop is.
The best barber shops in Austin are a combination of old school joints, more recent hipster establishments, and the first beard barber we've come across. They are very different in character and you'll know which one is right for you.
8. Birds Barbershop
4 stars – 700 reviews (5 locations)
Open since 2006, Birds Barbershop is a no fuss salon for men and women featuring free Shiner Bock and vintage arcade game decor. Today, they have seven locations around the city. While some reviewers are frustrated with long waits and hipster attitude, most are satisfied with the quality cuts and fun atmosphere, especially free video games while you wait. All of the locations get busy. Appointments are available for color only but you can get on a call ahead wait list to reduce waiting time.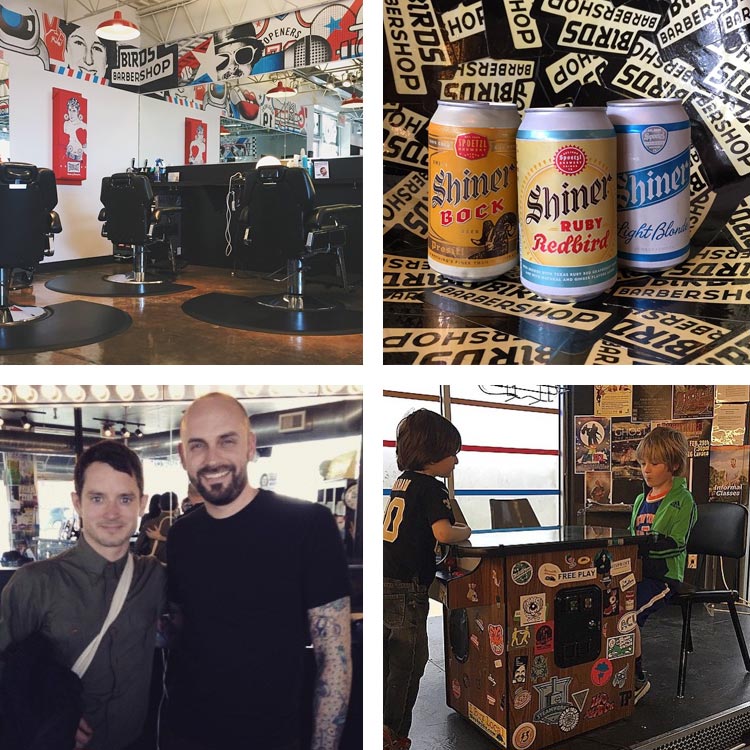 After moving to Austin, I needed to find a new hair-cuttery that could make my hair look good without any real participation on my end.

I called ahead to go on the wait list, then showed up on time. I was quickly directed to a chair with a friendly…haircutter. So my haircutter asker me a few questions, and I went through my normal quiet awkward process of feebly trying to describe how I wanted my hair cut.

The haircutter then kind of ran with it, and I ended up liking how it came out. The second cut I got there was even better, and I took that haircutter's card so as to continue to get good haircuts into the foreseeable future. Way to go, Birds!

The one thing I'll say, as I've seen it mentioned in a few comments: I think the "barbershop" in the name is more aesthetic than literal. If you are looking for a classic style barber shop then this probably won't hit the mark. For all other inquiries, check it out. – Tyler K.
Check the website to find one of seven locations near you.
7. Luis' Corner Barber Shop
4.5 stars – 53 reviews
Open since 1959, Luis' Corner Barber Shop is a real old-fashioned barber shop with witty banter, reasonable prices, and lots of regulars. Expect old school techniques including a straight razor edge up for an ultra close finish around the hairline and a massage to finish each cut. No appointments as far as we can tell but wait times are about an hour during peak periods and less during the day.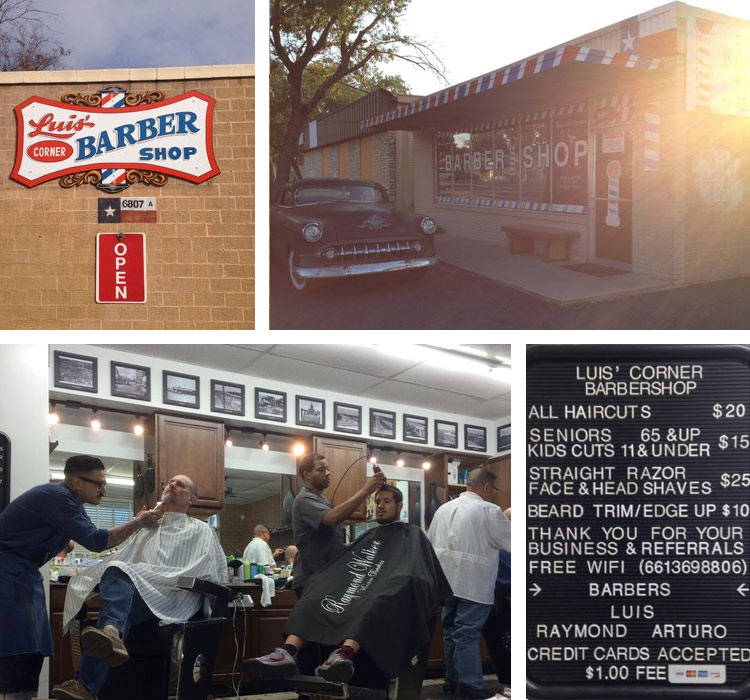 If you don't know, then you're just SOL. I've gone 3 times now and if this isn't the best barbershop in town then I don't know what is.

It's the same 3 barbers (Art, Raymond, and Luis) that know almost every customer that walks through the door by name. This is literally an old school shop!

Phenomenal cuts, phenomenal service, phenomenal deal. I just hope this review doesn't cause me to have wait longer next time. – Matt S.
6807 Guadalupe St., Suite A
6. Adolph's Barber Shop
4.5 stars – 55 reviews
As we've said before, you know a barber shop is the real deal when there is no website or Instagram account. It's a no frills, old school joint. What you get is experienced barbers, a $10 cut, and little to no waiting. As one reviewer said, at this price you can afford to tip 50-100%. Cash only, of course.
The real deal. Old school barber shop with barbers that have years and years of experience. Adolph himself has 50+ years. Mario 30+ and a couple others the same. Everyone is excellent, choose who you feel would be best for you. Best cut for price in town for barber cuts. Ask for Adolph, Gy, and Mario. – Russell E.

Awesome haircut. Saturday afternoon, there was literally no line. For $10, it doesn't get any better. Gy was Edward Scissorhands proficient and it was great to just chat. Friendly and inviting, has good parking out front.

PRO TIP: Go park along the street, there's better shade than in front of the lot.- Ian L.
1901 W Ben White Blvd.
5. The Good Life Barber Shop
4.5 stars– 61 reviews
The Good Life Barber Shop is a classic family-owned barber shop in downtown Austin. Many of the reviews come from regulars who have made the Good Life their go to stop for hair for years. In addition to the usual services, they offer Redken Camo hair color to enhance the pepper in salt and pepper hair. Parking can be tricky at their location but check out their website for information. They offer on-line appointments as well as walk-ins. Enjoy a game of pool or their lounge while you wait.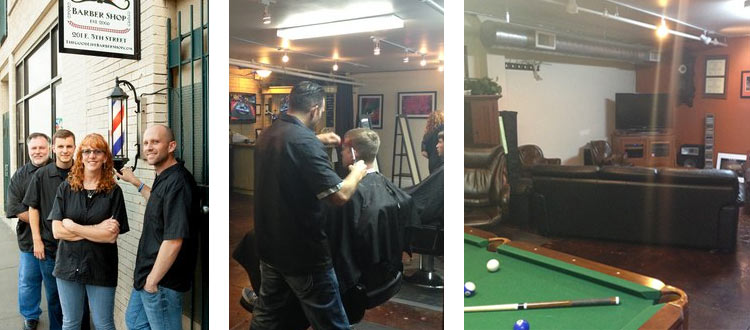 I first went to get my hair cut at The Good Life Barbershop 4 years ago and have been back every other Friday, with a few rare occasional misses… In my opinion this shop is the best in Austin. Before finding the Good Life I hopped across several of the well known shops in Austin. After coming to the Good Life I not only found the precision and skill I demand from a hair cut, but the environment and camaraderie I look for in a barbershop. As I travel the country for meetings to visit customers, I am constantly being complimented on my haircut.

I look forward to seeing Ryan, Debbie and the team every other week. Being a family business, they make you feel like a party of the family. Always instantly acknowledged and greeted coming in the door with a smile, followed by great conversation.

The atmosphere of the shop is unbeatable for a gentleman's barbershop. Just a block away from the heart of 6th Street, Good Life emphasizes the character and life of Austin. I cannot give strong enough of a recommendation for the Good Life Barbershop. As long as I live in Austin I will be in a chair at this shop every other Friday. – Michael M.
201 E 5th St., Ste 100B
4. Avenue Barbershop
4.5 stars – 95 reviews
Open since 1933, Avenue Barbershop is the real deal. The vintage atmosphere is authentic but lacks the amenities of newer places. If all you're looking for is a haircut in a cool place, Avenue is for you. Par for the course, it's walk-in and cash only so expect a wait. If you have a favorite barber, their schedules are posted online.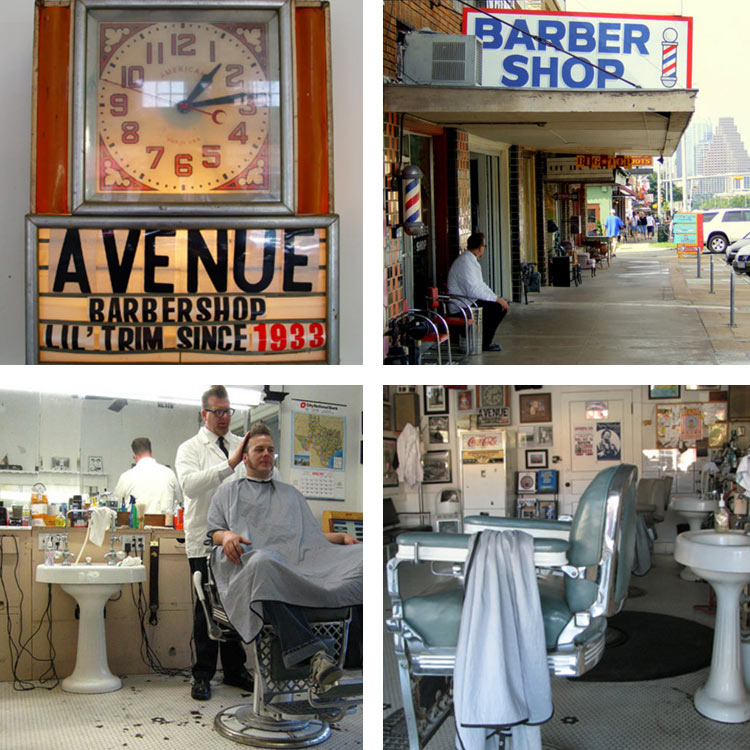 Avenue is all real. It is no frills. No Esquire magazine to be found. The only machine that is in there is an actual vintage Coke machine. I have always wanted to see if it works, but never have. I LOVE the feel of this place – no appointments, you just walk in and wait your turn. Heck, I even dig the way the barbers dress in white shirts and black ties, like professionals.

Whenever I go there, I feel an odd sense of nostalgia. Of REAL nostalgia. Not this fake fabricated nostalgia that so many businesses are trying to conjure. But this is the way that things used to be – this barbershop, this feel. It is like they captured a moment in time. This is the only place that I go to now. – Chris F.
1710 S Congress Ave.
3. Kirby the Barber
5 stars – 38 reviews
Kirby the Barber is a traditional barber who represents "true Americana, Texas style." Step back in time with a barber who is an artist, conversationalist, and beard master. Also known as the Bearded Barber, Kirby is the man when it comes to sculpting beards and hand-crafted mustaches. All appointments are booked on-line so you won't waste your time or his. The shop is cash only or pay by credit card online. Check out the nearby valet parking and shoe shines are available upon request.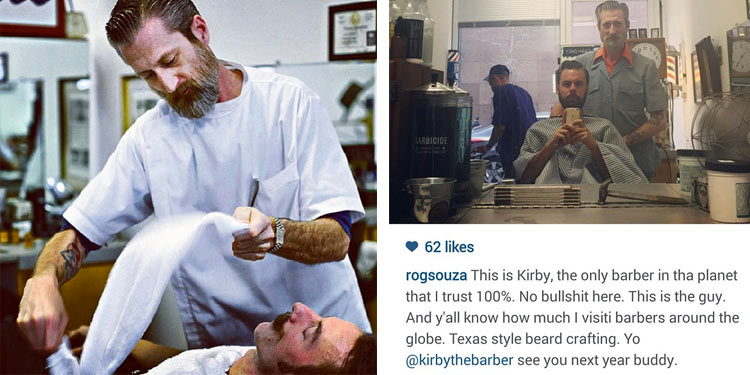 Didn't even attempt to give any direction because I could sense the genius.

Best haircut in 24 years.

10/10 – Ole Gunnar S.

Kirby is a hell of a barber and does a great job on my beard. His customer service is second to none, the kind you used to see before barber shops became male salons. Check his web site, book online, valet your car for free at the Driskill, and go get cleaned up. You won't be sorry. – Adam P.
714 Brazos St.
2. SHED Barbershop & Supply
5 stars – 46 reviews
SHED Barbershop & Supply is a hipster barbershop without the attitude. The classic atmosphere also has music, beer, and range of grooming products. The straight forward menu includes cuts, shaves, and facial hair grooming. Due to the overwhelming popularity of this shop, hours have been extended to 8 pm. Walk-ins are welcome or avoid a long wait by booking an appointment.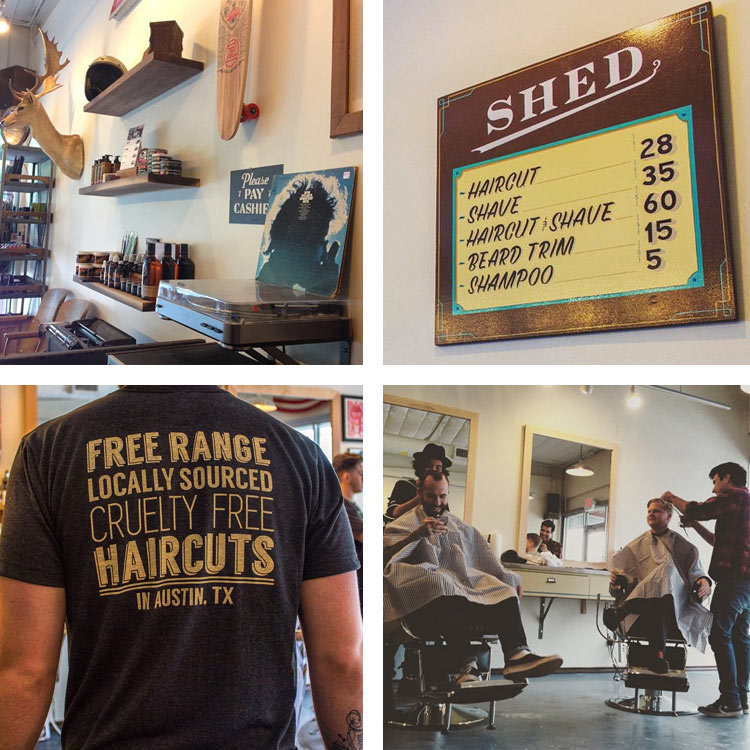 After leaving this place, you WILL receive complements on how good you look. First place in Austin that can consistently give you a great fade.

Great atmosphere. Vinyl will be playing. Fantastic beer selection while you wait. Great crew of barbers and stylists, but I go to Rob because his cuts are better than what you asked for. – Jeremiah P.

I just received my 5th haircut / beard trim from Shed. 5 stars each time (from 4 separate barbers). There are a lot of ok and even good barbershops in Austin that could learn a few things for Shed. Here is my list:
– The barbers are extremely professional without being condescending.
-The atmosphere is most certainly a barbershop but in a modern way.
-They take appointments.
Most Importantly — THEY ARE GREAT BARBERS and make me look pretty good (not an easy task). – Christian S.
2210 South 1st St.
1. Finley's Barber Shop
5 stars – 90 reviews
Finley's Barber Shop has all the features of an old school barbershop with modern manscaping services to leave you looking your best. With four locations in Austin, two more on the way, and two more outposts in Plano and Southlake, this is a popular place for a reason.
For $30.00, you get a shampoo, cut and style, hot lather neck trim and neck massage. For $70.00 add in a straight razor shave, and for $98.00 pamper you self with the addition of an Executive Hand Detail. Be sure to take them up on the complimentary edge-​outs between cuts. They also offer head shaves, Nioxin scalp treatment, and hair color for the head and facial hair. Plenty of facial options too including beard and mustache trims, waxing and more. Check out Father and ​Sonday for 20% off father/son haircuts every week.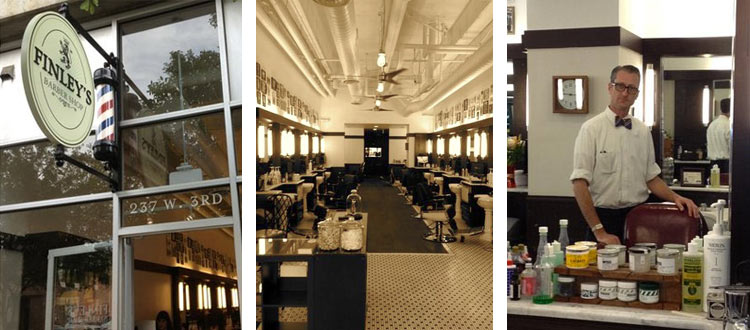 Yes, yes, and yes. Thank god for barbershops like this. This place is classy, well priced (especially for being downtown), and professional to a level you rarely see these days. Say what you will about hipsters, but they've done amazing things to resurrect the classic barbershop experience.

This place has a nice lounge in the back, a shoe shine chair up front if you're into that, and you can even enjoy a drink while you wait. Bonus: straight razor shaves and edging, shampoo after your haircut, and a quick massage as well. They also offer an active duty military discount, which is always much appreciated. – Matthew B.
Check their website for the location nearest you.
We use affiliate links and may receive a small commission on purchases. Please read our disclosure.