The location of many barber battles, Miami is home to many fine tonsorial establishments. The city has an entrenched barber culture and has its own flavors of shops, many with an edge. Of course there are your friendly neighborhood barbershops that serve as a community hub. There are also places run by the new guard of barbers with fresh fades and creative designs, fast and cheap joints with top notch cuts, and finally men's spas that provide head-to-toe grooming. Last but not least is Razzledazzle, featuring massages from corset-clad Dazzle girls.
Here are 11 of the best barber shops in Miami, because we couldn't choose just 10. Some of these are well-known with numerous awards while others are advertised more by word of mouth. In no particular order, here are our top picks:
GC Miami Barbers Shave & Grooming Co.
GC Miami Barbers Shave & Grooming Co. is everything a neighborhood barber shop should be. Rome, his wife, and team are friendly and welcoming to all, provide a comfortable and clean environment, and most importantly expert cuts. In addition to the usual services, they offer straight razor eyebrow arching, women's haircuts and deals for children and seniors. Named for Rome's son Giancarlo, this is a very family friendly place but it's not all about the kids. They have DJ events too.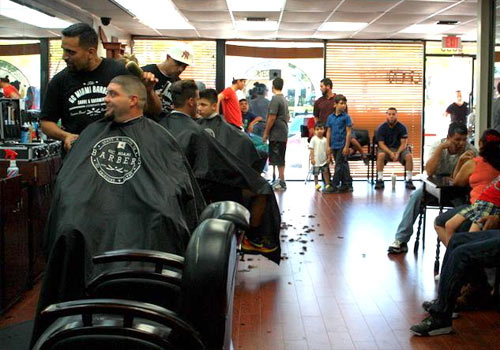 This location is not only open to the public without any reservations but it is welcoming to all people. Whether it is the owner himself or his wife welcoming you through the door, this environment is not only family friendly but diverse. I have never experienced a barbershop where the owners [not only] take the time to know and learn about someone, but treat…you like family.

Roman offers amazing services and takes his time to make things perfect and leaving you feeling absolutely confident to tackle the world with a fresh and clean cut and shave. I have been to many barbers and this one is absolutely professional. No obscene music with profanity. No conversations that make customers feel uncomfortable. Kid friendly. I highly recommend this location to everyone!! – Carlos H.
9835 SW 184th St | 305-234-5202
Prestigious Image Barbershop and Spa
Prestigious Image Barbershop and Spa is a cut above your average barbershop without being too spa-like. Billed as a gentleman's retreat, they offer waxing, facials, and nail grooming in addition to the usual haircuts and shaves. Run by a dapper David Uribe and a team of professionals, Prestigious Image will have you looking your very best. Try their nose wax for that extra grooming touch. It hurts less than you'd think. No prices are listed so call to confirm but if you love it memberships bring down the cost. All cuts come with a complimentary drink, shampoo, head massage, and finish with a shoulder massage.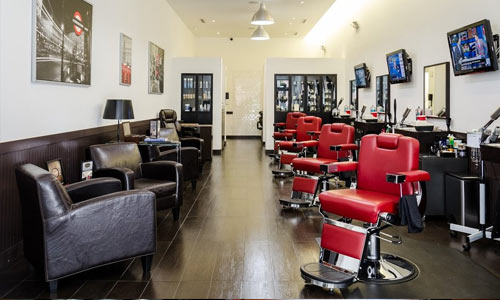 Best barbershop in town. When I first moved to Miami I got my hair cut in a number of places. Needless to say I had the best experience at Prestigious. Don't make the mistake of going anywhere else…Simply put, they're the only ones that I trust. The friendly barbers know what they're doing. You can tell the owner runs a tight ship and everyone is on board. Service is always excellent. Attention to detail is everywhere. Classy, relaxed atmosphere. Do yourself a favor and make an appointment. –  Carlos E.
2518 Ponce de Leon Blvd | 305-640-8775
Bean Shop
Fast, good, or cheap – pick two does not hold true at the Bean Shop barbershop. With 12 chairs, top notch barbers, and $12 cuts, Bean Shop nails all three. Choose between a clipper or scissor cut and add on services like ear, nose, and eye brow trims. Since 2007, they have done 2589 cuts and 289 styles, making it easy to live up to the motto, "be sharp, look sharp."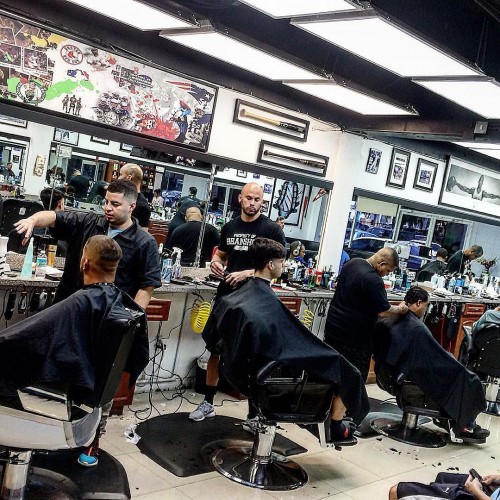 These guys know how to cut hair, and you can't beat the price or convenience. Only $12 for a cut, I can walk in whenever I want and I never have to wait. I usually have Ricardo cut my hair, he doesn't speak much English but he gets the job done.

The only downside is the business only accepts cash. – Shonti T.
901 SW 87th Ave | 305-269-0003
Blendz Barbershop
Many of the best barbershops have little to no Internet presence and that holds true for Blendz Barbershop. They caught our attention through Instagram and the fresh cuts of @criztofferson and @jorgethoo. The shop has plenty of seats and plenty of capable barbers. Prices are reasonable for cuts, shaves, tapes, and extra services like brows and color.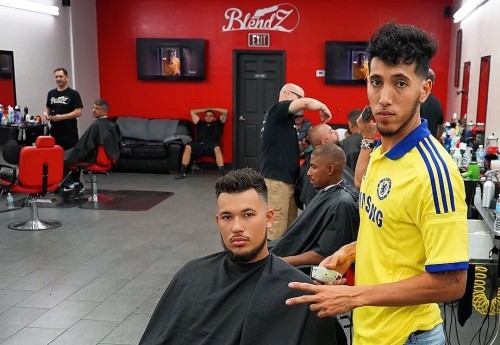 Came in looking like a caveman, left looking like a gentleman. They are very skilled at their craft. Affordable price for excellent work! I personally go to Devin but all barbers are good and experienced. I have been to a few other barbers in Miami, but now I'm a steady customer at Blendz and nowhere else. – Alex S.
13706 SW 56 St #104 | 305-382-1111
Junior & Hatter
Junior & Hatter is a high-end salon and spa for women and men but guys have their own dedicated space, the man cave with beer, TV, and foosball. Located in the Wynwood Arts District, the space reflects the neighborhood with eclectic design and unique vintage decor, including old school NES while you wait. The staff are friendly and experienced, making that $45 cut worthwhile. It includes a consultation so you have time to discuss exactly what you want.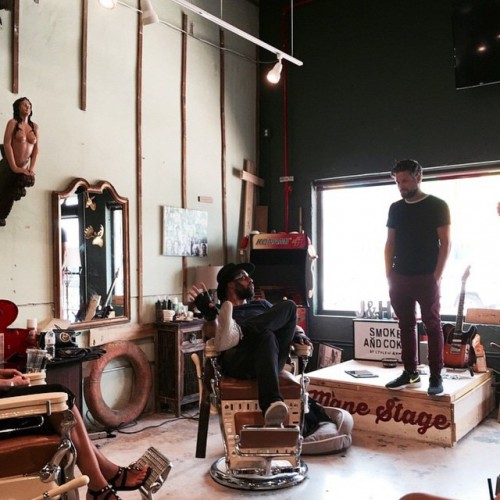 I don't have the best hair in the world, but the stylists at Junior & Hatter definitely get an A+ and all the gold star stickers for being able to take care of my hair (on my head and on my chin) in a jiffy. Kind, courteous and always a good vibe in there. Definitely recommend making an appointment so you can get your stylists full attention, making your experience worthwhile. If you have to wait for a bit, get your retro-game on and slap on Tecmo Bowl on their NES. – Tennison Z.
2750 NW 3rd Ave | 305-571-8361
Upper Kutz
Upper Kutz is the "barbershop for every man." Ray Agnew, the owner and main operator, has 26 years of experience in cutting hair. He does it all including scissor and clipper cuts, hair designs, tapes, color, and hot shaves. Recently located from Midtown to Coral Gables location, many of his regulars are willing to go travel for his expert cuts. There are discounts for high school students and children so you can make this barbershop a family affair.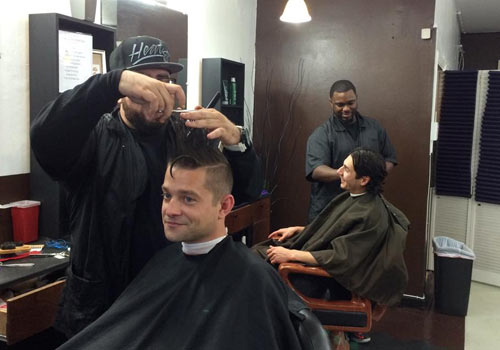 Ray has moved from his midtown spot to a new one man shop in Coral Gables. Same great service, same perfect cuts. I will follow this barber where ever he goes. If you're a local in the Gables area go check him out. Self esteem will ride after he gets a hold of your hair.

Keep being the best at what you do, Ray! – John R.
155 Majorca Ave Suite 255 | 305-456-1872
Chop Shop Barbershop
It really us a Chop Shop with leather bucket racecar seats, a car-shaped DJ station, garage decor, and sometimes chopper parking. Get classic barbershop treatments like a razor shave or the latest hair designs with color. Capitalizing on hip-hop clientele and access to South Beach, this unique spot combines music and grooming with "Cut and Scratch" events and more.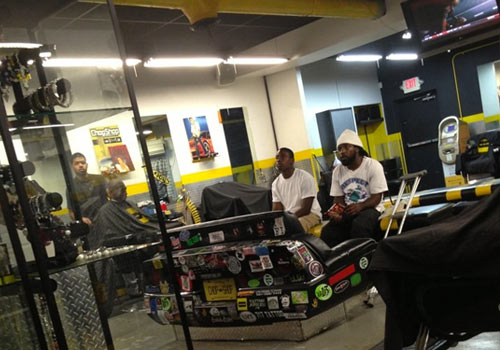 …[Even] with it's flashy toys and top notch DJ set, Chop Shop is just a down-to-earth shop.  You're guaranteed to watch the latest movies [on the] flat screen tvs or even catch that Sports Center game replay you wanted to see.

Now on to the skills. Each barber has their own style of cutting. My personal barber is Mike! The guy is a genius! Want to see some of his work? Pick up an Urban Ink Magazine… The guy knows what he is doing and keeps my tape perfect! – Janay M.
7283 Biscayne Blvd | 305-756-8102
Primos Barber Shop
Primos Barber Shop began with the goal of reviving the "lost art of the barber shop." That includes great conversation, the latest periodicals, and the service and advice of a real professional barber. Primos delivers with vintage decor and all the modern amenities, including 30 different magazines and free drinks. Other services include mini facials, hair color, and shoe shines for when you want to look your very best.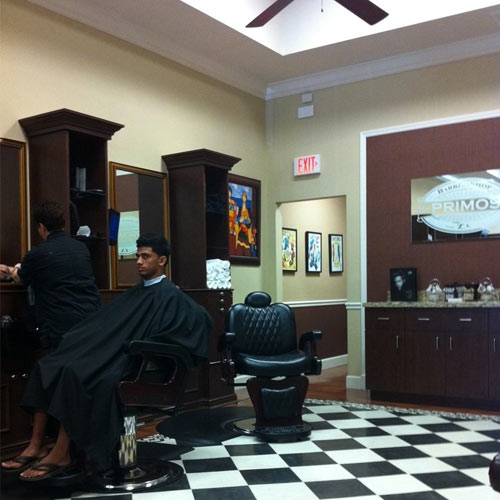 Primos is great. They're a little pricey, but if you're looking for a legit 'man spa' type of barbershop that also happens to do a mean haircut and beard trim, then Primos is a great bet. Their shaving service is old school straight razor, hot towel and warm shaving cream. The owner seems to be serious about finding serious barbers, because I have yet to have one there that wasn't skilled – although of course I have my favorite…

The shop itself is clean, looks nice – a bit of an 'cigar club' vibe. While you wait, you're offered a beverage. They also have a membership that earns a bit of a discount per visit. – Ian T.
9497 S Dixie Hwy | 305-631-2646
Churchill's Barber Shop
Churchill's Barber Shop is a a classic barbershop with extra amenities that ensure you leave looking and feeling and feeling like a million bucks. In addition to offering old-fashioned shoe shines, they provide a complimentary manicure and beverages while you wait. Recreate your fresh new look at home with one of the many hair products they have for sale. Walk-ins are welcome but the shop is packed so make an appointment.
Churchill's Barber Shop is one of the very few places left in downtown/Brickell where service matters. When you step in, it's like taking a step back to a friendlier time. Julian has been cutting my hair for a little over a year and always gives me a great haircut. My favorite part is the hot shave for the sideburns and back of the neck which is included in the haircut.  You can upgrade to a a full shave for a few dollars more. I really like the complimentary espresso bar.

The other day when I went to get a haircut I arrived a bit early and I was offered a complimentary manicure while I waited. I thought this was a really great touch and will probably lead to me getting more services from Churchill's in the future.

Churchill's is all around a great experience. – Michael H.
12 SE 1st St | 305-379-8615
Sloane Square Barbers & Shoppe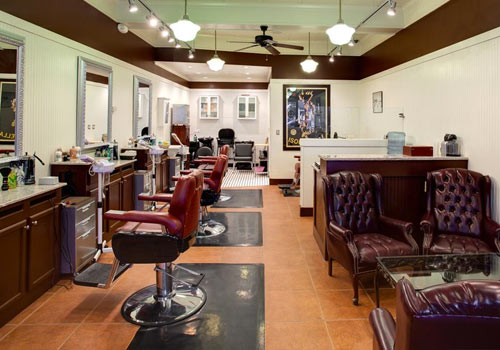 Sloane Square Barbers & Shoppe believes that "men like to be pampered too." They provide a "sanctuary to be groomed" with English straight shaves, gentleman's haircuts, beard trims, hair color, mini facials and nail grooming in a modern space. It is membership-focused with 3 unlimited monthly visit packages to keep you fresh but also provides à la carte services.
You get what you pay for. [The] gentleman's haircut is a quality haircut…I'm not one for pampering so much but the environment at Sloane Square is superb. A modern barbershop feel and a friendly staff. Even as a walk-in, I was treated as a valued customer.  As for the haircut itself?  A job well done. I was a satisfied customer walking out…

[It is difficult to find] a barbershop that caters to men. Sloane does exactly that and from my experience, they do it well. – Scott A.
1322 Alton Rd | 305-673-0877
Razzledazzle Barbershop
As the name states, Razzledazzle Barbershop is an experience. It's the Hooters of barbershops with a retro theme. The decor is 1940s New York barbershop complete with costumed staff. The main attraction is the Dazzler girls in burlesque attire who provide hand and neck massage plus complimentary shots of "sugar" (whiskey or vodka). That being said, the barbers are skilled and this is the place for male grooming. They also offer hand and foot care, back and chest grooming, waxing and shoe shines. For regulars, you can opt for VIP memberships or $15 for just a cut. It's a great choice for bachelor parties and special events. The popular barbershop has 5 locations in the Miami area.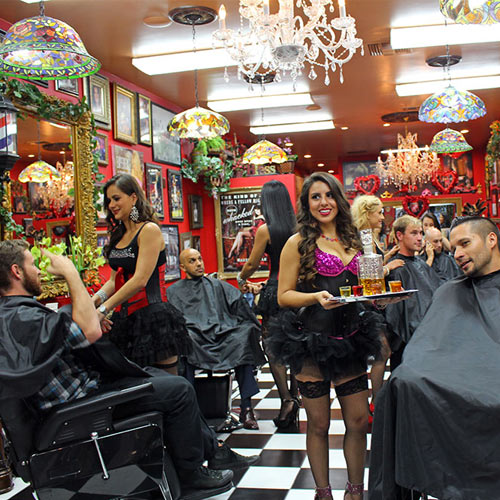 Won't get a haircut anywhere else in Miami. So far, I've tried two locations. Midtown and Miracle Mile. My experiences at BOTH locations are equally positive. Staff is friendly and attentive and bring an old timey barbershop experience that is just awesome. Relaxing hand massage during haircut. Hot later straight razor shave with hot/cold towels after.Hhaircut alone is just a few dollars more than I'd spend at a city barbershop with 10x more bang for my buck. If you're willing to spend a little more for a lot more quality than you're used to, give them a try! – Alberto R.
Check out one of their five locations.
We use affiliate links and may receive a small commission on purchases. Please read our disclosure.