When we say best hairstyles for Asian men, what we really mean is the best hairstyles for Asian hair. Of course there isn't only one type of Asian hair but these hairstyles suit straight, coarse hair that is common. From short cuts to short sides, long top haircuts, these are 29 of the best hairstyles for Asian men
Some of these hairstyles won't be a surprise. Spikes, pompadours, and side part hairstyles are popular looks for all guys, especially men with thick hair. There are also some new ways to wear classic looks.
If you're looking for something different, we also have some hot new trends including the textured crop plus variety of fresh new styles. Many of these looks feature some kind of texture, whether it's messy or clean cut.
Short Hairstyles For Asian Men
1. Mid Fade Haircut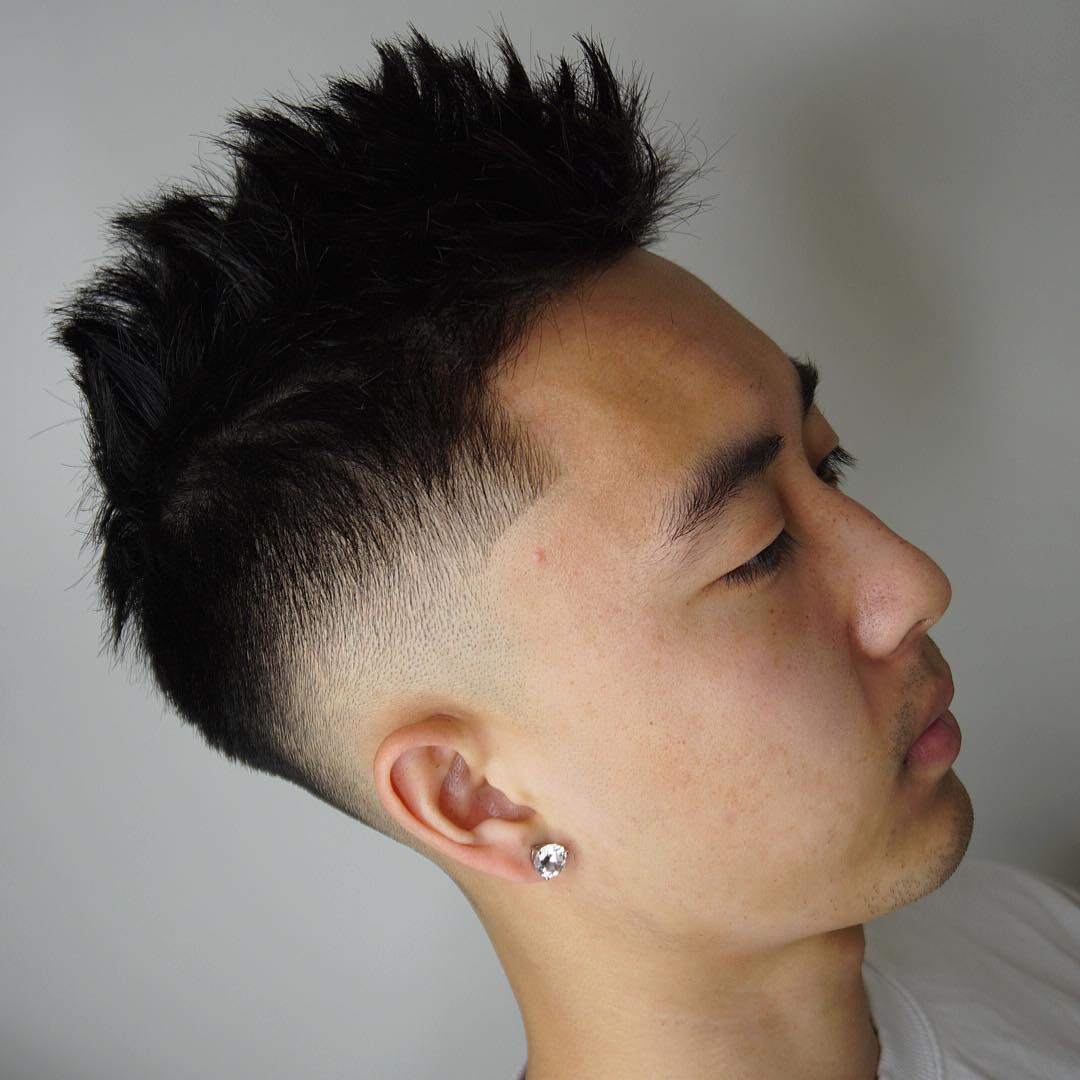 This stylish haircut is easy to style because it works with hair that tends to stick out in every direction. A touch of pomade keeps hair in place while faded sides shave hair down to the skin.
2. Messy Textured Haircut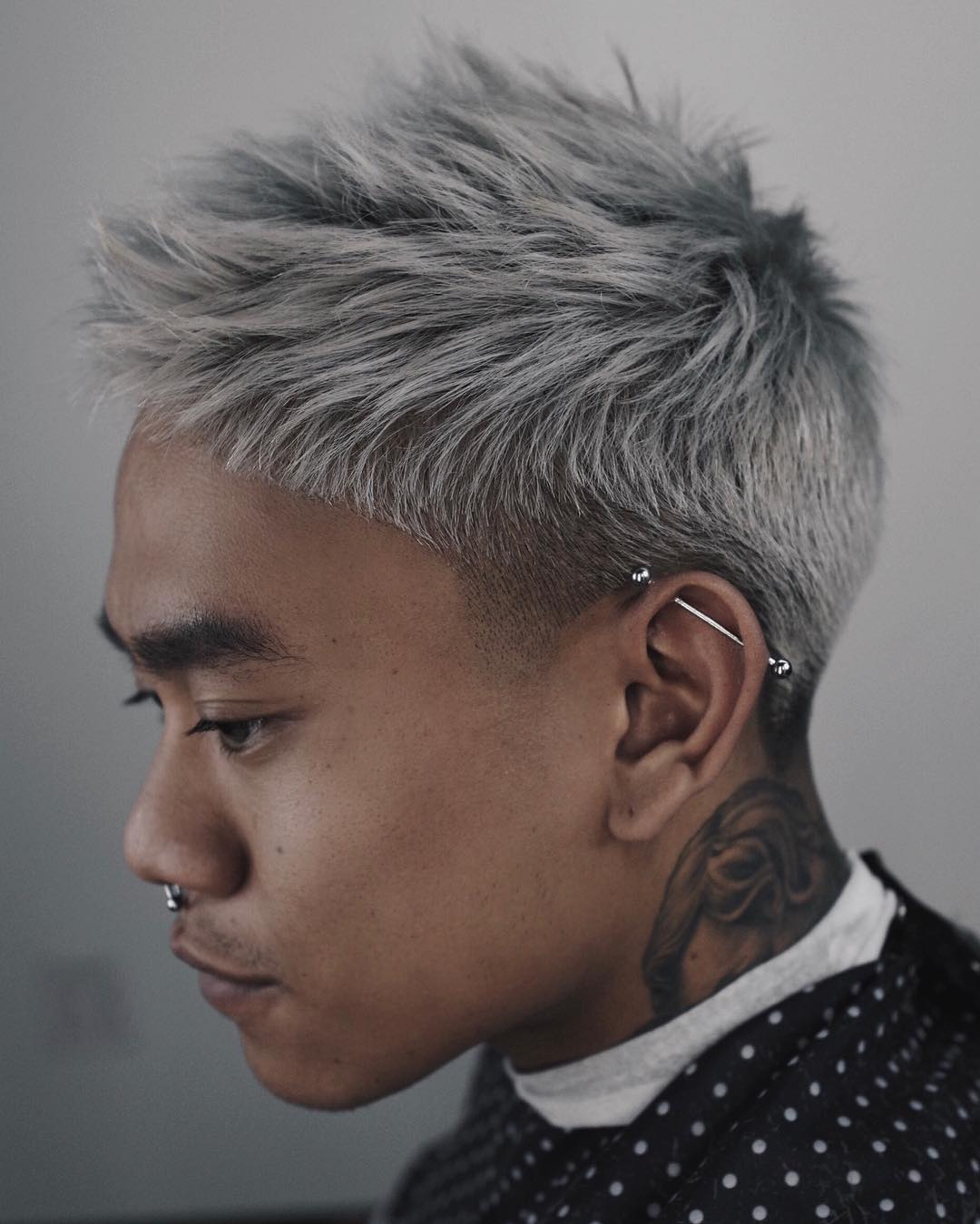 For a conservative finish, this short hair with a temple fade could be styled into an Ivy League. Instead, the bold texture matches the metallic platinum hair color.
3. High and Tight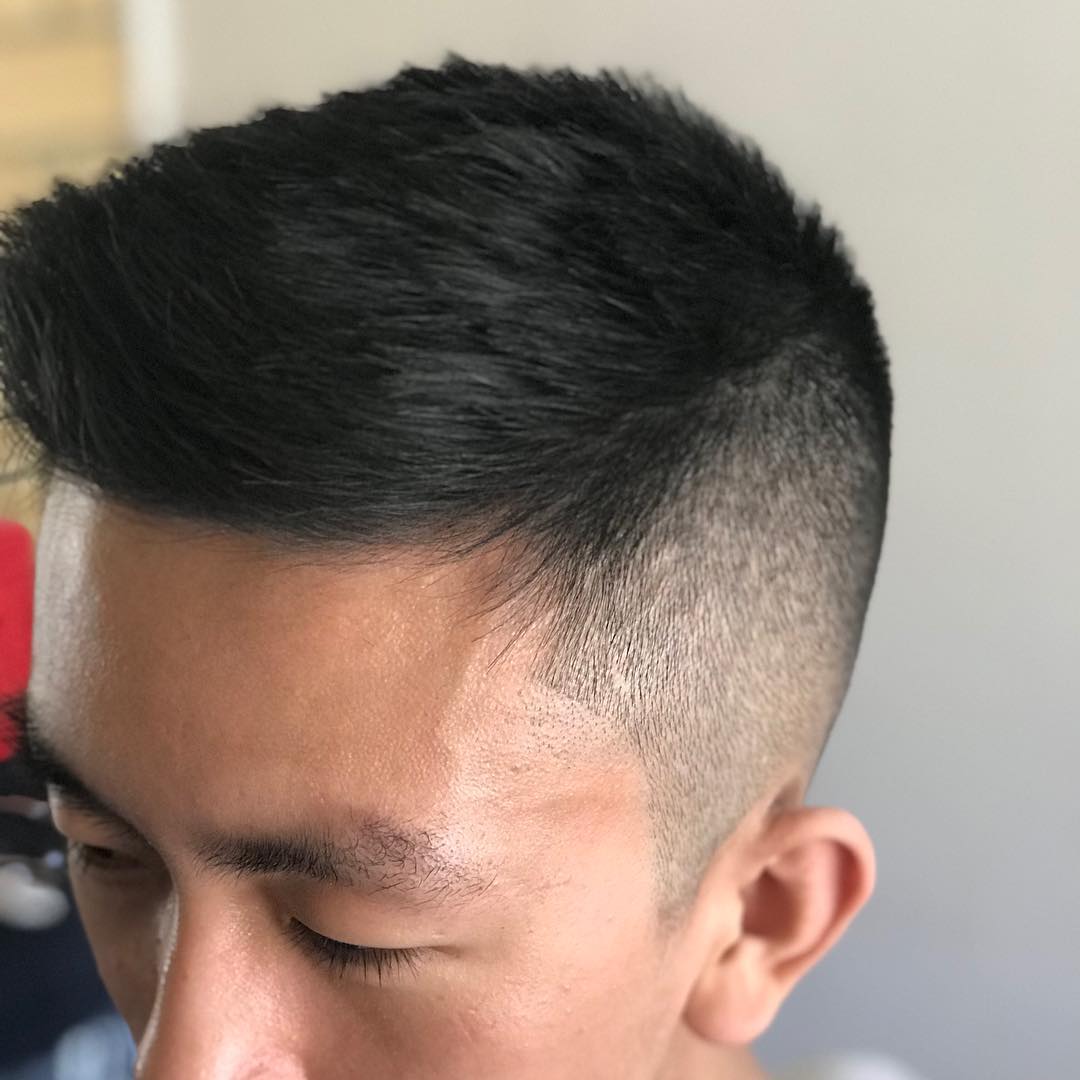 The high and tight is a military haircut that popular with a all guys because it looks good with minimal styling. Just work some product through hair and push hair into place with fingers or a comb.
4. Line Up + Skin Fade + Short Spikes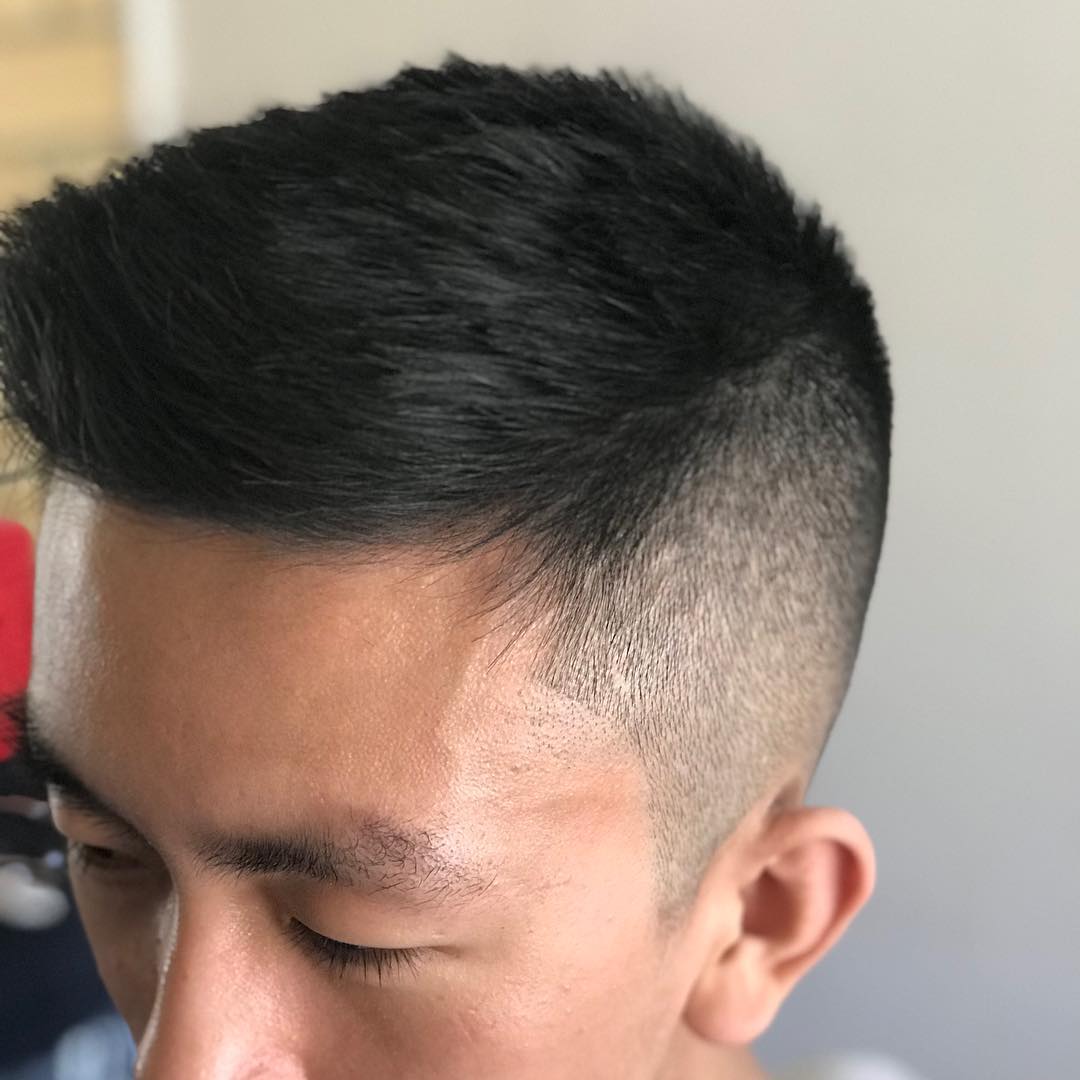 Another way to wear a high and tight, this version is longer and spikier with a line up at the hairline. Get the look with a hair gel.
5. Spiky Quiff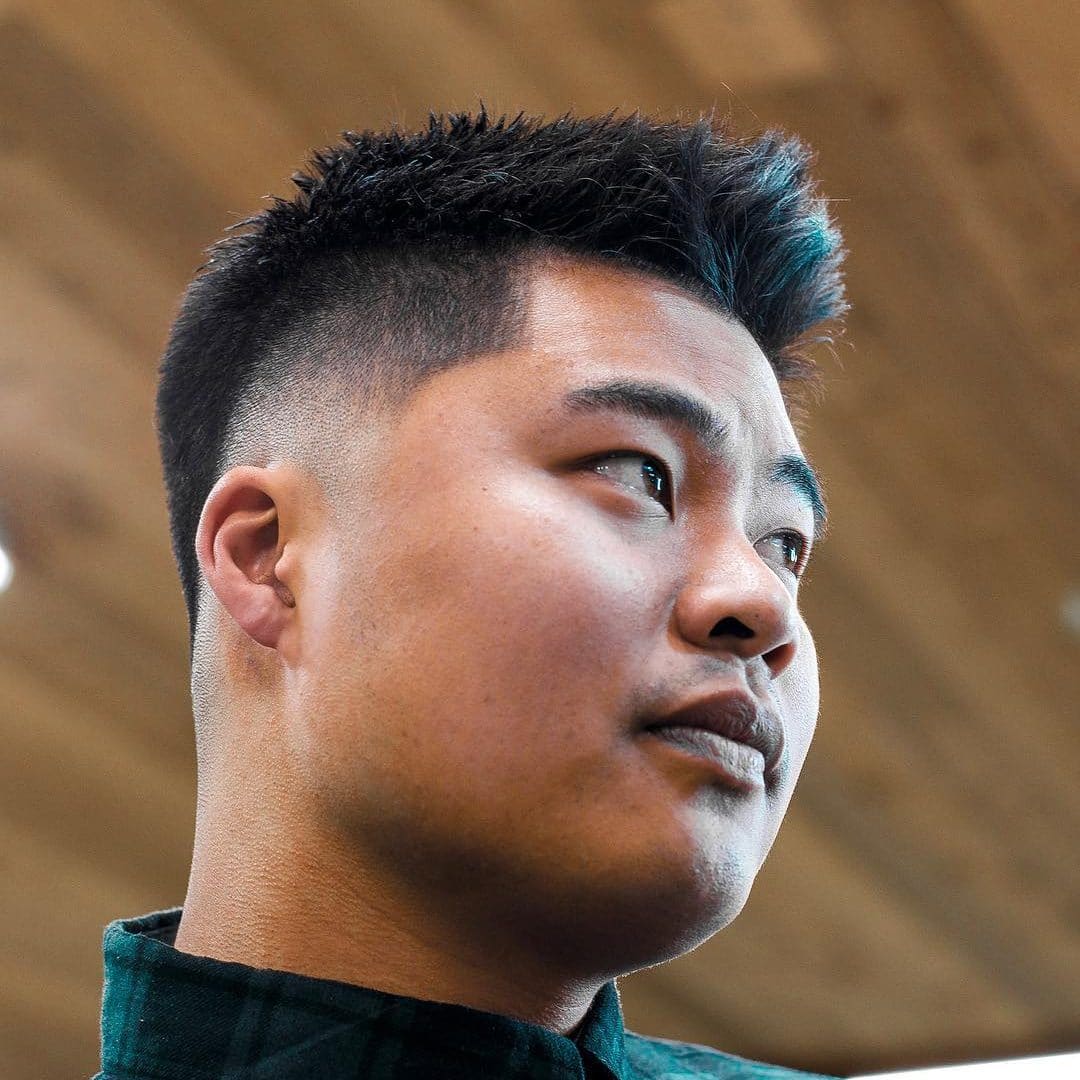 Taking the high and tight to the next level, this is a longer look with a short quiff at the front. The low fade around the sides and back make for a clean cut finish and also make round faces appear slimmer.
6. Textured Crop Haircut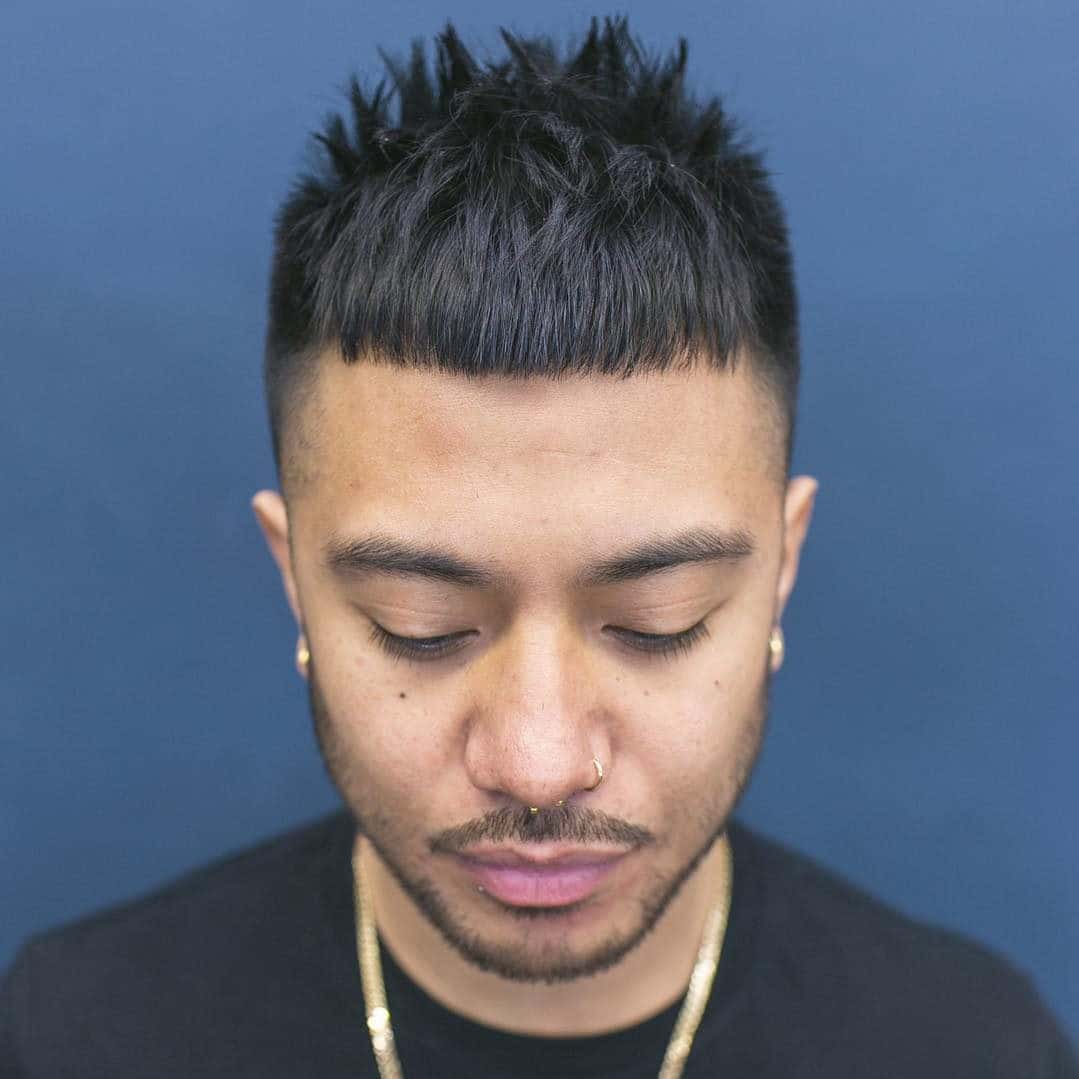 The textured crop is one of the top men's hair trends of the year. It works really well with Asian hair, balancing straight fringe and spiky texture.
7. Heavy Fringe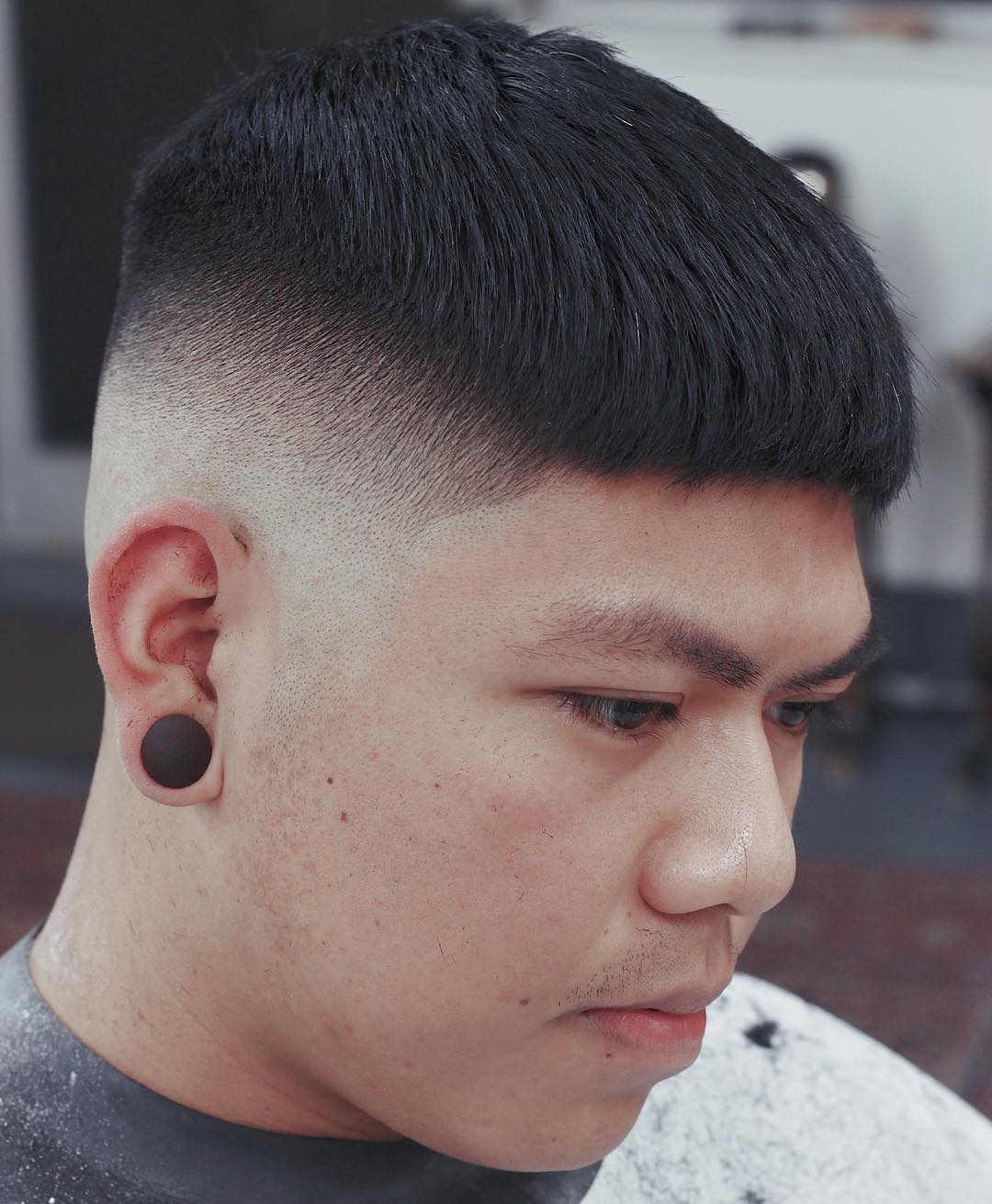 A crop without the texture, this fresh style contrasts a line of heavy blunt fringe with a blurry skin fade.
8. Textured Fringe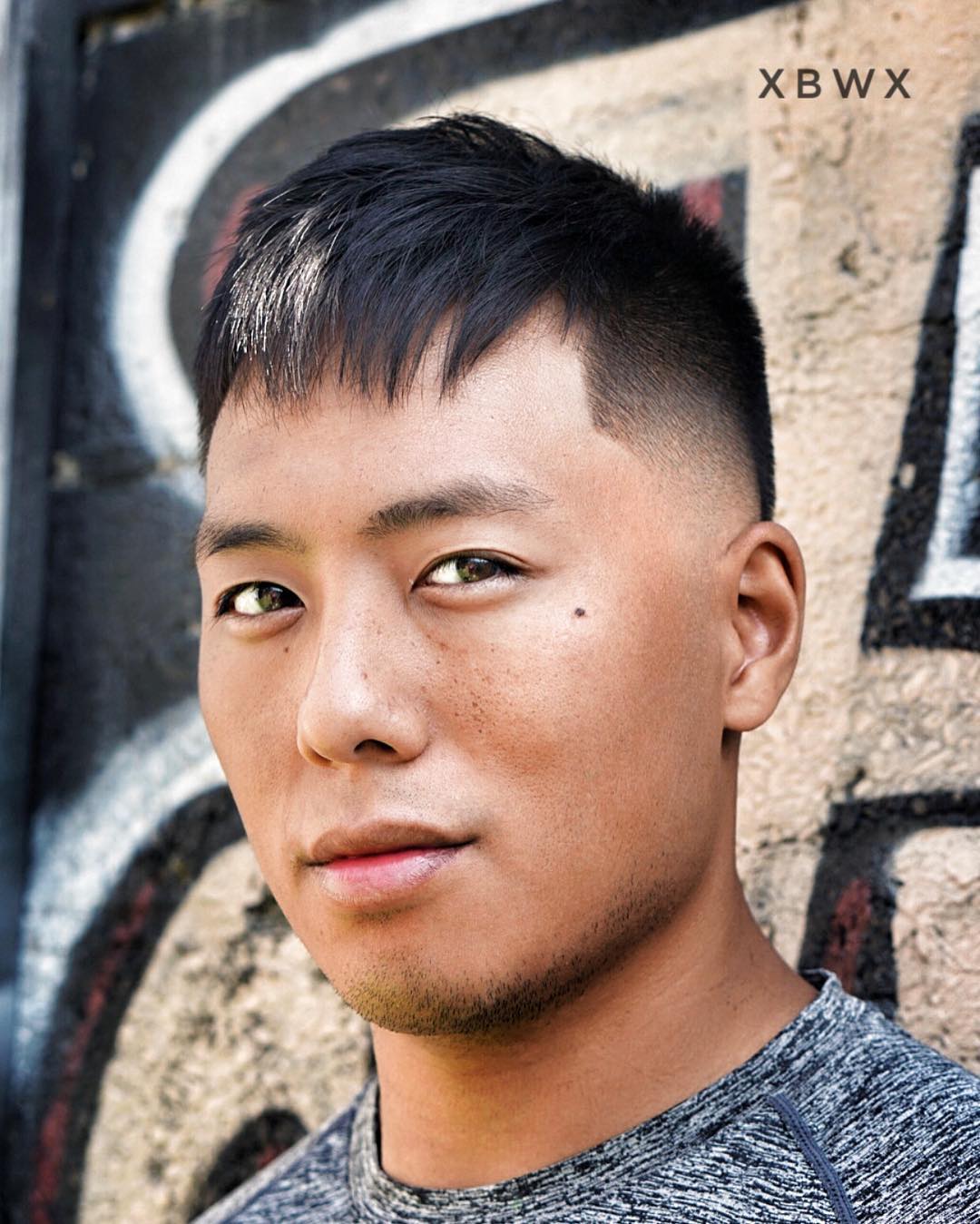 Textured fringe with a high fade lightens up thick hair while looking great. The jagged finish comes more from the haircut than the styling.
New Hairstyles For Asian Men
9. Modern Comb Over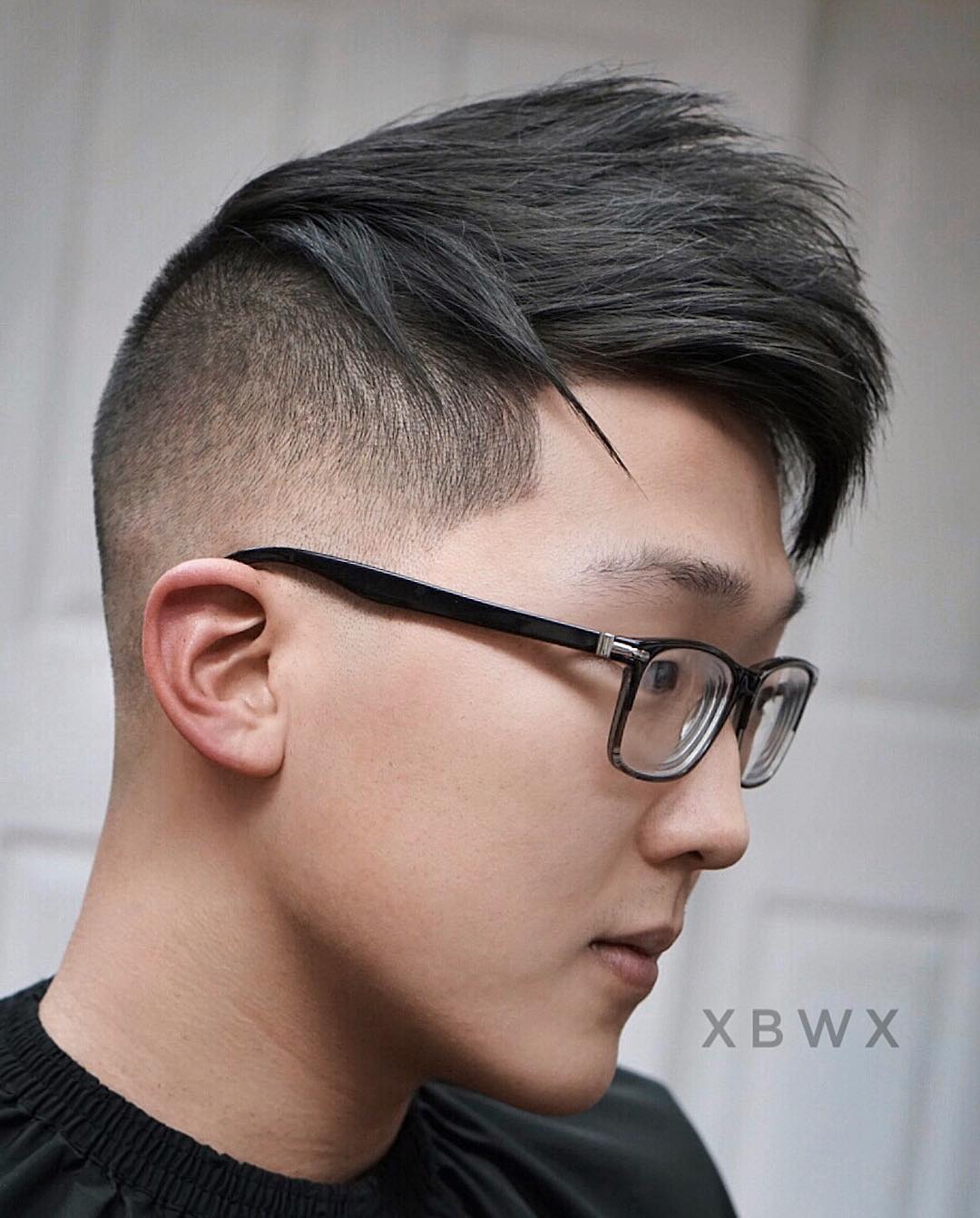 An updated classic, this comb over style has some elements of a trendy textured crop. Trade in shiny hair for matte, comb marks for texture, and slick hair for loose fringe.
10. Diagonal Faux Hawk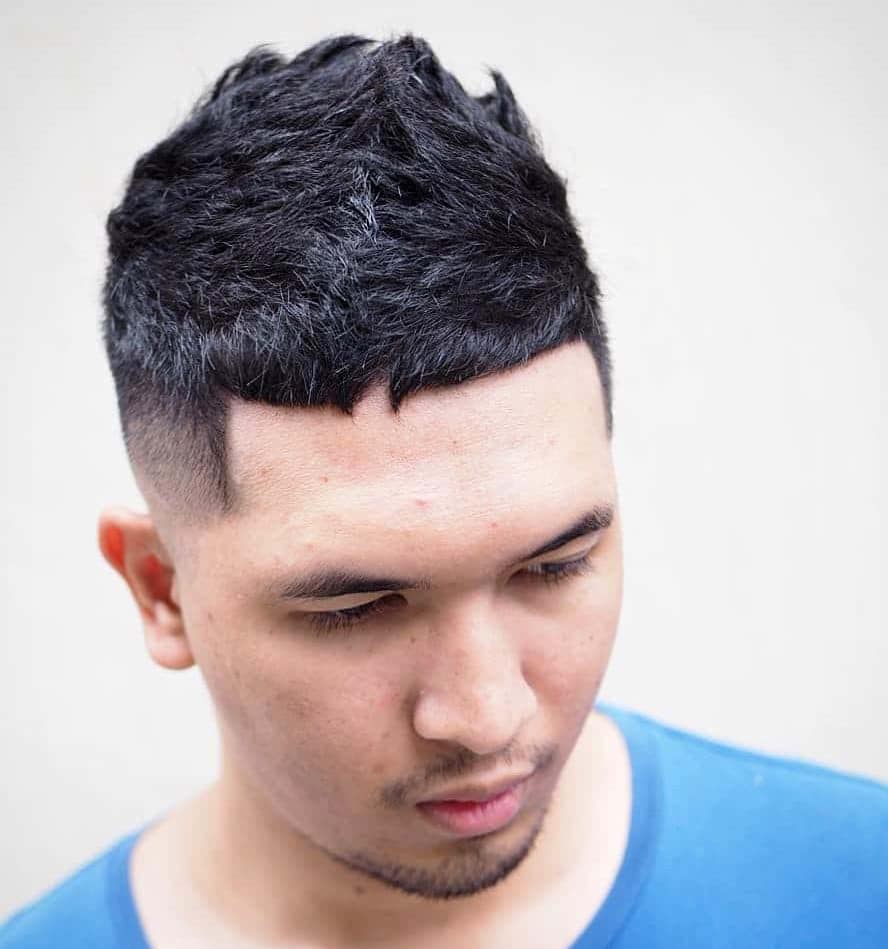 This very cool but unexpected short hairstyle puts the line of the faux hawk on a diagonal instead of straight down the middle.
11. Blunt Bangs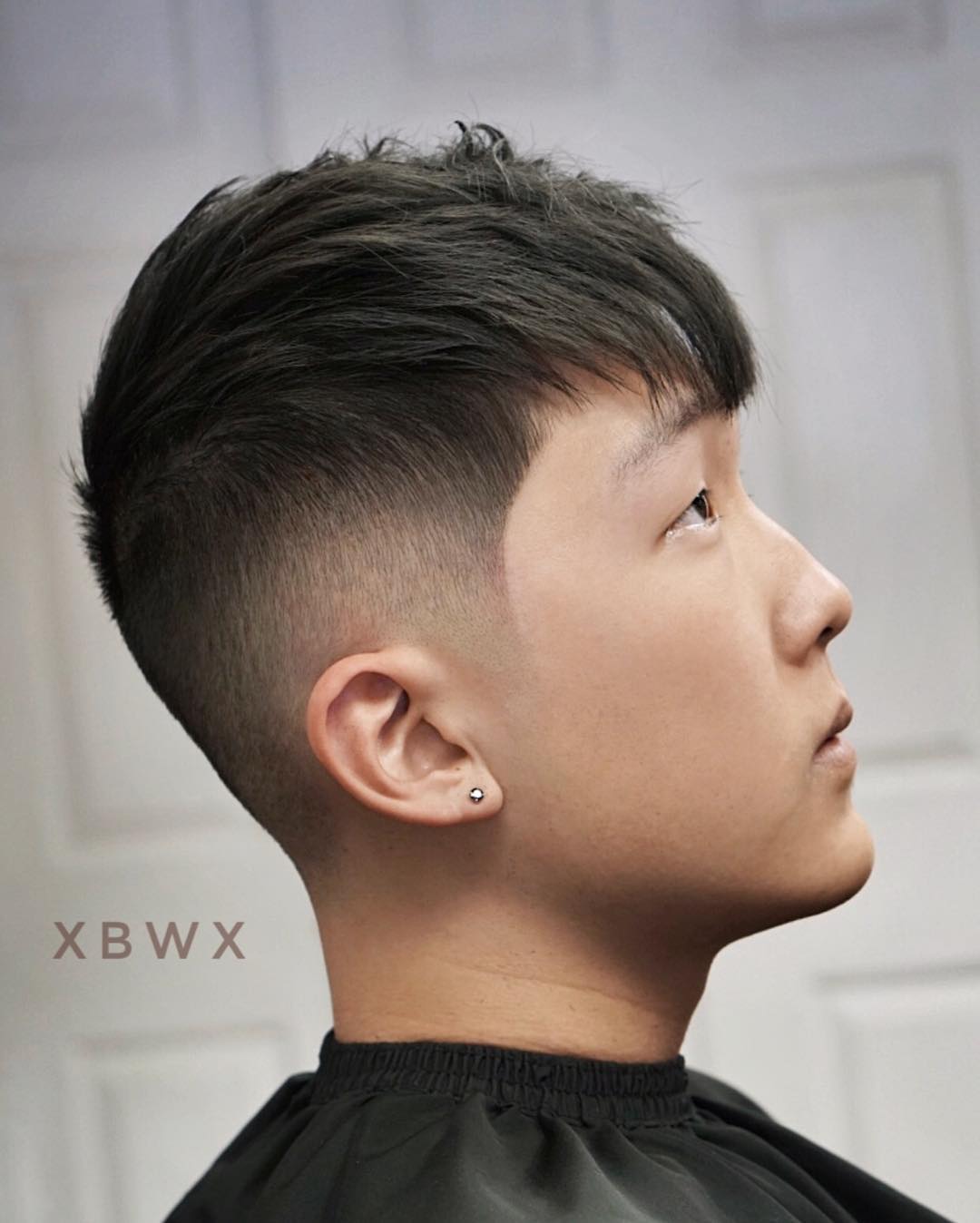 The crop fade can also be worn with long blunt fringe. Layers lighten up thick hair and add jagged texture to this short sides, long top haircut.
12. Messy Spikes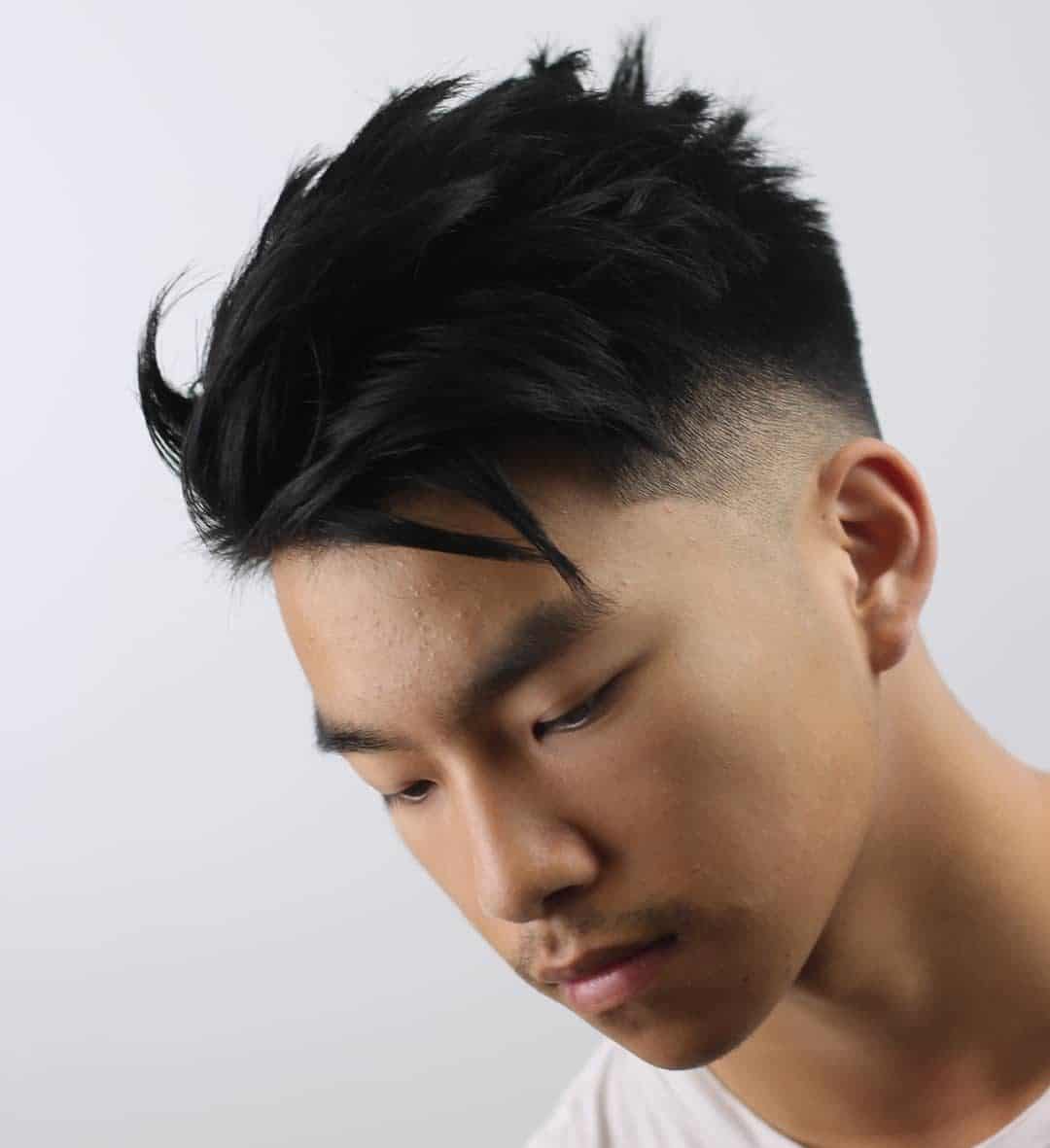 These messy spikes take the textured trend to the next level. Update spiky hair by wearing them thick, matte, and on the diagonal.
13. Short Sides, Long Top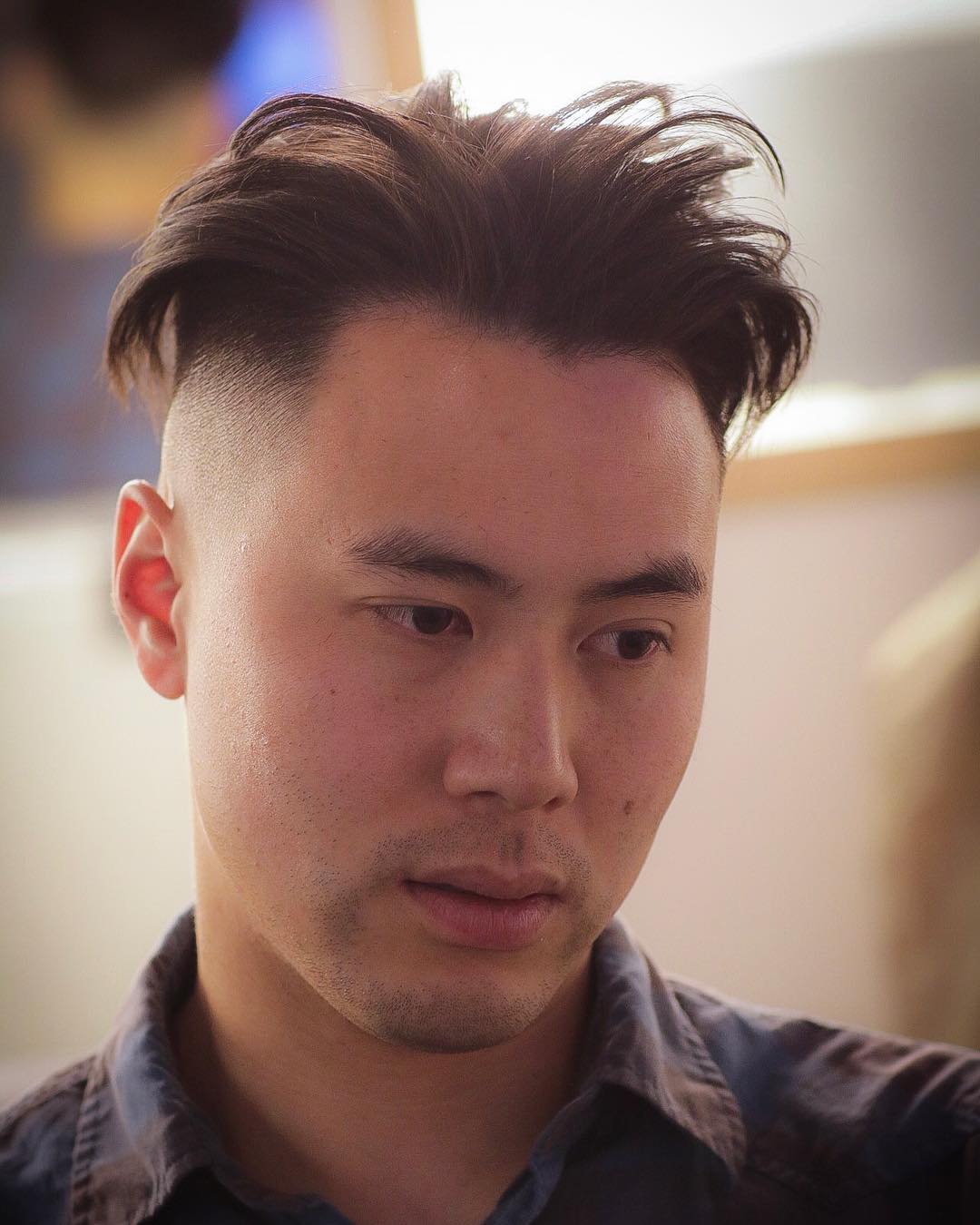 This loose messy style is both unique and on trend. Wear it like above, slicked back, or as a comb over.
14. Long Hair + Undercut + Man Bun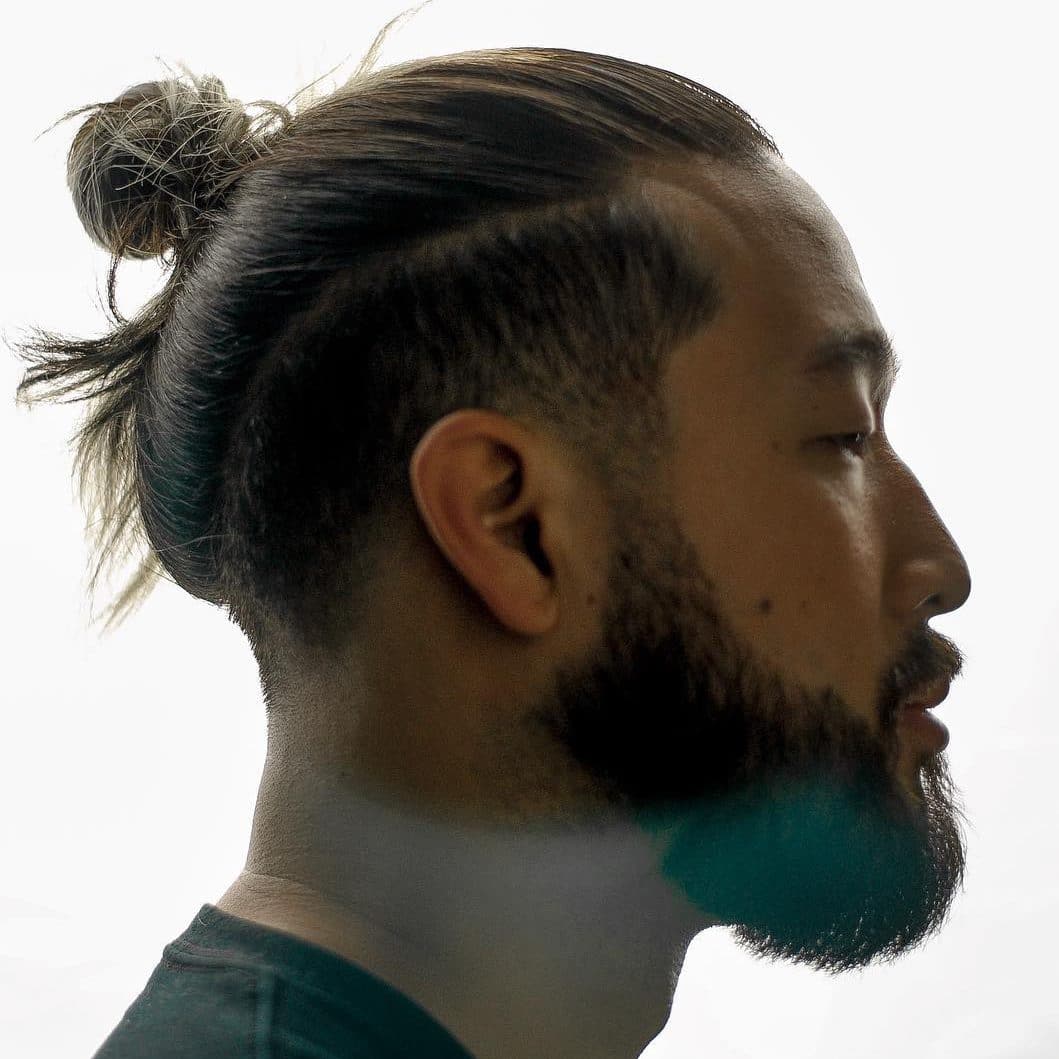 Long hair tied up into a man bun over an undercut isn't the most recent men's hairstyle but it is new in the history of men's hair. It's a hot modern style that looks great.
Spiky + Textured Hairstyles For Asian Men
15. Spiky Quiff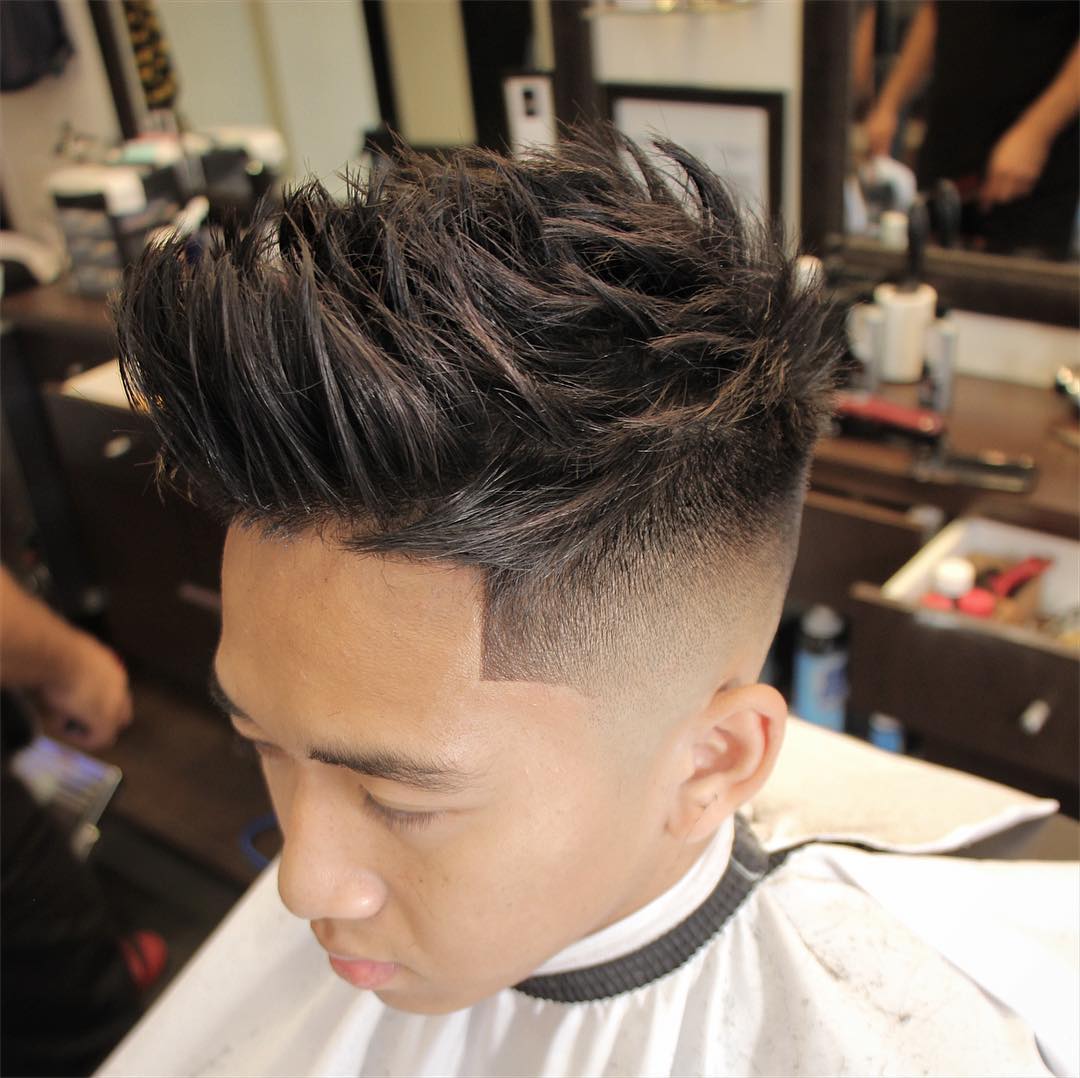 With a product like Gatsby Moving Rubber, Asian hair can be sculpted into any gravity-defying style you can come up with. These modern spikes concentrate the longest hair up into a textured quiff.
16. Jagged Fringe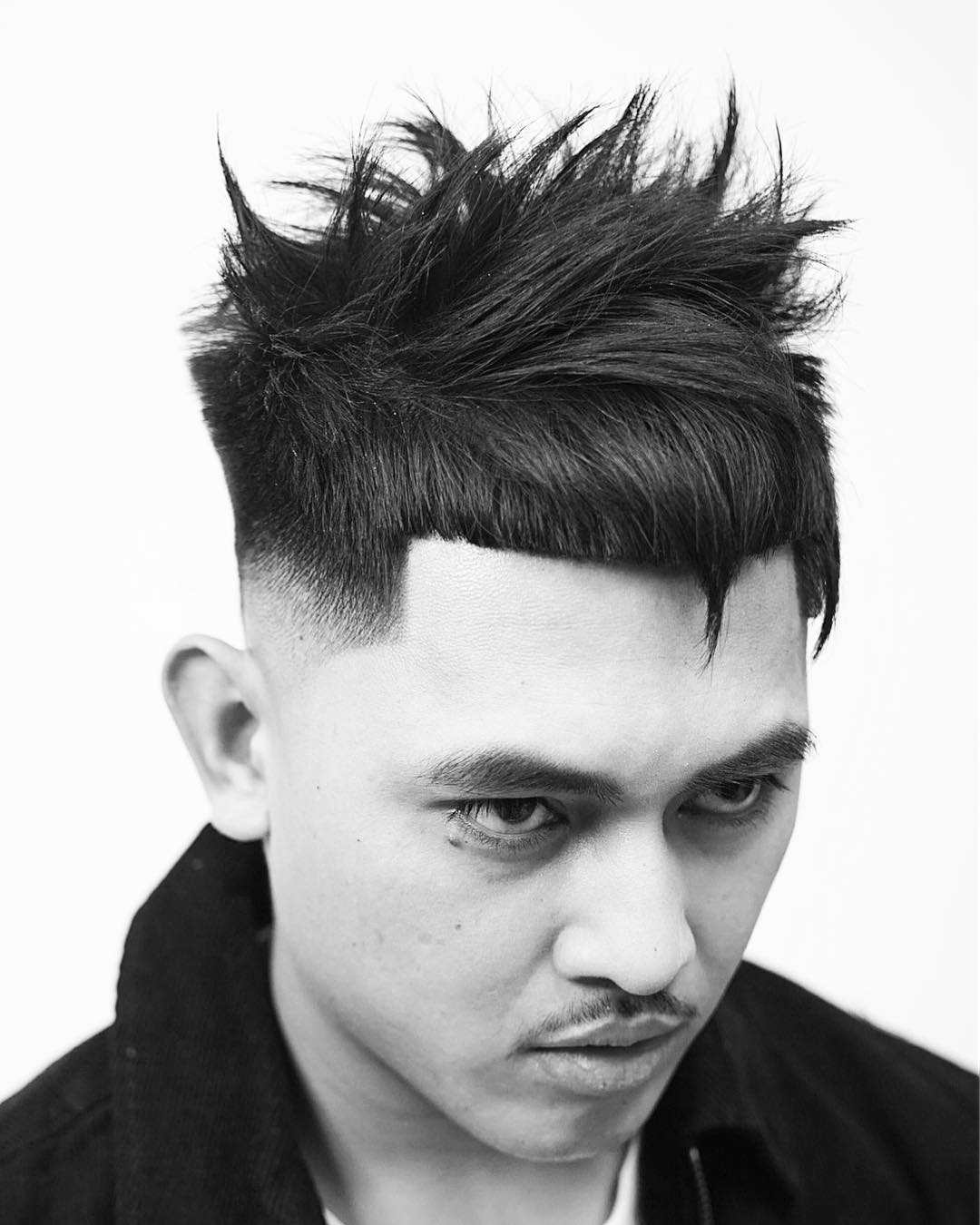 Blunt bangs with a pair of teeth mirror pointed spikes on top. There are unlimited ways to build on this bold and unique spiky hairstyle.
17. Spiky Fringe
Longer hair can be sculpted into longer spikes up top and in the fringe.
18. Fine Spiky Hair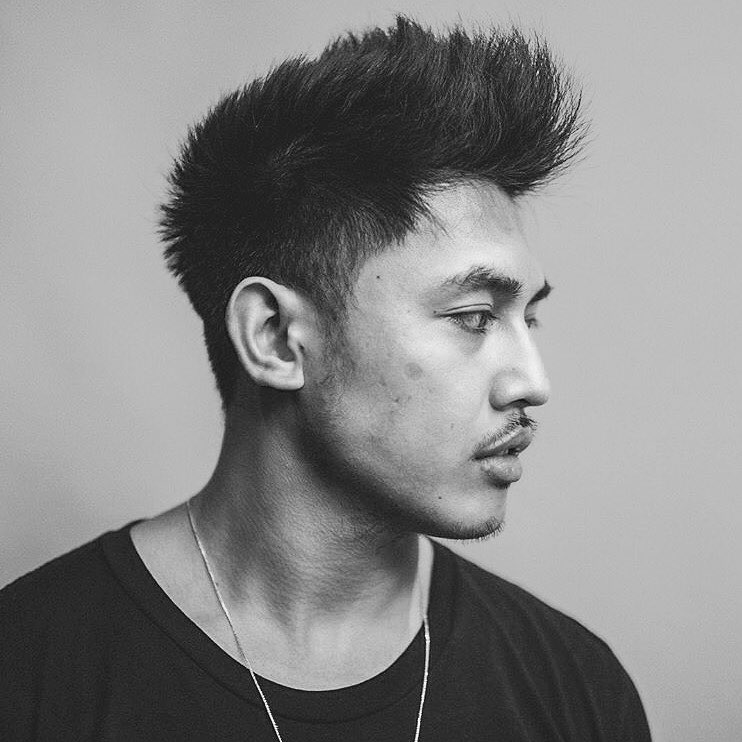 For a totally different way to wear spiky hair, train coarse hair straight up with a blow dryer and keep hair fine instead of creating defined spikes.
19. Short Hair + High Fade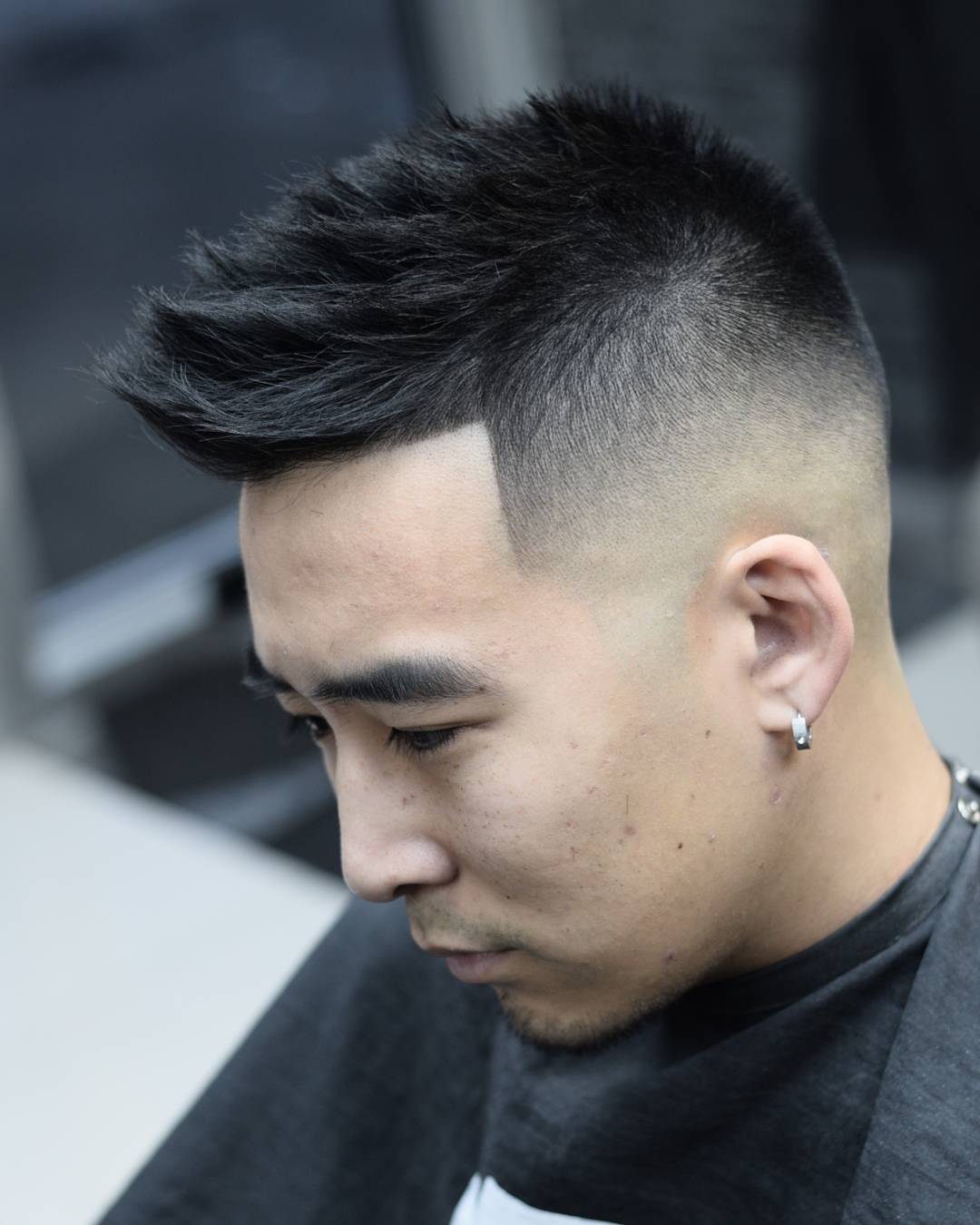 Classic spikes are a flattering look on most guys and elongate wide faces. For an updated look, try these thick spikes.
Pompadour Hairstyles
20. Modern Pompadour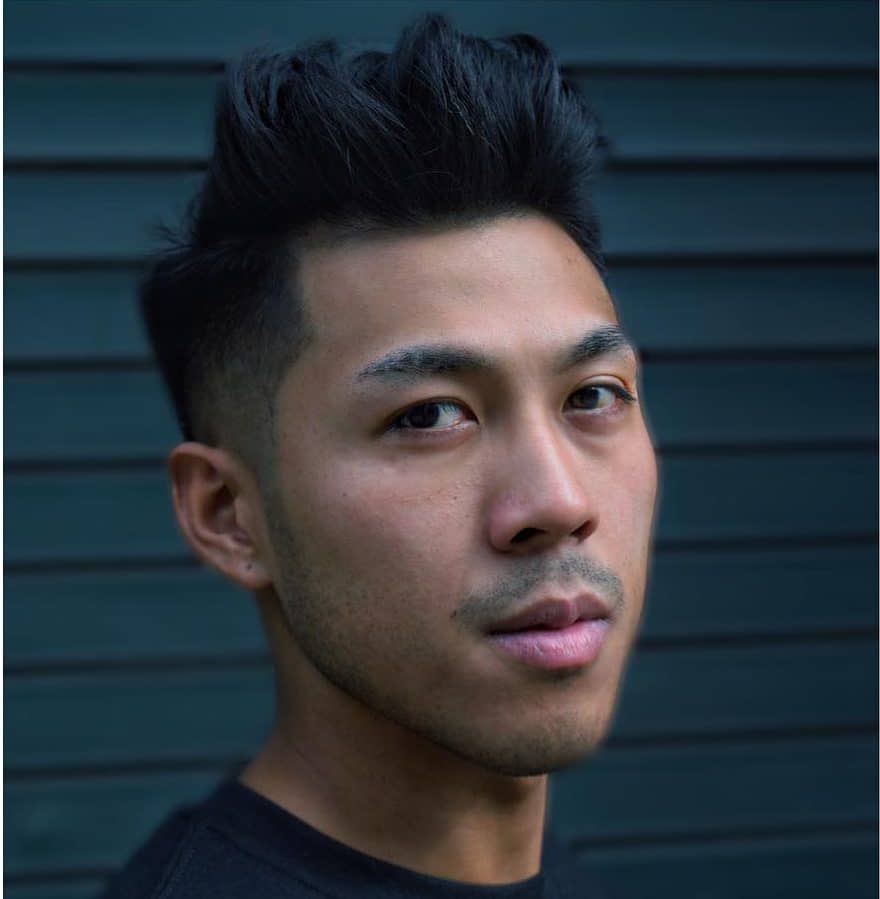 For a modern pompadour use a matte hair pomade and style hair into that classic pomp shape with some tousled texture.
21. Pomp Fade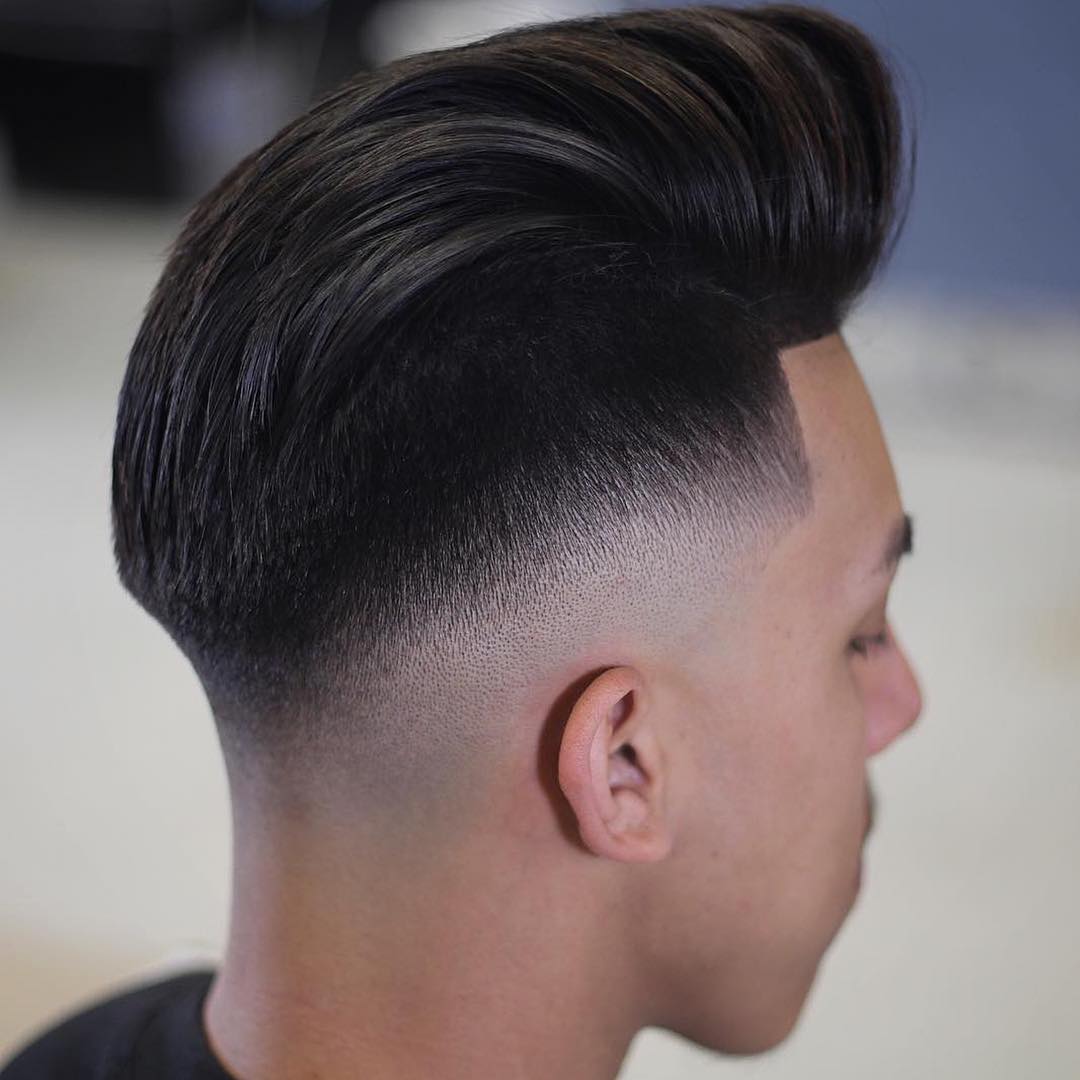 A fade emphasizes the height and shape of a pompadour hairstyle.
22. Short Pompadour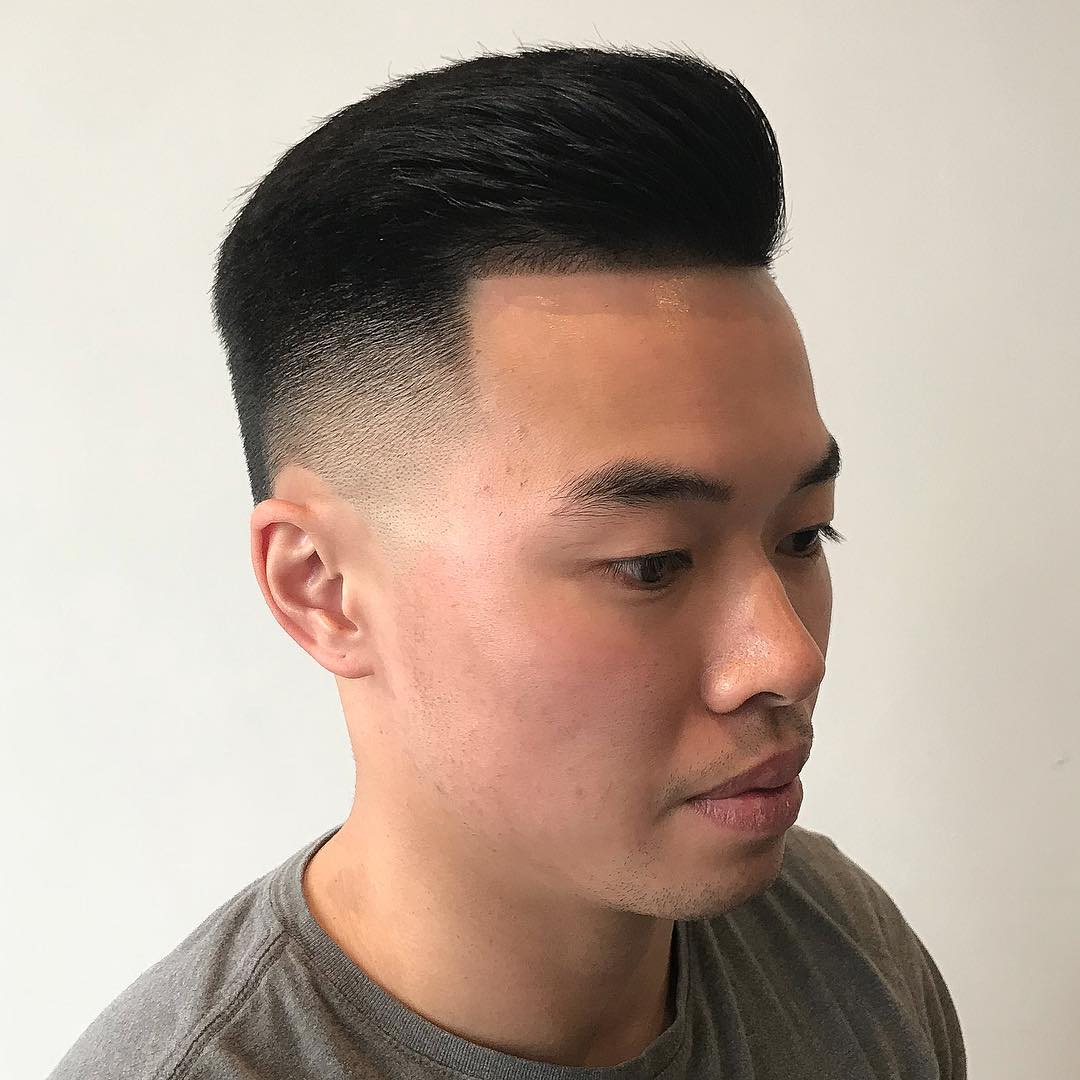 A pompadour hairstyle can be styled with fairly short hair. This brushed back style has a natural finish that sets it apart from most pomp hairstyles.
23. Loose Pompadour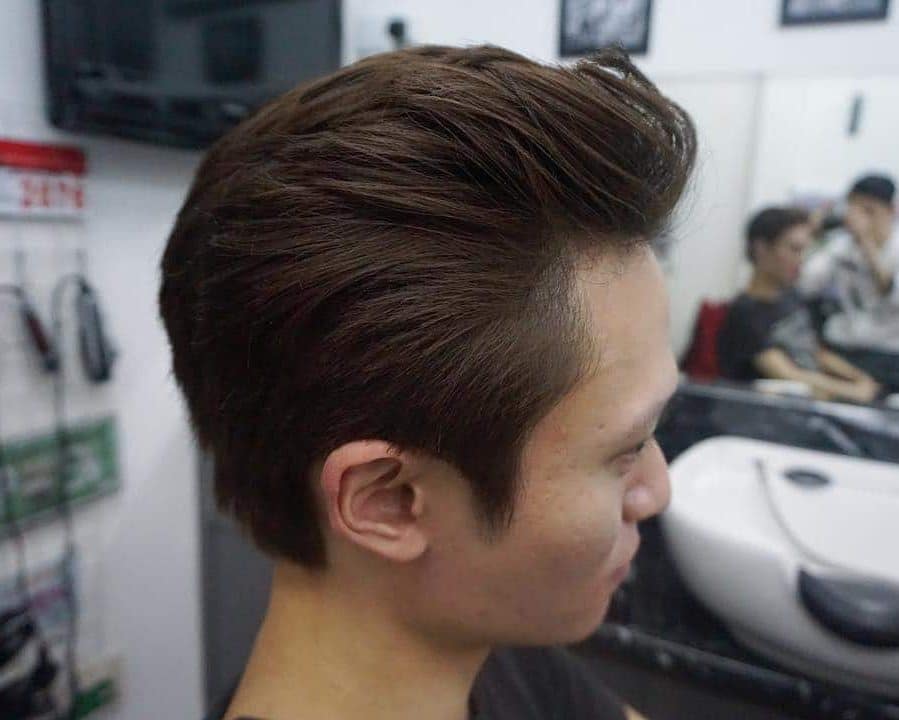 This medium men's haircut has enough length to be styled into a cool tousled pompadour.
24. Greaser Pompadour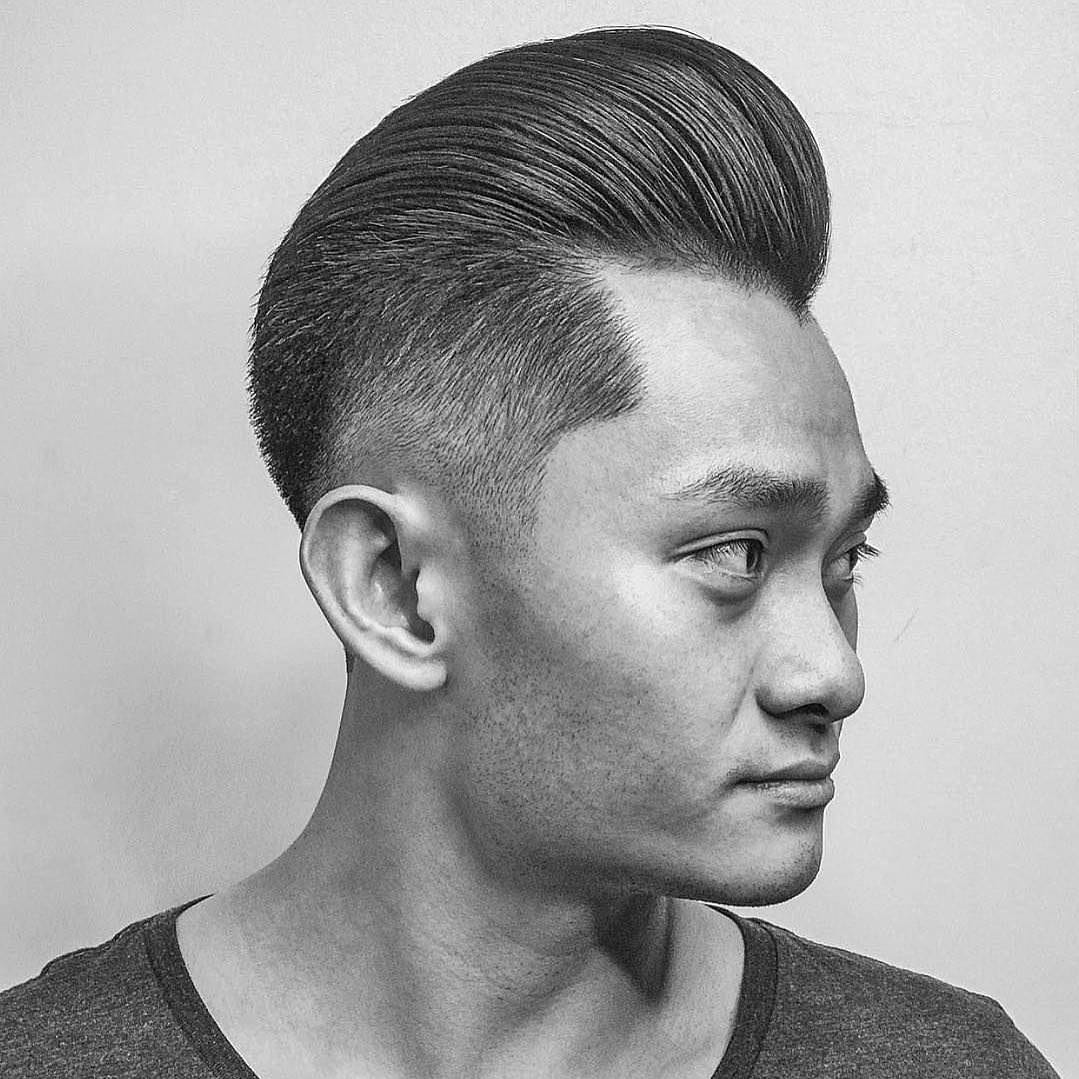 This epic pomp rivals Johnny Cash's signature look. Try oil-based and water-based pomades to see which you prefer.
Side Part Hairstyles For Asian Men
25. Side Part Quiff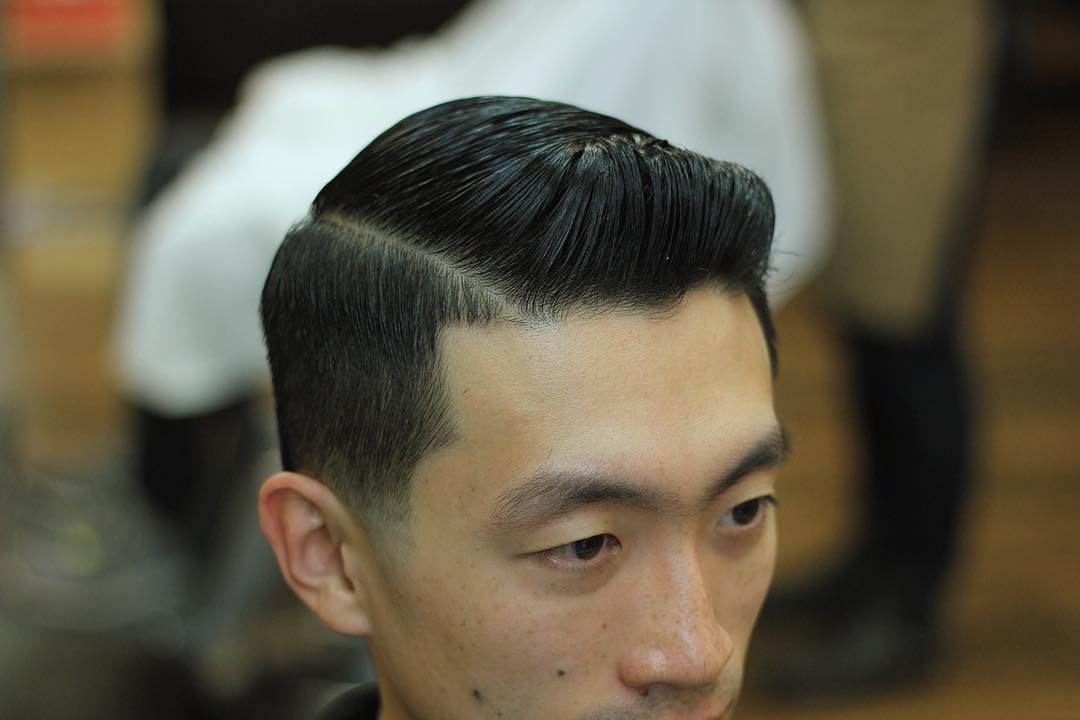 Comb hair up into a quiff at the front of a side part hairstyle for some flattering volume.
26. Comb Over Fade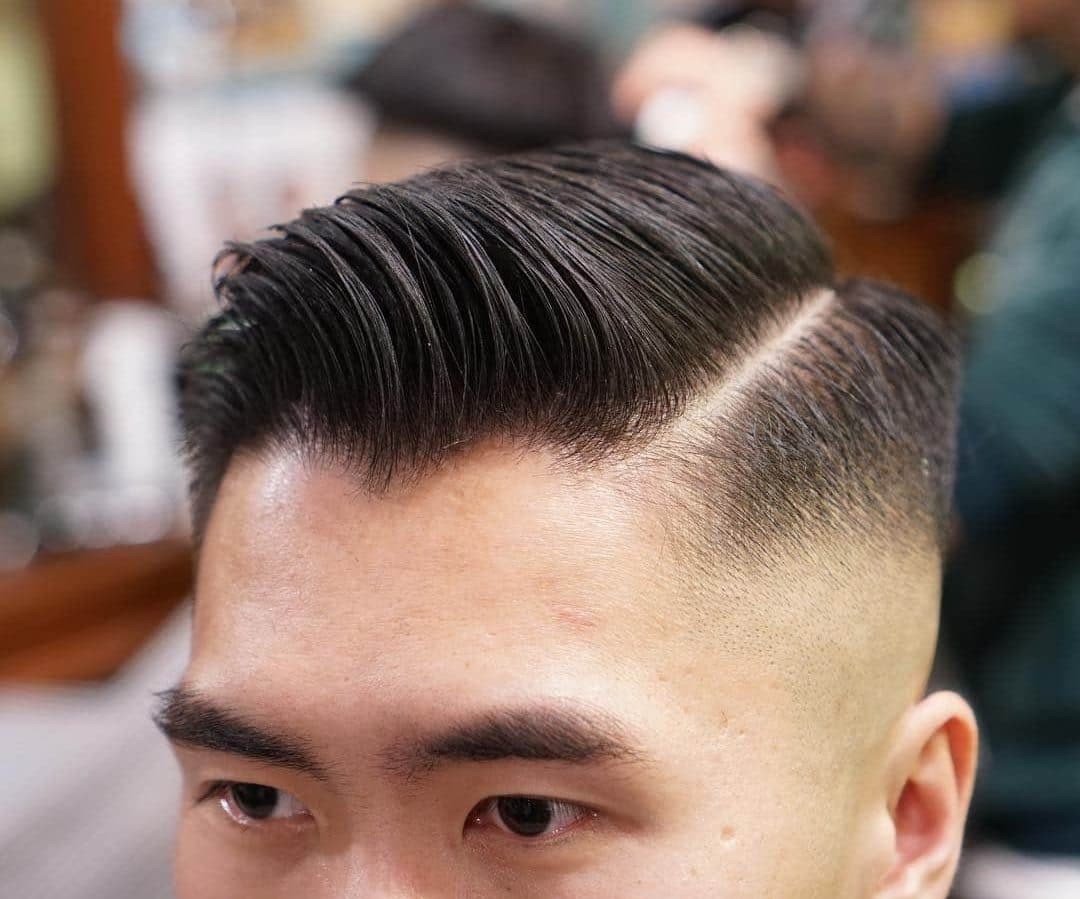 The comb over fade is a popular side part haircut because it looks great and is so easy to style.
27. Textured Side Part Hairstyle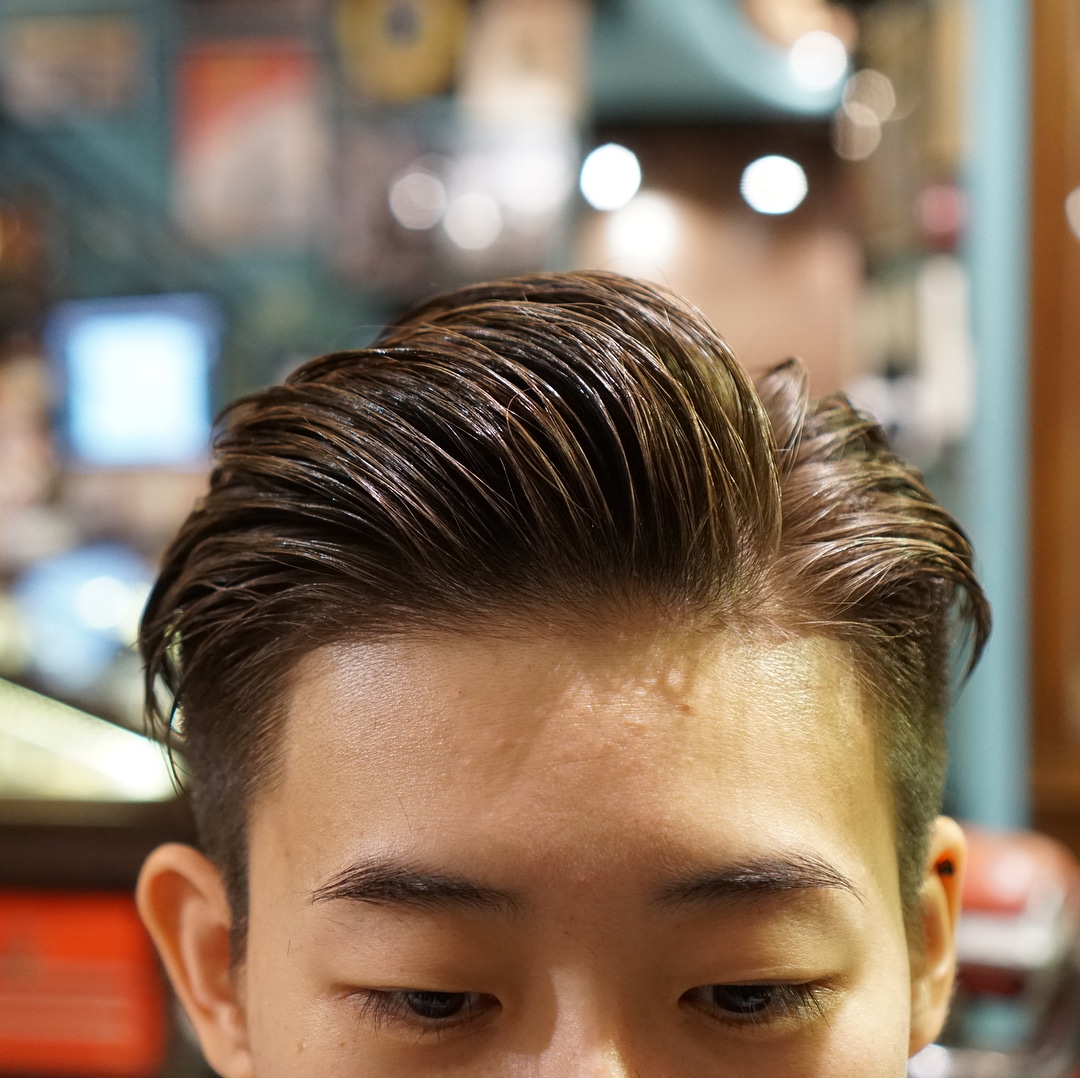 Use a medium or wide tooth comb to add lots of fine texture. Look for wax, fiber, or oil-based pomades to get a movable look that can also be re-styled if necessary.
28. Classic Men's Hair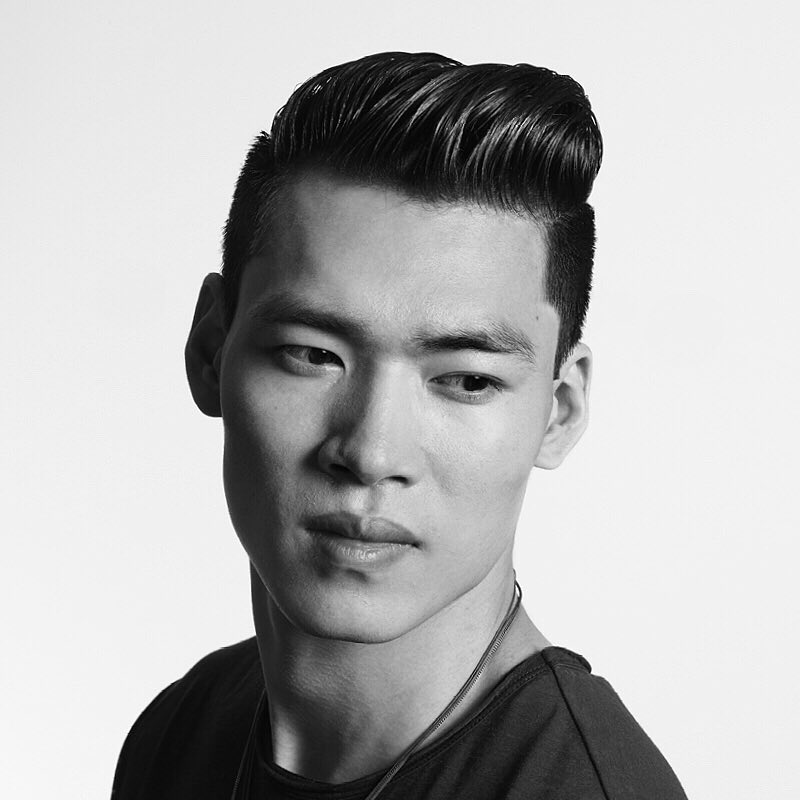 With a high shine and shaved part, this cool look combines classic men's hair with a modern update.
29. Modern Side Part for Men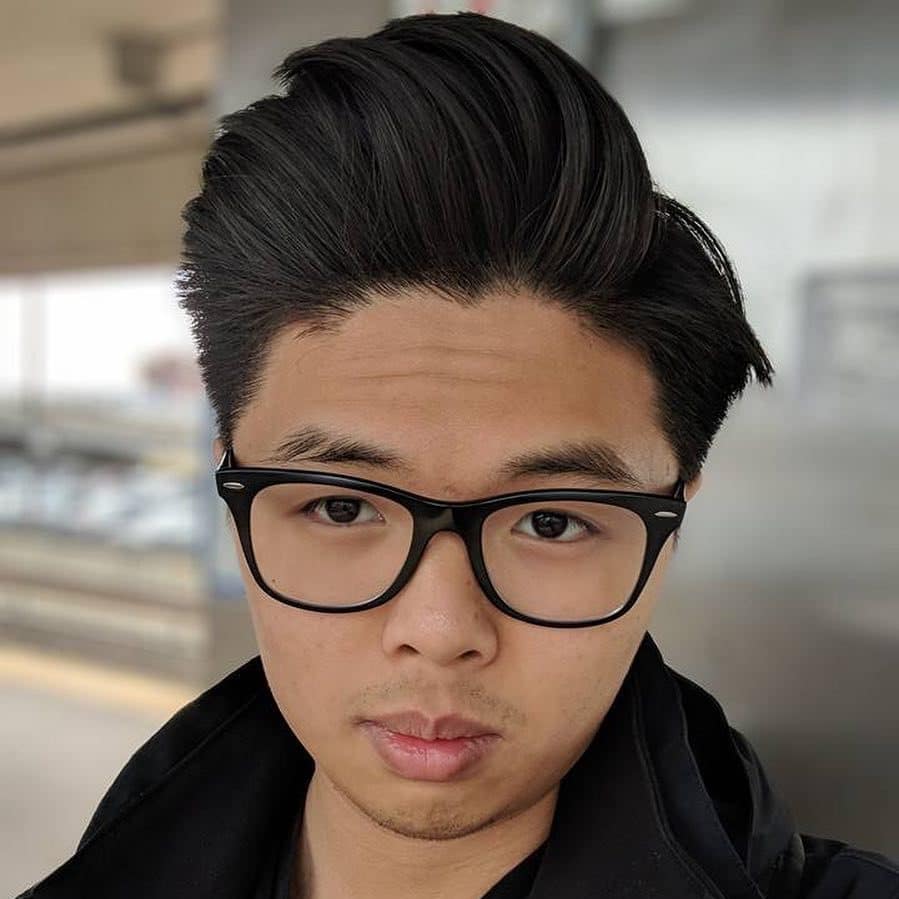 bluey.101 via Lockhart's Pomade
Tons of volume and fine texture give a modern update to this side part hairstyle.