In addition to the best haircuts, men with thick hair need the right products to get those hairstyles just right. There are a ton of different types of hair products for men to create all kinds of hairstyles. Thick hair can benefit from the strongest hold but medium hold is enough for looser styles with some movement and medium or longer hair.
Shine is another question. Some guys want to add shine to hair while others prefer an invisible matte finish. That is a personal preference but light hair can look greasy with shine.
This list of the best mens' hair products for thick hair includes pomades, waxes, matte products, and gels at all levels of hold, shine, and price.
If you're new to hair products, here's a guide to using and buying pomade. Otherwise, here are some of the best products to get the look you want for thick hair.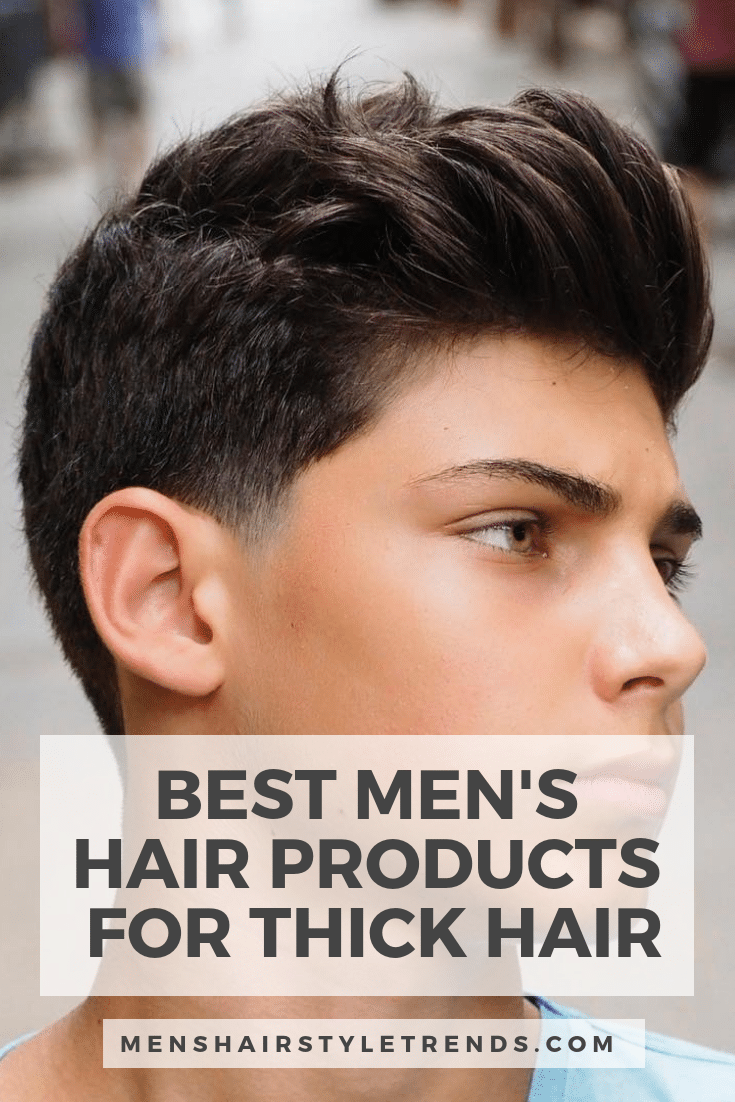 Pomades
There are different types of pomade for every hair type and hair style. All pomades for men offer flexible hold that never gets crusty and varying amounts of shine. For high volume pomps and quiffs, look for the strongest hold. For looser with movement and flow, medium hold is adequate. For textured styles, check out the waxes or matte products below.
Tigi Bedhead Hair Stick for Cool People – This wax stick creates soft, pliable hold with a little bit of texture and shine. Product can be applied directly to hair but because a little bit goes a long way (some reviewers report using only one stick a year), you can also work product between hands before application.
This product works well for ultra thick hair in all kinds of looks, especially textured crop haircuts as well as longer styles with a piecey finish, like pompadours.
American Pomade Wicked Slick – This is the real deal, greaser era pomade. It's shiny, slick, has a very strong hold and it will give you the best slicked back hair, for days on end. Oil-based pomades have the strongest, most flexible hold but are difficult to wash out and sometimes cause break-outs.
They are excellent hair products but not necessarily for everyone. For a water-based equivalent try O'Douds Multi-Purpose Pomade.
Baxter of California Soft Water Pomade – For natural looking hold with low shine, this medium hold pomade works well for looser styles and medium length hair.
Waxes
Wax offers stronger hold than most pomades plus a natural shine. Hair waxes last all day but are also soft and flexible enough to also restyled. This type of pomade has the added benefit of softening and conditioning hair. Waxes are excellent for thick hair, curly or wavy textures, and oily hair.
To use a wax, take a pea sized amount and heat it up between palms before rubbing through wet or dry hair. Like all pomades, work through dry hair for more hold and a matte finish or slightly damp hair for slightly less hold and some shine.
Jonathan Dirt Paste – With both lanolin and beeswax, this hair wax shapes and defines hair while adding piecey separation. It also conditions hair, which makes this product suitable for thick hair as well as hair with some wave or curl.
Jack Black Wax – Tame thick hair and frizz with this strong, pliable hold plus a natural shine finish. This wax contains tea tree oil, sage leaf extract, and grapefruit peel oil for scalp health as well as botanical extracts to moisturize hair. It can also be used on mustaches and beards.
Gatsby Moving Rubber Hair Wax – From the land of epic spiked hairstyles, this Japanese hair product is no ordinary wax. The strongest hold product is easy to apply and . This is the best product out there for thick or coarse hair.
Matte Product
Matte products get their own category. Oil-based pomades and waxes gels all have some shine. Water-based pomades and gels can be matte or have varying degrees of shine. There are many types of hair products without shine. Words like clay, mud, putty, paste, cream, and fiber usually indicate a matte finish.
Matte products work for every hair type, from thin to thick, and work well for textured or messy hairstyles as well as side parts and swept back looks. For guys with greasy hair, matte products can help absorb oil, especially clays. As advertised, there will be no shiny finish and almost invisible hold.
Smooth Viking Forming Cream – This versatile and easy to use hair cream has the strongest hold with a matte finish. Use it for anything from clean cut to messy looks and straight to curly hair.
Challenger Matte Cream Pomade – This medium hold product is strong enough for most hairstyles and lasts all day. Use it for all hair lengths.
Reuzel Fiber Pomade – This Dutch brand makes traditional grease pomades as well as modern water-based products. The fiber has the ultimate strong hold without shine. Use it for shot styles for the thickest of hair.
Gels
Hair gel has gotten a bad reputation but can be a great product when used correctly. First, check the ingredients. Many gels advertise that they are alcohol-free but some alcohols are drying to hair while others are fatty alcohols that moisturize and smooth hair. Fatty alcohols include the words cetyl, stearyl, cetearyl, myristyl, behenyl and lauryl.
When it comes to using hair gel, always apply on dry hair. Any water dilutes the product and reduces hold. Use the minimum amount possible to keep hair from getting stiff and crunchy. Work gel from roots to tips to thoroughly coat hair. Last, don't comb hair after applying gel. Instead, create the shape you want and hold it in place. When styling textured, you can go ahead and keep on styling gelled hair with fingers.
Gummy Hair Gel – This alcohol-free hair gel provides all day hold to the thickest of hair. Use it for short styles or to tame fly aways for long hair looks, like man buns.
AXE Messy Look Hair Gel – This widely available, highly rated, and affordable gel contains butylene glycol, a fatty alcohol. It defies the gel stereotypes with strong but flexible hold and a matte finish. Use it for spiked or messy looks for short to medium length hair. It can also tame fly-aways for longer locks.
Hair Craft Co. Strong Hold Pomade – This water-based pomade looks, feels, and holds like a gel. It also washes out like a gel. All with a masculine scent. Created by two guys who were frustrated with weak, expensive, small jars of pomade, this jar is twice as big as usual, with 4 ounces for $10.