The majority of men will at some point in there life experience a receding hairline. Some earlier in life, some later in life. No big deal. Make the most of what you have!
If you do have thinning hair or a receding hairline that doesn't mean that you can't get a great haircut or have a good looking hairstyle. The truth is you can pretty much do any of the popular hairstyles for men we are seeing today.
The first thing that you want to ask yourself is do you have an excellent barber or hairdresser and are they giving you the right haircut for your hair? If the answer is that you are not sure, or no, then immediately look for better options wherever you happen to live.
A talented barber or hairdresser will be able to look at your head shape, your face shape, and your hair type to determine what type of haircut and hairstyle will best suit you.
Thinning hair and receding hairlines present some challenges, however they definitely can be overcome!
Lets take a look at some of the best men's hairstyles and haircuts for a receding hairline.
Men's Undercut Hairstyle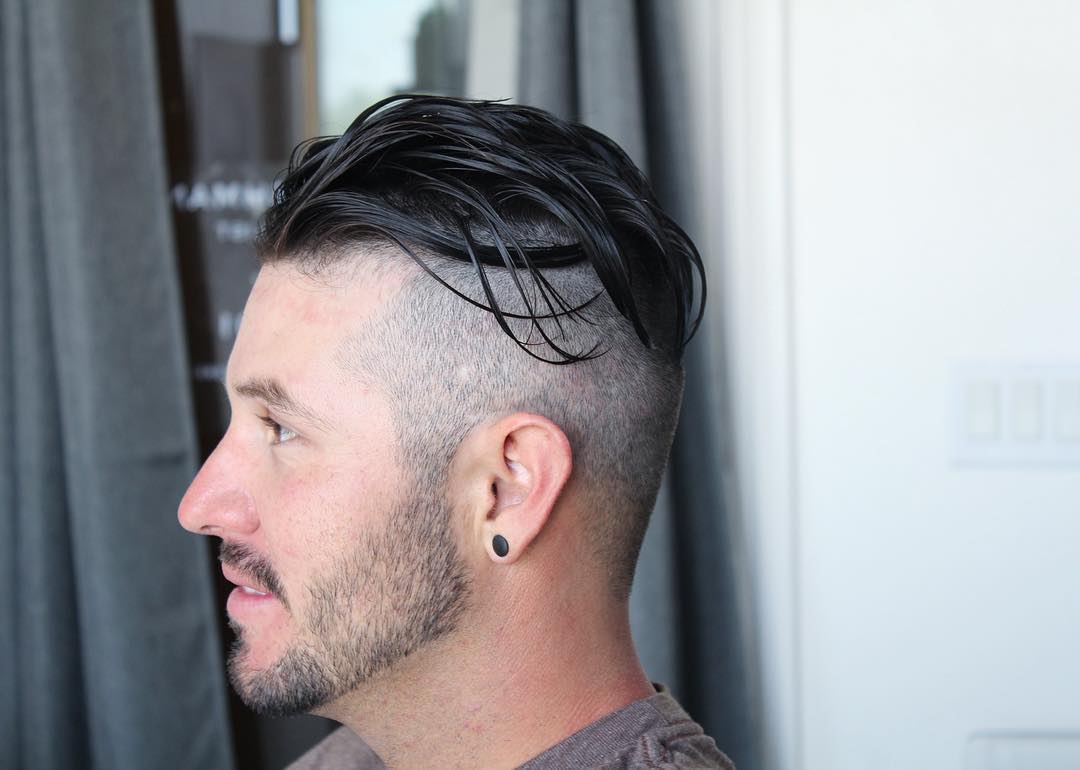 Haircut by Keller
Air dried waves. Take some hard water pomade and work it into wet hair. Blow dry into waves.
Bald Fade Shaved To Stubble + Beard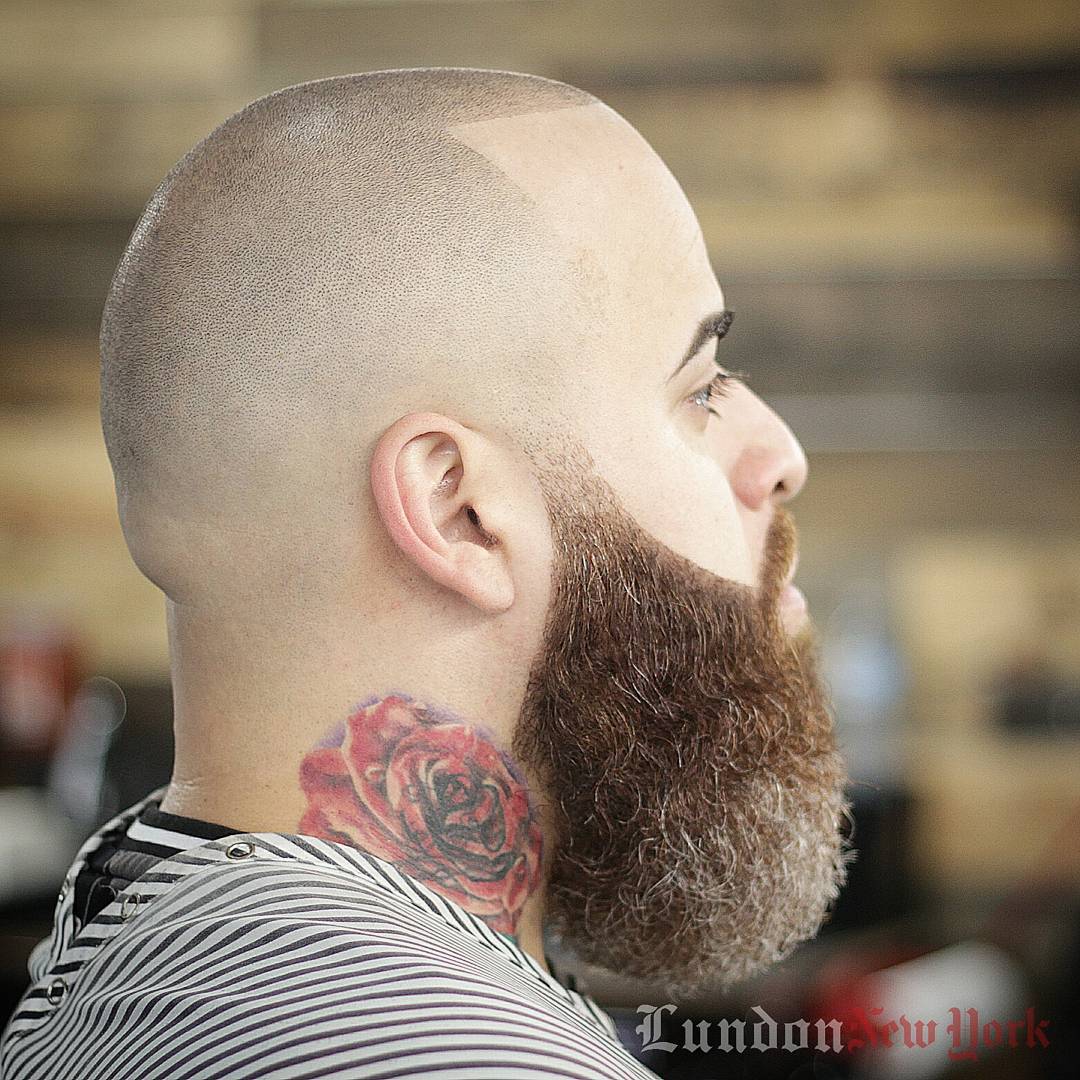 Haircut by LundonNewYork
This is the easiest no fuss hairstyle for a receding hairline. Faded to stubble. Get up and go.
Mid Fade + Quiff Haircut For Men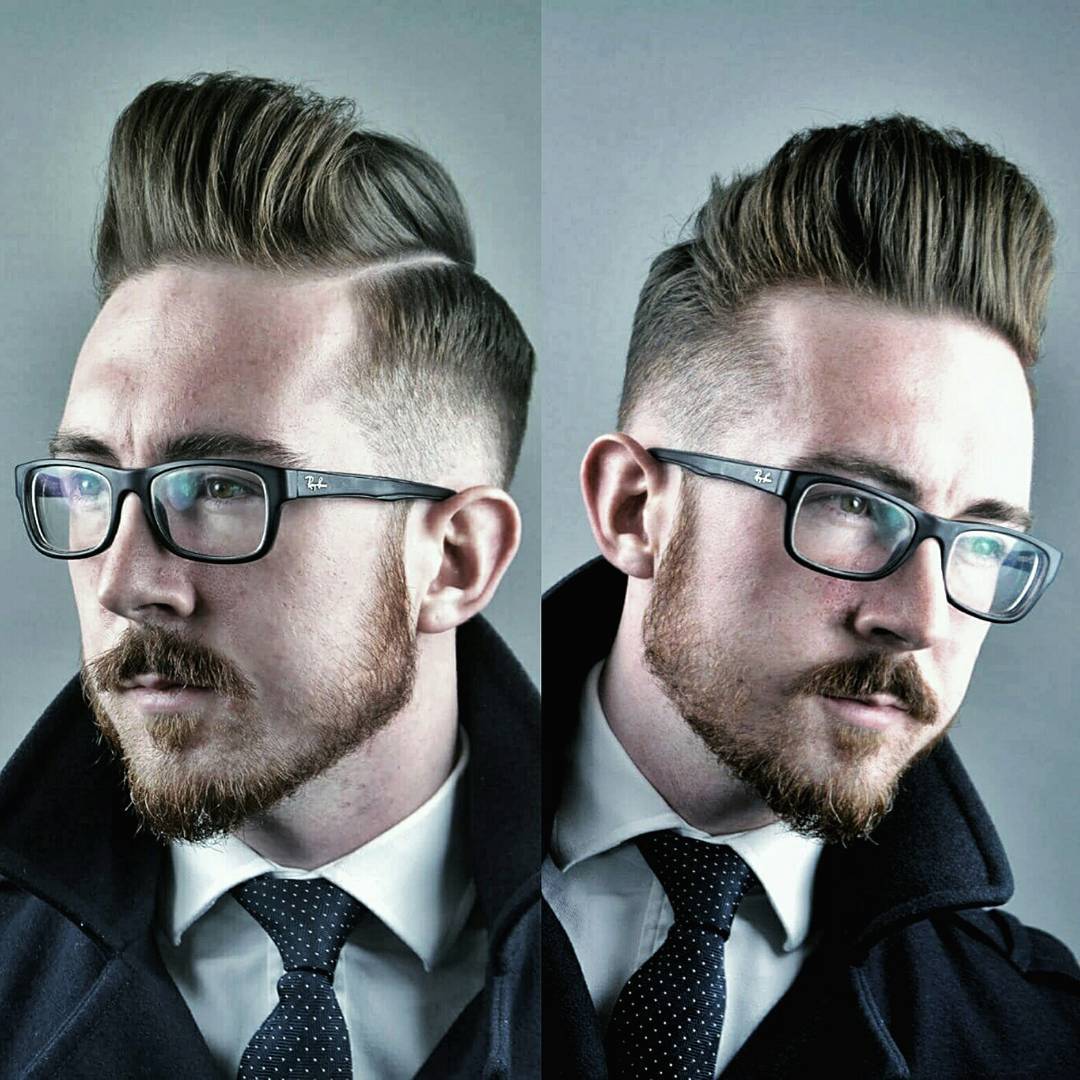 Haircut by Dean Marshall Braid of Braid Barbers
This hairstyle is great for a receding hairline. The fringe is longer and styled tall into a quiff that totally takes the attention away from thinning hair.
Medium Length Undercut Hairstyle Slicked Back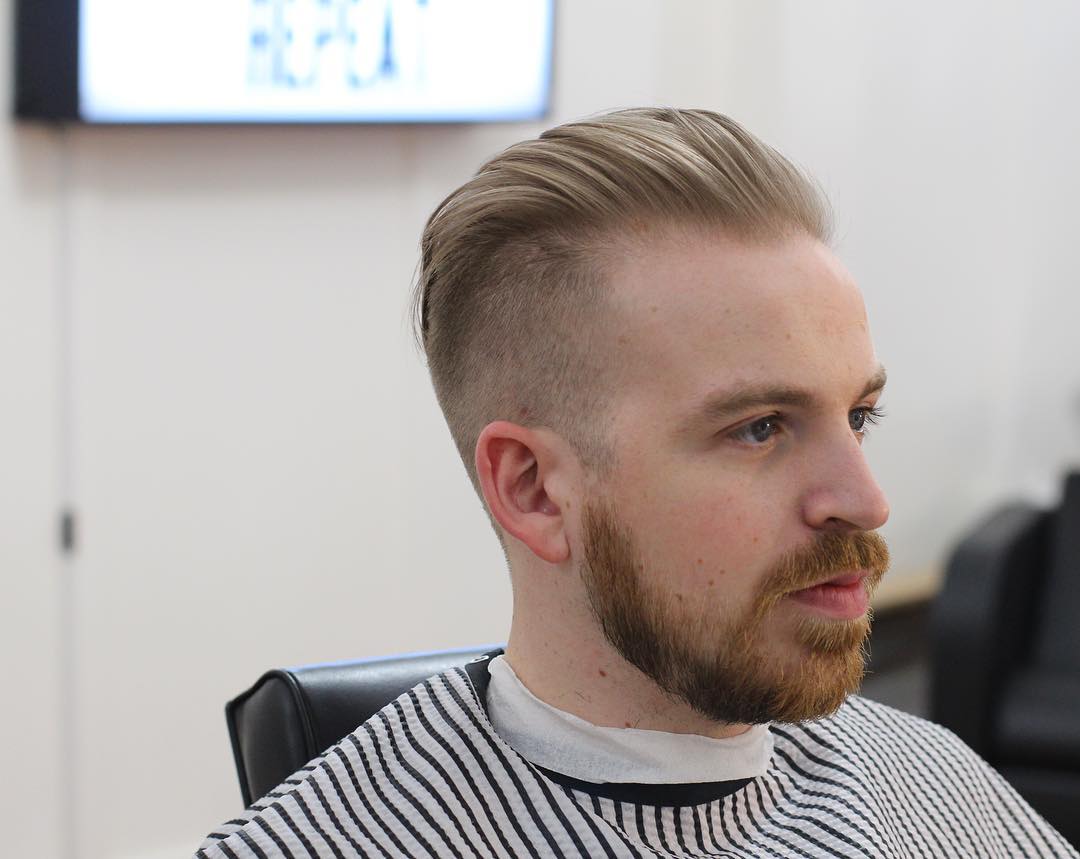 Haircut by Rum Barber
The sides are faded high and left very short. The effect is that it shows off the hair on top and makes it look more plentiful. To get this hairstyle use a medium hold or light hold pomade. Work it evenly into your slightly damp almost dry hair and finish the look off with a blow dryer brushing the hair back while using the blow dryer on a cool or air setting.
Short Mens Haircut – Textured Crop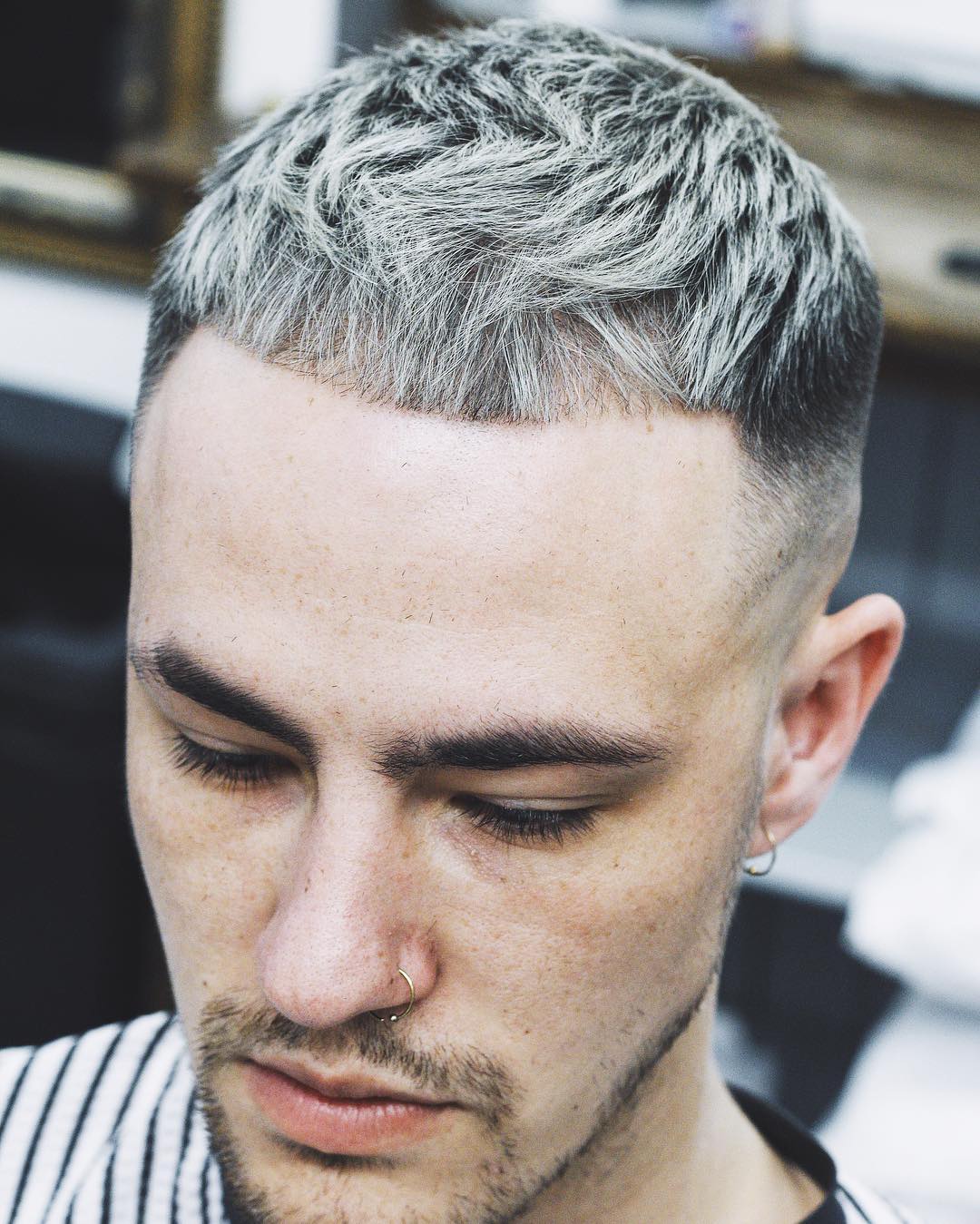 Haircut by Mr. Liptrot
This haircut can work really well for guys that have a receding hairline but thicker hair on top. Use a light hold pomade and work into your hair to bring the textured hair alive and doing its thing. You can work it forward to give yourself the appearance of having a fuller head of hair up front.
Side Part Combover Men's Haircut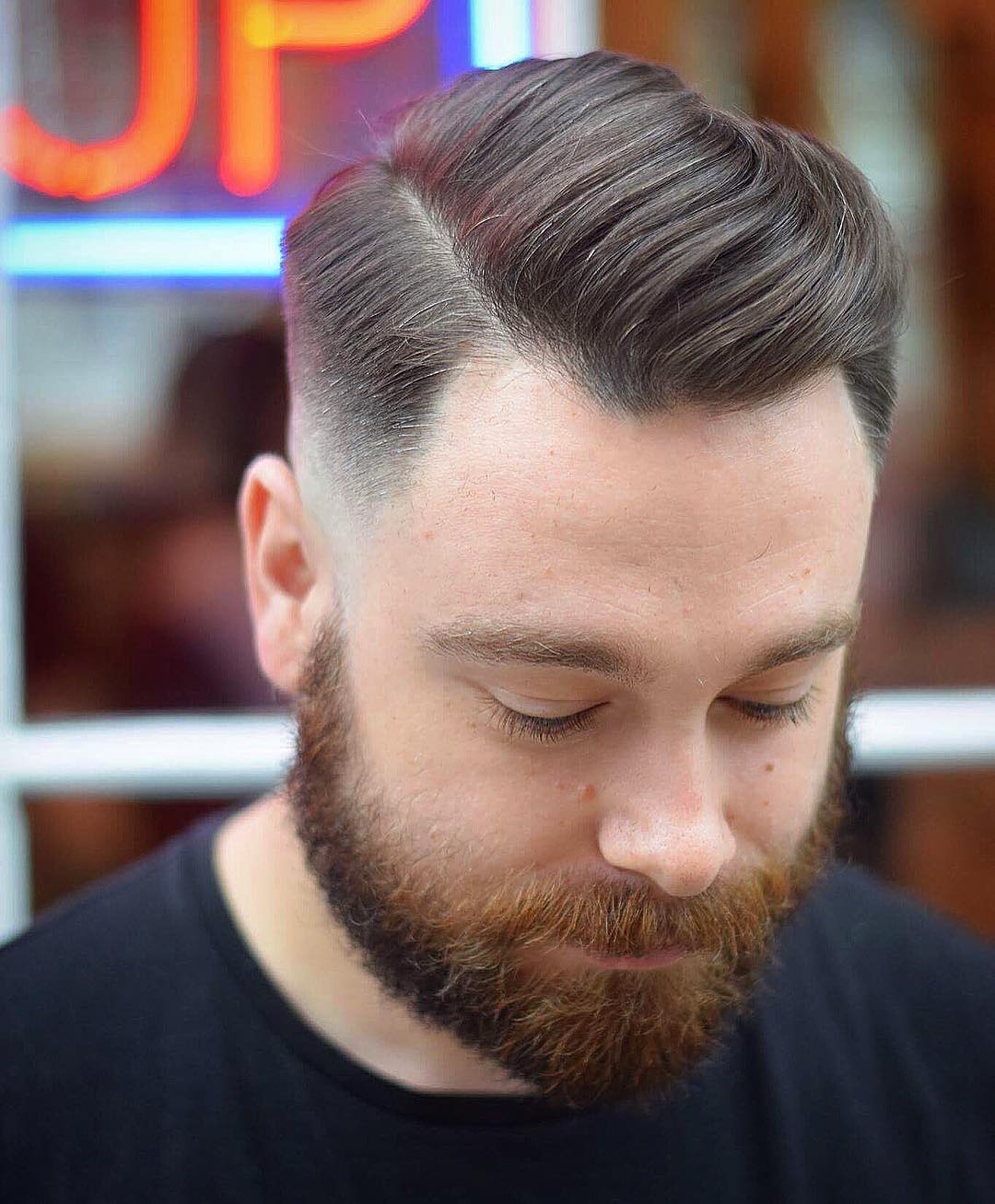 Haircut by Toastiestyles
A classic men's haircut that is super easy to style and looks great on any guy. It features a mid fade with step and a medium length of hair on top. Simply use a light or medium hold pomade and work it into slightly damp to dry hair. Then get out your comb and style into place.
Short Men's Haircut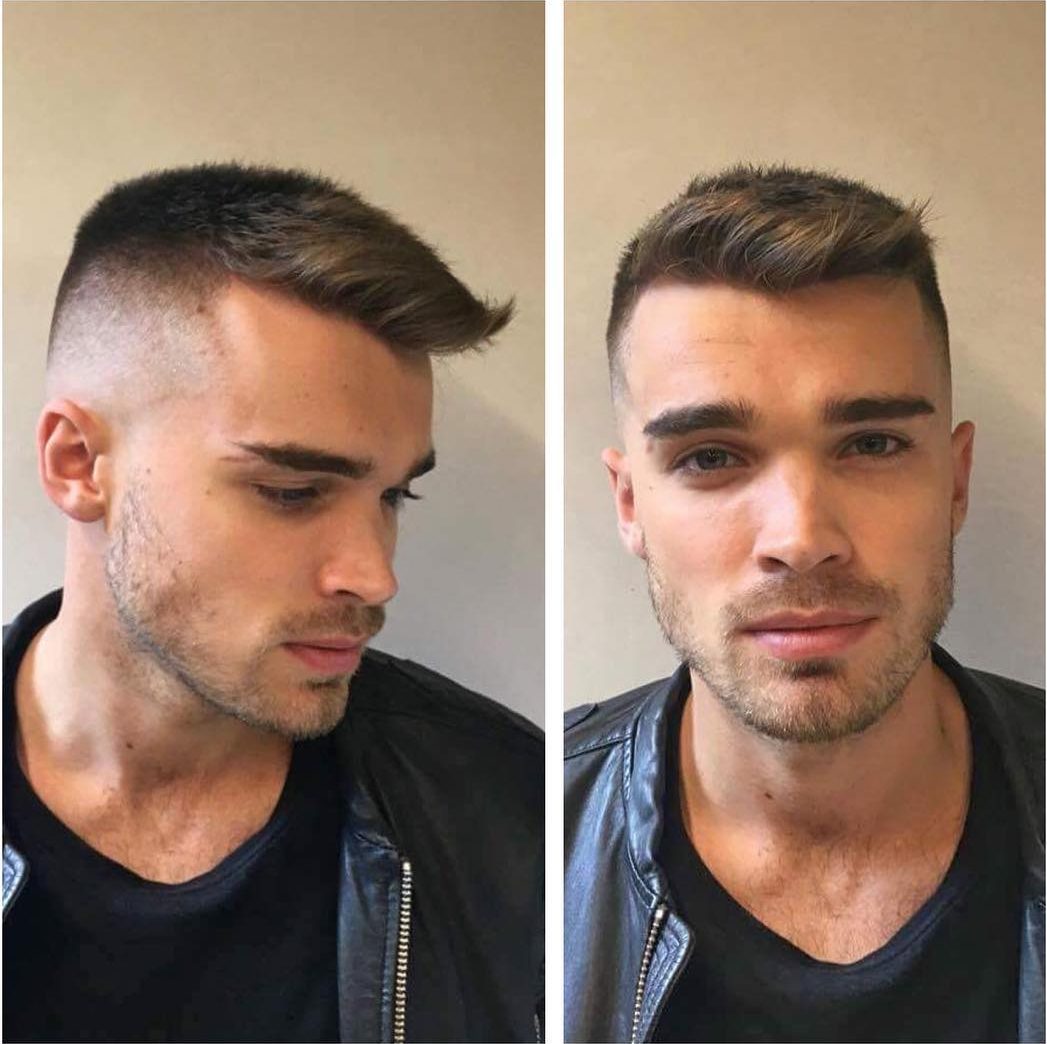 Haircut by Kevin Luchmun
A very short men's haircut is the easiest hairstyle for a receding hairline to manage. You can just wear it natural with no product, or style in place with a light hold pomade.
Short Pompadour Haircut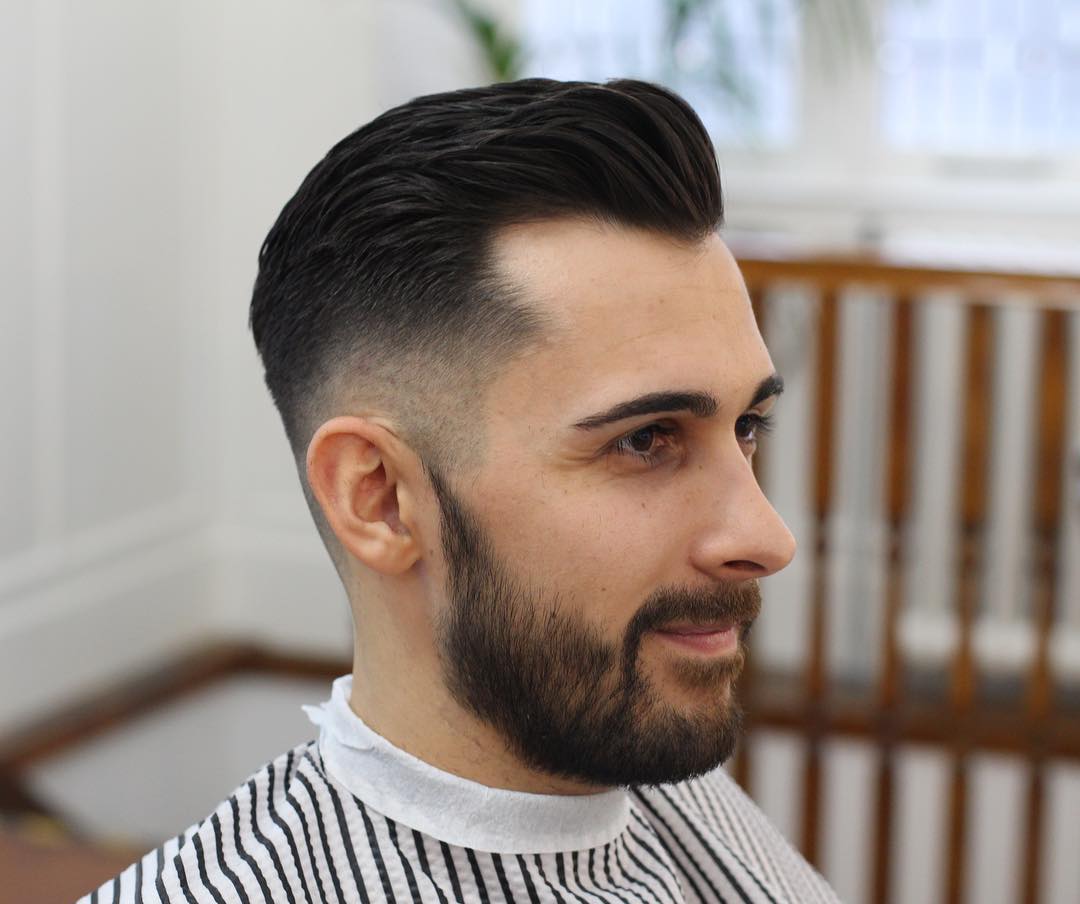 Haircut by Rum Barber
The short sides and the beard both give the sense that a man has more hair than perhaps he does. This is a cool short haircut styled into a pompadour. To get this exact look use a hard water pomade and work into damp hair. Use a comb or your fingers to get the style down.
Ultra Short Men's Haircut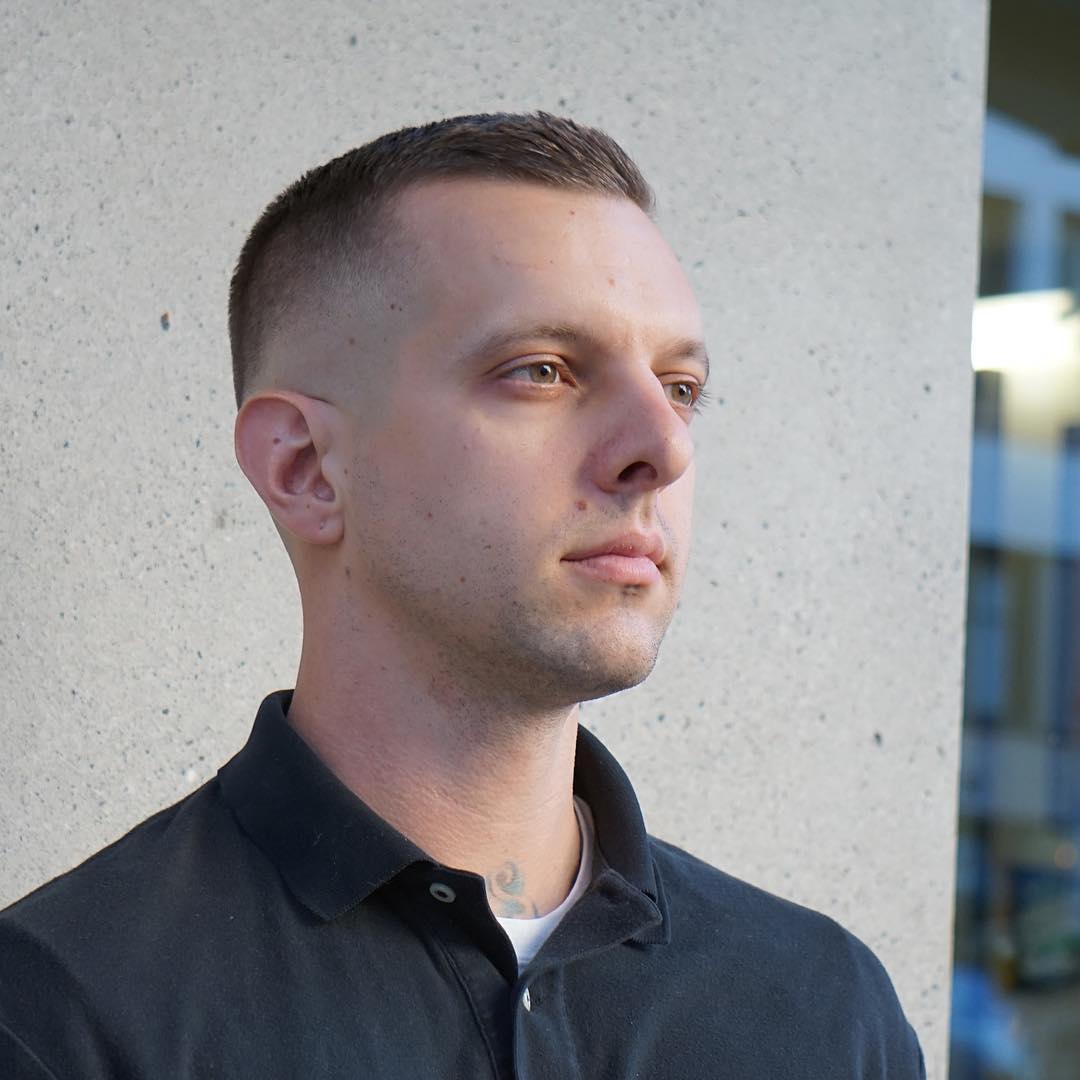 Haircut by Andrew Lampe
This haircut features a bald fade on the sides which really shows off the hair on top that is cut very short and easy to style. Go all natural or use a small amount of light hold pomade to give some definition and movement to the hair.
Medium Length Quiff Hairstyle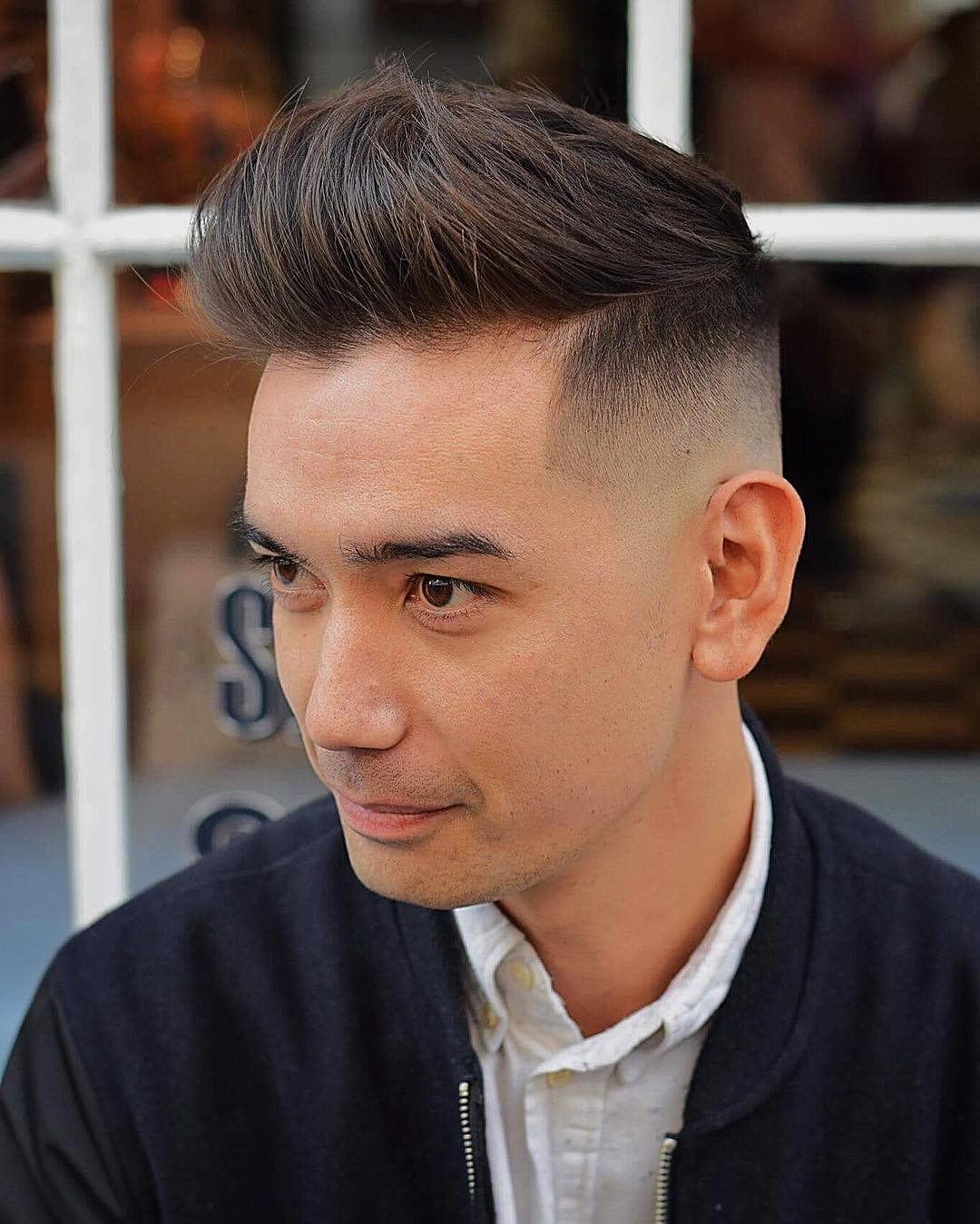 Haircut by Toastiestyles
Another skin fade that put the attention on the medium hair on top worked into a quiff hairstyle for men.
Long Hairstyle For Men For Receding Hairline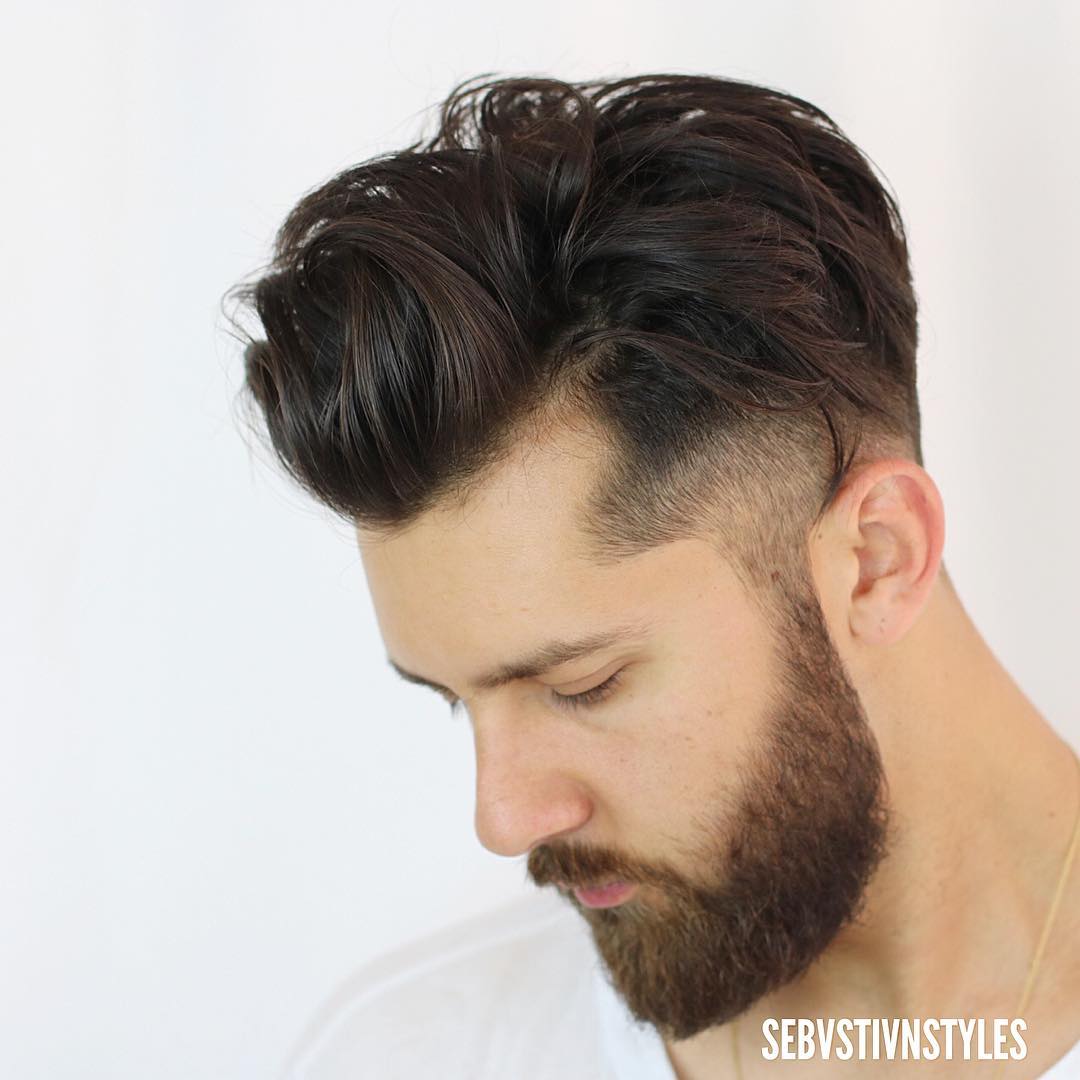 Haircut by Sebastian Styles
Cool mid fade with long hair left natural looking on top. Blow dry the hair to give volume and use a touch of medium hold product to add movement to the hair.
Longer Undercut Hairstyle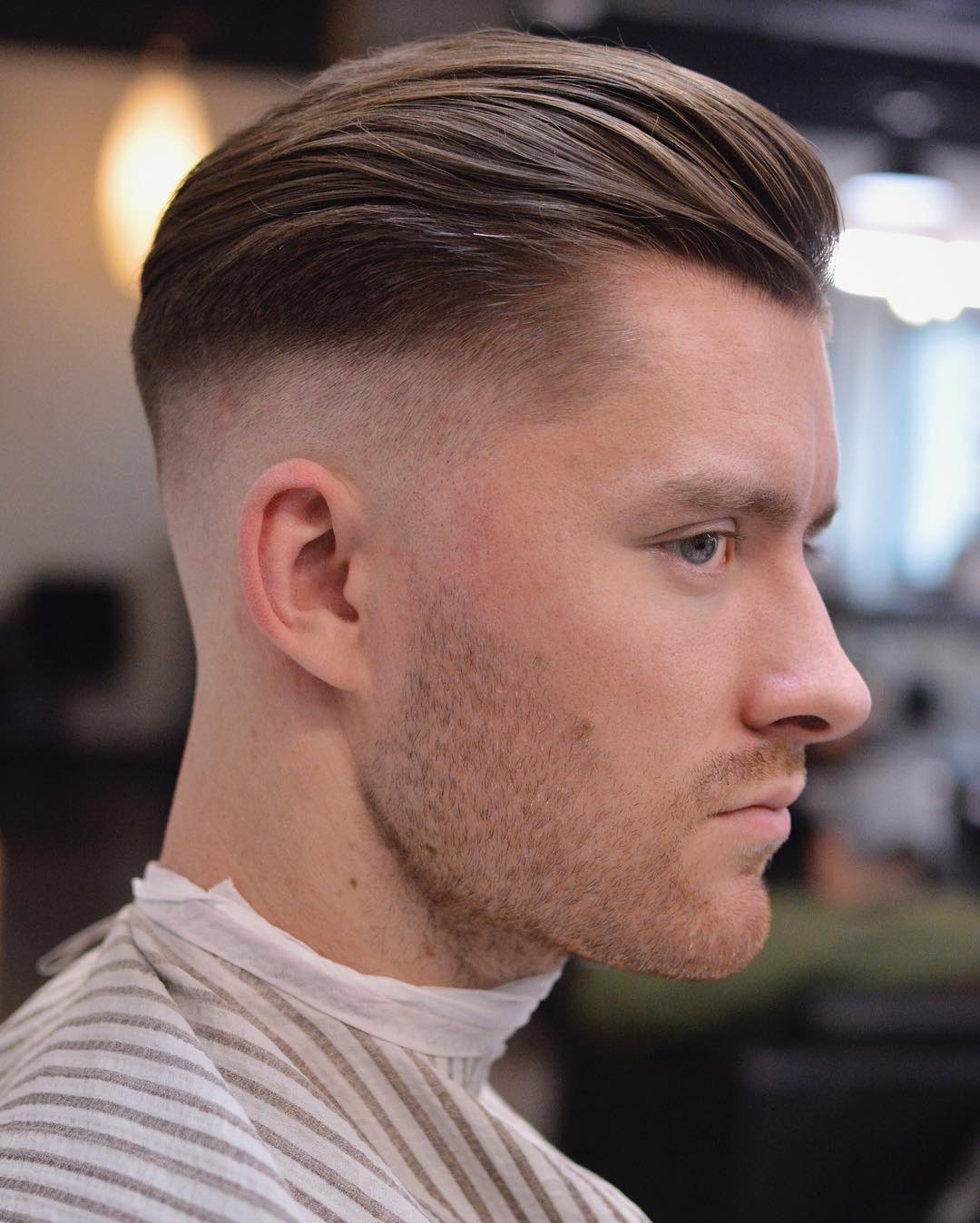 Haircut by Bryan Barber at Squire Barbershop
Hair on top is kept long and slicked back. The bald fade gives contrast and make the hair on top look nice and full.
Medium Length Quiff Hairstyle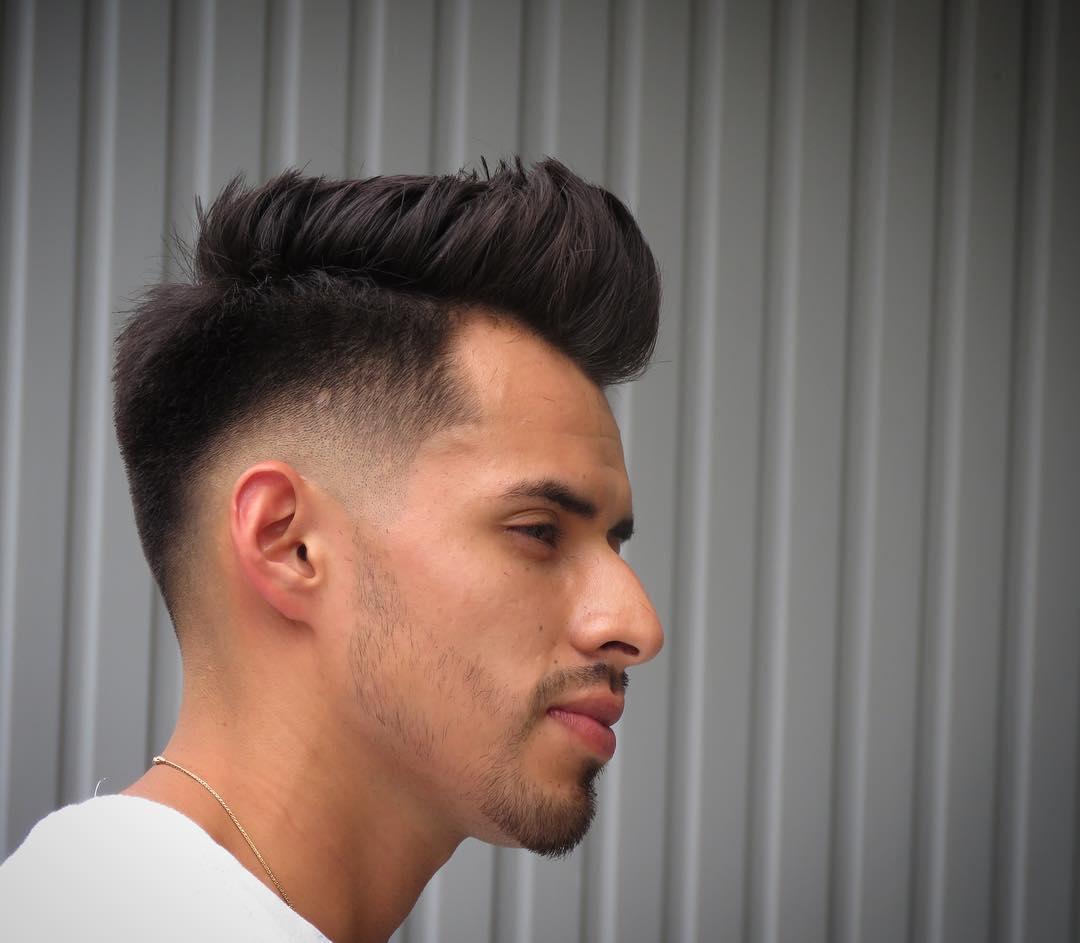 Haircut by lopezcuts
Another cool haircut that keeps lots of volume on top and uses a drop fade on the sides and back for contrast. No matter how much of a receding hairline you might have this haircut will make it look like you have lots of hair. It's all about keeping things short short short on the sides and letting the hair on top go wild.
Side Part Pompadour + Hard Part

Haircut by ambarberia
Use a pomade that gives shine. Work it into damp hair and use a comb or brush to style. Better for thicker hair.