For guys with curly hair, the two most important ways to manage curls is a great haircut and keeping hair healthy by cutting down on the shampoo. Next up, the best products for men with curly hair can make hair more consistent, manageable, and get you exactly the style you want.
Shampoo
First off, the best shampoo for curly hair. The scalp oils that keep hair healthy and moisturized have a harder time traveling down coiled hair from root to tip. Shampoos are designed to rinse away these oils so for curly hair, skipping the daily shampoo for every few days or once a week helps hair stay naturally conditioned.
Even at infrequent intervals, the choice of shampoo makes a big difference so look for something moisturizing or designed for curly hair. For a men's shampoo try American Crew Daily Moisturizing Shampoo, for a cheap, drugstore option there is Garnier Fructis Sleek & Shine Shampoo, and if hair needs extra help, Ouidad Cleansing Oil Shampoo is a gentle sulfate-free product made by curl experts.
There is also a no shampoo movement that is gaining popularity. Get the benefits of skipping shampoo without actually skipping shampoo with the best curly hair shampoo out there DevaCurl No-Poo Cleanser.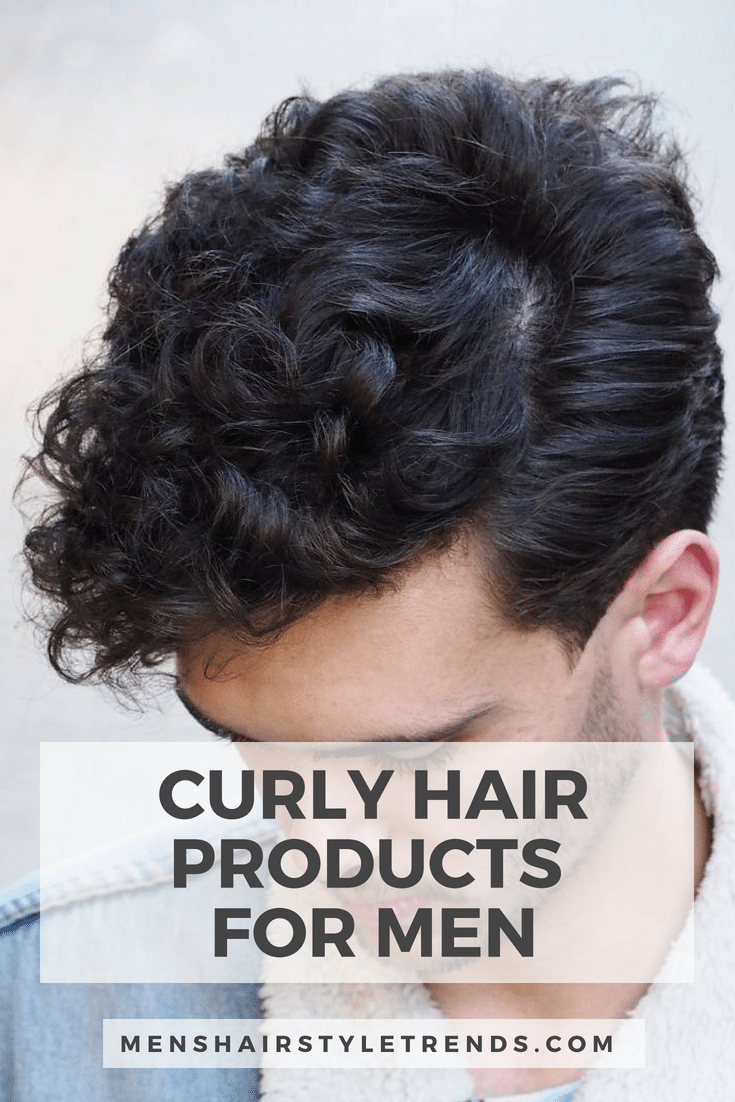 Conditioner
Conditioner is a must for men with curly hair to add in extra moisture and seal out frizz. Use the matching conditioner to your shampoo or the curl-specific formulas from another top brand for curls, Renpure Rosemary Mint Cleansing Conditioner. For extra dry hair, use a leave-in product like Shea Moisture Strengthen & Restore Leave-In Conditioner. Just spritz damp hair before adding product for extra conditioning and protection from the elements.
Curly Hair Styling Products
Now that hair is clean and conditioned, on to the best styling products for curly hair. The best product for you depends on the style you're going for and how much hold that requires.
Gel is popular product for curls that has some pitfalls. Although gels define and hold curls, many types can get crusty and dry out hair. Gel isn't out, you just have to find the right one. First and foremost, use alcohol-free formulas. The best gel for curly hair is Eco Styler Olive Oil Styling Gel . It controls frizz, smooths curls, and is never greasy or crunchy.
For thick or coarse curly hair, there are options for you that bring out curls and fight frizz. These are especially good for men wearing medium length curls. Tame hair with Living Proof No Frizz Nourishing Styling Cream, Bed Head In Check Curl Defining Cream, or Redken Cream Serum for Curls.
For men that style hair into the curly version of the slick look or even the straight one, more hold is required. To get Justin Timberlake's cool coif, use Layrite Natural Matte Cream Pomade, Kevin Murphy Easy Rider, or Cantu Shea Butter Cream Pomade .