A quality shampoo can improve the health of your hair. In this guide, we cover the best shampoo and conditioner options for men.
The best shampoo for men is the right one for your hair type or scalp issue. Most people have issues with itchy scalp or dandruff from time to time. There are also products for thin hair, greasy hair, color-treated hair, and more.
Here we'll talk about what to look for in shampoos for the most common hair issues and recommend products too.
How to Shampoo
Okay, you probably know the drill. Wet hair, apply shampoo, lather up and rinse. The question is how often. Most men shampoo every day. This can actually cause the scalp to product more oil because sebum is always being removed. The result can be greasy roots and dry ends.
For healthier hair, try shampooing less often – every other day, twice a week, or even once a week. This is especially important for curly and wavy hair types that tend to be dry.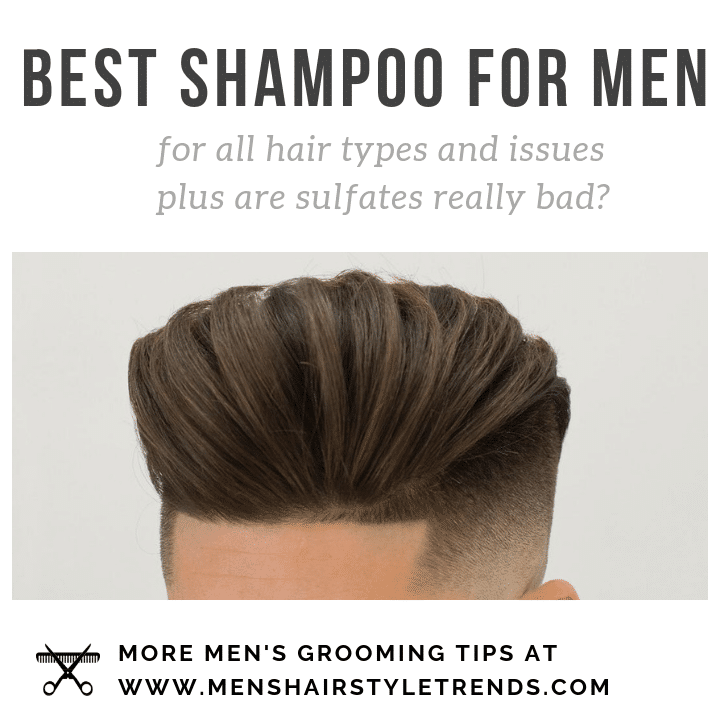 On those non-shampoo days, wet hair in the shower and scrub the scalp as usual. Hot water and manual exfoliation gets rid of dead skin flakes, grime, product, and built-up oils.
If you must shampoo daily, use a gentle sulfate-free formula that won't dry out hair or the scalp. More on that later.
Dandruff Shampoo for Men
Most people get dandruff, whether it's seasonal or year round. There are two ways to fight out, chemicals or with nature. Chemical formulas kills the the fungus that causes dandruff while tea tree oil soothes a dry, flaky scalp.
Nizoral A-D is one of the most effective dandruff shampoos that kills the fungus that causes dryness and flaking. This anti-fungal, 1% ketoconazole, is also been proven to help hair regrowth. The gentle formula can be used on all hair types including color-treated or gray hair.
Hair Thickening Shampoos
Most thickening shampoos contain panthenol, a form of B-5 that attracts moisture to create the appearance thicker head of hair. All thickening products will coat hair to make it appear temporarily thicker. Shampoo and conditioner are a good base for styling products and hairstyles further enhance hair.
For chemical formulas that promote hair growth, check out hair loss shampoos below.
Brickell Strengthening Shampoo for Men is a natural and 73% organic formula. It contains proteins and B-5 to increase the thickness of each hair strand, amino acids for shine and volume, and vitamin E to promote hair growth. Peppermint oil and tea tree oil fight dry, flaky scalp.
Hair Loss Shampoo
To permanently beef up thinning hair, hair loss shampoos form the basis of a hair regrowth regimen. Nioxin and Rogaine have both proven to be effective to provide some hair regrowth for most men. That will disappear when you stop using the products.
If your issue is male pattern baldness, Rogaine aka Monoxidil, helps regrow hair. However, opt for the 5% solution, which has been proven to work, instead of an unproven shampoo.
The Nioxin Care System works together to restore thinning hair. Use the shampoo as part of a hair care system that also contains a conditioner and leave-in product. There are 6 versions of the formula for different hair types and stages of hair thinning.
Hair Color Shampoo
Hair color shampoo deposits color or one that is safe for colored hair. It is an easy and subtle way for men to color hair. Just use the shampoo until you reach the desired shade and then take a break.
Be sure to pair hair color shampoo with a color-safe conditioner to protect color and hair health. Here are more great shampoos for gray hair.
John Frieda Brilliant Brunette Luminous Color Glaze adds a hint of rich brown color with every use. It can be used to darken brunette hair or slowly and subtly cover up grays. For an extra boost of color, add Color Depending Treatment, which can also be applied in the shower.
Dry Shampoo
Dry shampoos are an easy to use hair product that has many benefits. They de-grease hair without hitting the shower while adding volume to hair. Just spray the powder at the roots of hair and work it in. For guys with dark hair, look for a dark dry shampoo that won' t leave behind white streaks.
For light hair, pick a price point or scent that you like.
Klorane Dry Shampoo This product has won beauty awards year after year for the botanical-based ultra-fine powder that absorbs oil. It is also available in a natural tint, although it is not the darkest dry shampoo out there. For brown or black hair, try Batiste Divine Dark, the darkest version of another popular dry shampoo.
Shampoo for Oily Hair
Most shampoos for grease hair are designed to eliminate oil. However, stripping the scalp of sebum signals to the body that it needs to amp up production. Stop the cycle by washing hair less and your scalp will produce less sebum. At first, cut back to every other day and work up to once a week as hair degreases.
This is especially important for medium length and longer hair. Work with nature and help those scalp oils do their job by brushing hair to moisturize hair from root to tip.
The best shampoo for oily hair is a gentle product that cleanses hair without stripping all moisture away.
Degrease Moisture Control Shampoo – Degrease treats the causes of oily hair with a natural, gentle shampoo. Lemon oil removes grease, rosemary and cypress heal an itchy, flaky scalp while peach kernel and jojoba oils nourish hair.
A clogged scalp or fungus can also lead to greasy hair so oanti-dandruff shampoos can also help the issue. If you use a lot of hair product, it might not all be washing out. Take a day or two of styling product every week and try a clarifying shampoo once a month to make sure hair is product free.
Dry shampoo can also be an asset for guys with oily hair, especially on those in-between shampoo days.
Curly Hair Shampoo
In general, avoid sulfates and silicones for curly hair. Sulfates dry hair our while silicones leave a deposit that is difficult to wash out. Last but not least, towel-drying curls damage hair when it is wet and fragile. Instead, use an old t-shirt or microfiber towel to gently squeeze the water out of hair.
Look for a curl specific shampoo that meets these standards. Curly hair can tend to be dry so always conditioner as well.
Shea Moisture Curl & Shine Shampoo – Designed for curly hair, this Shea Moisture Shampoo and Conditioner work together to gently cleanse and condition hair while fighting frizz and defining curls.
Sulfate-Free Shampoo
First, are sulfates really a bad thing? Also known as sodium lauryl sulfate, sodium laureth sulfate, or SLS, sulfates dissolve and create frothy foam. They are so strong that they strip the scalp of natural oils, which dries out skin and hair.
Most natural type shampoos are sulfate-free and many more drugstore brands are choosing gentler ingredients.
Aveeno Pure Renewal Shampoo – Using naturally derived cleansers instead of sulfates, cleanses without drying. It also contains seaweed extract for vitamins, proteins, and minerals that help rebalance moisture balance.
PURA D'OR Hair Thinning Therapy Shampoo is a pricier sulfate-free option that also helps revitalize thinning hair. Pura D'Or backs its promise of increased hair thickness, strength and volume with a 365 day money-back guarantee.
Shampoo for Dry Hair
Dry hair can mean you're shampooing too often and stripping all the natural oils that keep hair hydrated. If you're not already using a conditioner, definitely start. A hair mask like Aussie Moist 3-Minute Miracle can quickly make a difference.
In addition, wash hair less frequently, brush to distribute the scalps oils from root to tip, and choose a moisturizing shampoo.
V76 Hydrating Shampoo works to moisturize dry hair and scalp with almond butter for long-lasting conditioning, chamomile to soothe irritation, and vitamin E for strength and shine. The sulfate-free is not as bubbyl as most shampoos but that shows how gentle the formula. Reviewers are divided on the smell but most enjoy the froagrance.
Shampoo for Dry Scalp
For a dry, itchy scalp, any shampoo with tea tree oil can provide relief. For some people, this will only be required over the winter while others may need it year round.
For a mild case of dry scalp, Trader Joe's Tea Tree Peppermint shampoo is effective and a bargain. Otherwise, look for a product with additional ingredients like salicylic acid to really exfoliate a clogged scalp.
Derma-E Scalp Relief Shampoo covers all the bases with salicylic acid to remove flakes and buildup, tea tree and menthol to soothe itch, and a blen of neem, burdock and bearberry to moisturize dry skin. It is also sulfate-free.
2-in-1 Shampoo for Men
The introduction of 2-in-1 shampoo and conditioner combinations helped many men begin to use conditioner. That's a good thing but we still don't recommend them.
Shampoo and conditioner serve two different purposes. Shampoo cleanses hair and gets rinsed out along with any oil and dirt. Conditioner adds moisturizing agents. Combining these two can lead to product build-up because the shampoo is never fully washed out. It's not recommended to wash hair daily anyway so buy two separate bottles and use conditioner everyday and shampoo as infrequently as possible.
If you love this type of product, choose a gentle sulfate-free formula like Every Man Jack 2-in-1 Thickening Shampoo or MITCH Double Hitter 2-in-1 Shampoo and Conditioner.