A new school year is a great time for a fresh new look. Check out 35 of the coolest black boys haircuts from some of the best barbers from around the world.
Whether you want a short, low maintenance cut or longer style, we've got a look for you. And it's never to early (or late) to be stylish. From preschool to high school and beyond, check out these haircuts for black boys.
Get your unique style by mixing and matching your favorite fade, shorter or longer hair on top and a shaved part or hair design. There are so many ways to wear a buzz fade, high and tight, mohawk fade or afro.
Pictures are arranged in order from shortest to longest boy's haircuts to keep scrolling to get from buzz fades all the way to afros.
1. Buzz Cut + Fade + Line Up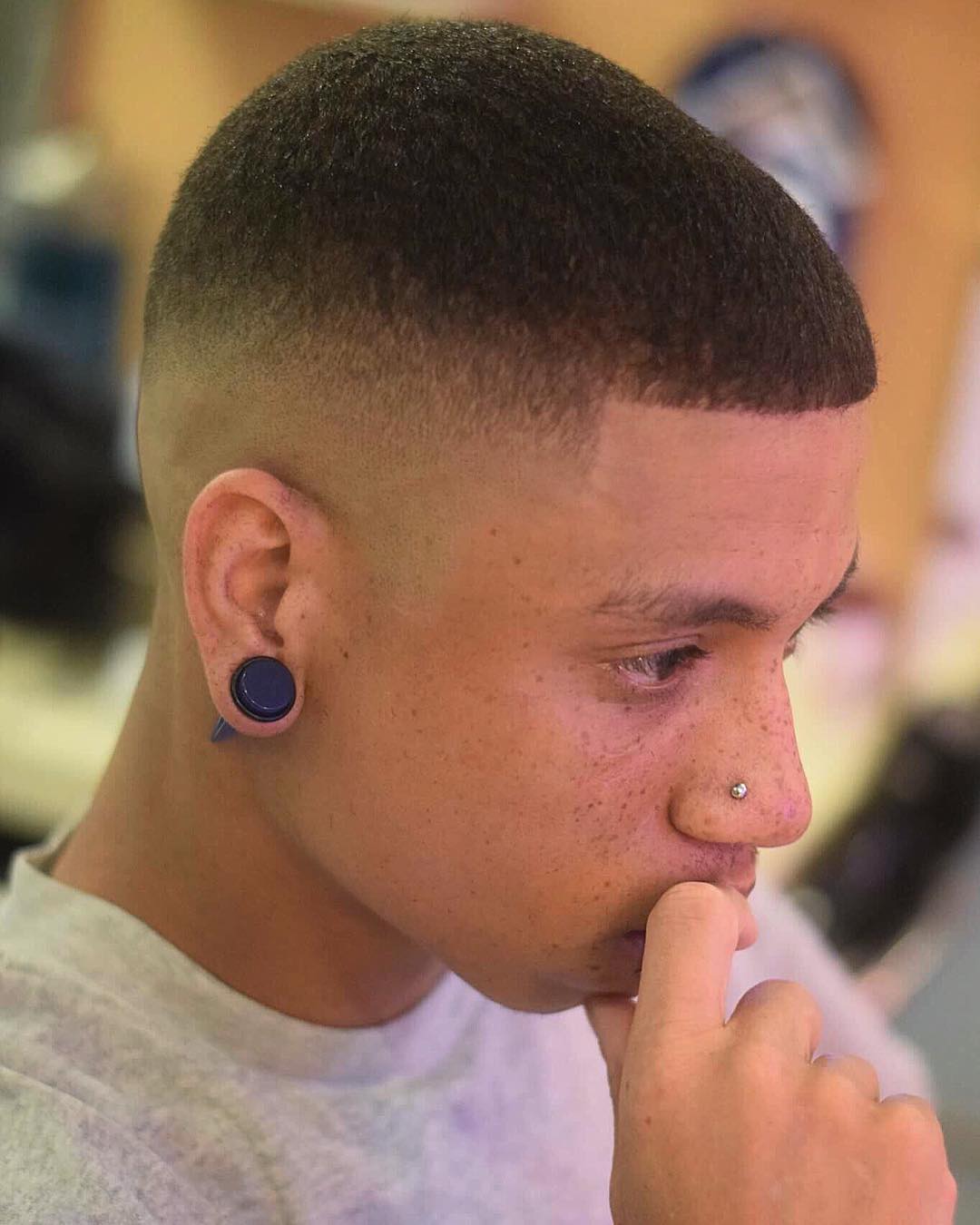 This short haircut is a triple threat with a blurry fade, sharp edge up and short buzz on top.
2. Half Moon Part + High Fade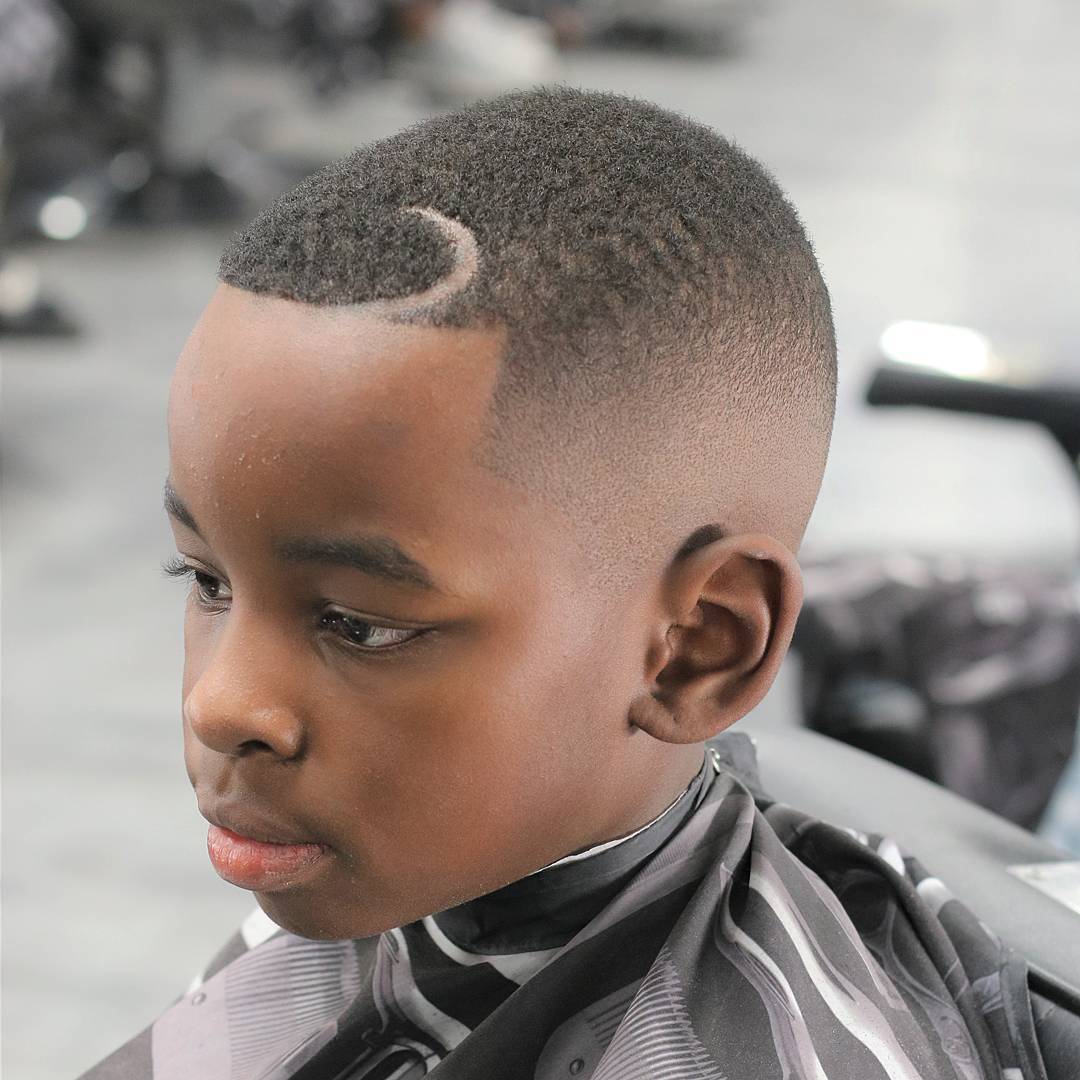 Another version of the buzz – fade – line up combination, this one adds a half moon part for extra style.
3. Burst Fade Haircut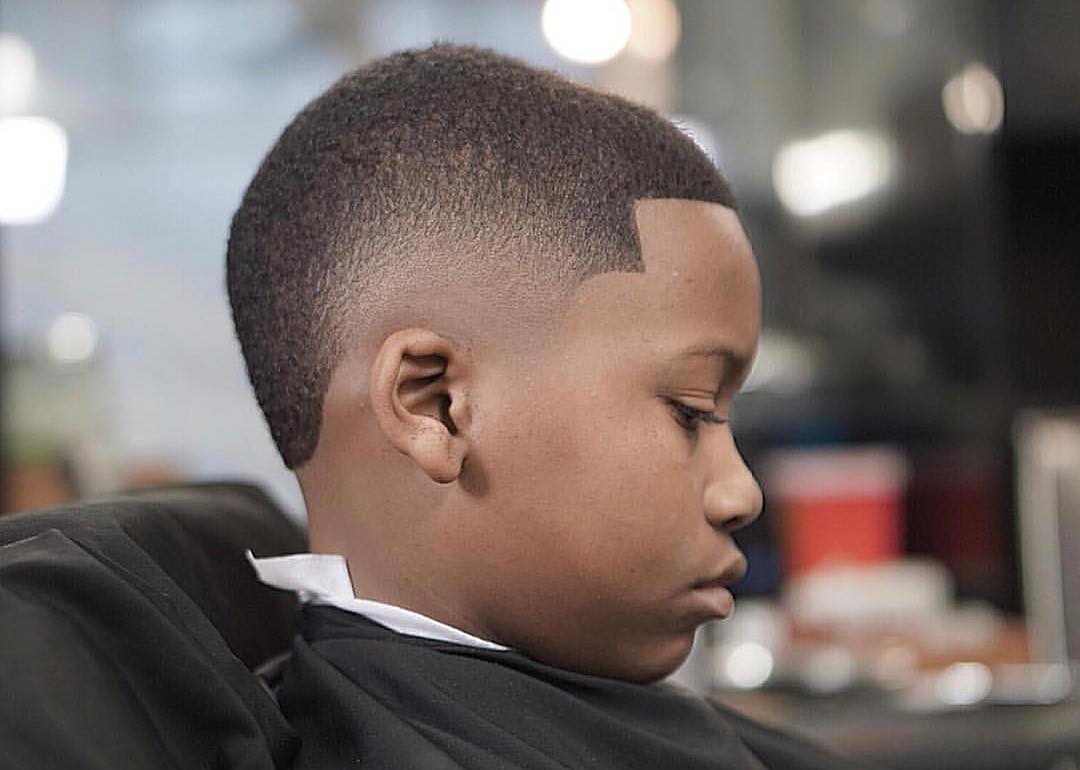 Also known as a South of France, or the Usher haircut, this is short in hair, high in style.
4. Burst Fade Mohawk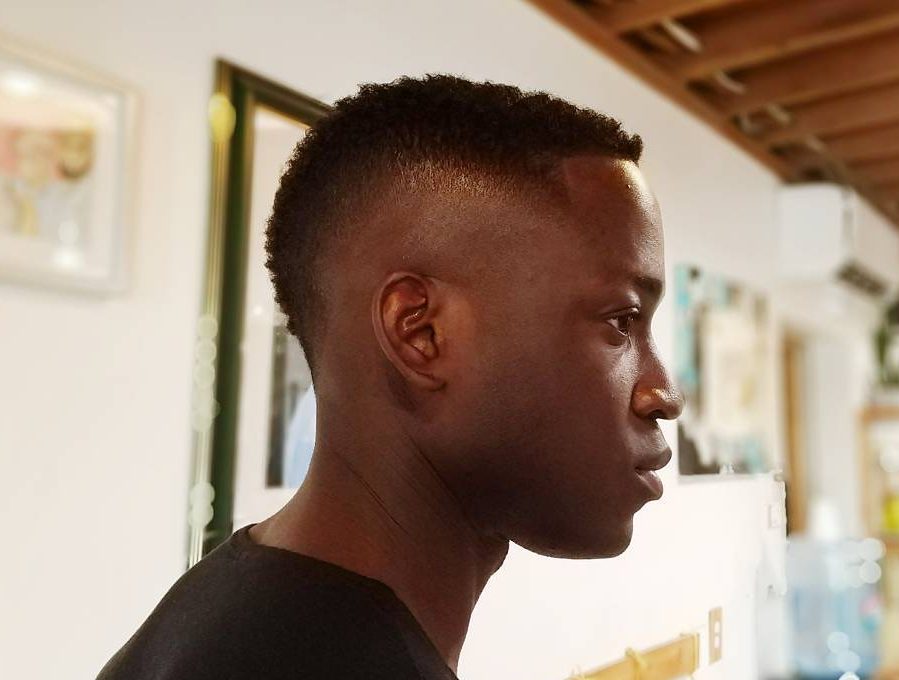 The burst fade mohawk is a popular look for black guys and is also on trend this year.
5. Buzz Cut + Fade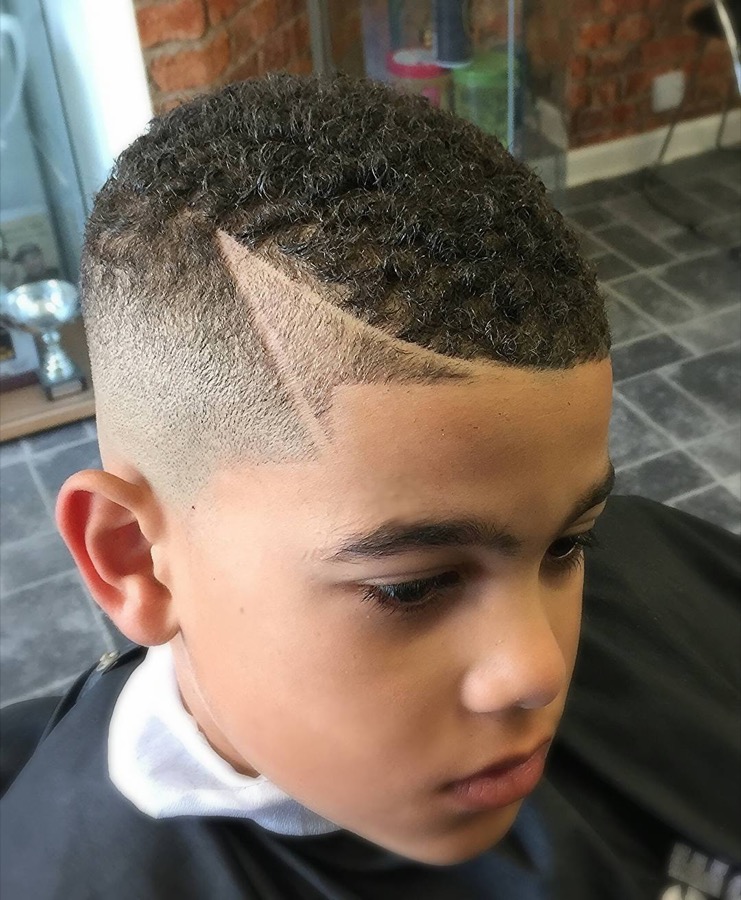 A little bit of length lets out some curl while a V-shaped part brings plenty of style to this wash-and-wear haircut.
6. Neck Taper + Edge Up + Side Burns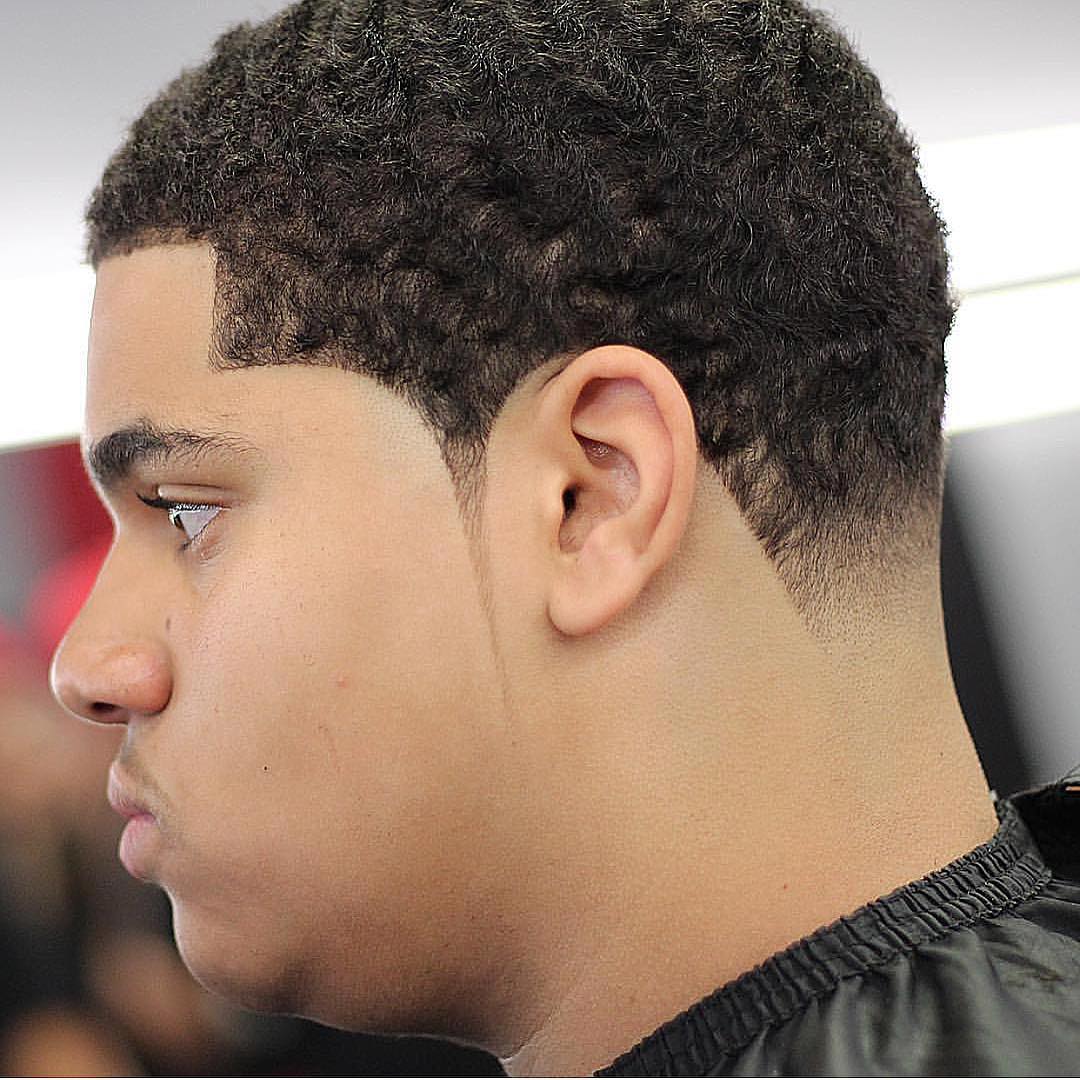 This one length all over haircut gets a barbers touch from a sharp line up, blurry neckline and pointed side burns.
7. Short Curls + Hair Design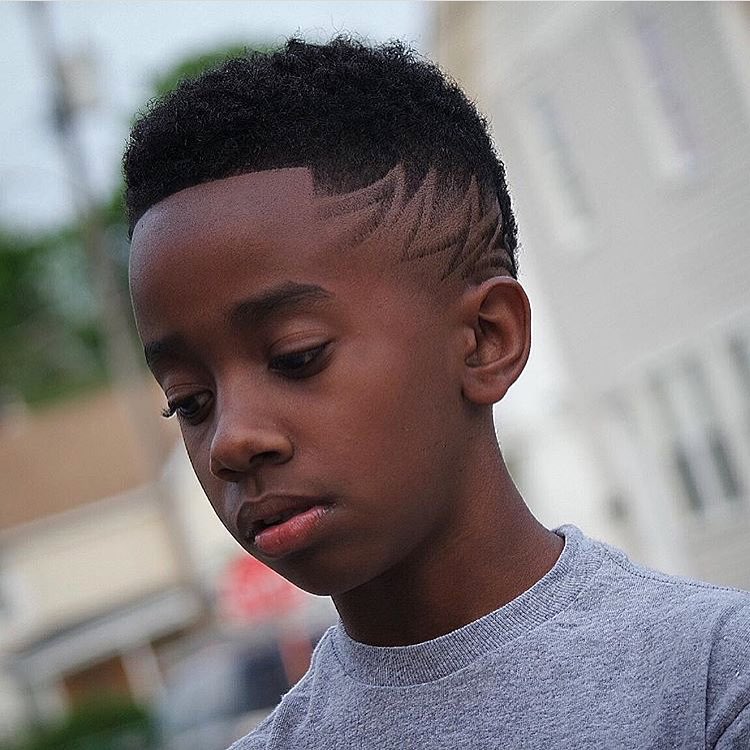 There are endless variation on the buzz + fade + edge up. This one is longer on top and features a jagged hair design behind the ear.
8. Low Bald Fade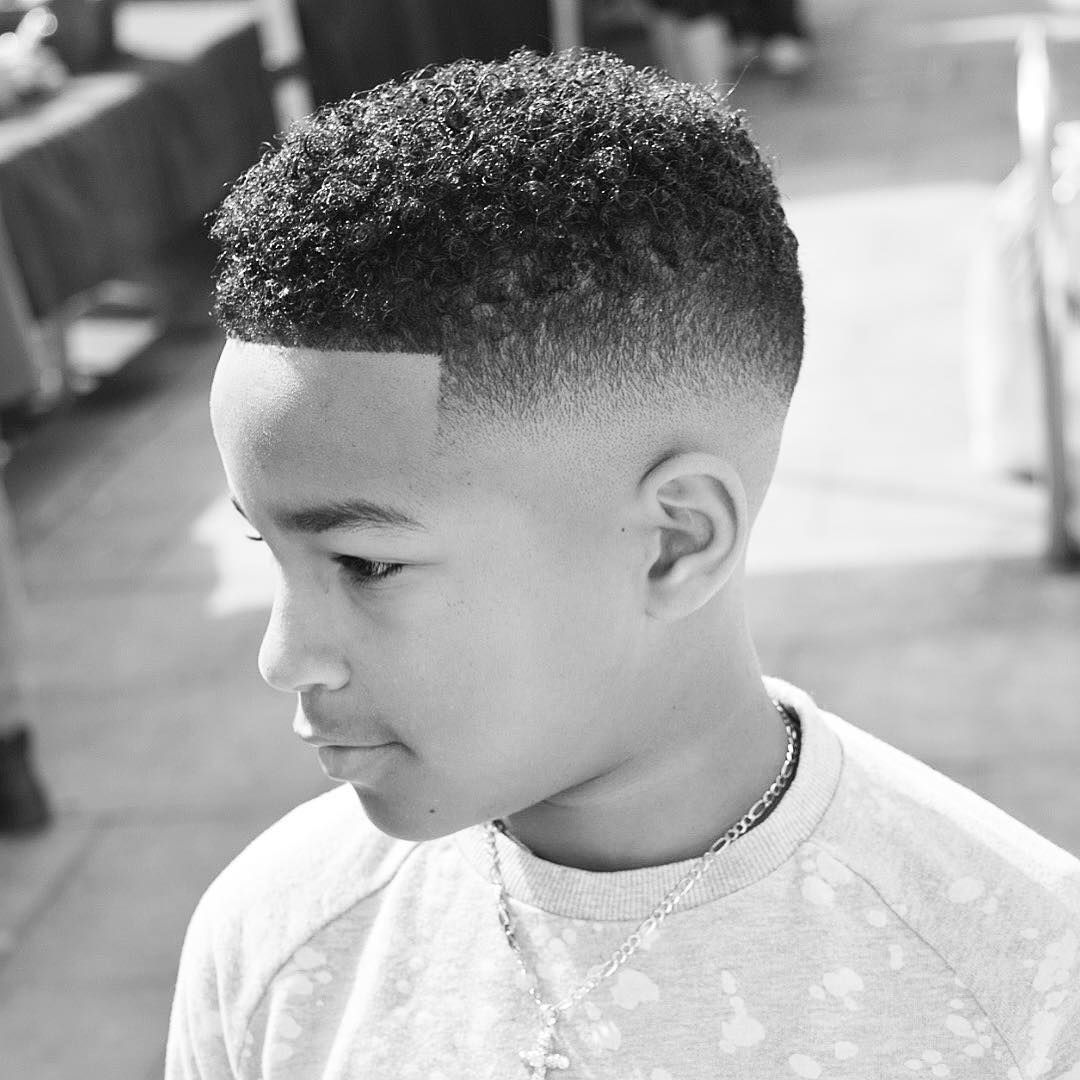 A low bald fade and short curls on top create a classic short sides and back, longer on top haircut.
9. Burst Fade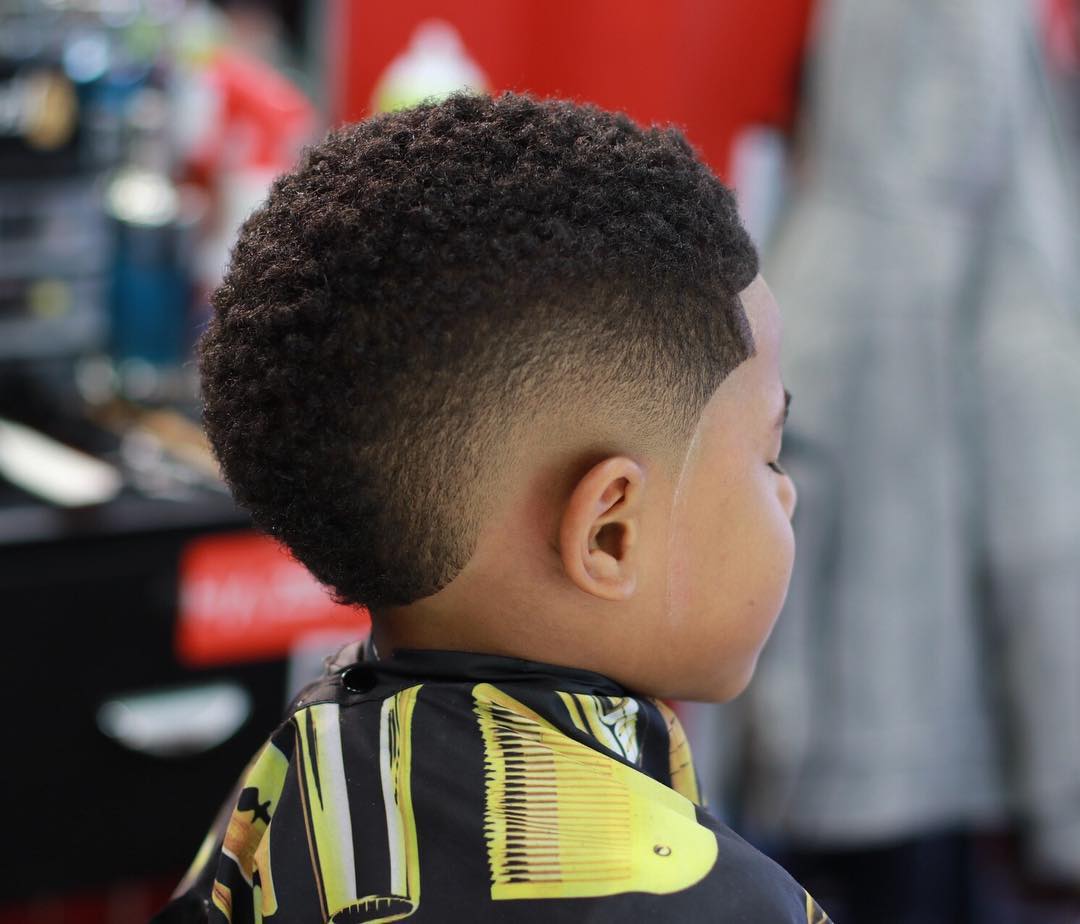 This small burst fade keeps sides tight and leaves a wide curly mohawk.
10. High Fade + Surgical Part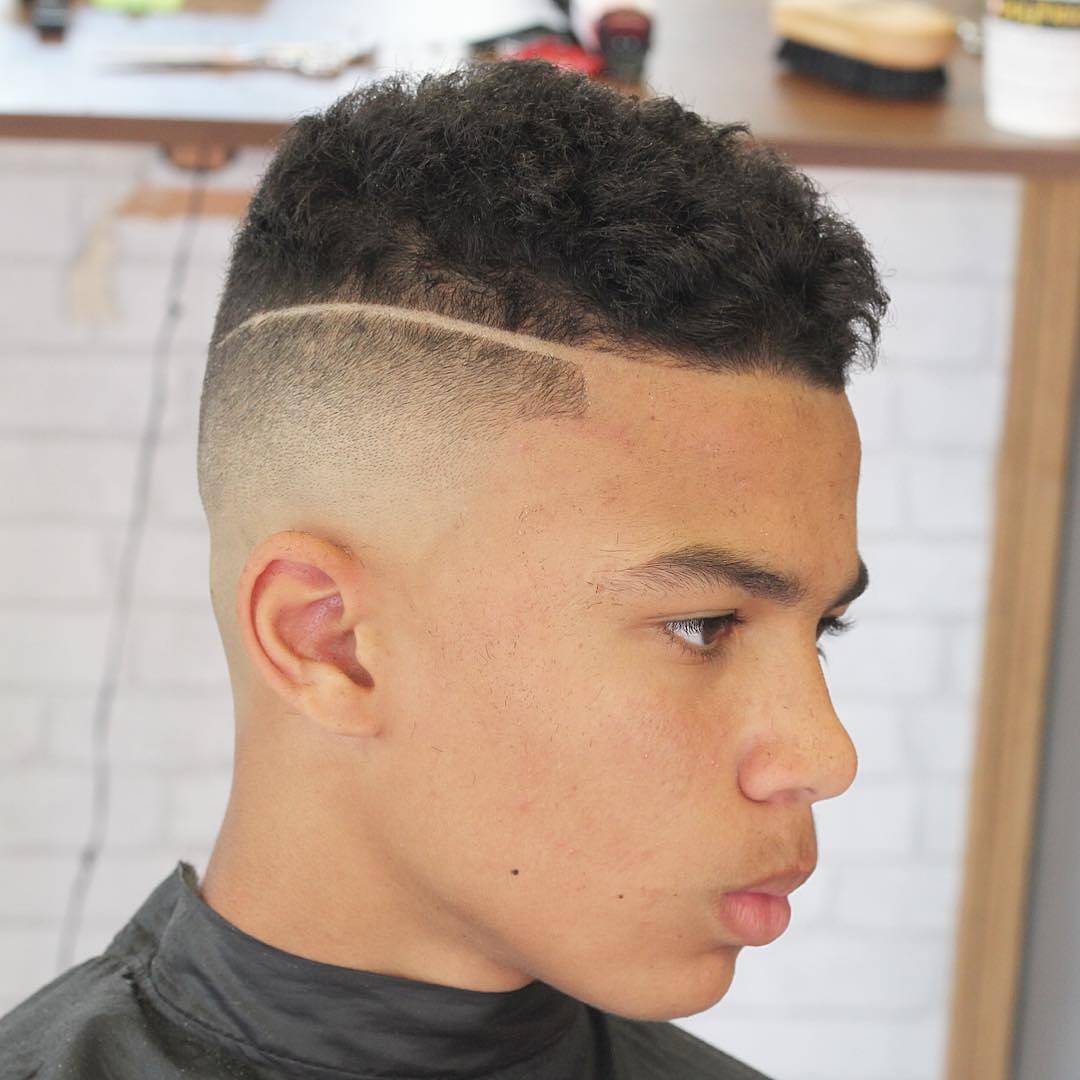 This cool cut leaves curls short on top while a shaved line extends out from a line up and into a high fade. This cut looks good when maintained or growing out.
11. High Fade + Hair Design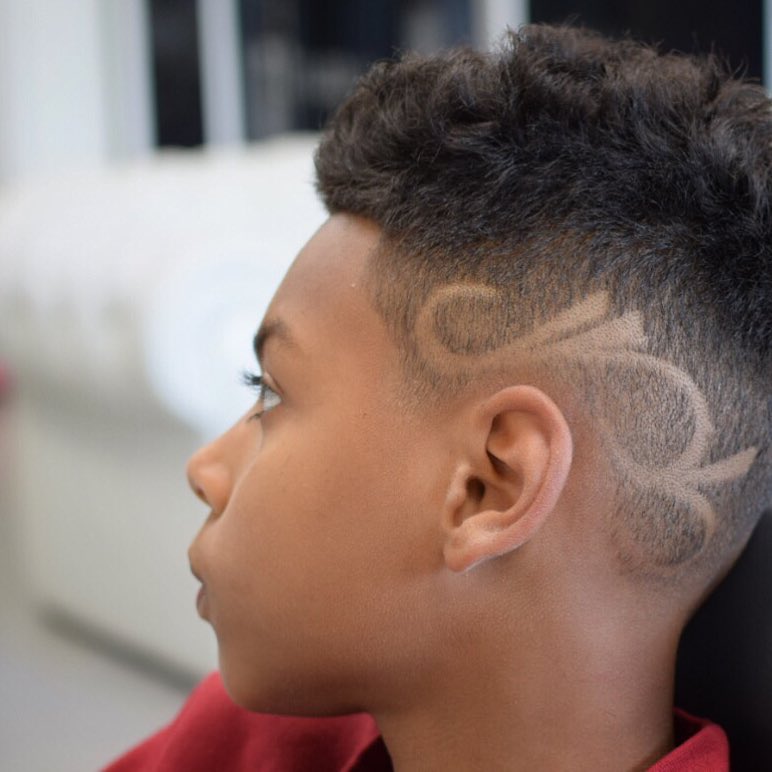 A high fade can be a canvas for a hair design.
12. High Top Fade + Part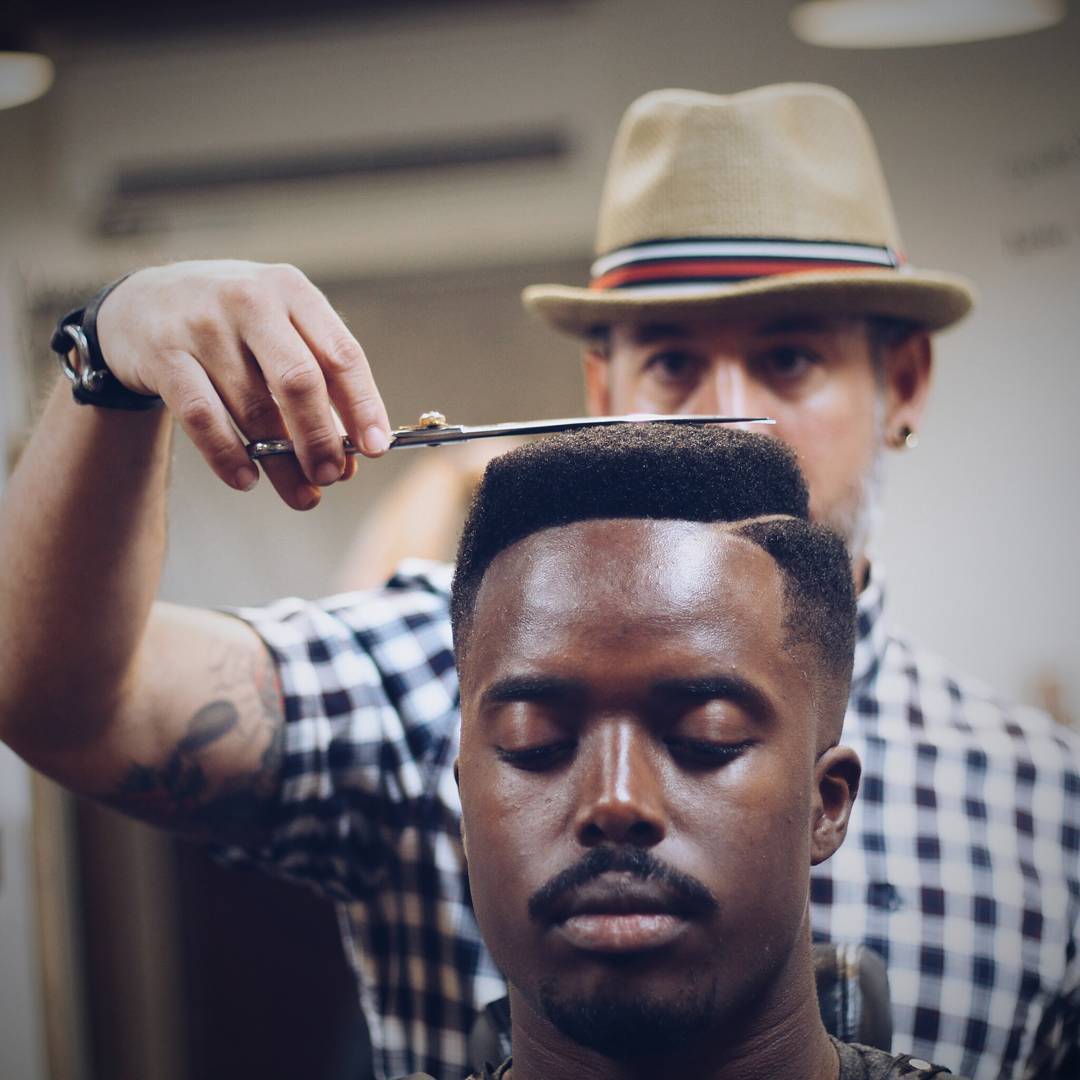 The high top fade is a classic haircut for black men that is back in style this year. It doesn't have to be tall to have presence. A shaved side part and rounded top create a fresh take on the retro style.
13. Frohawk + Hair Design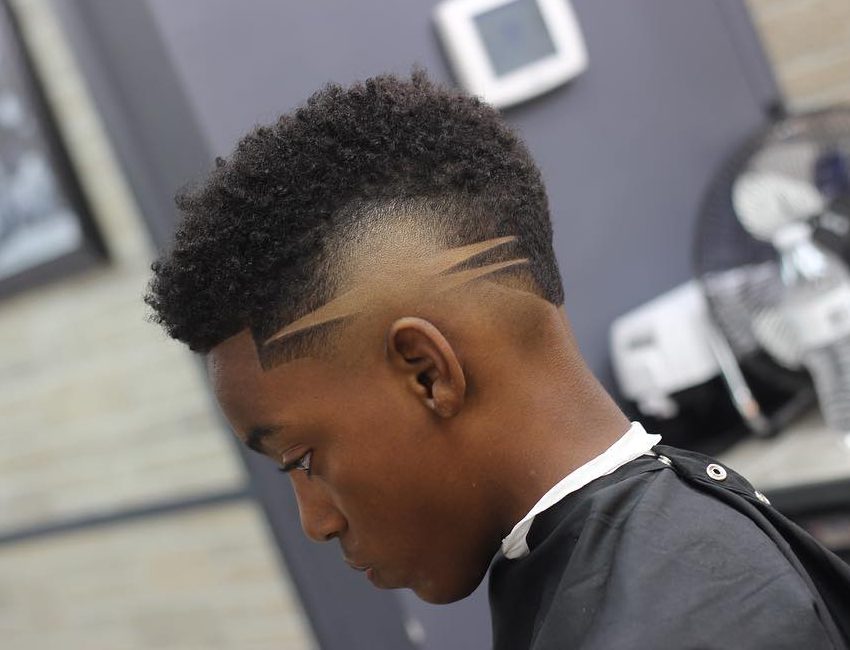 Extra length and an unexpected hair design takes this burst fade mohawk to the next level.
14. Short Afro Fade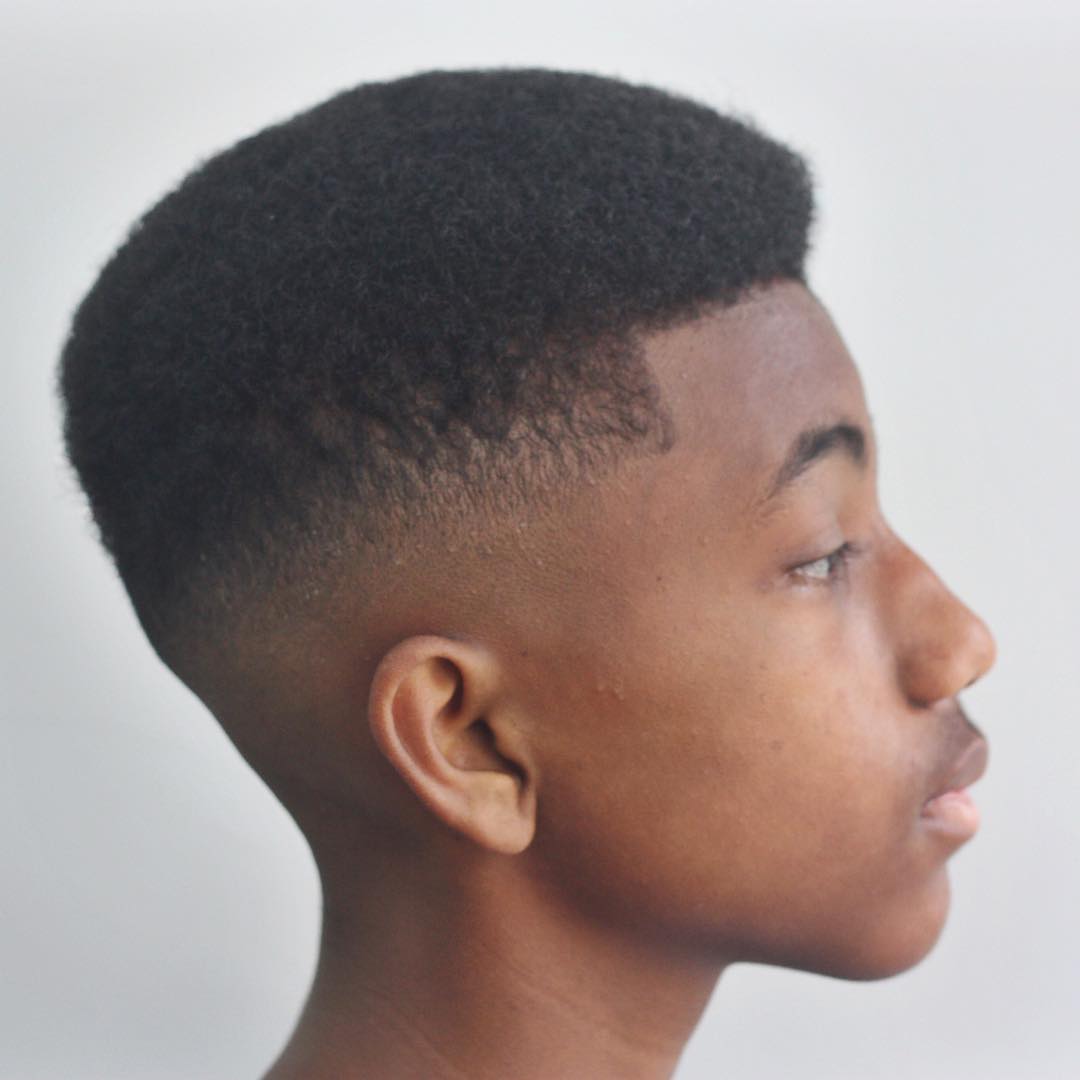 A different way to rock the afro, this short version adds a mid fade for a modern profile.
15. Medium Curls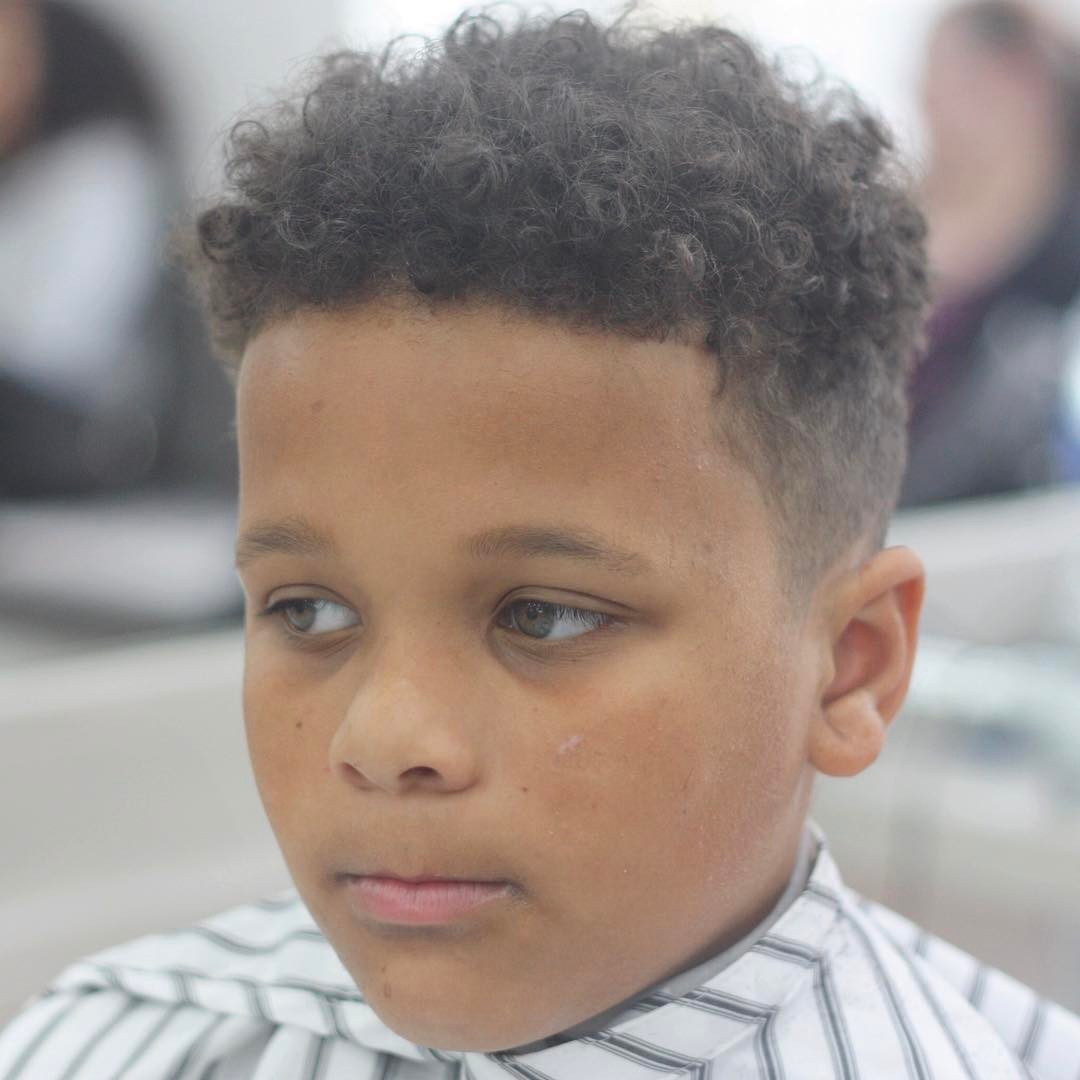 Curly hair looks great and doesn't need to be cut short for boys. This high fade haircut leaves plenty of curl on top but is still easy to manage.
16. High Top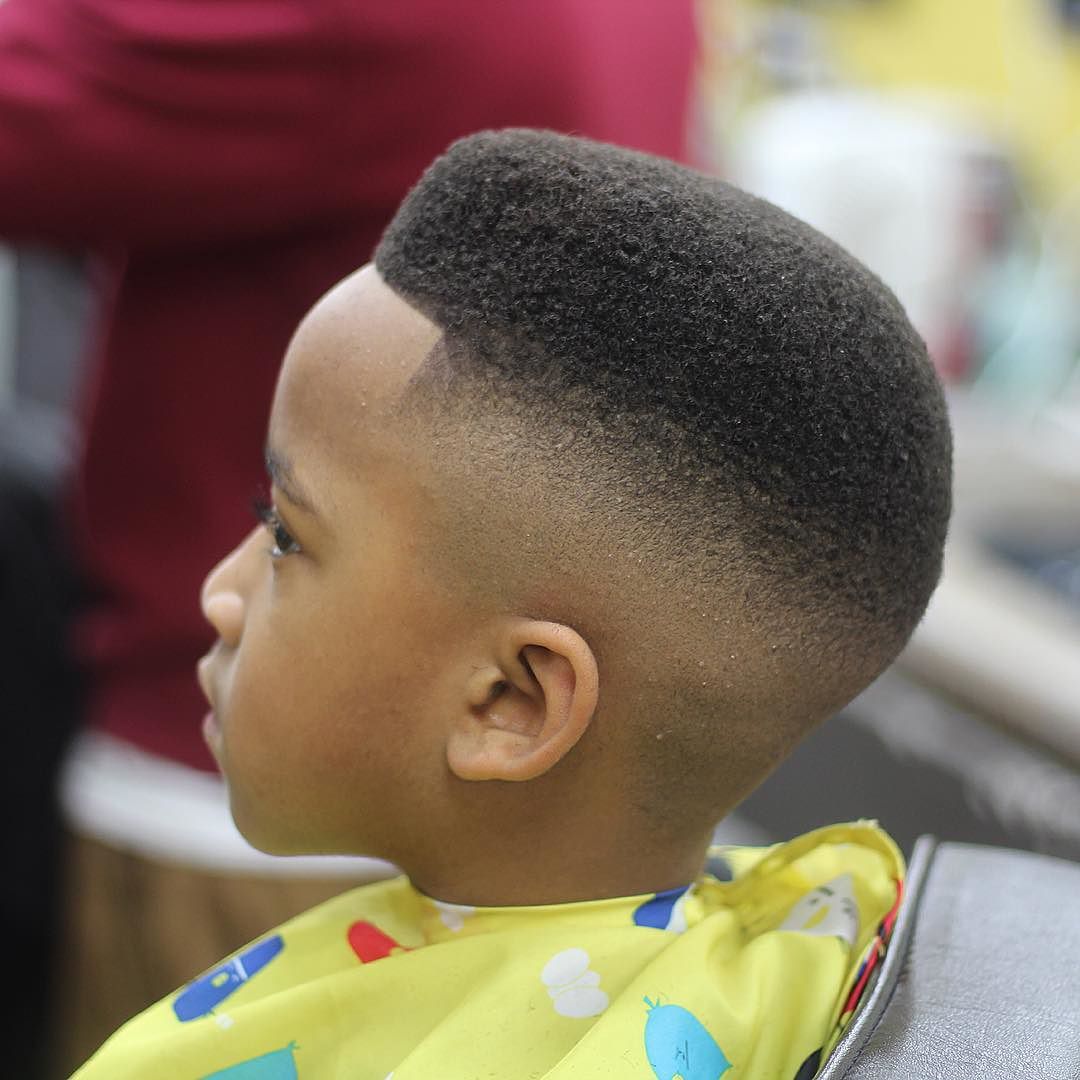 This rounded high top is a cool cut for black boys and men.
17. Curly Hair + Mid Fade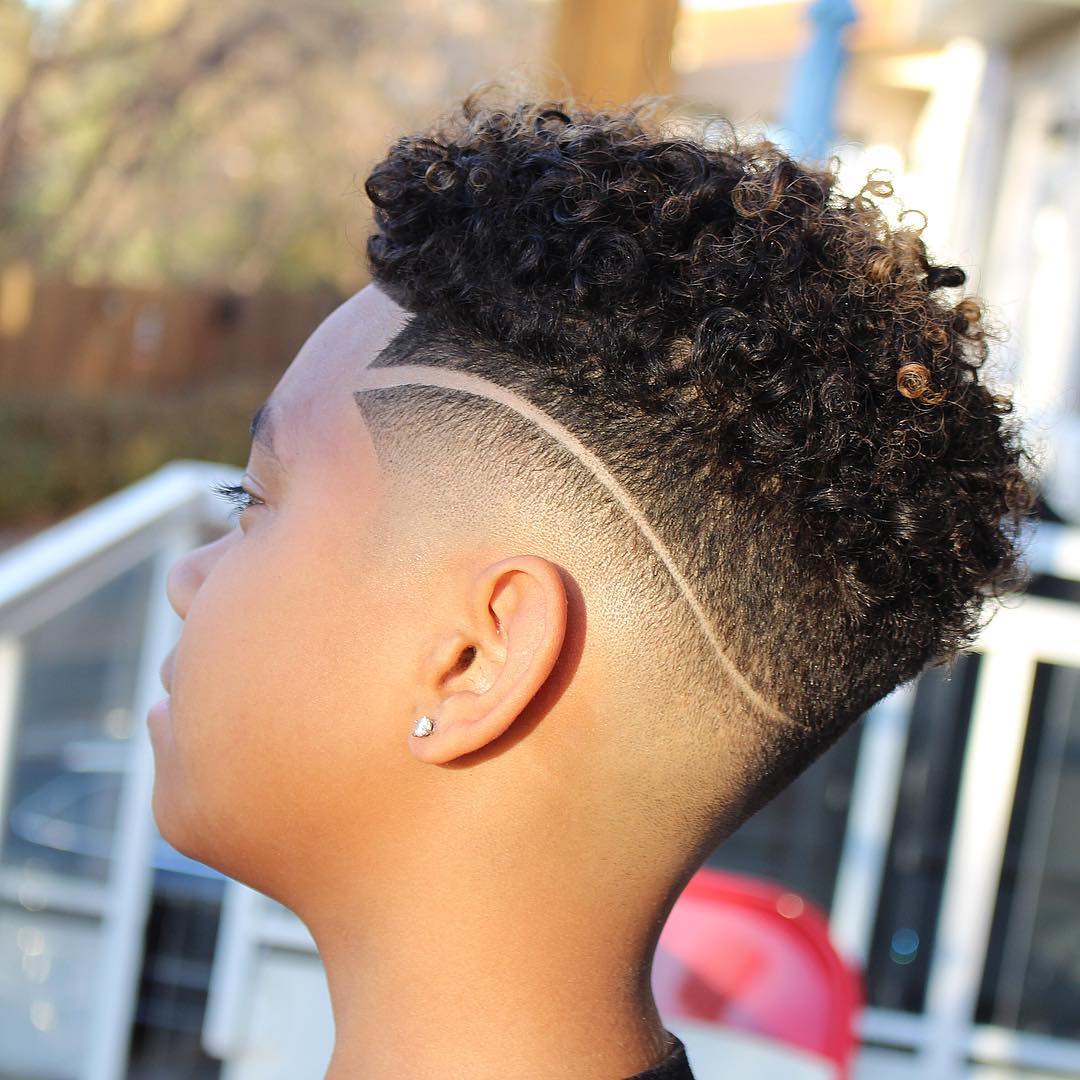 Lots of curl, a few highlights and a shaved line make this mid fade haircut something to talk about.
18. Curly High Top Fade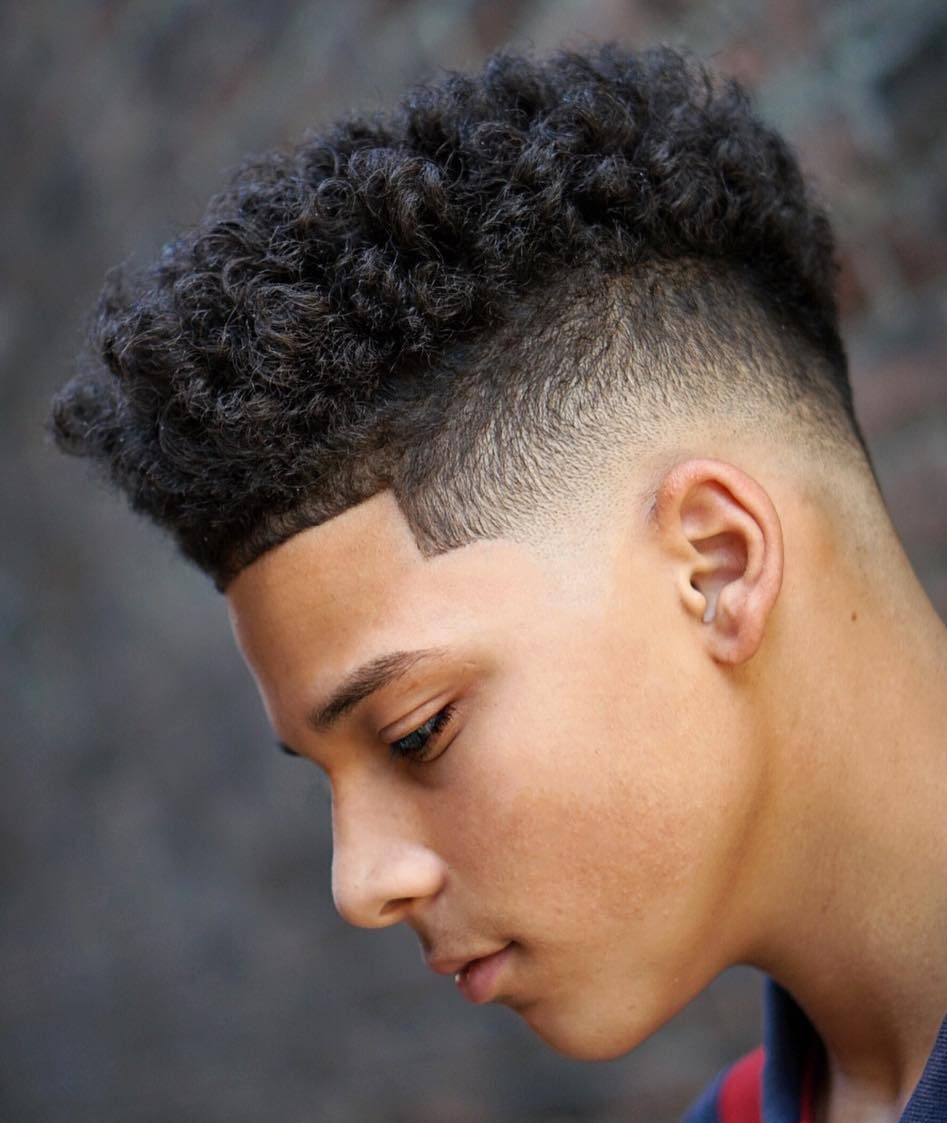 Looser curls can also be worn in a high top. A drop fade adds a cool shape to this modern classic.
19. Short Afro for Men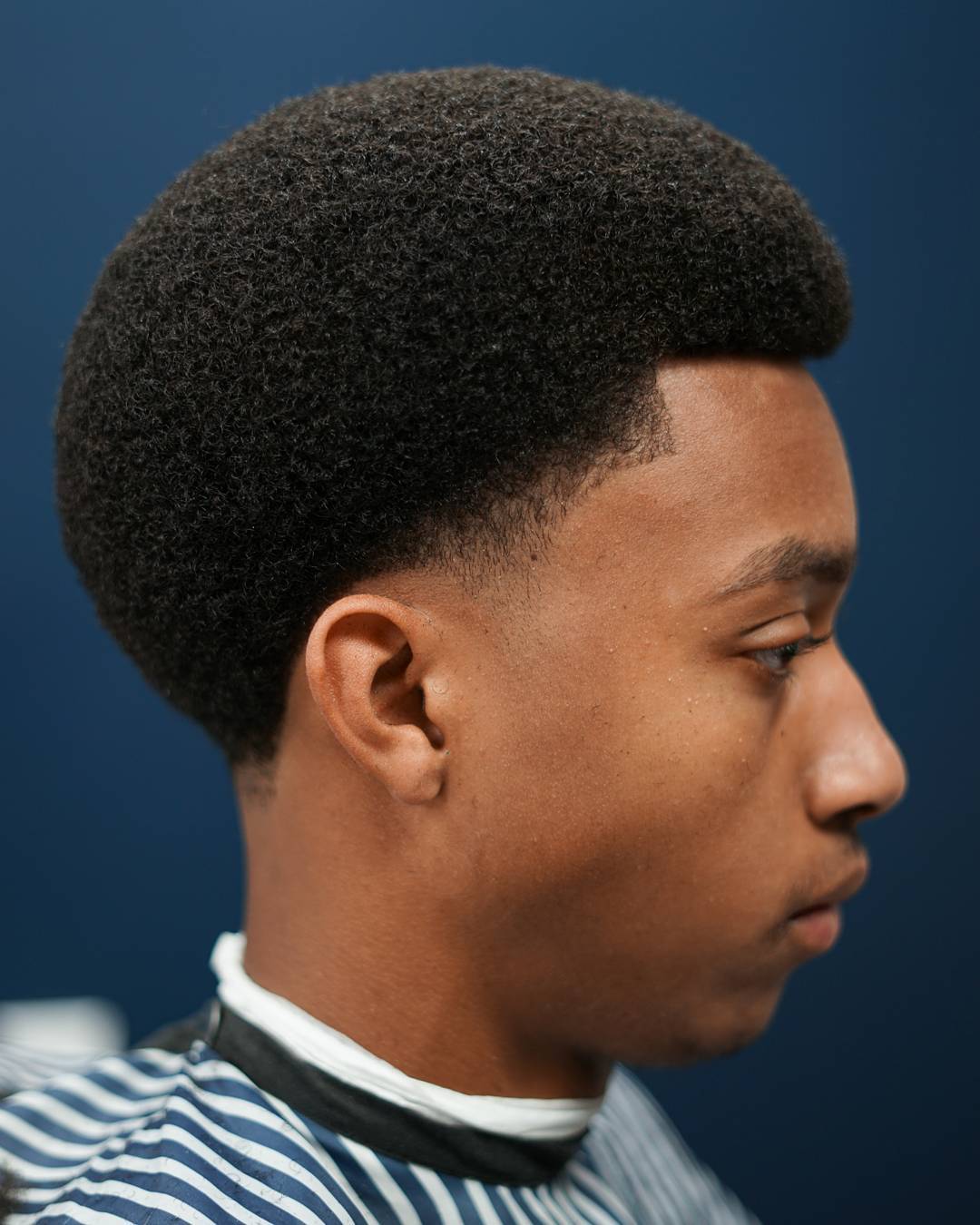 Afro hairstyles don't have to oversized. This shorter version has that rounded profile with a lot less work.
20. Curly High Top + Hair Design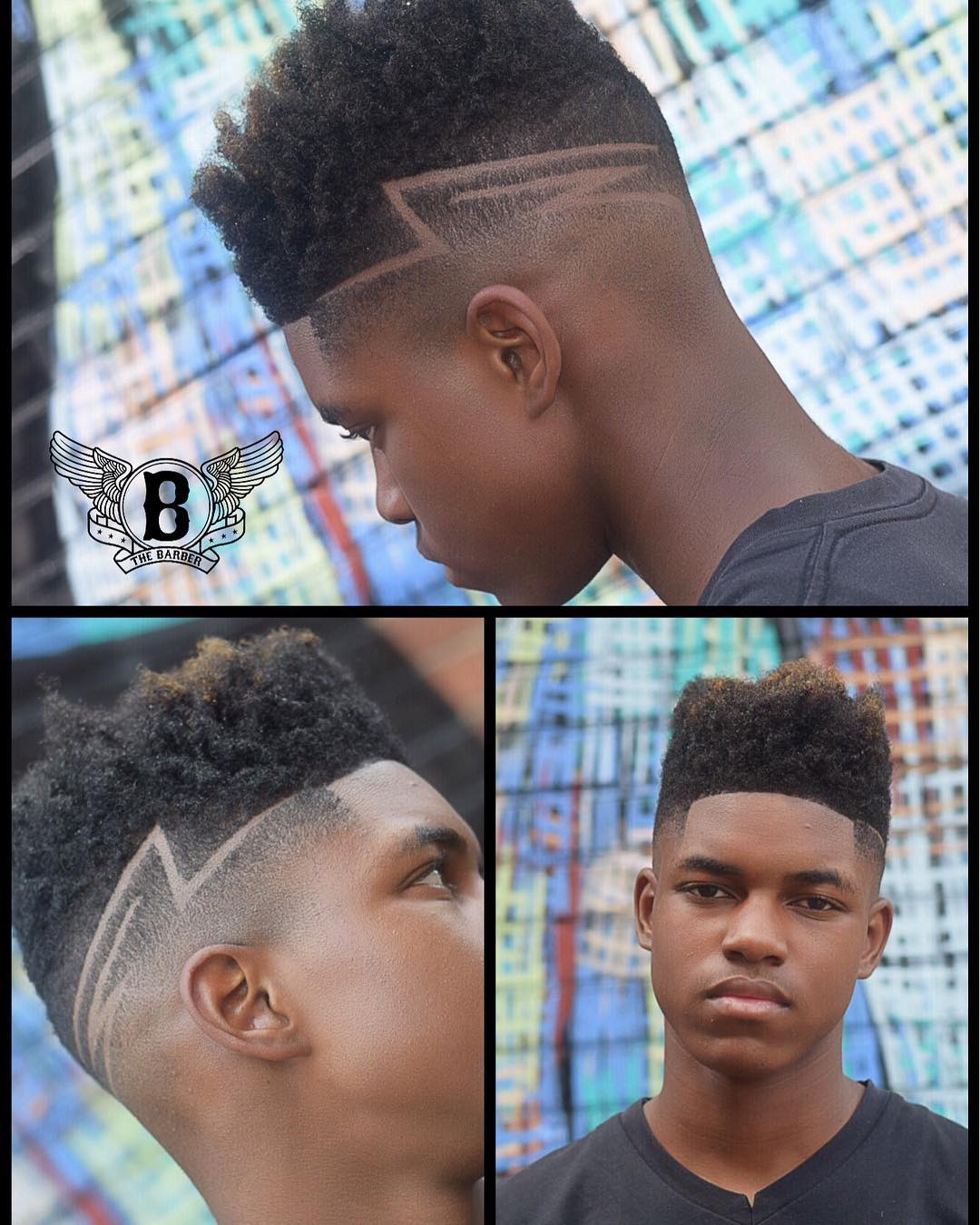 A the zig zag lines of a lightening bolt hair design contrasts with coiled curls on top.
21. Twists + Low Bald Fade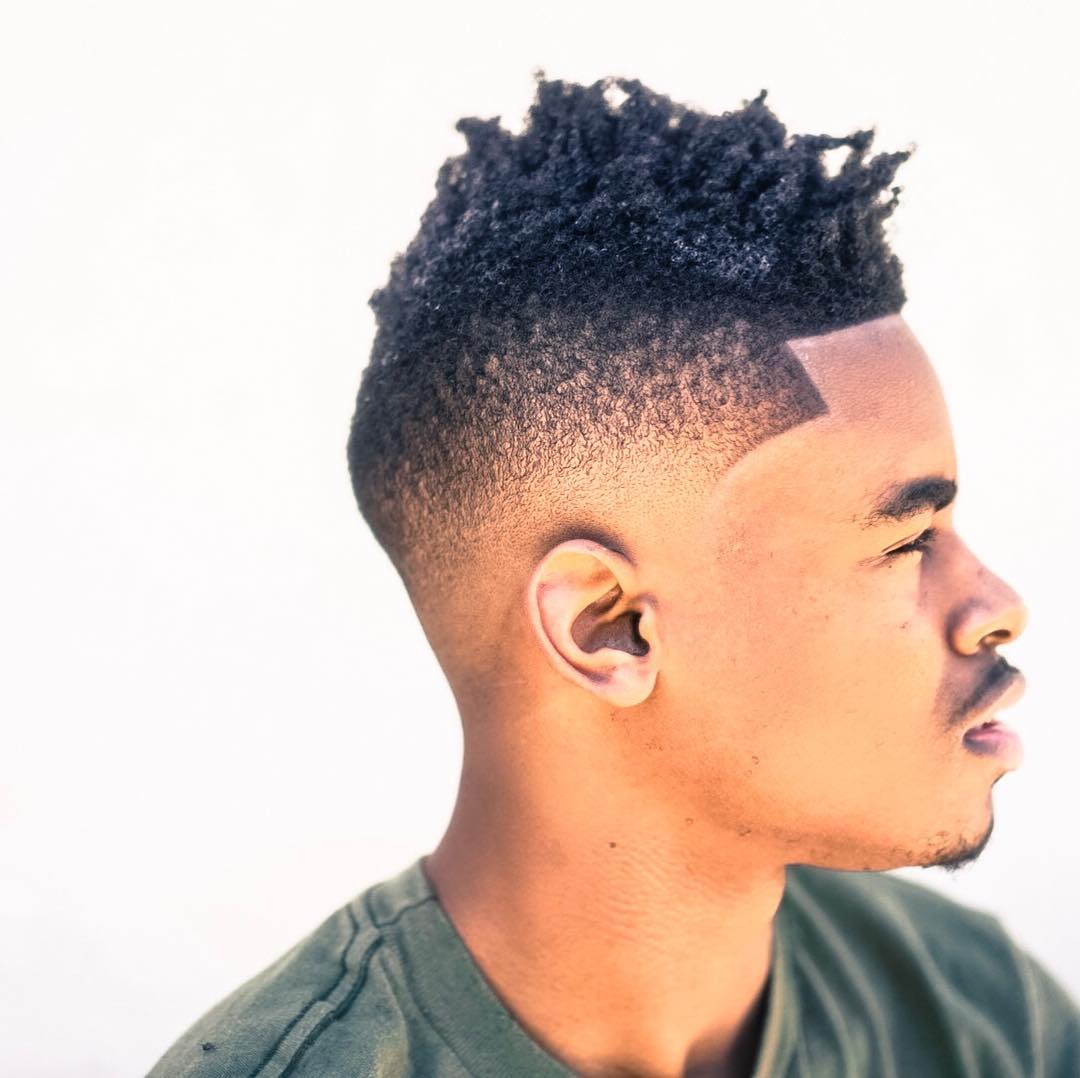 Longer hairstyle with locs or twist look so good set against a fade.
22. Curly Mohawk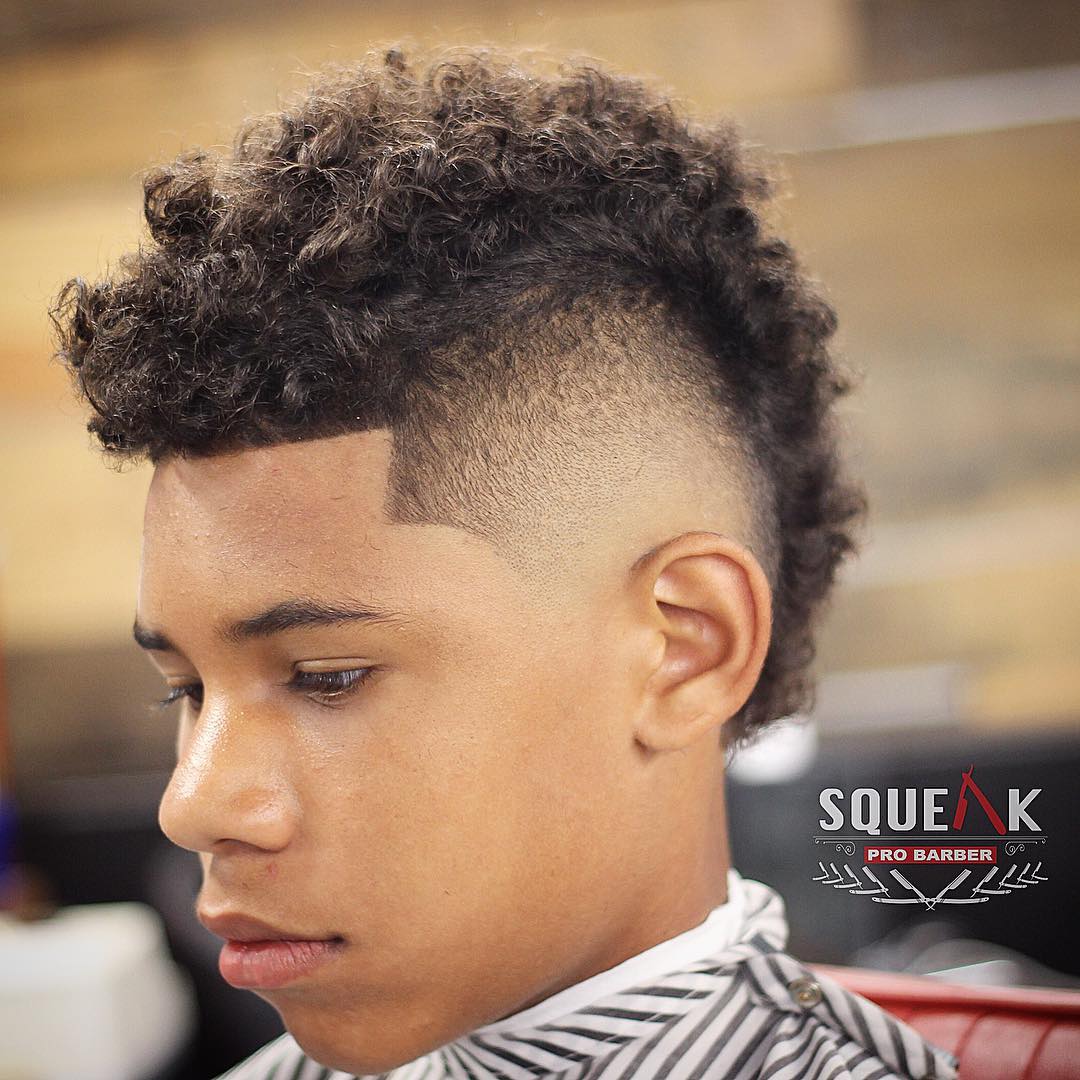 Longer hair adds even more height to this mohawk fade.
23. Medium Length Curls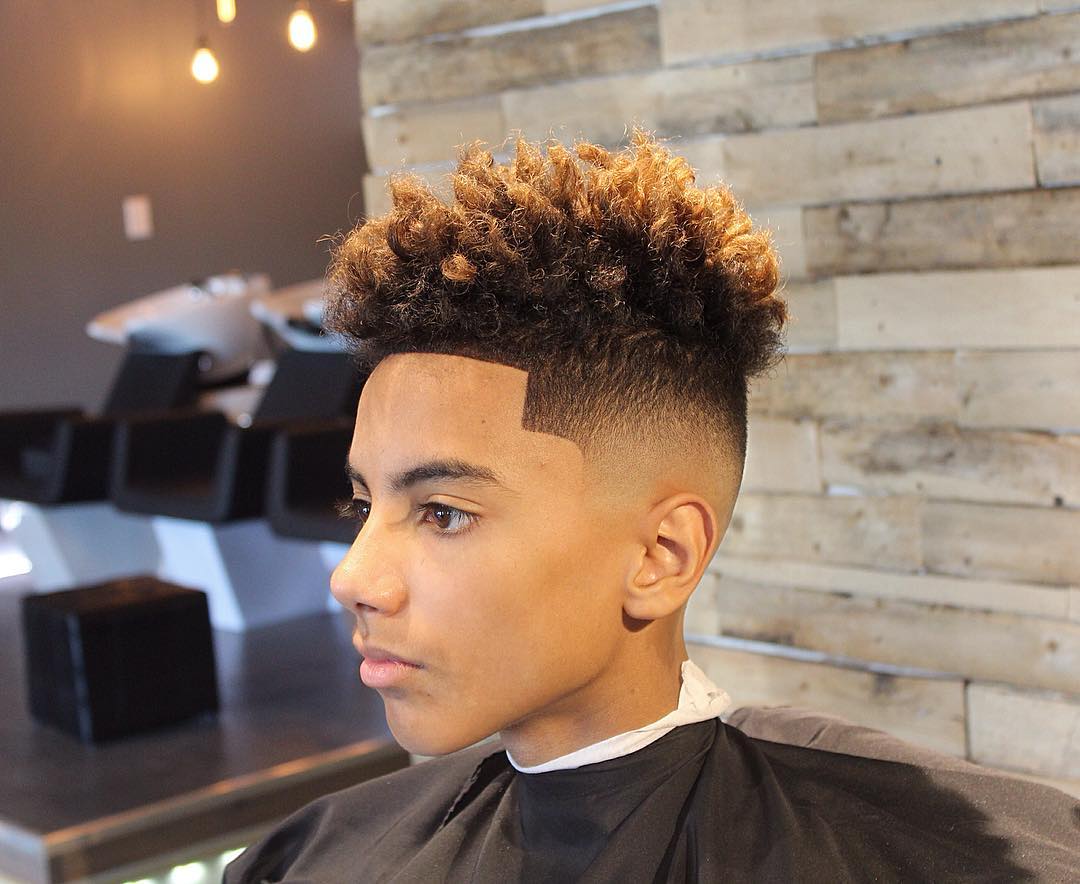 Light tips add emphasis to curly hair worn straight up.
24. Mohawk + V-Shaped Neckline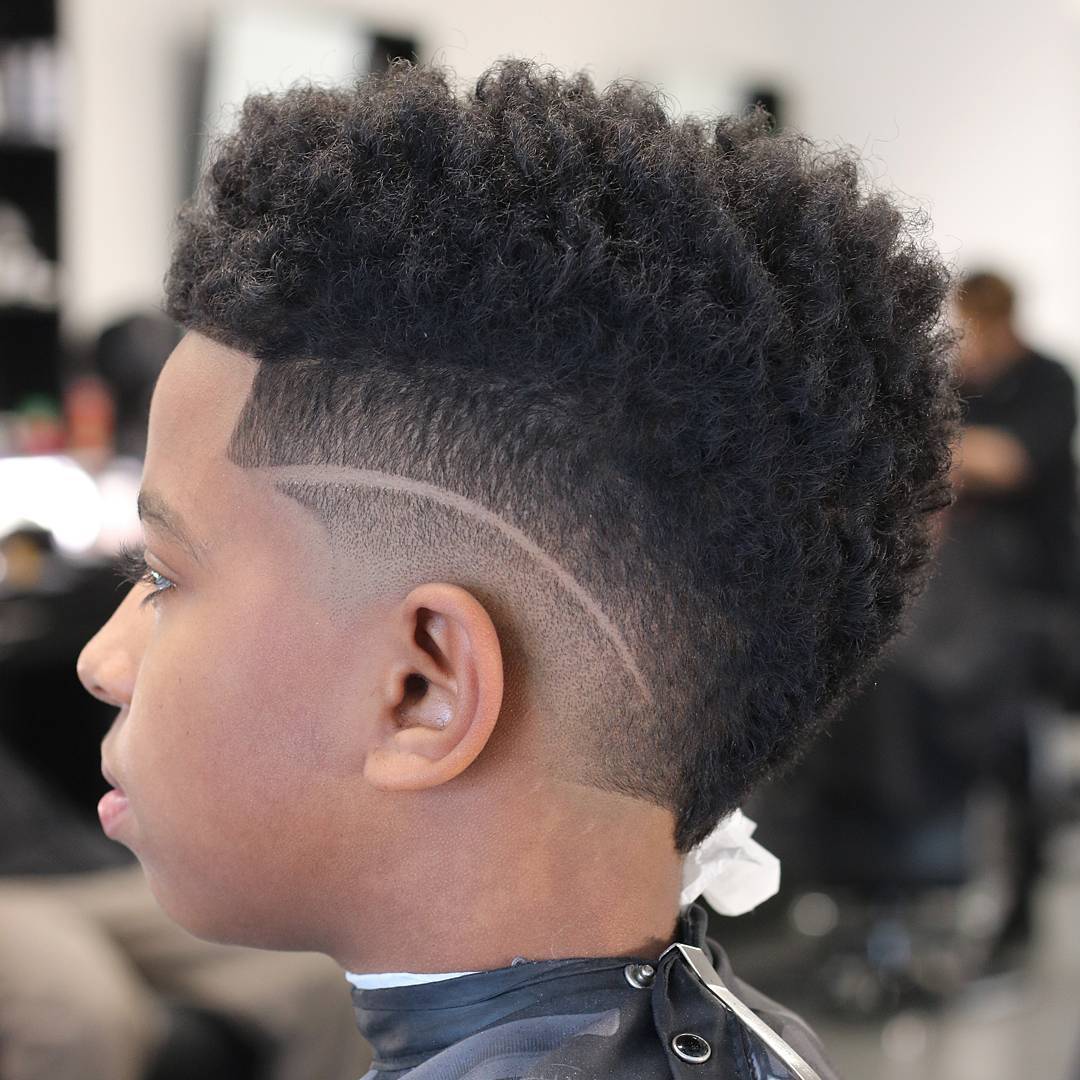 The V-shaped neckline is one of the coolest ways to finish a mohawk haircut.
25. Curly Hi-Top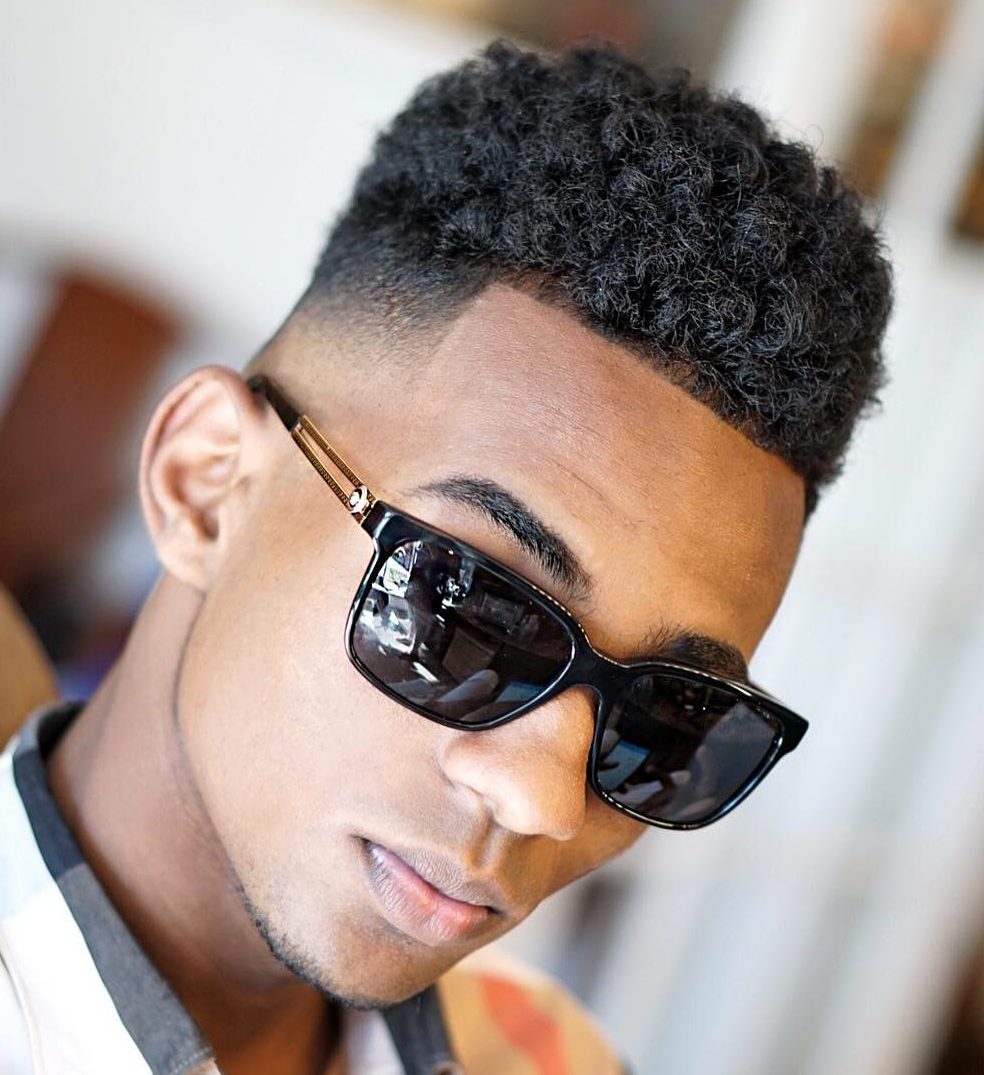 The flat top is just one way to rock the hi-top haircut. This version with visible curls and a rounded edges has the same height but a different profile.
26. Drop Fade Haircut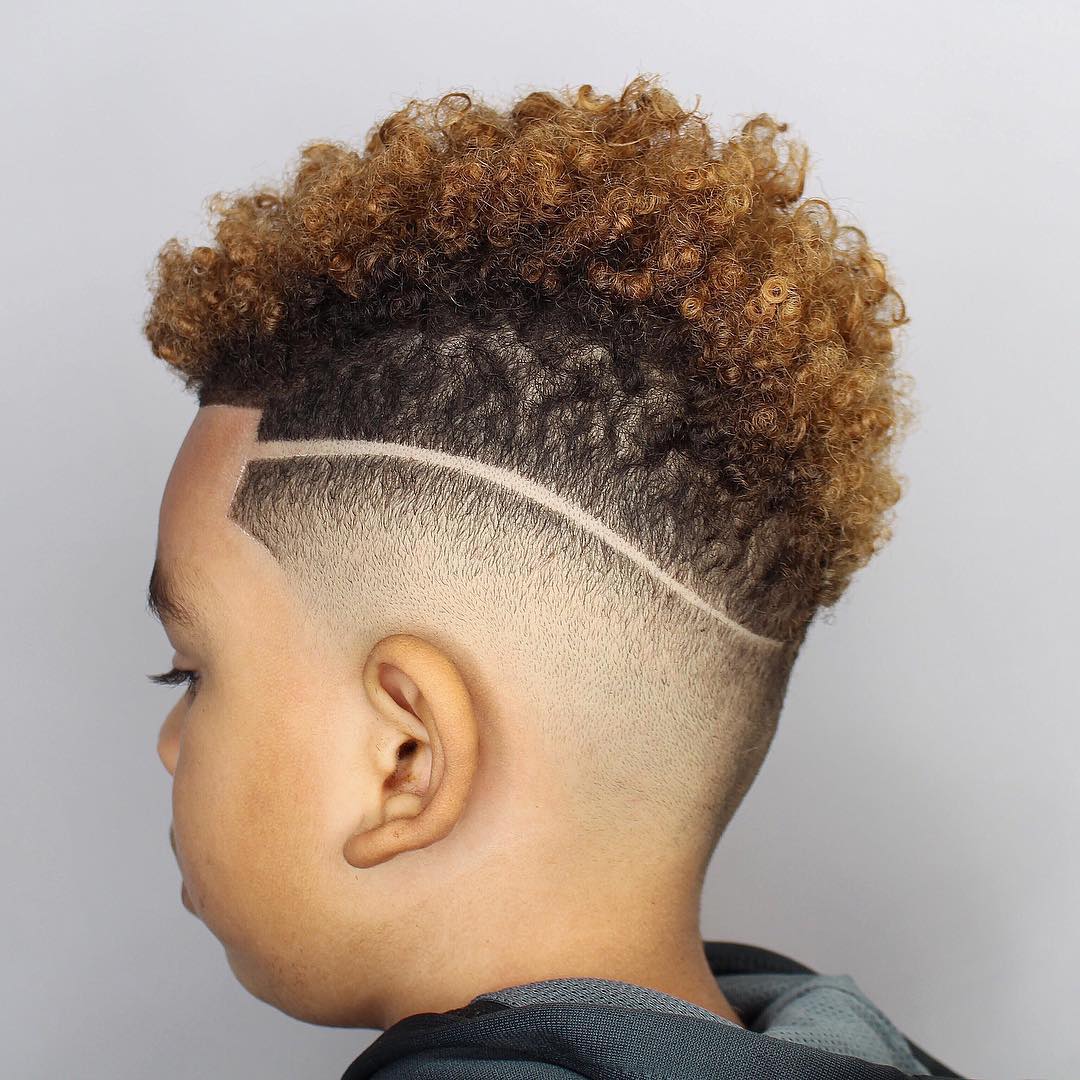 Hair color and a shaved part all reinforce the lines of this drop fade haircut.
27. Twists + Temple Fade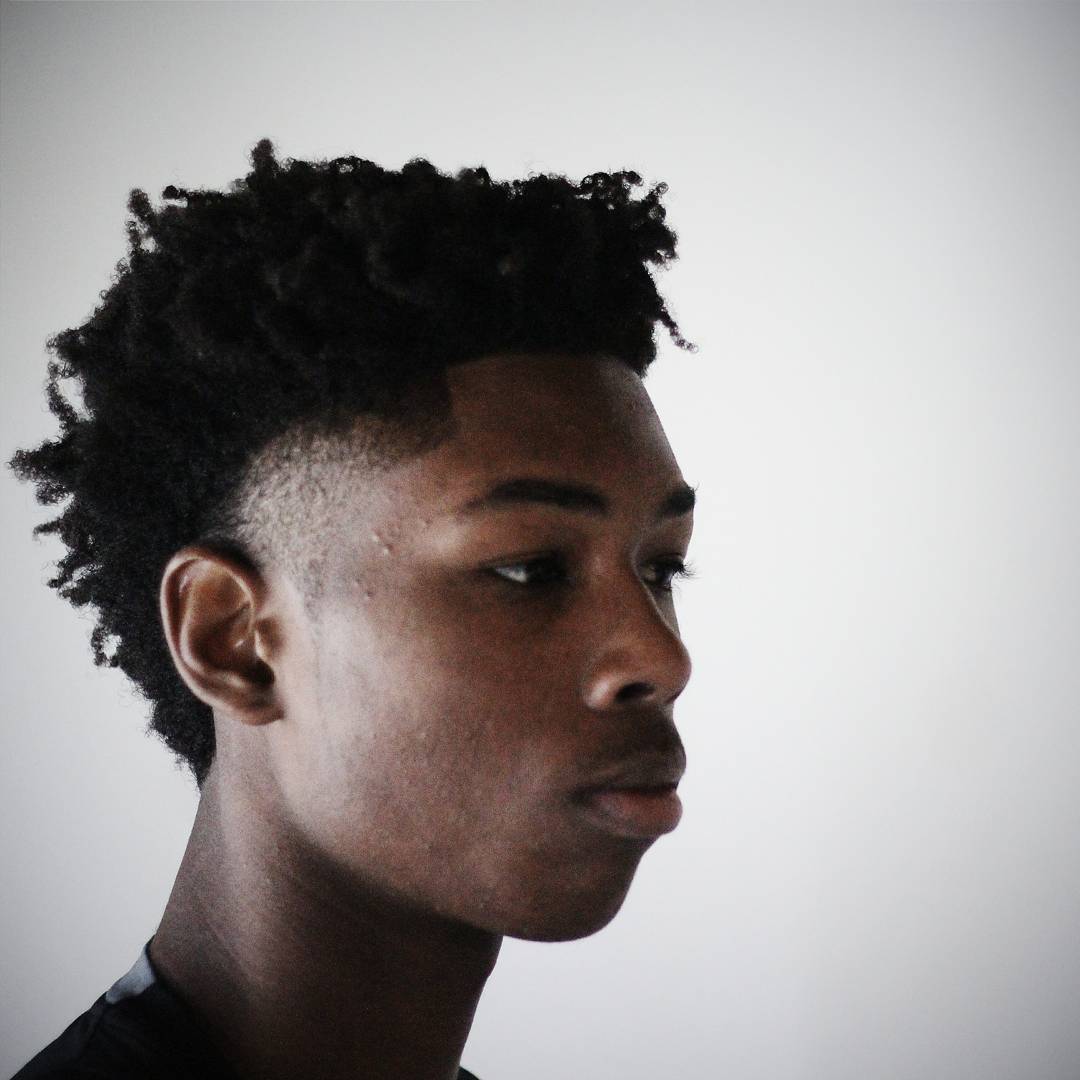 A lot of men's hairstyles are getting longer these days and that is true for curly and black hair too. This medium length cut lets curls free with a line up and temple fade to clean up the edges.
28. Medium Length Curls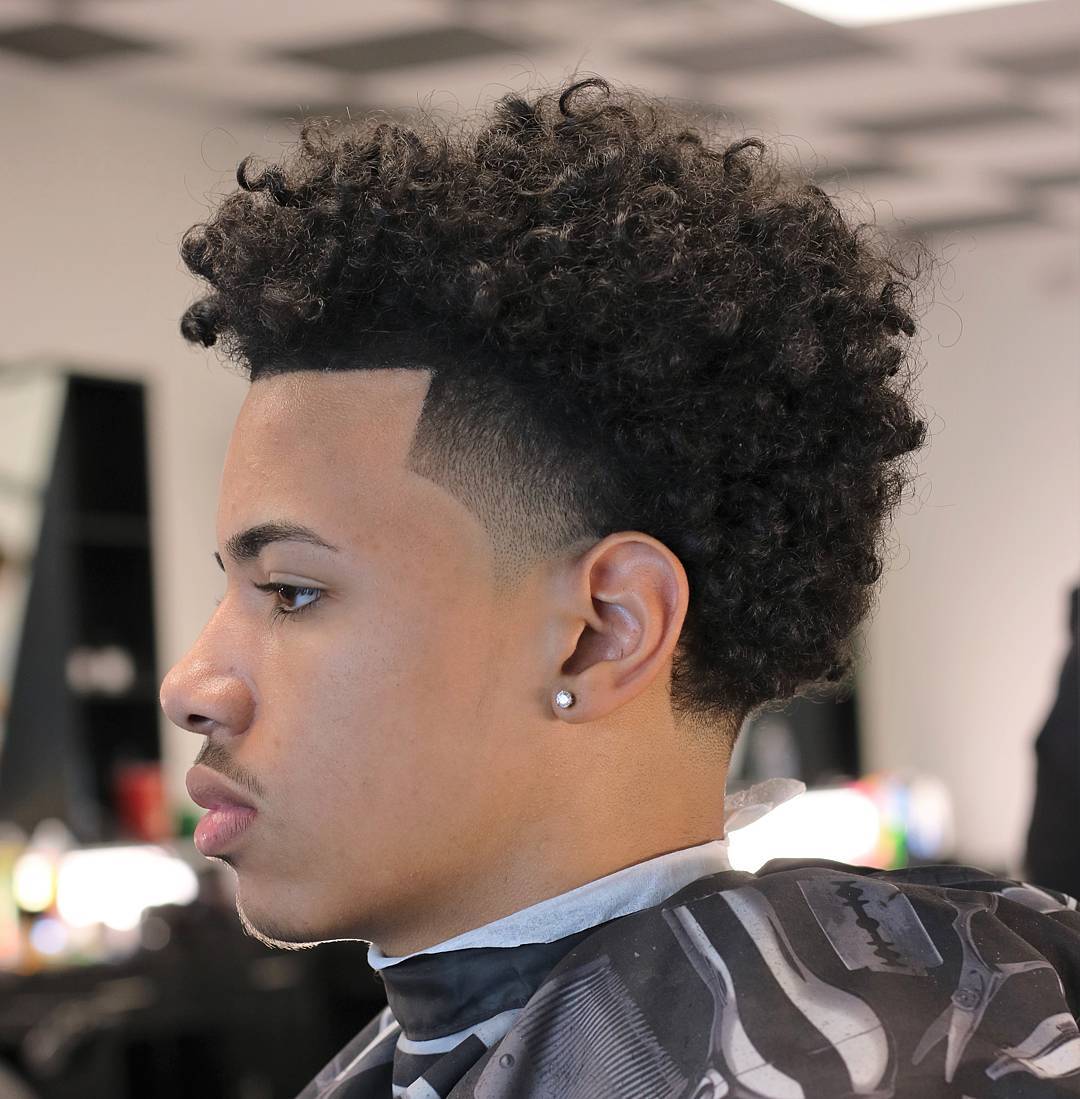 The same medium length hair and temple fade cut looks different with curls instead of twists.
29. High Flat Top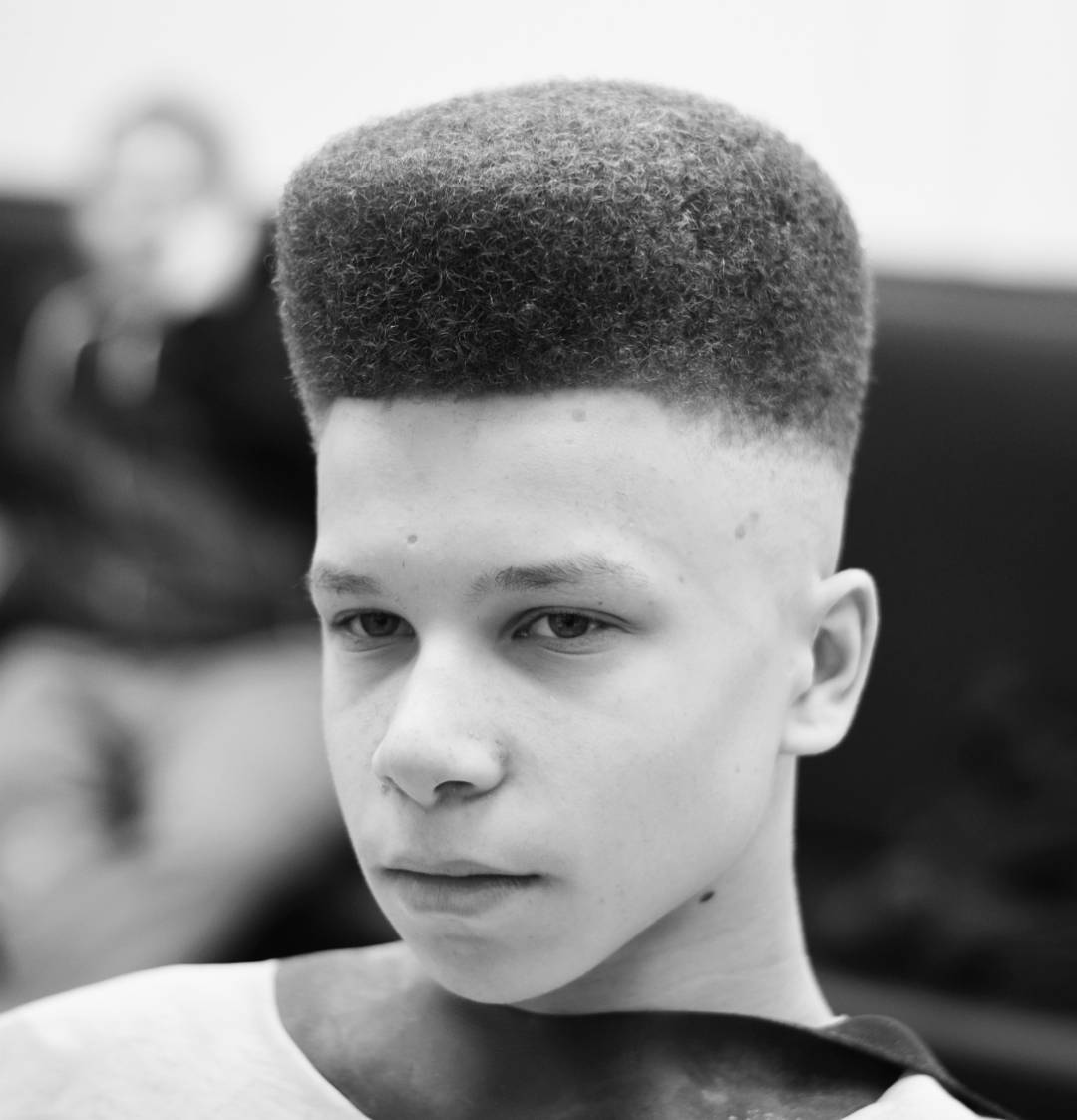 In addition to other classic black hairstyles, the flat top is back.
30. Kinky High Top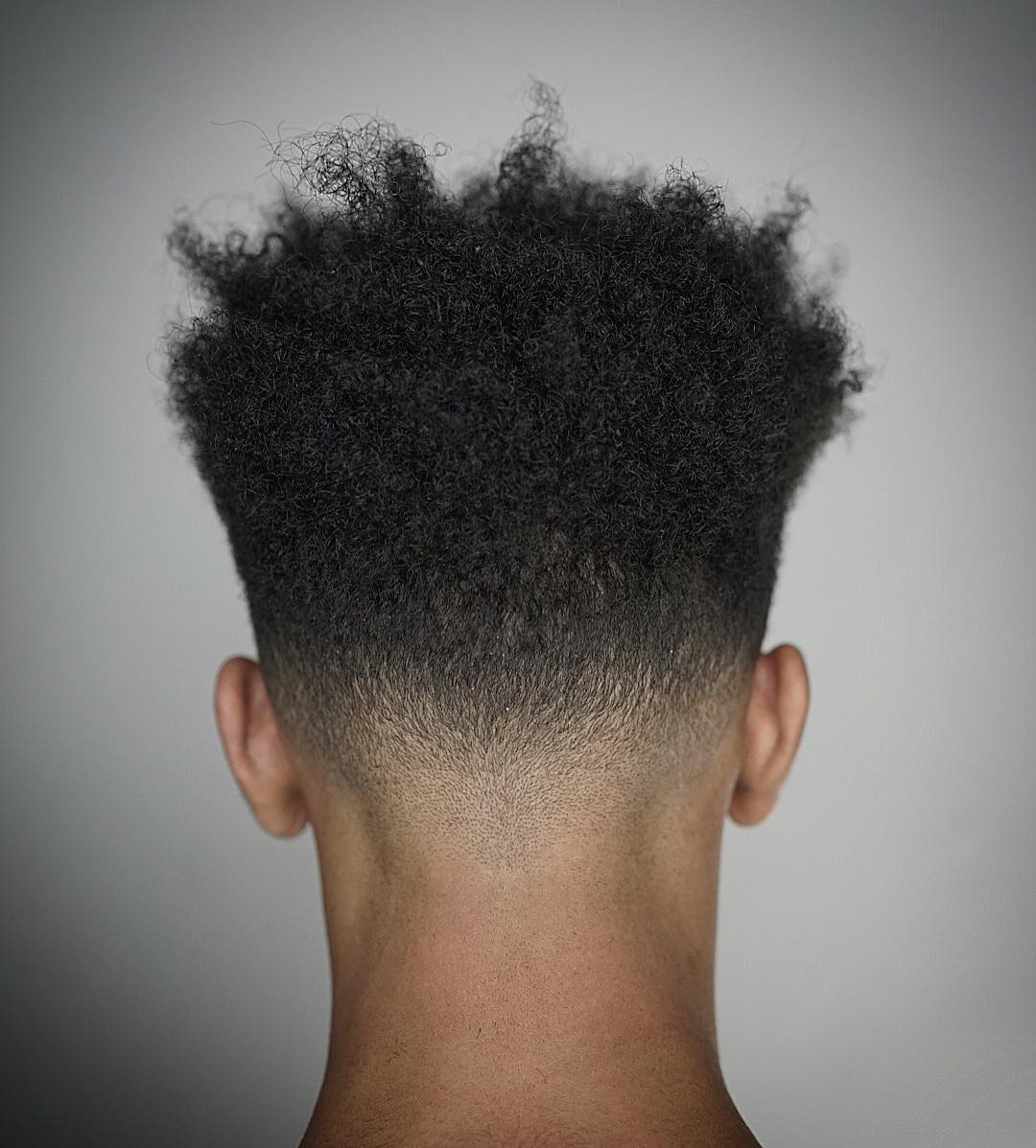 Kinky hair leaves a natural edge to this high top haircut.
31. Long Afro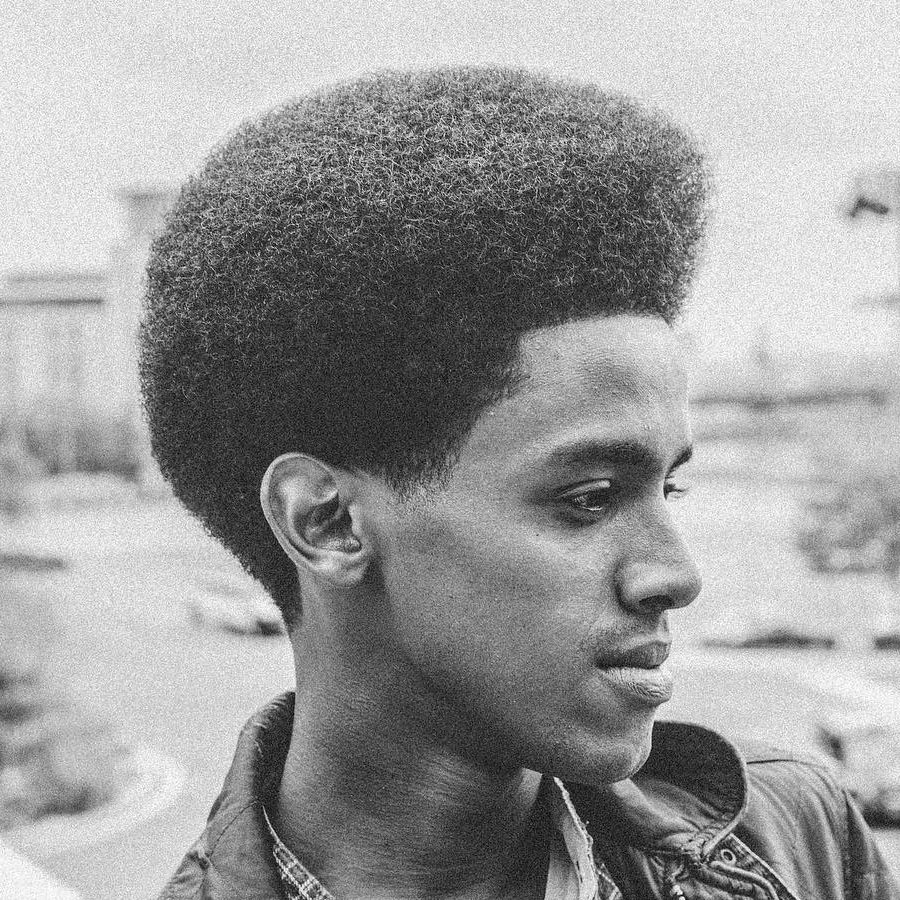 The afro is an attention-getting haircut no matter what year it is.
32. Afro for Black Boys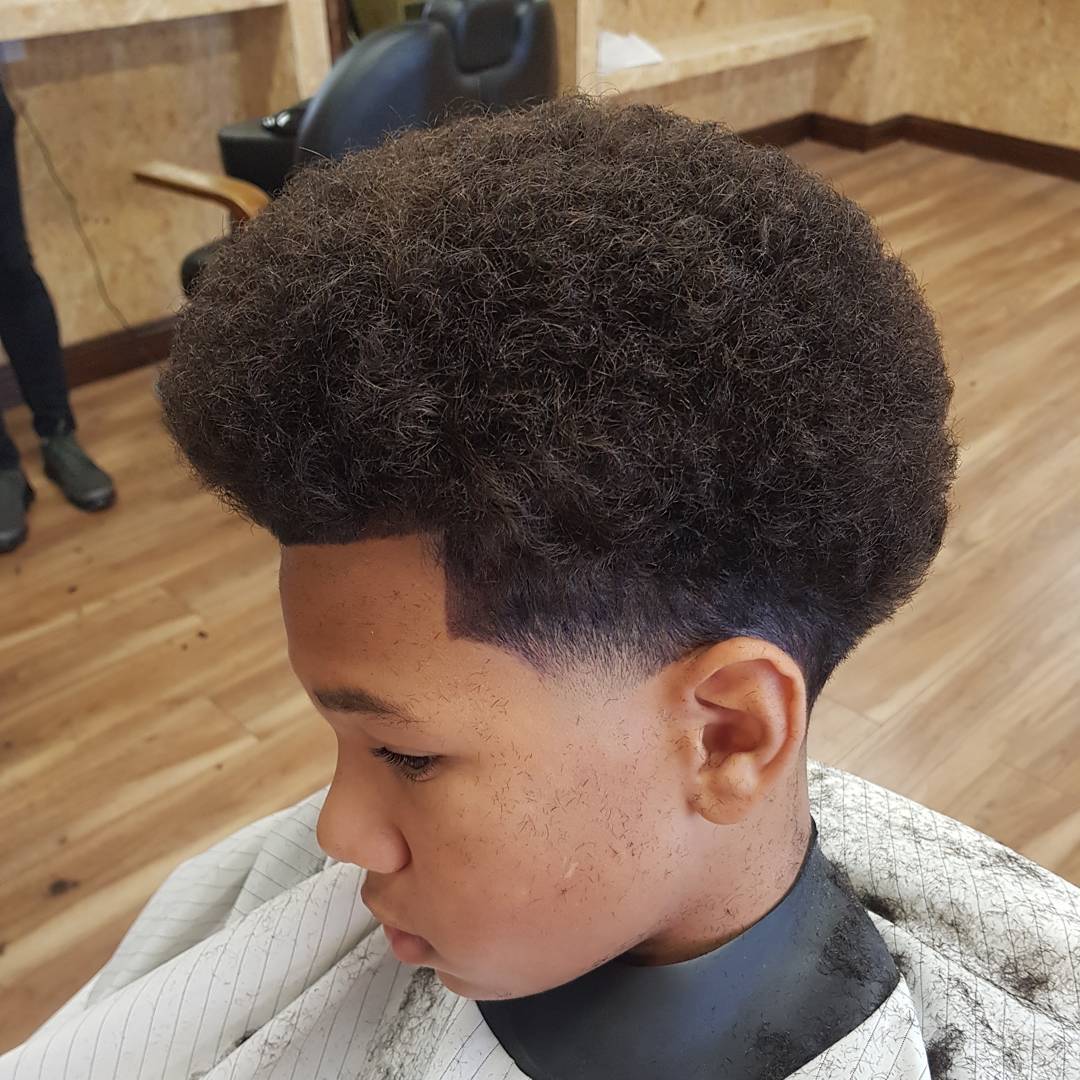 Kids can rock the look too.
33. Long Curls + High Fade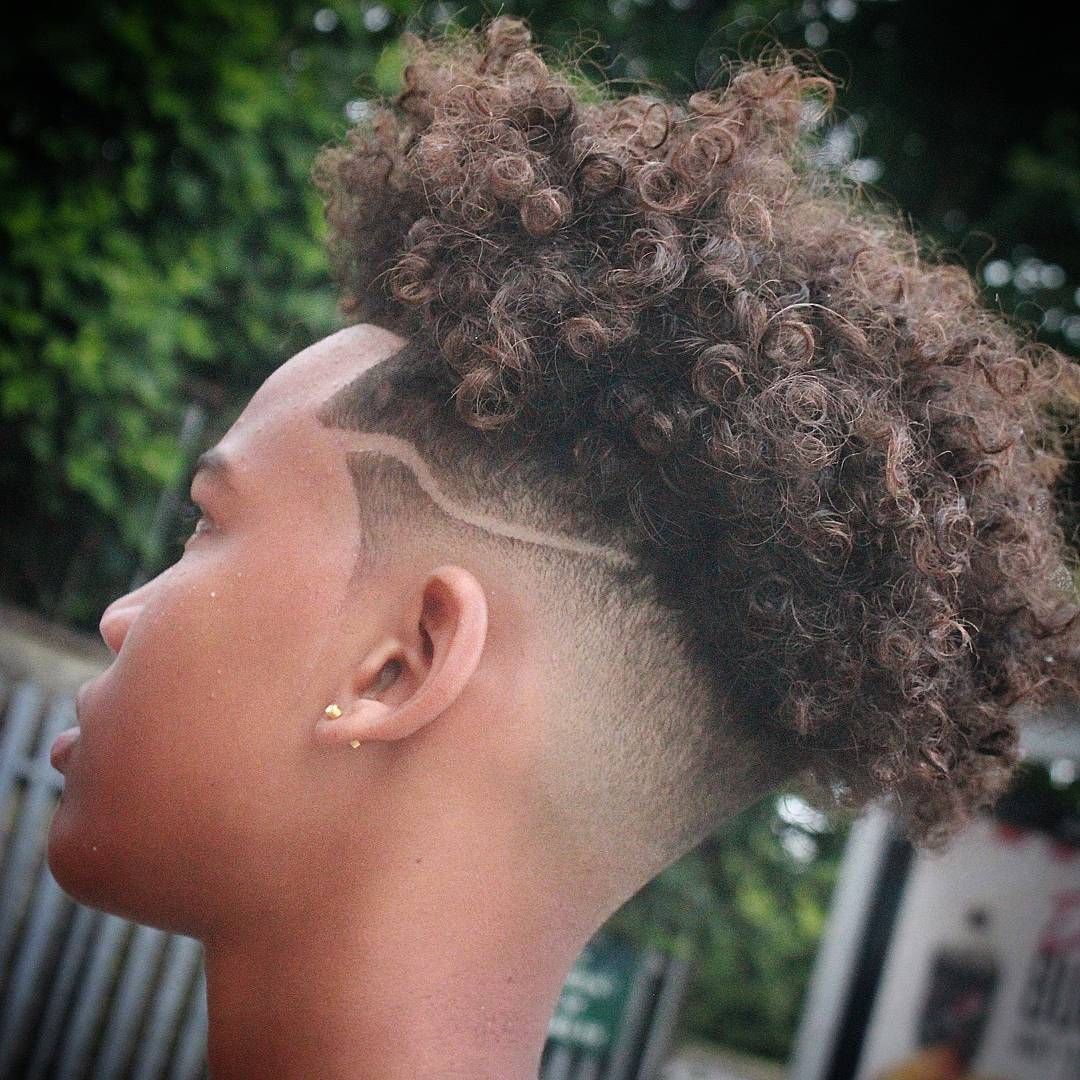 A high fade makes anything you have going on top look great and easy to style. Keep those curls healthy by shampooing less, using conditioner every time and a curl-defining product.
34. Frohawk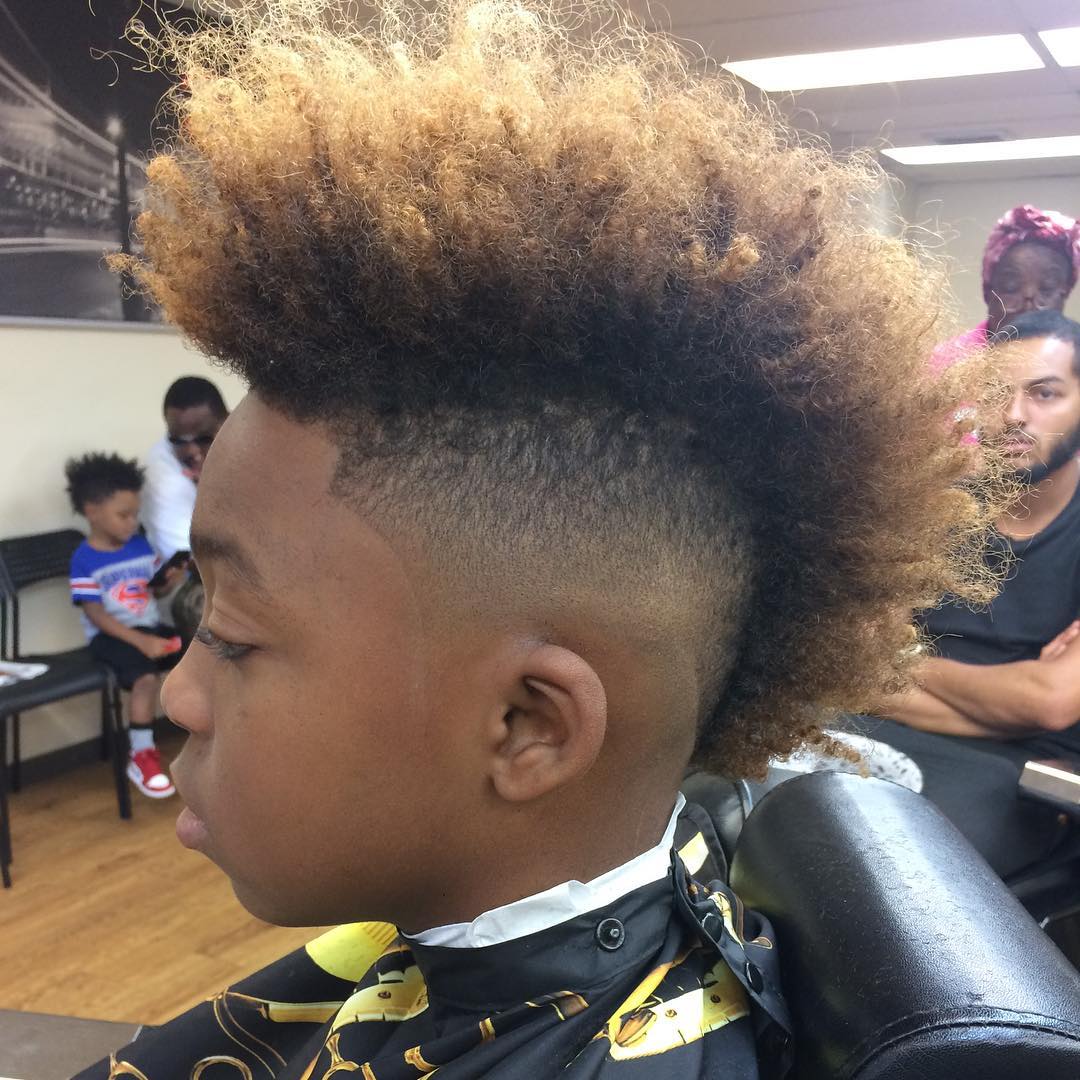 Kinky texture creates a high volume mohawk with minimal styling.
35. Blue Hair + Wings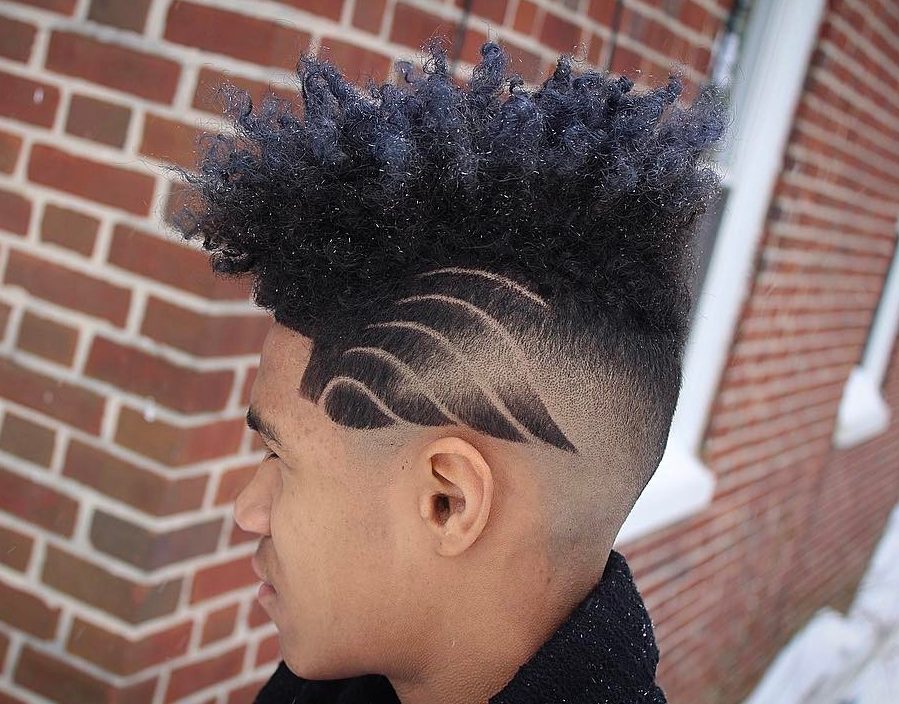 Last but not least is the twisted fade dyed a denim blue, an excellent choice for black hair. The high fade features a winged hair design that could make you faster.