Now that it's been on seen on television, magazines, streets, and Macklemore, the slicked back undercut has made it's way to the big screen as the Brad Pitt Fury haircut.
This haircut is sometimes referred to as a Hitler youth or Nazi style but in Fury, it's the look for Nazi-fighting.
Check out the photos below for more about how to get the look.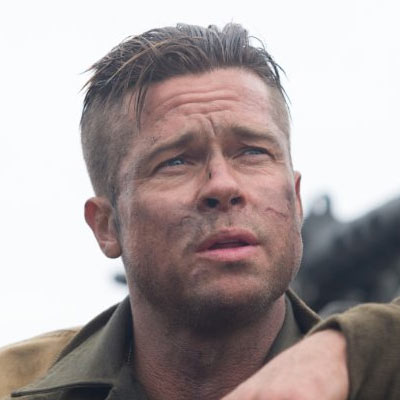 This simple hairstyle makes a big impact. In contrast to current military buzz cuts, this undercut style leaves plenty of length on top. It might not the most practical look on the battlefield (where does the product come from?) but it does strike a commanding presence.
There's a reason this classic barbering cut has endured the test time. It and many versions look great on everyone and it's easy to style. While the loose strands of this slick look mean it works for everyone, including guys with long faces.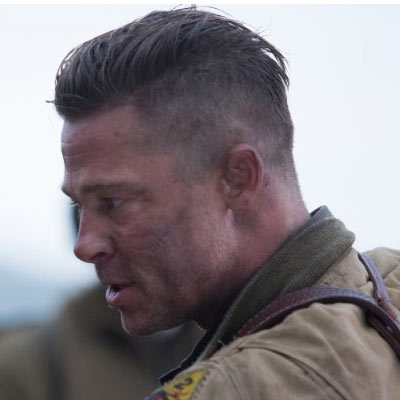 From the front, the Fury haircut is simple enough but the sides and back show the subtleties that make it work.
Instead of a defined separation between the undercut and long hair on top, the cut seamlessly blends into the shaved area with a short fade.
Hair is also cut shorter towards the back of the head so it tapers in length. Be sure to maintain the undercut with regular barber or stylist visits.
Styling this look like Brad Pitt is the same as any other slick hair look – find a product you like, rub it between hands, and work it through. Then comb hair straight back and that's it.
While this hairstyle is usually seen with every hair in place, as you can see it also looks great slightly disheveled.
If your styling effort doesn't result in this perfect uncoiffed look, rough up hair with fingers to artfully tousle hair. So there you have it 2 angles of the Brad Pitt fury haircut.
[Images: Giles Keyte – © 2014 CTMG]