If there is any haircut that has a bad reputation, it is the comb over. Why? Historically, this has been a way to cover bald spots but never very effectively. That's not what we're talking about. These comb over fades are a modern update on the classic side part hairstyle.
So, what is a comb over then? The over refers to hair being combed over to the side opposite a part. That is in contrast to pompadours and slicked back hairstyles that comb hair from front to back. It can be a short or medium length look works well for thick hair, especially Hispanic and Asian hair. The comb over is for every guy though. It can also enhance volume for wavy hair or add style and shape to fine hair.
The comb over fade puts that retro style over the fade of your choice. The most popular types of fades are low, mid, high and skin fades plus the undercut. As far as the comb over part goes, hairstyles can add shine, volume, texture, and more.
Here are 20 cool ways to try the look for straight, wavy, and curly hair.
Low Fade + Comb Over
1. Matte Comb Over + 2. Diagonal Fade
Hair is combed over horizontally with some fringe on the angle. For guys who prefer a matte finish, this look was styled only using a boar bristle brush for a smooth finish without product. At the back, a diagonal fade gives this classic men's hairstyle an unexpected finishing touch.
3. Low Fade + Full Beard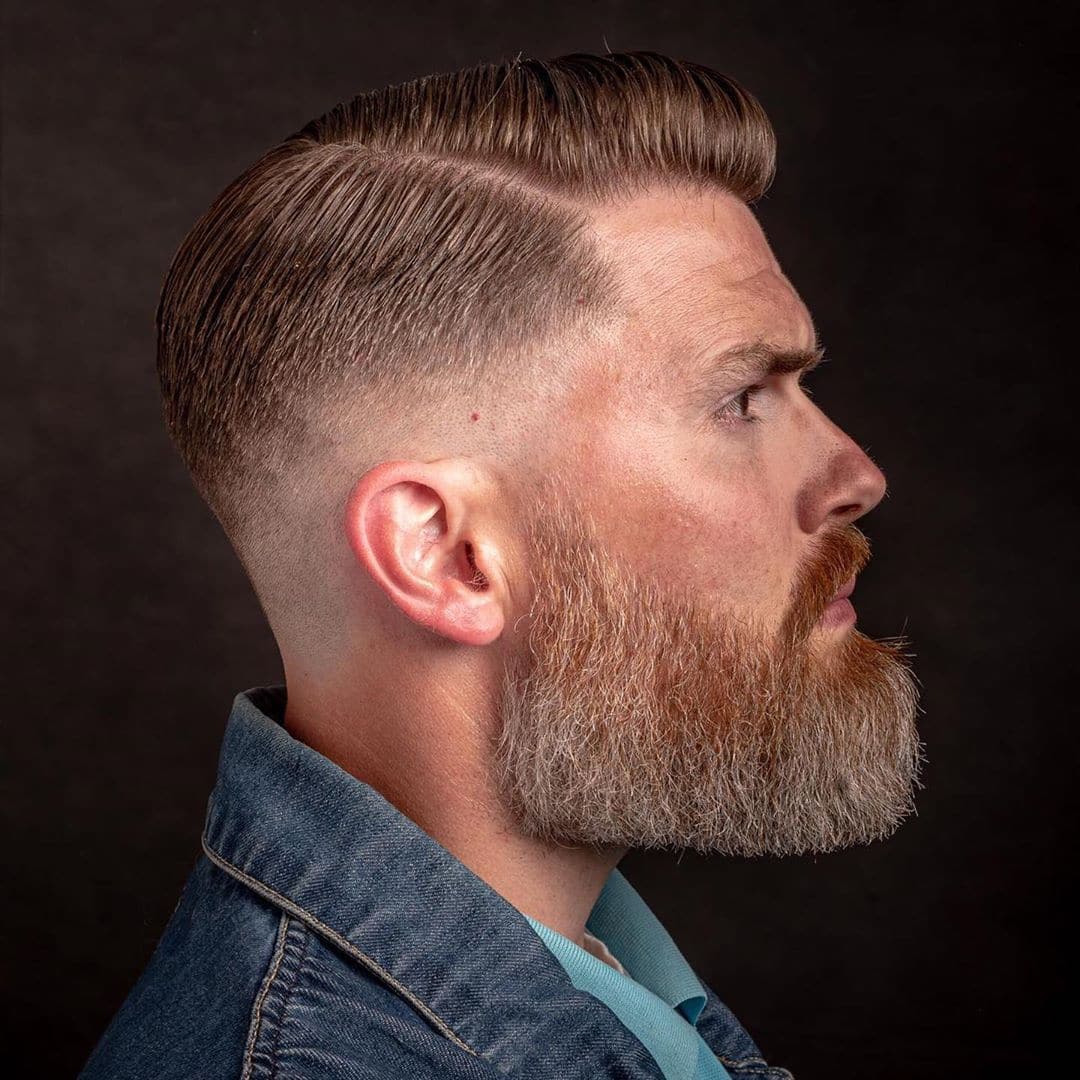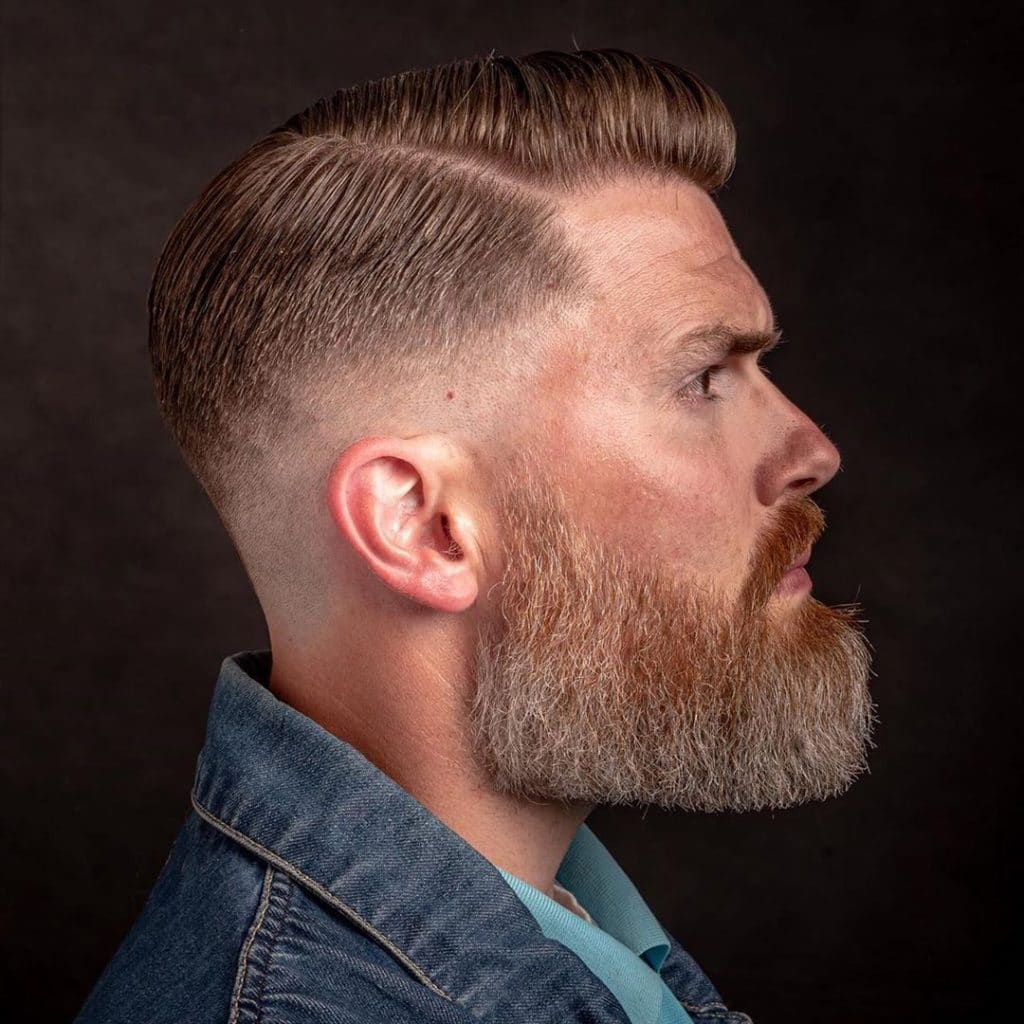 And here is the comb over from the side. It is a versatile haircut that can be styled clean, like above, or spiky and messy. The low fade separates the cut from this impressive beard.
4. Comb Over Fade + Hard Part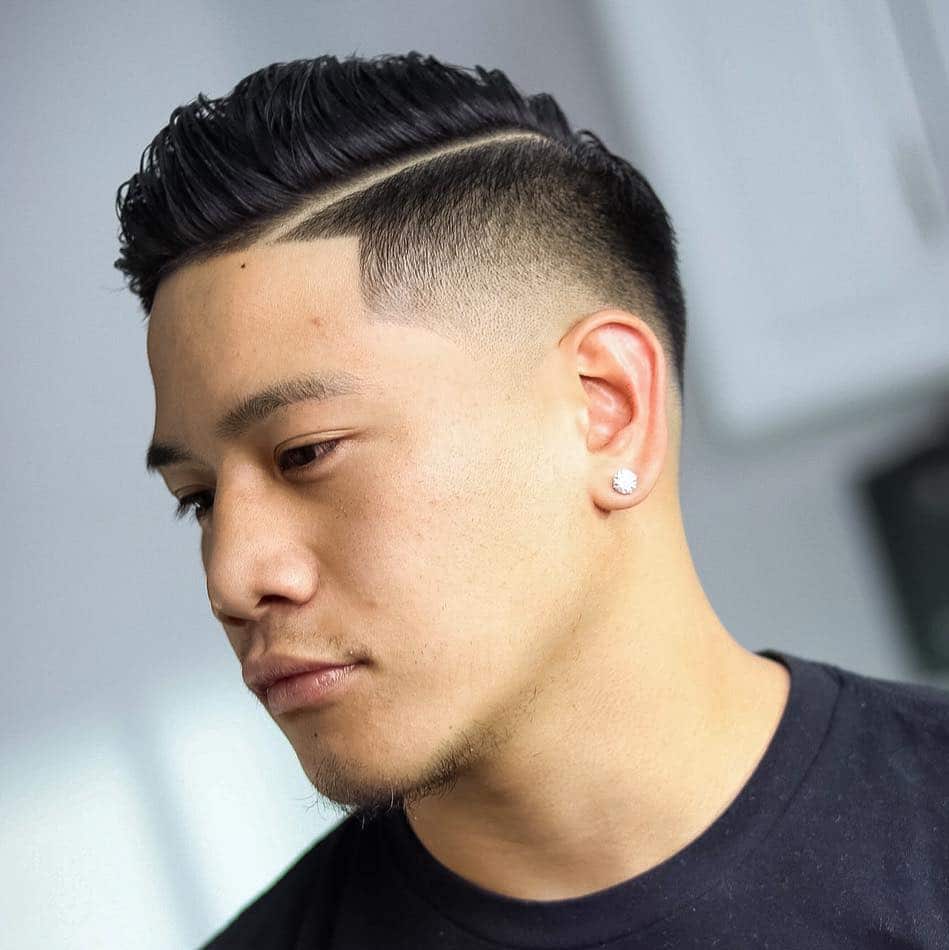 The hard part divides longer hair from short. This drop fade starts up higher on the temple and goes lower behind the ear. All in all the look is crisp, clean, and cool.
5. + 6. Comb Over + Quiff
From the front, a low fade keeps the sides very tight. This fresh look adds a touch of volume and texture.

7. Line Up + Spiky Texture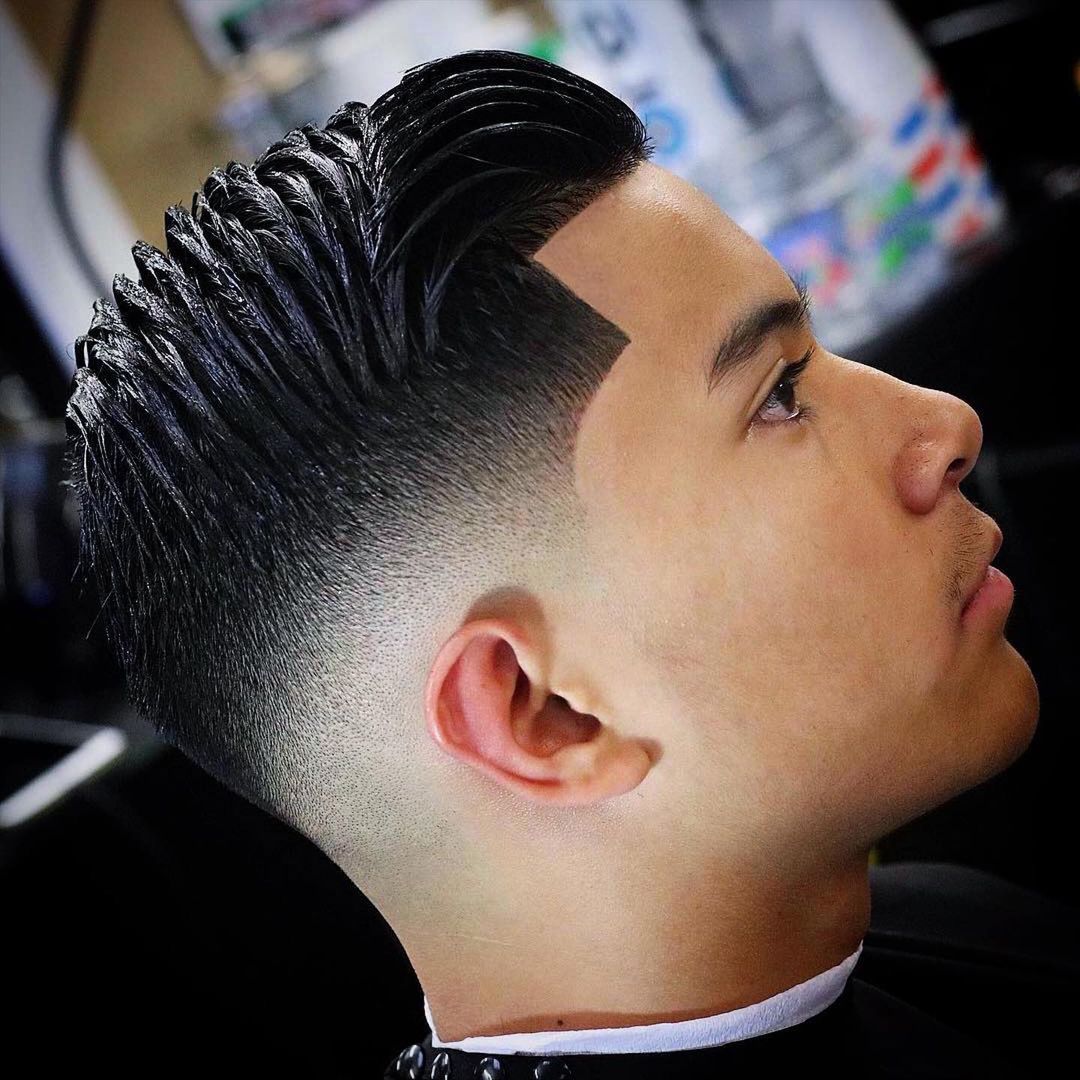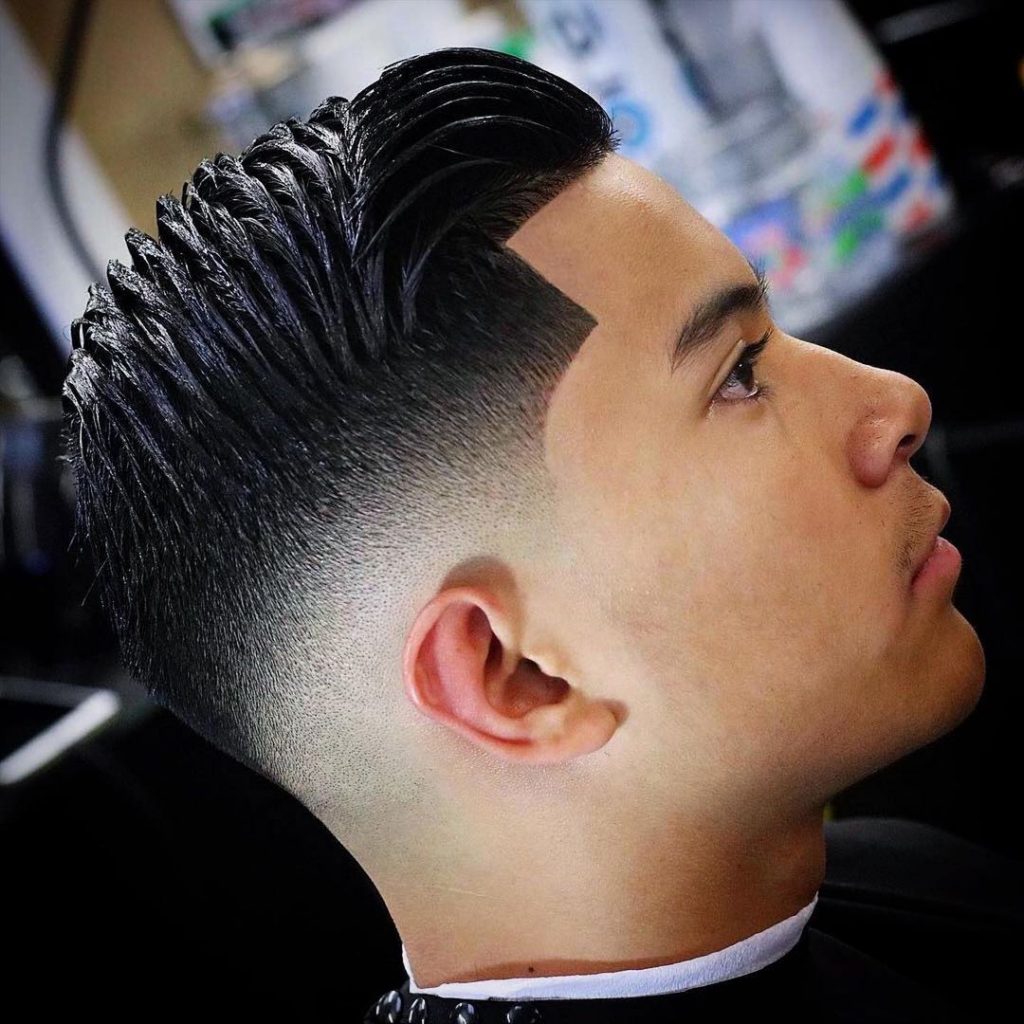 There can be more to the comb over fade than just the comb over and fade. This young man adds coarsely textured styling plus a right-angled line up.
8. Medium-Long Hair + Low Fade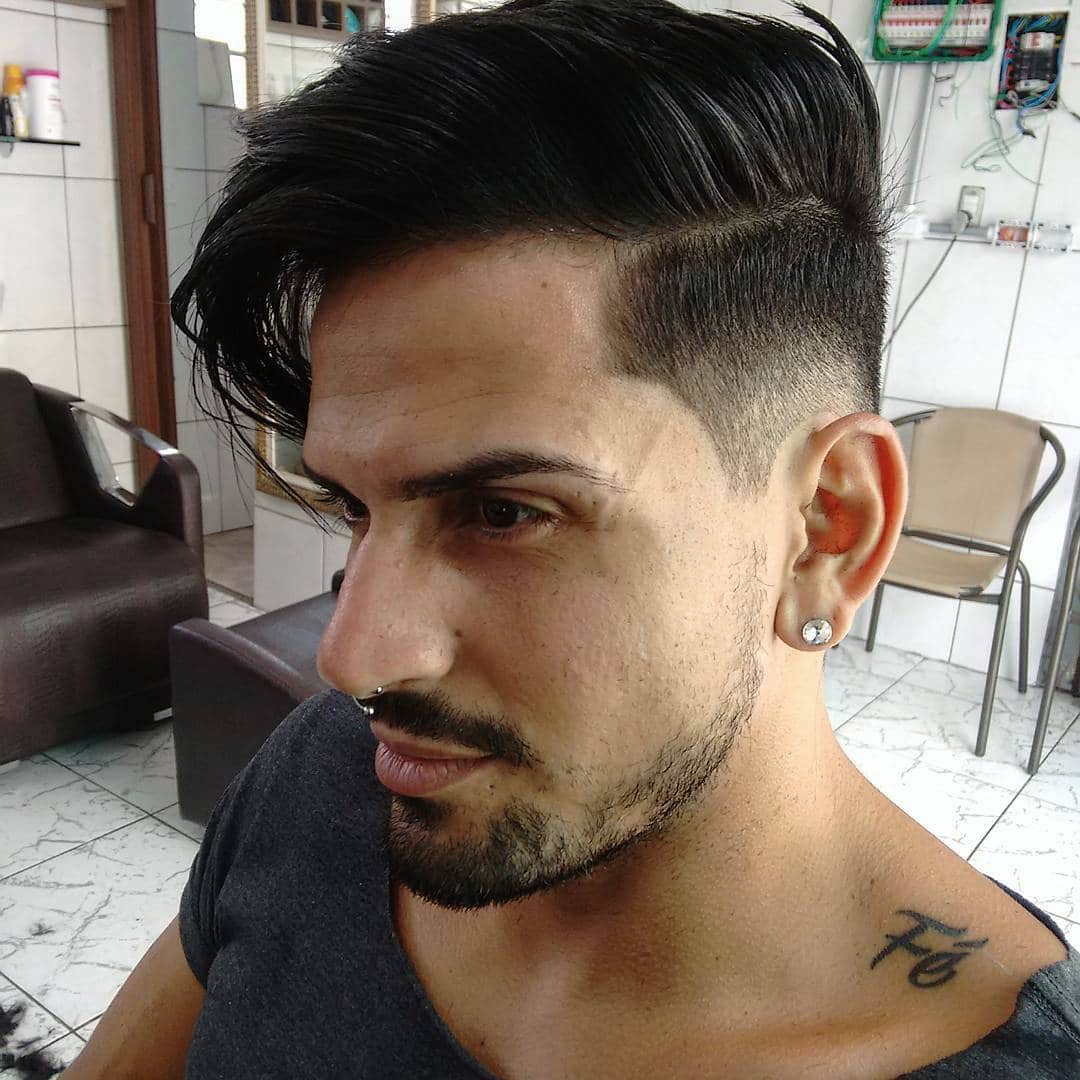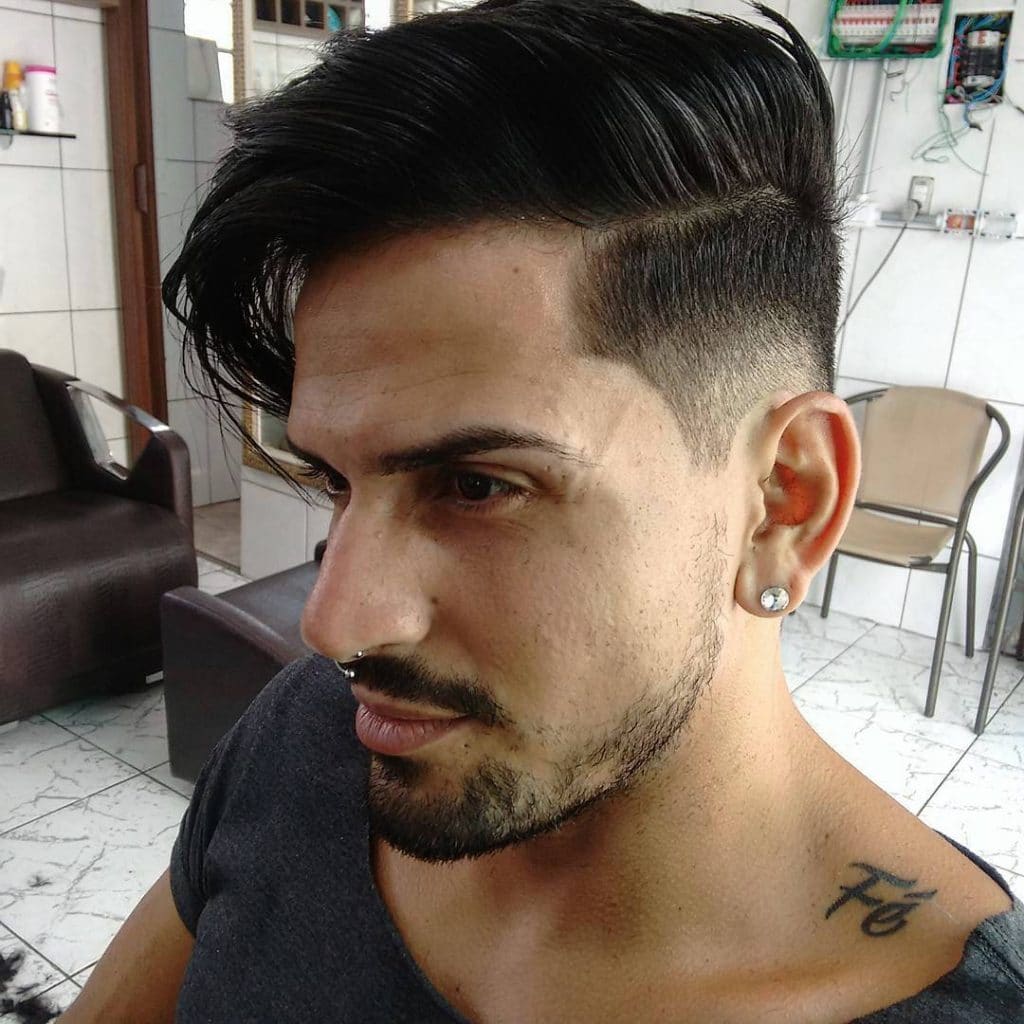 This deep side part looks a lot like some of the undercut styles you'll see later but it's a low fade instead. This medium-long hair can also be slicked back or pulled up into a man bun.
Mid Fade + Comb Over Haircuts
9. Medium Fade + High Volume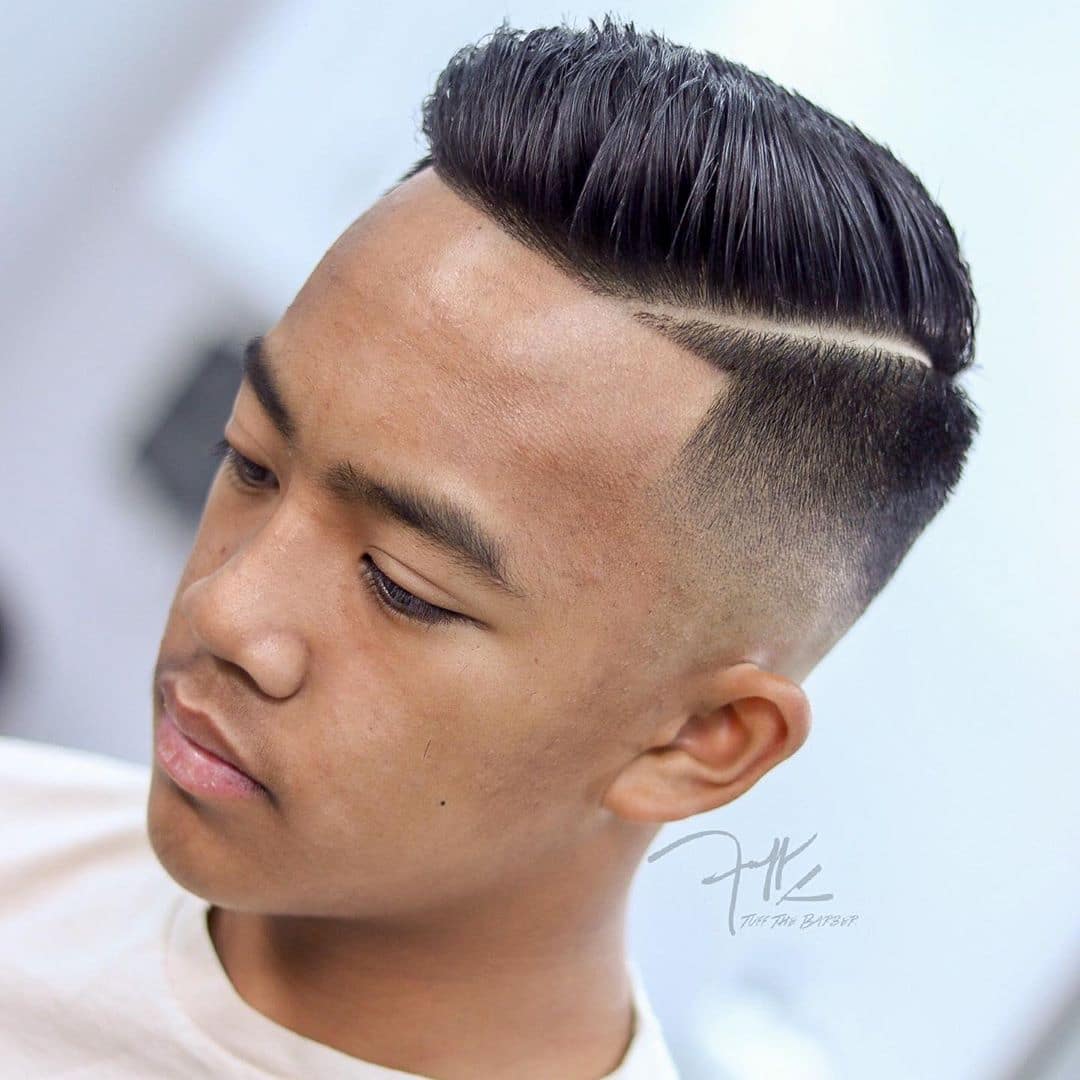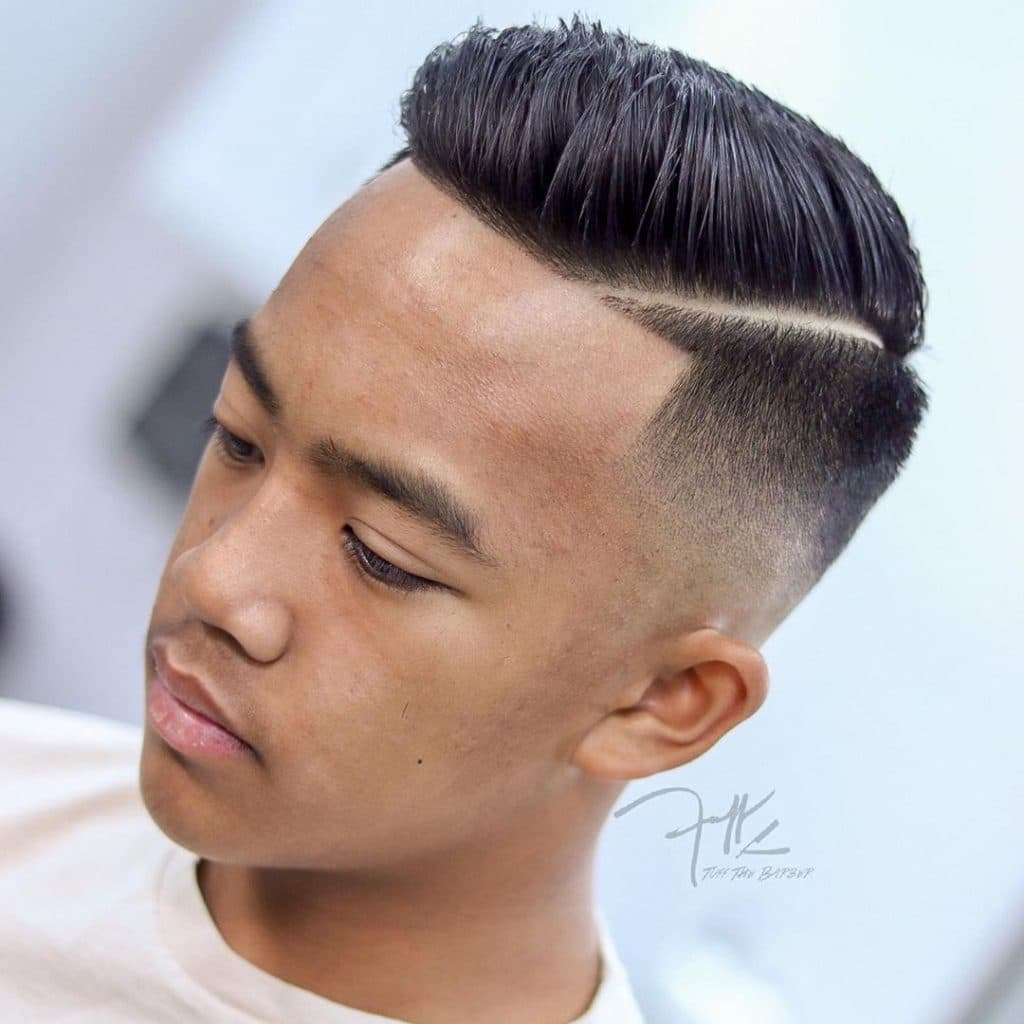 This medium fade starts up high on the temple and drops down around the back. In contrast to the retro flat slicked across style, hair is pulled up and over for added height on top. Try a high hold product for thick hair to get the look.
10. Comb Over + Twisted Quiff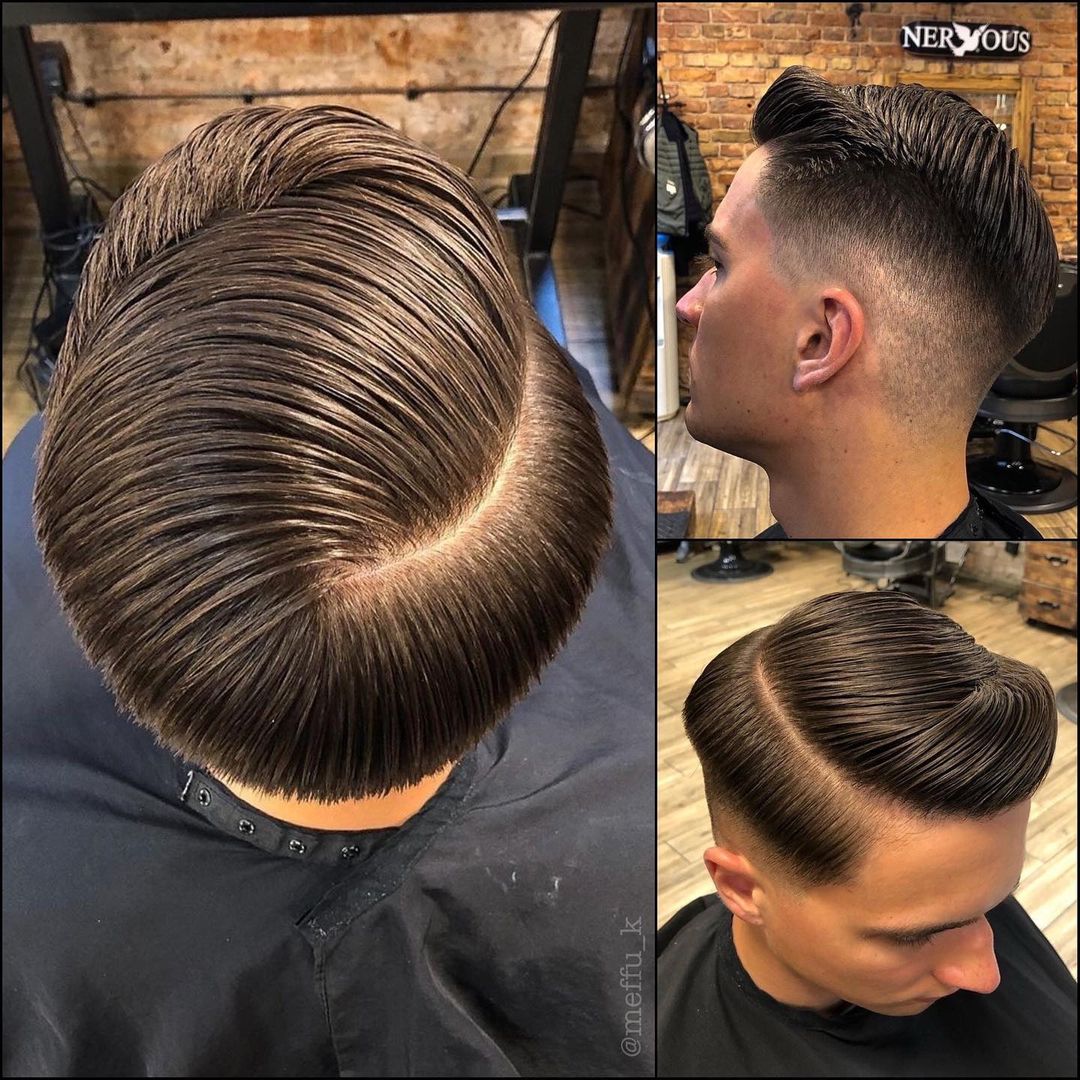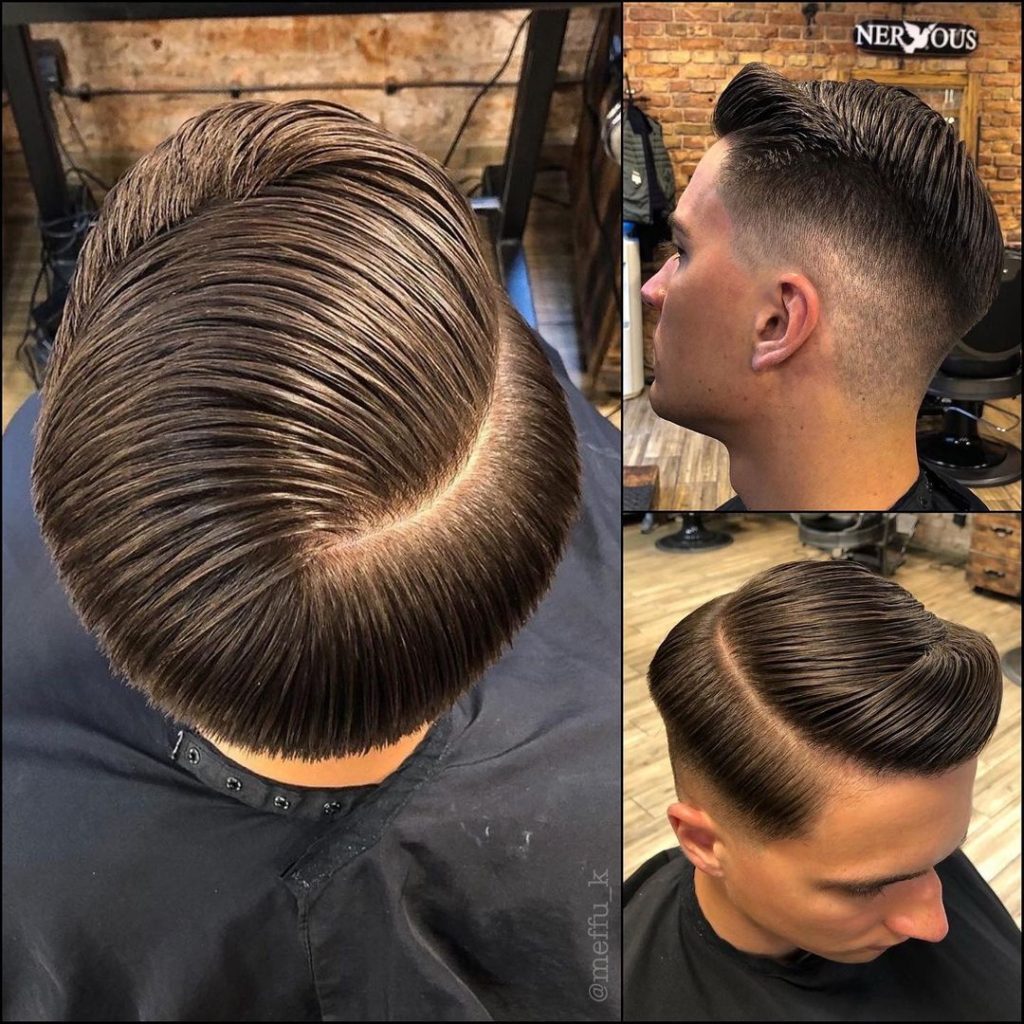 Another fresh take on the comb over, this version keeps the retro shiny pomade and comb lines but adds a of a quiff at the front. The bump of volume combines into the rest of hair in a wave. This is one more way to make the comb over fade your own.
11. Types of Medium Fades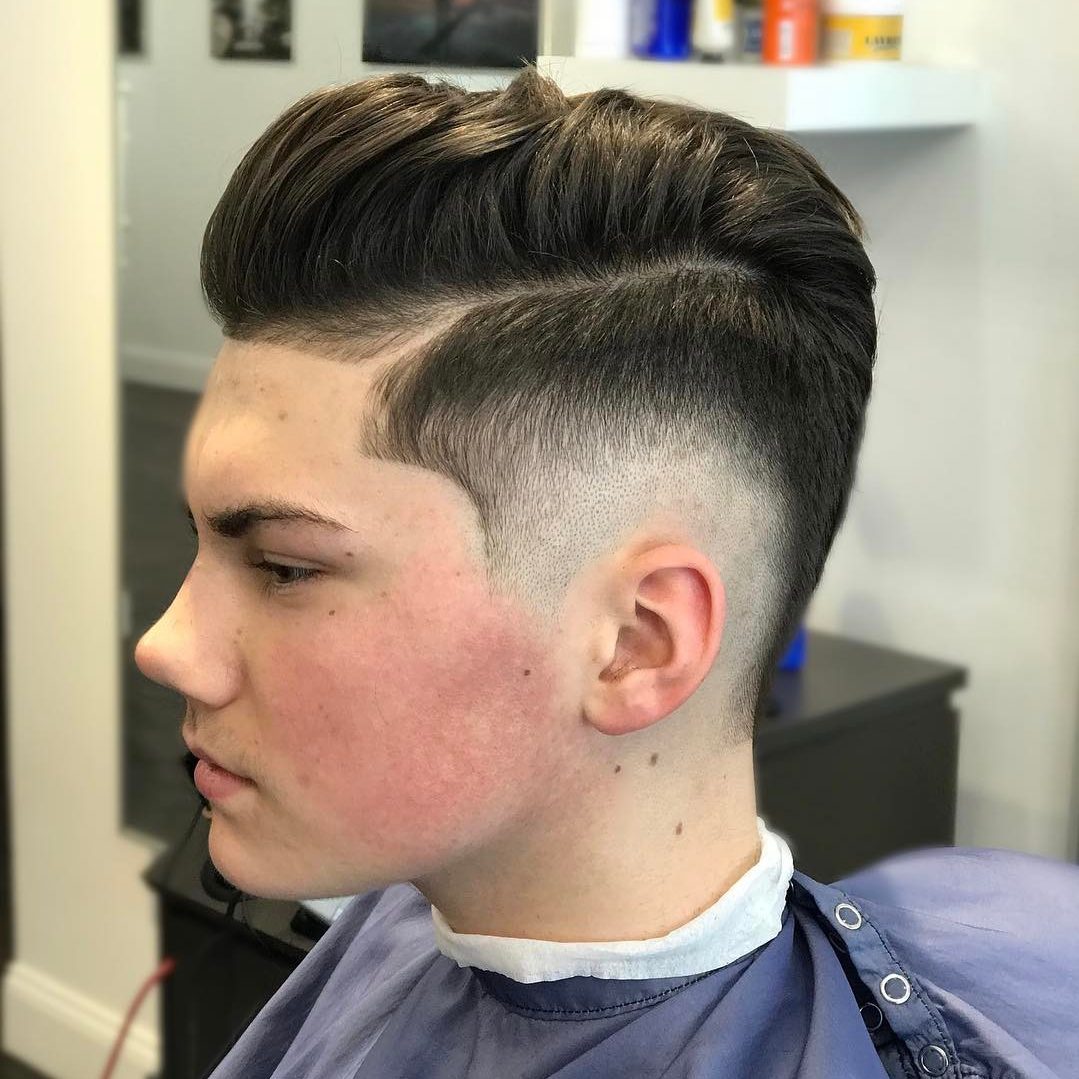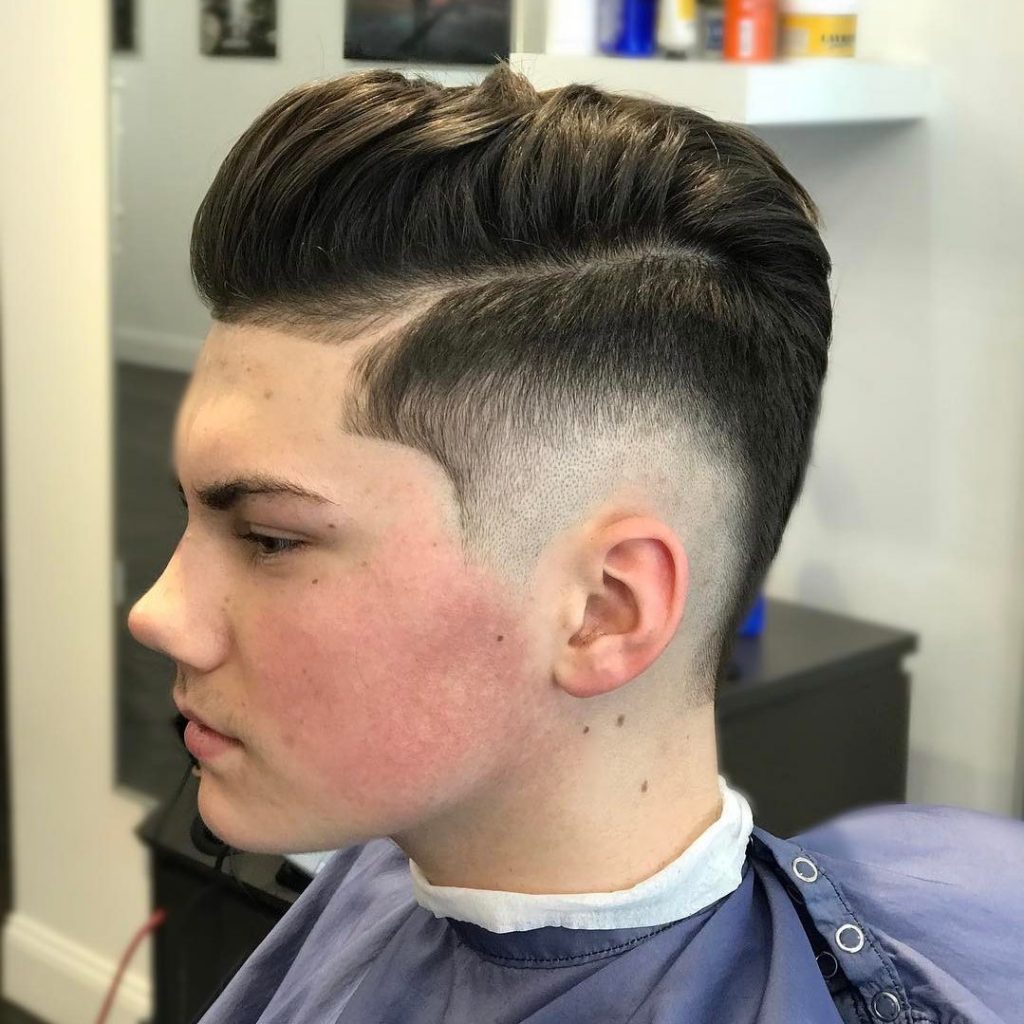 Customize your comb over with different hair lengths and different types of fades. Instead of the more common drop fade or mid fade in a line, this burst fade cuts a circle behind the ear and leaves some neckline at the back. On top, hair is matte with some coarse texture.
12. Short Comb Over Haircut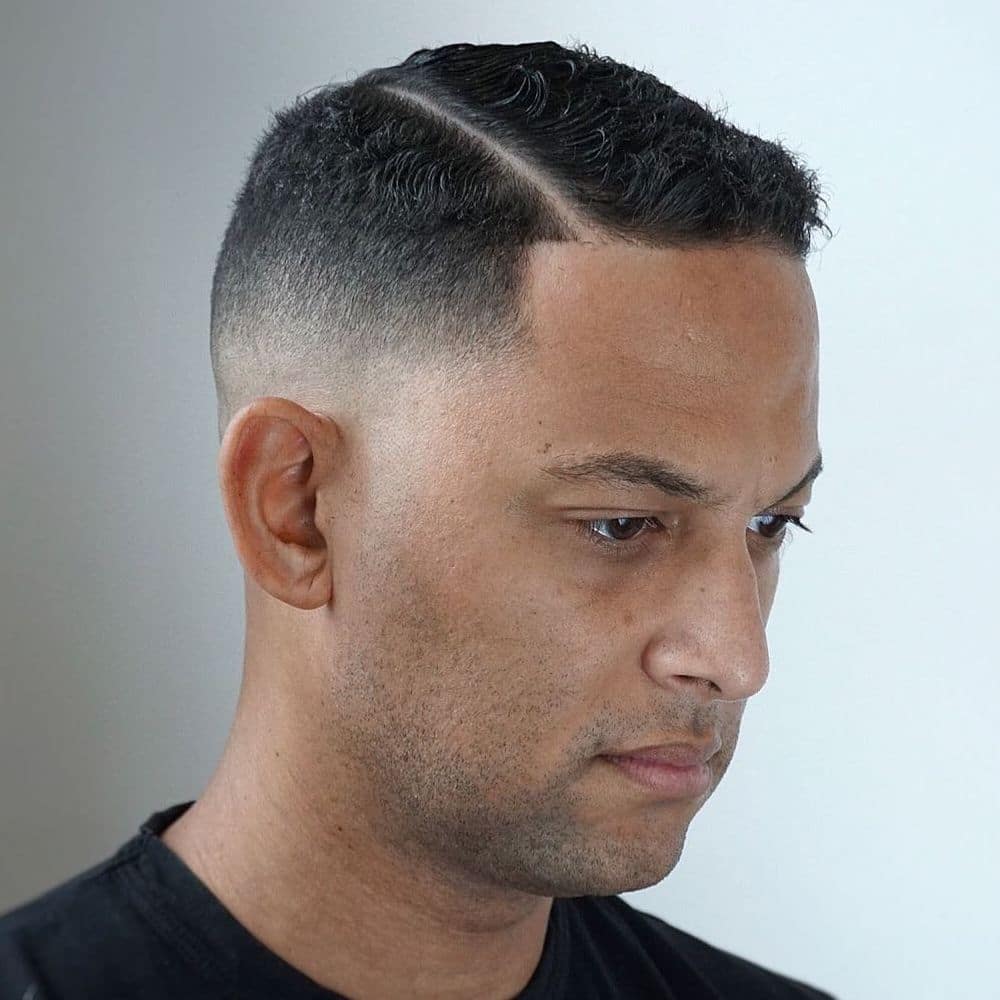 The comb over is versatile and works for many hair types as well as lengths. This cut is very short but tight curls still add some volume. It's a flattering way to manage curls in the hot weather.
13. Messy Texture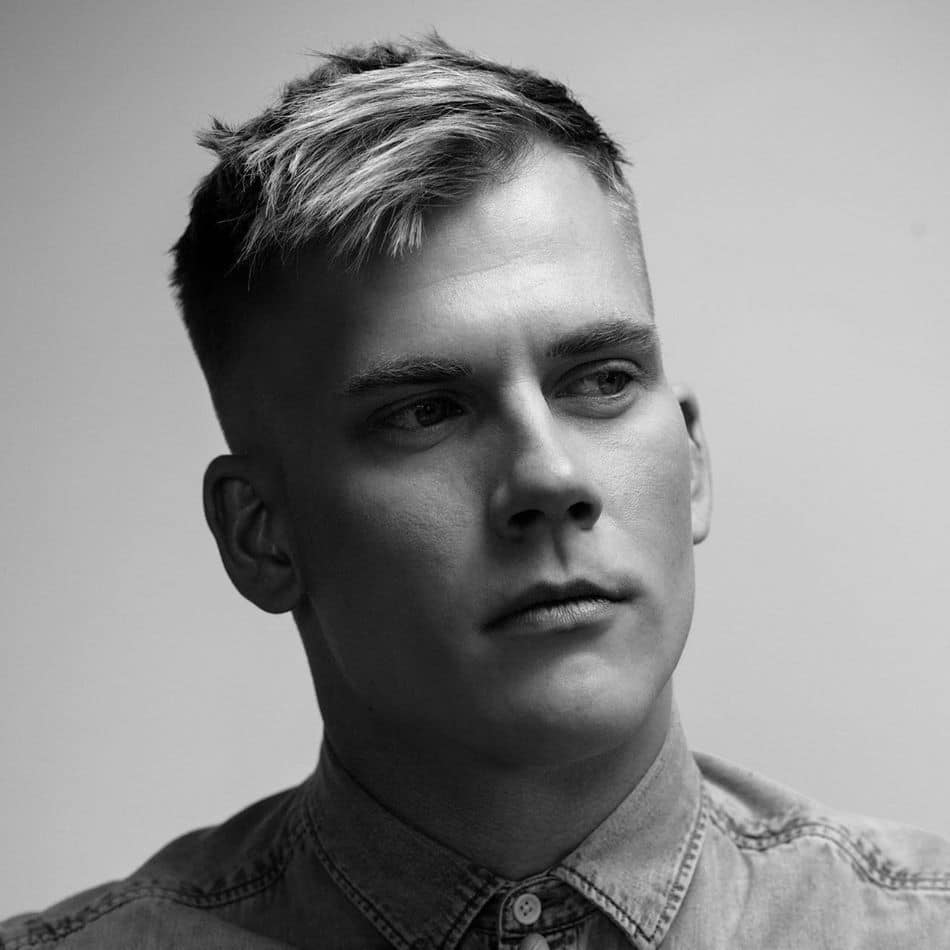 To get this look, style hair with fingers instead of a comb. Try a reworkable product like a hair clay and the style will just get better over the course of the day.
High Fade + Comb Over
14. High Drop Fade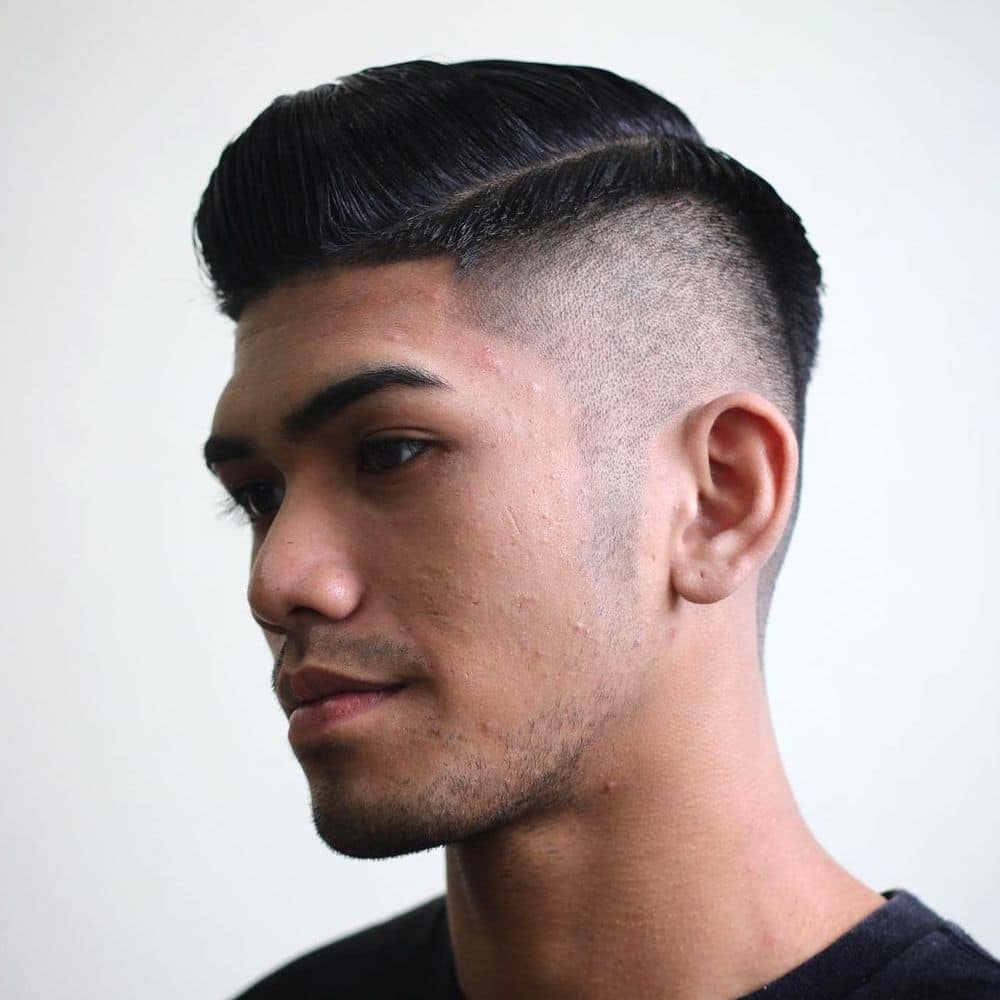 Some volume plus a high drop fade almost makes a wide mohawk shape. Instead, it's a side part with a pompadour that blends into hair combed across. The style can skew clean or cool, depending on the rest of your look.
15. Comb Over For Wavy Hair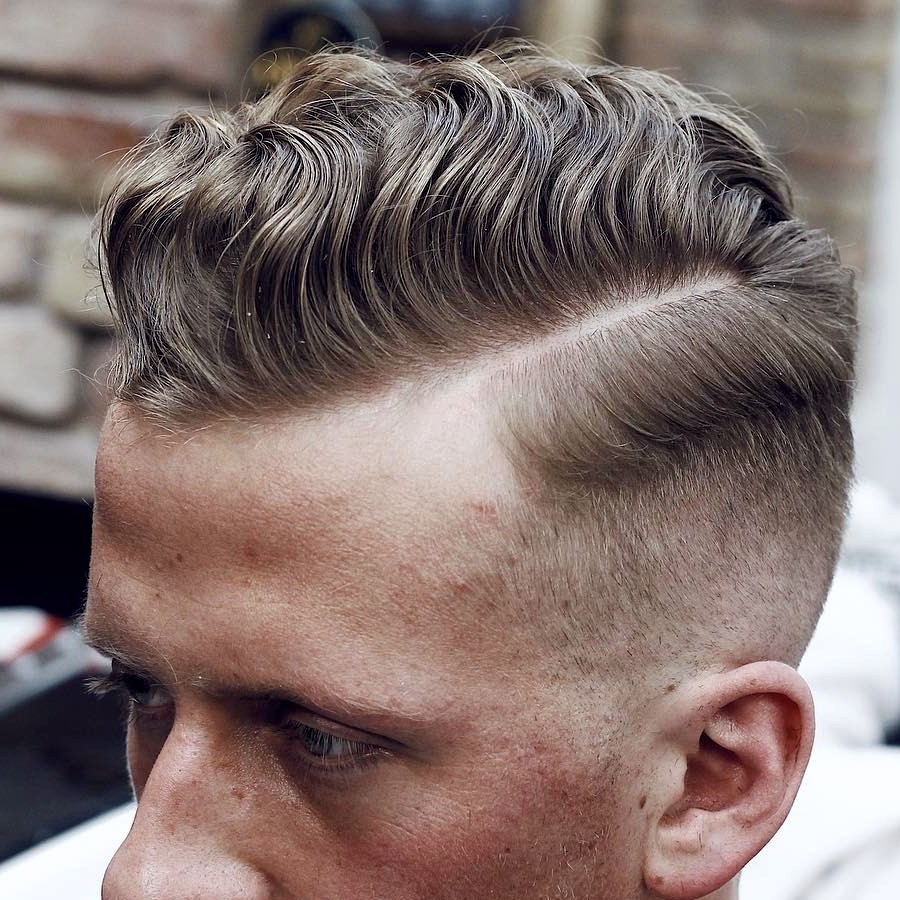 Does a comb over work for wavy or curly hair? Absolutely. This cool look takes those waves up and over for a high volume, high texture look. The high part leaves about an inch of hair on the the short side
16. Textured Hairstyles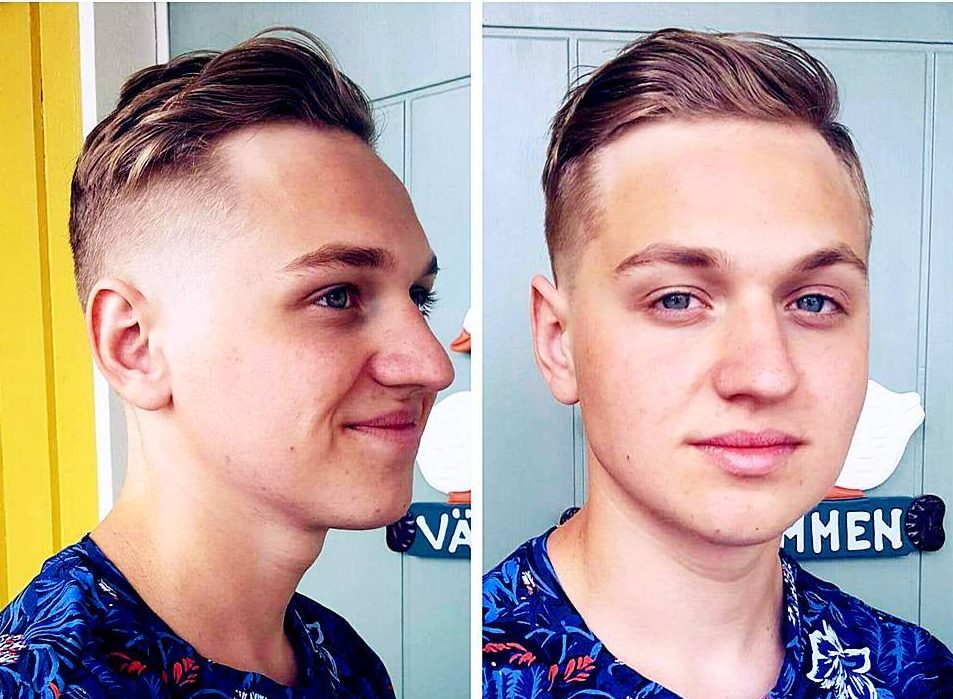 For guys with hair that regular to fine, this longer length with messy texture adds volume and fullness. The comb over is also a popular look for teenage guys because it looks great and is so easy to style.
17. High Fade + Comb Over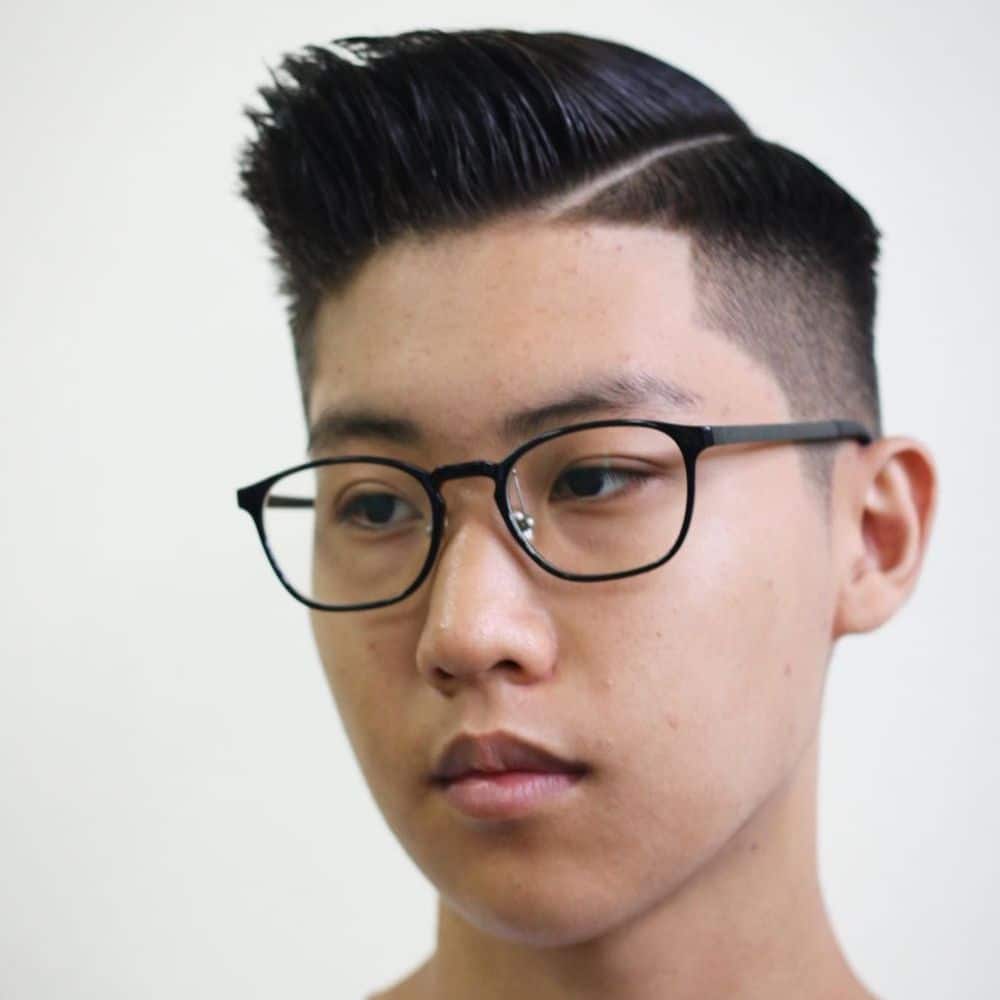 Thick hair that can stand makes it easy to create this high volume comb over. For this high hold, medium shine product check out these pomades. For added height and staying power, blow dry hair while training it into place with fingers or a comb before adding product.
Comb Over + Undercut
18. Undercut Fade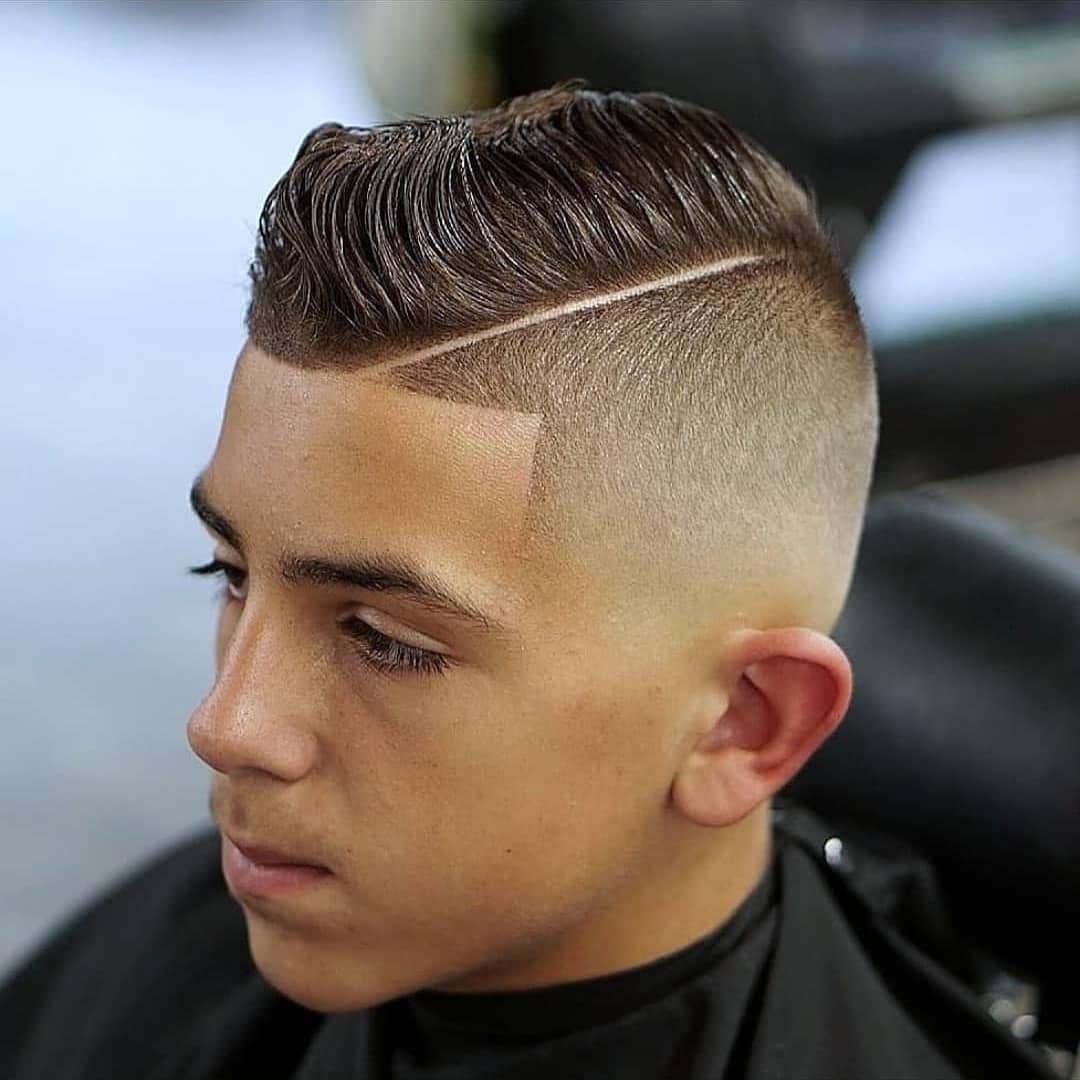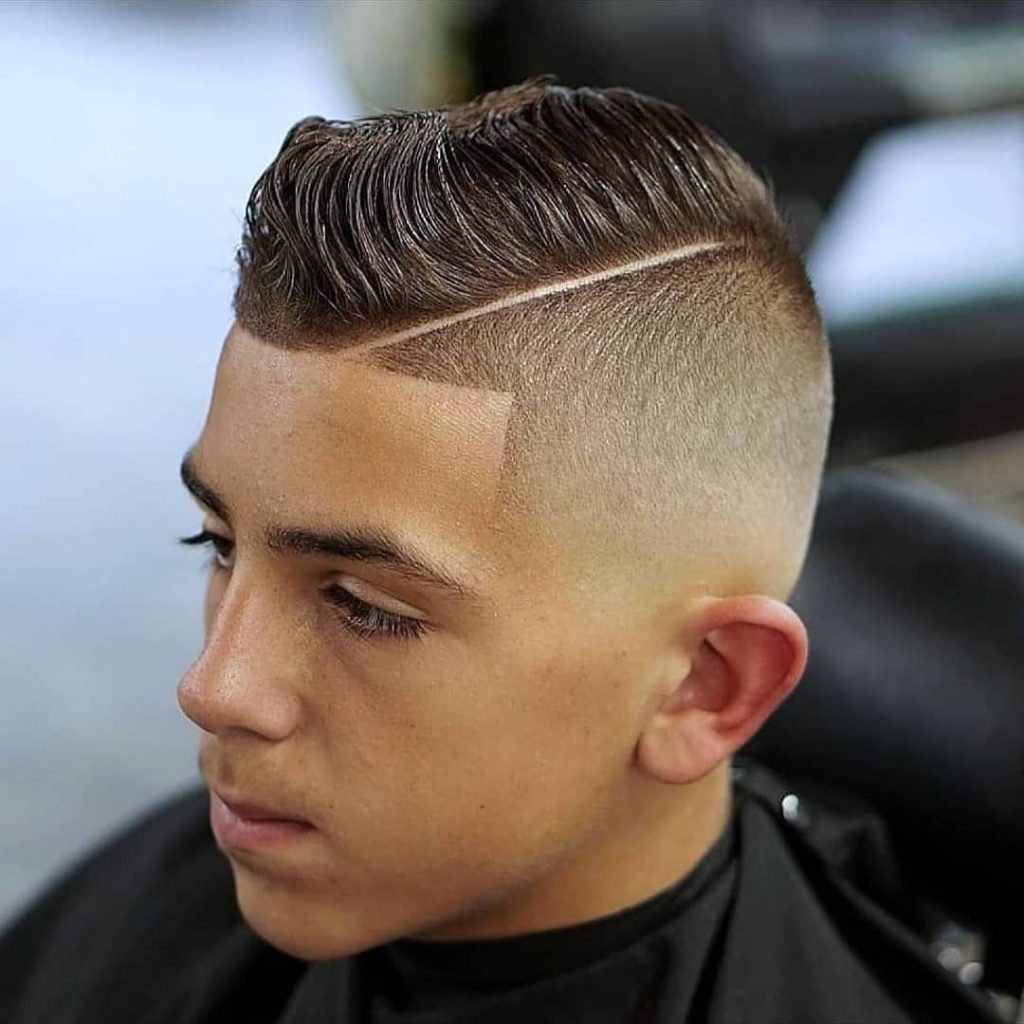 The undercut goes up even higher than a high fade with this one inching up to the top of the head. Hair is shaved all the way up to the hard part for a disconnected style. If it's too extreme for you, move the side part over for a lower undercut.
19. Disconnected Undercut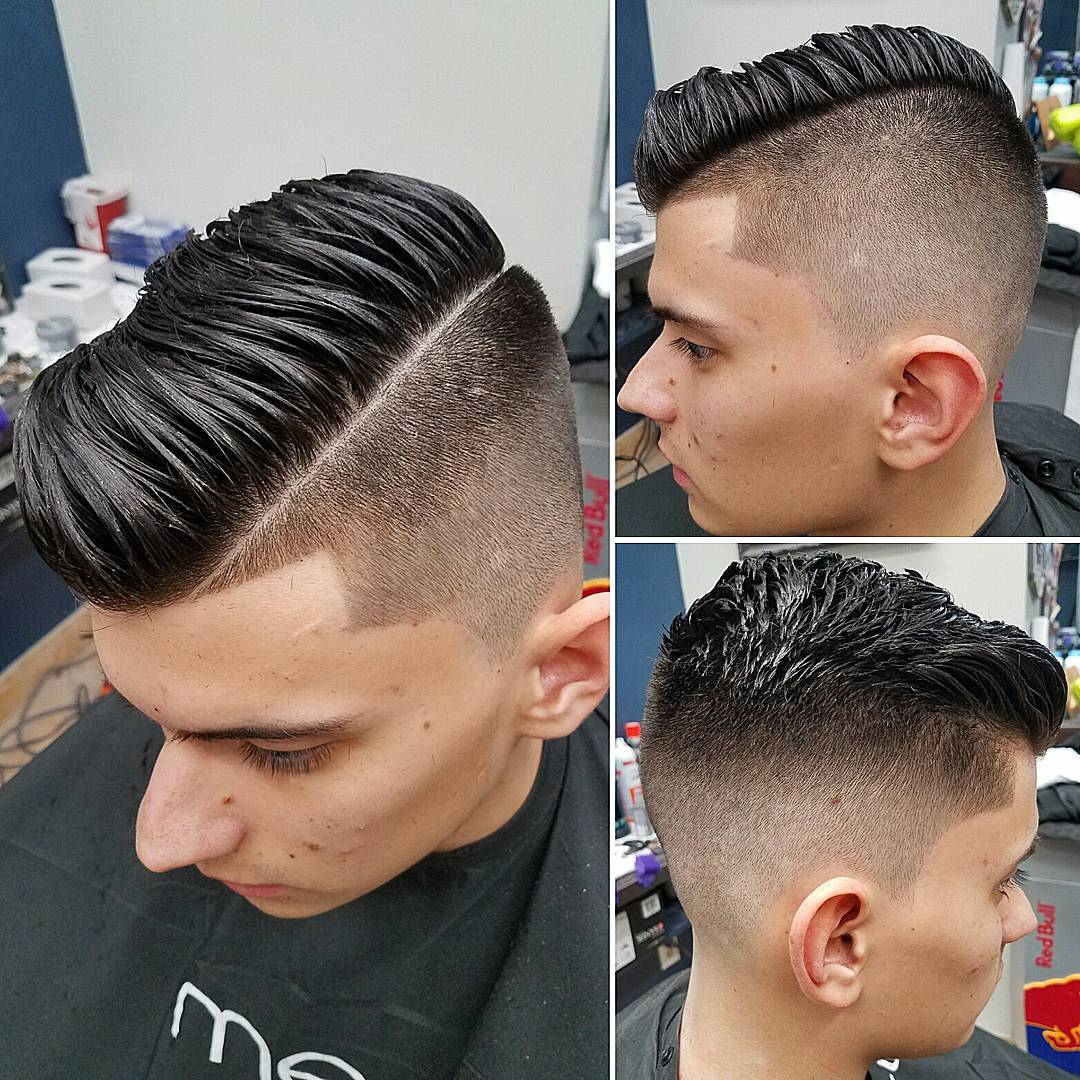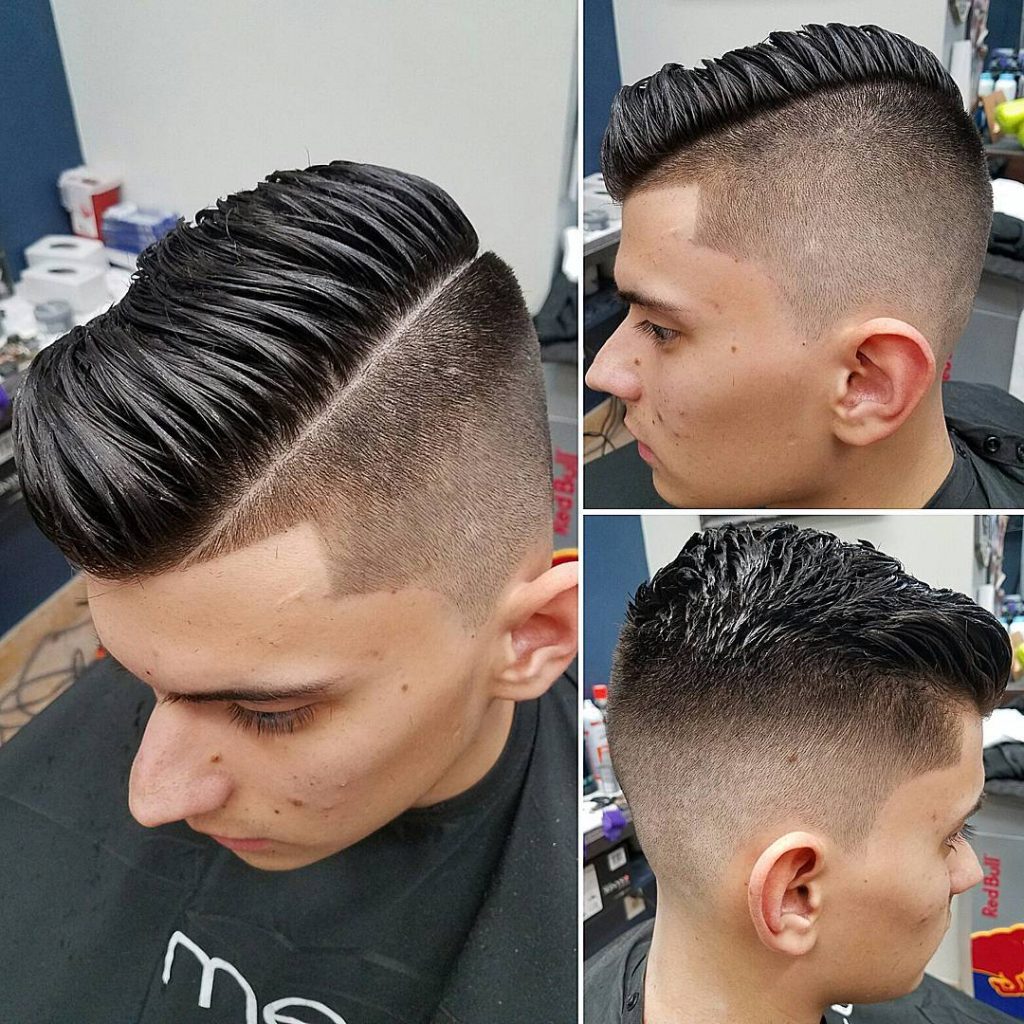 The disconnected style is named or the lack of transition between the undercut and longer hair. Hair can be worn loose or in this comb over to hold it in place. The side opposite the part has a softer edge.
20. Hard Part + Line Up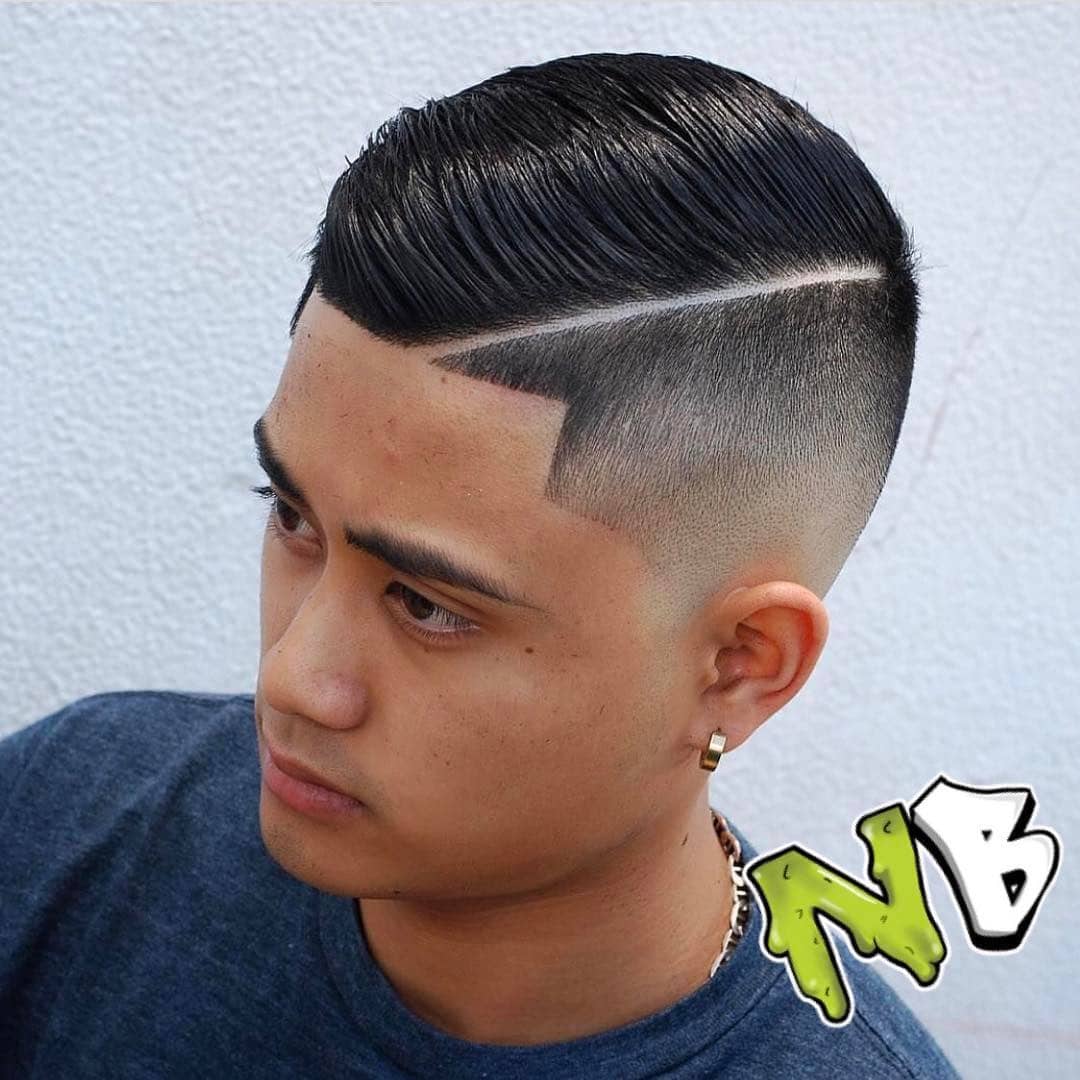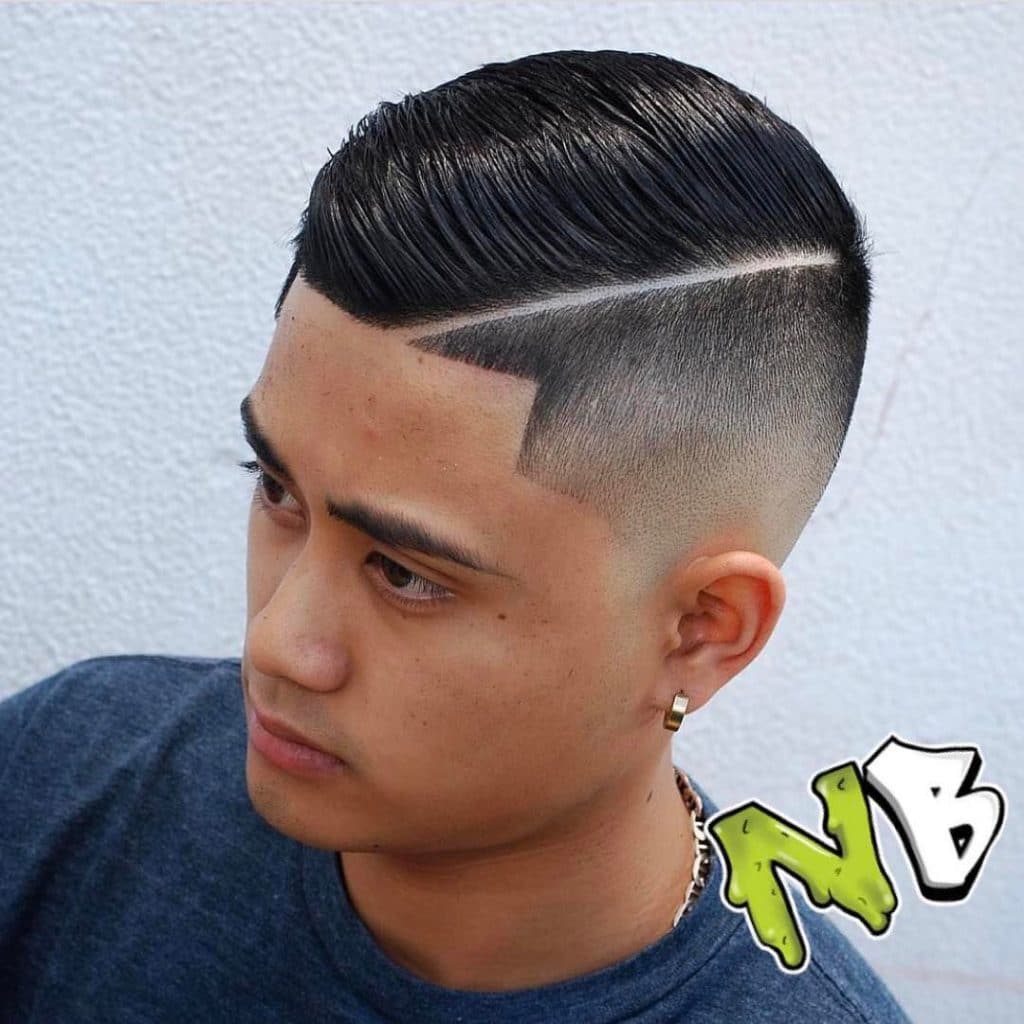 A shaved part on the diagonal and crisp shape up add hard lines to this cool look. With the right product, the comb over can transform wavy or curly hair to straight. This is also a cool way to lock down hair in hot and humid weather.