Boys hairstyles and boy's haircuts can be about function, style, or both. These cool haircuts for boys include easy to wear short hair, fresh fades, as well as trendy styles.
Men's hairstyle trends are also popular for boys. Right now a few of the looks are crop haircuts, all kinds of spikes, and mohawks. Classic styles are also popular including fringe haircuts, undercuts, and ringlet curls.
Hair is a fun and easy way to express yourself at any age. Fashion-forward kids may enjoy using hair products like Garnier Fructis Style Finishing Paste. It's cheap, washes out easily, and won't get sticky. For some real fun, try a spray hair color for Halloween or any day. Or experiment with real hair color too.
Now check out this wide range of cool haircuts for boys.
Textured Crop Haircuts for Boys
1. Crop Fade + Hair Design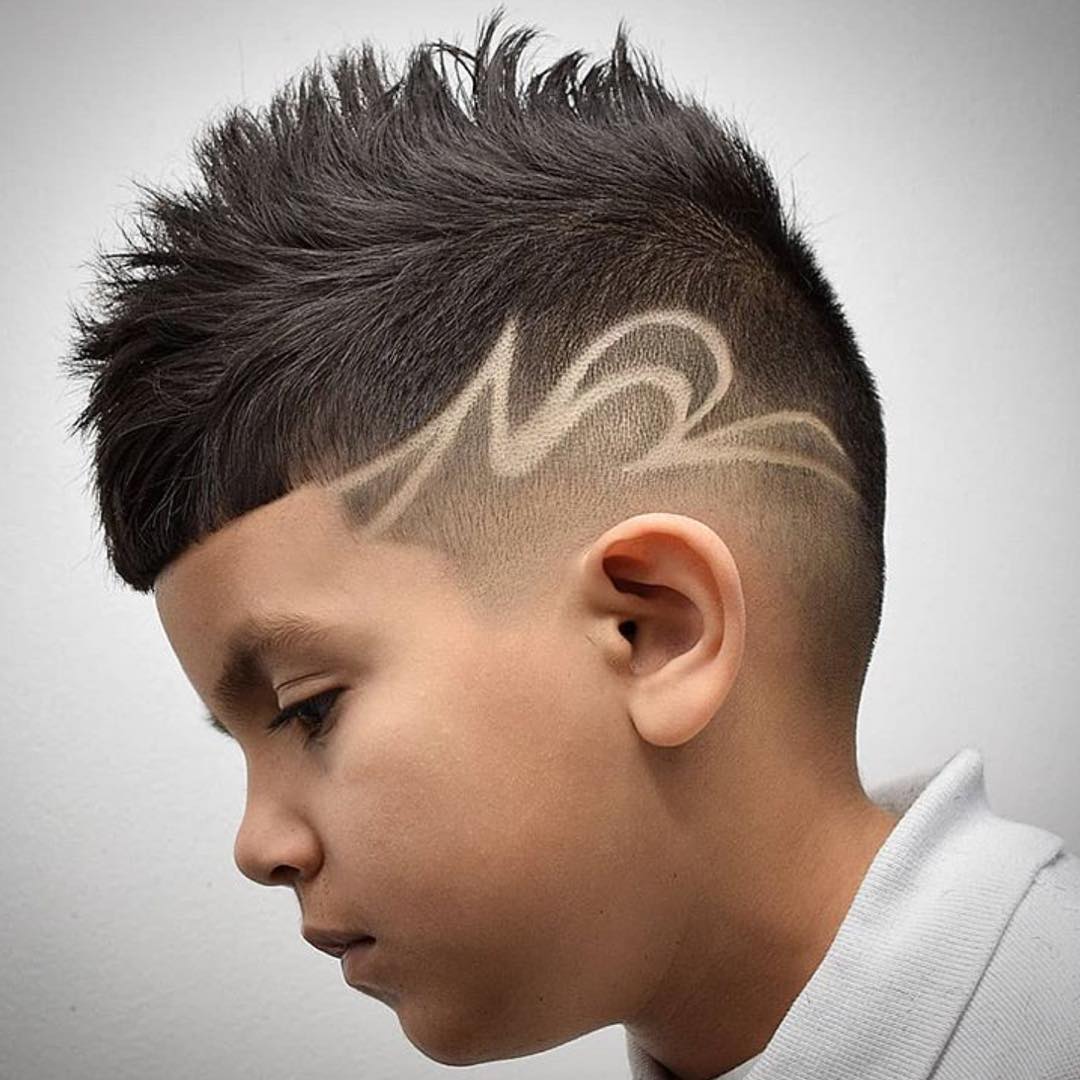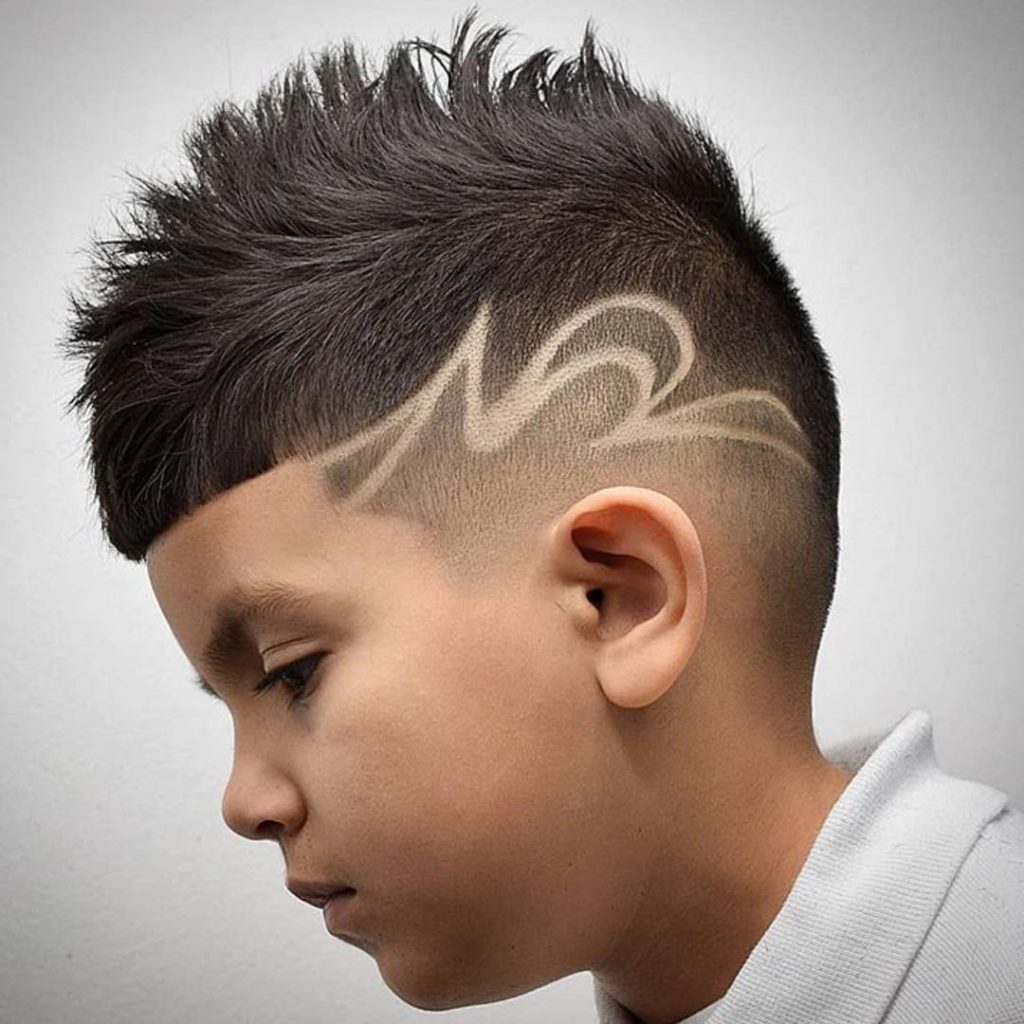 For fashion-forward kids and parents, this fresh look combines two hot trends – the crop fade and hair designs. Spike hair up into this cool faux hawk or don't.
2. Trendy Haircuts for Boys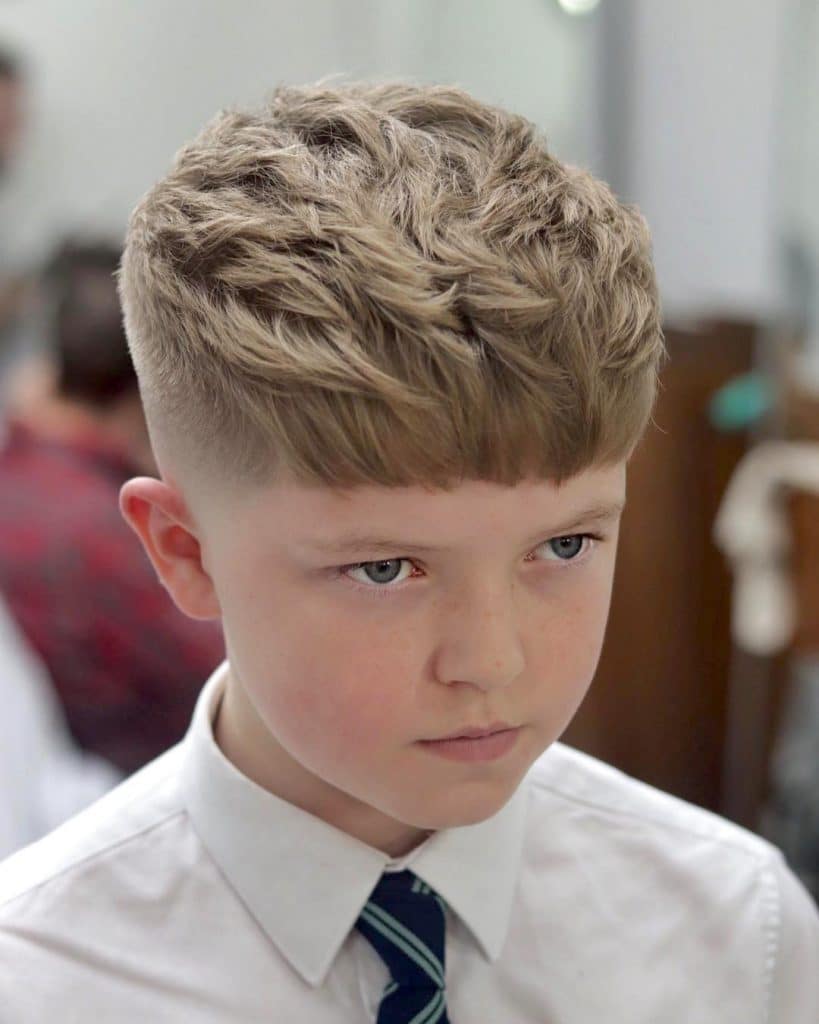 This textured crop is a huge trend for boys of all ages. Hair is cut to bring out texture while styling adds even more. There are so many different ways to wear this cool cut. Here are a few more.
3. Spiky Crop + Shaved Design Line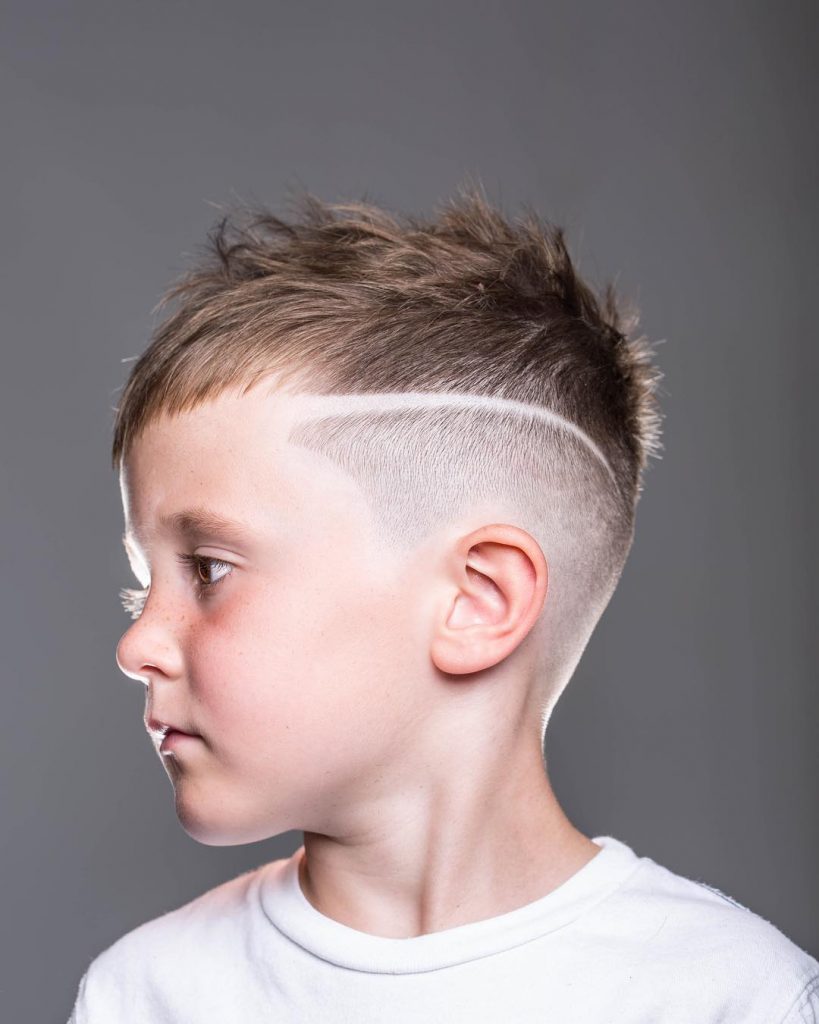 A simple shaved line is a cool and trendy hair design. This cool cut mirrors the arc of the surgical line with angled bangs.
4. Spiky Quiff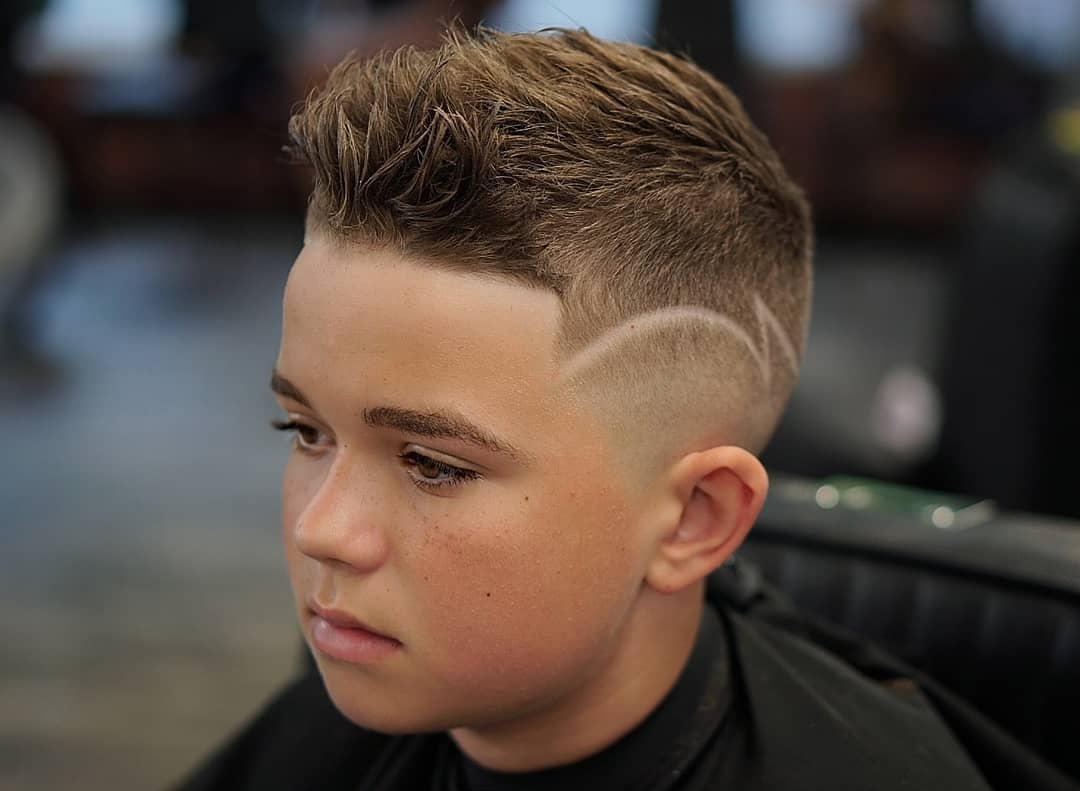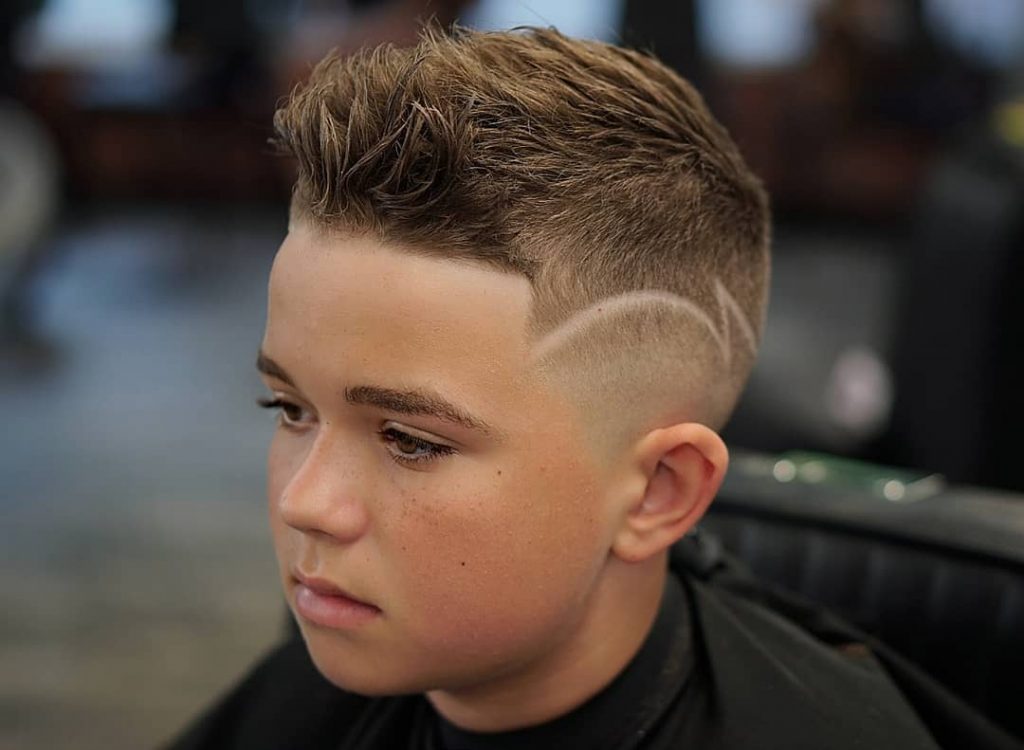 There aren endless different ways to style the crop haircut and add hair designs. This version pulls hair up into a spiky quiff and shaves an arced zig zag into one the fade.
5. Fringe + Drop Fade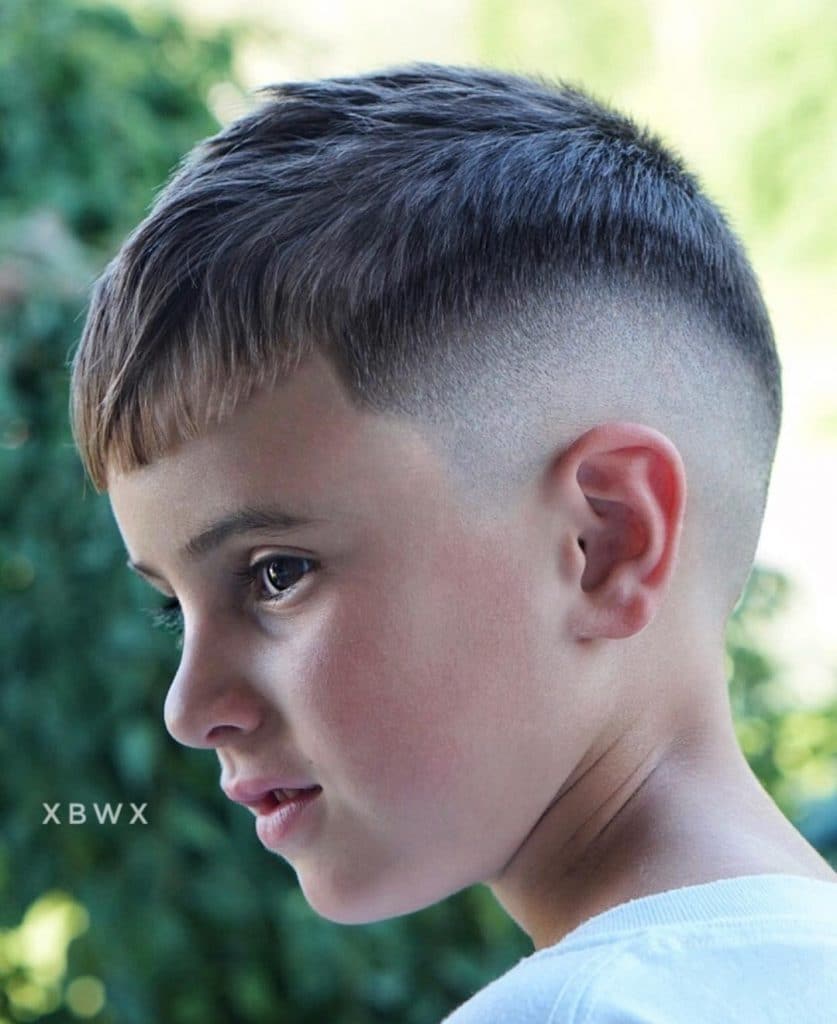 Fringe continues the line of an arched drop fade in this cool version of the popular crop.
Short Haircuts for Boys
6. Buzz + Half Moon Part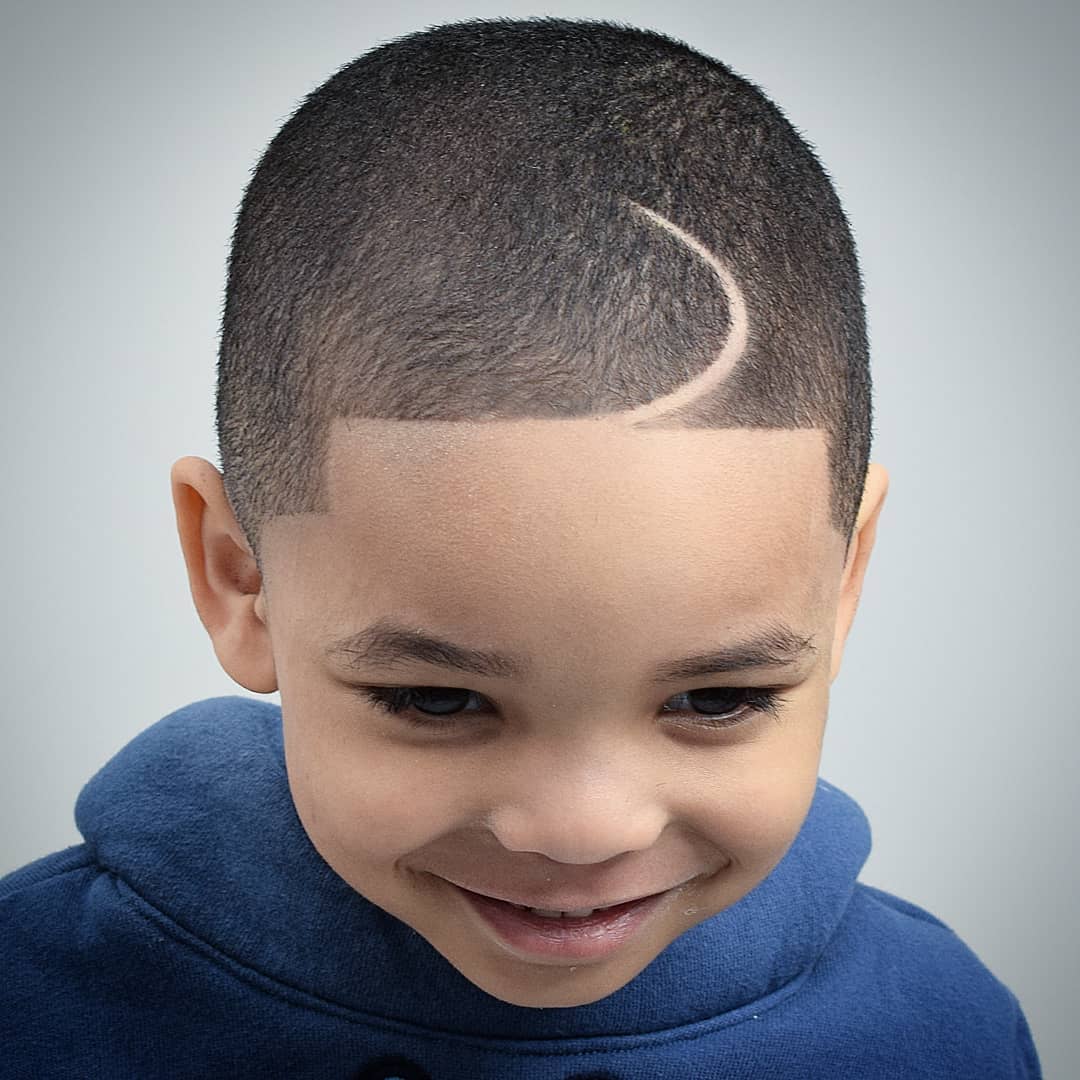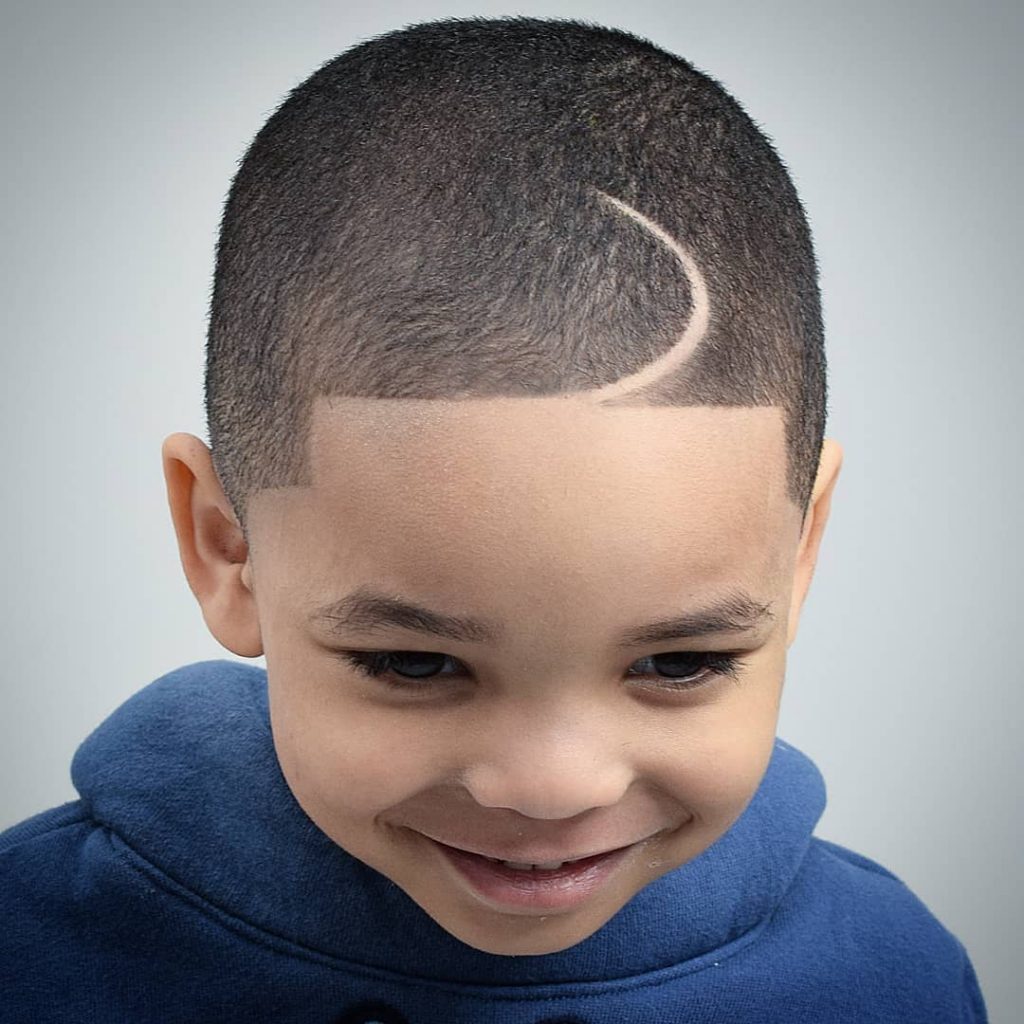 There are a lot of reasons to give your kid a buzz cut and one of them is that they look good, especially with a line up and curved half moon part. It's a stylish cut for bath and haircut averse boys.
7. Comb Over Fade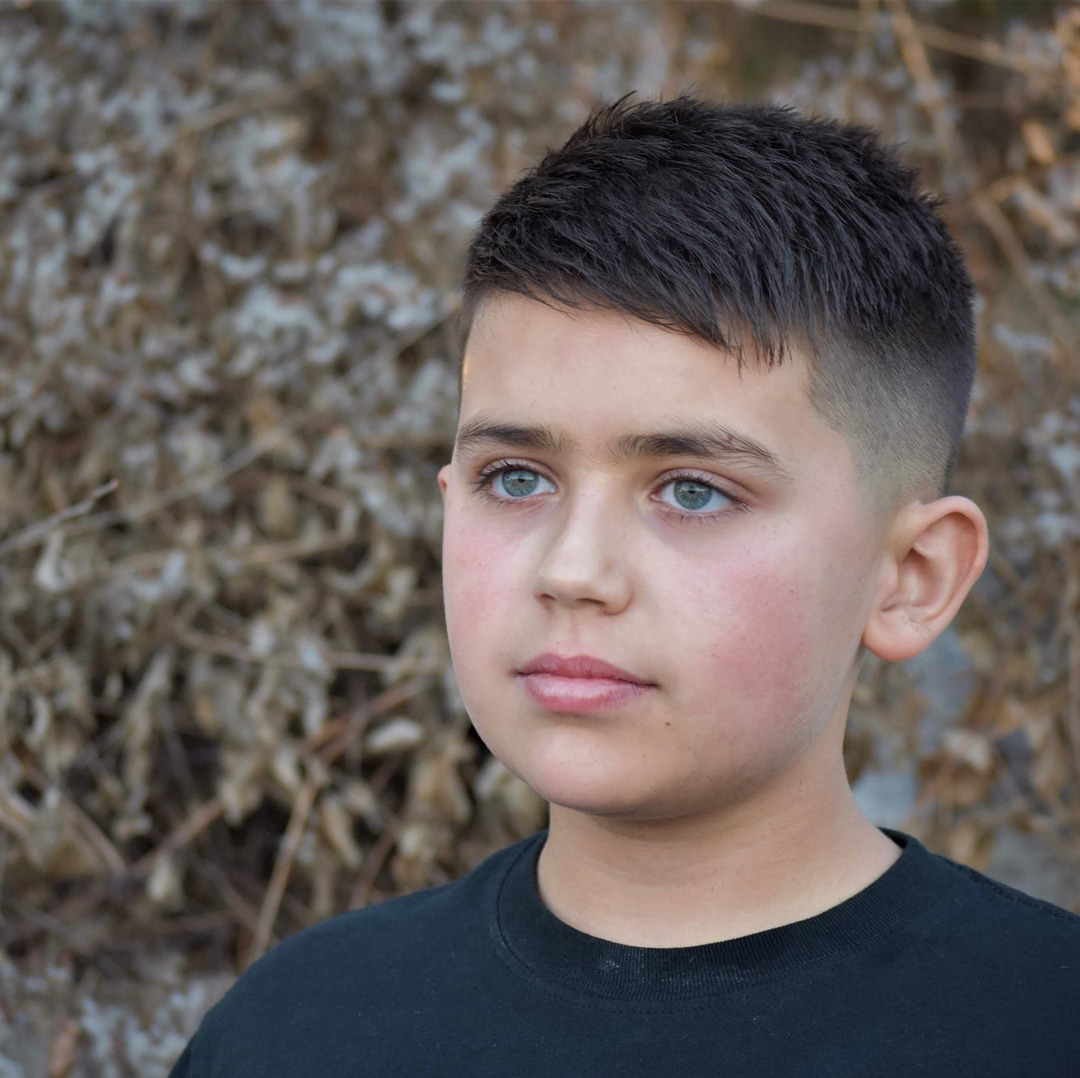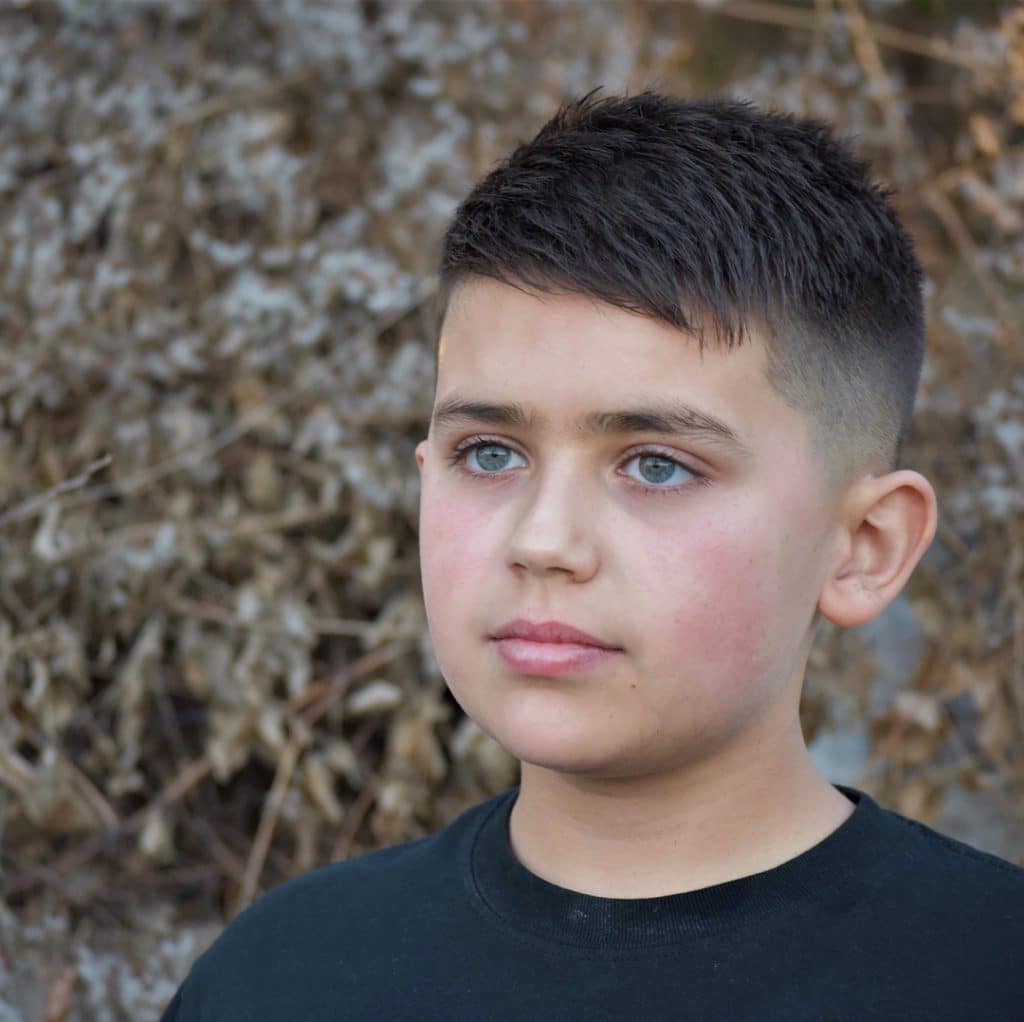 This short haircut for boys looks great, doesn't require styling, and can take a while to grow out. Win, win, win.
8. Spiky Crop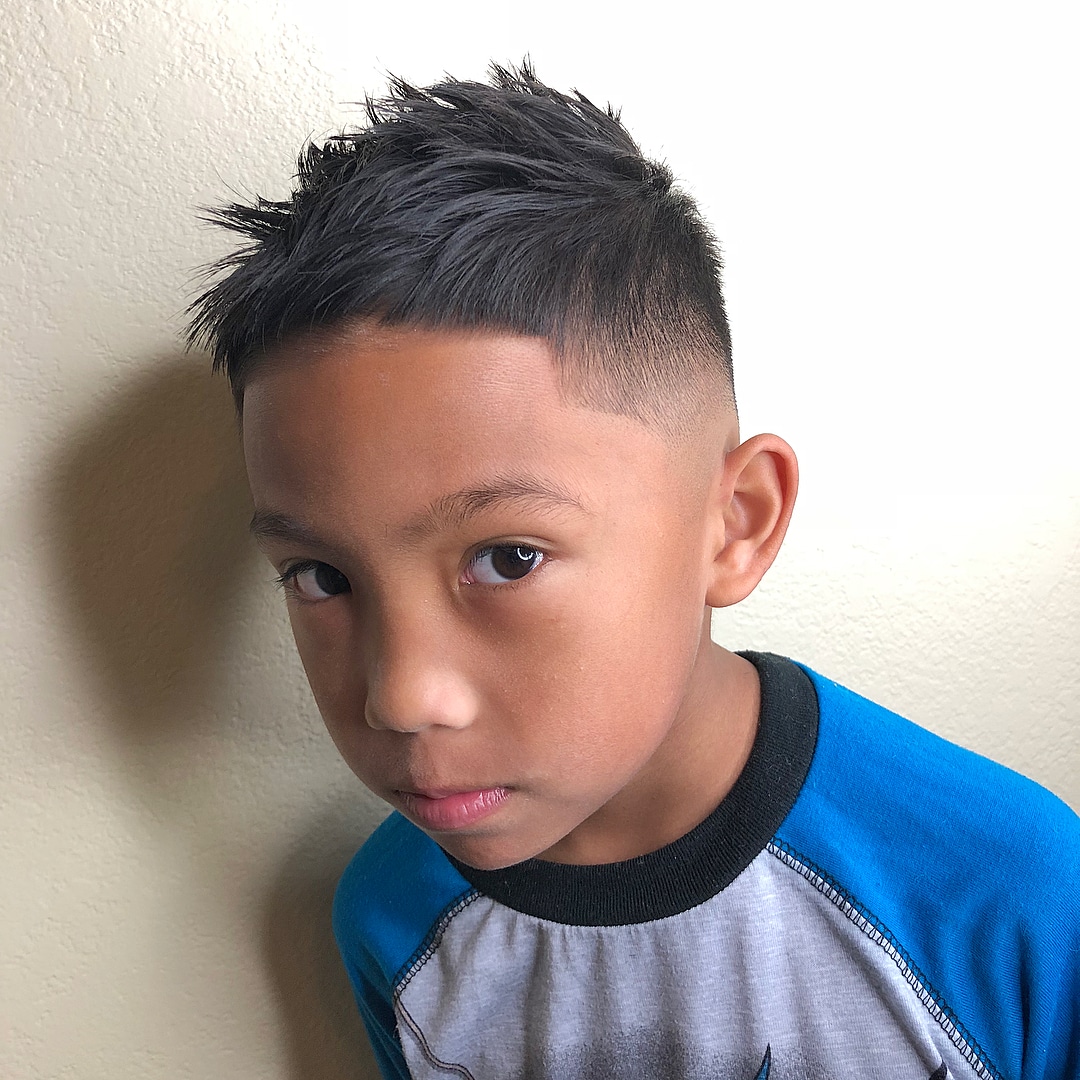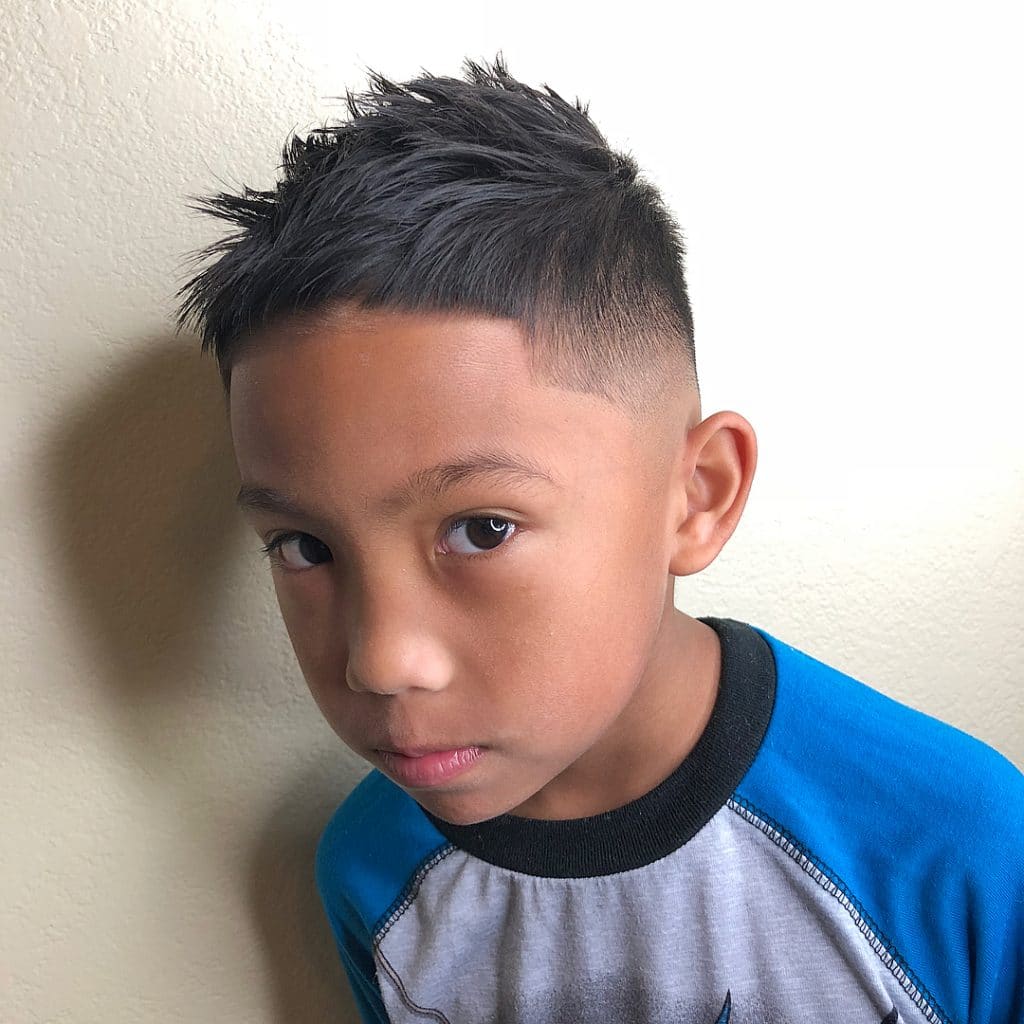 This short version of the crop haircut looks great with messy texture.
9. Undercut for Boys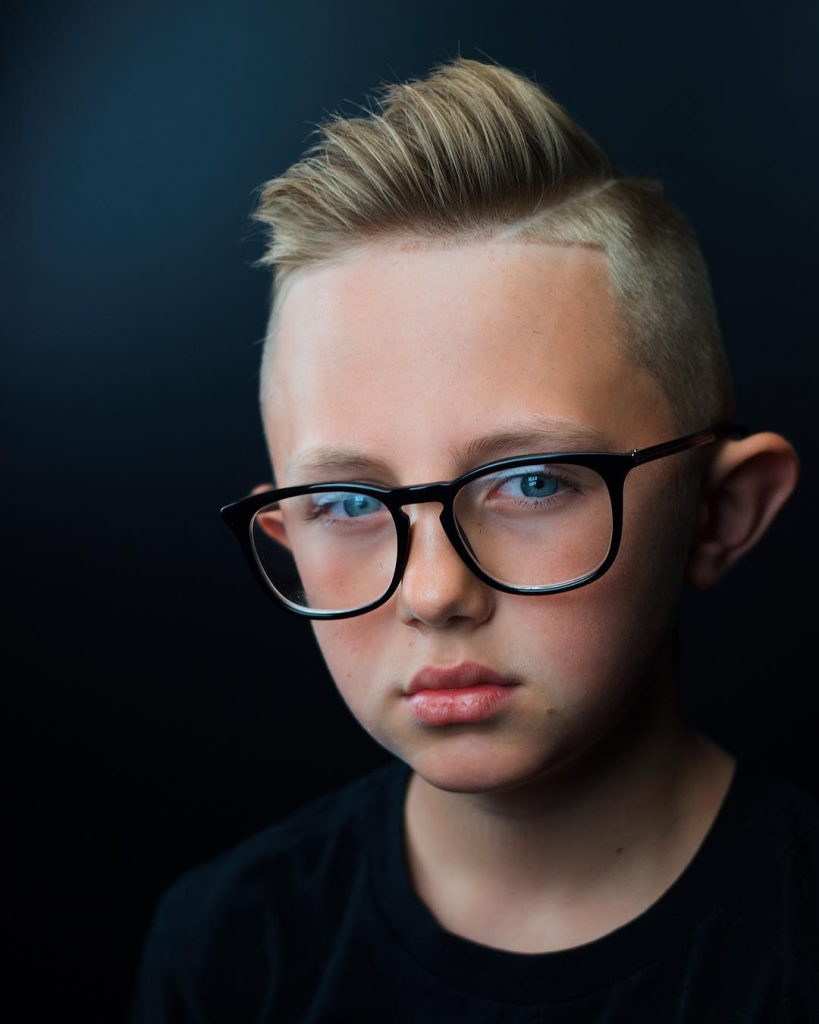 Asymmetrical hairstyles are very popular with boys and are easy to wear. Shaved sides do most of the work while short hair on top can be styled up and over to one side or left loose.
10. Messy Short Spikes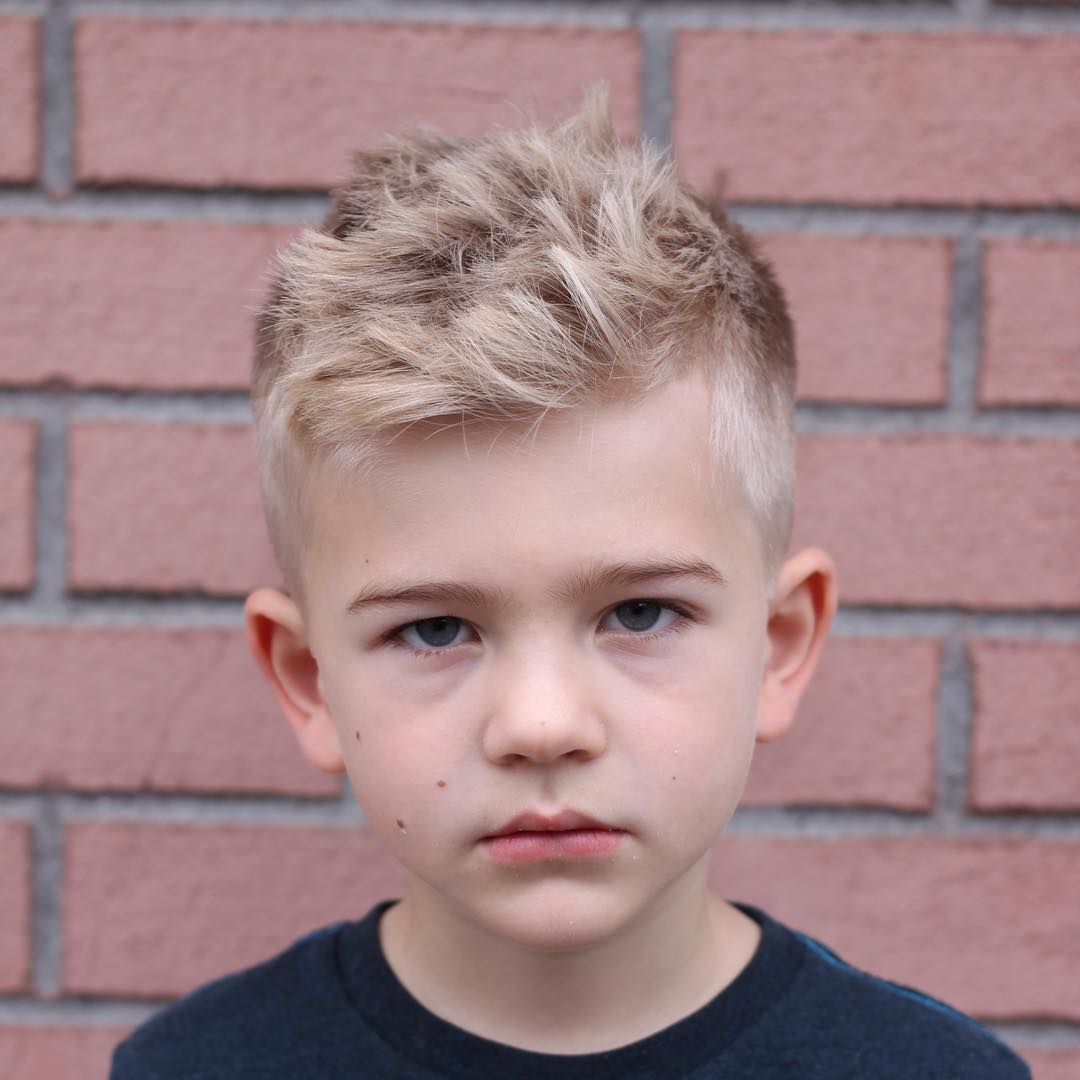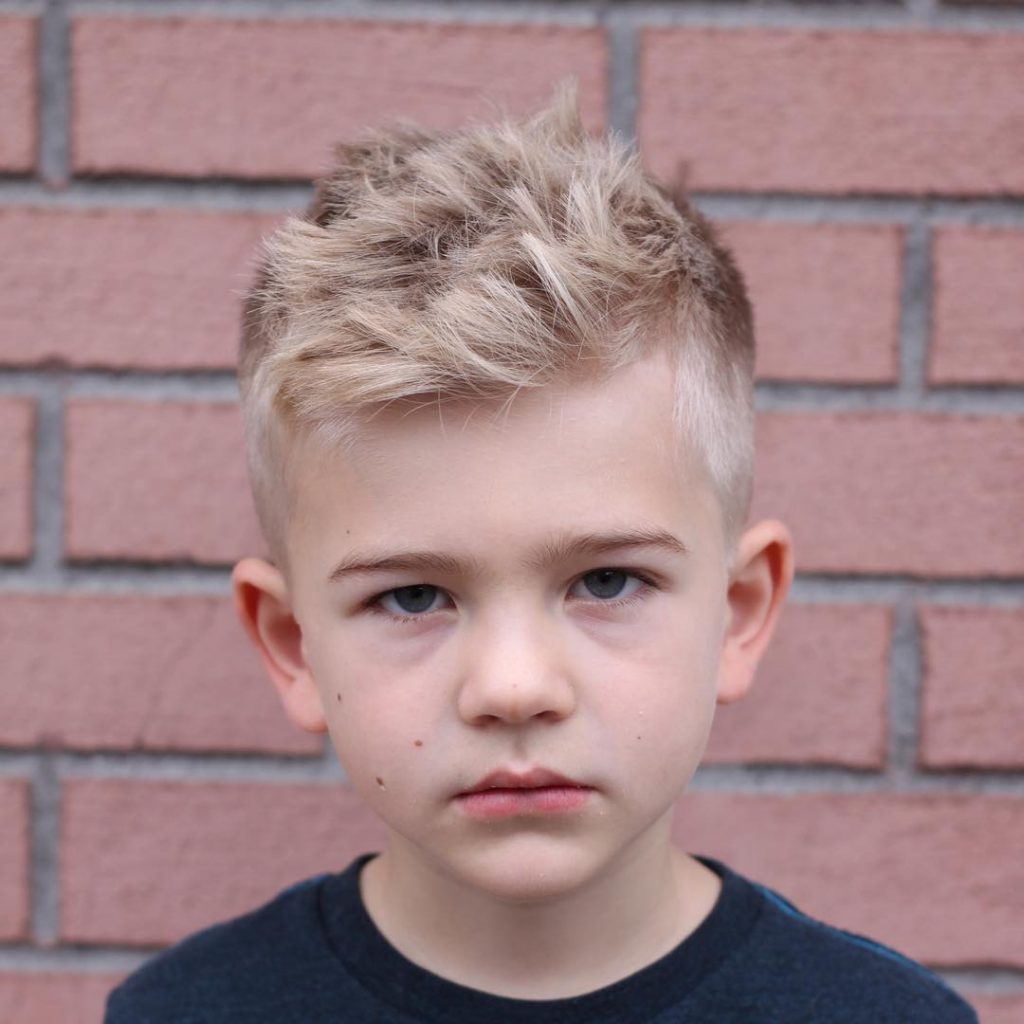 Now here's a look that boys can style themselves. Just give them a matte pomade and teach them how to emulsify product between the palms before working it into hair.
Spiky Hairstyles for Boys
11. Messy Spikes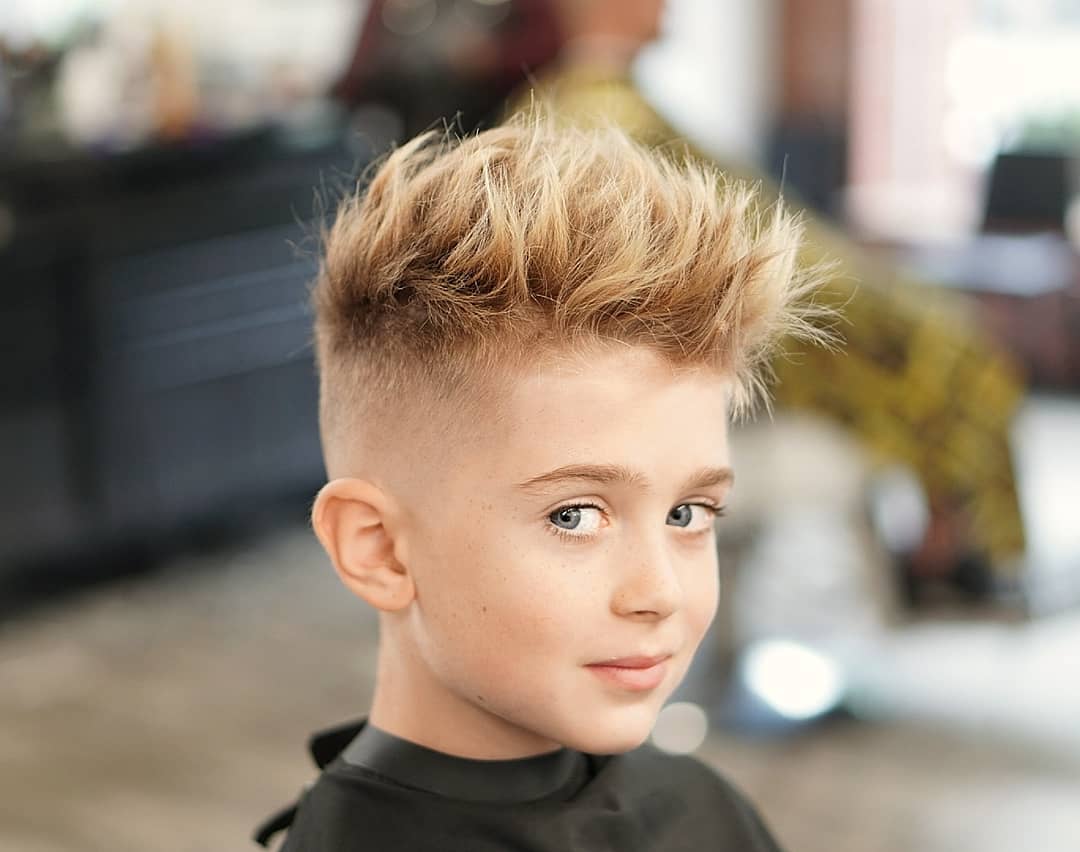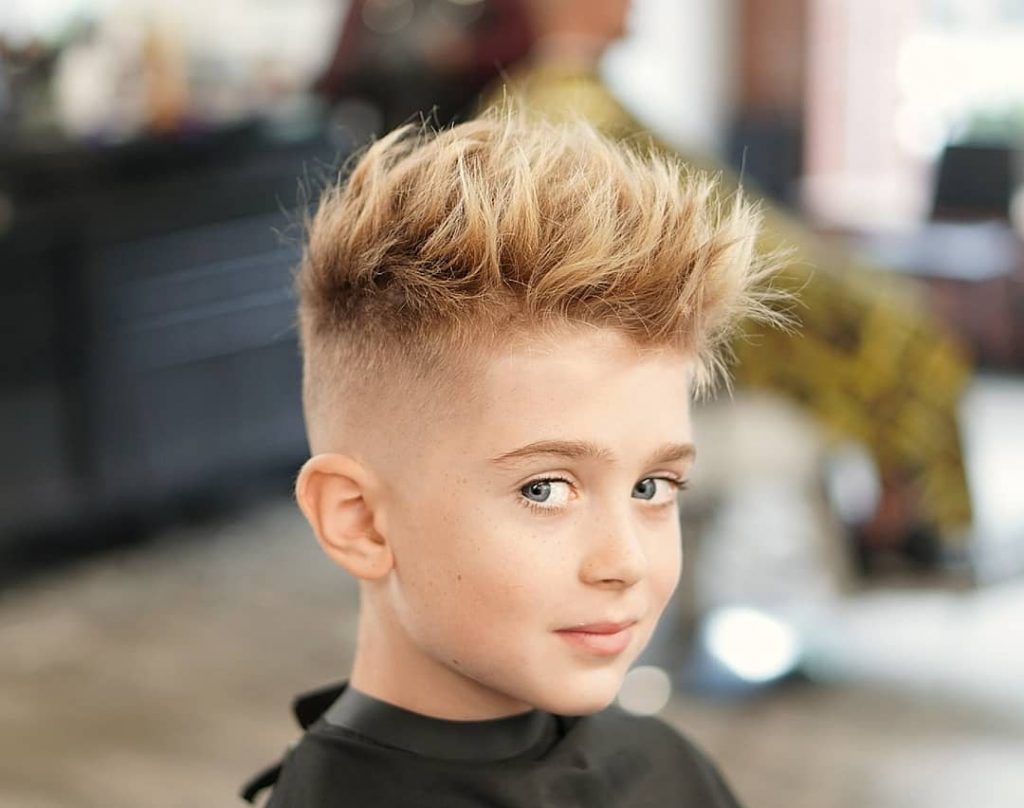 Spiky hair has always been a popular hairstyle for boys and it a top trend for guys right now too. Use a pomade to pull hair up into messy spikes or come hair over to one side.
12. Short Haircuts for Thick Hair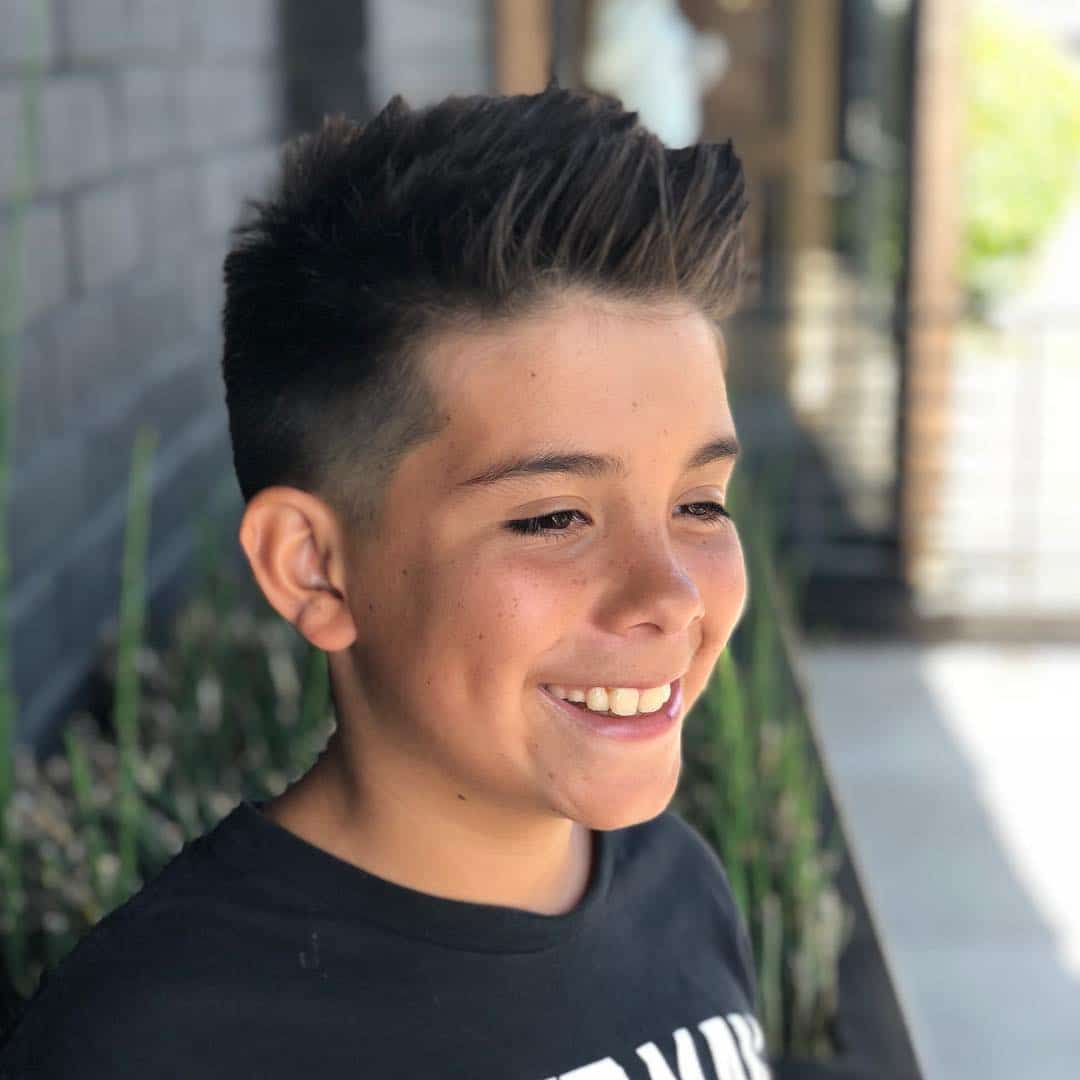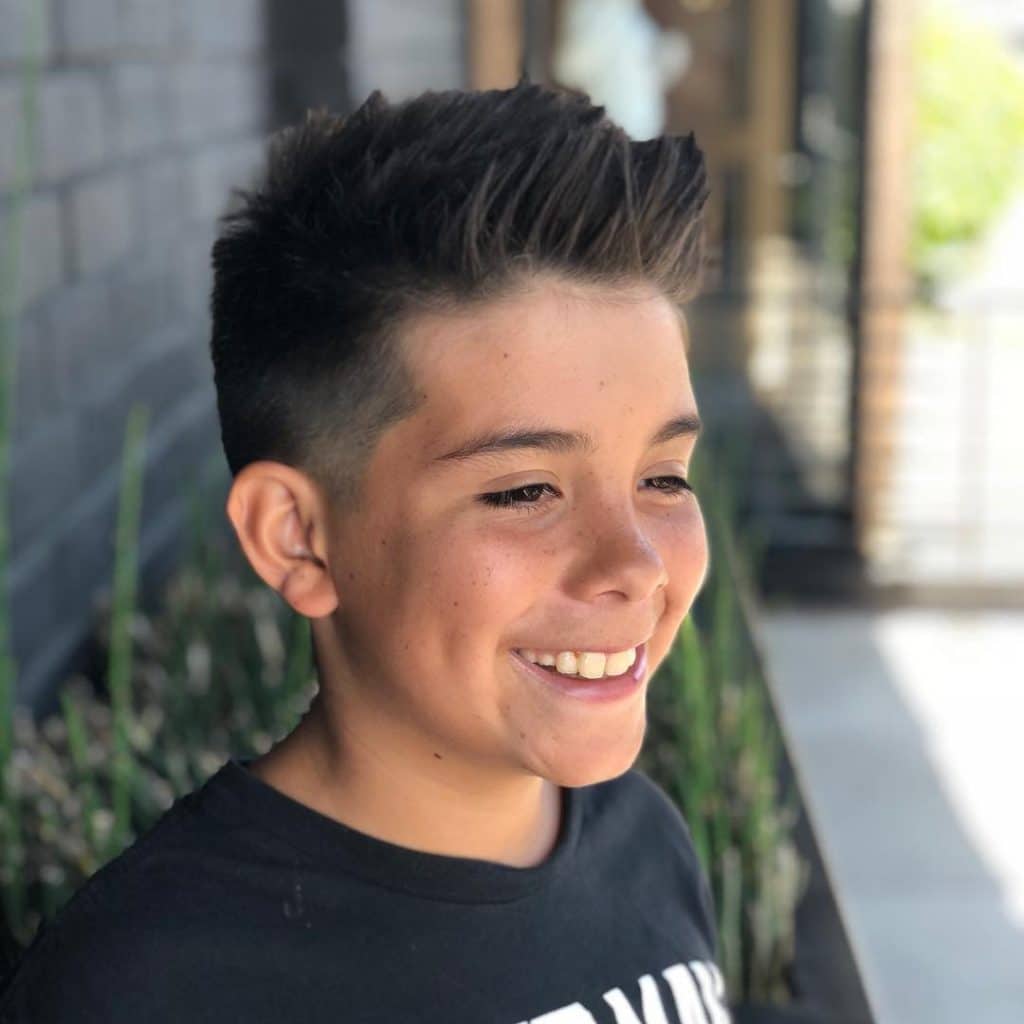 Spiky styles look great for boys with fine, regular, and thick hair. A temple fade makes short sides even shorter.
13. Spiky Quiff + Line Up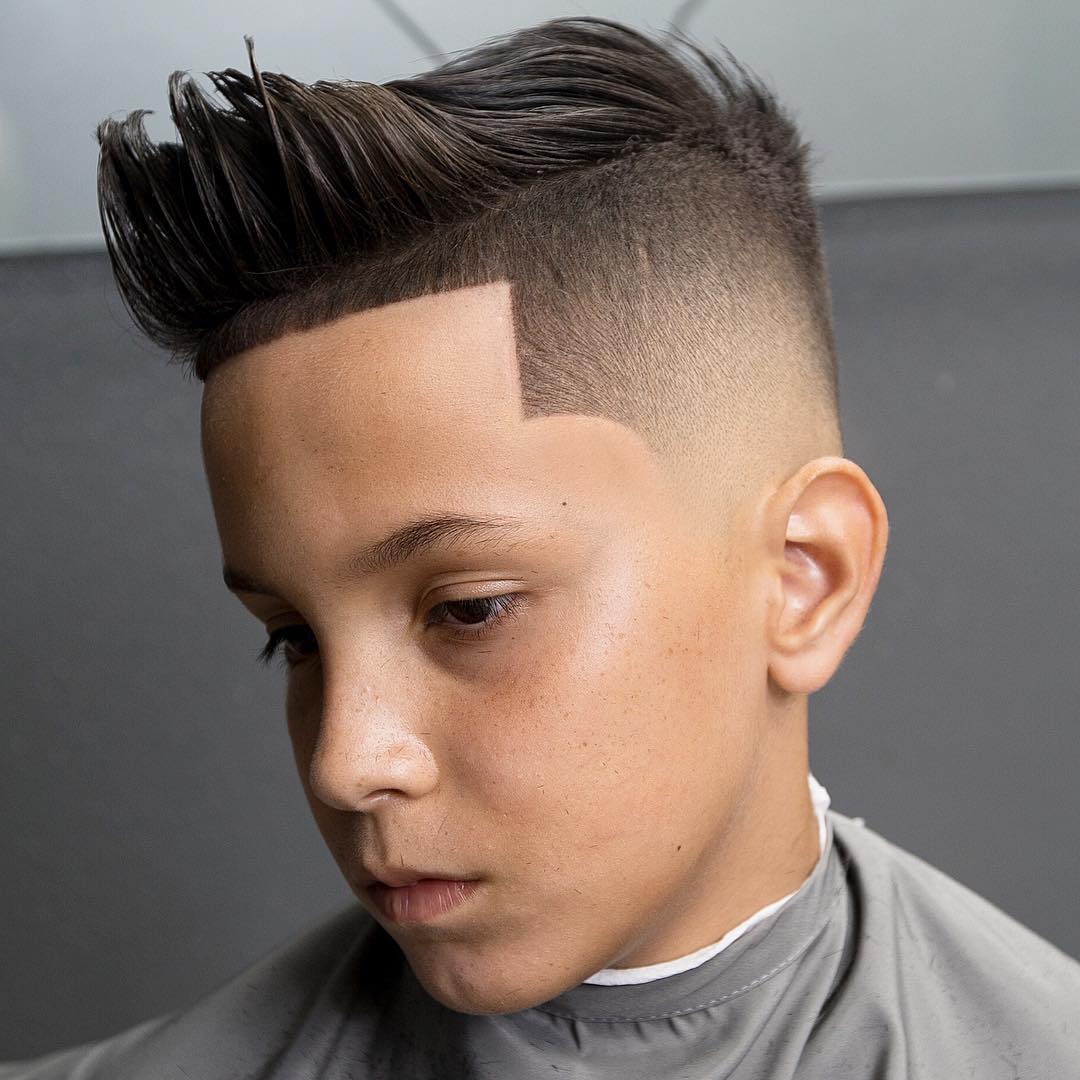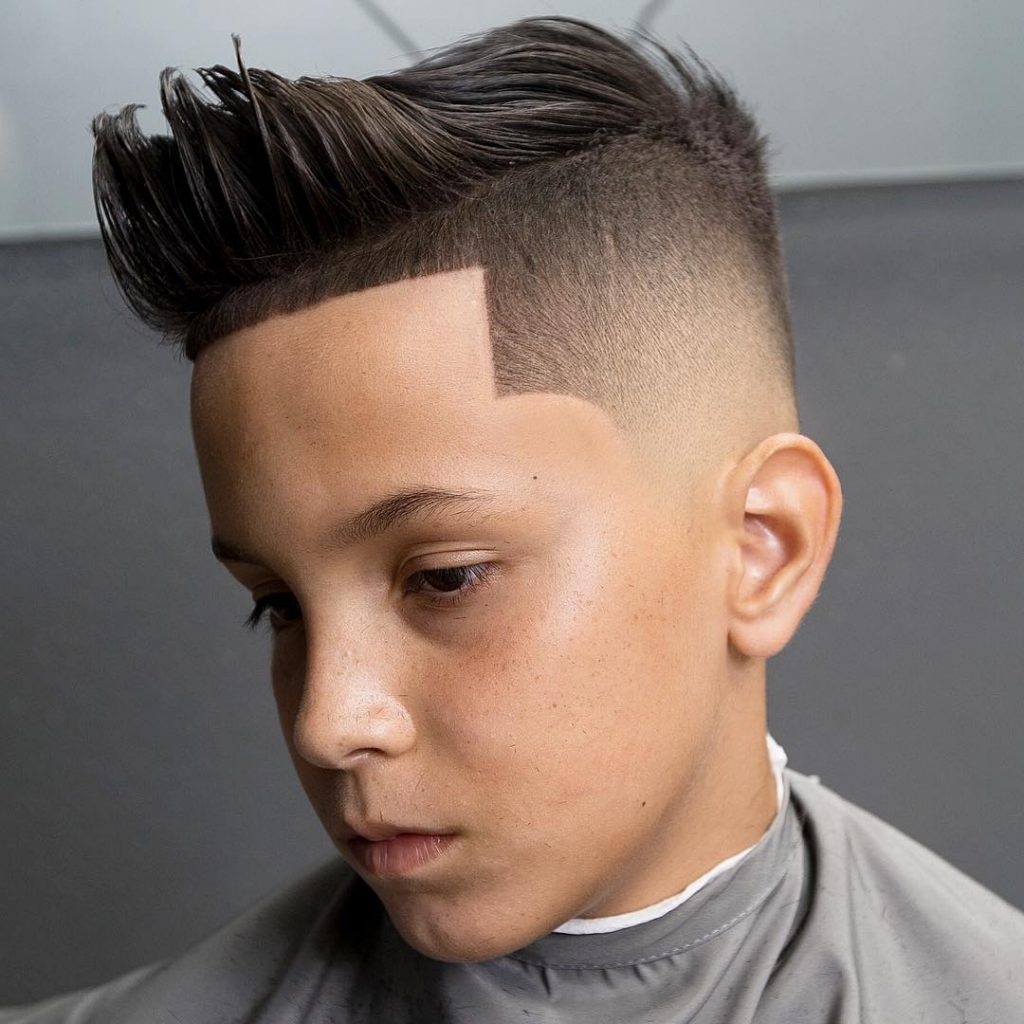 This cool quiff just spikes hair up at the forehead.
14. Modern Spiky Hair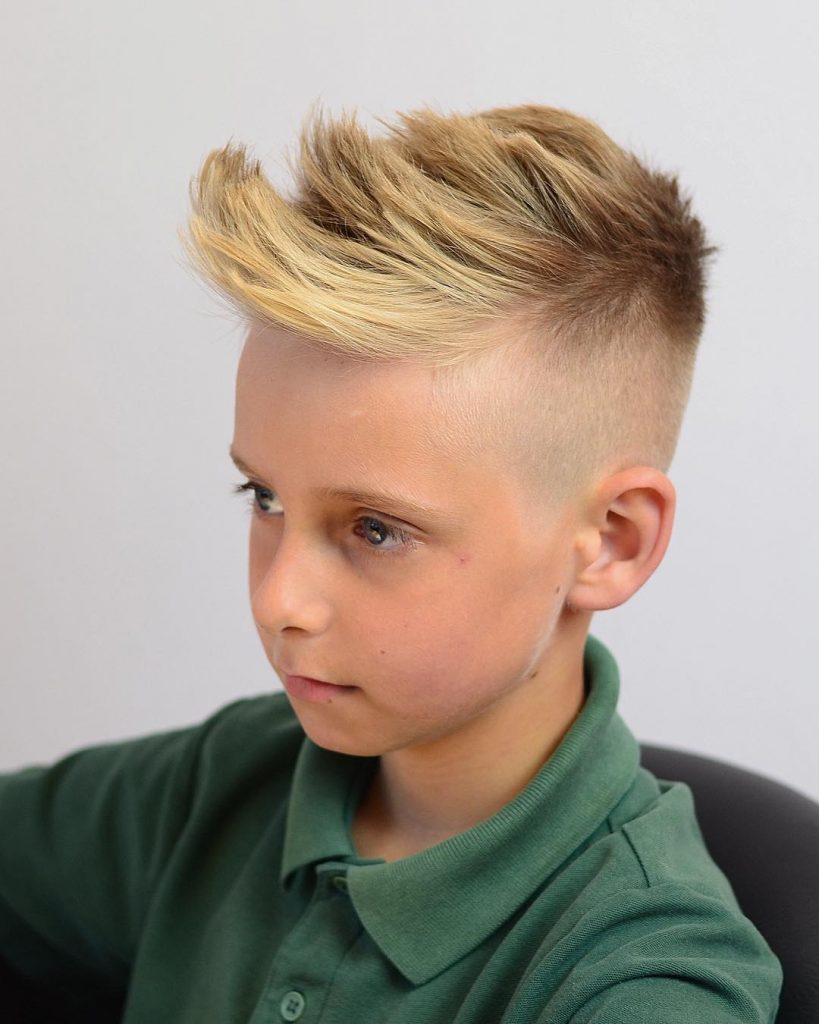 This is a modern way to wear spikes with large textured sections.
15. Soccer Player Hairstyles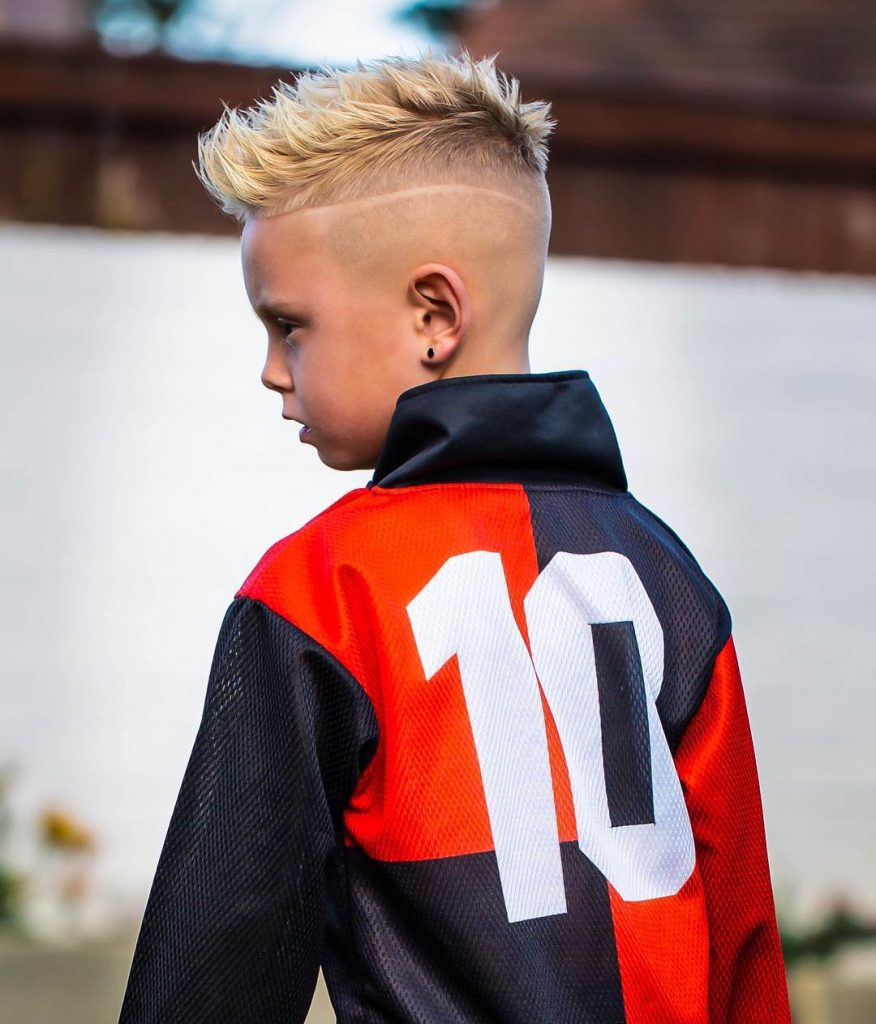 A haircut is an easy to emulate your heroes. This spiky do over a fade is a popular soccer player haircut that also makes it easy to spot your kid on the field.
16. Spiky Mohawk Haircut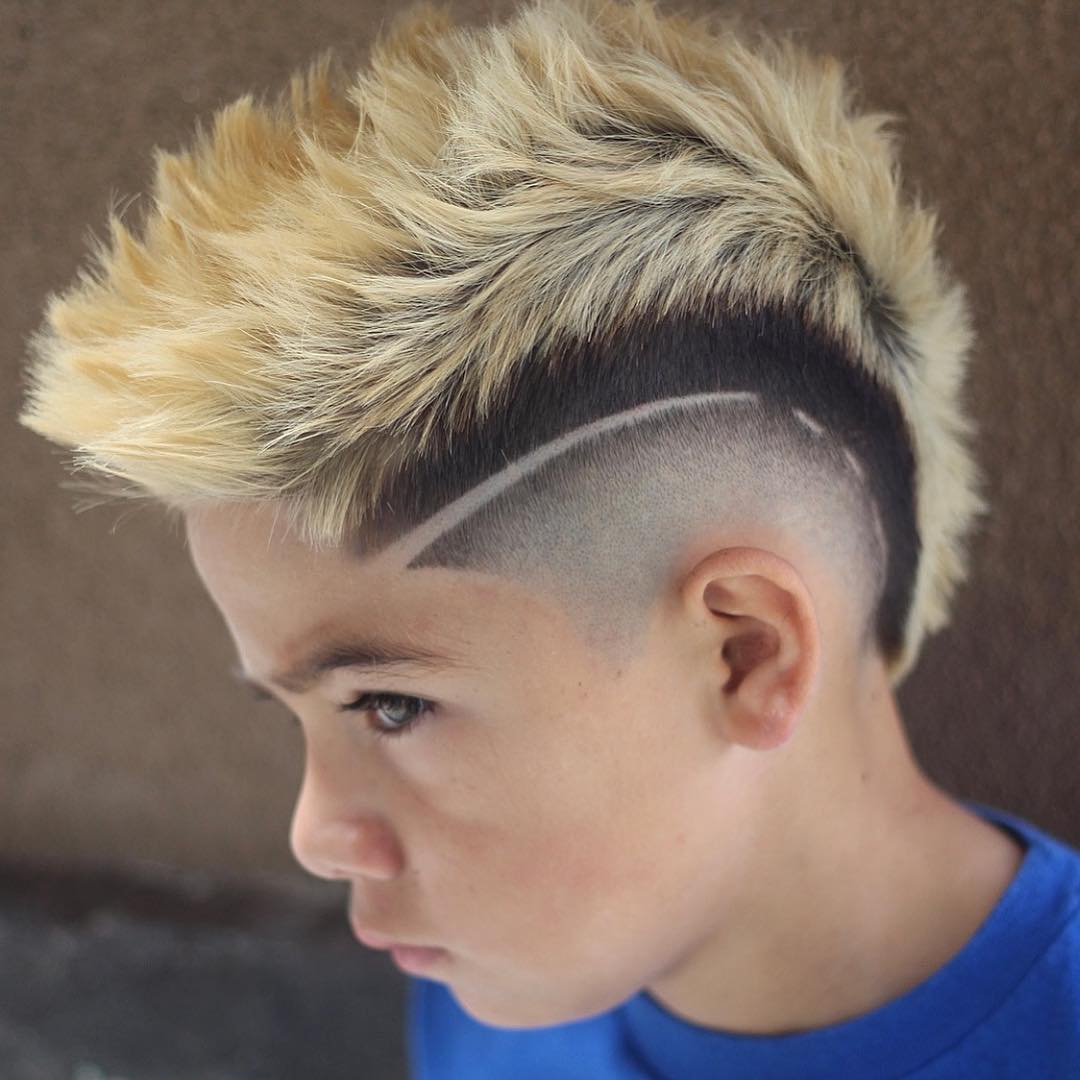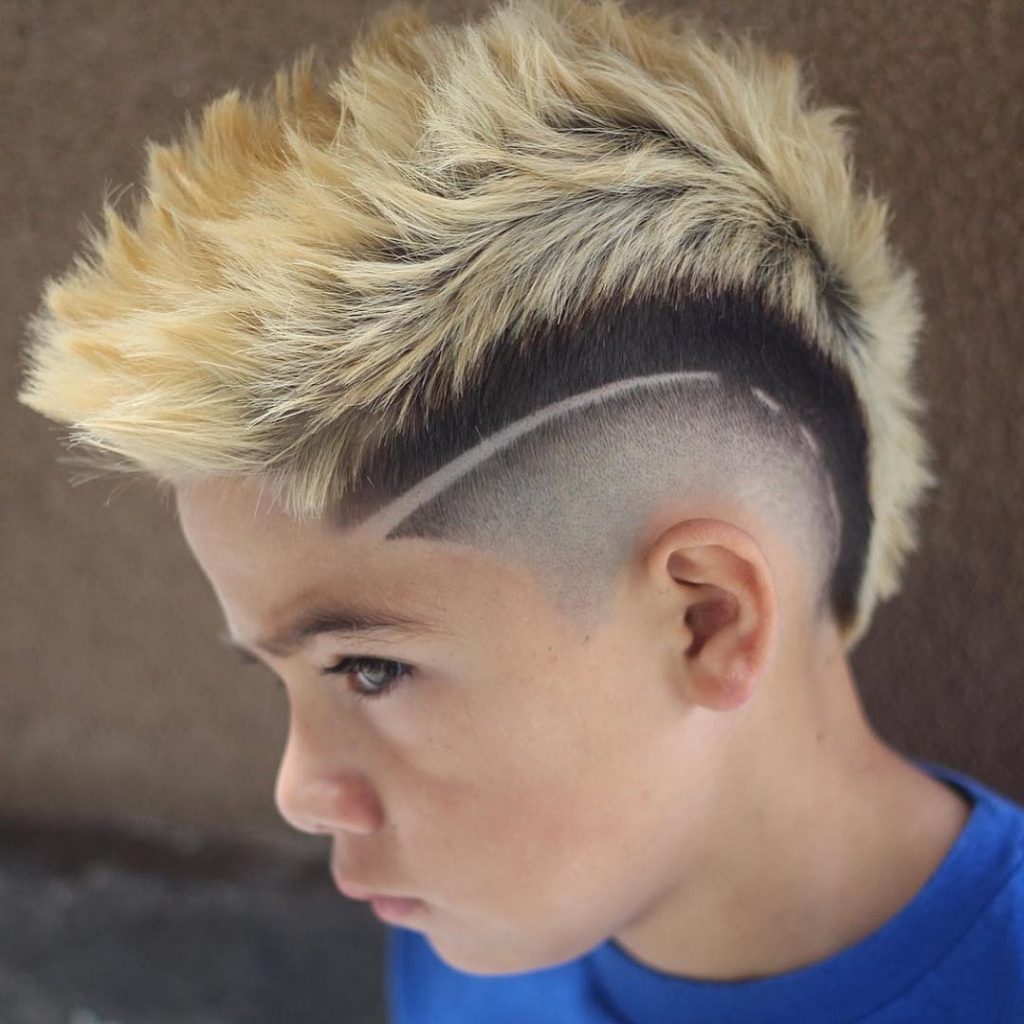 Blonde spikes, a dark fade, and shaved arc are a lot of look but not more than this cool kid can handle.
Cool Hairstyles for Boys
17. Burst Fade Mohawk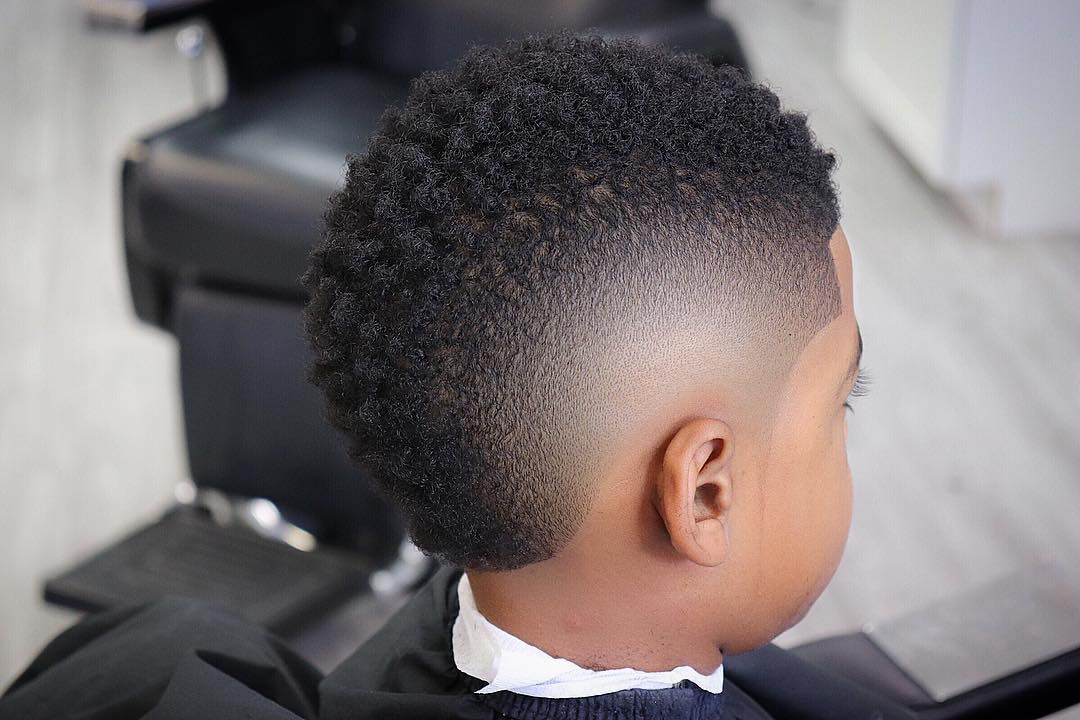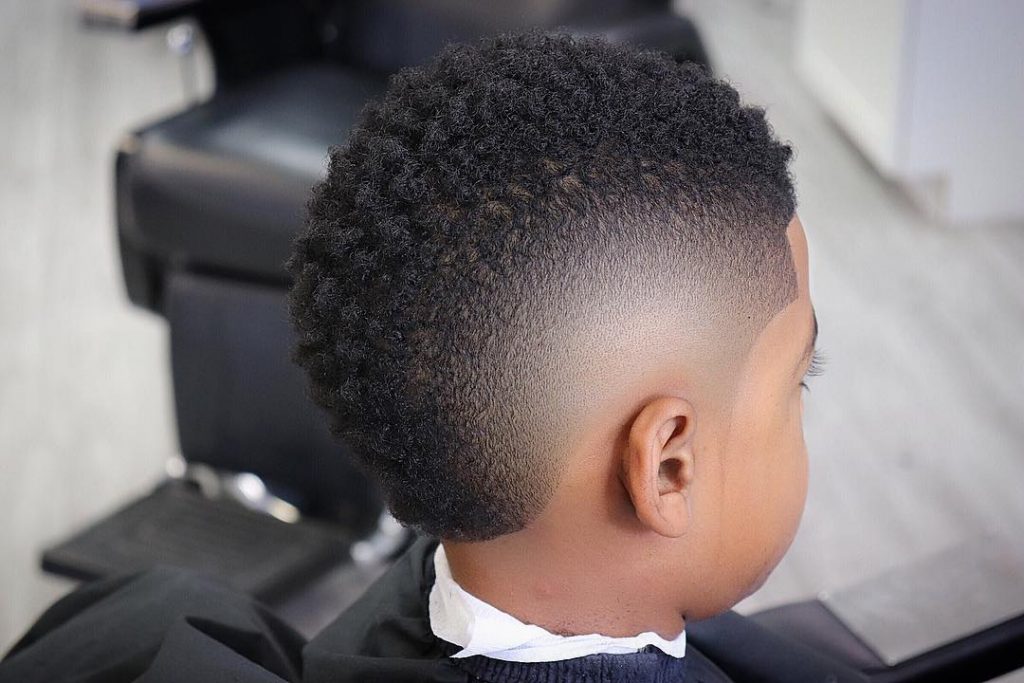 The burst fade mohawk is a cool short haircut for curly hair, especially black hair.
18. Curly Mohawk for Boys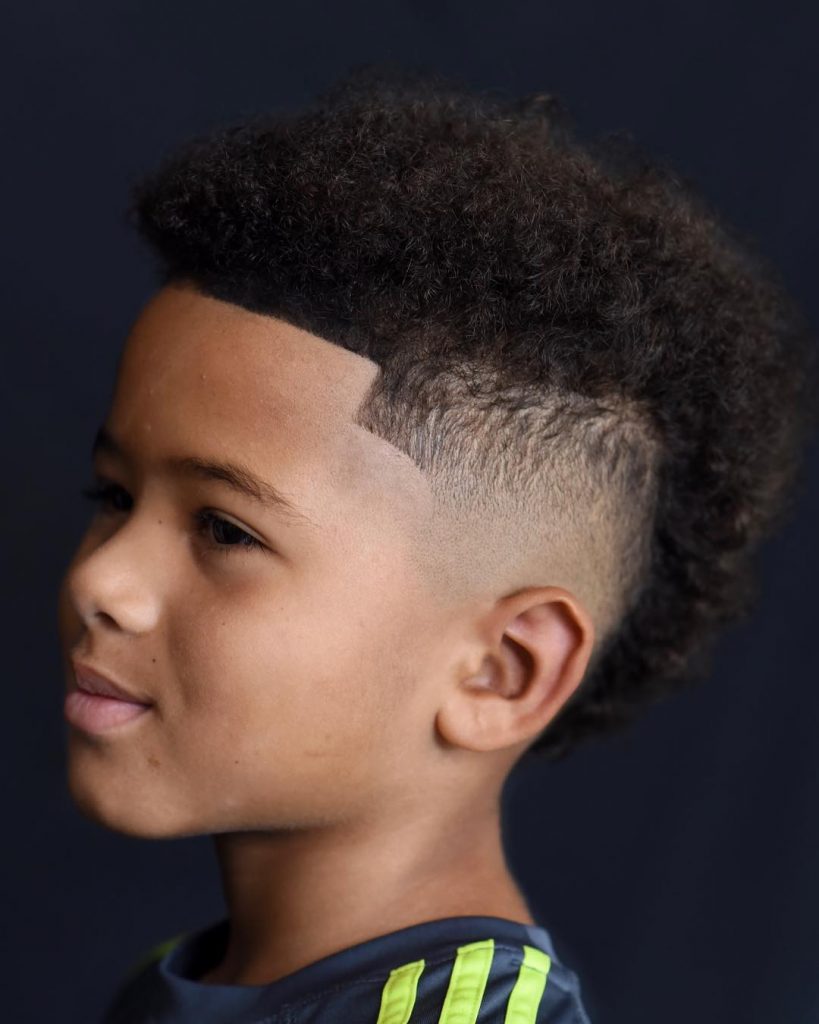 This curly mohawk couldn't be cooler.
19. Pomp + Line Up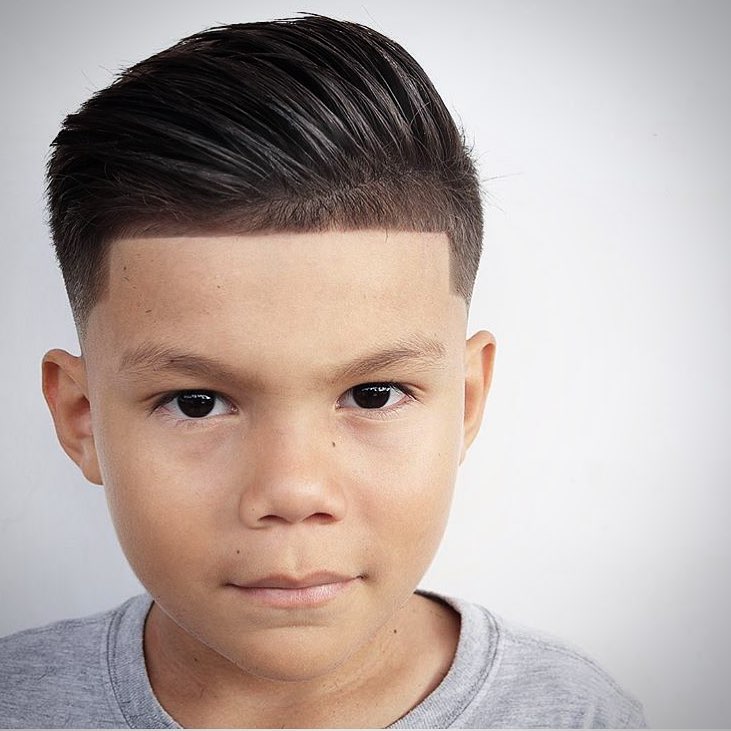 The square angles of a line up look cool with every hairstyle, especially this pomp.
20. Disconnected Undercut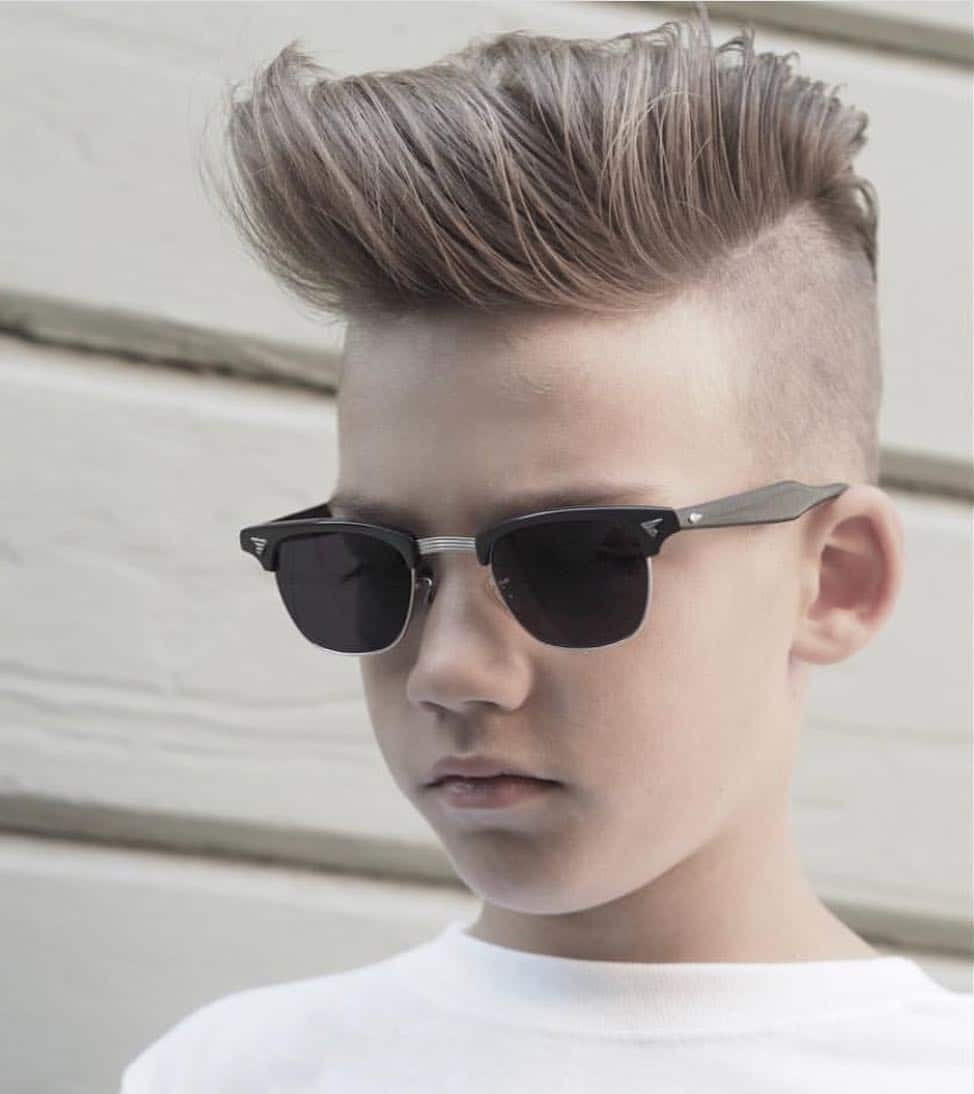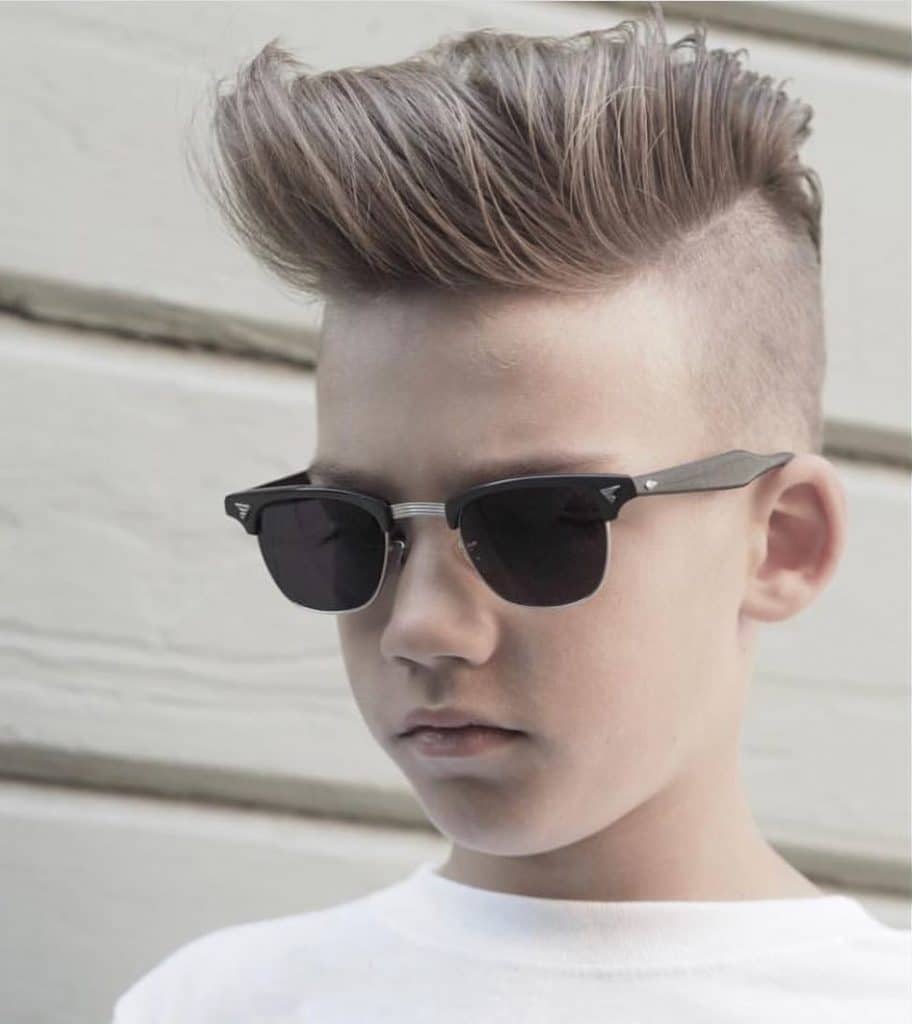 Some boys prefer medium-length and longer hair. The shaved sides of an undercut make this long hair easy to manage. It can also be pulled back into a samurai bun or pony tail.
21. Classic Boy's Haircuts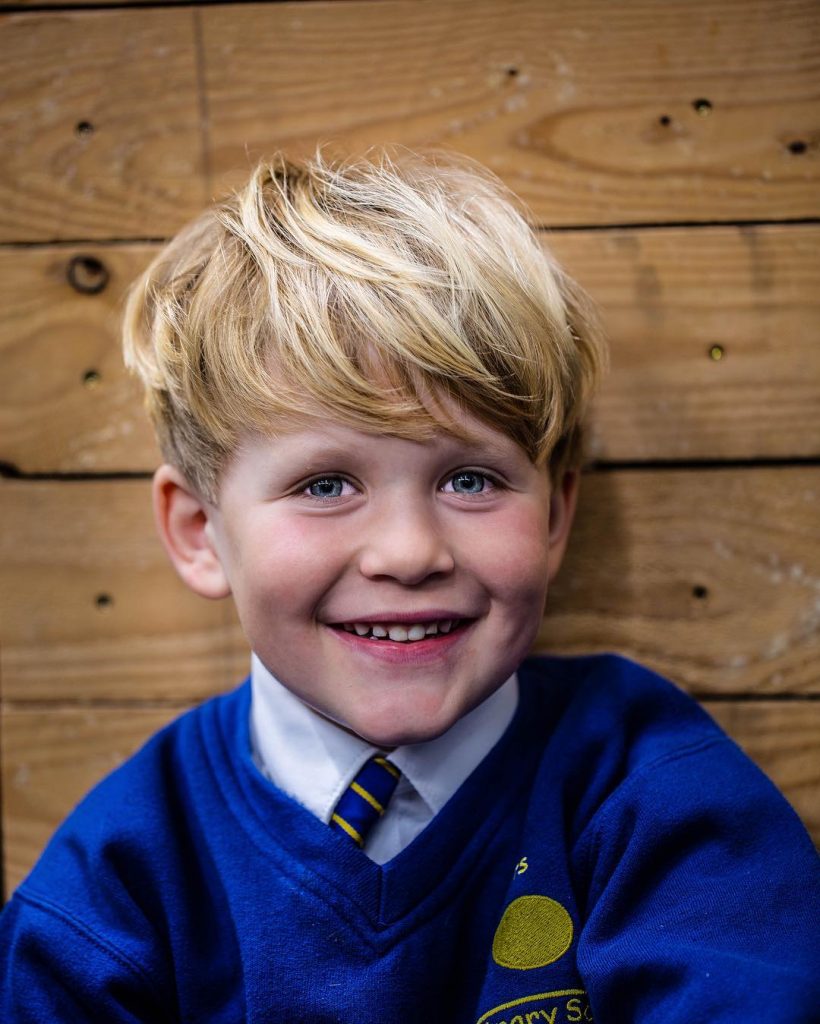 This classic mop-top haircut has plenty of modern texture but doesn't need to be styled daily.
22. Long Ringlet Curls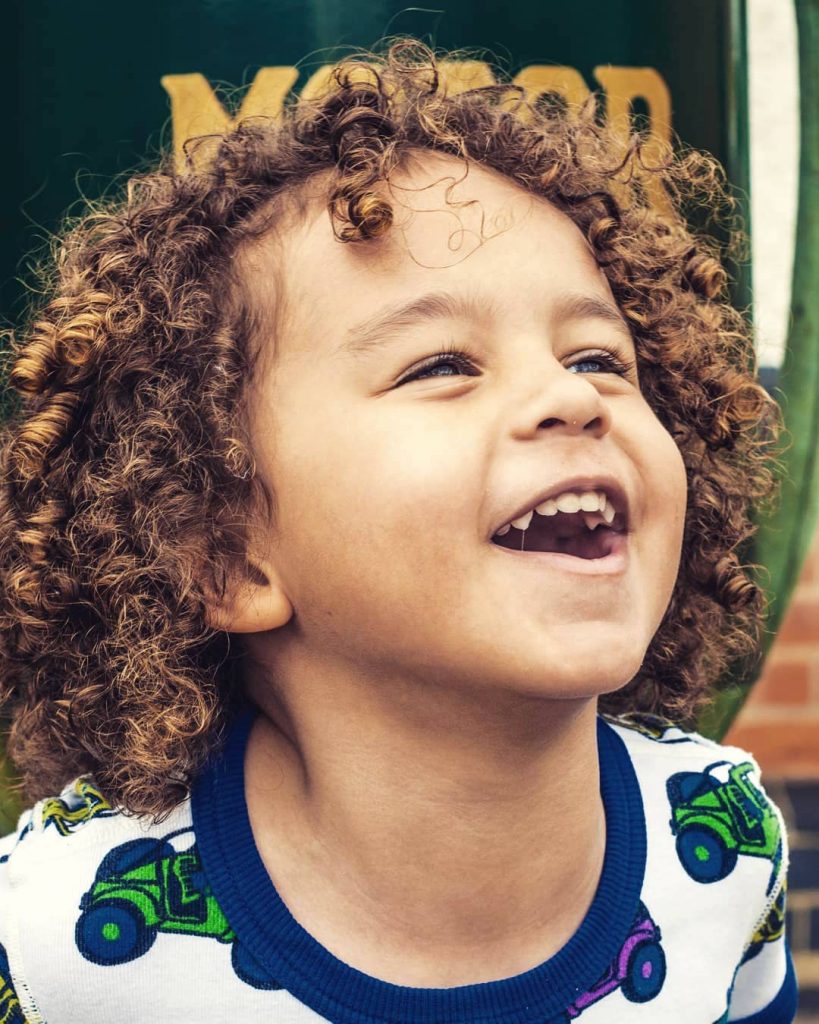 Take care of these gorgeous ringlet curls with a tear-free conditioner.