In addition to being one of the most popular haircut styles for men, curly hair fade haircuts are one of the top looks for guys with curly hair. Fade haircuts make the most of any textured hair, from short hair to long.
Another great thing about fades is that there are so many different types. Hair can go short or bald low, medium, or high. Or just clean up the edges with a taper fade. Then there's the drop fade, burst fade, and temple fade too. Mix and match any kind of fade with any hairstyles to create your own look.
The fade also makes curly hair easier to manage. After your hair cream or pomade of course. Hair can be long on top with nothing at the sides or shorter all over with faded edges. For more curls, go for a lower fade. Or concentrate texture and length on the top of the head with a high fade. If neither of those work, there are plenty of medium fade options somewhere in between.
Now check out these 19 cool ways to wear curly hair fade haircuts.
1. Curly Hair + Shadow Fade Haircut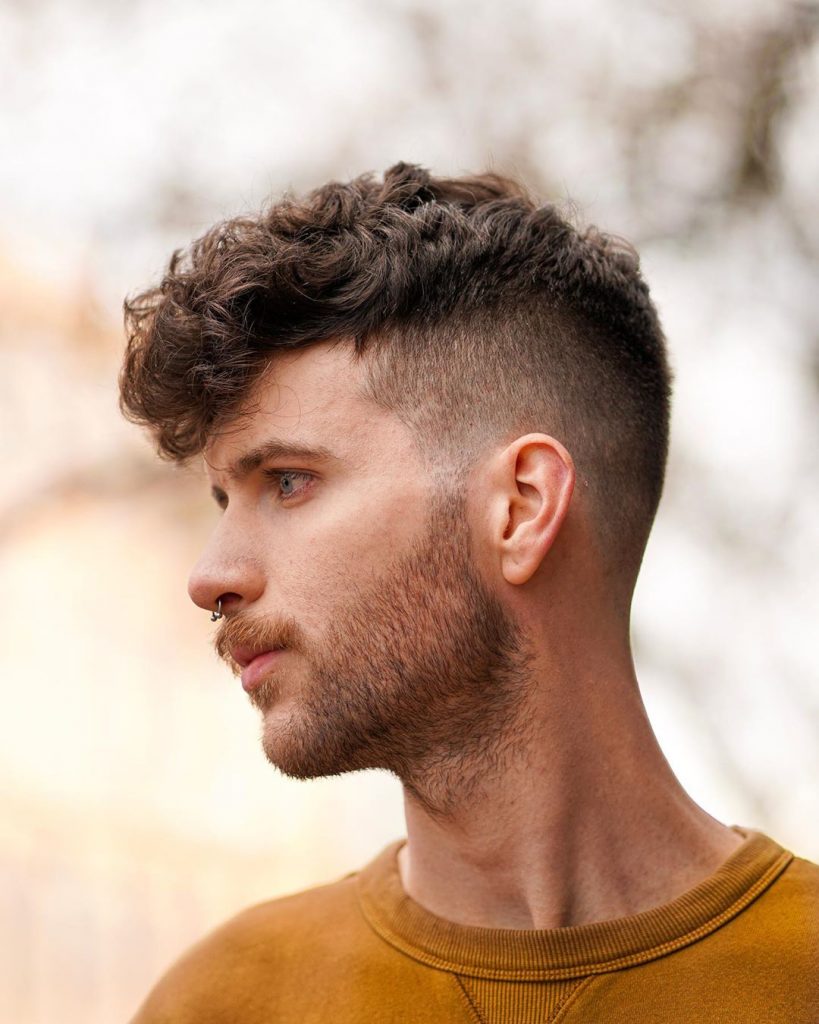 The shadow fade goes from short to shorter instead of down to the skin. This is a cool French crop for curly hair that is heavy on the fringe. As hair gets shorter toward the back of the head, it gets straighter too.
2. Taper Fade + Curly Hair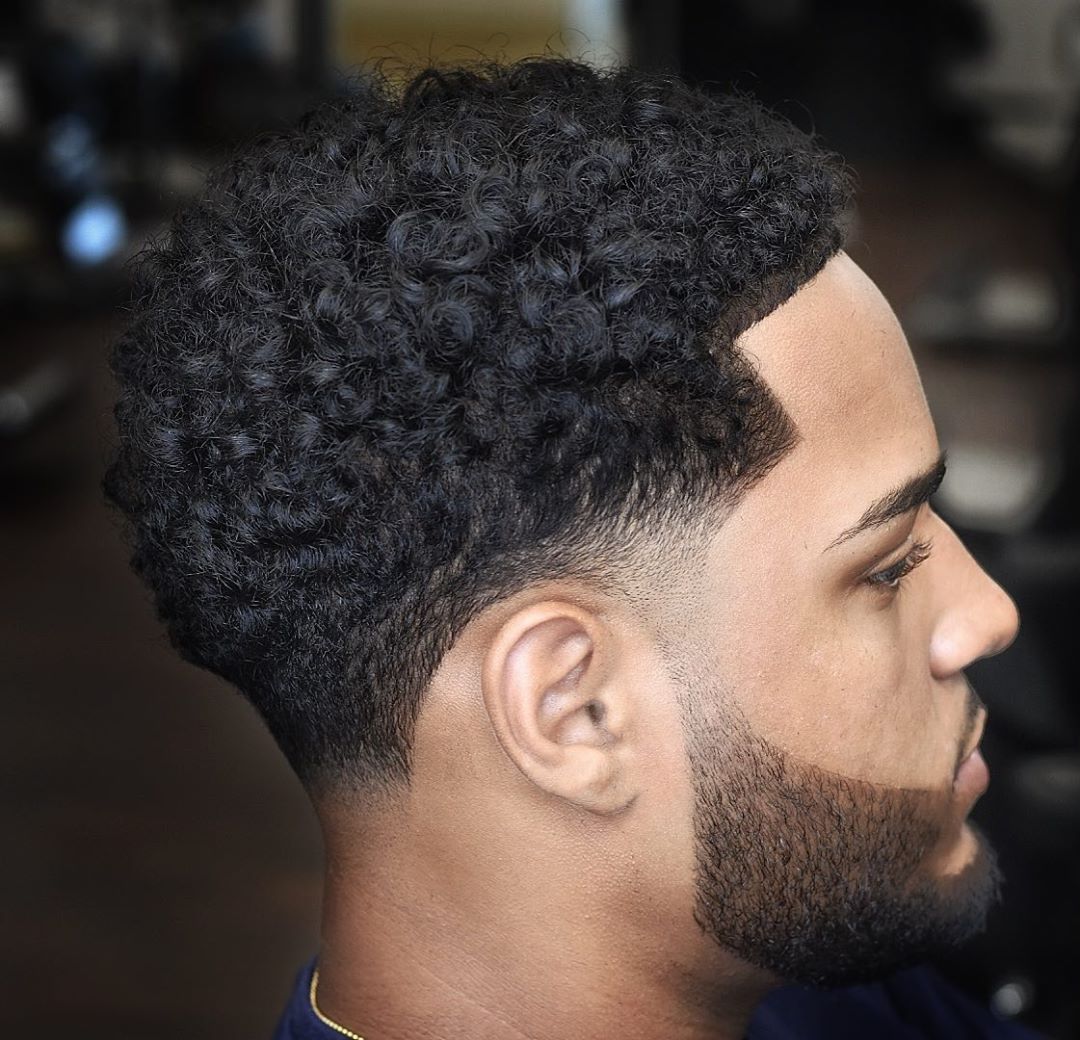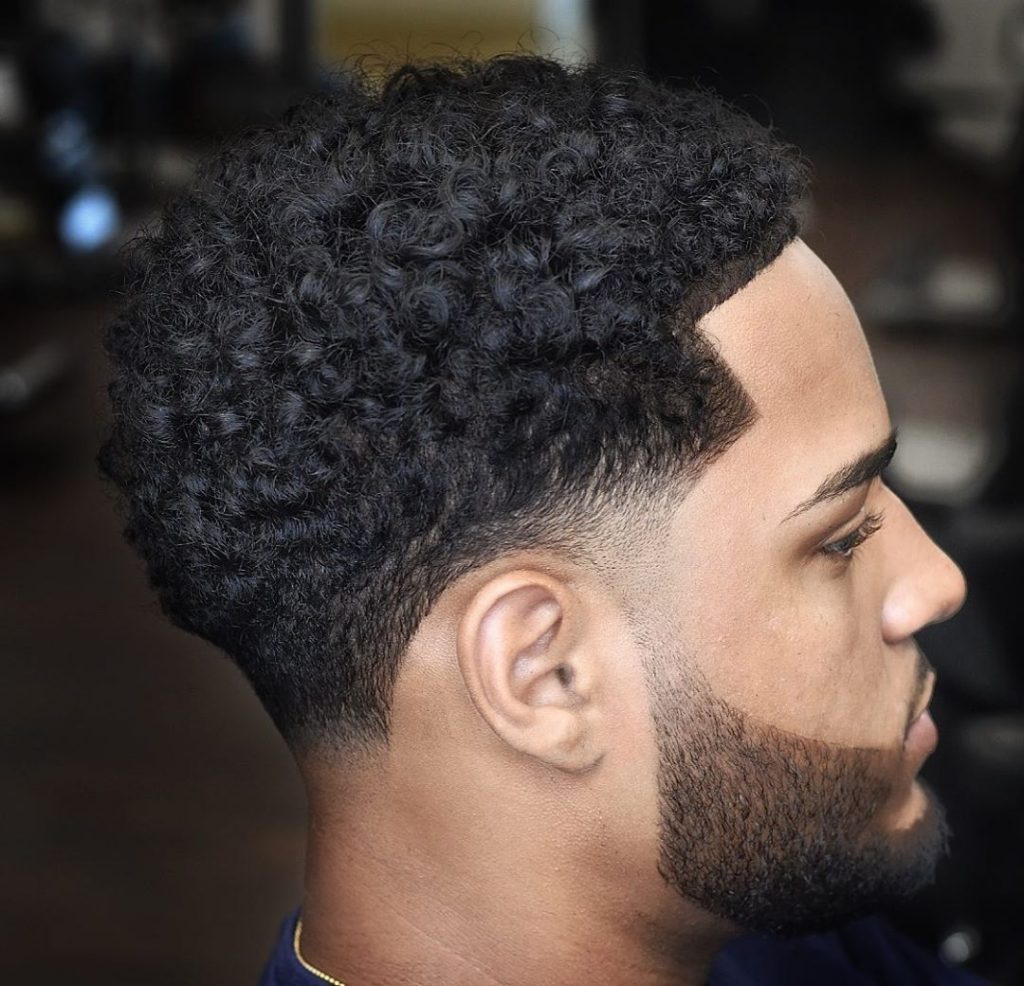 The taper fade is one of those classic curly hair fade haircuts cuts that never goes out of style. The taper fade quickly fades hair at the temples and neckline while maintaining a natural line behind the ear.
3. Low Fade + Curly Hair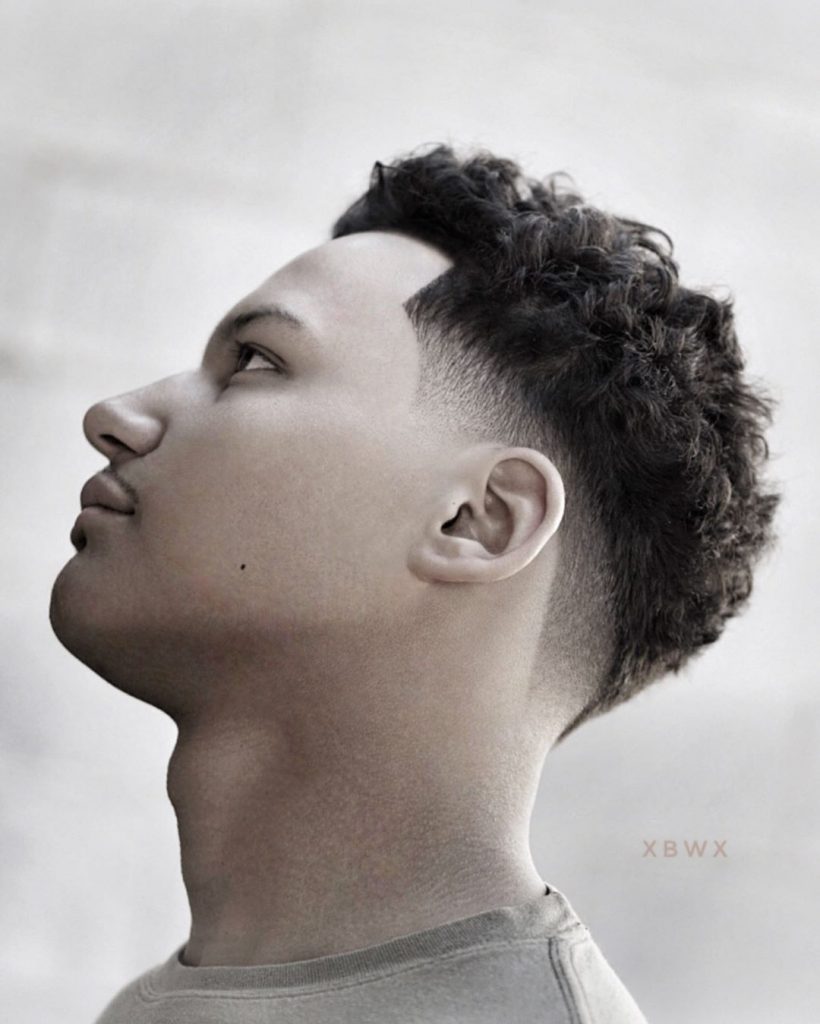 In contrast to the taper fade above, the low fade raises the hairline about an inch all the way around. Combined with a line up at the forehead, this is a fresh and modern way to wear curly hair.
4. Mid Fade + Curly Hair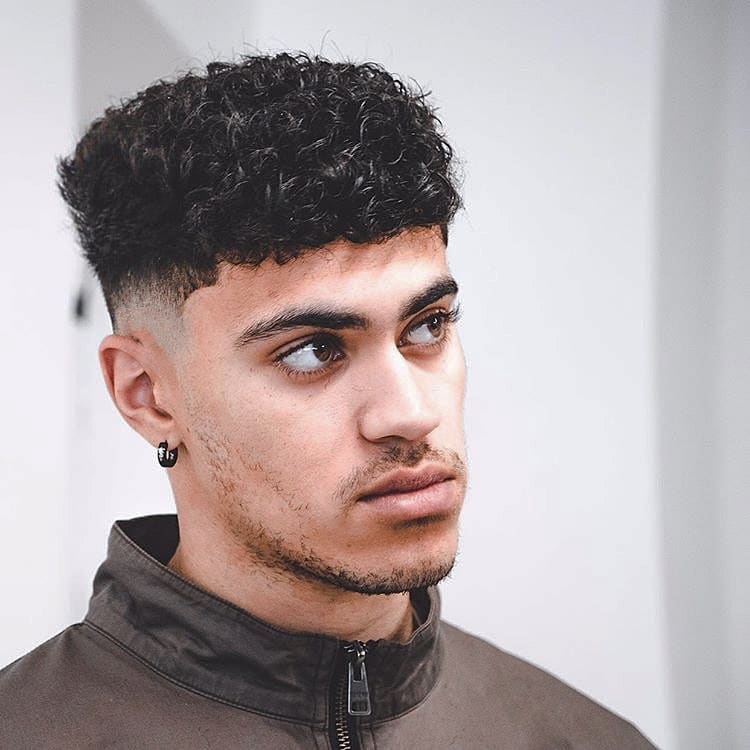 The mid fade takes the hairline up higher than the low fade but not up as far as the high fade. This creates a fresh silhouette and focuses attention on that gorgeous natural texture. Use a product with some sheen to get this look.
5. Drop Fade + Curly Hair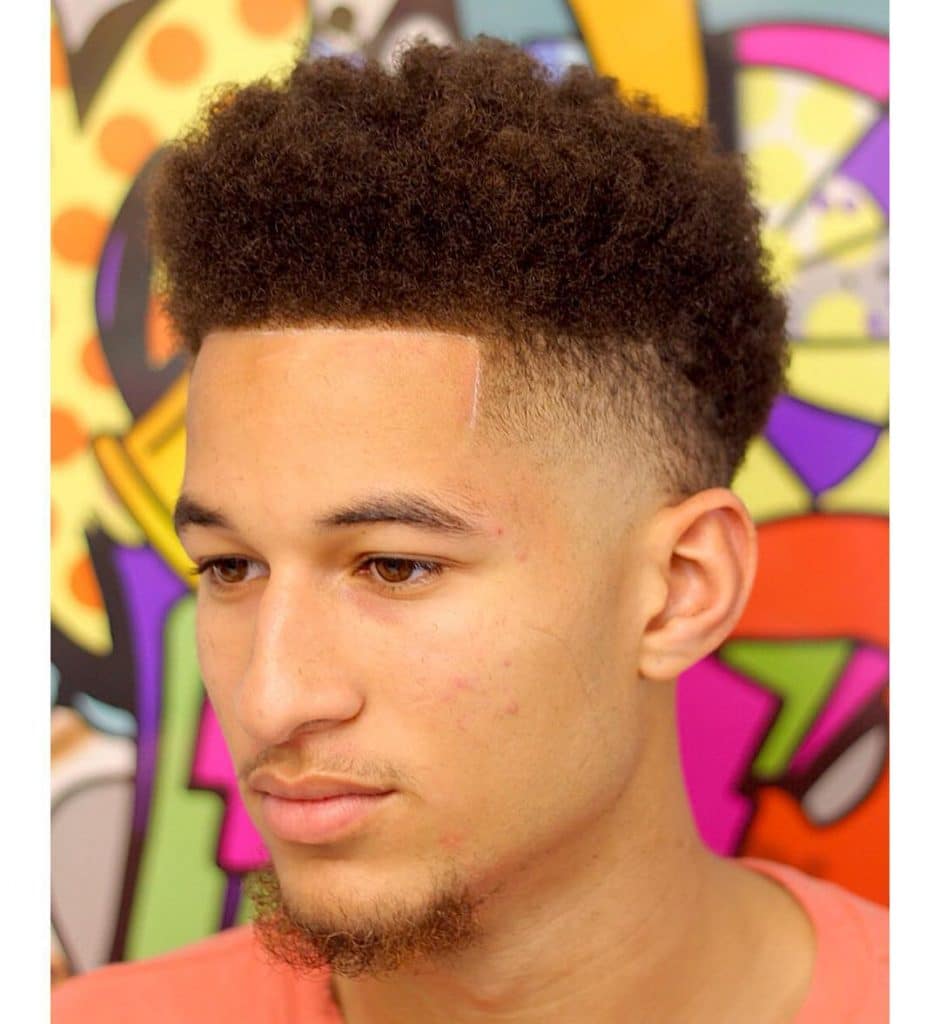 The drop fade, as you might expect, drops down behind the ear to follow the natural hairline. The effect is somewhere in between an afro and frohawk. Most low fades are drop fades but they can also be medium or high.
6. Fade with Curly Hair on Top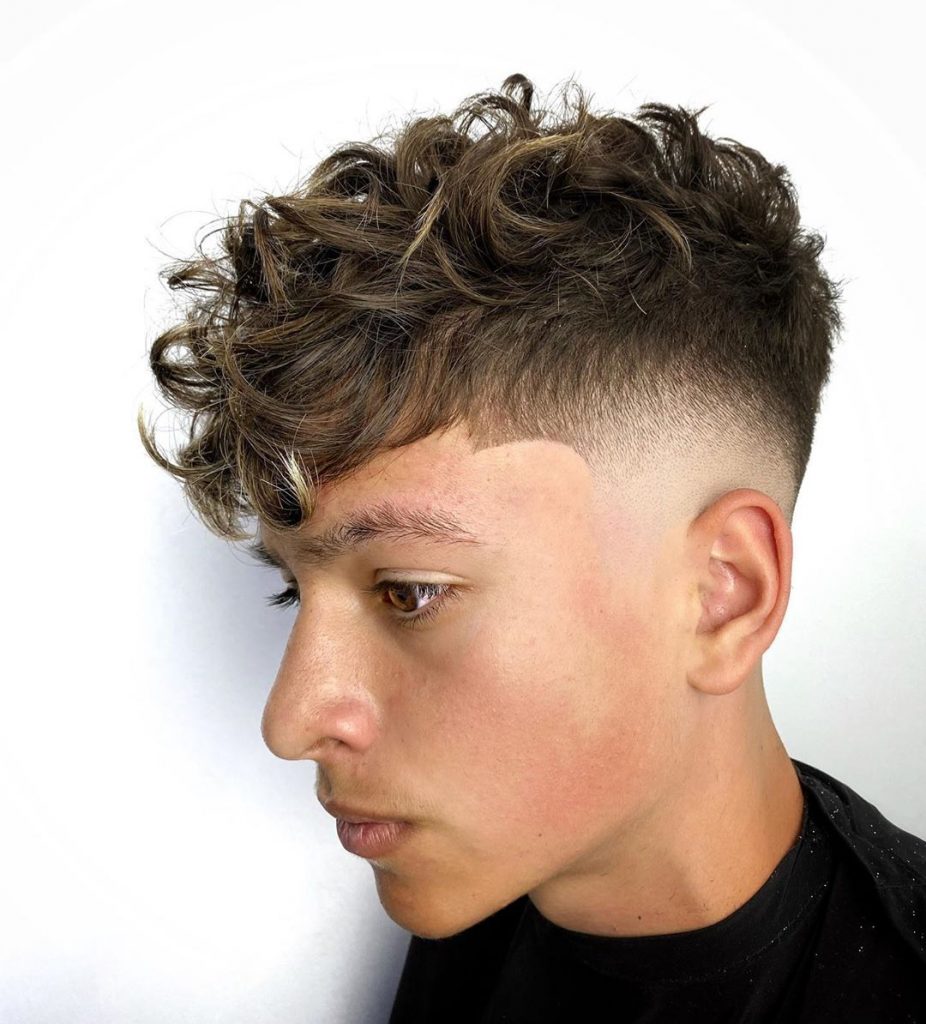 Here's another drop fade with a curly top follows the same arc with harmonious symmetry.
7. High Fade + Curly Hair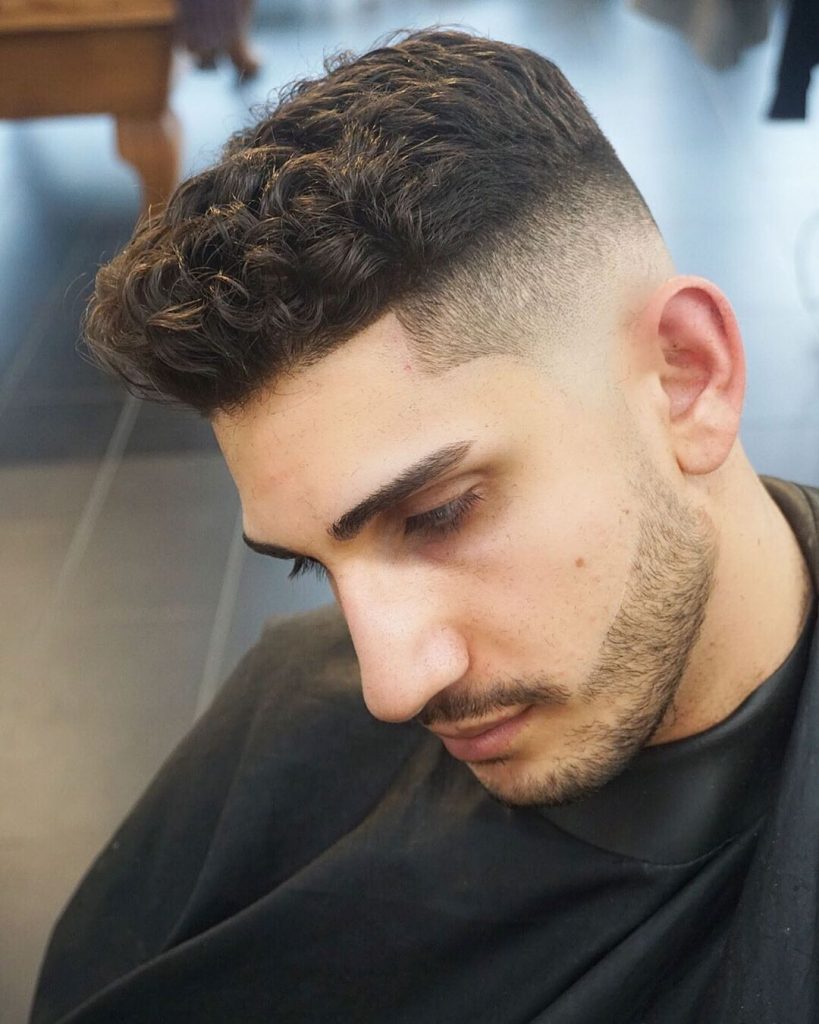 This high fade extends out from the hairline, shaving everything else off. For guys with thick hair and/or active lifestyles, it is the easiest way to wear curls. You can wash and go or spend some time styling hair.
8. Men's Curly Hair + Fade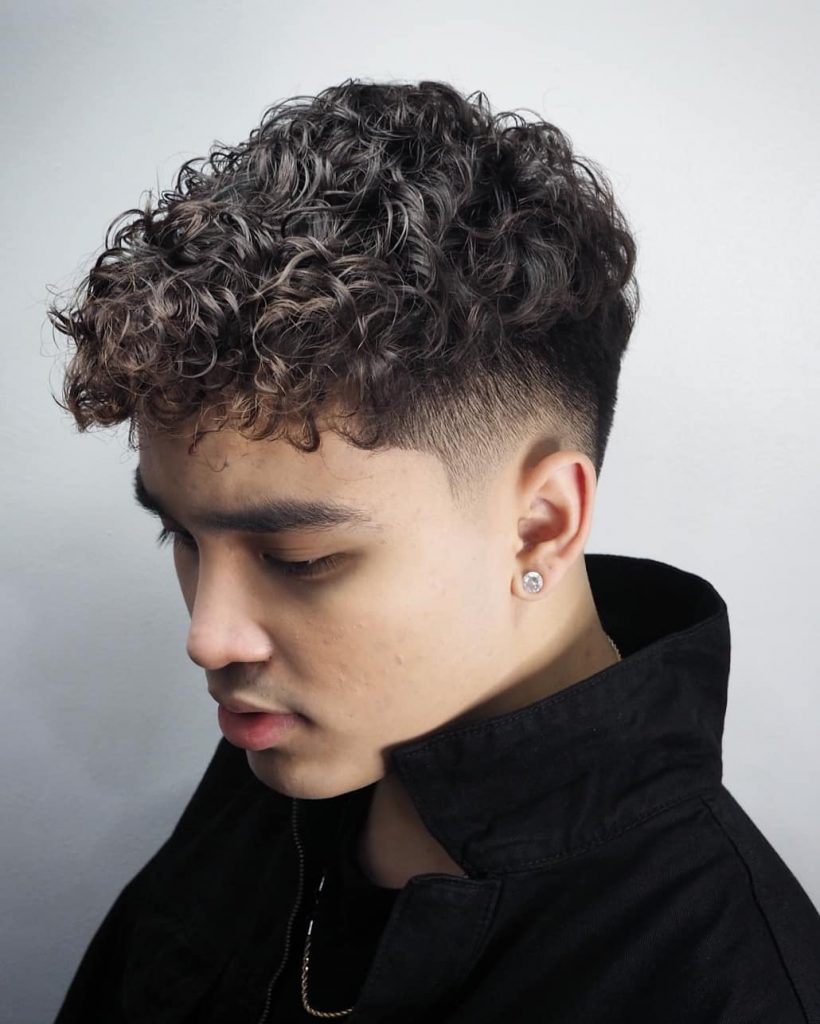 Perfectly coiled curls sit atop a drop fade. Lighter curls highlight that texture.
9. Skin Fade + Curly Hair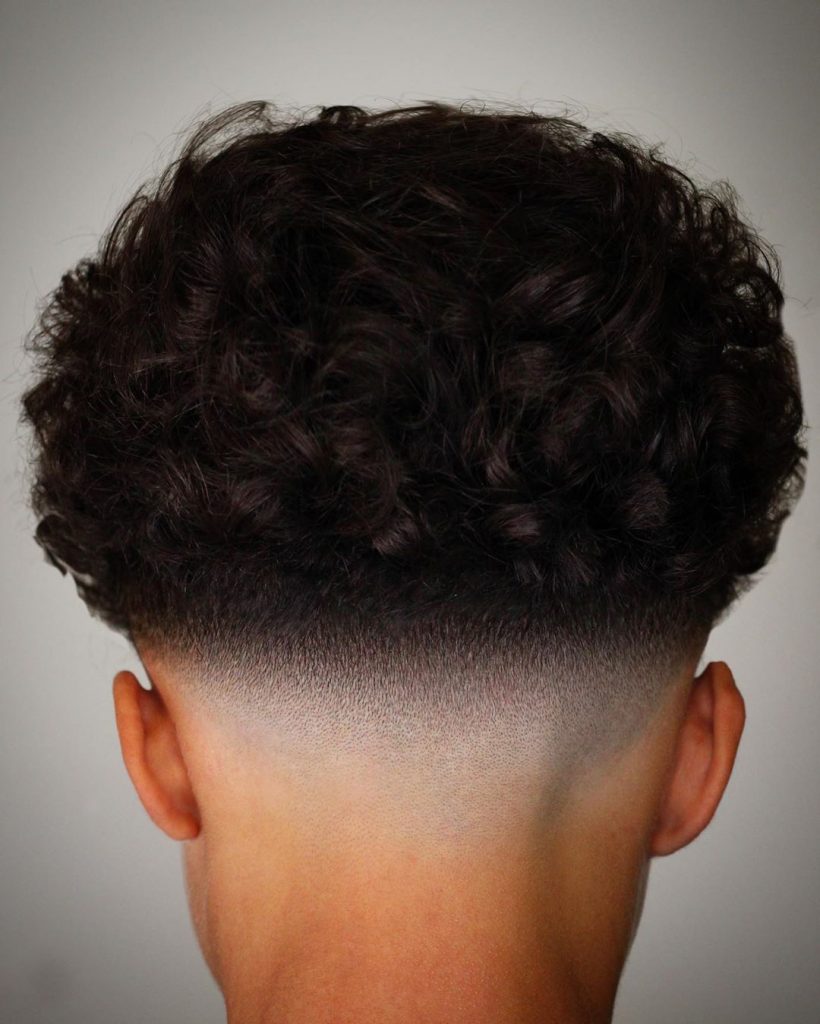 This skin fade raises the hairline for a more modern oval profile instead of retro rounded afro. It's hard to say which one is cooler.
10. Temp Fade + Curly Hair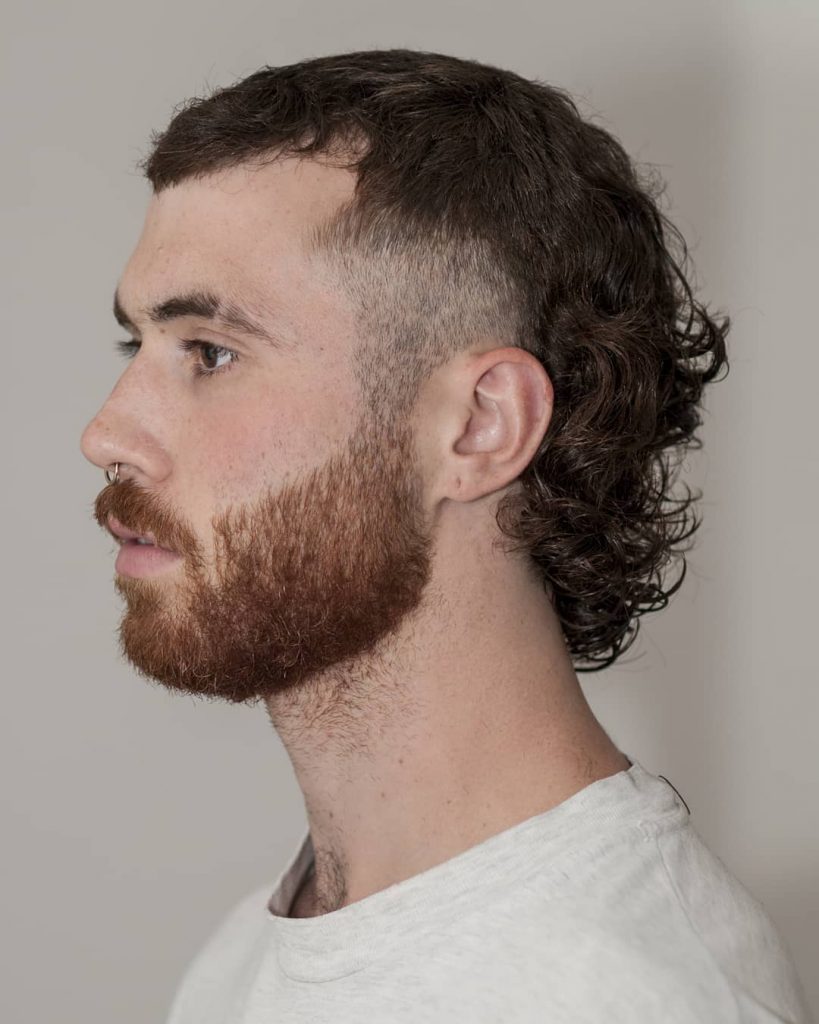 The temp fade removes hair from the temples. You can add it to any haircut but it's especially bold with this business at the front, party at the back curly mullet. This is a cool flow haircut for hockey, baseball, or the bro life.
11. High Top Fade + Curly Hair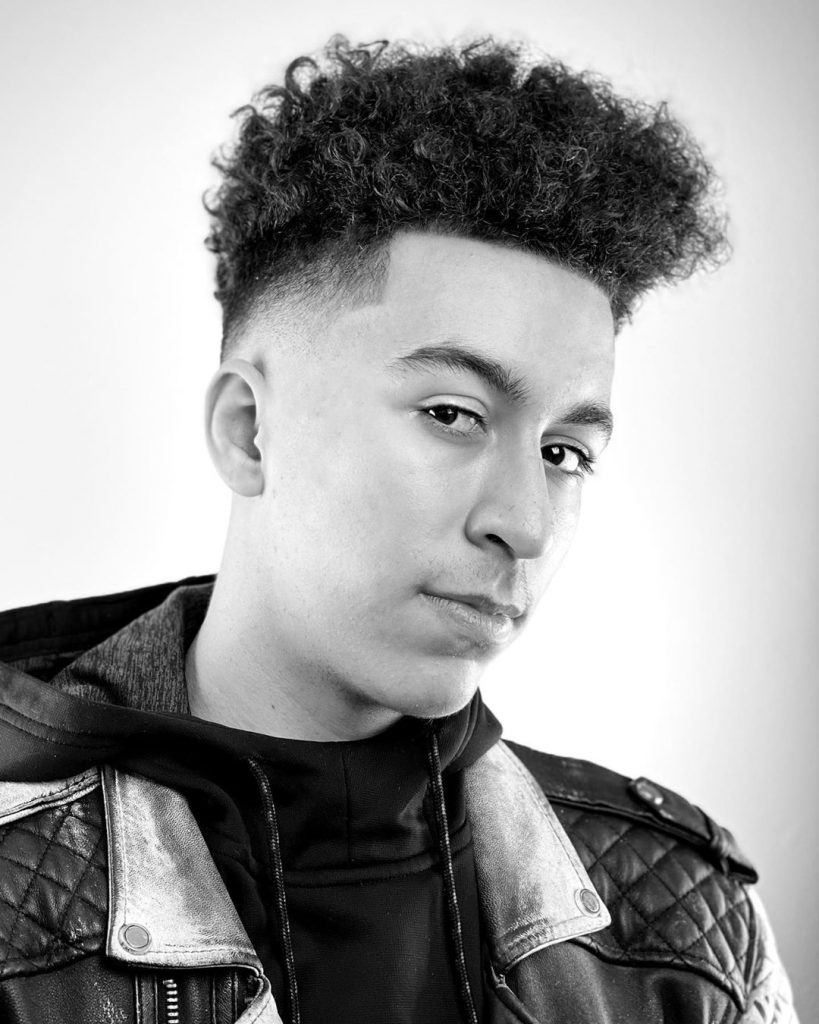 The always popular high top fade gets a boost of texture from this curly finish. Try a curl sponge to play with different looks on top.
12. Long Curly Hair + Fade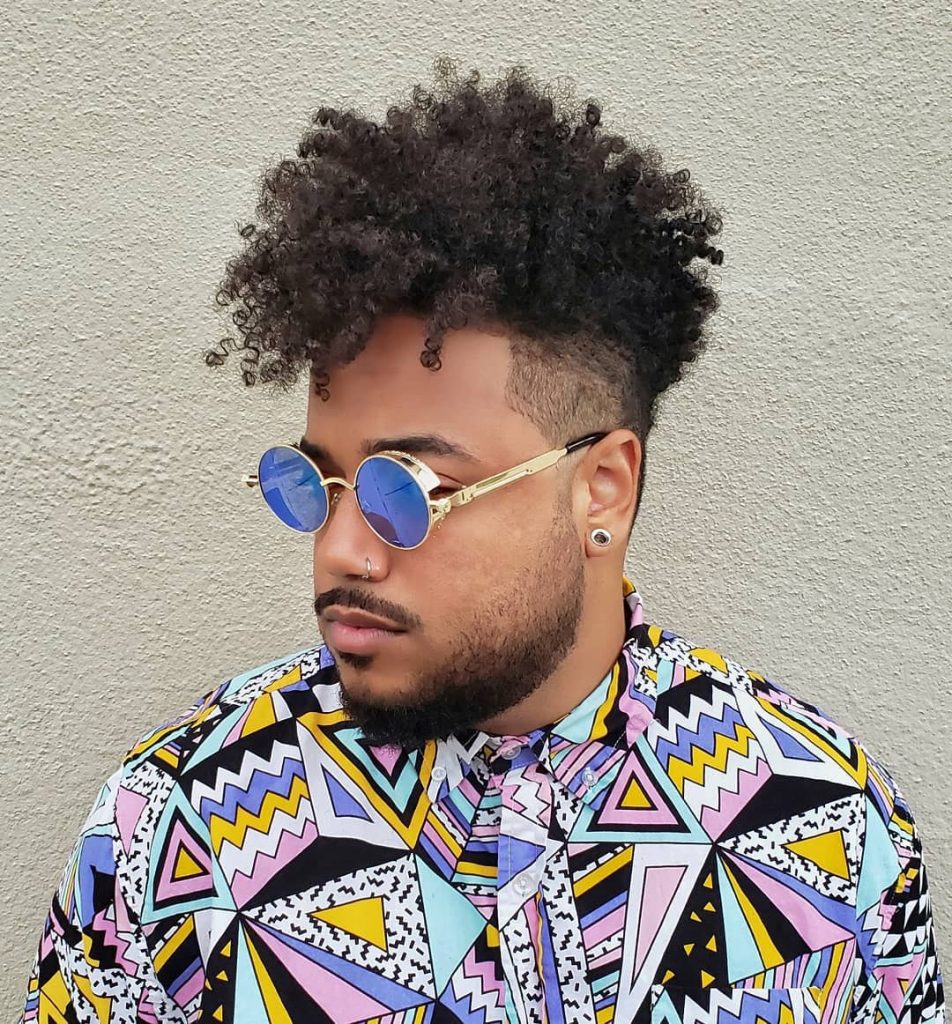 Contrast long curls with short sides for this ultra-cool and gravity-defying look. This hair could also be pulled into a man bun.
13. Curly Hair + Fade for Black Men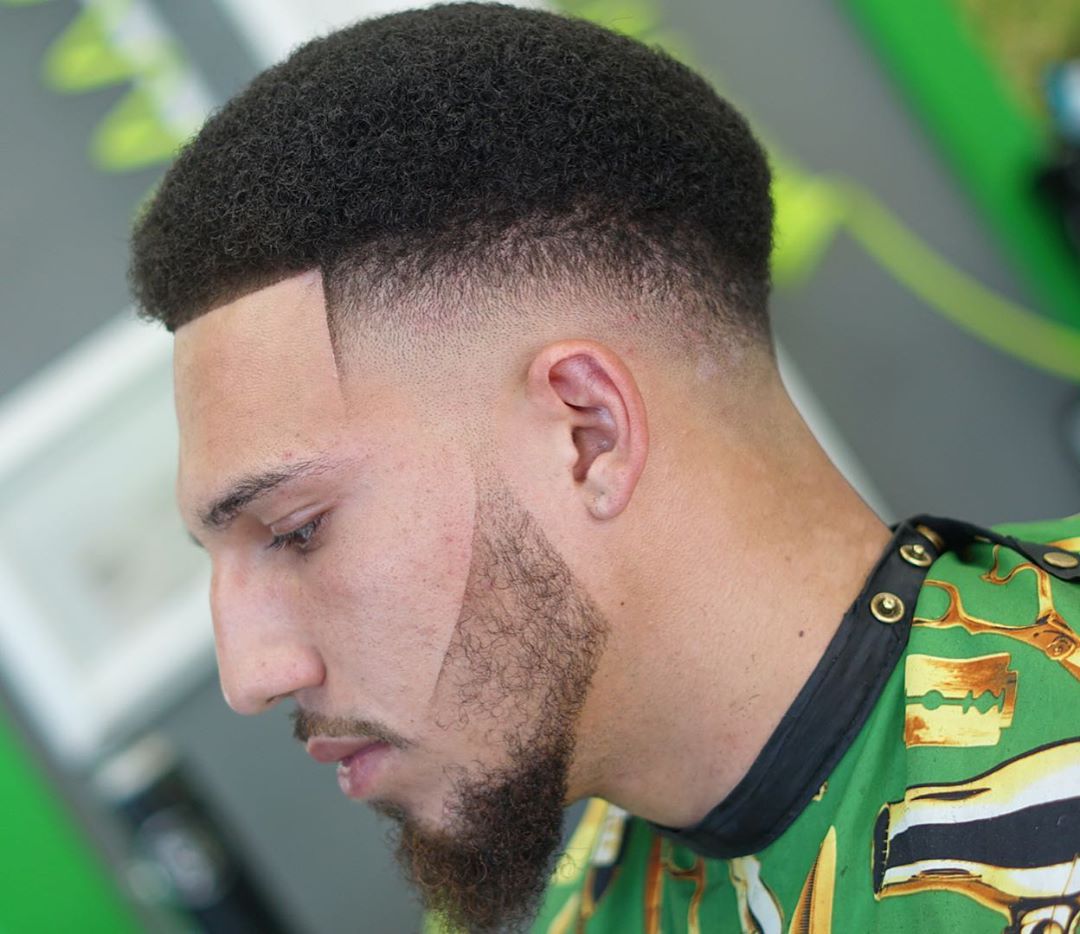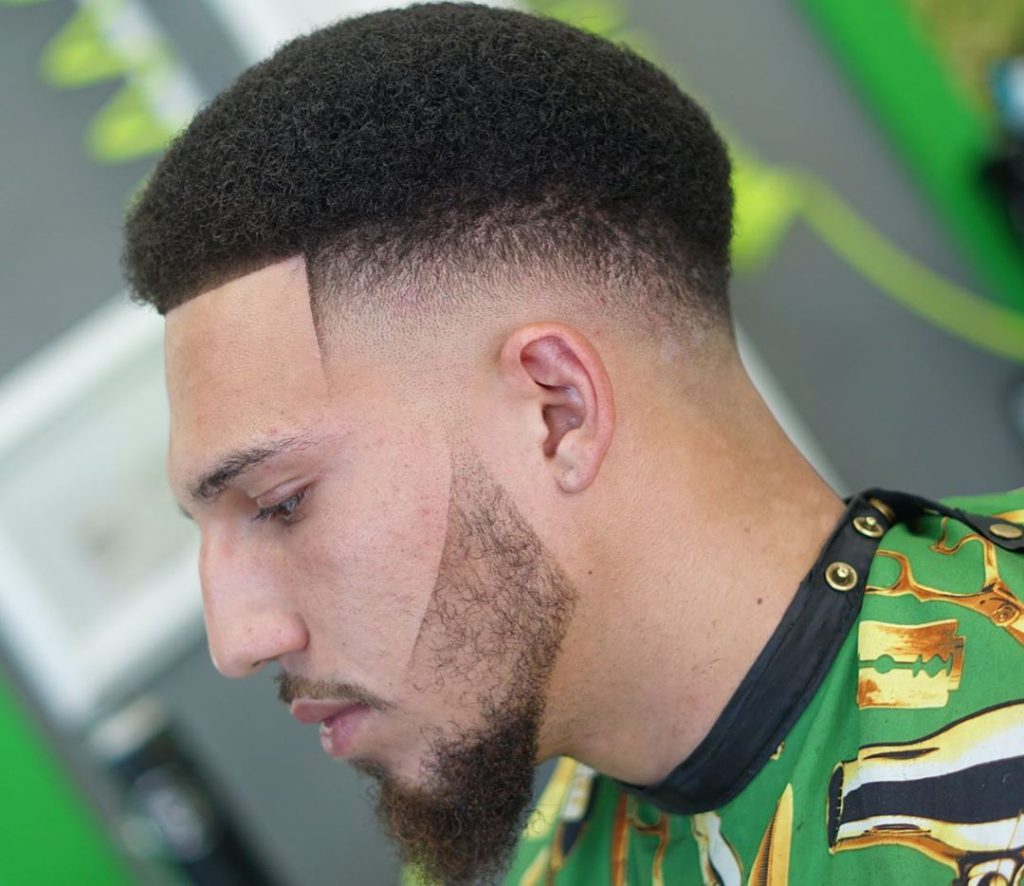 Of course, fade haircuts are a go-to look for black men who rock that natural texture. Here a cool way to wear short kinky curls with a mid drop fade down to the skin. A line up and beard shape complete the look.
14. Curly Blowout Haircut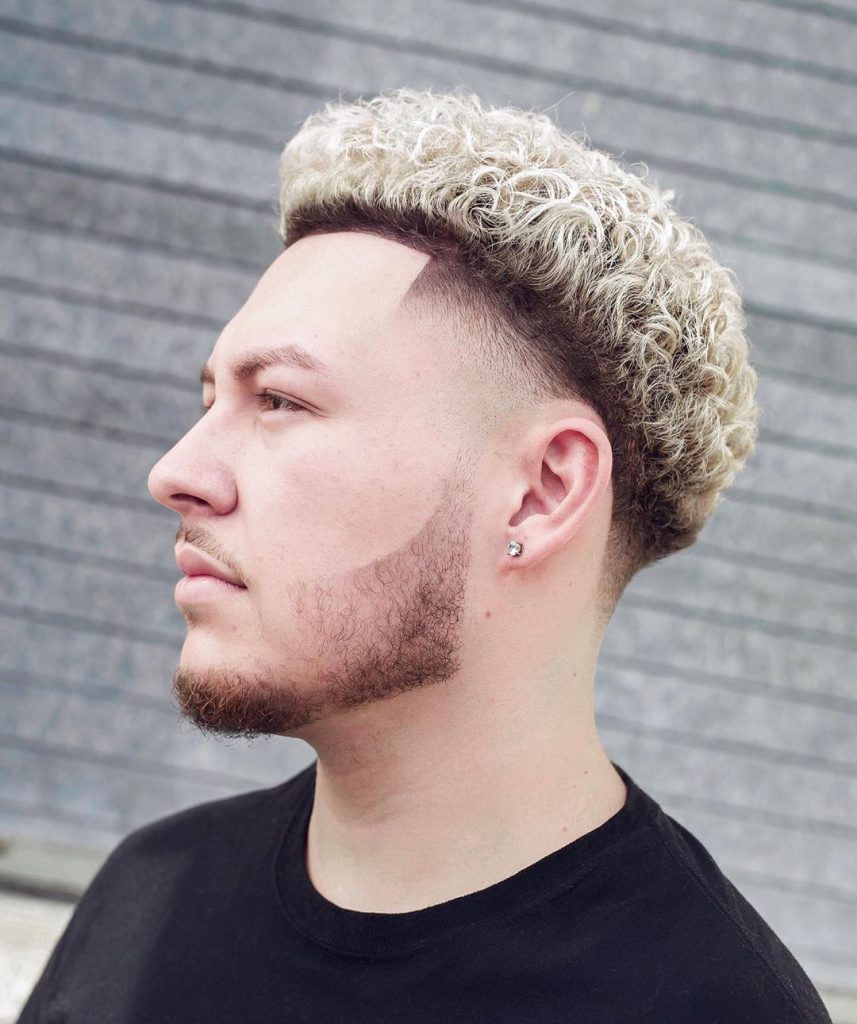 Get noticed with a curly blowout over a taper fade. This platinum version is even more fun.
15. Best Fades for Curly Hair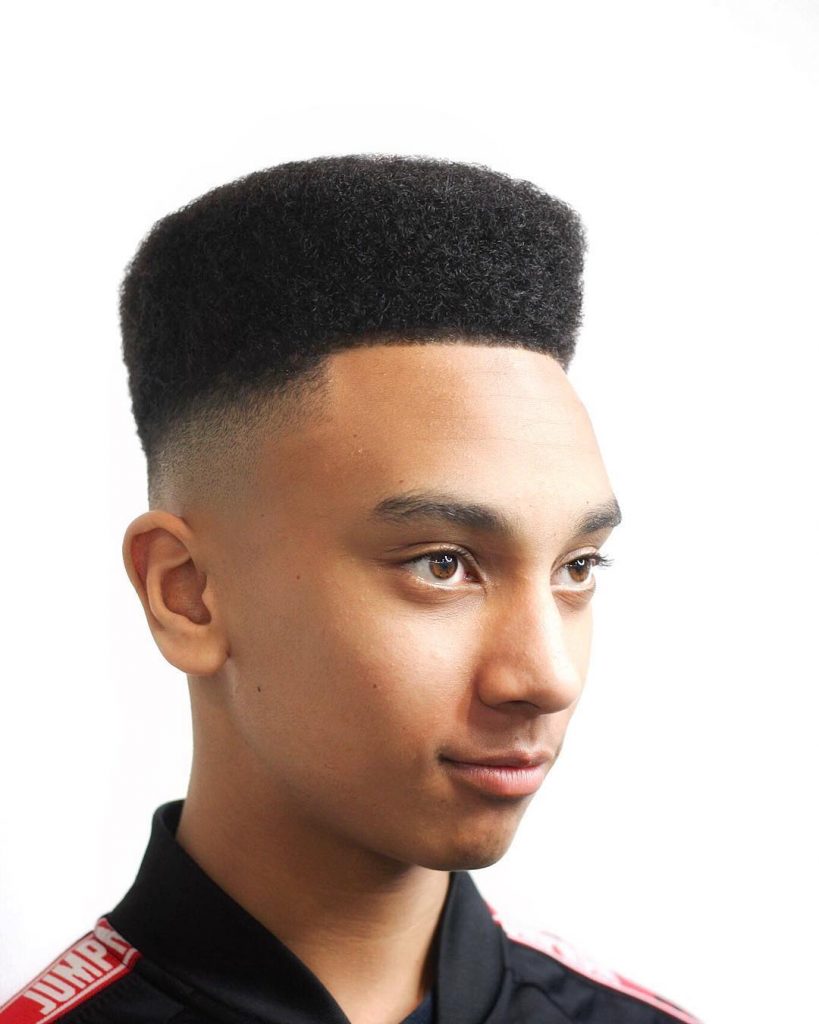 The flattop wouldn't be the same without a fade.
16. High Fade + Curly Top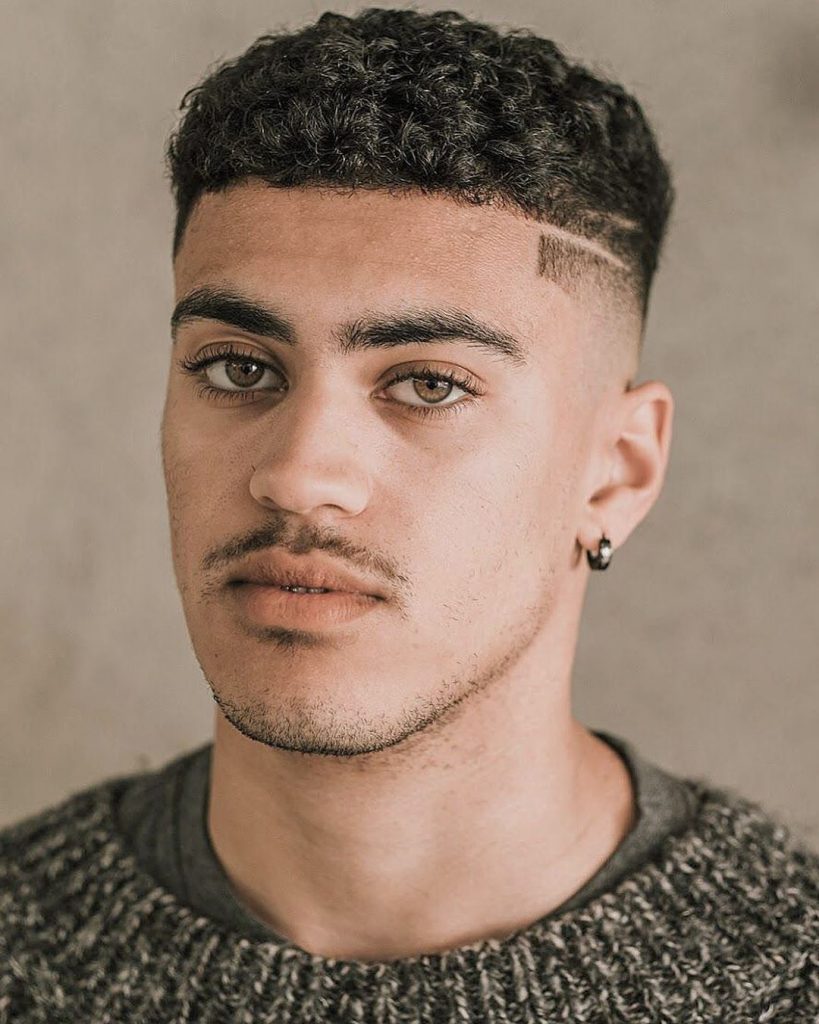 There's more going on that it appears in this cool curly look. Tight curls sit on top of a line up that extends out into the temple. Then there's a high fade plus another shaved line for good measure.
17. Curly Drop Fade With Part
This cool hard part separates medium length springy curls on top from short hair below. The burst fade burst out into the beard for continuity.
18. Curly Mohawk + Temple Fade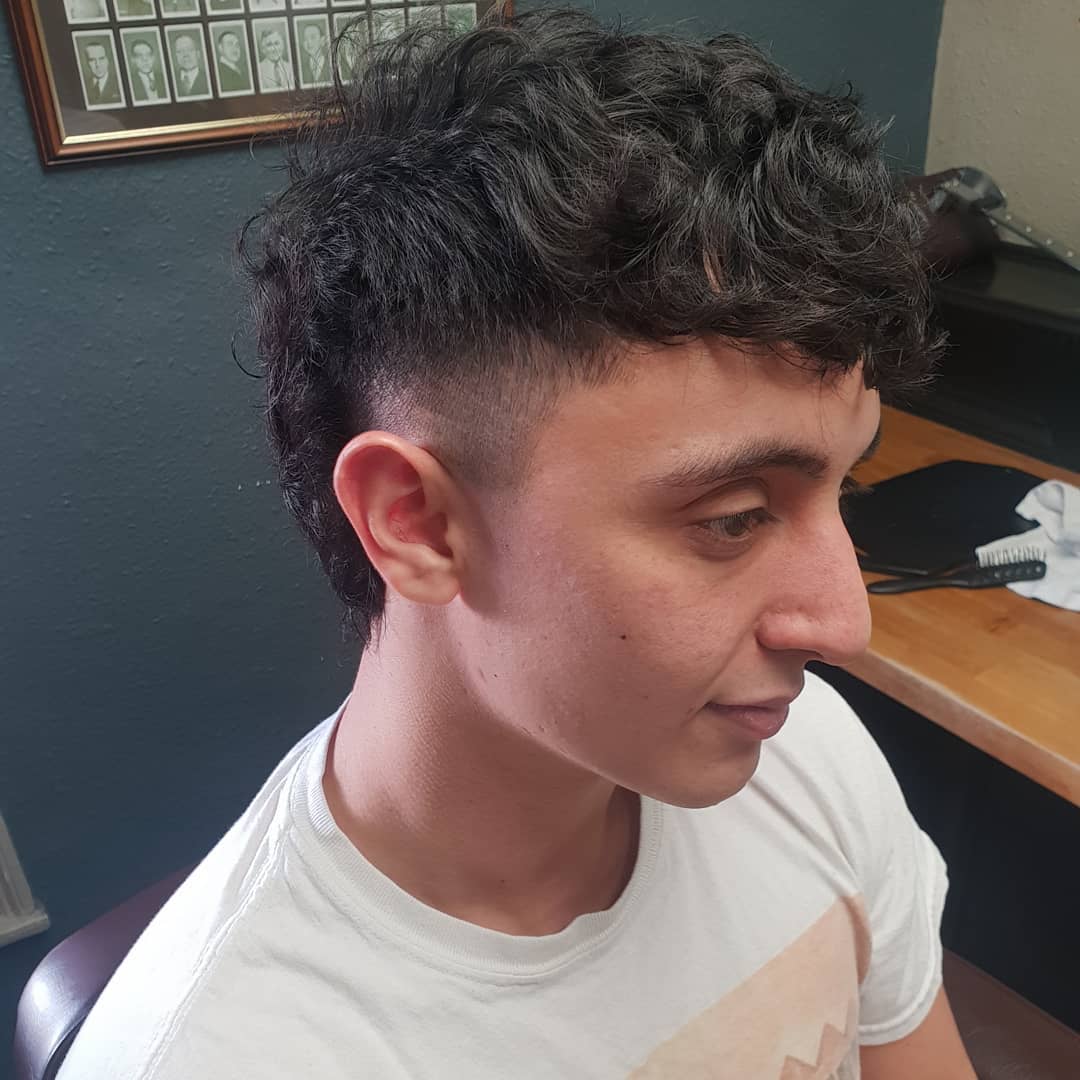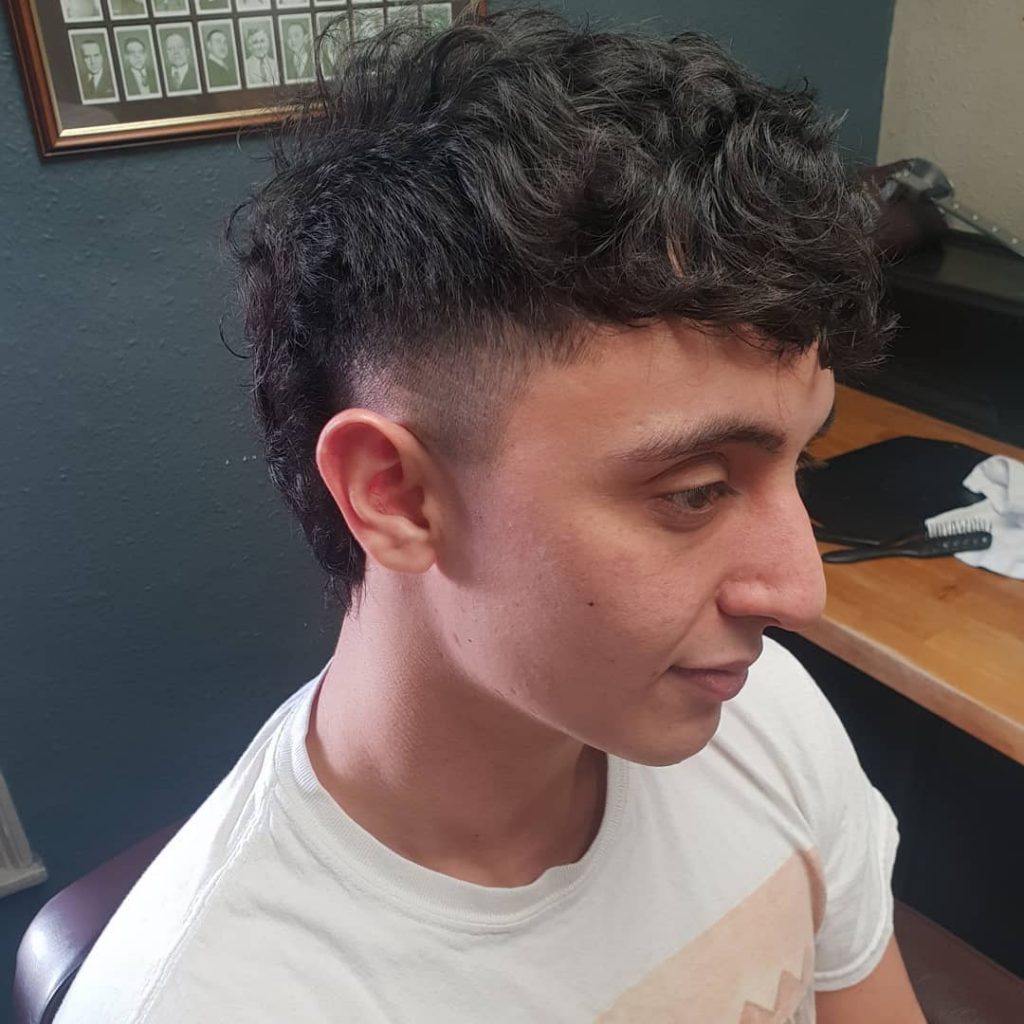 Curls bring voluminous texture to the mohawk haircut. You don't even need to spike it up. Instead, a temp fade plus some length create that mohawk shape.
19. Curly Hair Fade + Hair Design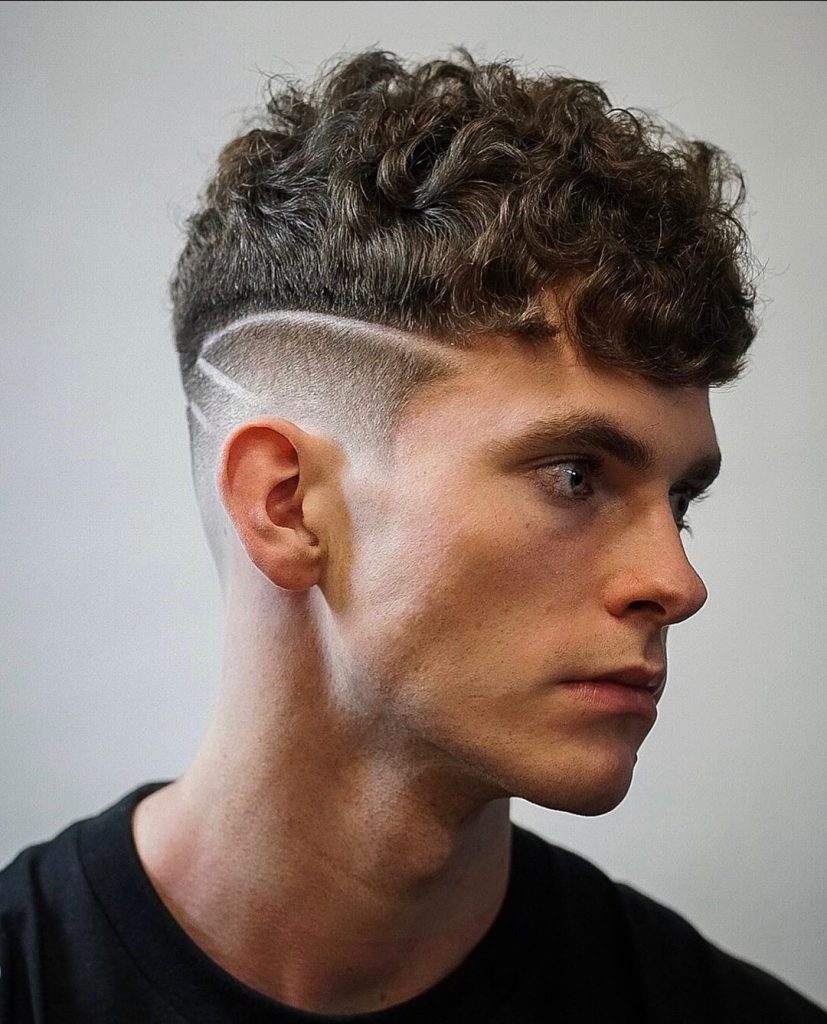 This crop haircut is all about curly in the fringe. The drop fade is highlighted by a shaved line and hair design.