The faux hawk haircut and style, pronounced fohawk, is a fake mohawk. Why not go for the the real thing? The mohawk is a awesome but maybe not one you can or want to rock all the time. The faux hawk isn't exactly punk but it is cool.
This popular men's look is about the haircut and the style. To get the pointed peak at the forehead, hair needs to have some length. That is the only requirement though. The sides can be faded, tapered, or scissor cut. Hair can be short, medium length, or curly.
At the back, choose from any neckline from a taper fade, undercut, messy, mohawk-inspired, or even a mullet.
Check out these pictures for 15 cool ways to wear the faux hawk haircut. Pick from different styles, sides, and necklines to create your own style.
Faux Hawk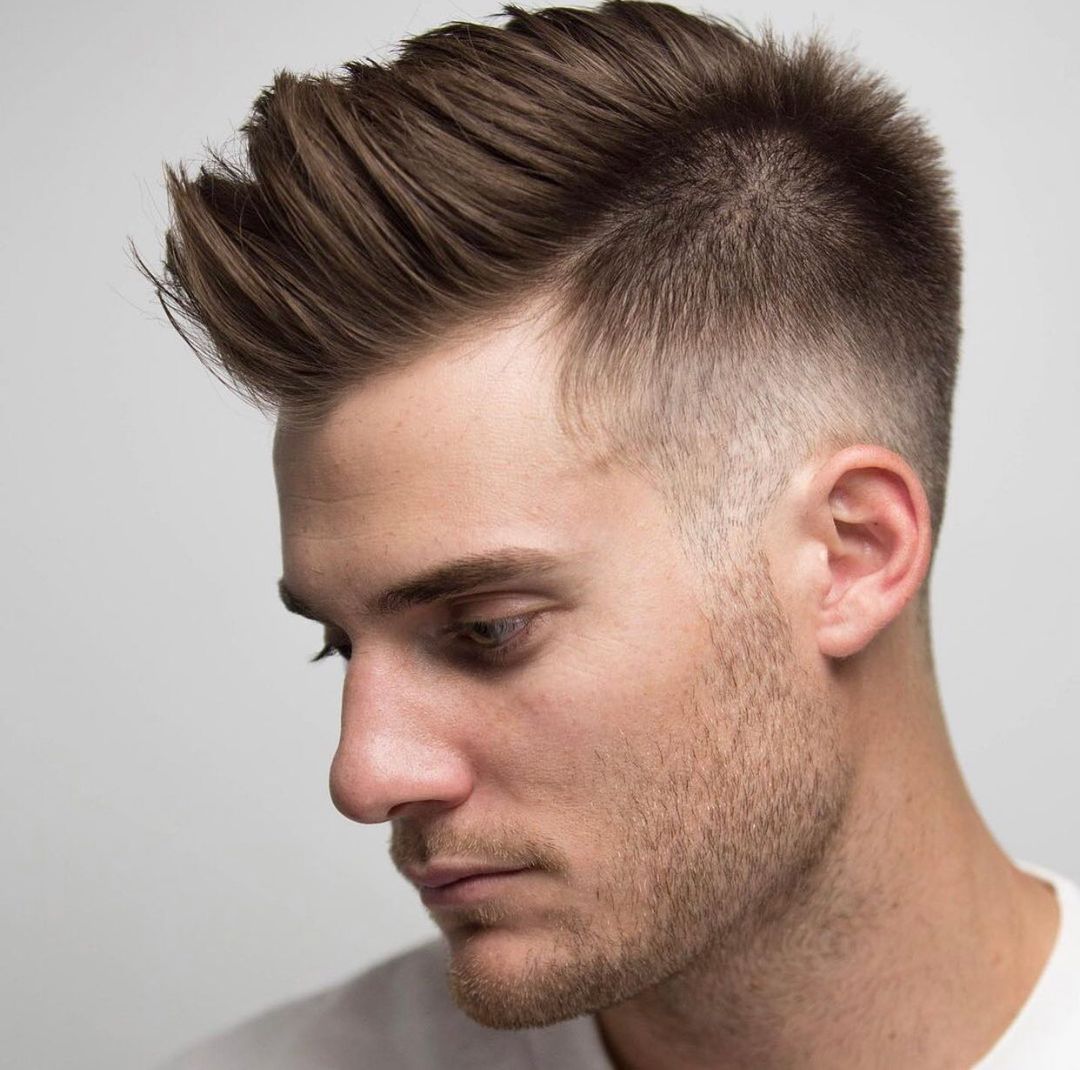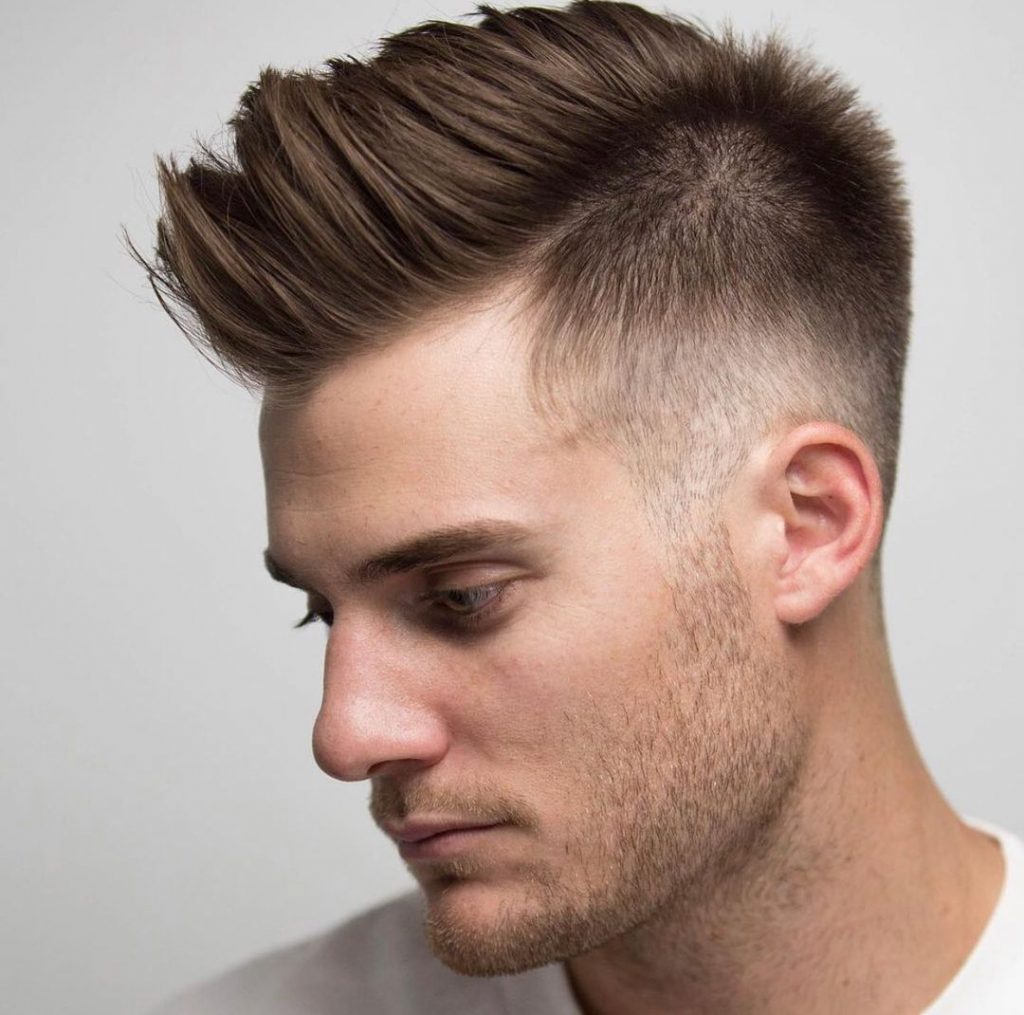 At this point in time, the faux hawk is practically a classic men's hairstyle. The cut and style have endured over the decades and looks great with every face shape and hair type. This version is the current trend with a short sides, longer top haircut and textured styling.
This low fade haircut can also be styled into a pompadour, side part, or slicked back style to keep things fresh. Get any one of these styles with a matte pomade like hair wax or clay.
Faux Hawk + Fade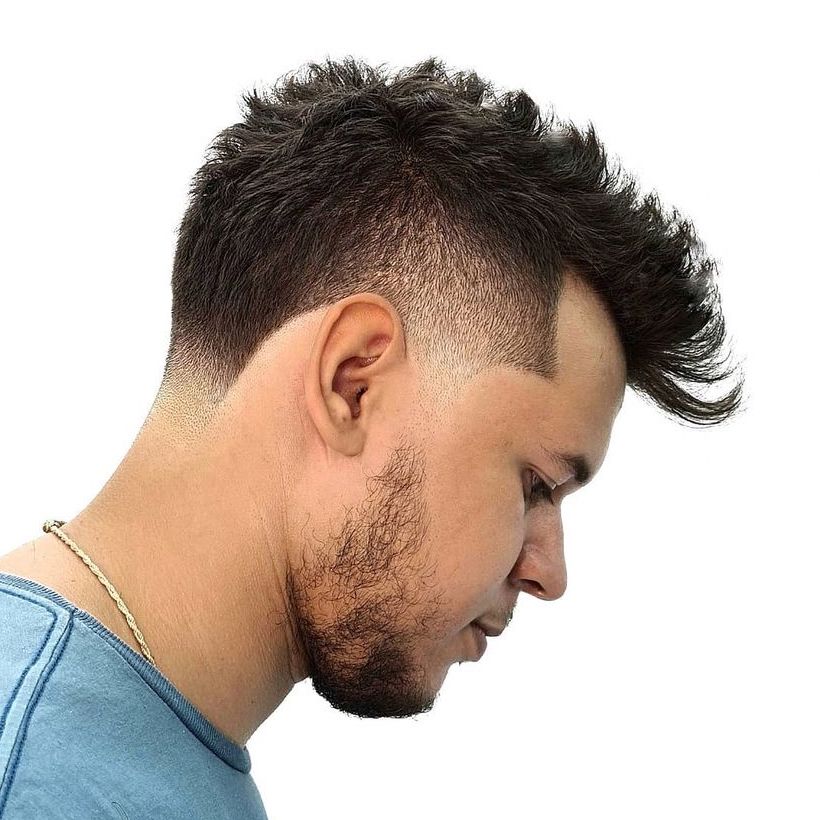 The fade is another classic look for men that never goes out of style and can be worn with any haircut. This fresh version is a high taper fade with a large temple fade and moderate neck taper. Soft spikes and texture all over keep the look modern. This is a cool cut for guys with thick and/or wavy hair.
Messy Faux Hawk Hairstyle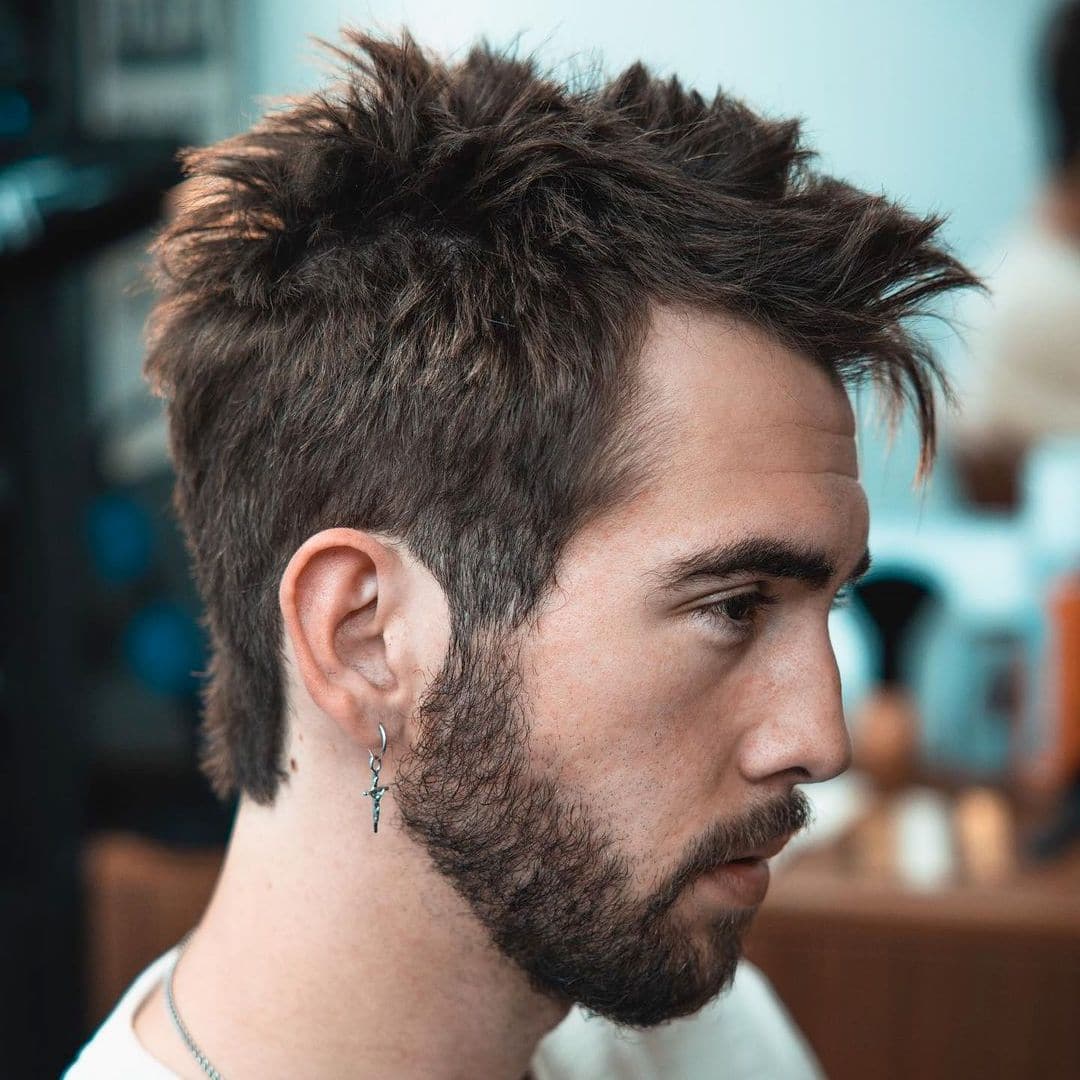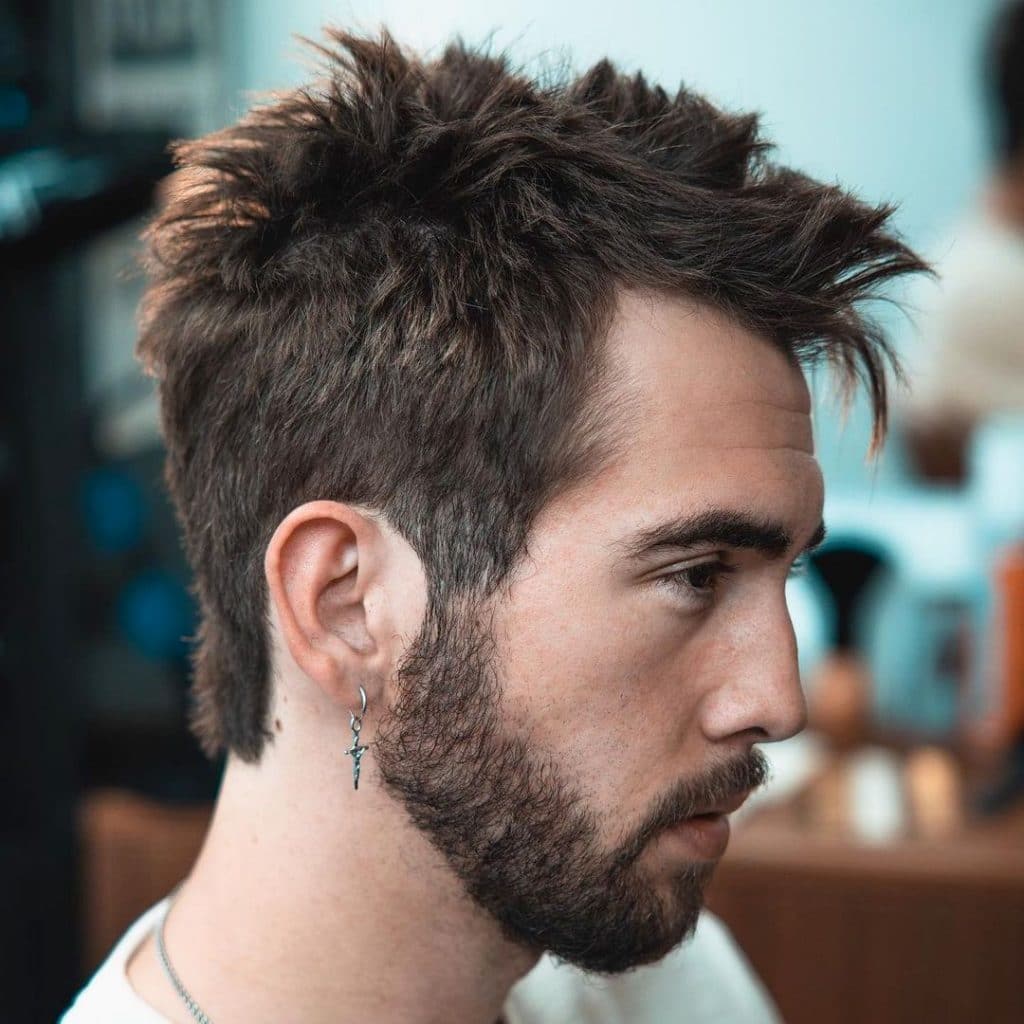 There are many faux hawk haircuts and styles. This gentleman has a classic short haircut with an accompanying beard. The messy styling contrasts the otherwise clean-cut look. And that is just one way to style the fohawk.
Again, this cut can be styled many other ways but this is a great after-hours, Sunday brunch style for guys that need to look professional most of the time.
Short Faux Hawk Haircut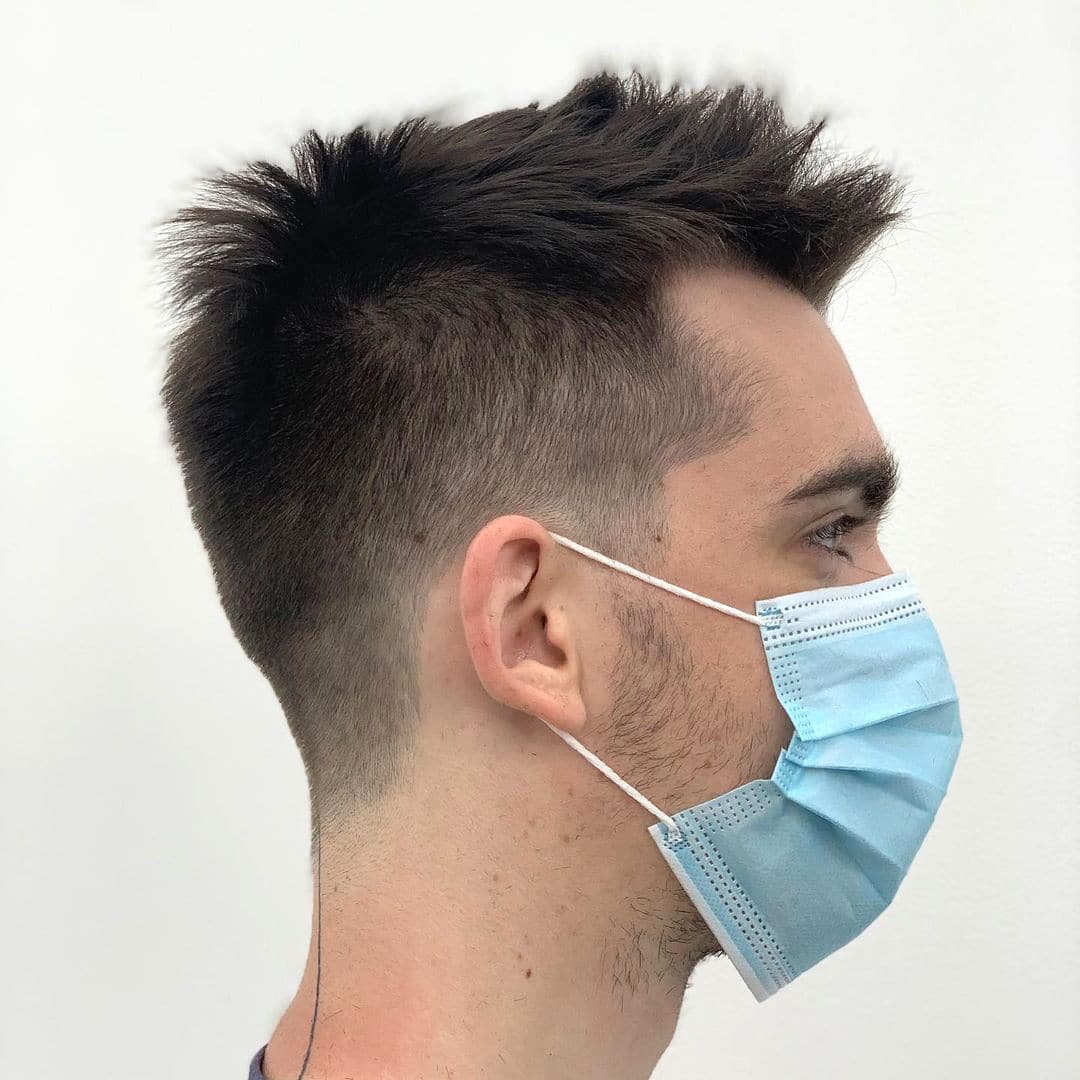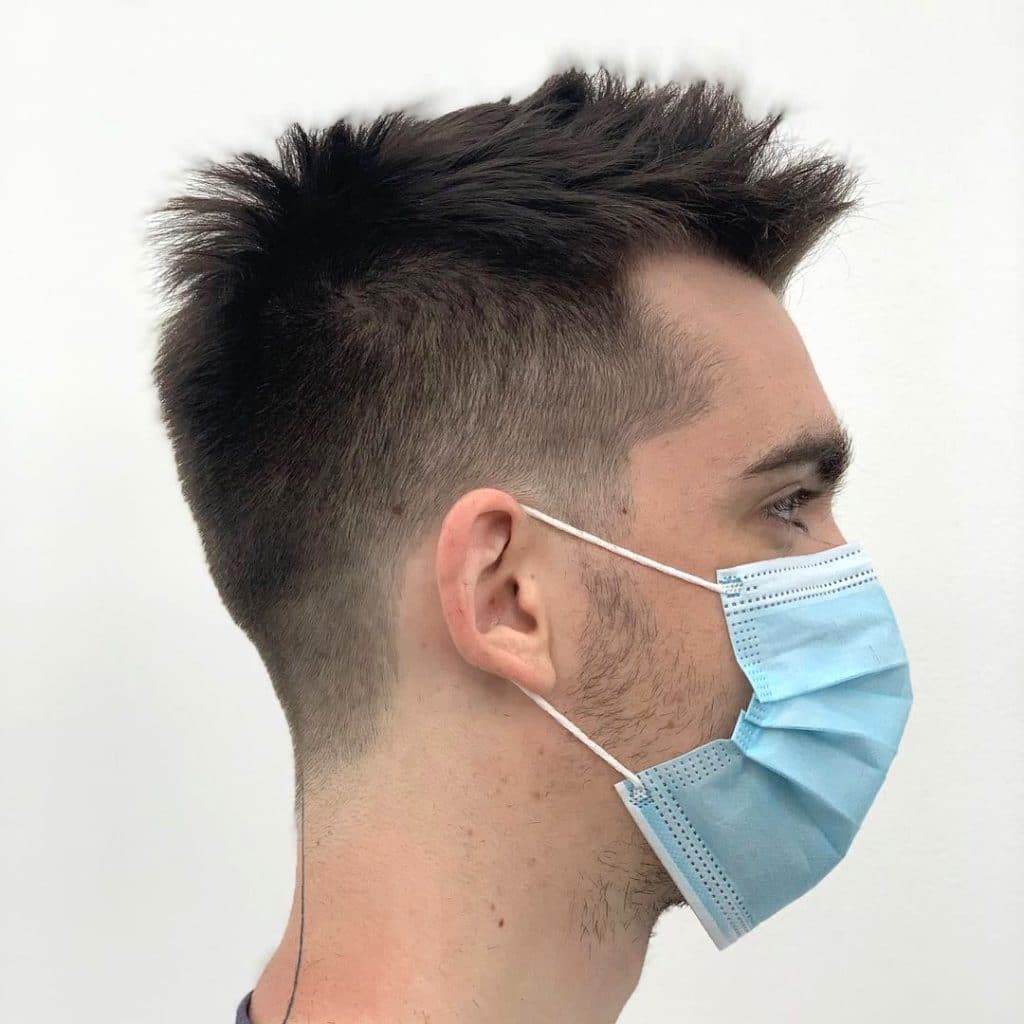 How short can a faux hawk be? The peak of the mohawk can be styled with shorter hair than this as well this versatile short haircut with a low fade. All it takes is some longer hair at the front, like an Ivy League or longer high and tight. Loose, messy sides are another way to style a fohawk.
Short Faux Hawk Hairstyle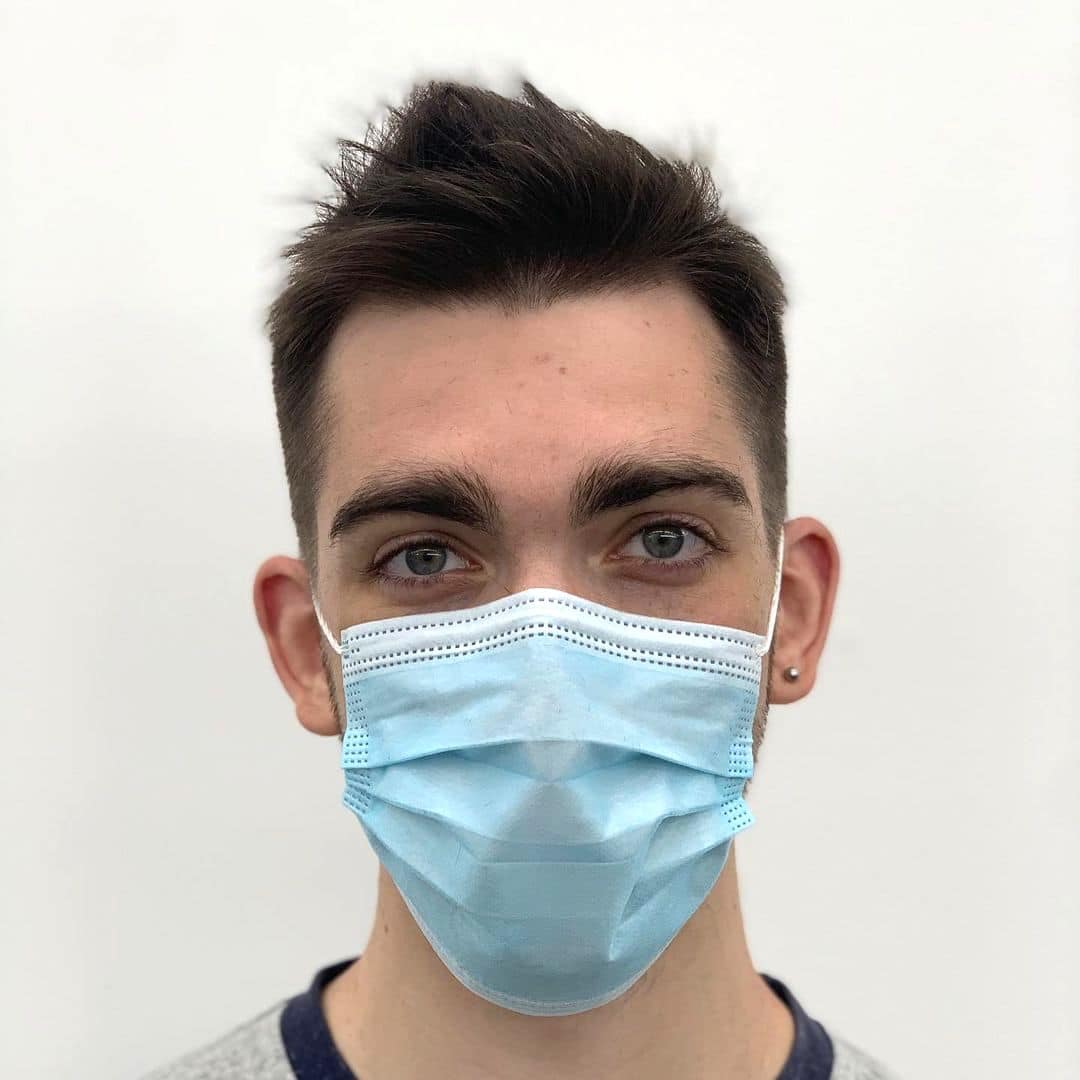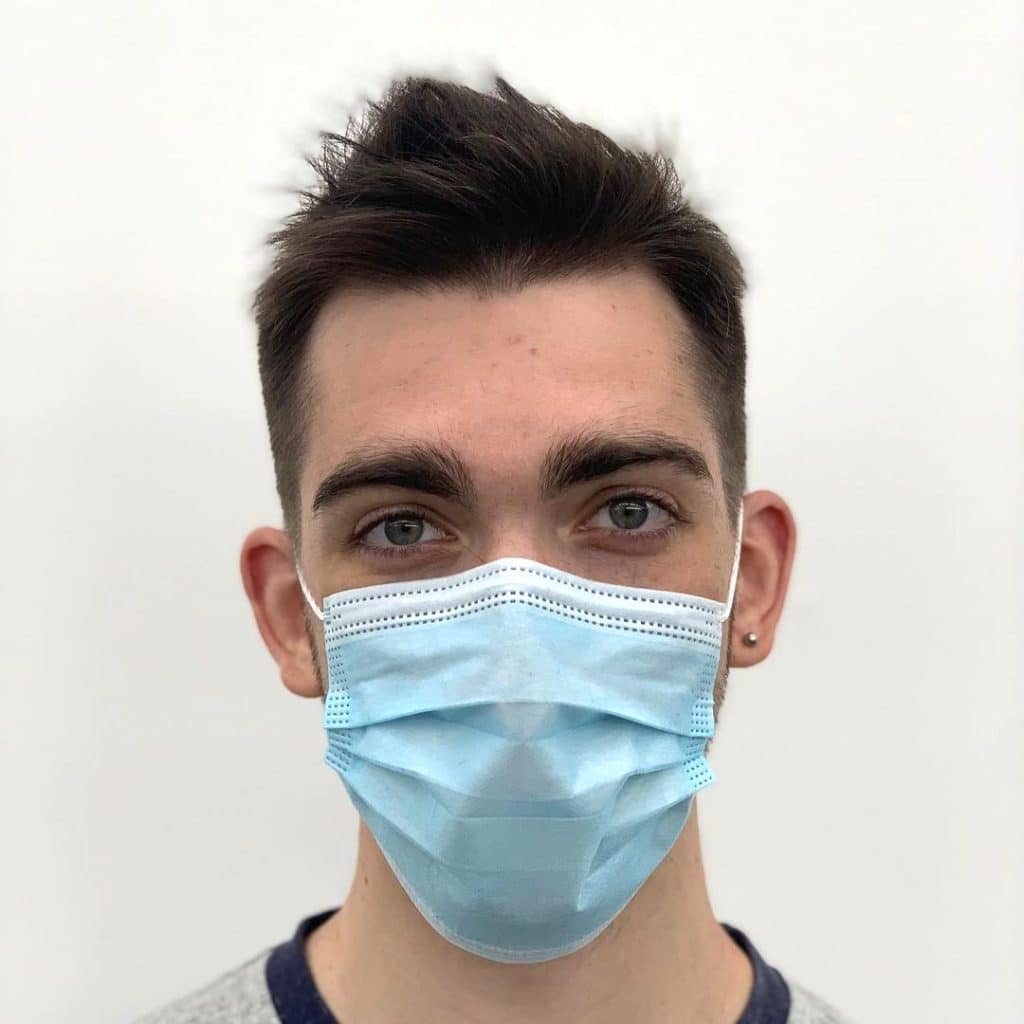 Here is that same short faux hawk seen from the front. Don't worry about getting the peak exactly on center. The asymmetry works with the loose, messy styling.
Fohawk Fade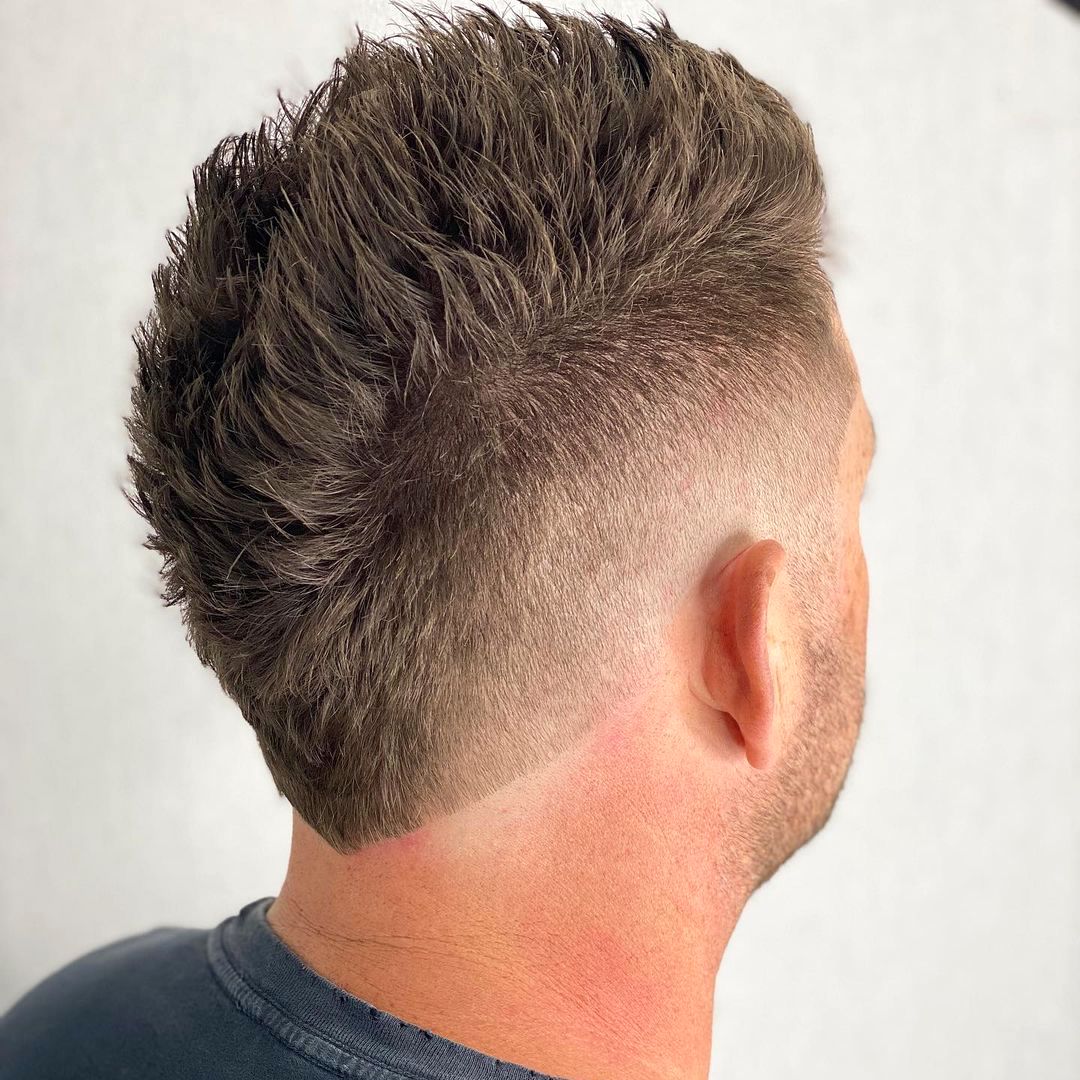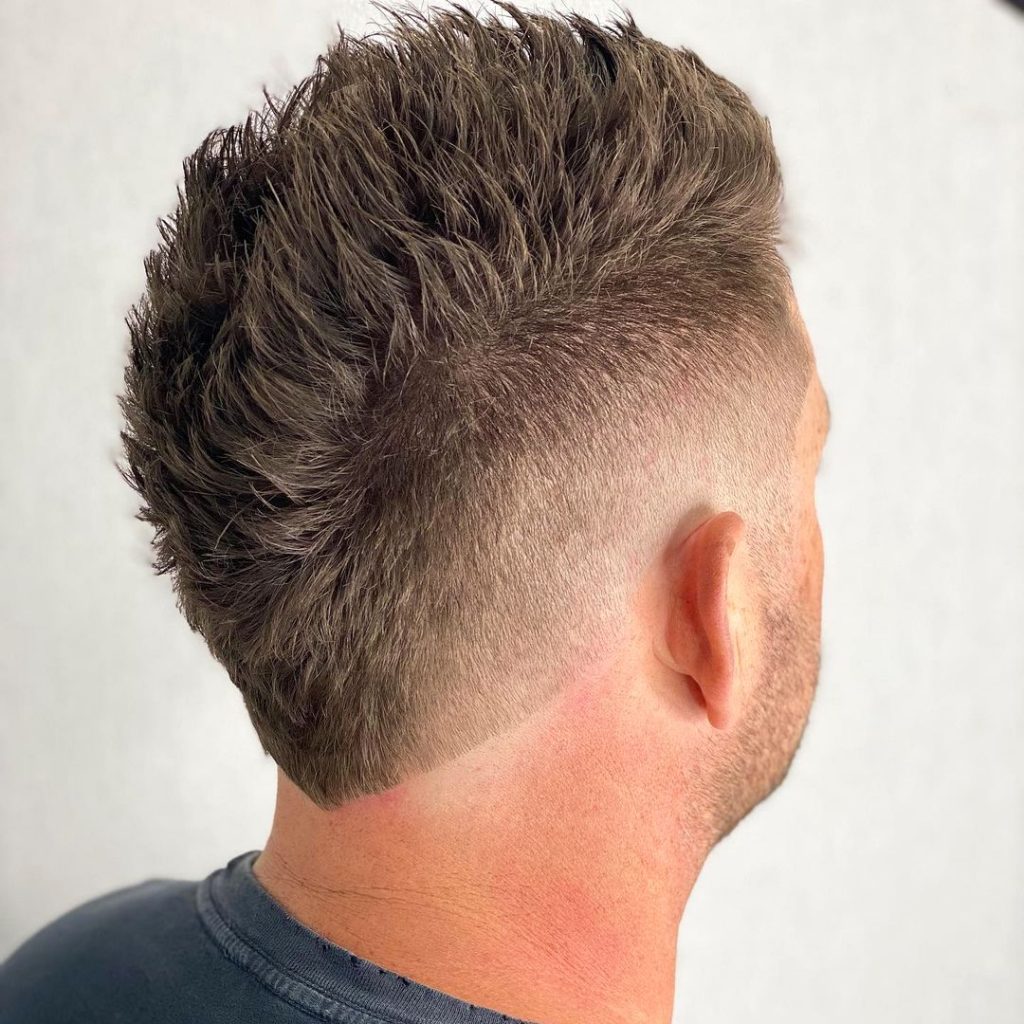 This wide mohawk fade with a V-shaped neckline is more mo than faux but we'll allow it. From the back, your cut can make the look more edgy, like above, or more mainstream.
Back + Side Views
There are many ways to wear the faux hawk and this is an interesting combination. From the back, the high fade works with the crown and looks like it could be a pompadour or side part hairstyle.
Then surprise, the sides are shaved all the way up to the top for a cool look that is easily styled up into mohawk-inspired peak. This haircut could also be styled into a comb over fade or pomp.
Faux Hawk + Mullet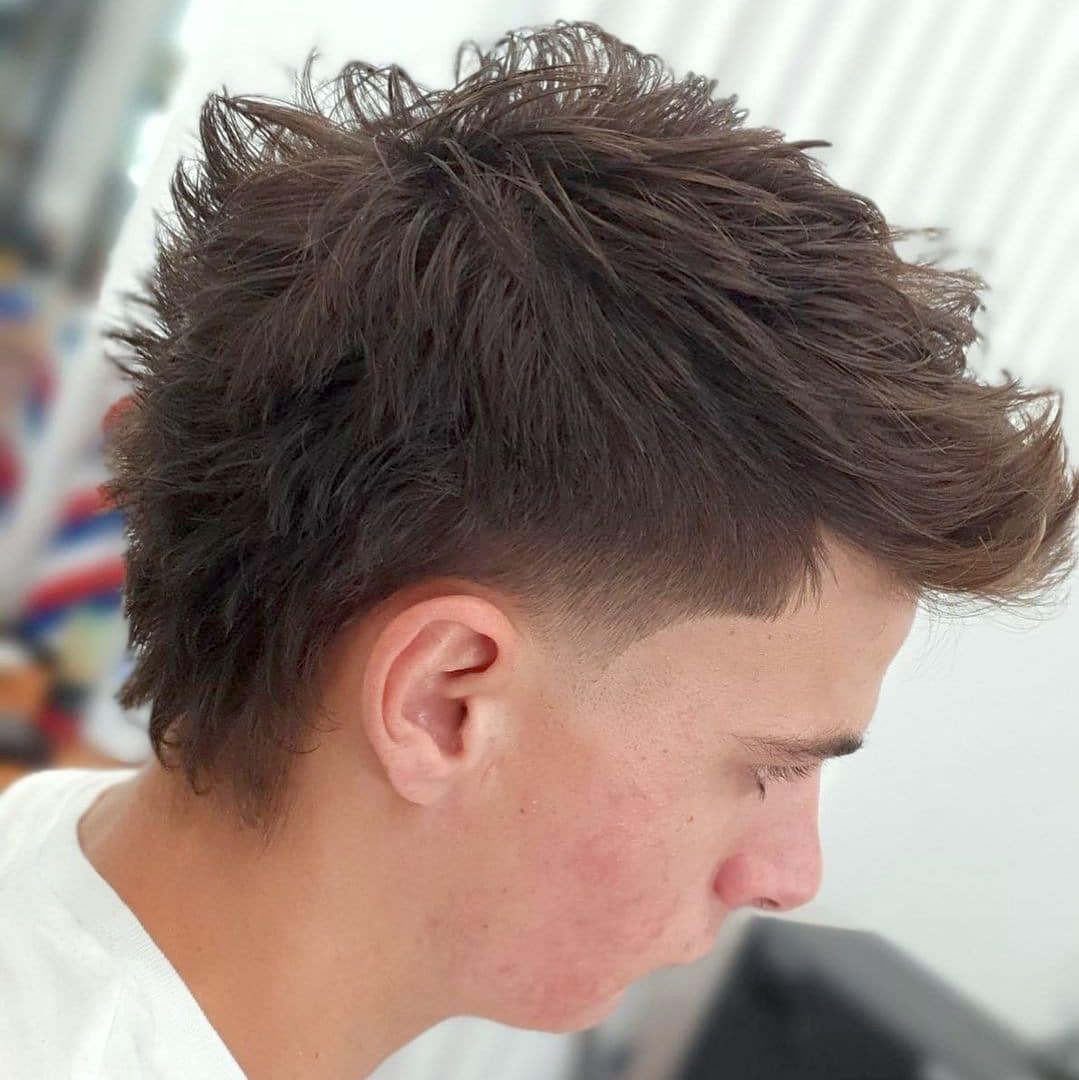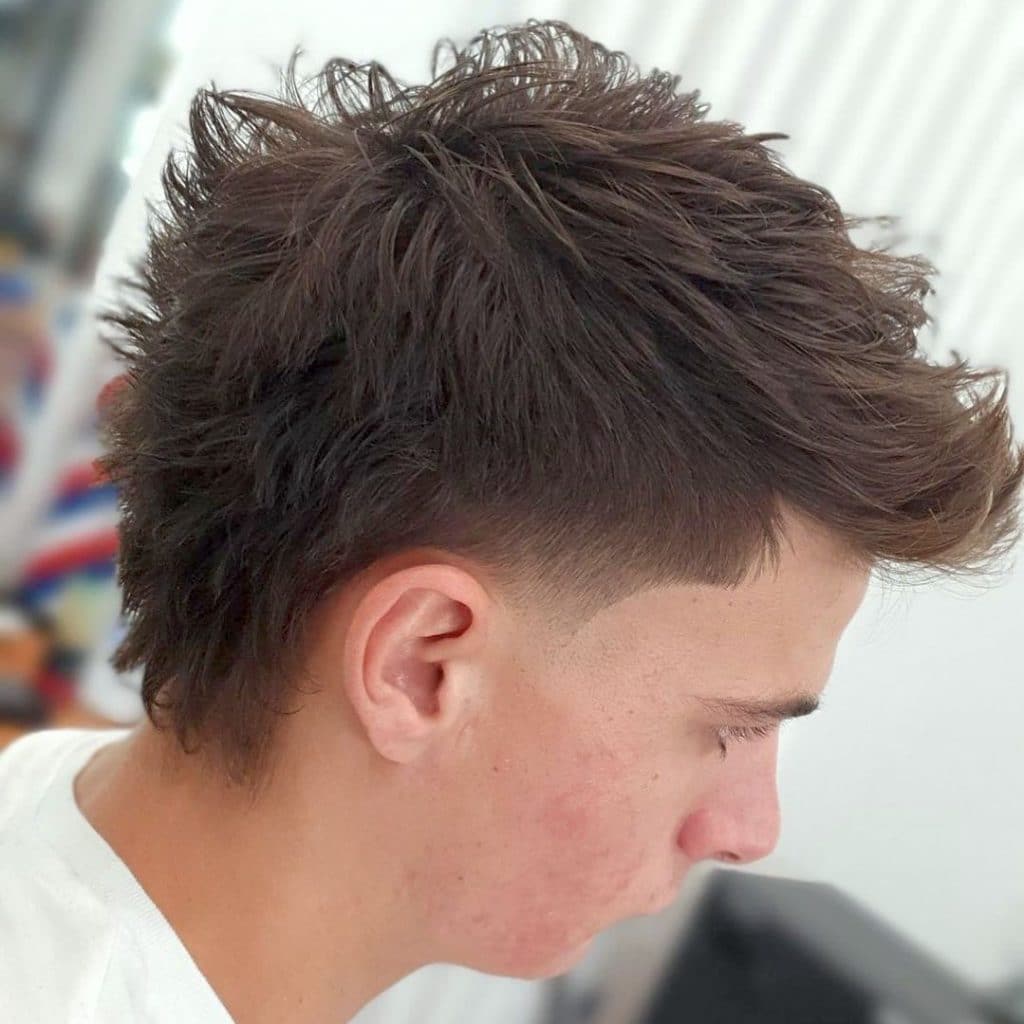 This mullet hawk is an on-trend cut right now and we are here for the party-at-the-front, party-at-the-back look. A temple fade creates the wide mohawk shape that is enhanced by spiky styling. The back keeps going and it will only get better when it keeps growing.
Curly Faux Hawk
Call it a frohawk if you like but curly hair brings its own volume and texture to the look. The curlier the hair, the taller the mohawk.
These curls are a perm, that's how awesome the curly faux hawk is. The curly fringe looks great or amp it up with some height from a pomade.
Cool Haircuts For Teenage Guys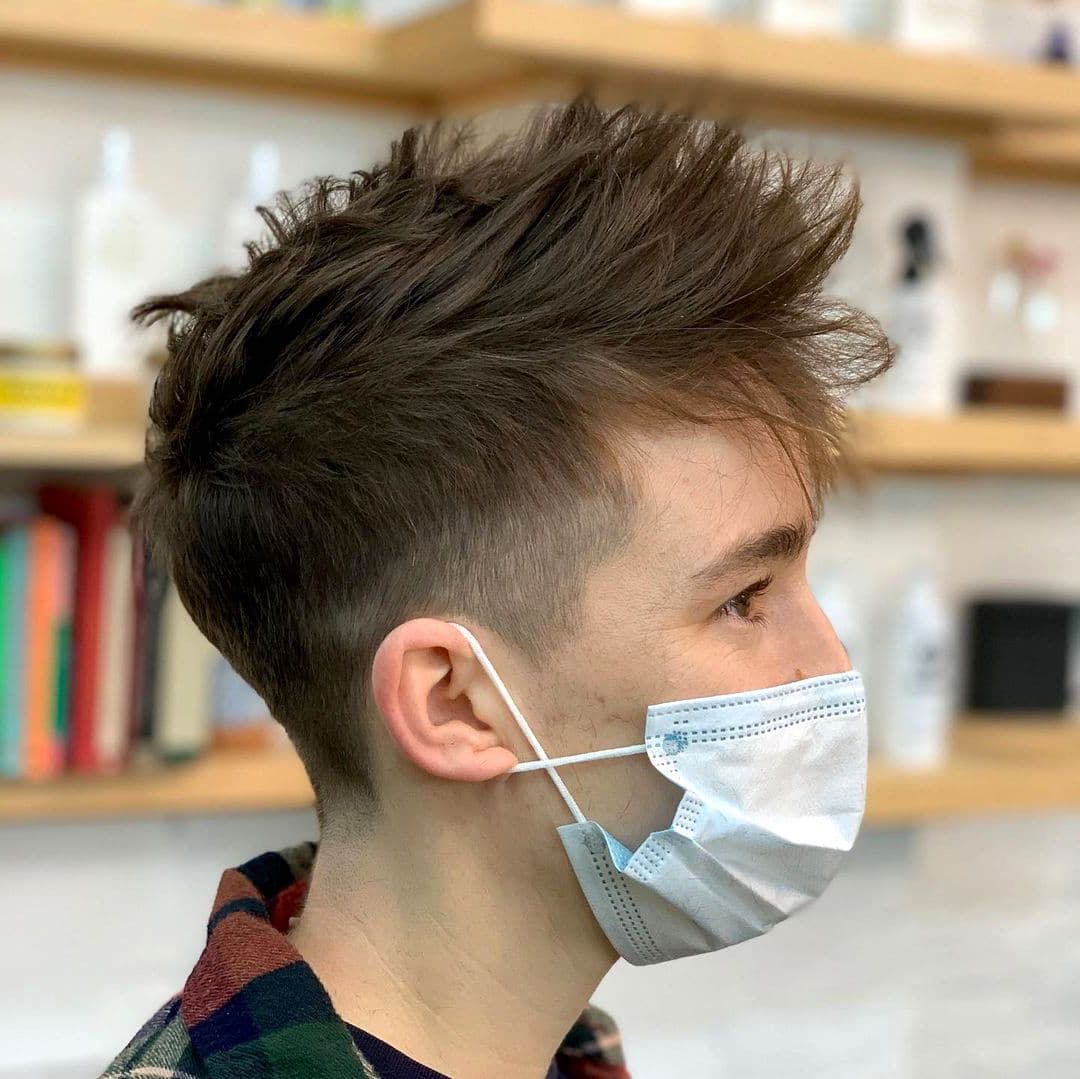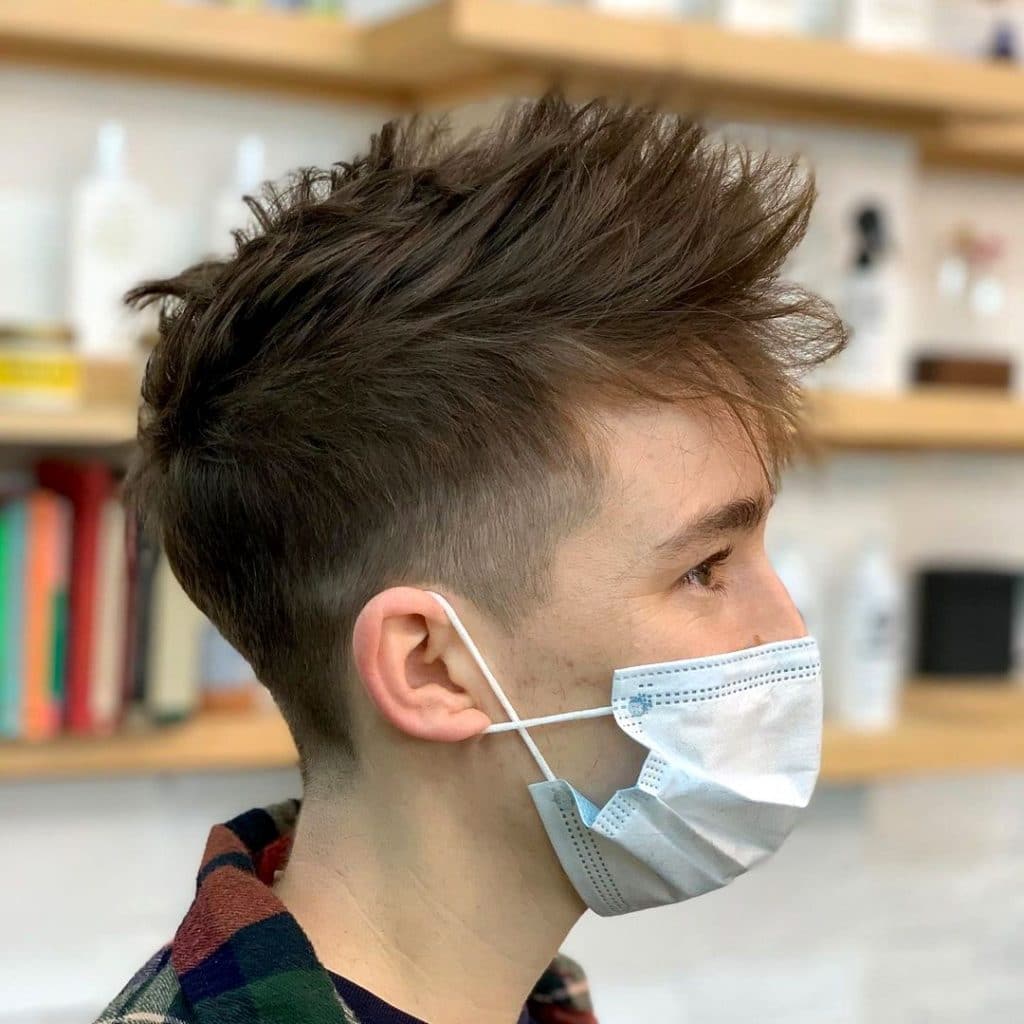 This an all-ages hairstyle. This version also demonstrates how the faux hawk works for all hair types. The spiky texture helps fine hair appear thicker.
Faux Hawk For Boys
Speaking of all ages, the faux hawk is also a popular haircut for boys. The cut can have short sides and back for the longest possible growing in period or a mohawk shape. On top, spike hair into a vertical line, leave it curly, opt for undercut, or go for the modern messy look. It's all cute. And cool.
Hair doesn't need to be styled every day but certainly can be. The look is easy enough for a kid to style so grab some cheap product and let them get creative.
Best Hairstyles For Thick Hair
The faux hawk is also a great choice for guys with thicker hair. It is also a popular hairstyle for Asian men because it works with coarse hair and flatters wide faces. This cool version has a mohawk-inspired cut and cool matte volume. Try one of these products for spiky hair to try the look.
Best Hairstyles For Thick Hair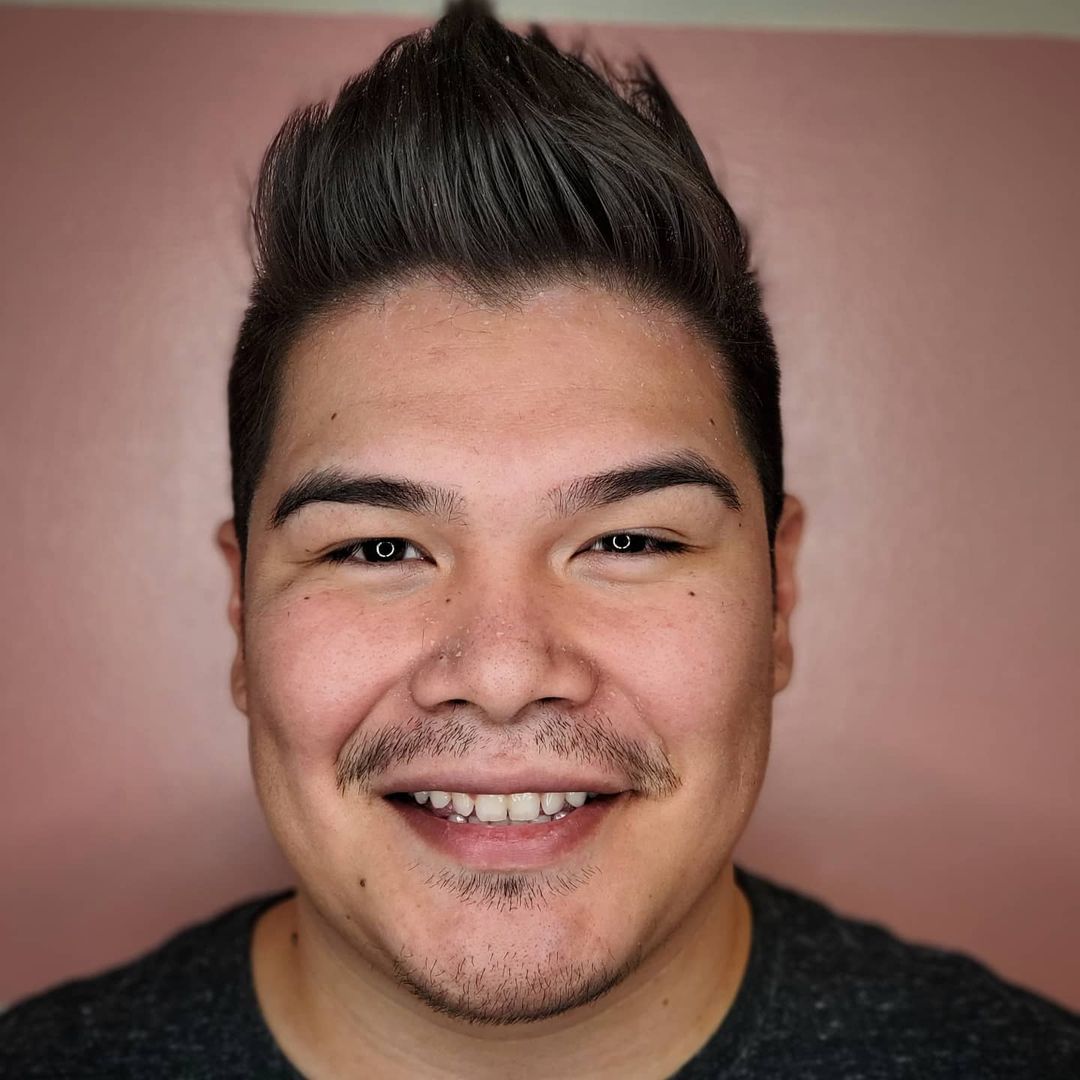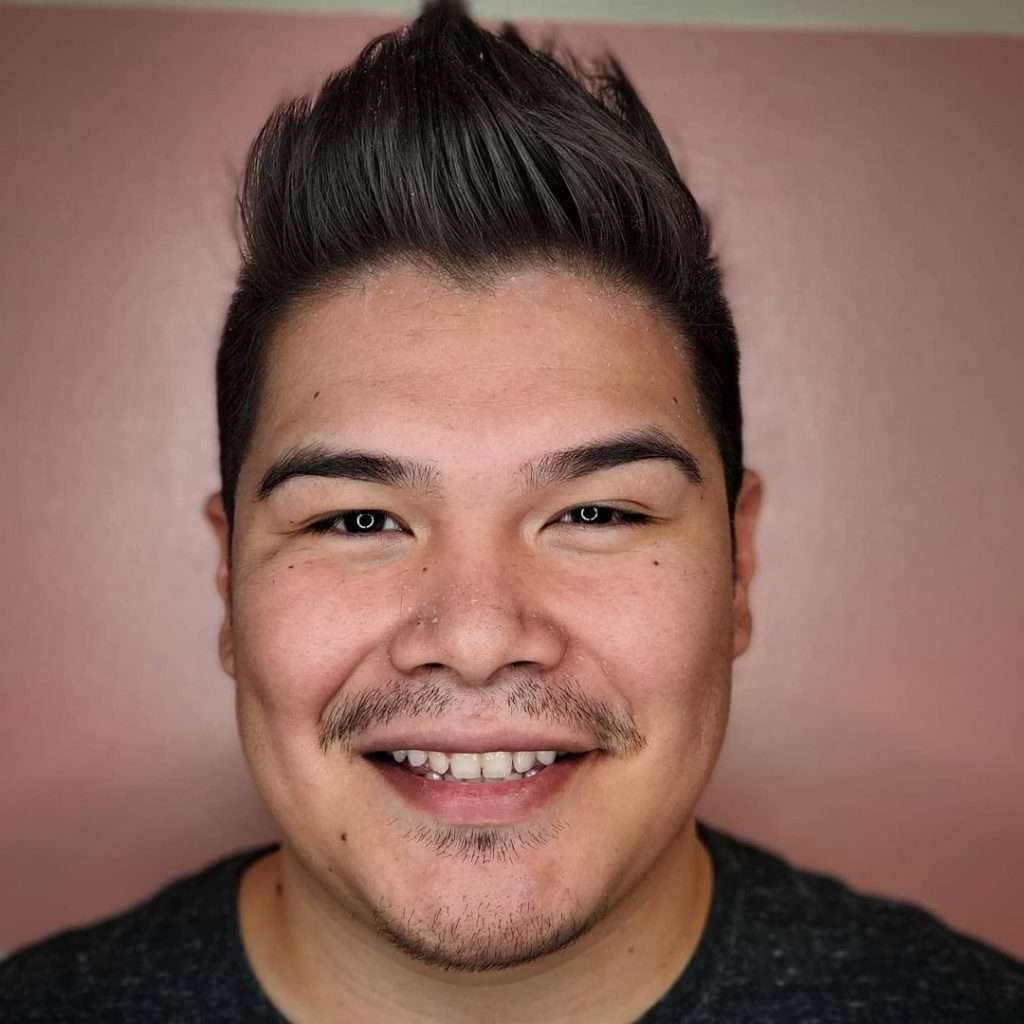 This is absolutely one of the best hairstyles for men. It looks great and is easy to style. This haircut is longest down the center of the head to help create that peaked mohawk shape. That's the smile of a man who looks good and knows it.
If none of the 15 fohawk styles above are for you, it's okay. Check out the pompadour and pomp fade. Instead of spiking hair up, hair is styled up and back. The look is just as flattering and easy to style but with a rounder profile and more retro feel.