This curated selection of good haircuts for men includes some classics, trends and combinations of the two.
We've got side part hairstyles, comb overs, spikes and short cuts that suit all types of hair and face shapes. Add a fade of your choice or rock a taper.
All of these styles look great and are on point. Check out these 25 hot looks.
1. Sweep Back + High Fade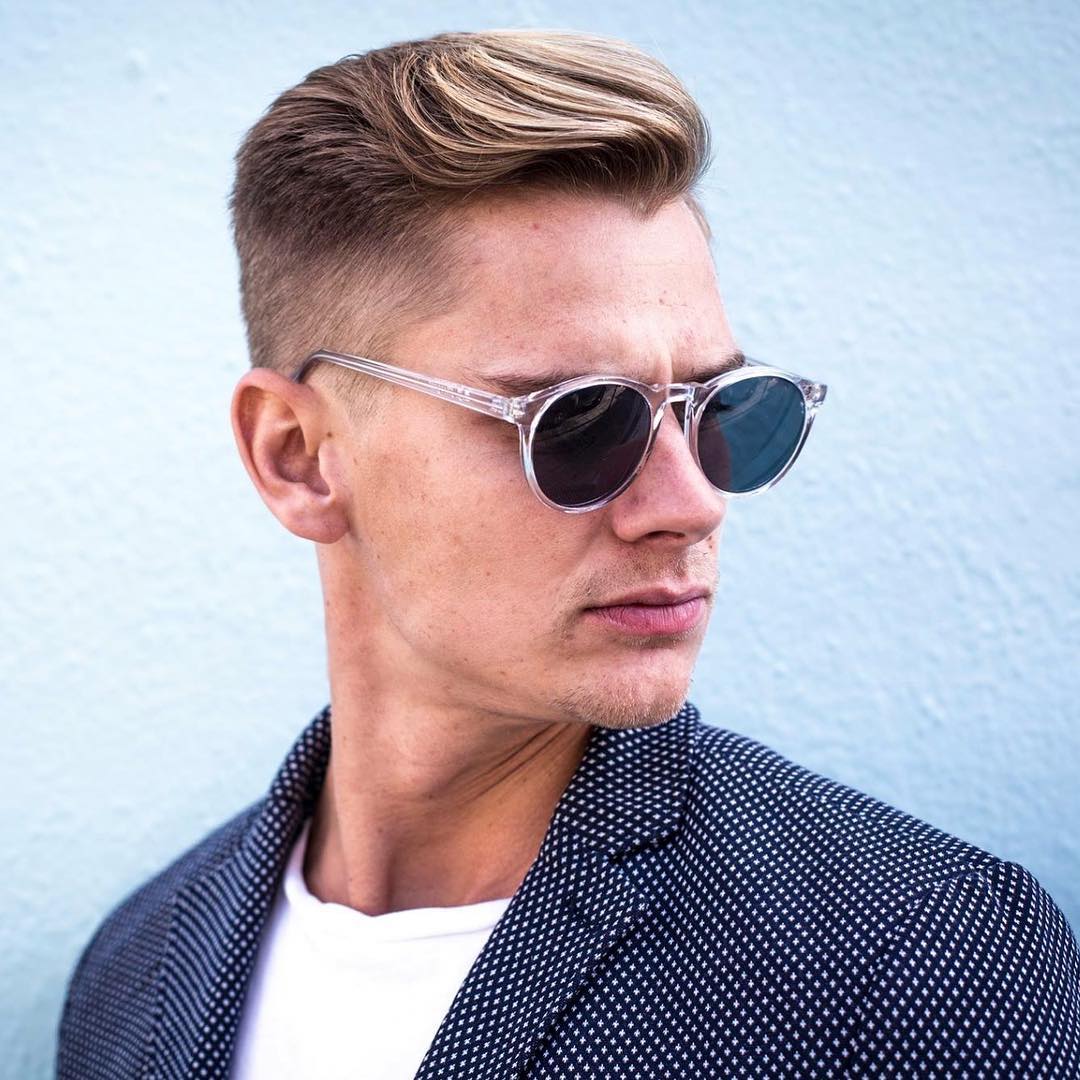 This version of the popular men's hairstyle is cut and styled in a more formal way. The fade goes short instead of down to the skin while the top has a matte hold with a hint of wave but is neither slick or messy.
2. Side Part Hairstyle + Texture + Low Fade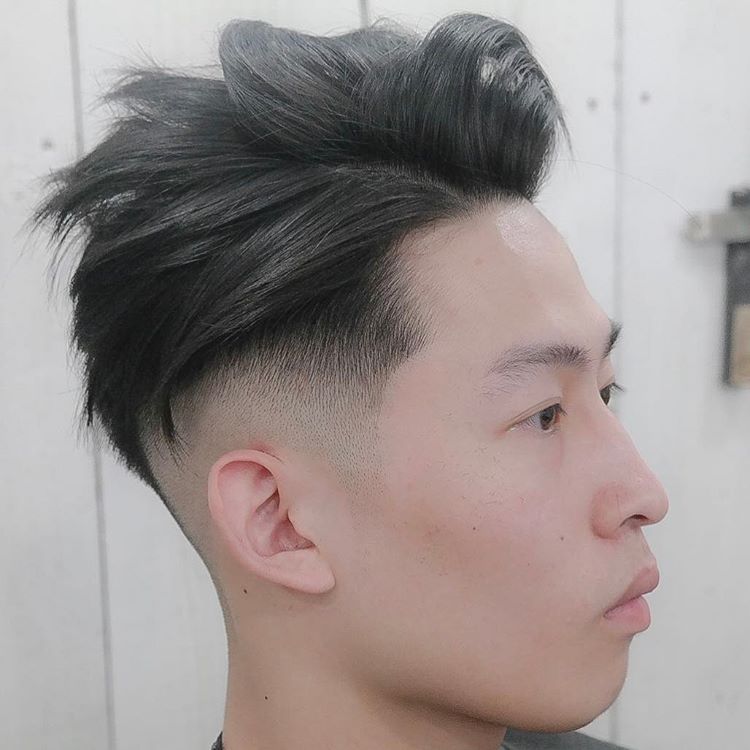 Here's the classic side part hairstyle with some updates this year. Hair on top features plenty of volume and some piecey separation while a low fade exposes skin at the hairline.
3. Textured Spikes + Fade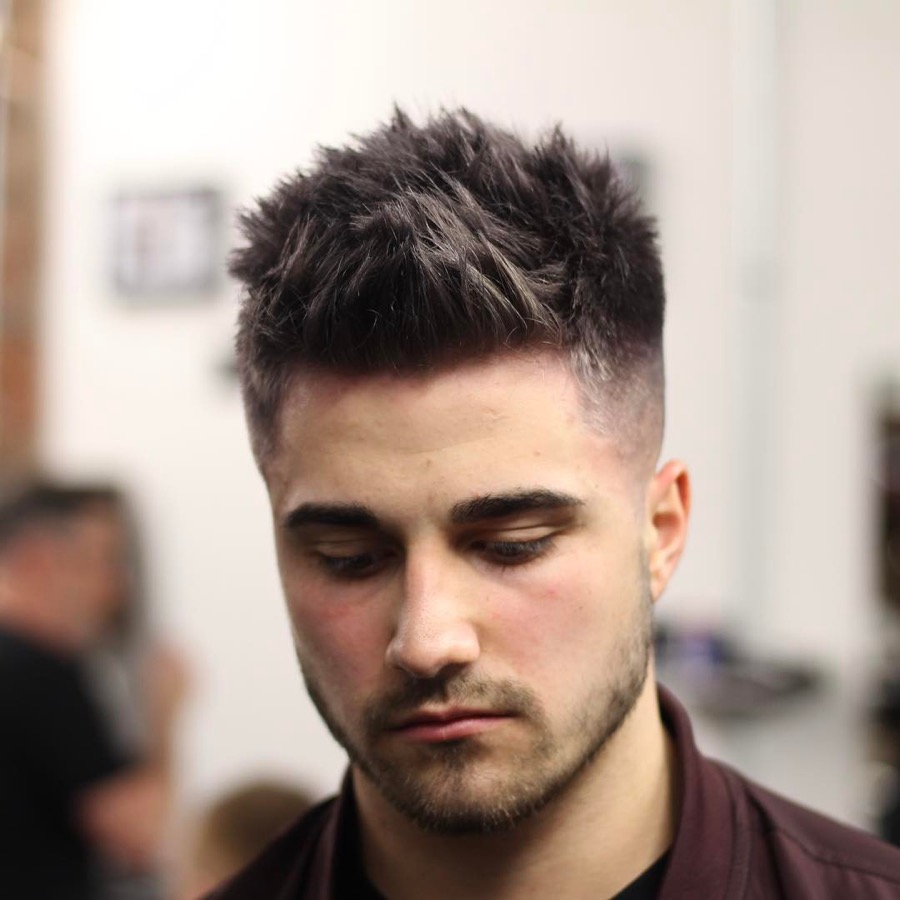 Texture is one of this year's top hair trends. It can be added to any men's hairstyle but works especially well with classic spikes.
4. Pomp Fade + Side Part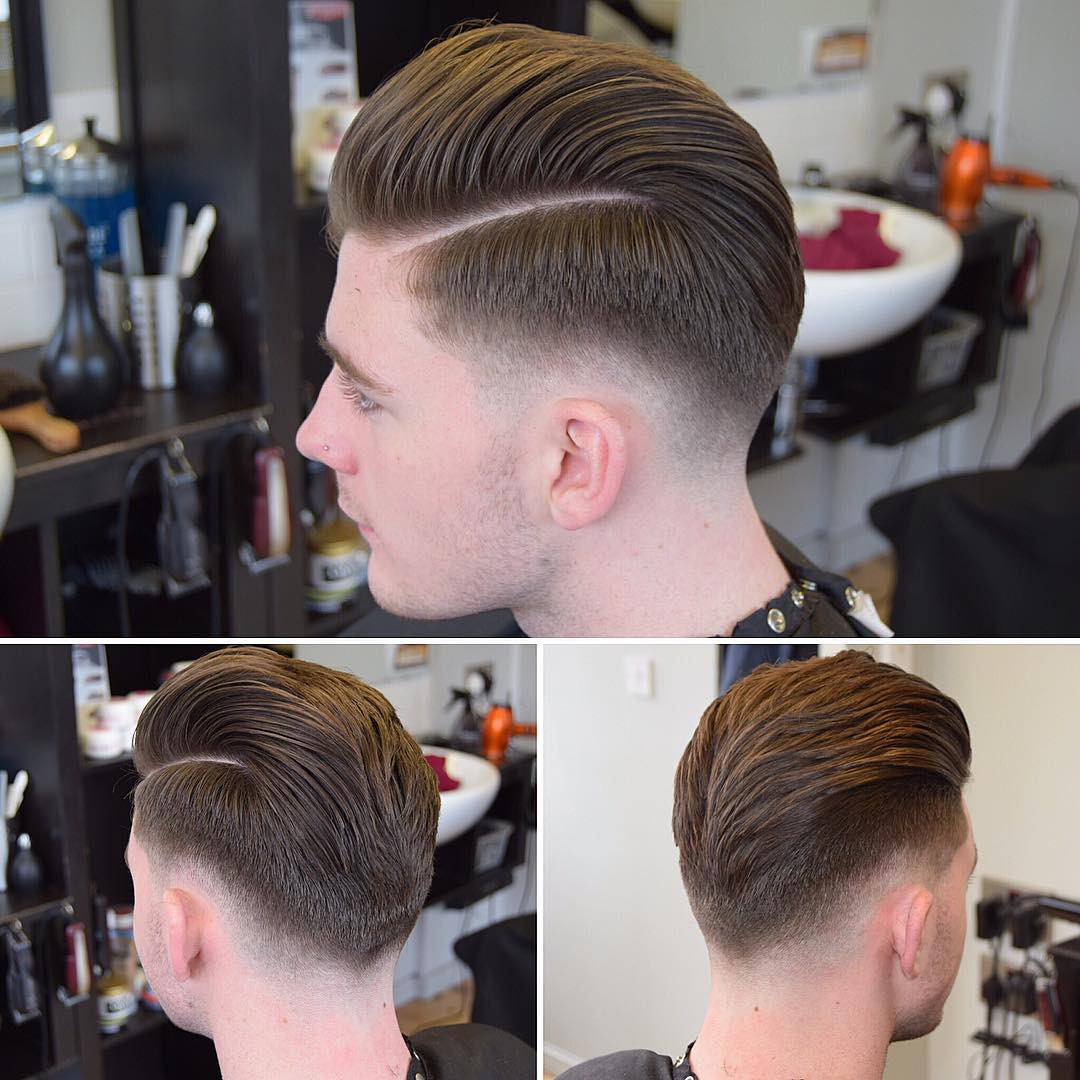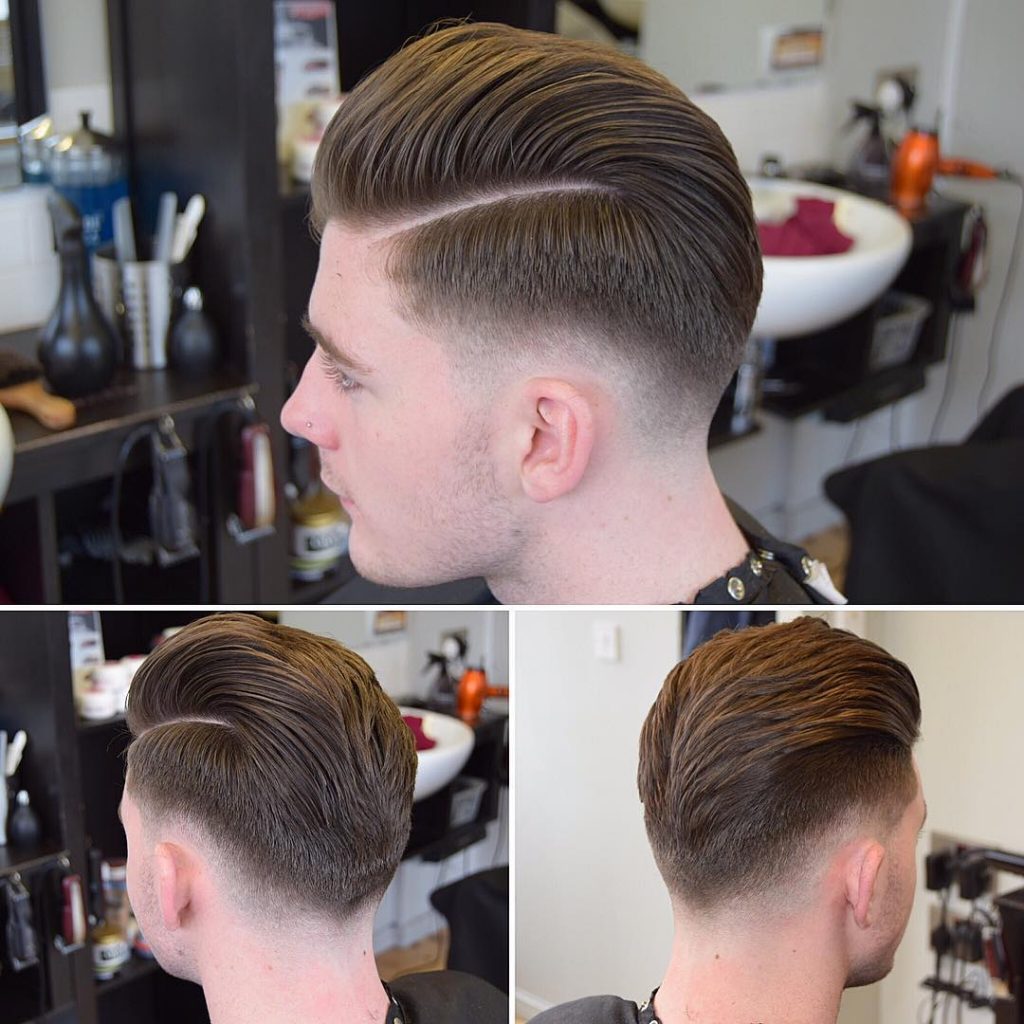 The pompadour and the side part are two classic men's hairstyles that are constantly being reinvented. Here they combine forces with a fade for a modern look with timeless appeal.
5. Textured Quiff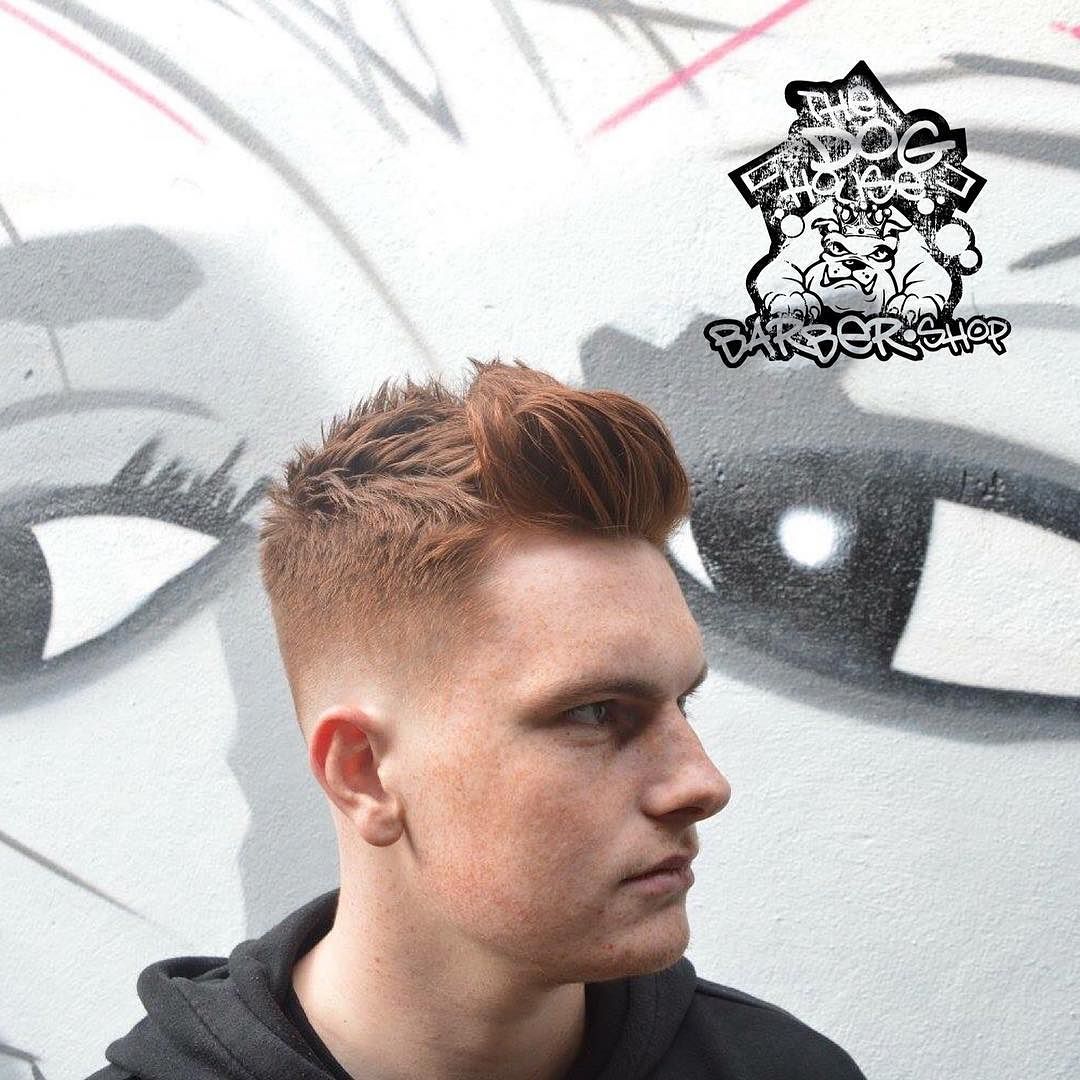 Men's hair with volume along the forehead are flattering on just about everyone and also easy to style. This version also has a high fade and texture.
6. Short Curls + Temple Fade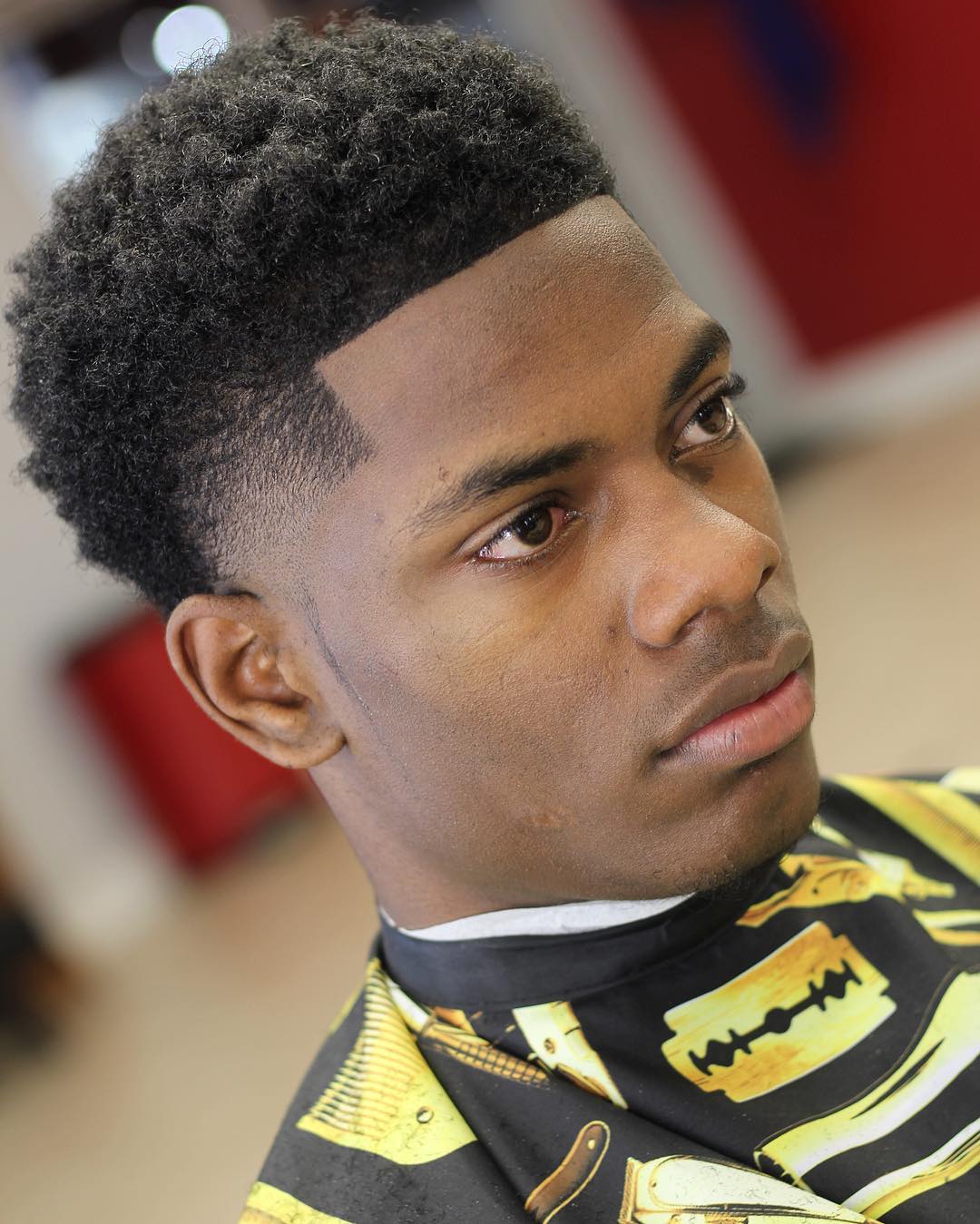 The latest texture trend applies to curly hair too. We are seeing lots of longer styles that highlight natural texture. A line up and temple fade keep the edges neat.
7. Buzz Fade + Line Up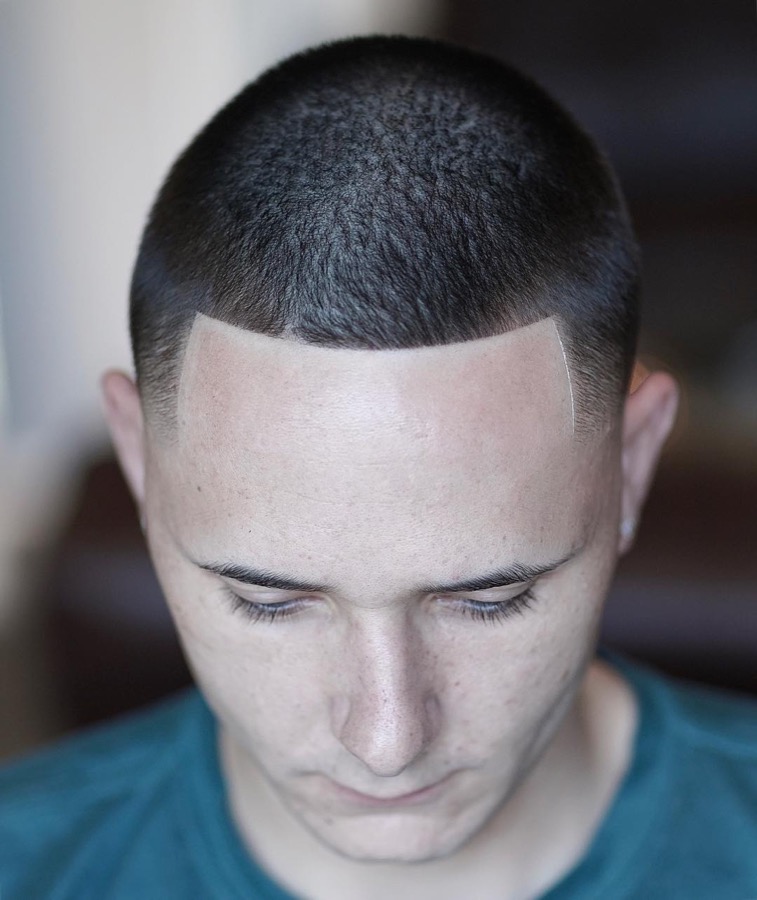 This is one of the most popular very short hairstyles for men. The line up and fade add style and clean cut finish to an otherwise ordinary buzz cut.
8. High and Tight + High Fade + Hair Design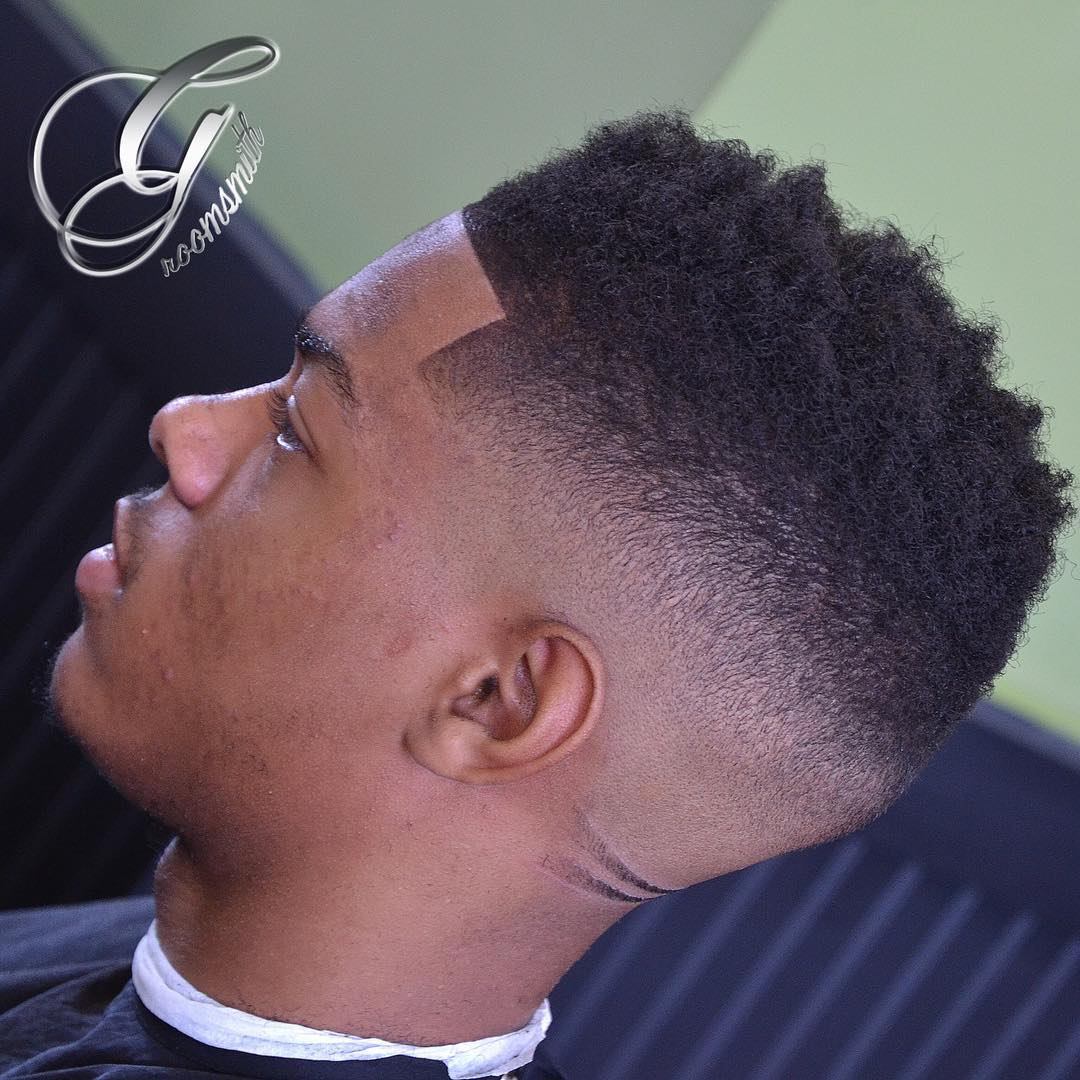 After the cut above, the high and tight is one of the top short hairstyles for black hair. It leaves enough length on top for some texture while cutting the sides close in a high fade. A simple hair design at the neck sets this particular cut apart from the rest.
9. Curly Hair + Mid Bald Fade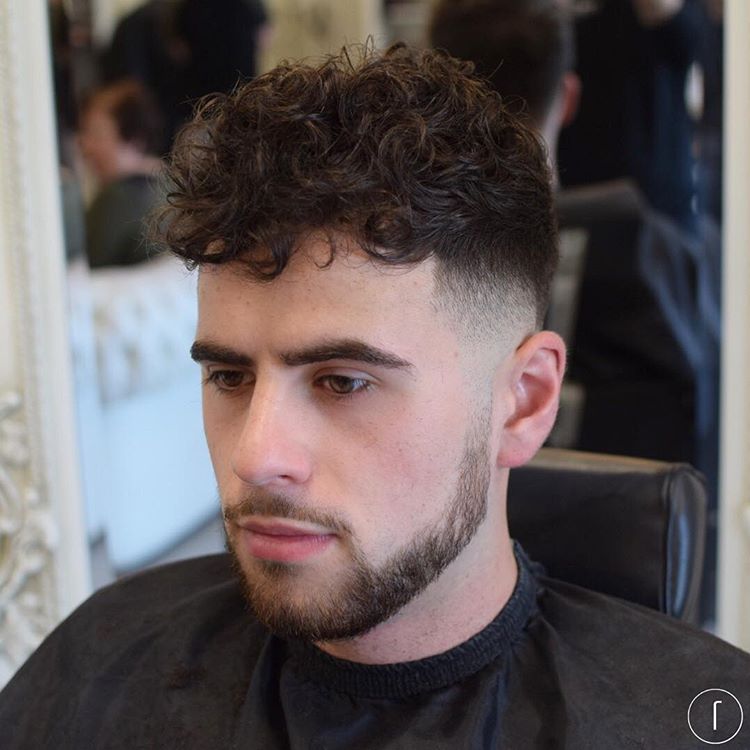 A fade with some length on top is one of the best haircuts for guys with curly hair. It is a low maintenance way to have some curly texture and just takes moments to style by working a curl cream through hair to define curls and fight frizz.
10. Side Part + Wavy Hair + Low Fade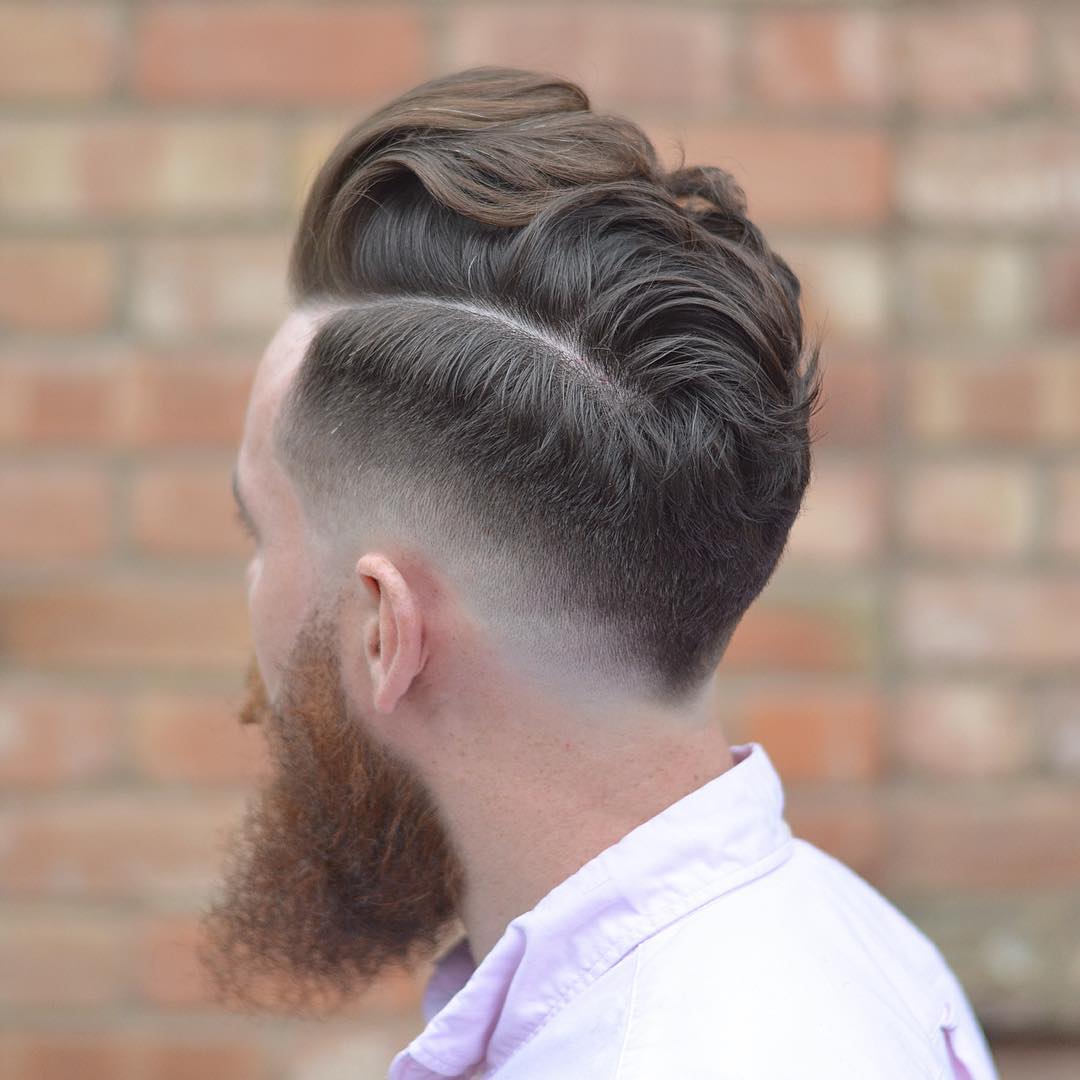 Create your own unique hairstyle by mixing and matching a cut, fade and hair texture. This modern take on a classic side part features a low fade and unexpected waves on top.
11. Side Part Hairstyle with Movement and Flow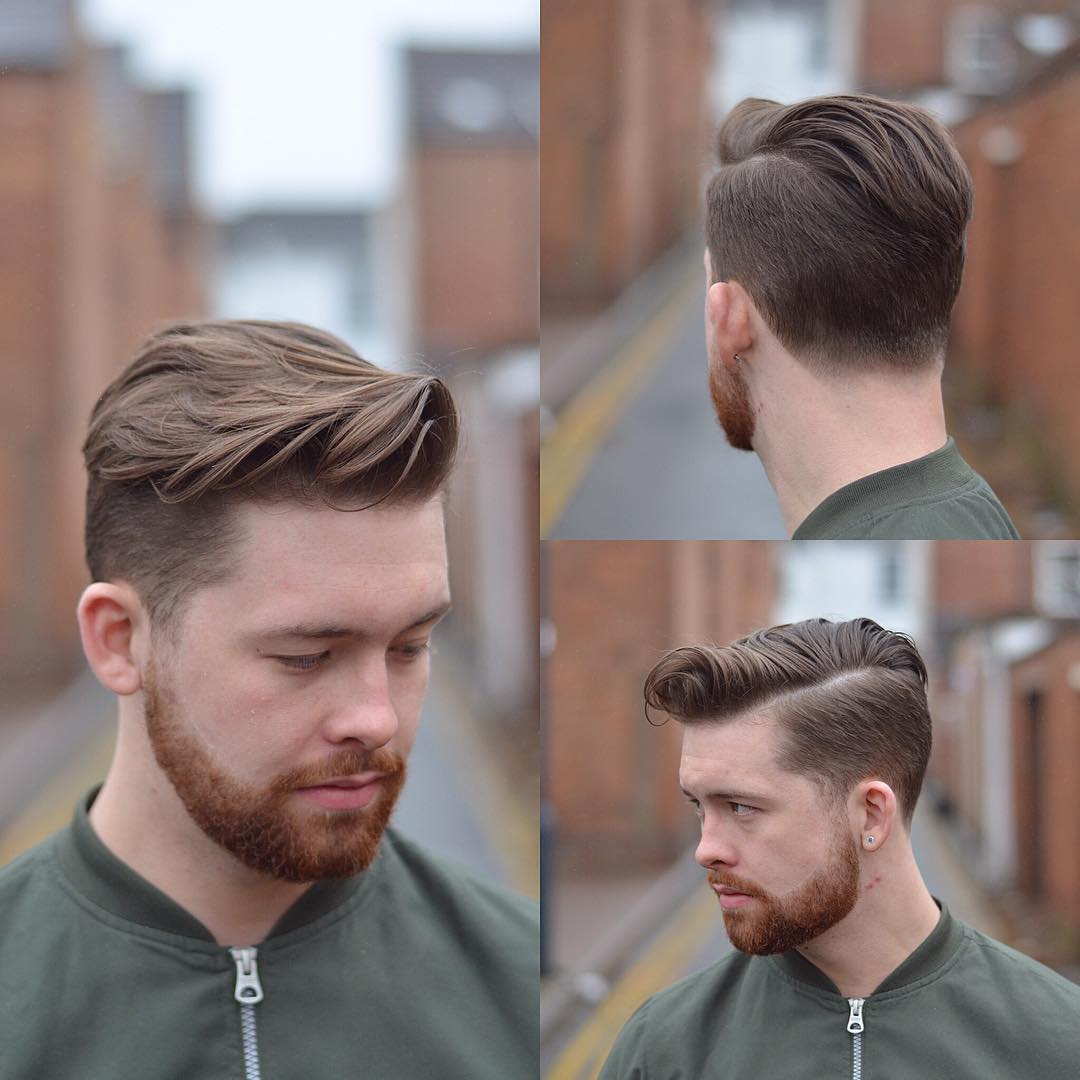 In addition to texture, a top trend for the year is men's hairstyles that are styled to have movement and flow. These looks still use product but ones with a matte finish and flexible hold.
12. Hi-Top + Curls + Low Bald Fade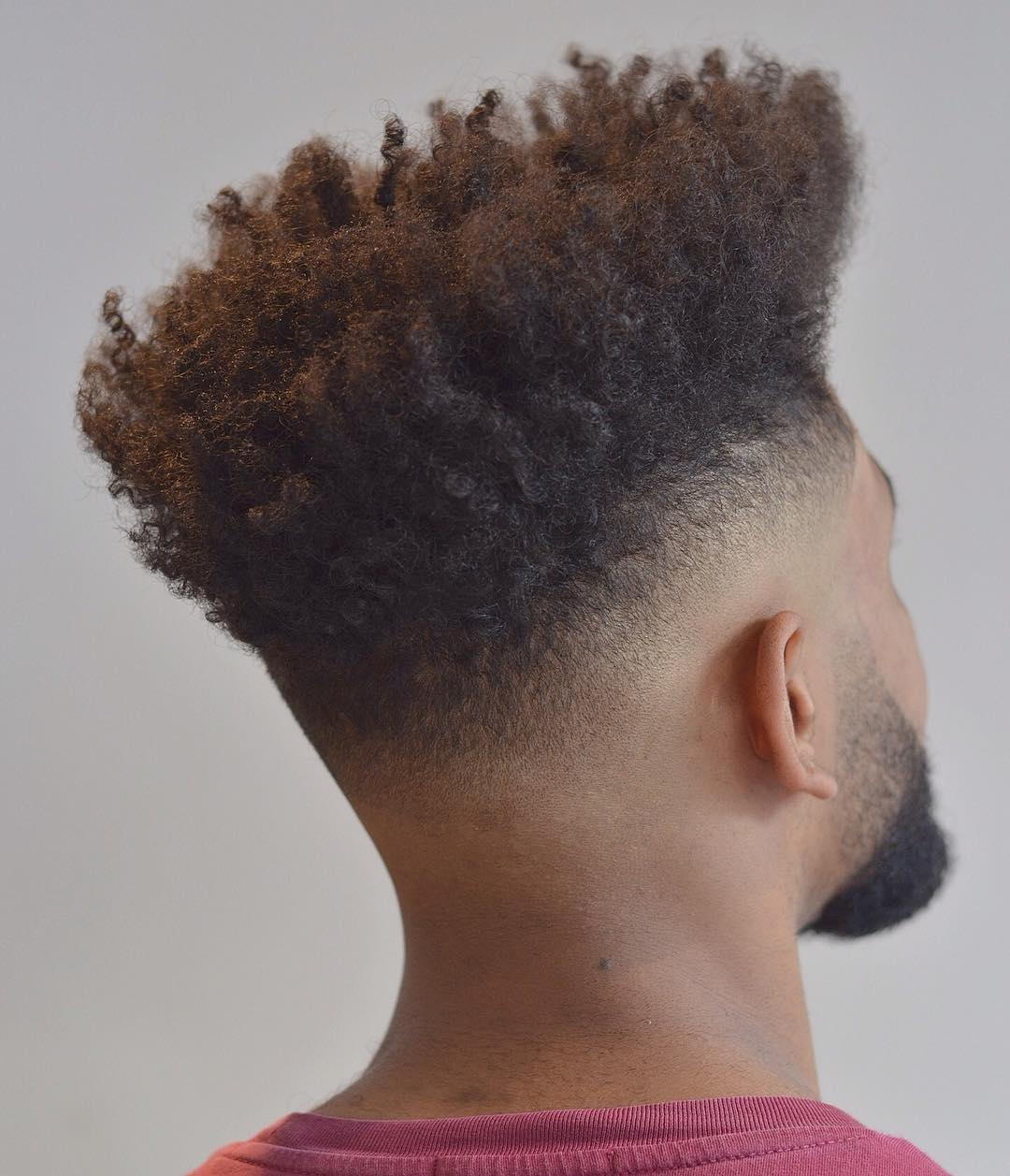 The high top fade is one of the coolest cuts for guys with kinky curls. It's not as geometric or precise as the flat top but has a similar impact with plenty of height and texture.
13. Thick Spikes + High Fade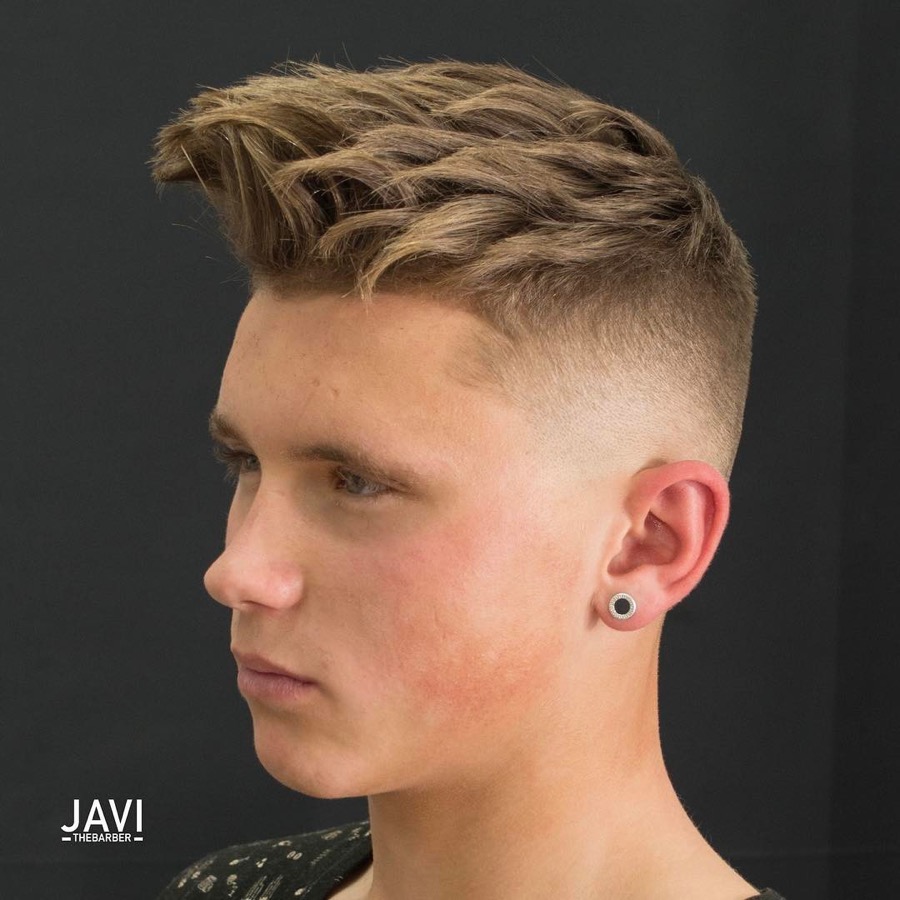 Spiky styles are also being influenced by the texture trend. This fresh look features larger than usual spikes pointed both up and forward.
14. Curved Spikes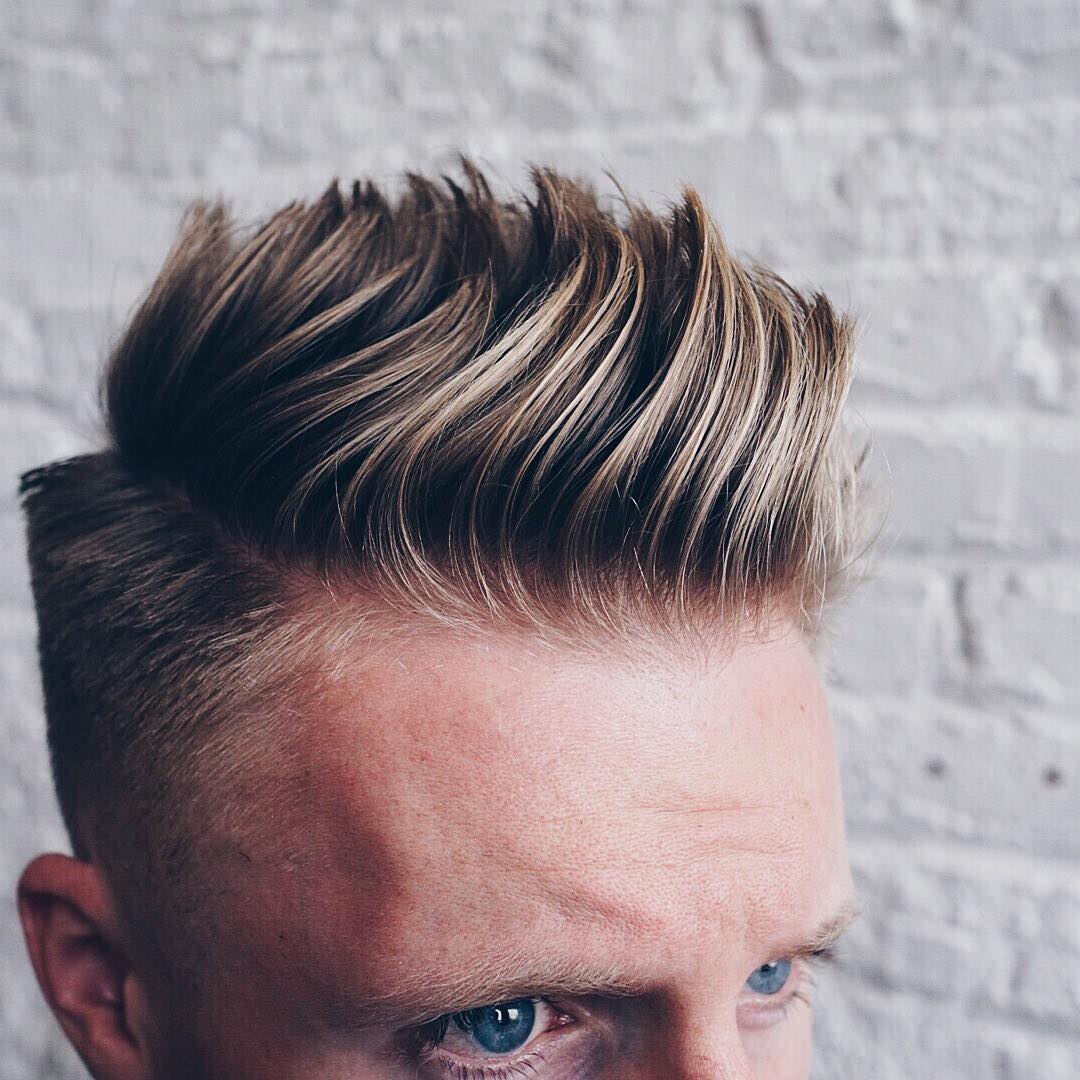 Instead of classic straight up spikes, this version features a hint of curve for something different.
15. Comb Over + Quiff + High Fade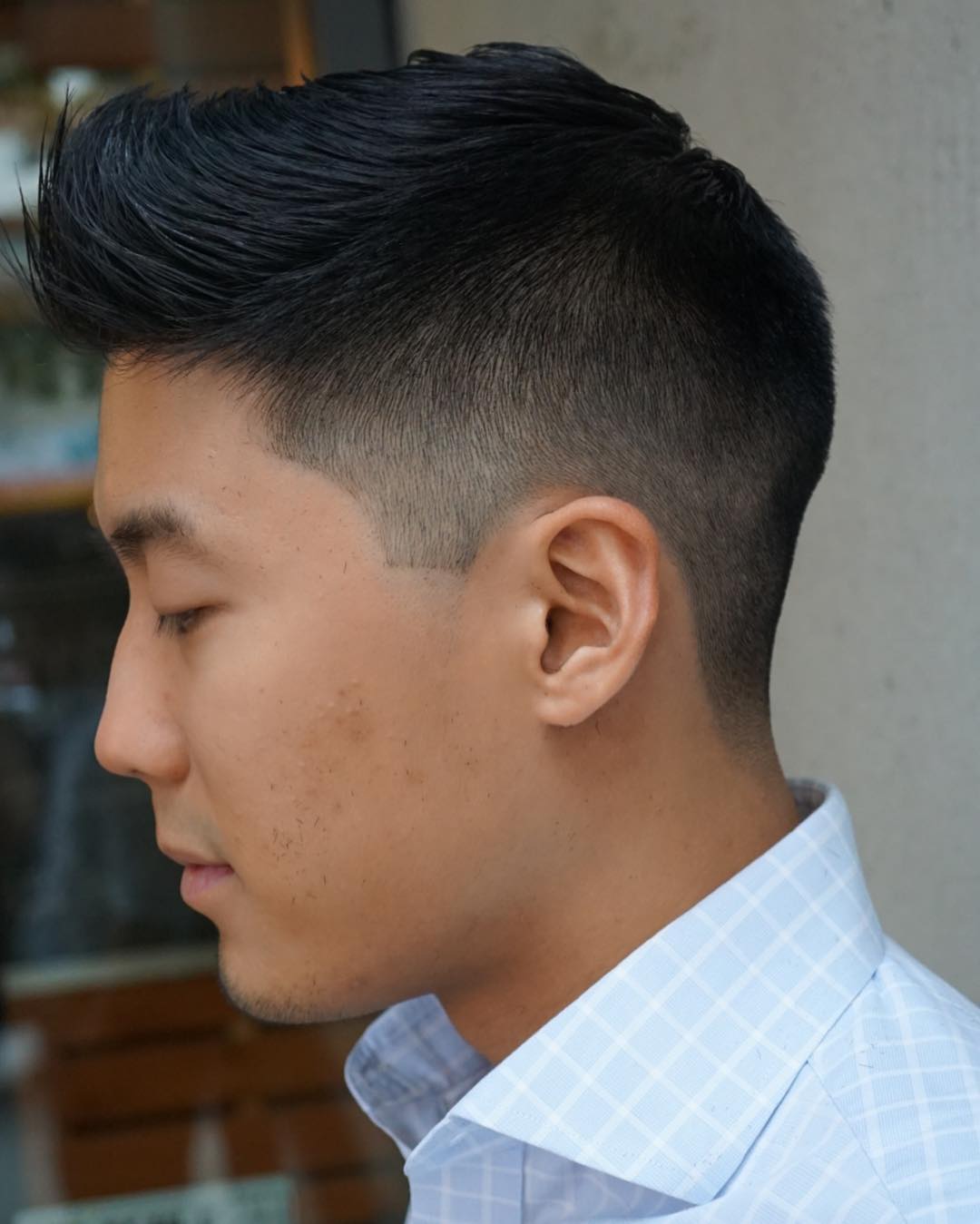 This flattering and and easy-to-wear style is clean cut enough for work and cool enough for the rest of your life. Hair is longer on top and worked over to one side with some volume at the forehead.
16. Comb Over Fade + Texture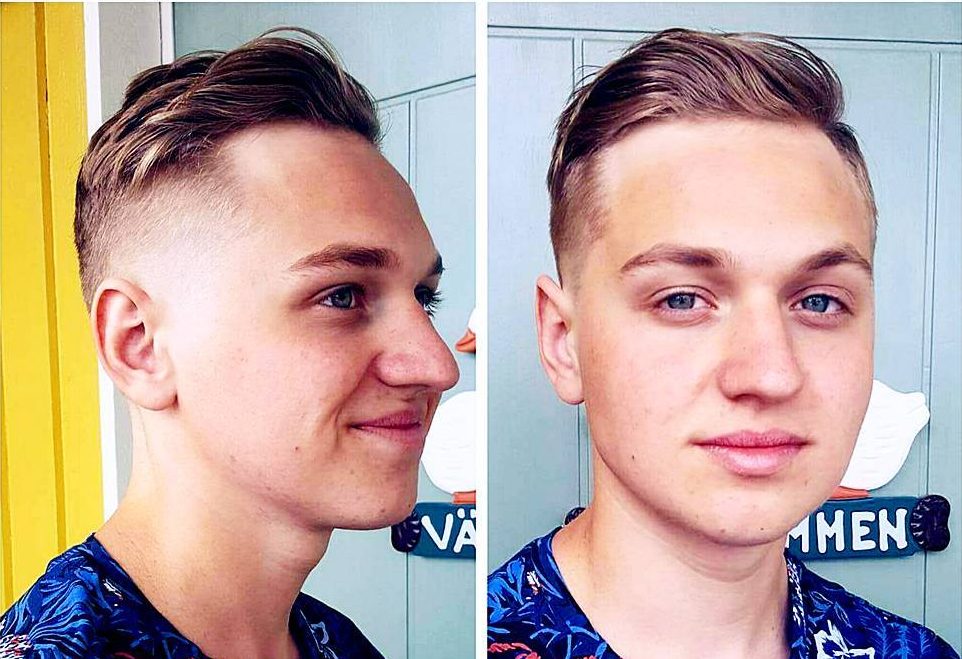 Comb over styles are popular because they look great and are easy to wear. This one is styled with fingers to add some texture.
17. Wavy Sweep Back + High Bald Fade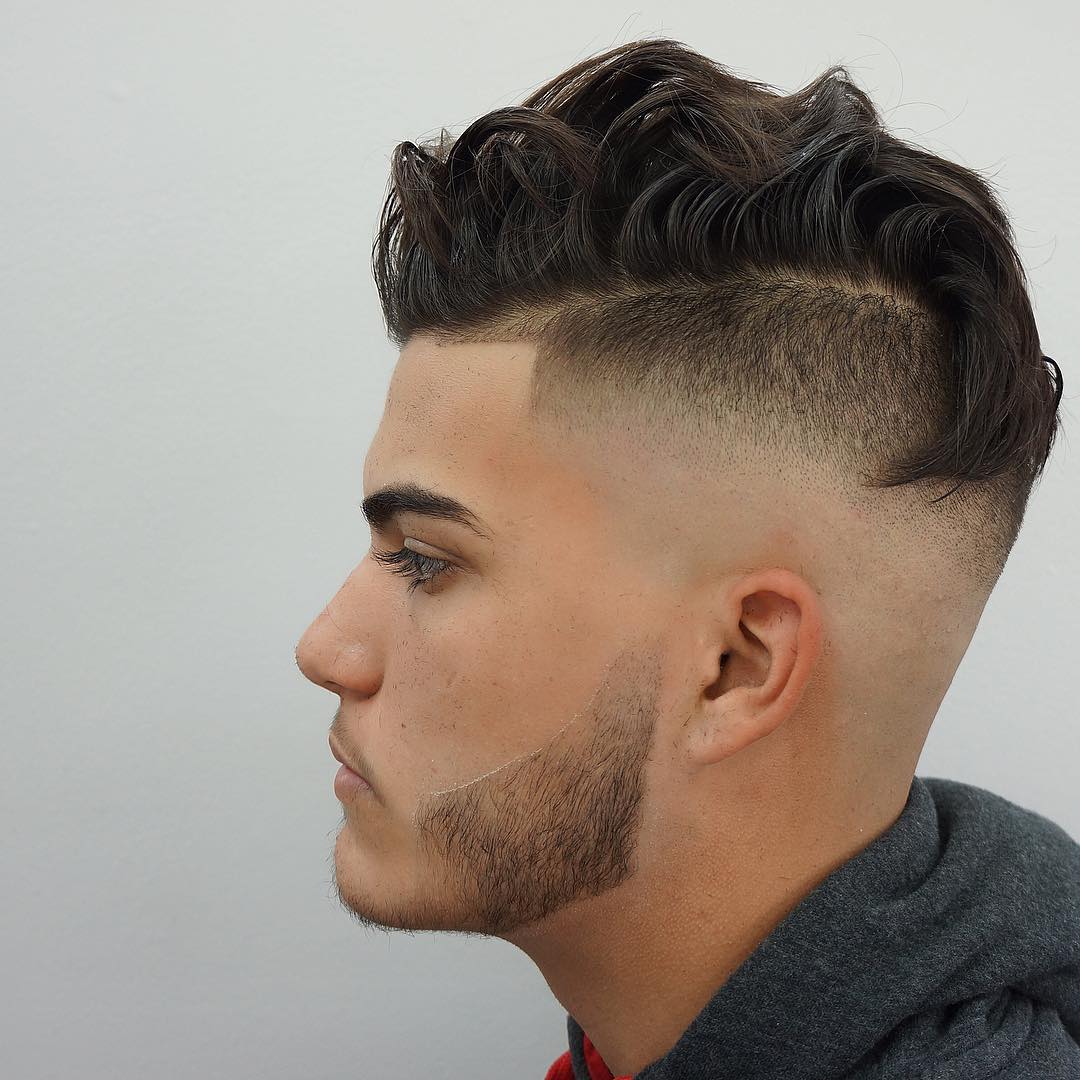 We are seeing lots of new versions of old favorites. Here's a unique take on the sweep back, a looser version of the slick back, with lots of waves and high fade.
18. Hairstyles for Fine Hair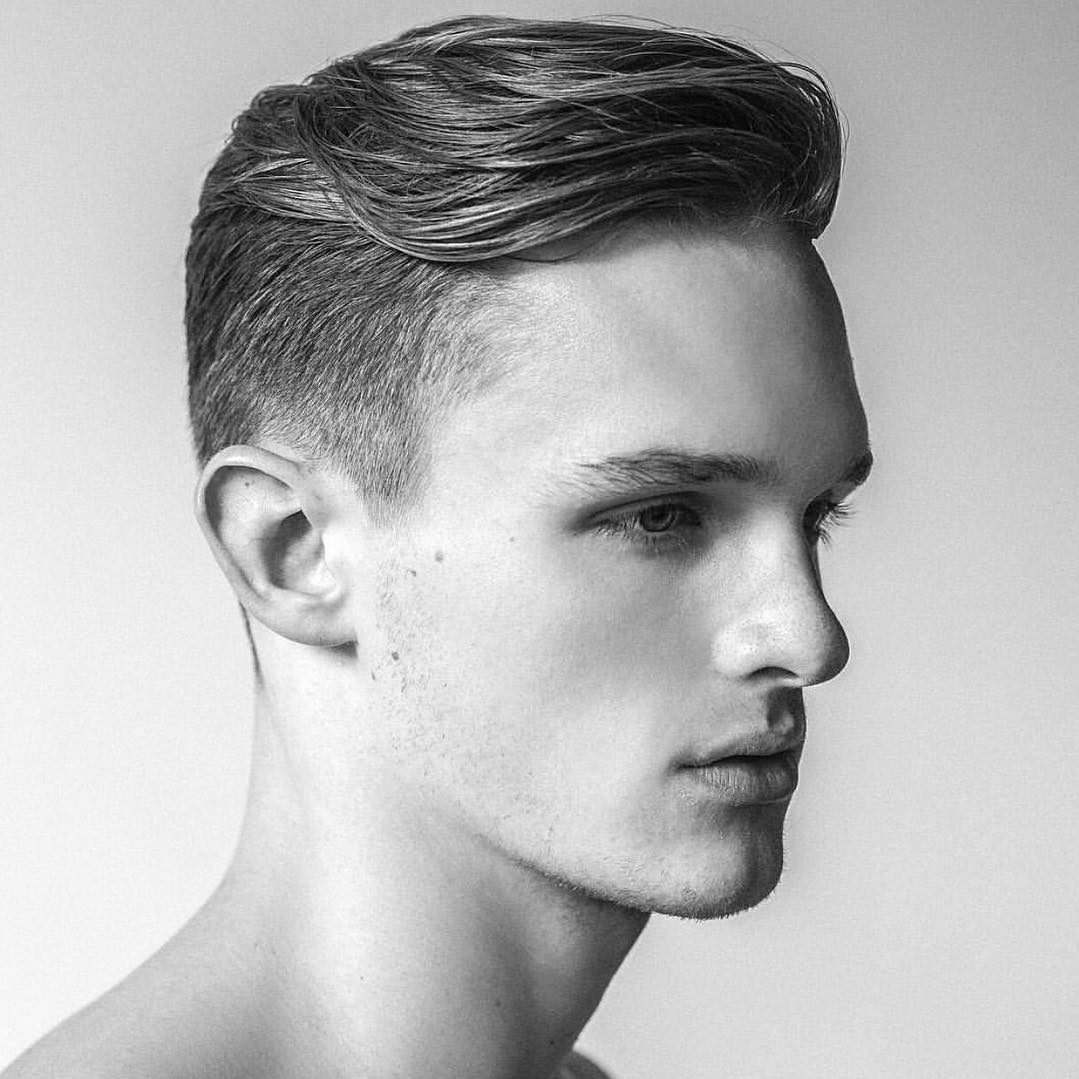 This long on top, short sides and back hairstyle is a great option for guys with fine hair. The sweep back adds volume and texture that makes hair appear fuller.
19. Thick Crop + Side Fringe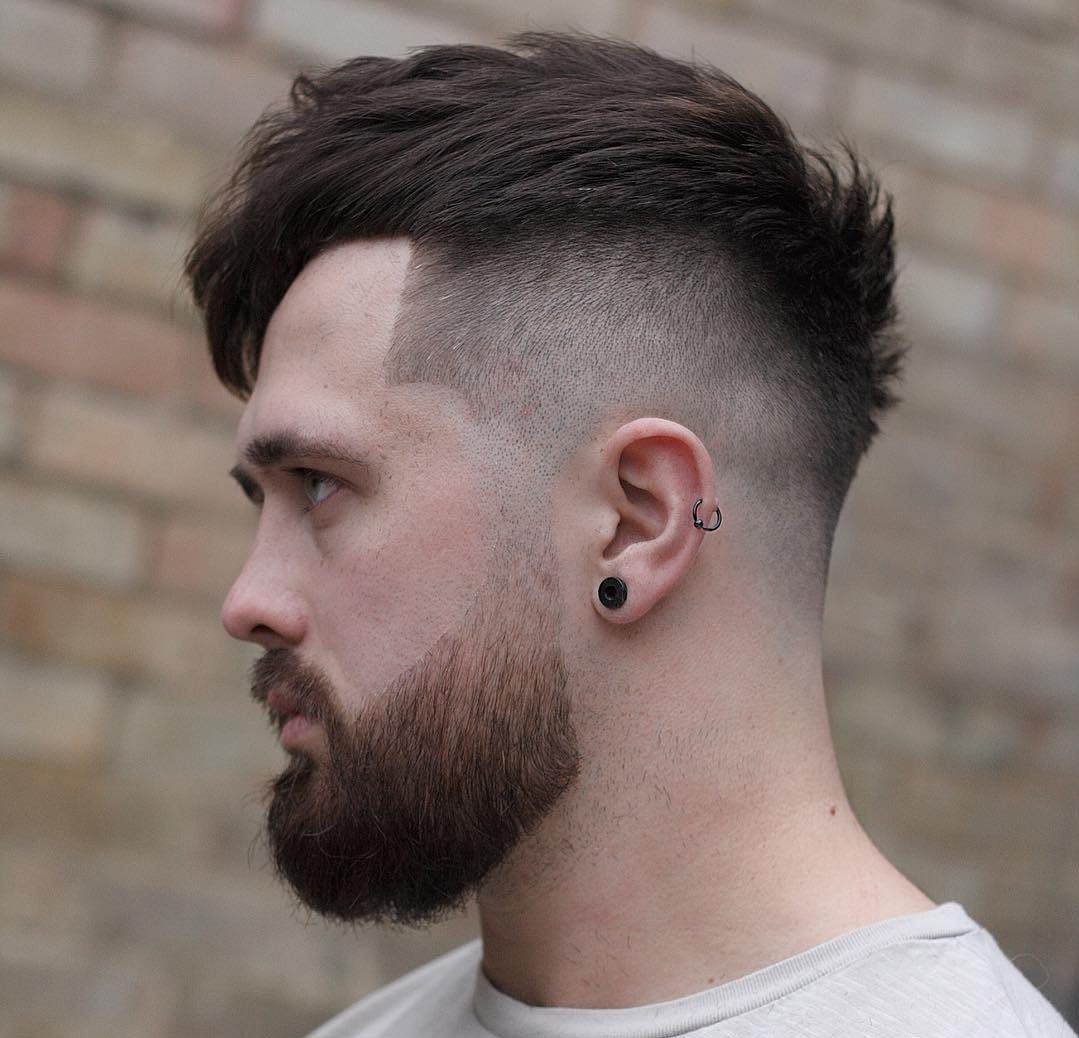 The textured crop is huge men's trend that can be worn lots of different ways. This version has lots of weight on top and features fringe worked over to one side.
20. Messy Spikes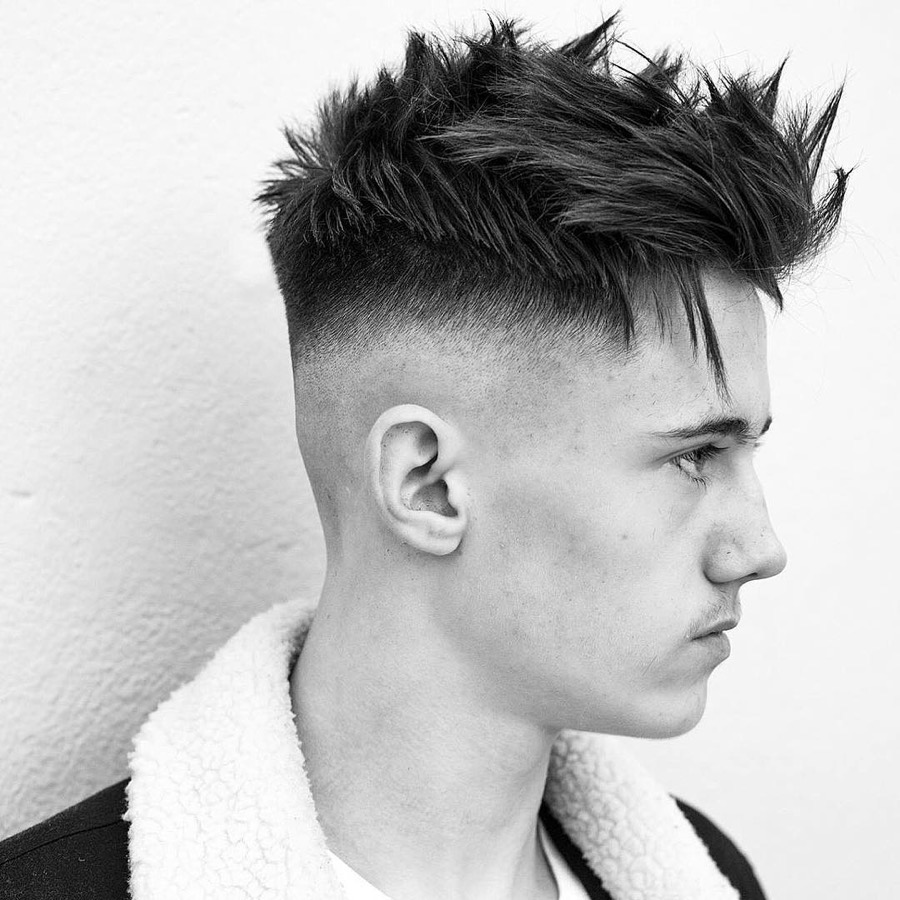 Another cool variation on classic spikes, this messy styles pulls spikes in all directions.
21. Textured Quiff + High Fade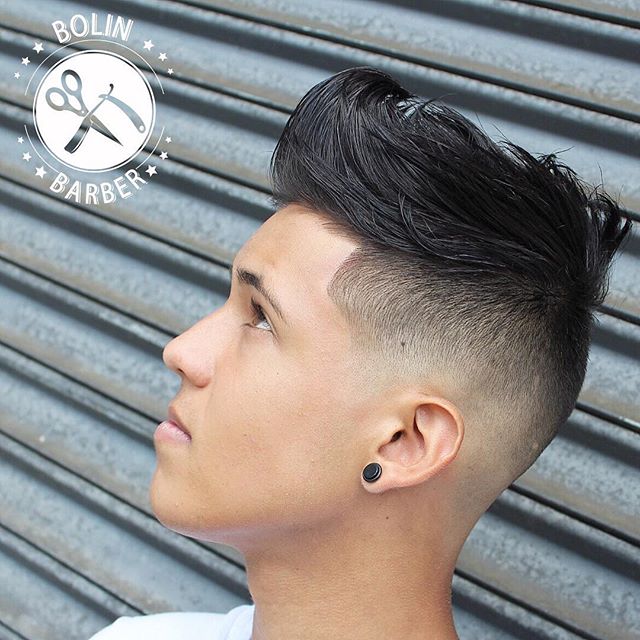 This quiff is flattering for all face shapes and easy to style, thanks to layering on top and ultra short sides.
22. New Hairstyles for Men
This fresh look styles a classic men's haircut in a new way. Sections of hair are worked in an arc towards the center for a high volume and textured finish.
23. Wavy Hair + Mid Fade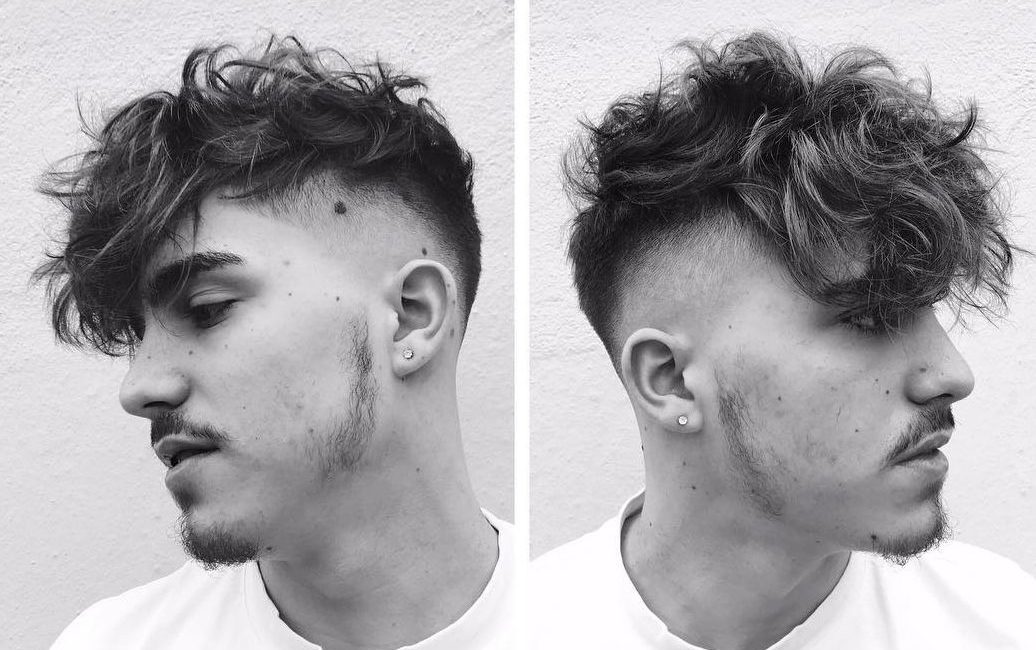 This is one of the best haircuts for guys with wavy or curly hair. Just work a curl cream through hair and wear it messy.
24. Taper Fade Haircut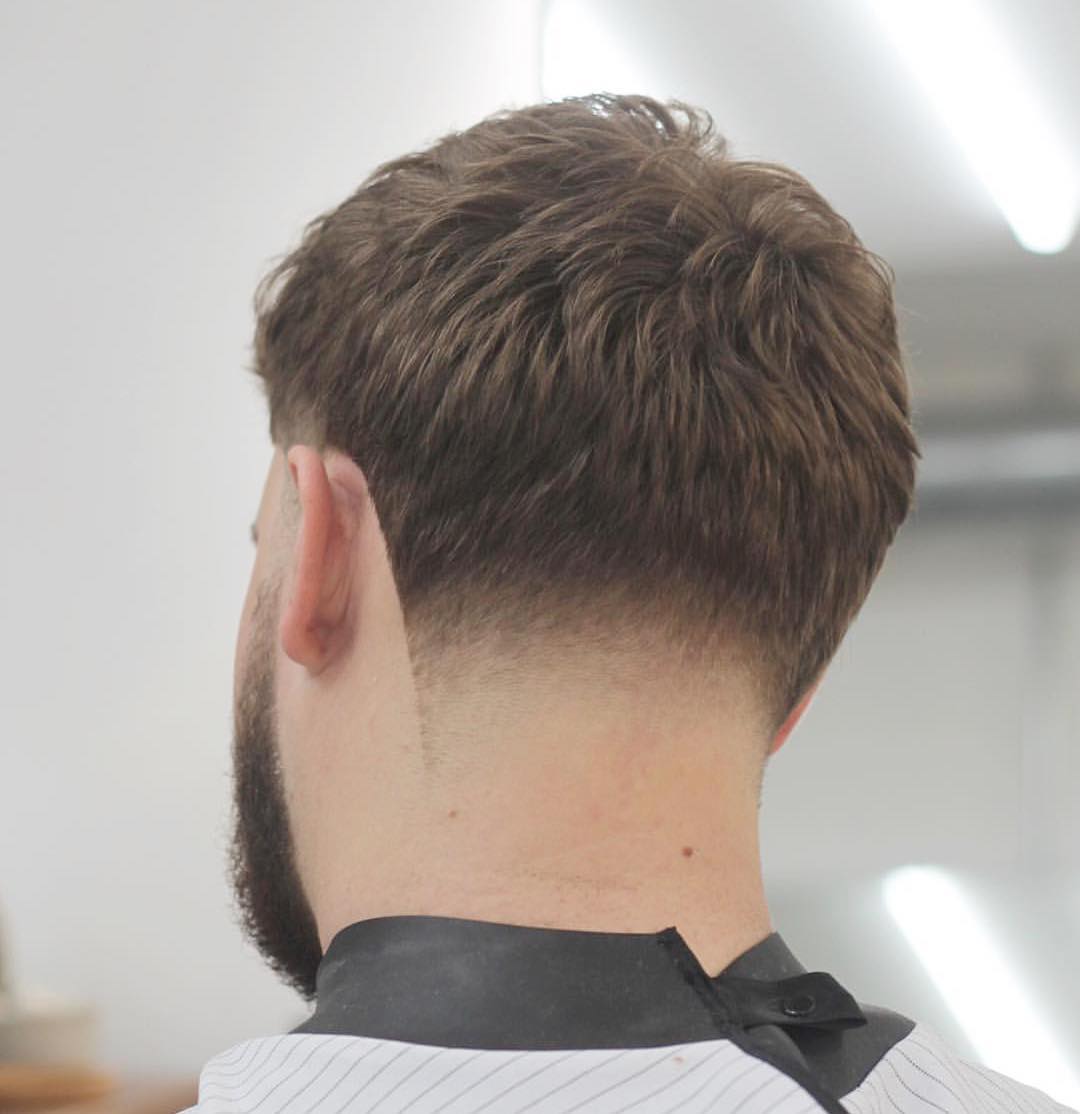 Tapered hairstyles that shave hair down to the skin at the hairline are getting more popular. It's a classic style with a modern finishing touch.
25. Short Haircuts for Men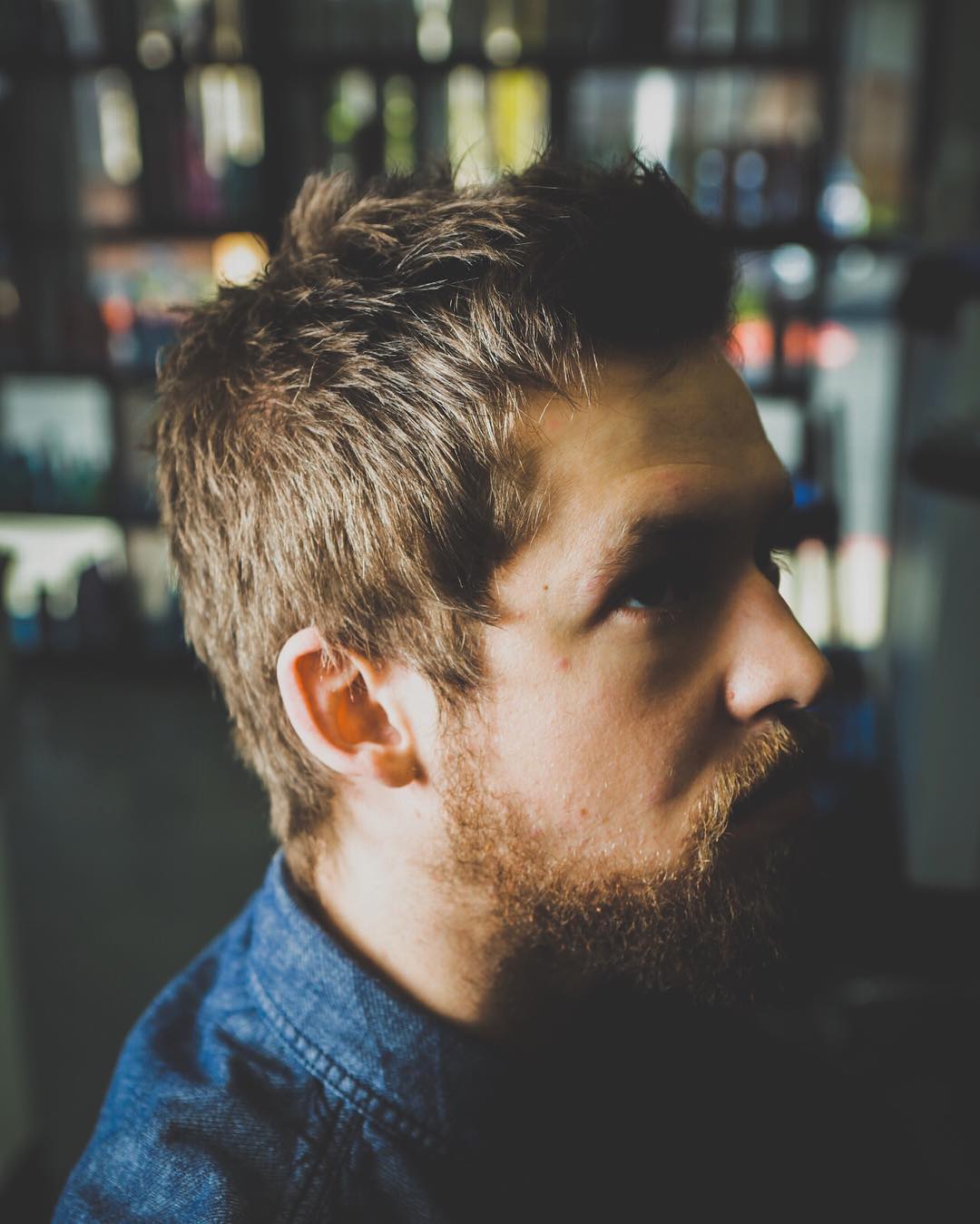 Here is a solid short hairstyle for guys that can easily be styled messy, like above, or cleaner cut when required.