Haircuts for balding men isn't an oxymoron. There are cuts and styles that can be more flattering for all phases of hair loss.
Male pattern baldness tends to follow a predictable pattern. First, hair thins at the temples to create an increasingly M-shaped hairline. Haircuts for receding hairlines can embrace the widow's peak or work to cover a high forehead.
In later phases of balding, hair also begins to thin at the crown of the head, creating a bald spot. The most well-known haircut for bald spots is the comb-over and it can be effective for the early stages of hair loss at the vertex.
When hair loss becomes more pronounced, longer hair can begin to draw negative attention to thinner spots. Then it's time for a shorter cut. Fades and buzzcuts make thin spots appear thicker in contrast, minimizing the appearance of hair loss.
Check out these haircuts for balding men in order from longest to shortest hair plus some hair products to minimize hair loss that you may not know about.
1. Short Sides, Longer Top
Most men's haircuts are longer on top with short sides and that continues to be the case. Then, styling hair up can help thinning hair appear fuller, especially when used with hair thickening products.
Modern Pompadour
This gentleman is making the most of thick hair and an M-shaped hairline with this textured pompadour with a low fade.
Short Sides, Longer Top Haircuts
The same haircut formula works for all hair types and receding hairlines. These are great cuts for the beginnings of a receding hairline.
Side Part + Beard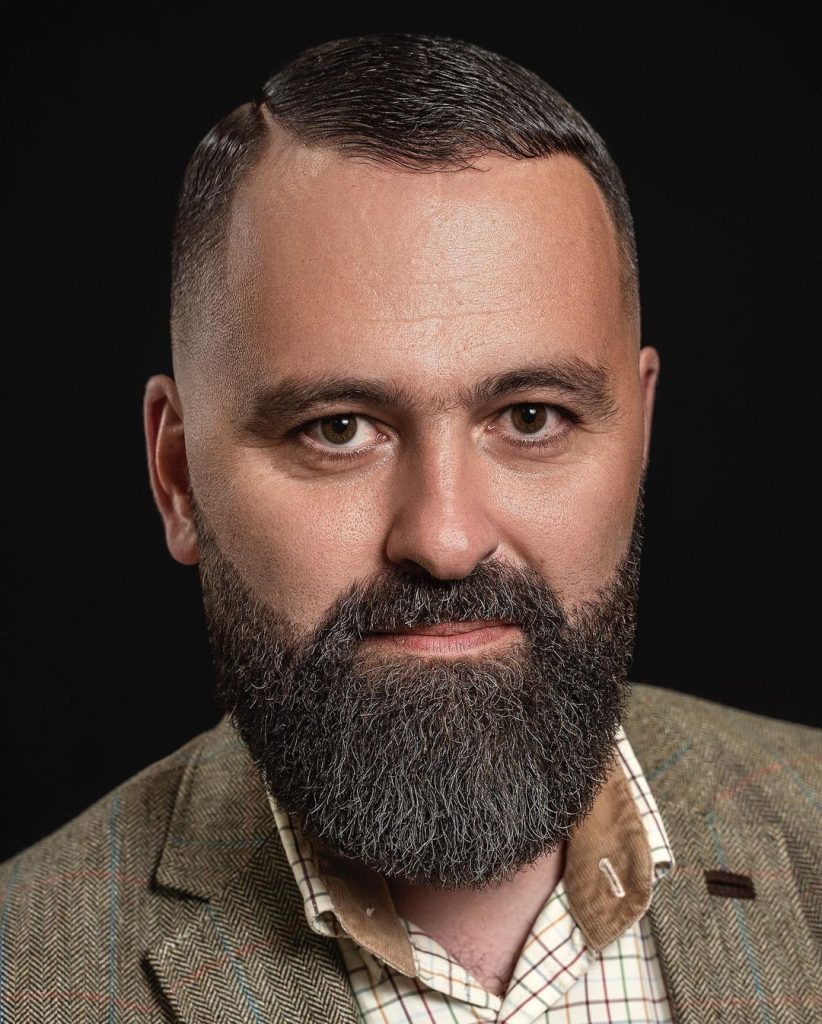 The comb over gets a bad name but it is an effective haircut for hair loss. The key is giving it up when it starts to draw attention to bald spots.
2. Fringe Haircuts For Men
Fringe, aka bangs are both a classic, trendy, and retro look for guys. Even better, that extra length along the hairline creates the appearance of new hairline.
Blunt Crop Fade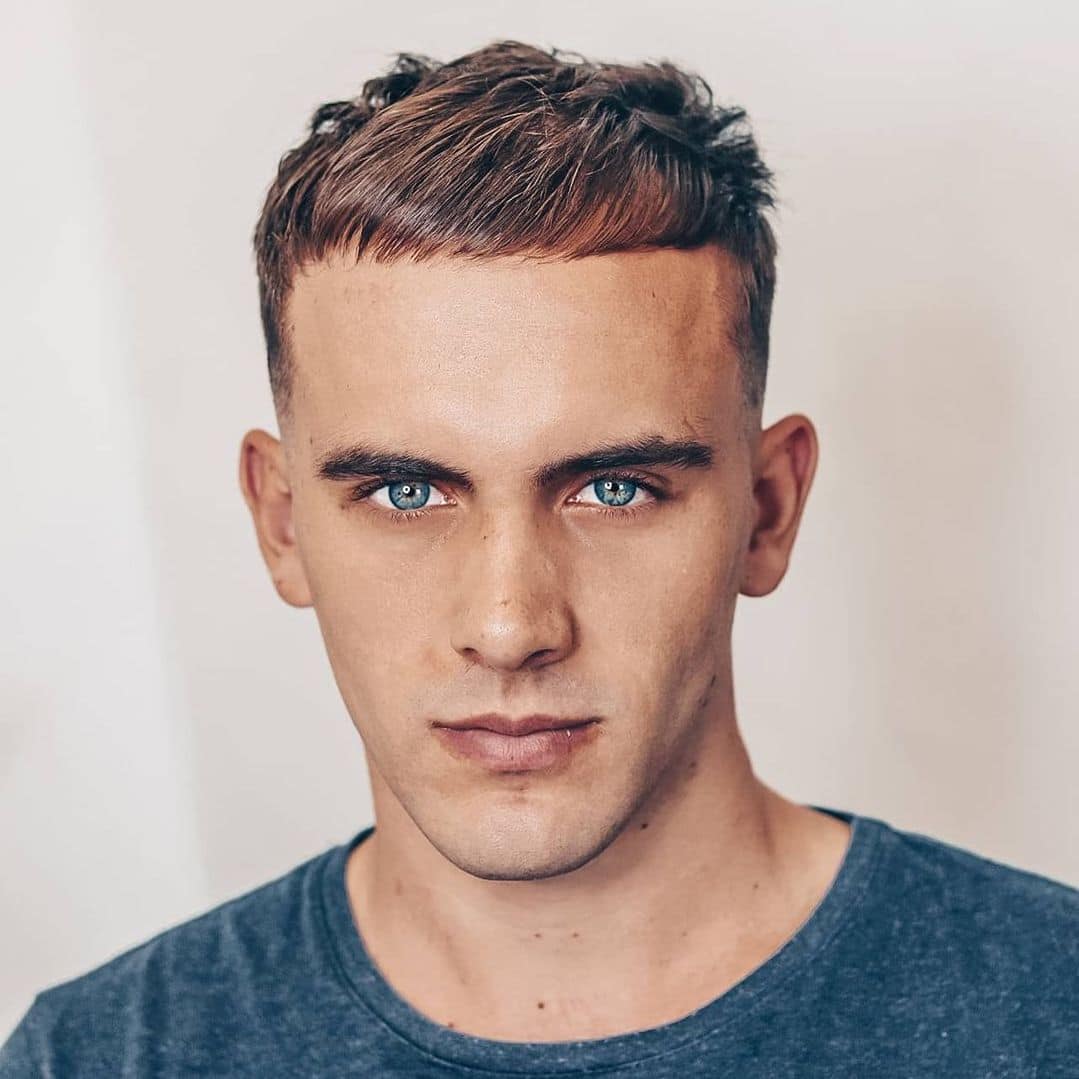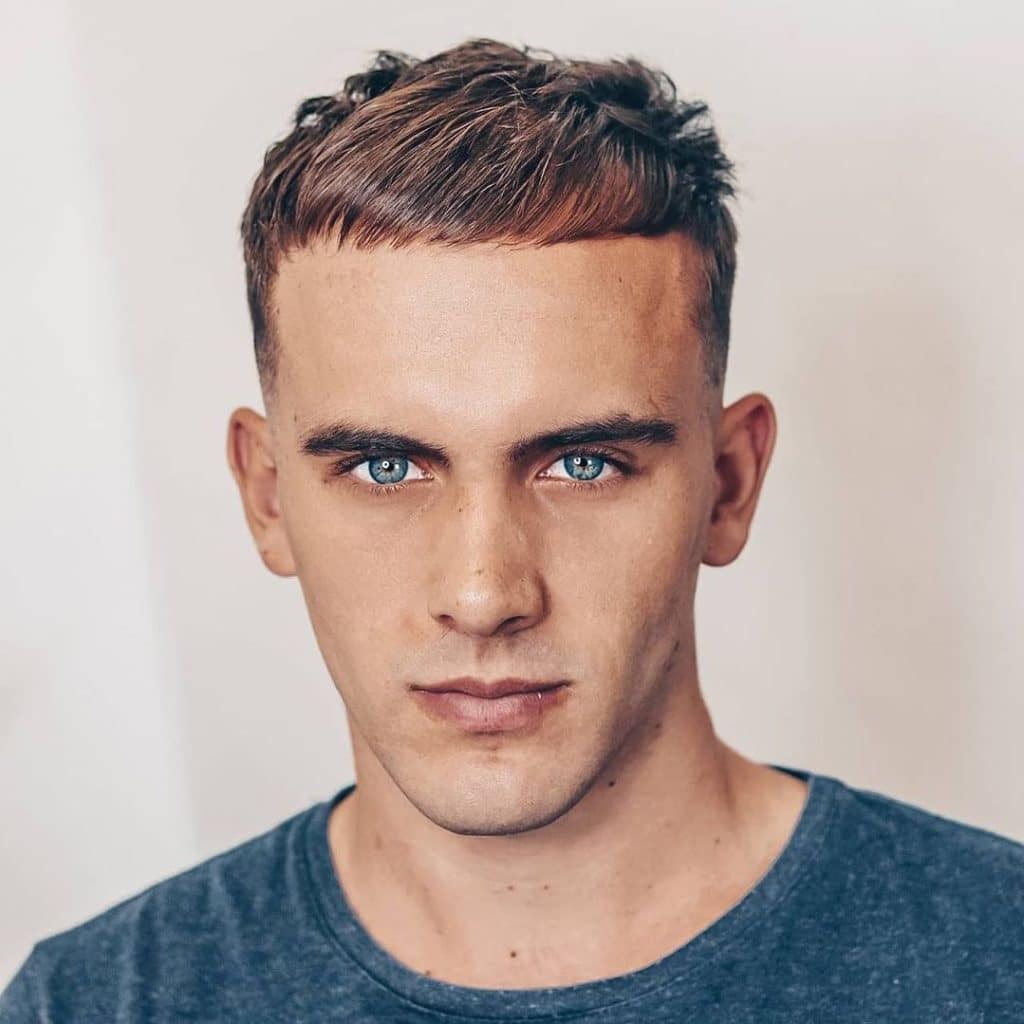 This textured crop haircut is a hot hair trend and update on the classic Caesar. It works for all different hair types. For thin and thinning hair, the texture beefs up the appearance of hair and can add some forehead coverage.
Angled Fringe + Taper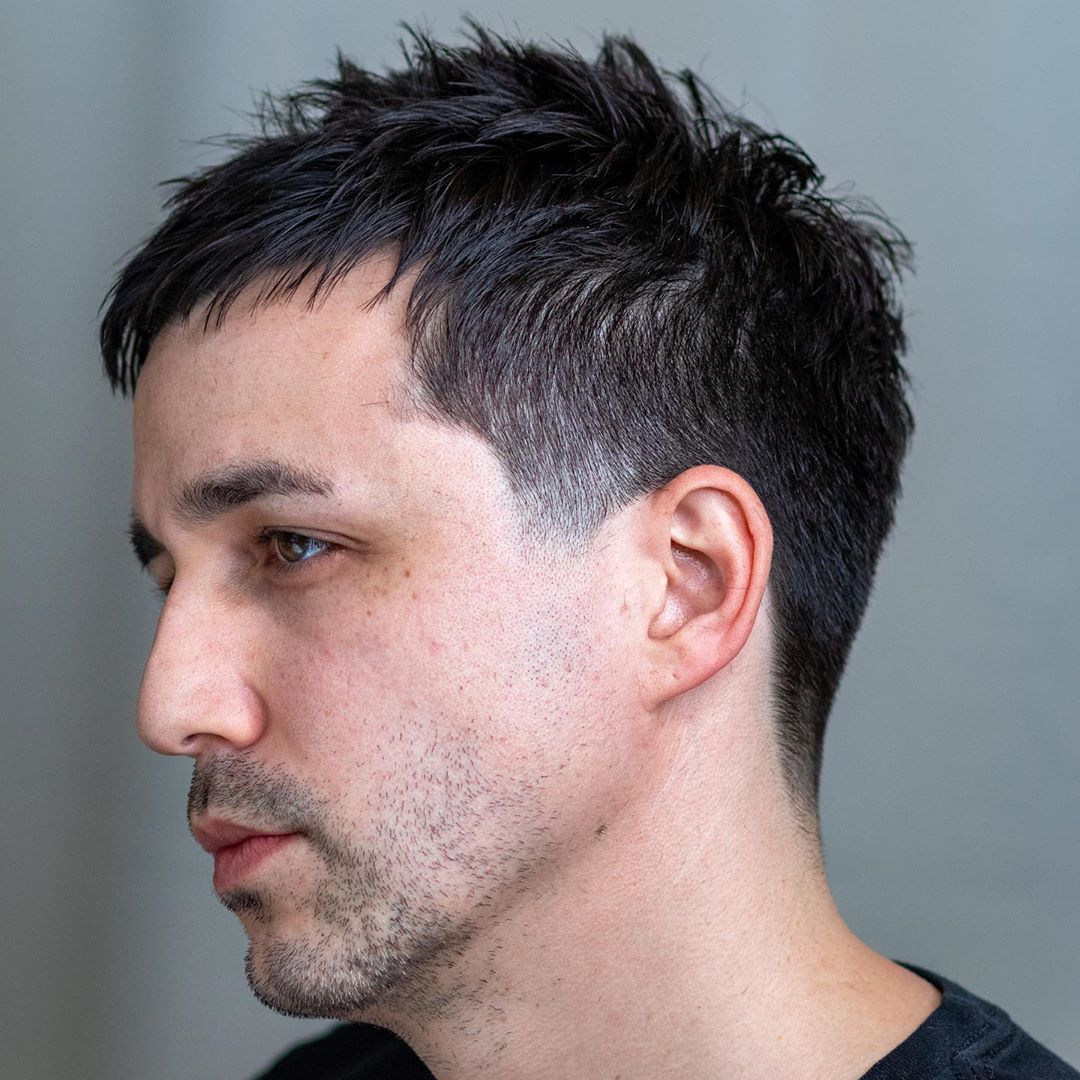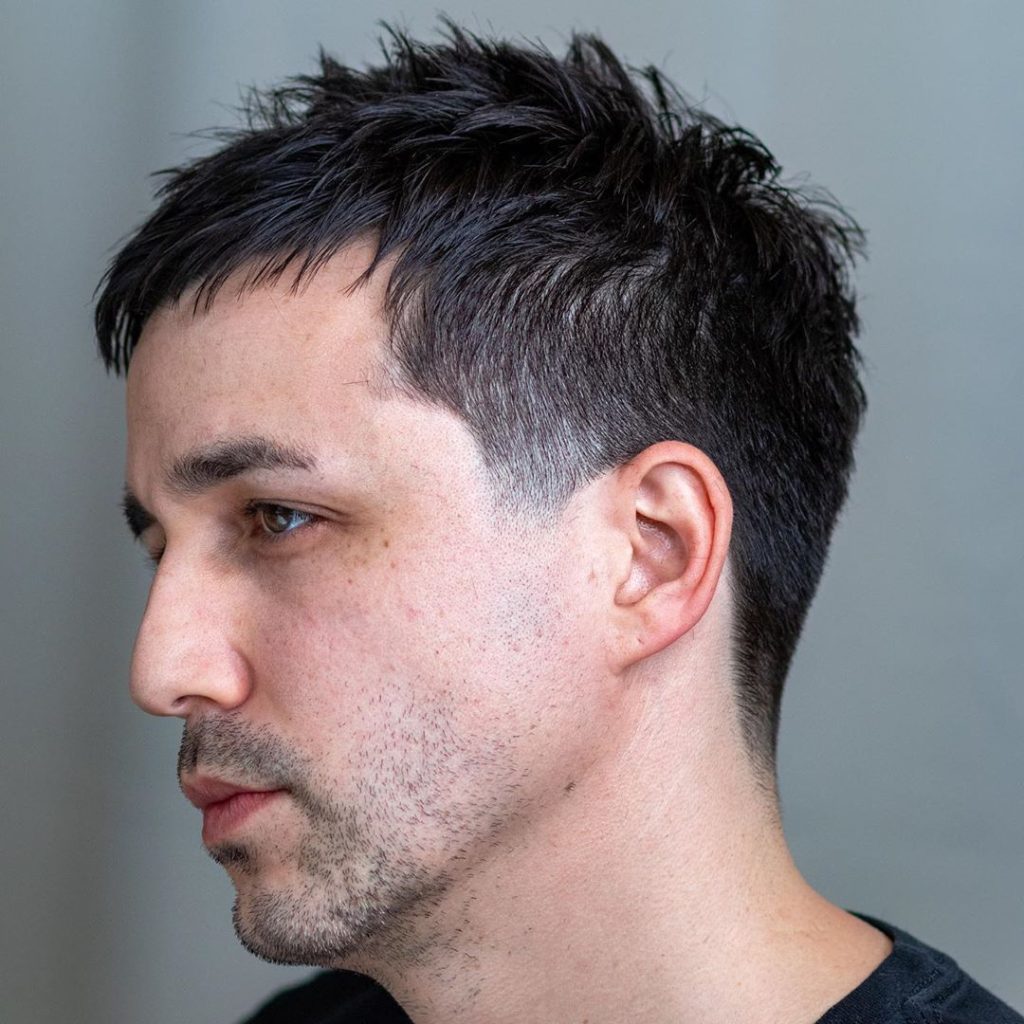 In contrast with the straight line of the Caesar, this fringe is angled and textured for a softer look.
Wavy Caesar Bangs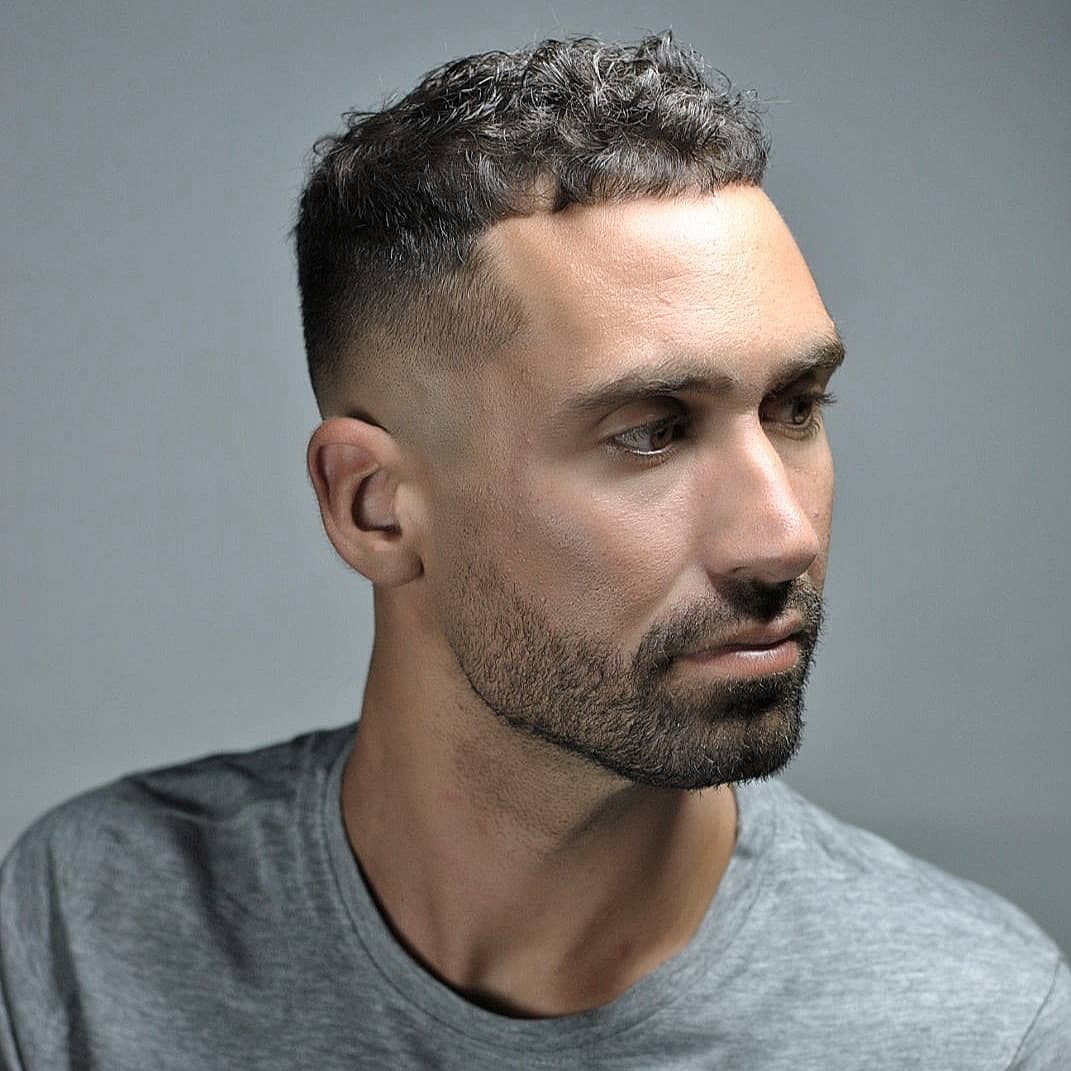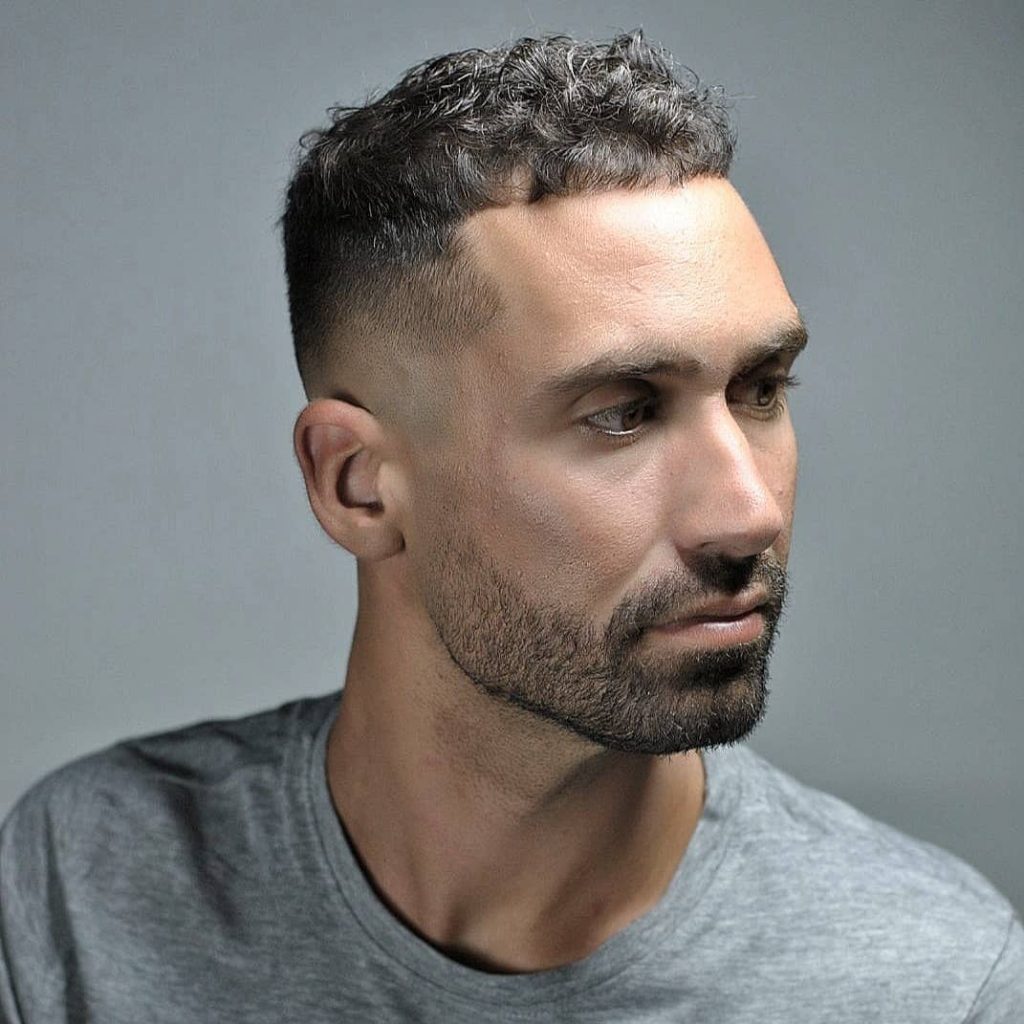 The blunt Caesar works really well for wavy hair or tight curls, receding hairline or not. Natural texture adds volume and softens the line across the forehead.
Stylish Haircuts
Hair loss is no reason to give up your sense of style. These gentleman are keeping up
3. Fade Haircuts For Balding Men
When hair begins to thin, don't just reach for the clippers and buzz hair short. Skilled barbers can keep hair looking fuller until it's time to go short all over. Fade haircuts are a cool and attractive way to help hair look thicker.
Mid Skin Fade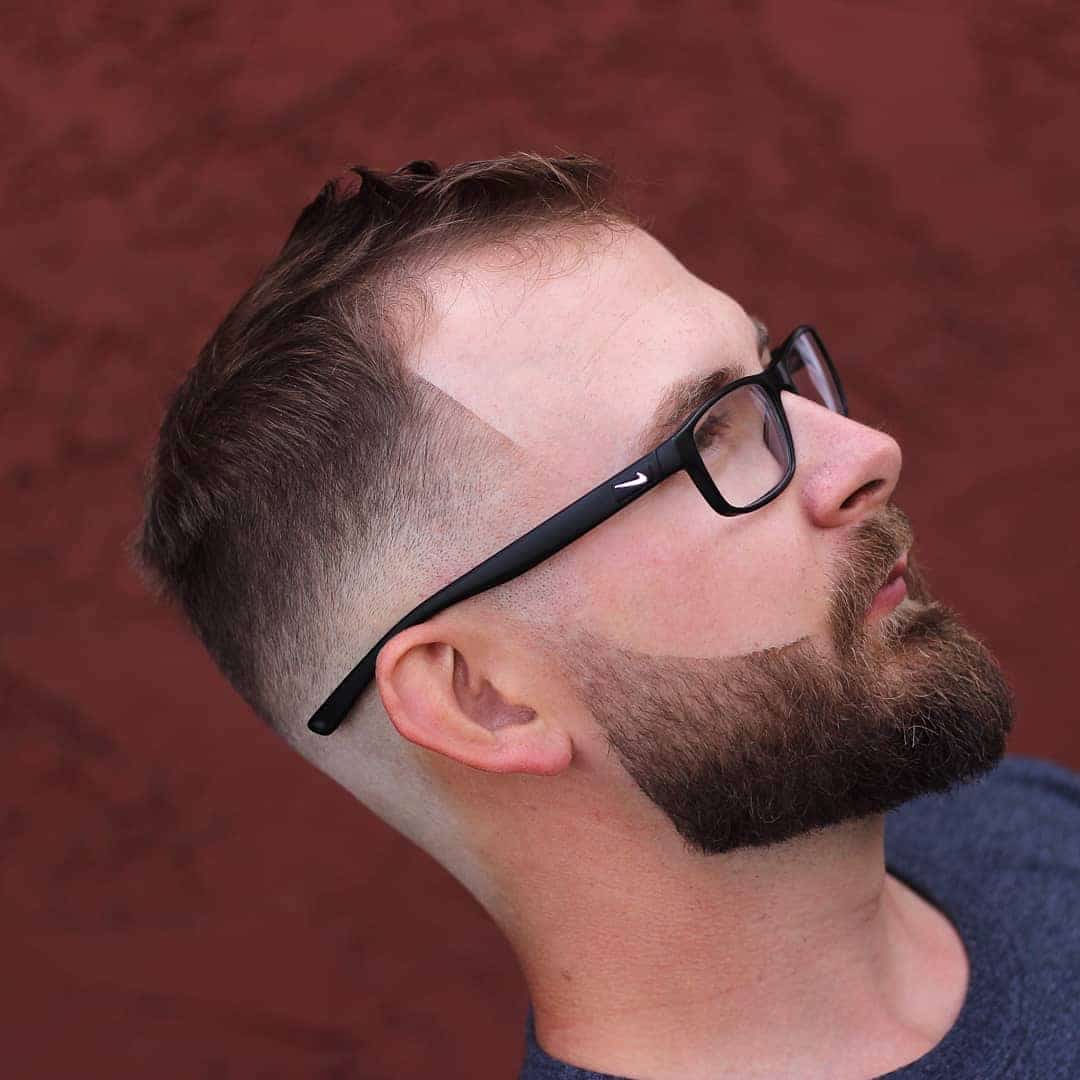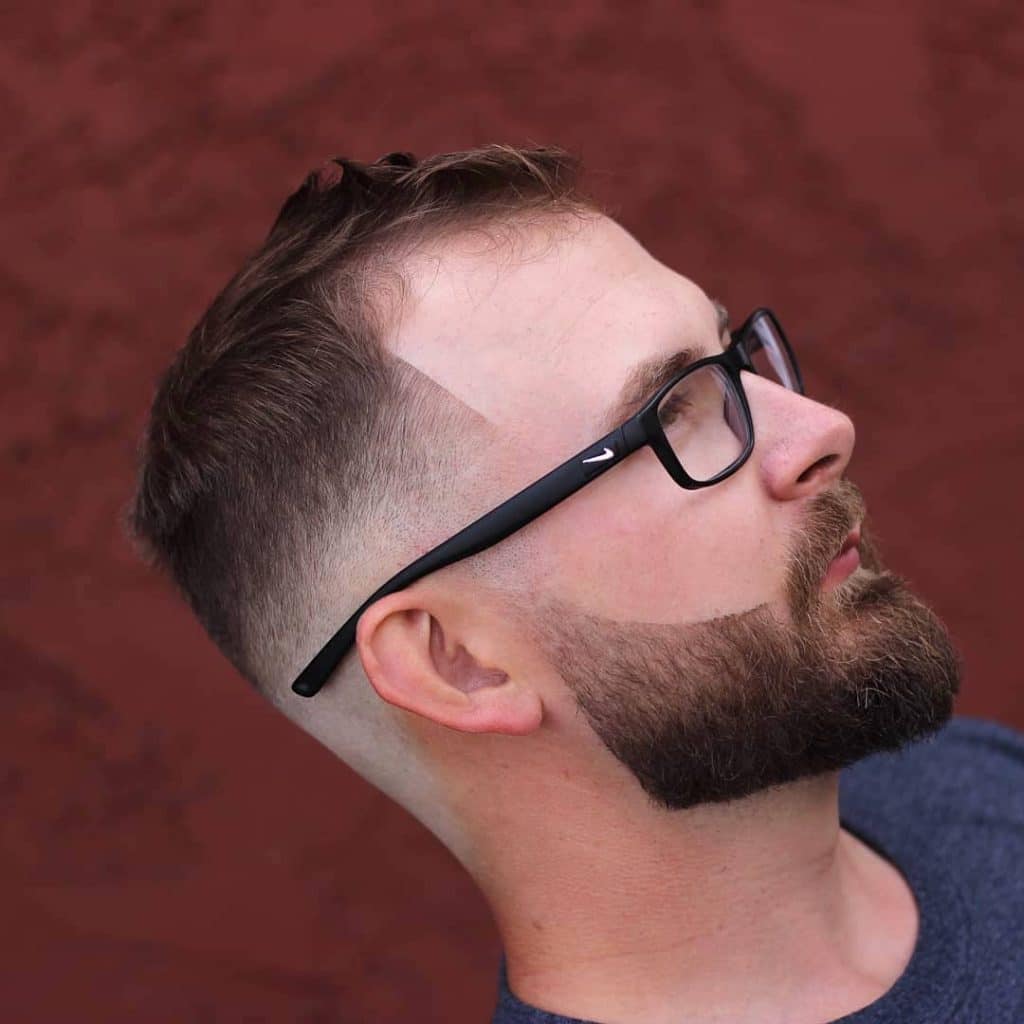 Fading hair down to the skin makes hair on top appear thicker in contrast. This is popular look for guys of all hair types, even without thinning hair.
Low, Mid + High Fades
Fades can remove hair to different levels. You may want to start low and go higher as hair gets thinner but that's not a rule.
Best Haircut For Bald Spots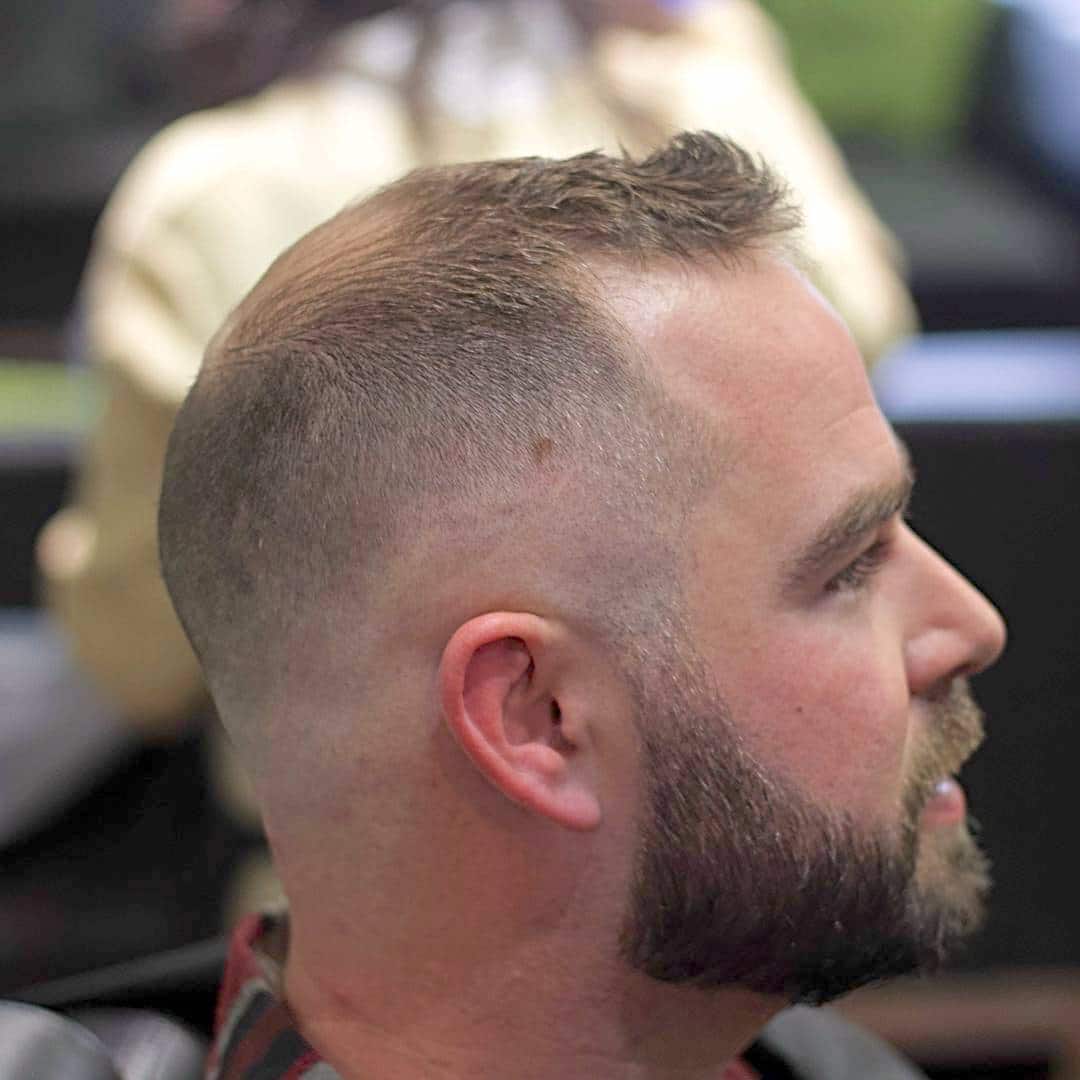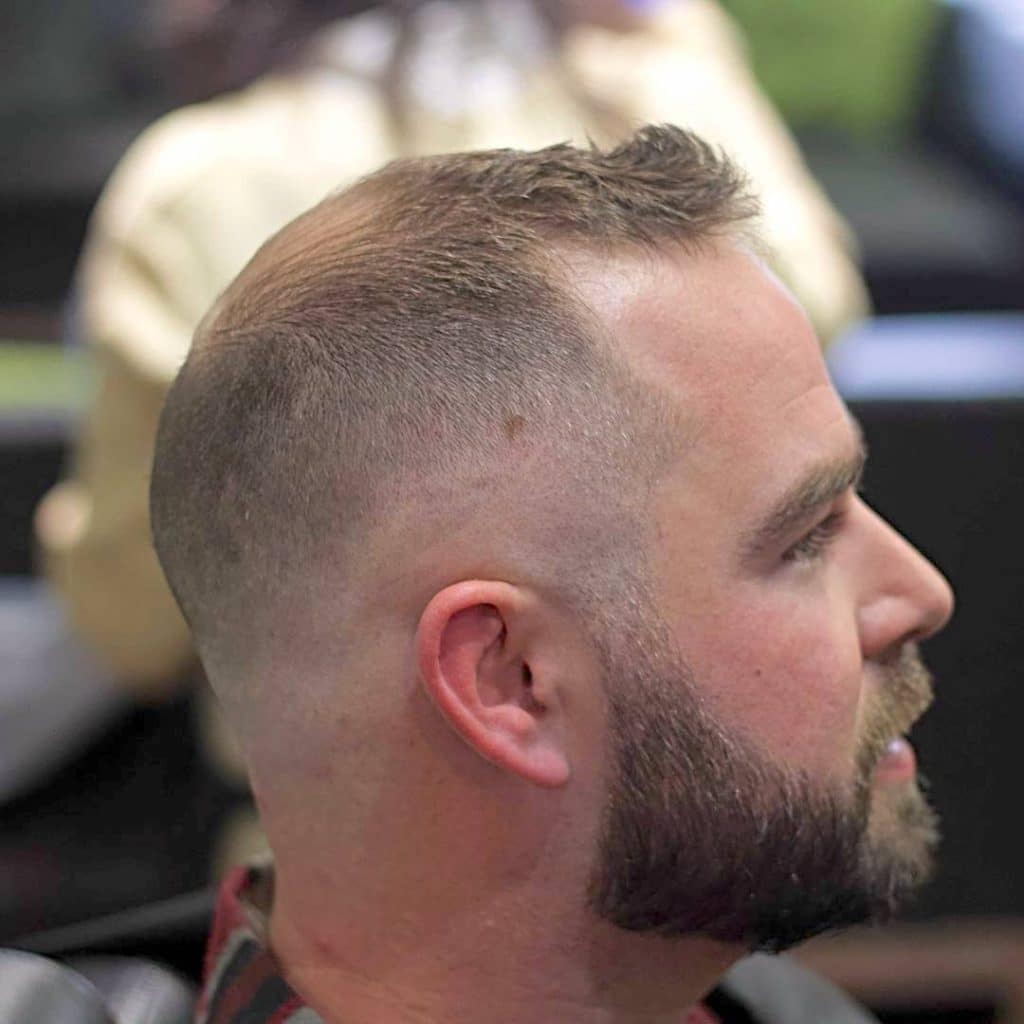 Fade haircuts that work for many phases of baldness. Here the temples are continuing to recede and skin is becoming visible at the vertex. This expert cut leaves a touch of length to cover the crown and the hairline in a way that works with the short haircut. The skin fade around the sides and back is the inverse of the power donut.
4. Buzz Cut
The final haircut for balding men is a closer shave but that doesn't have to mean going chrome dome. Like a fade, the short buzz keeps thin hair from standing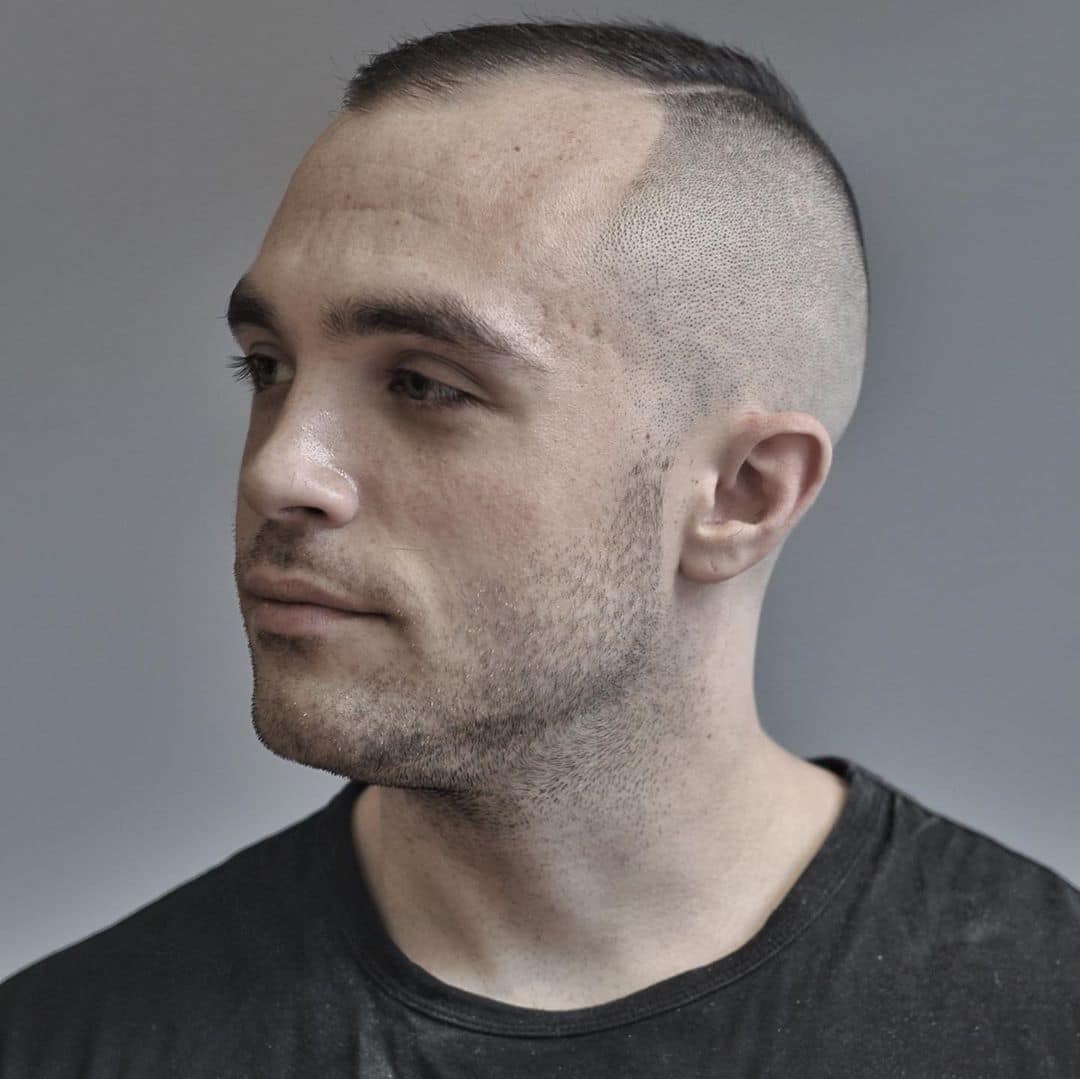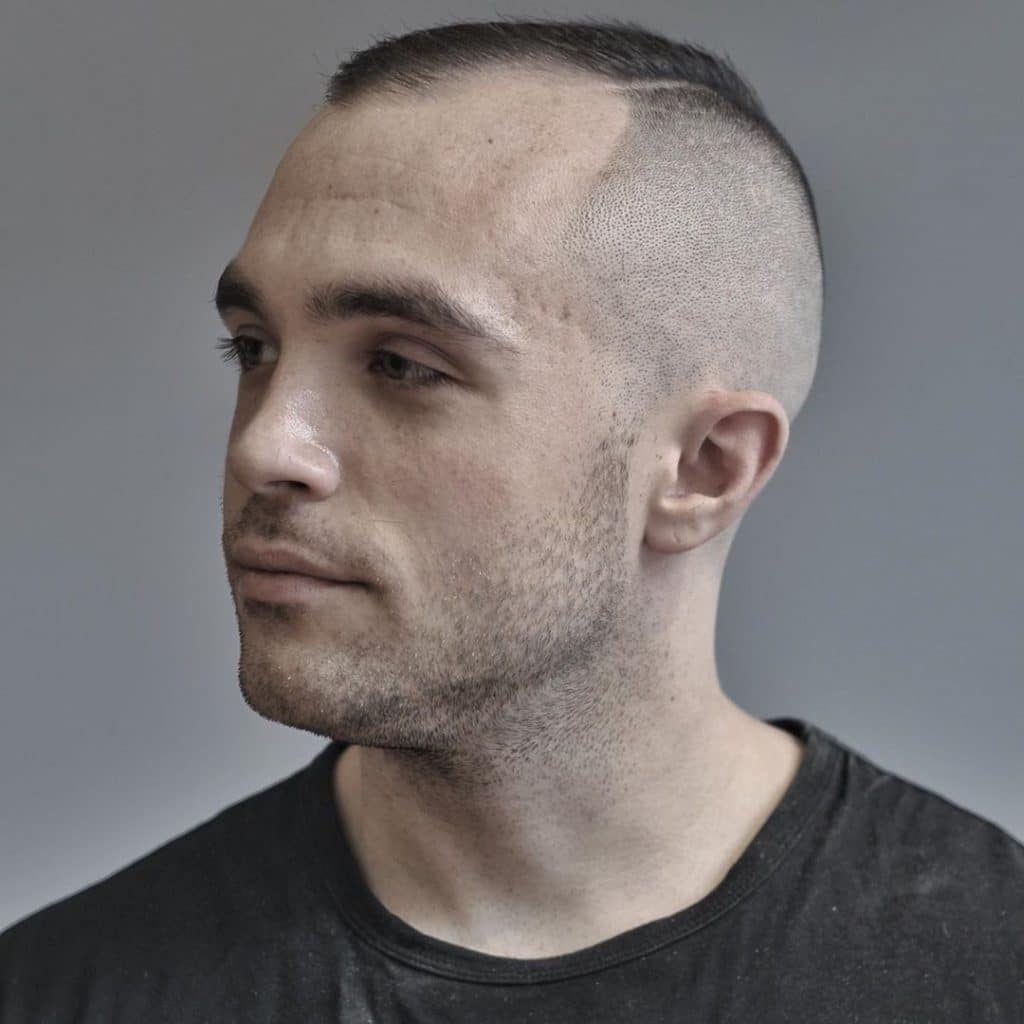 High fade haircuts taper hair down just below the temples, either to a very short length or to the skin like above. Cutting hair short actually focuses attention on the hair on top. This ultra short cut balances that attention with minimizing the difference between full hair and a balding spot.
Buzz Cut + Fade
The buzz cut-fade combination is one of the most popular haircuts for men. It is the most flattering way to keep some length up top as long as you can.
Buzz Cut + Neckline Design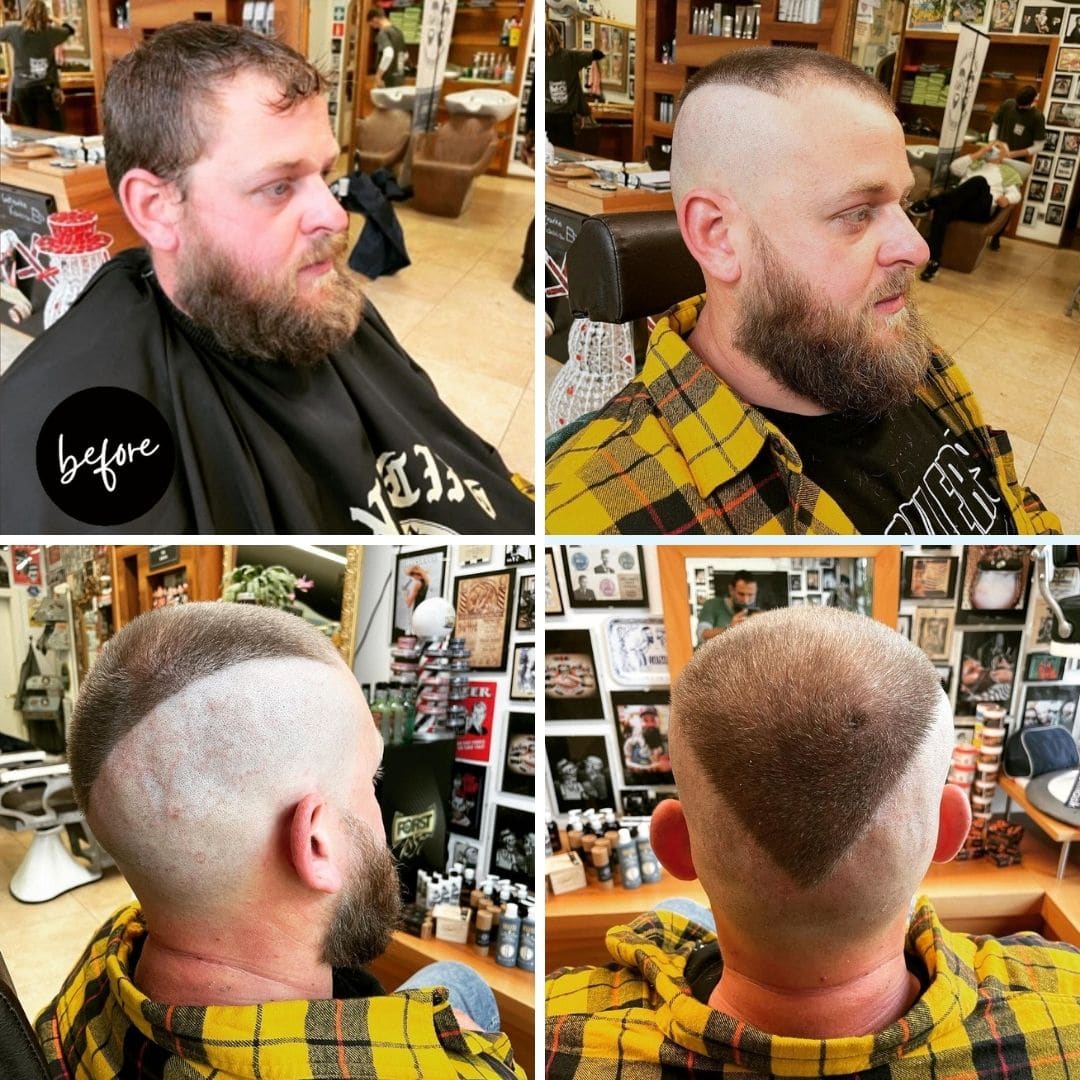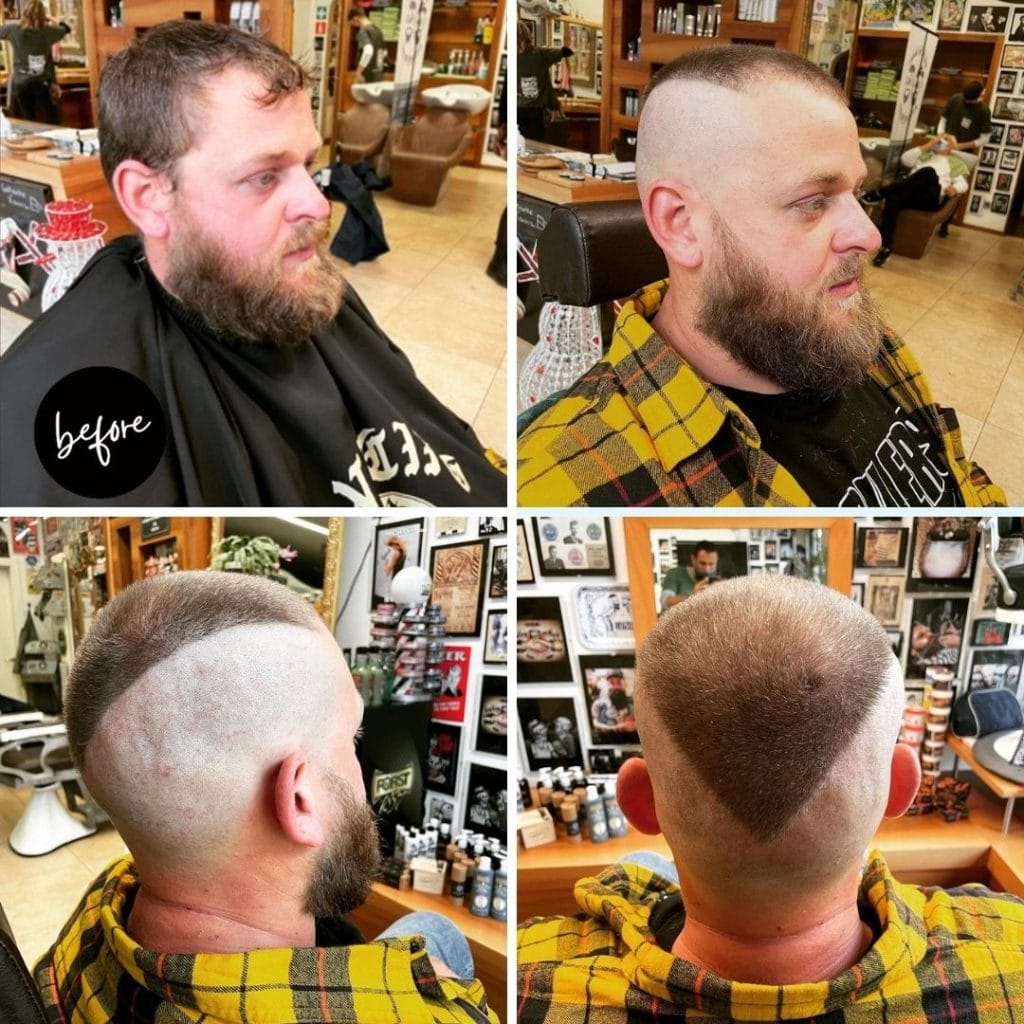 A buzz cut doesn't have to have a fade. In fact, it may be better with out. This bold look draws more attention to the defined line and V-shape than thinning hair at the temples.
These picture also show the power of a haircut for balding men. The same gentleman looks years, if not a decade younger, post-chop.
5. Best Hair Products For Balding Men
In addition to flattering haircuts, there are shampoos, styling products, and medicines that can delay or appear to delay the balding process.
You've probably heard of the big three: Nioxin, Rogaine, and Propecia. Here are some products to fight balding that you may not know about.
Shampoo For Hair Loss
Most shampoos designed for thinning hair promise to thicken up hair and block DHT, a precursor to hair loss. Then, there is this shampoo.
Anti-dandruff shampoo for hair loss? Some research shows that shampoo with ketoconazole can reduce hair loss, especially when used with Rogaine and Propecia.
Styling Powder
Styling powder is exactly what it sounds like – powder that is used to style hair. It is a light hold product that never weighs hair down, making it a top choice for thin, fine, and thinning hair types.
This is one of the most popular styling powders for men because it holds, texturizes, and thickens hair. The price may appear steep but compare the price per ounce between brands and it is actually on the cheaper end of the spectrum.
Thickening Fibers
If you're old enough to remember spray-on hair, this is a similar product that actually works. Made of keratin, the building blocks of hair, this powder adheres to existing hair to bulk it up with a natural look.
Available in 14 colors ranging from white to black and a money-back guarantee, there is no reason not to try this product. Just shake the powder on to dried and styled hair and it will stay put all day, resisting sweat, wind, and water. When you're done, just wash it out. This can be used daily or for special events.