These cool haircuts for men with curly hair make the most of hair's natural texture while exuding style. Anything goes with curls from short hair to long, fades to tapers and classic to trendy.
Once you have a great cut, an essential part of maintenance is keeping hair clean and conditioned. The best shampoo for men's curly hair is actually no shampoo! Curly hair tends to be dry because the spirals prevent scalp's oil from working their way down to the tip, naturally conditioning hair. Daily washing eliminates those oils and makes hair even drier.
Get started by skipping the shampoo every other day. Ideally wash hair only once or twice a week. Do condition every day either in the shower with a rich moisturizer like Pureology Hydrate Conditioner or a leave-in product that also tames frizz like it's a 10 miracle leave-in product. When you do shampoo, use a curl specific or gentle shampoo like American Crew Moisturizing Shampoo.
For styling, the right product depends on the style. Use an alcohol-free gel like Eco Styler Olive Oil Styling Gel or curl cream like Living Proof No Frizz Nourishing Styling Cream to define curls with a little bit of hold. For a stronger hold while maintaining curls, use a pomade. Cream formulas like Cantu Shea Butter Cream Pomade and Layrite Natural Matte Cream Pomade to condition hair while creating your signature look.
Now on to some of the latest cool haircuts for men with curly hair.
Different + Cool Haircuts for Curly Hair Men
1. Good Haircuts For Men With Curly Hair With Long Fringe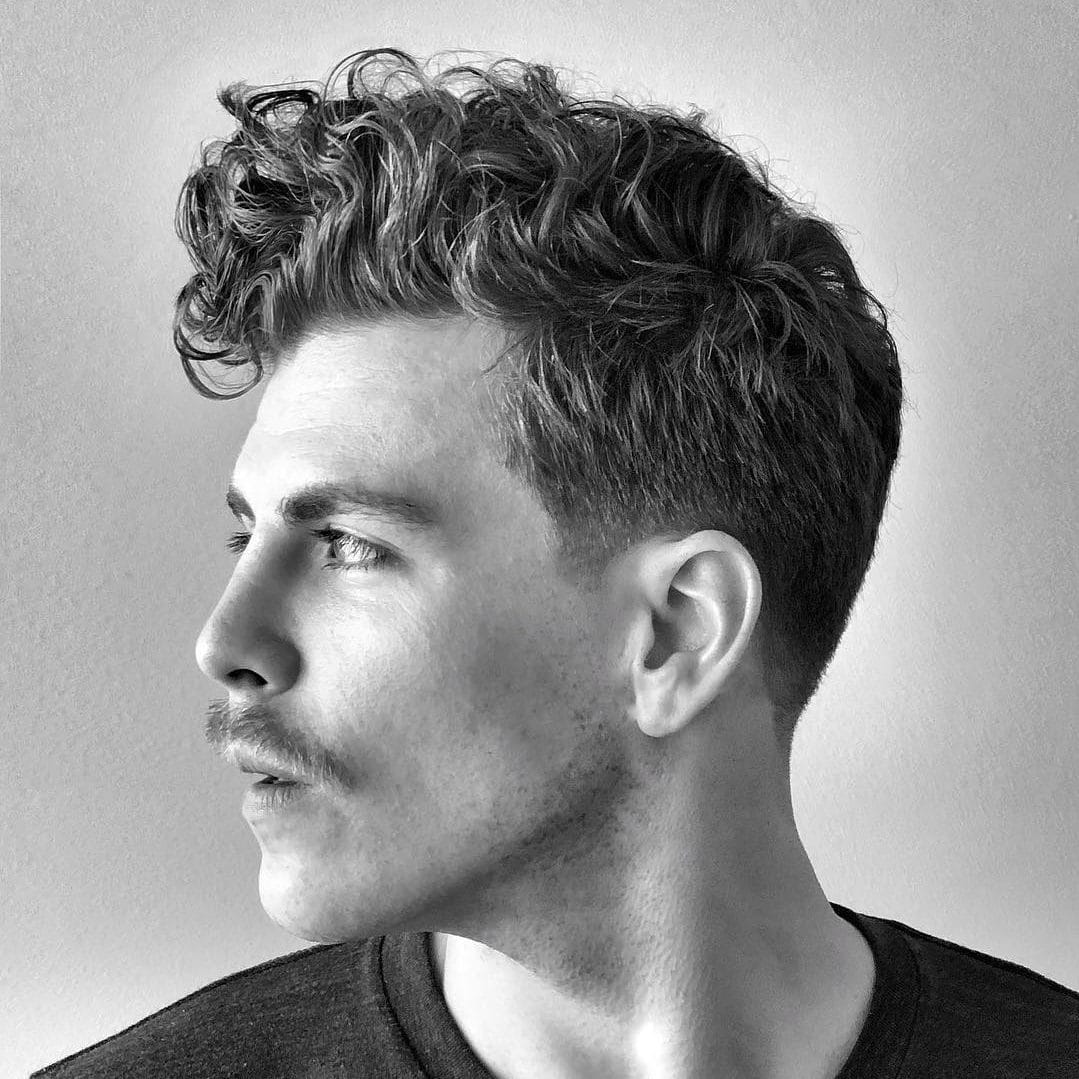 With longer hair on top and short sides, this cool hairstyle for curly hair is somewhere in between a pompadour and side part hairstyle. This is one look that wouldn't be as good without curly texture.
2. Curly Mohawk Haircut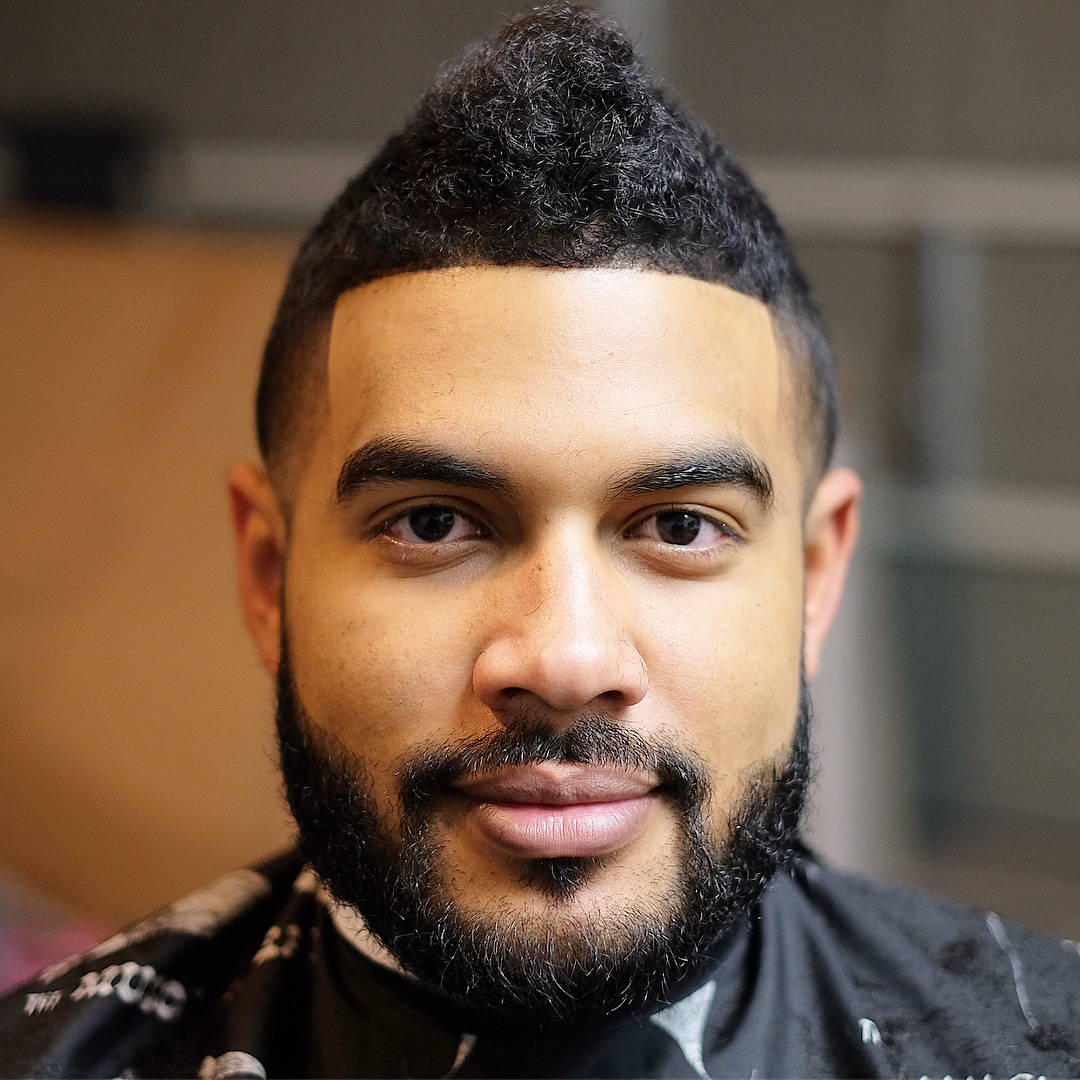 The faux hawk is a flattering cut for all guys. This curly hair version uses curly texture for height down the center of the head.
3. Retro Men's Hairstyles for Curly Hair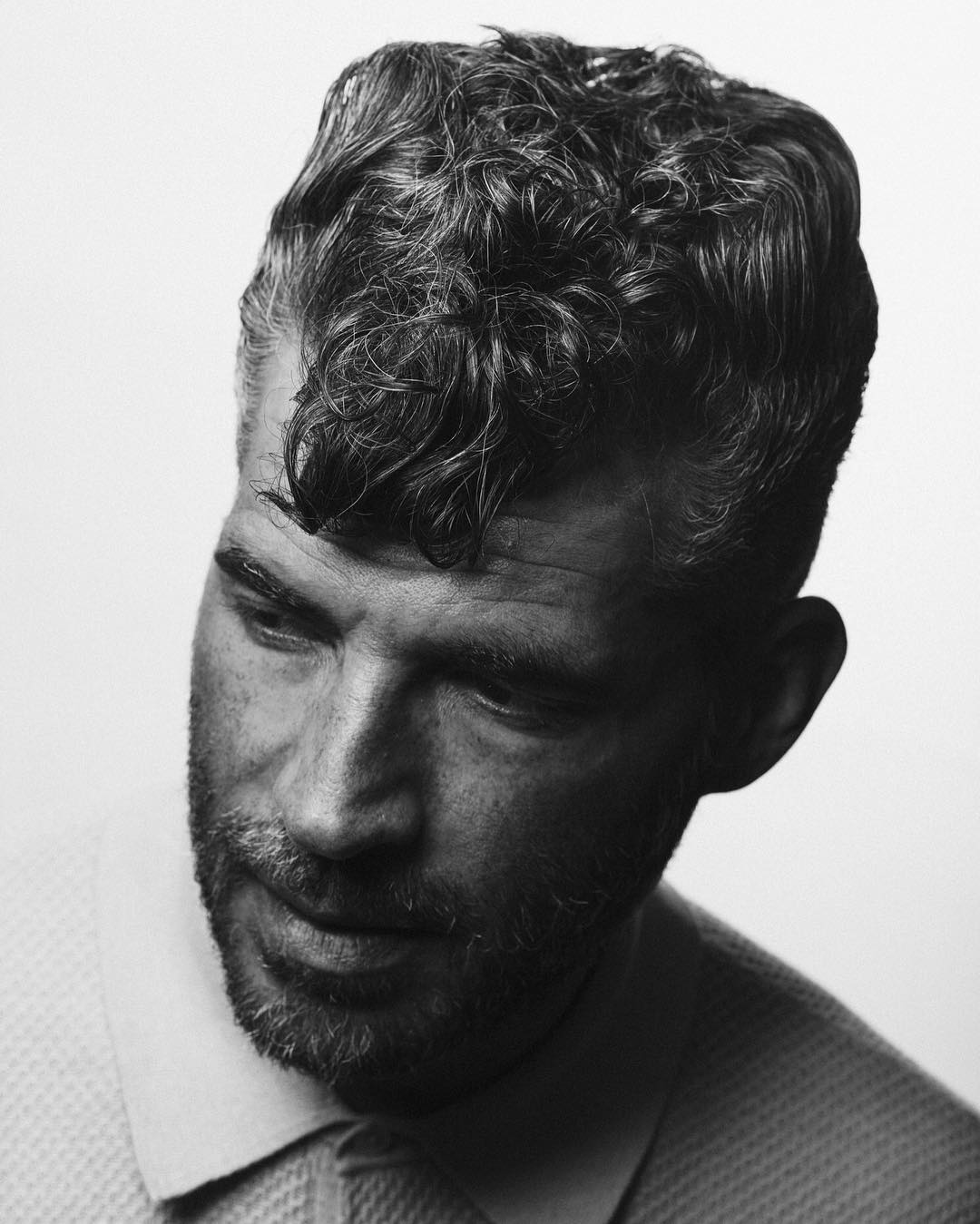 Somewhere in between the Danny Zuko Grease hairstyle and Egon Spengler's Ghostbusters cartoon hair, curls add attractive texture to this retro rockabilly look.
4. Curly Pompadour Hairstyle + Line Up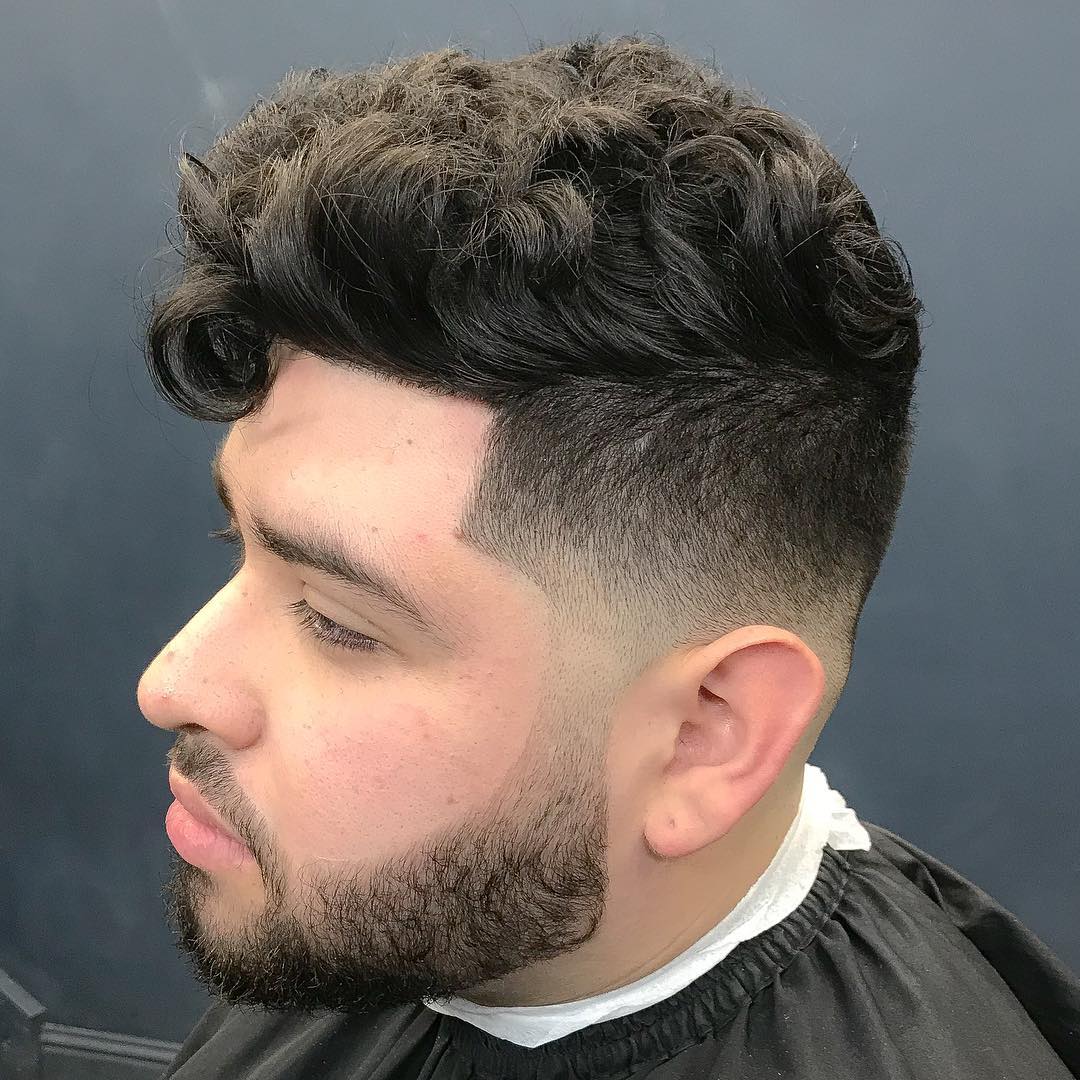 The pompadour is one of the most popular hairstyles for men. Some guys use product or a blow dryer to straighten curly hair before styling a pomp. With the right cut and length, you can style this cool curly pomp.
5. Blow Out Haircut With Curly Hair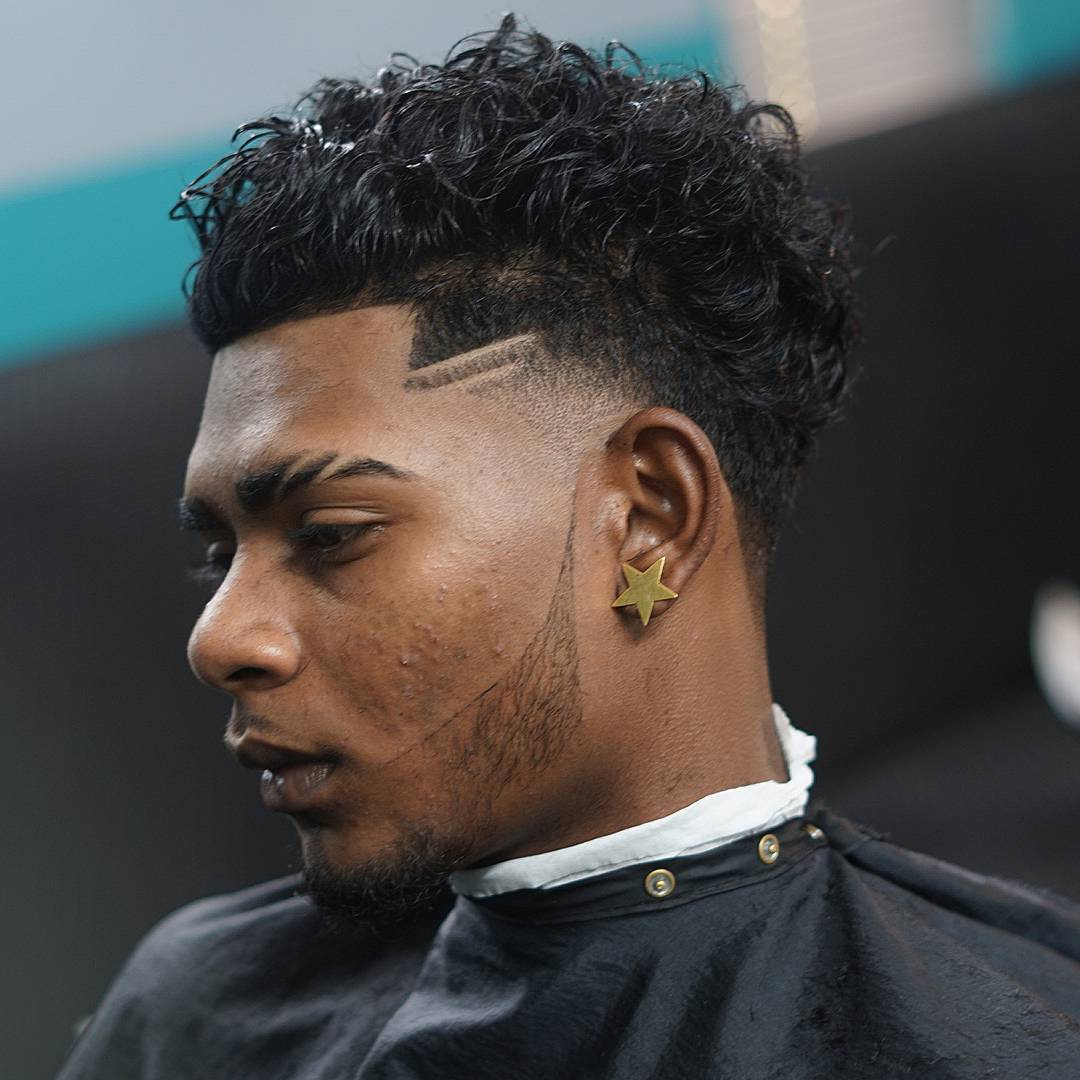 The blow out haircut came before and continues well beyond the popularity of Pauly D and the Jersey Shore. With volume at the top and a low fade, the hairstyle is meant to like you stuck your finger in a light socket. For curly hair, it's all about texture.
6. Modern Afro Haircut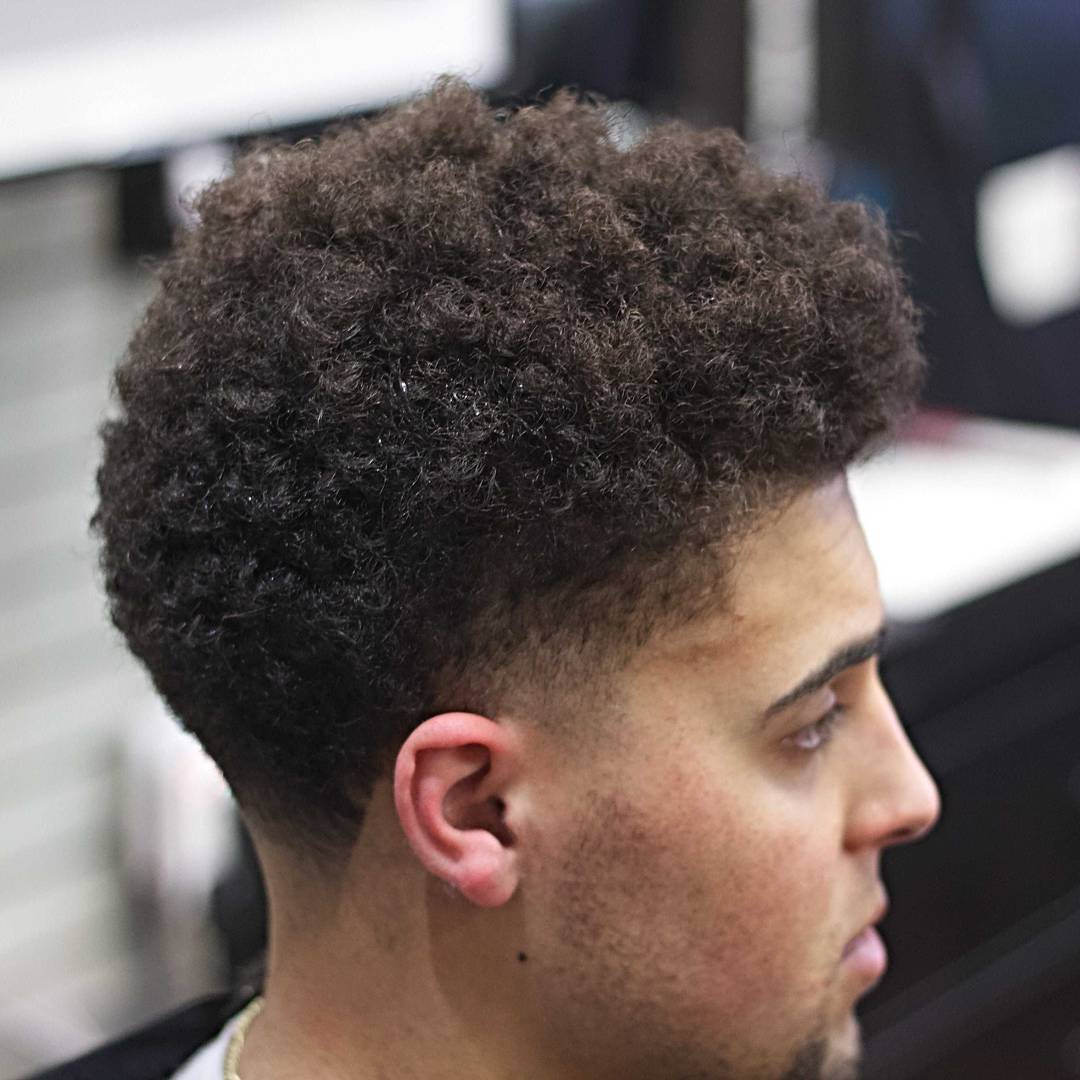 For guys with tight kinky curls, the modern afro is a cool option. With a taper at the side burns and neckline and update shape, this isn't your 70s style globe but a cool look that makes the most of curly hair.
7. Side Part Haircut + Natural Curls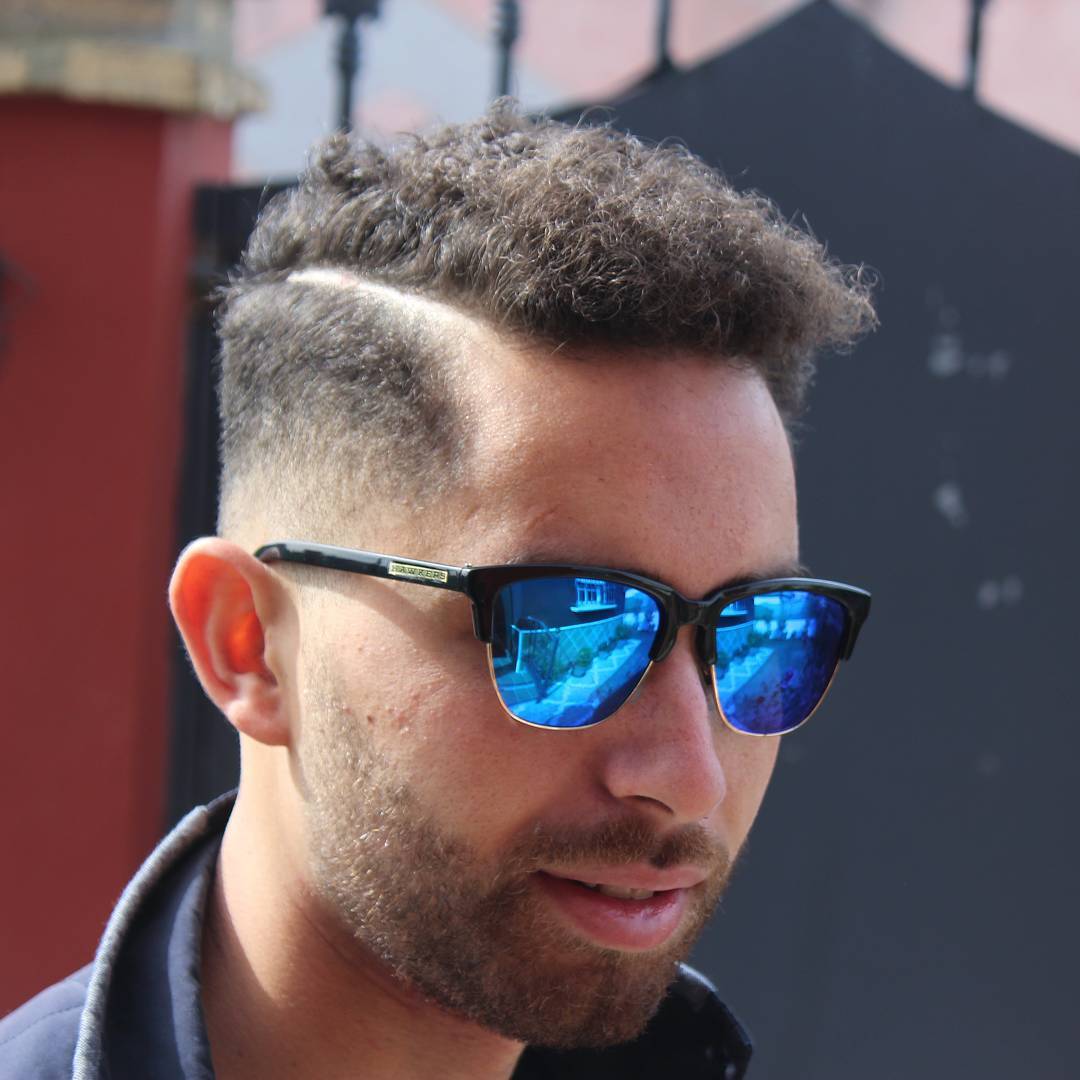 Since you can't just comb a part into curly hair, shave it in if you want one. This classic side part hairstyle with a low fade works well for curls as well as straight hair.
Short Curly Haircuts
8. Short Men's Haircut For Curly Hair + High Fade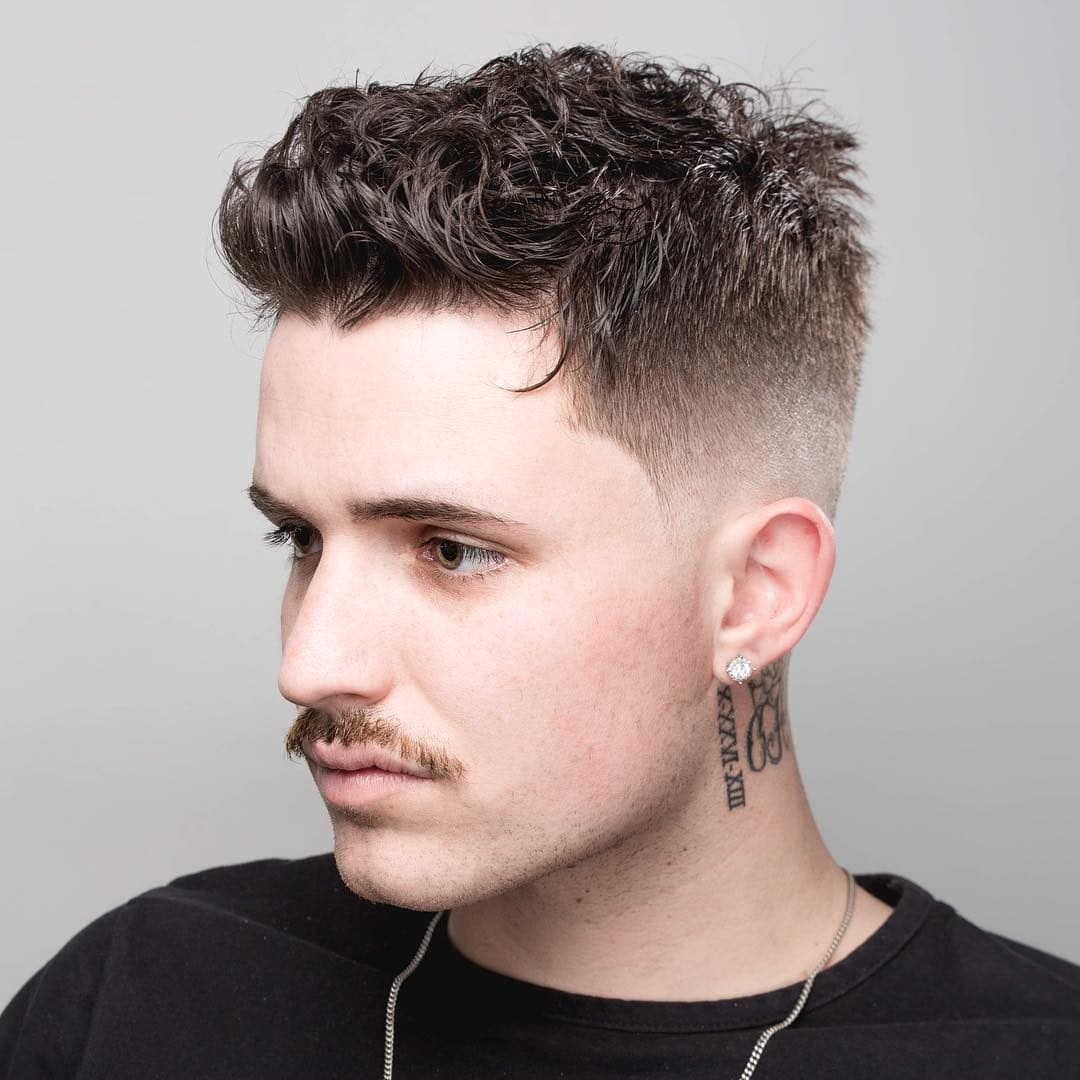 Going short is the easiest way to control curls. Don't go so short that all texture gets cut off though! This cool curly style with a high fade just needs a cream product to define and hold curls.
9. Short Curly Hair Haircut + Low Fade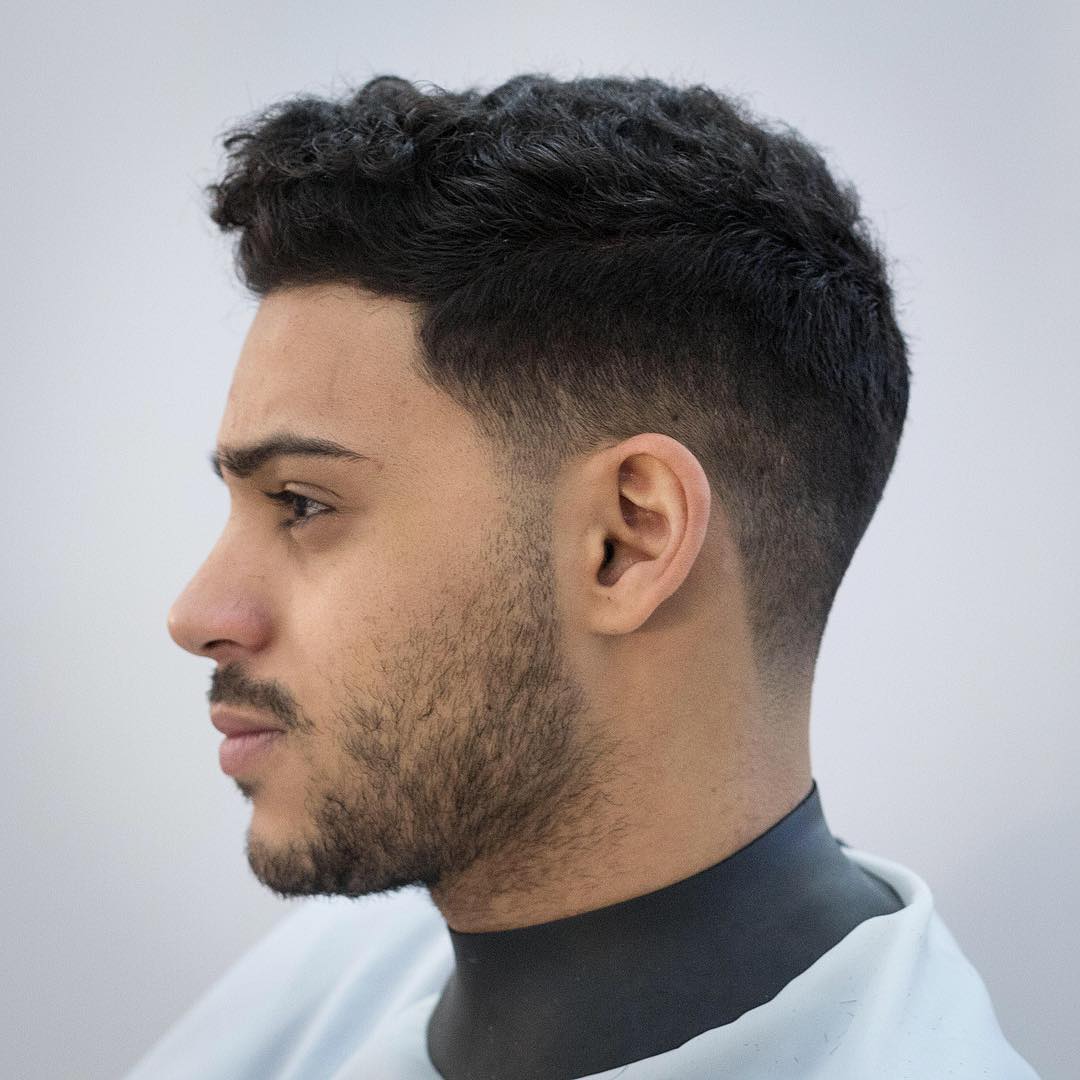 This longer on top haircut with a low fade concentrates curls on top with short hair around the sides and back.
10. Low Bald Fade + Short Curly Hair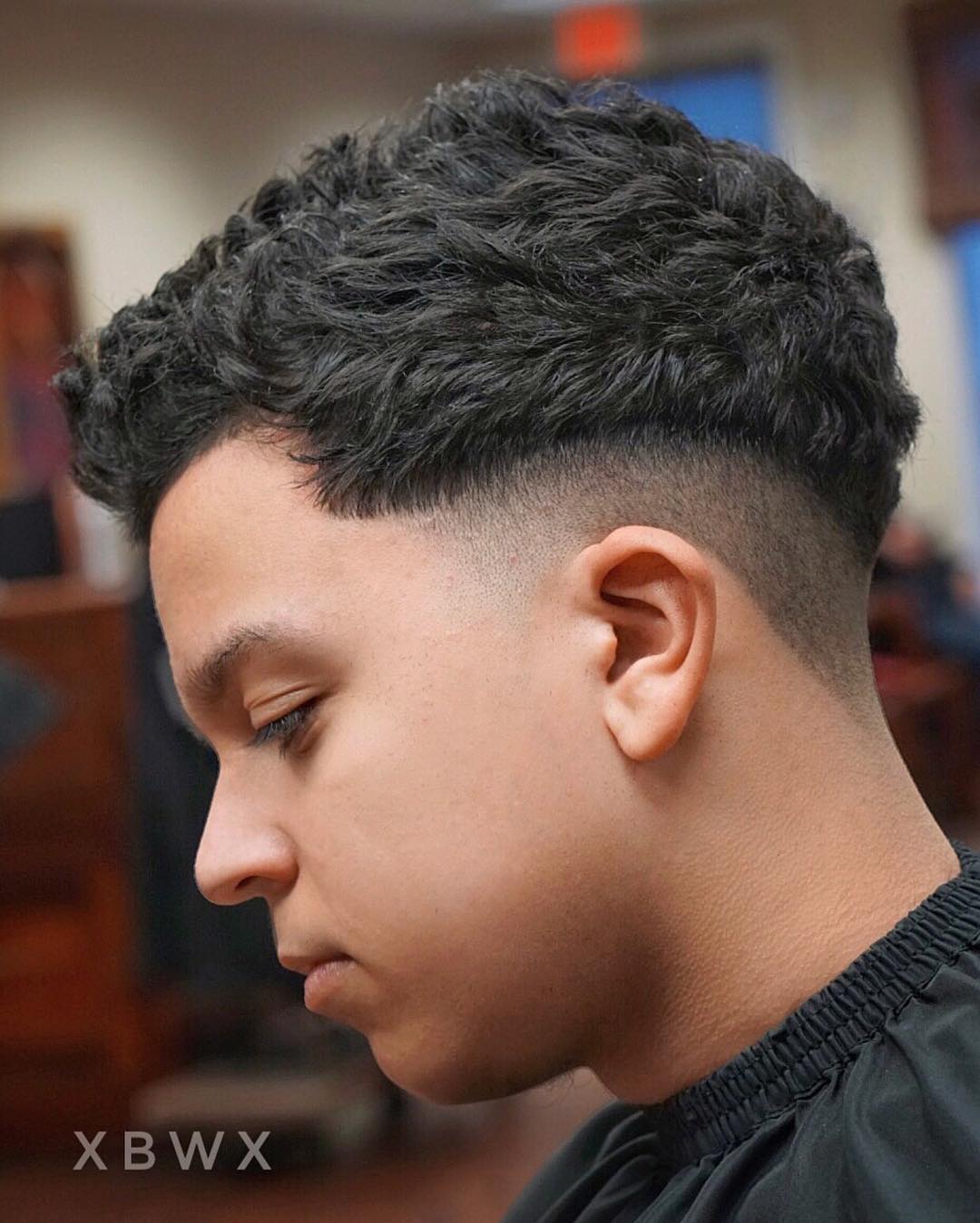 A current men's hair trend is to create a bold transition into a fade. This cool short hairstyle keeps curls cropped short all over with a low bald fade all around that emphasizes hair's thickness and texture.
11. High and Tight Haircut For Curly Hair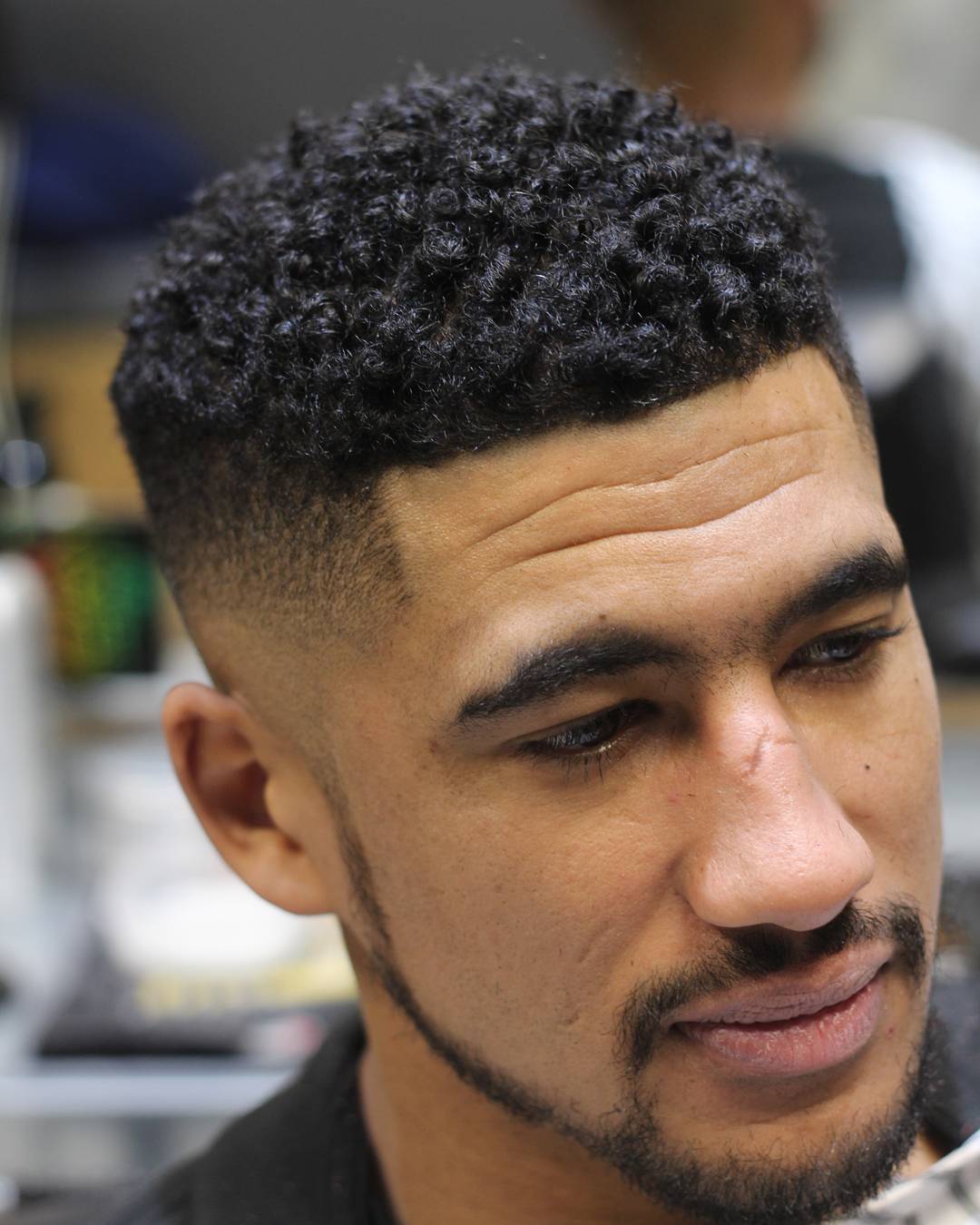 The high and tight combines a high fade with short hair on top. It's an easy to wear cut for guys with all types of curly hair.
12. Clean Skin Fade + Curls Cut Short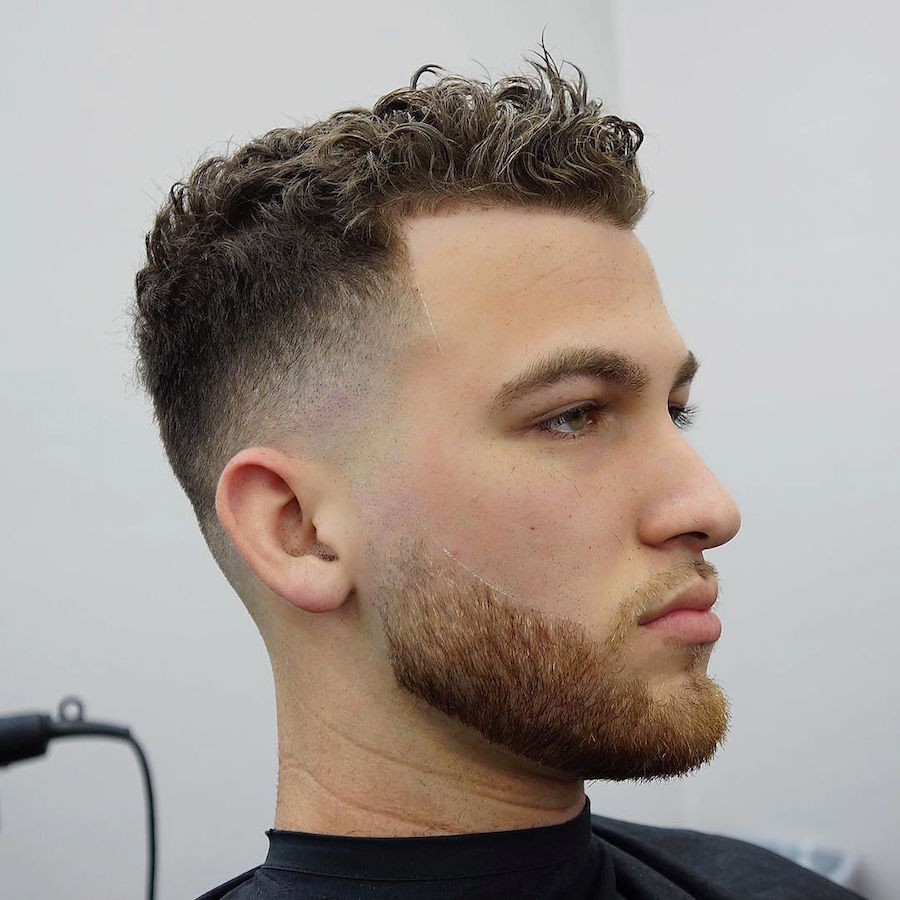 Haircut by criztofferson
This modern men's haircut balances easy to wear short hair with just enough length for hair to curl. Use a touch of product to define curls and add some height at the hairline.
13. Short Textured Hairstyle For Curly Hair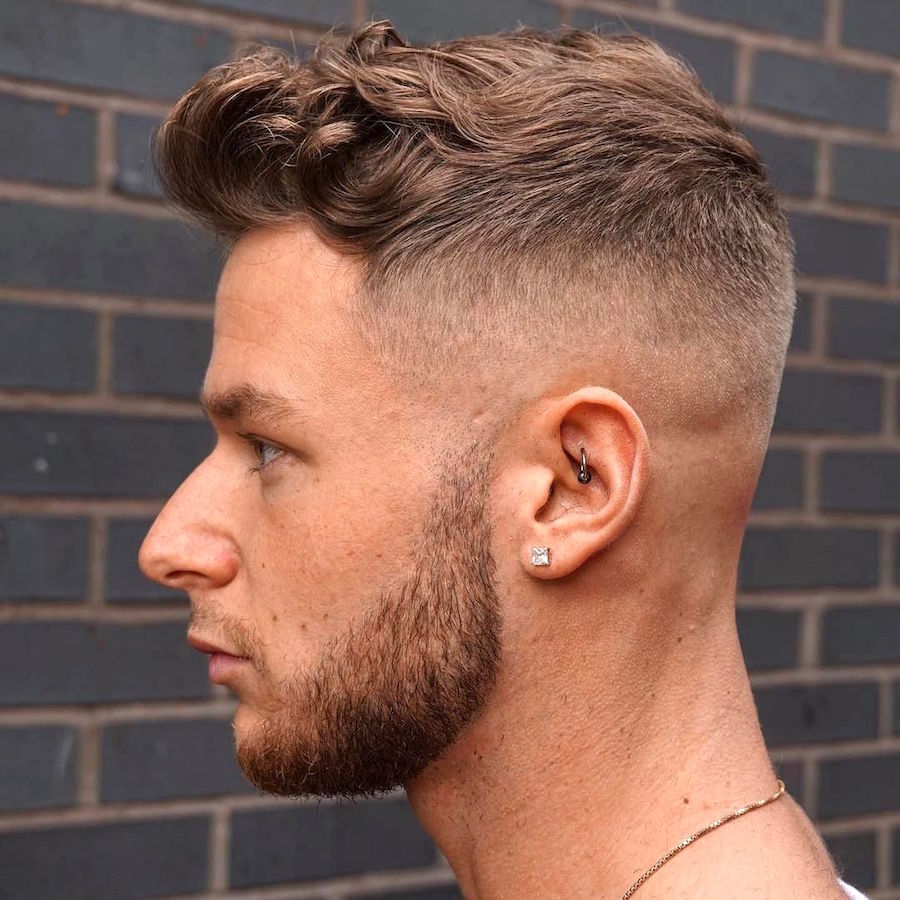 Haircut by Ross Parlane Barbershop
This curly version of the popular pomp is a modern classic. Long on top curls give the style plenty of volume as well as texture.
14. Short Curly Hair Haircut + Hard Part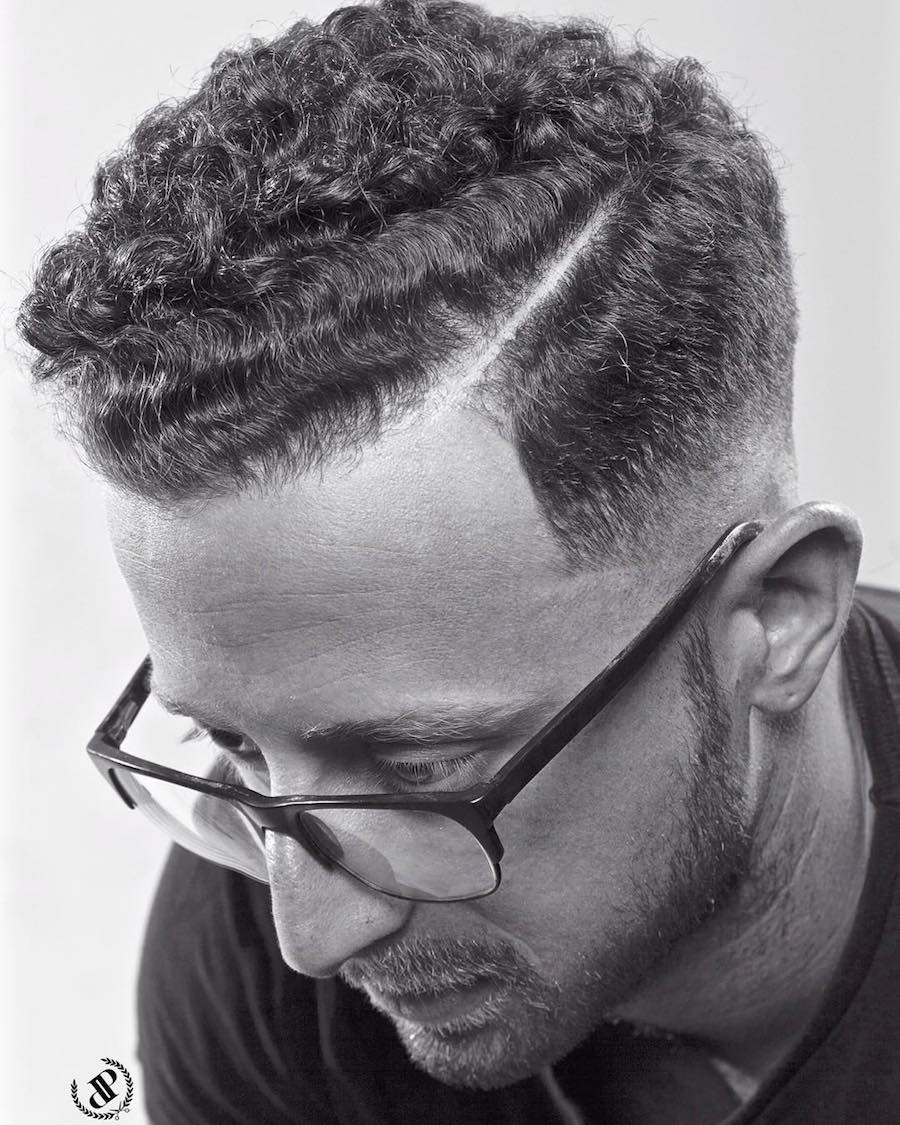 Haircut by Dan Perri
This classic side part hairstyle looks great with curly hair. A hard part off to one side adds a modern twist.
Longer on Top Curly Haircuts
15. Curly Fringe for Men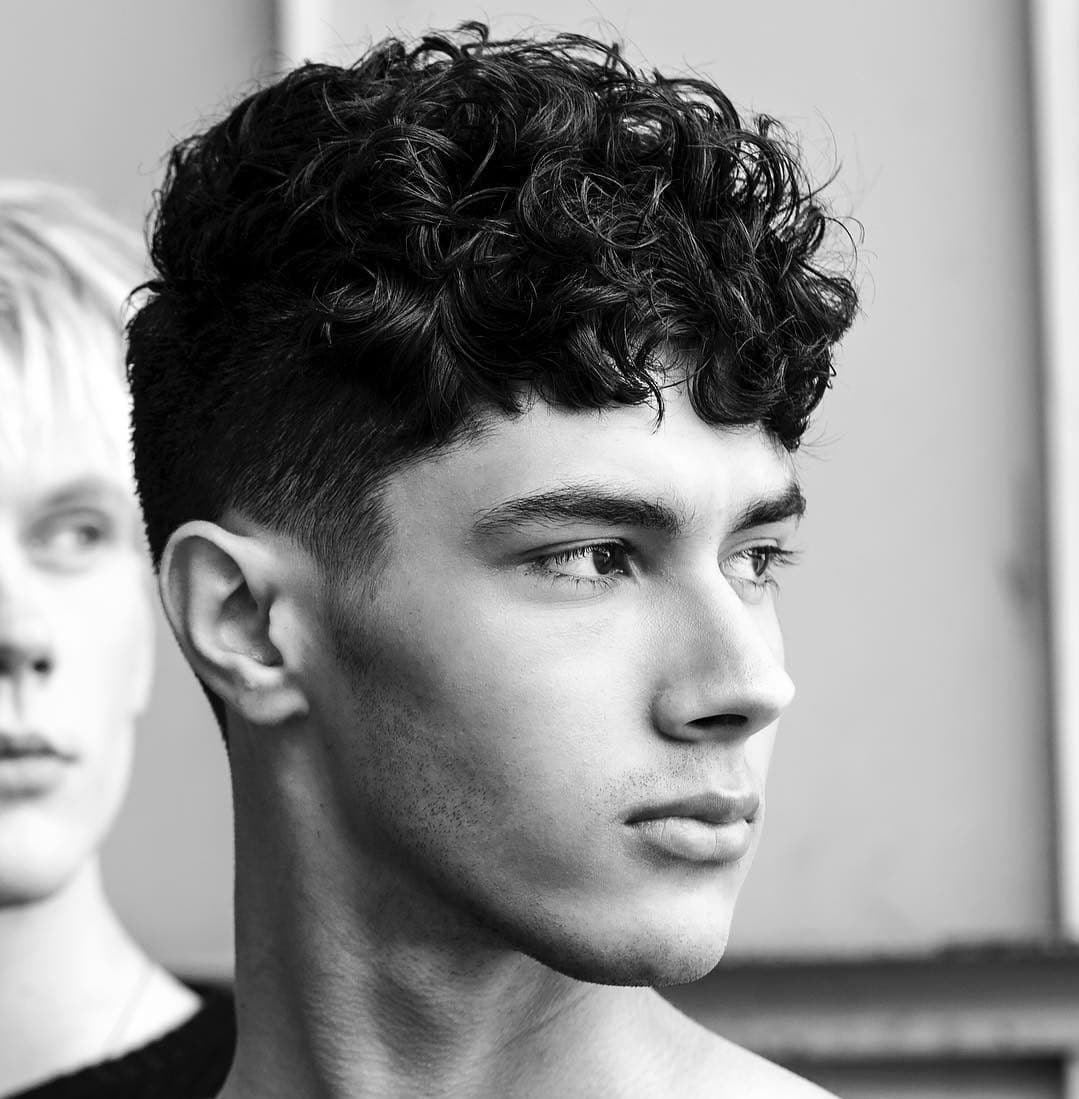 The long on top, short sides and back combination works well to highlight curly hair while keeping hair easy to wear. This cool cut contrasts curly fringe over the forehead with a temple fade.
16. Dope Center Hard Part in Curls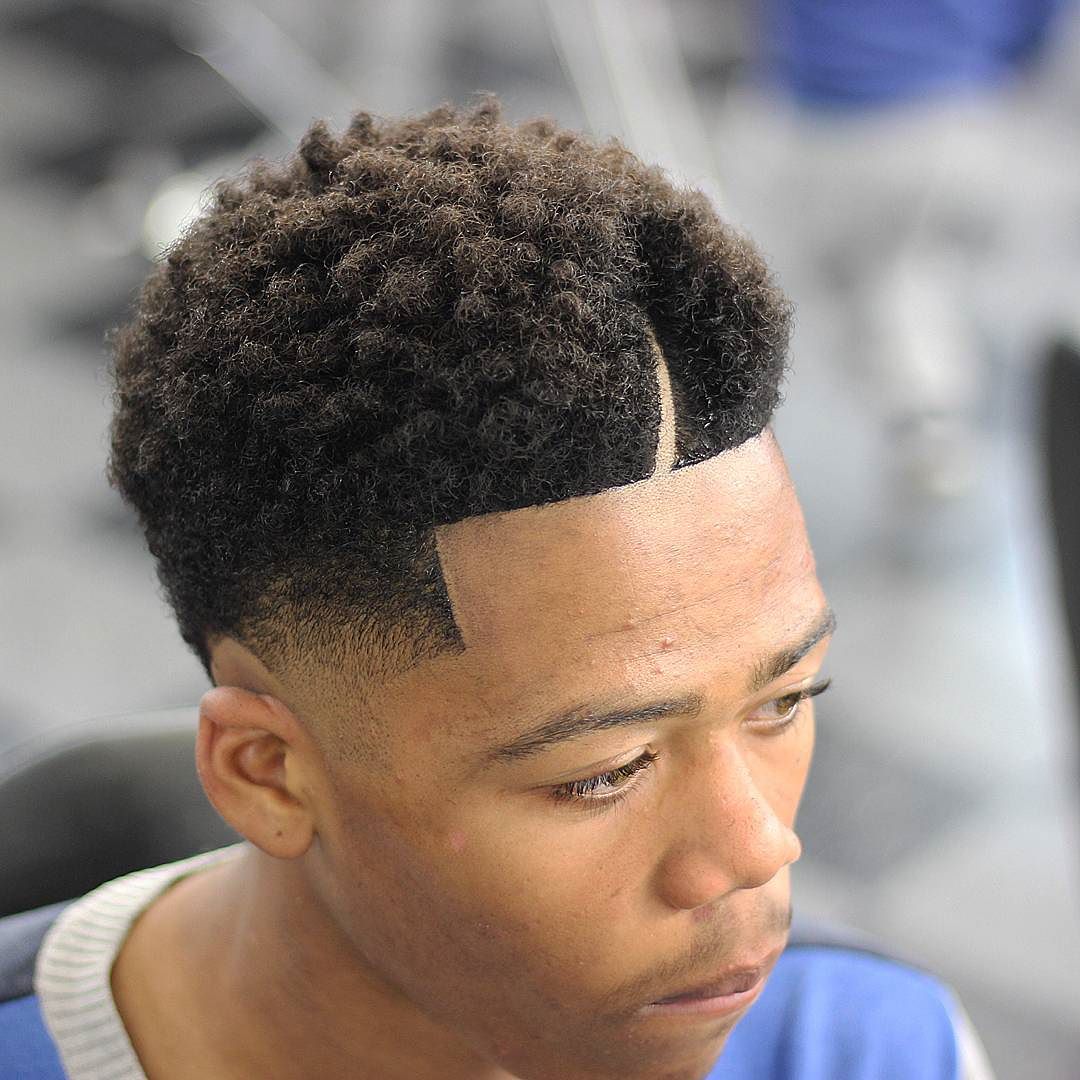 Haircut by Ulises Benavides
With tight curls, cuts can get creative without requiring much styling. This dope cut features plenty of height with a rounded profile interrupted by a curved razor part.
17. High Fade Haircut For Medium Length Men's Curly Hair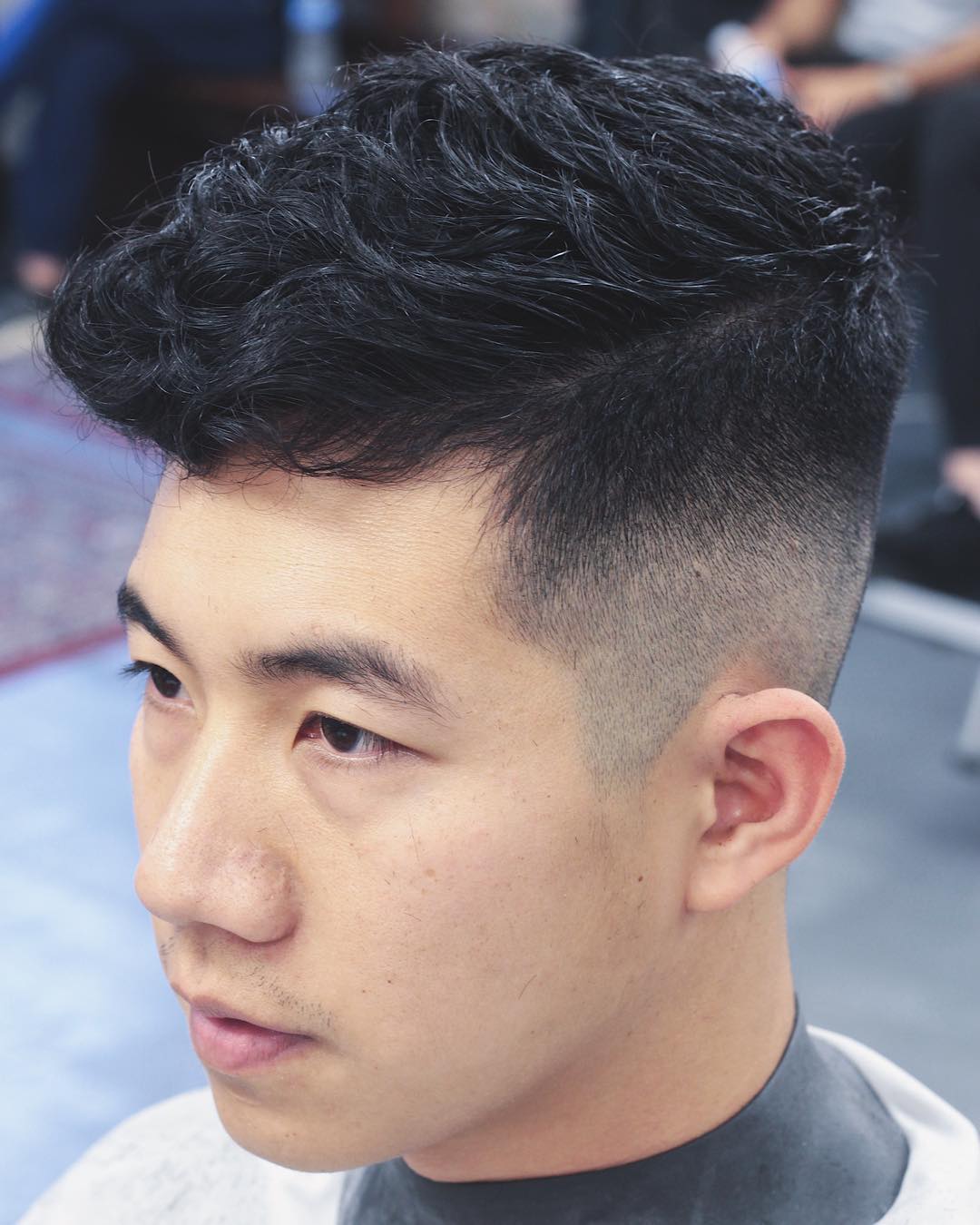 This high fade haircut creates the look of a side part or comb over with curly hair. It's on trend but also suitable for work.
18. Medium Length Textured Haircut For Curly Hair + Low Fade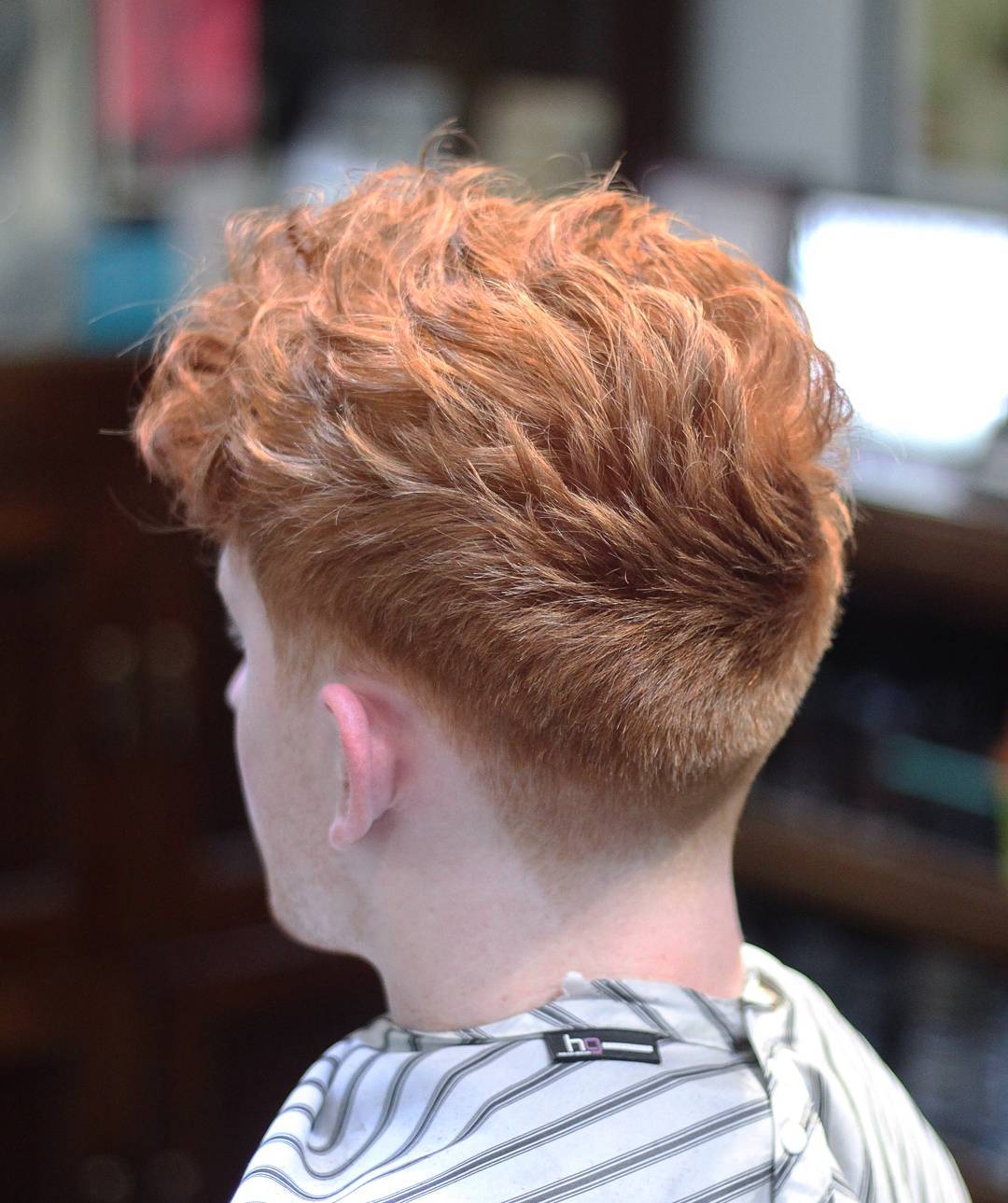 Another medium men's haircut, this version keeps hair short at the sides with a low fade around the neckline. Style curls on top with a product like Aveda Brilliant Humectant Pomade to define curls without any frizz.
19. Sweep Back for Curly Hair + Long Fringe / Bangs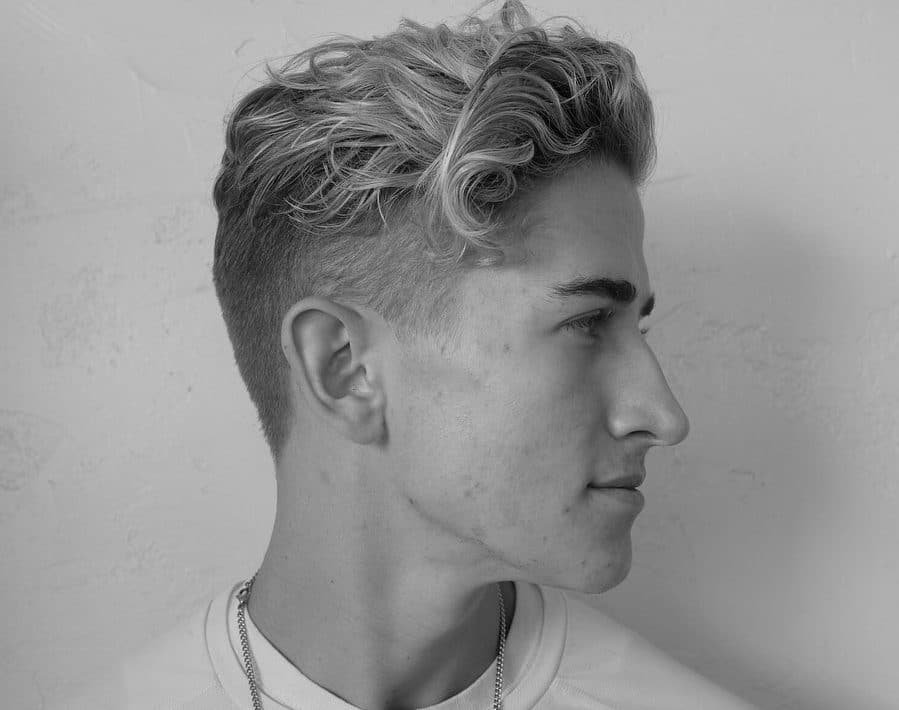 This cool wavy curly hair has a hint of surfer style. Get that fresh from the beach look with a salt spray that defines and controls curl.
20. Fro-Hawk + Hair Design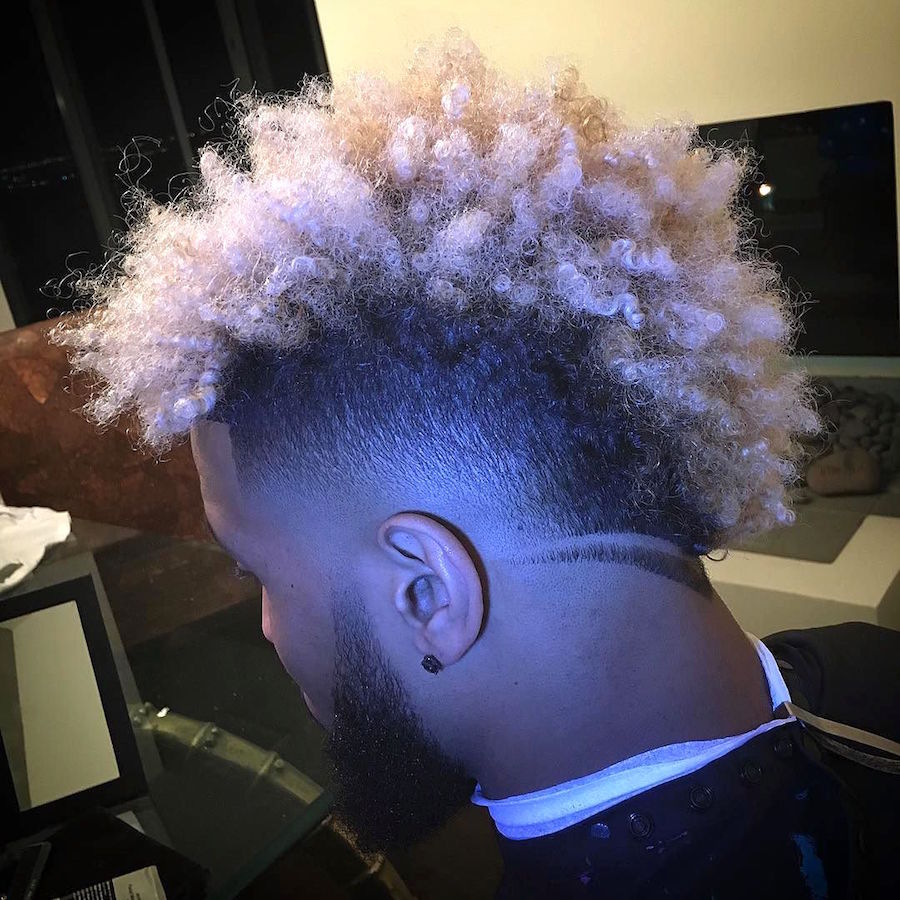 One of the coolest cuts out there for guys with tight curls is the fro-hawk. This version is even fresher with a burst fade, hair design and platinum ends.
21. Mid Skin Fade + X-Ray Design + Long Curls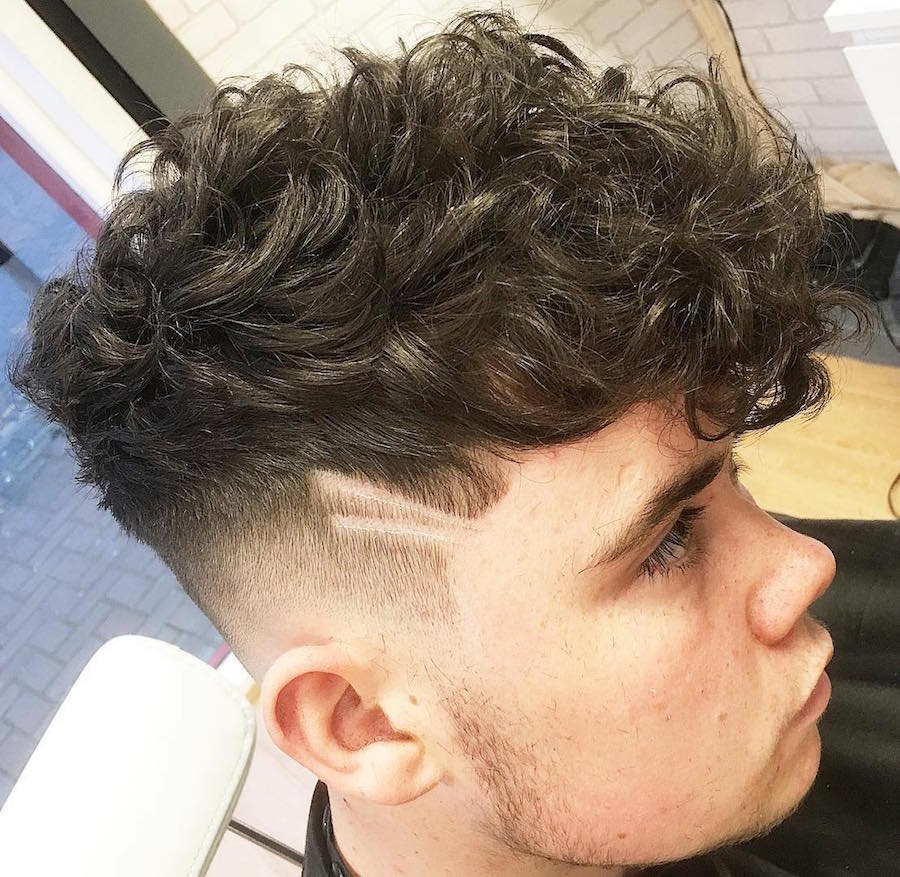 Haircut by Charles Gray
A forward fringe style, this cut is heavy on top with a high skin fade. A pair of shaved lines complete the cool look.
22. Drop Fade + Curls On Top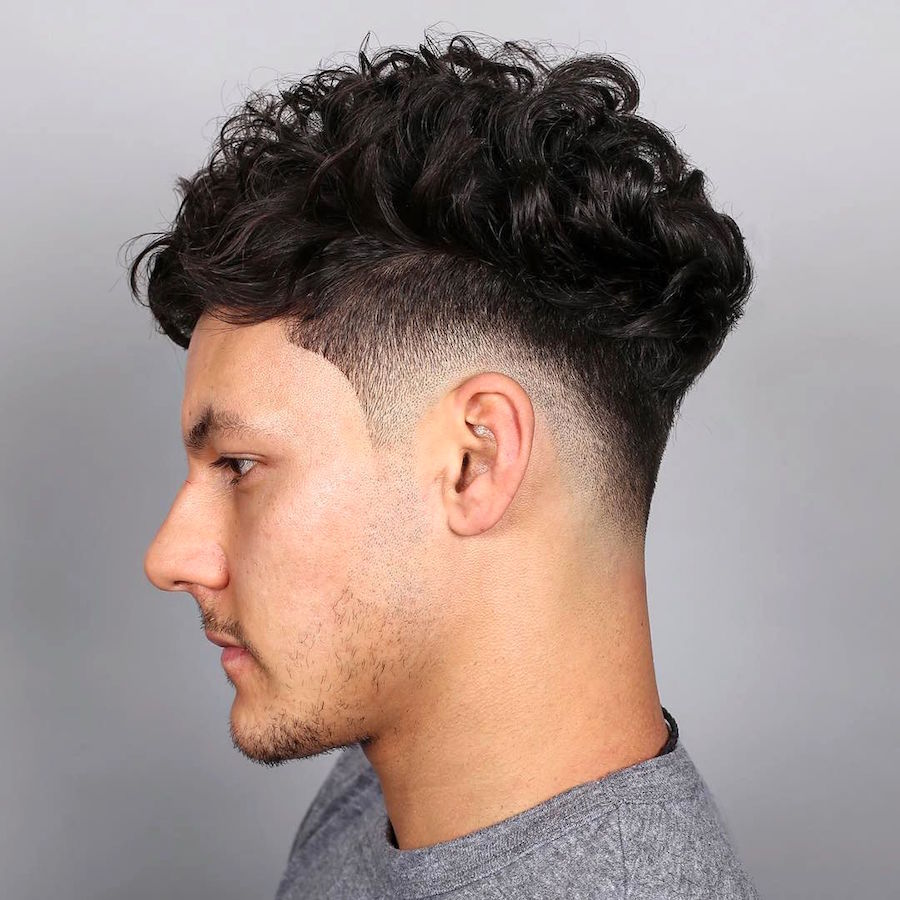 Haircut by Henry Stevens
This medium length cut leaves curls long on top to create a rounded profile that is echoed in the drop skin fade.
23. Textured Messy Curls + Long Fringe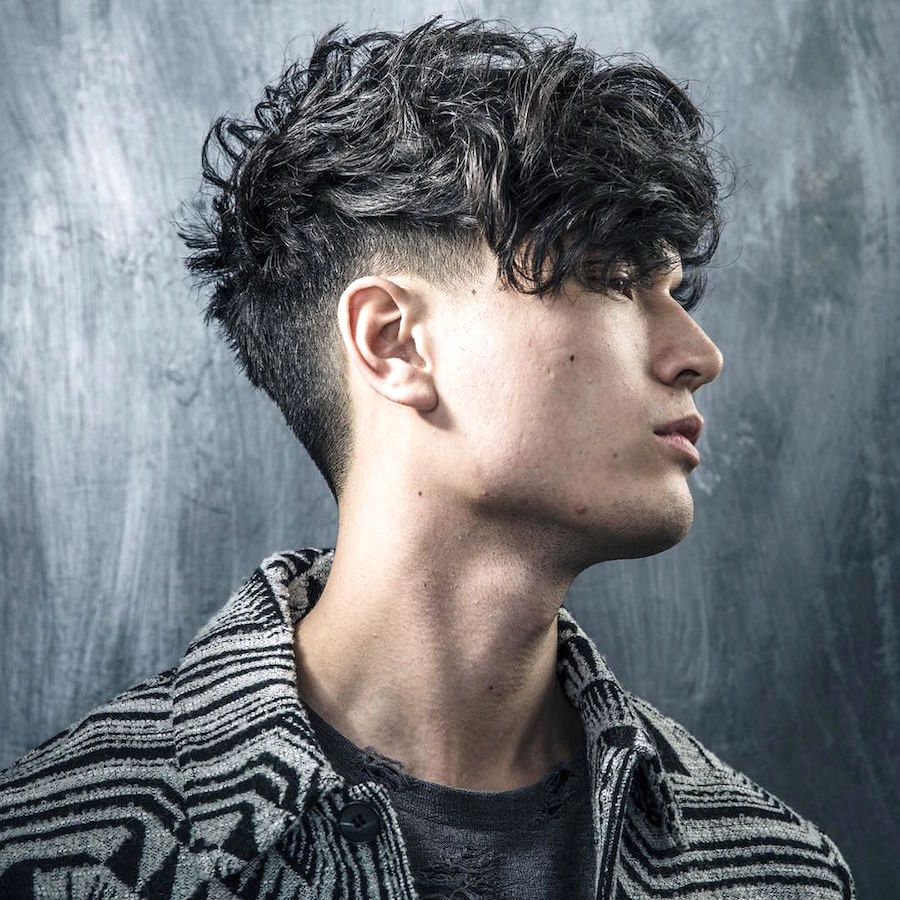 Haircut by Braid Barbers
This messy textured look is one of the top trends for the year. Long fringe is swept to one side for a cool and flattering style.
24. Long Curly Hair Undercut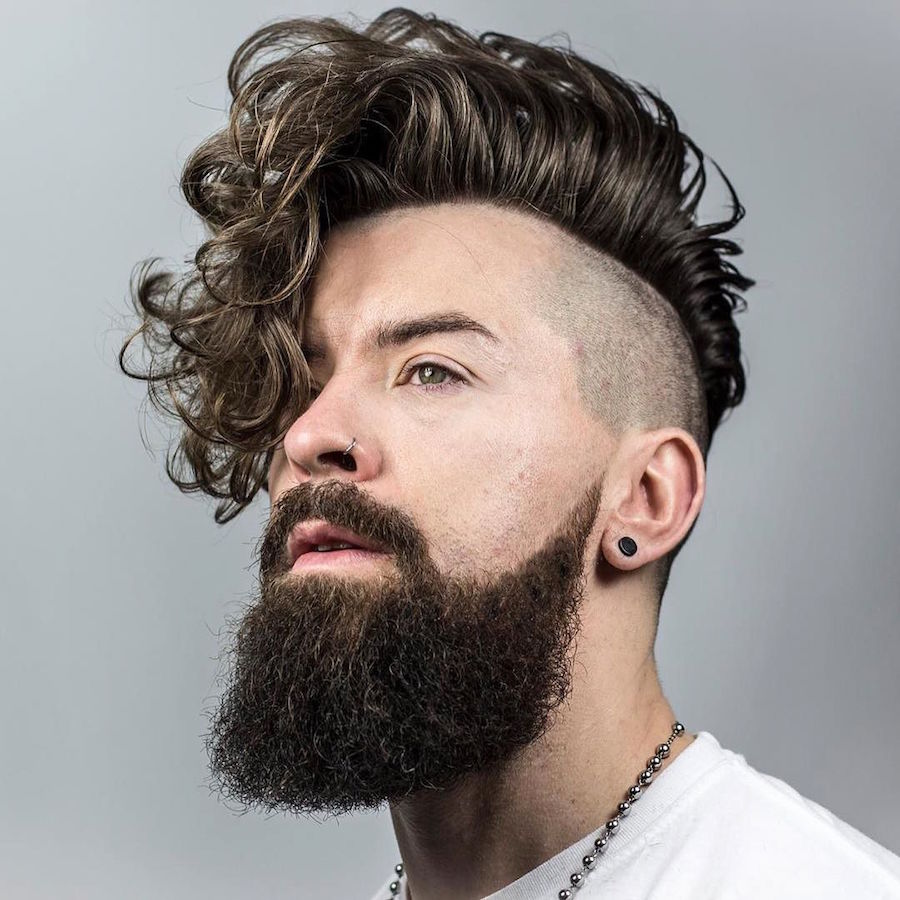 Haircut by Braid Barbers
Curls, even long curls, can be totally bad ass. Of course it helps to pair them with an undercut and full beard.
Classic Haircuts for Curly Hair
25. Side Part Haircut for Curly Hair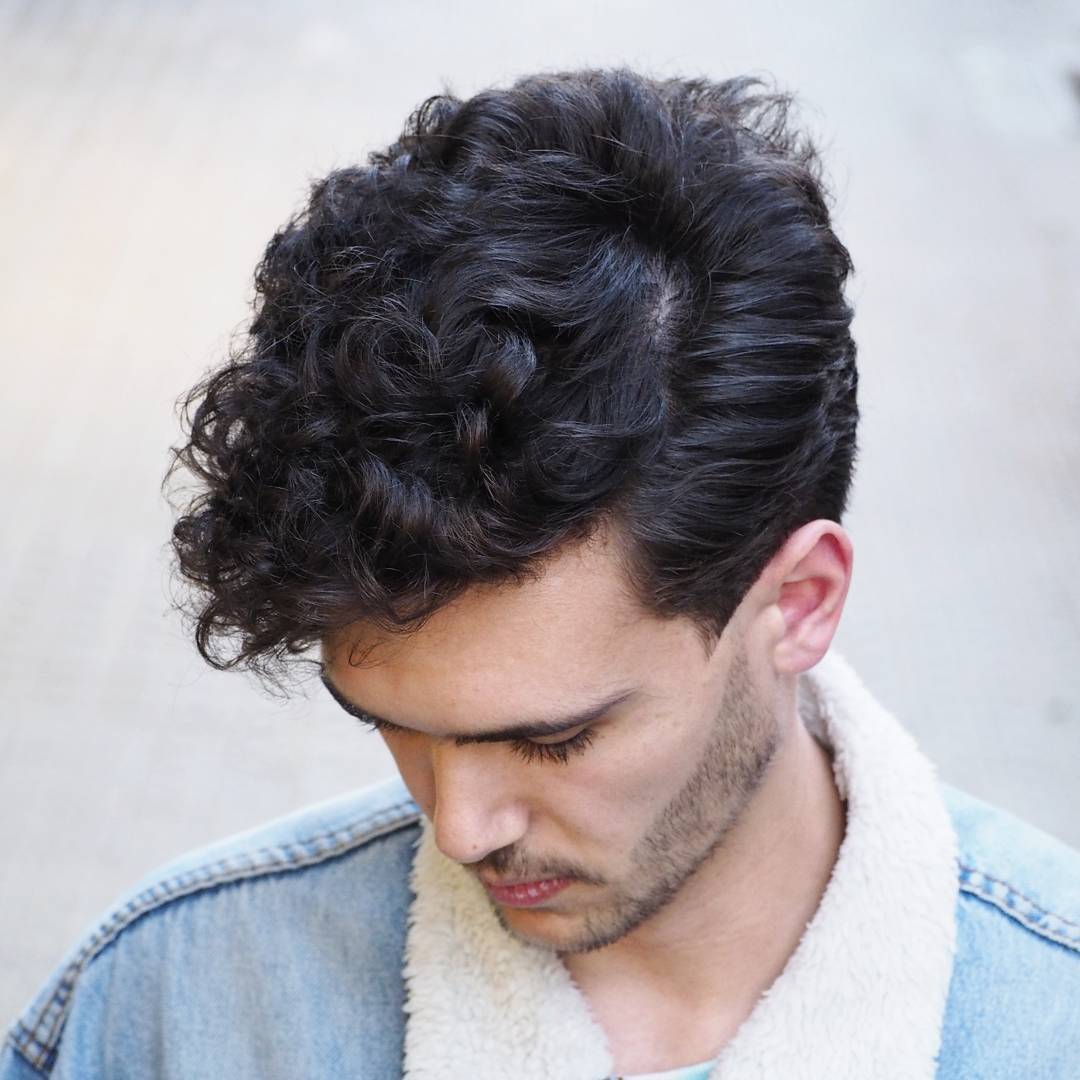 This side part haircut is a classic men's hairstyle adapted for curly hair. Hair is short enough to be straight around the sides while the top is long enough to bring out curls.
26. Taper Haircut for Curly Hair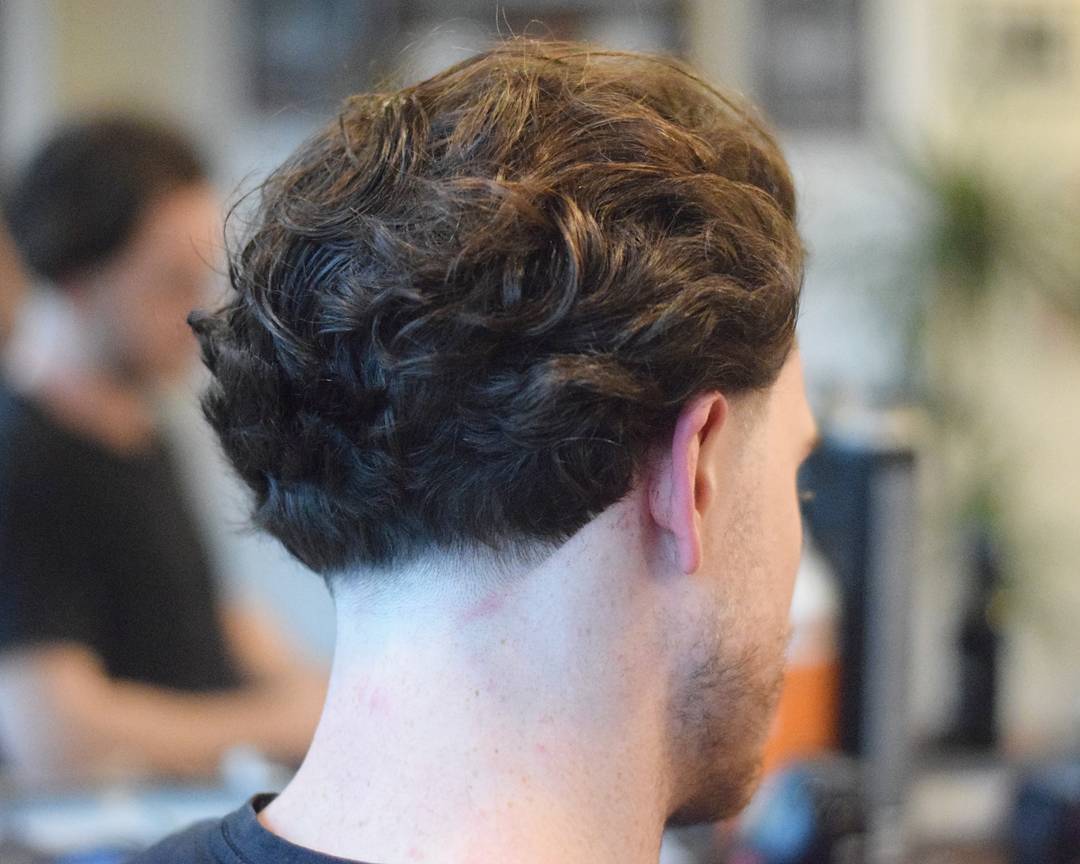 The medium length taper haircut is a growing trend for straight, wavy and curly hair. This cool style sweeps long curly hair straight back and ends with a clean cut neck taper.
27. Curly Hair + Beard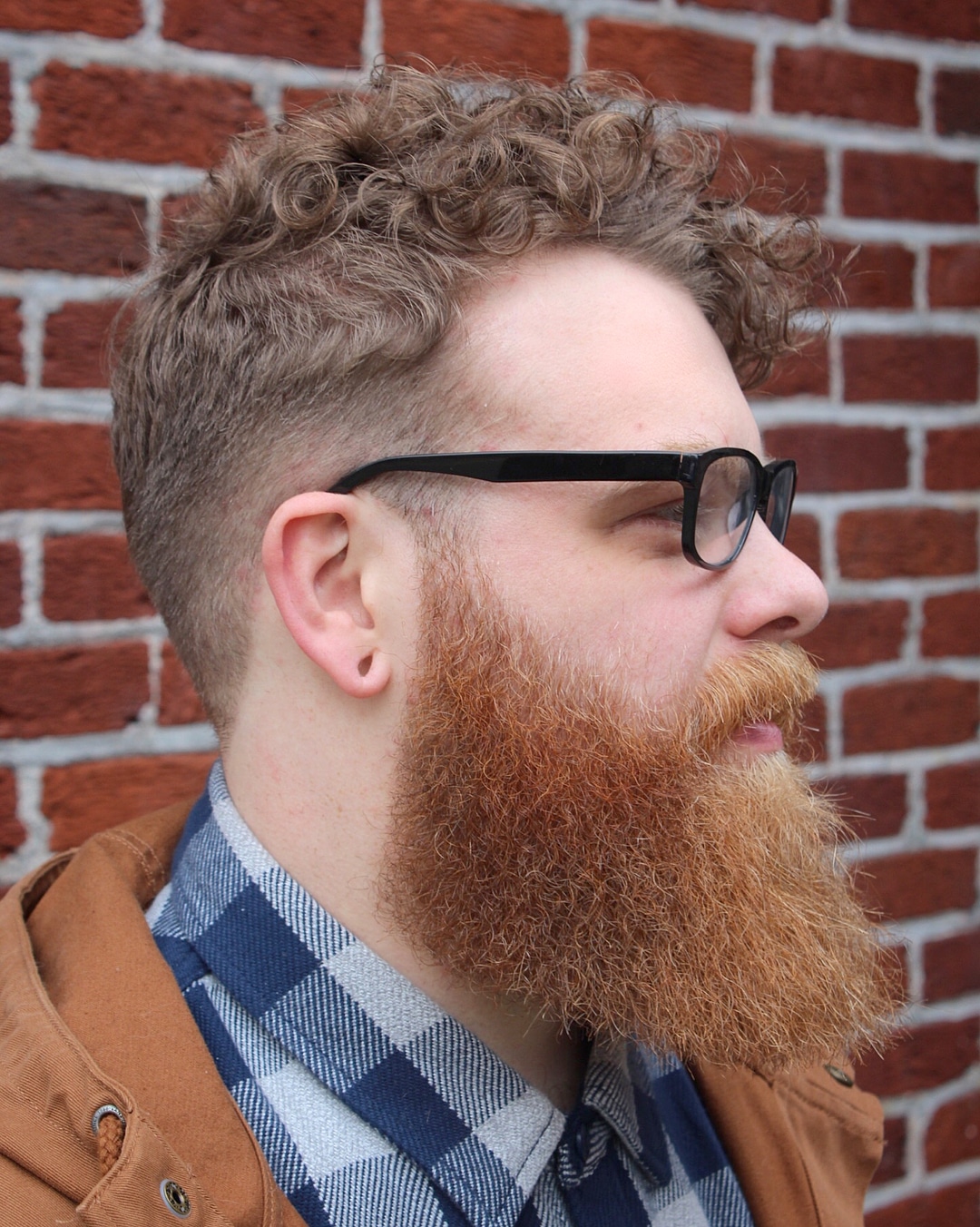 Facial hair and hair vary in both texture and color. Use an oil to minimize frizz and moisture to all hair.
28. Neckline Hair Design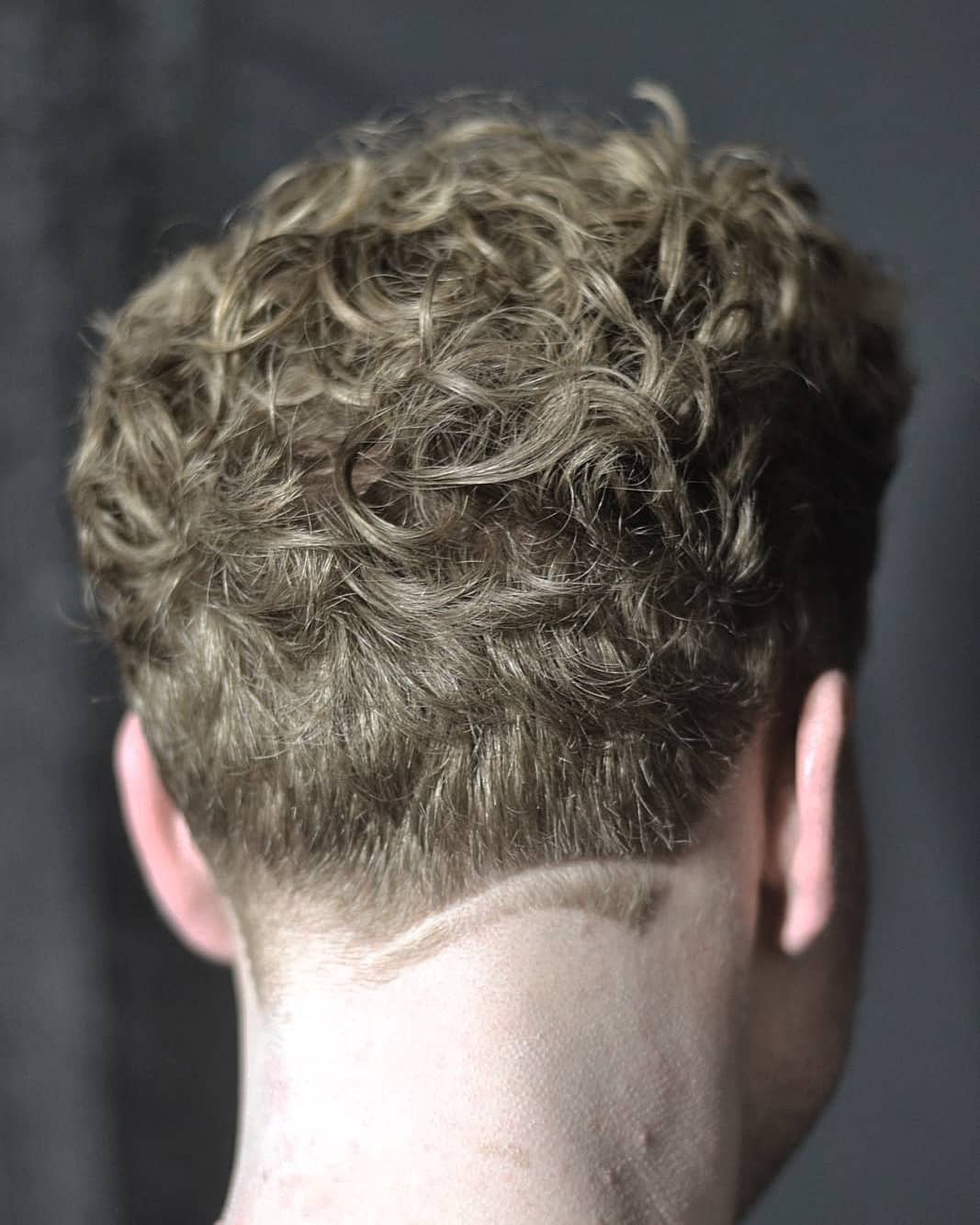 Adding a bold or subtle hair design in the neckline is a hot trend. This shaved arc complements medium length curly hair.
29. Wavy Curly Hair + Long Fringe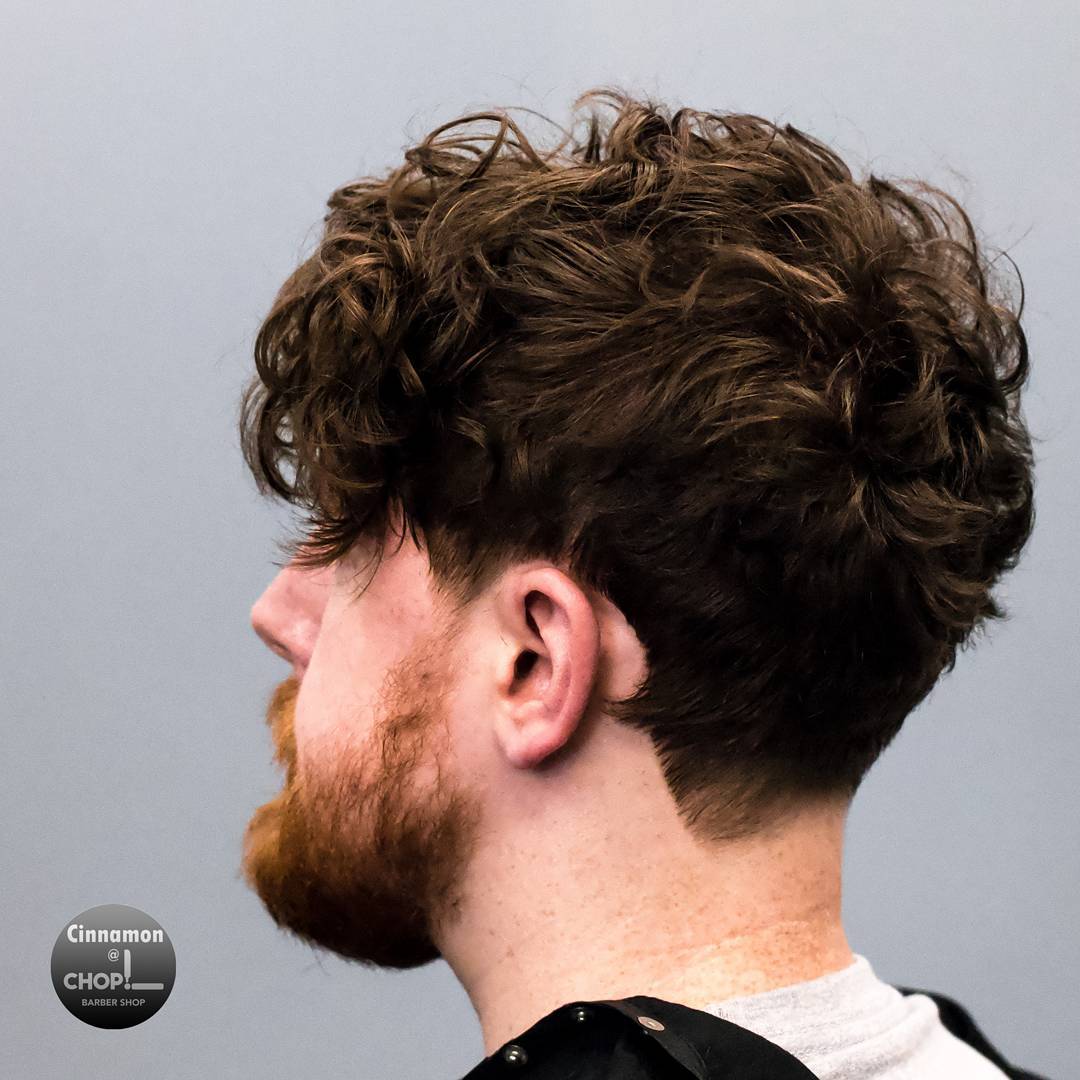 Wavy curly hair is left long and cut to form side swept fringe. A shaved curl behind one ear echoes the texture of longer hair on top.
30. Long Curly Surfer Hairstyle for Men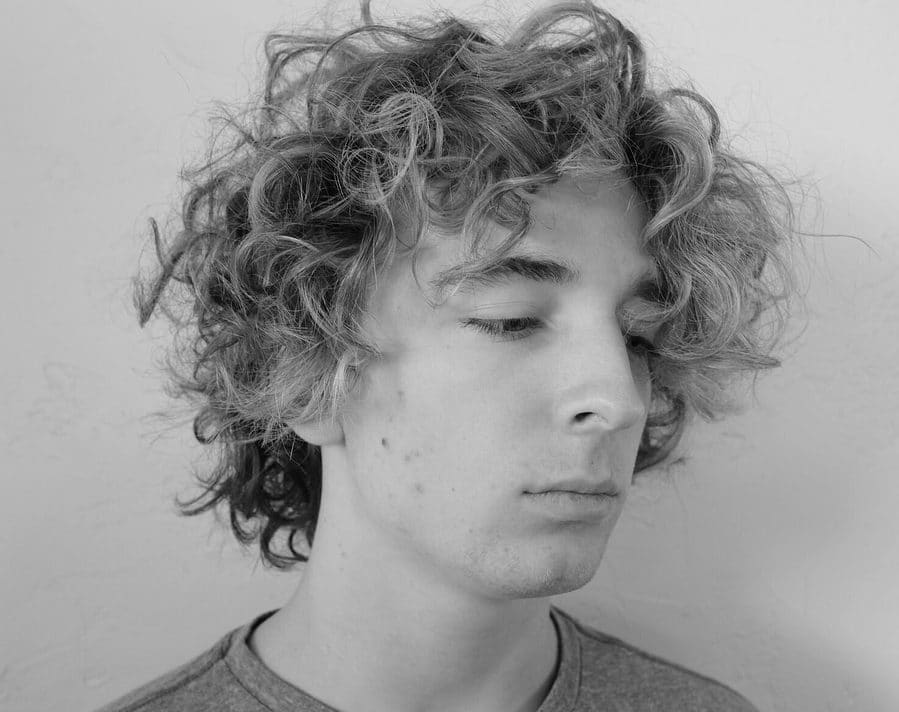 Wearing curly hair long is all about a haircut that shapes hair into a flattering shape. Layers cut out some weight, define a rounded profile and enhance curl.
Curly Hair Fade
31. Bald Drop Fade Haircut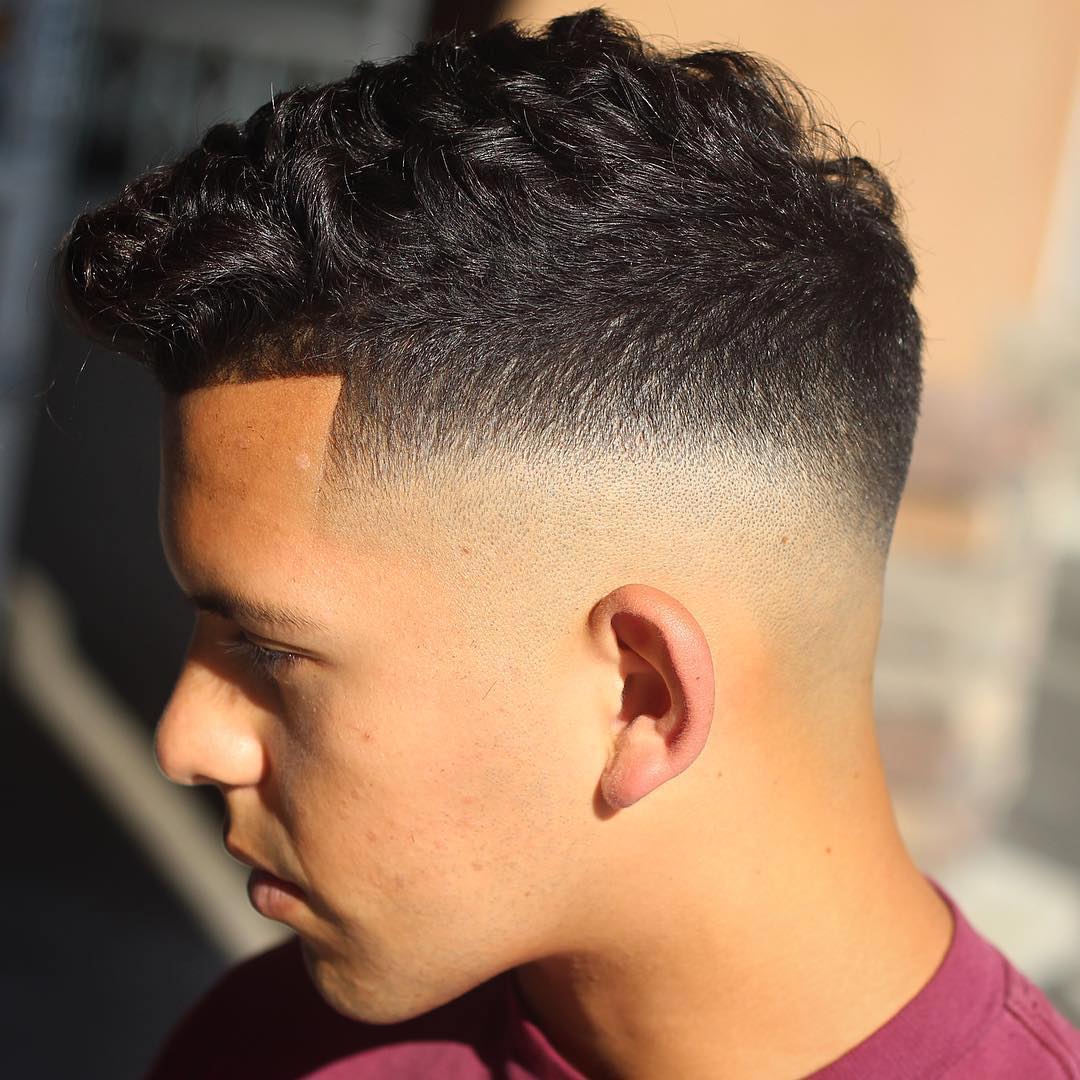 Fade haircuts are a stylish and trendy way to keep hair short at the sides. This skin fade drops down at the back of the neck to create a new hairline.
32. Curly Crop Haircut + Mid Fade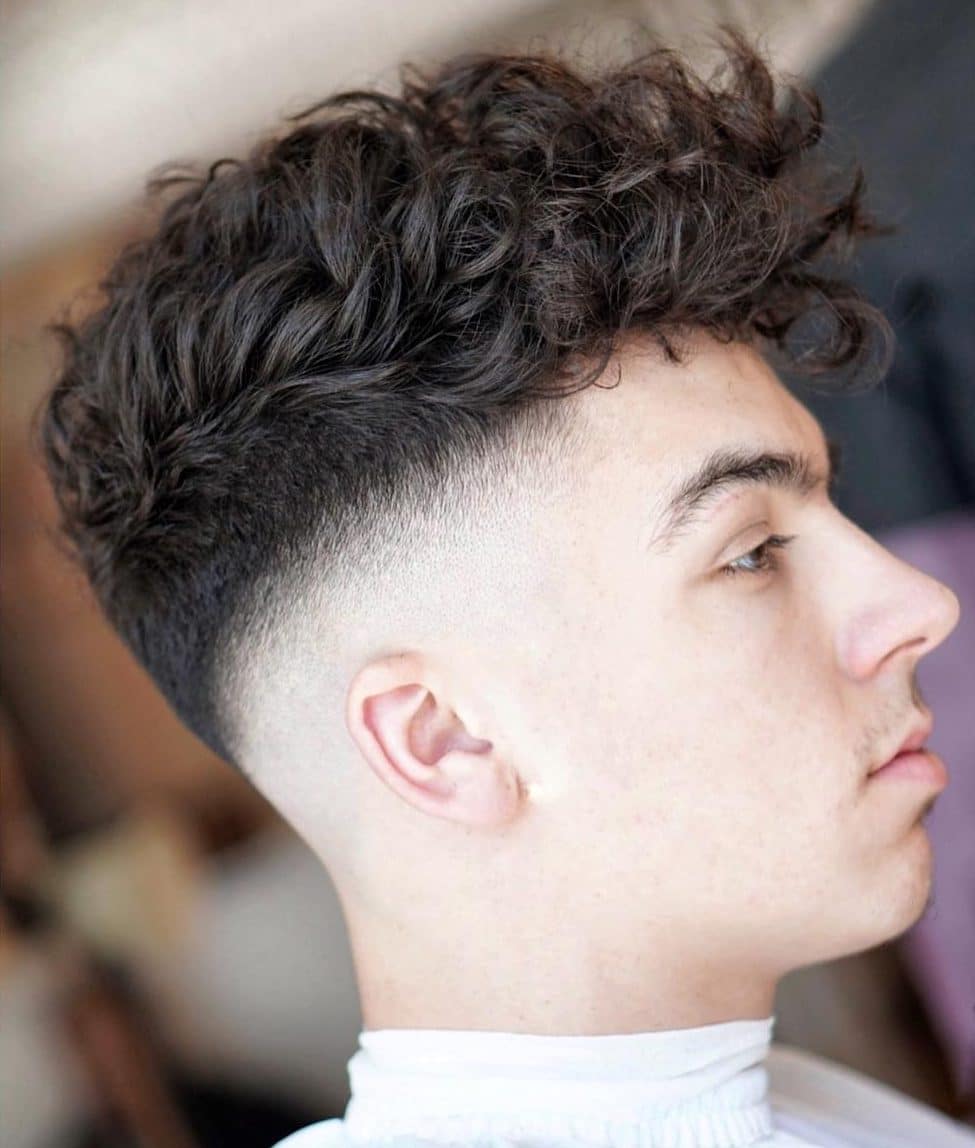 The textured crop haircut is a major trend right now. Curly hair already has plenty of texture so leave it longer on top.
33. Curly Comb Over Haircut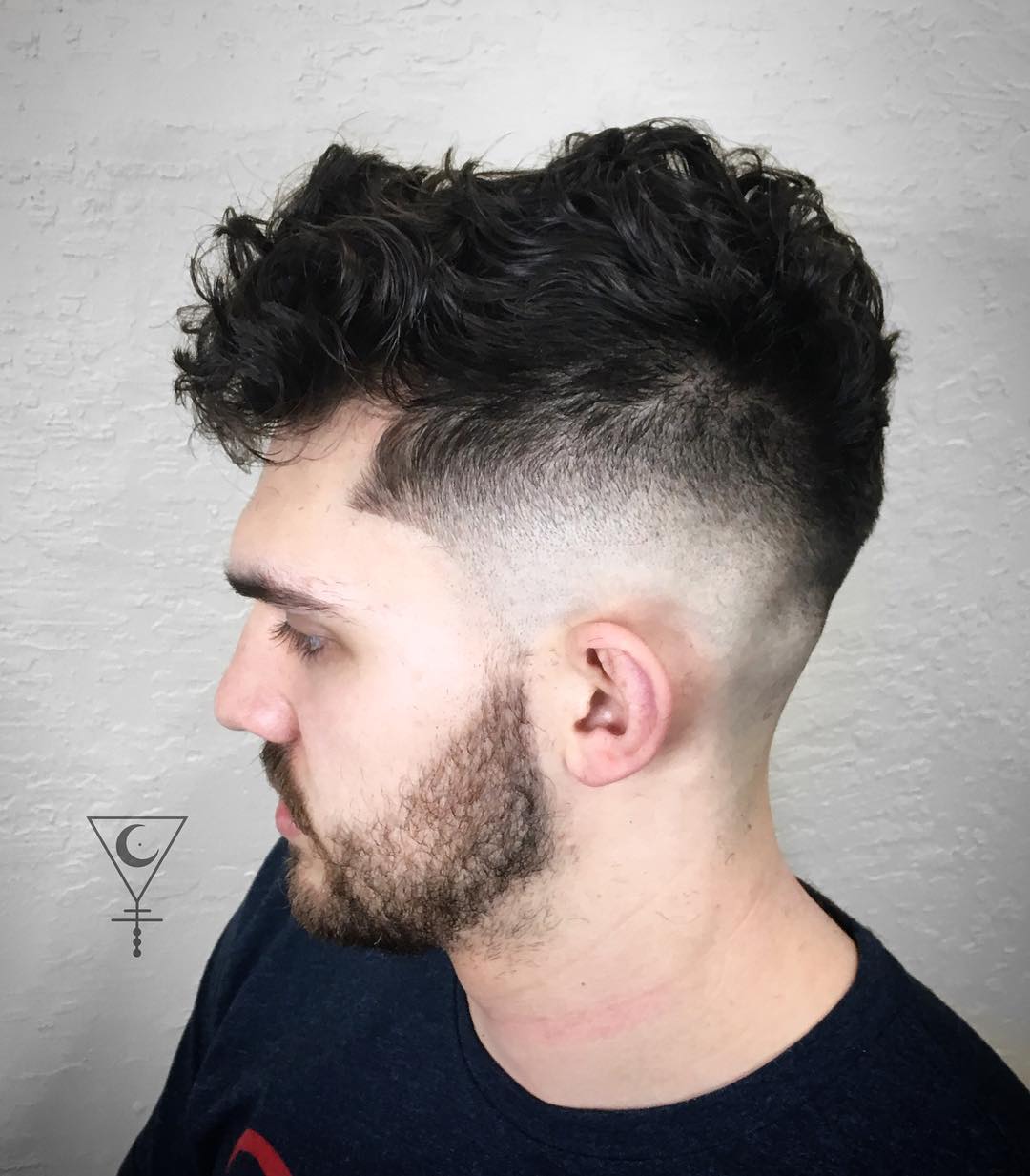 The comb over fade is a popular men's haircut because it is easy to wear and looks great. This curly version pushes hair over to one side but leaves some hair in loose fringe over the forehead.
34. Mid Fade + Hair Design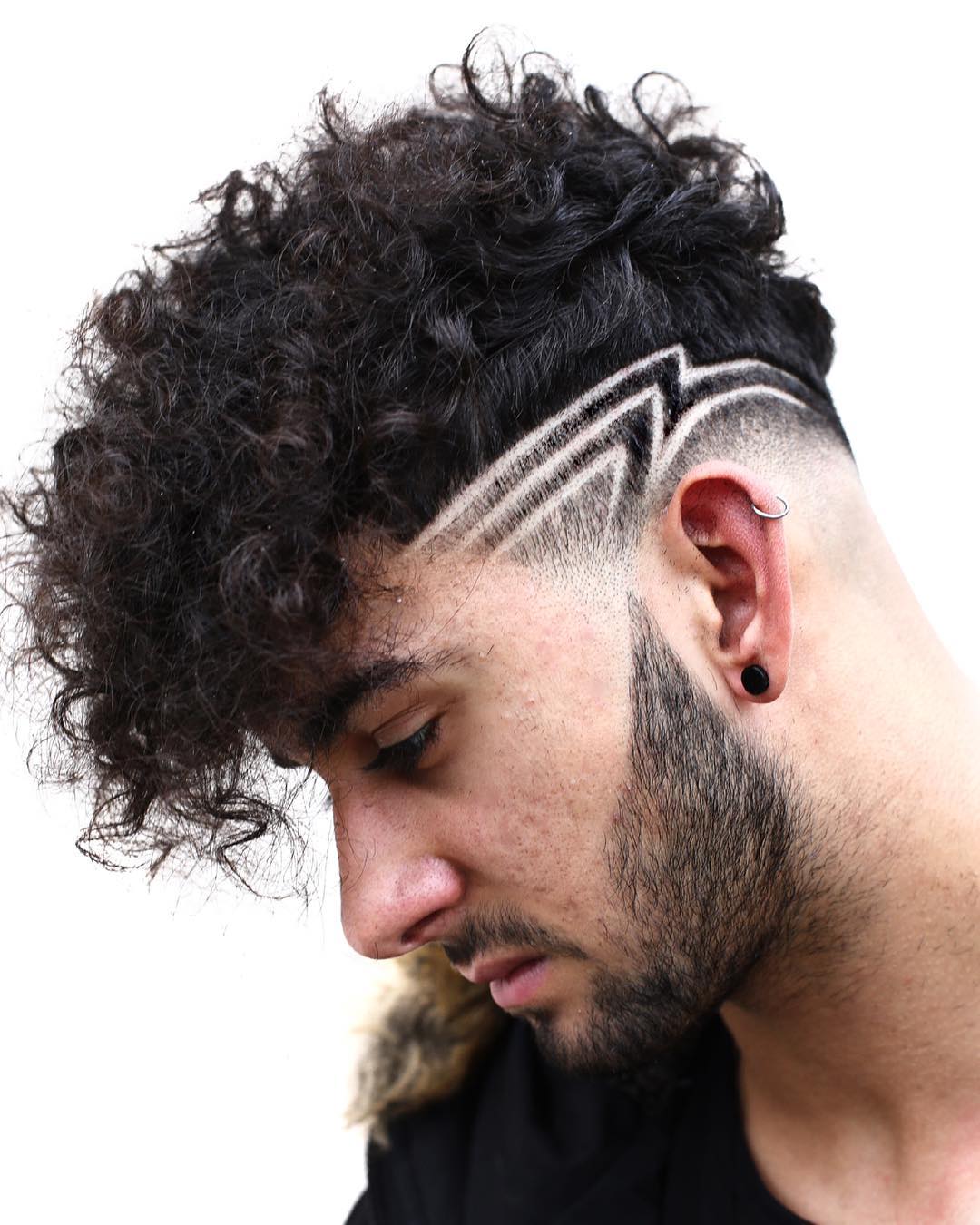 This fresh style combines long corkscrew curls on top with zig zag lines shaved into a mid fade.
35. Curly High Top Fade Haircuts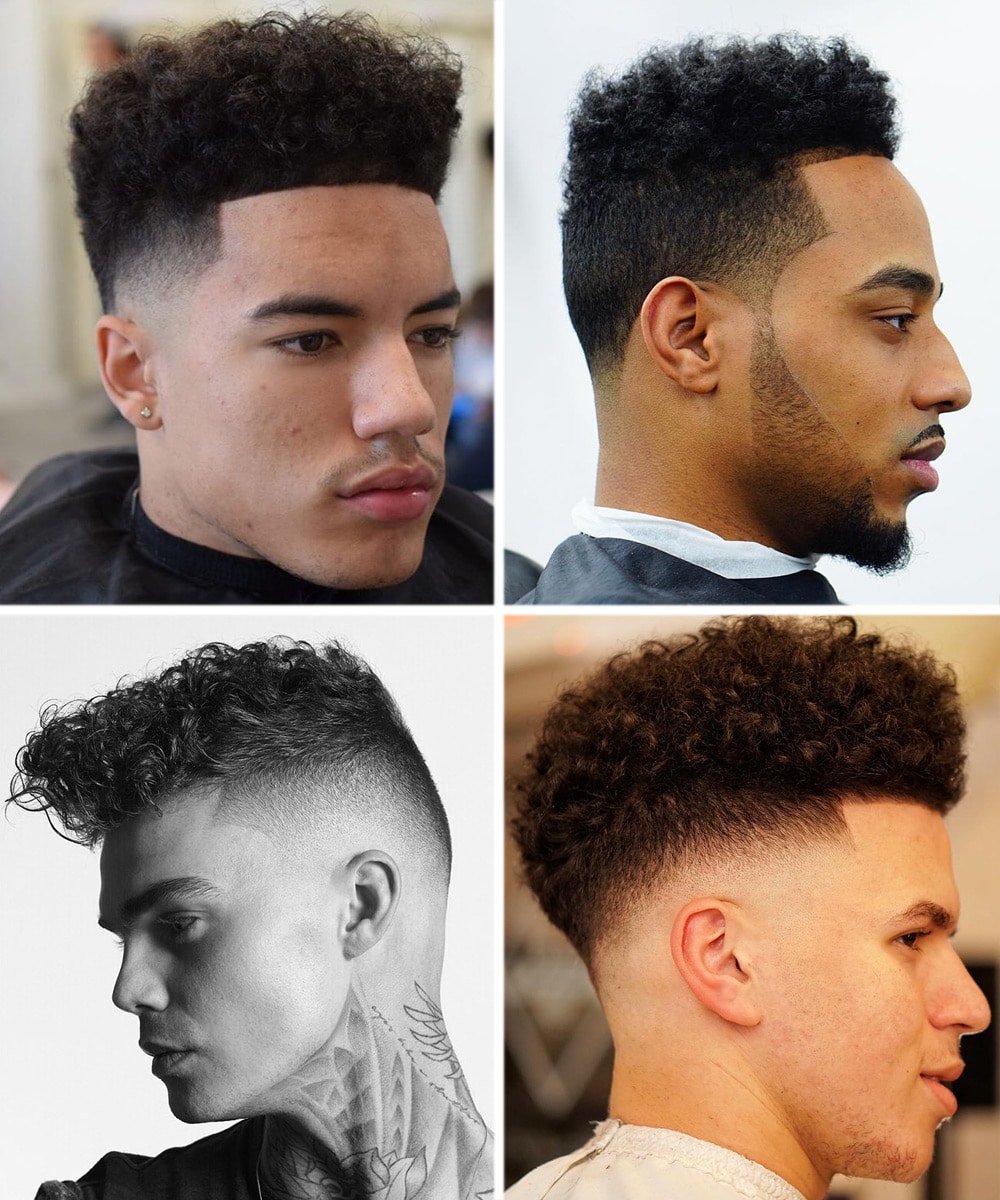 Raggos Barbering – Criztofferson – Mikey – Zach Ramsey
The flat top is the most well known way to wear the high top fade but it also looks great with a curly top. Wear it with a high fade for the classic high top shape or a drop faded for an afro-inspired rounded profile.