Fade haircuts are one of the most popular haircuts for men. A high fade haircut shaves hair shorter higher up compared to low fades and mid fades.
Like other fades, the high fade can be worn with any hairstyles from an ultra-short buzzcut to long hair and everything in between.
In addition to height, fade haircuts can vary in shape and length. The drop fade starts high at the temples and drops down toward the back of the neck. Other fades cut a straighter line around the head. As far as length goes, all fades are short but a bald fade goes right down to the skin.
If that doesn't give you enough options, the high fade haircut can be any style, from a high and tight to dreadlocks, or modern crop to classic pomp. And there are curls, spikes, high tops, quiffs, twists, and more.
The tightly cut sides of a high fade mean is a flattering look for most men. The lack of any additional width to the face is essential for men with round or wide faces. So check out these 33 of the best high fade haircuts to find your next look.
1. High Fade Haircut + Medium Length Hair On Top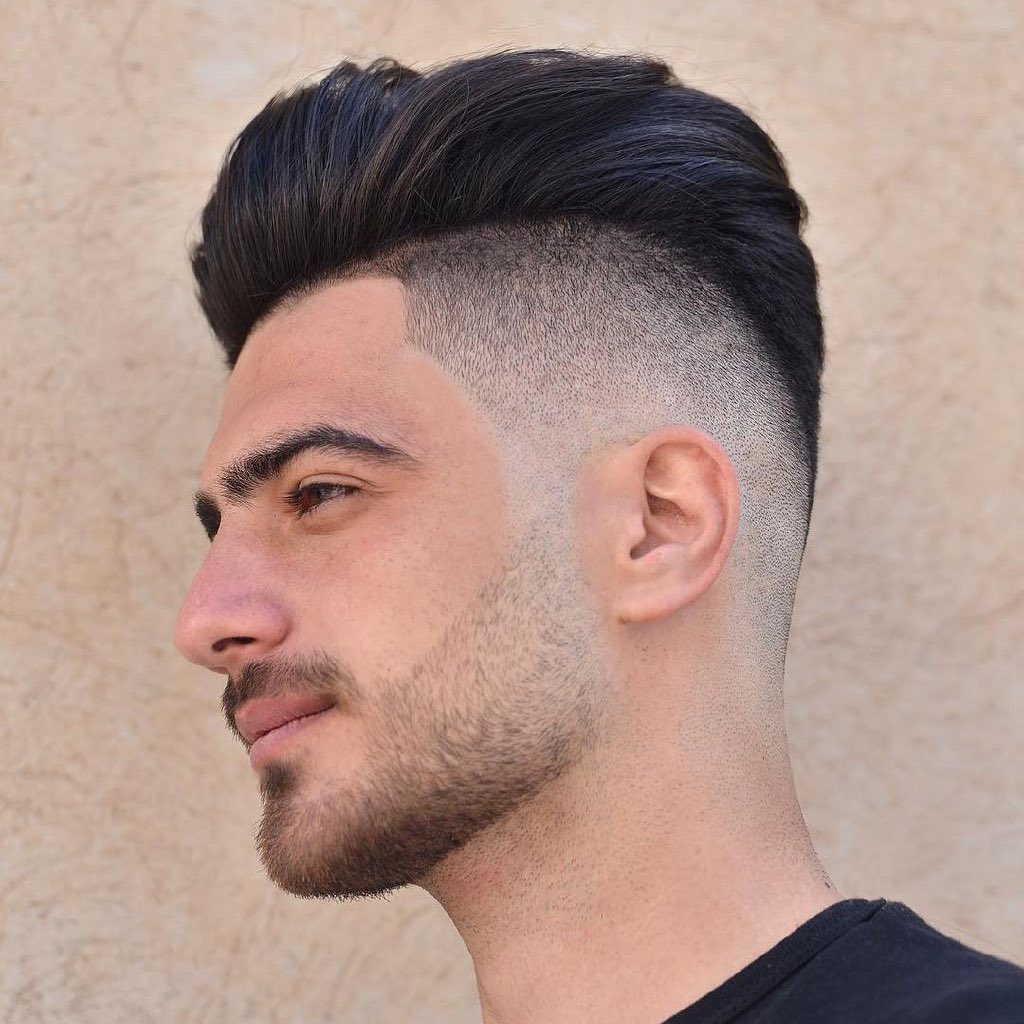 This is a high fade haircut that goes up to the hairline at the forehead and drops down at the back. It is a shadow fade with lots of blur and just a hint of skin at the hairline.
2. Short Crop + High Fade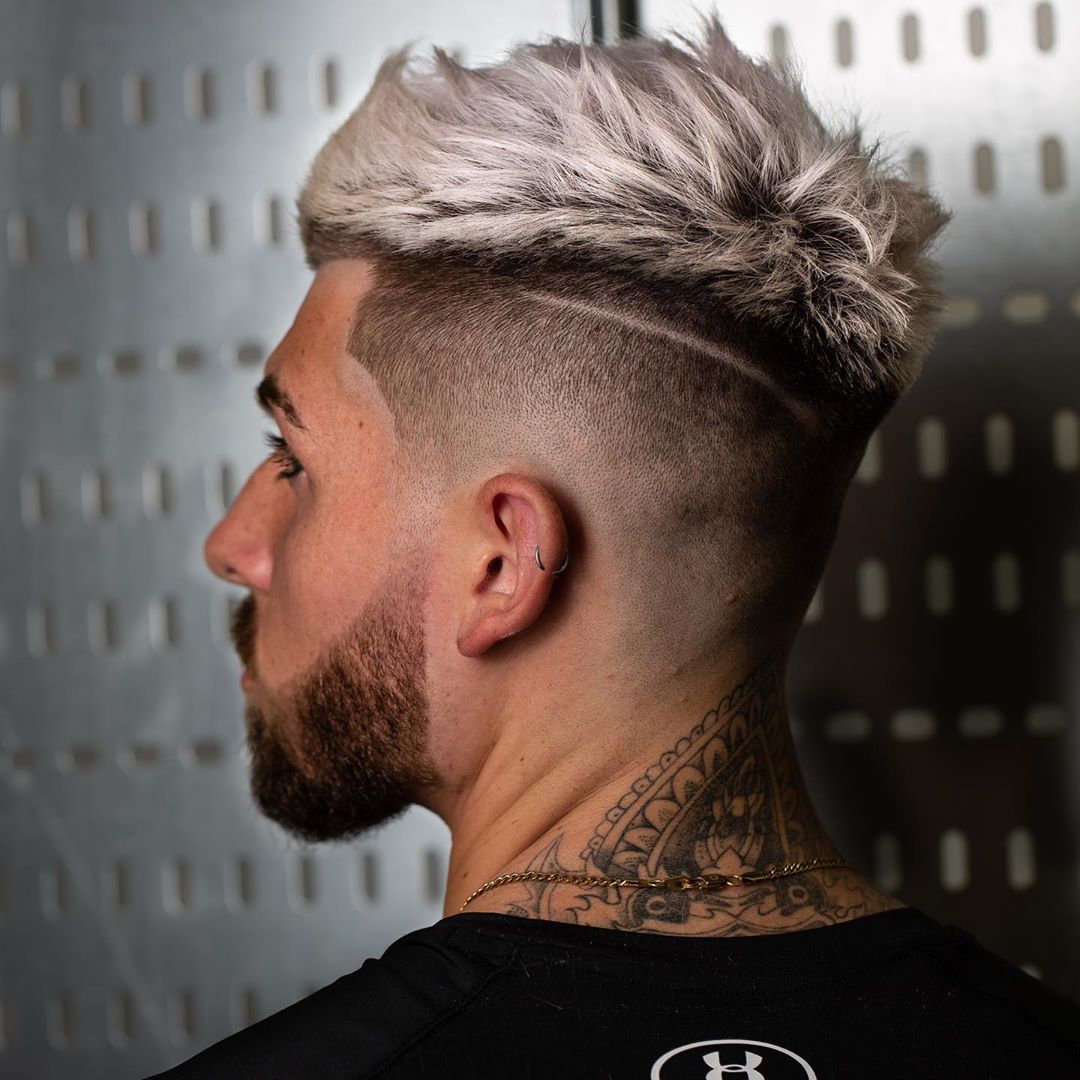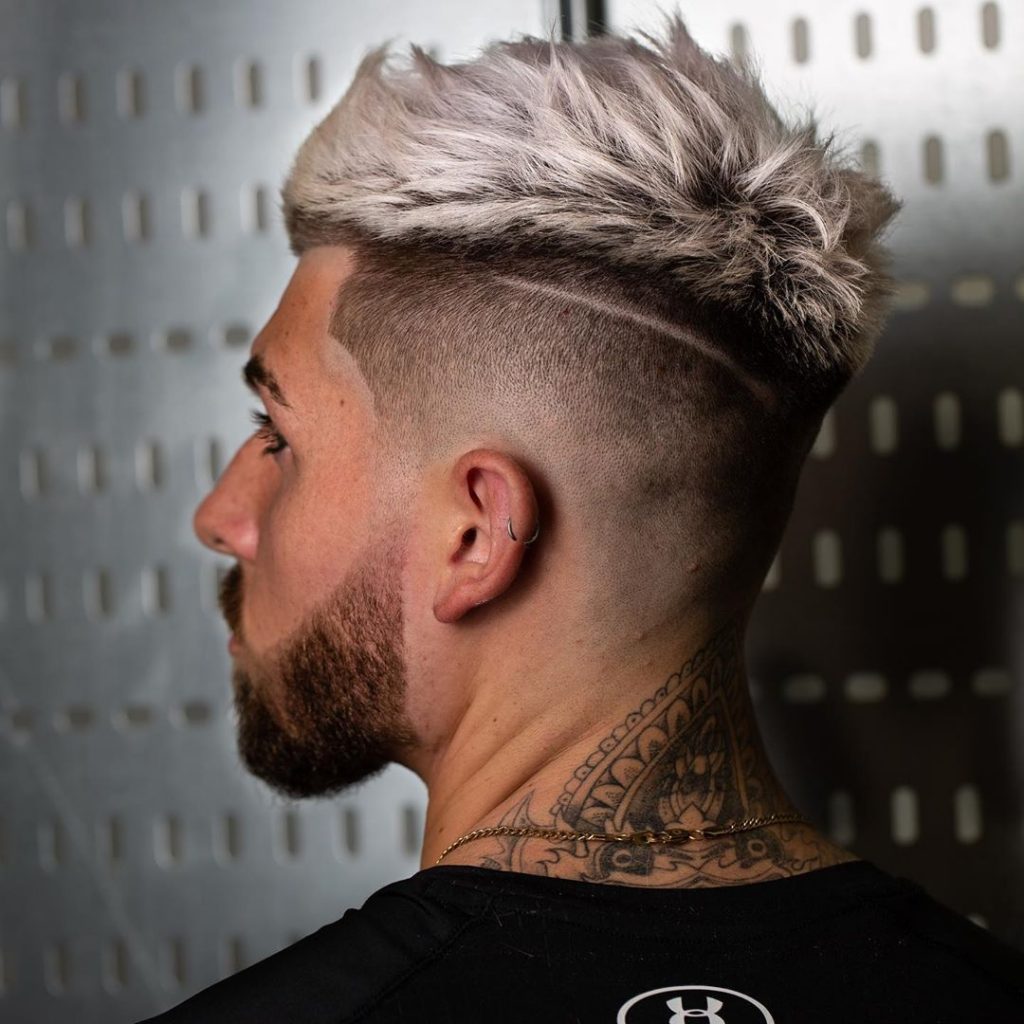 Fade haircuts never go out of style but the crop fade trend has introduced the look to a new generation. This version emphasizes the difference between spiky hair and a blurry fade with almost white hair color and a shaved line.
3. High Fade Haircut For Black Men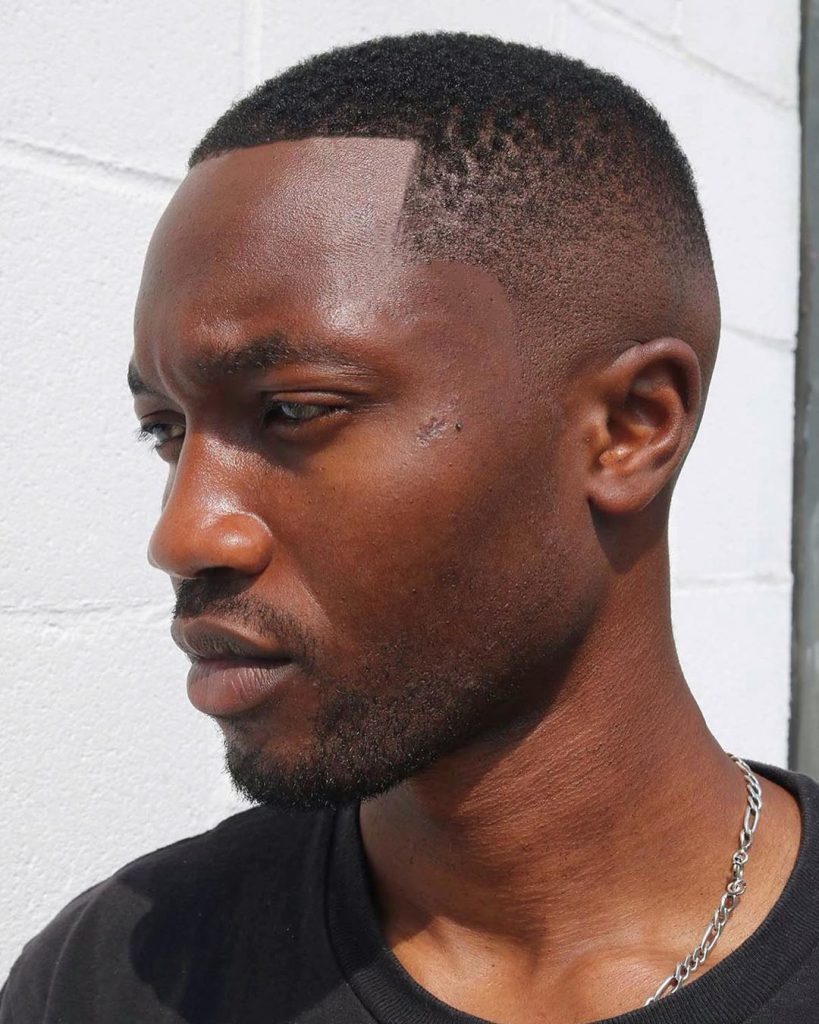 This buzz cut with a line up and fade is one the most popular haircuts for men of all hair types. It's easy to see why.
4. High Skin Fade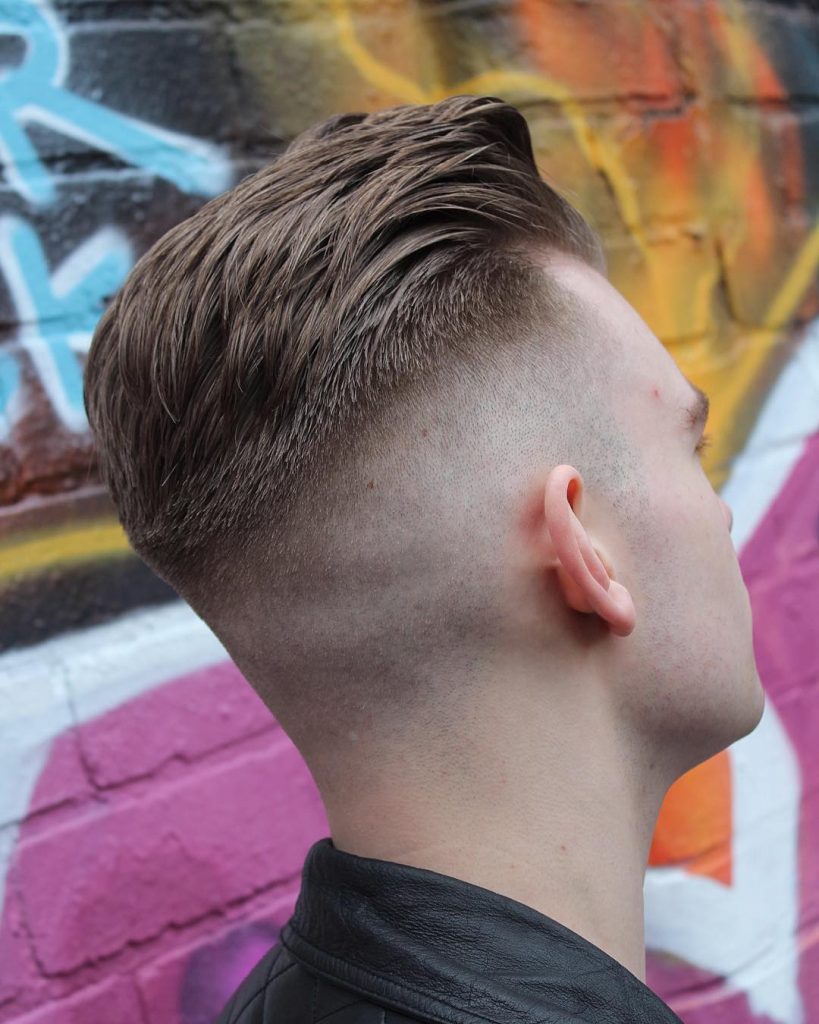 What is a skin fade? It is a fade that reveals the skin, and can also be called a zero fade or bald fade
5. Low Fade vs High Fade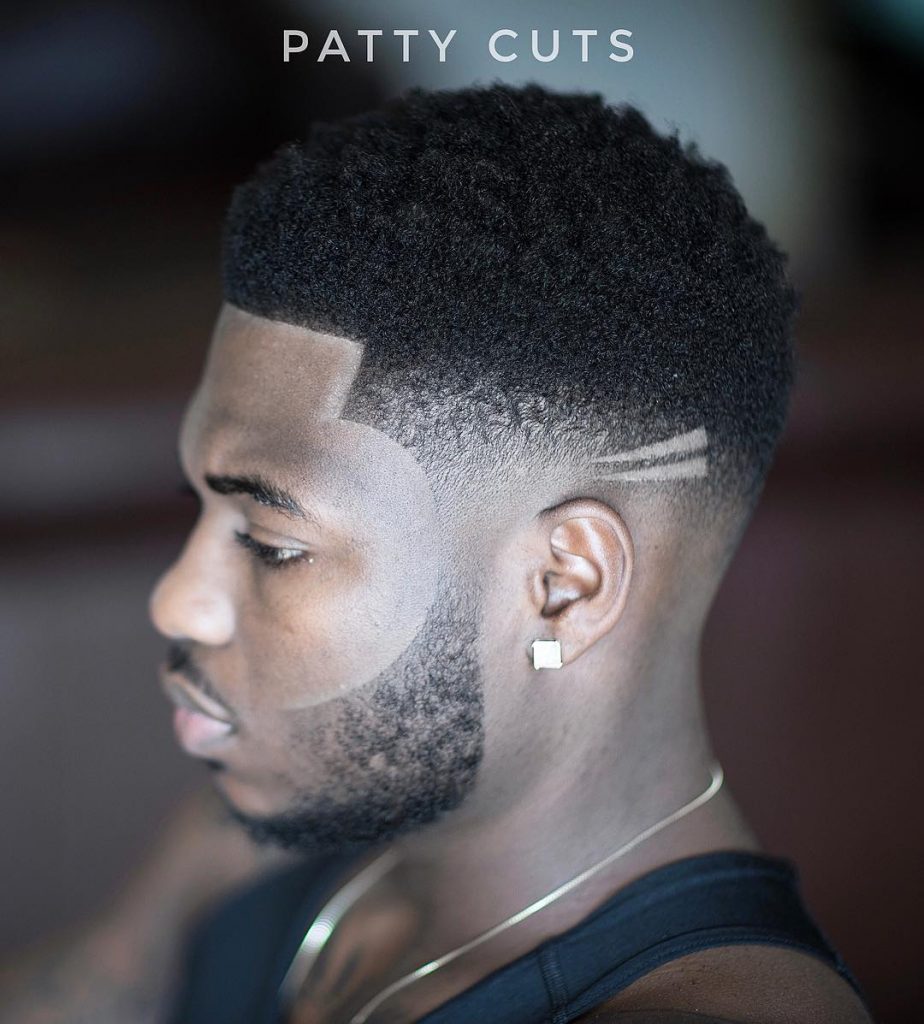 This is not a high fade. It is a low fade. The ratio of hair to fade is more like 70-30 compared to the 30-70 hair-fade ratio of a high fade. They both look great.
6. High Top Fade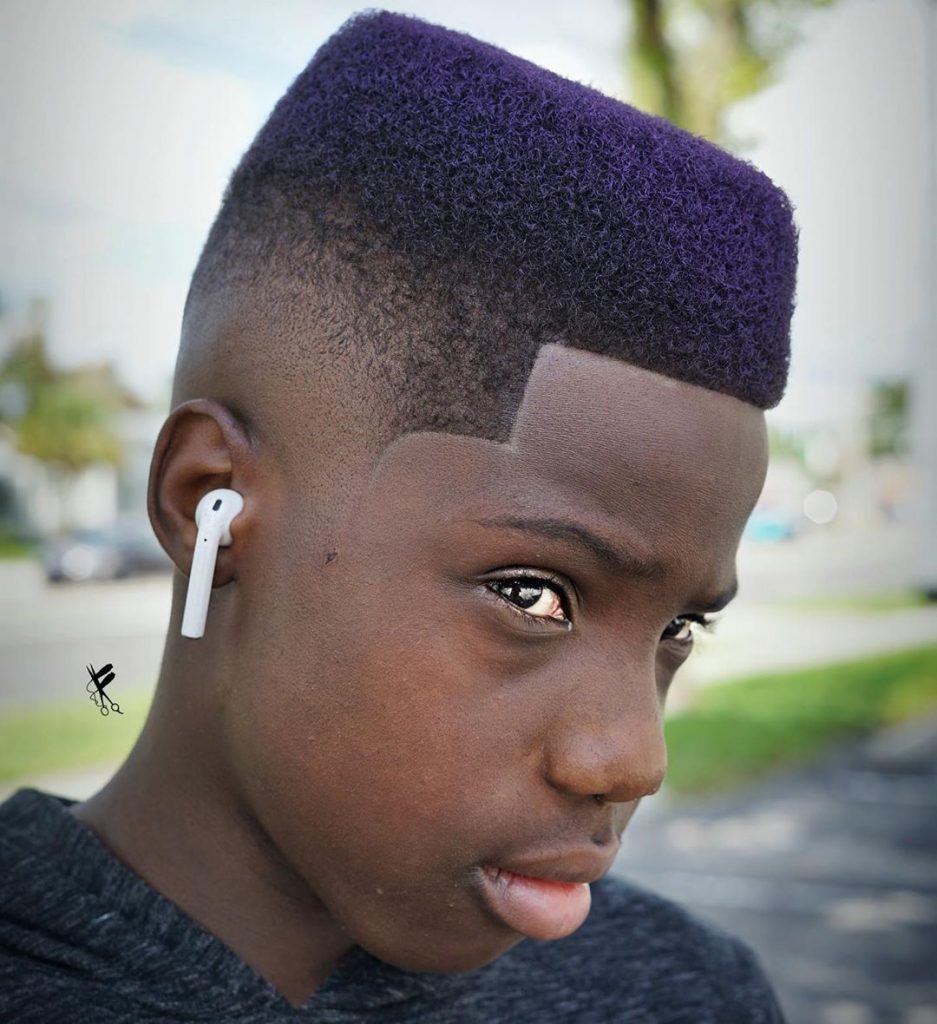 The high top haircut usually has a high fade. This version has a cool arch of skin in addition to purple hair color.
7. High Fade Haircut For Curly Hair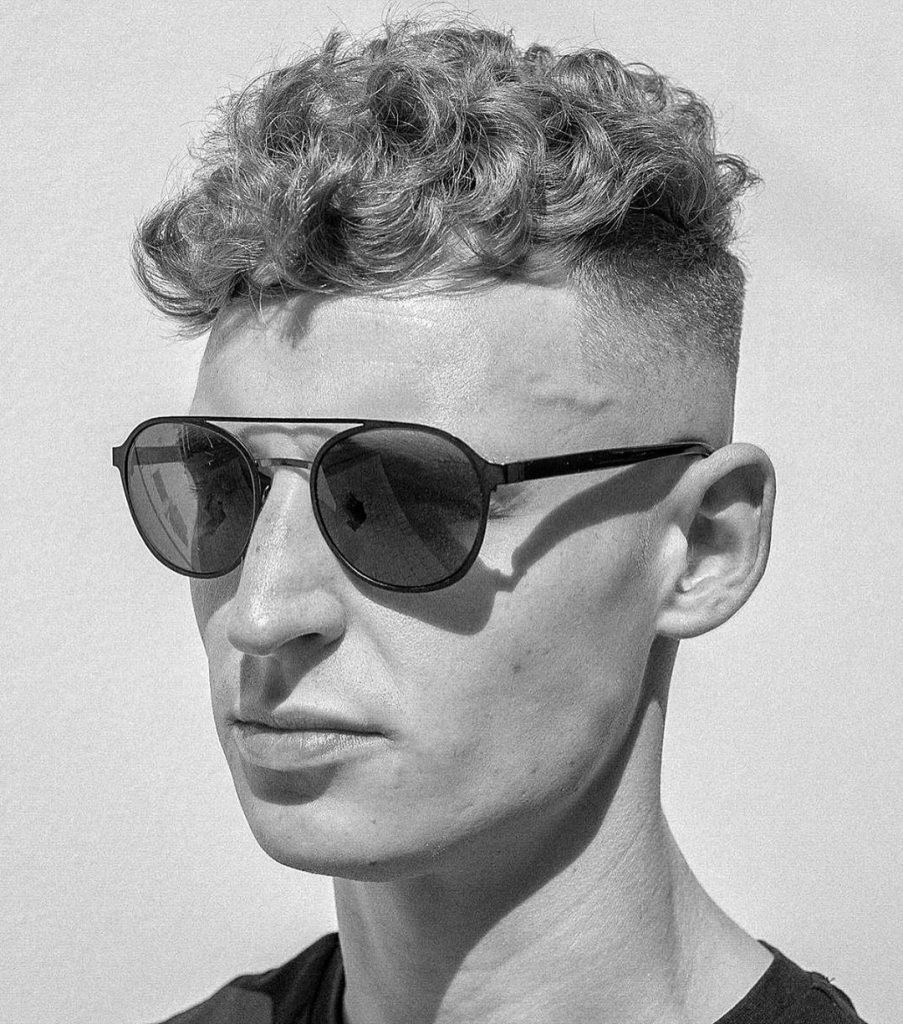 Fades are especially popular for guys with curly hair because they concentrate texture and styling on top, like this cool curly crop with some fringe. Try a curl cream to lock in curl with just enough hold.
8. High Taper Fade Haircut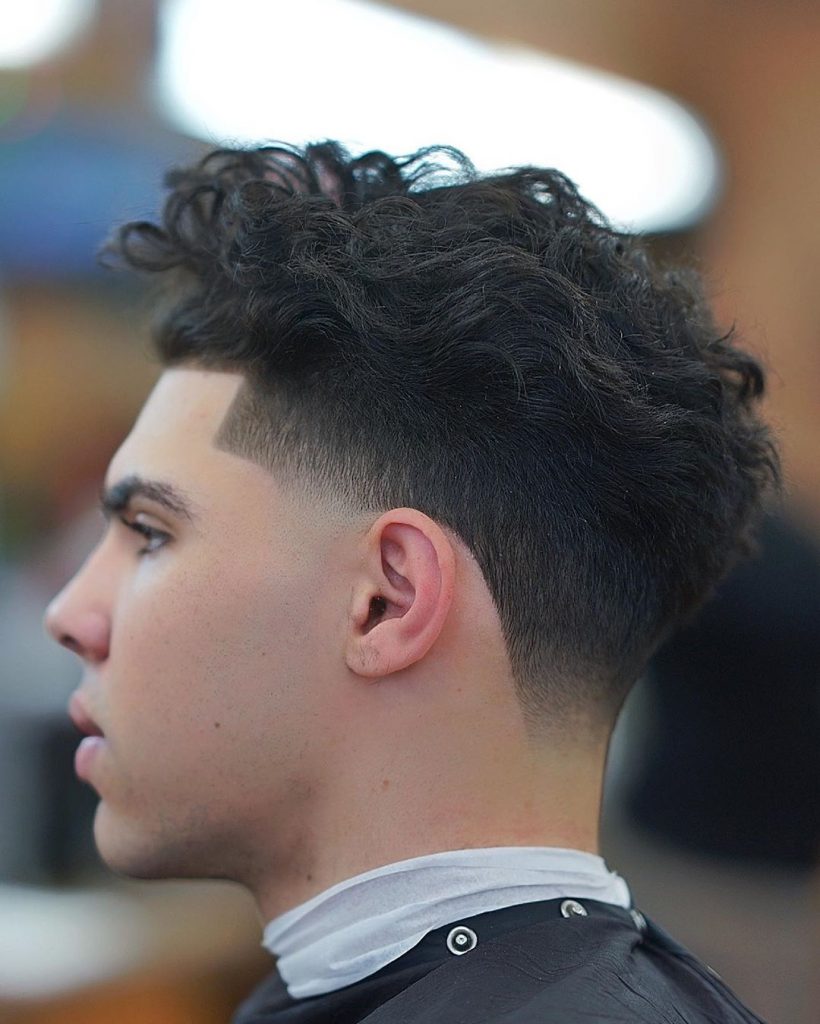 Here is yet another type of fade. A taper fade leaves a defined arch behind the ear while fading hair at the sideburns, hairline, and up the sides and back. This is a high taper fade because hair is cut short further up the head than a low or medium taper.
9. Curly High Top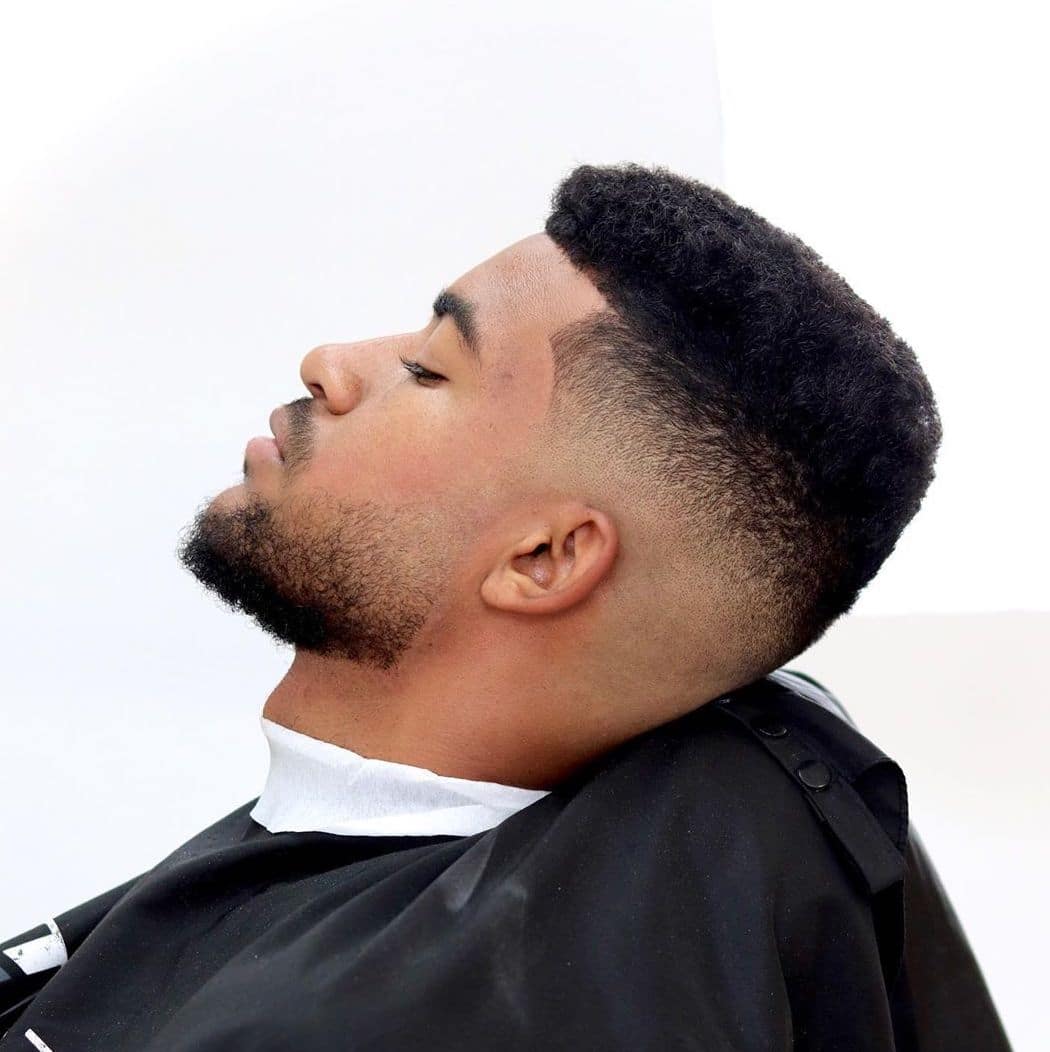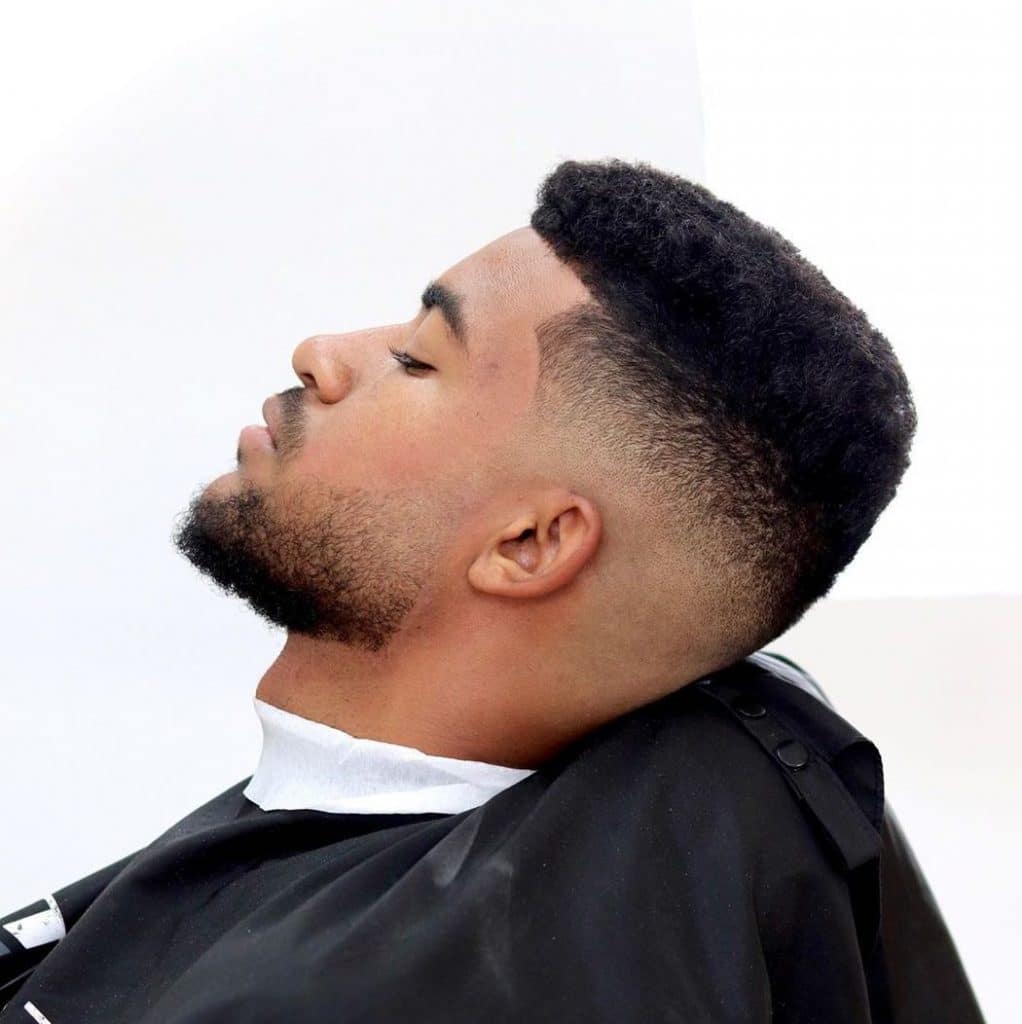 A fresh way to wear the high top fade for Black men is with a curly top.
10. High Bald Fade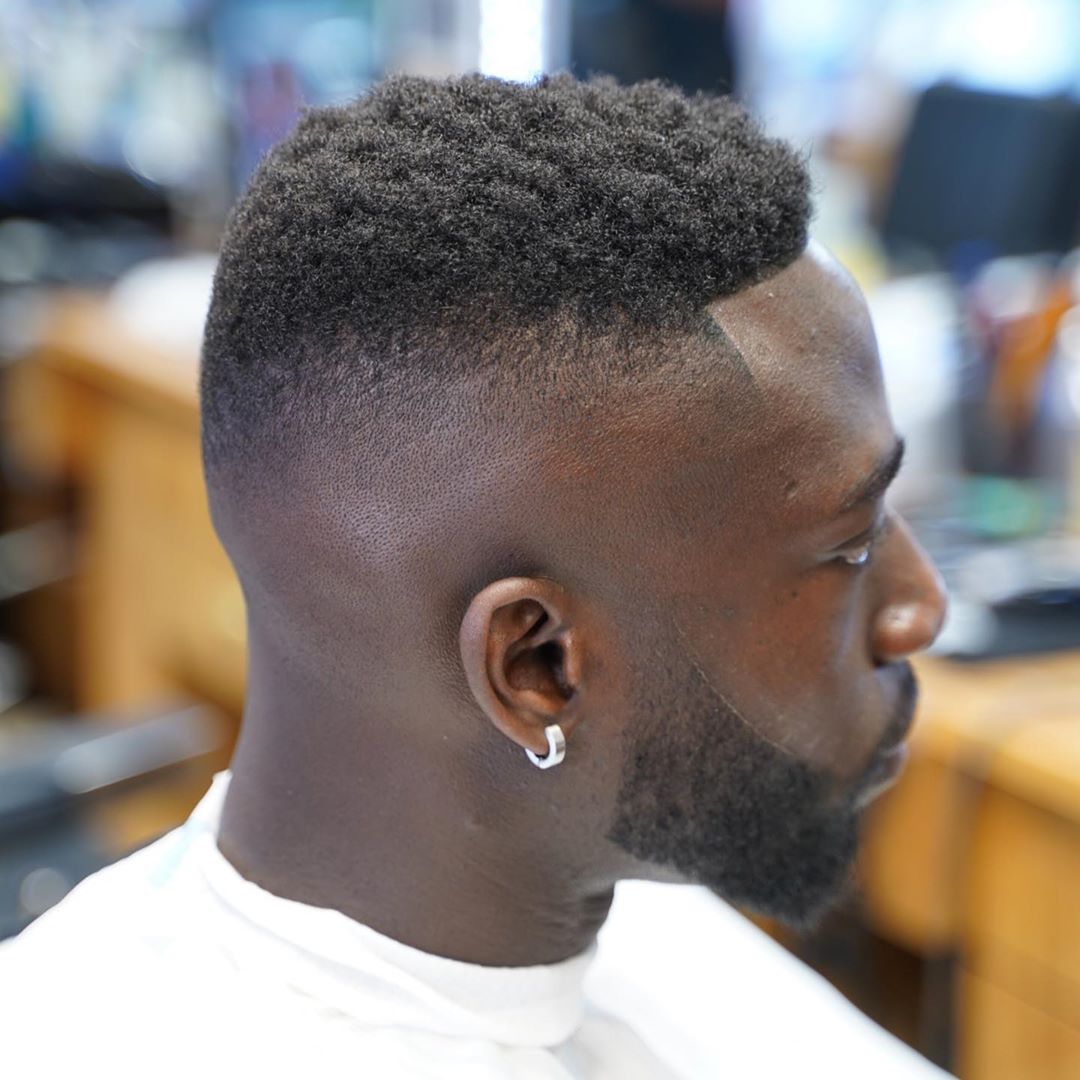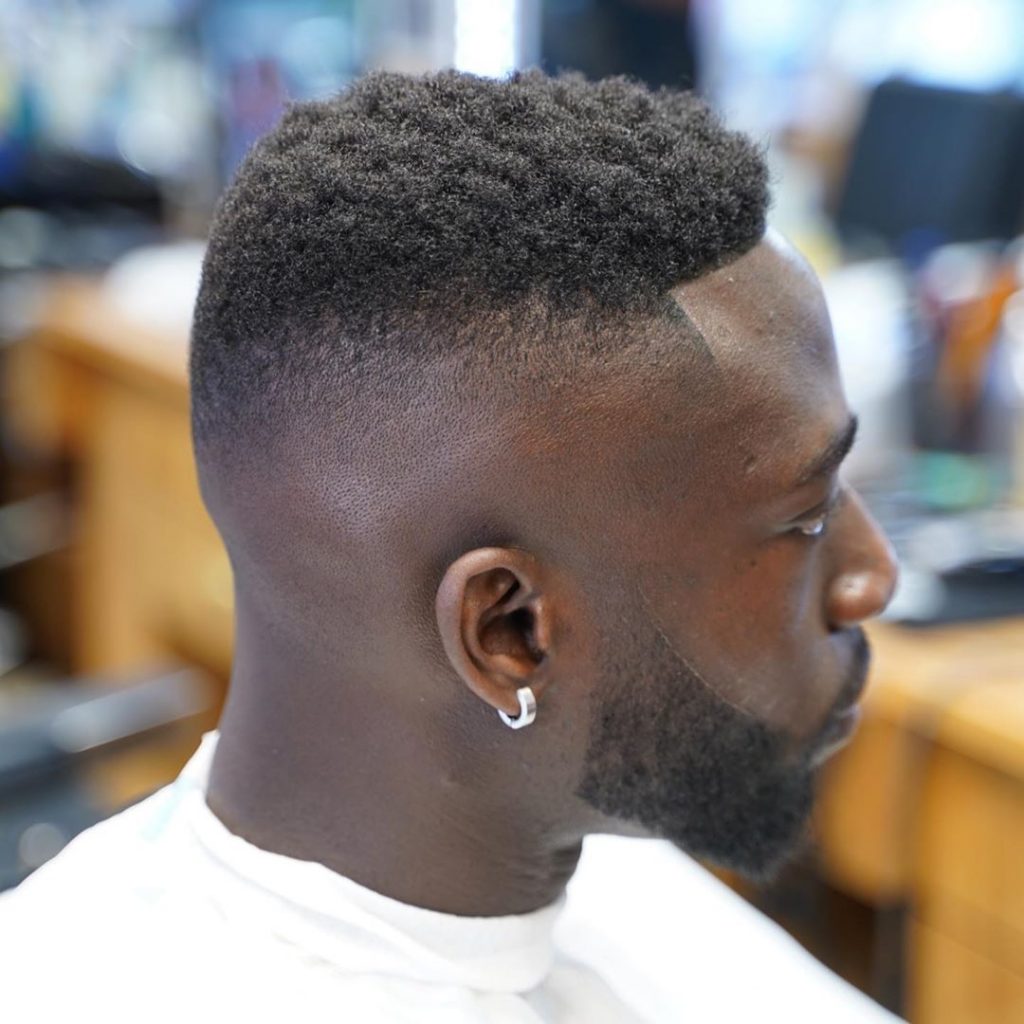 Expert haircuts are all about the details. The cut of this fade is customized for this gentleman's head shape.
11. High Fade Haircut For Short Hair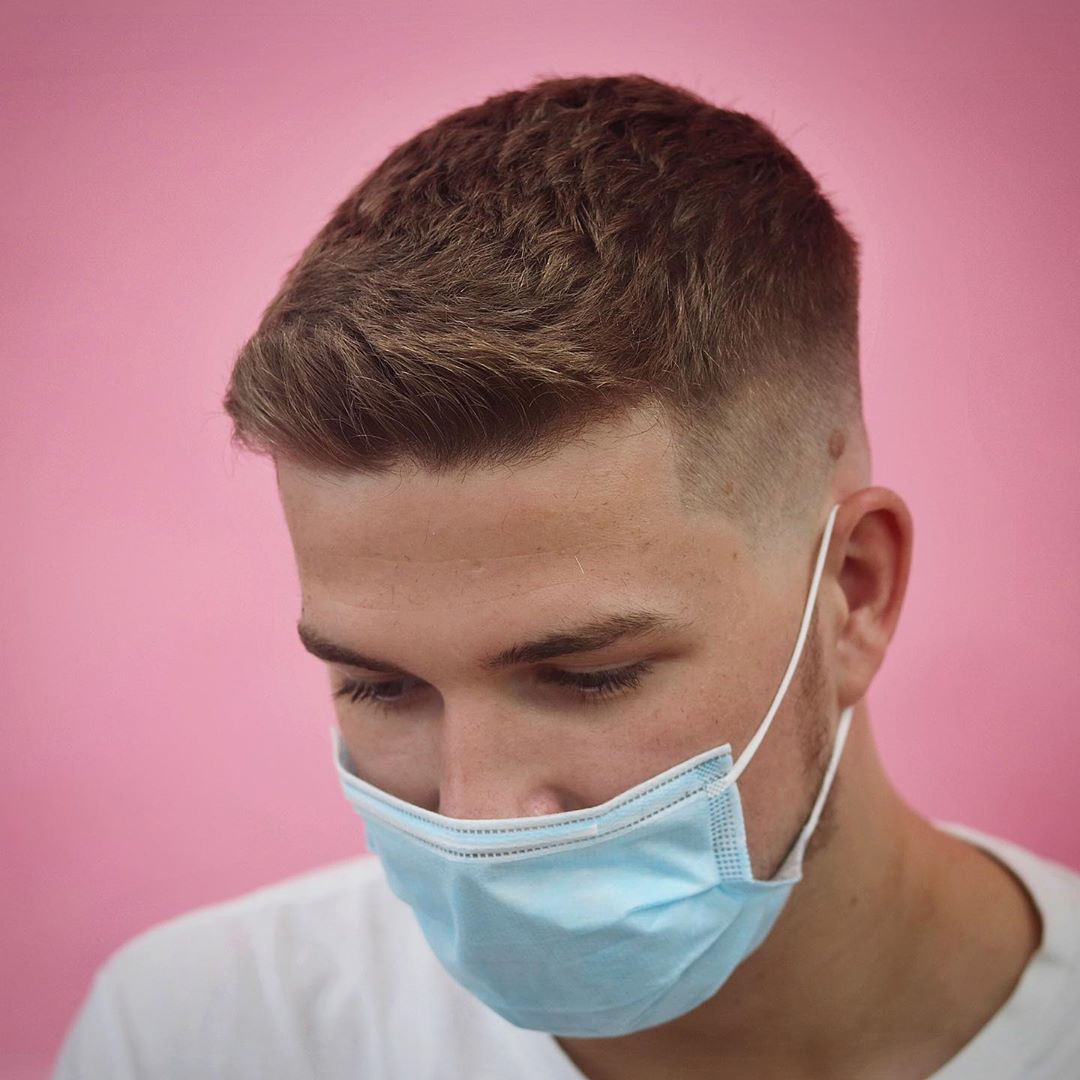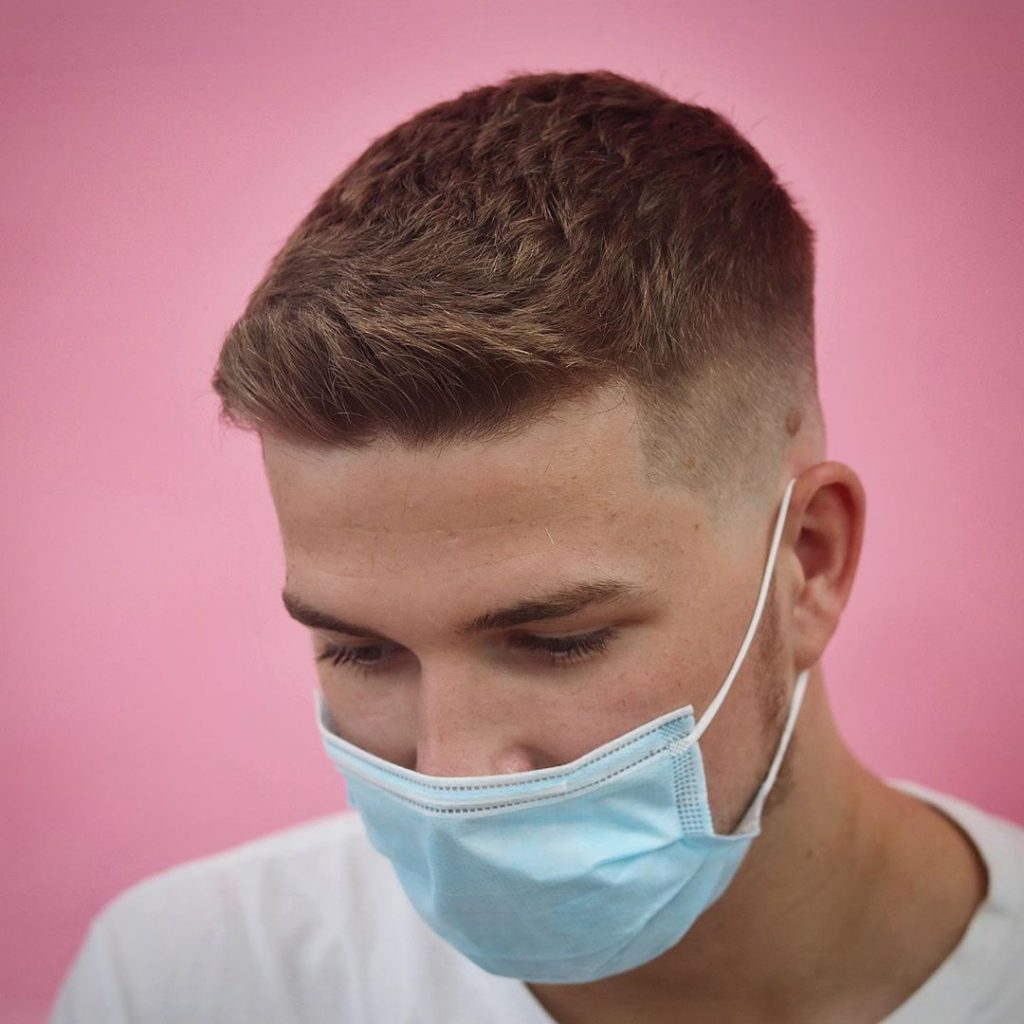 This short crop is styled up into a quiff with a hint of texture. Note how the hair on top is exactly the same width as the faded sides.
12. High Fade Haircut + Twists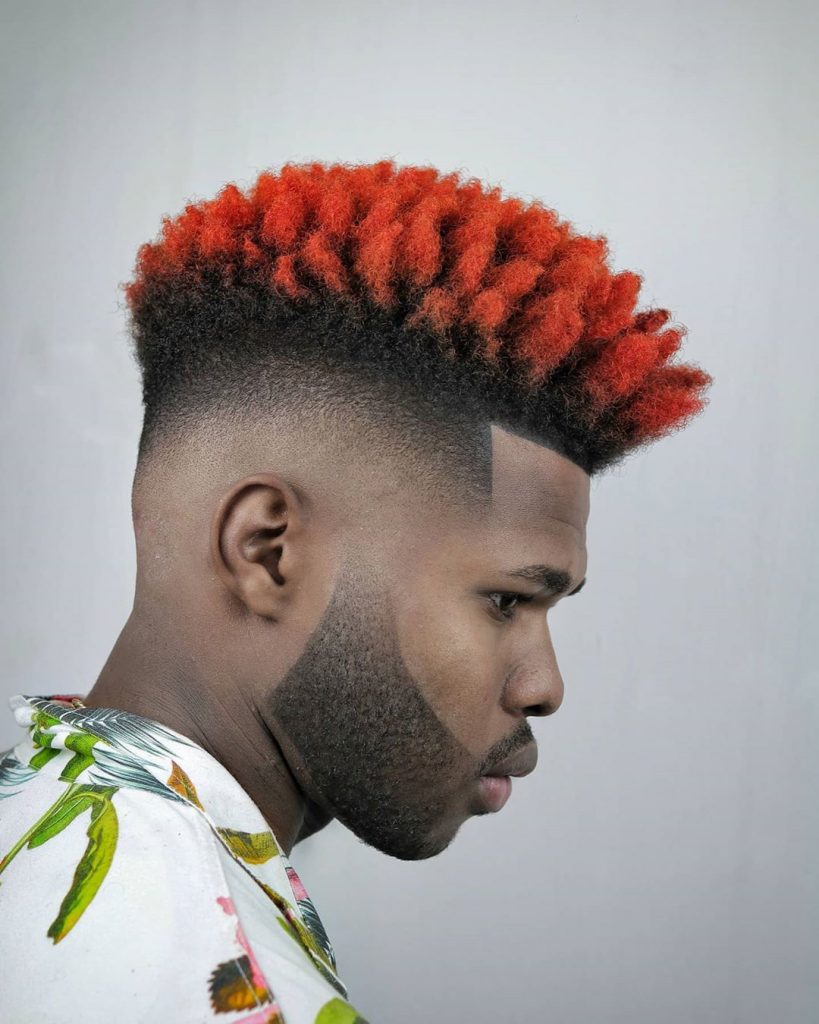 High fades also serve to put more focus on your hairstyle. Not that these bold red twists don't get attention on their own. The fade continues into the neatly shaped beard.
13. Curly Crop + High Fade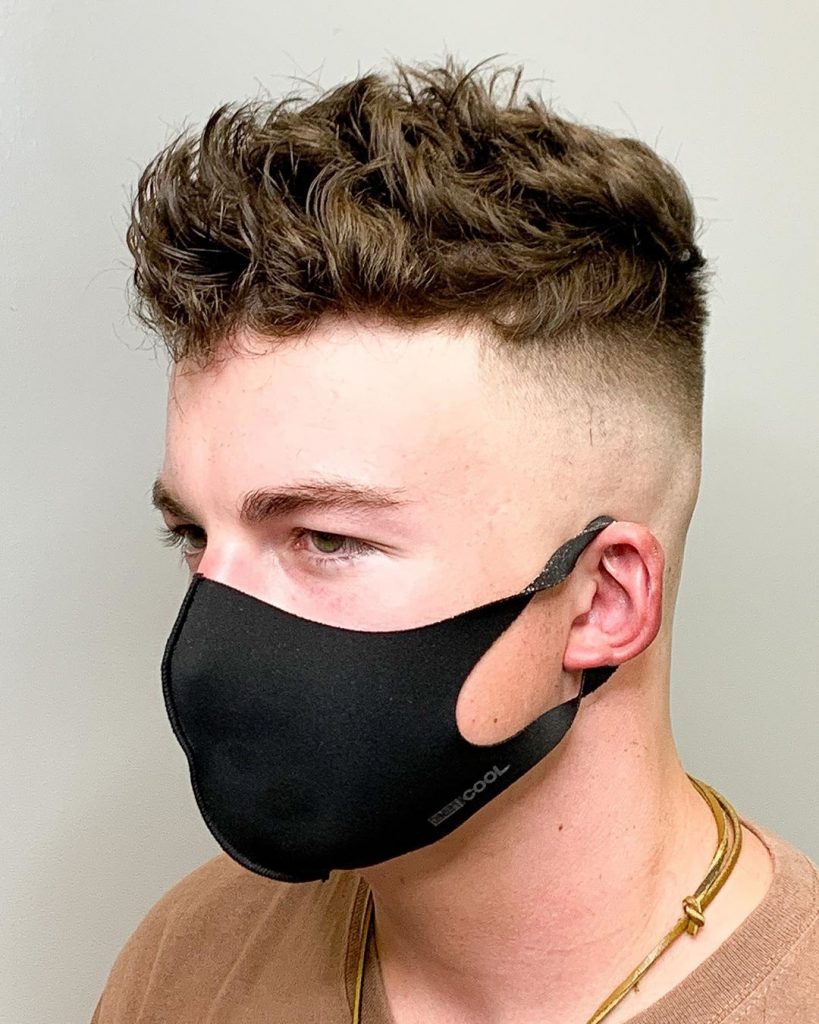 Gently twist and pull on small sections of curls for this lightly spiked, high volume look.
14. High Drop Fade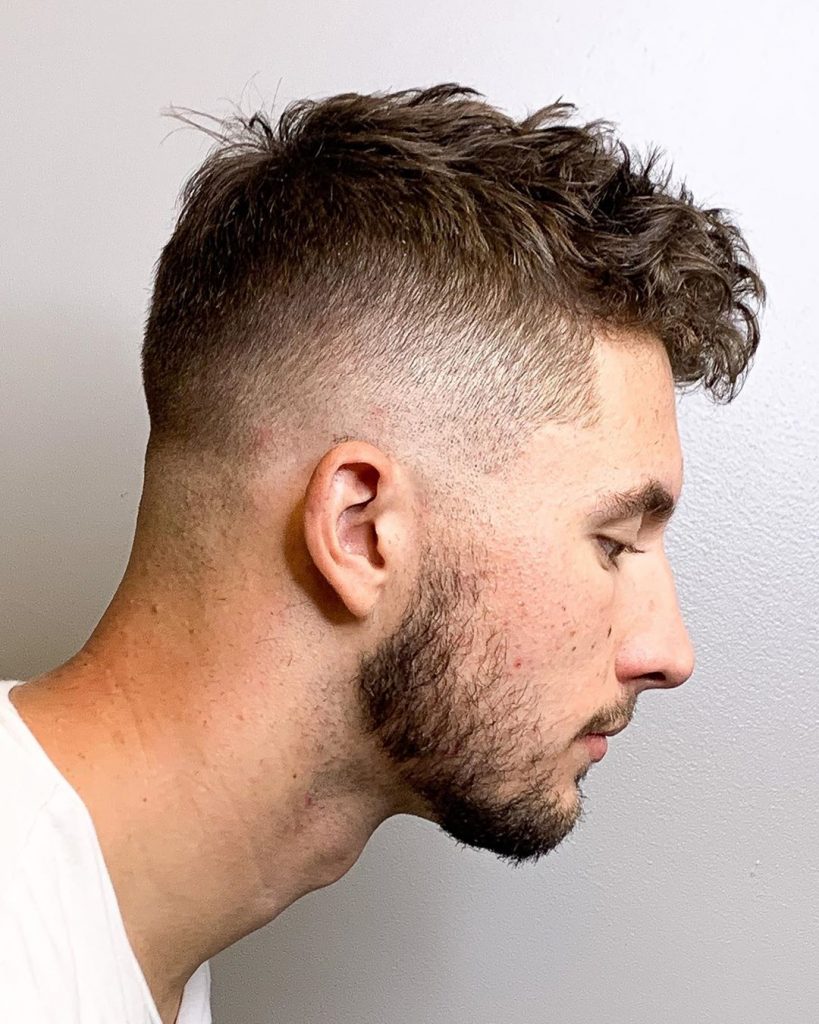 This cool look starts as a fade up high at the temples on each side and drops down at the back.
15. High Fade Comb Over Haircut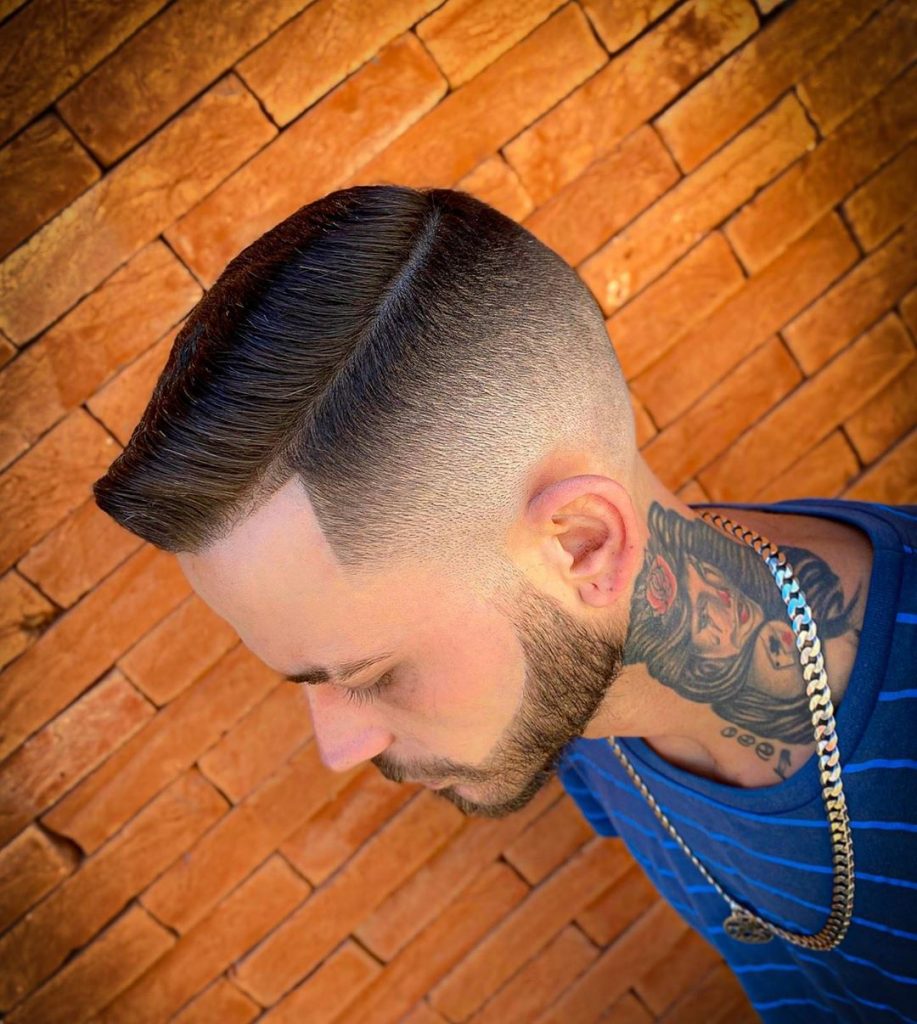 This fade is so high that it creates the side part of the comb over fade.
16. High Fade Haircut For Black Guys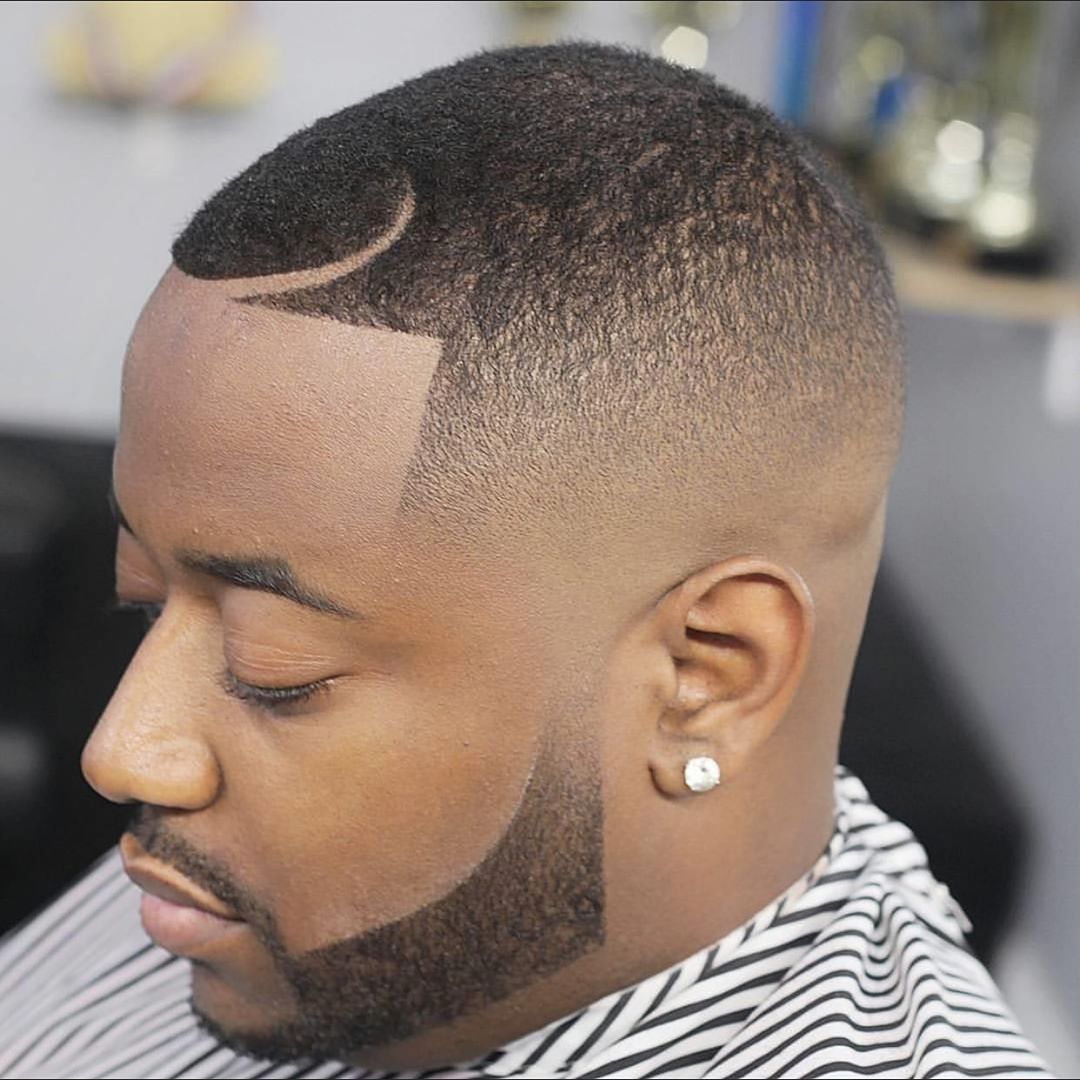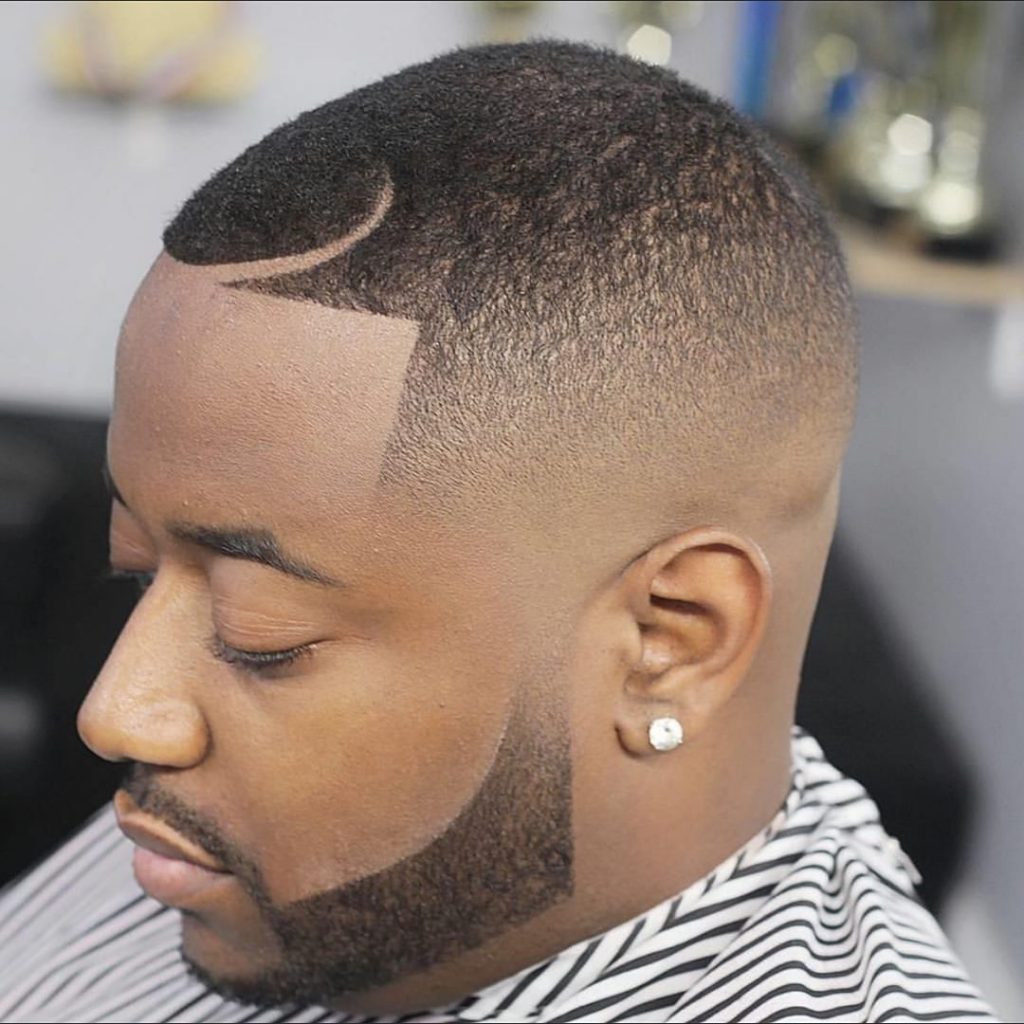 This is a cool way to wear the high and tight, with most of the hair and detail concentrated up top. This version adds a line up and half moon part.
17. High Fade Haircut With Beard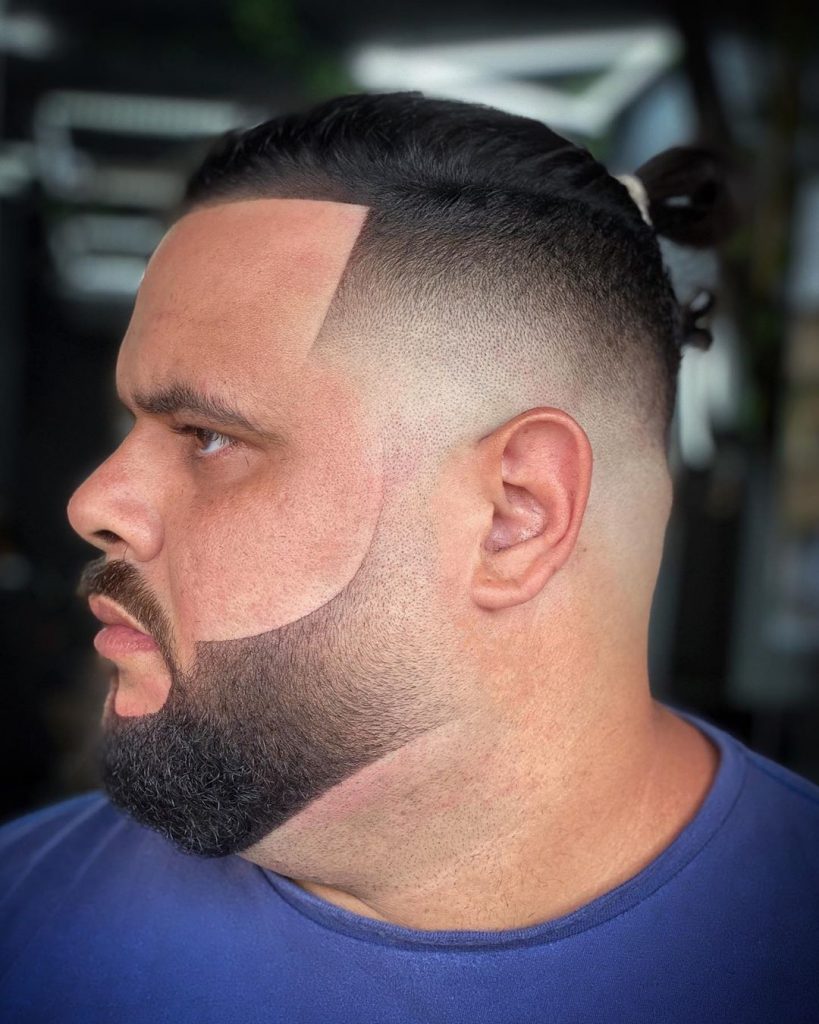 Leaving a barber with fresh hair and a scraggly beard is almost like having on haircut at all. Instead, treat hair and the beard with the same care for this clean-cut and harmonious look. Even if the shaped short beard isn't your style, a barber can help you find the most flattering beard shape.
18. High Fade + Black Beard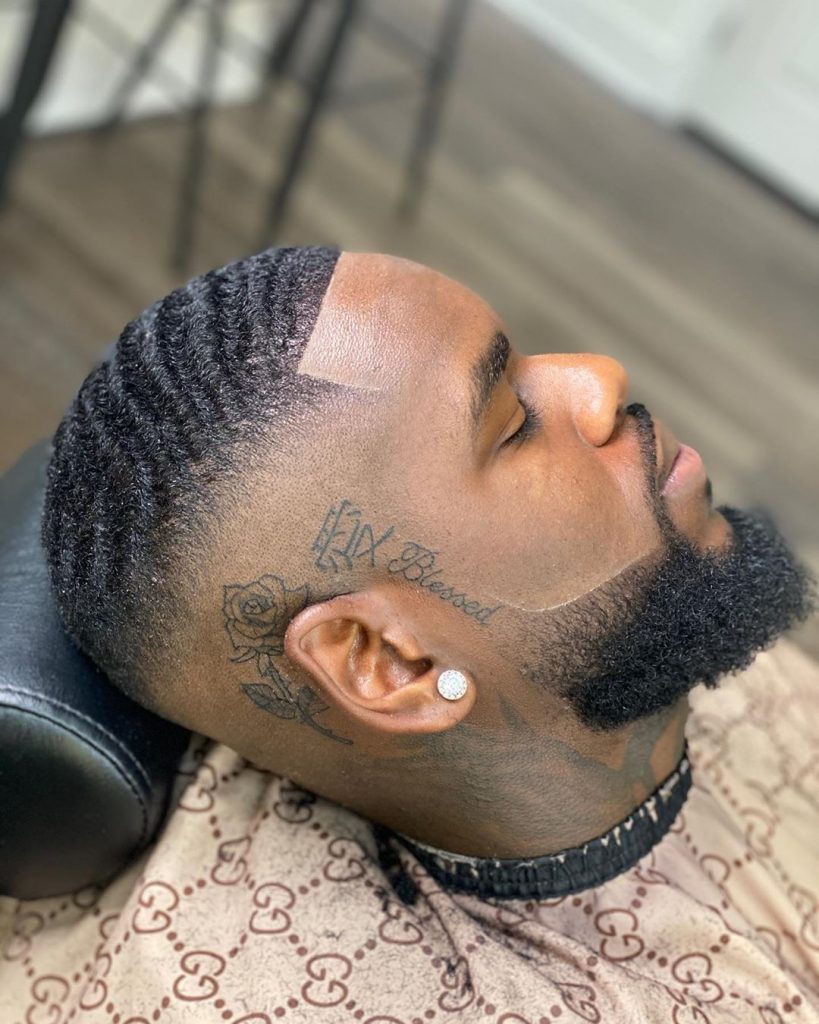 Here's a different way to wear the high fade with a beard. This version has more separation than the previous look but no less finesse.
19. Long Dreads + High Fade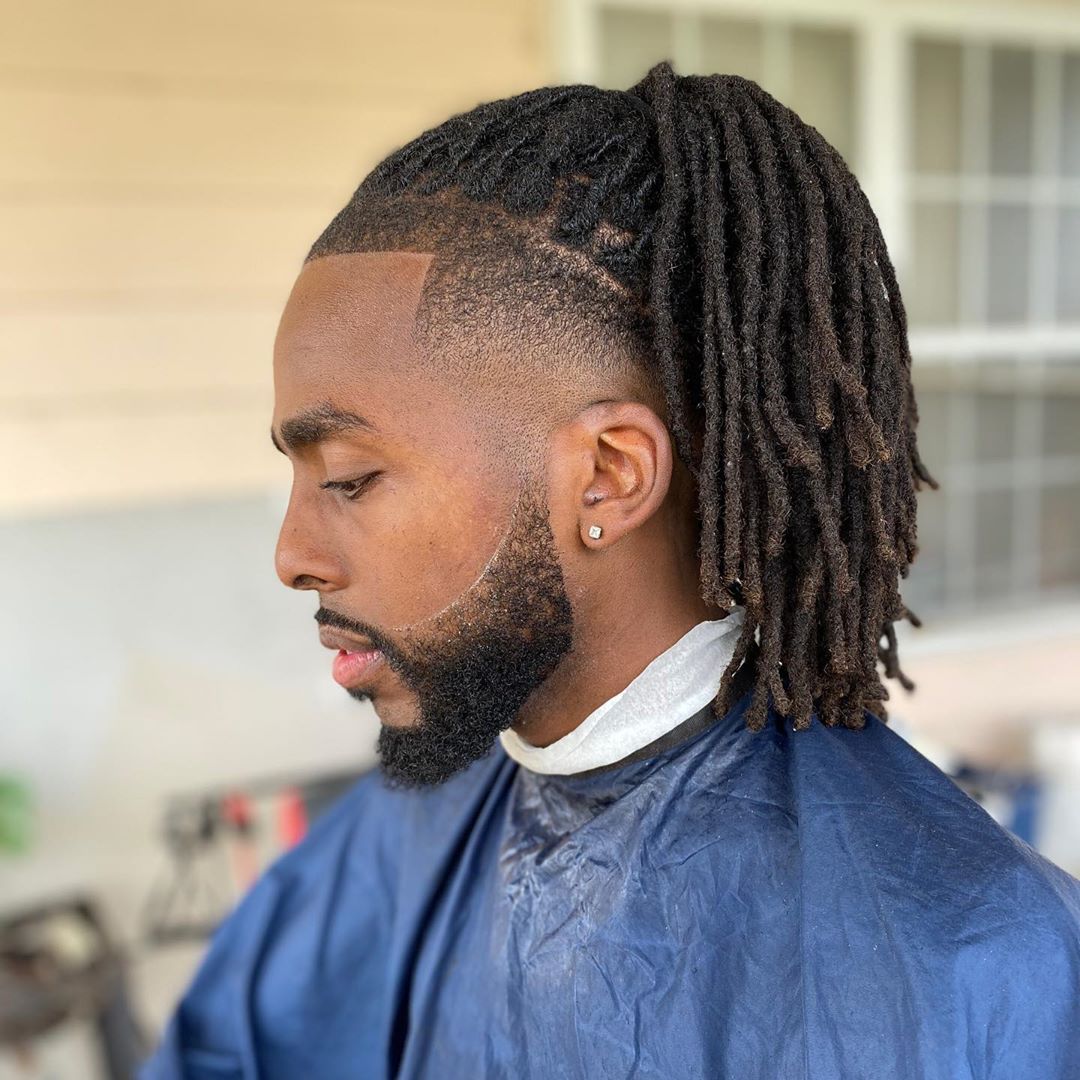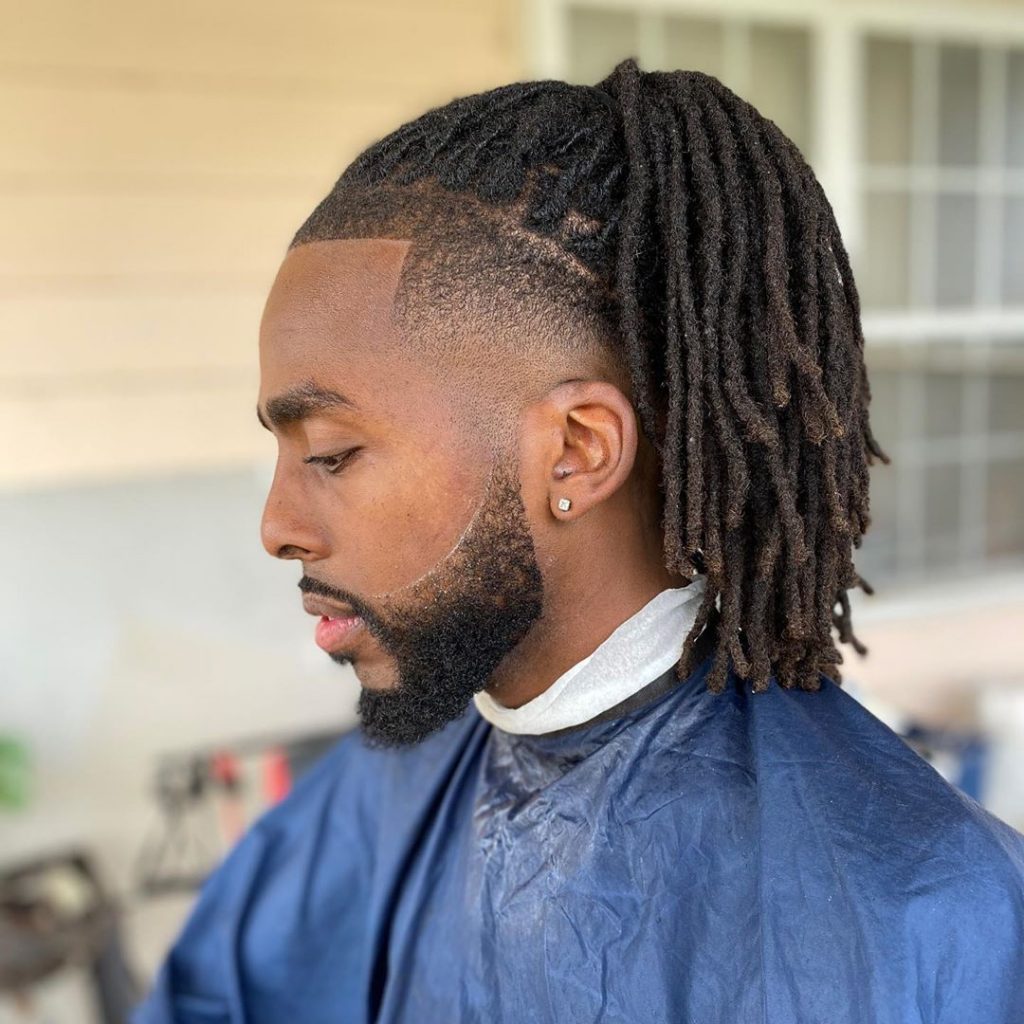 This high fade with a high shape up create a new hairline for shoulder length dreadlocks.
20. High Top Fade Haircut For Black Men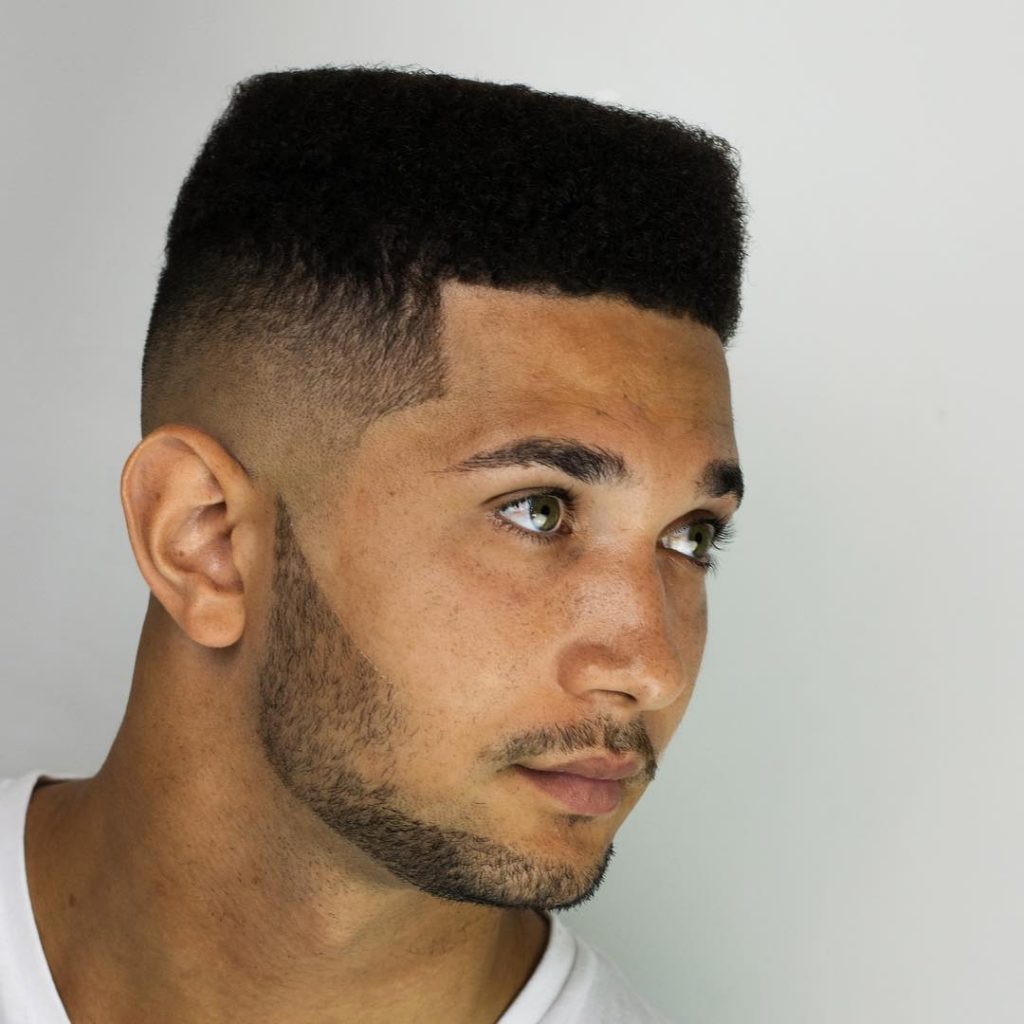 A popular way to wear the high top fade is with a flat top.
21. High Temp Fade Haircut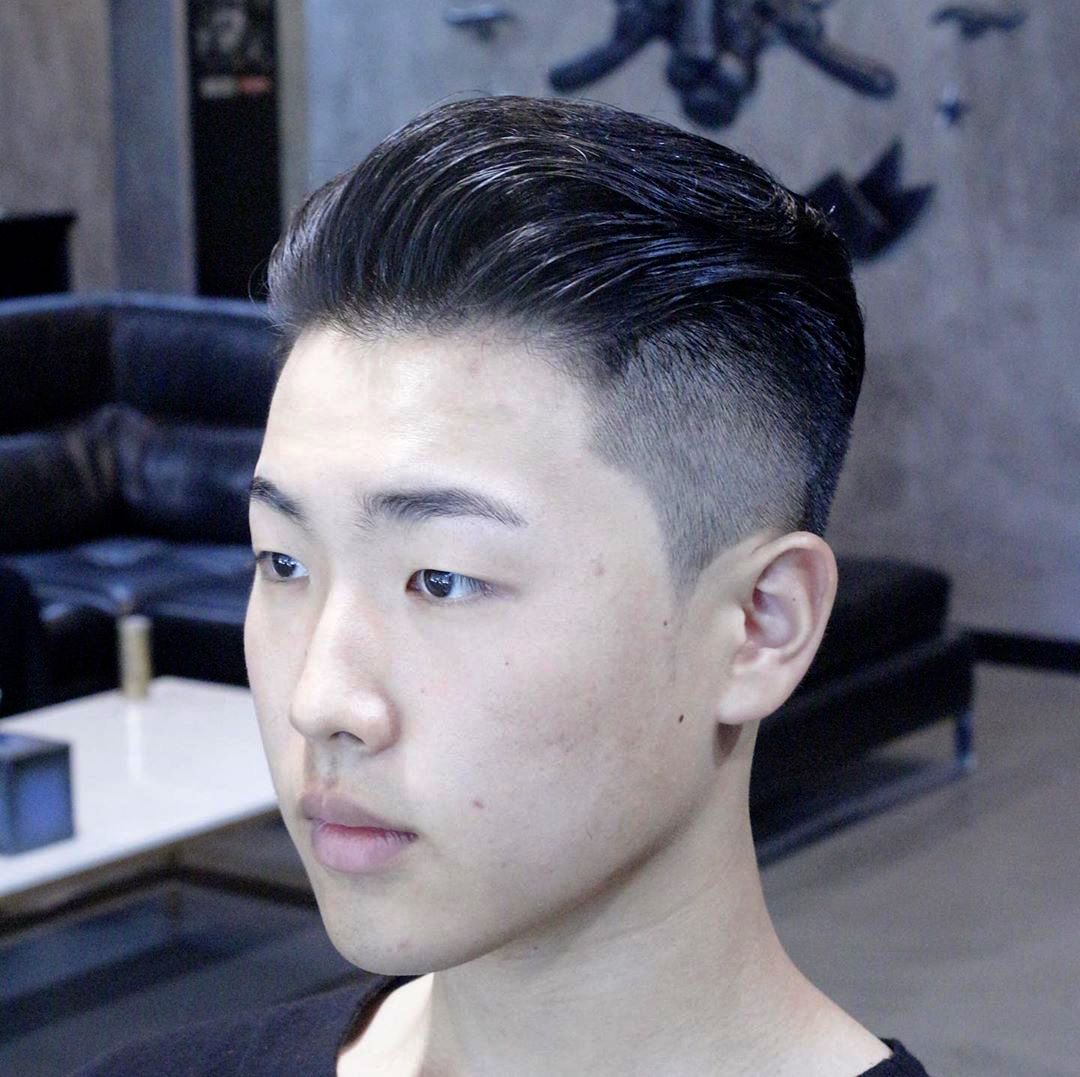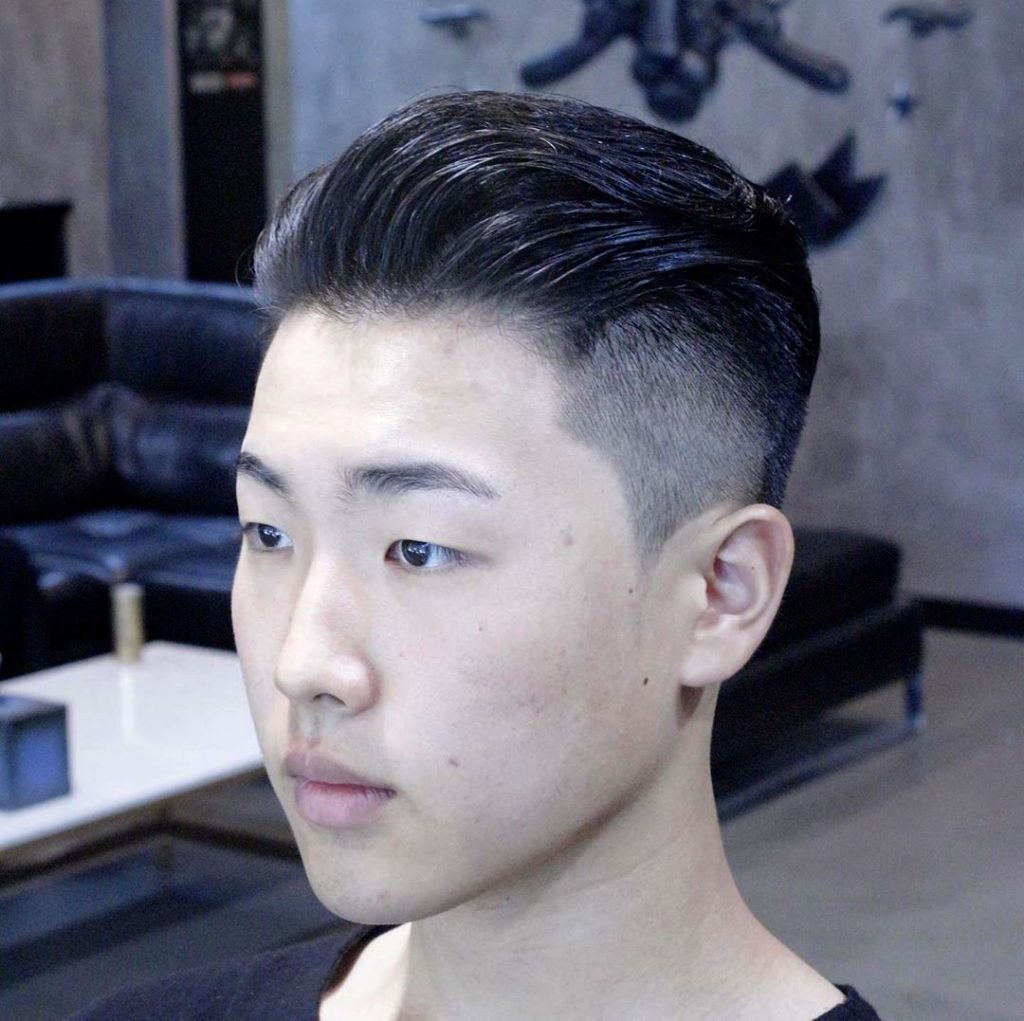 Temp is short for temple fade. This cool version takes the fade up high on the temples and drops down at the back to mirror long hair on top.
22. Cool Medium-High Fade + Spikes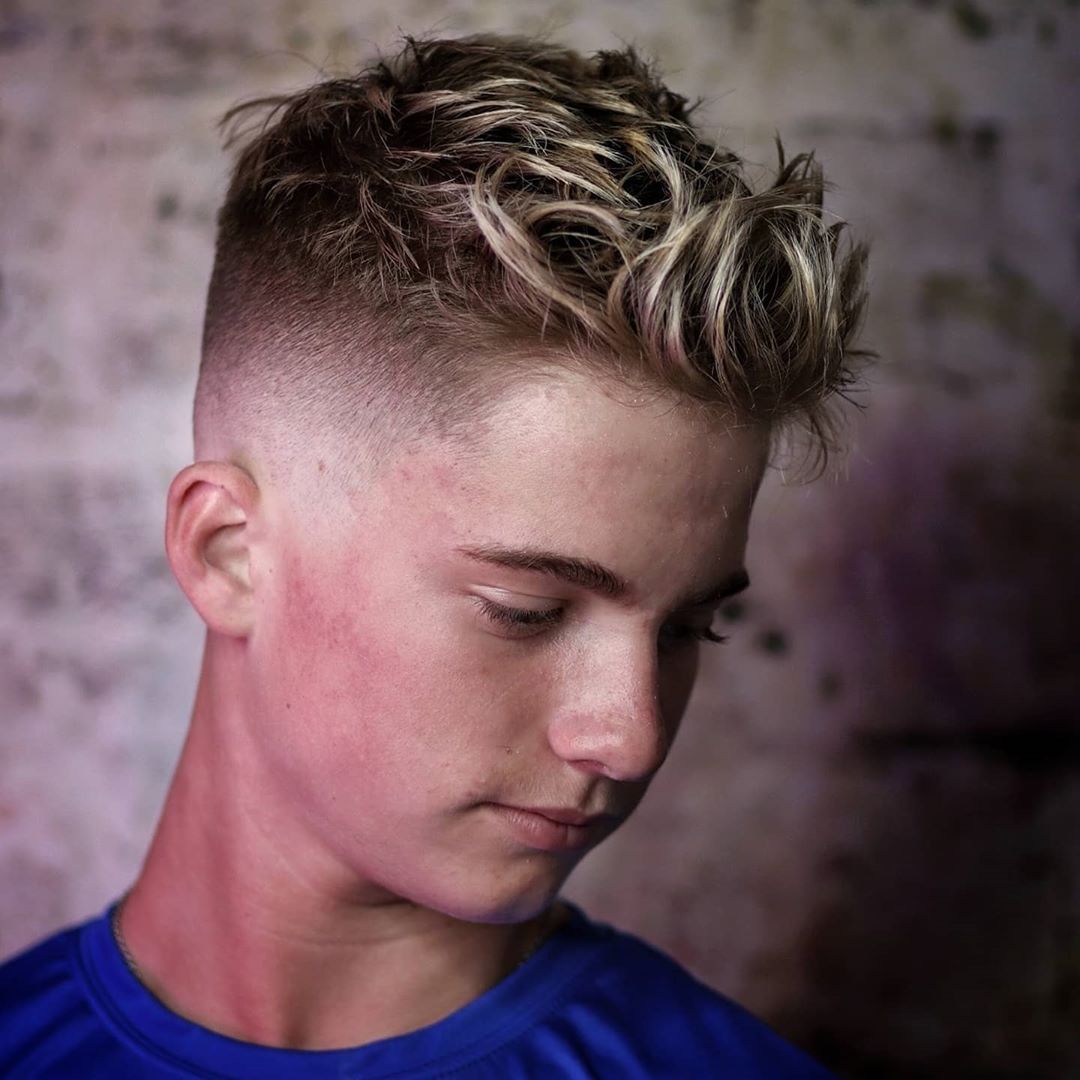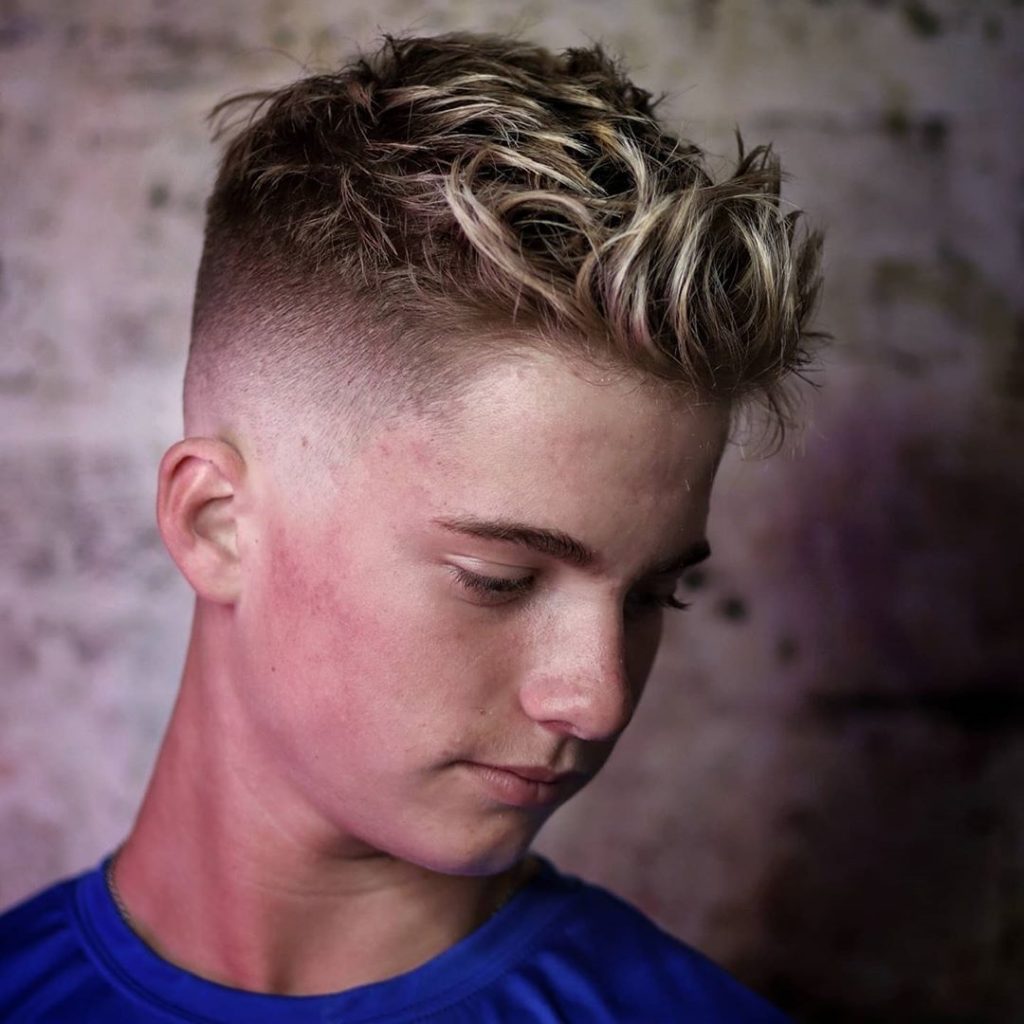 The line between low to medium and medium to high fades can be blurry. This cool look starts the fade up high but goes down to skin in the mid range.
23. High-Low Fade Haircut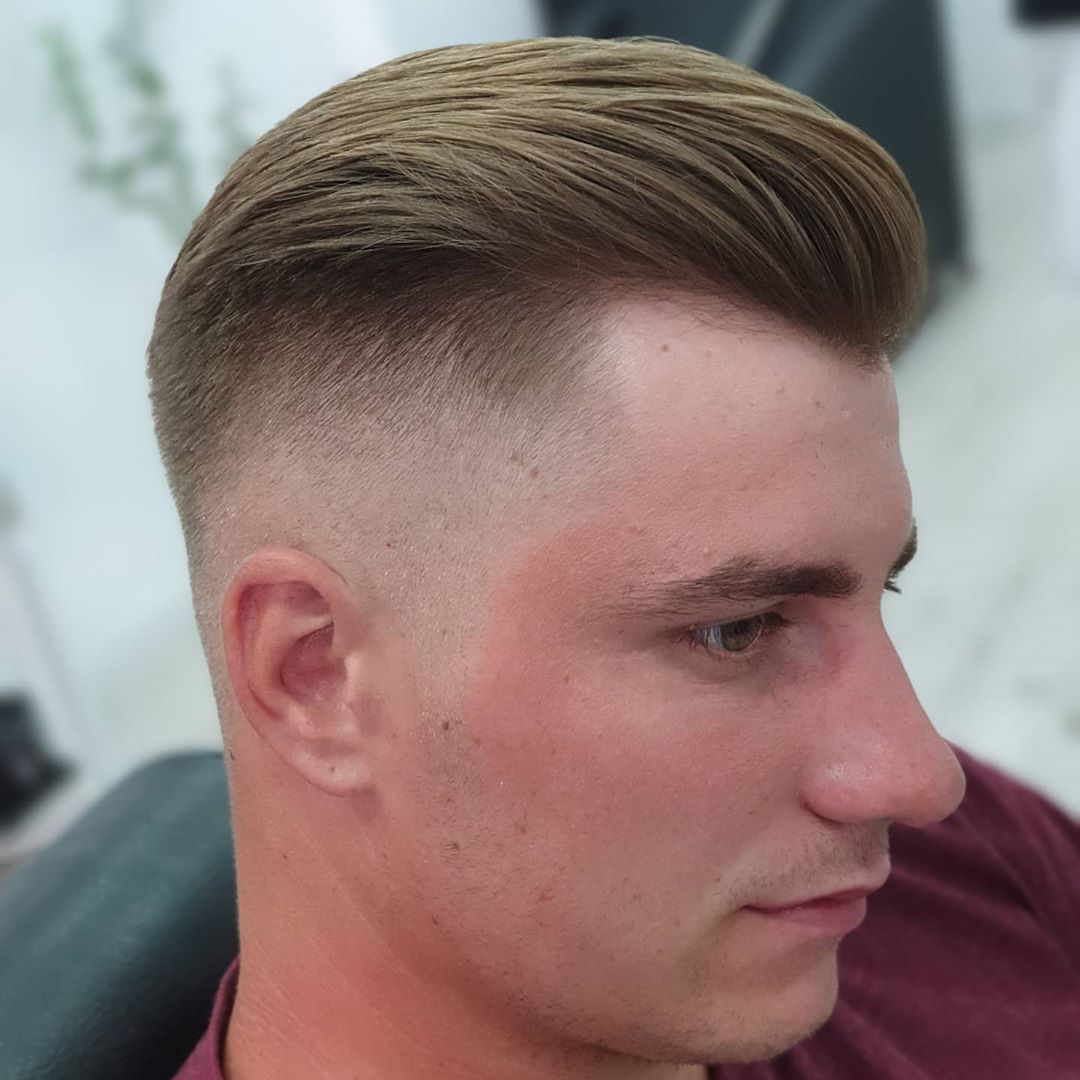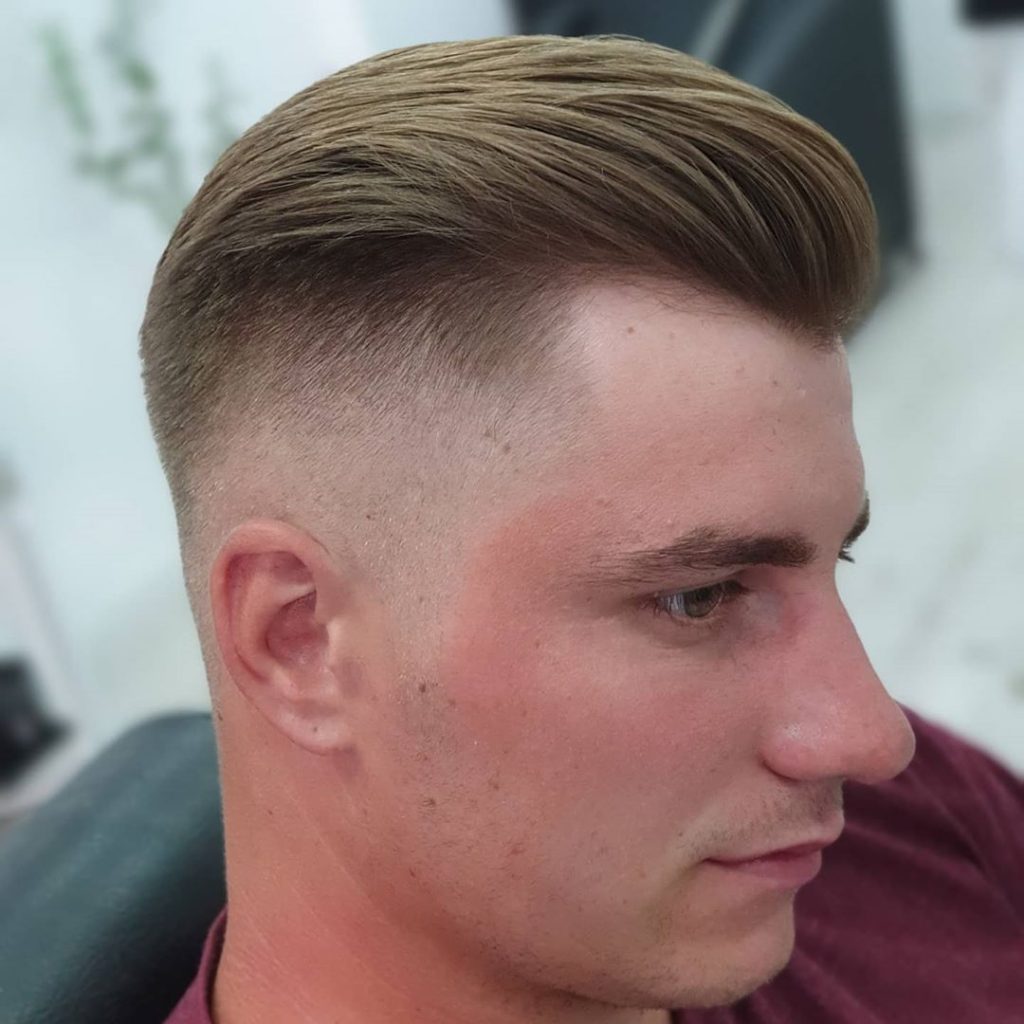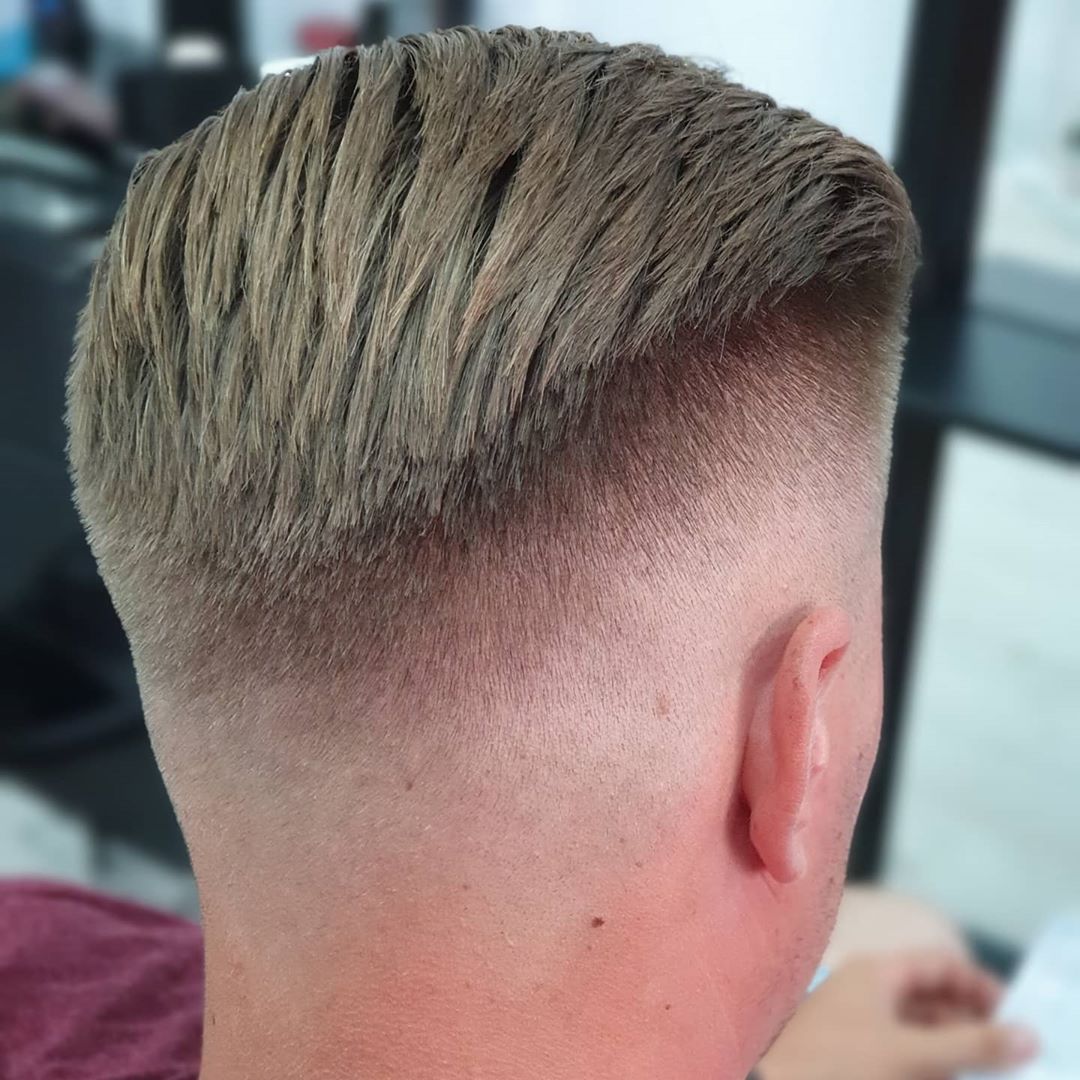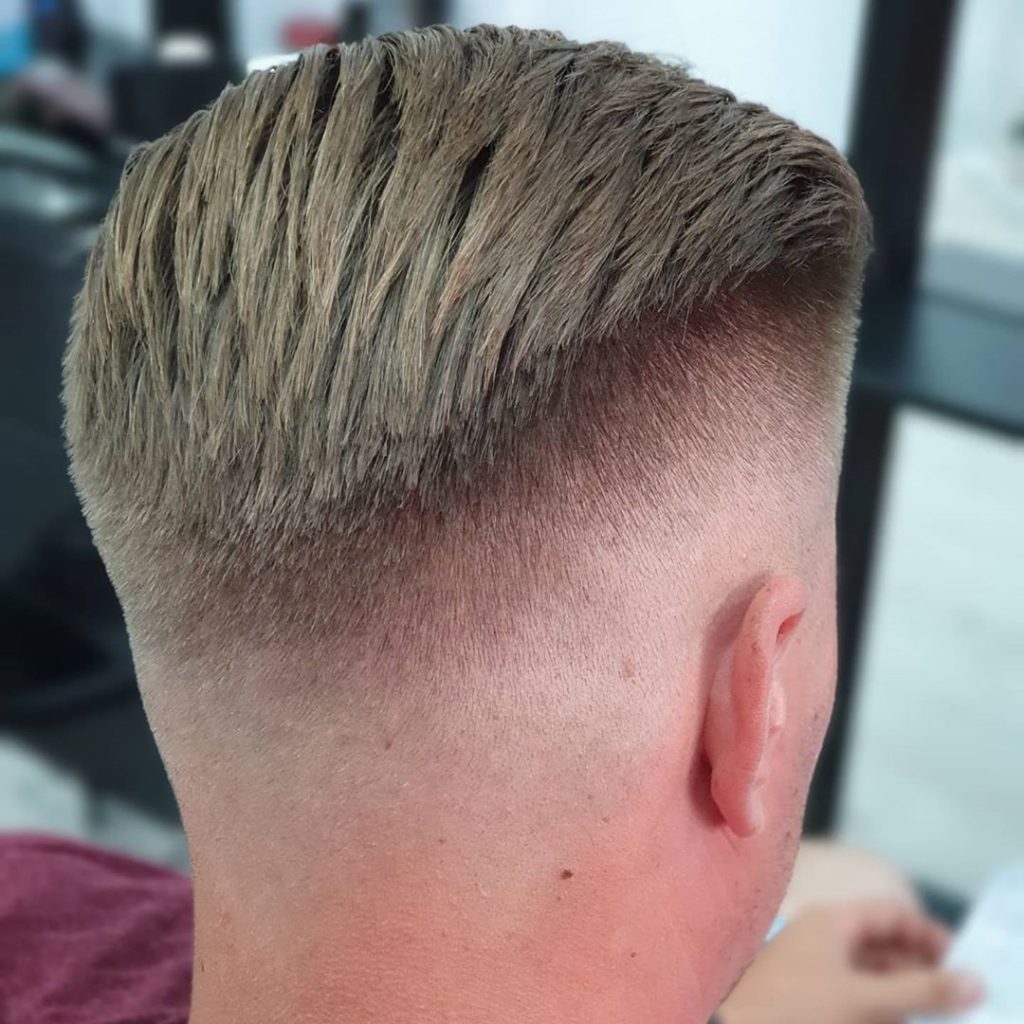 The fade starts high at the sides and goes down at the back, along with longer hair for a classic meets modern look.
24. Short Crop + Fade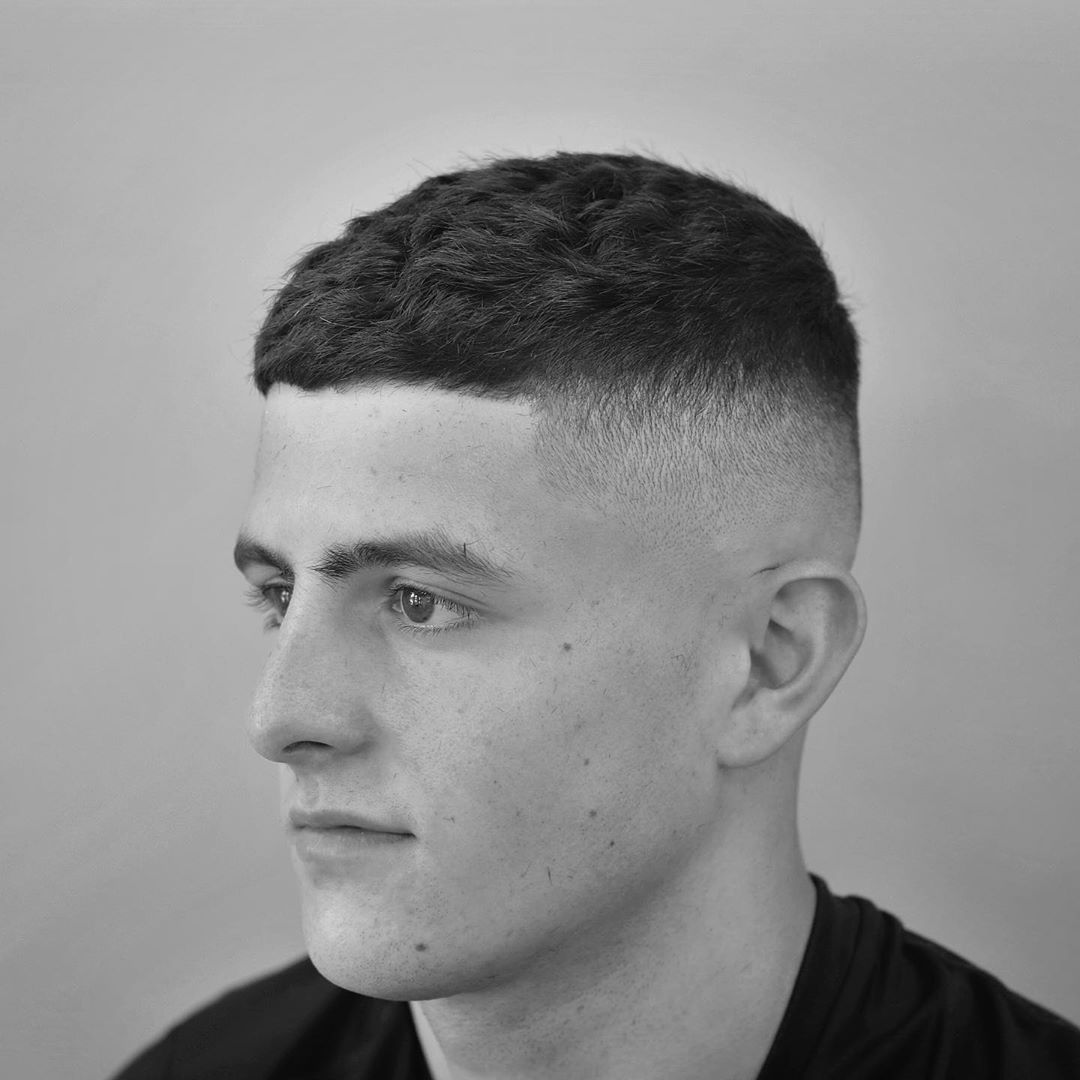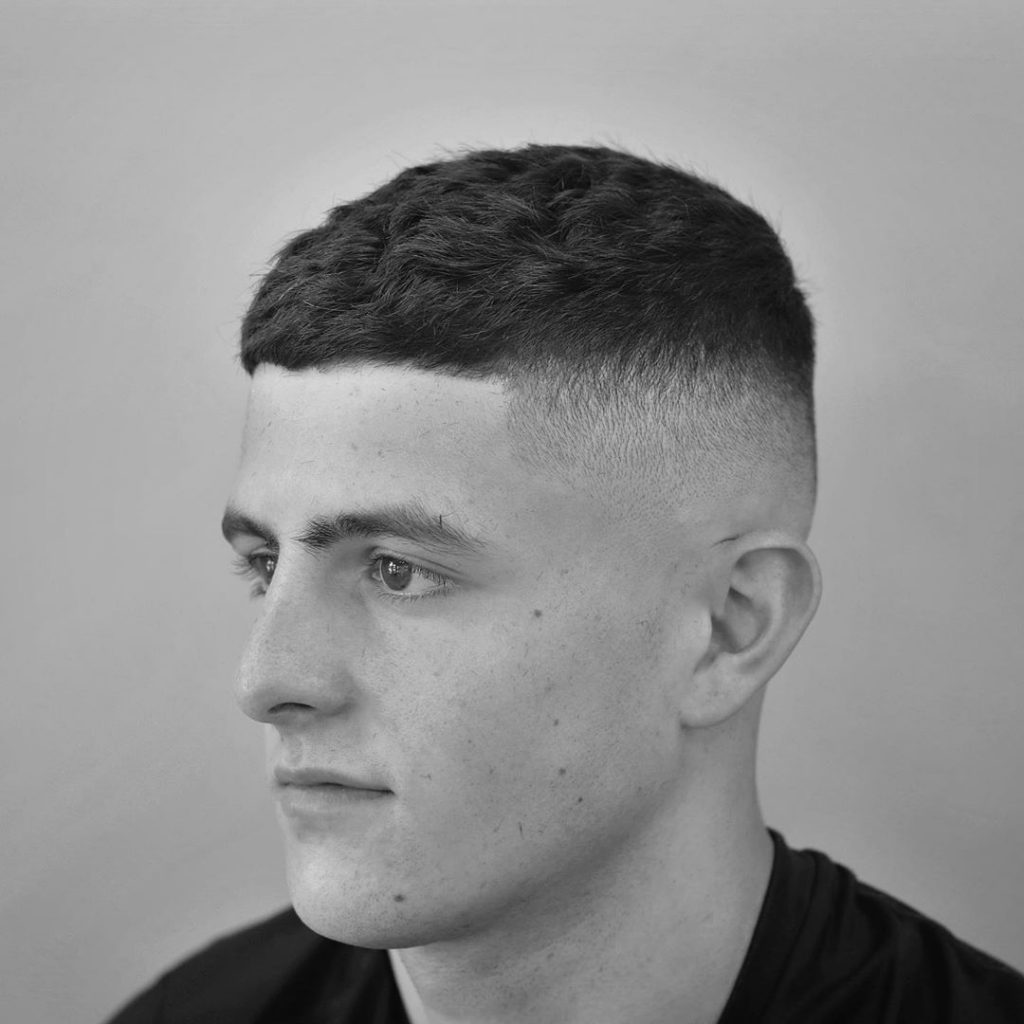 This cool look features short hair with wavy texture. The straight across fade gives a jarhead effect.
25. High And Tight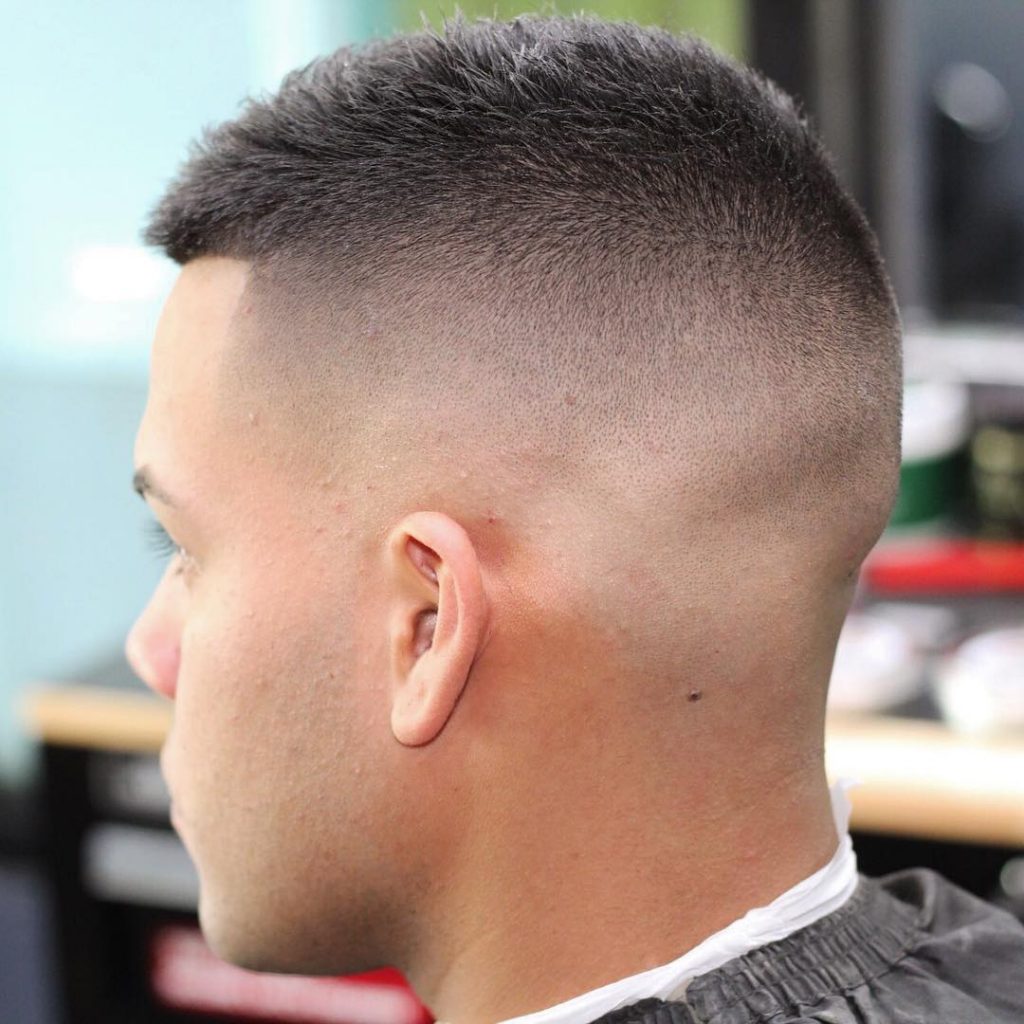 The high and tight is one of those military haircuts that went mainstream. This version has a hint of length on top and an almost straight fade that drops down under the crown.
26. Higher + Tighter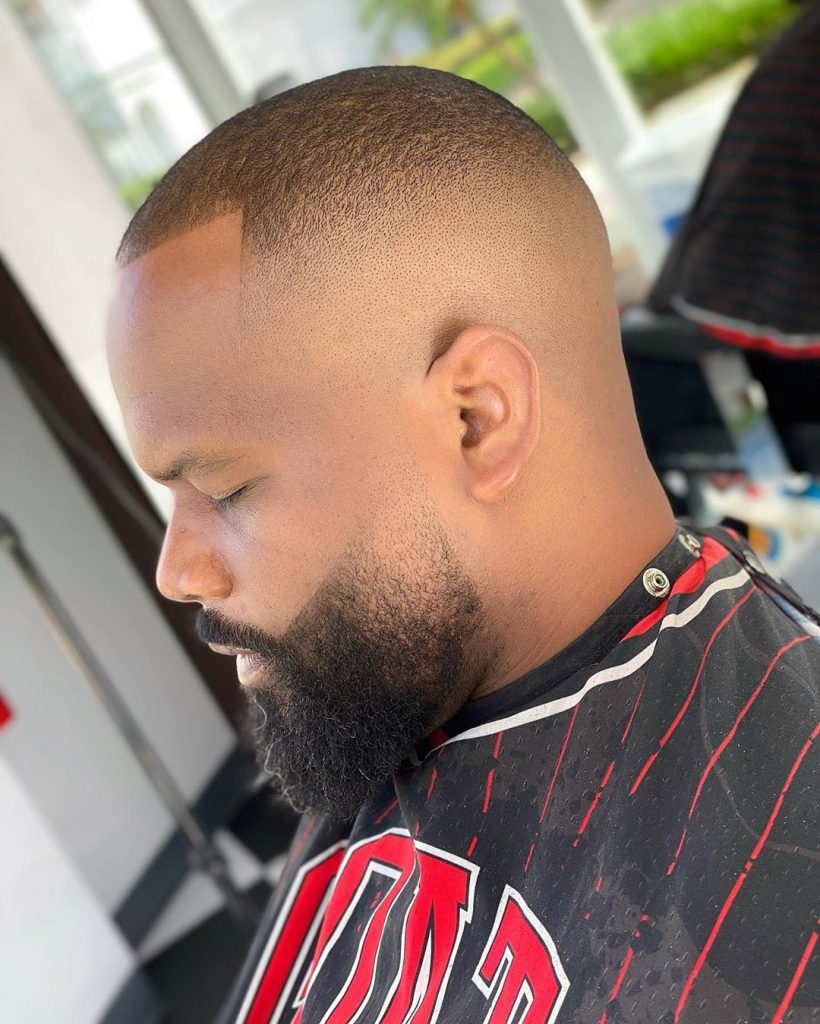 And an even shorter high and tight. The high skin fade makes hair on top, even at this micro length, appear thicker. More on that below.
27. Short High Fade Haircut For Receding Hairline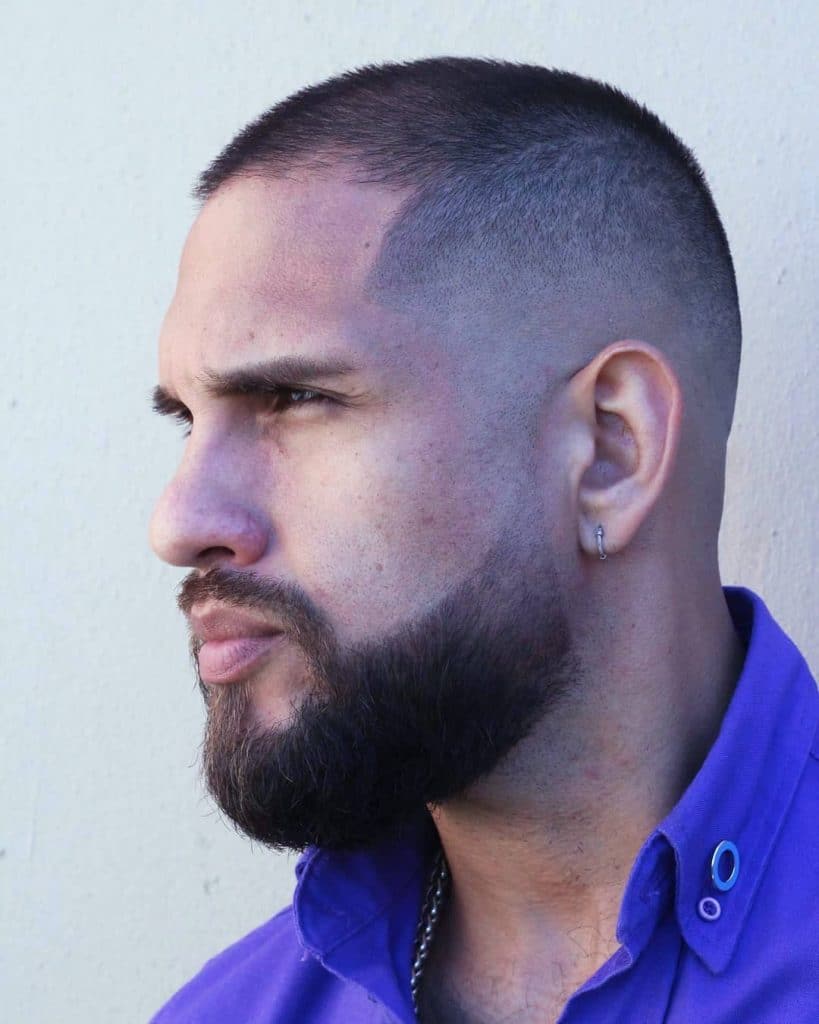 The easiest way to make thinning hair appear thicker is by cutting the hair around it even shorter. This high and tight haircut minimizes the appearance of a receding hairline with pride. This ultra-short haircut is popular with men of all ages and hair types (see below) because it is the lowest maintenance look out there. It's also possible to thicken up hair with products for a bolder contrast between hair on top and the high fade.
28. Buzz Cut + Line Up + High Fade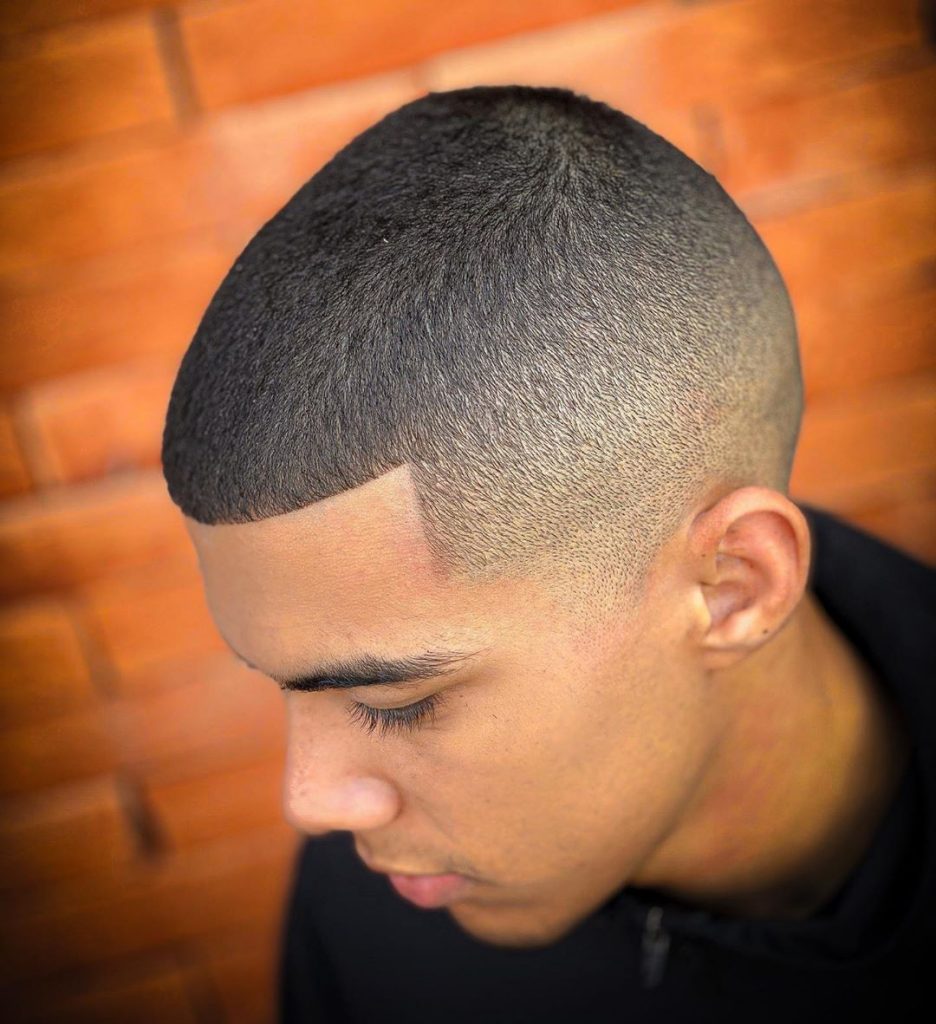 The buzz cut plus fade is a more varied and versatile haircut than you would think. This version has a shadow fade with plenty of blur instead of a skin fade.
29. High Fade + Waves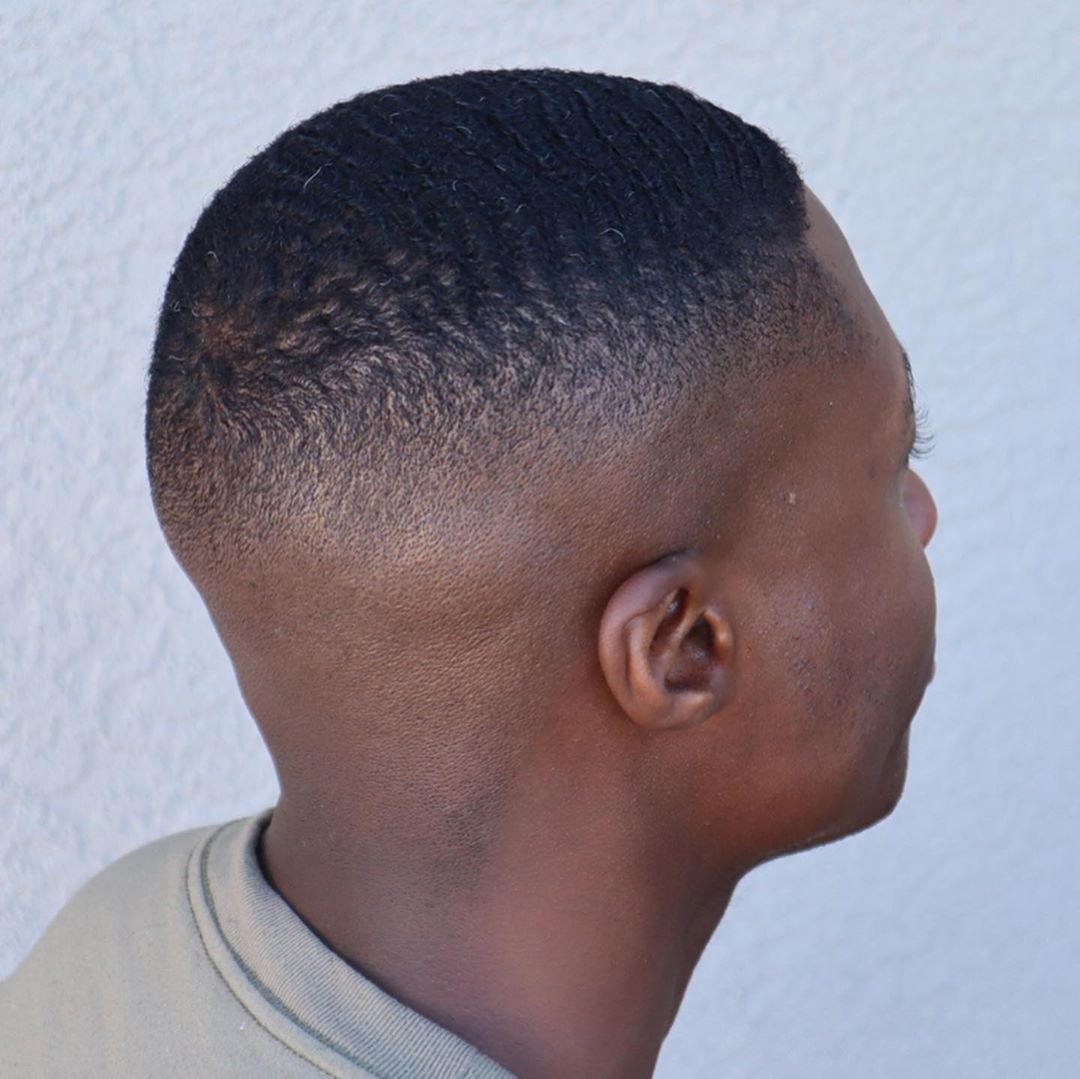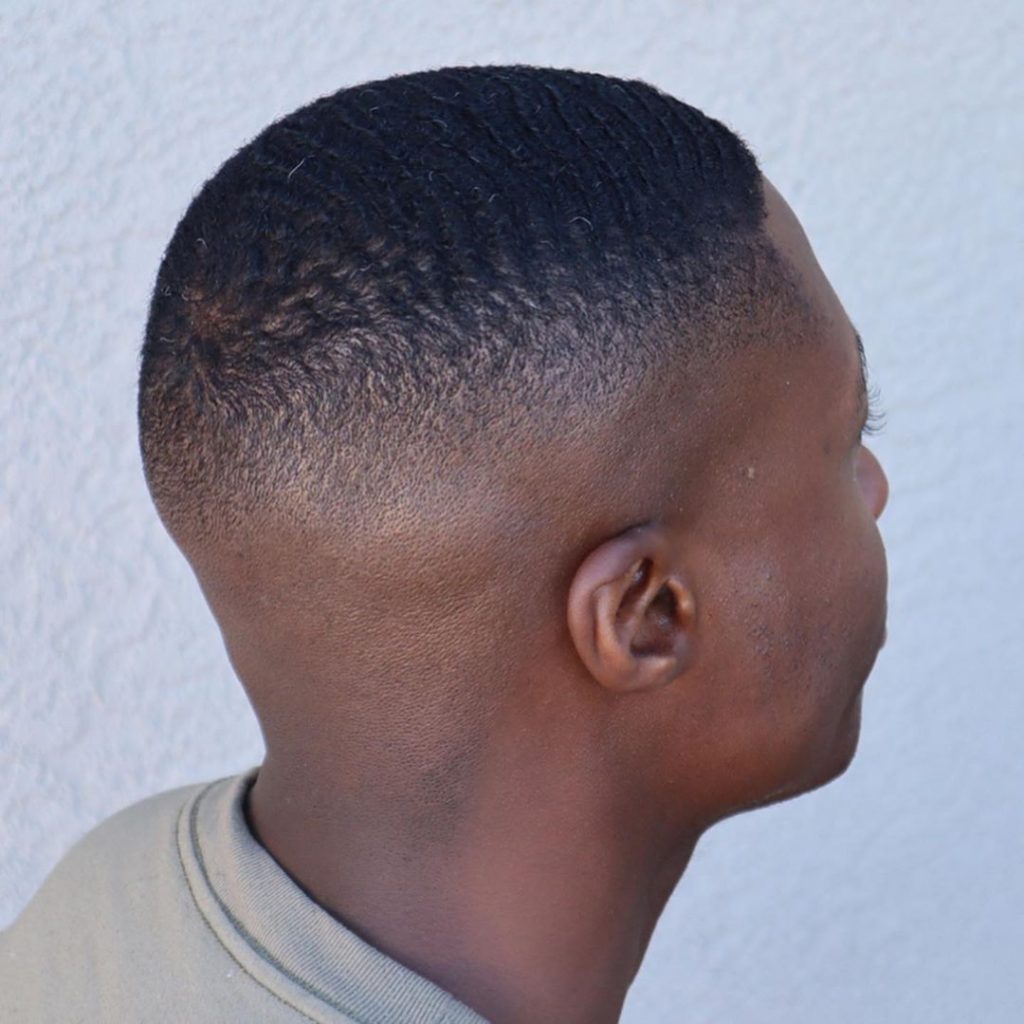 The high skin fade takes those 360 waves down to 180 degrees.
30. Short Haircut + High Fade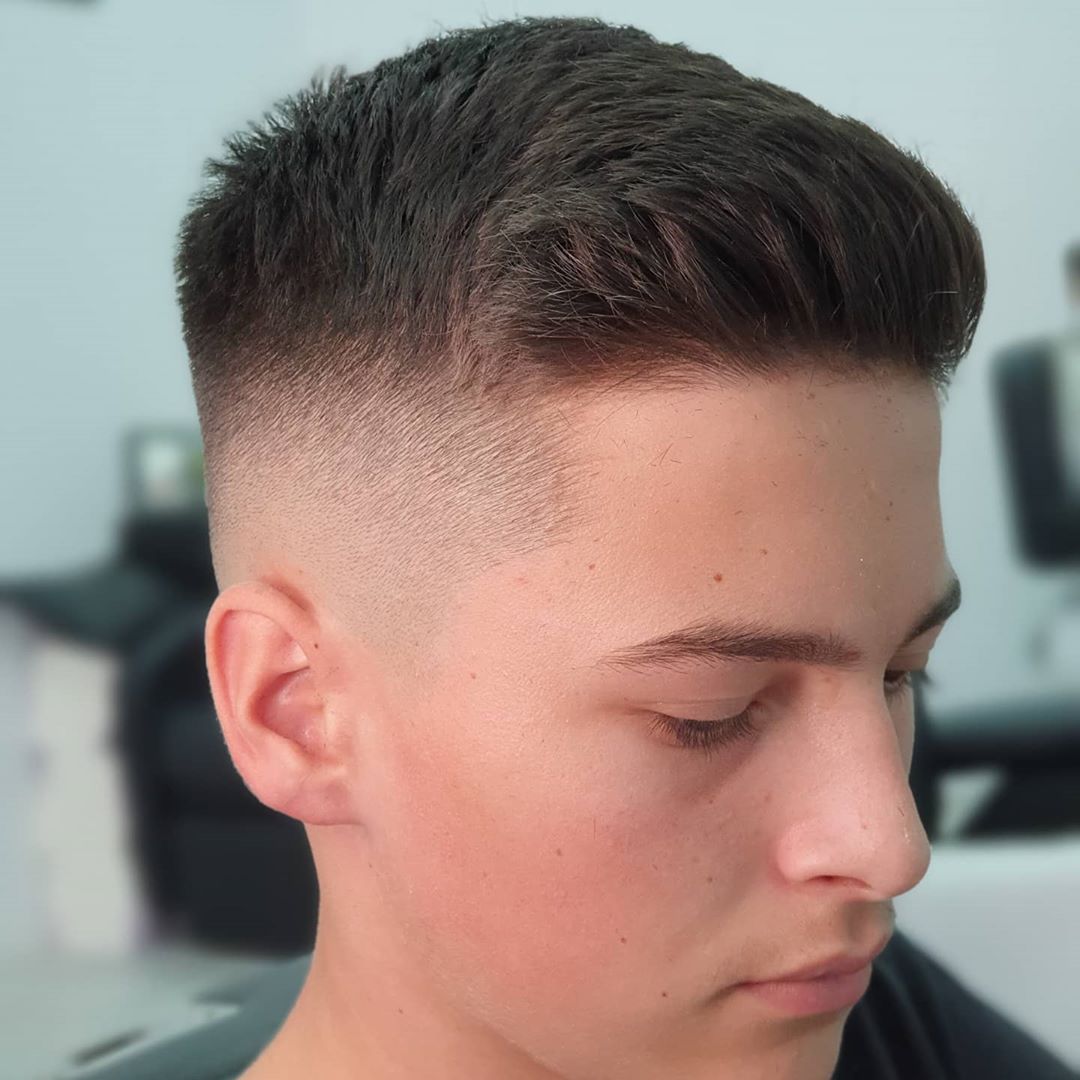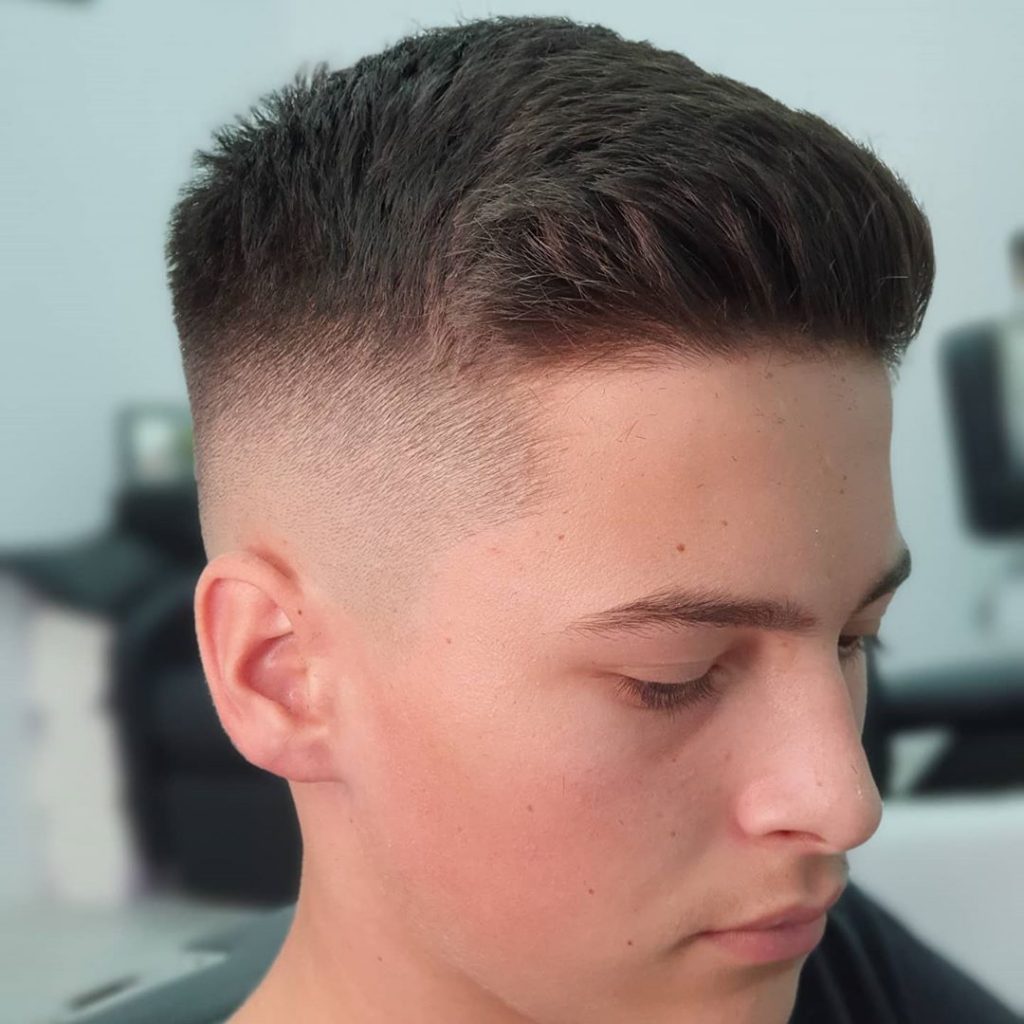 A little longer hair appears even fuller with the high fade. Here's a cool and classic haircut for thick hair that is easy to wear and can take plenty of time between haircuts.
31. Short Crop Fade Haircut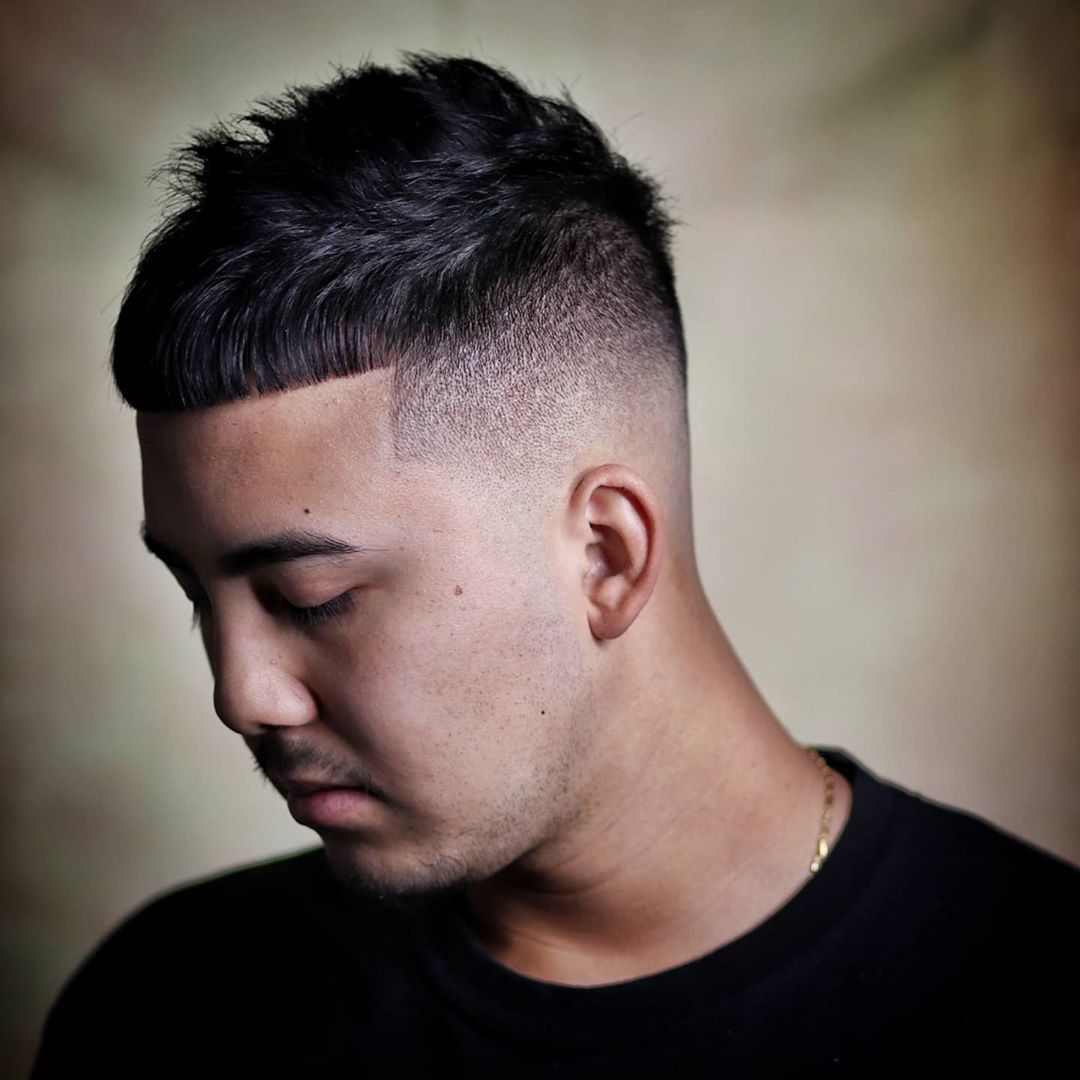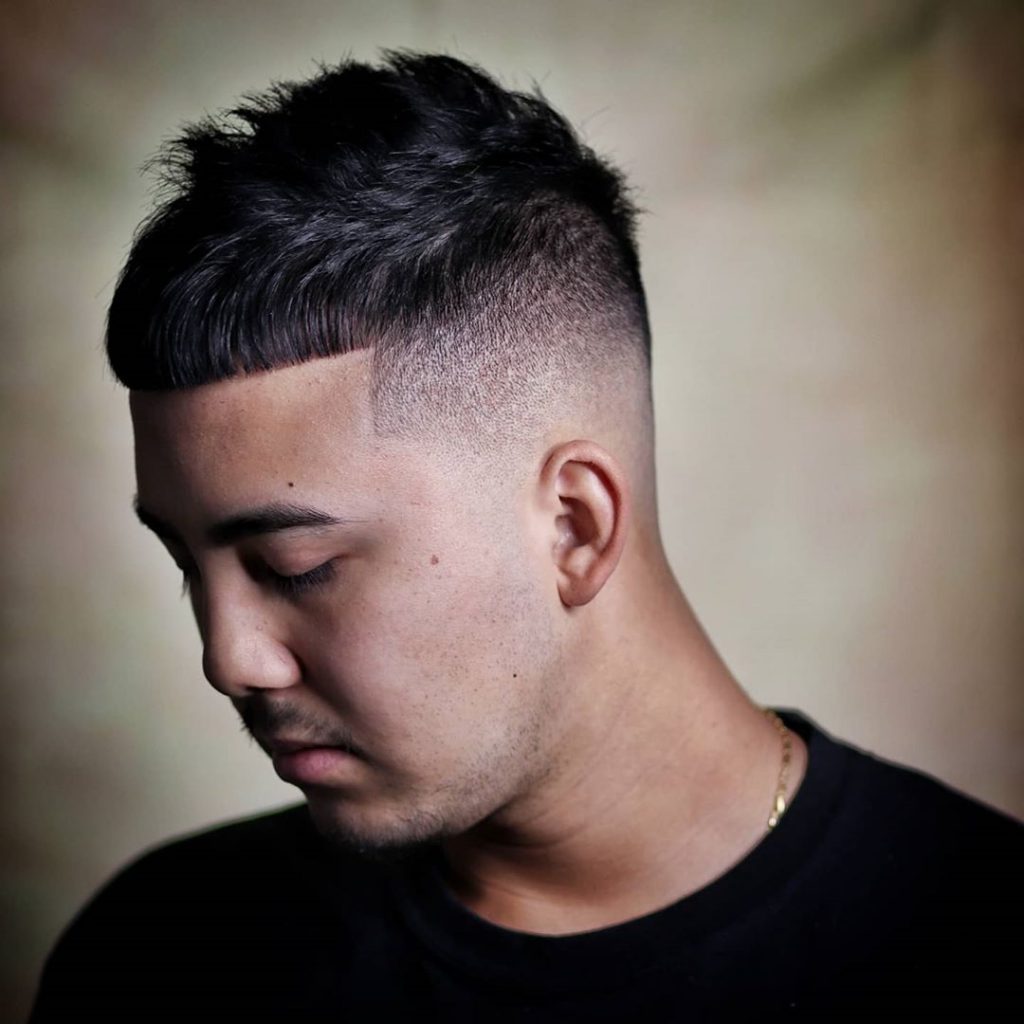 This fresh crop contrasts a line of blunt fringe with texture spikes and blurry fade.
32. Short Quiff Hairstyle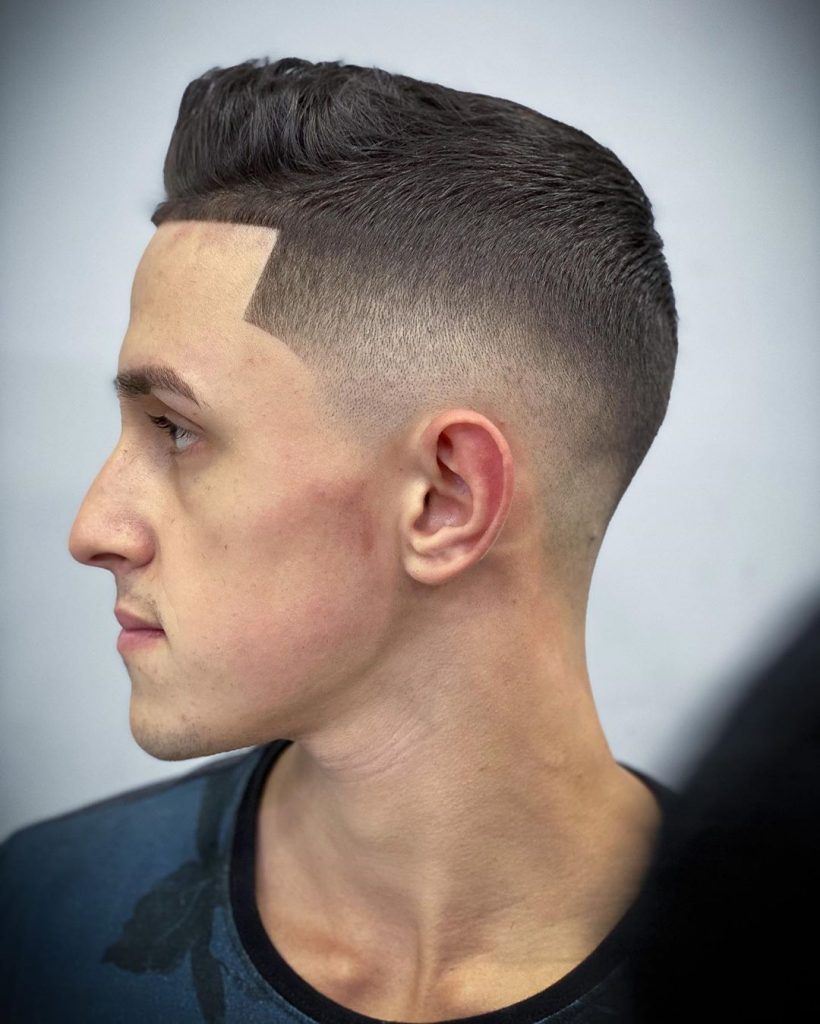 This cool cut is short all over except for some length at the forehead styled up into a quiff.
33. Medium Length Hair + High Fade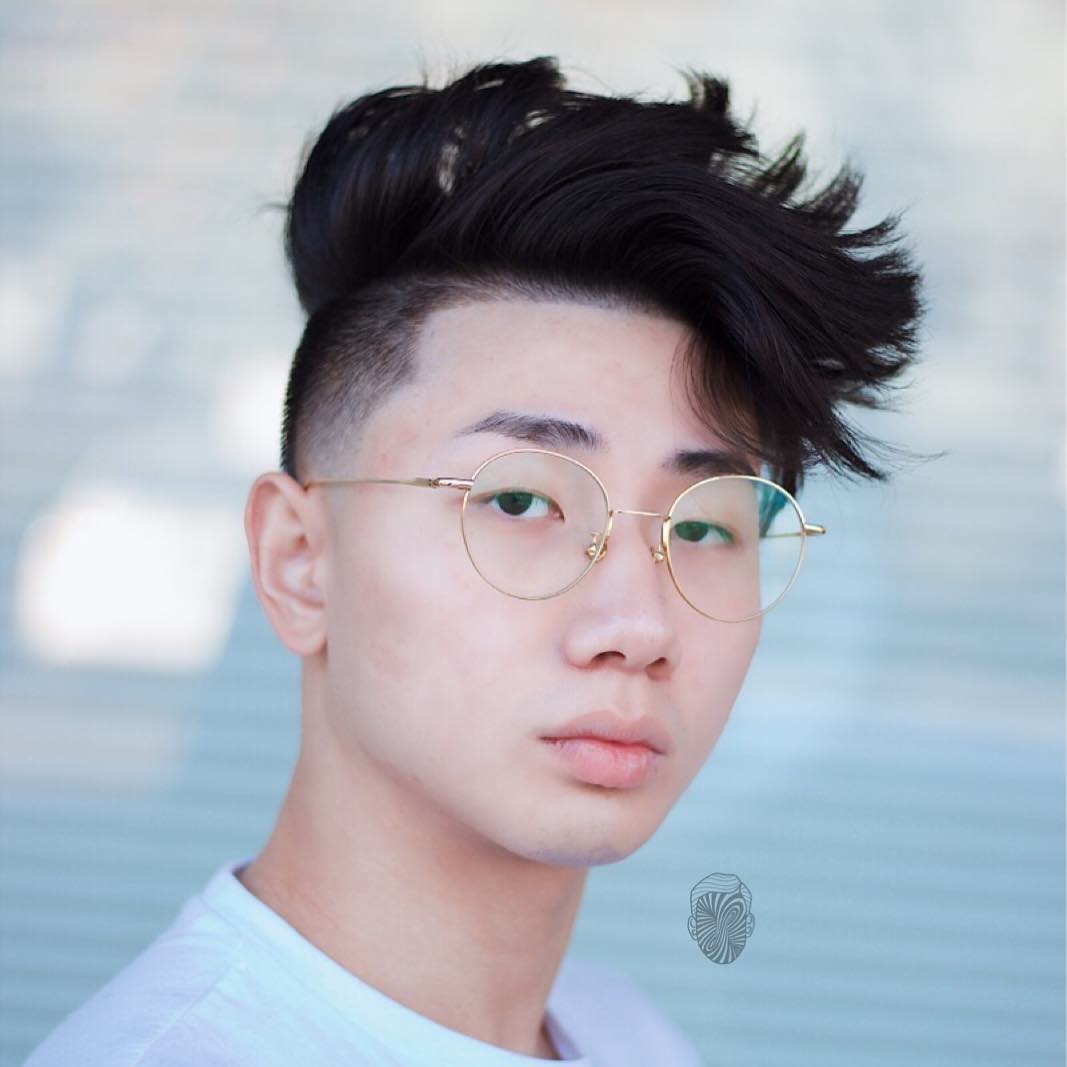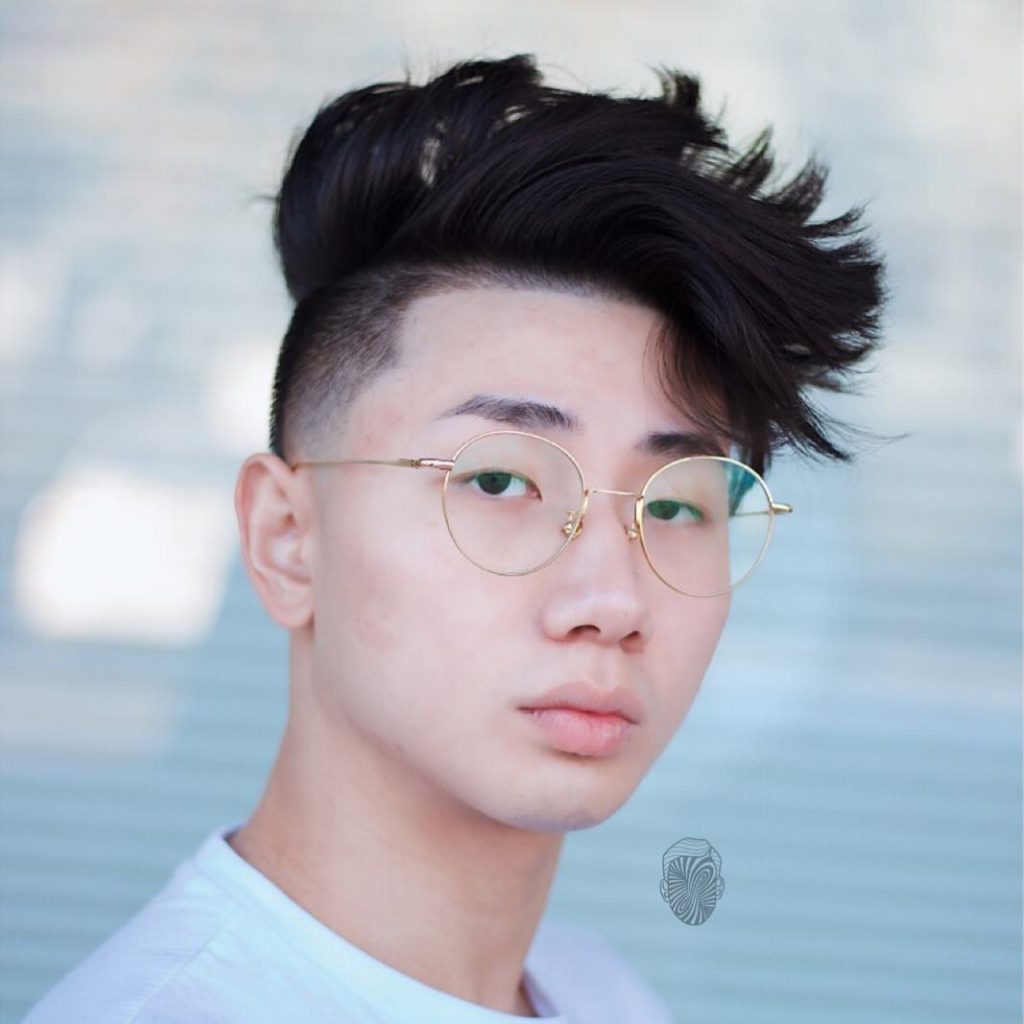 In between short and long, this medium length hairstyle is just right. This disconnected look can be worn with a fade or undercut.