Imperial Barber pomade is a premium, high quality, water-based hair pomade that will wash out easily and cleanly.
Each Imperial pomade can be re-activated (allowing you to re-style) by adding a touch of water to your hair.
Why Try Imperial Barber?
Great value -> Although (the big) jars are about $20 they last for months

You only need to use a very small amount at a time

Staying power -> No matter the hold it works all day long
Noticeable quality compared to others
How To Use Imperial Barber Pomade
Scoop out a small amount (dime size) for a lighter hold or a larger amount (quarter size) for a stronger hold
Rub the palms of your hands together quickly back and forth
Work the pomade into your hair as desired using your hands
Comb or style into place using your fingers
Imperial Barber offers 5 different hair pomades. We will discuss each of them moving from light hold, to medium hold, to the strongest hold.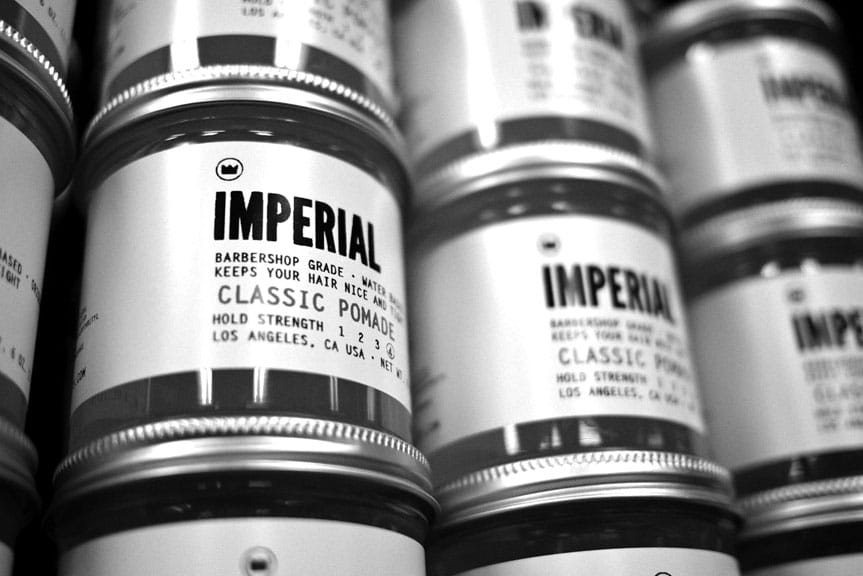 Matte Pomade Paste
Matte Pomade Paste by Imperial Barber is a no-shine matte finish that provides a light to medium hold.
This pomade is perfect if you want to create loose, messy, free flowing, textured natural men's hairstyles that are very popular right now.
The pomade adds flow, extra volume and thickness, texture, and control without weighing the hair down or cementing into place like a stronger hold pomade.
The Matte Pomade Paste is really good for guys that have finer or thinner hair.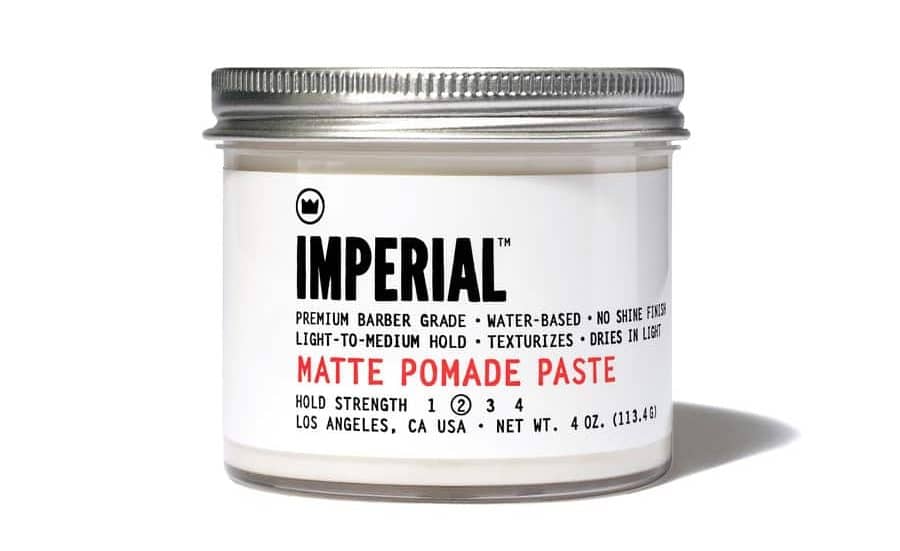 Imperial Fiber Pomade
Fiber Pomade is a good all-purpose and versatile pomade.
It has a medium hold and a low to medium shine (not matte).
The hair product is pliable and has extra long fibers that help create looser, messy, spiky, textured, "bed-head" hairstyles.
This hair pomade adds texture and extra volume to your hair. It works well with straight or wavy hair types.
Fiber Pomade is great for side part hairstyles, and slicked back styles, or enhancing curls.
Imperial Classic Pomade
Classic Pomade is the most popular Imperial pomade.
It provides incredible holding power all day long. This pomade is definitely a strong hold pomade.
You can adjust the degree of hold in a couple ways.
For a light hold use less product. Or, apply to damp hair and you will also get a lighter hold. Or, use the product with a touch of water for a light to medium hold. Essentially, you are accomplishing the same things using with damp hair. You are slightly diluting the product.
If you desire a super strong hold apply to dry hair and use more product.
However, keep in mind that you really do not need to use much product if you have short to medium hair length.
Imperial Classic Pomade is good for most hair types but better for medium (thickness) or coarse hair. Holds down curly and wavy hair. Works well for pompadour and slicked back hairstyles.
Imperial Blacktop Pomade
Imperial Blacktop Pomade is essentially the Classic Pomade by Imperial Barber but with a cool twist.
This pomade has a black tint. It covers up gray hair!
The black color helps to cover up gray hairs. It works really well for guys that have fine hair. If you have fine hair it almost completely covers up all the gray. Works best on black, brown or gray hair.
It also makes hairstyles look more dramatic.
This pomade works exactly as described above for the Classic Pomade. For lighter hold use some water or on damp hair. For stronger hold use more product on dry hair. Easy.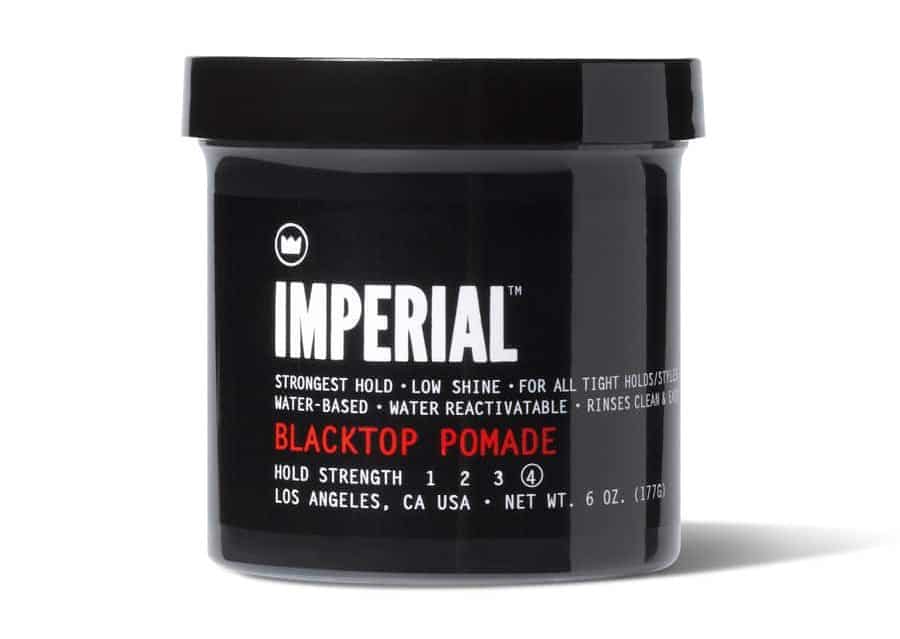 Gel Pomade
Imperial Gel Pomade is a hybrid product. It combines the best attributes of a hair gel and a hair pomade into one hair product.
Gel Pomade works into your hair light and smooth but dries in hard. It is a high shine, strong hold pomade that delivers an all-day, all-night, stay in place hold.
This product works for all hair types but is also good for fine hair because it will thicken and add volume to the hair. Simply work the product into damp hair and then blow dry to get that extra volume.
Unlike many hair gels, Gel Pomade won't flake.
Gel Pomade is great for tight hairstyles like pompadours, side parts, and comb overs.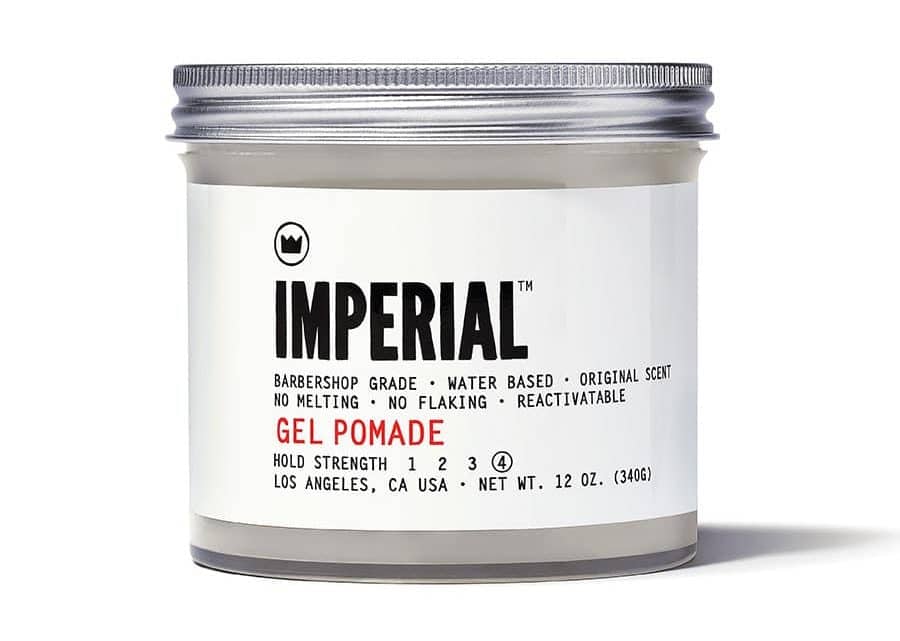 So there you have it. Everything you need to know about Imperial Barber pomades. You won't be disappointed. These are super high quality hair pomades.
We use affiliate links and may receive a small commission on purchases. Please read our disclosure.