Whether it's back to school or just been too long since the last barber visit, check out these cute and cool kids haircuts for boys from toddlers to grade school.
Whether the adult or kid is picking the look, here are some great options for all kinds of hair and styles.
The best kids haircut is the one that makes the kid feel great so check out these pictures for 55 hair cuts and styles.
1. Cool Kids Haircuts
The best way to be cool is to be confident. These fresh styles can be a boost in that department. It's not about following a trend or copying someone else, but being your self.
Most of these haircuts for boys are versions of popular men's styles. There are crop fades, fringe hairstyles, fade haircuts, and comb overs. Why not have fun with hair while you can get away with it.
2. Hair Color + Designs
Adding hair color or a hair designs takes these boys haircuts to the next level.
First, a high fade haircut with shaved part is transformed into a fiery look with yellow, orange, and red colors. For lower commitment, try a hair design that will grow out, like this cool shape at the sides. Highlights or streaks of color are another way to experiment with bright colors.
3. Black Kids Haircuts
All of these haircuts for Black boys are about showcasing the beauty of natural hair. From babies with a fade to tiny twists, it's never too early for style.
Waves haircuts are a cool way to have textured hair without the length. Or go medium length on top with a medium fade around the sides.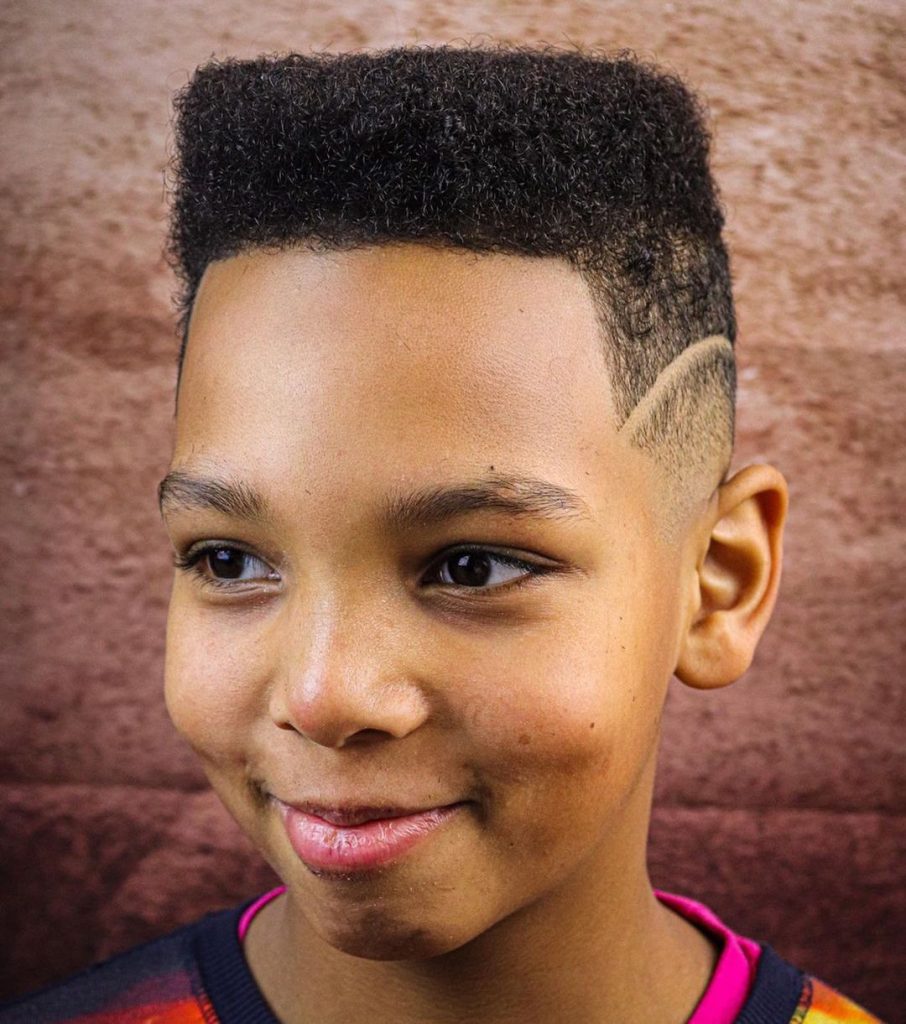 This kid knows he looks great in his flat top with a shaved line. What a great feeling that is.
4. Fade Haircuts
Fade haircuts for boys make any hair type easy to manage.
Fade haircuts can have as much, or as little length, as you like. These are all shorter looks for straight, curly, mixed, and Black hair. Up top, the blunt fringe is the latest trend, the Edgar. The other looks are classic fades styles, with the addition of a shaved part and some textured fringe.
5. Mohawk Haircuts
The mohawk is one of the most popular kids haircut styles. It's fun and looks great.
Having a mohawk haircut doesn't mean it has to be styled every day unless you want to. Curly-haired and Black kids get plenty of volume from the natural texture. Straight hair can be left loose or style.
For a happy medium, try a faux hawk like pictures 4 and 5. You get that spiky style without the commitment of a mohawk haircut.
6. Short Haircuts
Short haircuts are the most popular look for men and boys. They are easy, low-maintenance, and last a long time between haircuts. That's not all, short haircuts for boys look great too.
The buzz cut with a fade and line up is simple and stylish. This isn't the same as an at-home haircut but a precision style.
Another popular way to wear short hair is keeping the length on top and close-cropped sides. A high fade is haircut works for all hair types, even thick and curly hair.
To style this cut, add some product and comb it over to one side, add a quiff at the front, or spike it up. The traditional short-all-over cut is another option.
7. Little Kids Haircuts
At some point babies grow into kids and hair needs to be cut. Even for longer styles, hair can be kept neat and out of the eyes.
First, this curly mullet is an adorable and totally on trend way to keep those ringlets. Hair is cut shorter up front and at the sides.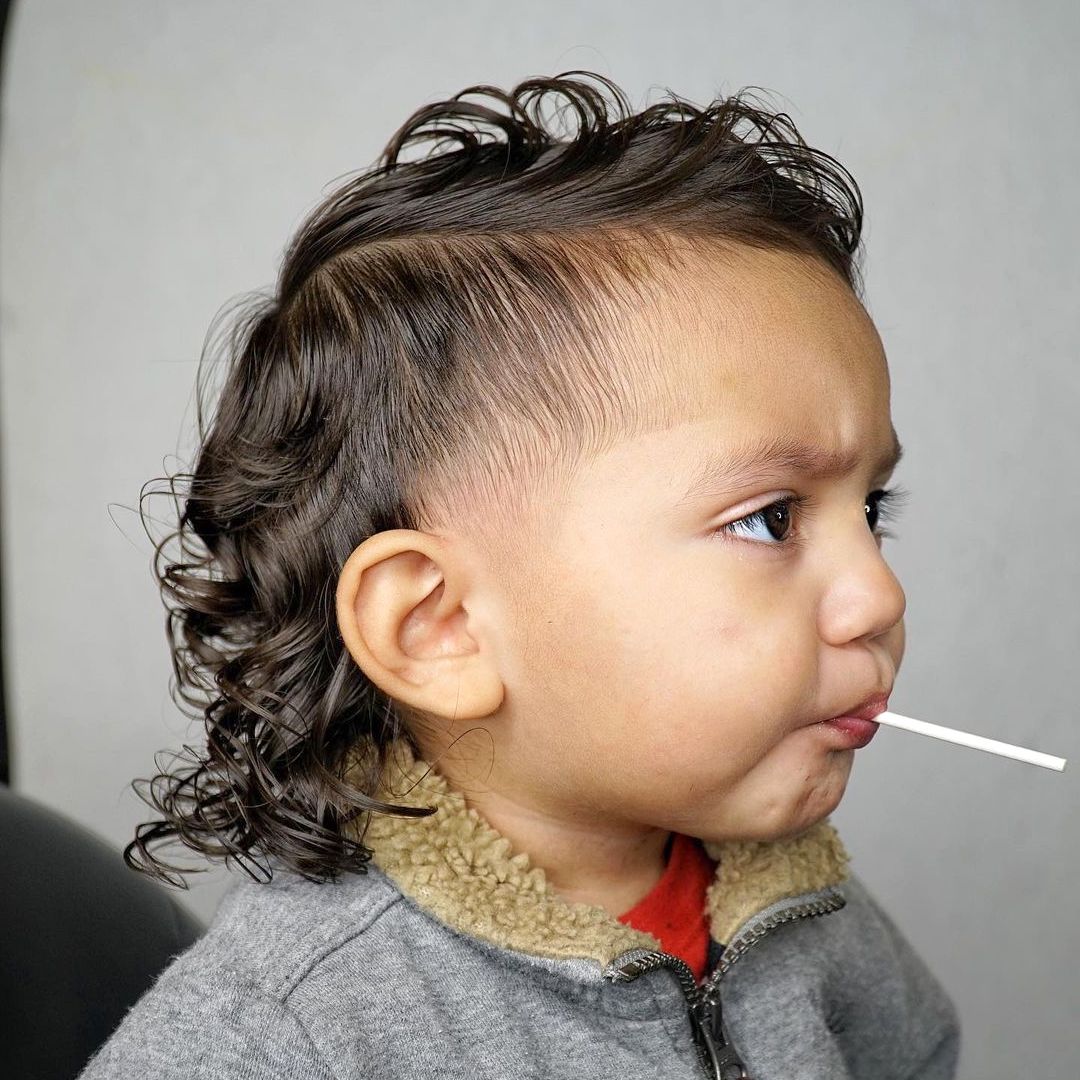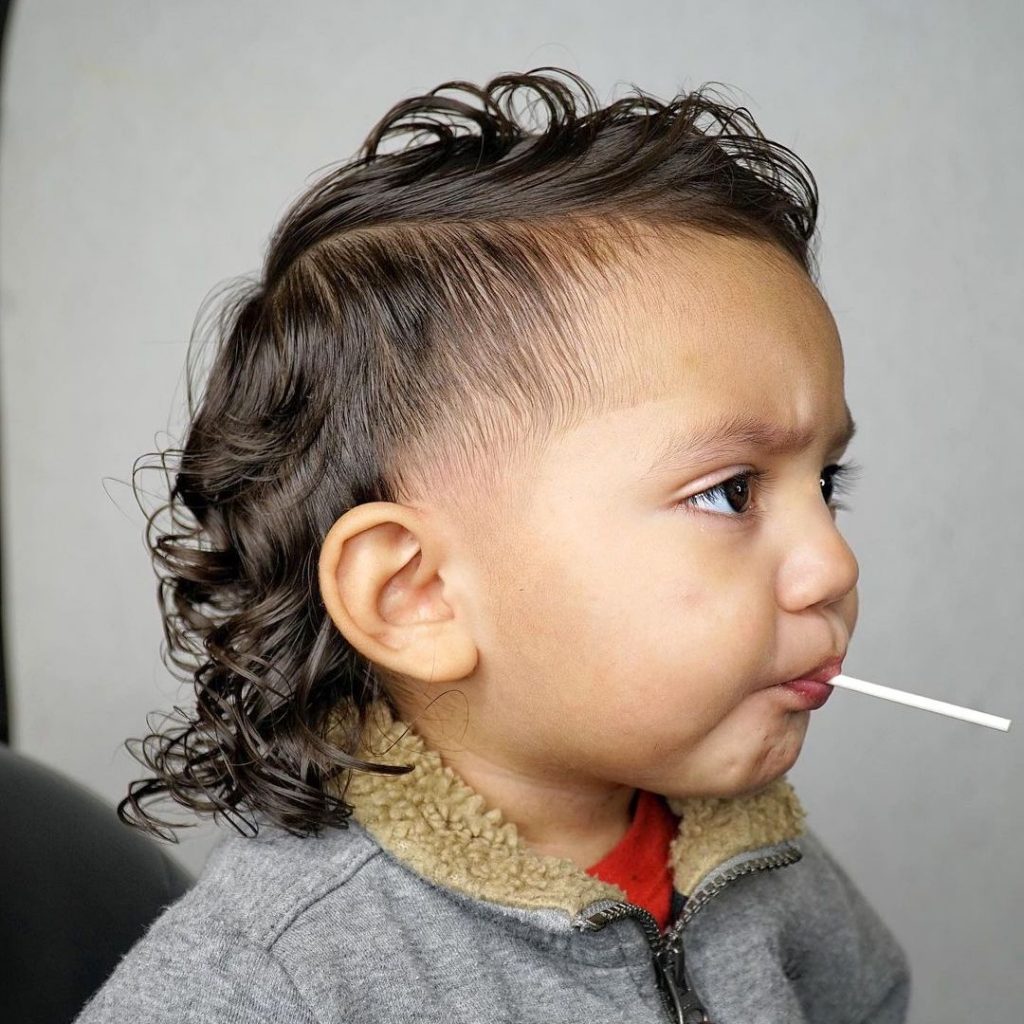 For kids with plenty of dark hair, shorter cuts can be absolutely adorable. A low fade keeps the hairline neat and length on top looks great whether it's styled or bedhead.
For light-haired kids that take years to grow a head of hair, many parents want to hang on to as much length as possible. A trim makes sure the ends are all the same length and creates a pleasant shape.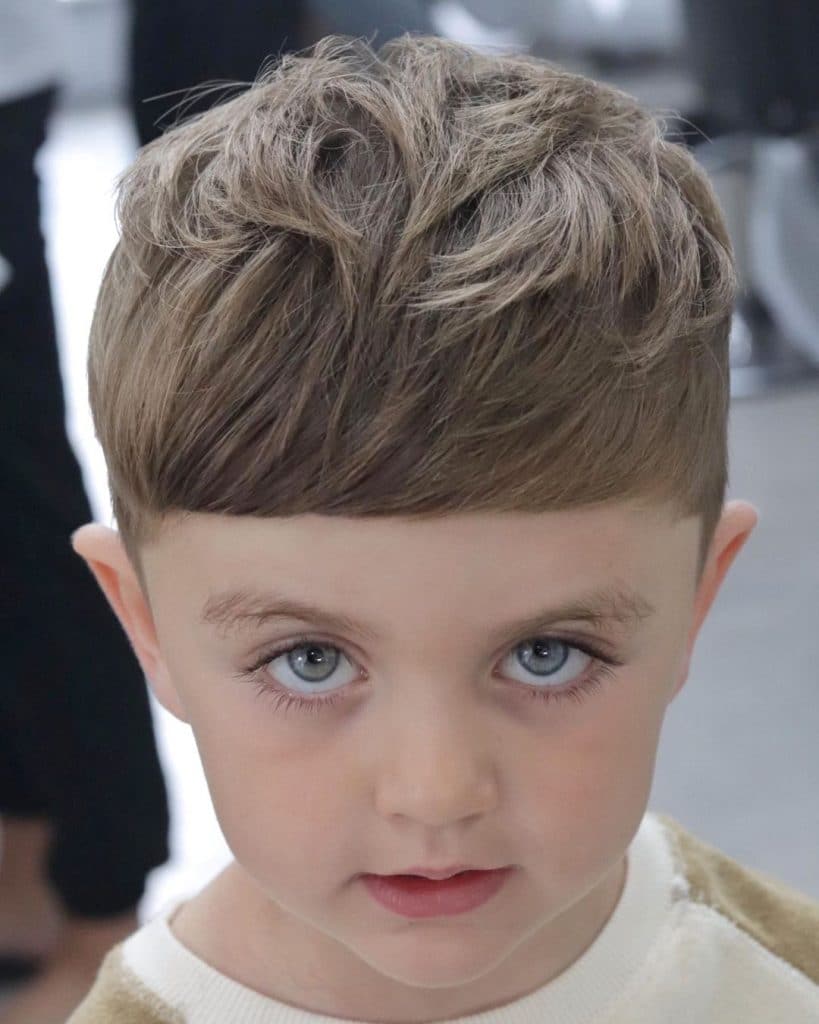 The hottest men's hair trends also work on kids. They might even look better. This little dude looks cooler than his years in a crop haircut.
8. Long Hair For Boys
Long hair is on trend for boys of all ages. Hair pulled back into a man bun or ponytail or just a few ways to wear hair long for kids. Hair can be long all over or try an undercut or fade around the sides and back.
The asymmetrical skater cut is one of those enduring styles and a cool way to express one's personality and interests. And for those boys attached to their hair, cut the bangs and let it grow.
9. Curly Hair
Roughly in order of age, here are some cute and cool ways to wear curly hair. These cuts balance leaving plenty of texture with easy to manage looks.
Fade haircuts are also popular with curly haired boys because it keeps hair on top and no added width at the sides. Leave hair in a tangle of bangs or keep more volume at the top.
The burst fade mohawk is a great look for kids of all ages. Or keep curls only up top with a high fade.