So you followed our advice about how to grow curly hair long and now need some tips for long curly hair men. In addition to some cool haircuts and hairstyles, keep reading for how to make the most of your hair's natural texture and how to style long curls.
1. How To Take Care Of Curly Hair For Men
You can't have a great hairstyle if you don't start with great hair. So first, here's how to make the most of curly hair. Those 3-in-1 shampoo-bodywash-conditioner products are not ideal for anyone, but especially not for curls.
We're going to recommend some men's curly hair products here. First, we'll talk about what type of product to use for.
The specific products in this post are all from Black-owned beauty brands because they are designed by people with textured hair for people with textured hair. These products work for curly, kinky, coily, and wavy hair textures.
Many of these recommendations, as well as other curl-specific products, are also available at drug and big box stores.
No Shampoo
Cutting back on shampooing is recommended for all hair types but is especially important for curly hair. The scalp produces an oil called sebum to hydrate skin and hair. Shampoo removes that oil from the scalp and the rest of hair too. Curly hair tends to be dry because the coiled shape prevents the sebum from traveling down the hair shaft for some natural conditioning. Shampoo makes hair even dryer.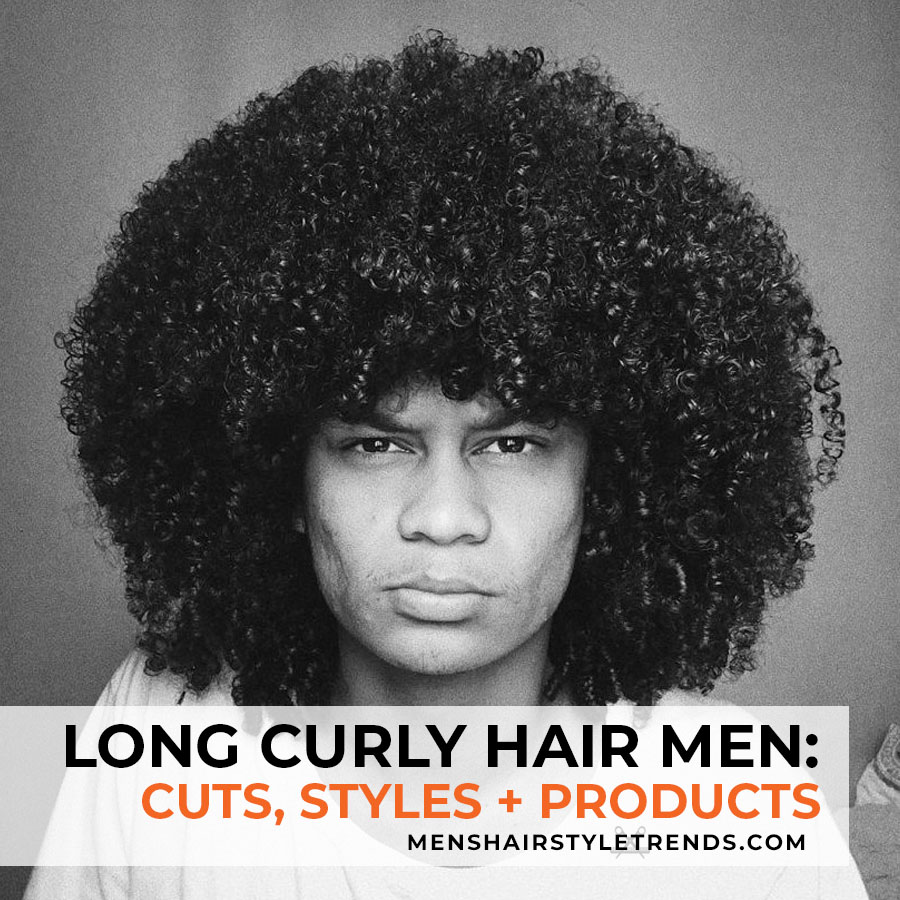 If you have been washing hair every day, start by going every other day and work up to once a week. Your scalp will adjust its oil production. If roots get greasy or itchy, try a dry shampoo to absorb some of that excess oil.
The type of shampoo is also important. Stick to products designed for curly hair. They are sulfate-free and often soap-free to cleanse the scalp without drying out hair.
How to Shampoo Curly Hair
When shampooing, concentrate on the scalp. Use fingers to work shampoo into the roots and rub the scalp. If hair is so thick or curly that it is difficult to access the scalp, try this shampoo brush to massage the scalp, detangle, and comb product through hair.
And to be sure that you know, never use a towel to dry curly hair. The rough surface creates frizz. Instead, use an old cotton t-shirt or microfiber towel. Gently squeeze water out hair, without rubbing.
Co-Wash
Co-wash, conditioner only wash, is a gentler alternative to shampoo for curly hair. This conditioning wash removes residue and build-up to prevent a greasy, itchy scalp while moisturizing hair. It can be used every day but doesn't have to be.
To use co-wash, first work it into the scalp and roots like shampoo, using fingers to remove dirt and debris. Then work it through the rest of hair like conditioner. Again, for extra massaging, detangling, and product distribution, try a shampoo brush.
Like shampoo, be sure to wash it out completely and follow with conditioner.
Oyin Handmade Ginger Mint Co-Wash – This co-wash cleanses like a shampoo while moisturizing. It removes scalp build-up and conditions, detangles, and softens for smoother and stronger hair. The mint gives the scalp a pleasant tingle.
Conditioner For Men With Curly Hair
Conditioner is essential for adding moisture to curly hair. Use it every time you get in the shower, with or without shampoo. Conditioners designed for curly hair will usually have more moisturizing agents than regular conditioner, usually some type of oils.
Frederick Benjamin Conditioner – You'll feel freshly washed after this invigorating conditioner tingles your scalp with peppermint oil that also keeps the scalp flake- and itch-free. It also moisturizes with almond, nettle, and hemp seed oils.
Deep Conditioner For Men
When conditioner isn't enough, it's time for a deep conditioner. This is a thicker product that is left in for an extended time to quench parched tresses.
tgin Honey Miracle Hair Mask Deep Conditioner – This all-natural product brings moisture, softness and manageability to a range of curl types. Olive and jojoba oils condition hair and lock in moisture to add shine, fight frizz, and reduce breakage. Work it into the scalp to reduce flakes and itch.
Rob with 4c curls says, "Curls come out soft and popping! Would def recommend trying this product if you haven't yet."
Leave-In Conditioner
Another moisturizing option for men with curly hair is leave-in conditioner. As the name states, you put it on and leave it in. The consistency is thinner than other moisturizers so it doesn't weigh hair down. This can be used instead of conditioner in the shower. It also acts as a light product to help form curls and minimize frizz.
EDEN BodyWorks Coconut Shea Leave-In Conditioner – This lightweight product with plenty of slip detangles and moisturizes hair after the shower. Say good-bye to dry or stringy hair and hello to curls.
There are more products for curly hair available than ever before. Make it easy by using all one brand or mix and match based on specific issues, price points, and smells.
2. Men's Haircuts For Long Curly Hair
Here are a range of cuts for long curly hair, including rounded Afro styles, some with bangs, and flattering layers.
Coily Curls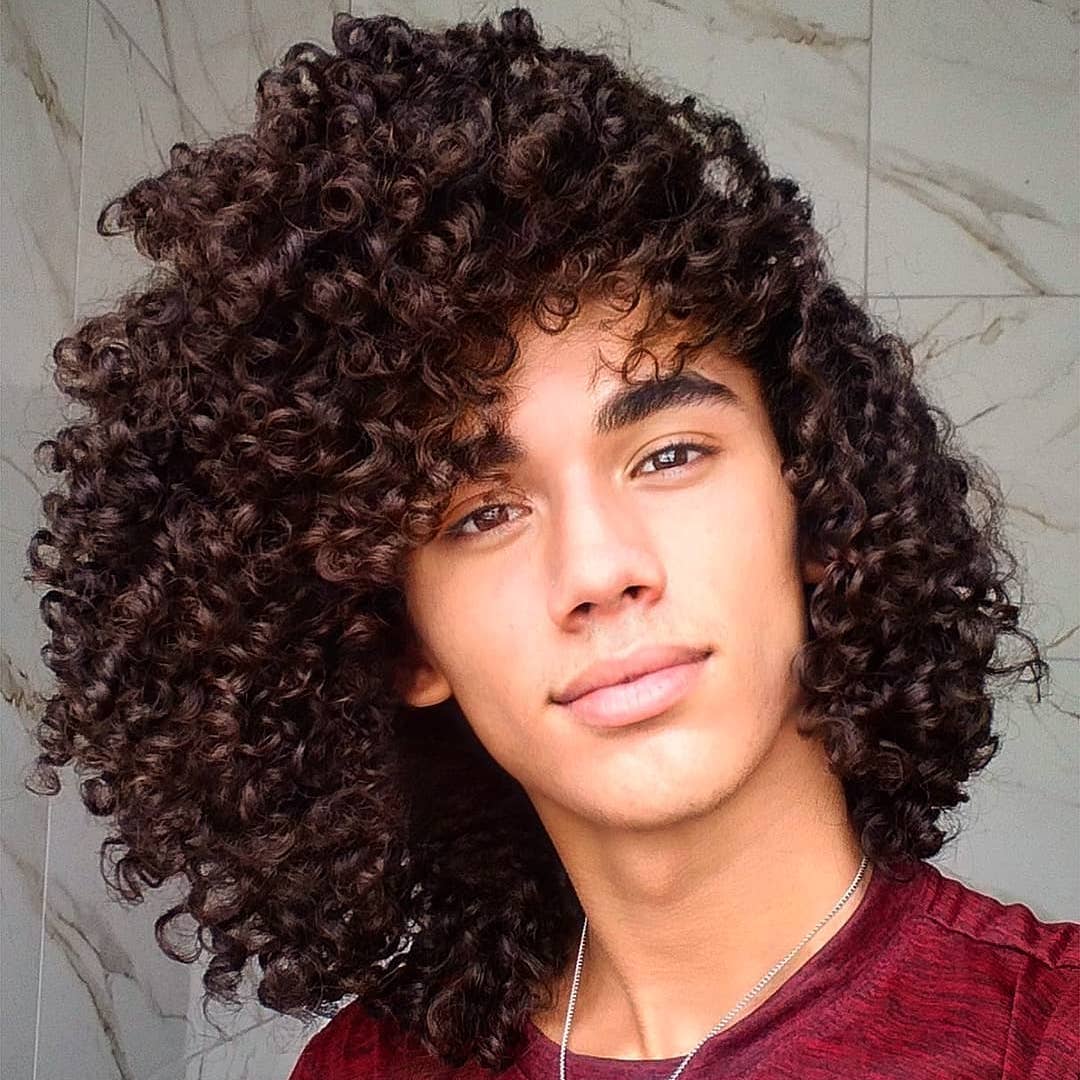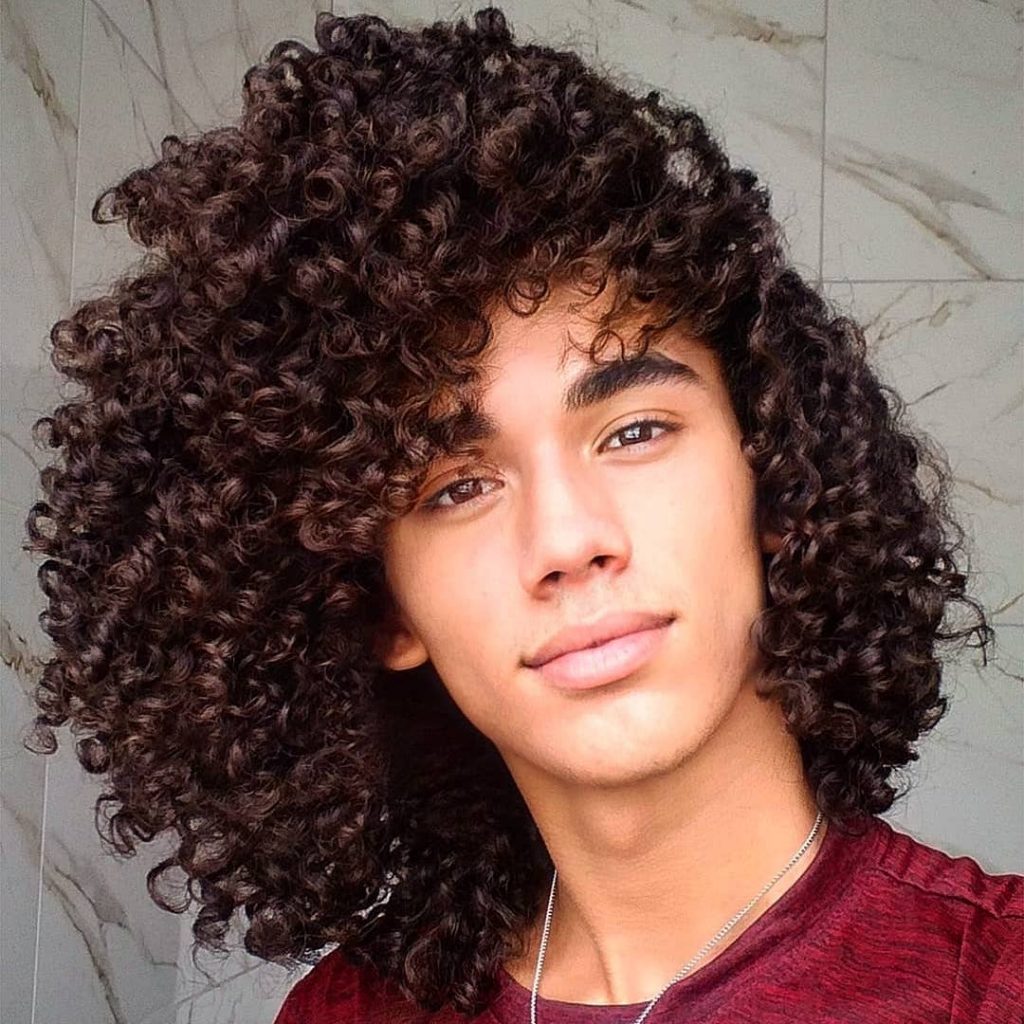 Very Long Curly Hair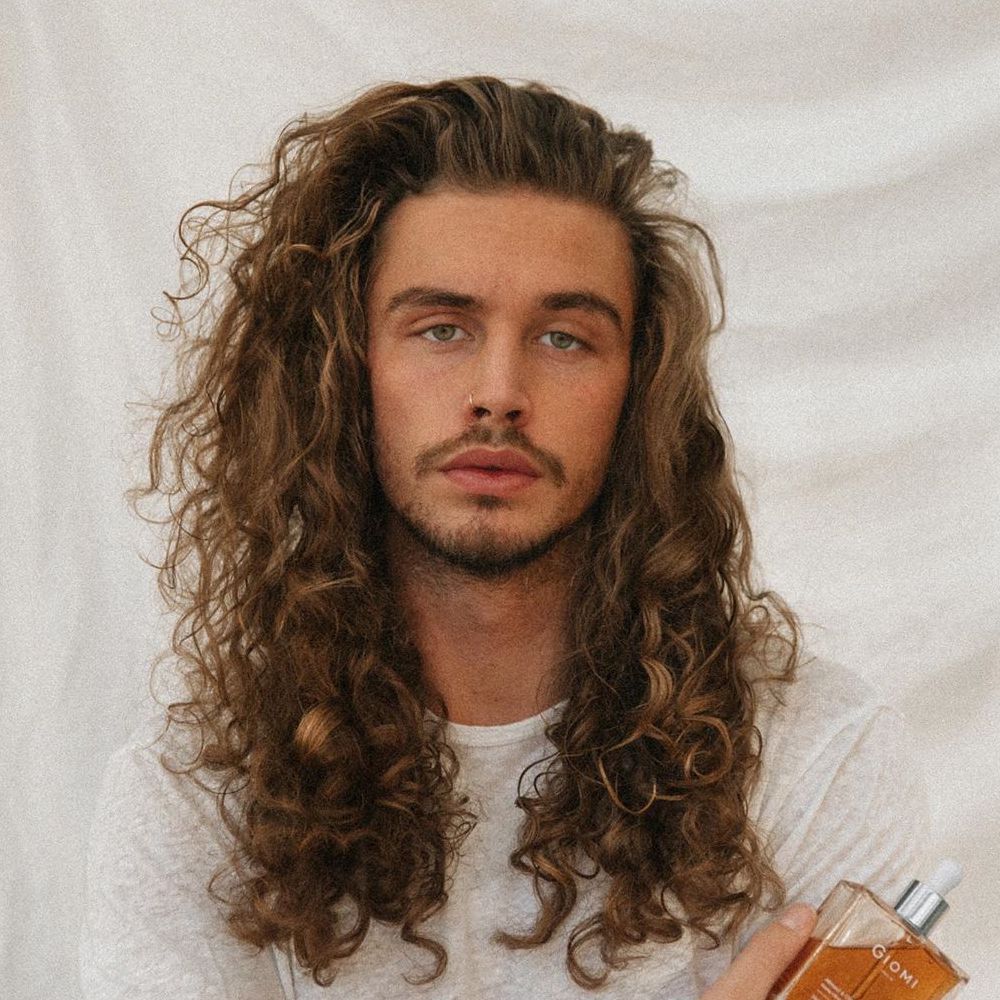 Black Men With Long Curly Hair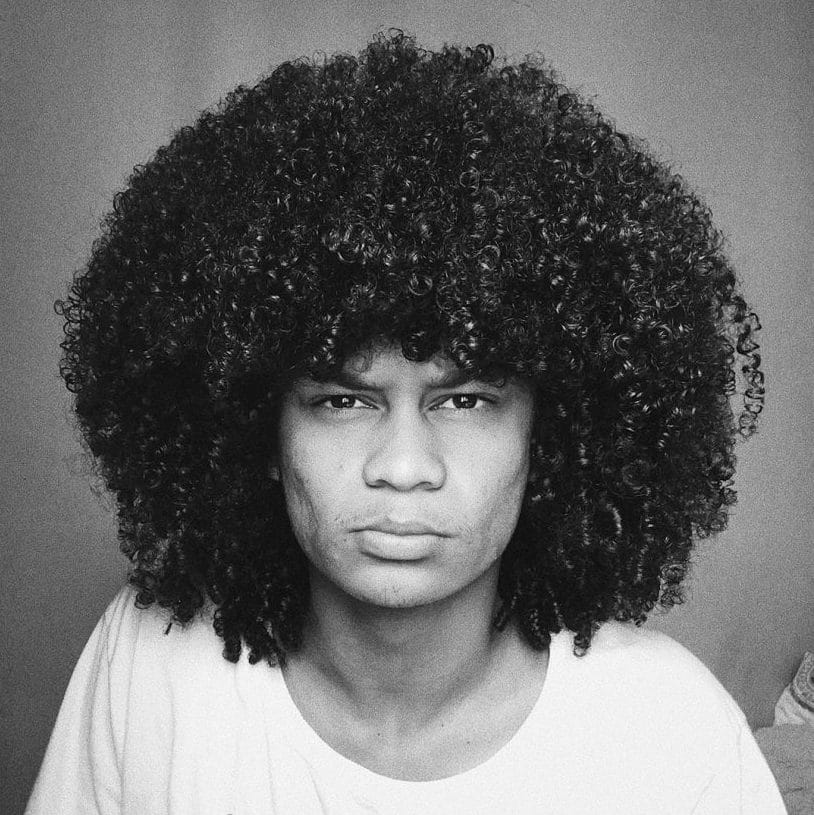 Long Curly Haircut + Fringe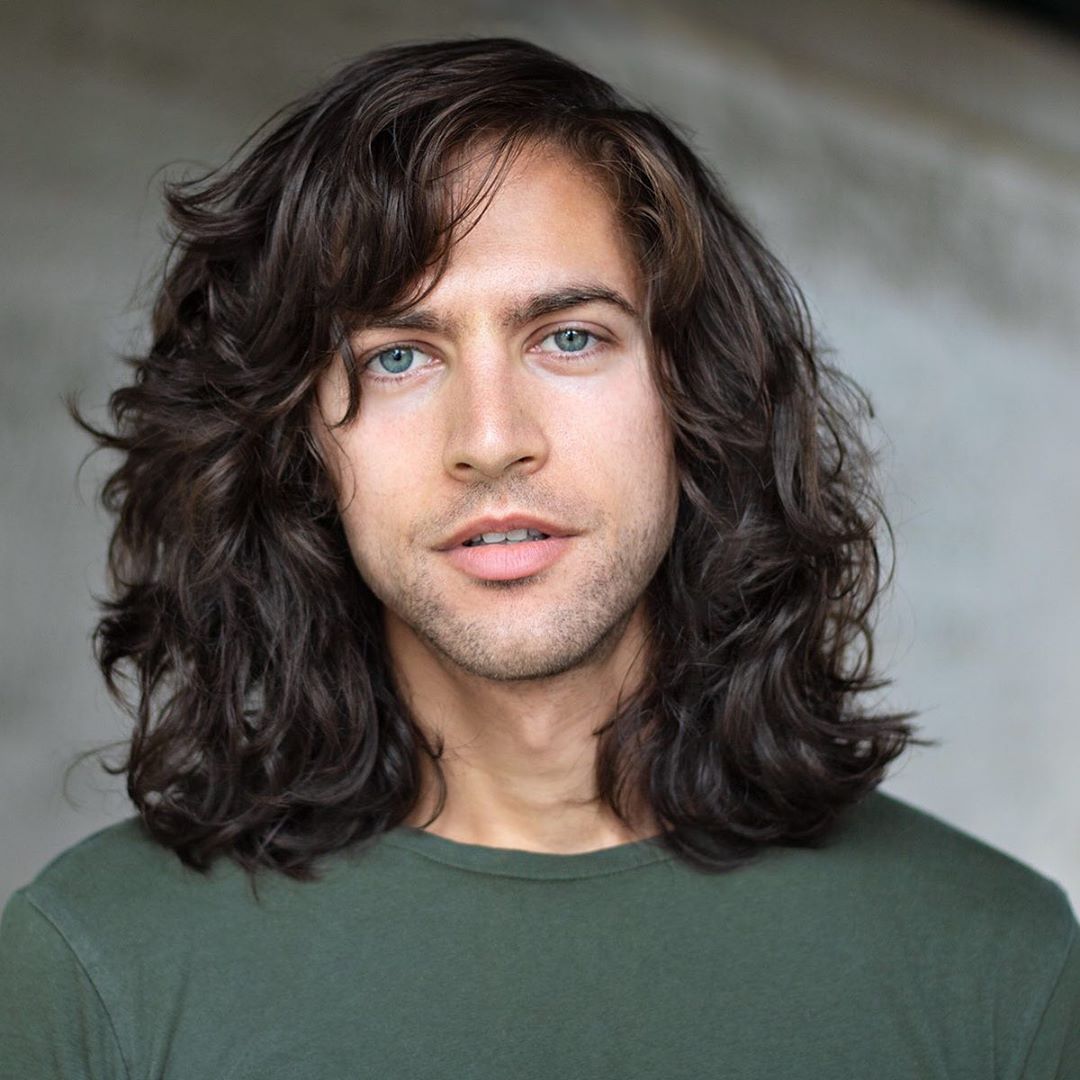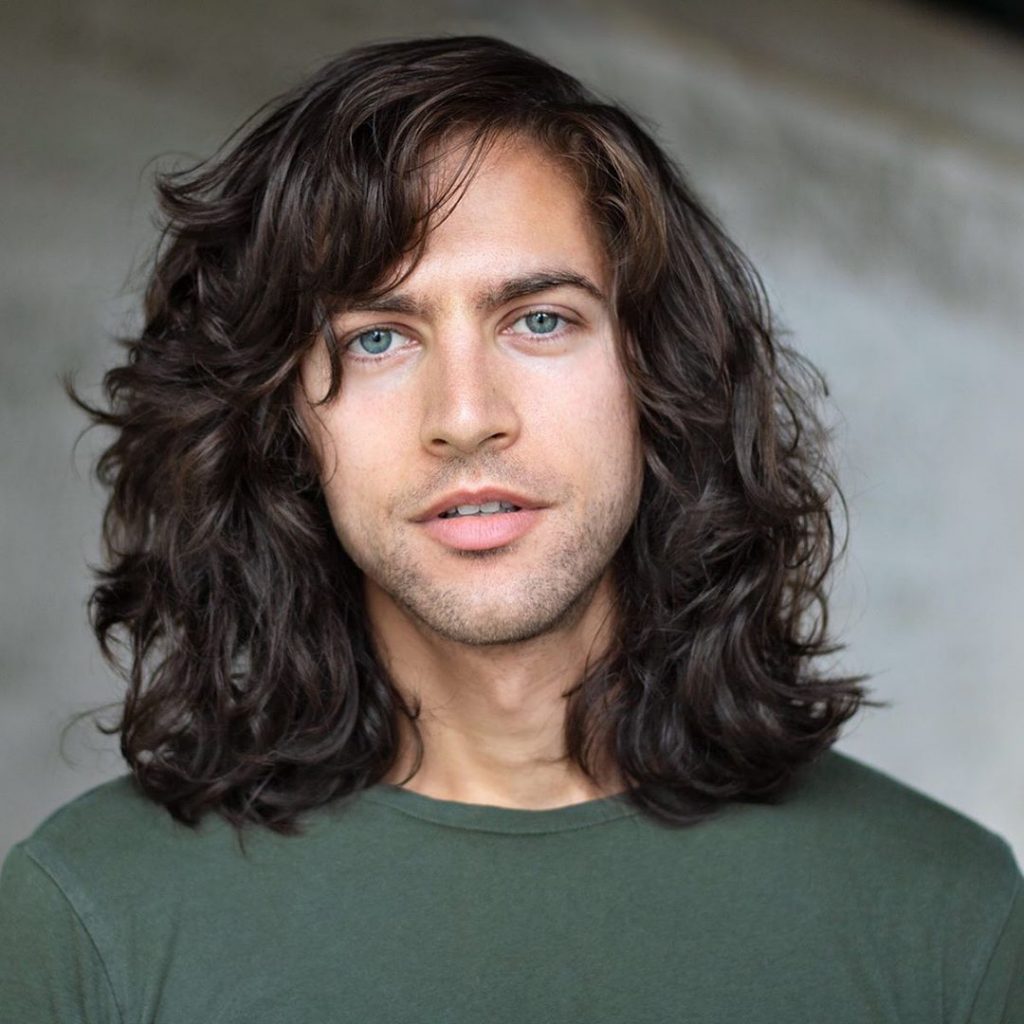 Long + Thick Curly Hair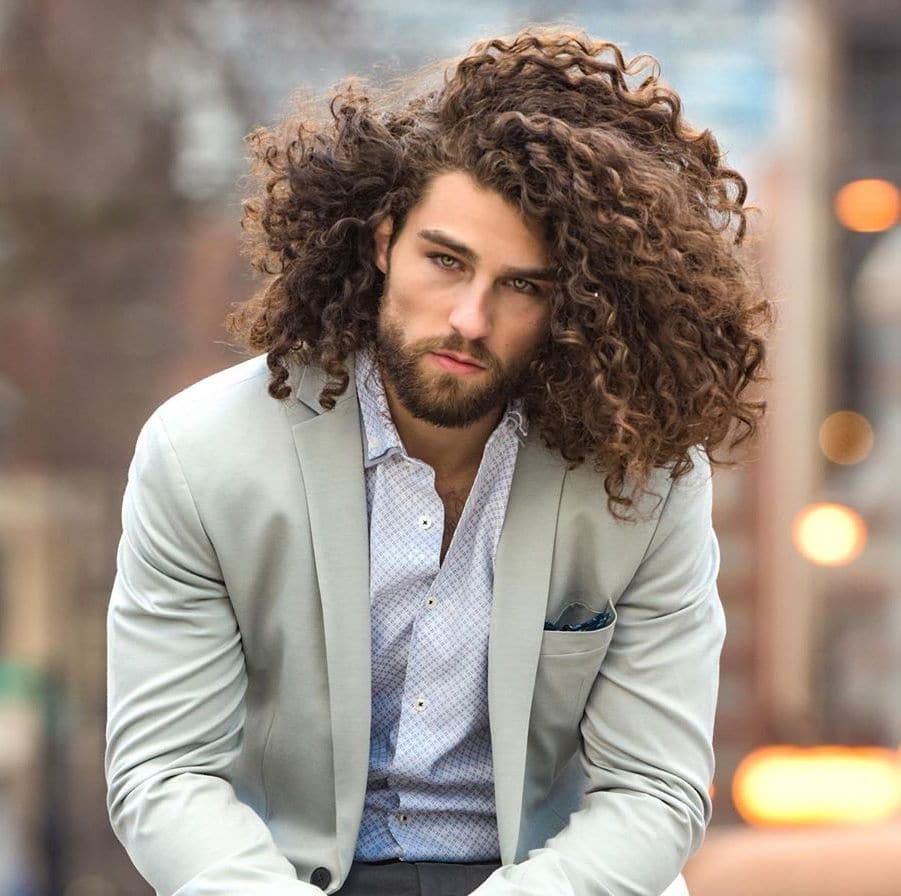 Long Curly Haircuts For Black Men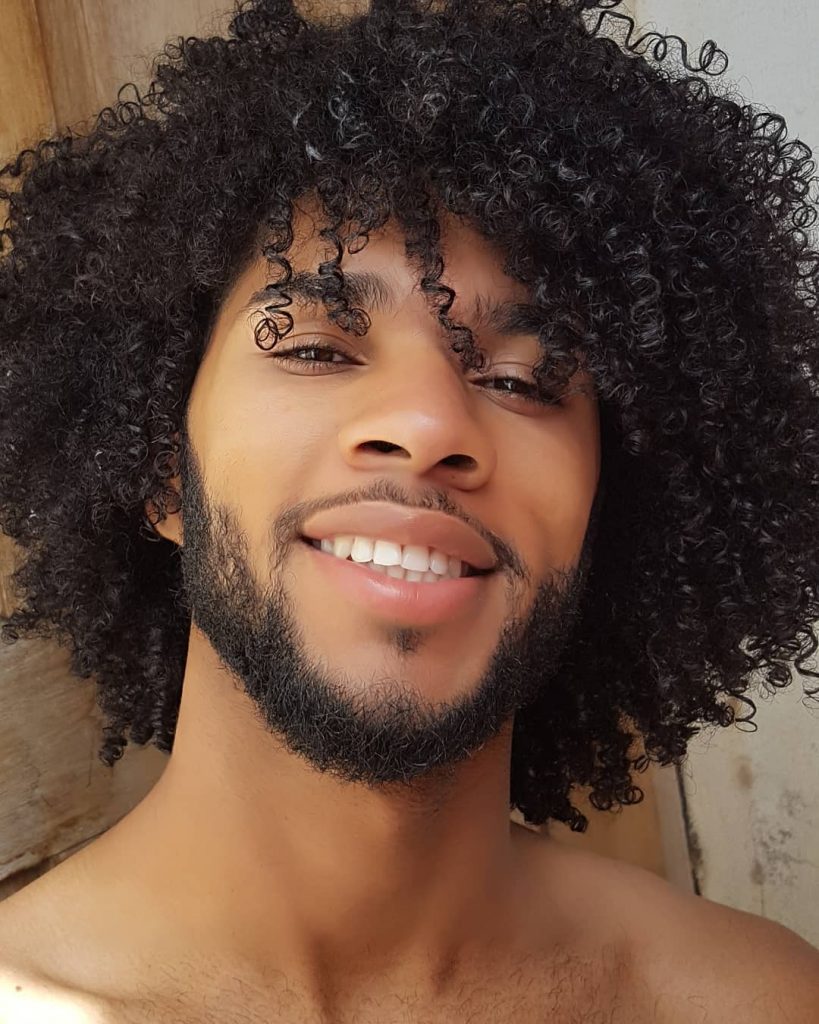 Really Long Curly Styles For Black Men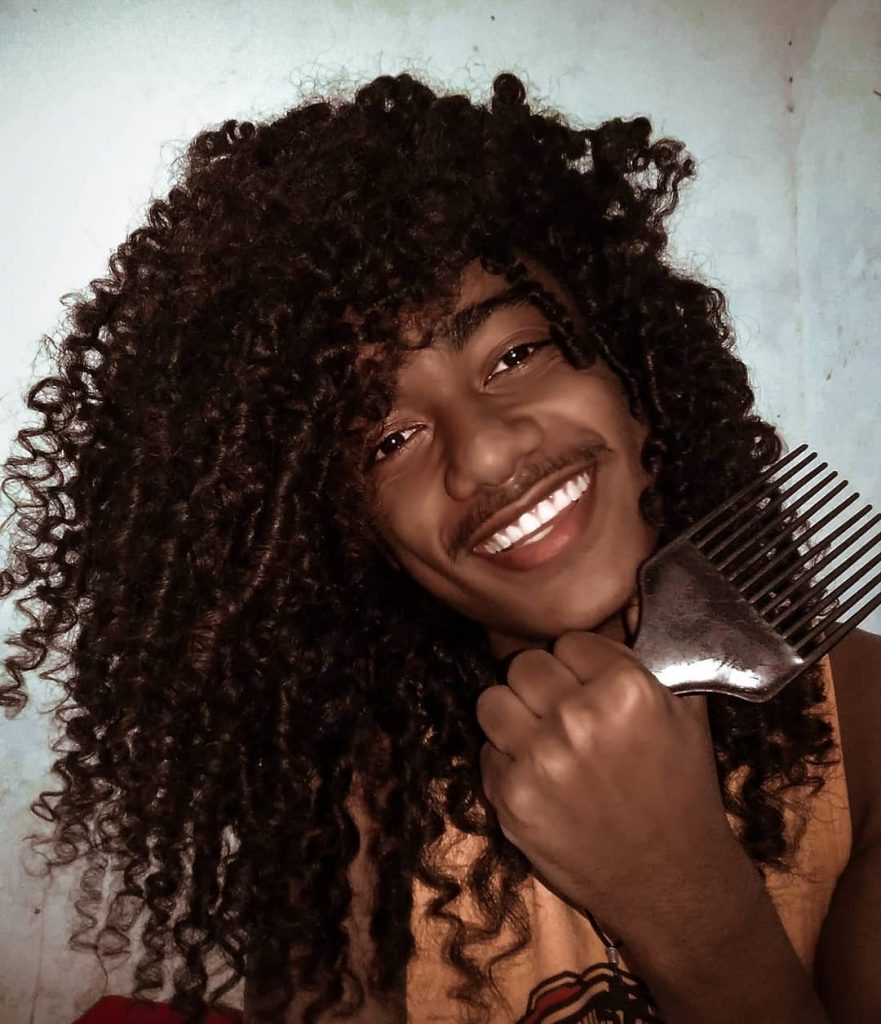 3. Undercut + Long Curly Hair
Fades and undercuts are popular for curly hair of all lengths. It's a way to concentrate texture where it counts, lighten up thick hair, or get some clean edges.
Curly Undercut For Men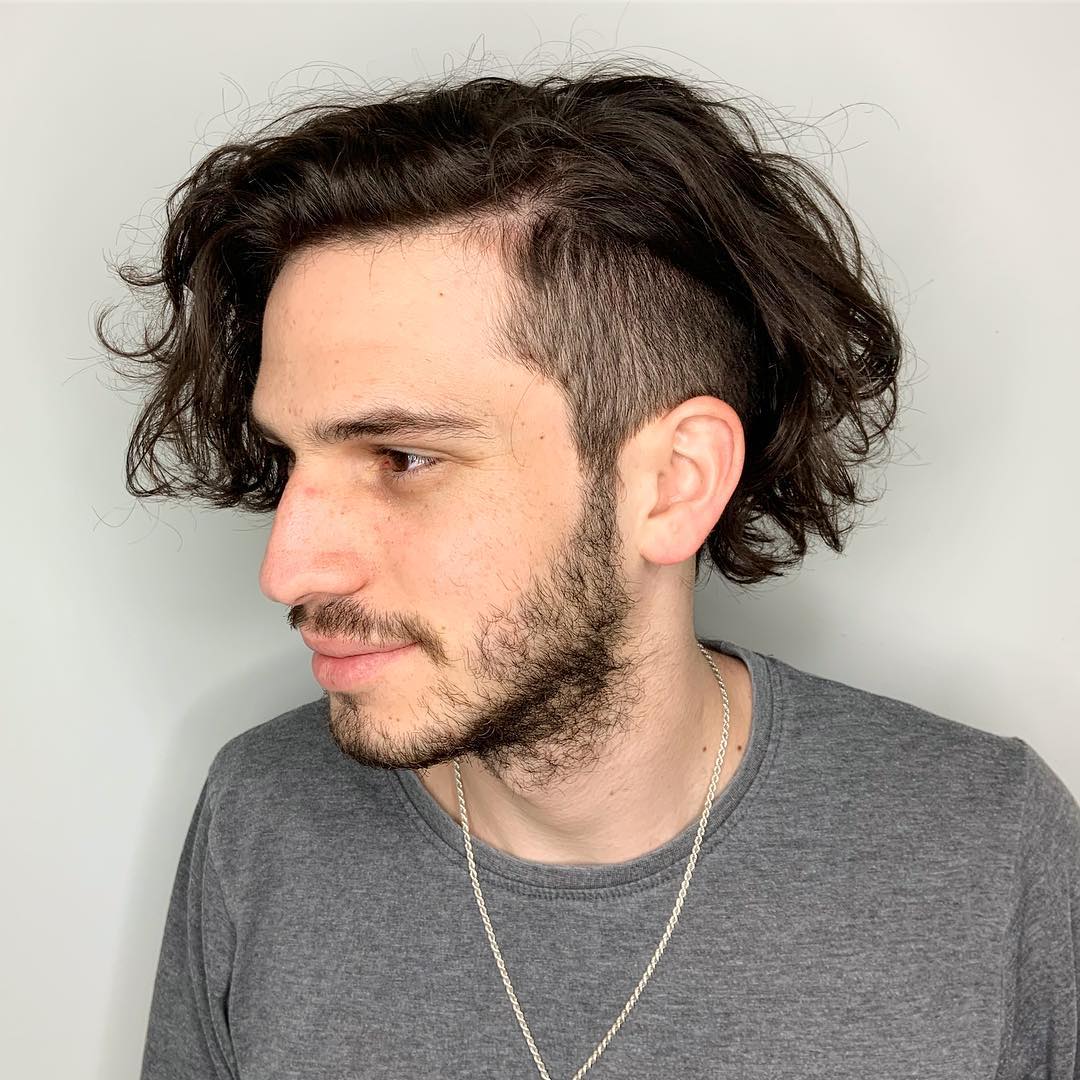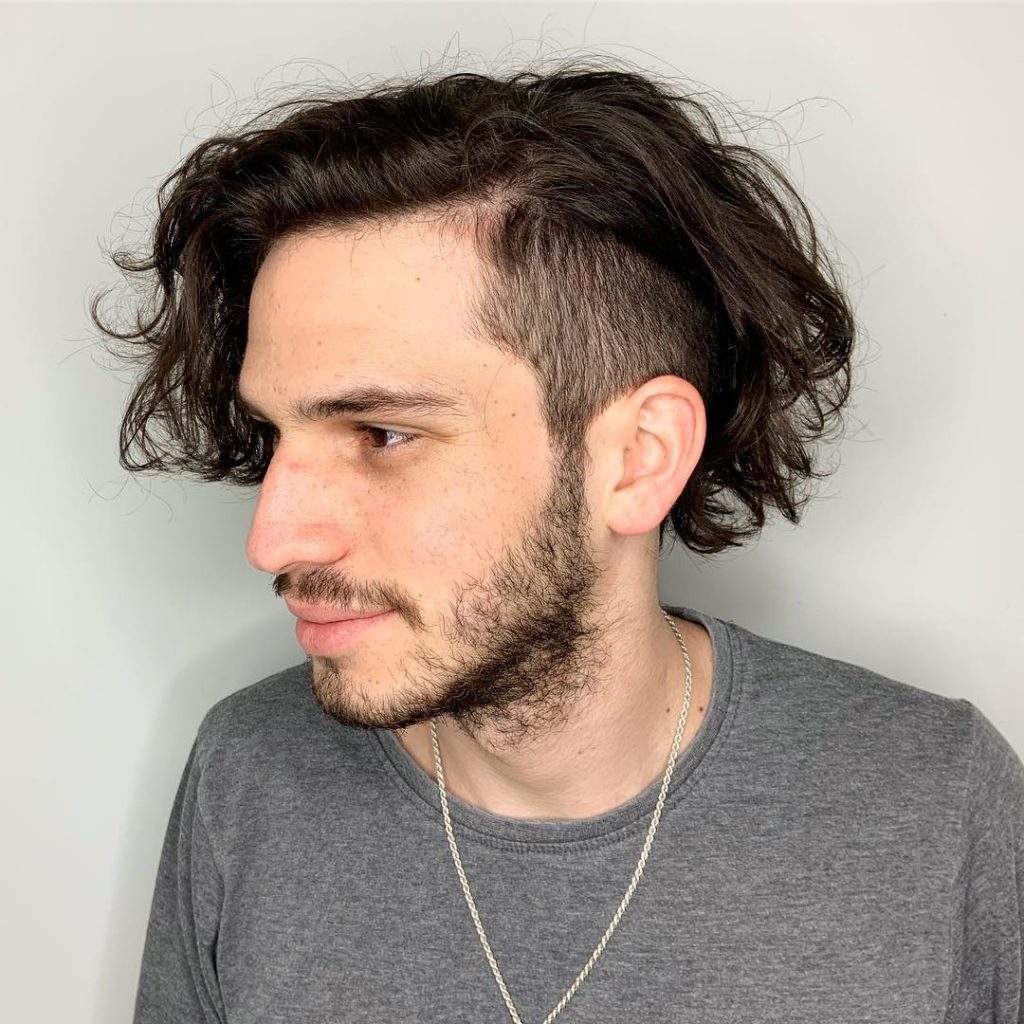 Long Hair + Undercut + Line Up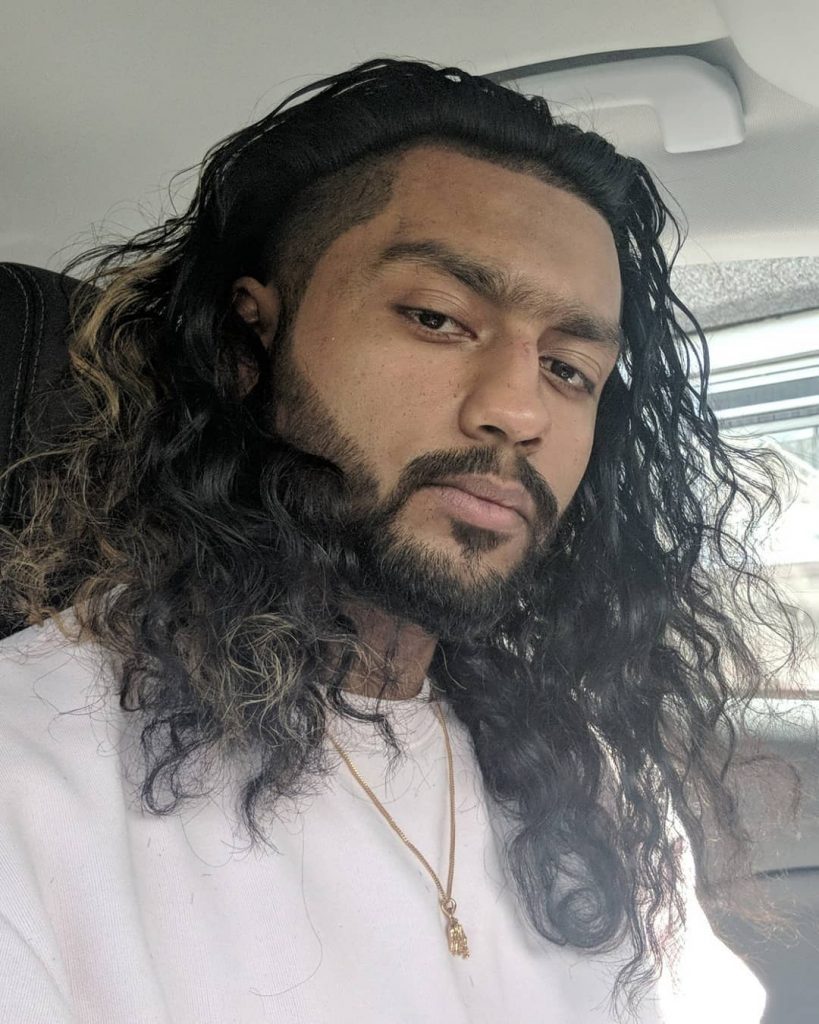 Undercut + Man Bun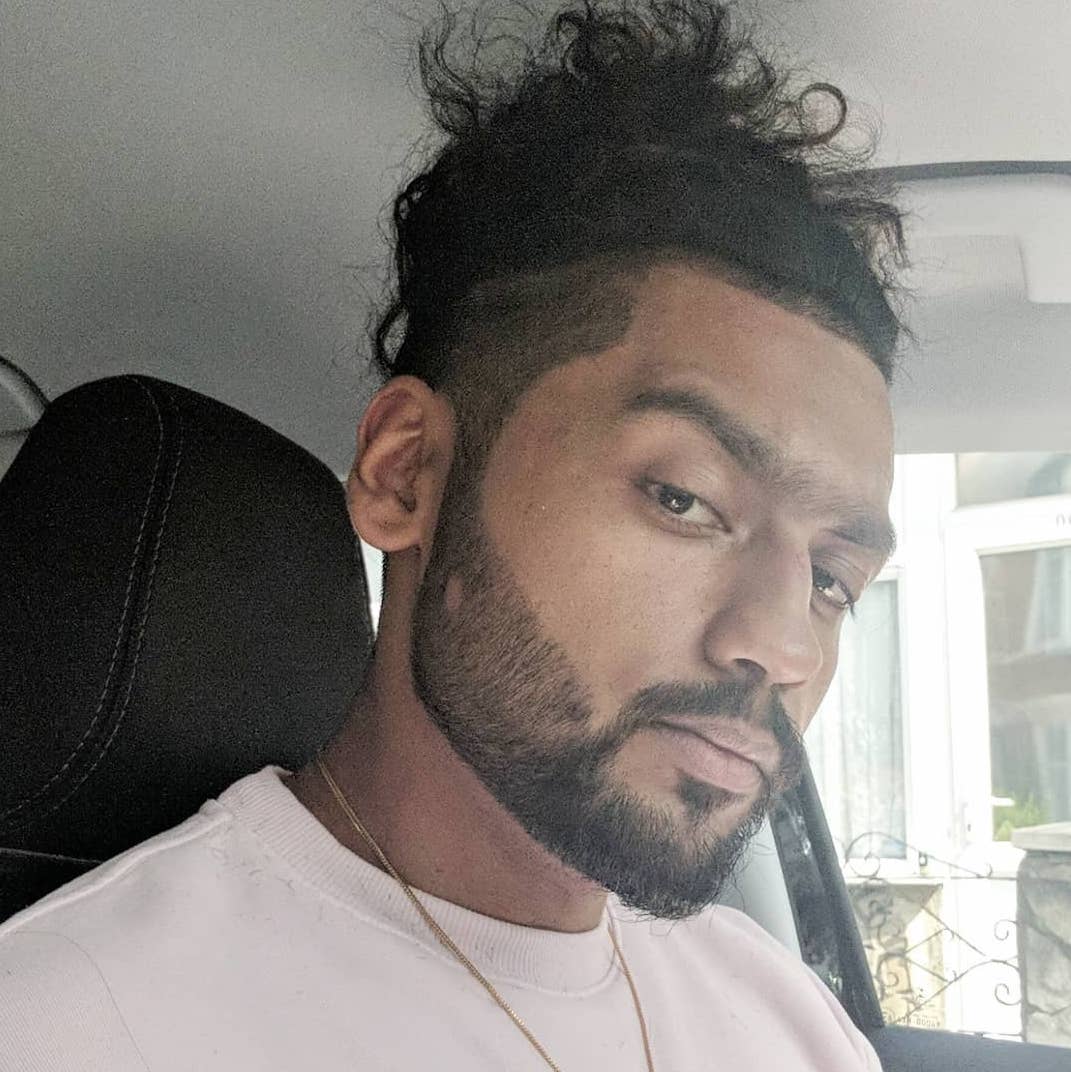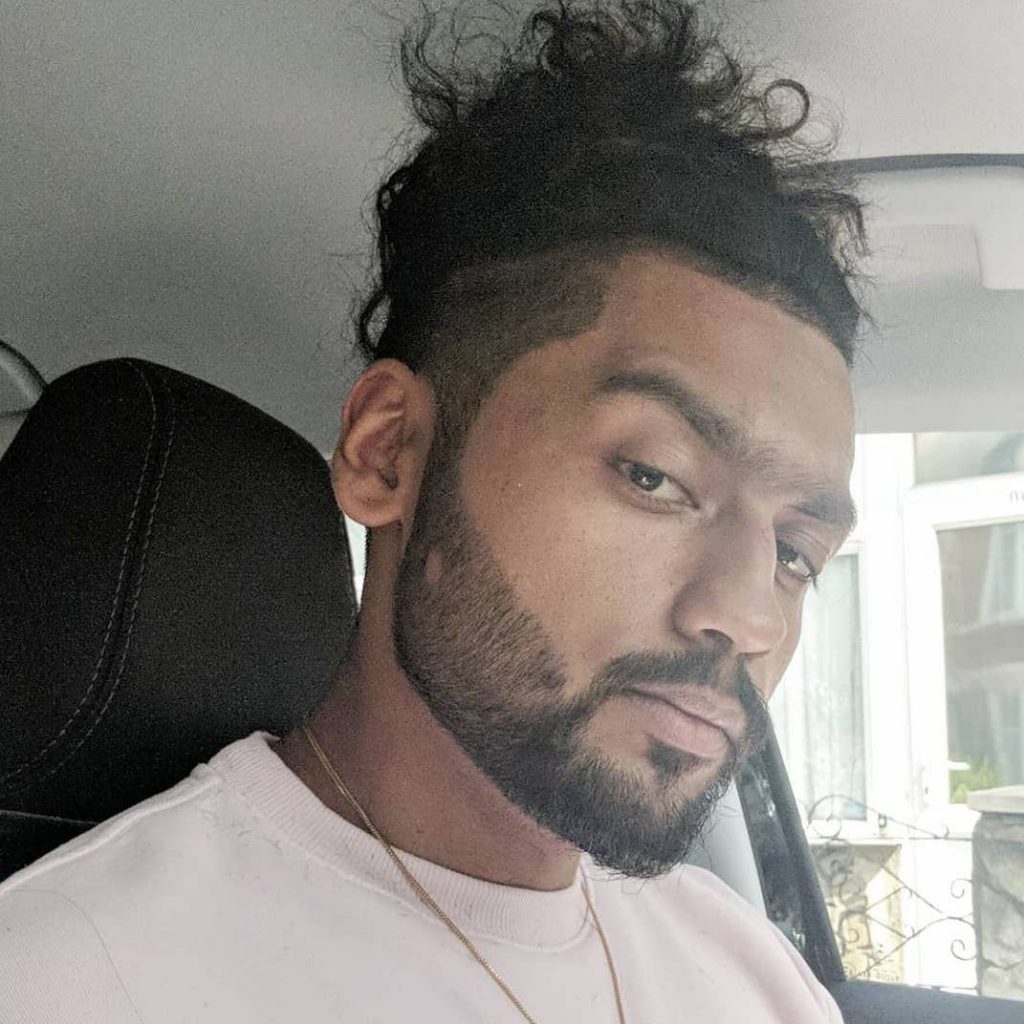 Long On Top + Short On Sides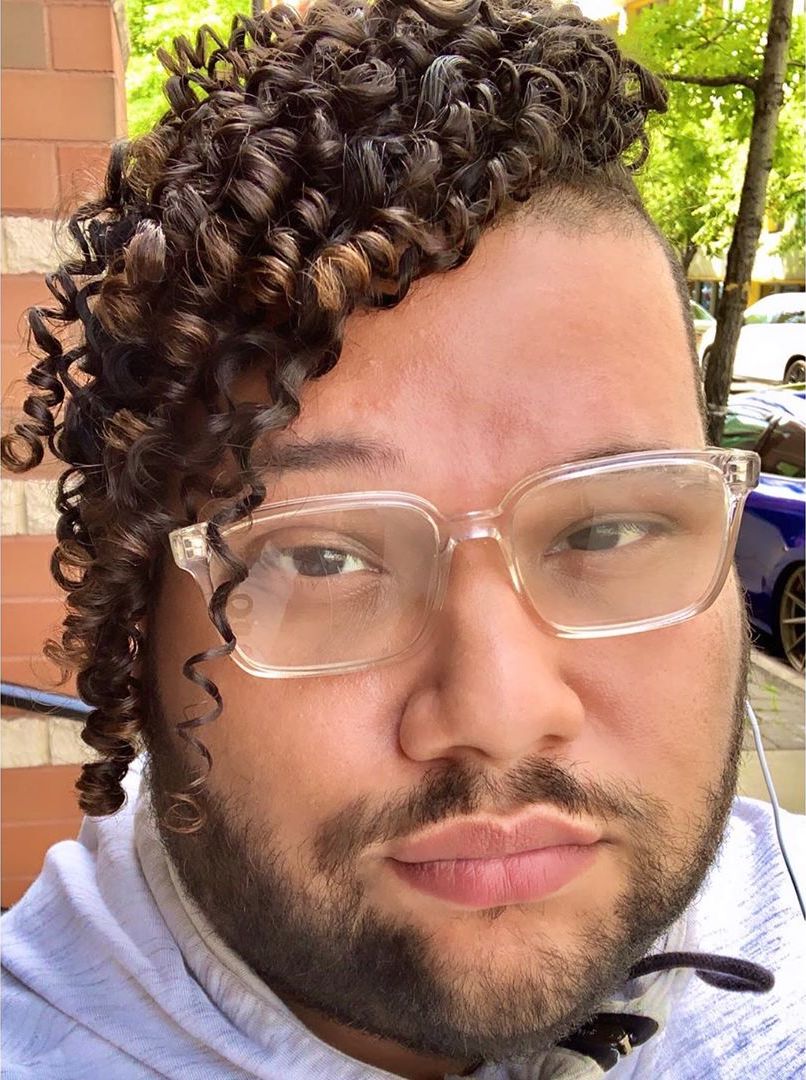 Taper Fade Haircut + Long Hair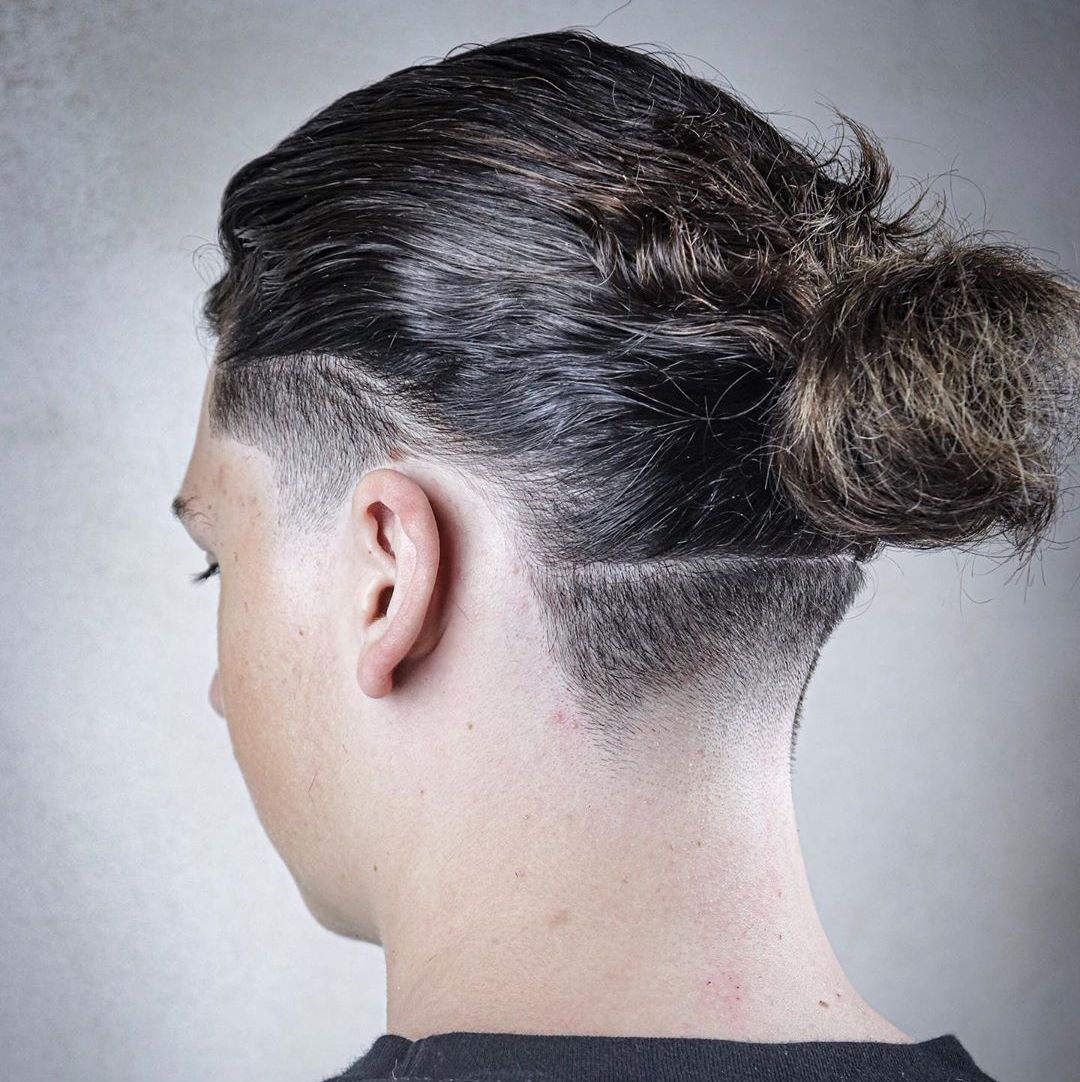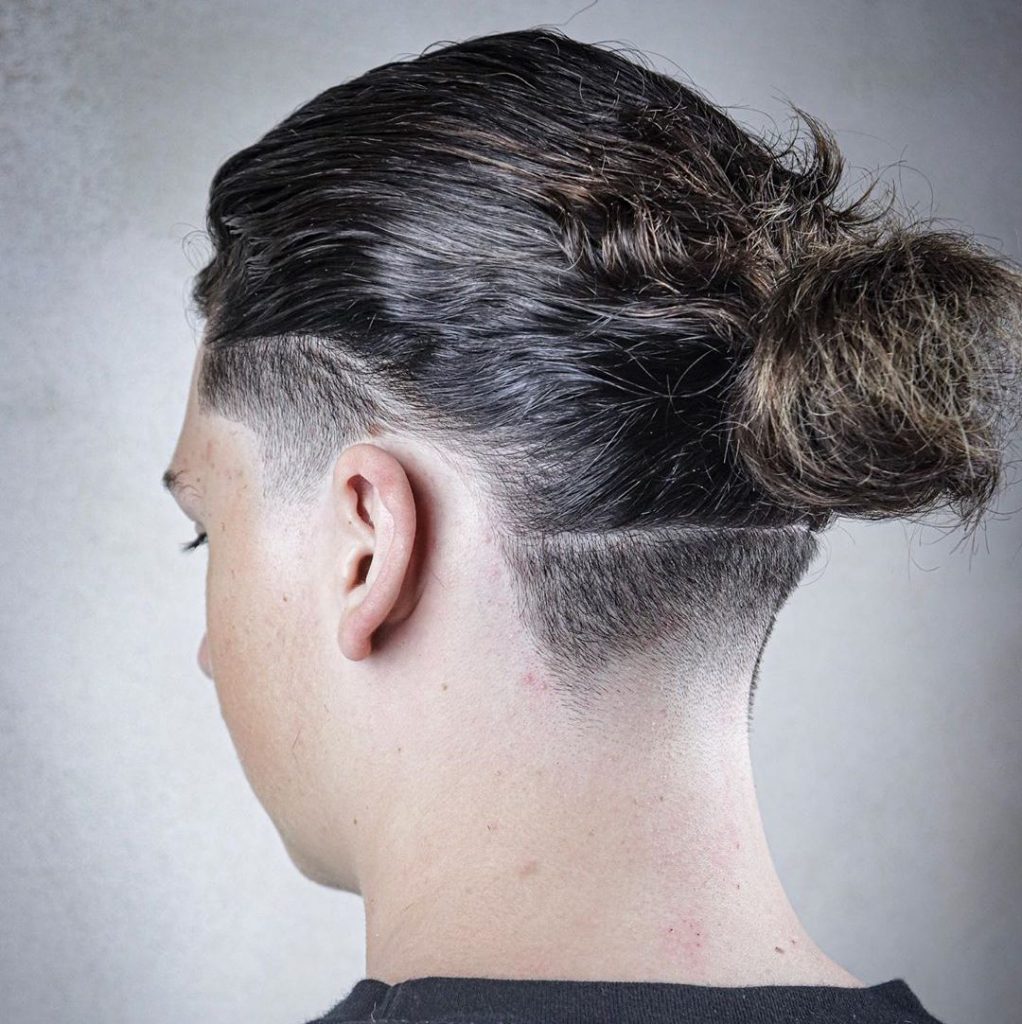 4. Hairstyles For Men With Long Curly Hair
When it comes to styling men's long curly hair, there are the same options as long hair plus some more.
High Half Up Hairstyle For Men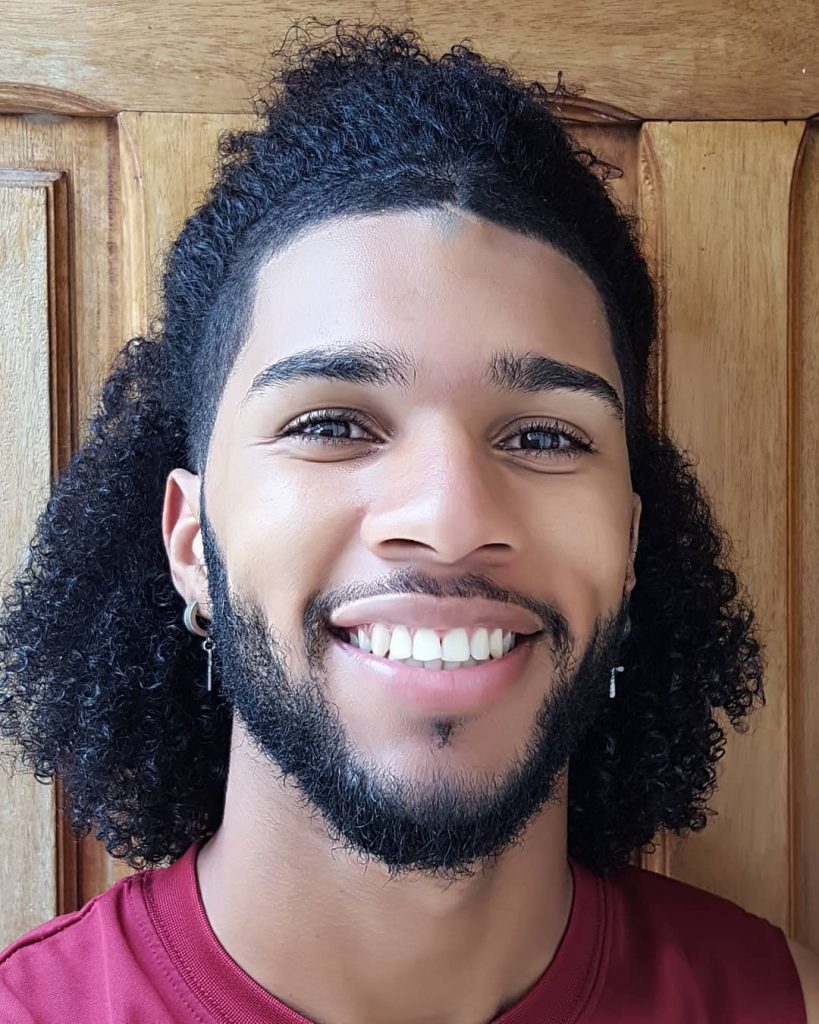 Half up styles keep hair off the face while keeping that flow. Pull hair back into a half bun or half ponytail. The half up portion is pulled up high enough to be visible from the front.
Low Half Up Hairstyle For Men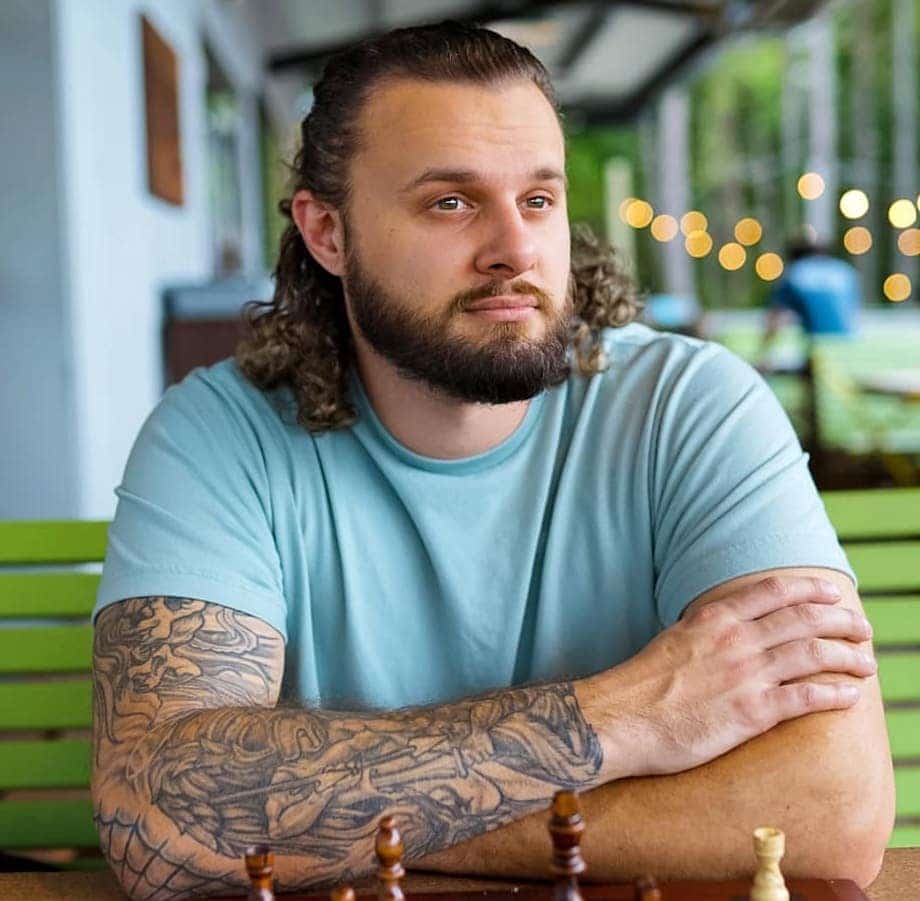 A different curl type and lower half ponytail gives a different look.
High Ponytail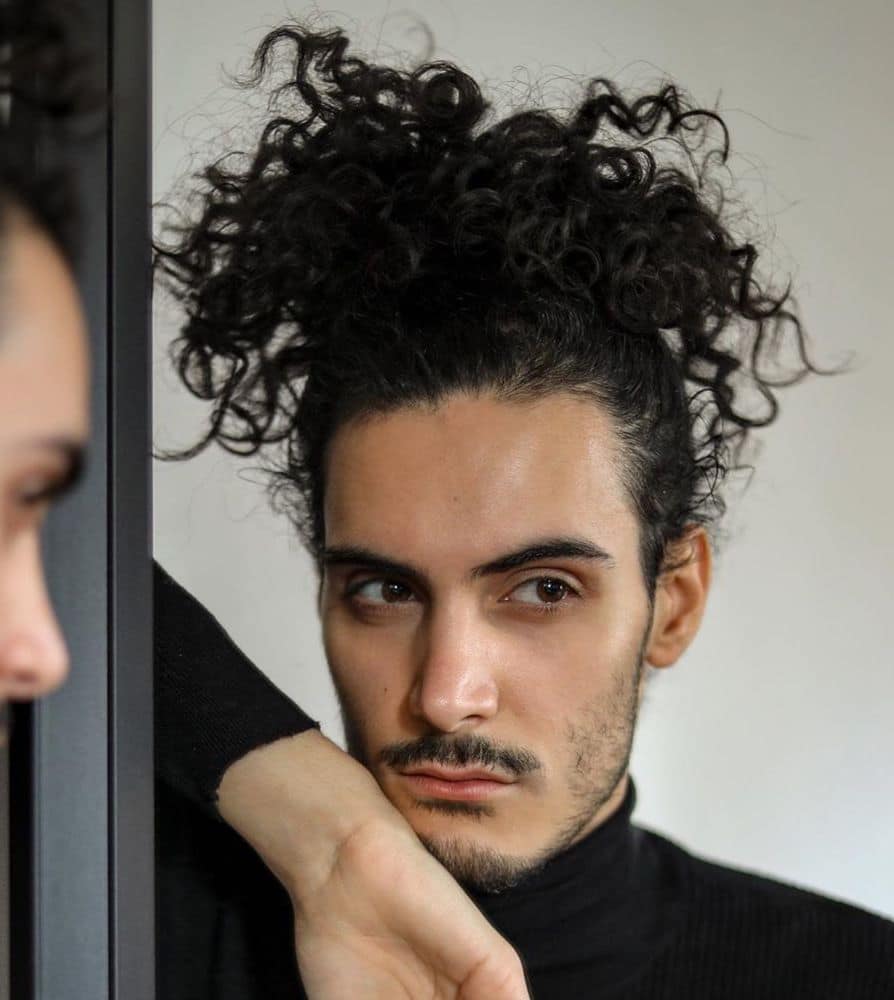 Wear a curly hair in a high ponytail to show off that volume and texture.
Easy Hairstyles For Long Hair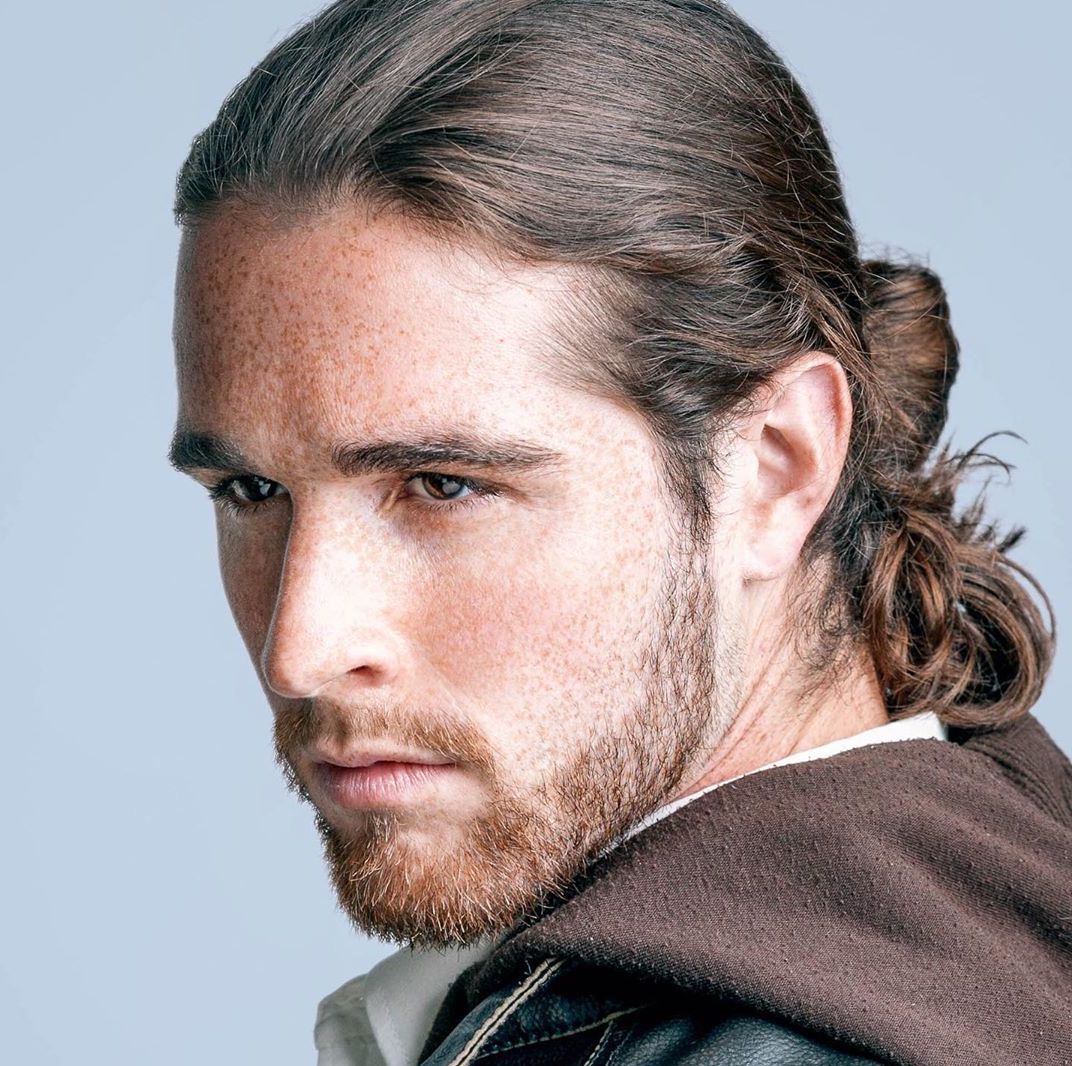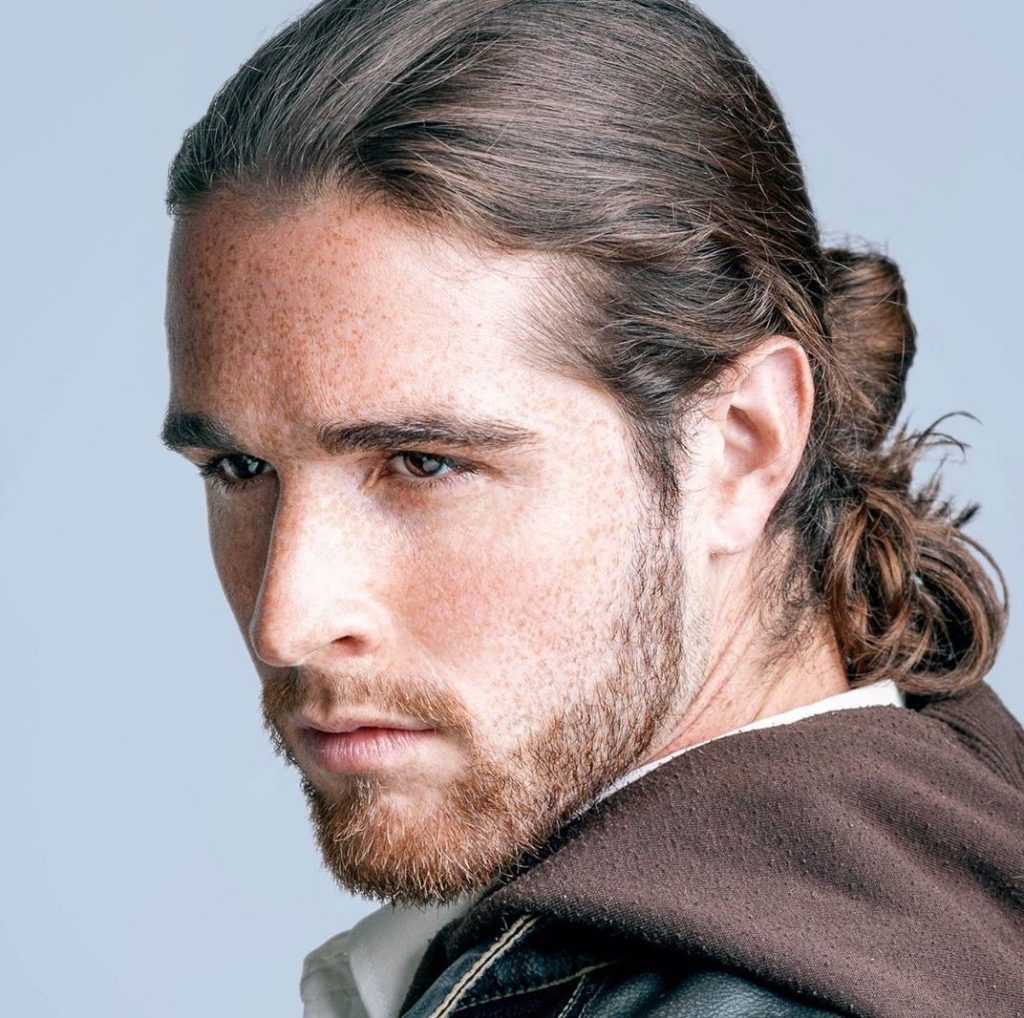 This cool look is in between a bun and a ponytail. Style it by starting a ponytail but don't pull hair all the way through at the end, leaving a loop of hair out. Try wearing it lower down, up high, and in the middle.
Man Bun Hairstyle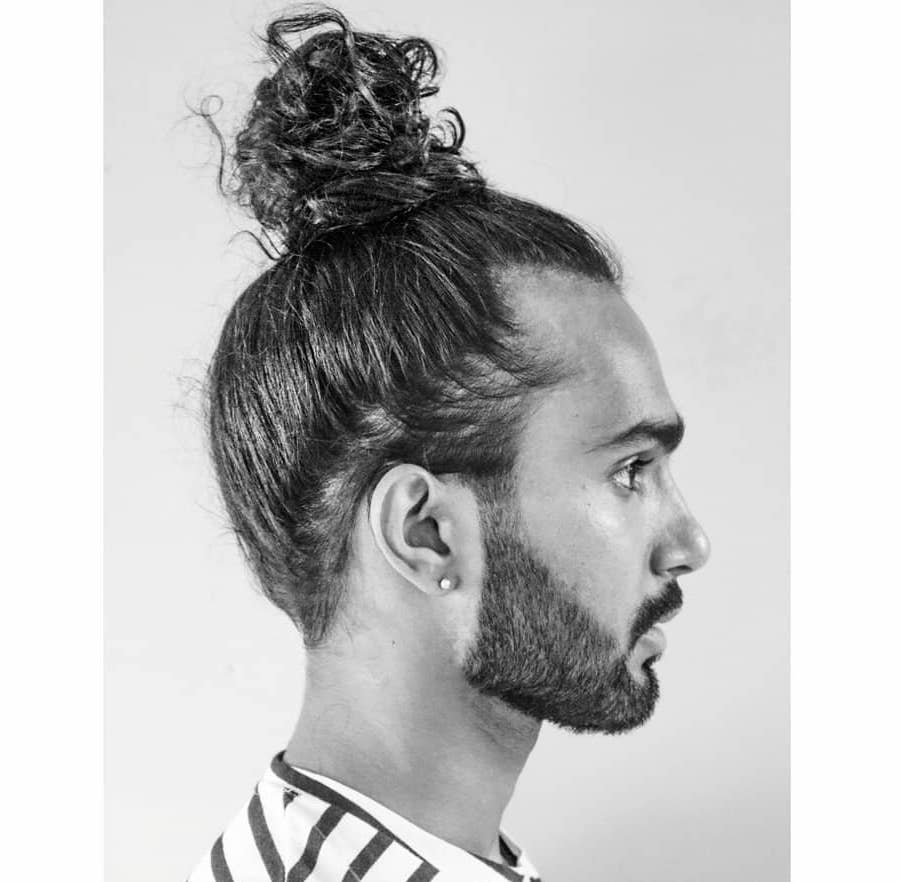 This cool man bun is up on the crown and can be seen from the front.
Cool Curly Ponytail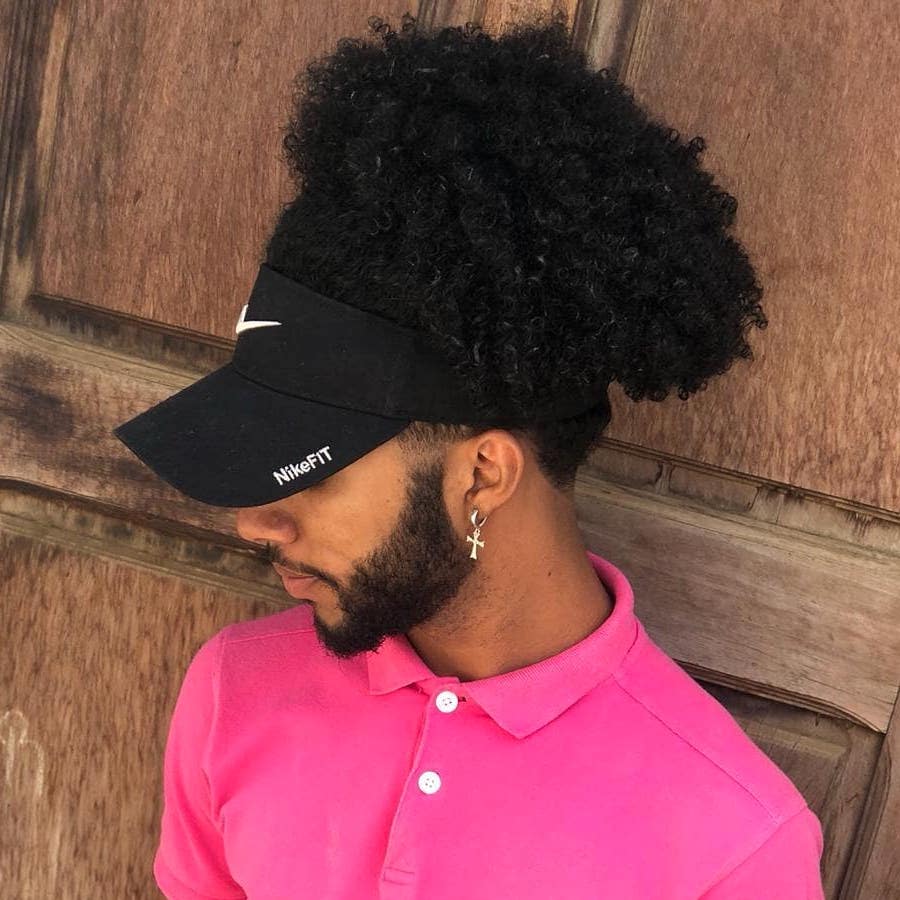 For ultra-thick hair as well as tighter curls, an ordinary hair elastic just won't cut it. Instead, try a stretch comb or adjustable Bunzee Band to pull hair back into an impressive pouf of hair. This looks cool on its own or accessorized with a visor, bandana, or your favorite head wrap.
5. How To Style Long Curly Hair For Men
When brushing and styling curly hair, there are only two tools required. A wide tooth comb and/or fingers. Picks and other tools made for textured hair work too but other combs and brushes will disrupt the curl pattern and create frizz.
We're going to walk you through the easiest way to create defined, soft, frizz-free curls. It is called the gel cast. Here's what to do.
On wash day after cleansing and deep conditioning, work a thorough coating of gel through hair. This is going to preserve you natural curl pattern while hair dries. While air drying, resists the urge to touch hair because it will loose definition and create frizz.
When the gel is dry, break the cast by lightly scrunching upward from tips to roots. That's it. You'll have defined curls that should last a couple of days.