Wearing hair medium length and longer is a current trend for men and boys. These longer haircuts for boys make the most of that young healthy hair with stylish and easy to wear looks.
Just like we tell the older guys, wearing hair longer takes more than stopping haircuts. In fact, growing hair out can require additional barber visits to keep hair out of the eyes and looking good.
These medium haircuts for boys are all easy to wear. Some are only longer at the front while others are longer all over. These looks work for all hair types, from straight to curly.
All of these boy's haircut are also product optional. They can be styled for some spiky volume but it's not at all necessary. If you can't rock the messy look when you're a kid, when can you.
Now check out these cool ways to wear longer hair for boys.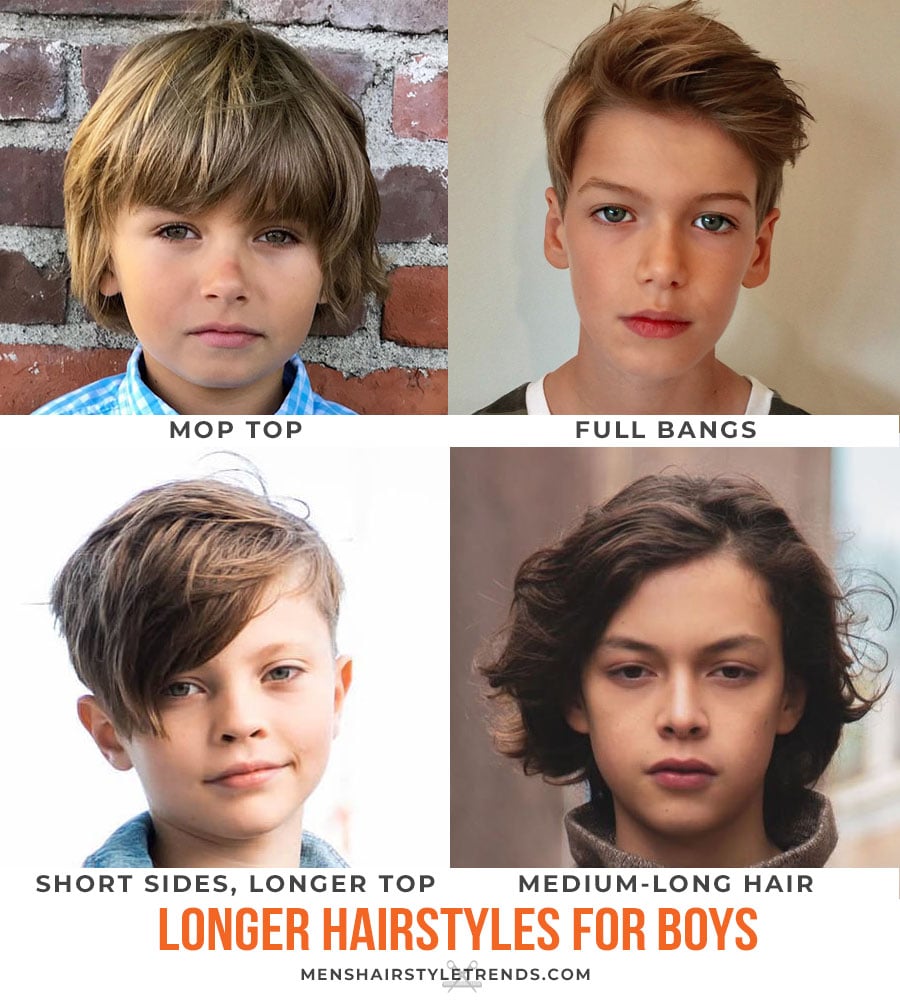 1. Side Swept Styles
These side swept hairstyles push long bangs over to one side. The sides can be shaved or cut short but length is concentrated in the bangs. Here are three different ways to wear the look with wavy hair, thin hair spiked up, and Justin Bieber-inspired fringe.
2. Side Part Hairstyles for Boys
This is a longer and more formal version of the side sweep. Hair is left short or medium length at the sides with longer hair on top. Part hair to one side and work it up and over. You can add some height and lines to the look or match this classic look to dad.
3. Fringe Haircuts for Boys aka Mop Top
This is a popular cut for boy models because it cute and versatile. Fringe can be blunt, angled, or layered. Play with different looks styling hair up into a messy pomp, quiff, or spikes.
4. Medium Length Haircuts for Boys
These haircuts for boys are longer all over. Some have fringe while others are chin length and can be tucked behind the ear. Curly hair can begin to take on a gorgeous rounded shape with the right cut. Every hair type needs some conditioning at this length.
5. Longer Top, Short Sides
This long hair on top, short sides haircut is popular with guys of every age because it makes longer locks easier to style. Hair looks great worn loose and over to one side or styled up. This is also a popular look for boys with curly hair.
---
Are you using a premium hair pomade?
These are the top 10 hair pomades that we recommend for top value.
Try one of these top pomades for consistently amazing hairstyles!
---