Longer hair for men has gone mainstream and so did the man bun. What is a man bun? The bun can be is a twist or loop of hair and a much cooler alternative to the ponytail for tying long hair back.
This isn't a smooth and high ballerina bun, although that can be a polished look for special events. Man buns can be worn high on the head, just above the neck, or anywhere in between. Styling can be messy, clean, braided, or dreadlocked. There isn't just one man bun but a range of ways to style the look including the half-up Samurai bun.
The man bun works for all hair types including straight to wavy and all types of curls. All you need is hair that is down to the chin or longer. For something different, add an undercut, fade, or shaved sides.
Some of these various man buns have been worn by celebrities like Jared Leto, Jake Gyllenhaal, Leonardo DiCaprio, Jason Momoa, and more. But that's not all, check out these 21 man bun pictures for lots more ideas for how to wear a man bun.
1. The Man Bun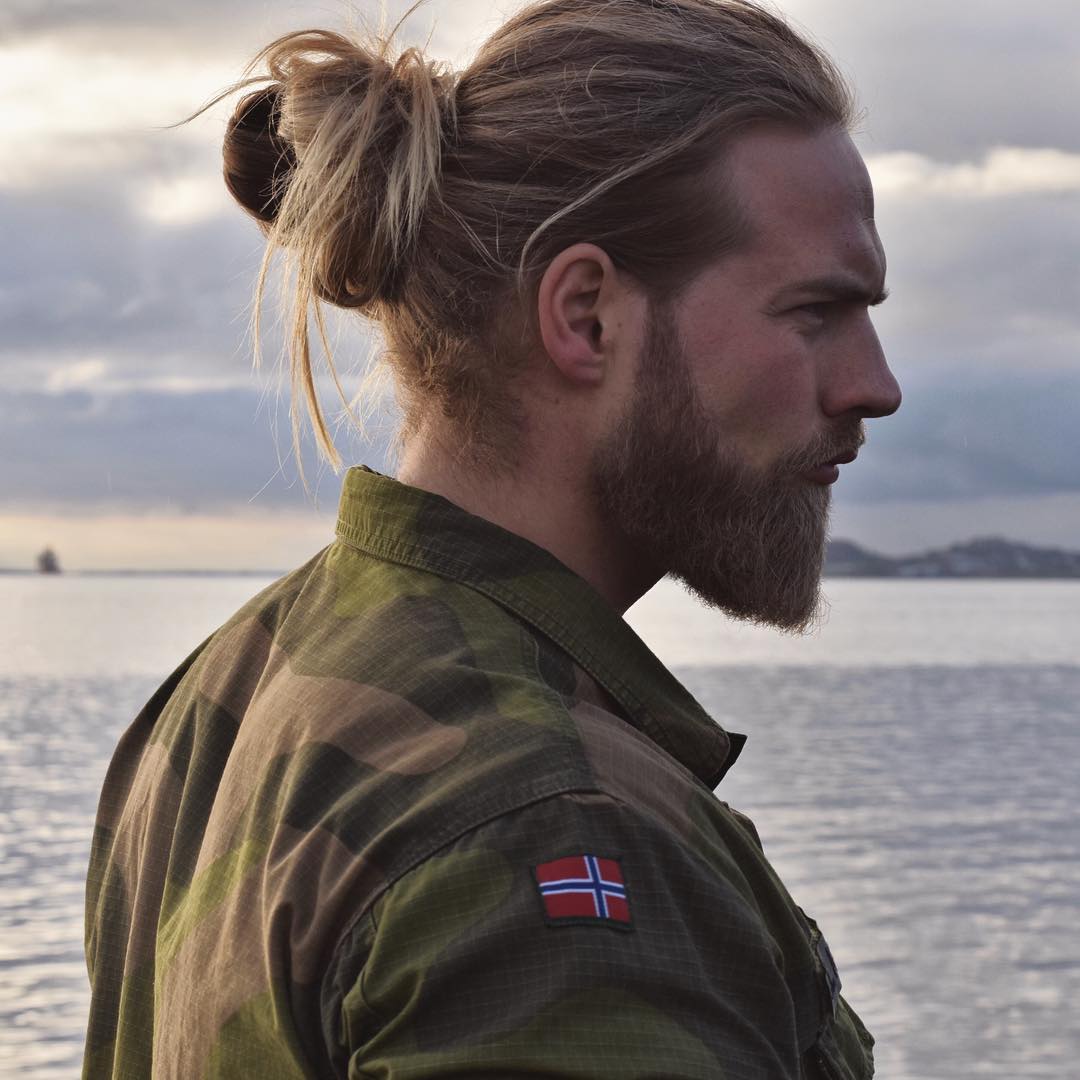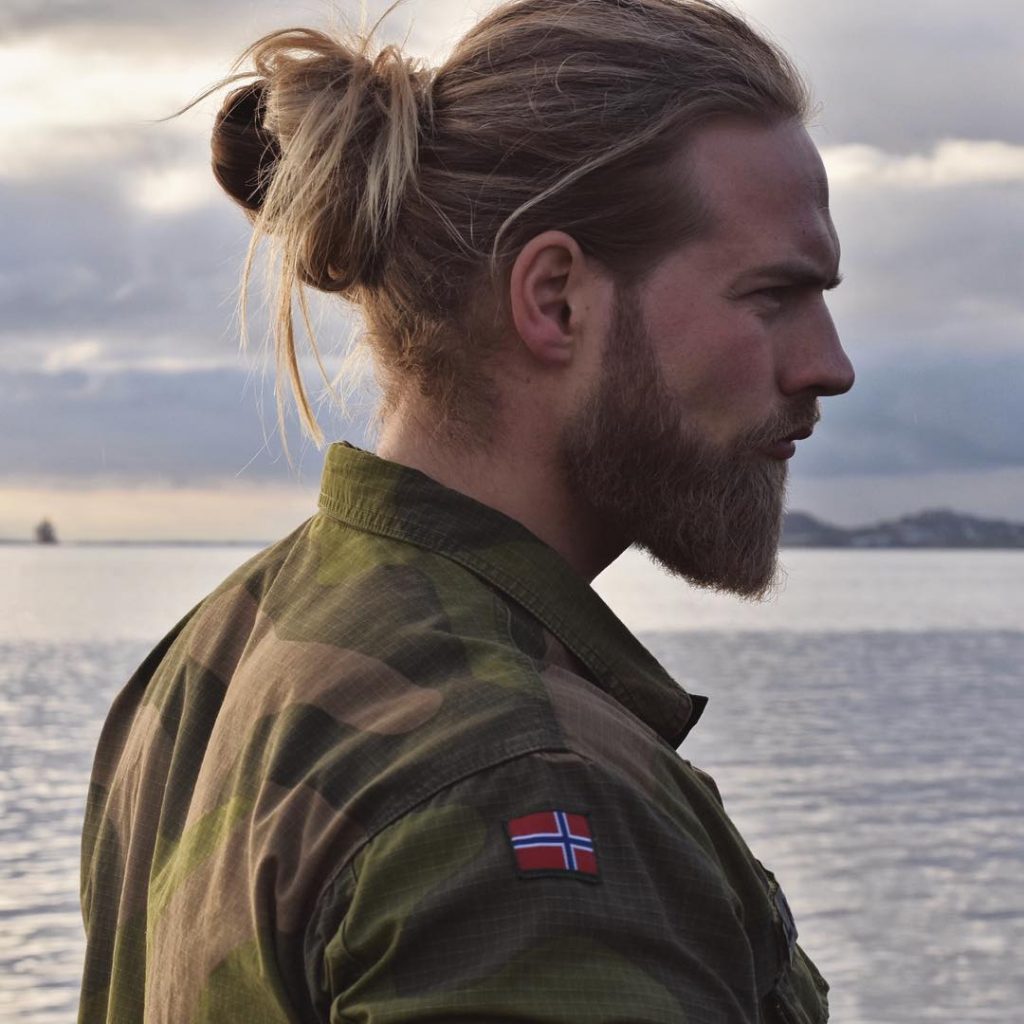 Norwegian Naval Lieutenant and model Lasse Matberg looks like a modern-day Viking with long hair and a full beard. He tames his mane with variety of hairstyles but the man bun is one of hisfavorite looks.
2. Messy Man Bun + Beard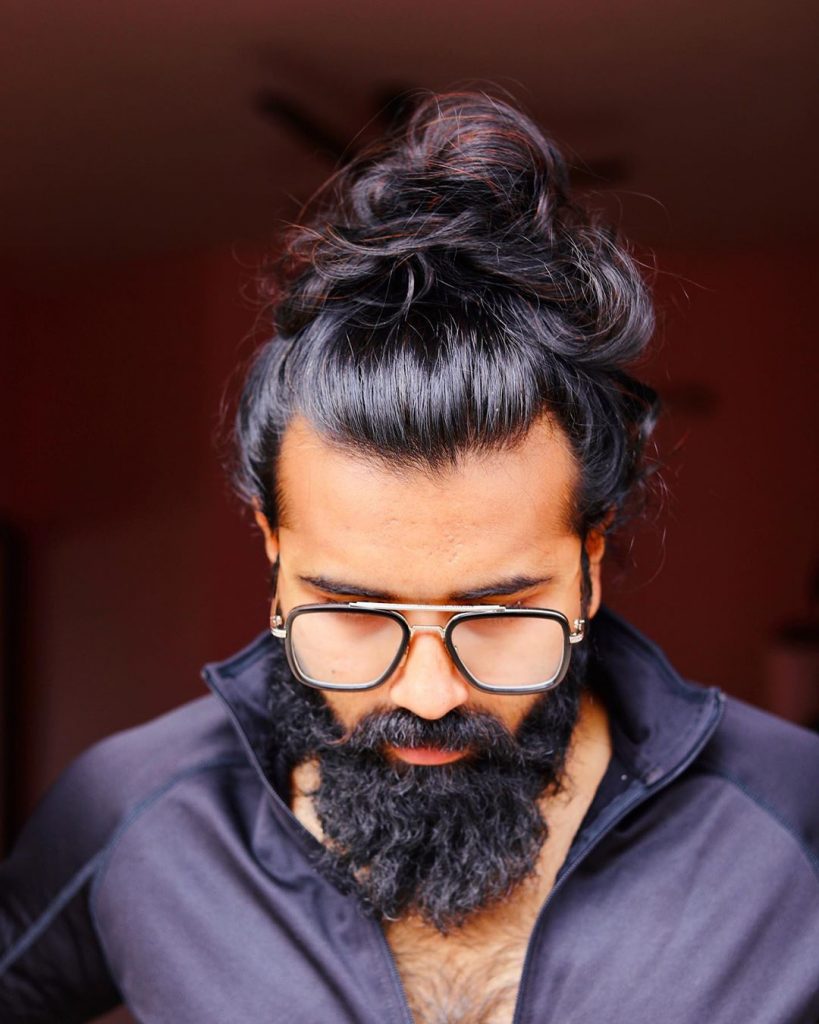 This gentleman had one of the Best Indian Beards in 2016 but we'd also like to nominate him for best long hair and best man bun.
3. Man Bun + Braids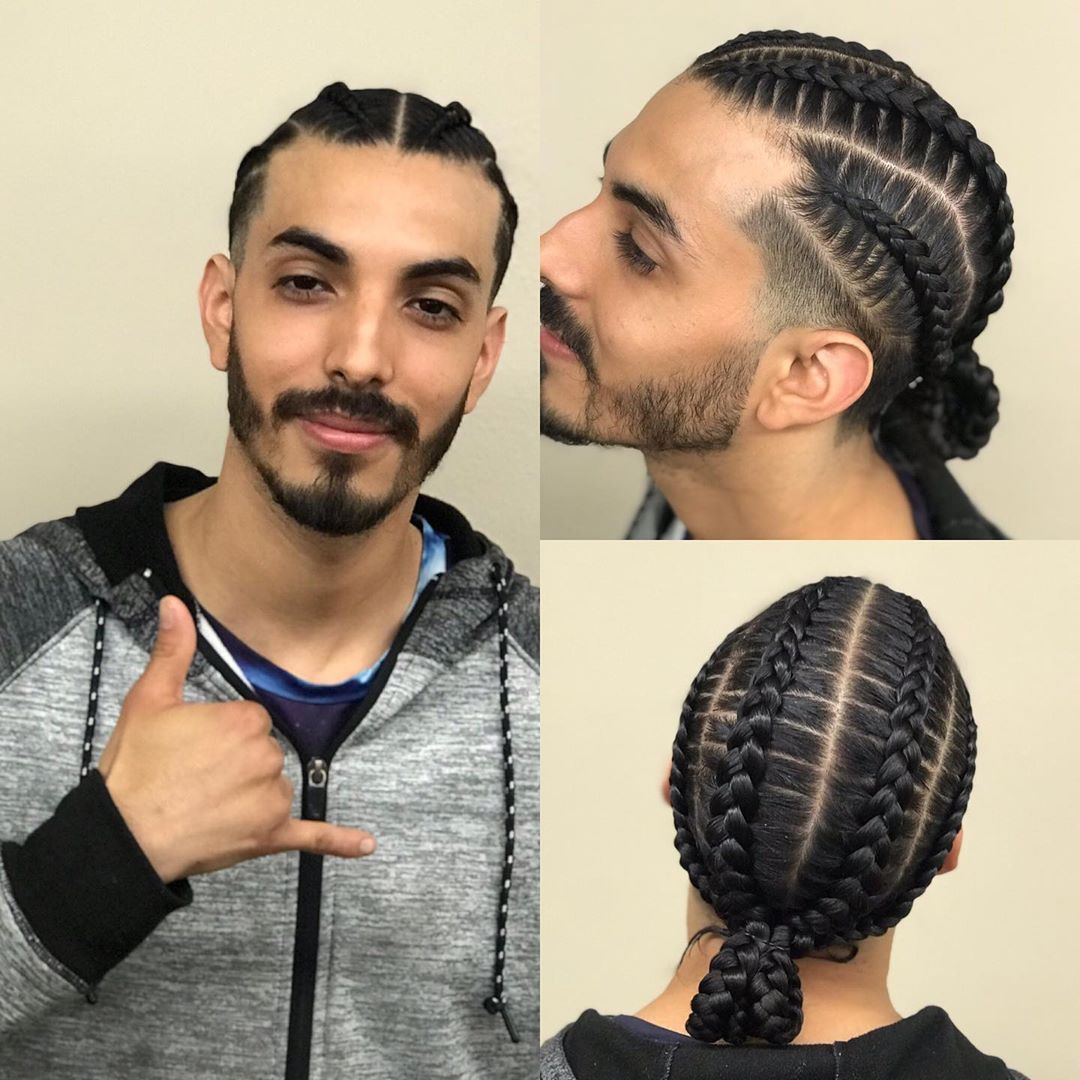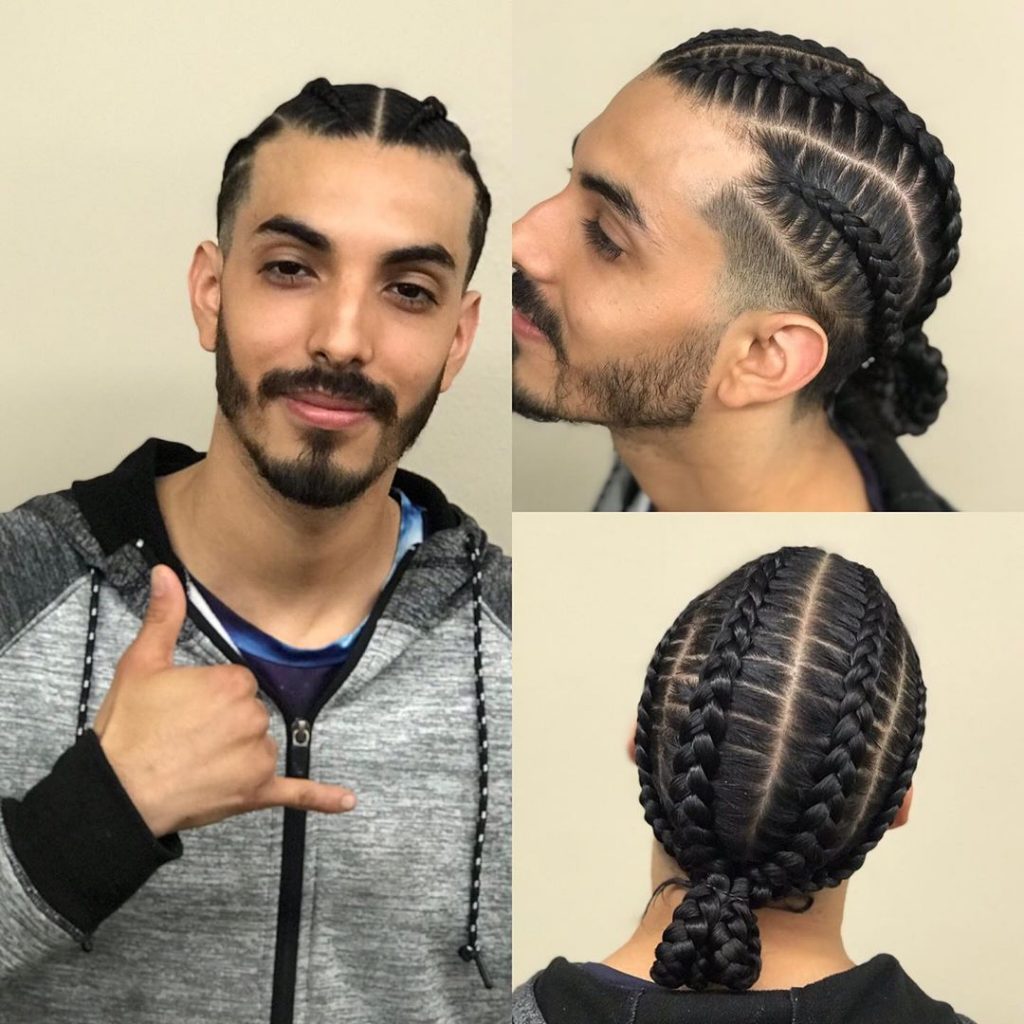 These Nipsey Hussle-inspired braids end in a plaited man bun at the nape of the neck. The bun is tied with elastic and can be removed.
4. Man Bun + Fade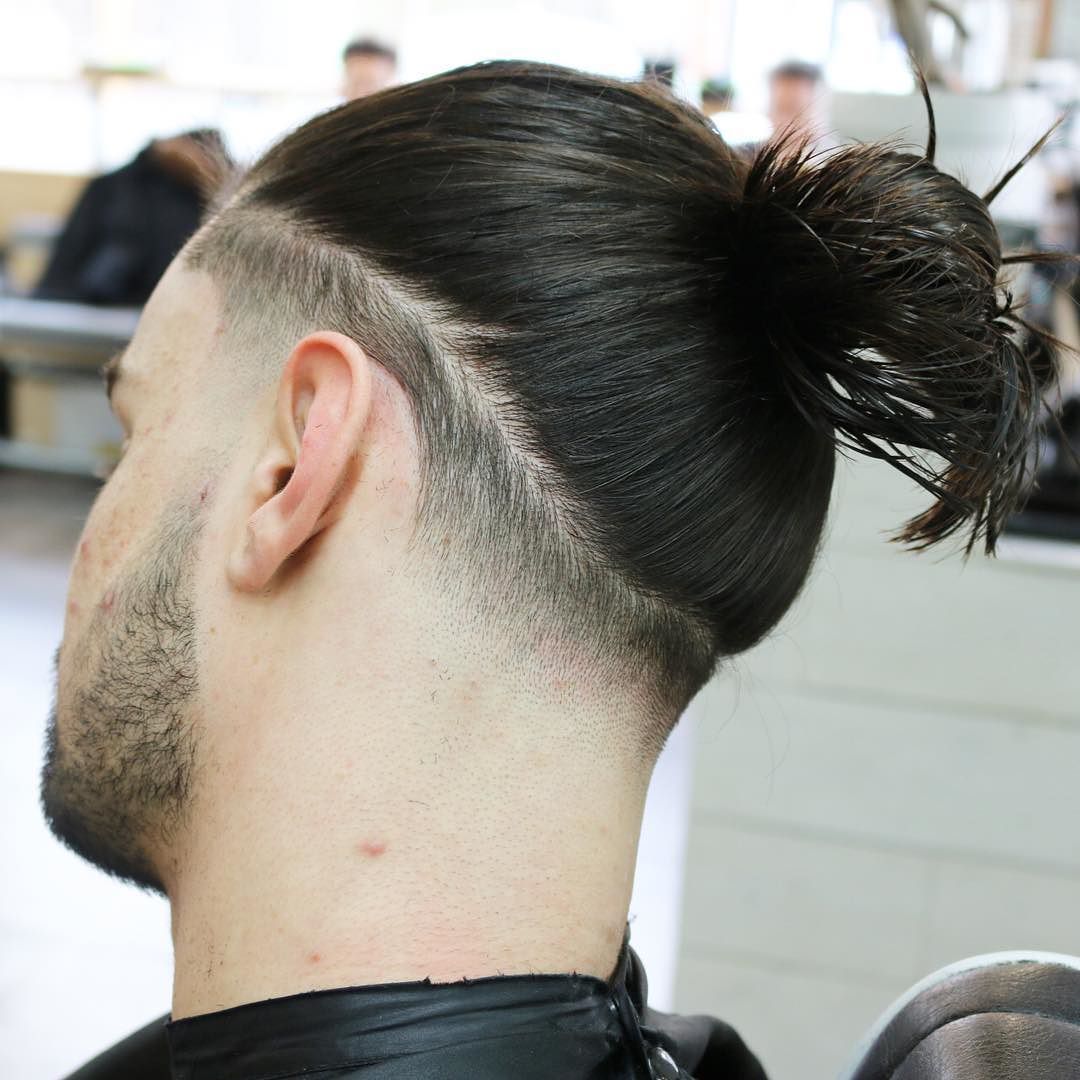 A fade tapers hair from short down to the skin. This low fade raises the hairline all the way around for clean-cut edges that disapper when long hair is worn down.
5. Man Bun Haircut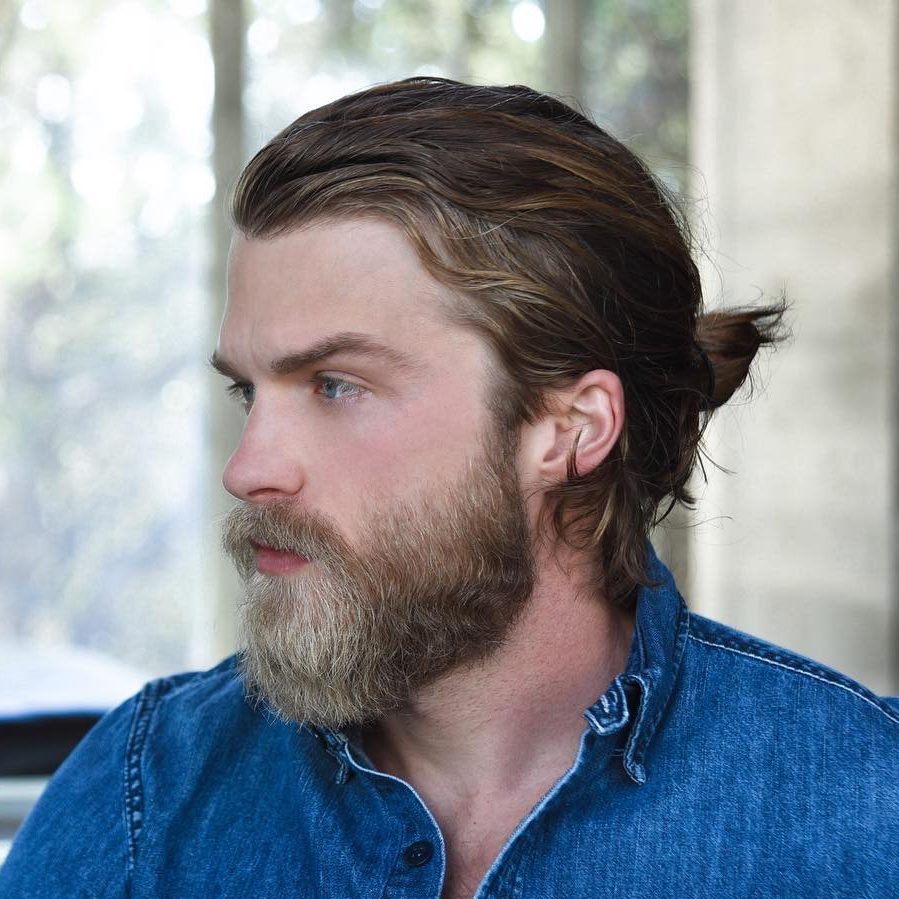 You don't need a special haircut to style the man bun, just longish to long hair. Here's how to grow hair out for the most luxurious mane. Start with a low man bun when hair is around chin length and move up the hairstyle up with more length.
6. Man Bun + Undercut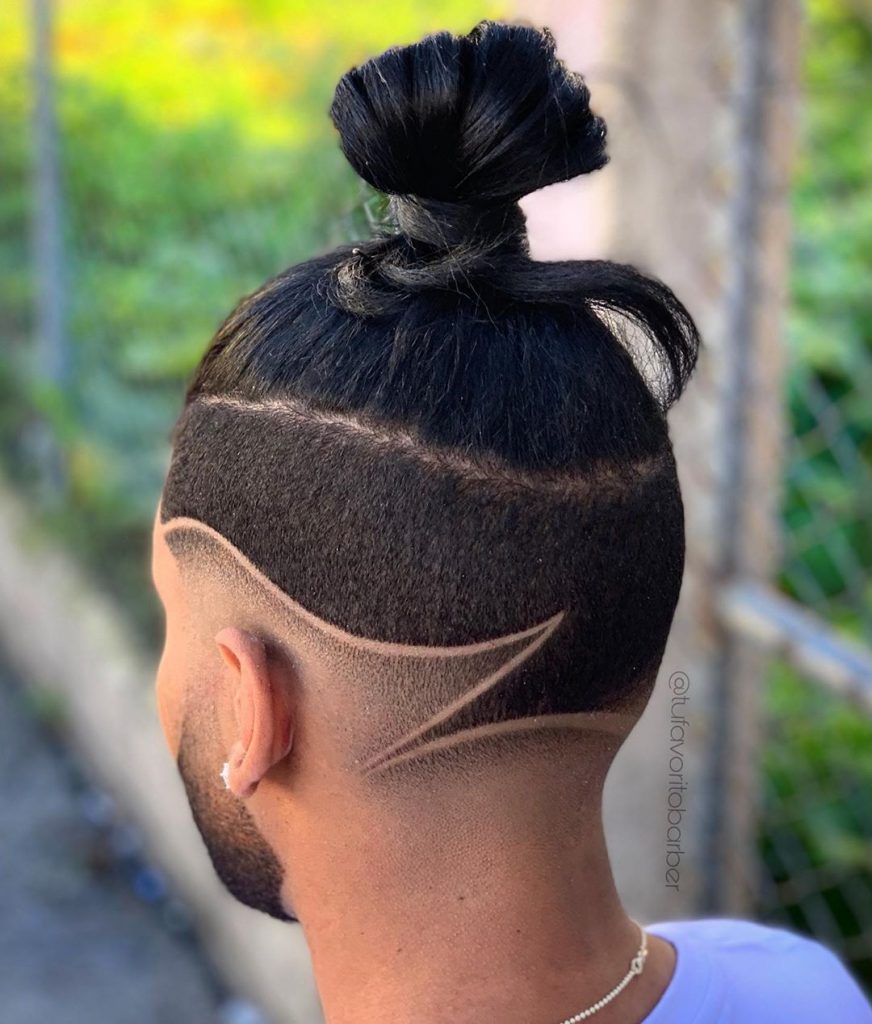 The undercut makes long hair so much easier to style and cooler (literally) to wear. Hair is shaved up high, leaving hair long only at the top of the head.
7. Man Bun For Black Men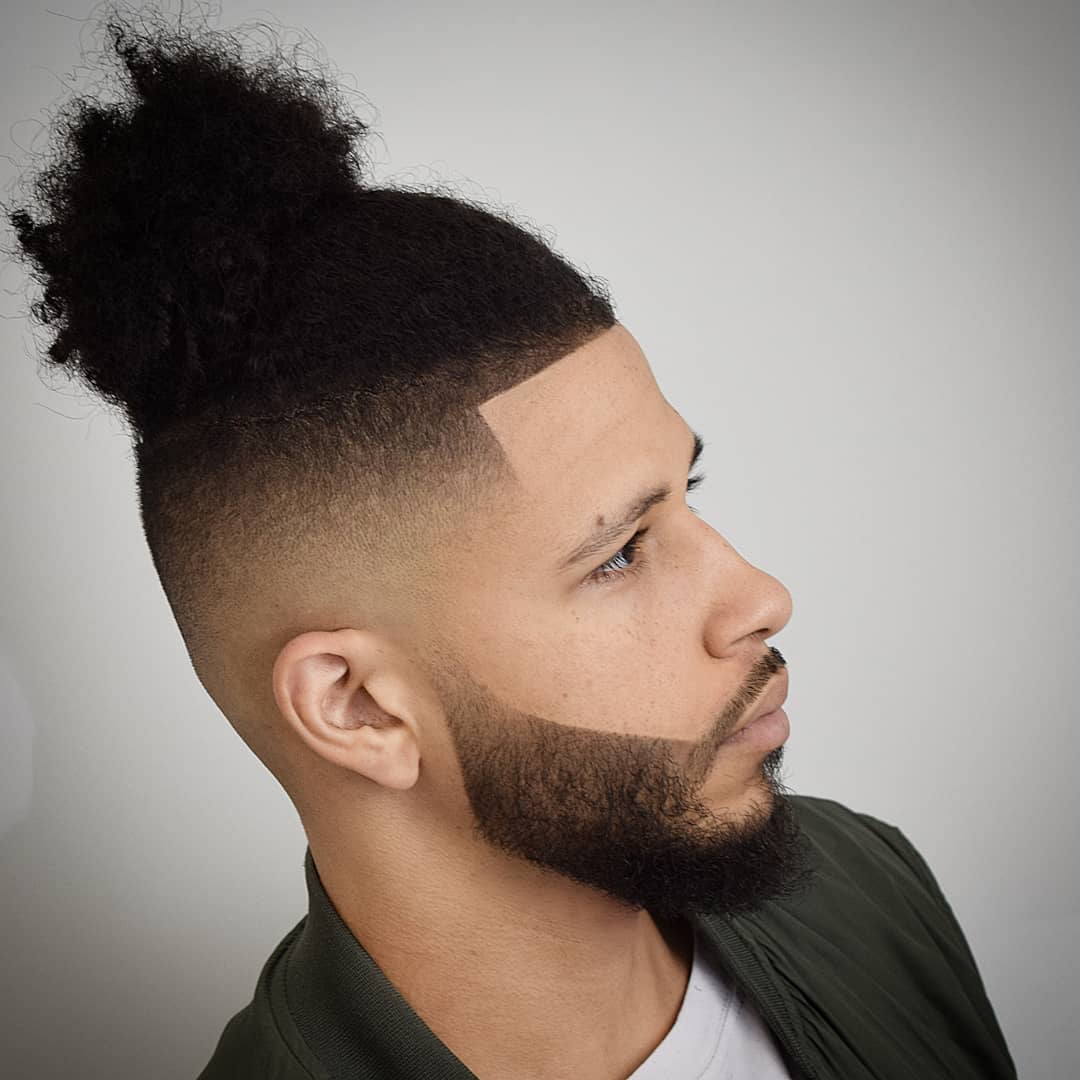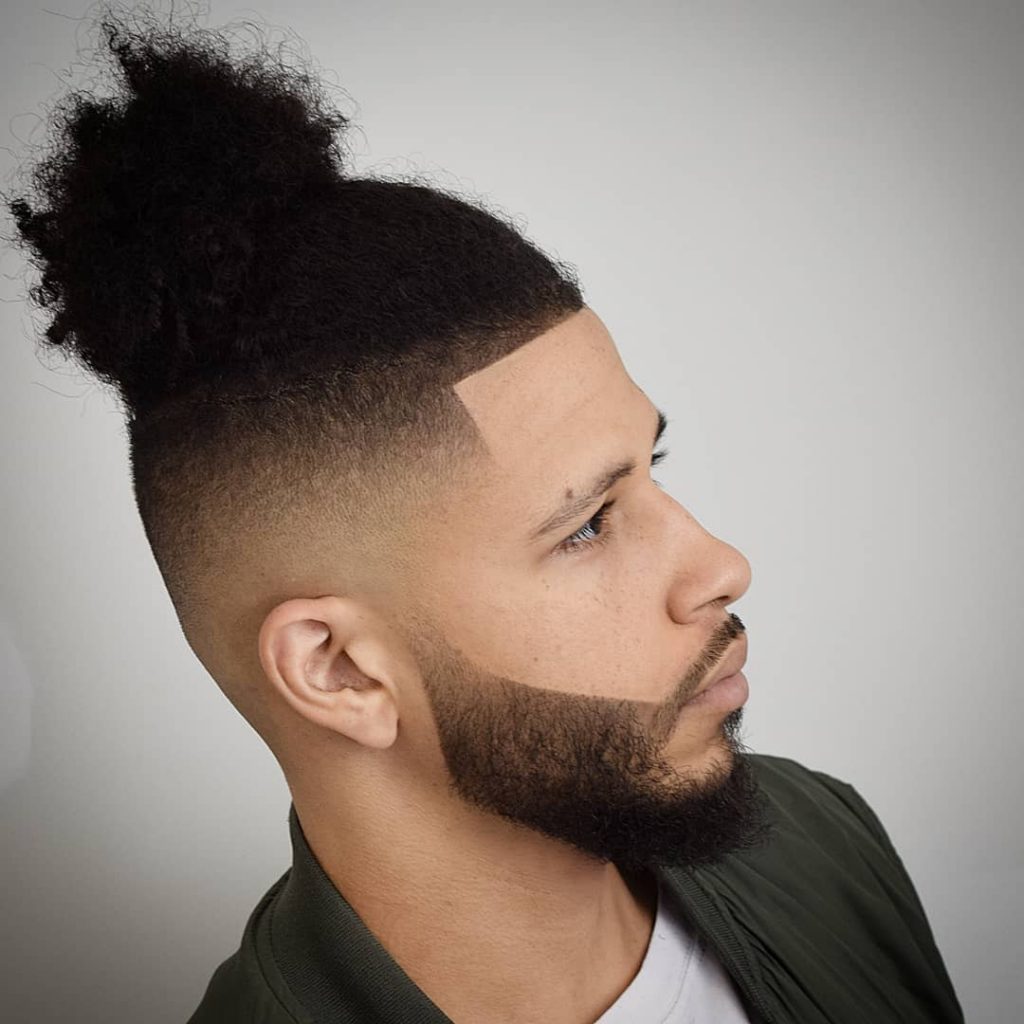 This medium length black hair is pulled into an Afro puff kind of man bun over a sweet blurry fade with a sharp line up.
8. Curly Hair Man Bun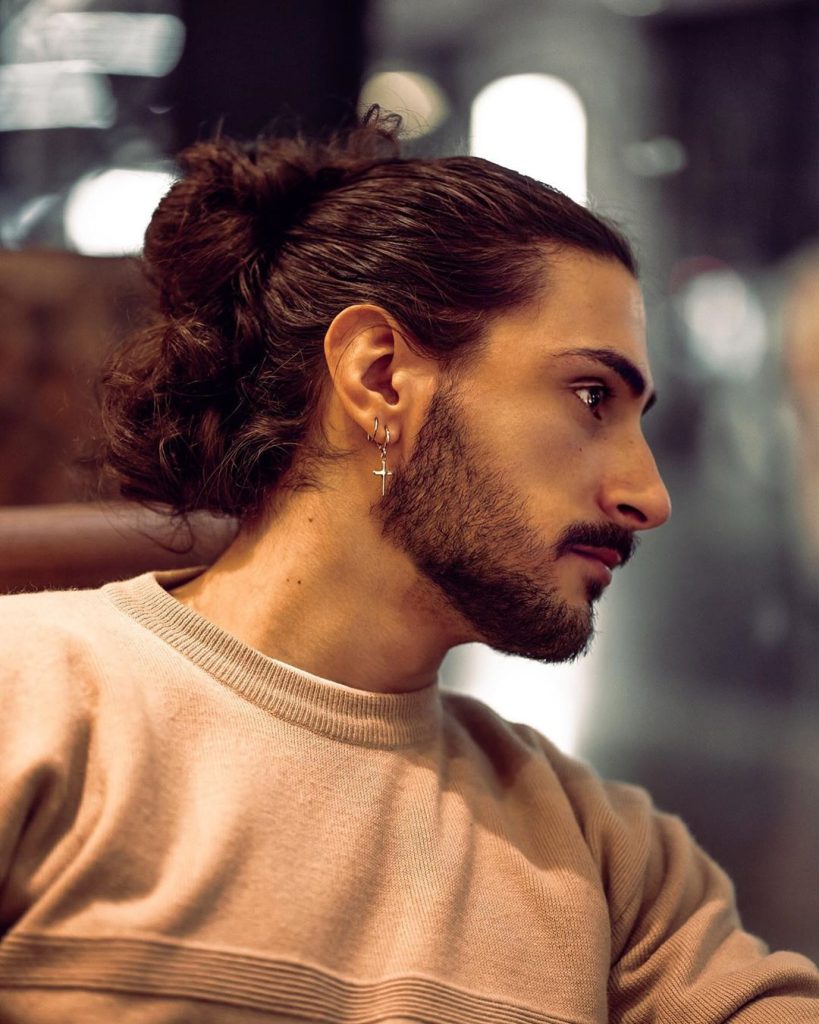 Curly hair adds plenty of volume and texture to this messy man bun while tension pulls the sides almost straight.
9. Man Bun + Shaved Sides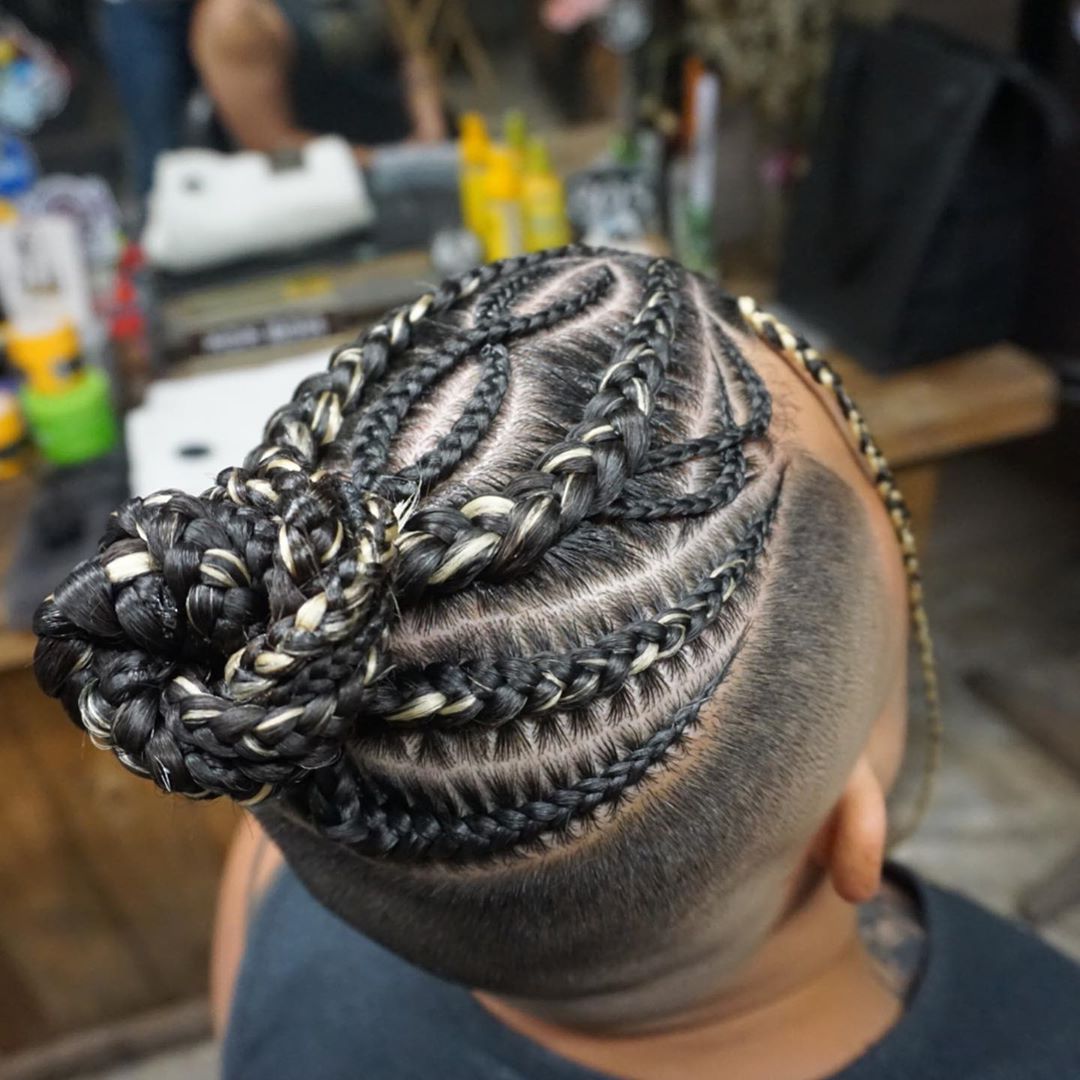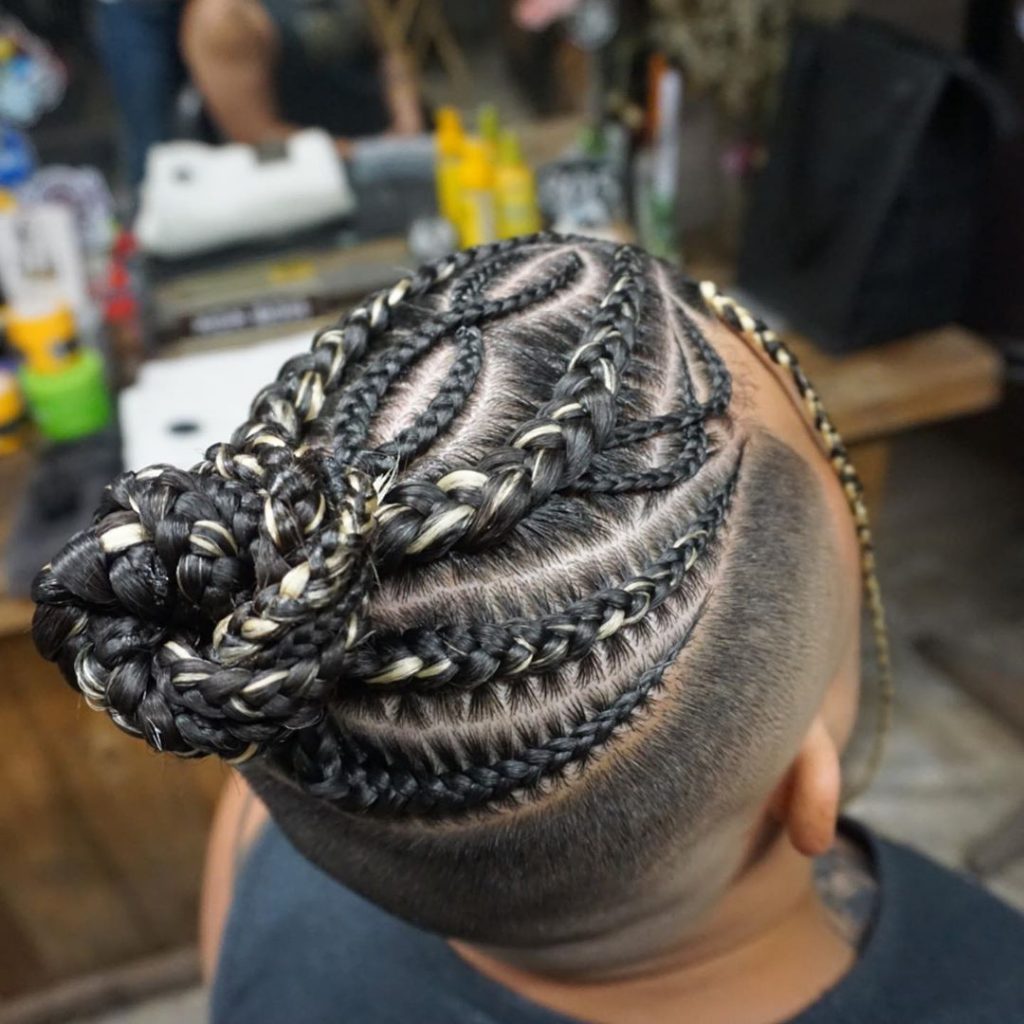 Shaved sides all around put extra emphasis on this artistic braided man bun. It's a cool and comfortable look, until you need to put on a hat or helmet.
10. Man Bun + Undercut + Hair Design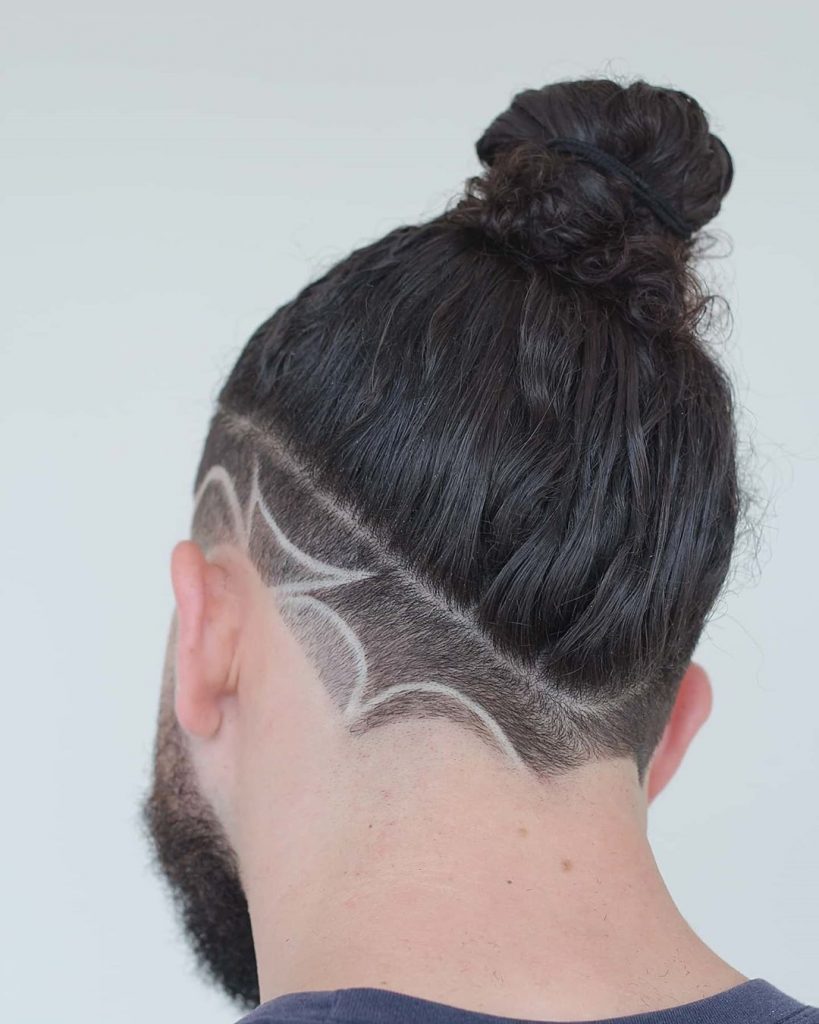 Undercuts for men with long hair can shave hair down low, like above, or go up high. This cool style features an undercut with geometric hair design and wavy hair pulled into a high bun up top. Wear hair down if you ever feel the need to cover the design.
11. Dread Man Bun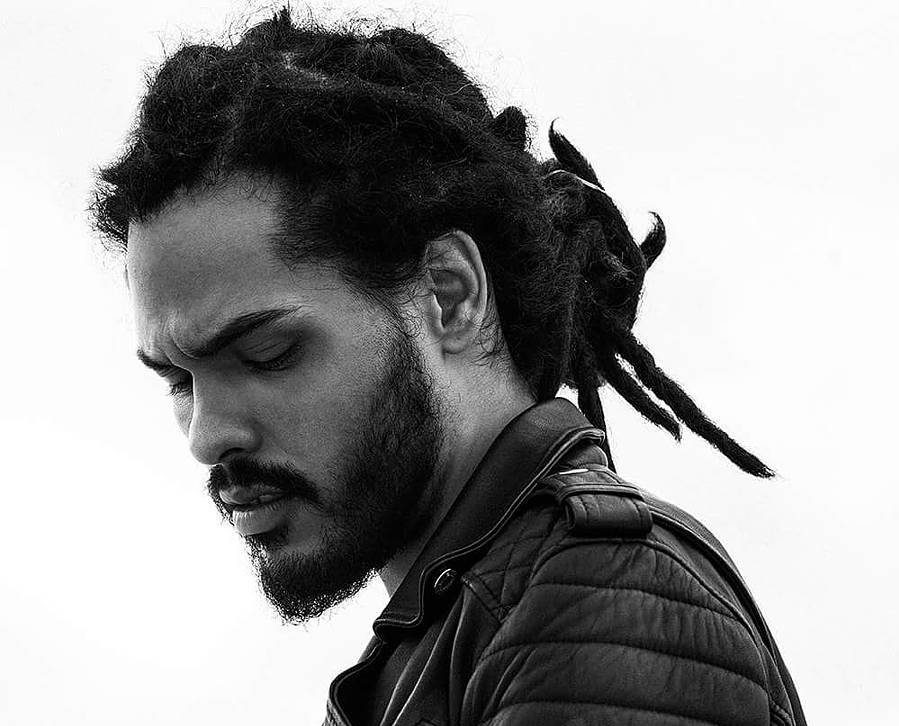 Long dreads can also be styled into a man bun. For ultra long and thick hair, try using a cloth headband or even tying locks into a knot.
12. How to Tie a Man Bun: Wrap Around Style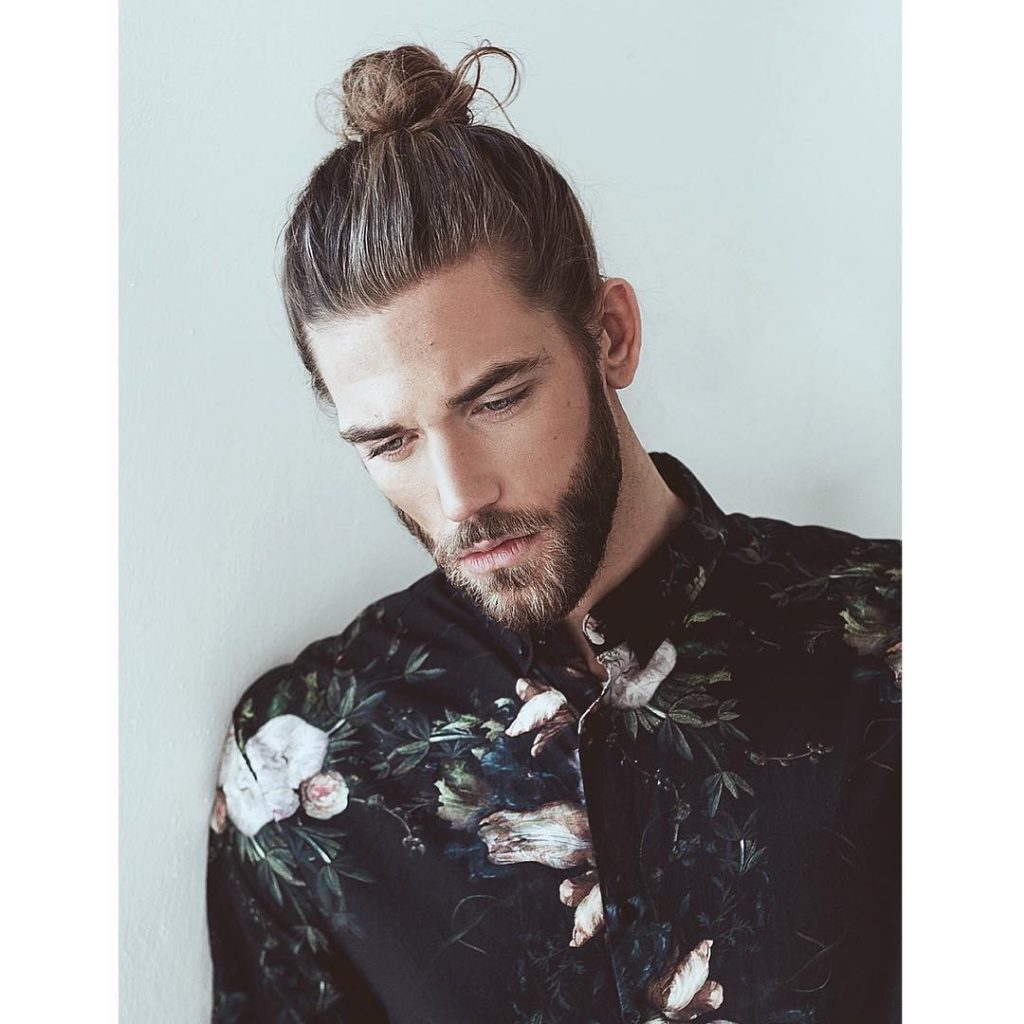 There are two main ways to do a man bun. This is the more traditional and formal way. Gather hair into a ponytail with fingers, twist hair while coiling it around the base of the ponytail and secure with an elastic. Until this feels comfortable, you can also tie hair into a ponytail first before twisting the bun. The end result can be super smooth or have a hint of looseness.
13. How to Tie a Man Bun: Pull-Through Method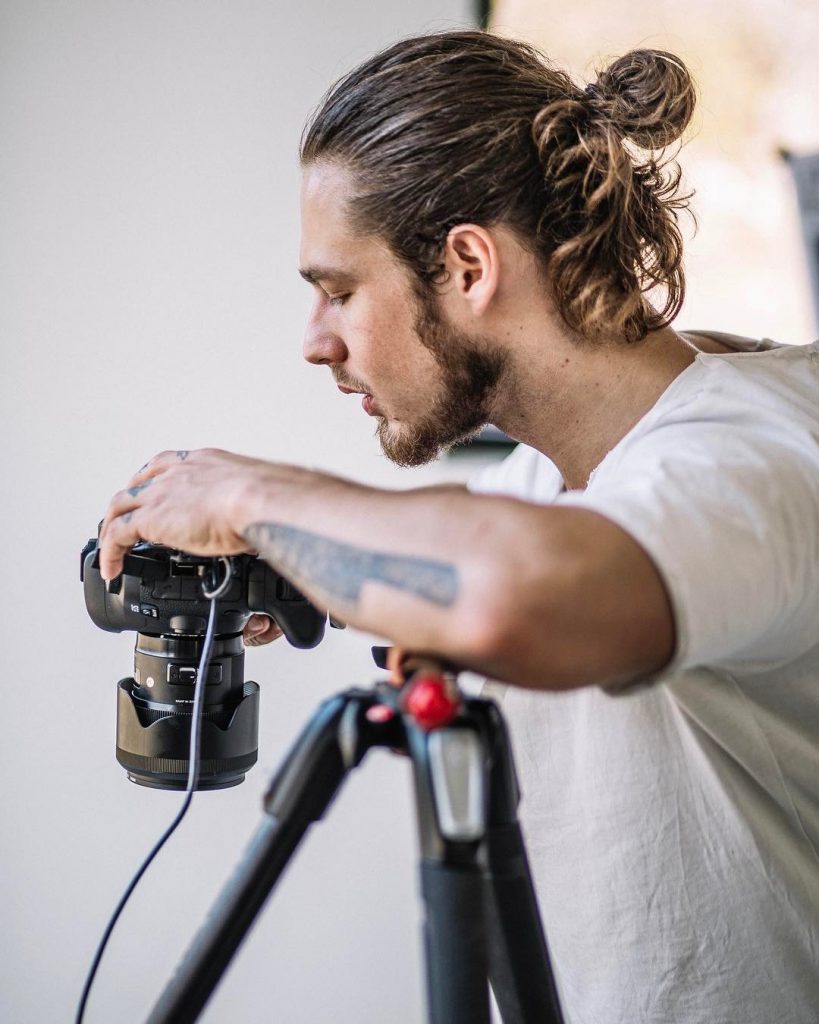 This is by far the easiest way to wear the man bun. Start by forming a ponytail and securing hair with an elastic. When it comes the last pull twist of the elastic, pull hair partway through to form a man bun. That's it. This works up high, in the middle and down low on the head. It will also work for shorter hair than the traditional bun method.
14. Half-Up Pull-Through Bun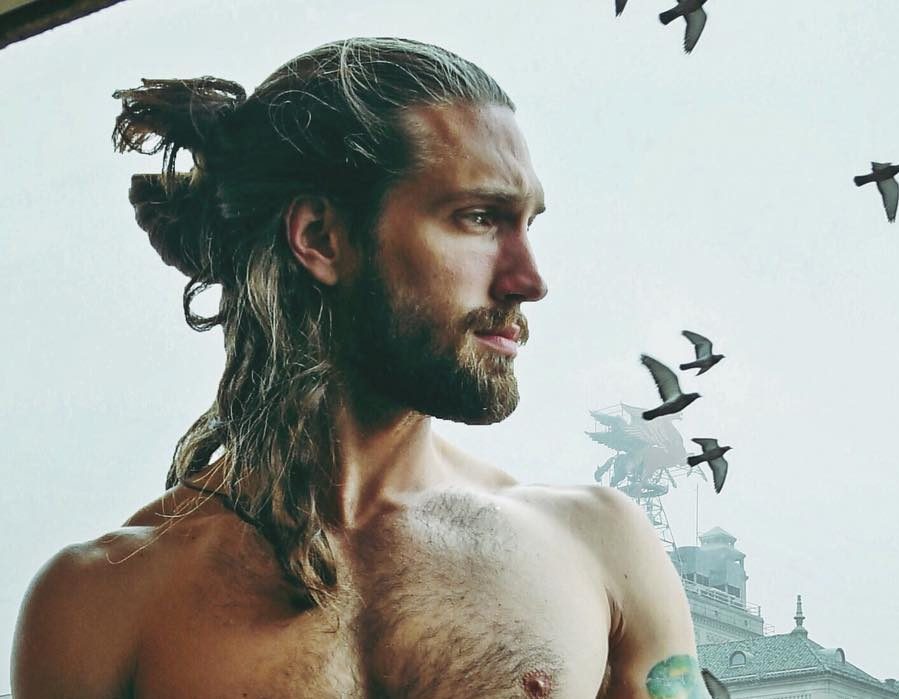 The man bun doesn't have to incorporate all hair. It also looks cool half up and half down. This messy surfer style uses the pull-through method but with the loose ends pointing up instead of down.
15. Half Up Man Bun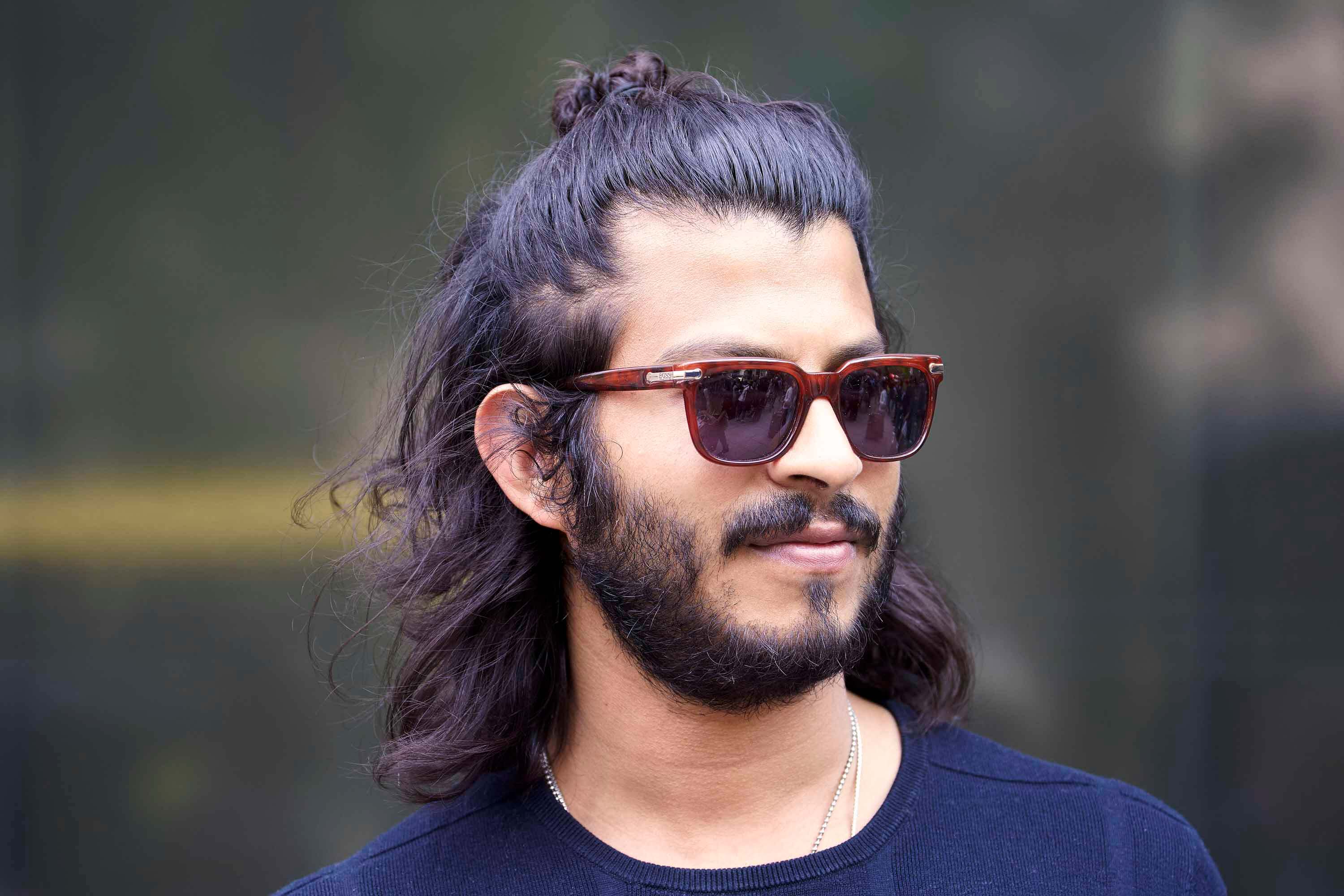 This half up style is an easy way to keep long hair out of the face without pulling it all the way back.
16. Half-Up Man Bun + Dreadlocks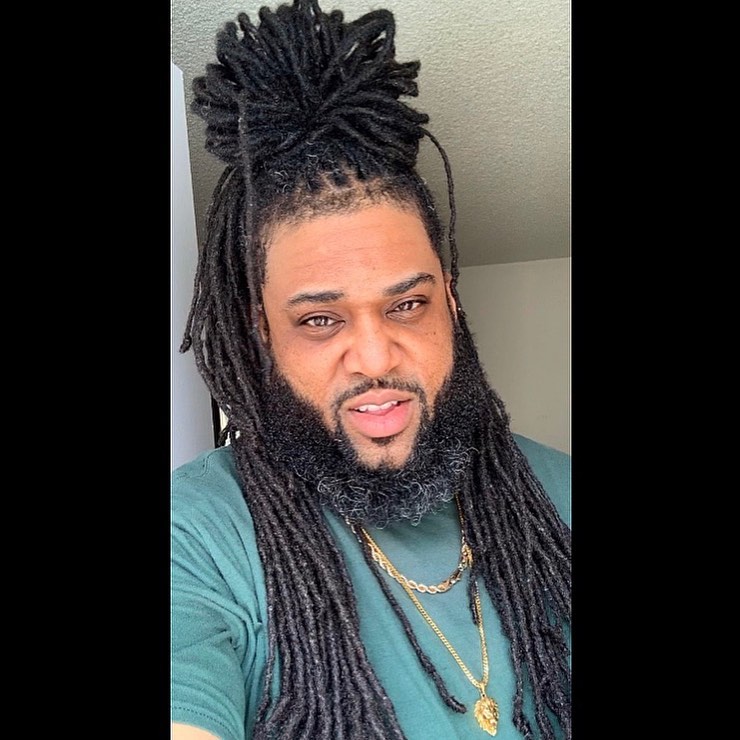 These ultra dreadlocks would make a massive bun, with even the half up style creating an impressive size and attractive style.
17. Man Bun Styles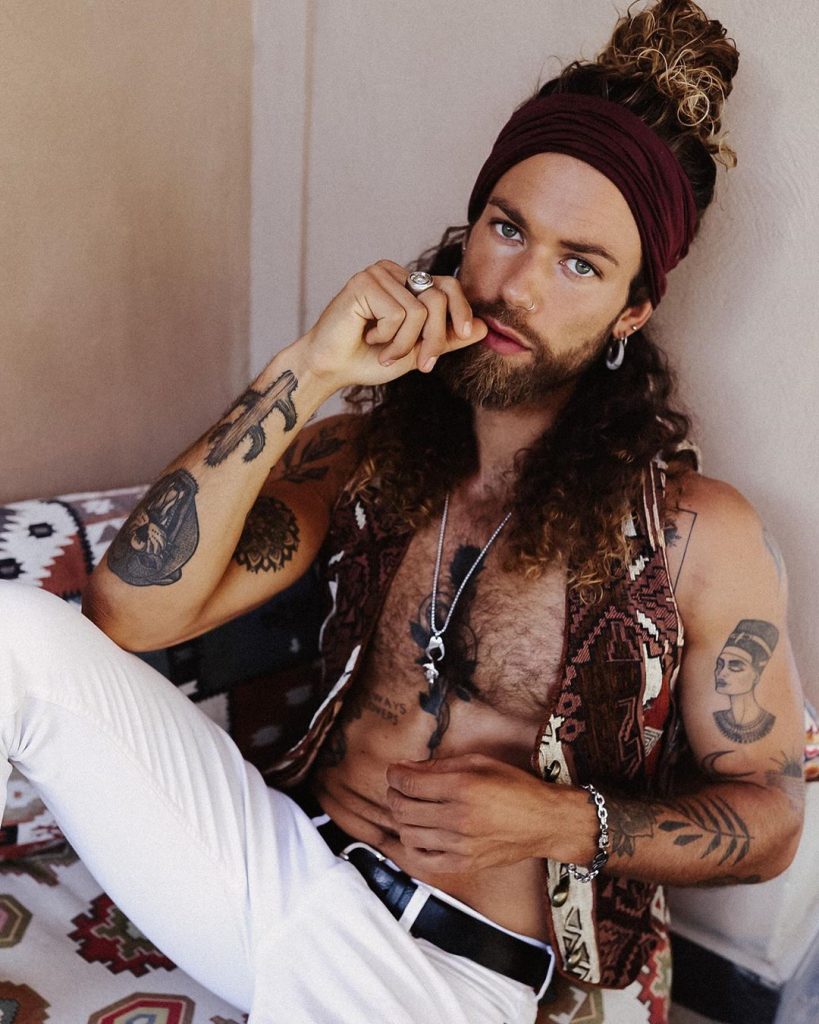 This cool half man bun adds a hair wrap for a fresh way to wear long men's hair.
18. Asian Man Bun + Undercut + Beard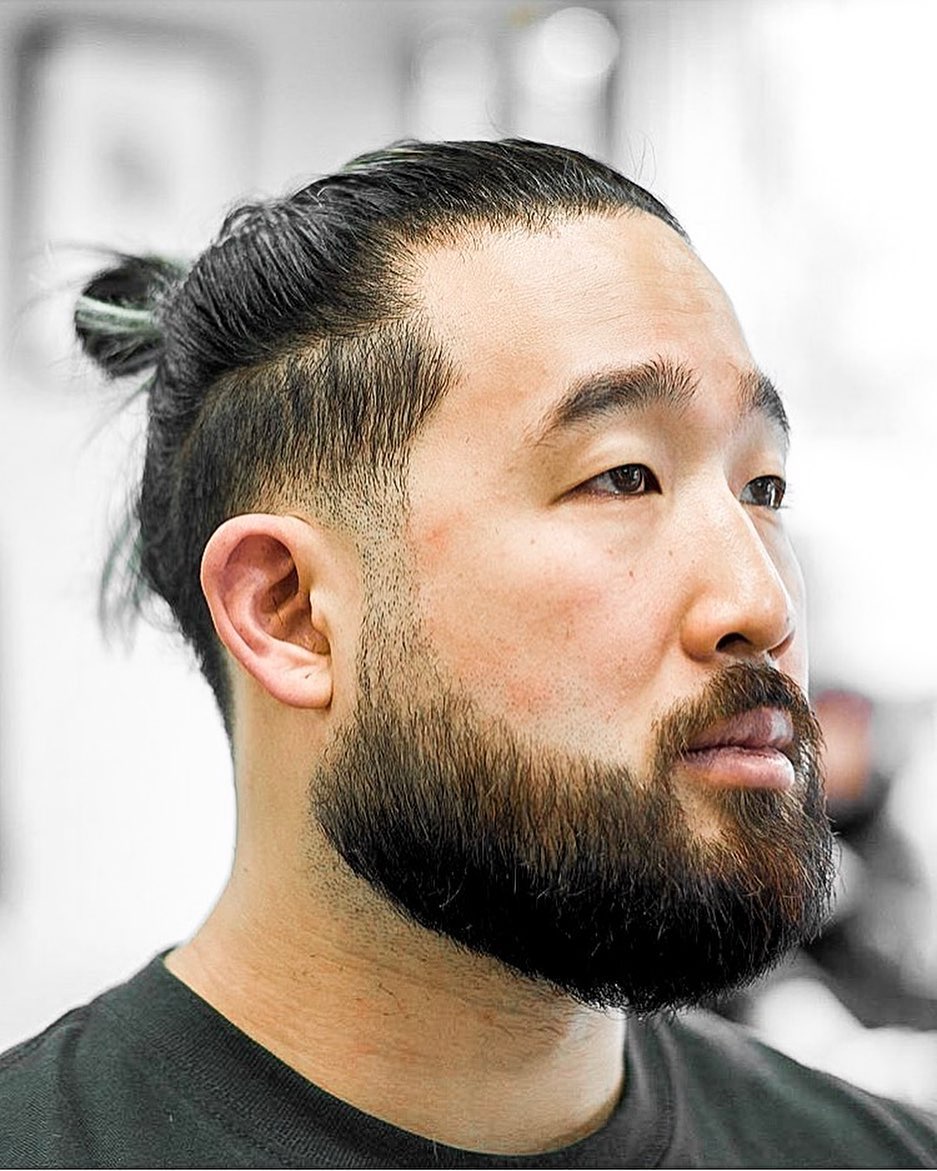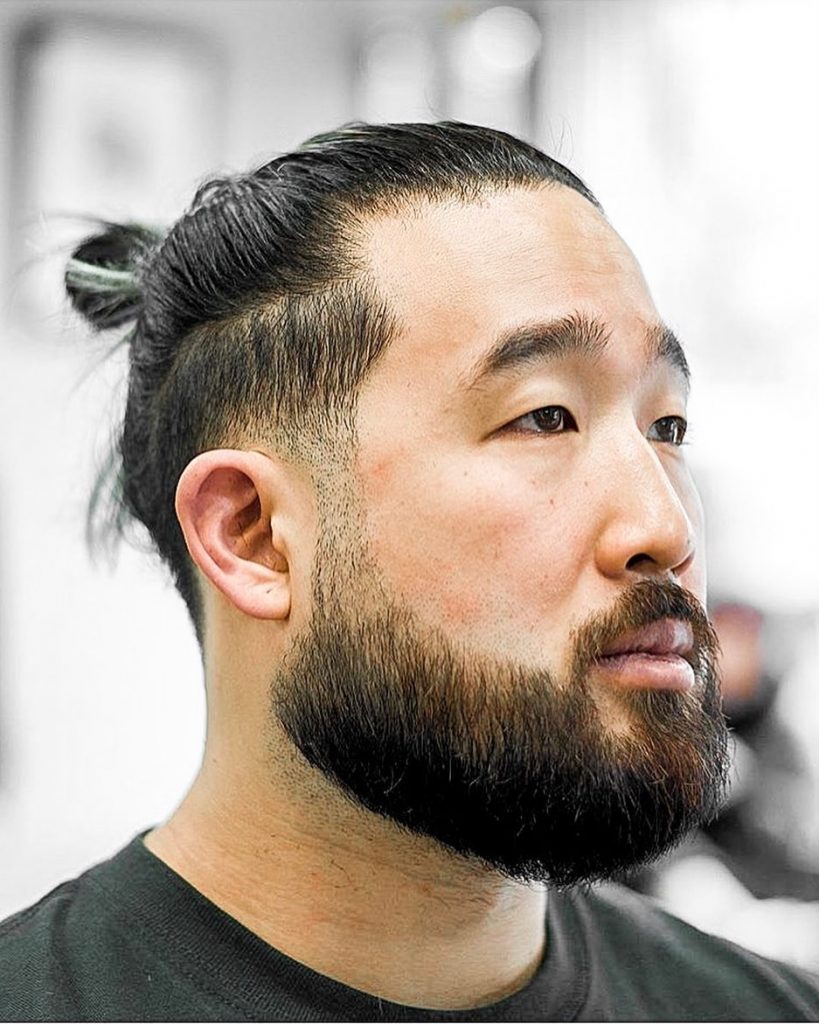 With a mid-low fade, this man bun looks like a half-up style while pulling all hair up. The beard fade strikes a nice balance between facial hair and long hair on the head.
19. Messy Man Bun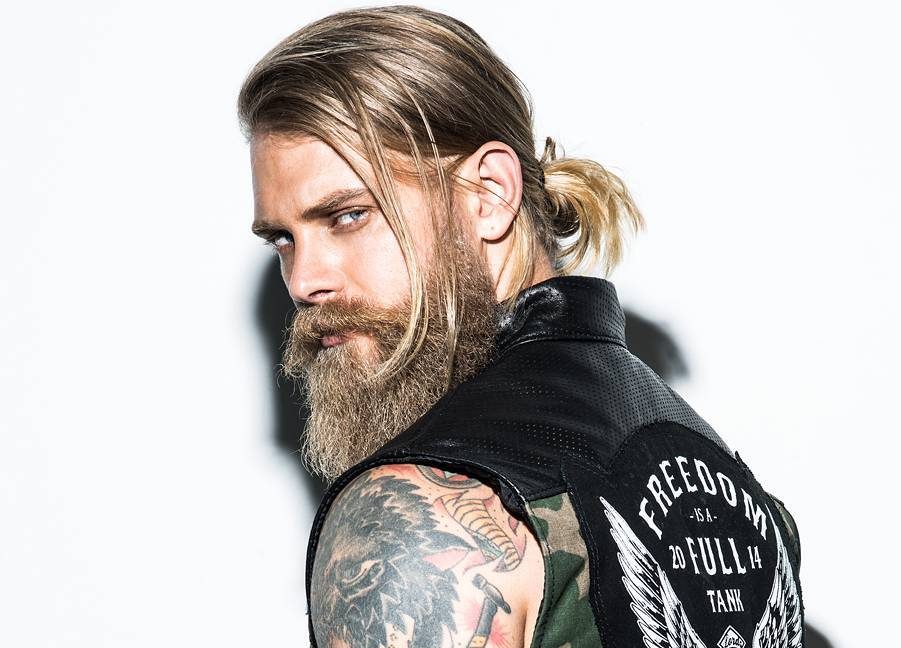 As a biker style, the man bun certainly doesn't need to be neat and tidy. The look is worn down below the helmet with loose strands that can be tucked behind the ear.
20. Low Man Bun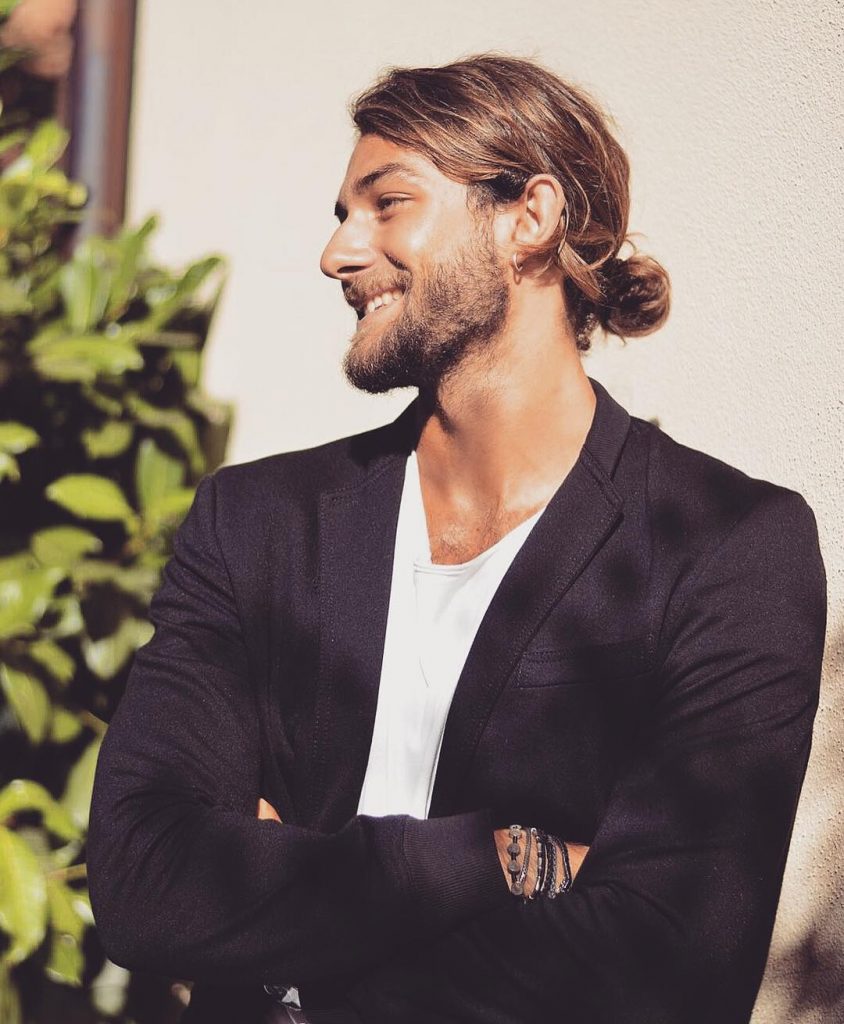 The man bun can be worn up high, down low or in the middle of the head. This confidently casual look is placed just above the nape of the neck.
21. Wavy Man Bun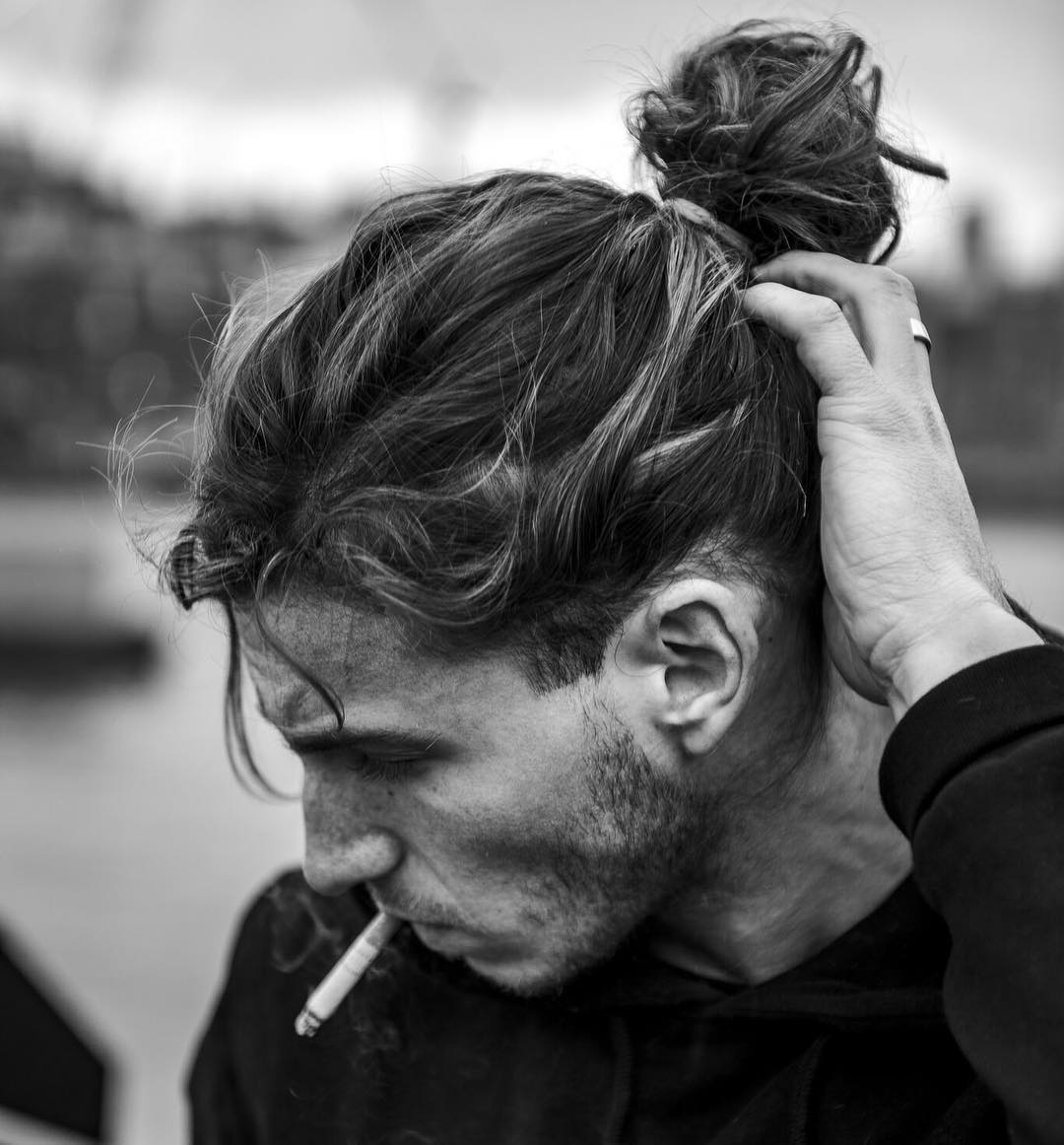 Whether it's wavy or curly hair, texture adds something to the man bun.