If high fades are too high and low fades are too low, these mid fade haircuts might be just right. This type of fade cleans up the neckline while leaving a hint of length above the temples.
This in-between fade length may be the most versatile. The medium fade can be cut lower or higher, on a curve or on a straight line. Mid-length fades are often, but not always, drop fades that arc down behind the ears. The other option for the medium fade is a straight line around the back of the head. The fade length can be an ultra-short shadow fade or down-to-the-skin bald fade.
The medium fade is a flattering choice for all guys because it doesn't add any width at the sides. That makes the mid fade extra flattering for men with round faces and work well for thick hair, curly hair, and black hair.
Check out these pictures for 45 ways to wear mid fade haircuts plus different hairstyles on top.
1. Mid Fade Haircut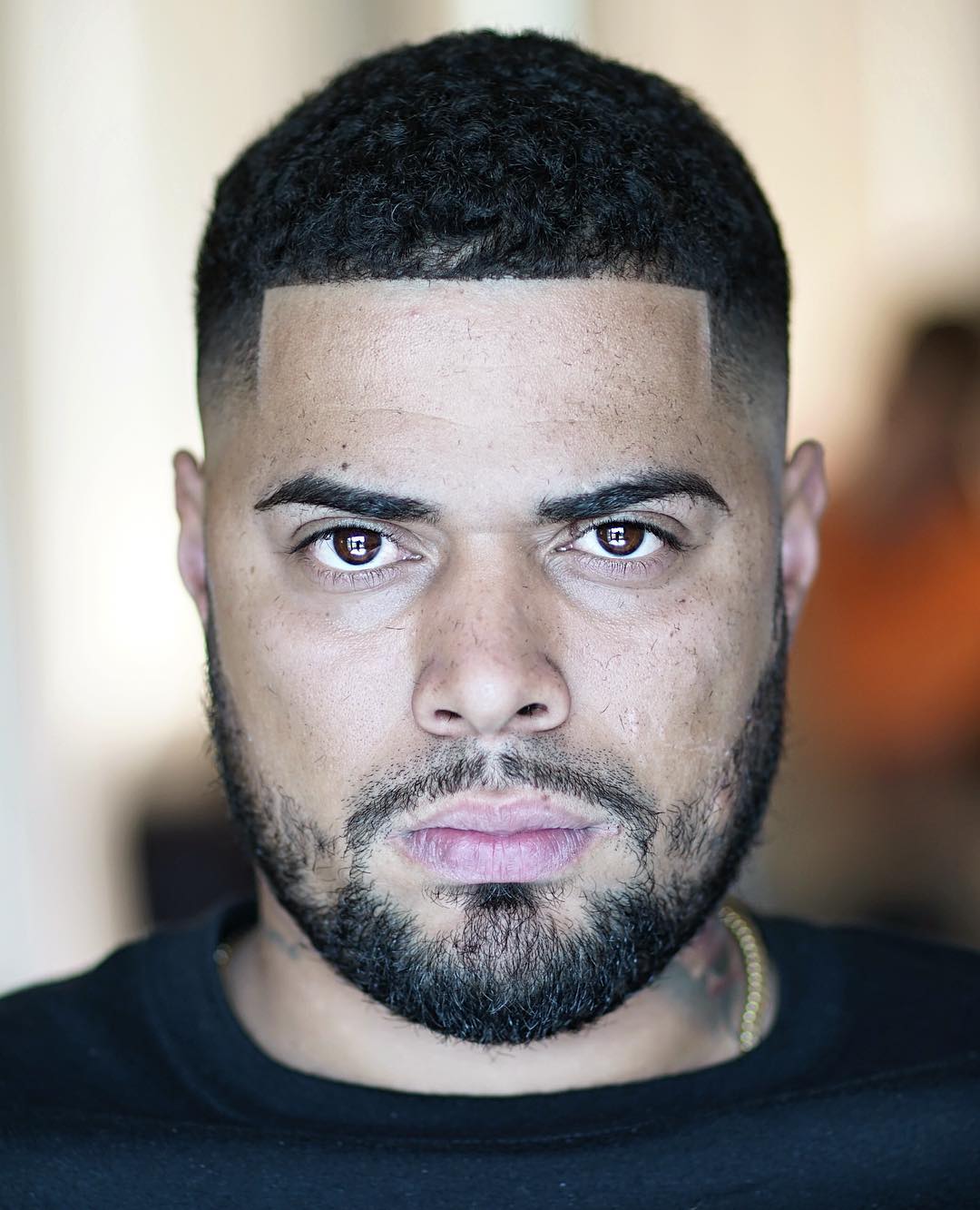 Fades are most dramatic when seen from the side but the front view is just as, if not more, important.
2. Mid Skin Fade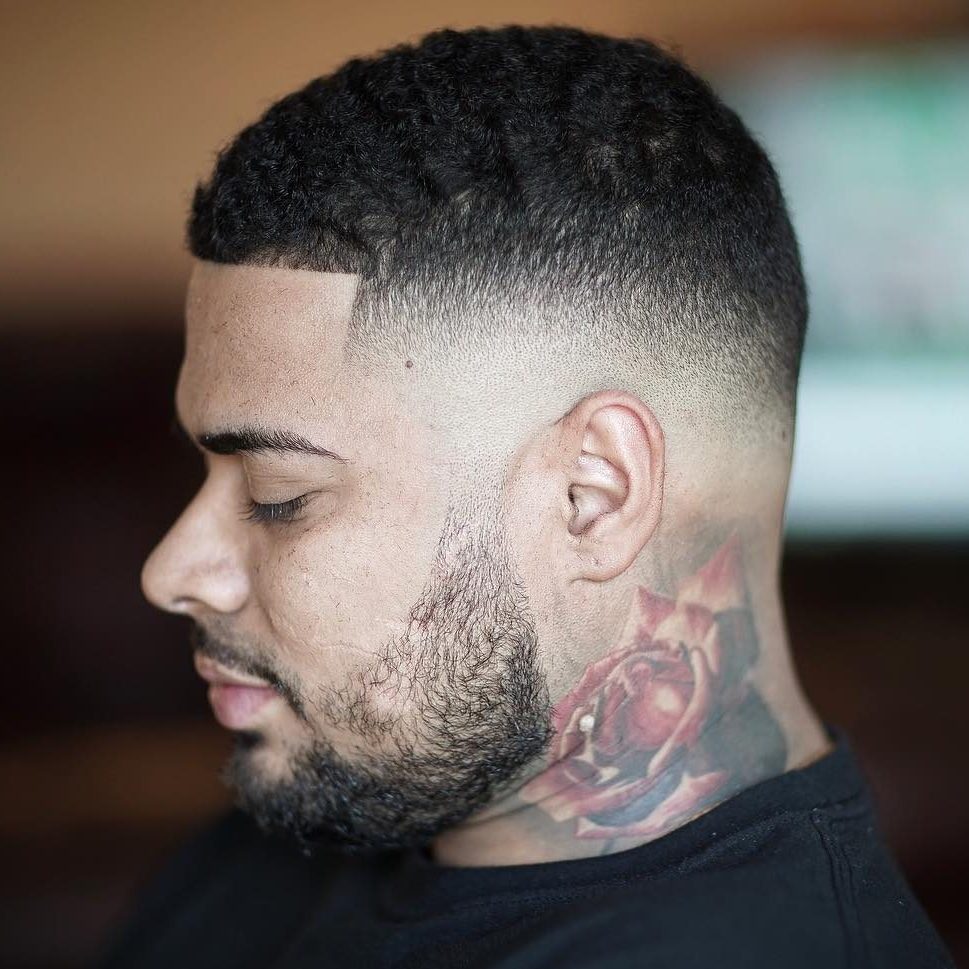 Mid fades remove hair up to the temples for a tight profile. Hair can tapered higher or lower on the head but the key difference between a mid fade and high fade is the placement of the neckline at the back.
3. Men's Mid Fade Hairstyle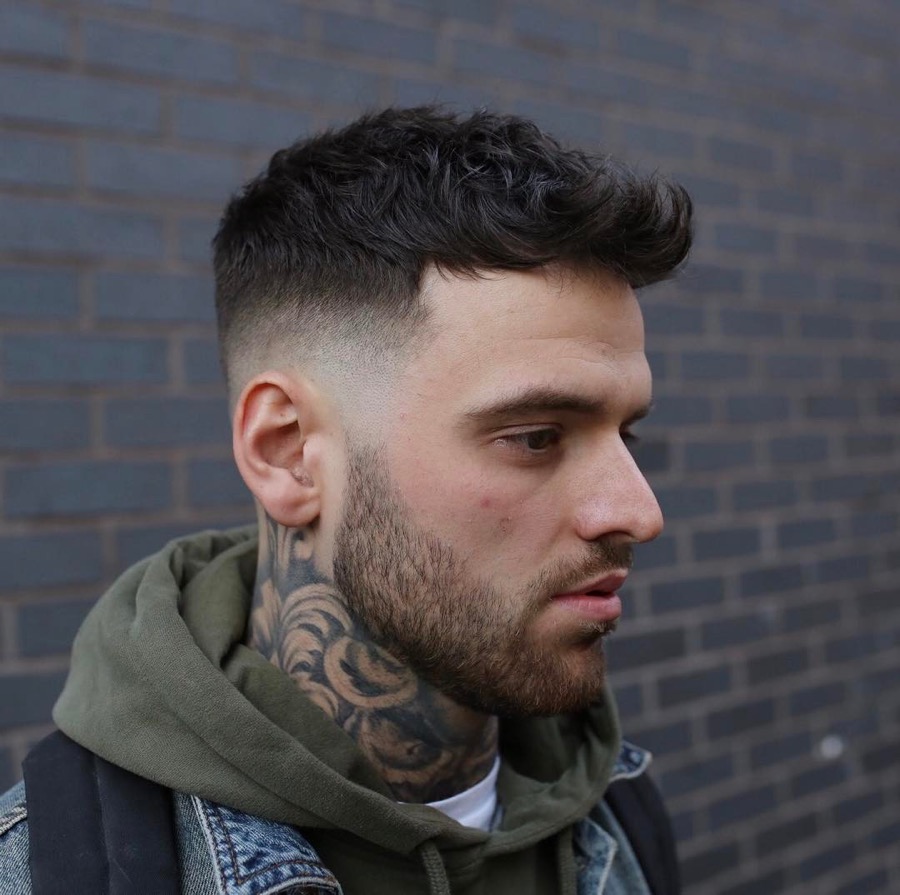 Like other fades, the mid-length fade can be added to any haircut of any length. Here it is with a textured short hairstyle. Clean cut sides and tousled waves on top is a cool combination.
4. Mid Fade Haircut For Black Men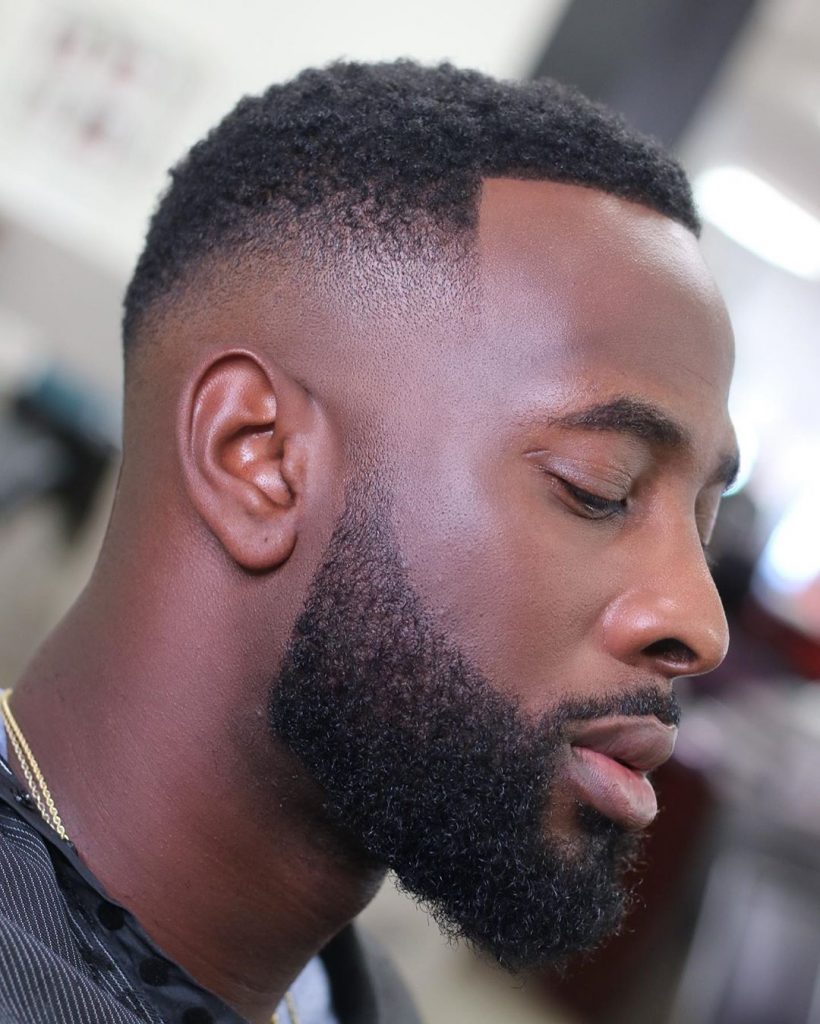 The made fade creates a curved shape that contrasts with the line up and beard shape.
5. Mid Drop Fade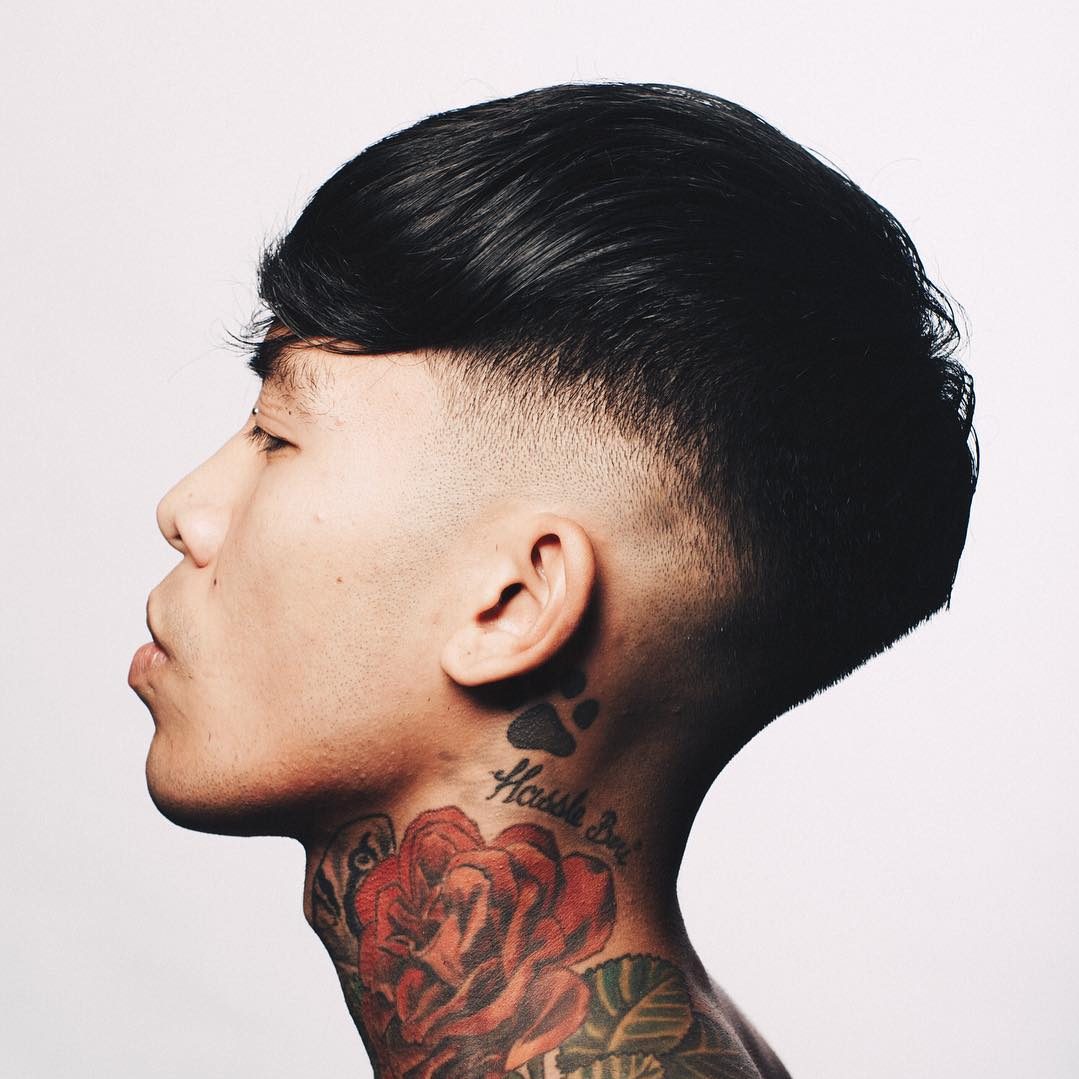 As the name suggests, a drop fade drops down behind the ear. This fresh style juxtaposes the arc of the fade with a sweep of bangs at the front.
6. Medium Bald Fade Haircut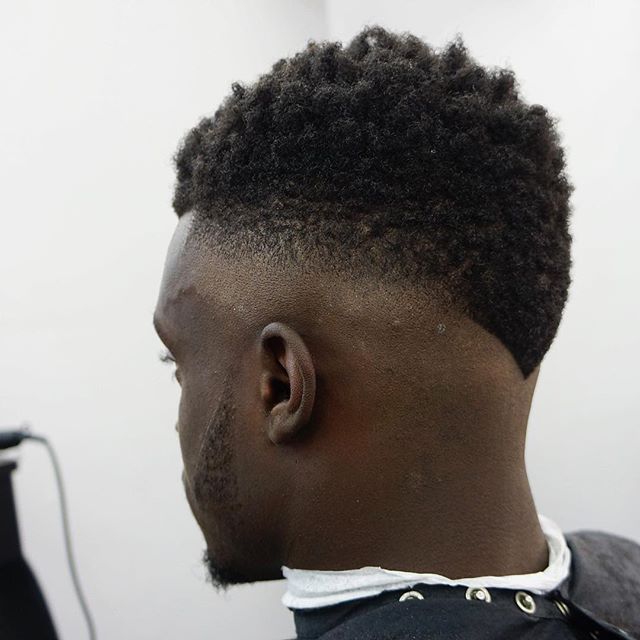 Add an unexpected detail to a mid or low fade with a V-shaped neckline. The point is a cool contrast against kinky curls on top and also looks great with a range of other hairstyles, especially a mohawk fade.
7. Mid Fade Men's Haircut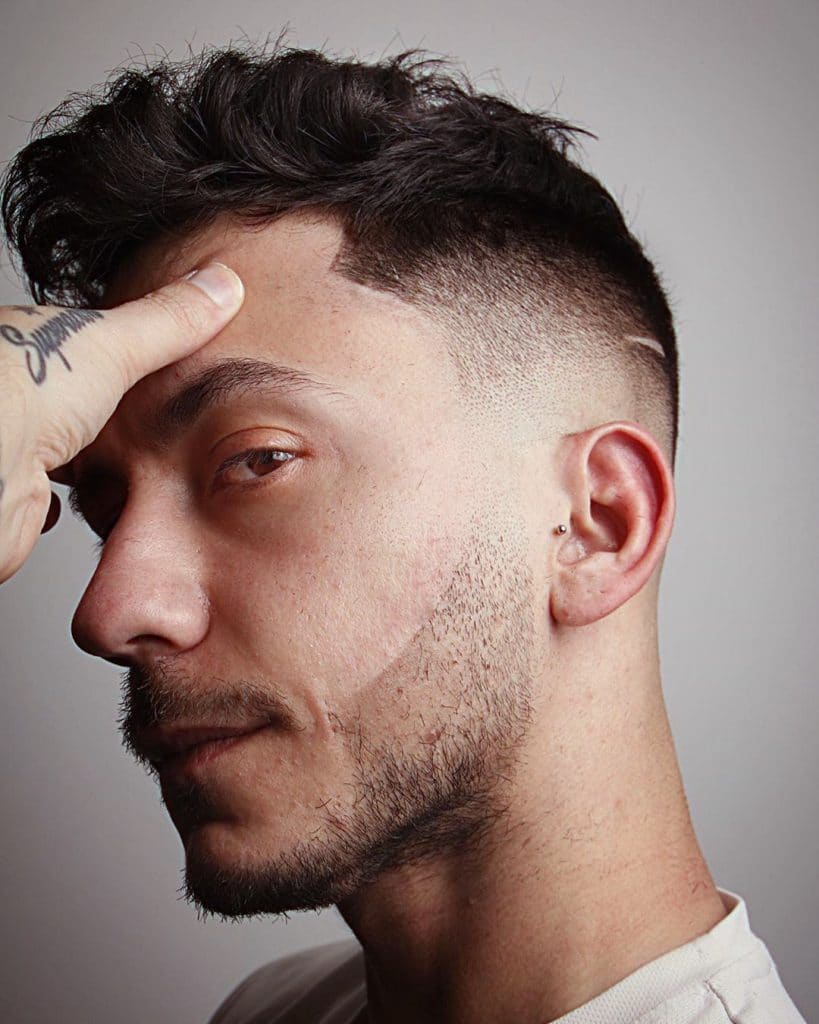 This medium fade with a shaved line adds a modern finish to the otherwise classic men's haircut.
8. Black Mid Fade Haircut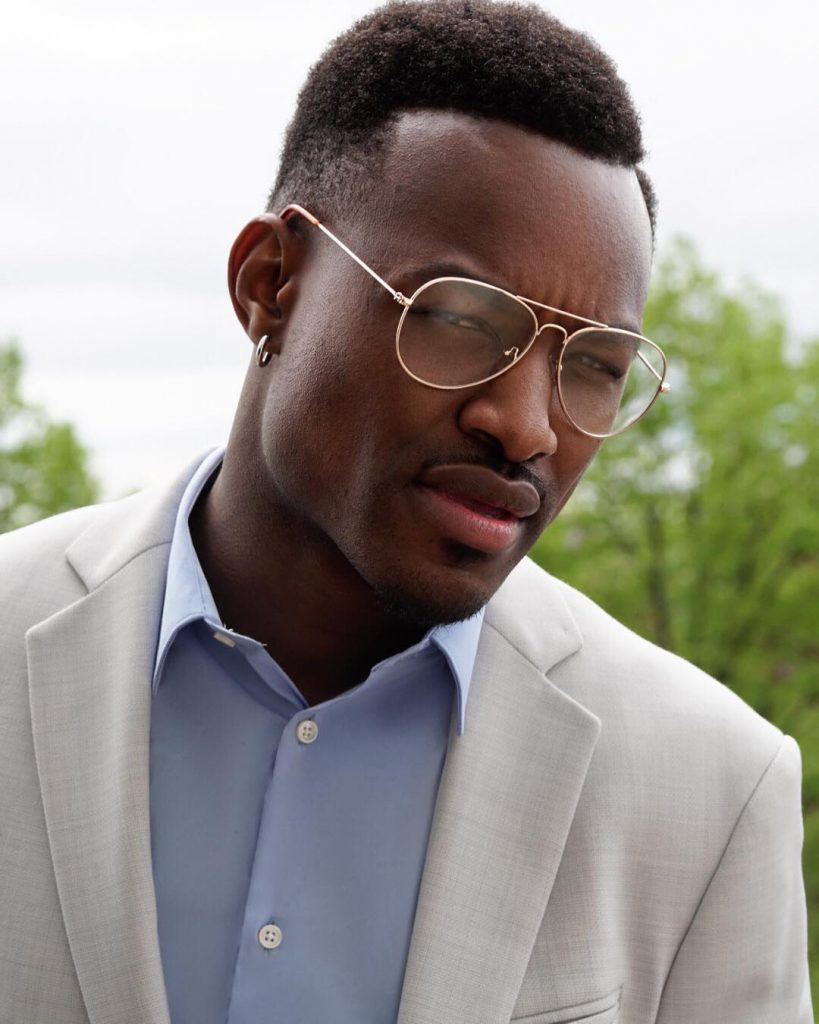 This cool look mirrors the arc of the fade in curly hair on top. A shaved side part finishes the look that is equally suitably for work and play.
9. Medium Fade Haircut For Curly Hair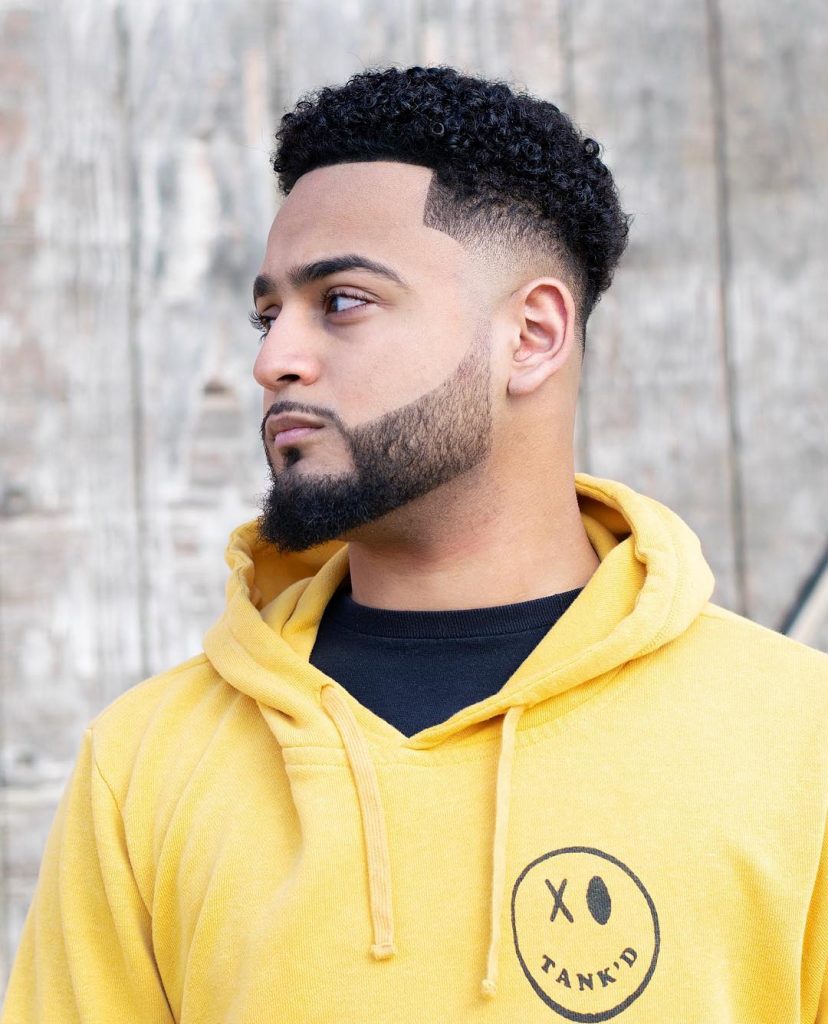 Fades are one of the most popular ways to wear curly hair. You can embrace natural texture without growing an afro. Of course, that's a cool look too but it is not for everybody.
10. Mid Taper Fade Haircut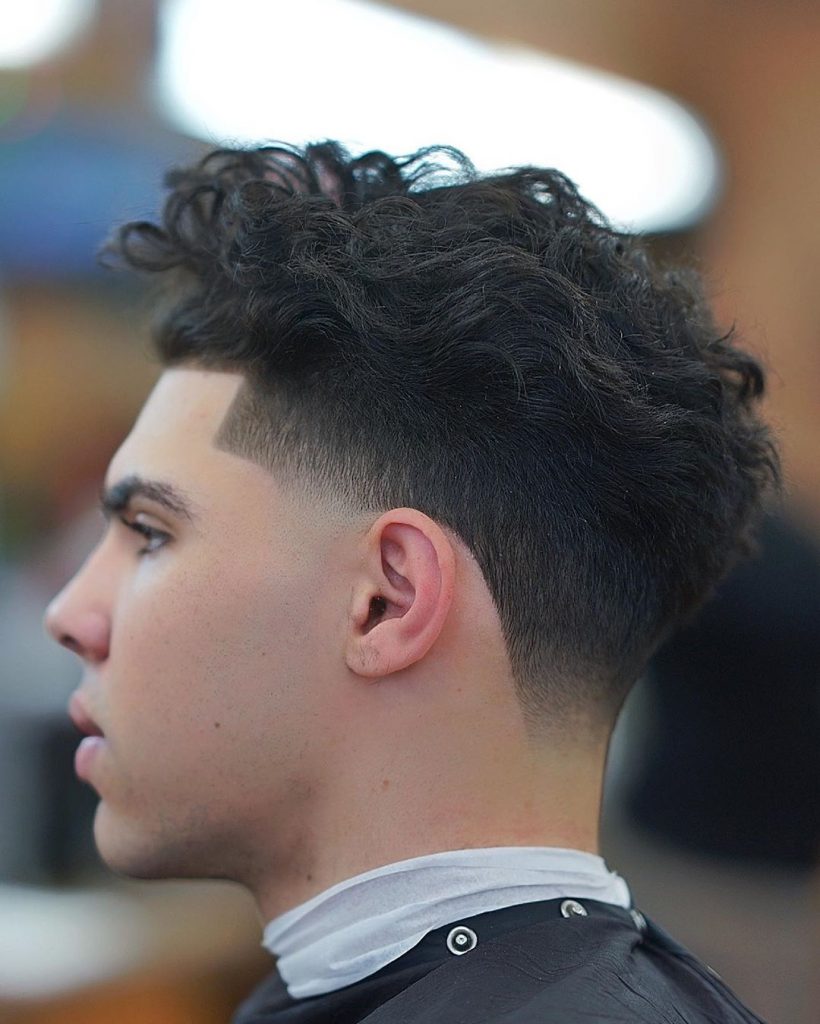 If you're trying to spot the difference between a taper fade and fade, look behind the ear. A taper fade has a distinct line while a fade will have a blur. This is medium high taper fade because there is a taper around the edges with short hair extending up.
11. Mid Fade + Comb Over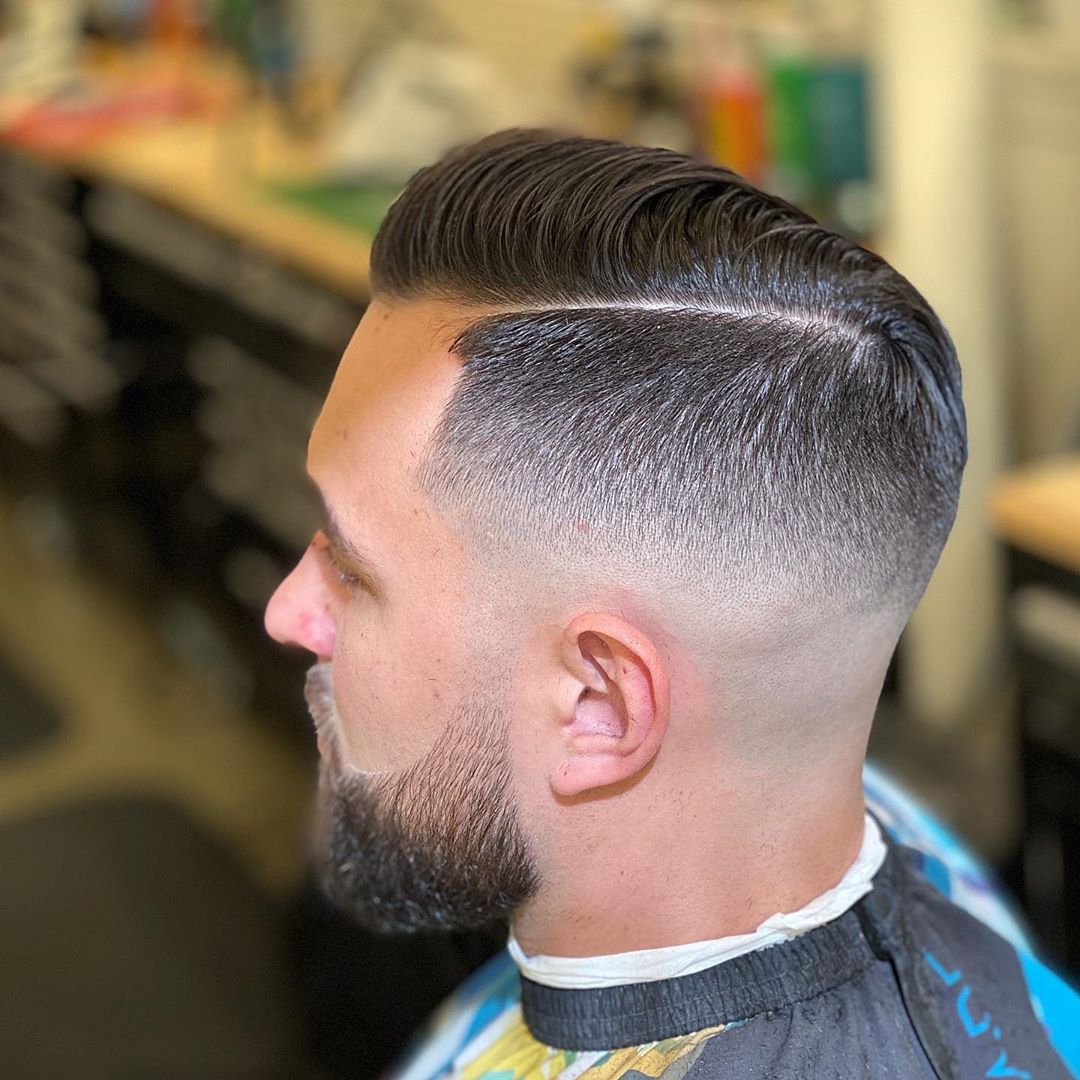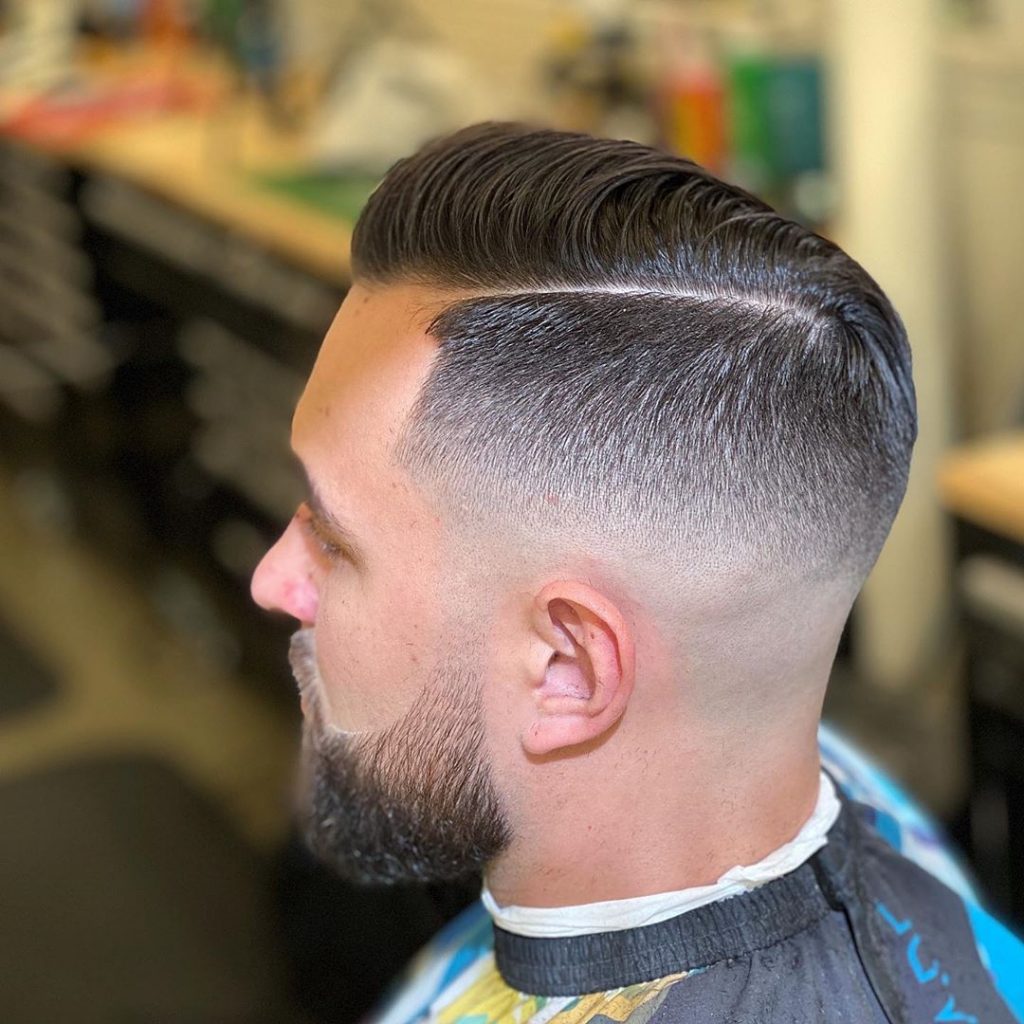 The combover fade is one of the most popular hairstyles for guys. There are lots of ways to get the look but this version features a mid skin fade and hard part.
12. Mid Fade + Short Hair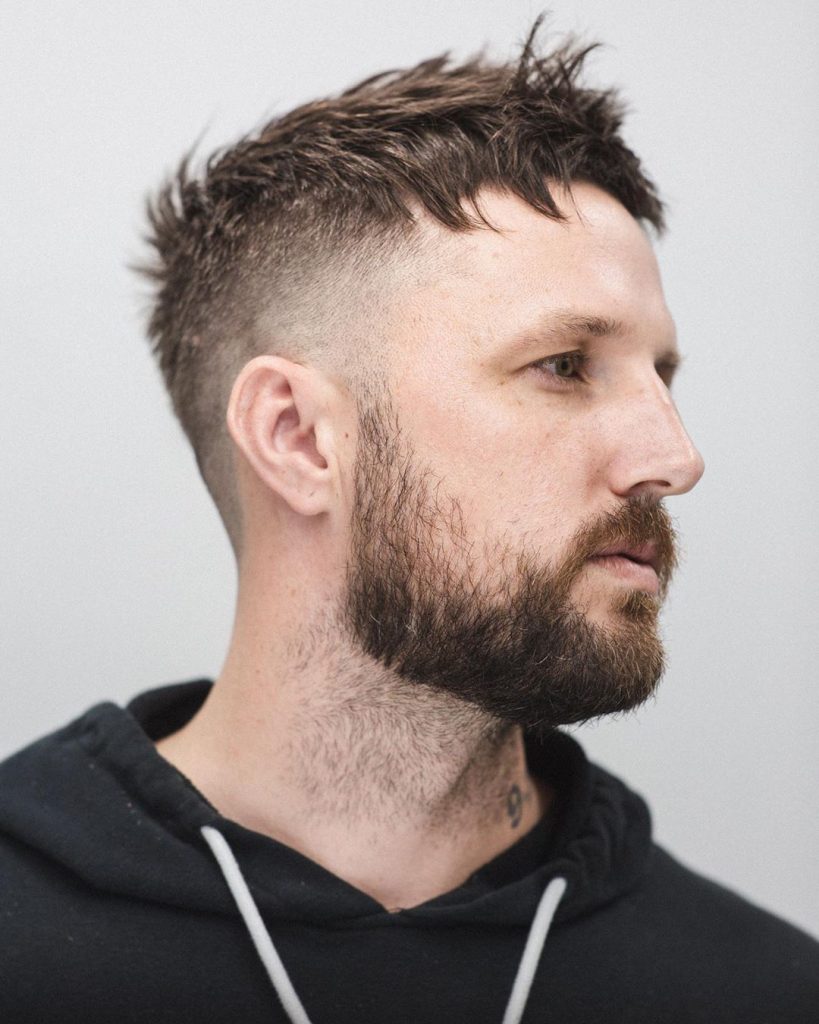 With fade haircuts, anything goes on top. This cool look pairs textured short hair with a medium shadow fade. A very popular men's haircut the past few years.
13. Mid Fade Hairstyle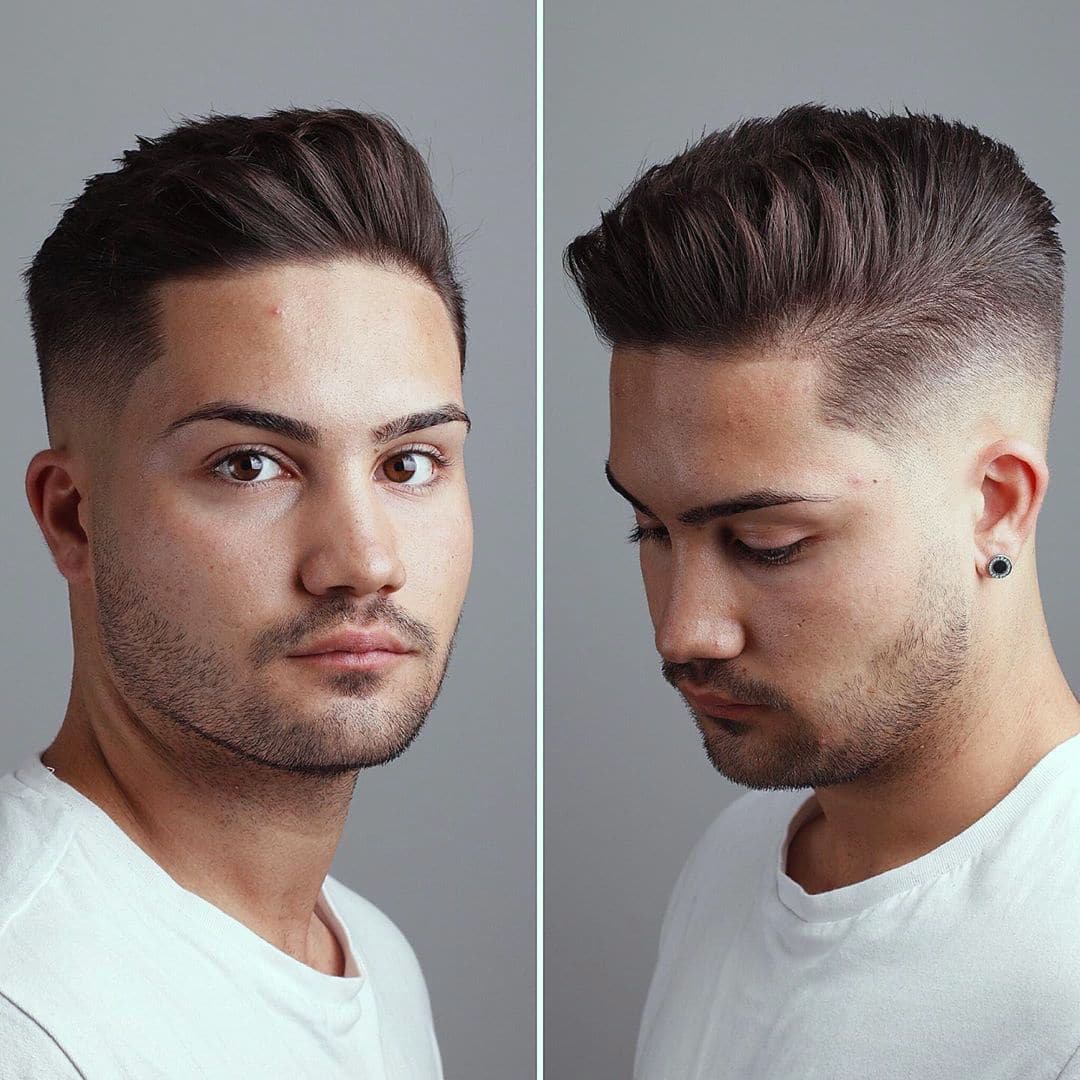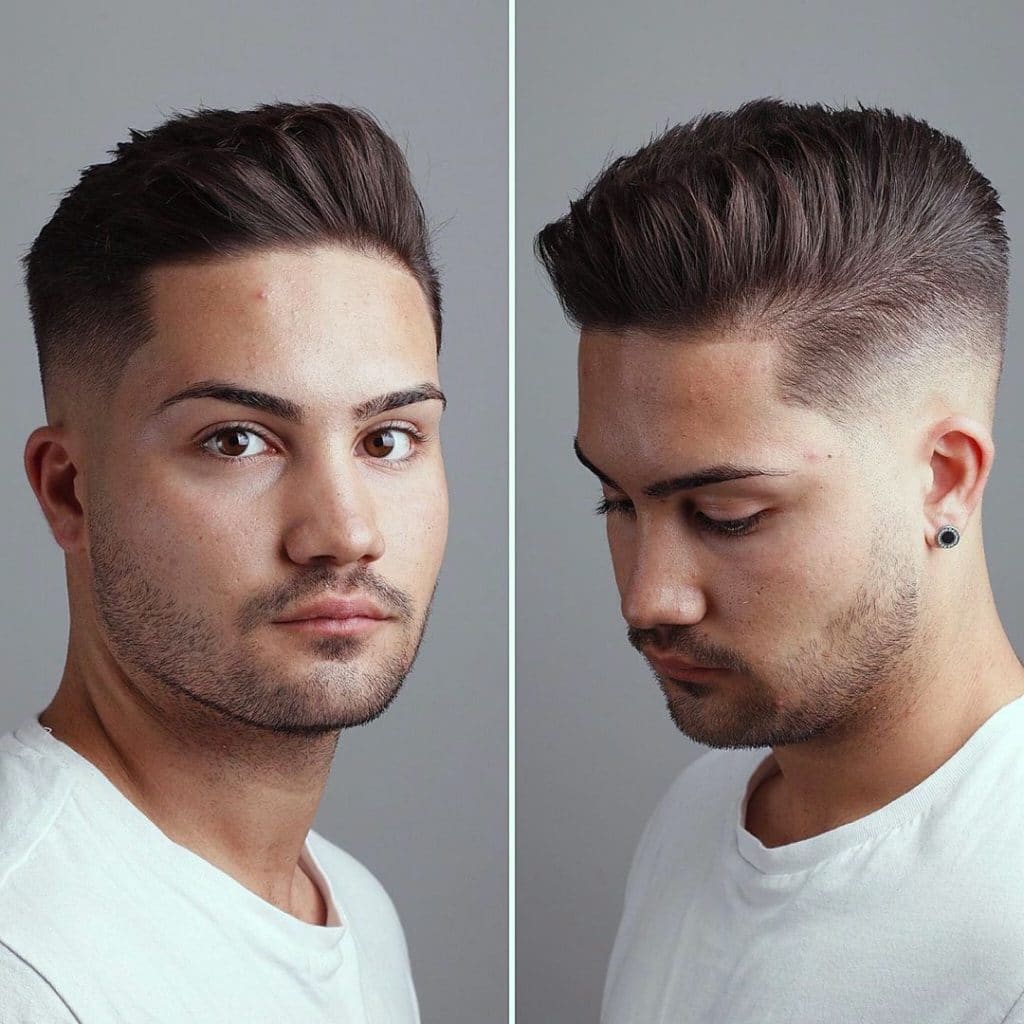 This cut is as cool as it is clean cut. It is suitable for business as well as guys with active lifestyles who want to look good at all times.
14. Best Mid Fade Haircuts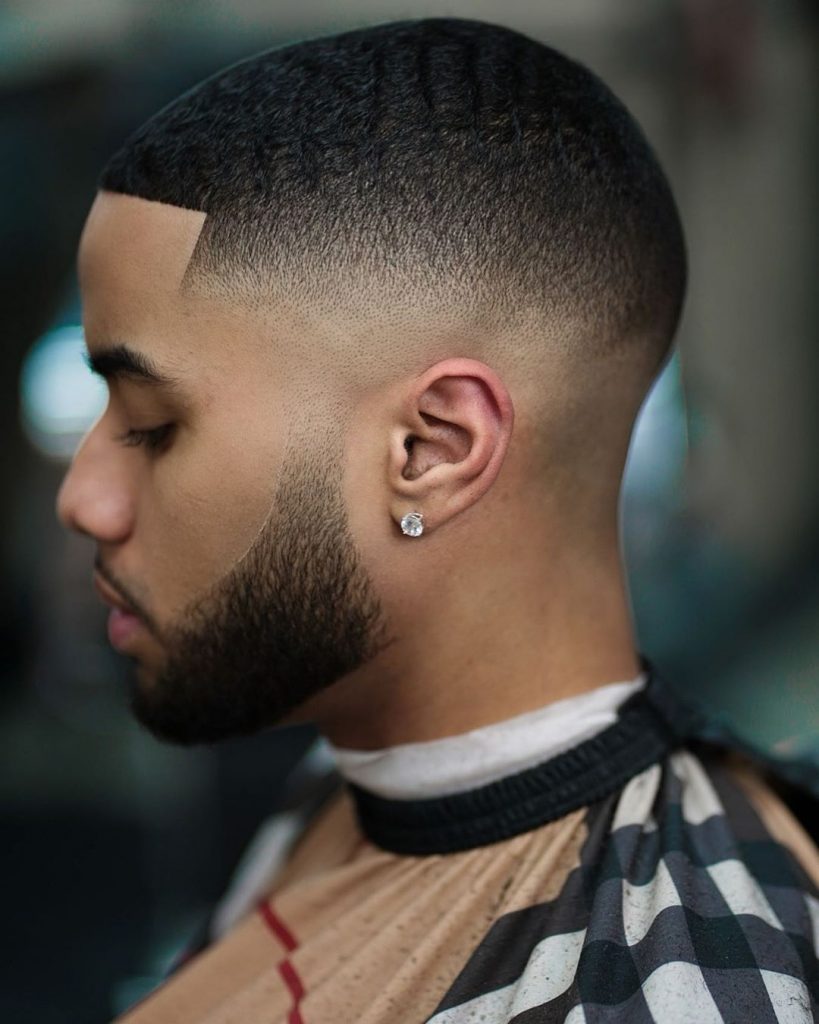 A mid fade turns this 360 waves into 180 waves. This is one of the best fade haircuts because of the juxtaposition between the wavy texture and blurry fade.
15. Low-Mid Fade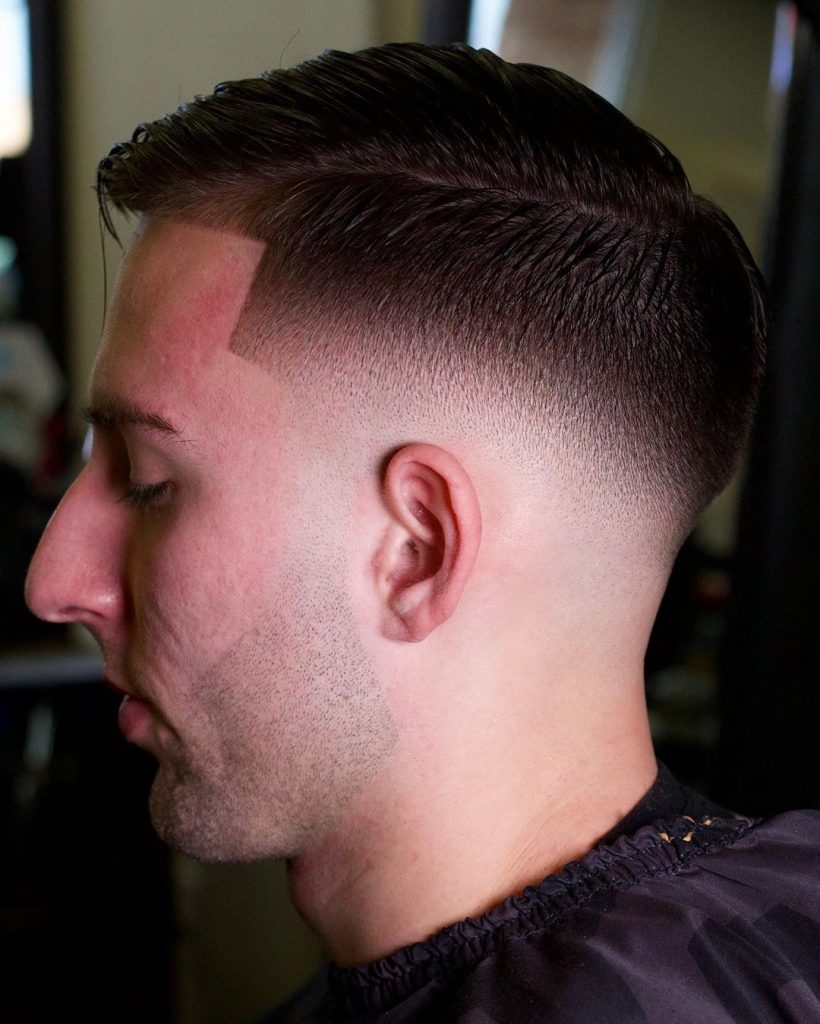 The bald part of this fade starts out low but takes it up a bit higher at the neckline.
16. Mid Fade + Long Top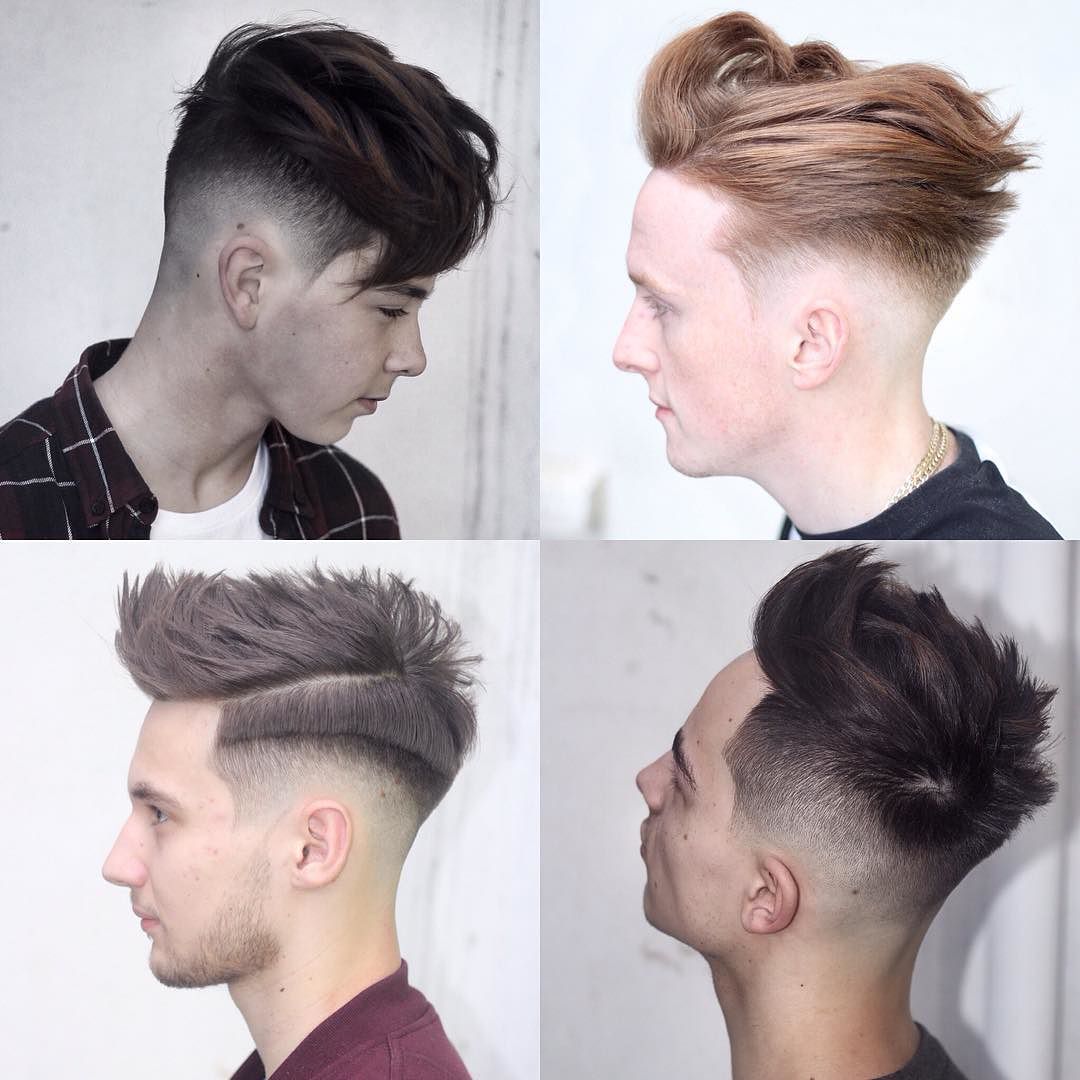 Many mid length fade hairstyles are long on top with short sides and back. (Ignore that high fade down there in the bottom right corner.) Whether it's spiky or textured, styled up or down, a mid drop fade emphasizes the length and style of what's happening on top.
17. Black Mid Fade Haircut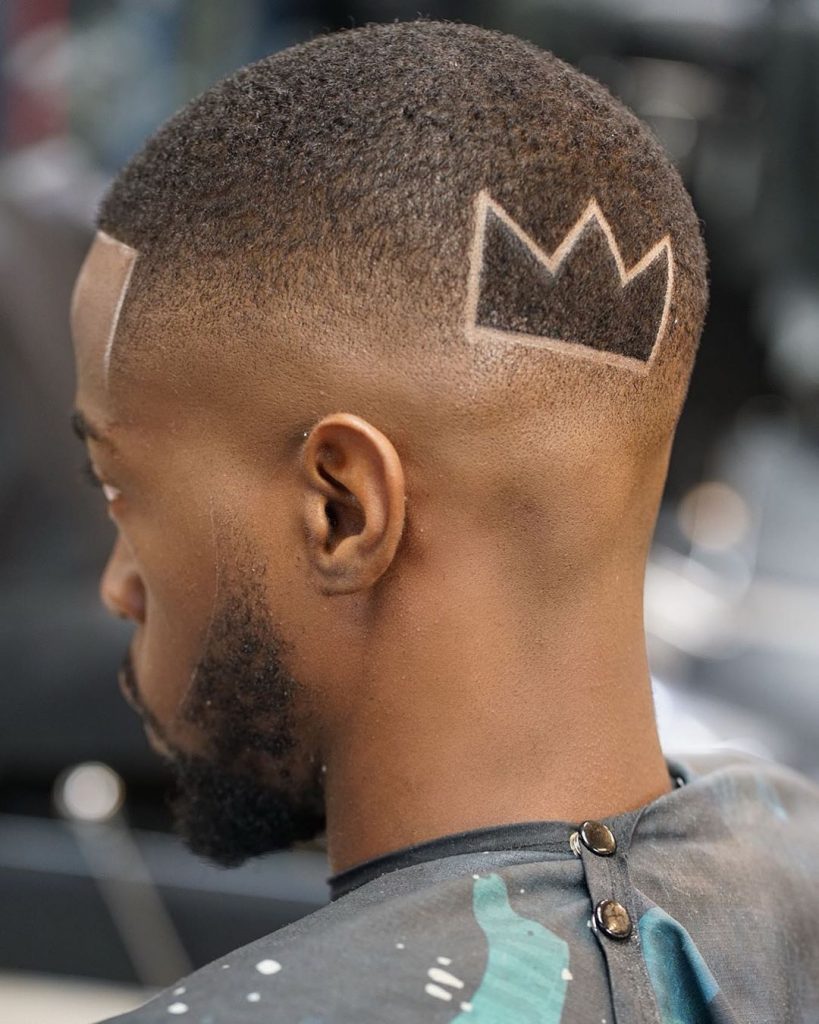 Crown yourself king with this simple but bold hair design over a medium fade.
18. Medium Fade Haircut – Short On Top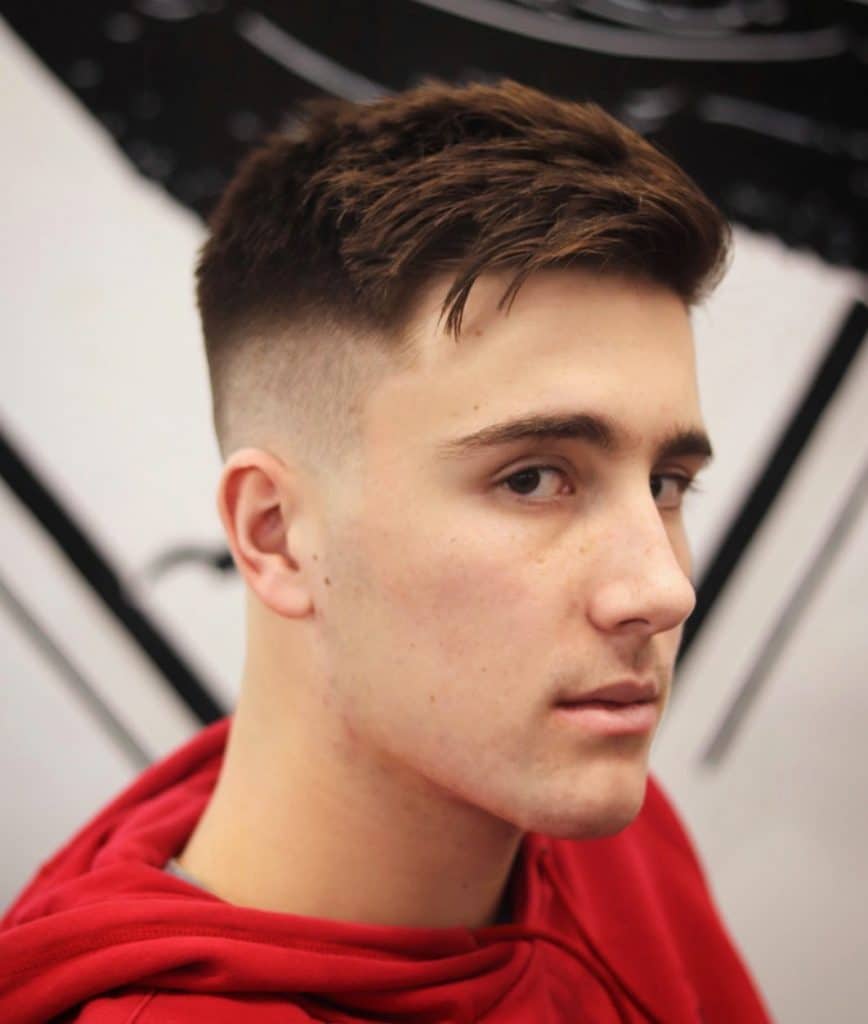 Here's a short flow haircut over a mid-length fade.
19. Medium Fade Haircut Design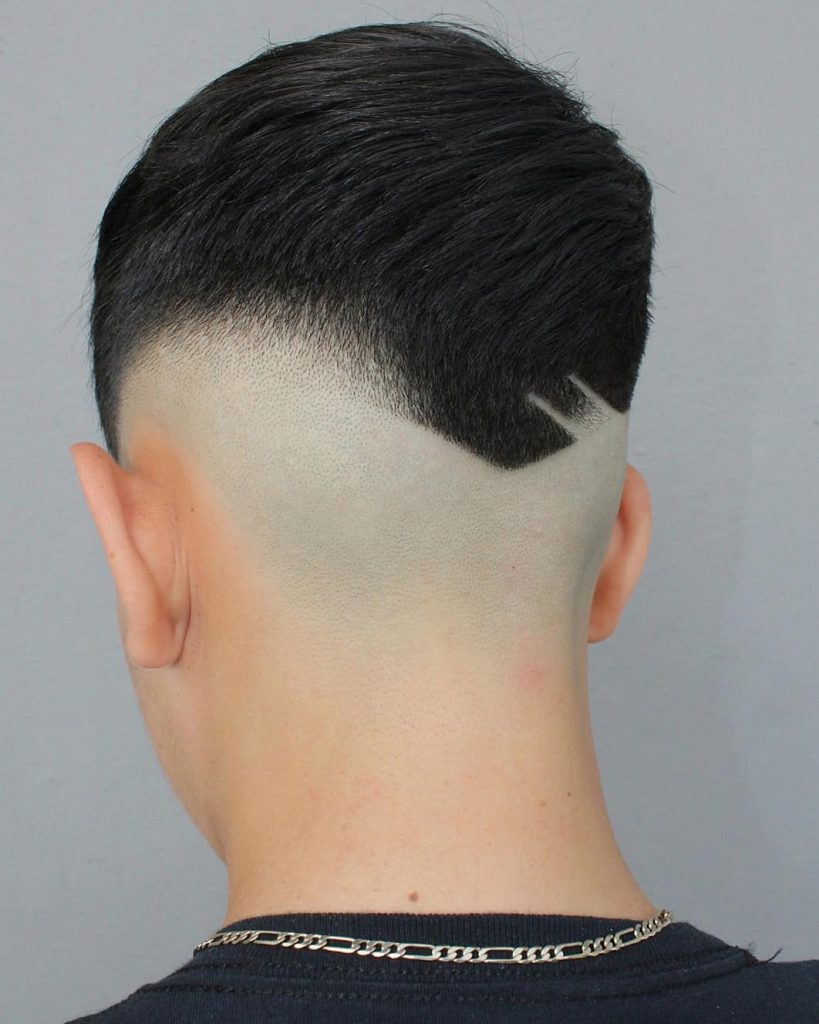 This fresh way to wear a hair design shaves it right into the fade. They will love watching you leave.
20. Pompadour + Mid Fade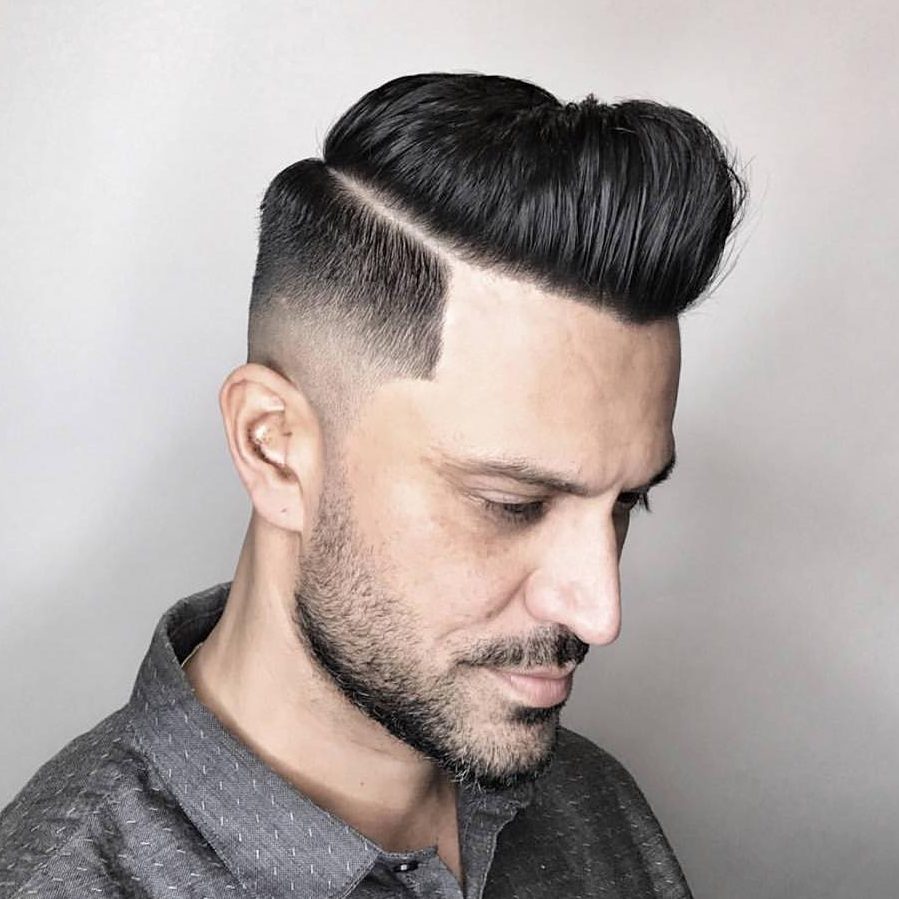 The pompadour is another retro men's hairstyle that gets a modern update with a fade. The pomp fade cut is often worn with a high fade but with a mid level fade, you can add a hard part.
21. High-Mid Fade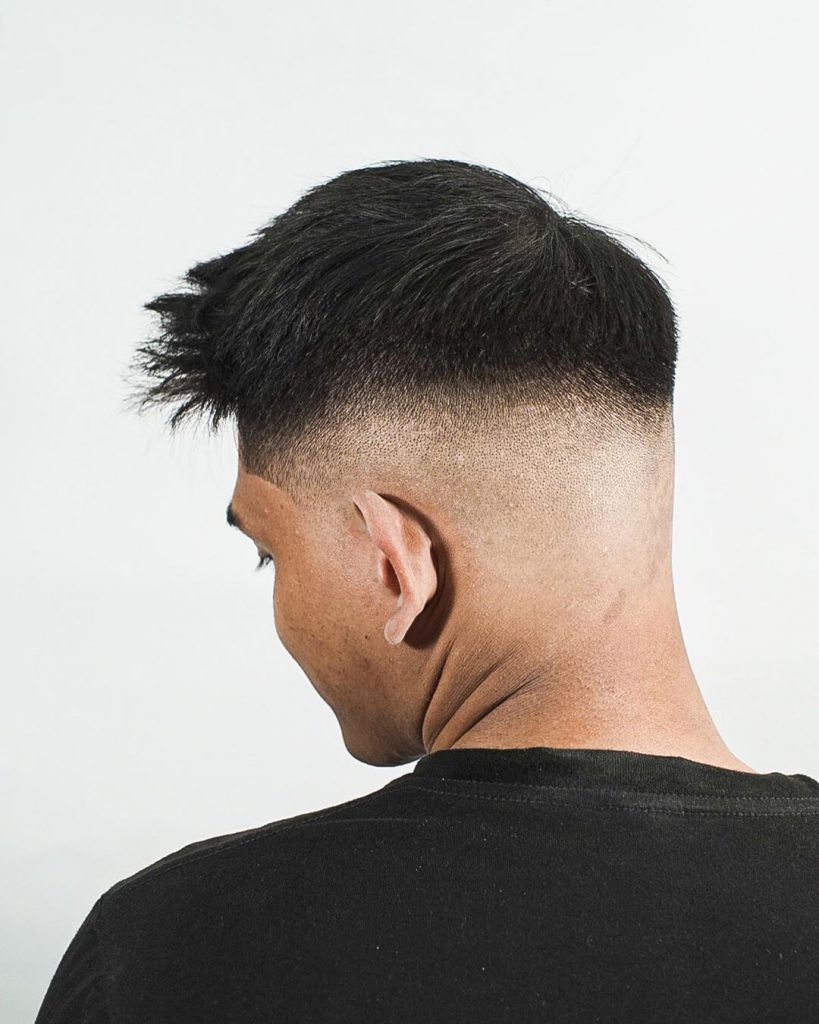 This almost straight across fade is a little higher than the usual medium fade.
22. Mid Fade + Straight Hair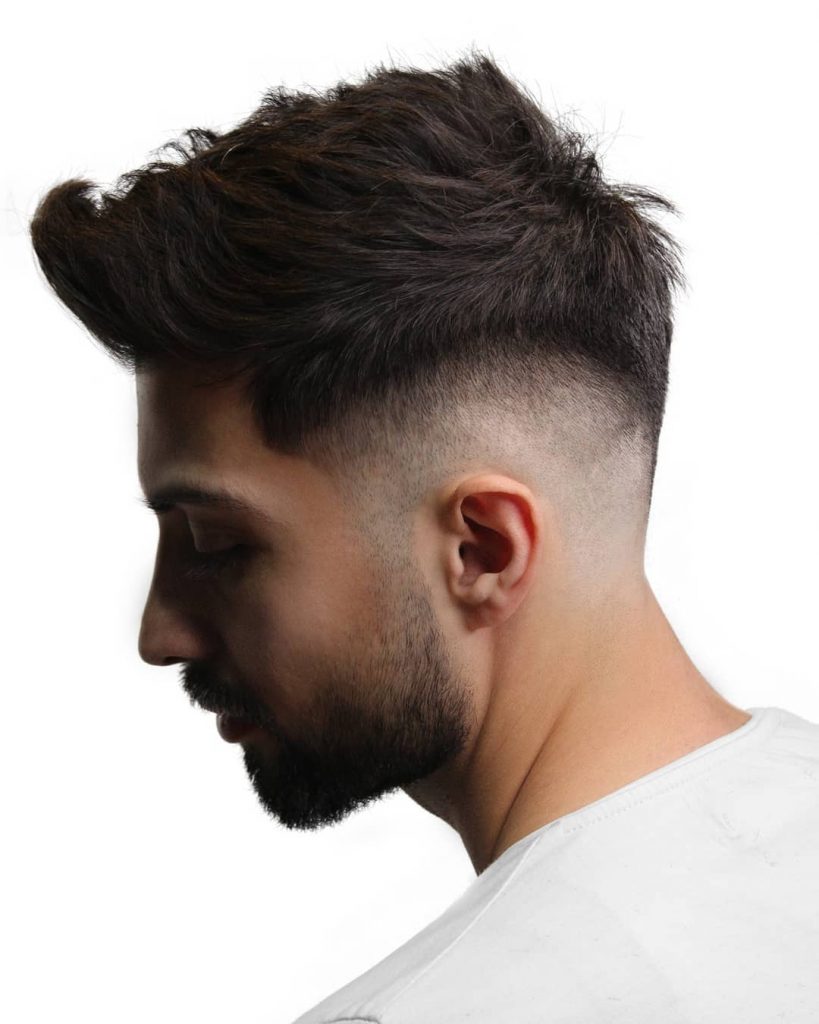 Like other types of fades, the medium fade works with all types of hair, including straight.
23. Medium Fade Haircut With Part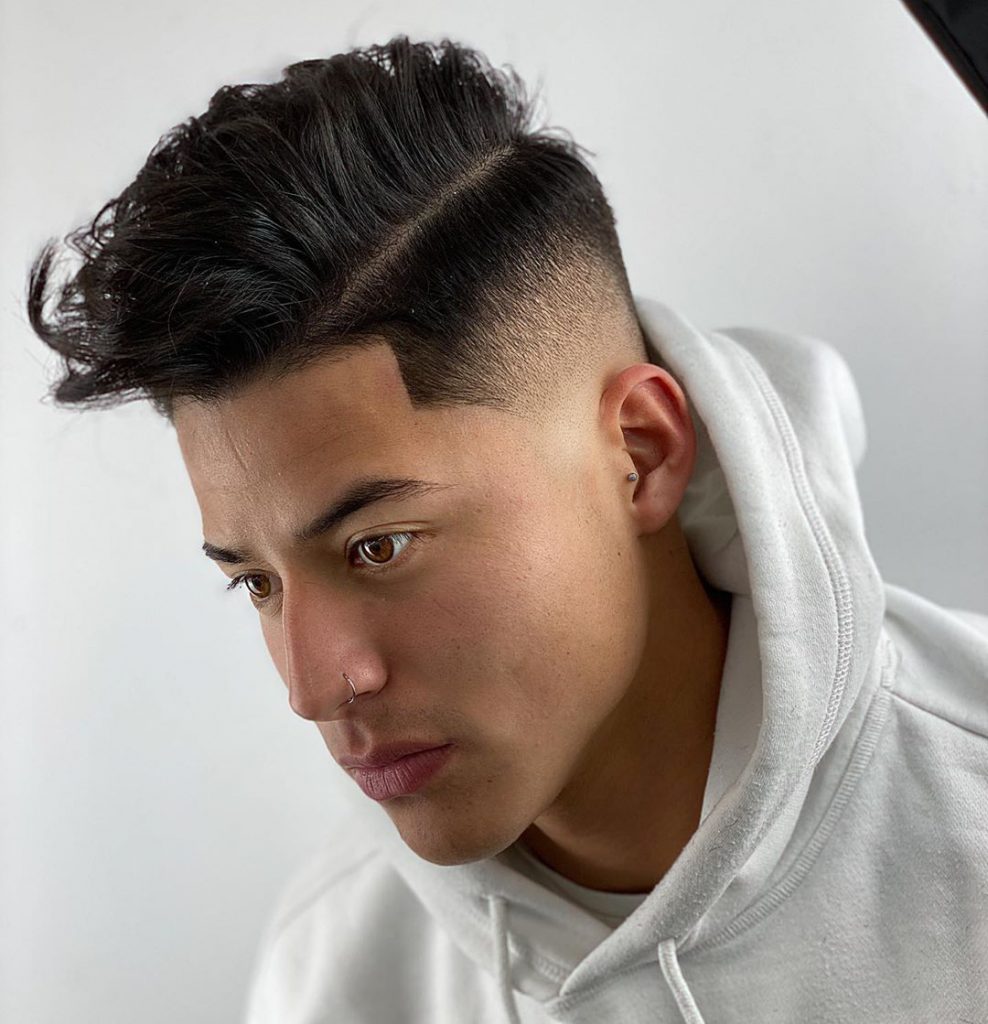 In between the mid fade and side part is a short section of thick hair. In addition to styling hair up on top, use a touch of product to keep short hair from sticking up.
24. Mid Fade With Waves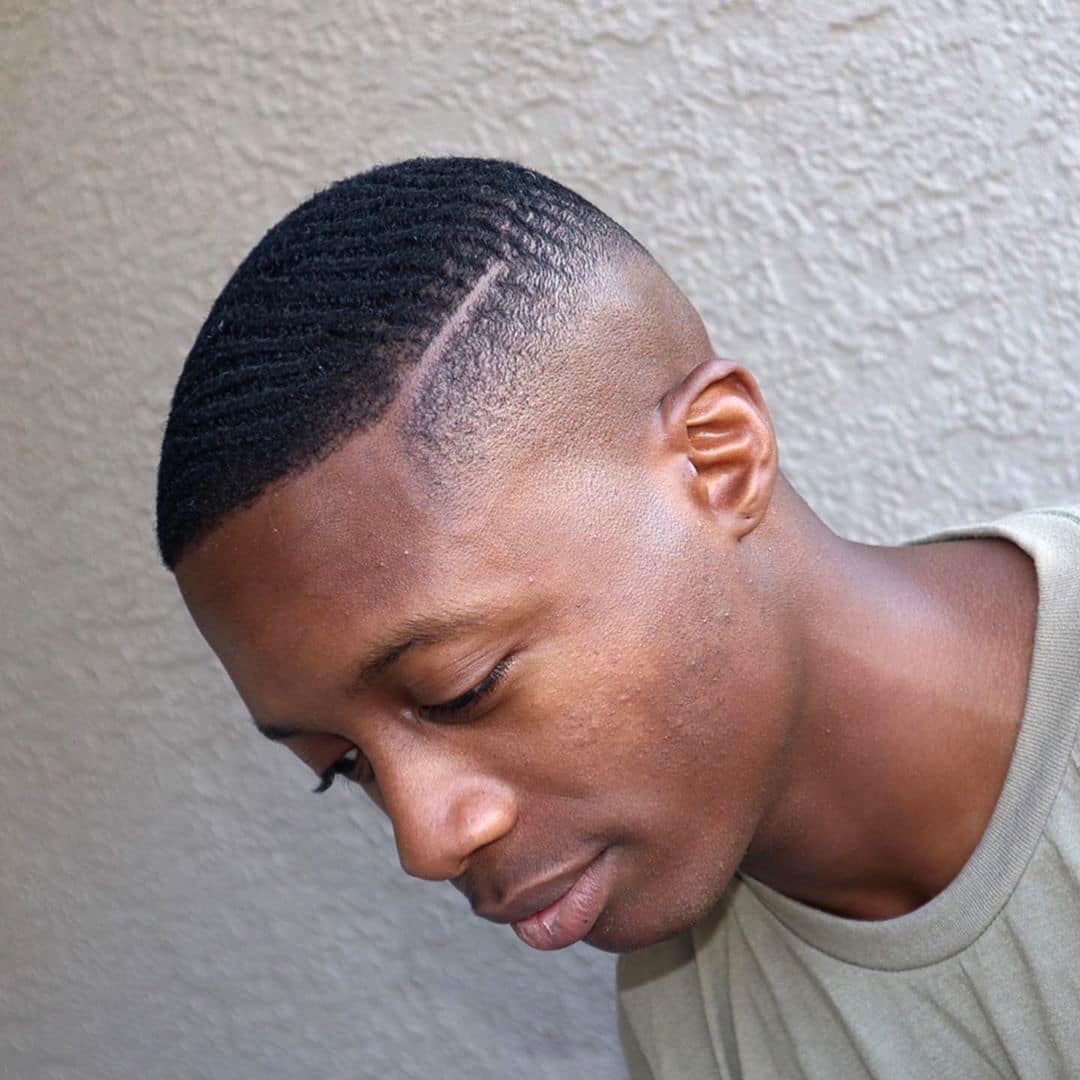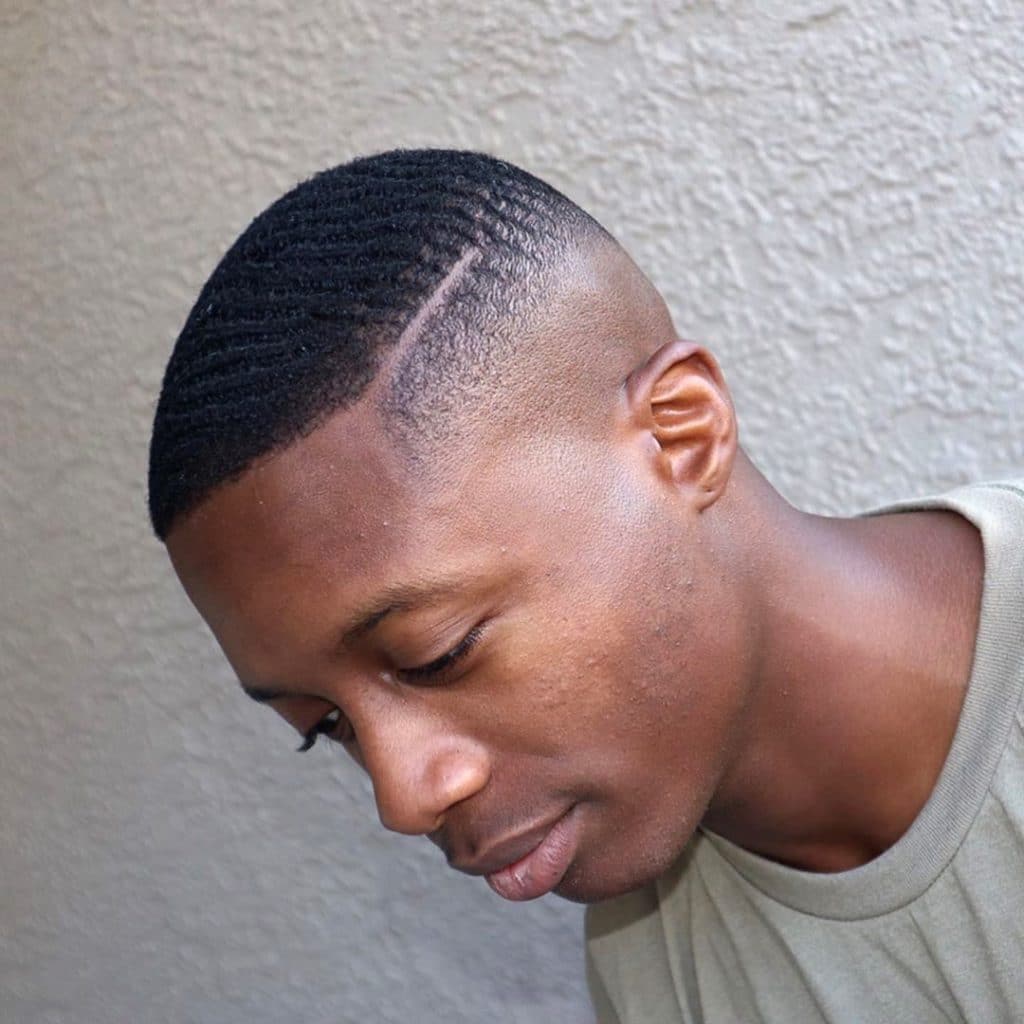 Waves can be worn with any type of fade or none at all but this one goes for a medium skin fade and shaved part.
25. Mid Level Fade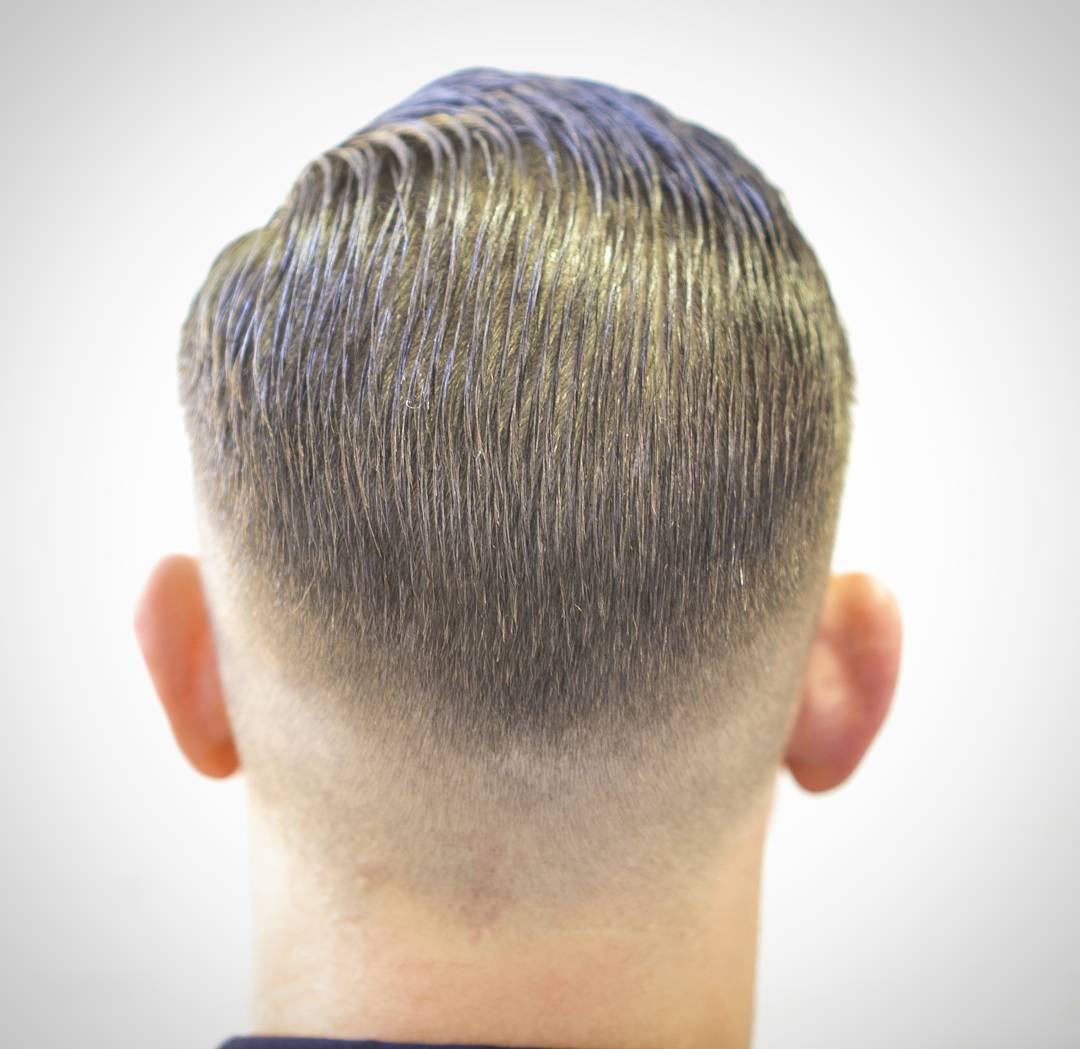 Fade haircuts look great from every angle, especially the back. This classic scumbag boogie styled with a pomade that has lots of hold, plenty of shine, and a blurry neckline.
26. Mid Fade Haircut With Hair Design + Curly Hair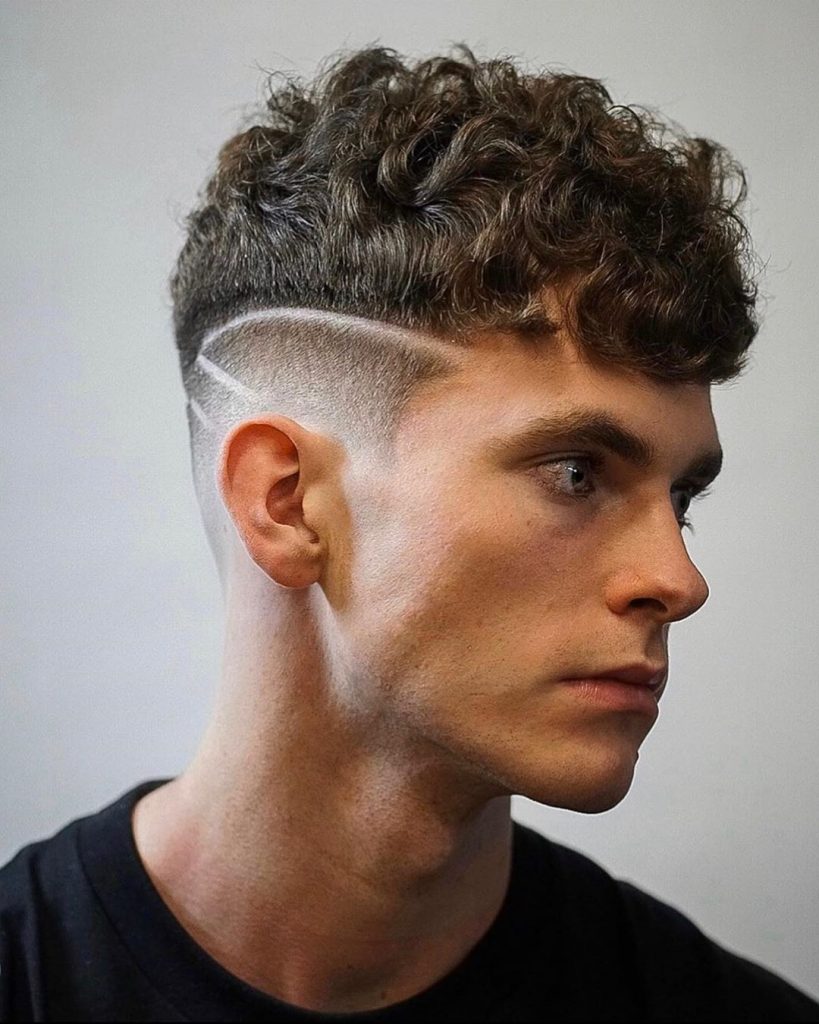 This is a cool example of a medium-high drop fade haircut. The curve is repeated in the shaved line and interrupted by a pair of slashes. It works well with this curly crop but the fade and hair design would look just as good with different hair types or hairstyles.
27. Mid Bald Fade + Side Part Sweep Back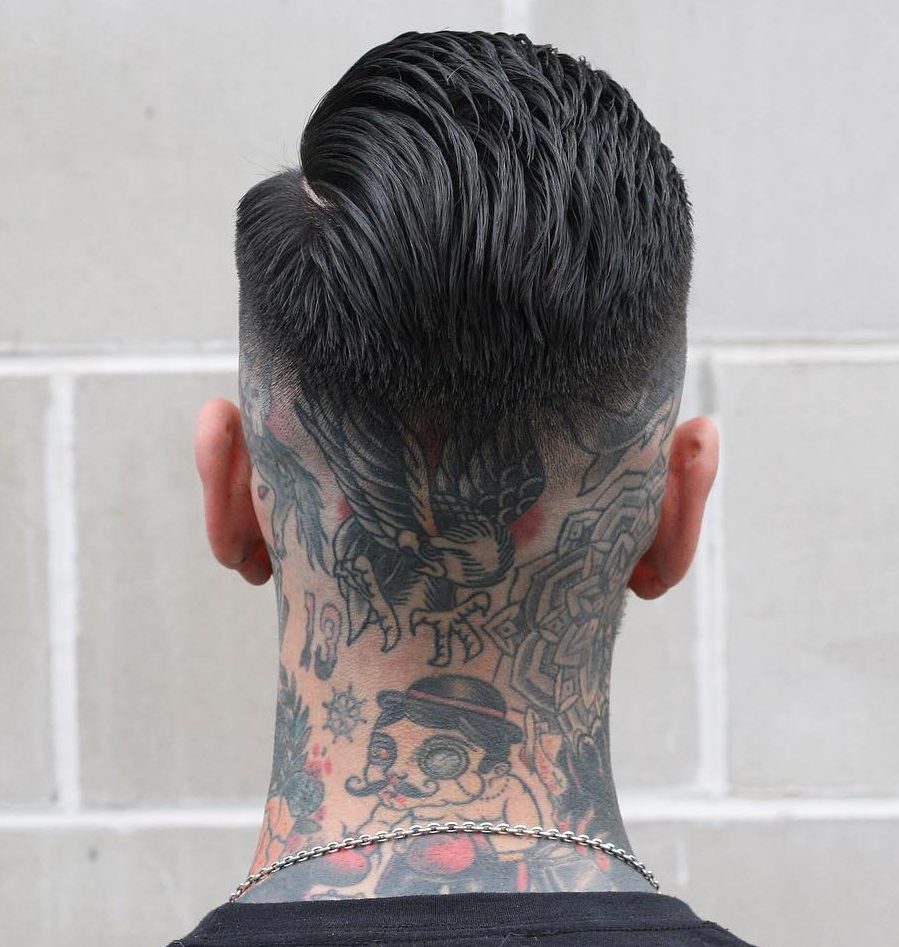 With a quick taper, this mid bald fade reveals a lot more than skin. Using a haircut to reveal ink can change up your look in a big way. Don't worry if your skin is a blank canvas. The fade looks good on everyone.
28. Mid Taper Fade Haircut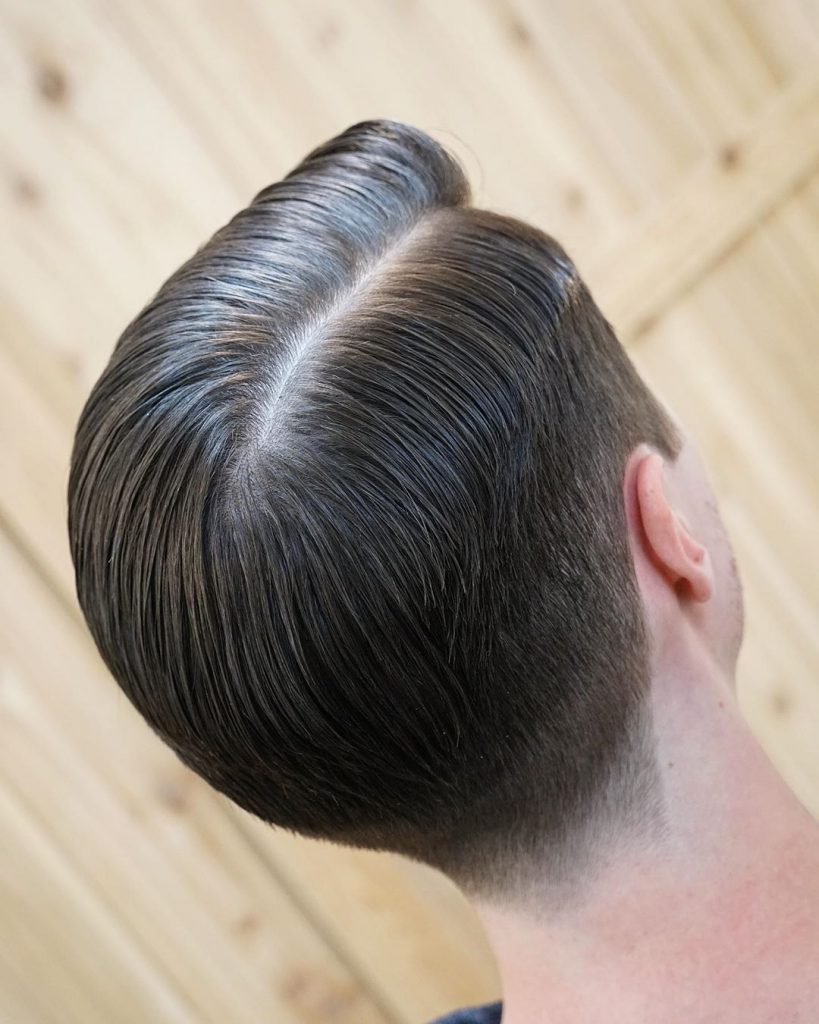 The taper fade only fades the sideburns and neckline, leaving a defined arc behind the ear. This medium taper takes short hair up higher around the edges.
29. Mid Drop Fade + Quiff Hairstyle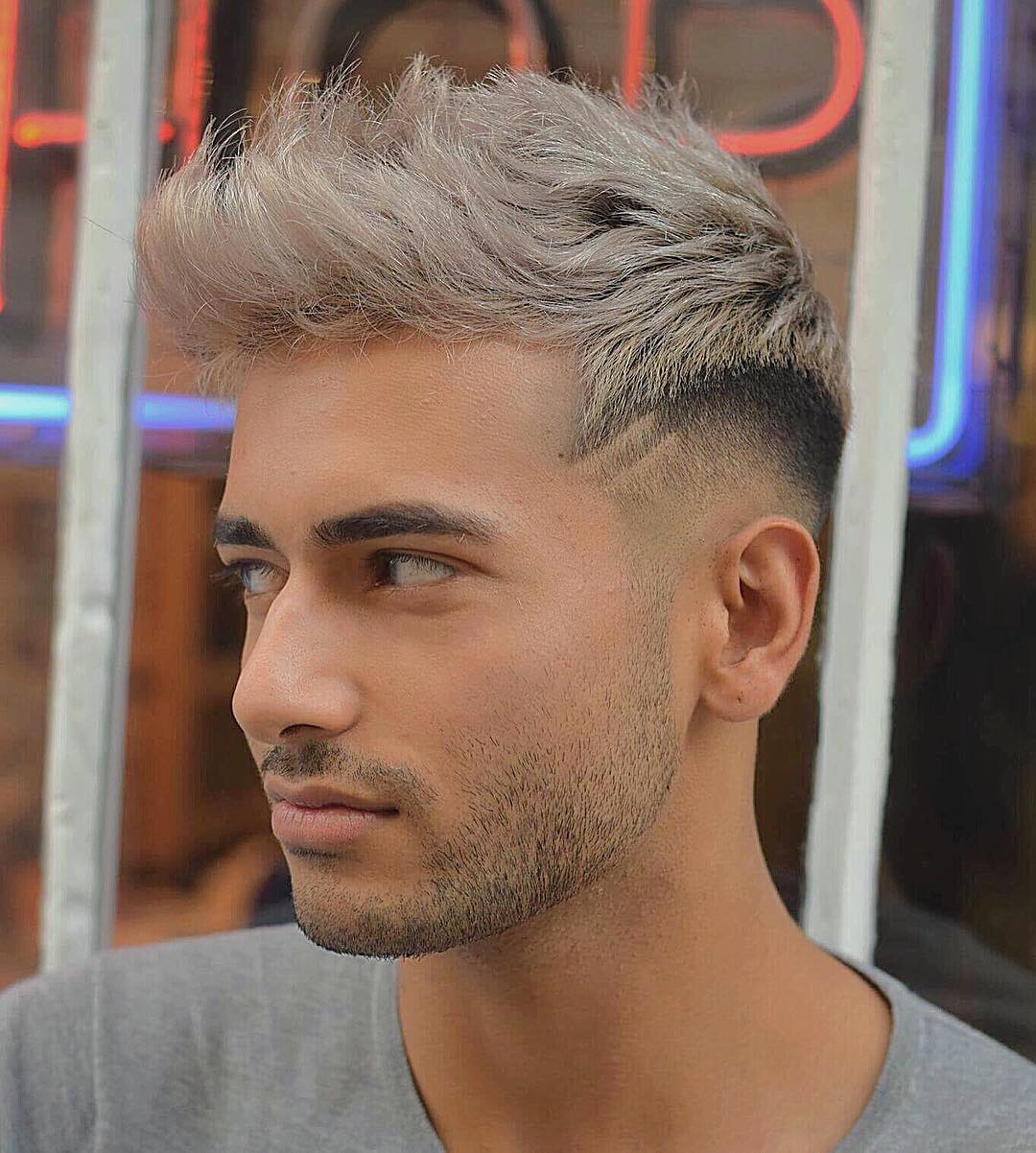 Dark hair contrasted against platinum gives this fade extra depth. Used as a canvas for a subtle hair design, this medium fade also features an upward arc before dipping low around the back.
30. Mid Bald Fade Haircut + Side Part Hairstyle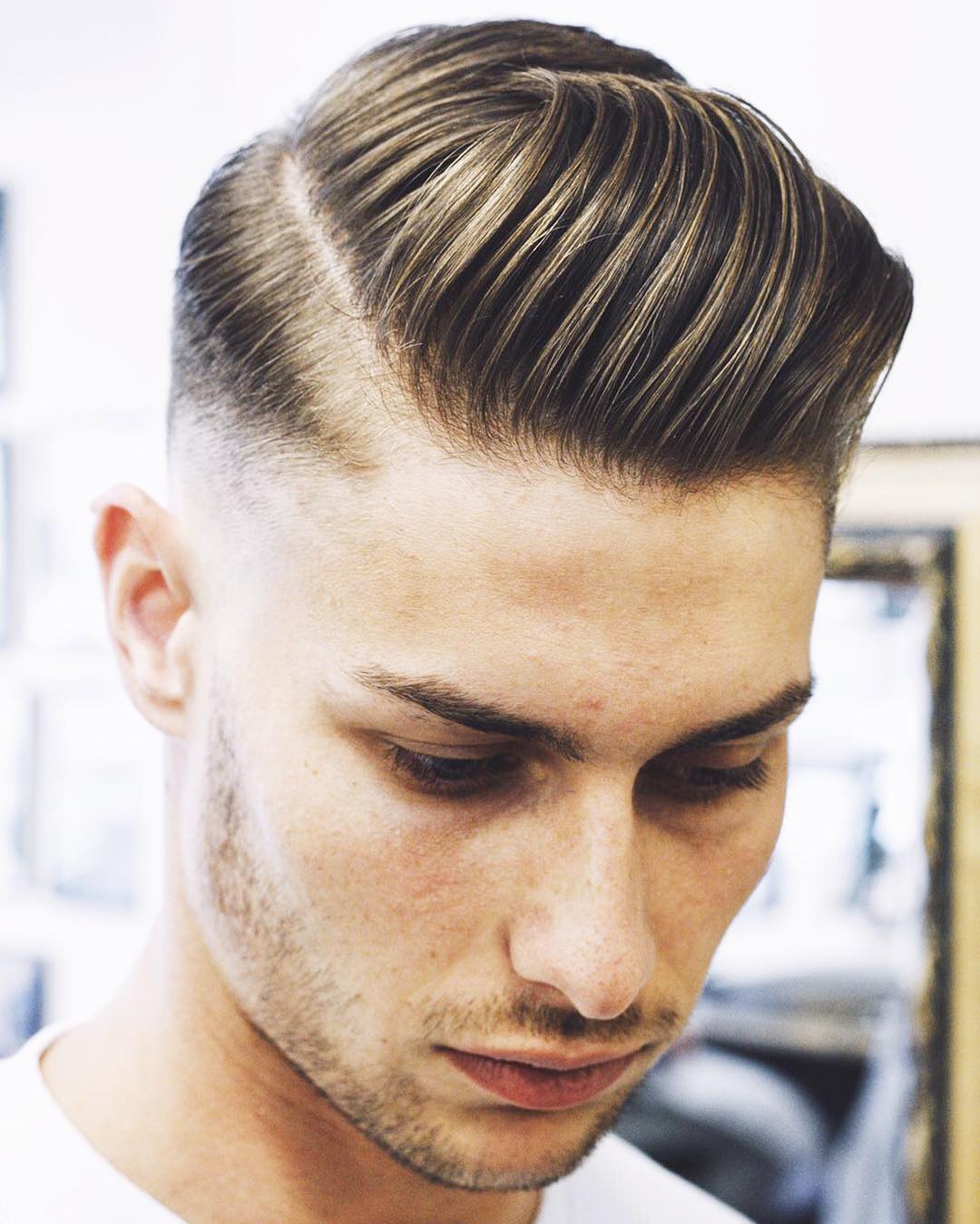 The mid fade is a modern addition to the classic side part hairstyle. The key to keeping hair from sticking up is leaving enough length before the taper and a touch of product.
31. Mid Fade + Comb Over Haircut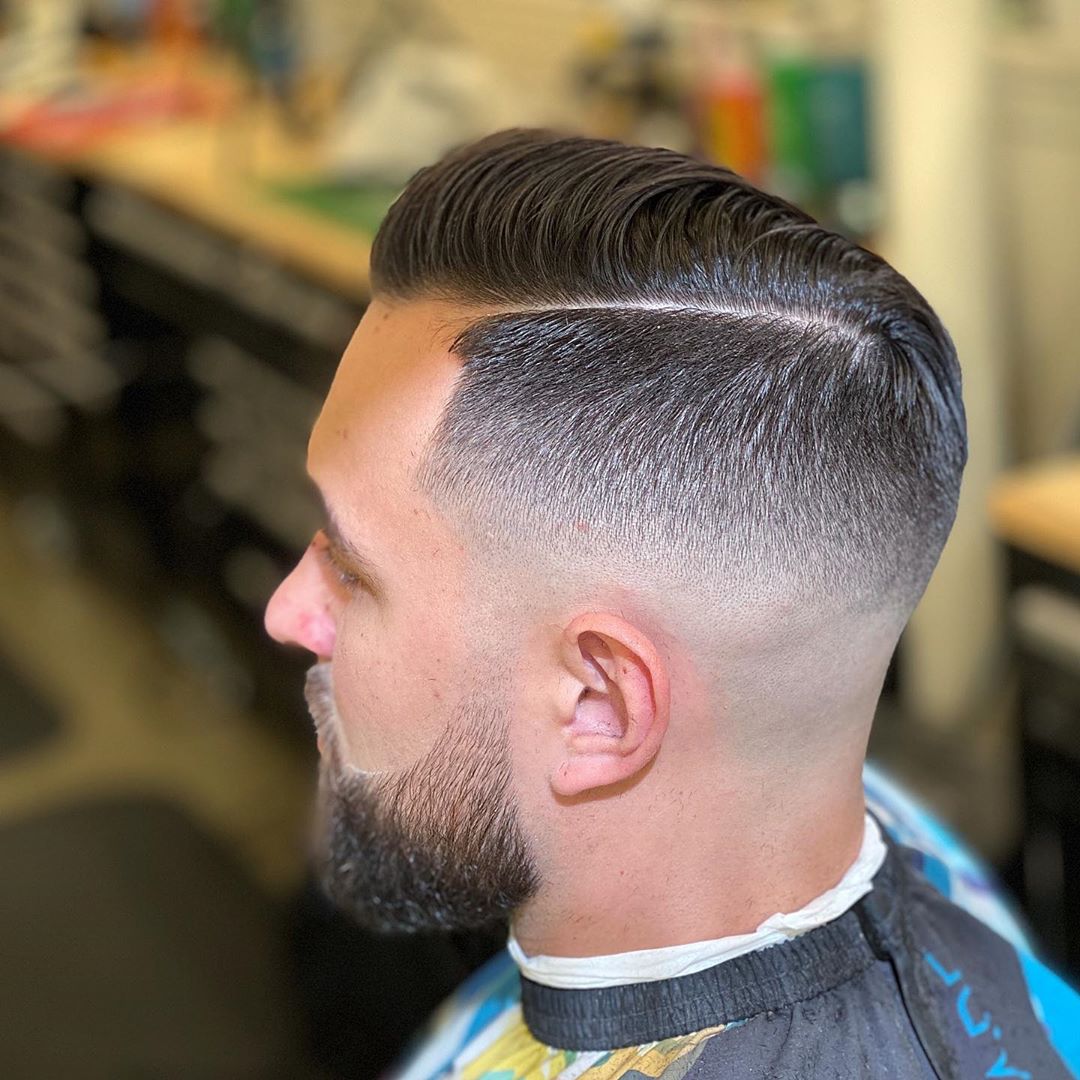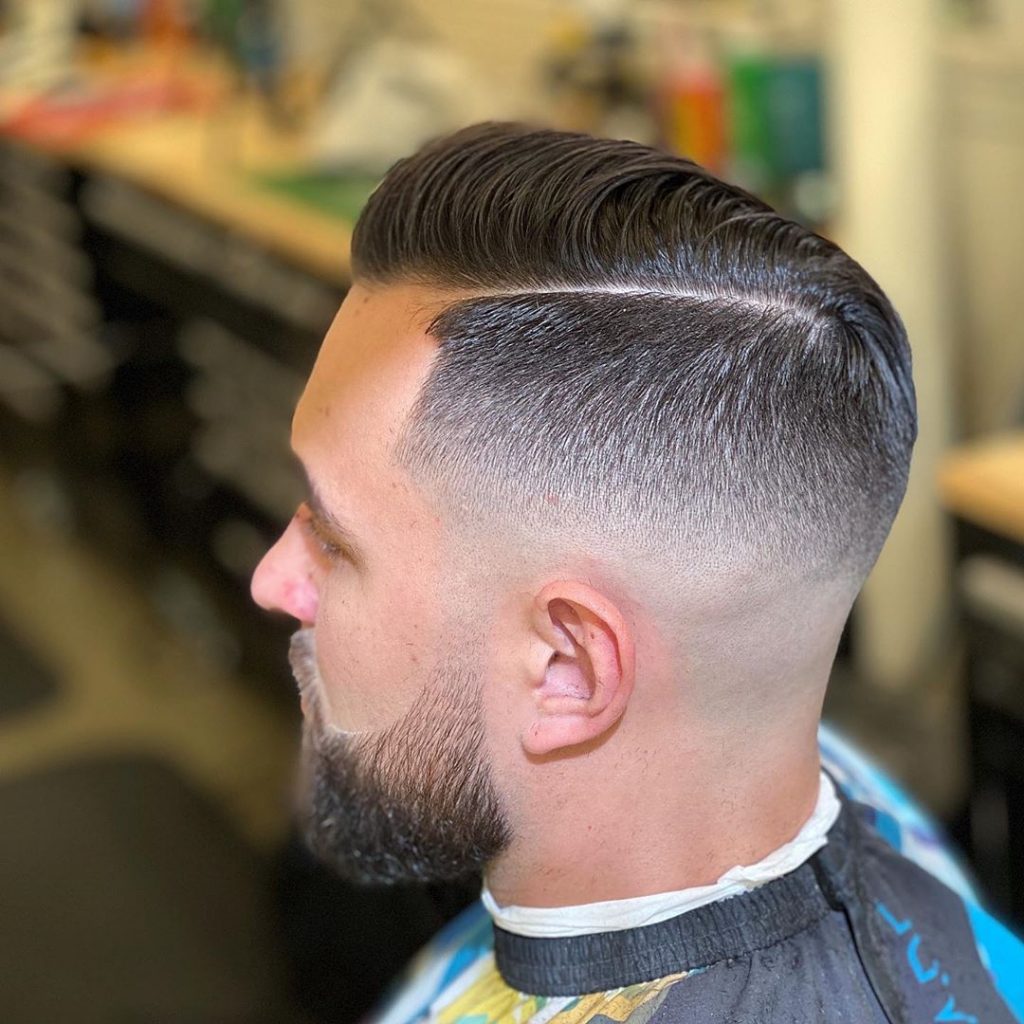 The comb over is one of the most popular fade haircuts. This version contrasts long hair on side of the part with short on the other and a medium skin fade all the way around.
32. Low To Mid Fade Haircut For Thick Hair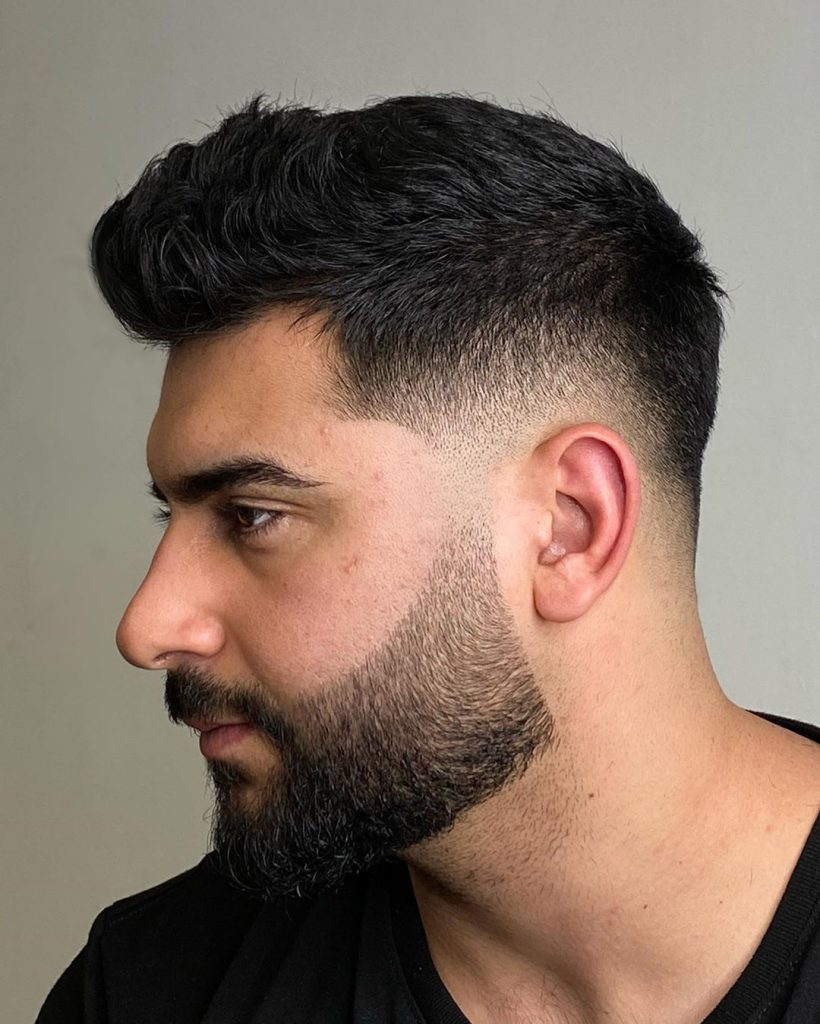 This fade lands somewhere in the territory between low and medium height. The skin fade is down low but the blur continues further up the sides and back of the head.
33. Mid Fade + Curly Hair Haircut For Men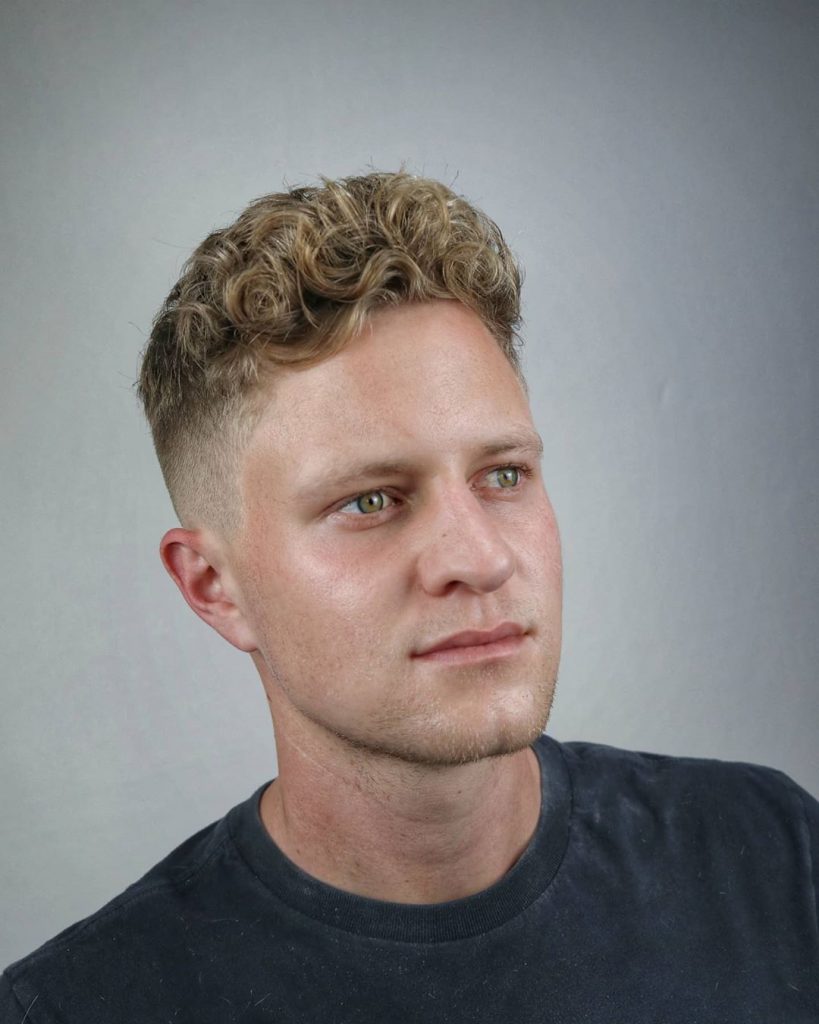 Fade haircuts are one of the best haircuts for curly hair. Why? Because you can control how much curl you want. This cut keeps medium-length curls on top with a buffer of short hair before the mid fade.
34. Mid Fade With Waves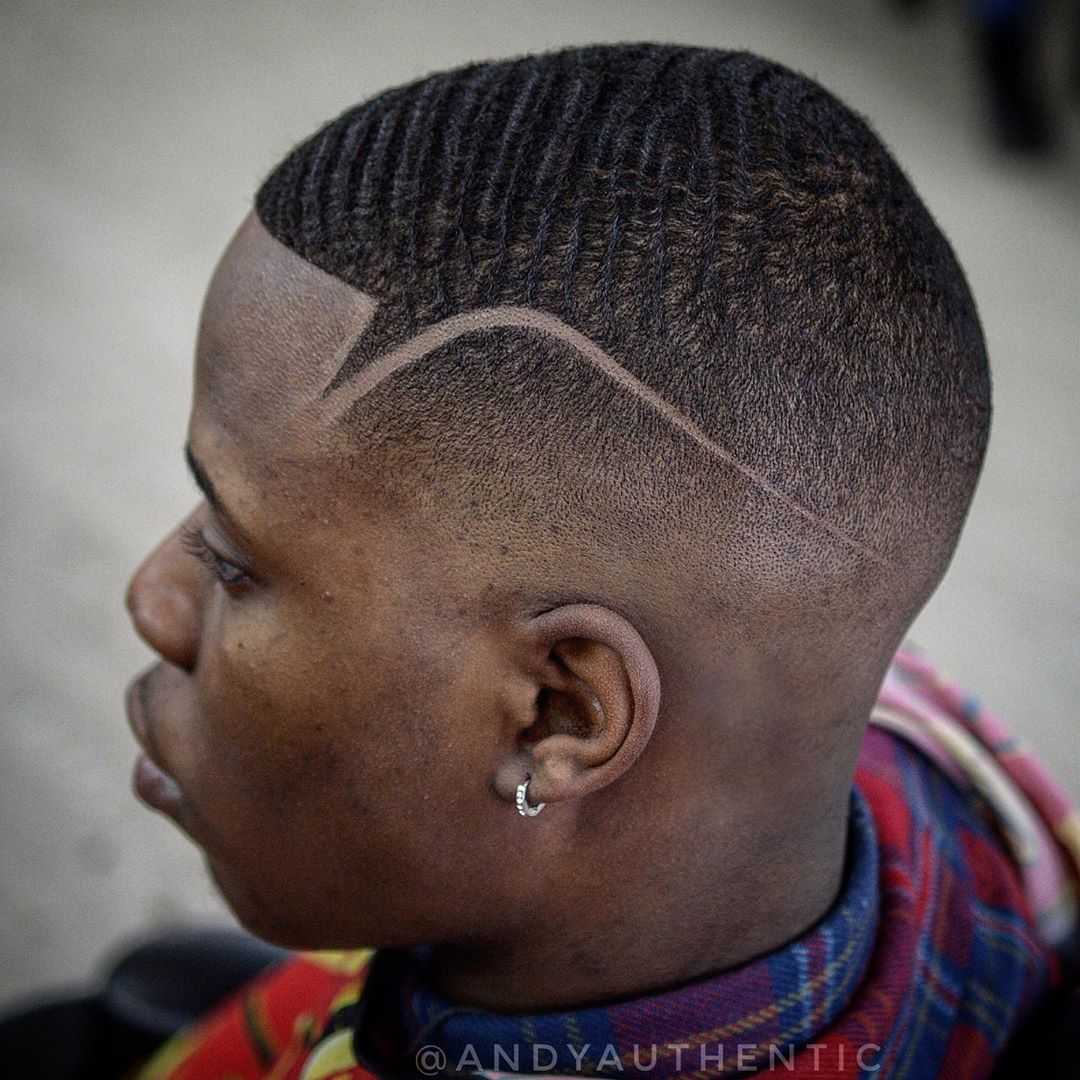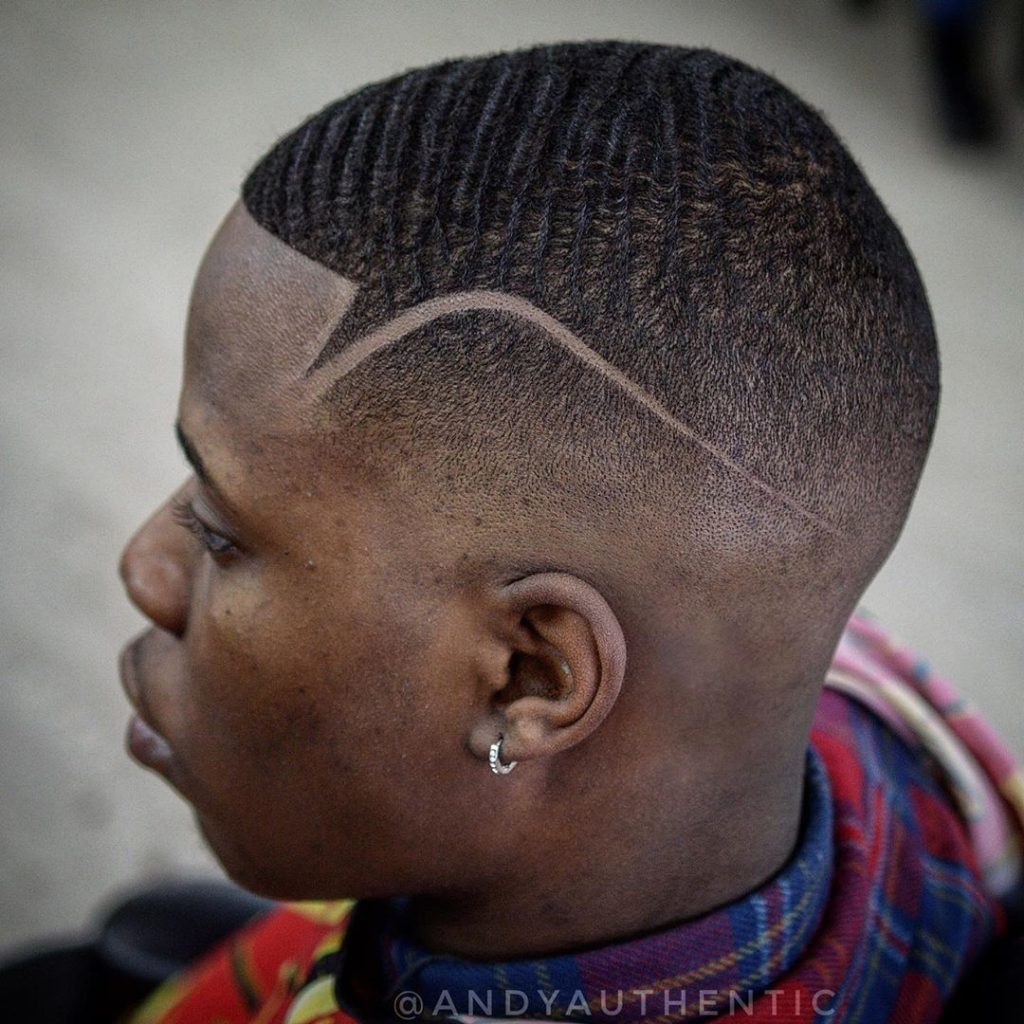 These might not be 360 waves but that texture looks great with a medium skin fade, line up, and hair design.
35. Mid Fade + Short Crop Haircut For Thick Hair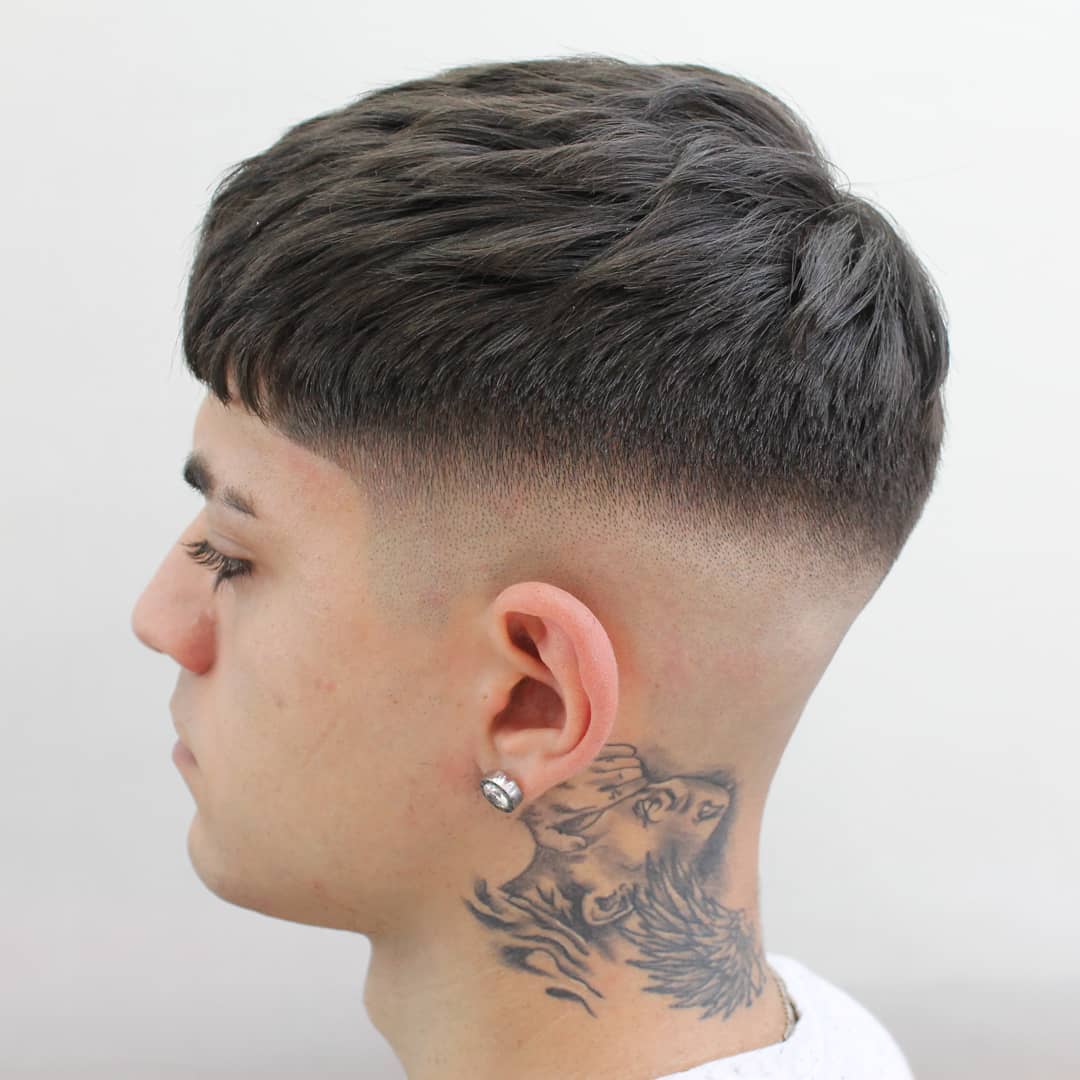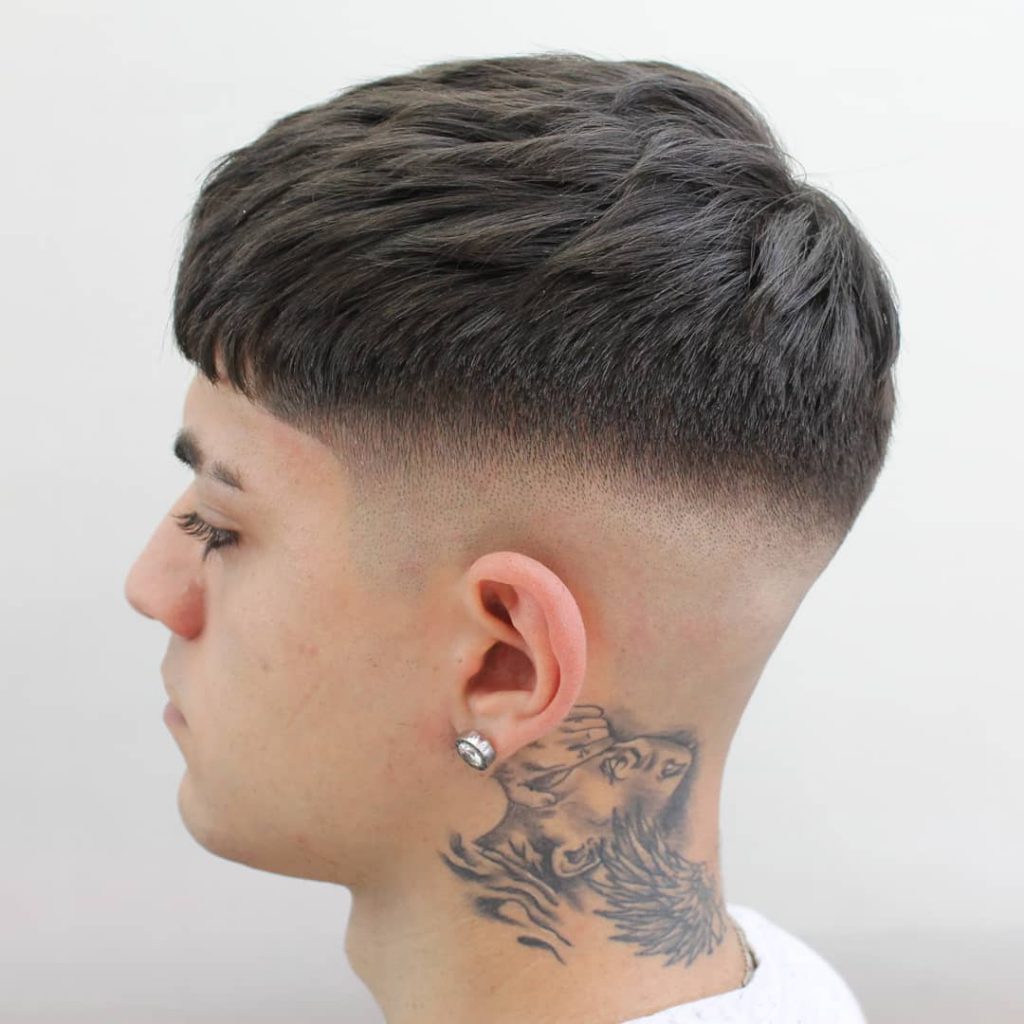 Here's a thick but short crop haircut over an almost straight across medium bald fade. Try a hair wax to get this natural-looking texture.
36. Mid-Low Fade Haircut + Short Wavy Hair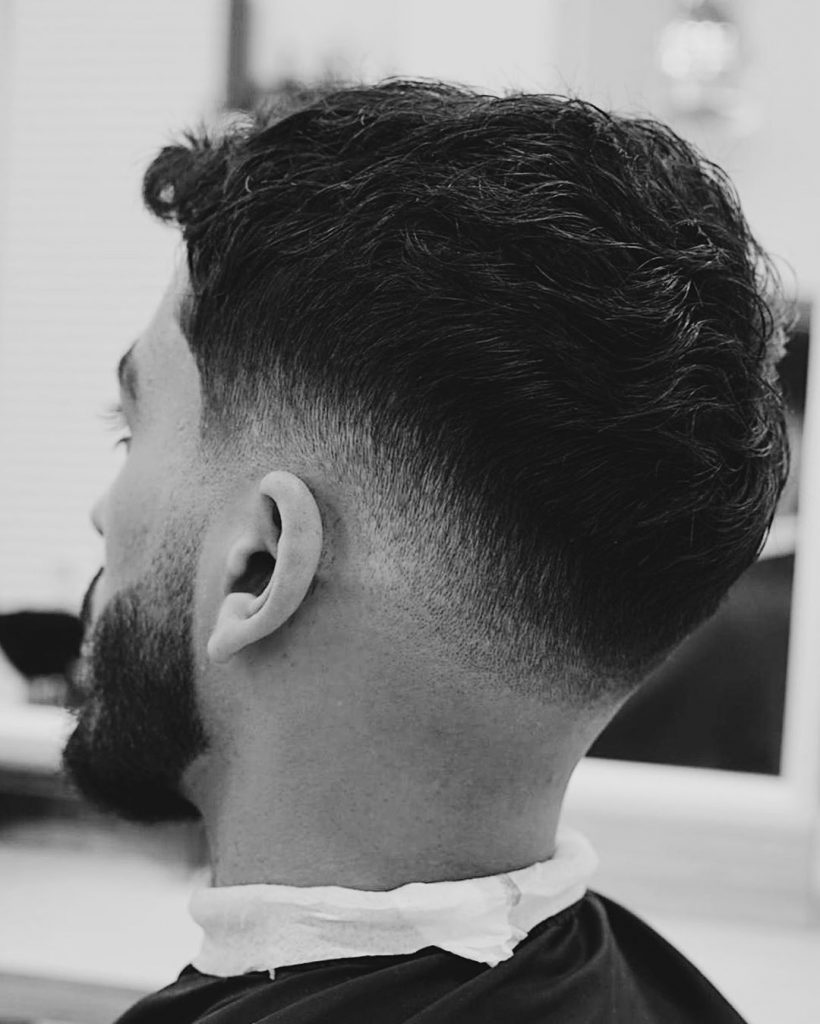 This skin fade is a touch higher than a low fade and a touch lower than a mid fade for that just right mid-low fade. Your barber will customize the size and shape of the fade to flatter your head shape (and size).
37. Mid Skin Fade + Quiff Haircut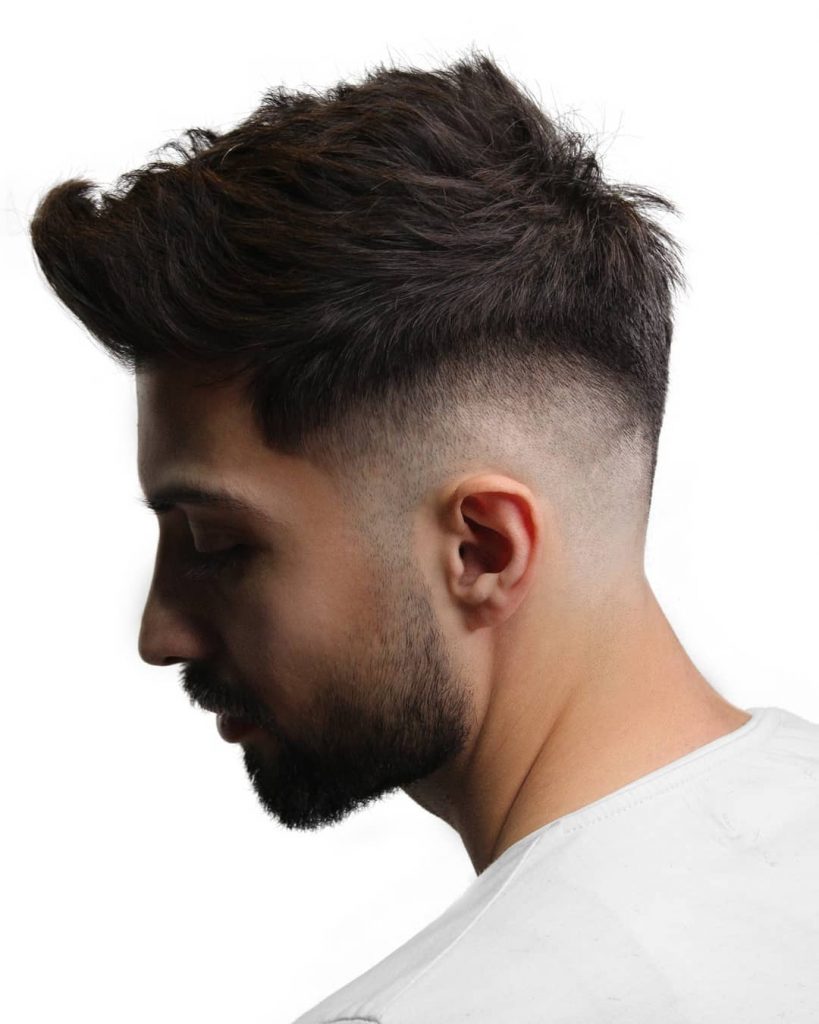 This crispy cut for thick hair starts off straight at the temple and drops down at the back of the head. It's almost a mirror image of the spiked up quiff at the front.
38. Bald Mid Fade + Tapered Haircut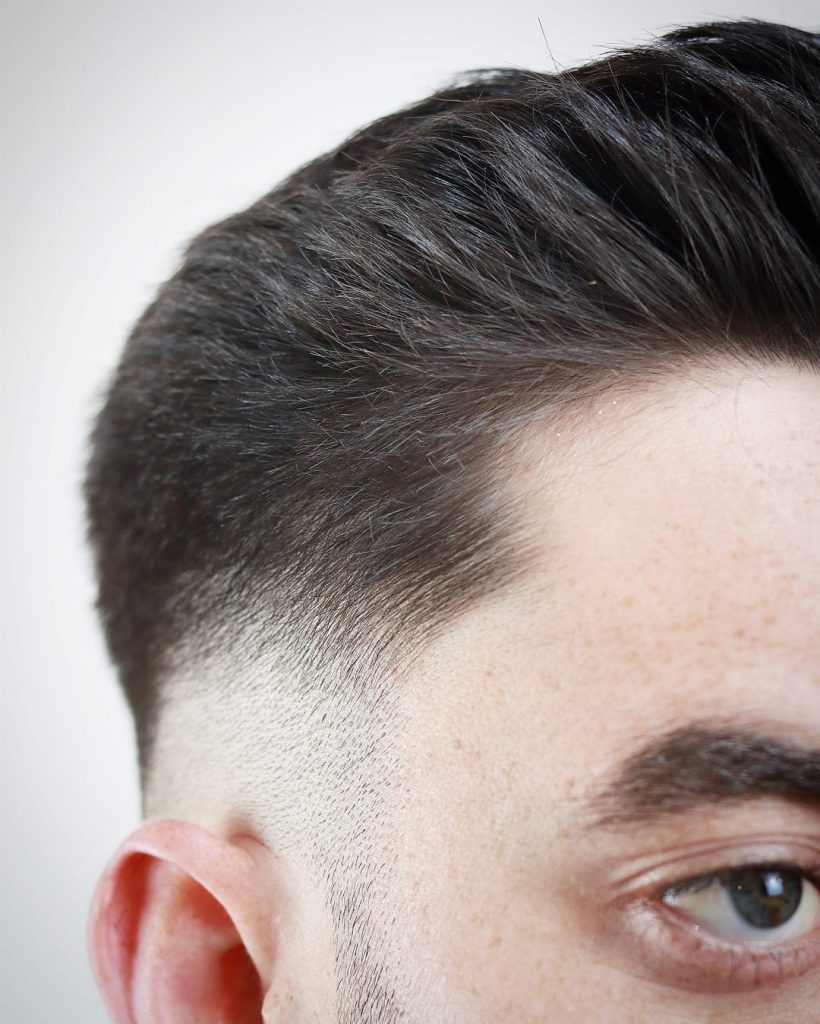 Here's a closeup of a medium fade cut bald. It can be a surprise to see the pale color of your scalp but it gets some color after a couple of days. Even from here, it is evident how a fade draws your eye to the hairstyle worn on top.
39. Natural Curls + Bald Mid Fade Haircut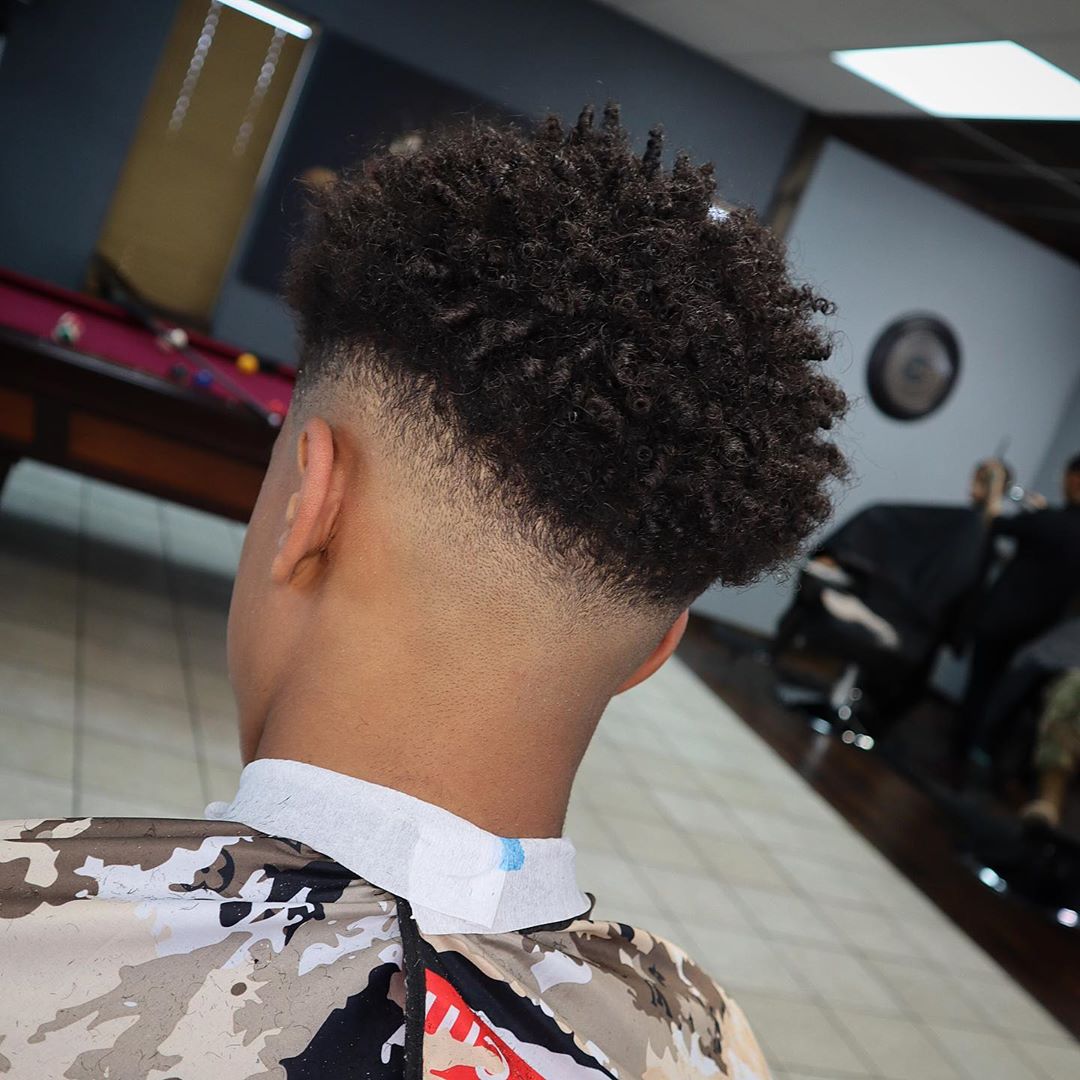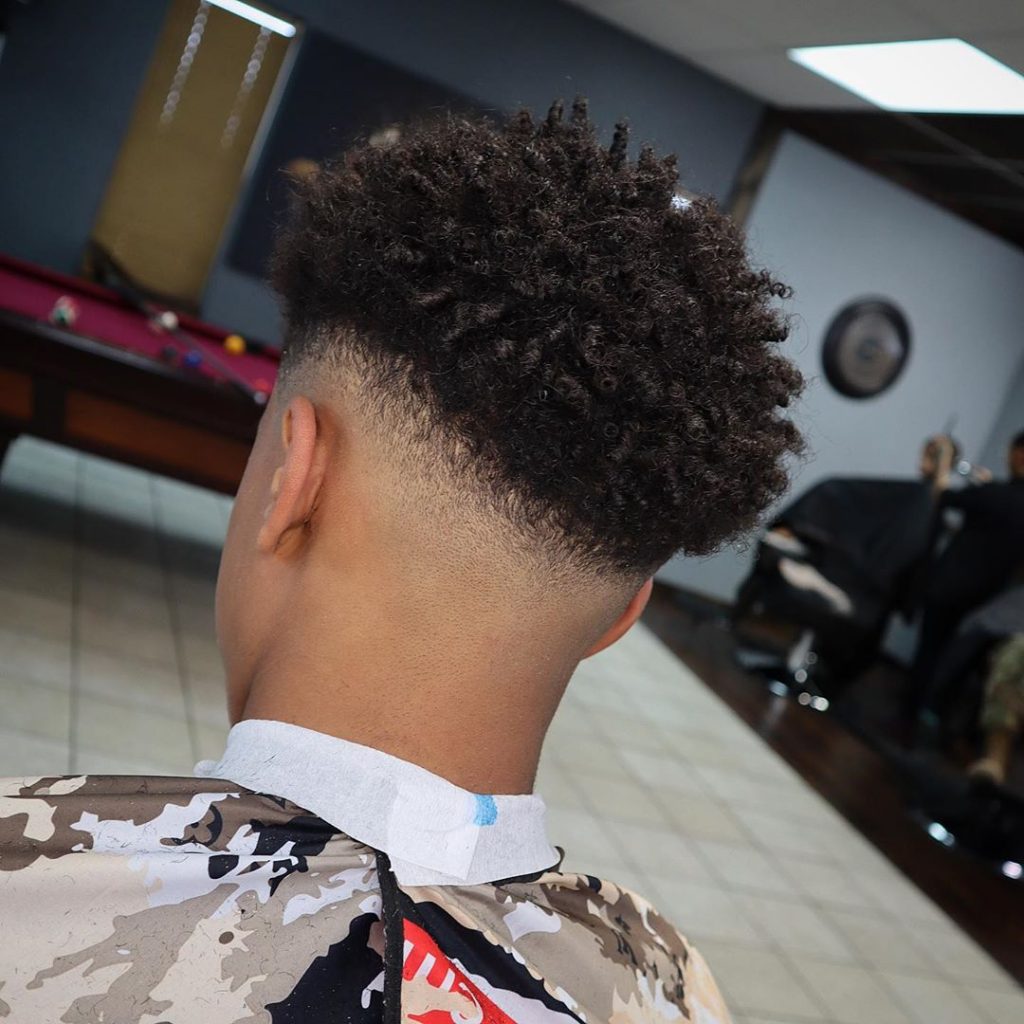 This curly top looks totally different when worn with a low, medium, or high fade. Try them all until you have found your favorite.
40. Dreadlocks + Mid Fade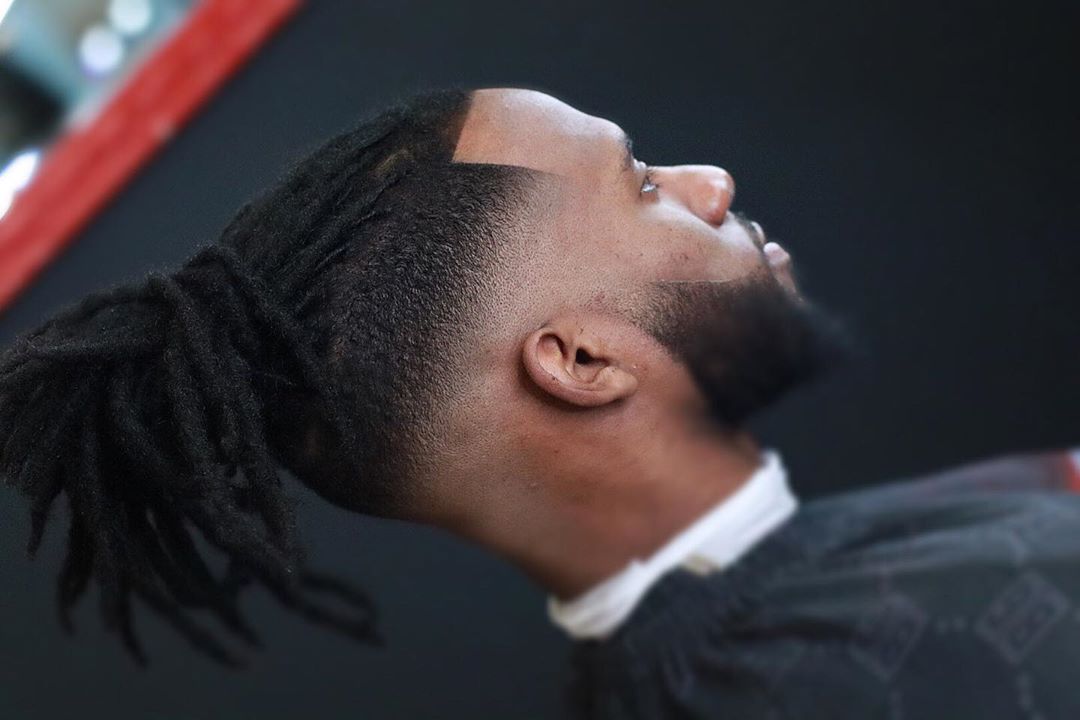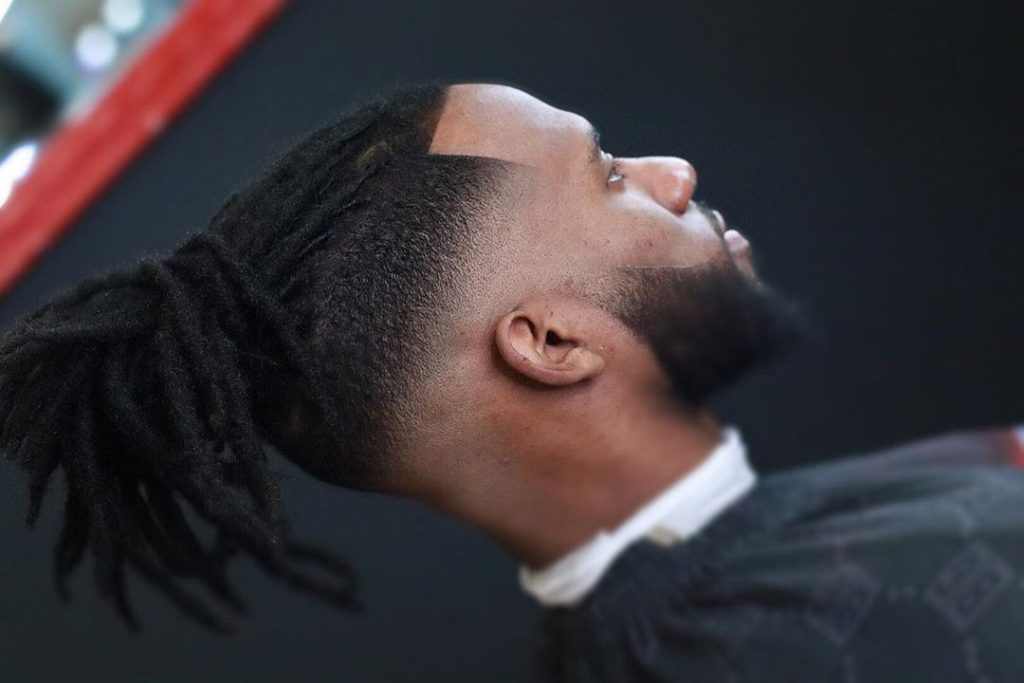 The medium-high fade looks great with long and short hair. These long dreadlocks are up high on the head but the skin fade is cut right down the middle. This would also work with short, medium, or long braids.
41. Mid Fade + Medium To Long Hair On Top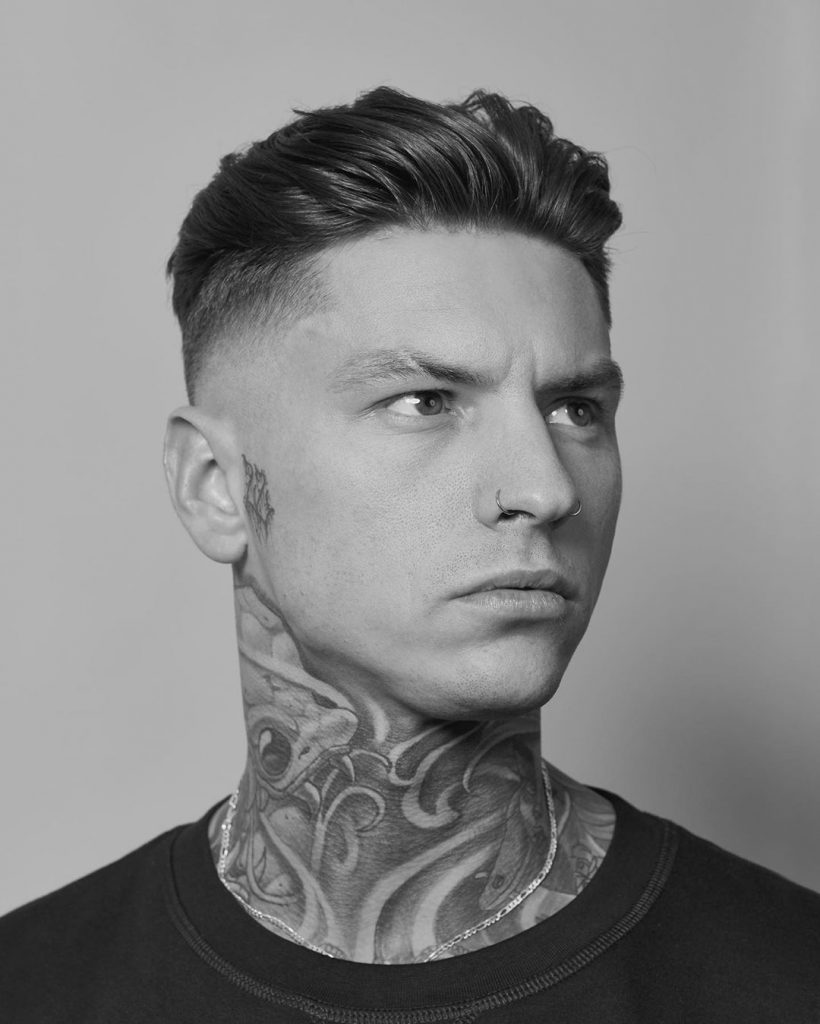 Here's a version of the popular disconnected hairstyle with a medium fade instead of the undercut. Hair is simply swept back with fingers for that effortlessly cool look. Try a hair clay to add texture and hold without shine.
42. Mid Fade + Short Textured Haircut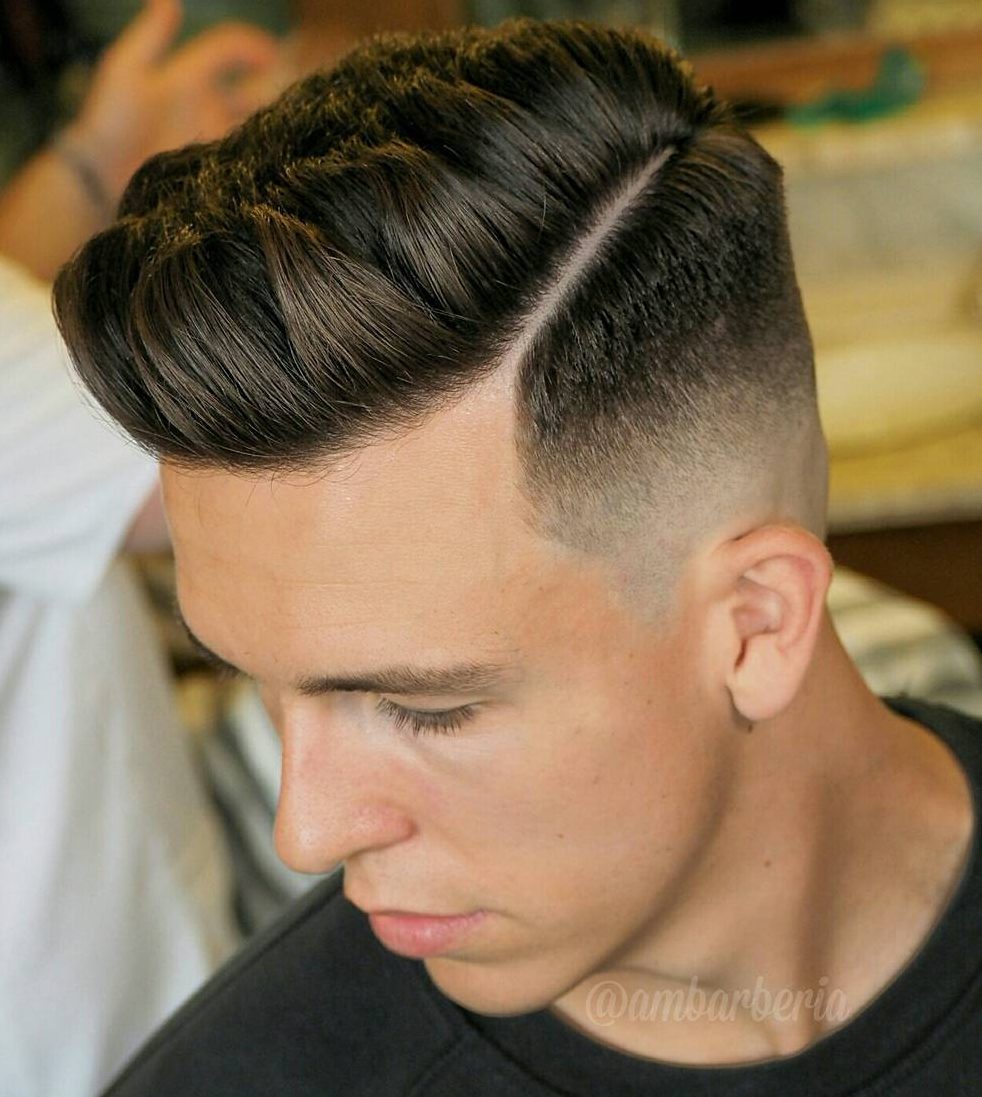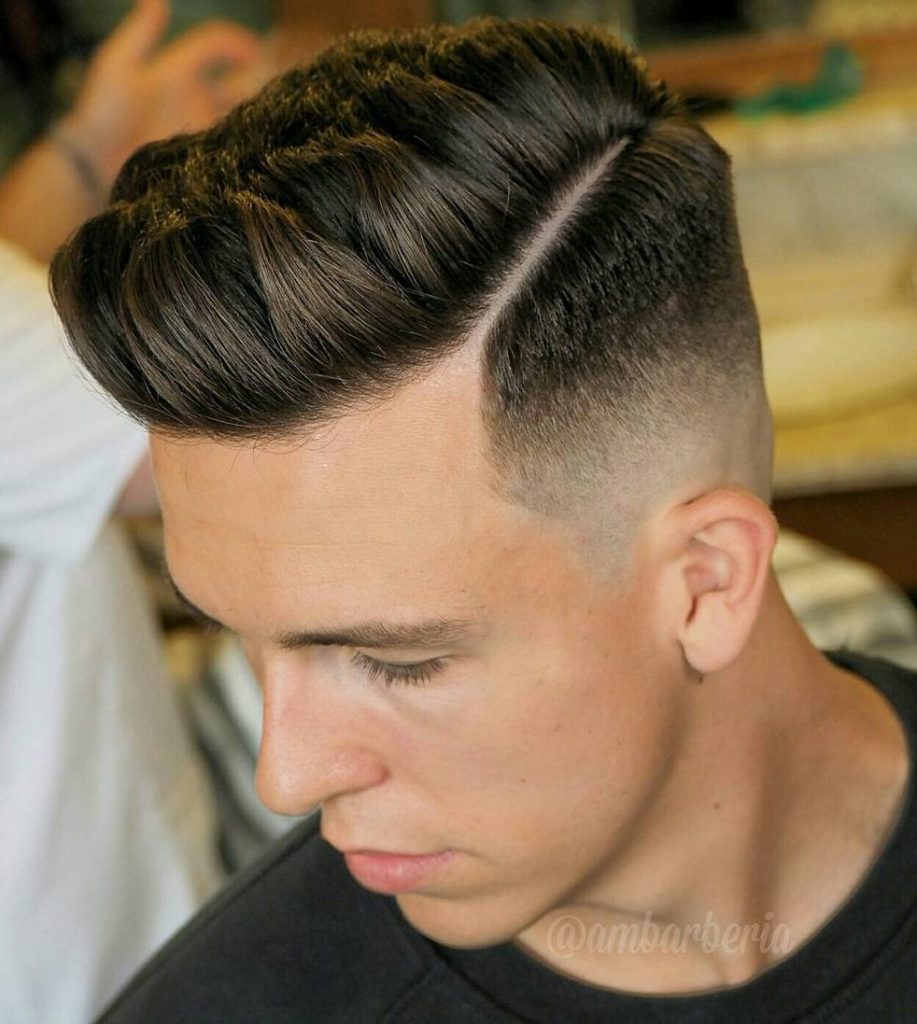 The pomp is a classic cut that gets a modern edge from the addition of a fade. This bald fade quickly tapers from hair to skin with the blur that is the sign of a high-quality blend. Textured styling and a shaved part also update the retro style.
43. Medium Length Pompadour + Mid Fade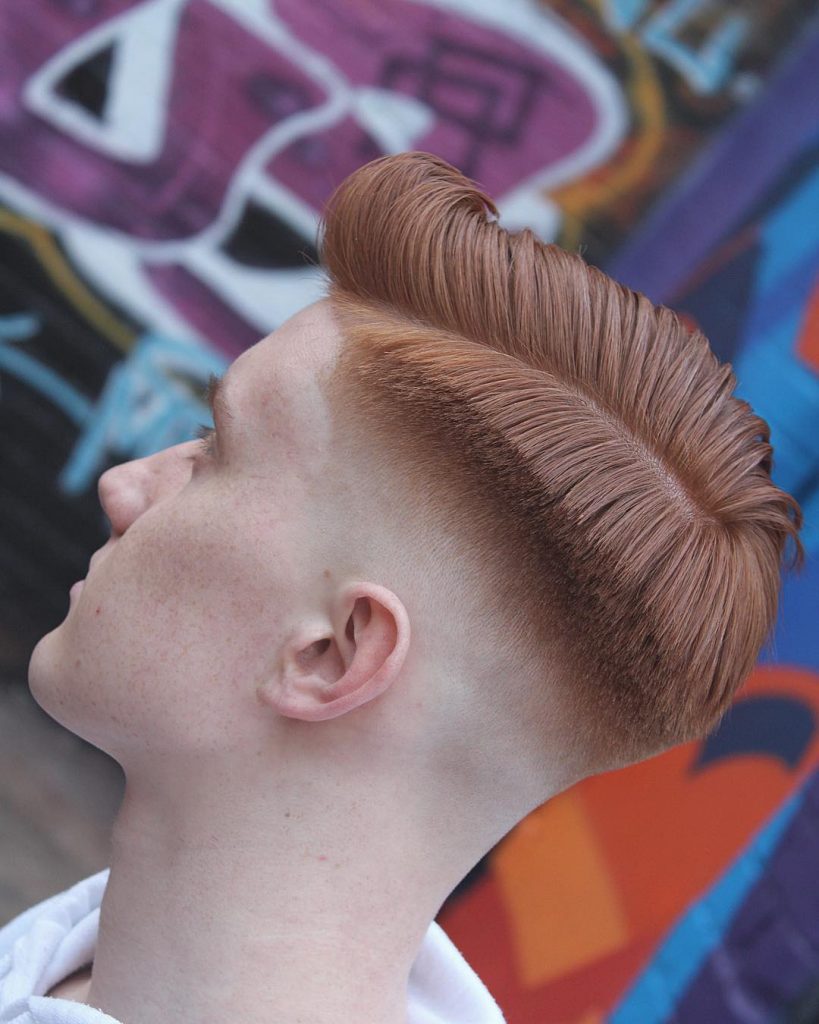 Hair is cut thick to emphasize the difference between the bald drop fade and lush ginger hair on top. It's a modern side part hairstyle with a quiff at the front.
44. High Top + Mid Skin Fade Haircut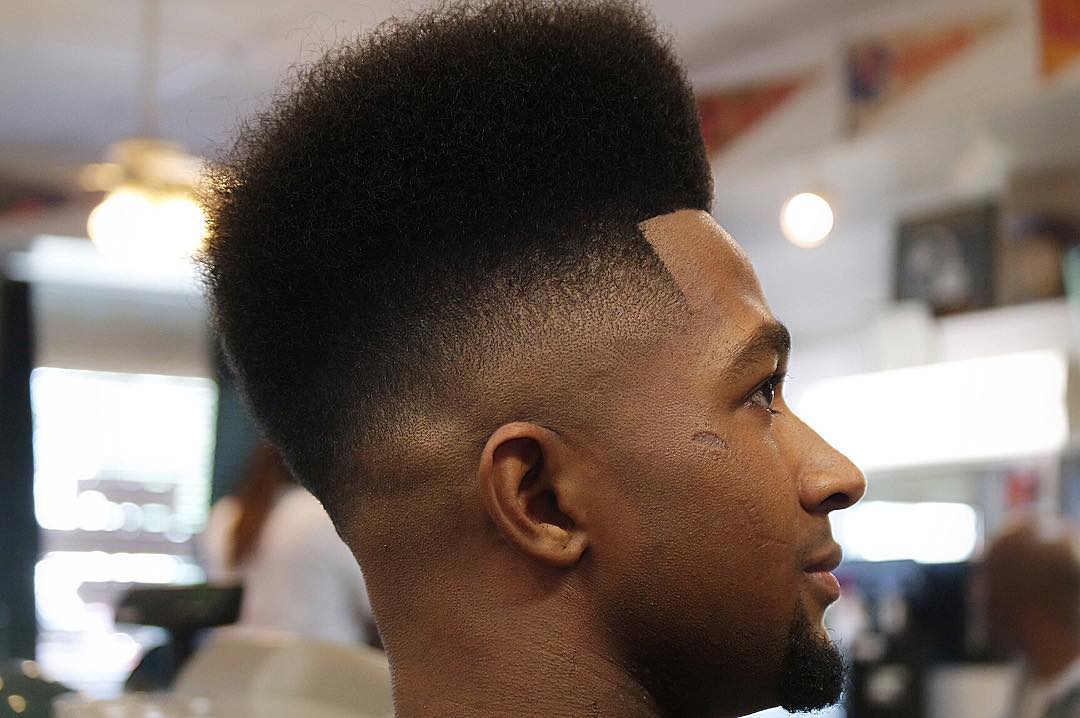 The mid fade works with every hairstyle from short to long and conservative to cool. The rounded high top falls in the long hair and cool categories. The angle of the fade reflects the hair on top, emphasizing the bold lines of this fresh style.
45. Short Hair Mid Fade Haircut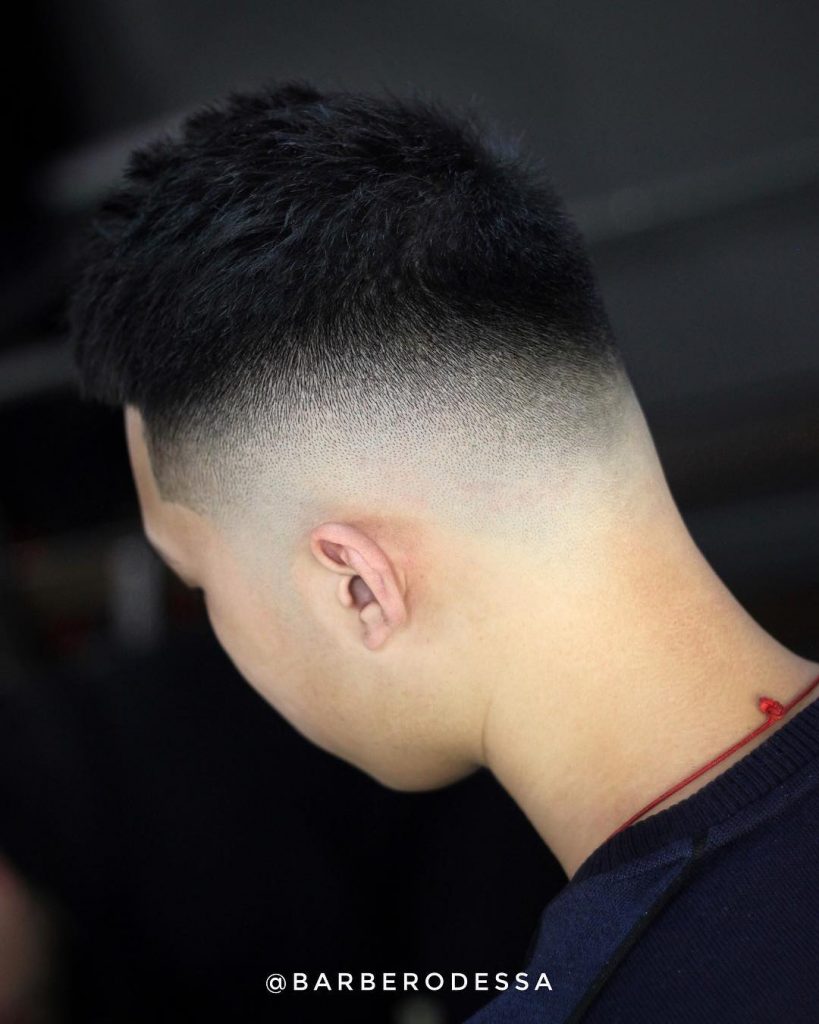 This is a cool cut for thick or Asian hair, especially if you want to stay cool and look hot in the summer heat.