Just like all the other men's haircuts, we are seeing different ways to wear the classic mohawk. These mohawk fade haircuts feature new ways to wear both the sides and the mohawk itself.
The mohawk, aka mohican haircut, is a strip of hair with the sides shaved. Despite the name, the look was actually inspired by the Pawnee. The Mohawk tribe also wore cut hair down to the skin but traditionally plucked hair instead of shaved. How's that for tough.
If you're more into using modern clippers, check out some of these faded mohawk pictures for unique men's haircuts that are gaining popularity.
1. Modern Mohawk Haircut

The mohawk comes from the cut and the style. This unique version features width on top that tapers down to a pointed V at the neckline. Hair is spiked up along one side of the cut and accented with a bold hair design and color.
2. Faded Mohawk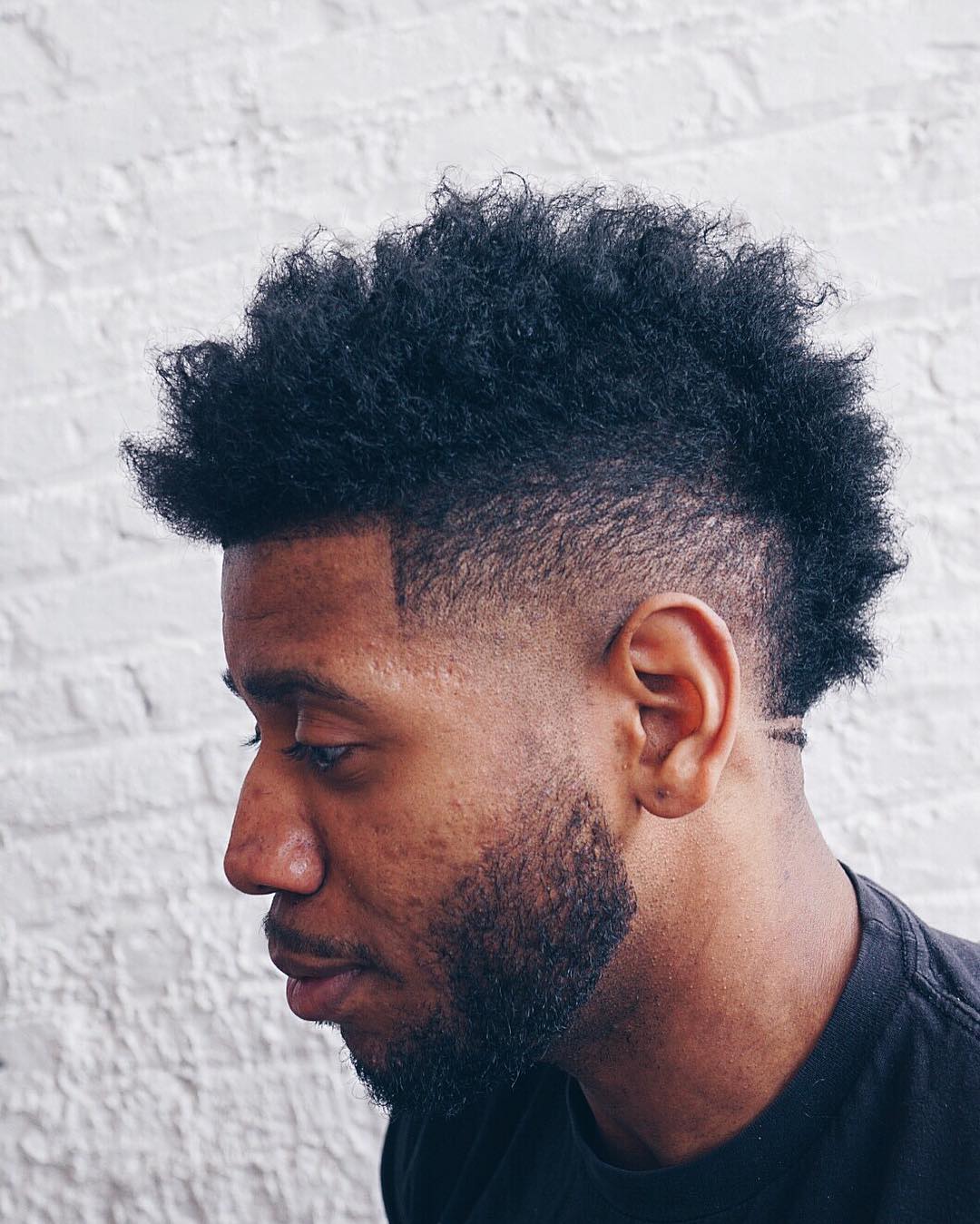 This is a common way to cut a wide mohawk, whether it's for straight, curly or kinky hair. A large burst fade at each sides creates that distinctive mohawk shape.
3. Temple Fade Mohawk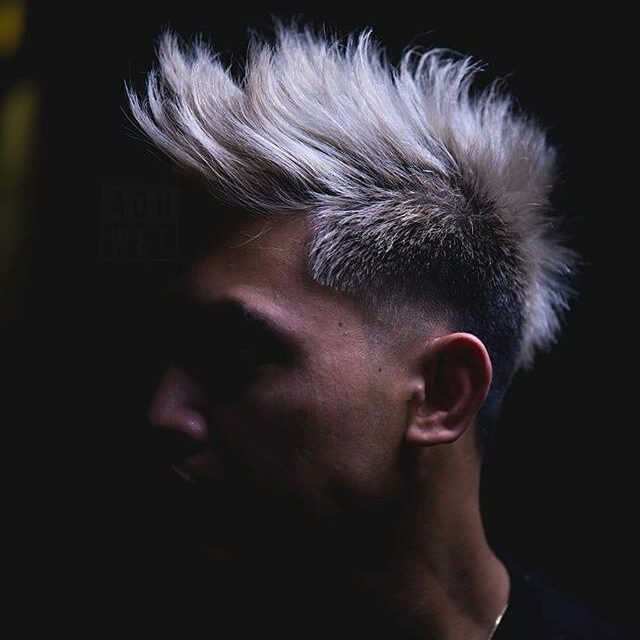 This distinctive style starts with a shaved temple fade and gets longer from there in a radial pattern.
4. Low Fade Mohawk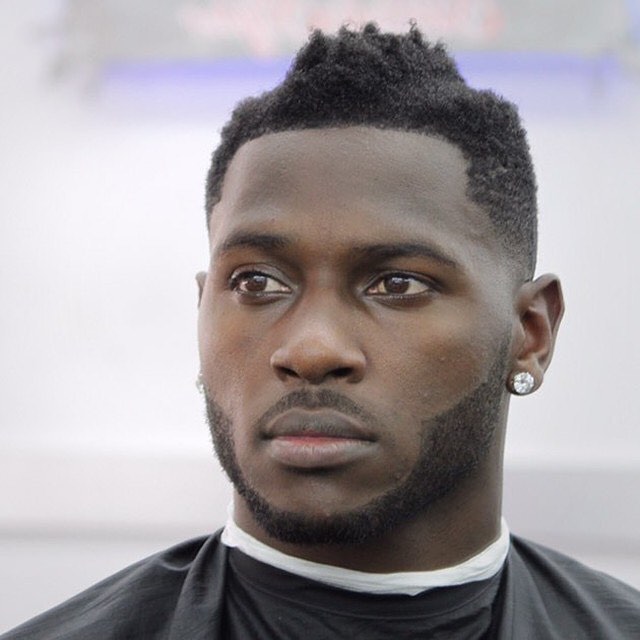 With a low fade at the sides and tall strip on top, this is a cool way to wear a mohawk for black hair.
5. Mohawk Fade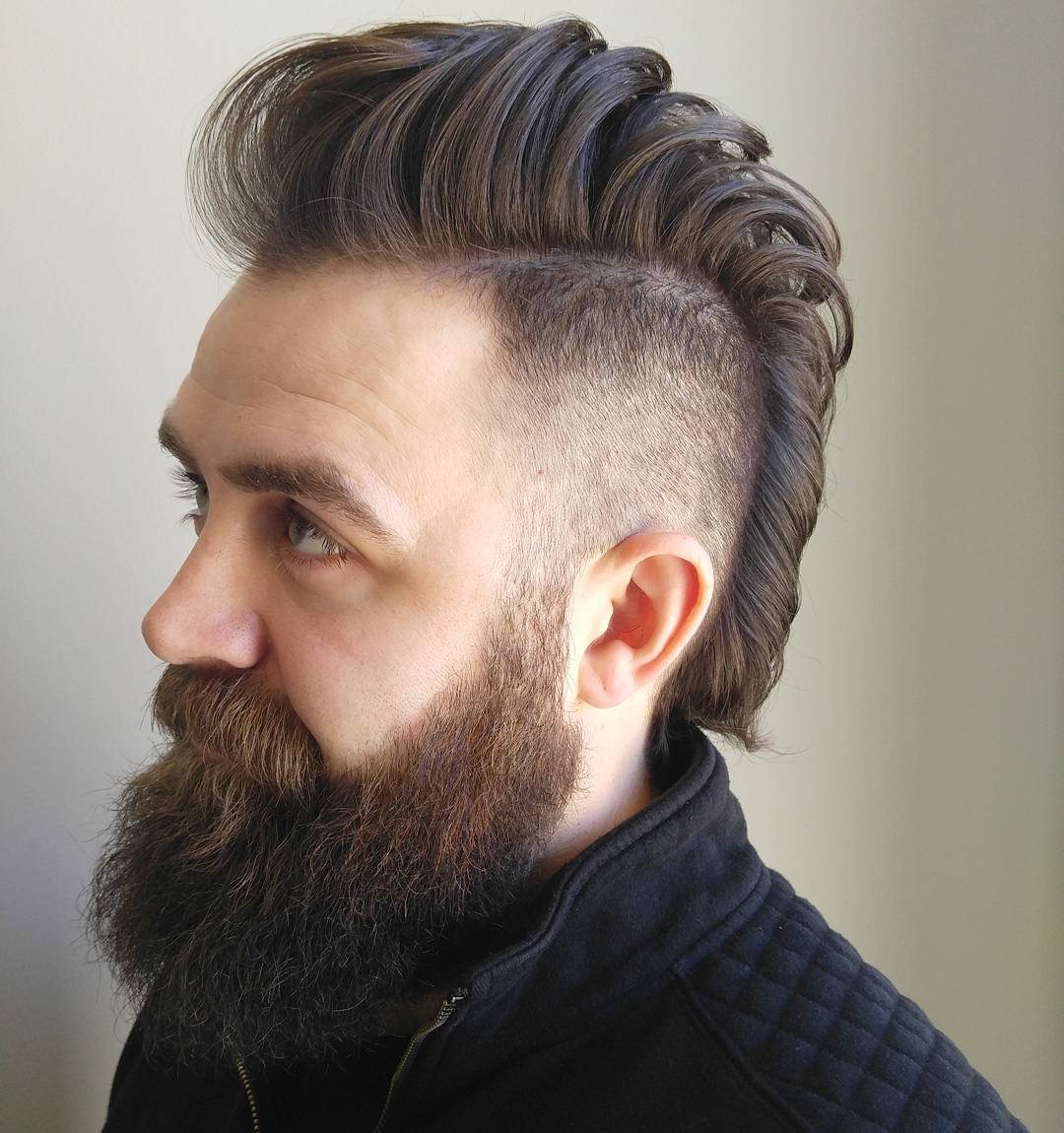 Replace the spikes with a pomp and the undercut with a fade and you have this stylin' hawk.
6. Taper Fade Mohawk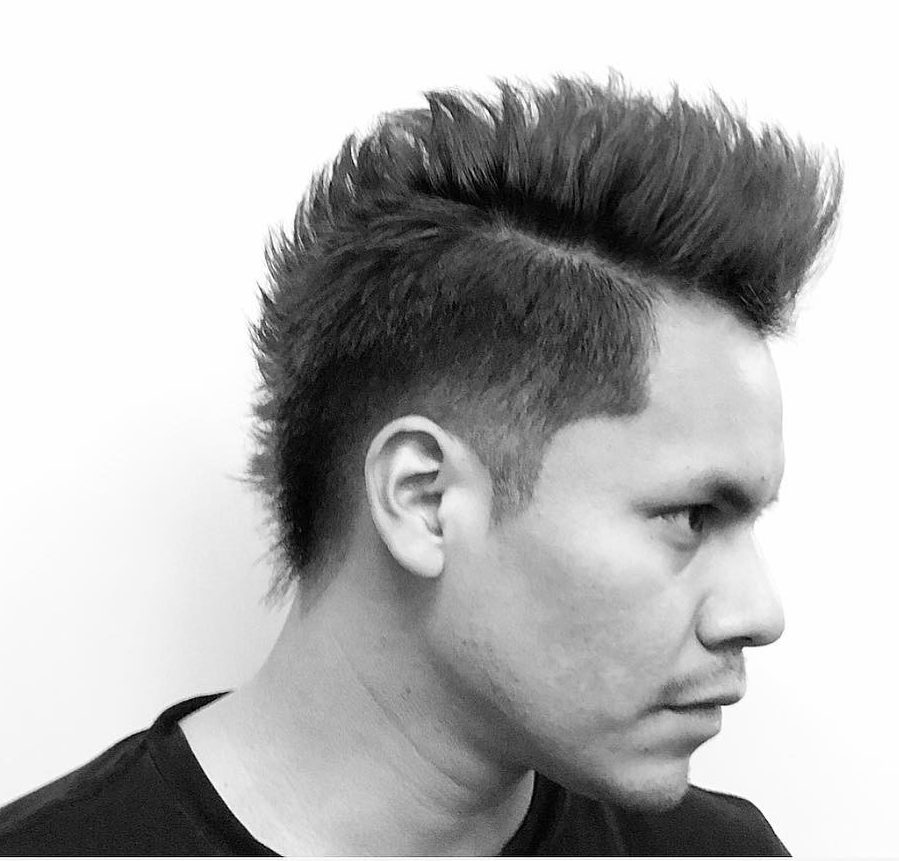 If you want to wear a mohawk at night but need to go incognito by day, this taper fade cut is for you. It can be styled into a vertical spike along the head or something more conventional for work.
7. Bald Fade Mohawk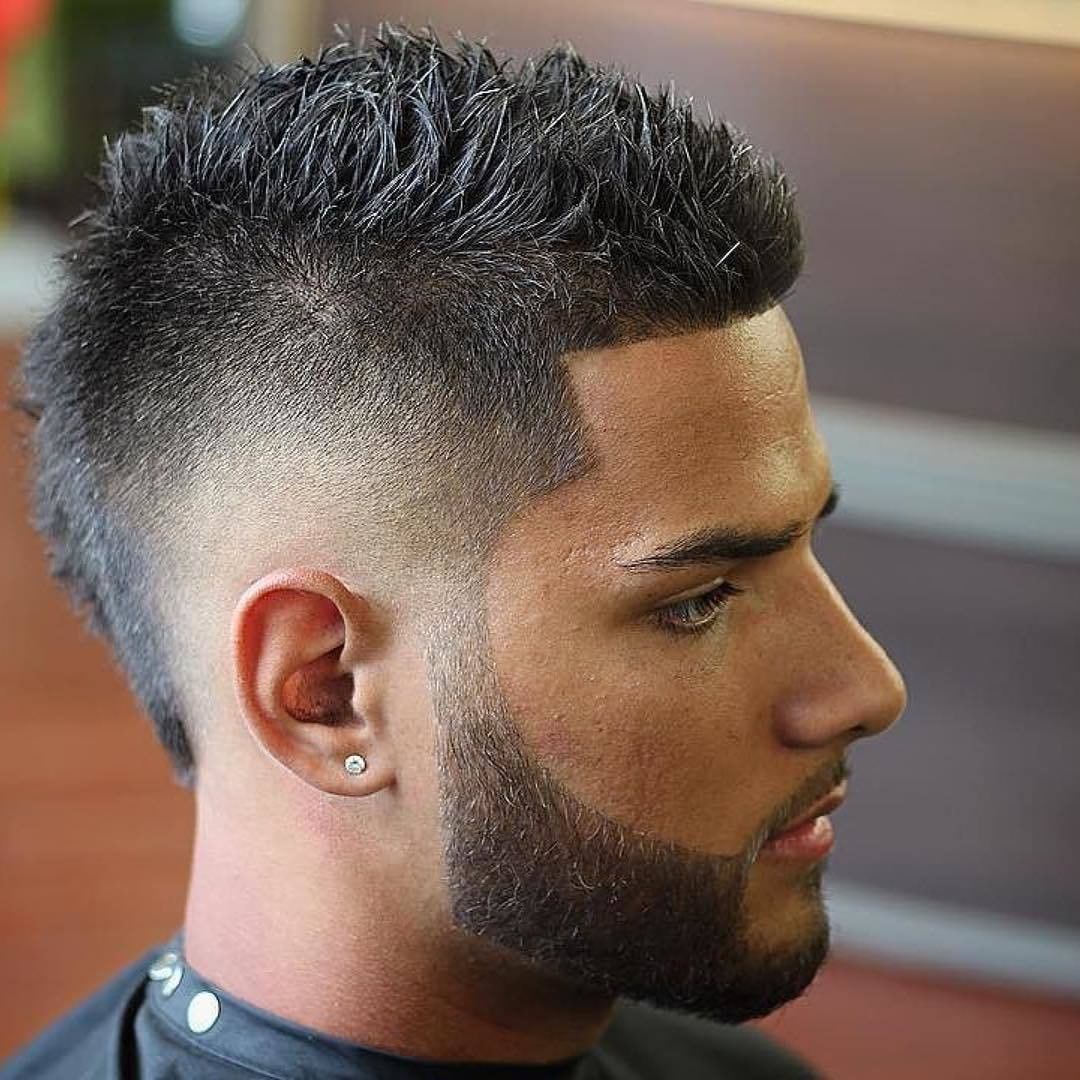 This short mohawk goes down to the skin behind the ear.
8. Burst Fade Mohawk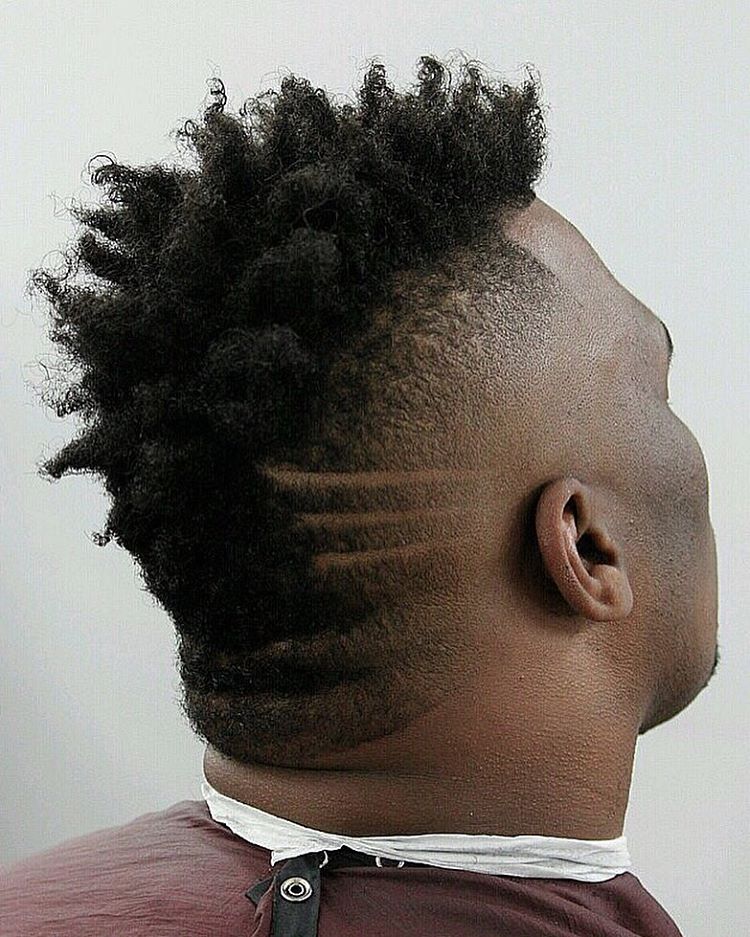 A fresh hair design adds some rays to this burst fade. The top gets height from sponge curls.
9. Short Mohawk Fade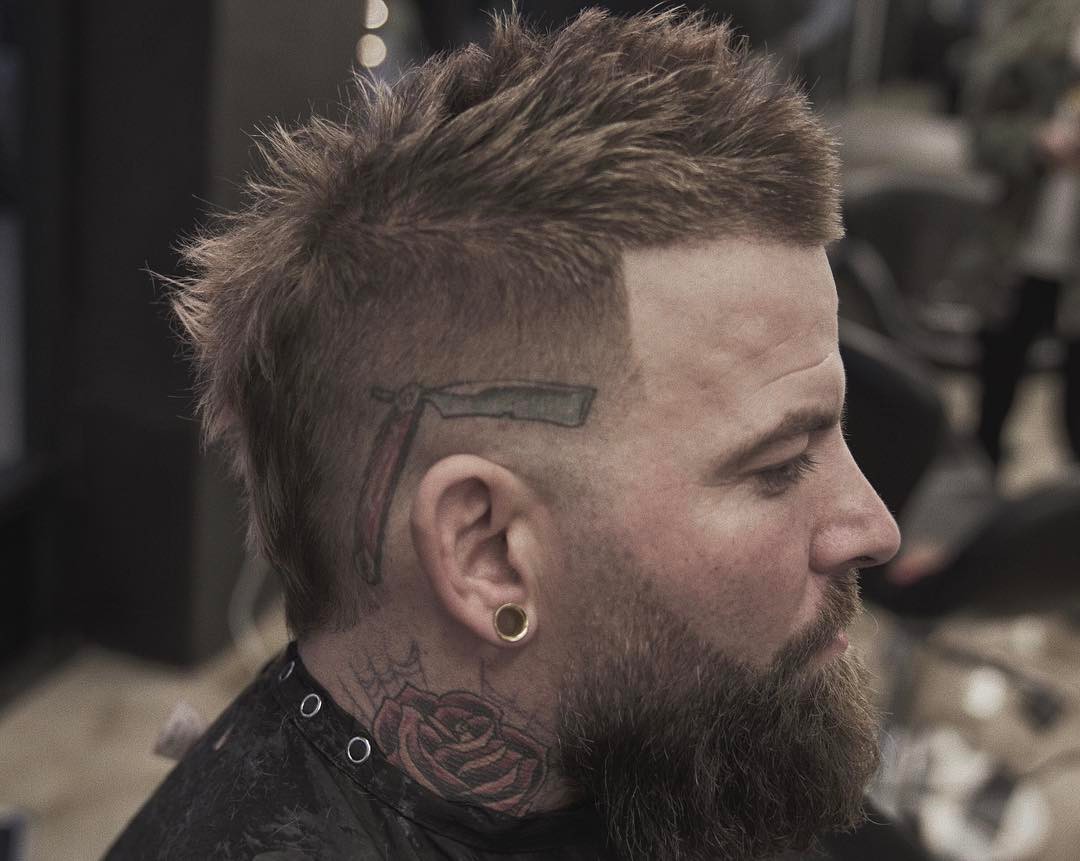 It's not height that makes the mohawk but the shape. This cut is messy and wide but still reads as a mohawk fade.
10. Wide Mohawk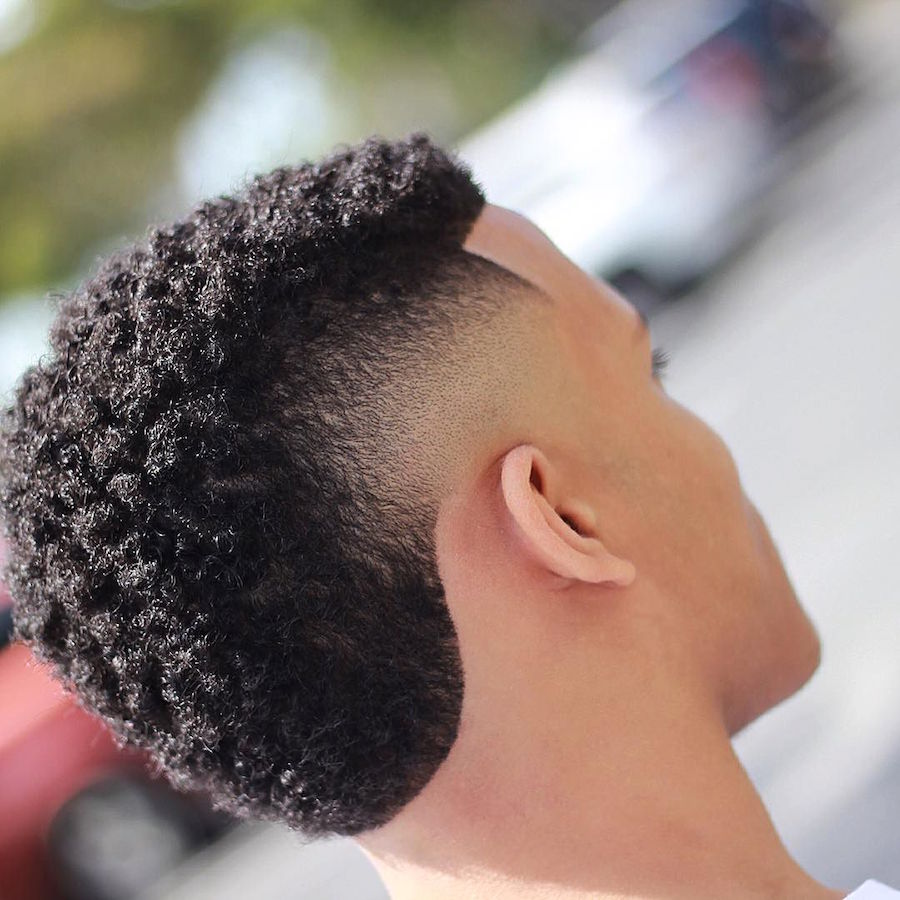 While most mohawks use a burst fade that goes all the way behind the ear, this temple fade is just as effective. The result is a wide swath of hair from front to back.
11. Curly Mohawk Fade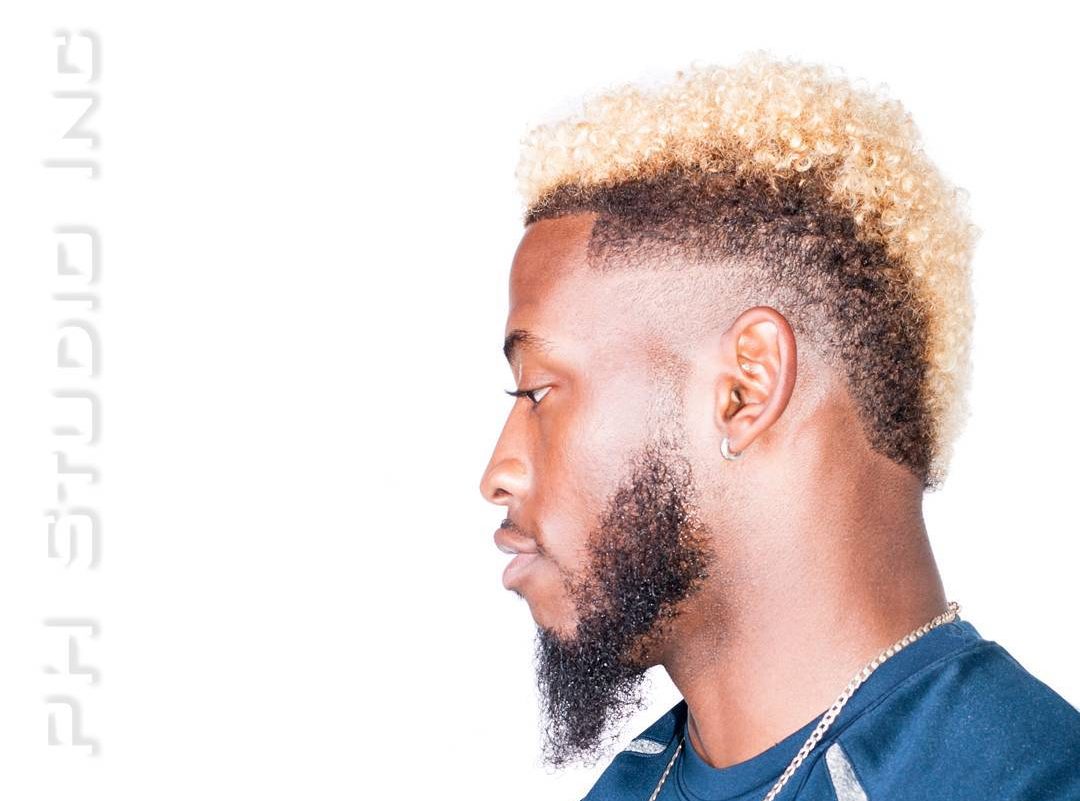 Sometimes called frohawks, the mohawk cut works well with all curly hair. It can be relatively short, like above, or long.
12. Skin Fade Mohawk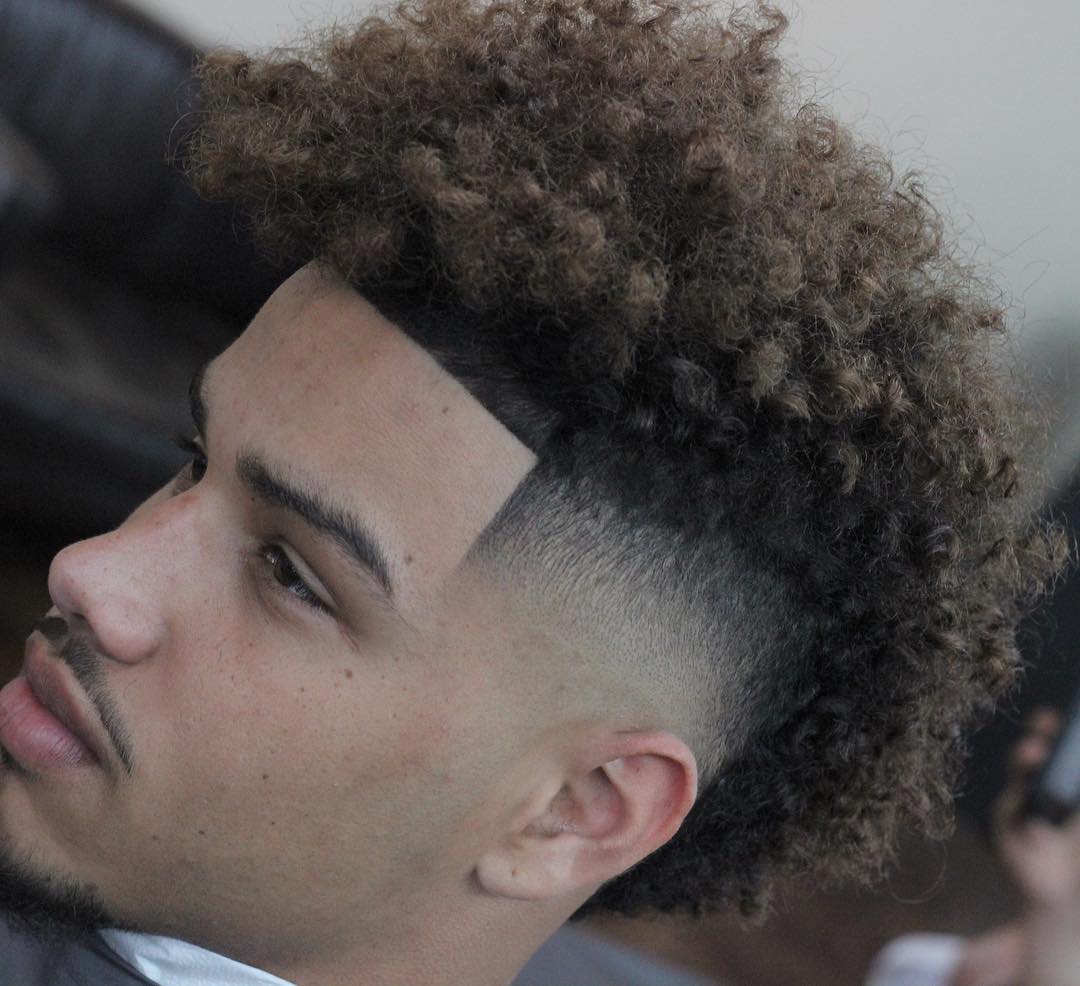 This cool curly hawk balance plenty of length up top with a bald fade at the sides and clean shape up.
13. High Fade Mohawk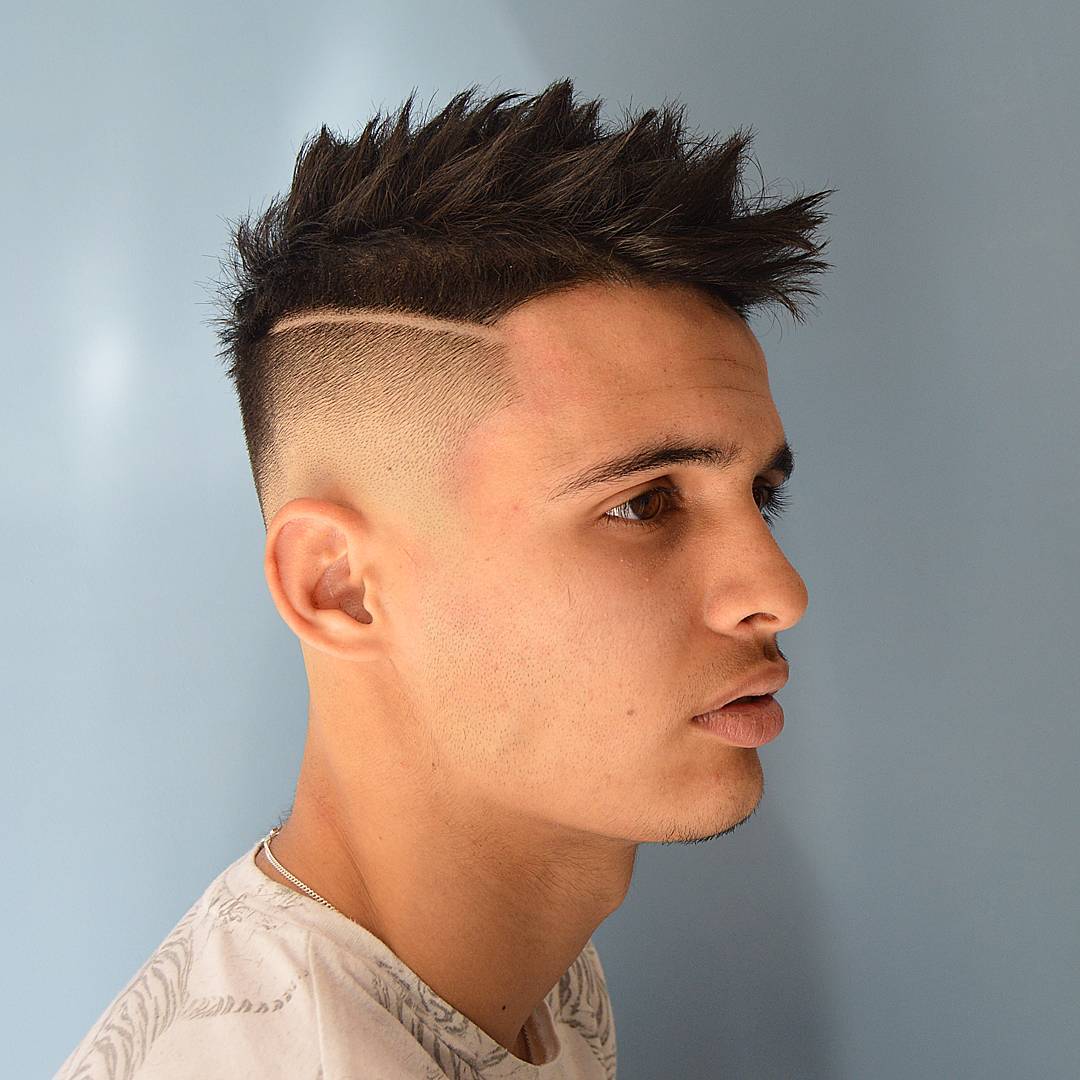 A high fade at the sides with some color down the back is slightly more faux hawk but gets the point across.
14. Long Curly Mohawk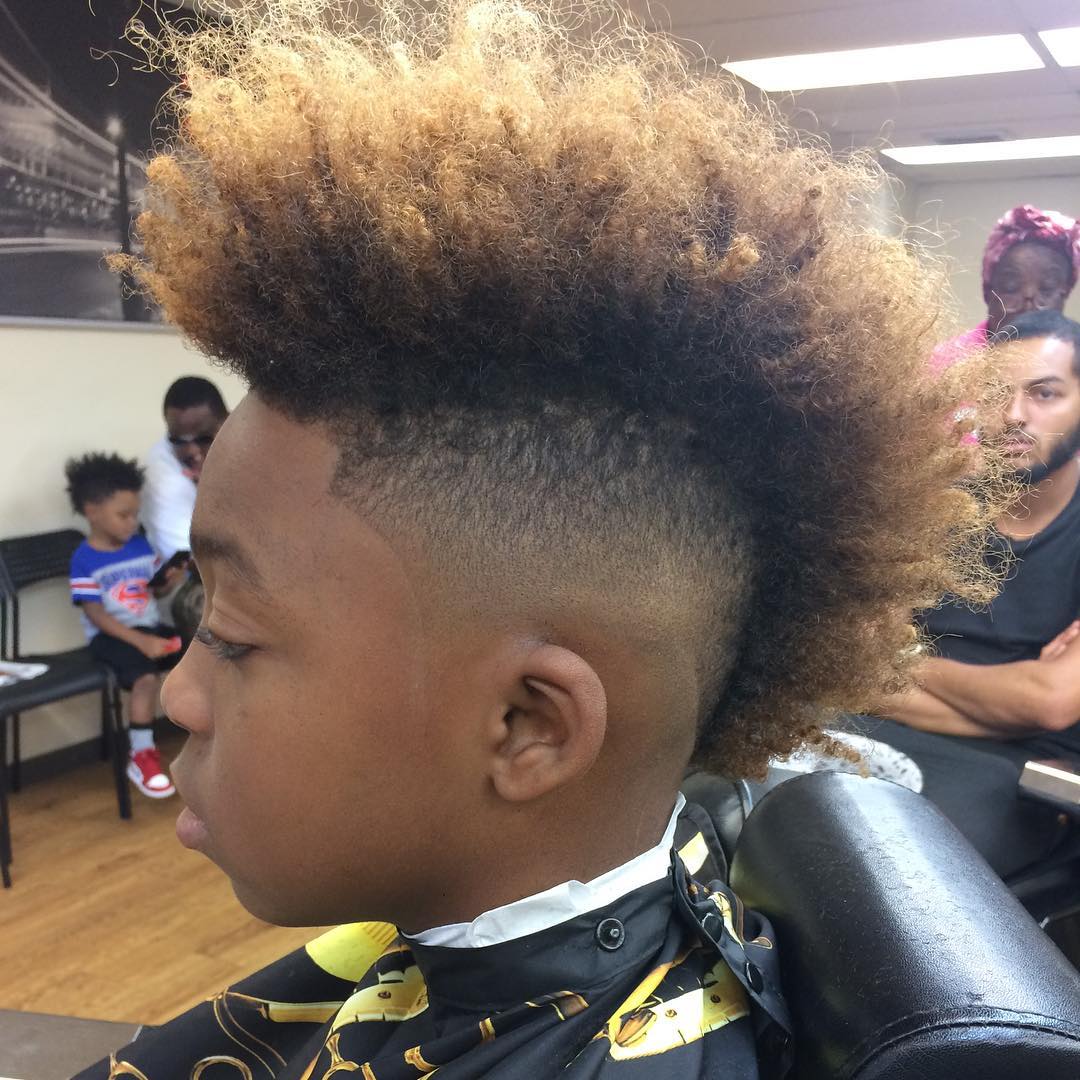 Longer hair makes for a cooler mohawk.
15. V-Cut Neckline

This V-shaped neckline is the ultimate finish for a mohawk fade. Platinum hair against darker short hair makes spiky hair stand out even more.
Check out our fade haircuts section for more great fade haircut ideas.
---
Are you using a premium hair pomade?
These are the top 10 hair pomades that we recommend for top value.
Try one of these top pomades for consistently amazing hairstyles!
---