Fade haircuts are one of the most popular hairstyles for men. They look good, work with every men's hair type and style, from short to long and classic to trendy.
Fades started off in the military but were then embraced by black barbers, who experimented and expanded on the clipper cut. The creativity continues today with plenty of new fade haircuts to try.
The latest looks include new and different types of fades like the very low fade, the temple fade and low fade combination and the neck taper, a quick fade at the neckline. There are also all the classic types of fades worn with the latest hairstyles for men.
Check out these pictures for the latest ways to wear fade haircuts.
Low Fade Haircuts
1. Spiky Hairstyle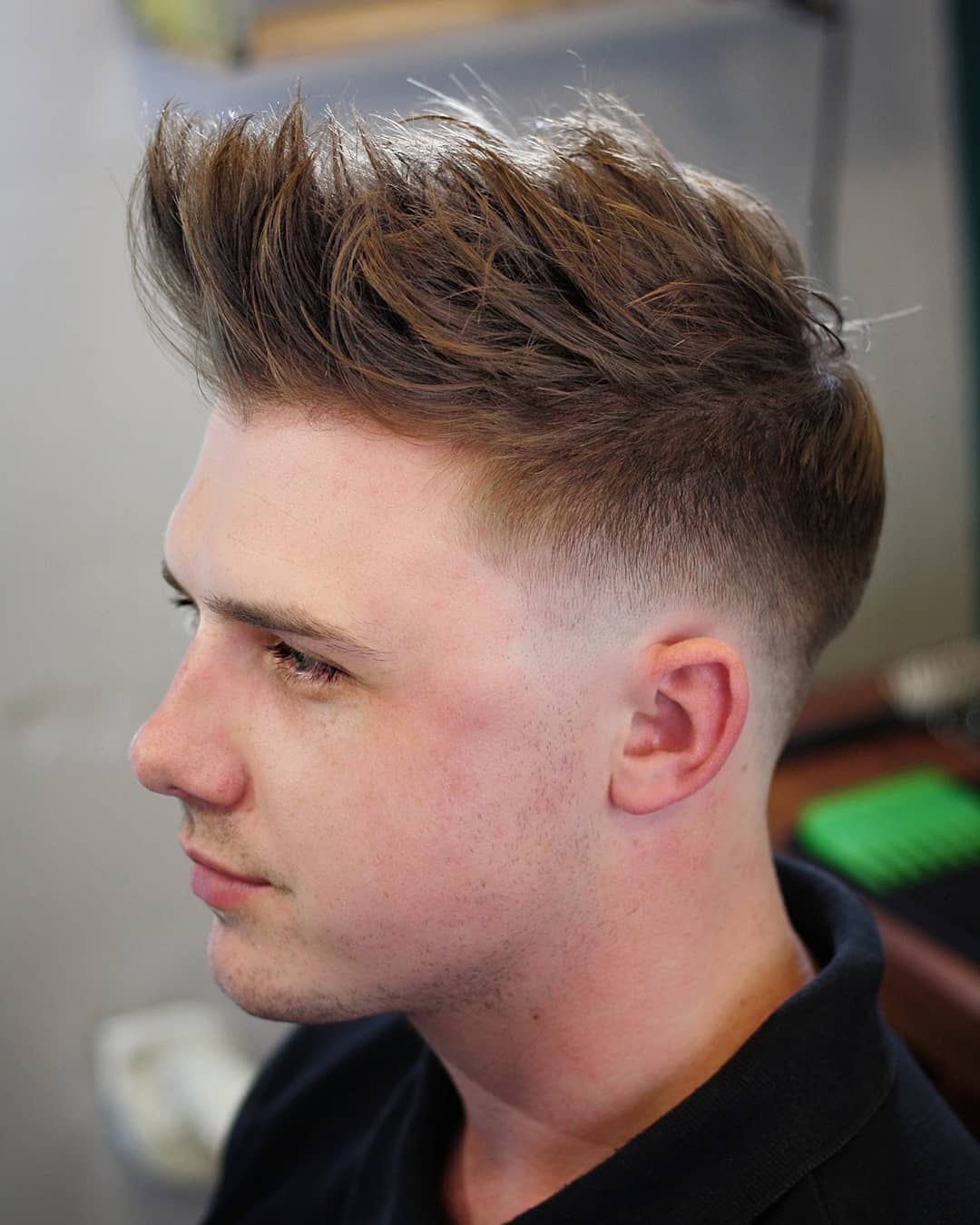 This low fade is very low, blurring the hairline all around. The clean cut edges contrast the spiky texture on top.
2. Long Curly Hair for Men + Low Fade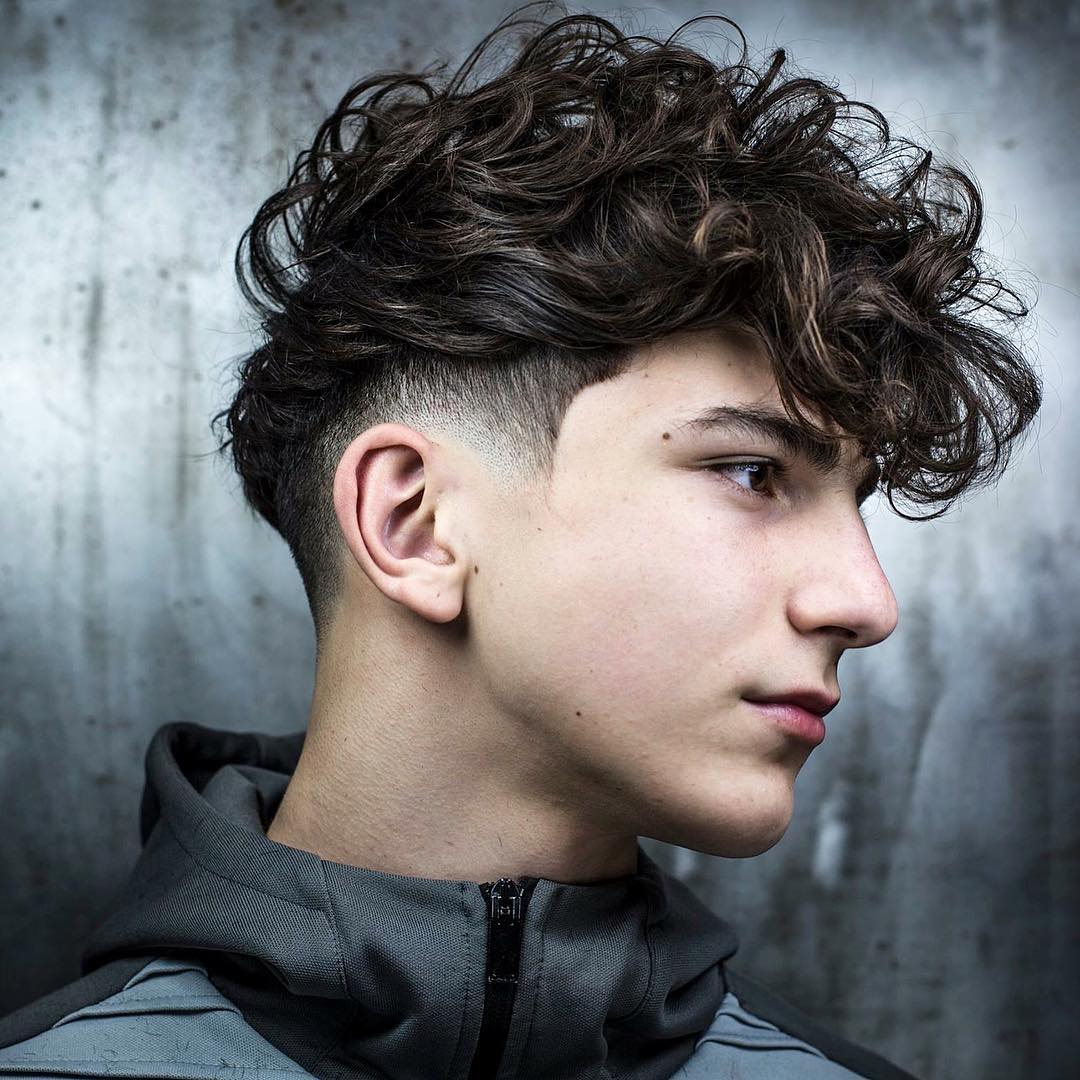 Fades can be added to any type or length of hair. This haircut for men with long curly hair leaves plenty of texture on top and at the sides while fading hair along the hairline.
3. Pomp + Low Fade + Temple Fade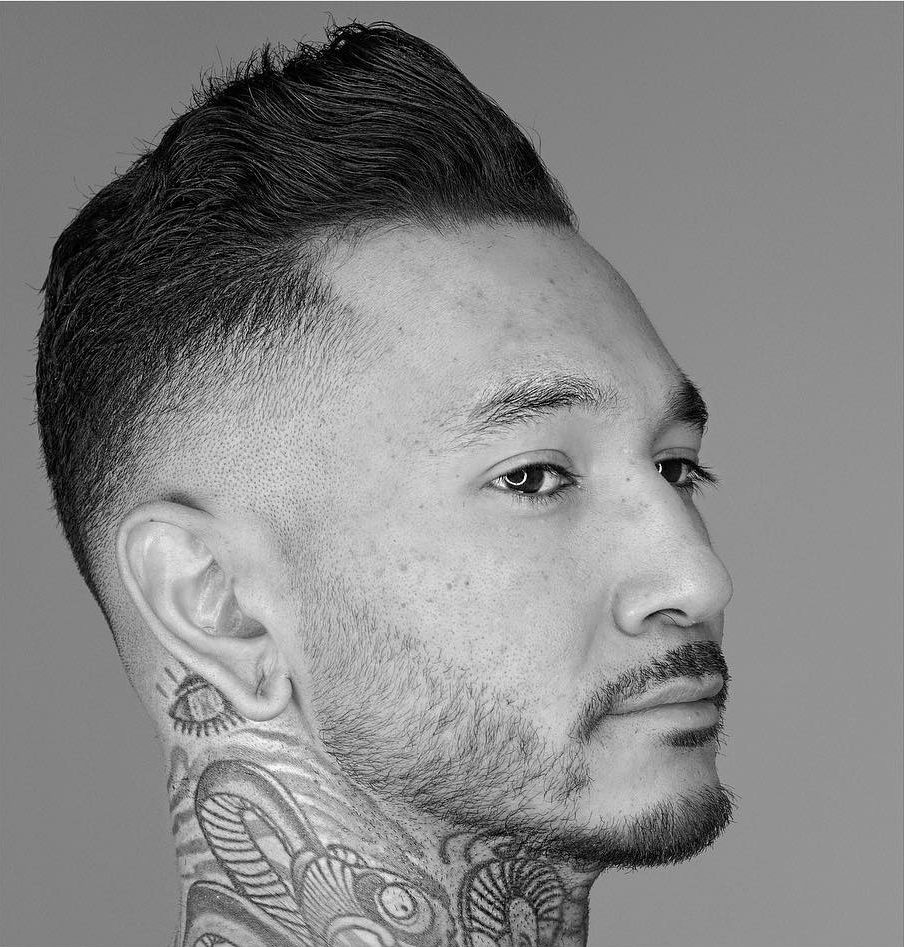 This classic pompadour fade has some wavy texture on top and a fresh fade at the sides. A low skin fade is very low at the back and ramps up into a temple fade over the ear.
4. Pompadour Fade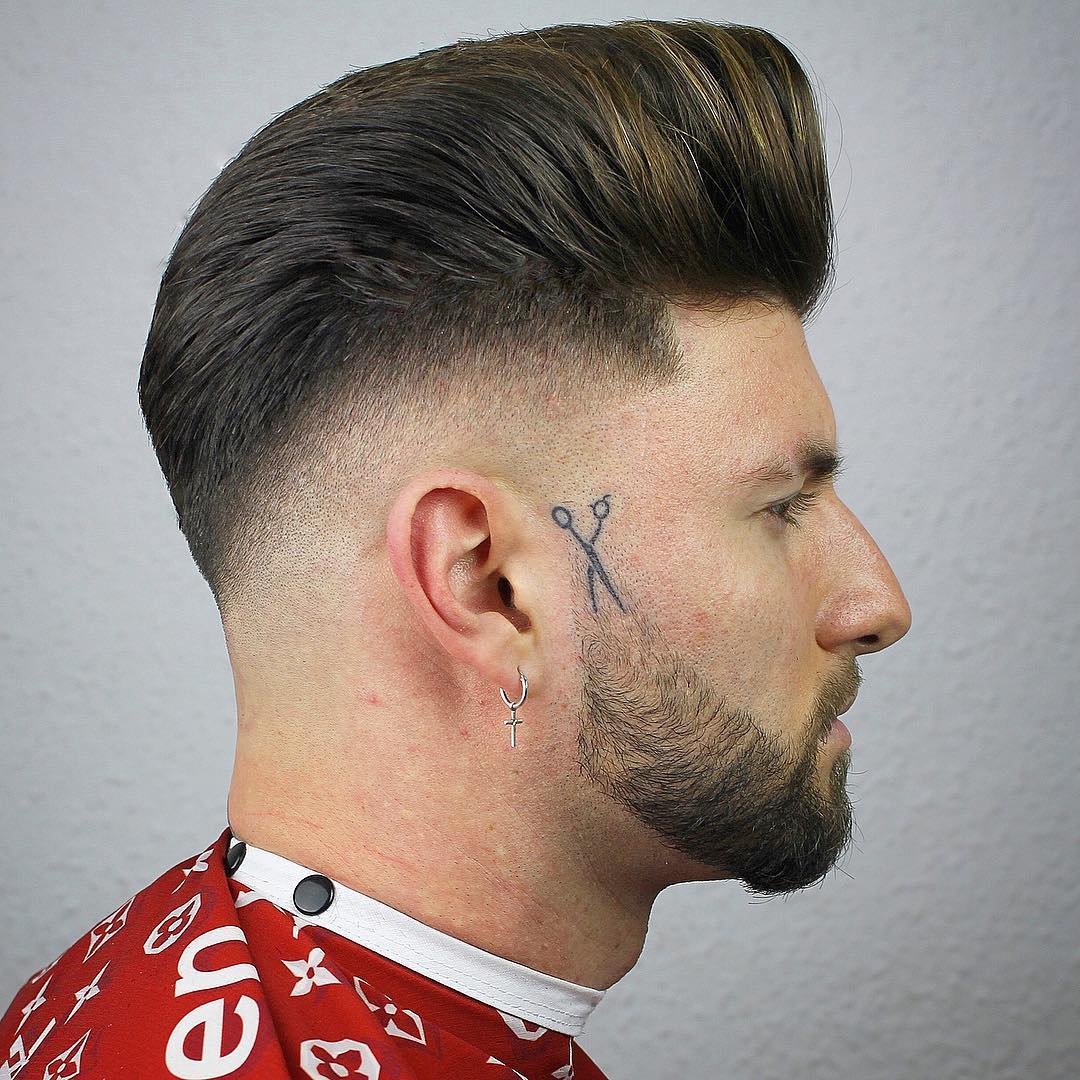 The pompadour fade combination can be cut and styled in a surprising variety of ways. This cool version features that classic silhouette with a matte finish and low fade down to the skin.
5. Comb Over + Low Fade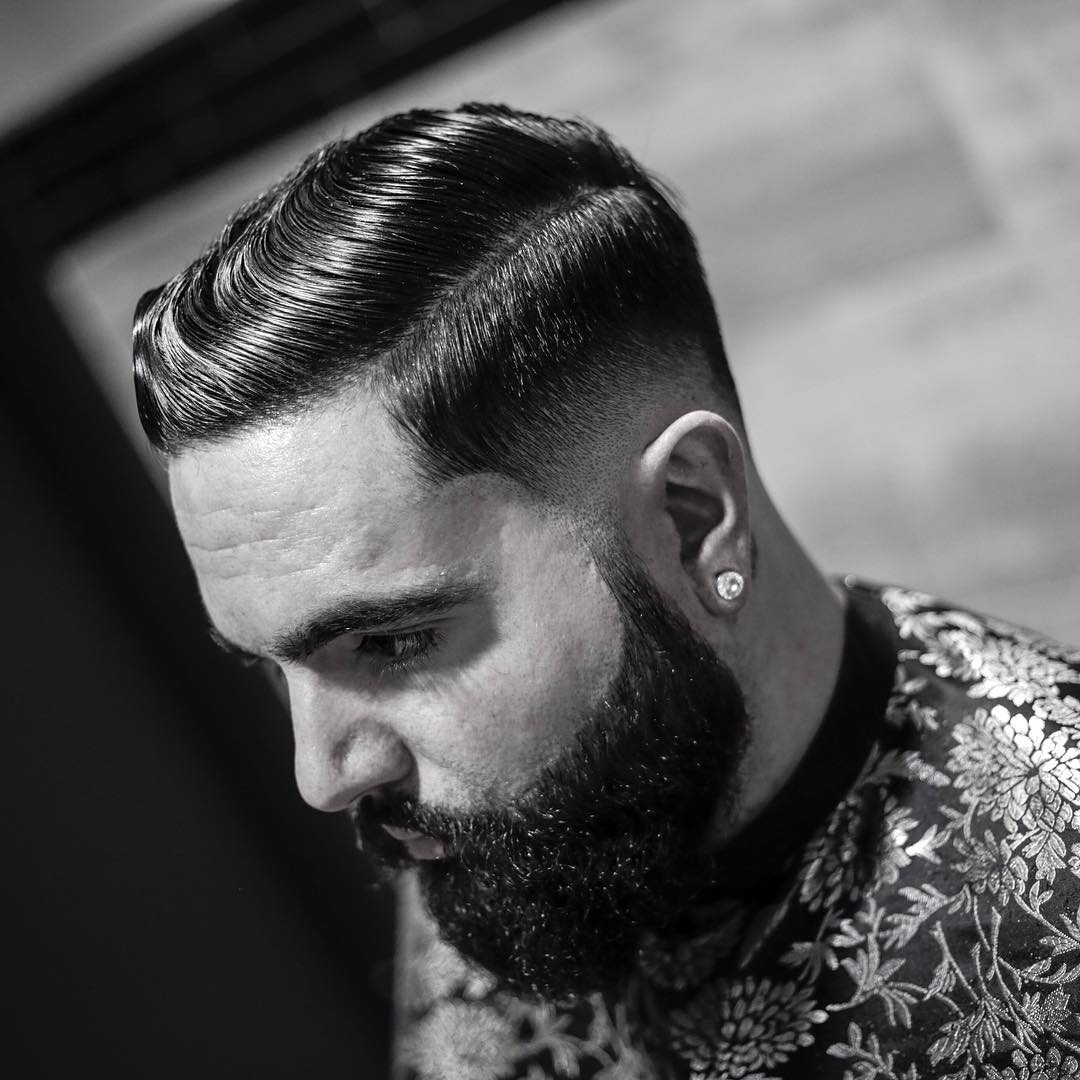 This ultra slick comb over hairstyle with a full beard gets an extra touch of style from an ultra low fade.
6. Quiff + Side Part + Low Fade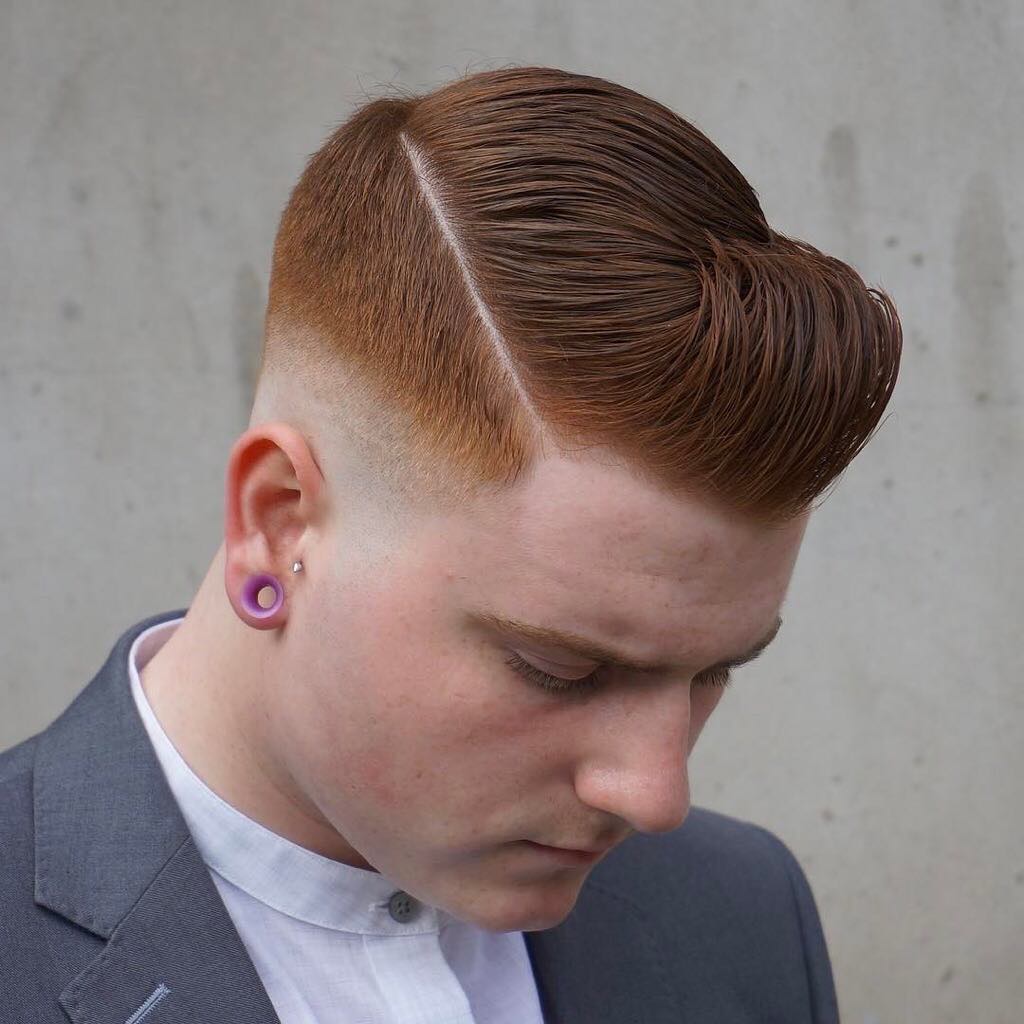 This retro-feeling look is on point for right now with a quiff at the front, side part and skin fade down low.
7. Textured Sweep Back + Low Fade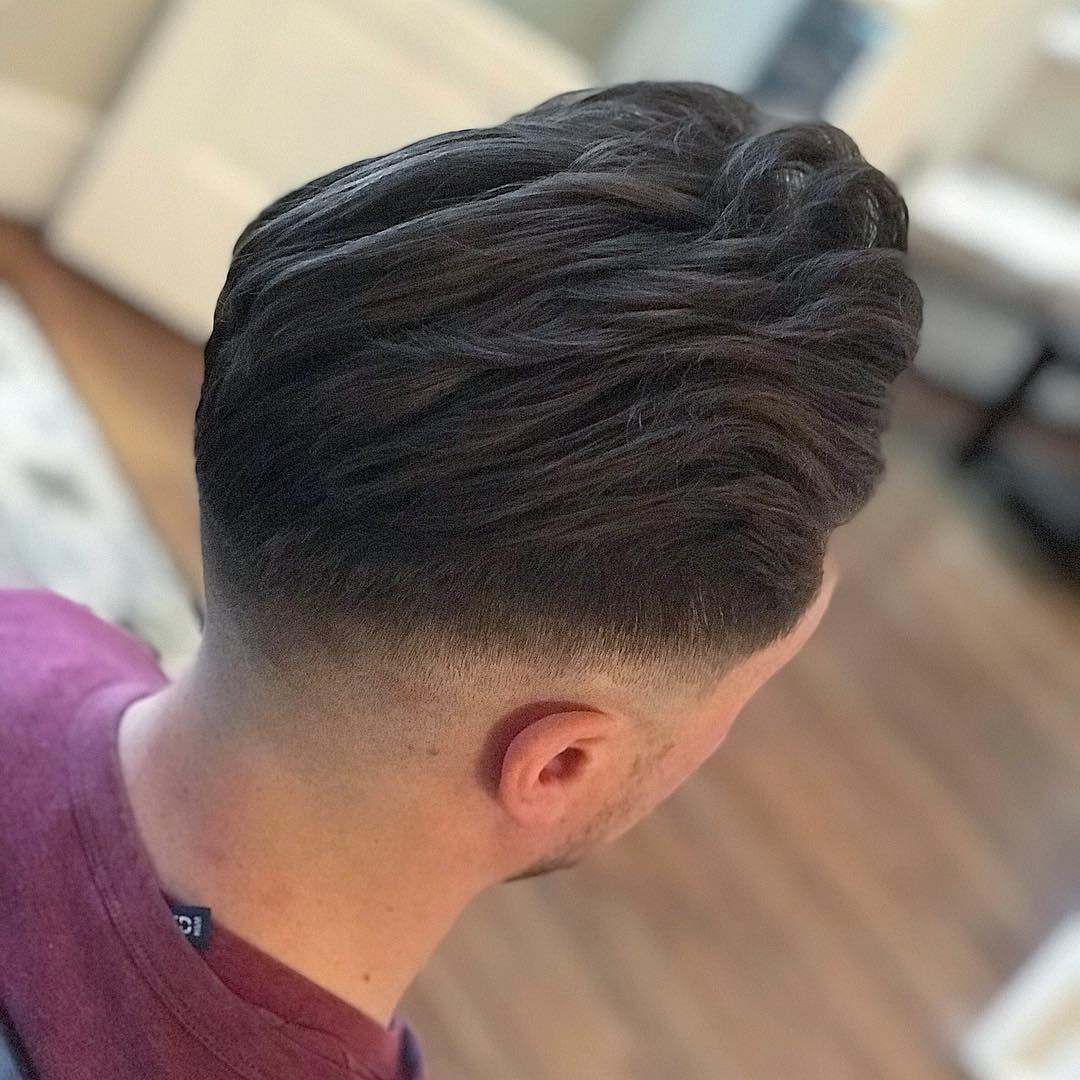 This cool look combines medium length hair swept back with plenty of texture and a blurry fade at the edges.
Mid Fade Haircuts
8. Side Part Haircut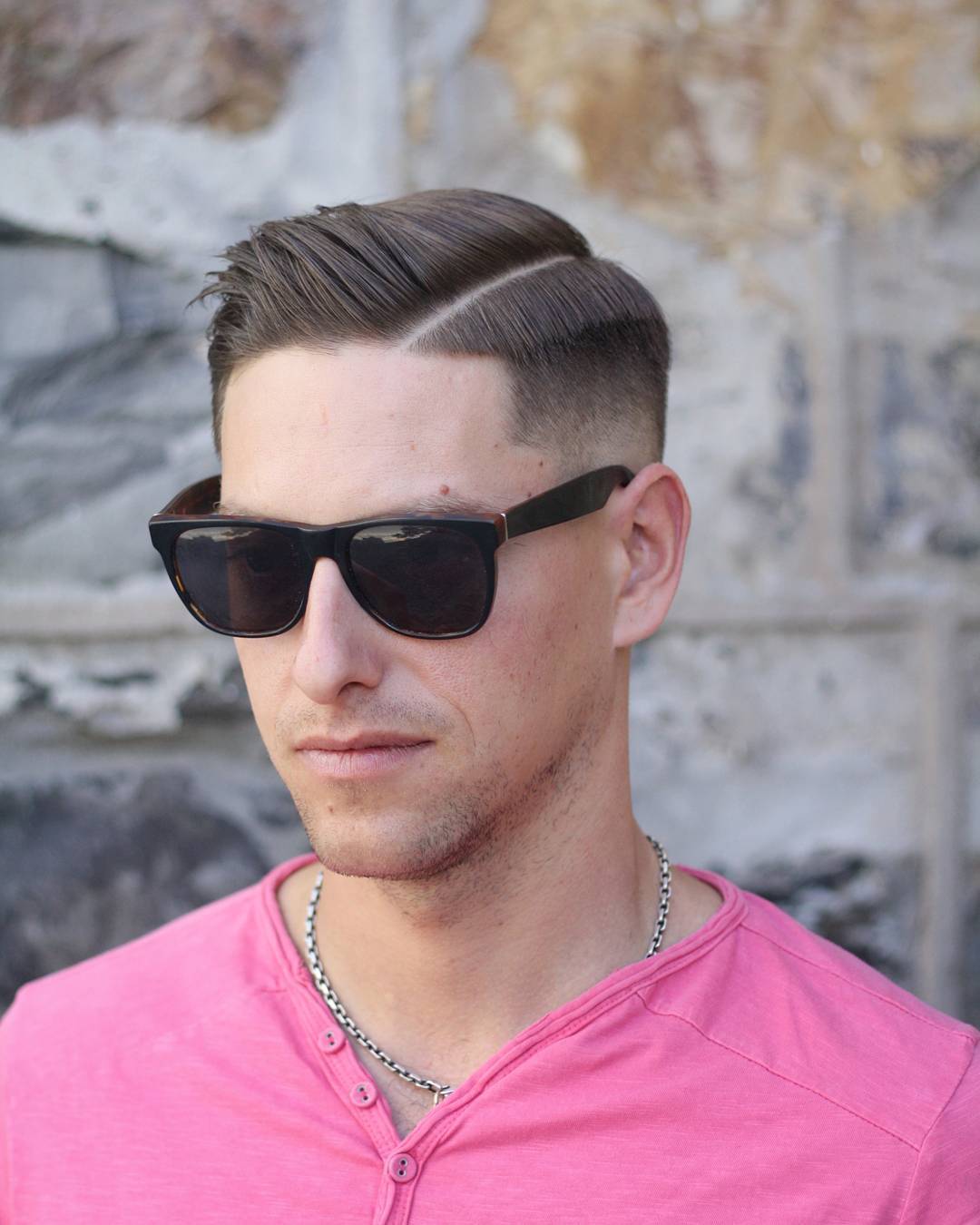 One of the new trends in fade haircuts for men is contrasting the shaved sides with short hair that forms a step. This fresh look combines a classic side part hairstyle with an on trend mid fade.
9. Textured Sweep Back + Mid Bald Fade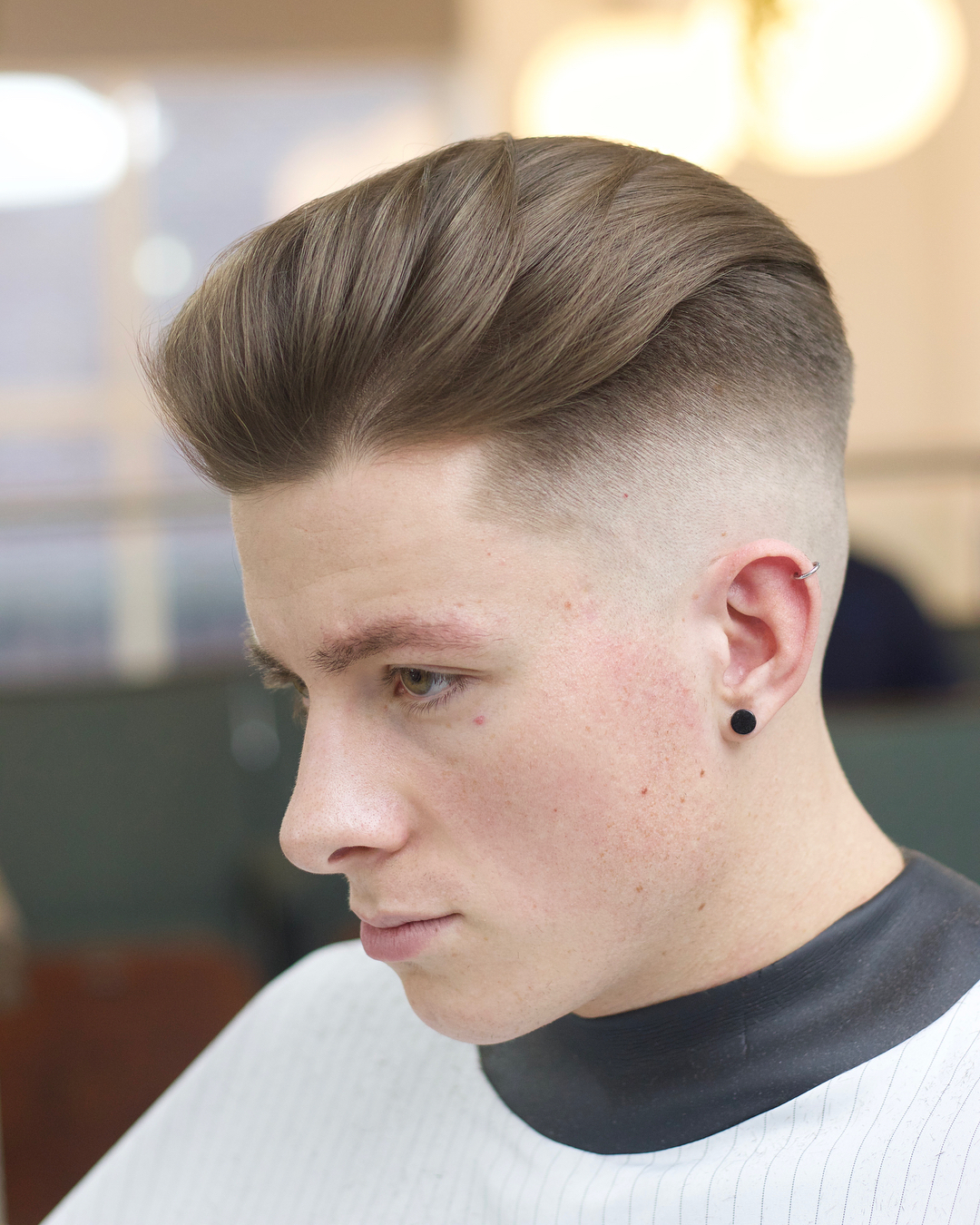 Medium length hair is styled with a hint of texture and swept back over short sides and back that taper down to skin in a mid fade.
10. Curly High Top Fade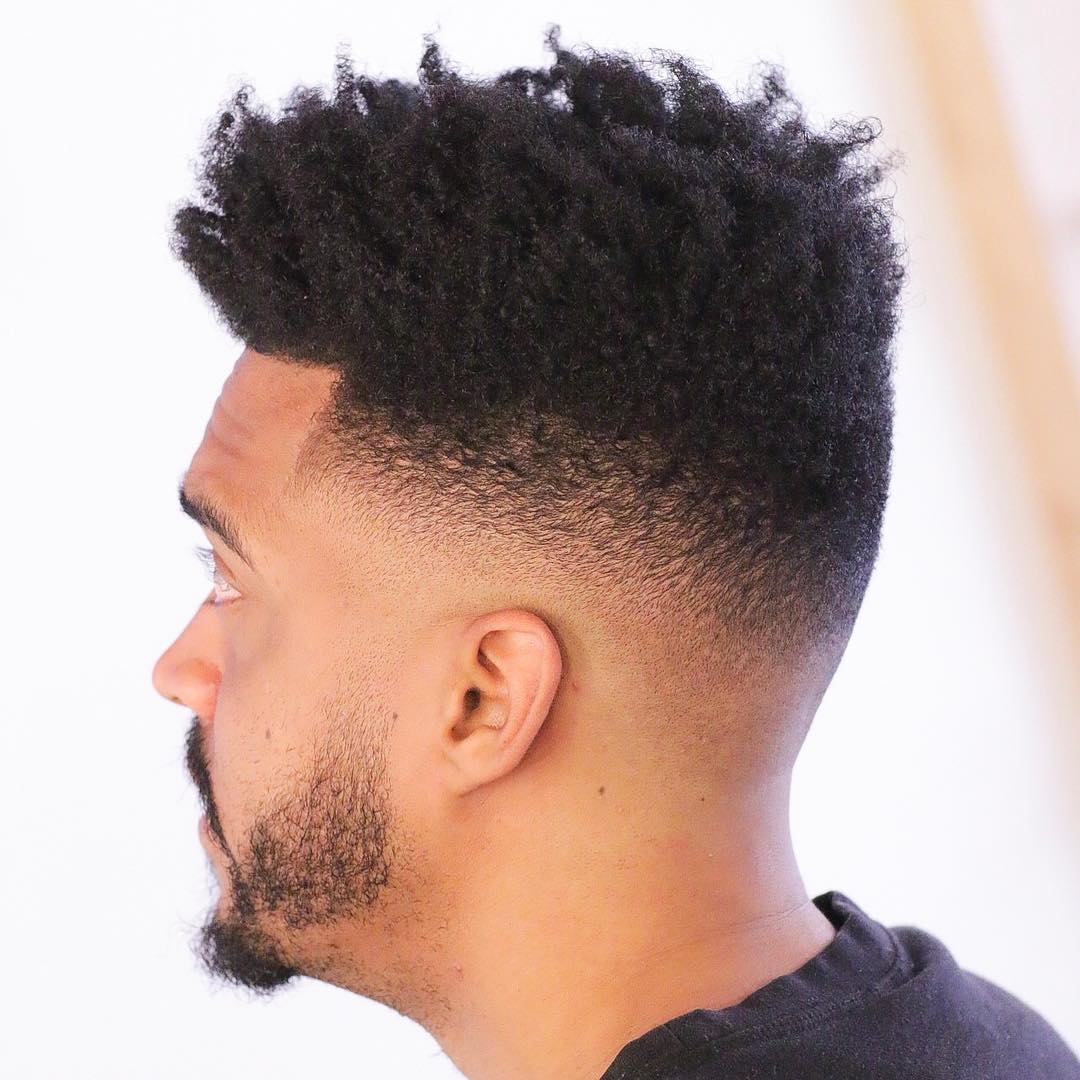 This curly high top fade contrasts kinky texture up top with a smooth mid fade.
11. Matte Pomp + Mid Skin Fade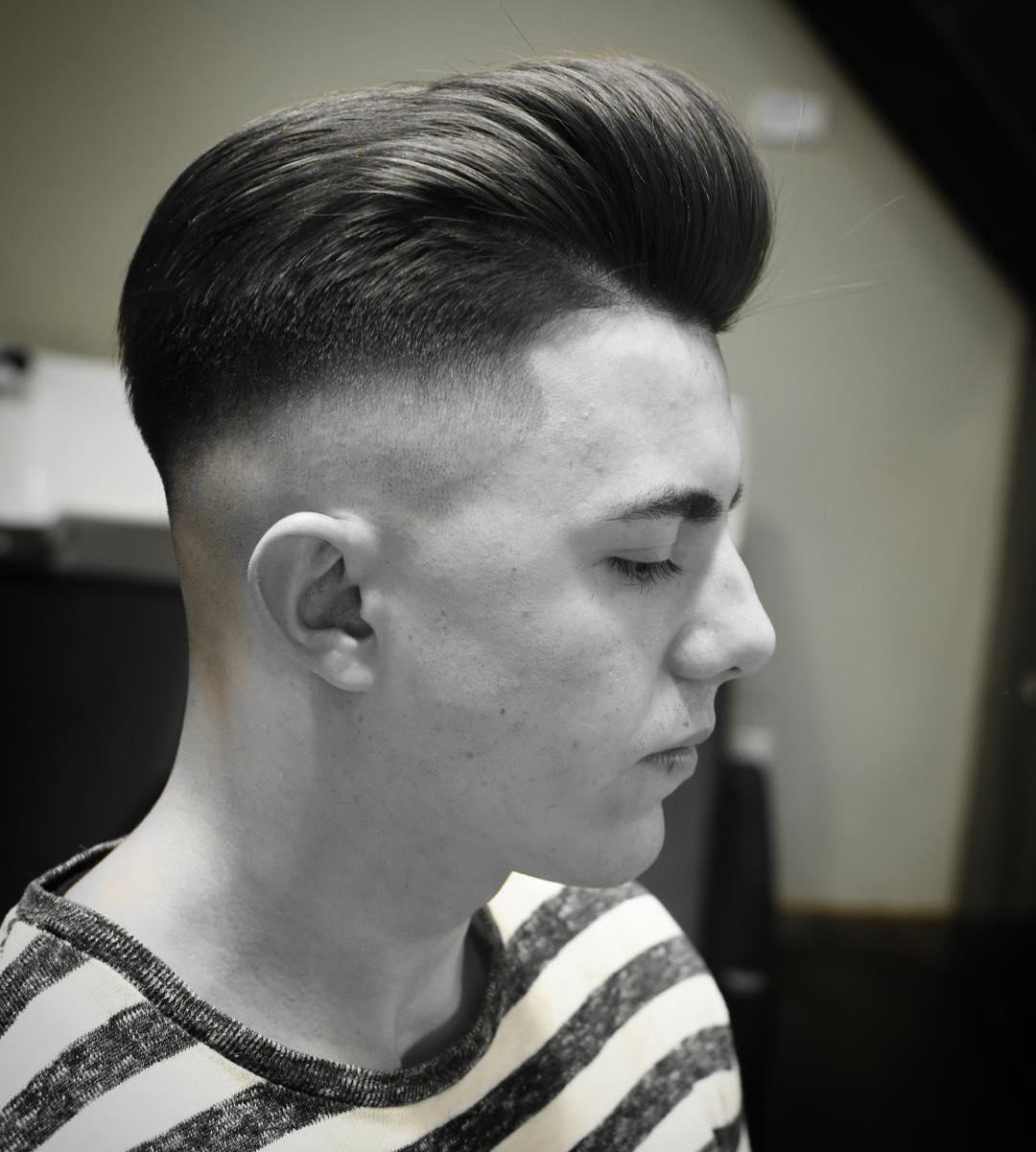 Mid fades can drop down behind the ear in an arc or take a more direct path in a straight line.
12. Curly Flat Top + Hair Design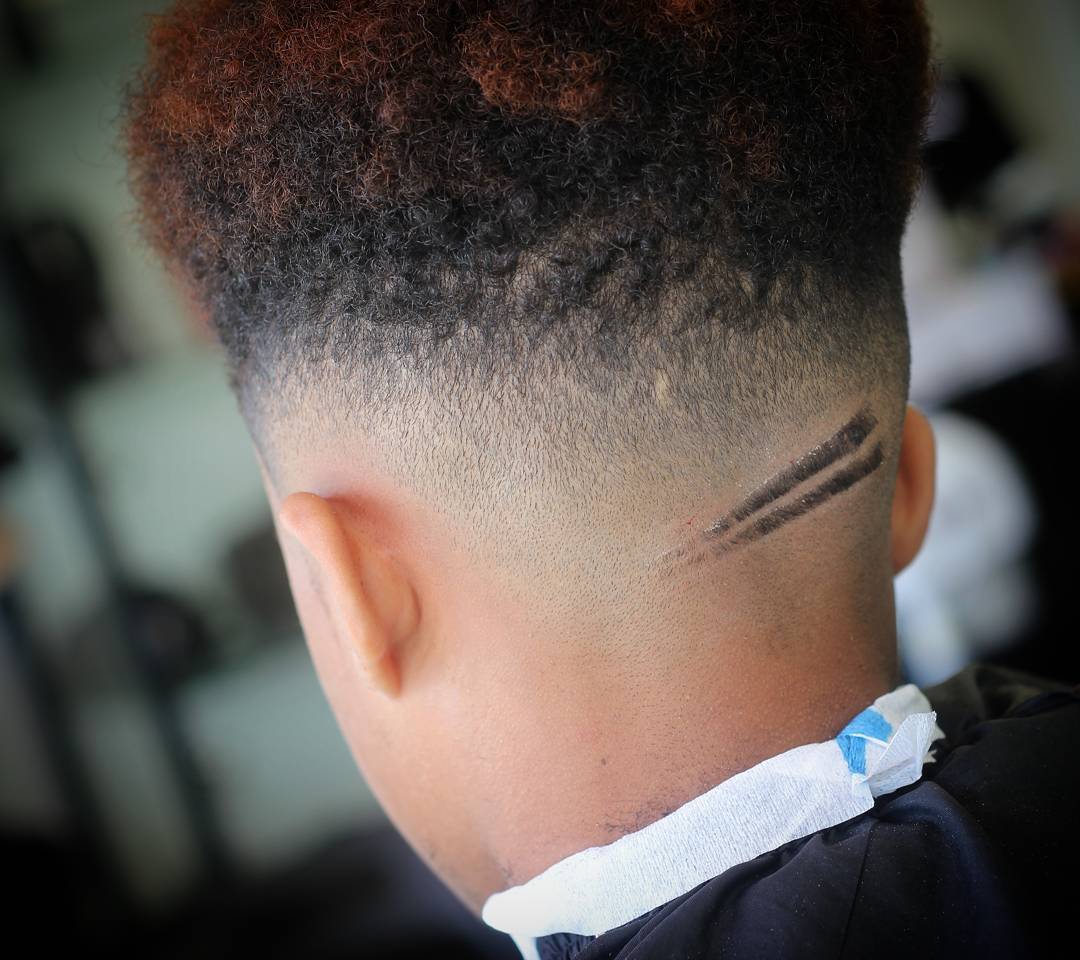 This cool look updates the classic flat top fade with curly texture on top and a subtle hair design.
13. Textured Quiff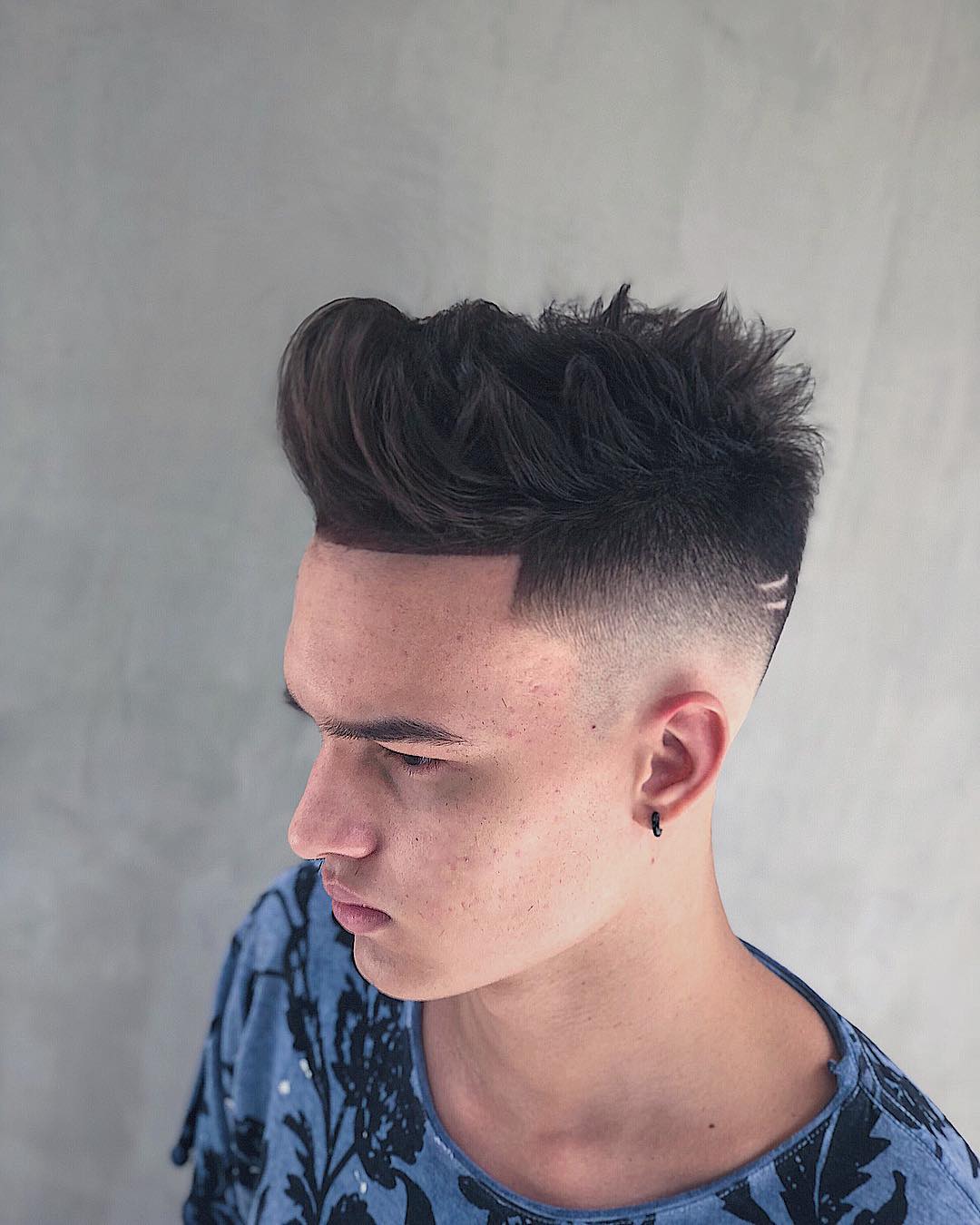 This medium length hairstyle has a lot going on with a texture quiff on top, blurry fade and a pair of scratches on one side.
14. Short Men's Hair +Mid Fade + Hair Design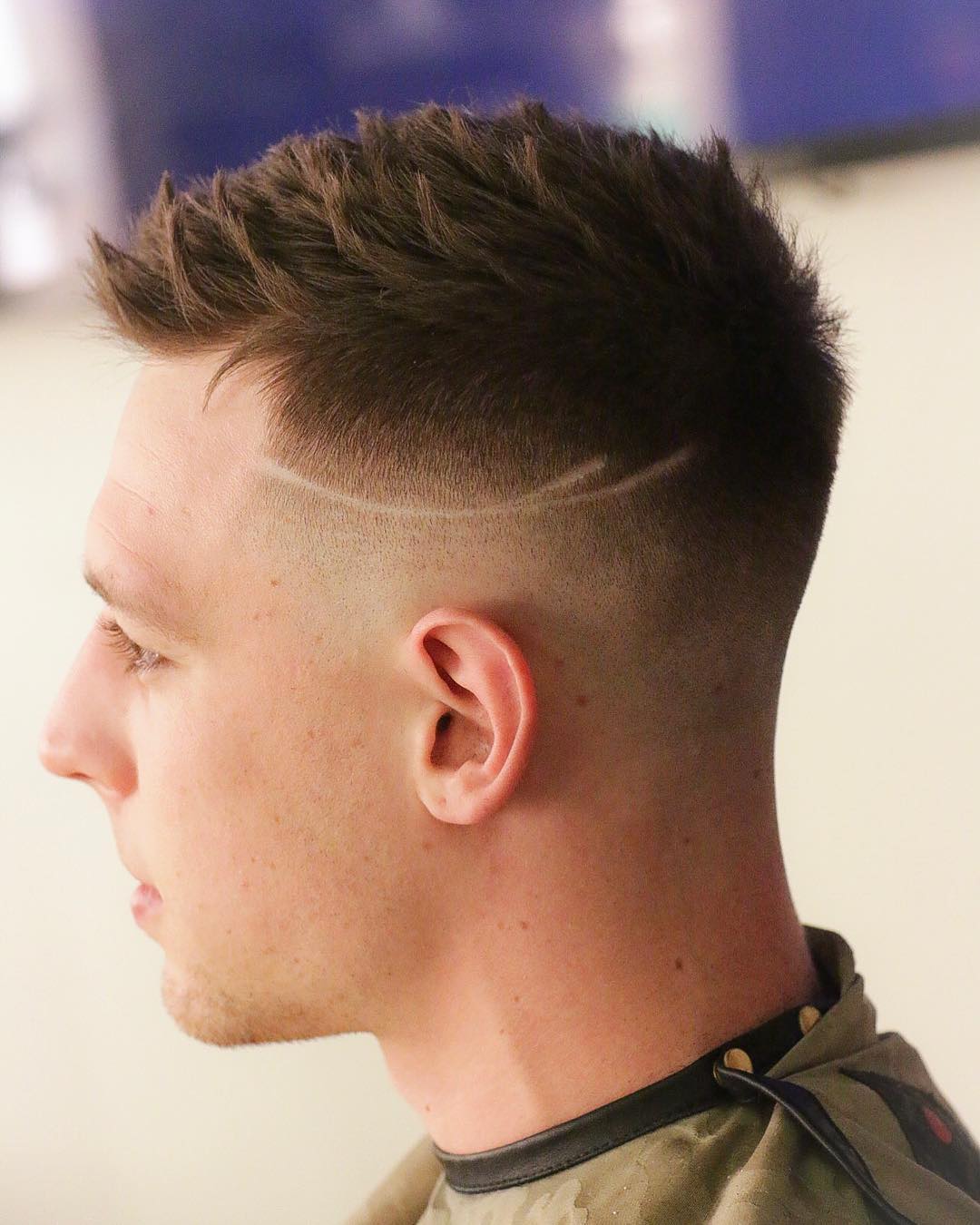 This fun men's hairstyle packs in a lot of detail without much hair. Short hair is styled into thick spikes, a mid fade cleans up the sides and back and a pair of swoops at the temple add a cool hair tattoo.
High Fade Haircuts
15. Buzz Cut + High Fade + Line Up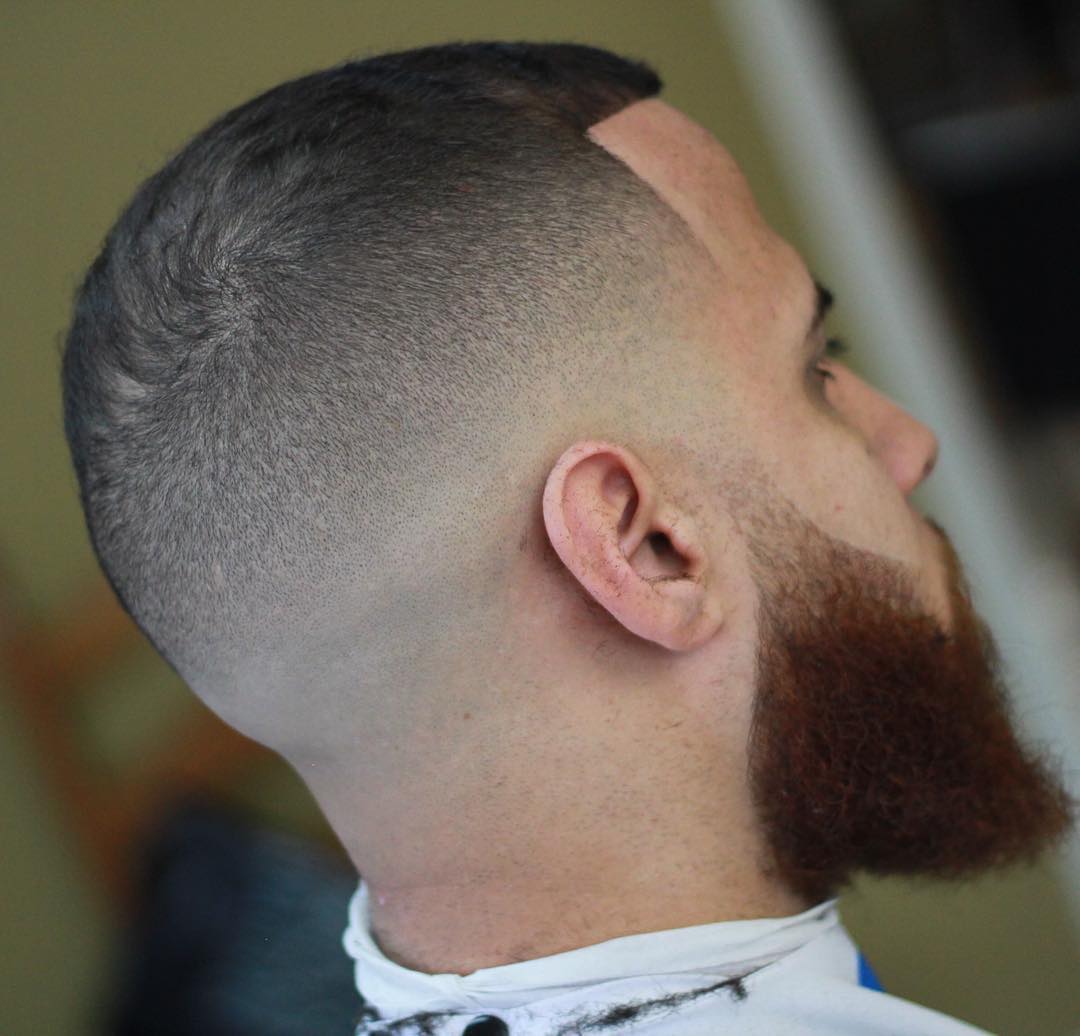 This stylish and ultra short haircut is the popular combination of a buzz cut, line up and high fade.
16. Heavy Crop + High Fade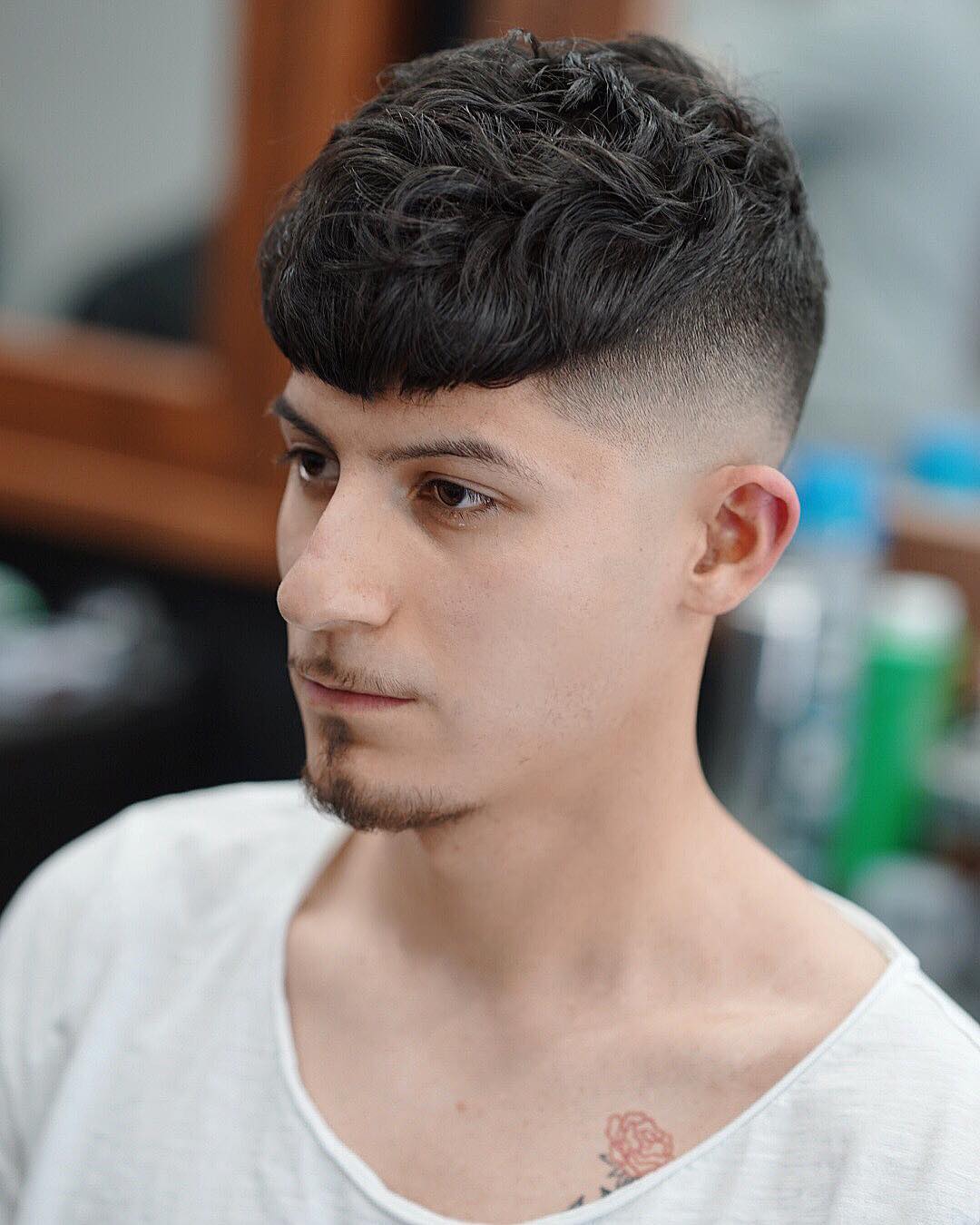 The crop haircut has made wearing hair in fringe over the forehead popular. This cool cut wears thick wavy hair over a high fade.
17. Comb Over Haircut + Side Part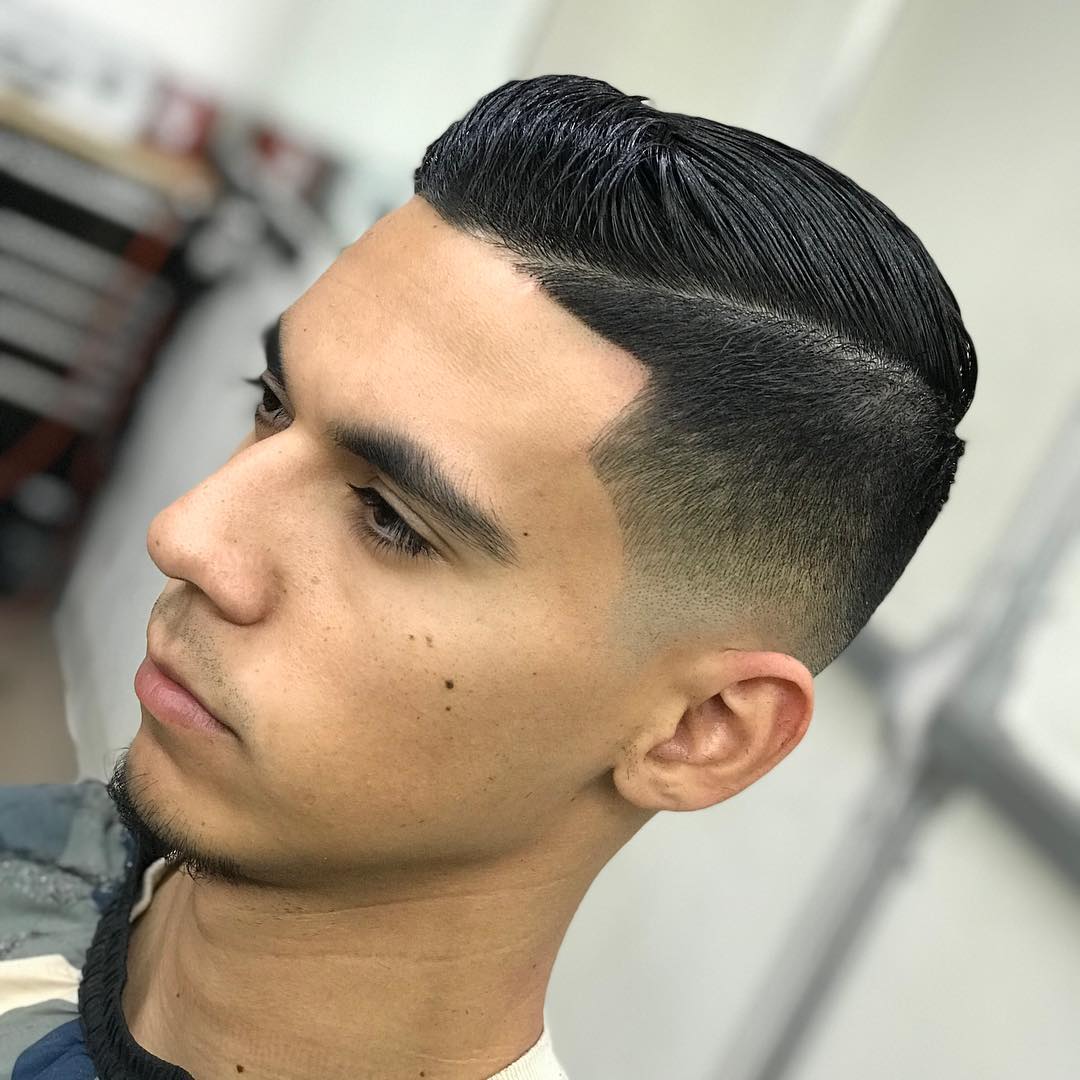 The comb over fade is a very popular haircut because it is so easy to style and looks great.
18. Curly High Top + High Fade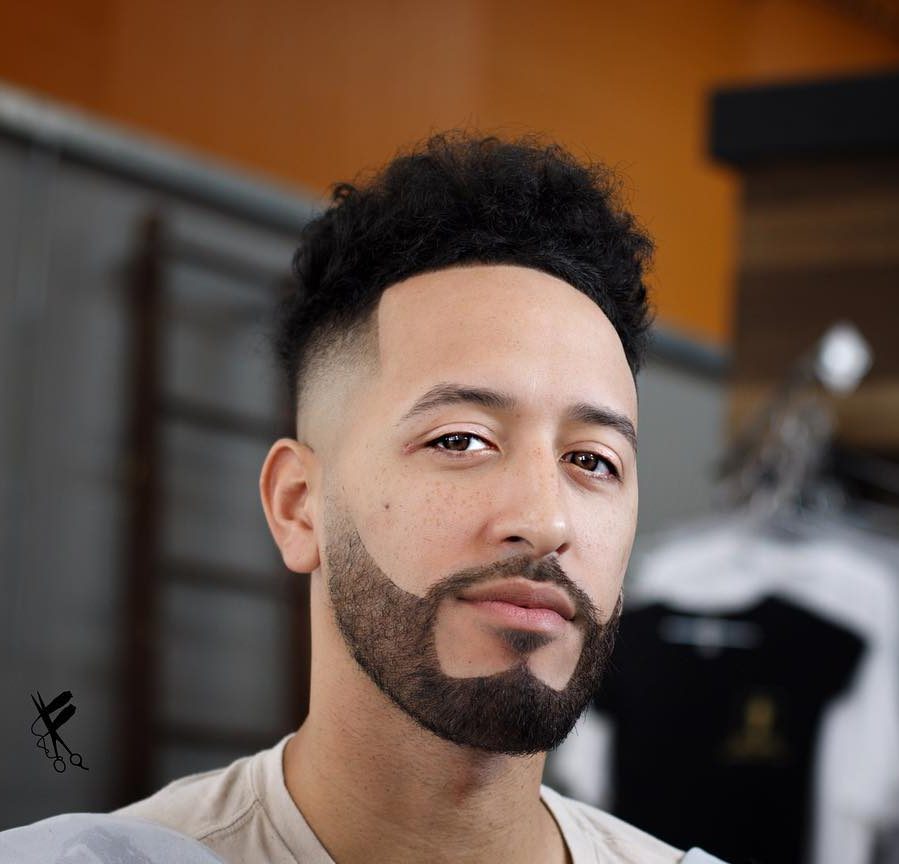 A high fade creates separation between curly hair on top and an impeccably groomed beard.
19. Pompadour + Line Up + High Fade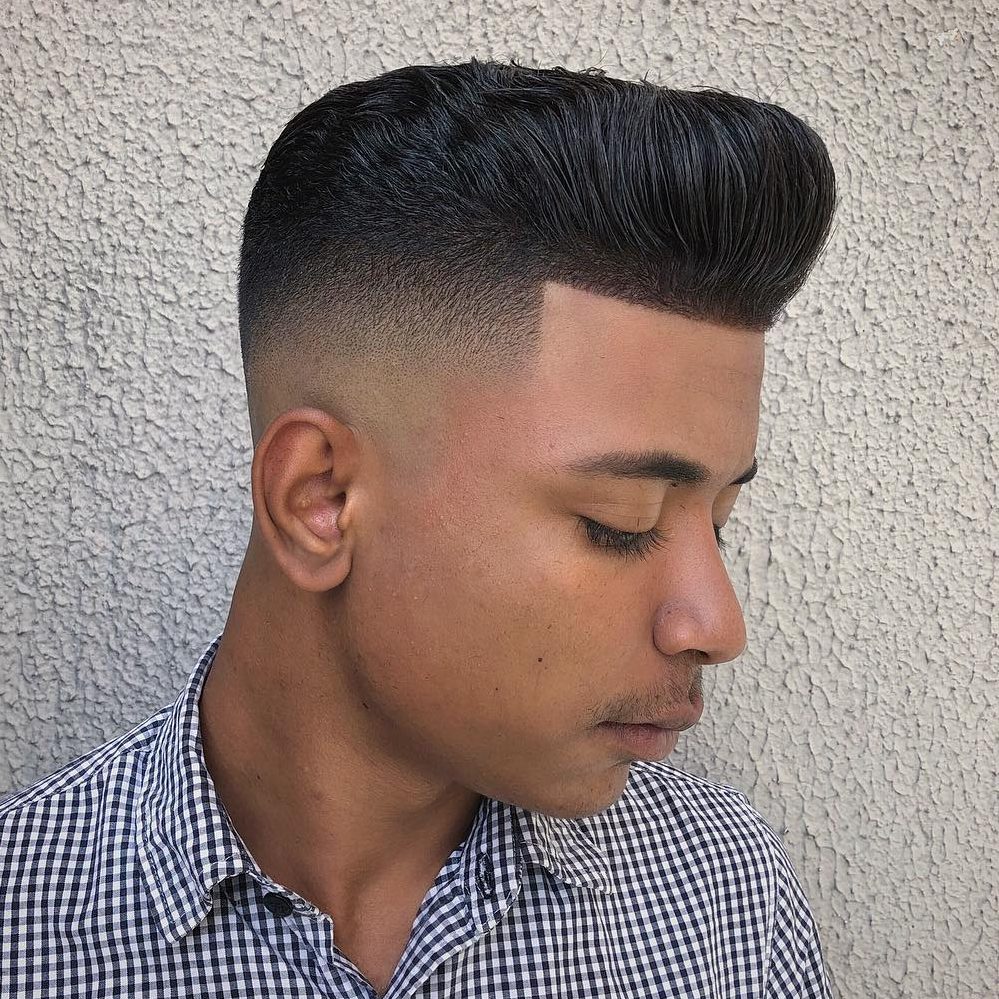 A line up and blurry fade are fresh finishing touches for a classic pompadour.
20. Flat Top Haircut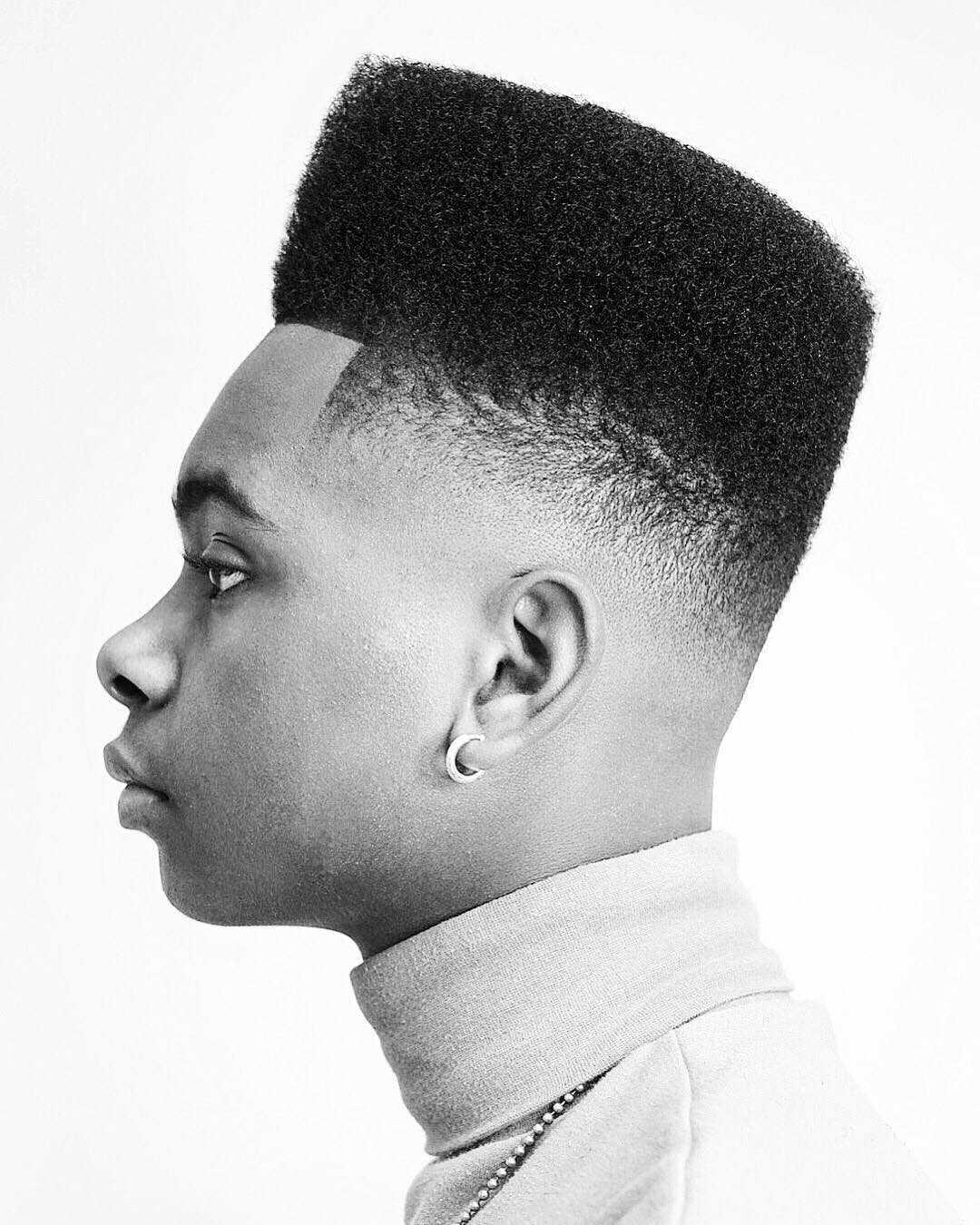 Fade haircuts originated in the military in the 1950s but it was experimentation by the Black community that created the flat top fade.
21. Medium Length Hairstyles for Men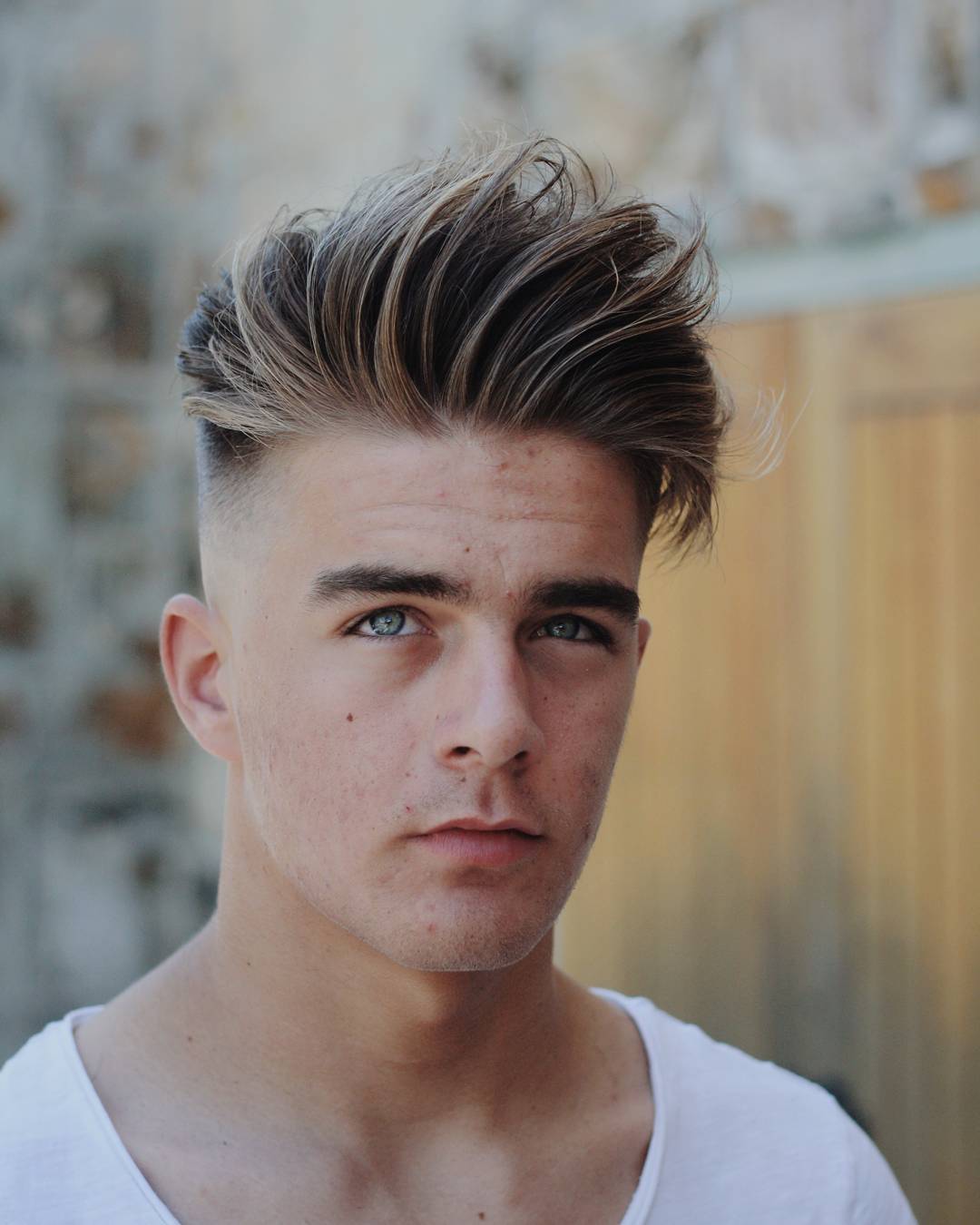 A high fade keeps the sides and back short so you can focus on styling medium length hair.
Undercut Fade Haircuts
22. Disconnect Hairstyle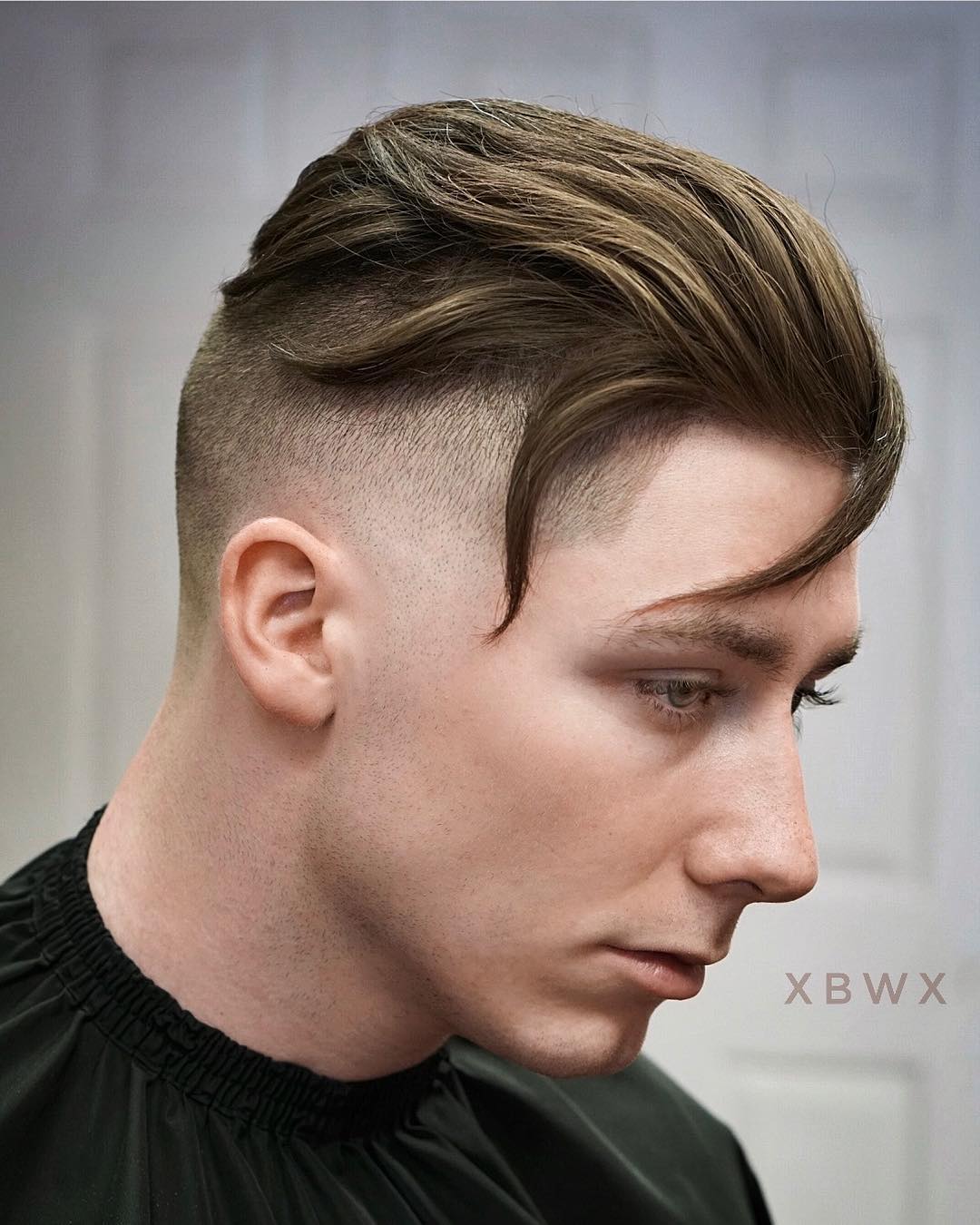 The high fade is essentially the same as an undercut fade. The difference is the hair on top. Undercut hairstyles feature a disconnect from hair on top while fade haircuts have a transition. This medium length haircut slicked back over shaved sides is one of the most popular haircuts for men.
23. Dreadlocks + Undercut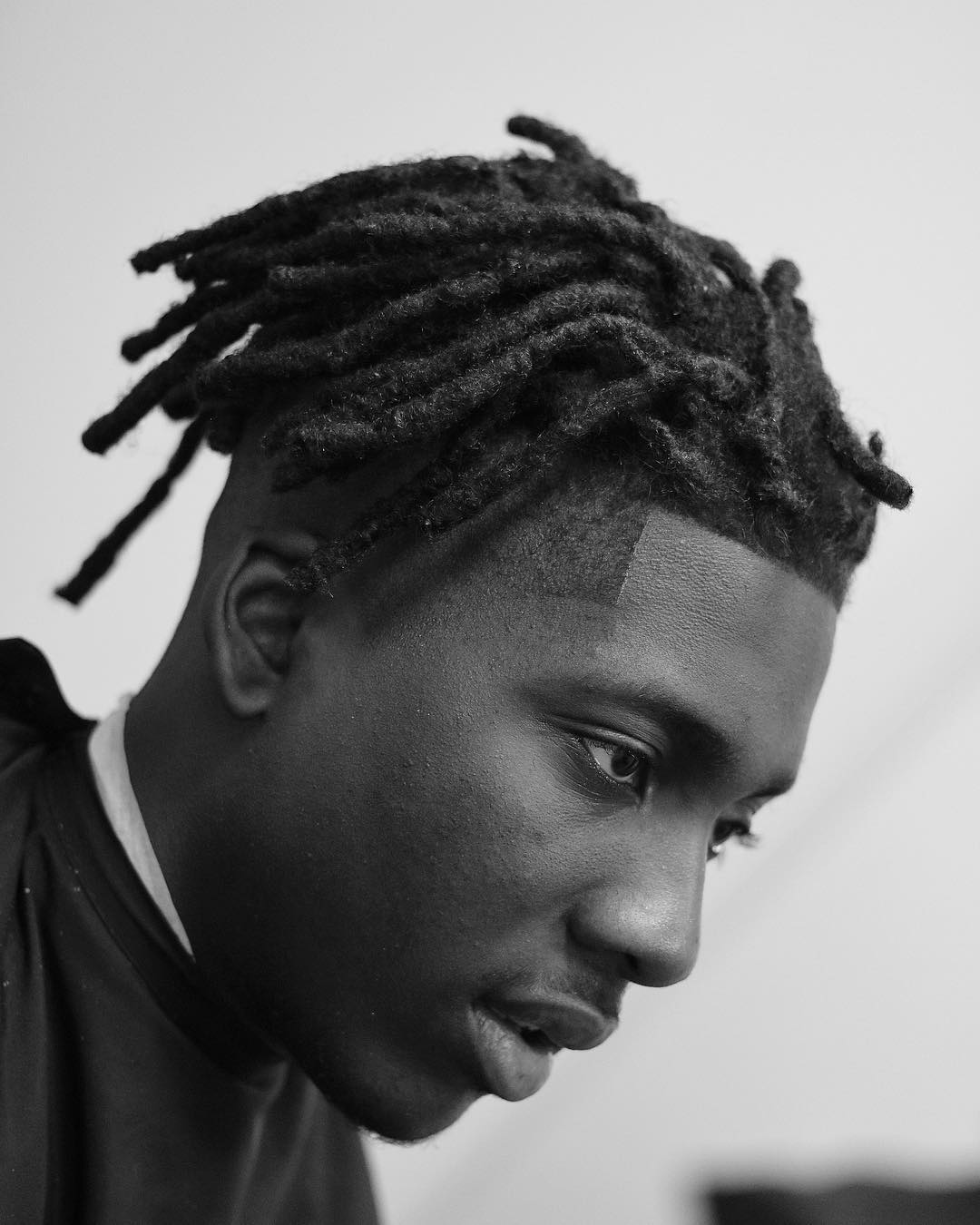 For men, locs and fades are frequently worn together. Medium length dreadlocks over an undercut fade can be worn loose or tied back.
24. Long on Top, Short Sides and Back Haircut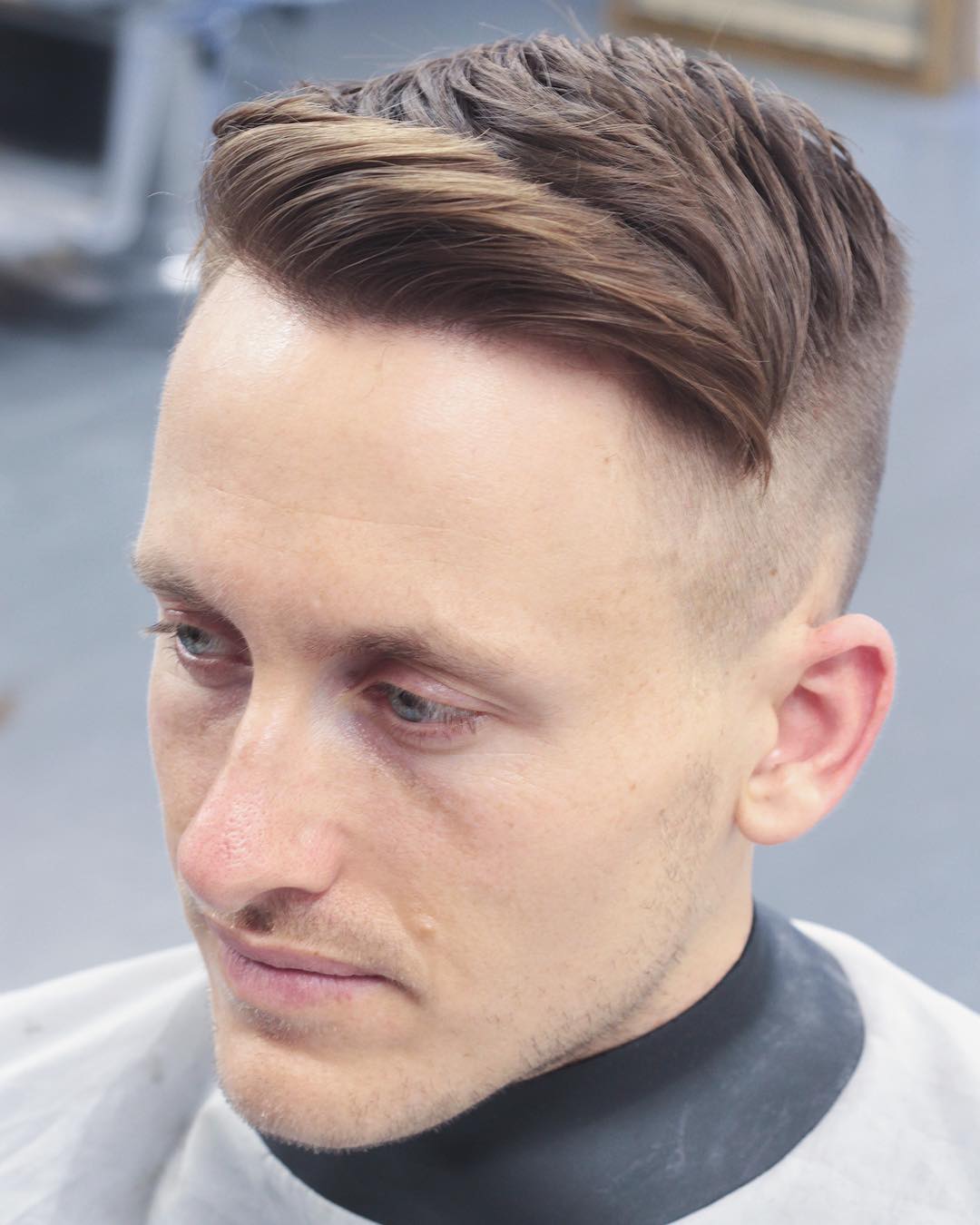 Textured hair is combed over an undercut for a short disconnected hairstyle.
25. Wavy Curly Hair + Undercut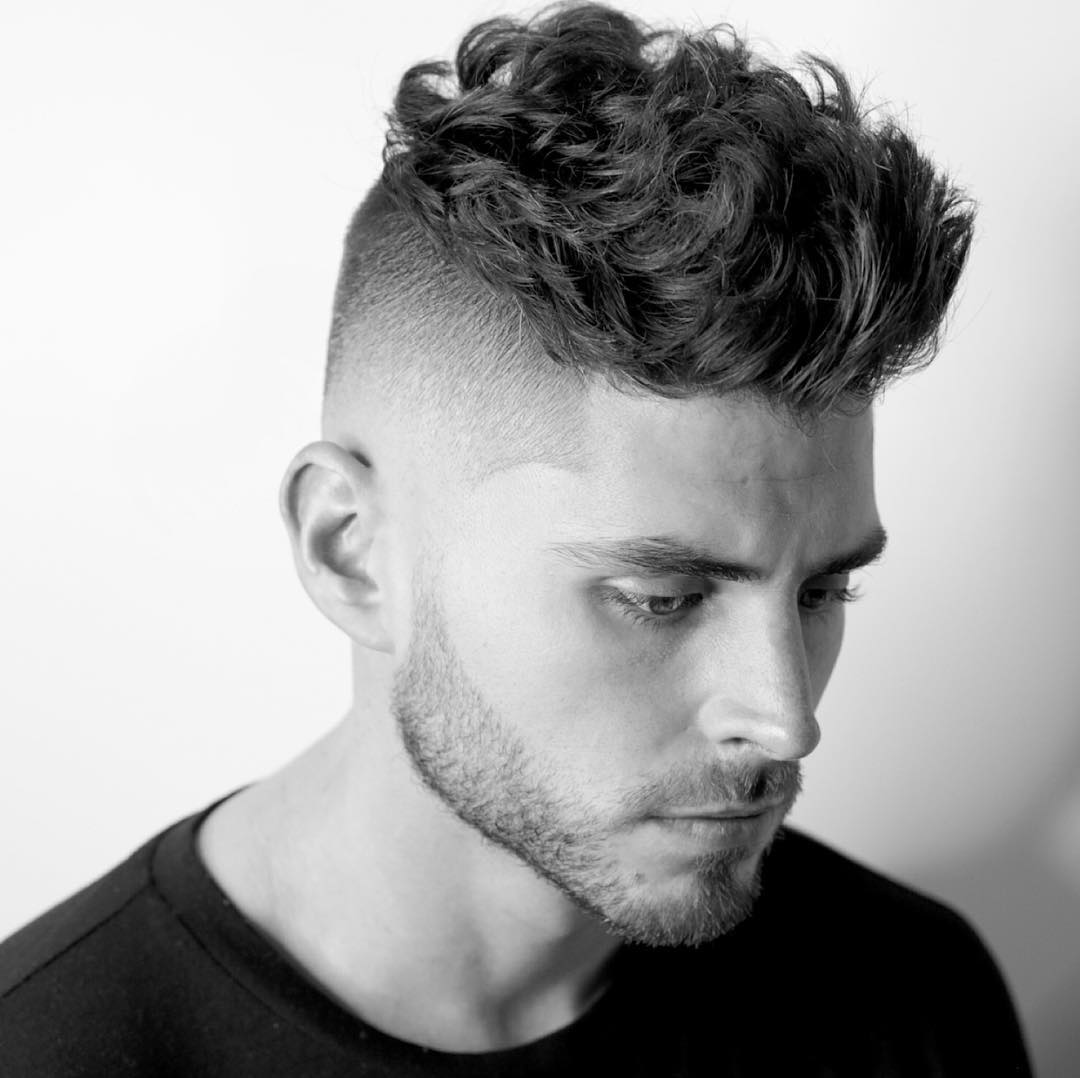 Fades and undercuts are popular additions to medium length haircuts for wavy and curly hair. The result is a clean cut look no matter how styled or messy hair is on top.
Skin Fade Haircuts
26. High Bald Fade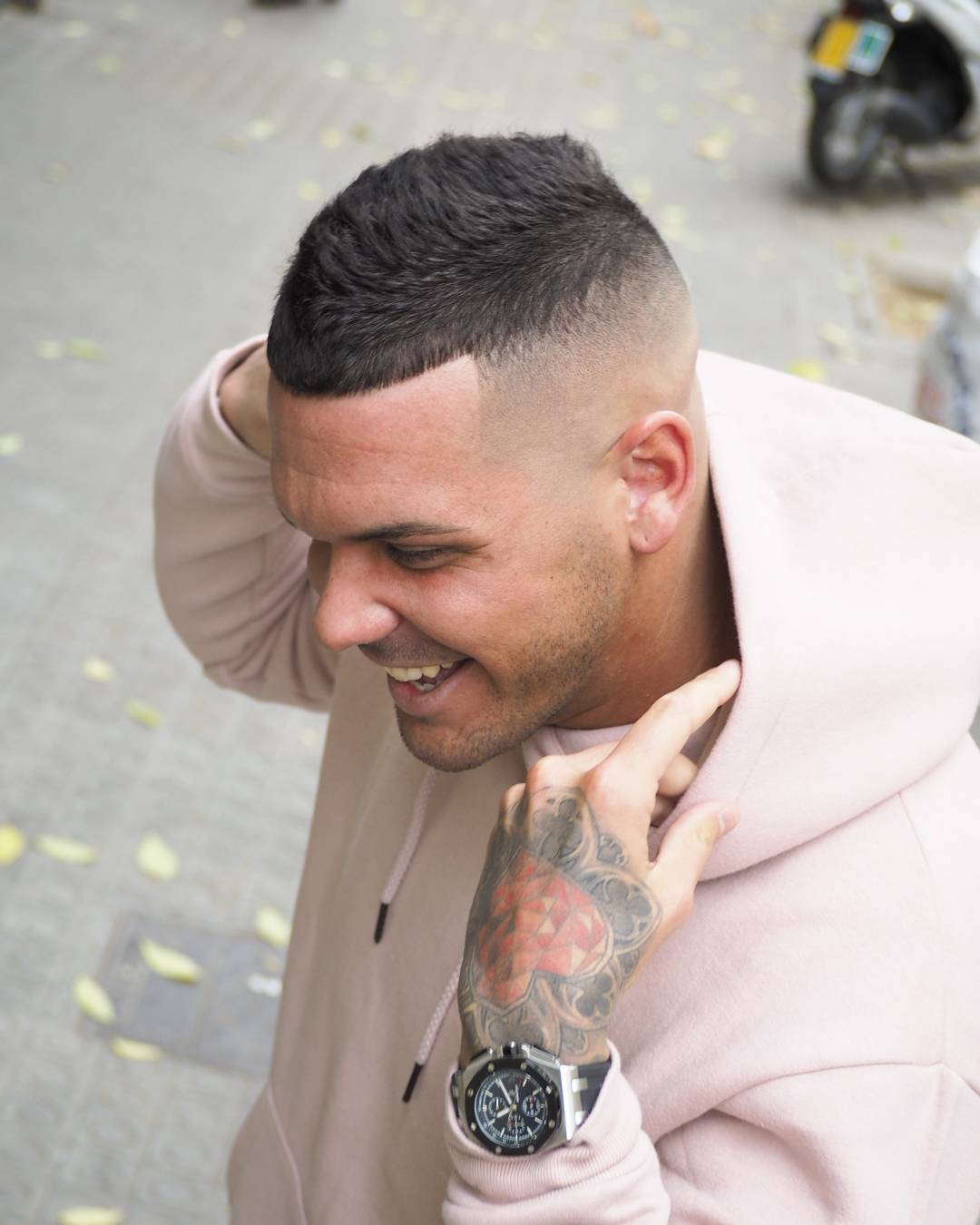 A skin fade tapers hair from short all the way down to the skin. That can happen in any type of fade, including up high, down low or in the middle.
27. Thick Hair + Mid Skin Fade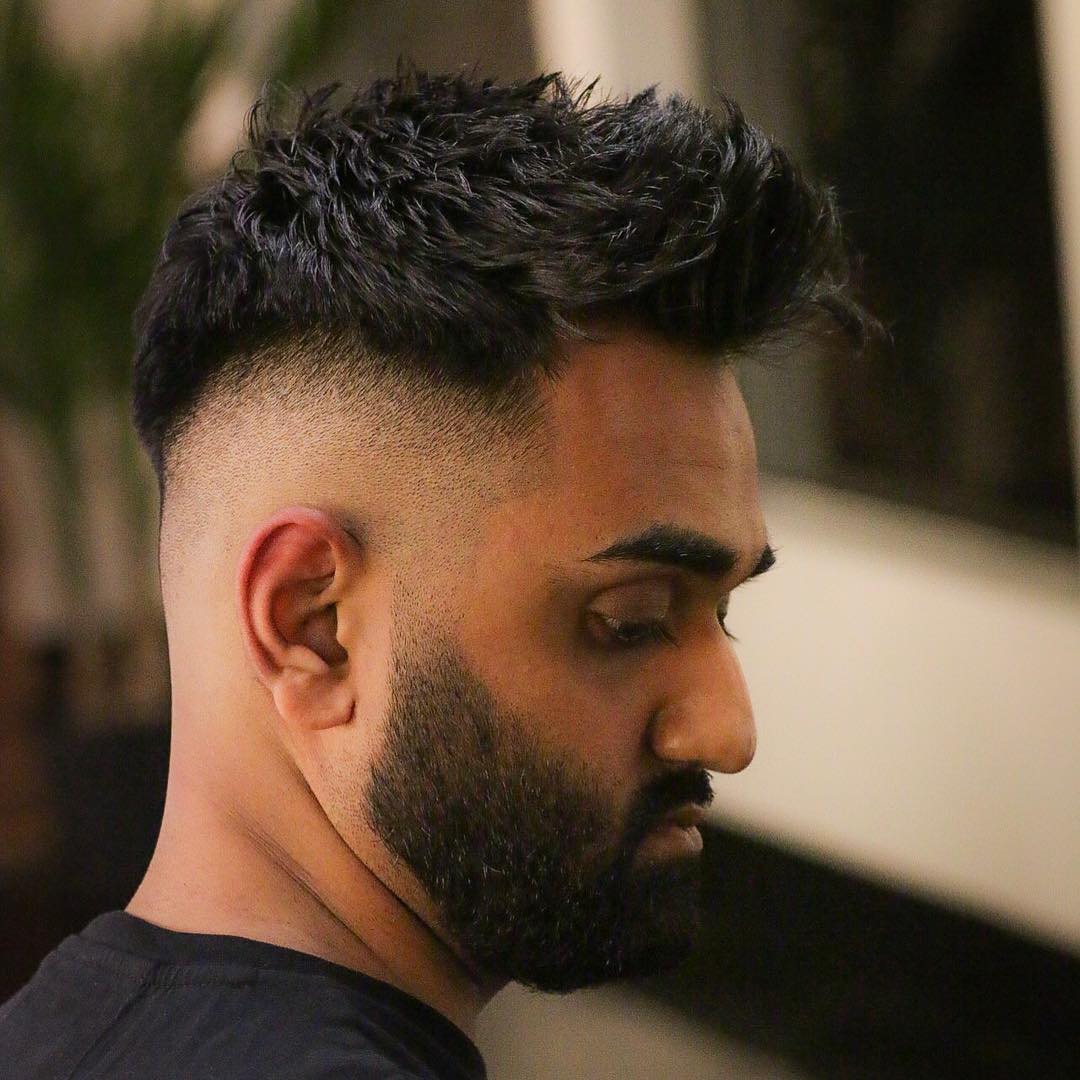 Fade haircuts can make thick hair more manageable as well as appear even fuller.
28. Low Skin Fade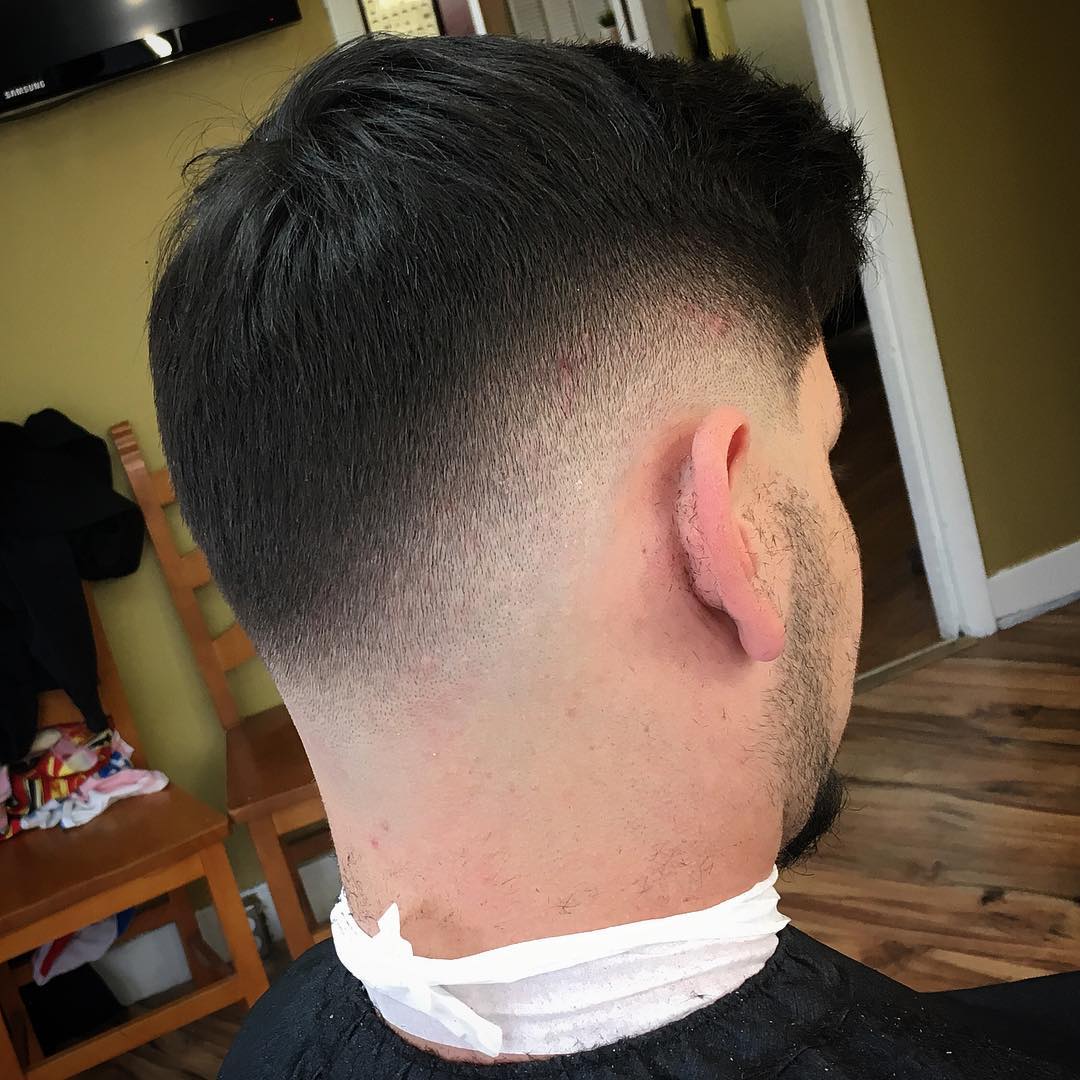 A low skin fade, sometimes called a blend, creates a new hairline height and shape.
29. High and Tight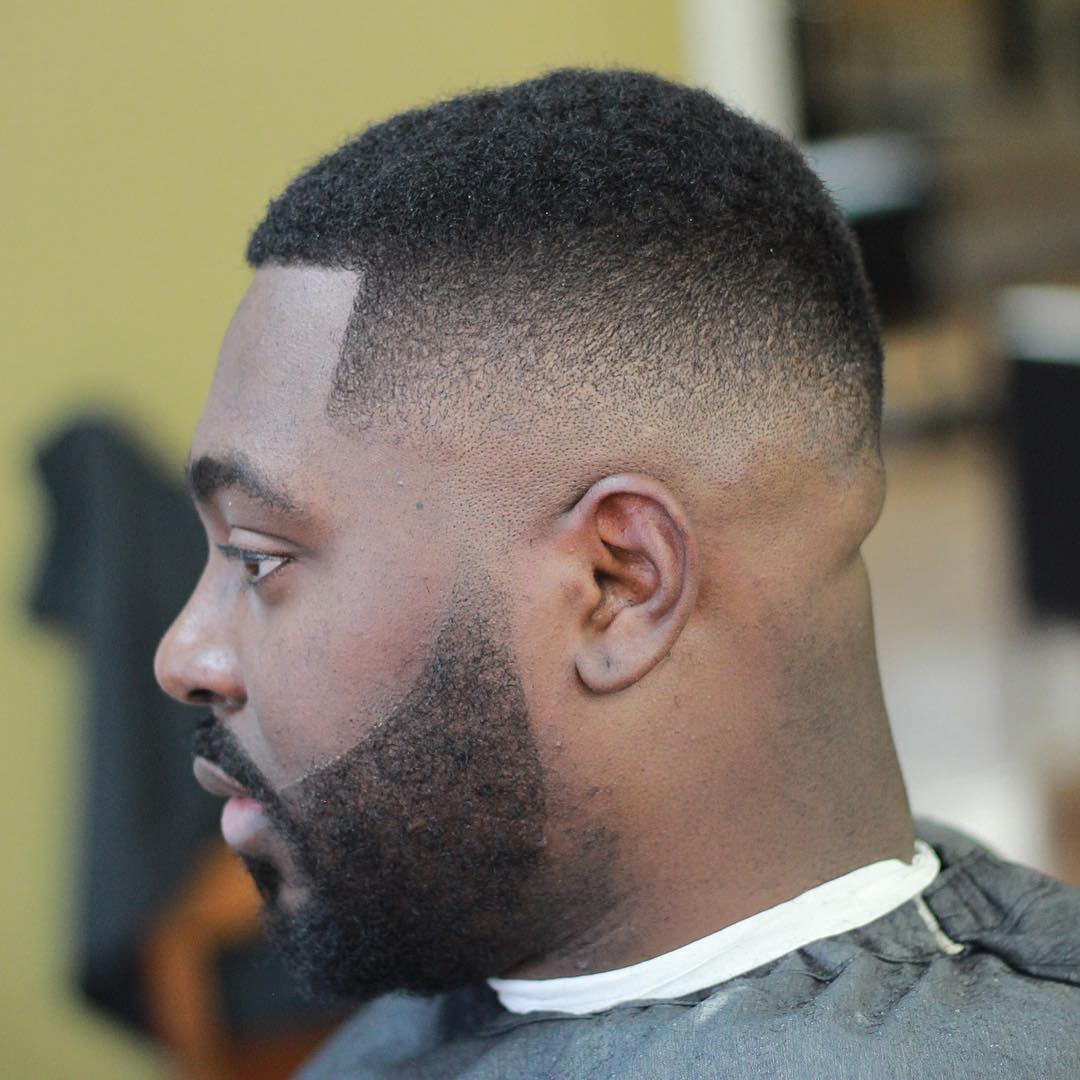 The high and tight haircut concentrates short hair on top and features a mid to high fade around the sides and back.
30. Textured Crop Haircut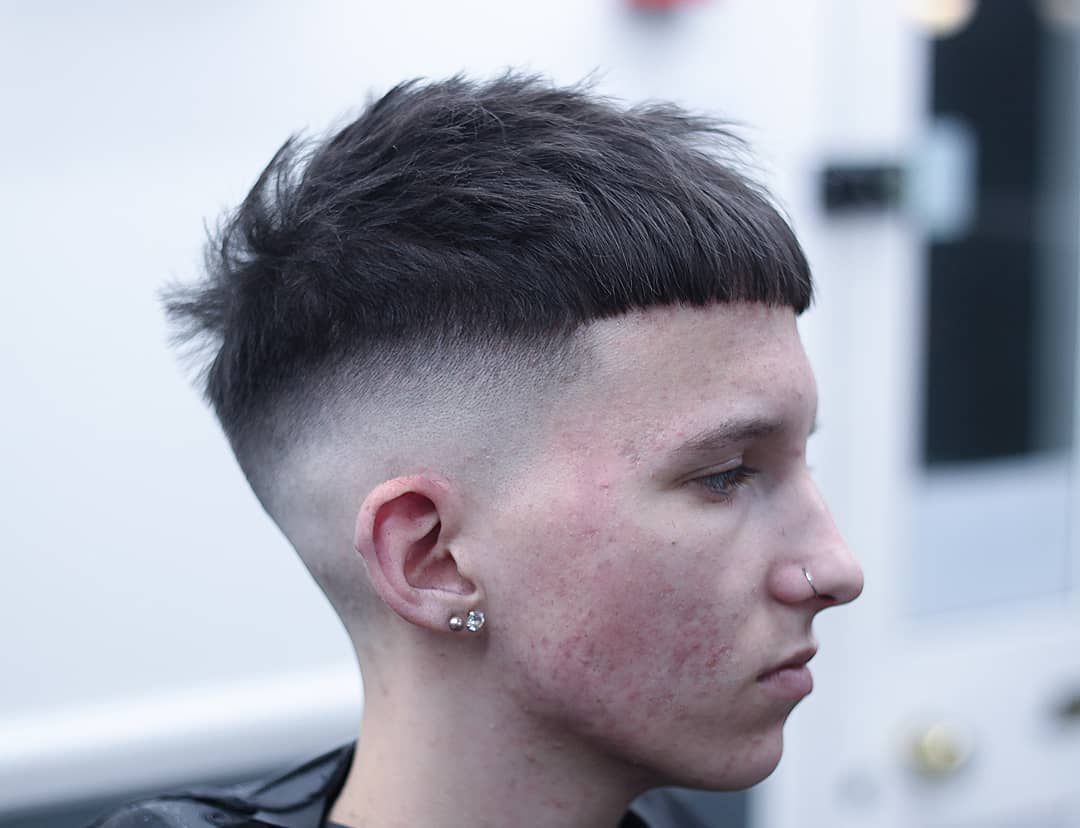 This textured crop haircut is a major trend this year. The fade at the sides can be a blur or a quick transition down to the skin like above.
31. High Top Haircut + Scratches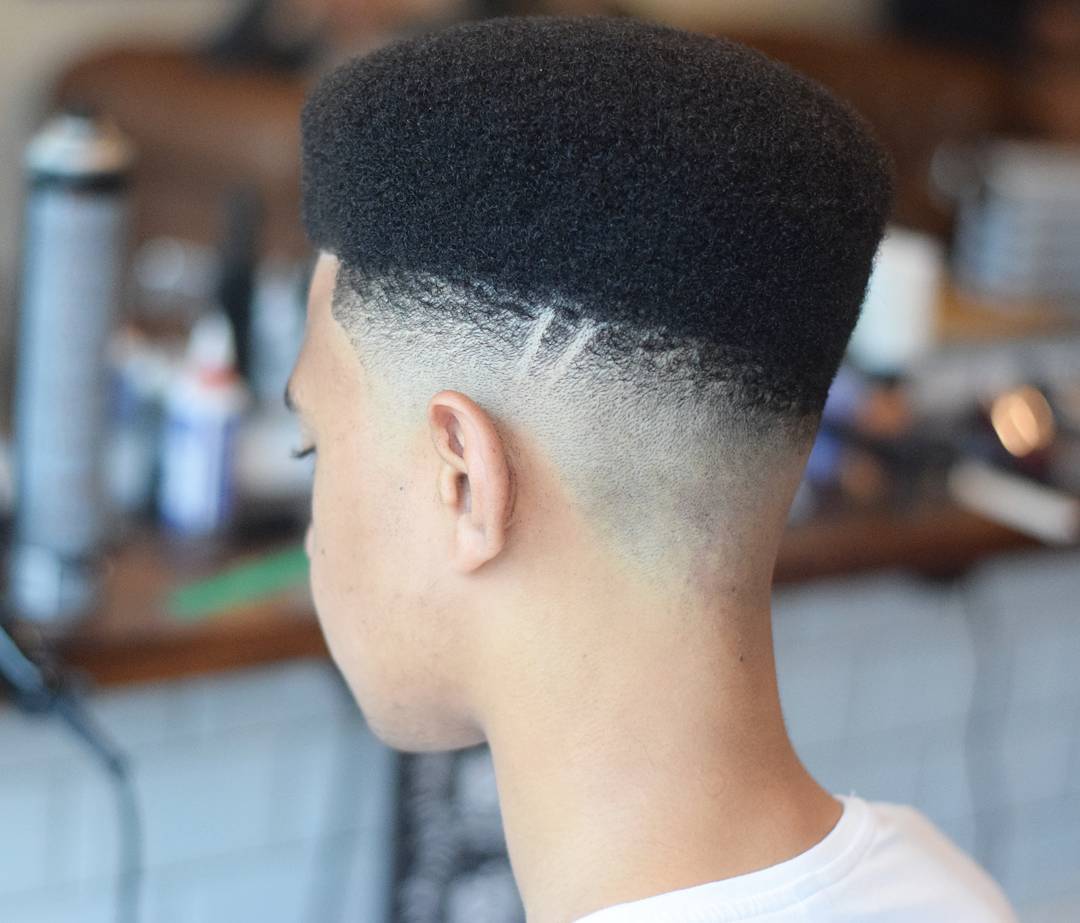 The flat top is one of the most well-known fade haircuts for black men. This version features a rounded top and a pair of scratches behind the ear.
Drop Fade Haircuts
32. Short Men's Hair + Drop Fade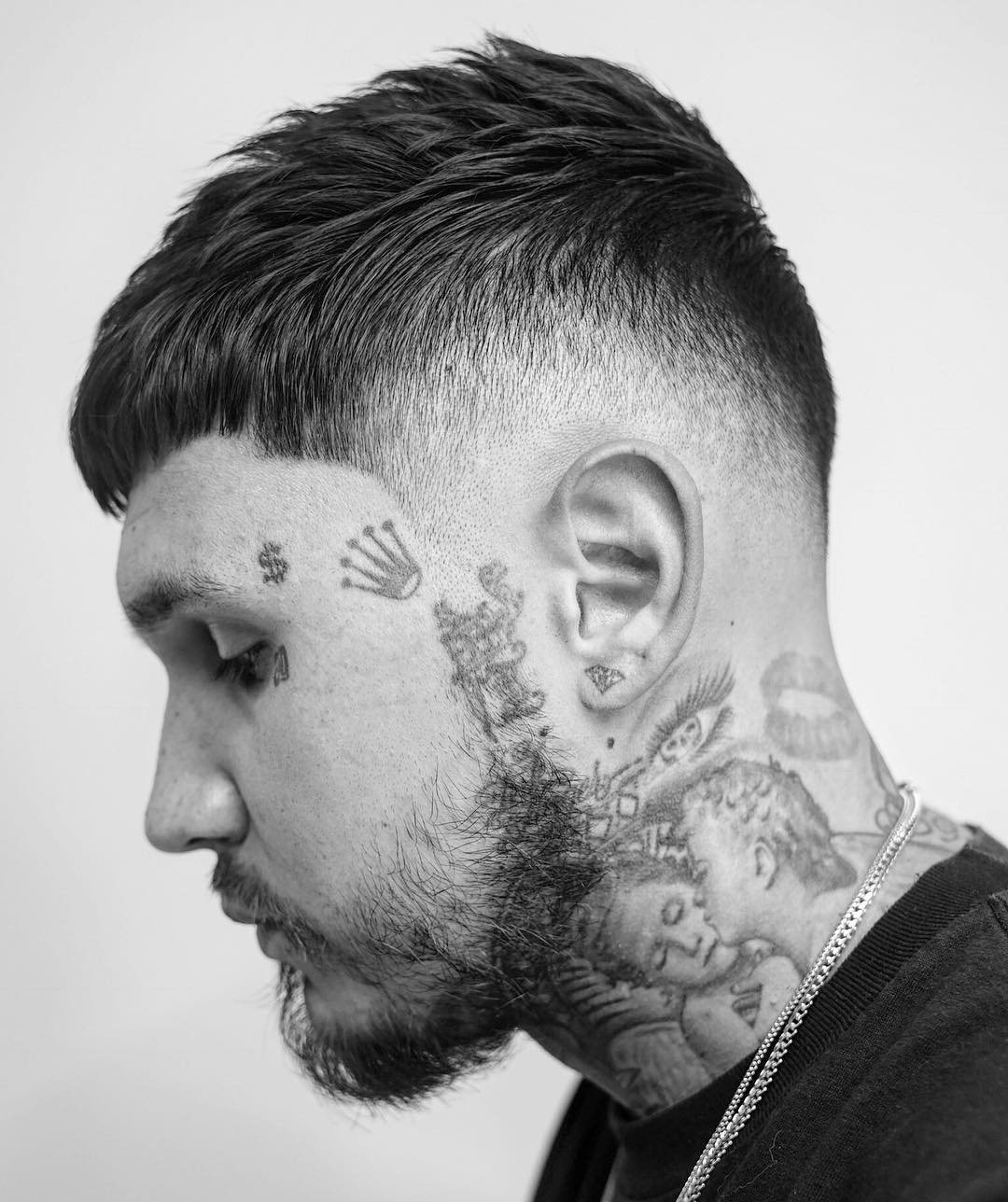 The drop fade is a type of low or medium fade that follows the hairline, dropping down behind the ear.
33. Short Haircut for Curly Hair + Hair Design + Beard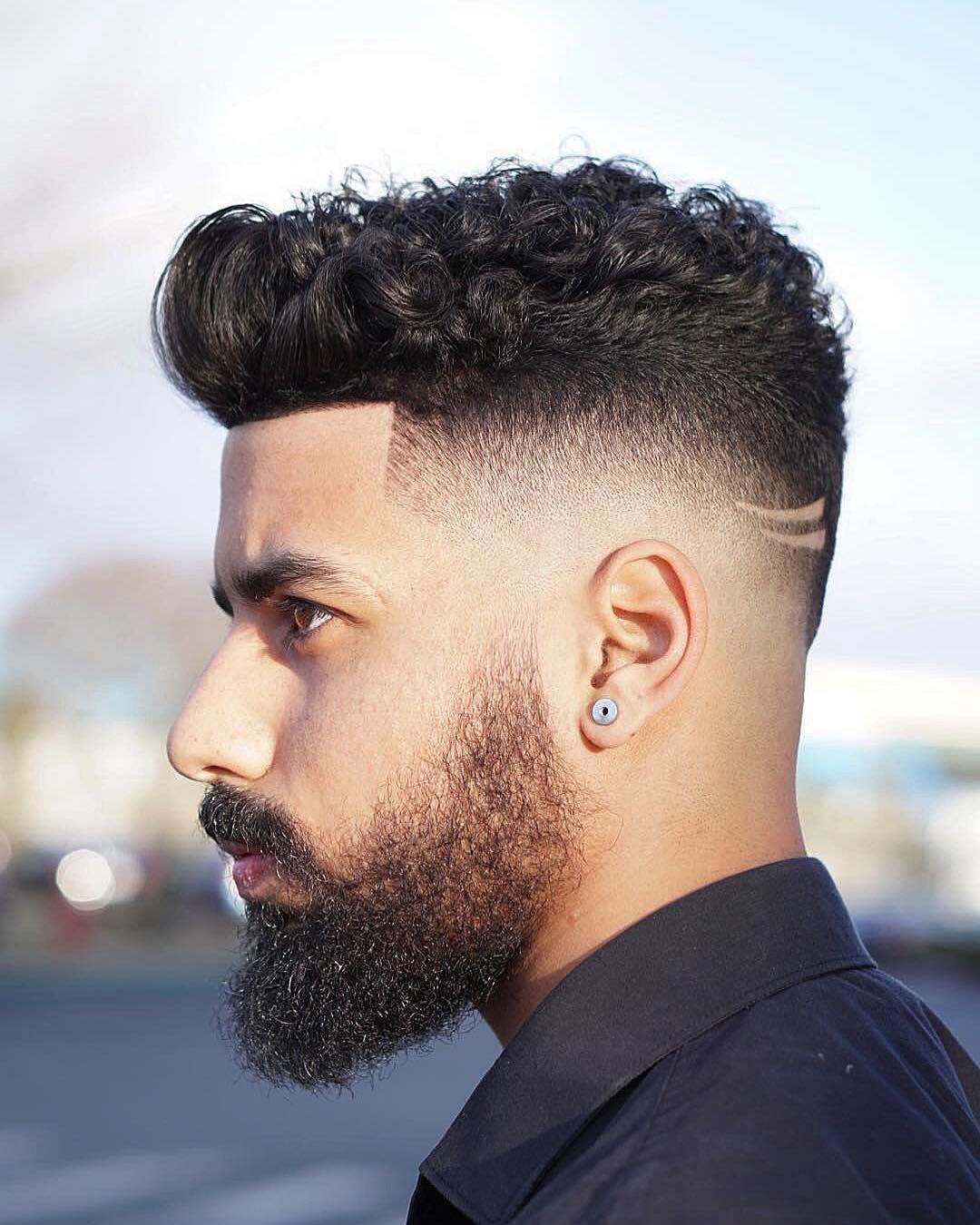 This sharp looks features curls up high, a beard down low and a blurry fade interrupted by a pair of shaved lines in between.
34. Wavy Sweep Back + Mid Drop Fade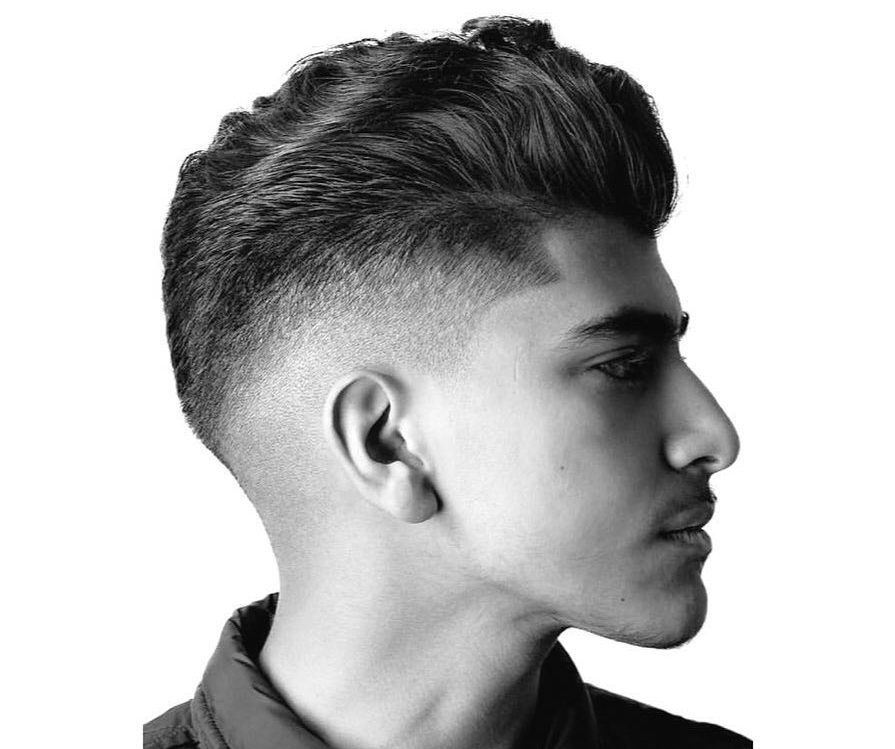 This drop fade follows the same arc as this wavy swept back pompadour.
Burst Fade Haircuts
35. Burst Fade Mohawk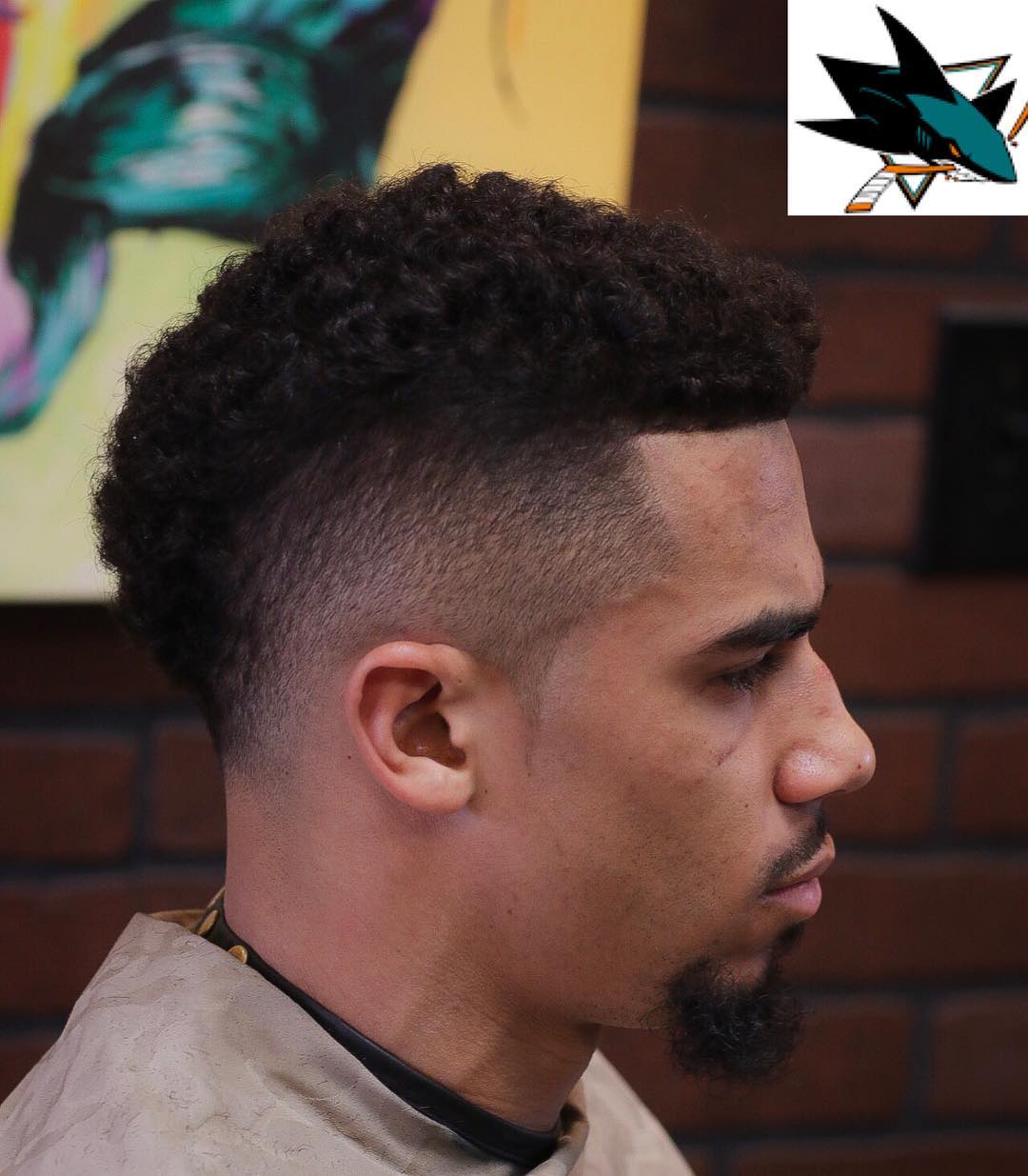 The burst fade is a fade in a rounded burst shape behind the ear. One of the most popular burst fade haircuts is this curly mohawk.
36. Burst Fade + Nape Shape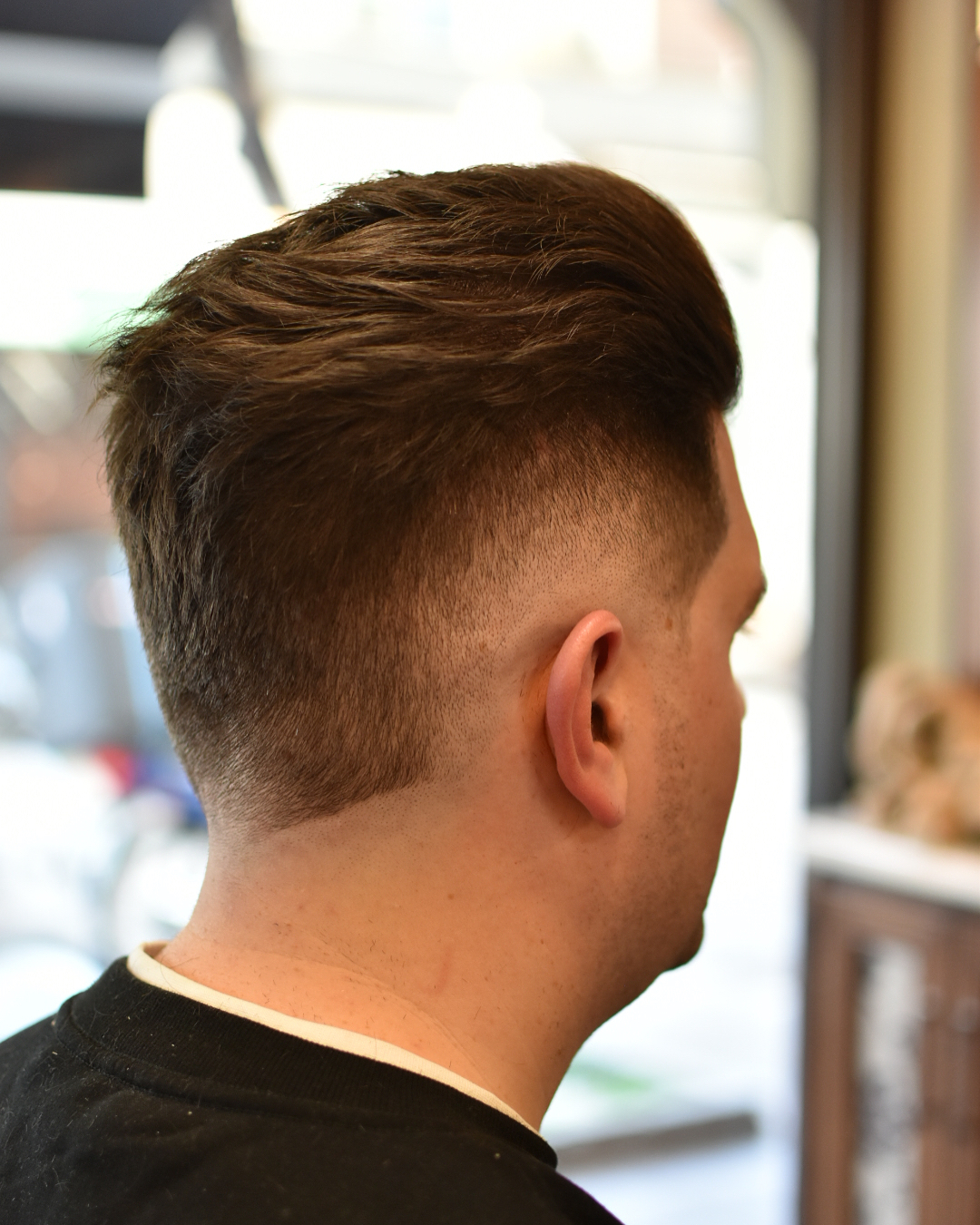 The combination of a rounded burst fade and angled neckline adds geometry to the sides and back of this medium length haircut.
37. Long Curly Hair + Burst Fade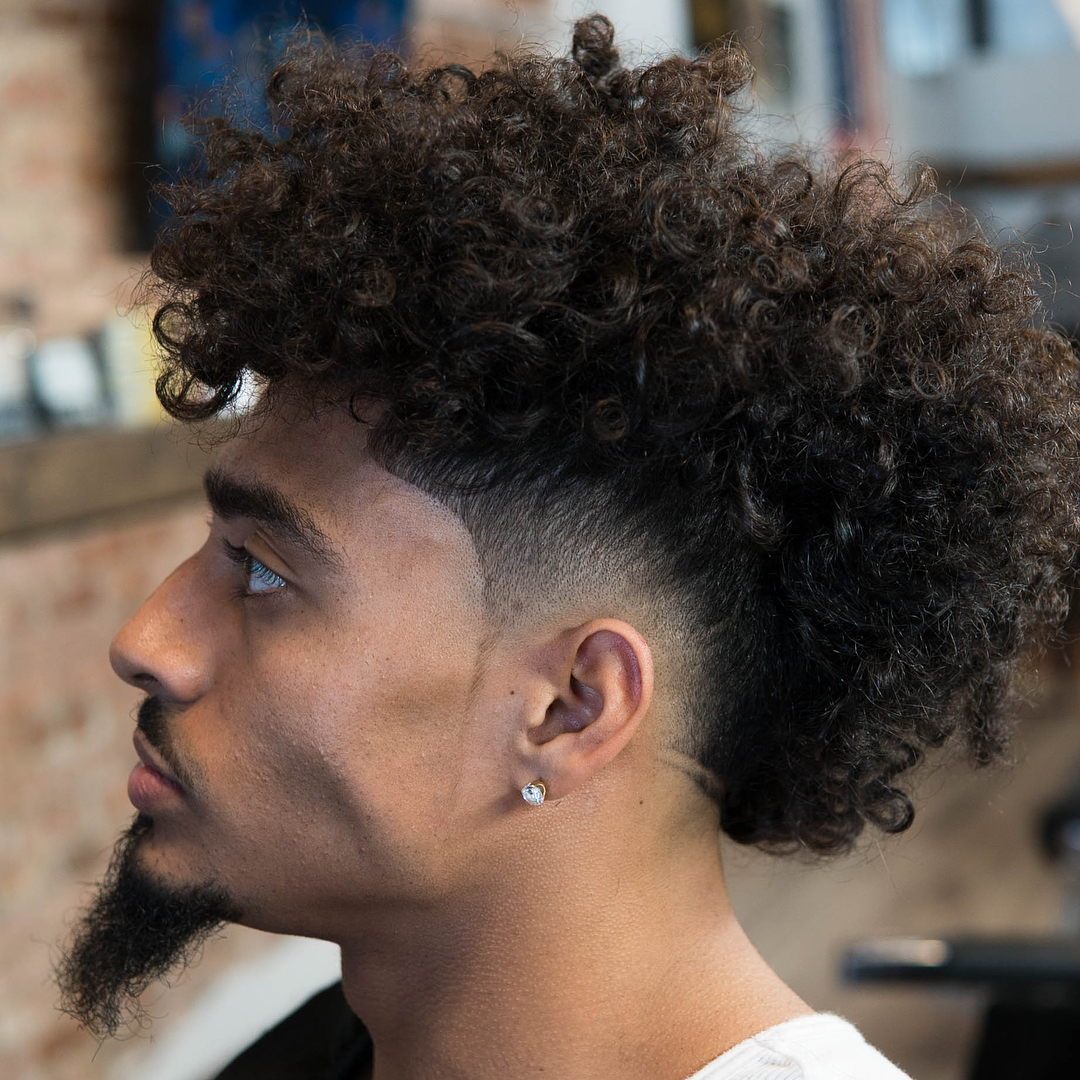 The size of the burst fade can vary. This version is slightly more substantial than a temple fade but does continue behind the ear, creating a cool profile for long curly hair.
38. Side Part Haircut + Burst Fade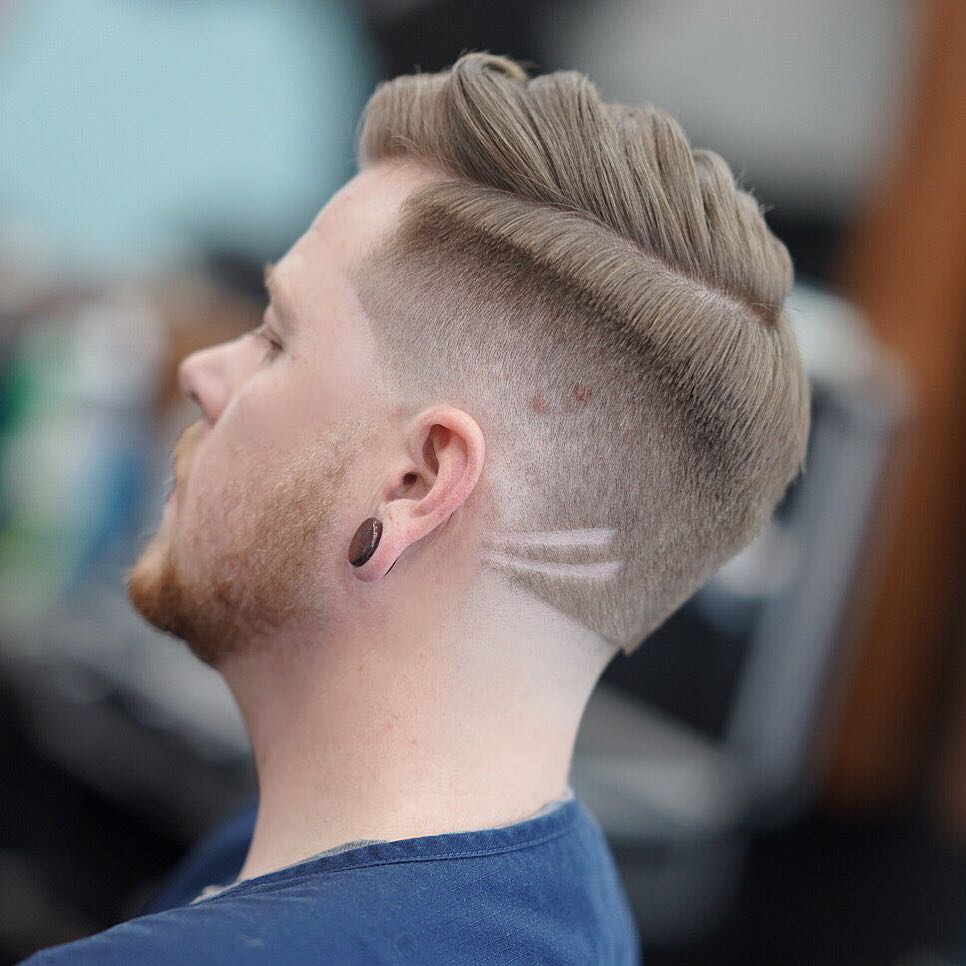 This modern side part hairstyle features a subtle burst fade, pair of shaved lines and horizontal neckline.
Temple Fade Haircuts
39. Faux Hawk + Temple Fade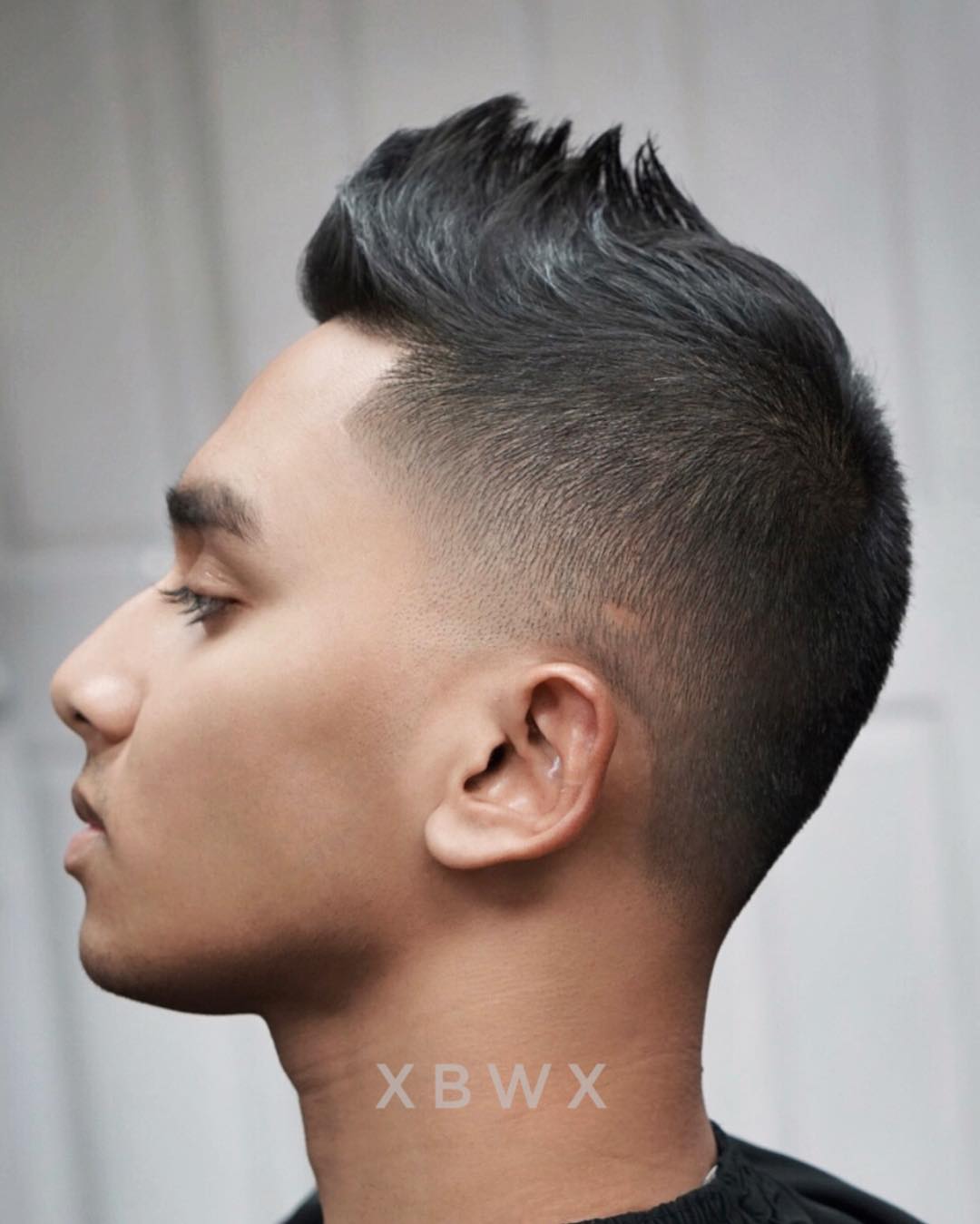 Instead of a burst fade mohawk, try this temple fade and faux hawk.
40. Short Crop + Temple Fade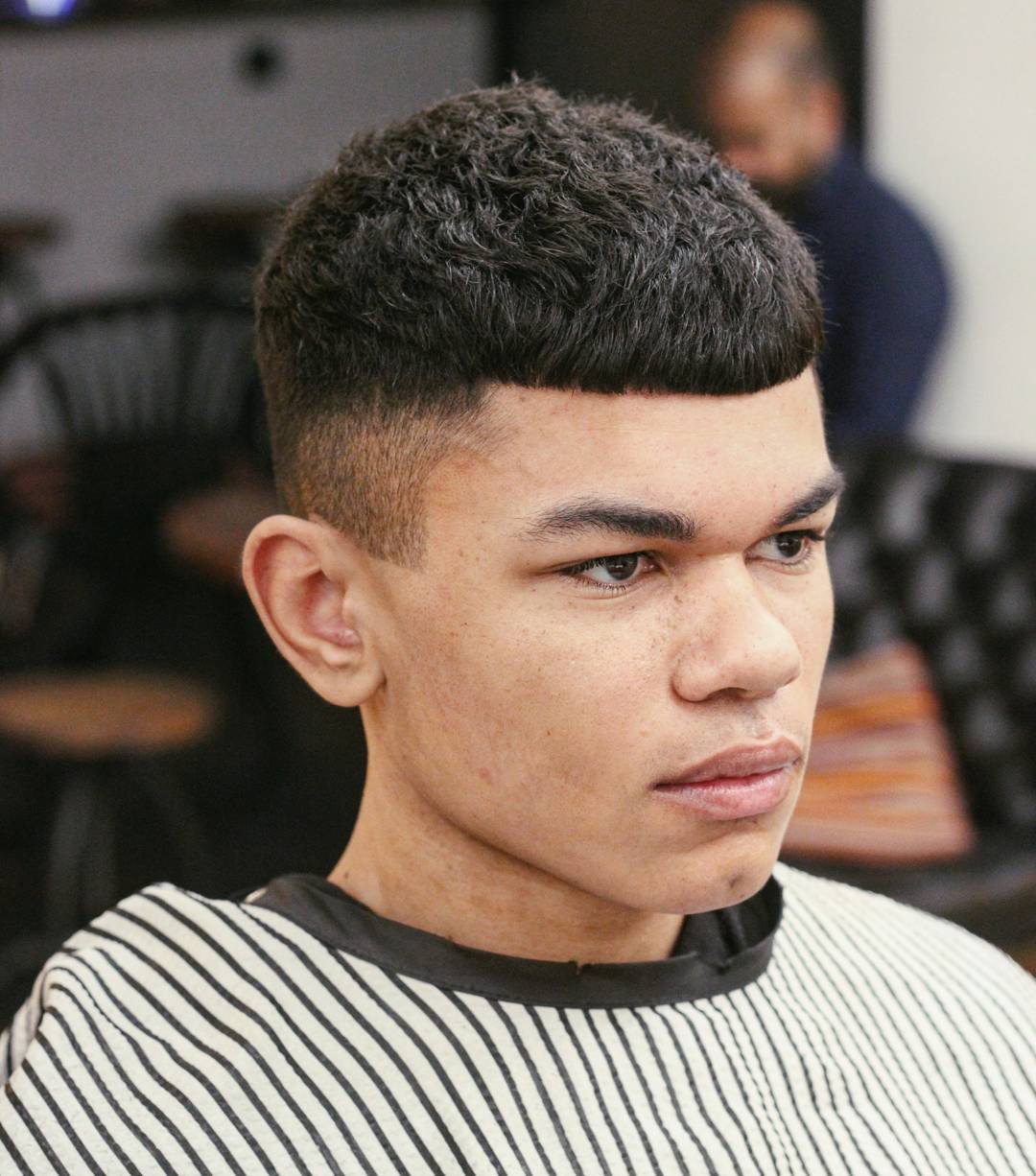 The temple fade is a cool way to cut hair short at the sides but not the back.
Neck Tapers
41. Neck Taper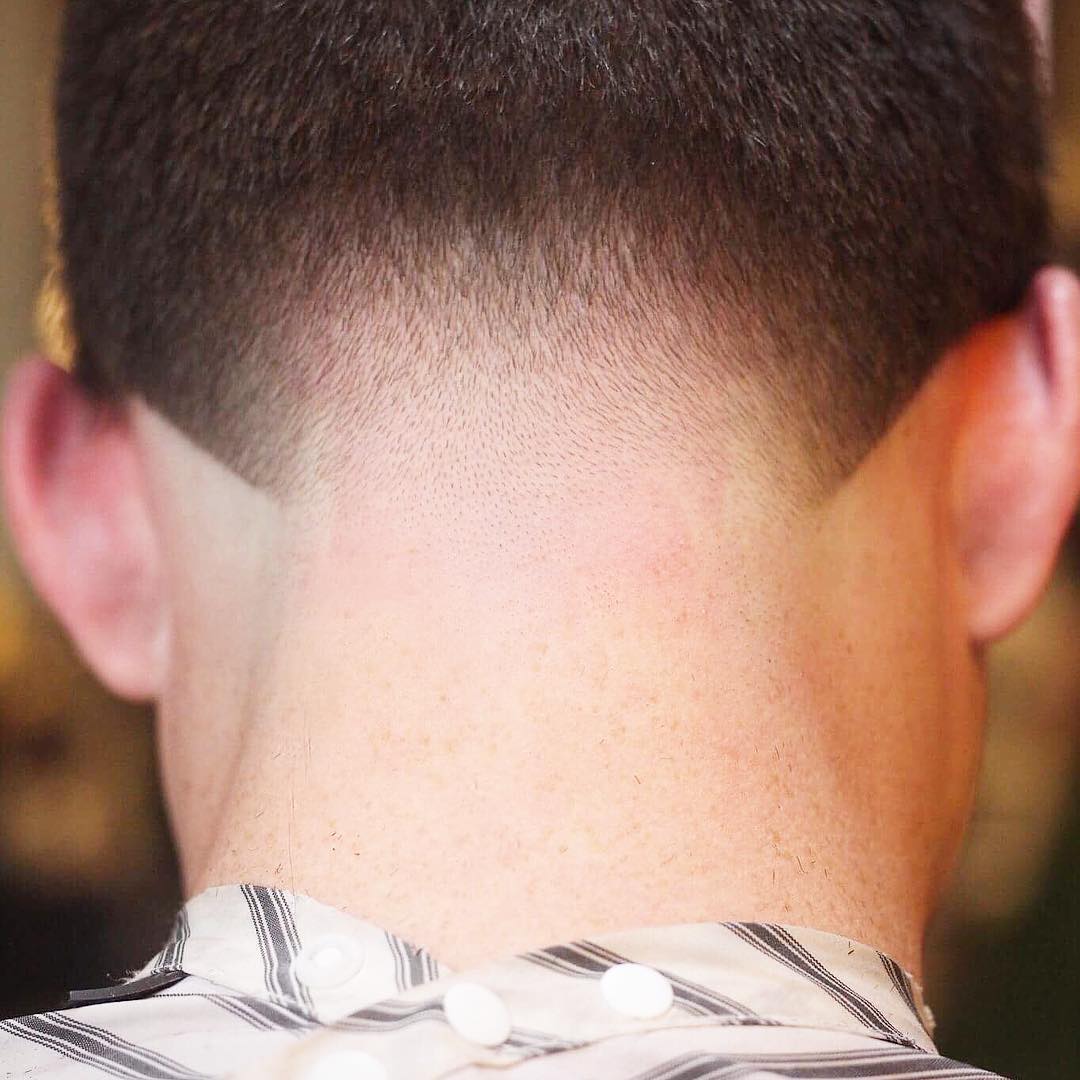 A taper is the shortest type of fade. This curved neck taper is a cool way to finish of any haircut.
42. Neckline Hair Design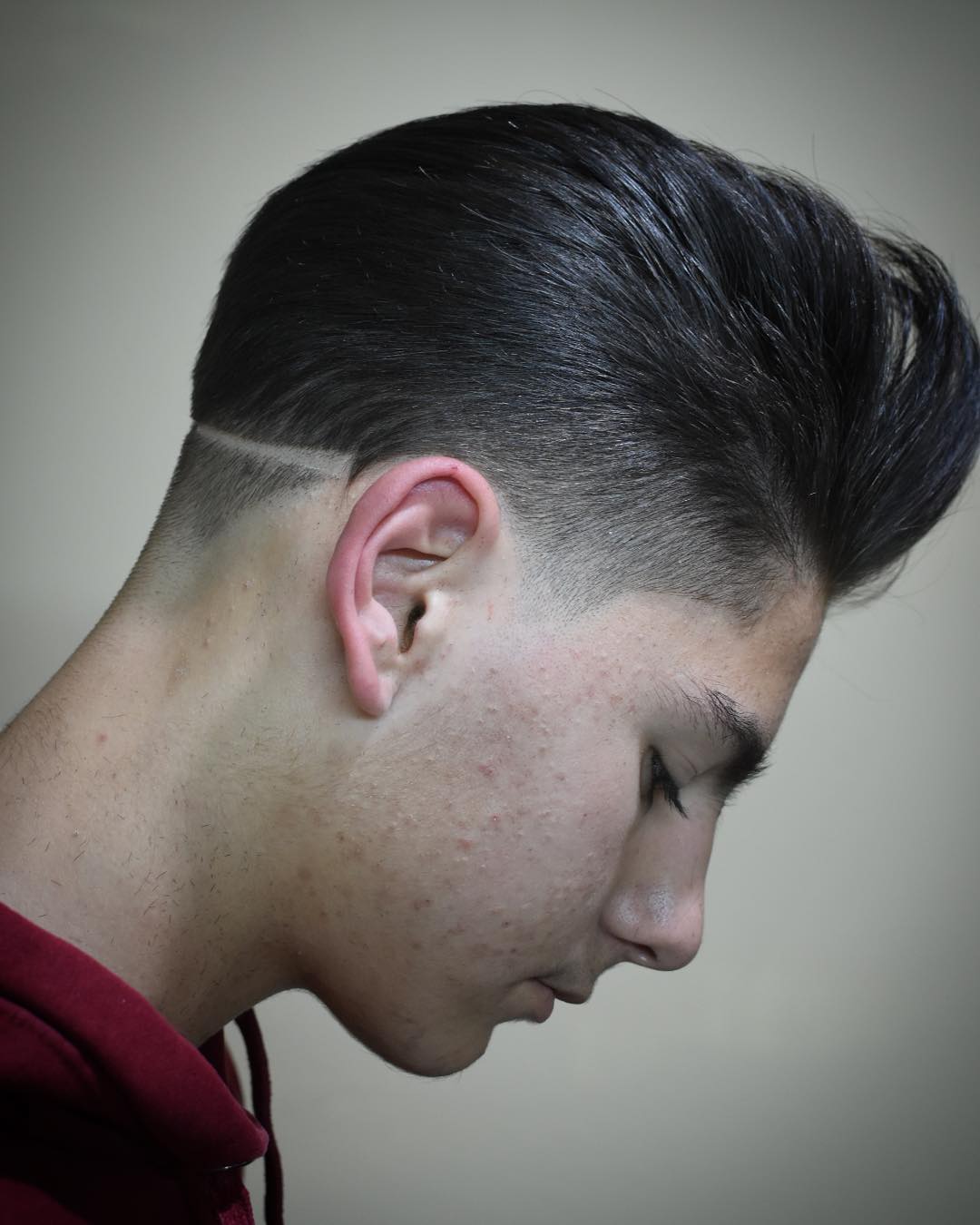 Using the neckline as a canvas is a hot new trend. This cool version shaves a line behind the head before taper hair down.