2015 is the year of the fade. This cool tapered cut can be worn many ways and here's one of them – the temple fade. This version isn't Pauly D's famous Jersey Shore blowout where only the temples are shaved. It's more of a temple skin fade. Here's how to get the look.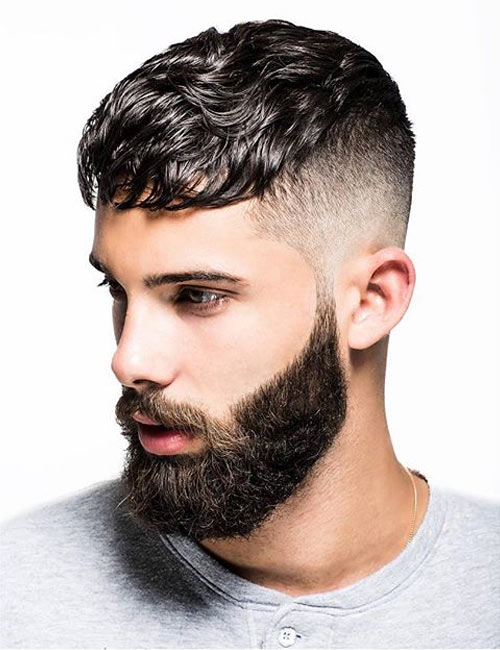 This cool style was cut by Kevin Luchmun of Toni & Guy London on model Jimmy Launay. Luchmun describes the looks as a fusion of American and UK barbering. It's UK on top and the fade is USA, all the way. We've seen plenty of these fringe hairstyles from England and look forward to seeing them hit the streets stateside. For guys with wavy or curly hair, these layered cuts look great and are easy to style.
For the fade, the sides and back are cut short. Hair tapers down to the skin, aka a razor fade, at the temple. The transition from hair to skin takes up most of the side of the head for a cool and different way to rock the fade. It's worn here with a beard but of course this style would look just as good with a clean shaven face.
Like all fades, the temple fade can be added to any hairstyle you like. Try it with slick hair, a pomp, or even long hair. It works with everything.