The pompadour haircut is a constantly evolving look. Originally gaining popularity in the 1950s and 60s with country and rock and roll stars like Elvis Presley, the pompadour haircut has come back in a big way in recent years.
Pompadours include a wide range of variations from matte to shiny and messy to slick. The greaser classic with plenty of shine and a ducktail at the back still looks cool today. The pomp is a classic men's hairstyle that really never goes out of style. That's because this hairstyle for men looks so good and there are plenty of pompadour haircuts to choose from.
Modern versions on the pompadour maintain that signature volume at the crown but trade in high shine and comb marks for a matte finish and textured styling.
For a modern look, the pomp fade is a popular choice. Add a low, mid, or high fade to the longer hair on top. For the traditionalists, taper haircuts with scissor cut sides are the way to go. Either way, pomps can have a side part or no part.
Pomps also work for guys with wavy or curly hair. That natural texture adds your own unique finish to a pomp and helps boost volume.
Alright, lets get into the details of the types of pompadour haircuts you can try out.
Types Of Pompadour Haircuts
The pompadour haircut is one of the most popular and enduring looks for men. This stylish and timeless hairstyle flatters almost all hair types and face shapes with plenty of volume and a distinct profile.
That classic shape can be combined with current men's hair trends. Some of this year's hot looks include piecey texture, taper haircuts, updates spikes and bold, look-at-me styles. Other ways to update the classic pomp is with a matte finish, short hair and adding a fade.
These modern pompadours require modern styling products. While many guys continue to use retro grease pomades for an authentic vintage look, modern pomps have more height, texture, and a matte finish. Look for fiber or clay pomades that have superior hold, no shine and can be restyled just like an oil-based pomade.
Now check out these different ways to wear modern pomades. These fresh styles can make fine or thin hair appear fuller with volume and texture as well as tame the thickest hair. These pomps can be styled with short hair as well as medium-length locks.
1. Modern Pompadour Haircuts
Texture is one of this year's top hair trends. Add some to your pomp by combing your pomp with fingers, pinching small pieces of hair together, or using a wide tooth comb for evenly spaced separation. Play with different variations on the look. It's even better to look slightly different every day. Look for pomades that enhance texture to get the look with minimal effort.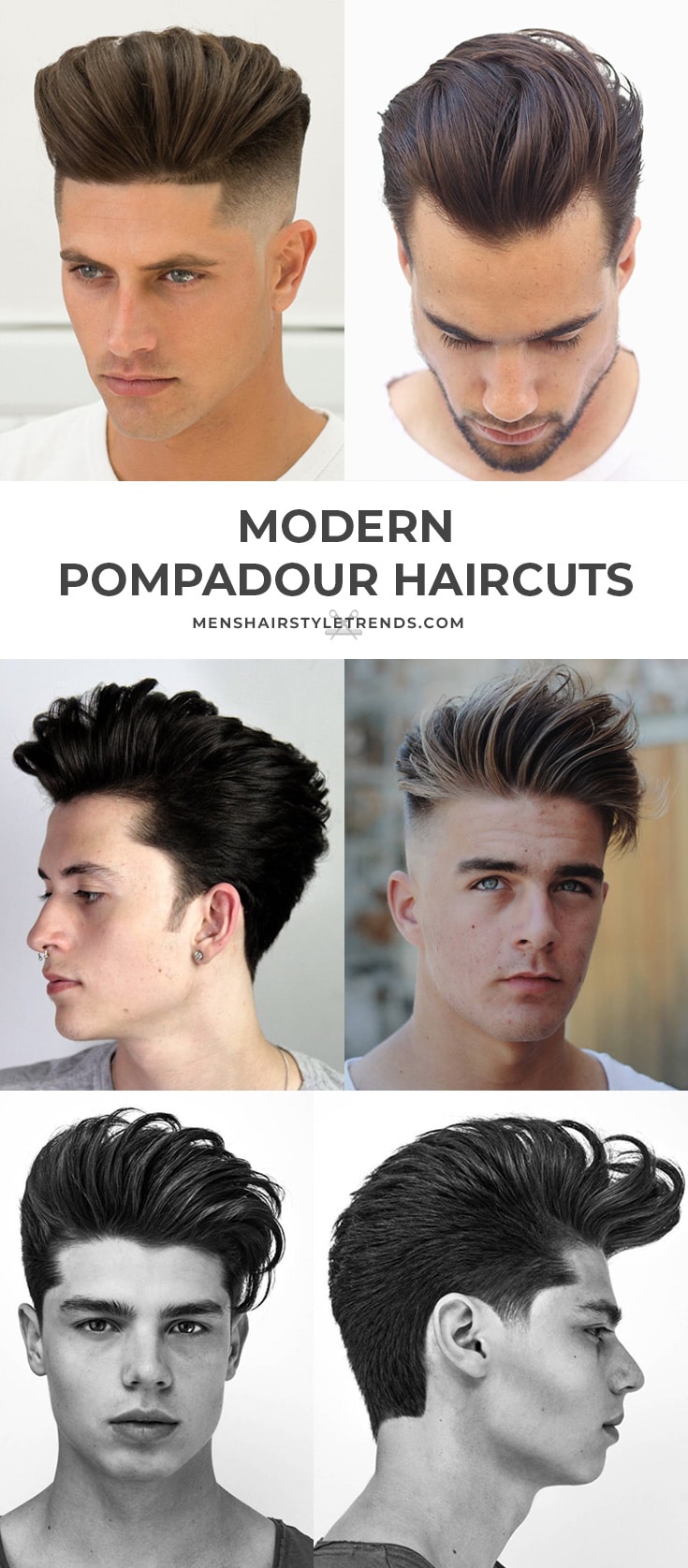 (L-R Javi the Barber – Ramses – Will Salon – We Married Hair – We Married Hair– We Married Hair)
2. Matte Pompadour Haircuts
The name greaser came from the hair grease used to style pompadours and their shiny finish. The easiest way to get a modern look to your pomp is to use a matte hair product. Types of pomades that combine ultimate hold with a matte finish are fibers, clays, and some water-based pomades.
Try Reuzel Fiber for the strongest hold for even the thickest hair with a tobacco-vanilla scent and no shine. For added texture or to beef up fine hair, try a clay pomade like Baxter of California Clay.
Blind Barber 90 Proof Pomade is another popular low shine option that can be used to style classic pomps with modern texture. For a cheap drugstore matte pomade, Old Spice Pomade rings in under $10.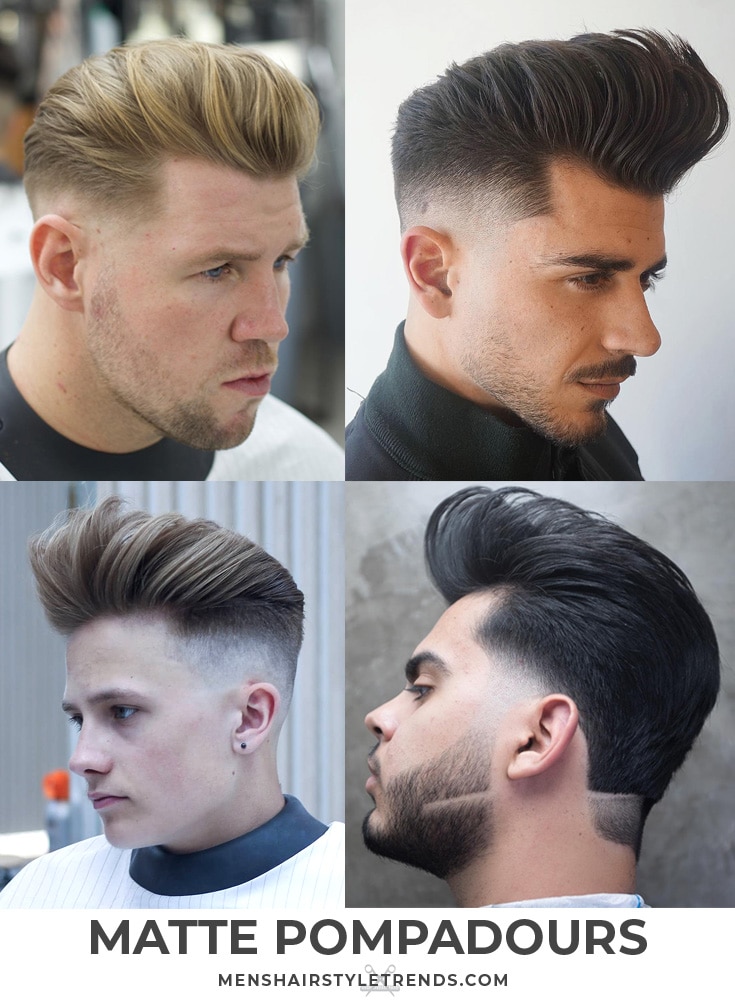 (L-R Reece Beak – Josh Lamonaca – Jake "Ralph" Bolland – Jake "Ralph" Bolland)
3. Edgy Pompadour Haircuts
These edgy pompadours take liberties with the retro style while holding onto that classic pompadour shape. Take a heavy textured crop and work up into a pomp-shaped quiff. Or add a side part to a matte, textured modern pomp. Use oversized texture to create that pomp shape. And last but not least is the pompadour mohawk aka the pomp hawk. It's a pompadour with undercut sides and a strip of hair down the back.
All of these looks happen to be pomp fades with the addition of a shaved line. Use a straight line in contrast to the pompadour or a curved line that follows the arc of a crop fade down the back. Another option is a hard part that is shaved in.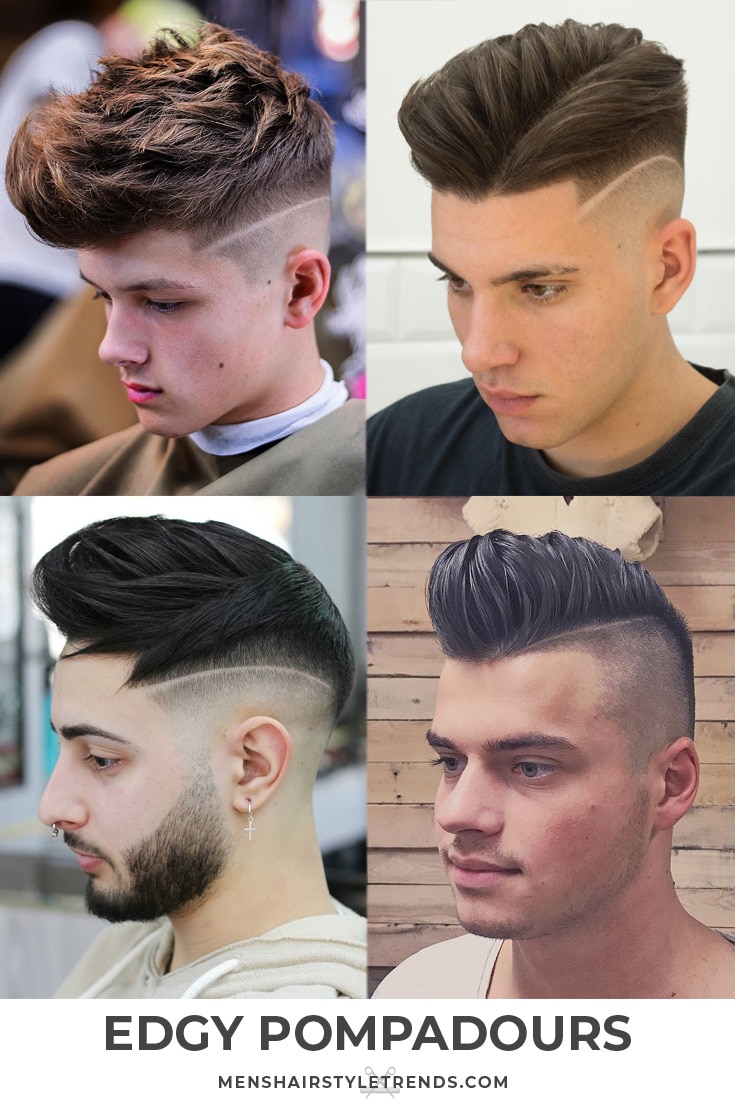 (L-R Jarreds Barbers – Javi the Barber – Juan Manuel Ortiz Abad – Brü Pomade)
4. Messy Pompadour Hairstyles
Another way to update a pompadour is to add some tousled texture. This is a huge men's hair trend for all lengths and types of styles that can be added to a pomp in a variety of ways. Add texture behind a spiked up quiff. Use some wavy texture to add some movement and natural finish. Finish up a spiky mohawk with a pomp at the forehead. Or just style thick hair with fingers for a modern and on-trend finish.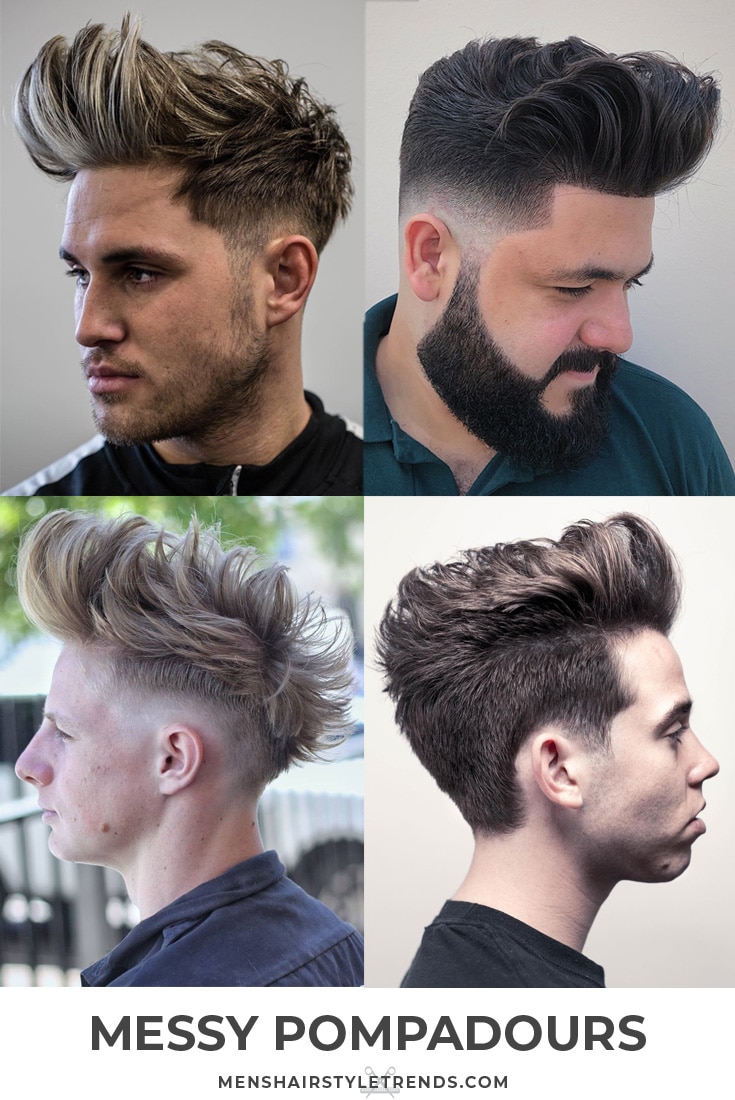 (L-R Tom Baxter Hair – Seu Elias – We Married Hair – Andrew Does Hair)
5. Short Pompadour Haircuts
A pompadour can be styled with only a few inches of hair. If you want the look with short hair, concentrate length along the forehead for maximum height with minimum length. For shorter hair, a pompadour haircut can be styled almost vertically to maximize height with the rounded profile.
Sides can be faded down to the skin or tapered short. The short pompadour works really well for thick hair but also for finer hair or even wavy and curly locks.
This look can be as easy to style as you make it. Just let hair dry and work a matte pomade through it with fingers. You can finish with a comb or add additional texture. Blow drying will add more height but is not required. A short pomp is an easy way to get this classic men's hairstyle with a modern finish.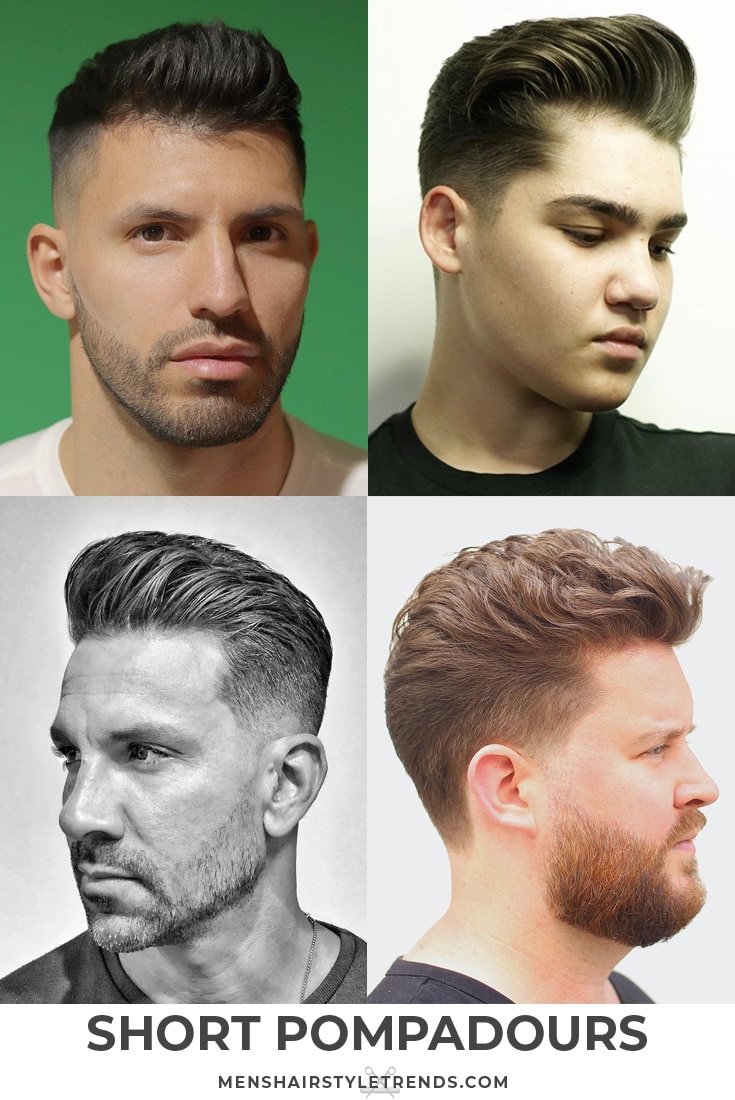 (L-R Alan Beak –Justin Armani –Ramses –Matthew Conrad)
6. Pompadour Fade Haircuts
The pompadour plus fade is a winning combination. Shaved sides make hair easier to style while emphasizing the height and profile of the pomp. Concentrating hair on top also has the benefit of making hair appear thicker for thinner hair types. For guys with thick hair, there is less hair to dry, style, and manage.
Pompadours can be worn with all types of fade haircuts – low, mid and high. Low fades have a more traditional look while drop or undercut fades are more modern.
For something extra, add a shaved side part or hair design. Another fresh and unexpected way to finish these modern pomps is with a neckline hair design.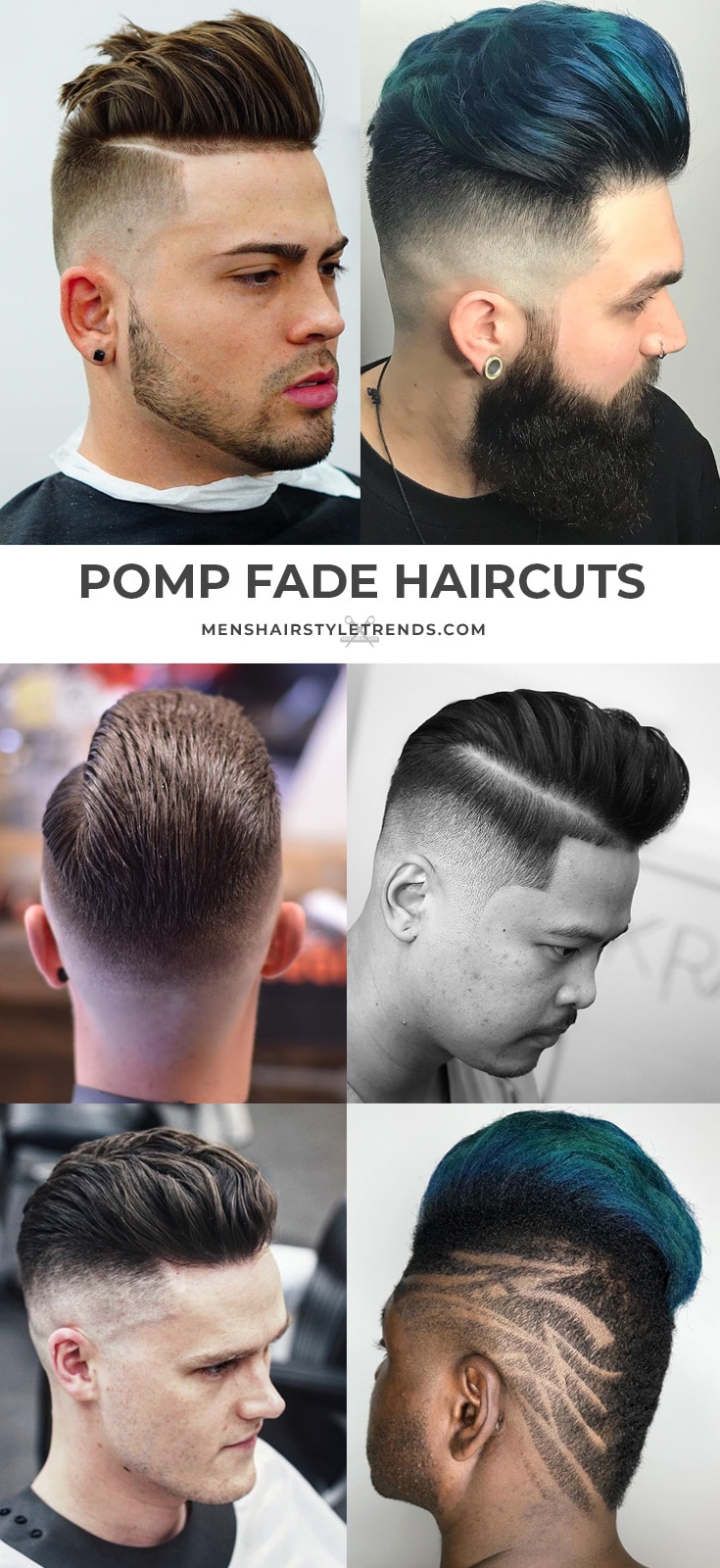 (L-R Criztofferson – Jerrin Hawes – Ry Smith – Dre Hair – Nomad Barber BLN – Jerrin Hawes)
Now that we know about the different types of pompadour haircuts and hairstyles let's take a look at some more cool styles of this look.
Below is a great collection of pompadour haircuts with retro and modern ways to style this favorite men's hairstyle.
Scroll down and check out 45 additional fresh pompadour haircut pictures for modern, classic, and trendy ways to get the look.
1. Tall Rounded Pompadour Haircut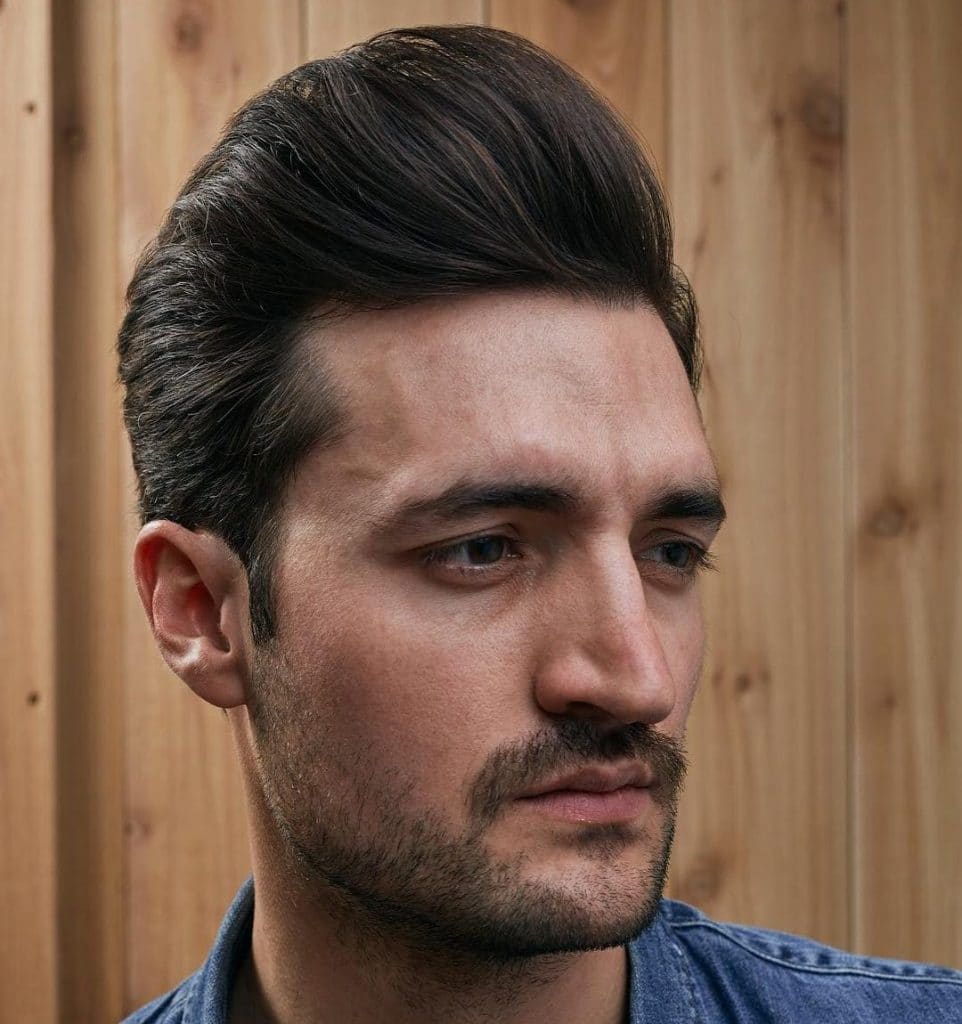 This tall pomp is a modern classic for the hipster set embracing past trends.
2. Messy Pompadour With Tapered Sides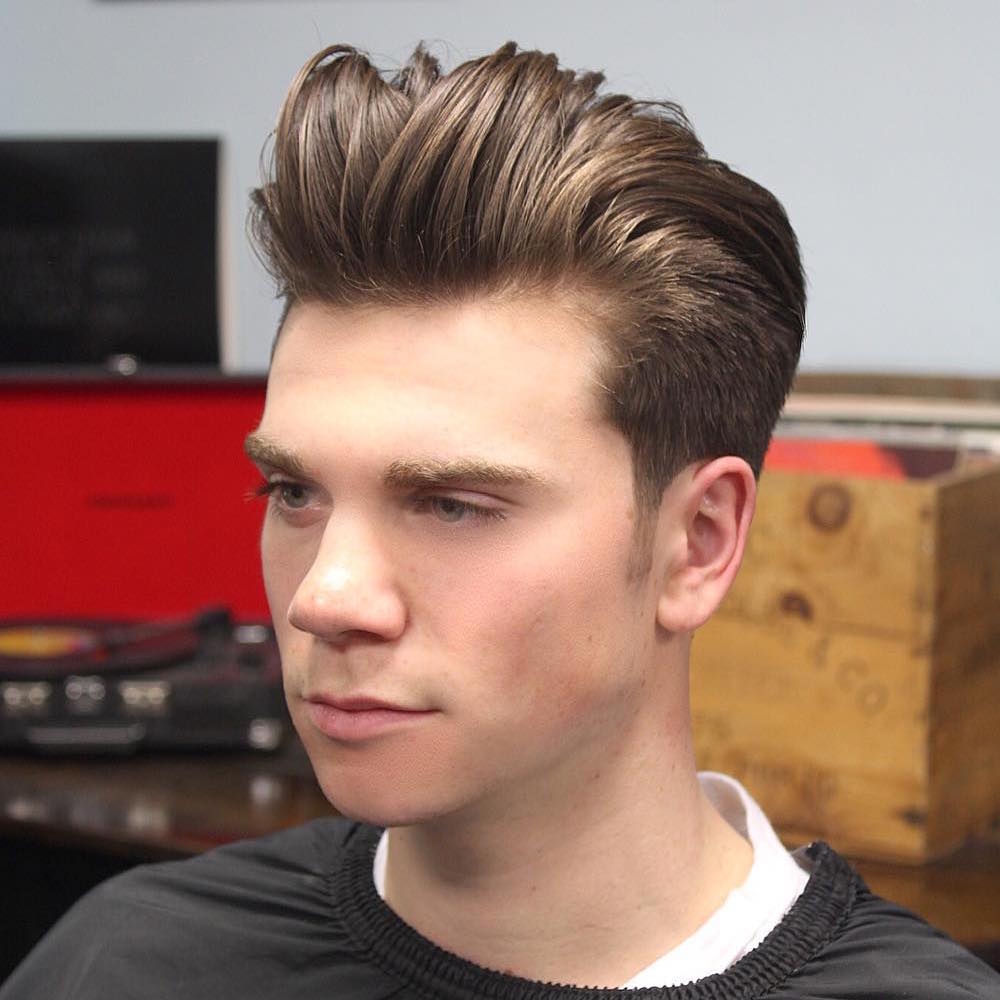 This taper haircut features short sides and medium length hair on top styled into that classic pomp shape with messy texture.
3. Pompadour Haircut + Low Fade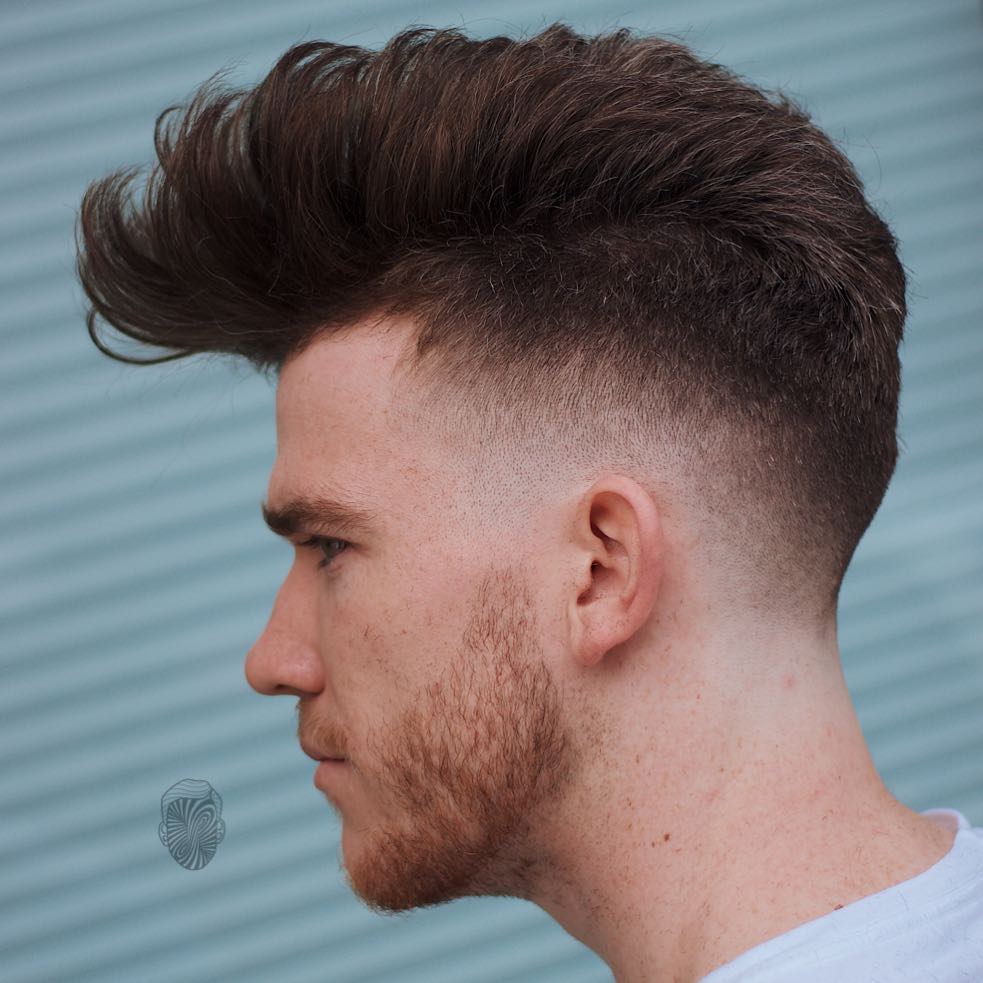 This low fade haircut emphasizes the shape of this forward-styled pompadour.
4. Pomp Fade + Shaved Line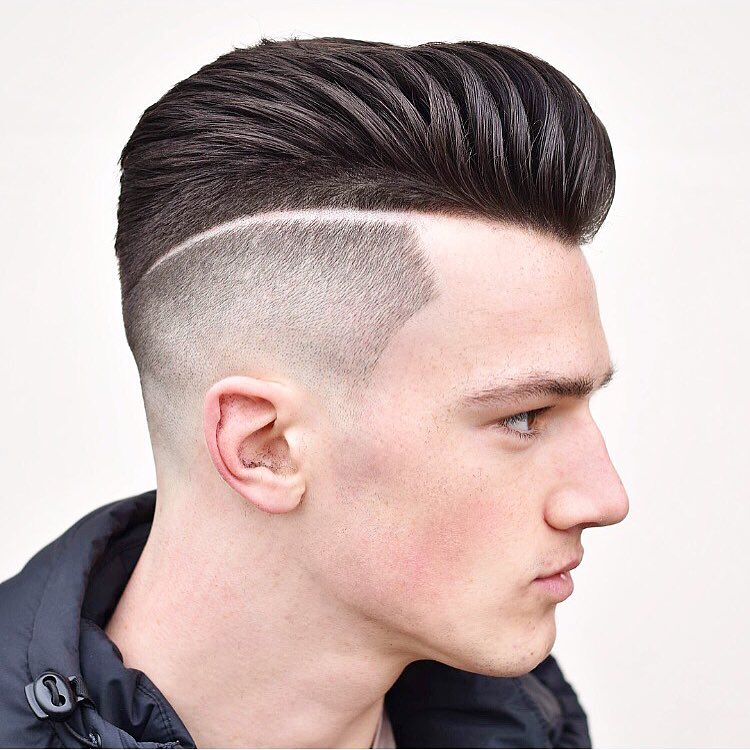 This cool cut combines a modern hair design with a low pomp.
5. Taper Haircut + Ducktail + Asymmetrical Hairline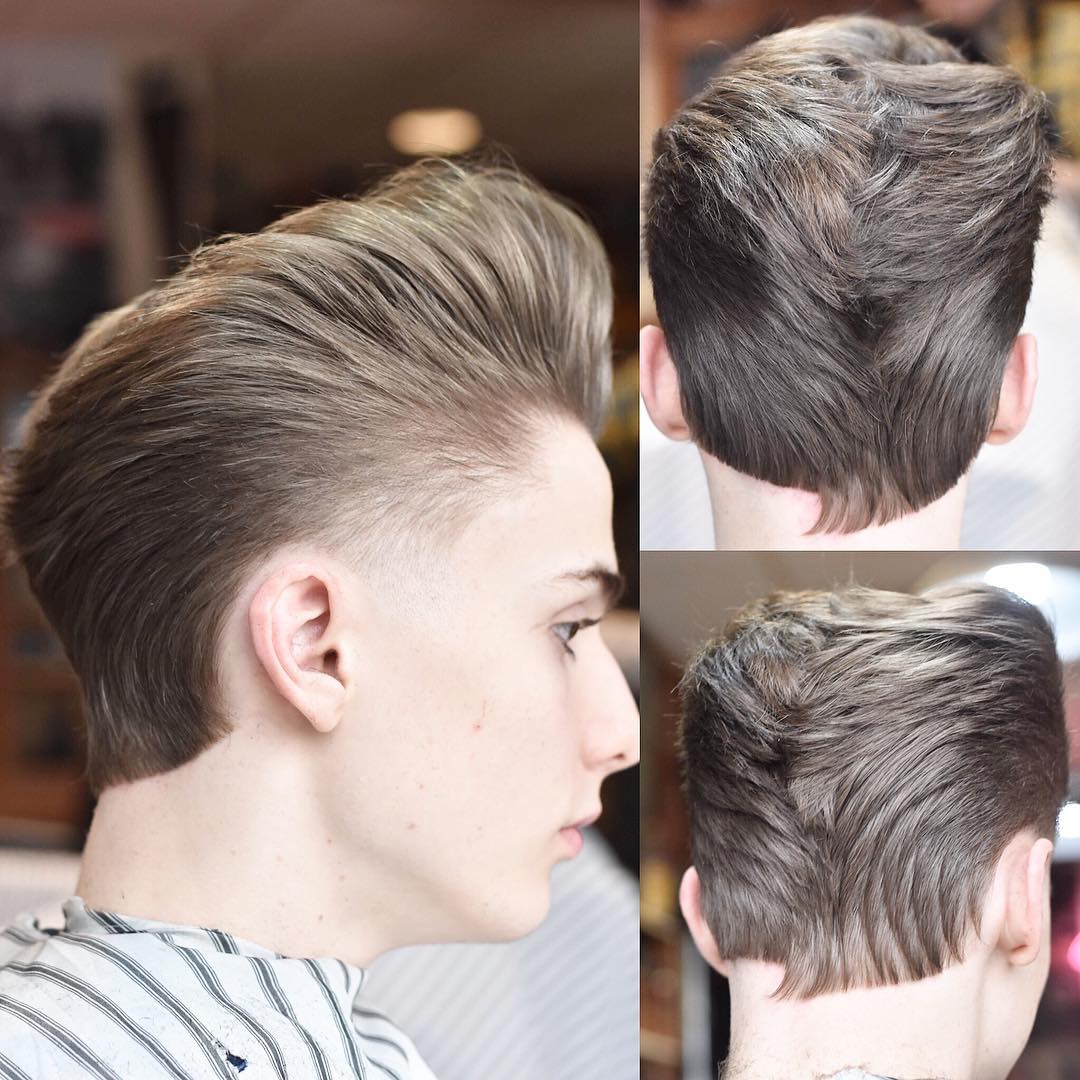 This cut and style gets creative at the back with a matte and messy ducktail and asymmetrical neckline.
6. Soft Texture + Mid Fade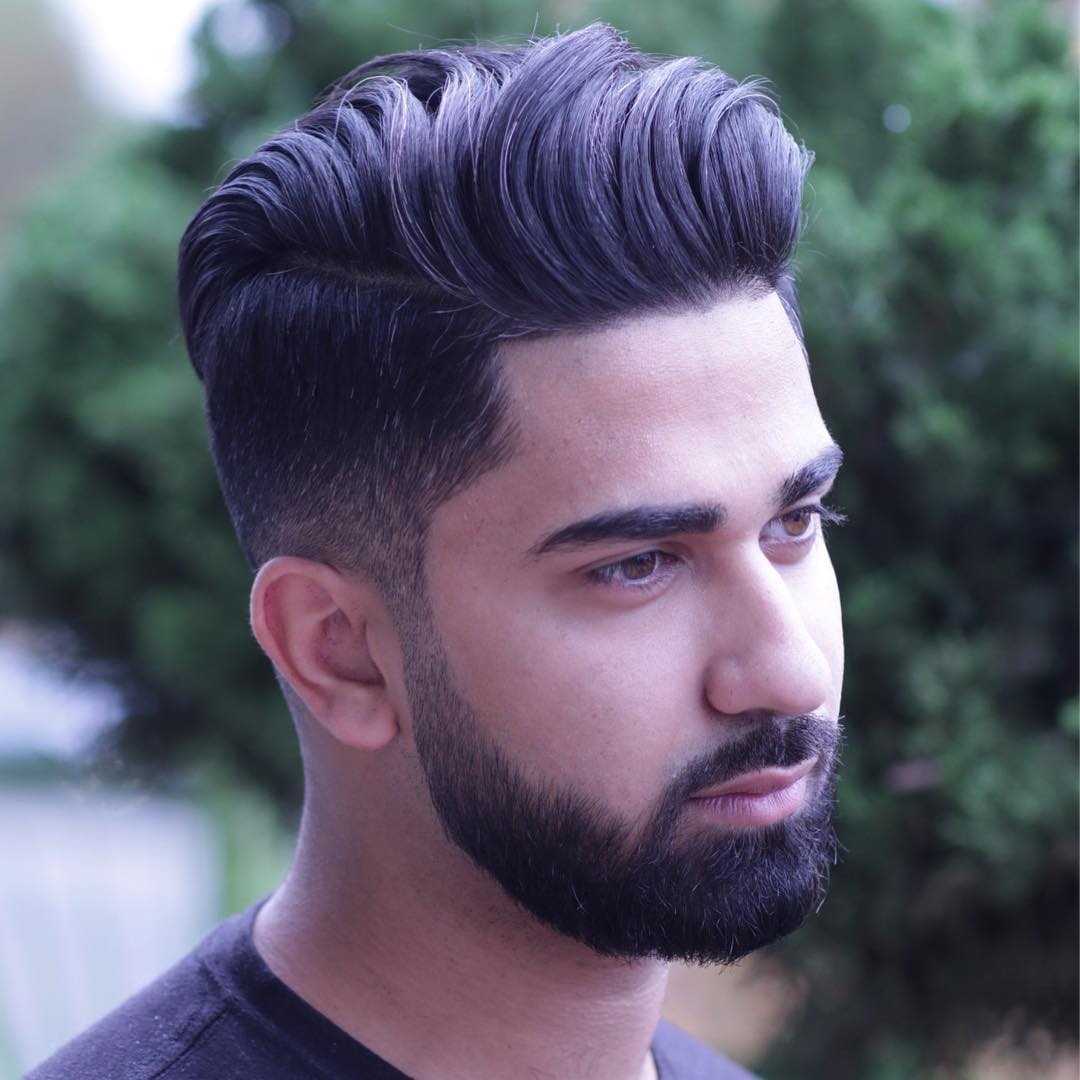 A high fade can make a pomp easier to style because the sides don't need any attention. This cool look features thick, medium-length hair styled to the side with lots of movement and flow.
7. Loose Pompadour Haircut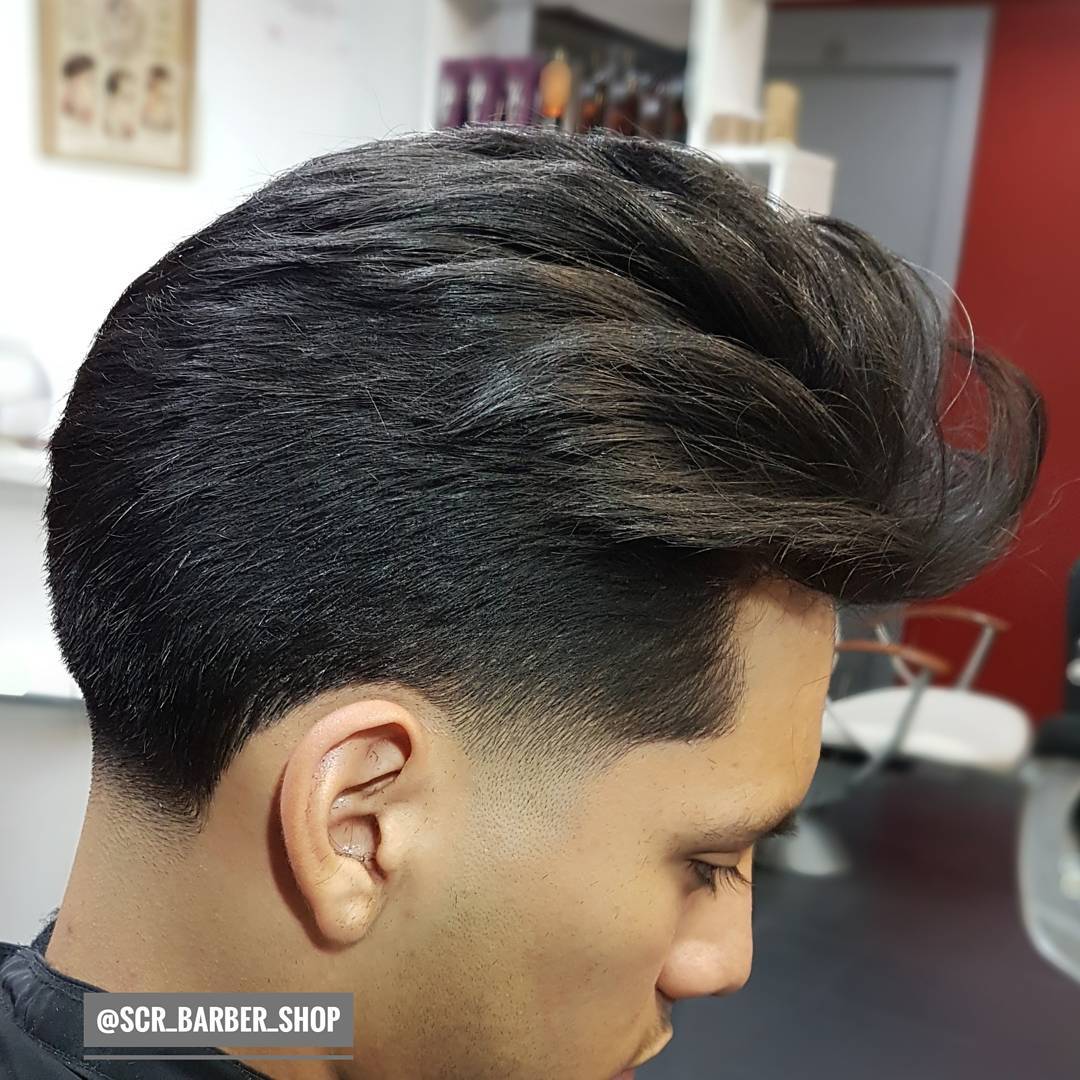 Another modern way to style the pompadour is with loose, textured volume.
8. Pompadour + Faded Sides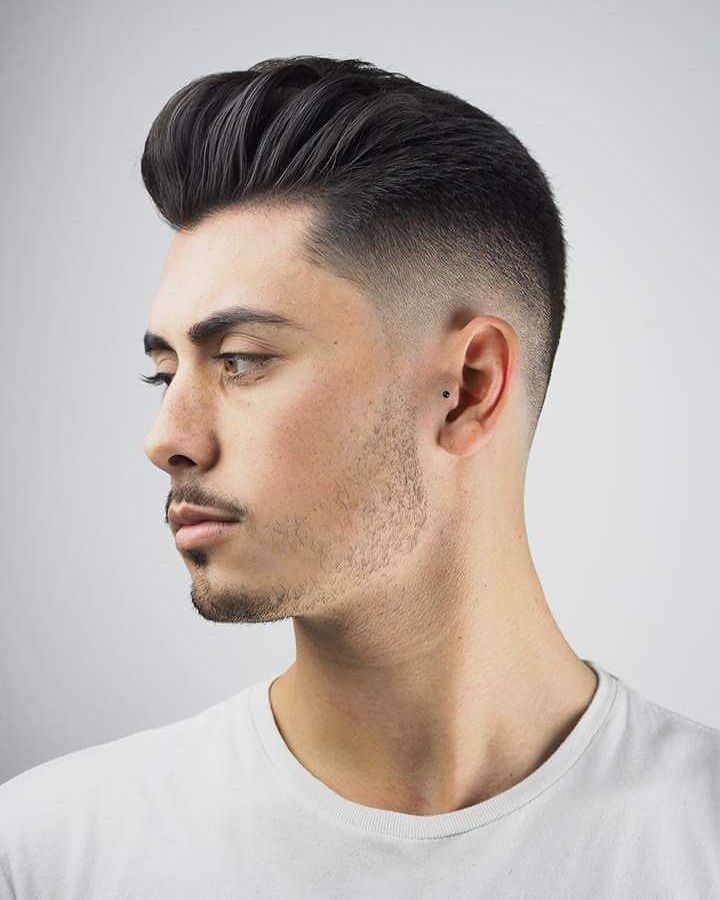 This cool pomp has some texture and a low bald fade for clean-cut the edges.
9. Classic Pompadour + Handlebar Mustache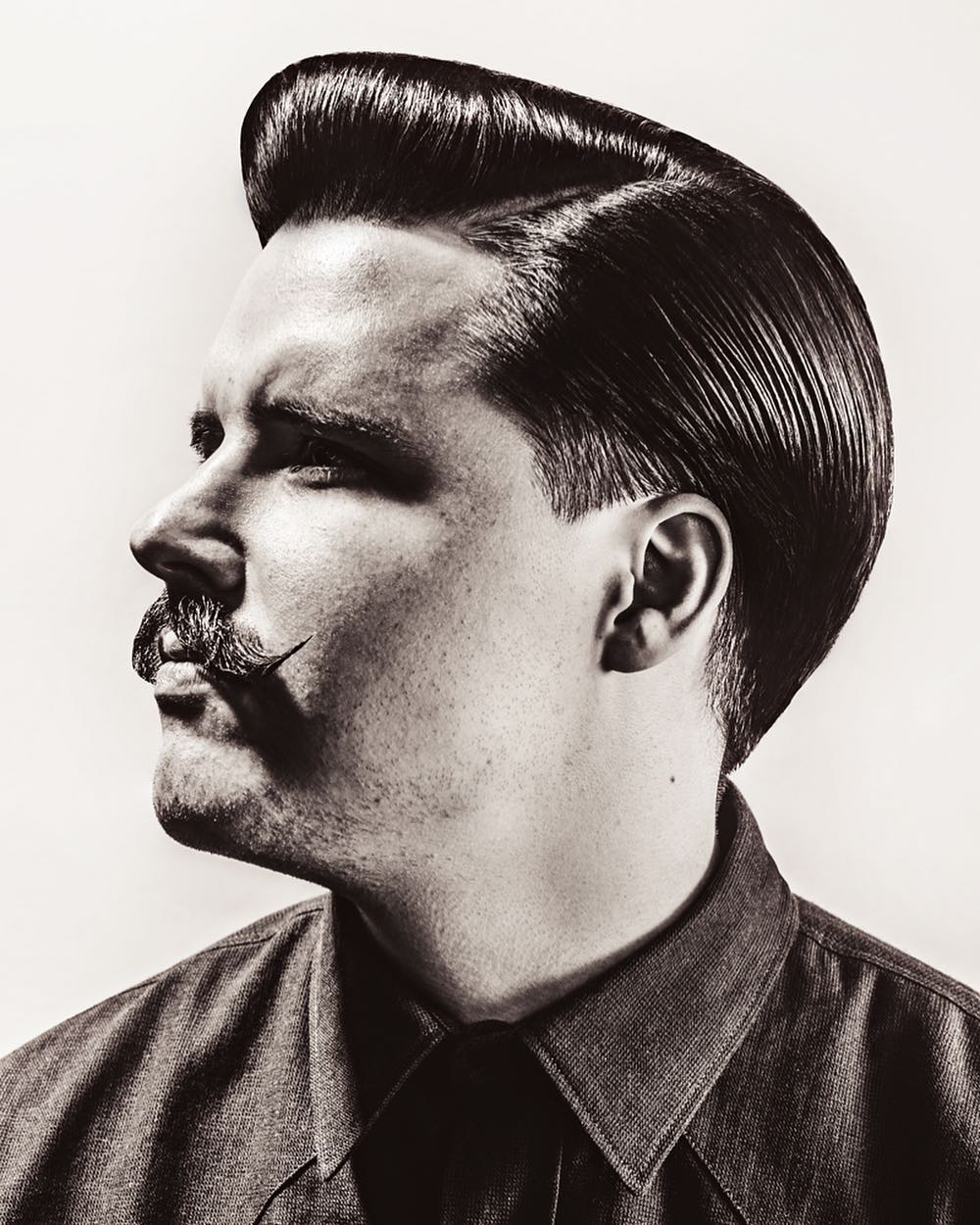 If you're committed to a classic pomp, it's all about a shiny finish and comb lines. This version has a cool angled part, short sideburns, and a handlebar mustache.
10. Greaser Pompadour + Drop Fade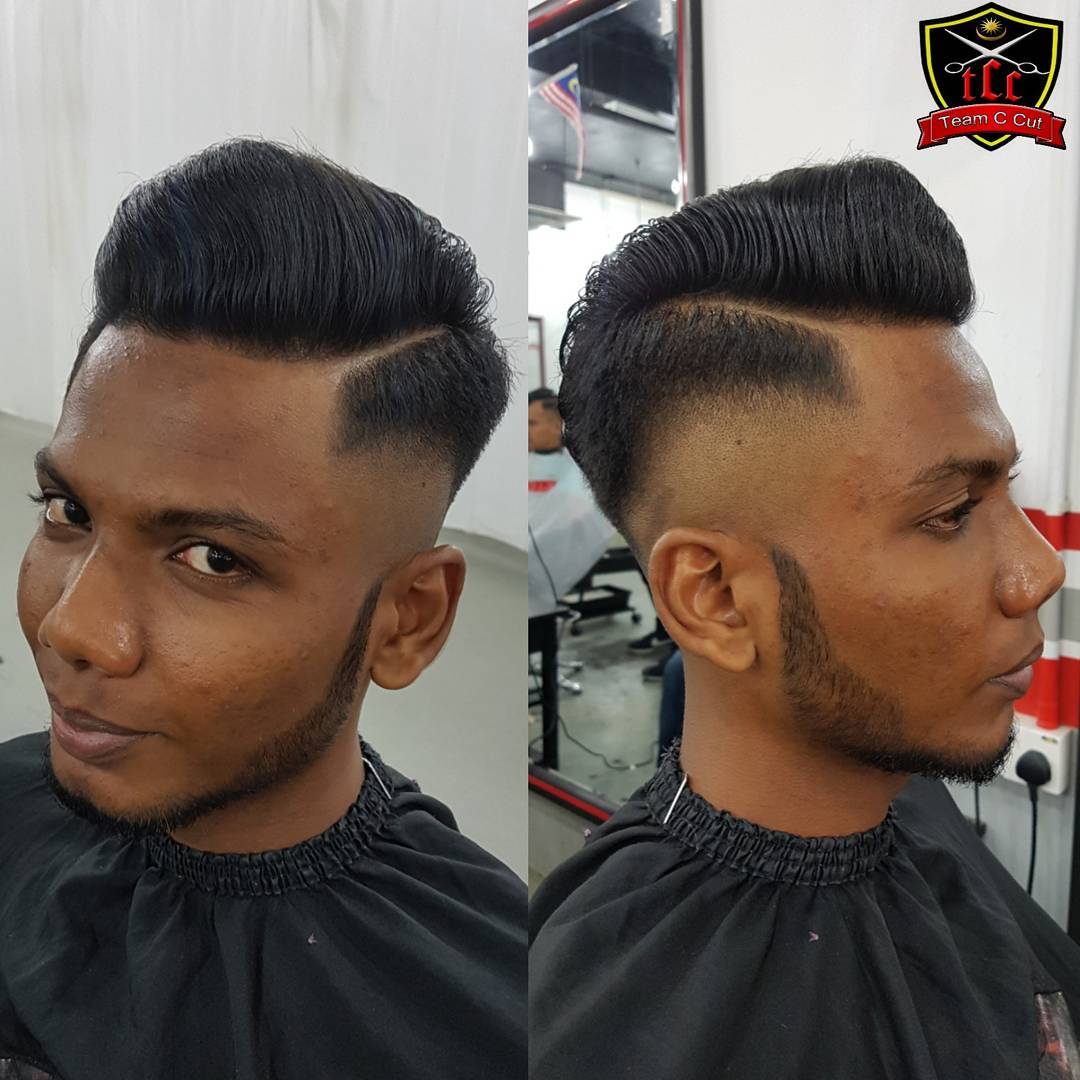 For guys with thick and/or coarse hair, the greaser pomp is an easy and cool way to tame hair. Water-based pomades are just as strong as their oil-based counterparts but wash out with shampoo. A drop fade and chin strap add modern touches to the vintage hair.
11. Flat-top Pompadour Haircut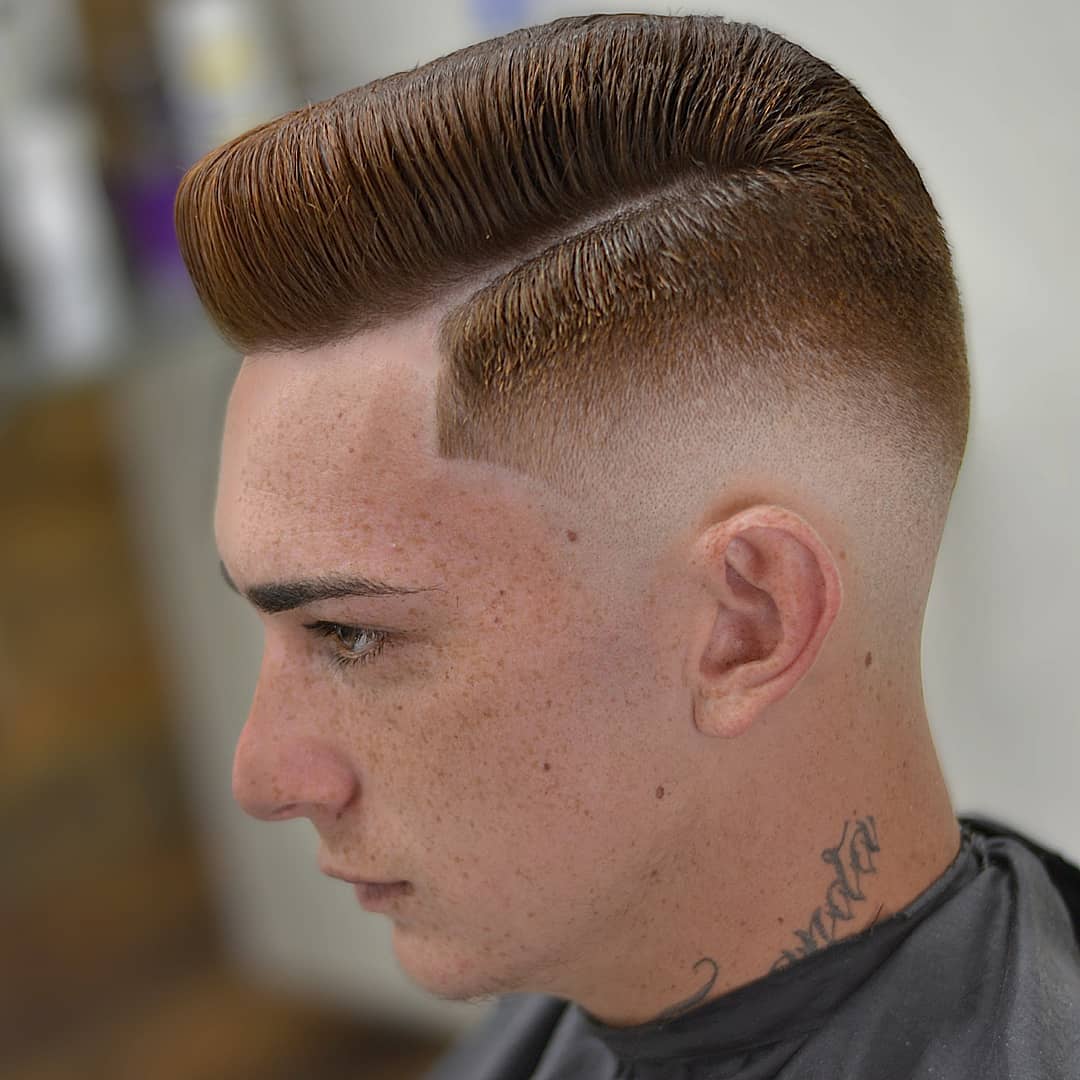 This fresh look combines two retro classics, the pompadour and flat top. A defined part and bald fade add to the clean cut style.
12. Medium Length Pompadour Hairstyle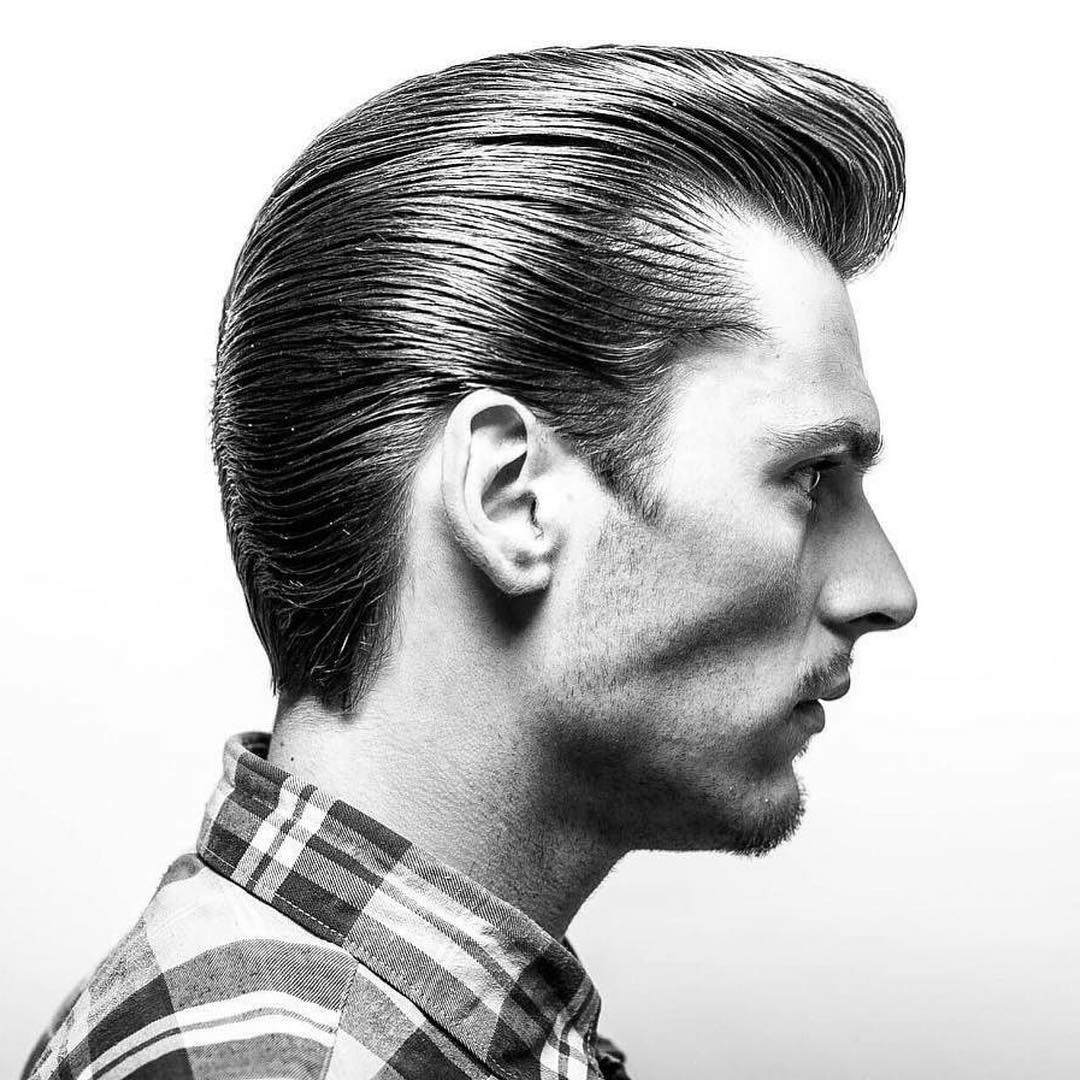 This medium length taper haircut is slicked back all over into a vintage pomp. Update the look with a matte product and textured styling.
13. Wavy Pompadour + Bald Fade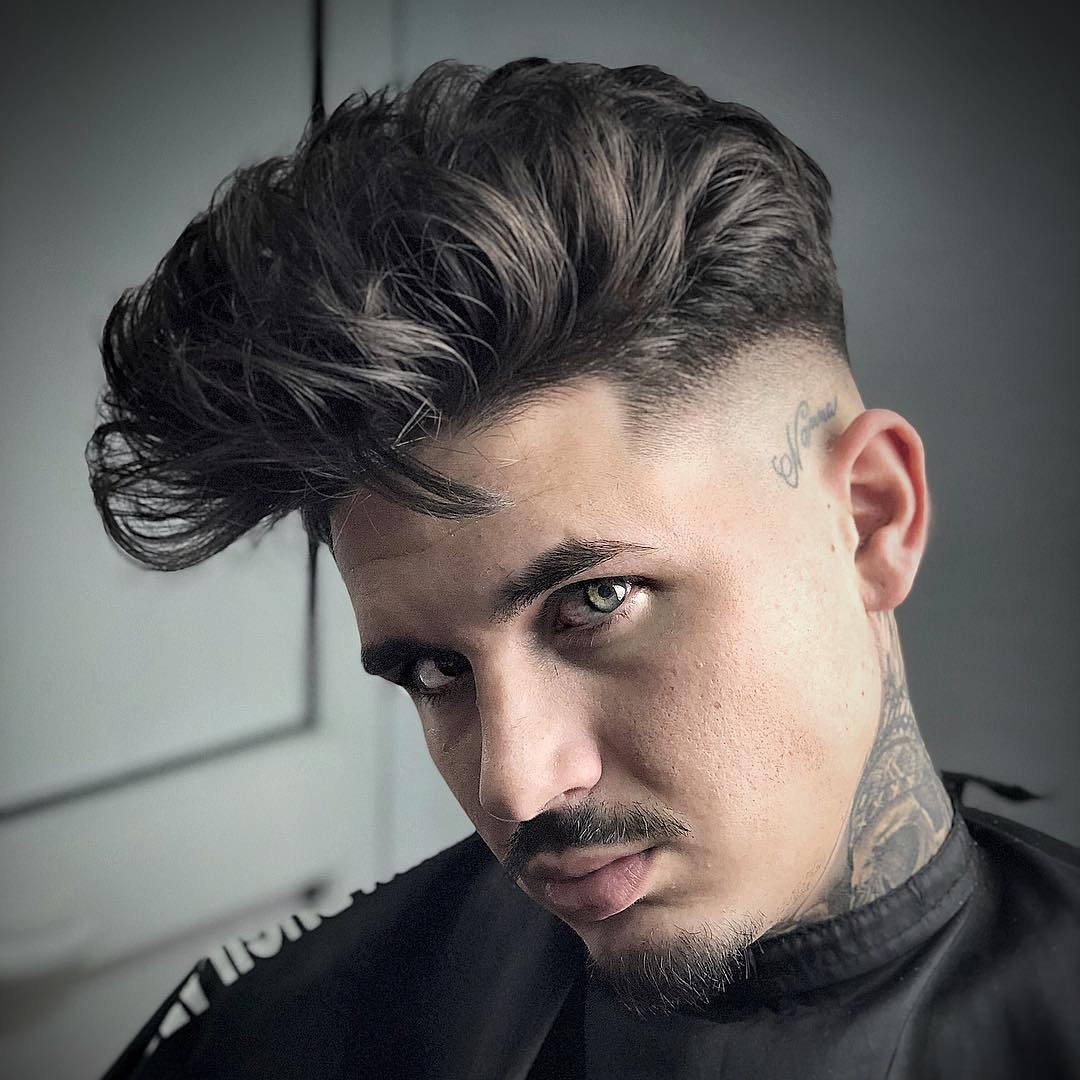 This cool style uses wavy hair add height and texture to a loose pomp.
14. Big Wavy Hair Pomp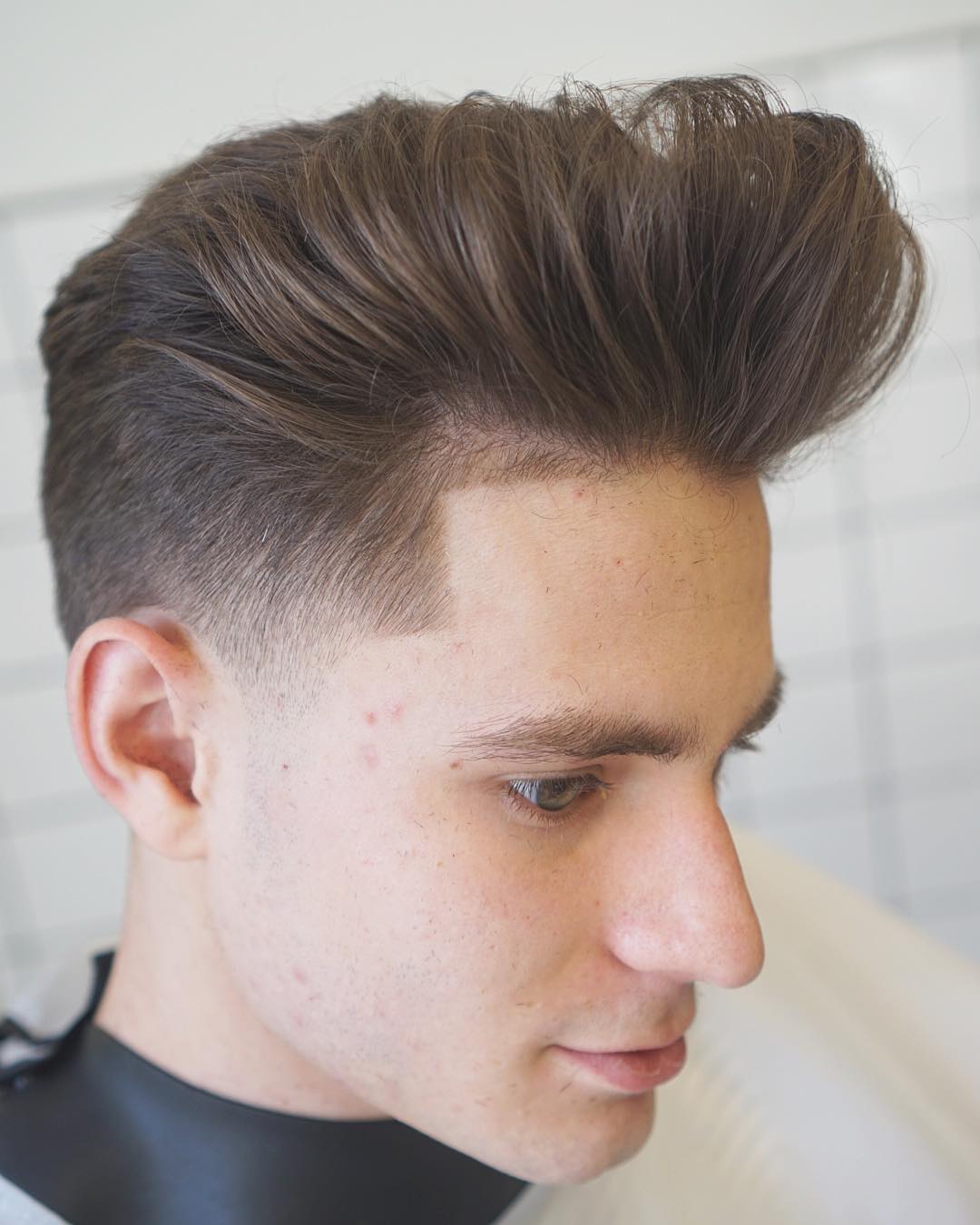 Longer hair creates a high pomp style. This pompadour haircut concentrates length at the forehead for maximum volume with minimum styling.
15. Side Part Pompadour Haircut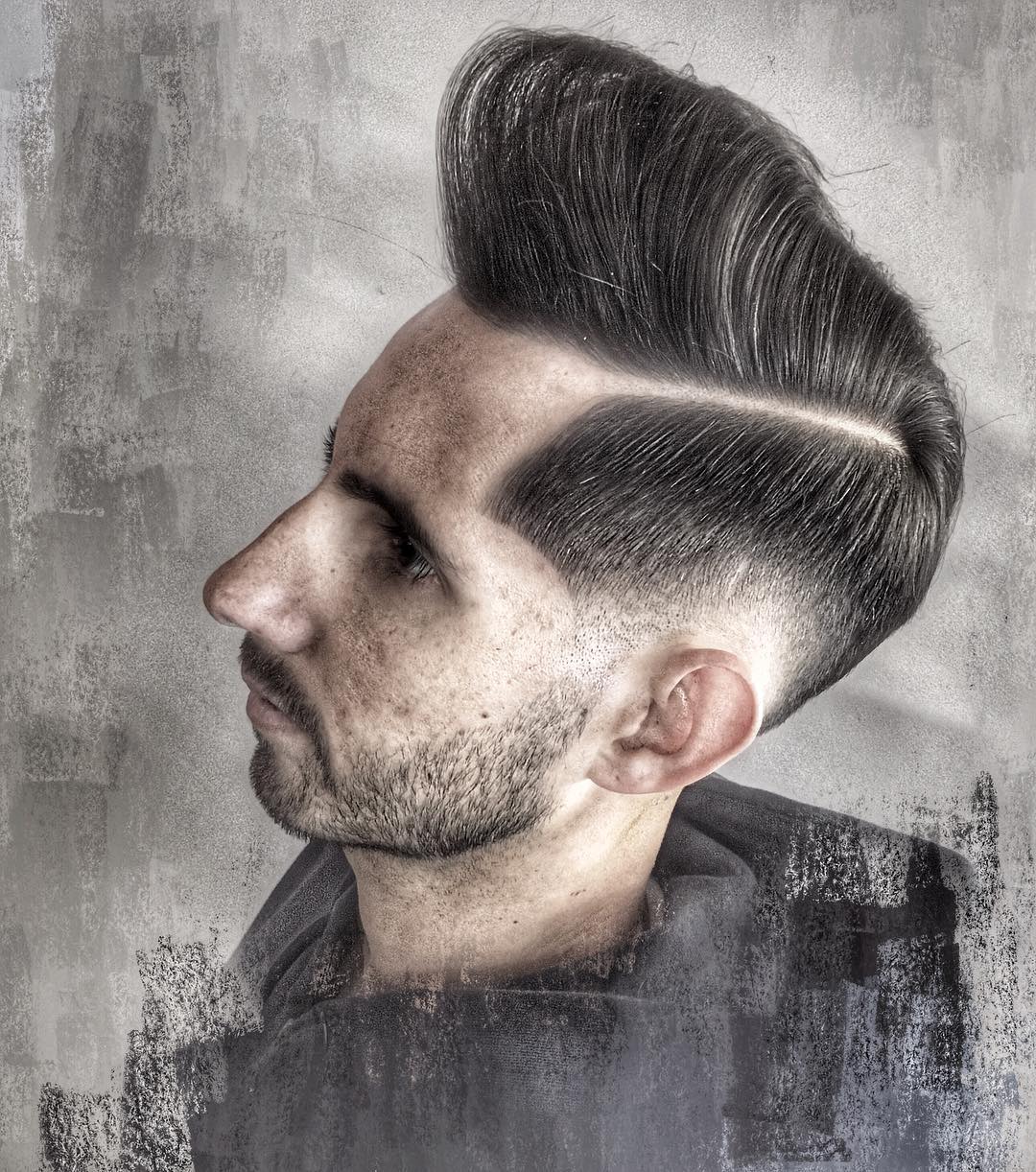 A shaved part means you know exactly where to divide the hair.
16. Cry-Baby Hair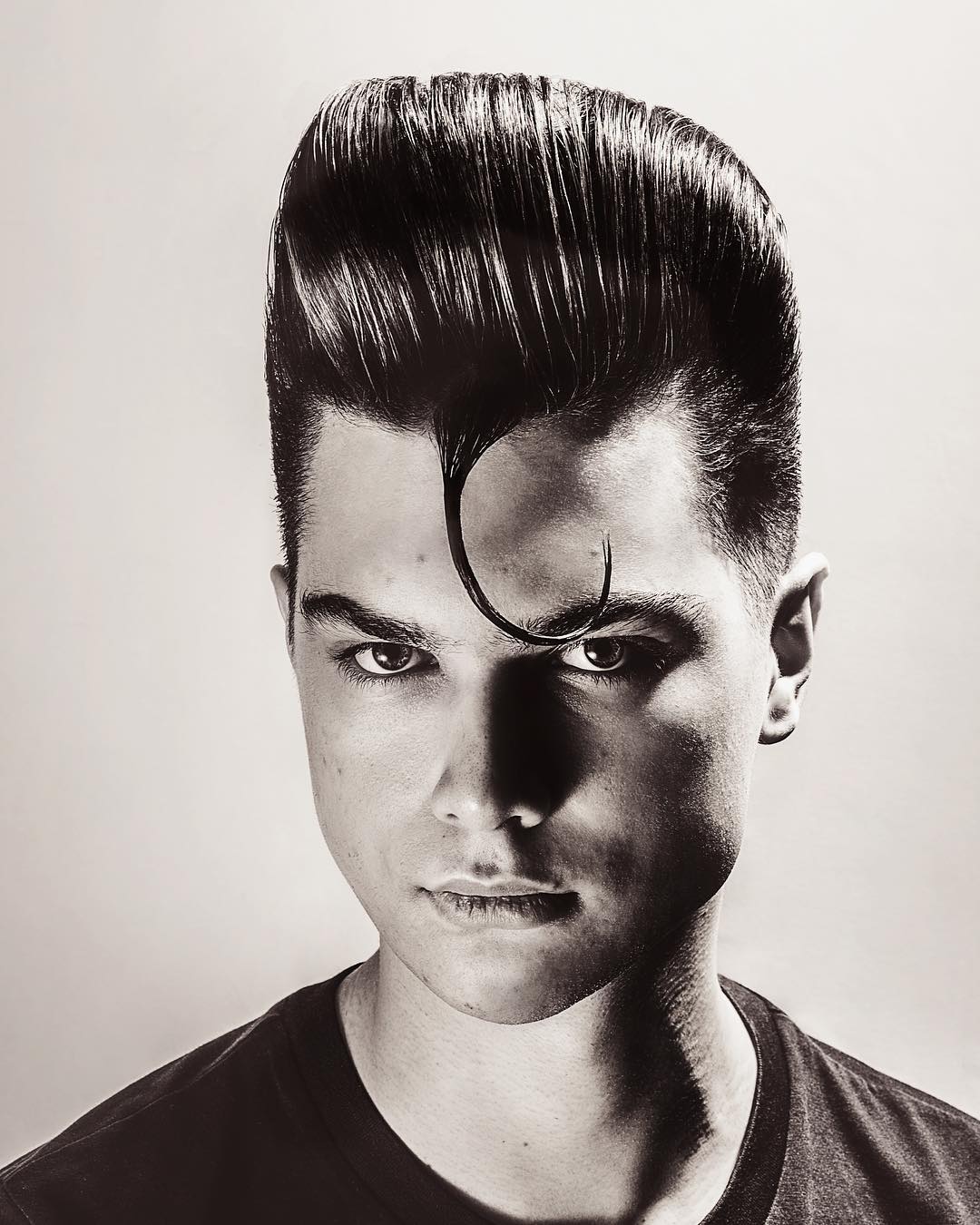 This high pomp with a forehead curl takes Johnny Depp's Cry-Baby hair to the next level.
17. How to Style a Pompadour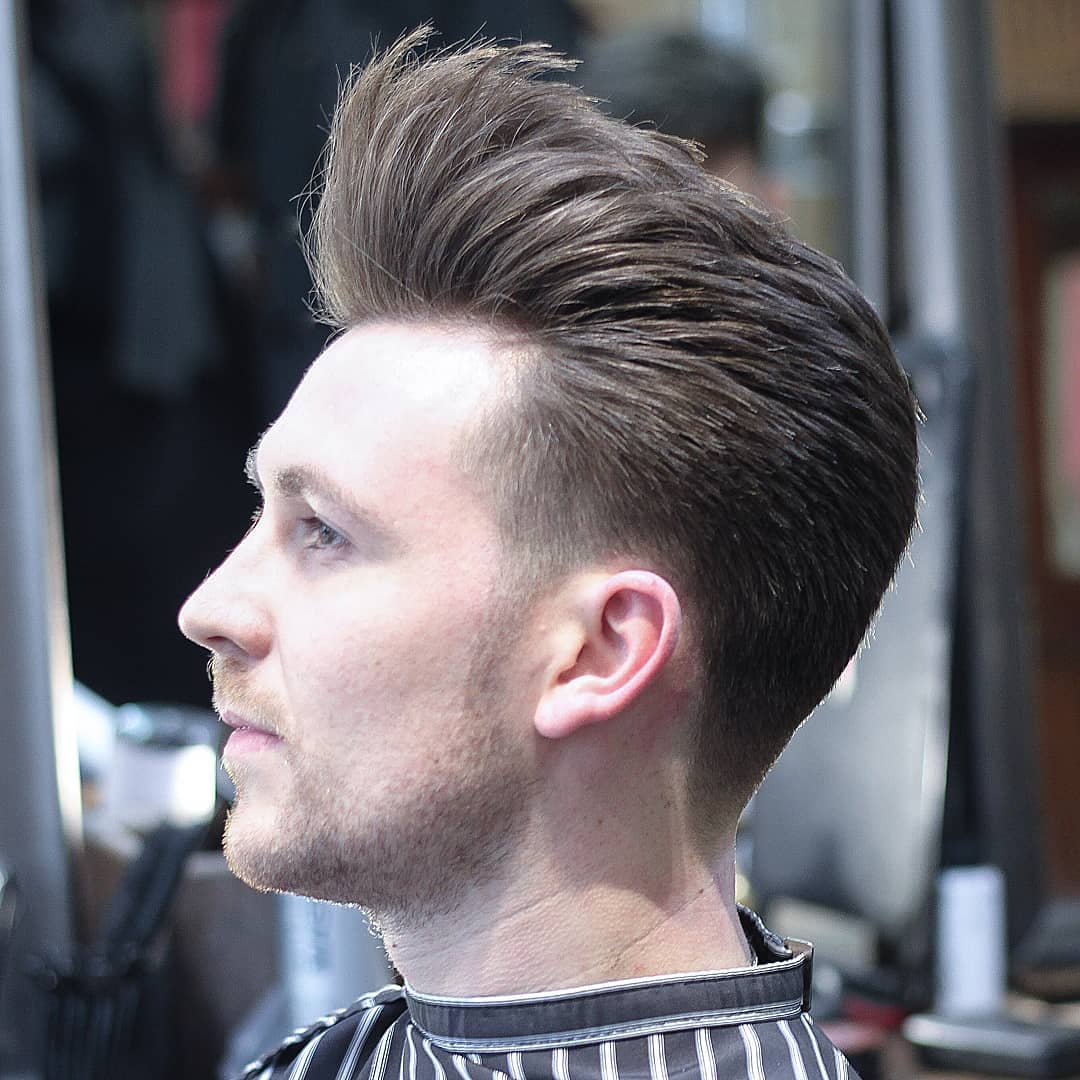 Many pompadours can be styled with pomade alone. High pomps like this one benefit from some blow-drying to train hair up and help hold hair before hair product has been applied.
18. 50s and 60s Pompadour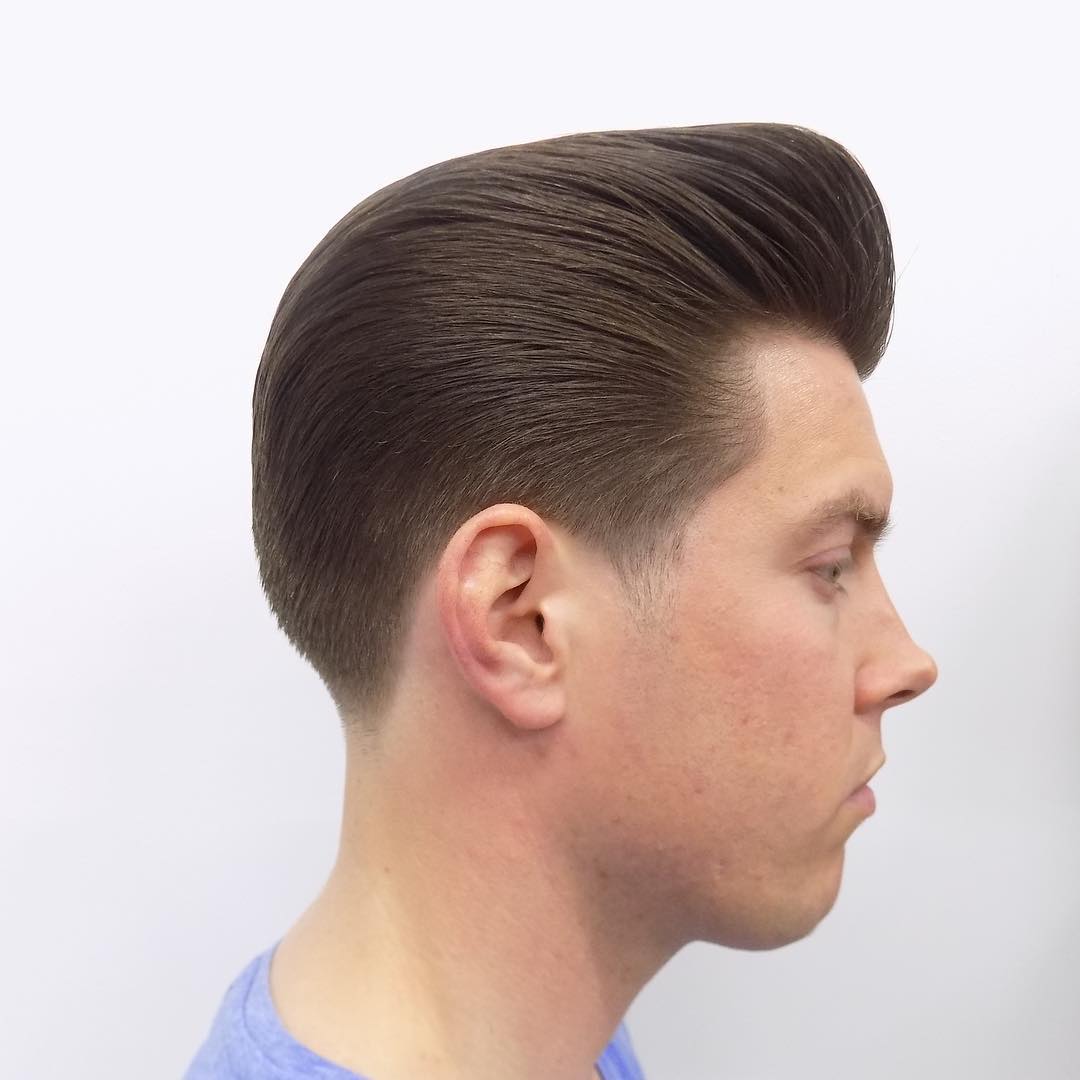 This classic pompadour looks as good in the new millennium as it did in the 50s and 60s.
19. Skin Fade Pompadour Haircut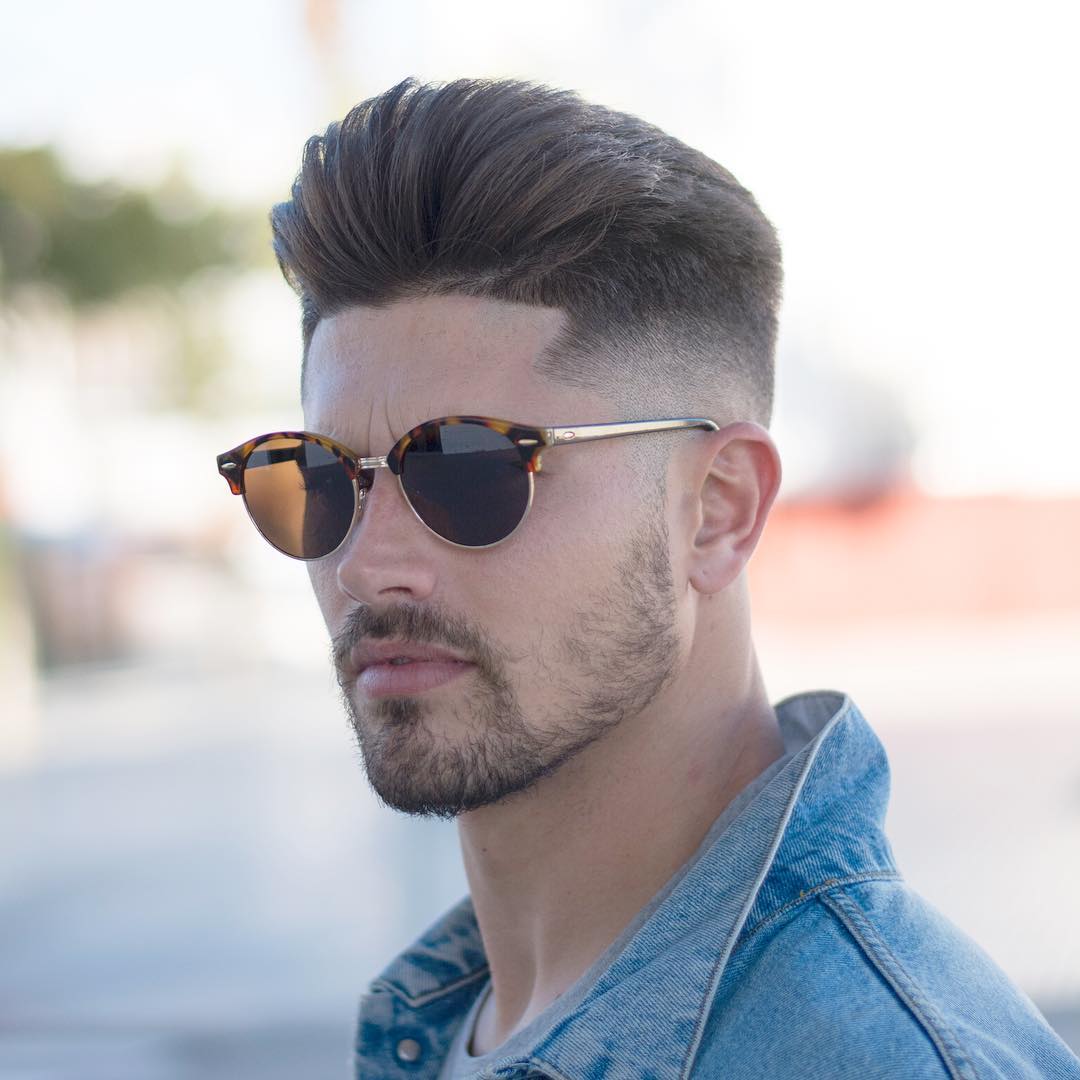 This short pompadour gets plenty of height by styling hair almost straight up. A skin fade at the sides emphasizes hair on top.
20. Undercut Pompadour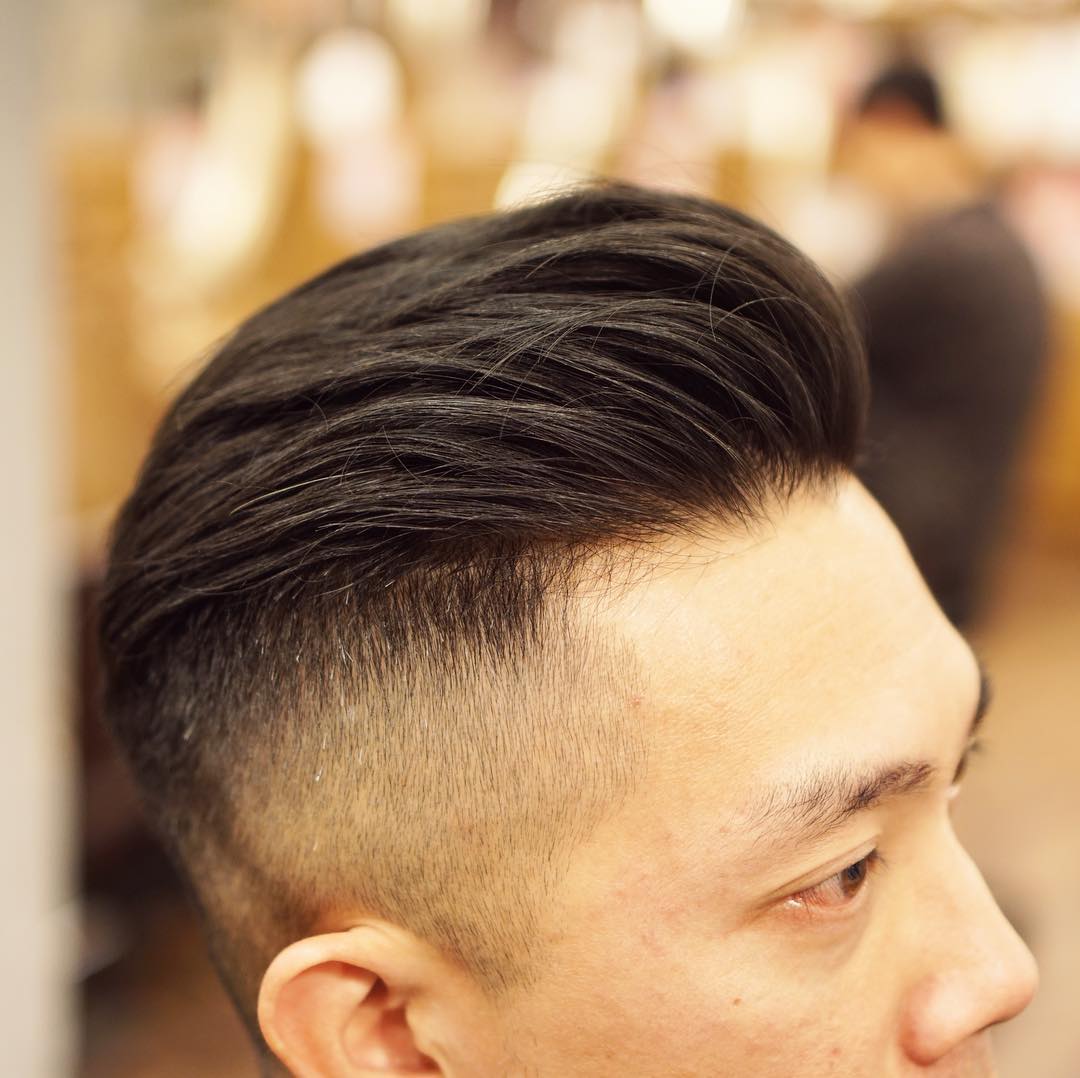 One of the most popular ways to wear a pomp in 2018 is with an undercut.
21. Medium To Long Hair Length Pompadour Haircut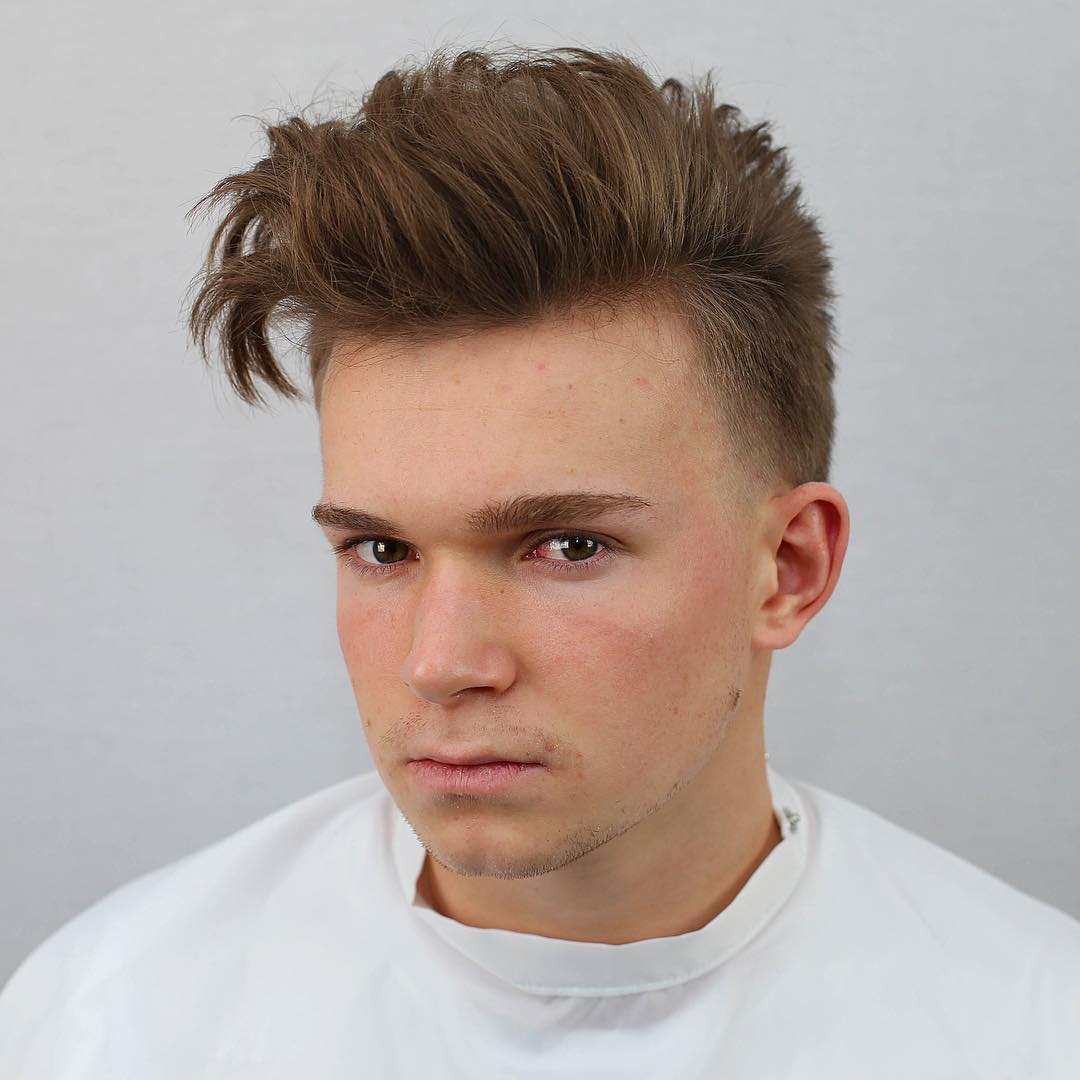 This matte and messy take on the comb over pomp is cool and modern.
22. Messy Pompadour + Fade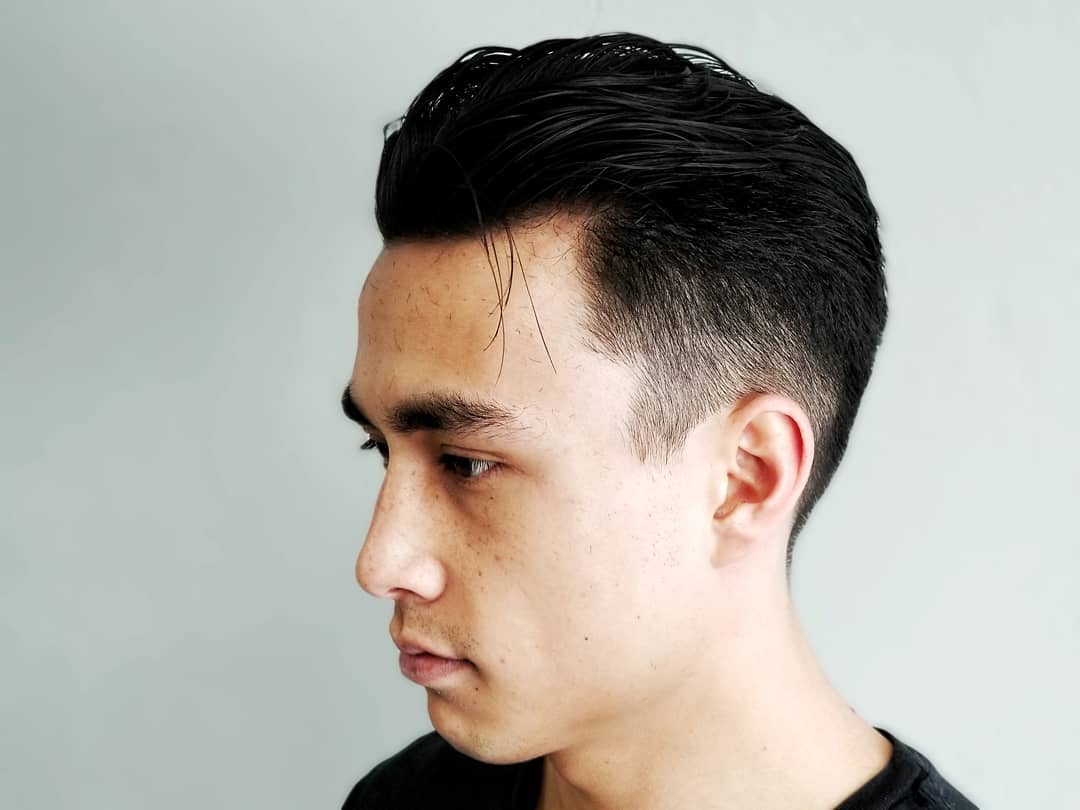 This highly textured style with faded sides contrasts messy with clean cut.
23. Wavy Hair Pompadour + Beard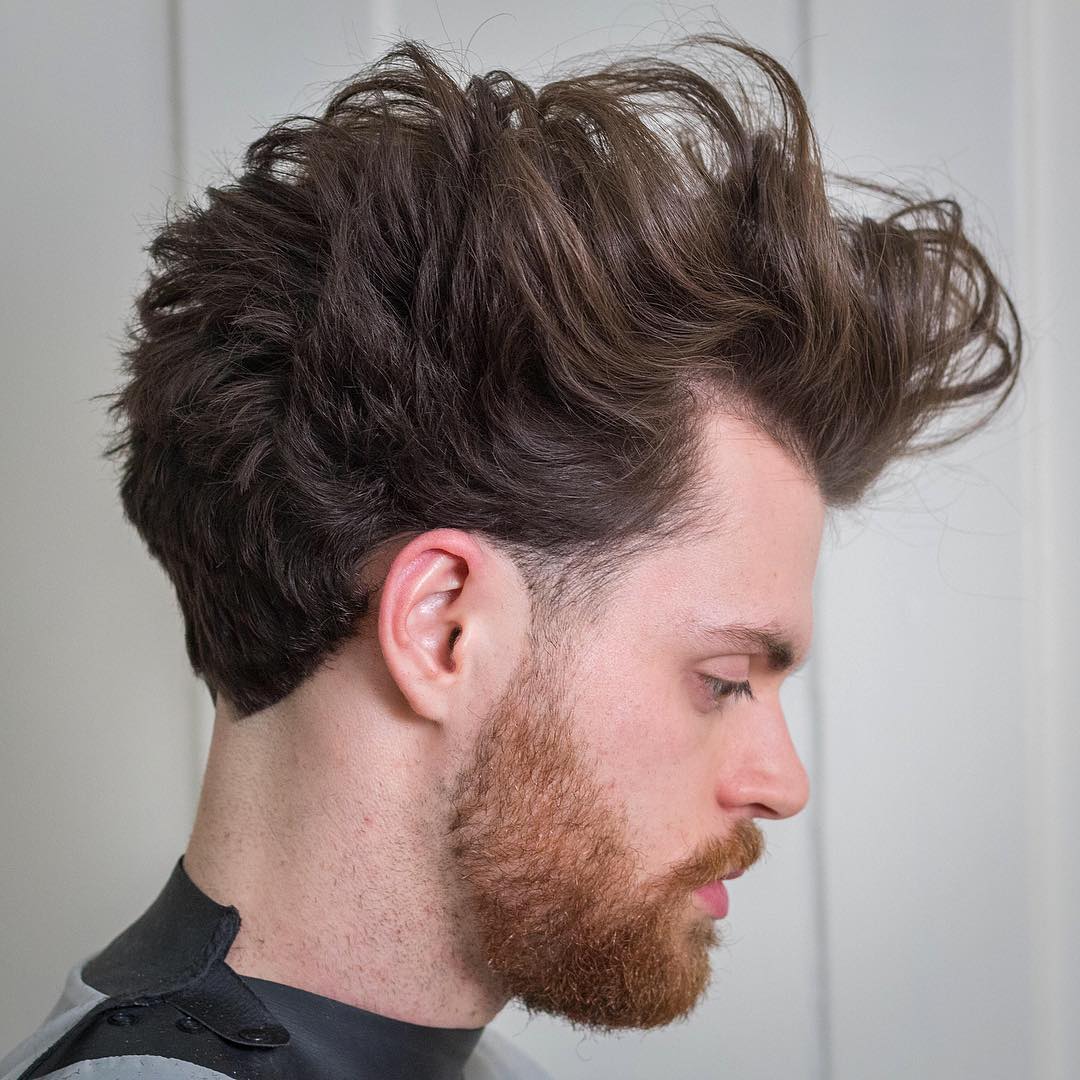 Waves don't need to be straightened to style a pompadour. Leave some wavy texture for this wild style.
24. Long Hair Pompadour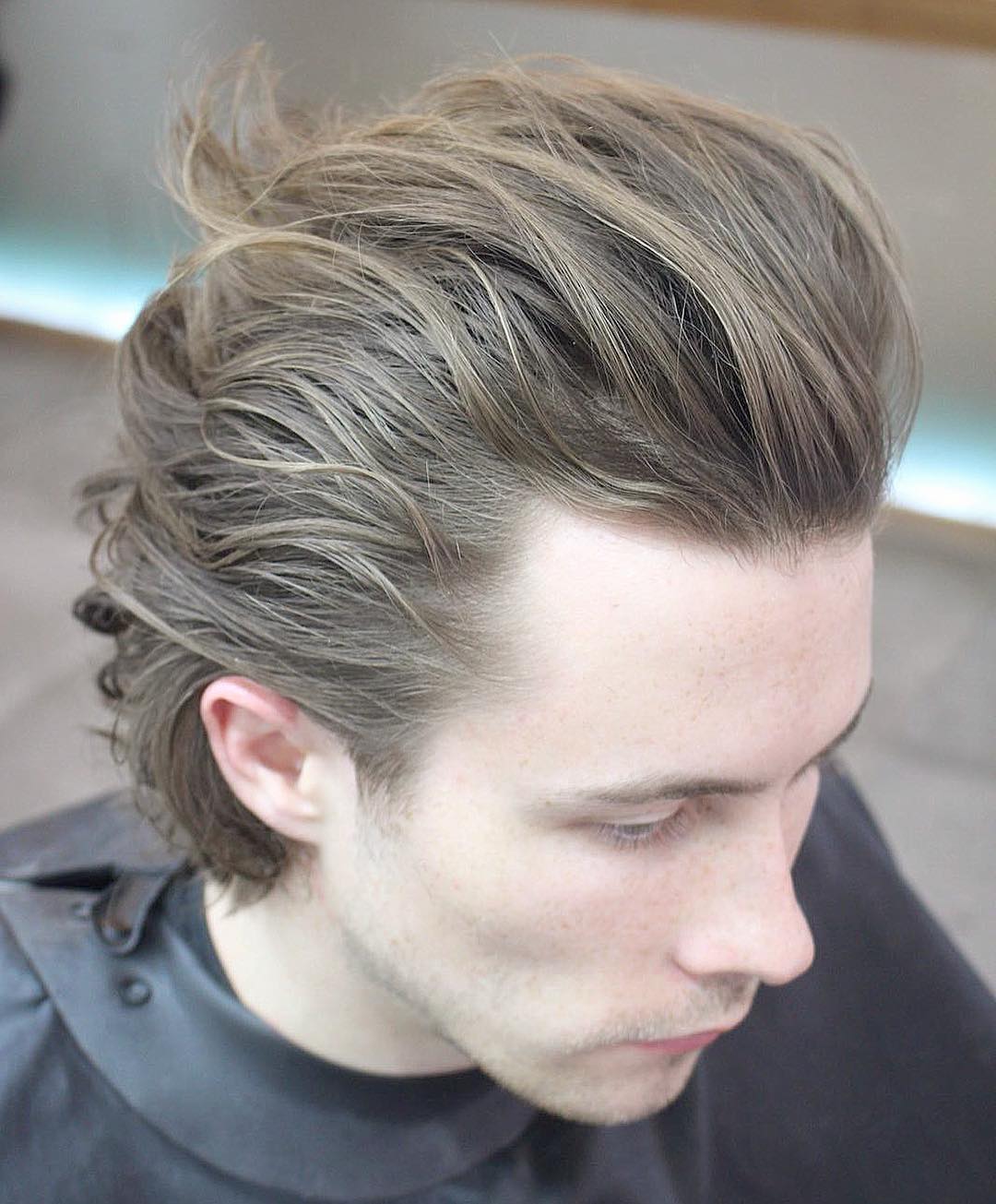 MENSPIRE Male Image & Grooming
Long hair for men has plenty of styling options, including the pompadour. It's the same styling, work all hair towards the back. A blow dryer boosts height and hold.
25. Modern Pompadour Haircut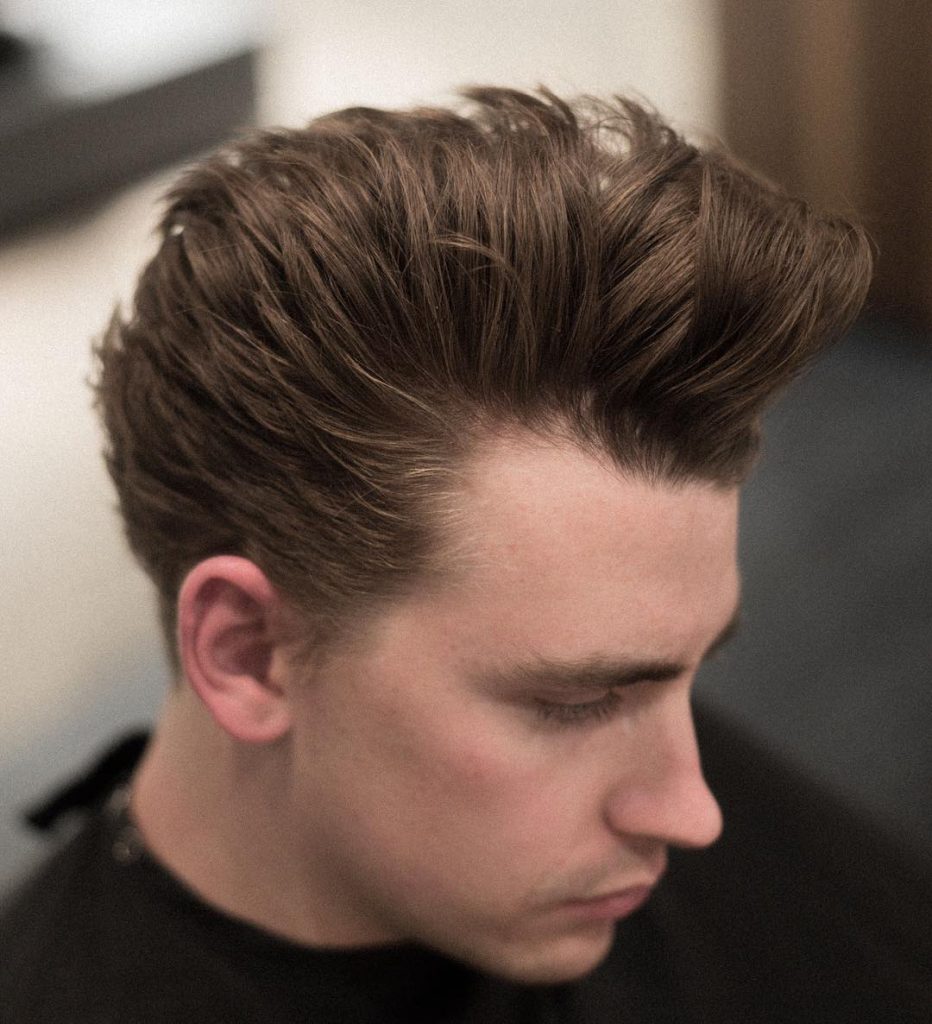 This classic pompadour shape features modern styling with a shine-free finish and a loose textured hold.
26. Classic Pompadour Haircut + Beard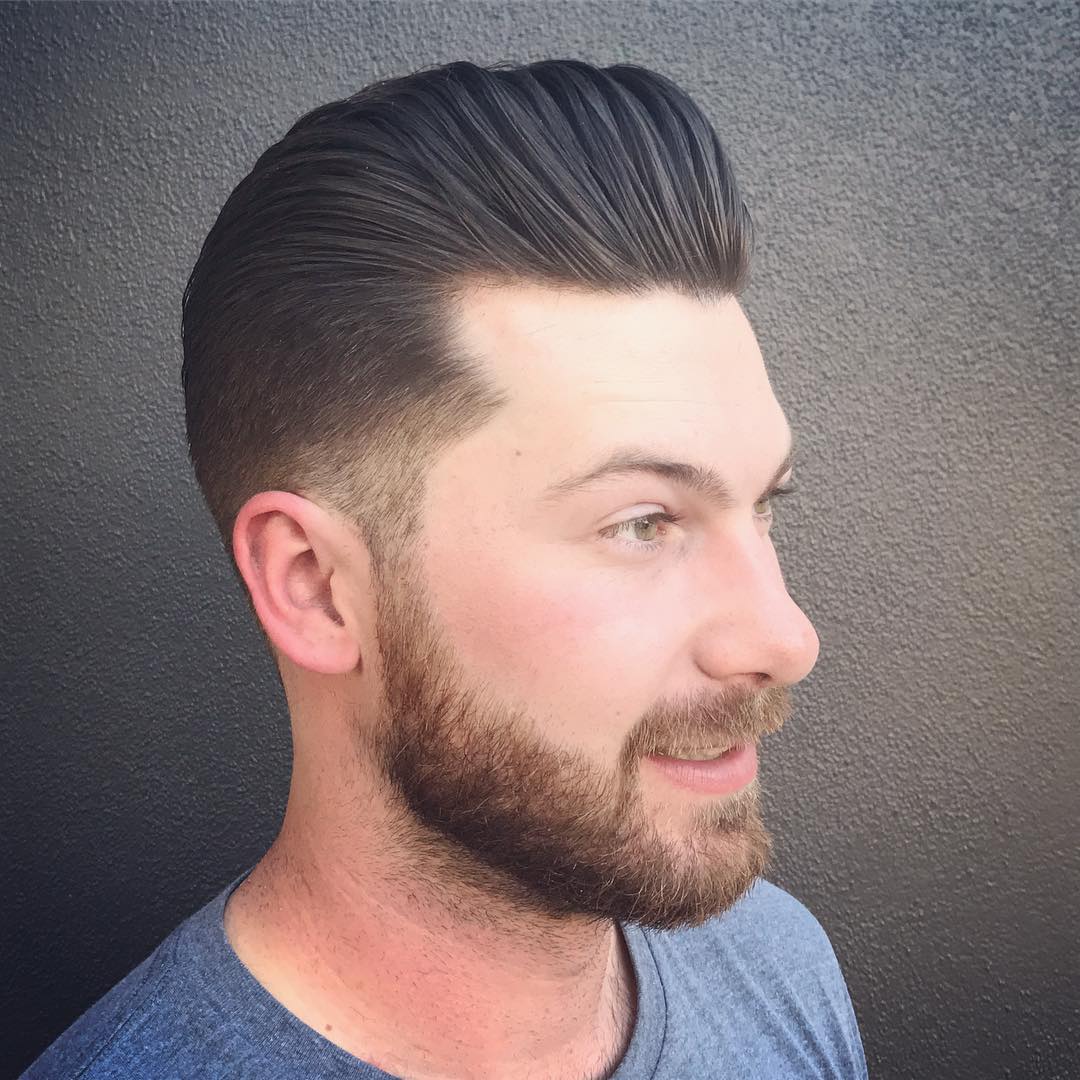 The classic pomp with the addition of a hipster beard looks as good today as a it did in the 1950s and 60s.
27. High Fade Pomp + Long On Top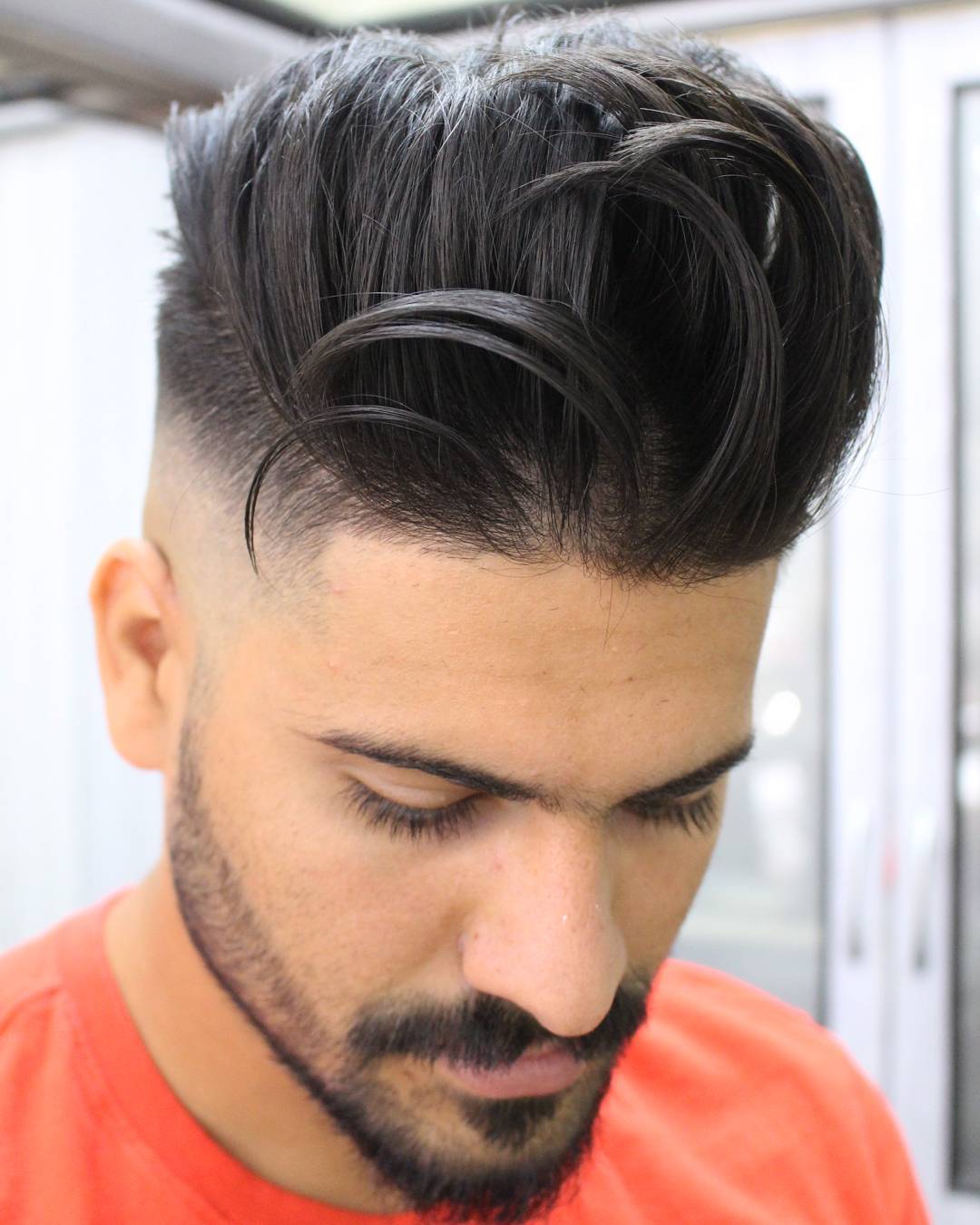 Any fade works well with a pomp because the short sides contrasting with plenty of height up top.
28. High Fade Pompadour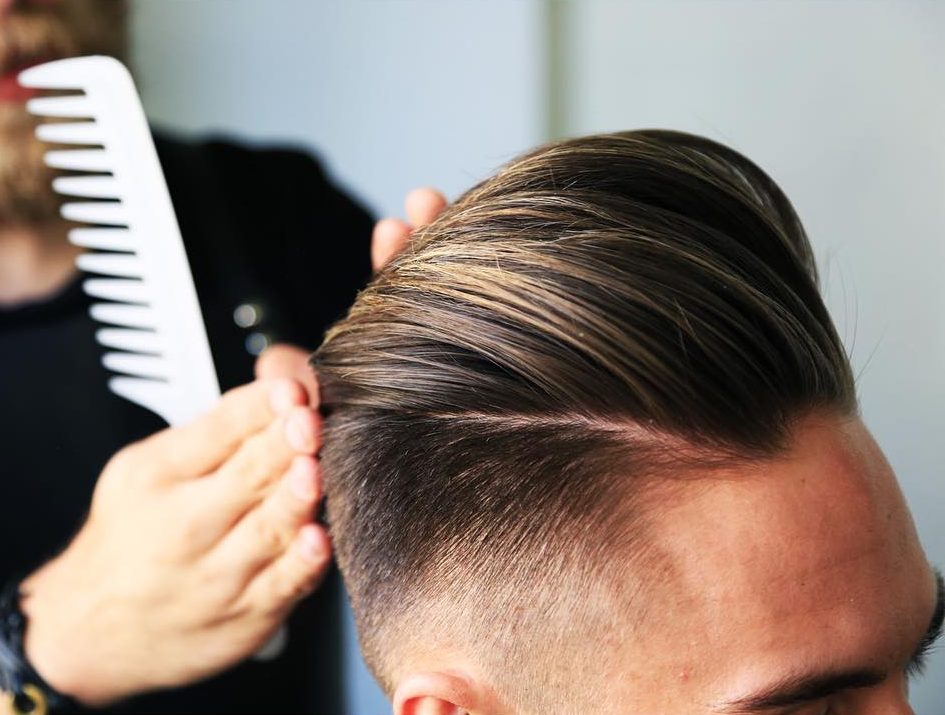 This mid fade mirrors the line of pomp, emphasizing that signature profile.
29. Textured + Tapered Pomp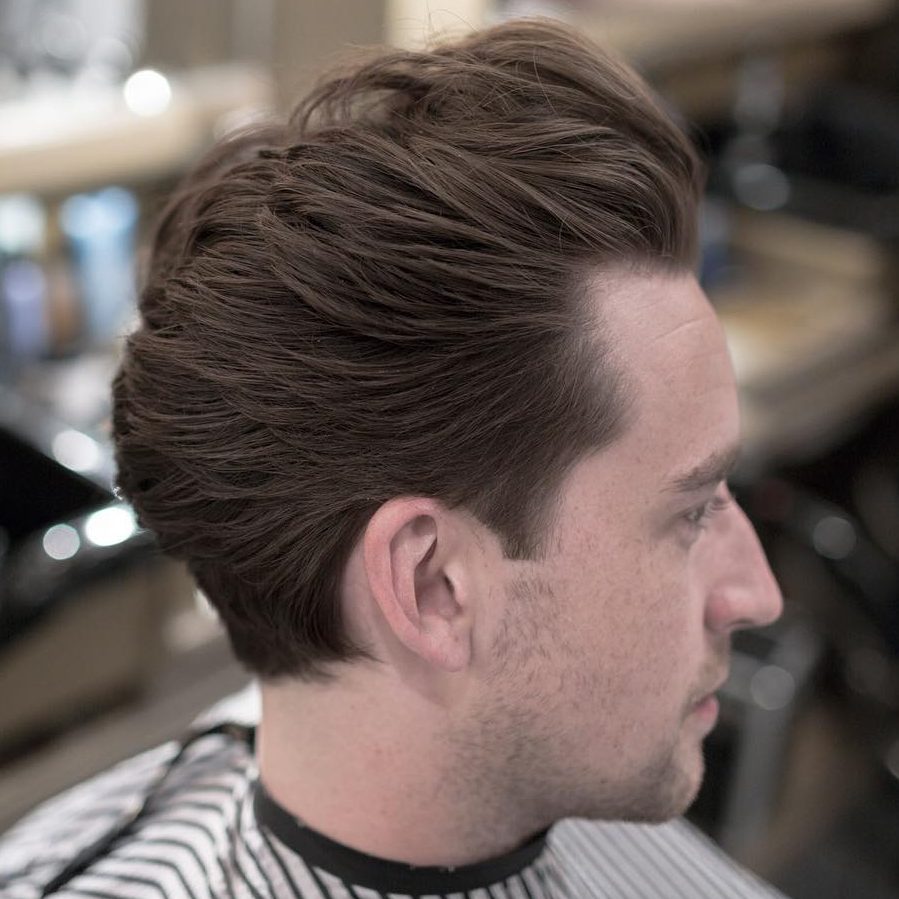 This cool look combines a classic taper haircut with modern textured styling.
30. Wavy Textures Pompadour Undercut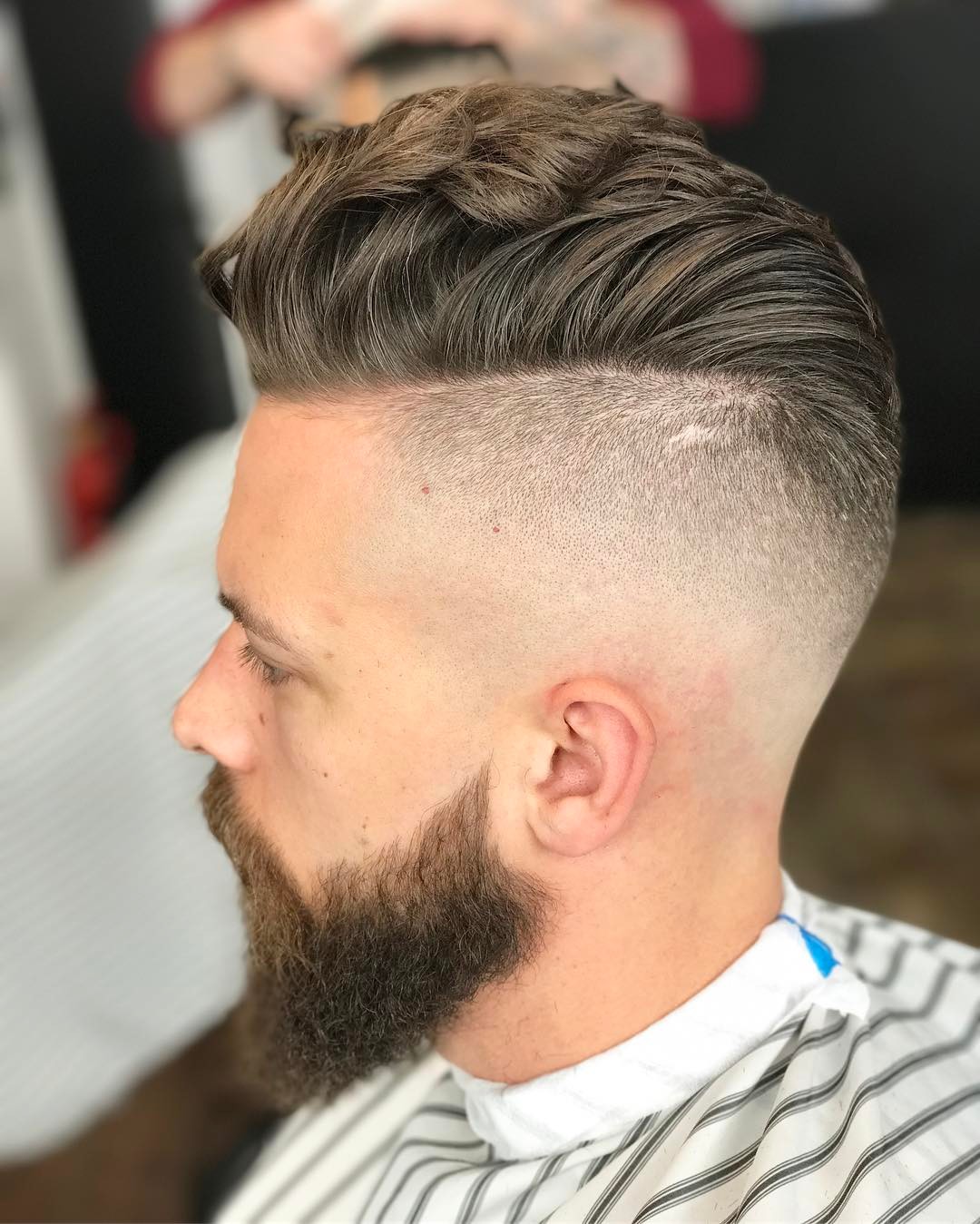 A faded undercut shaves the sides down to the skin and wavy hair adds natural texture and volume on top.
31. Pompadour Haircut + Mid Fade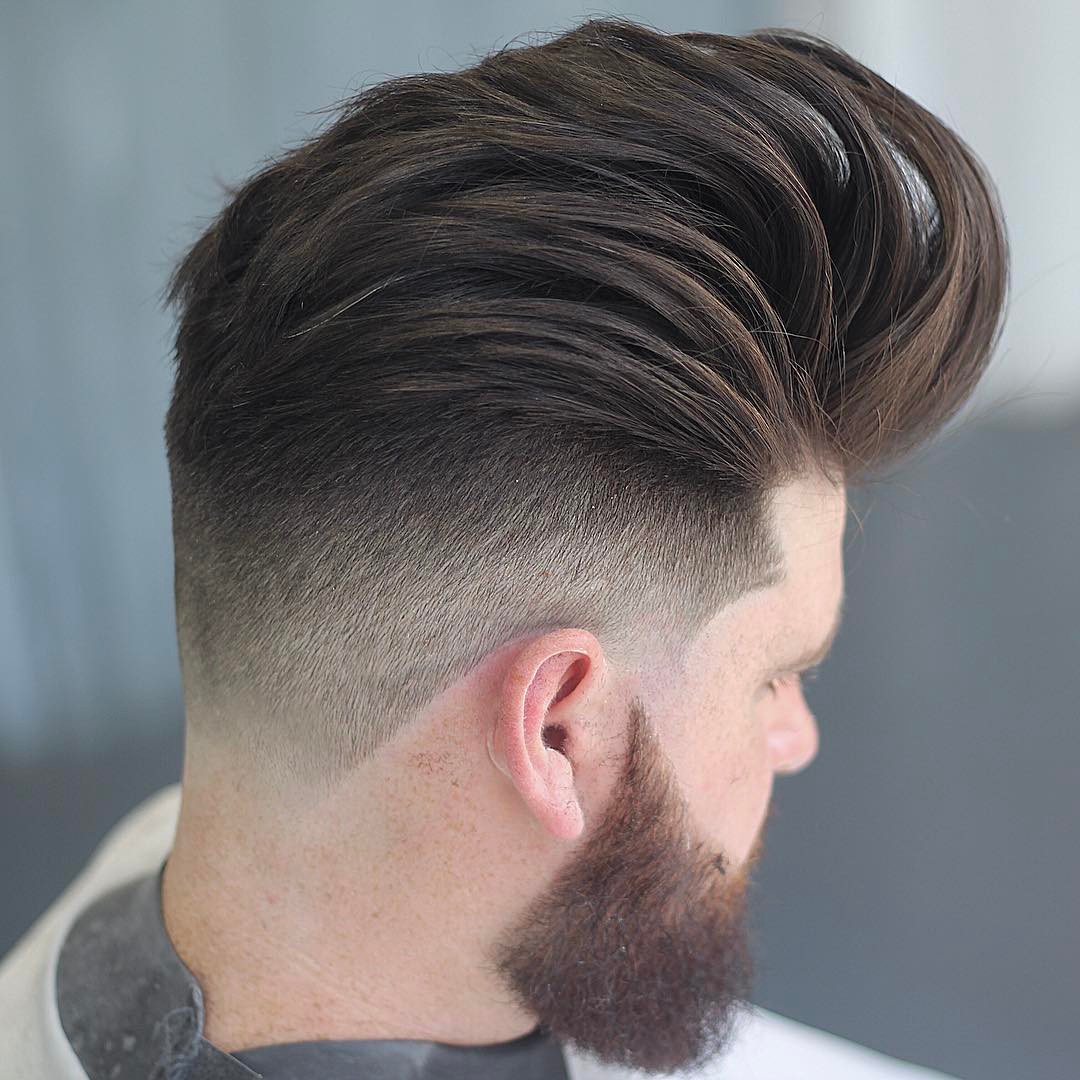 This ultra long and high pomp blends into longer hair of this mid fade.
32. Curly Hair Pompadour Haircut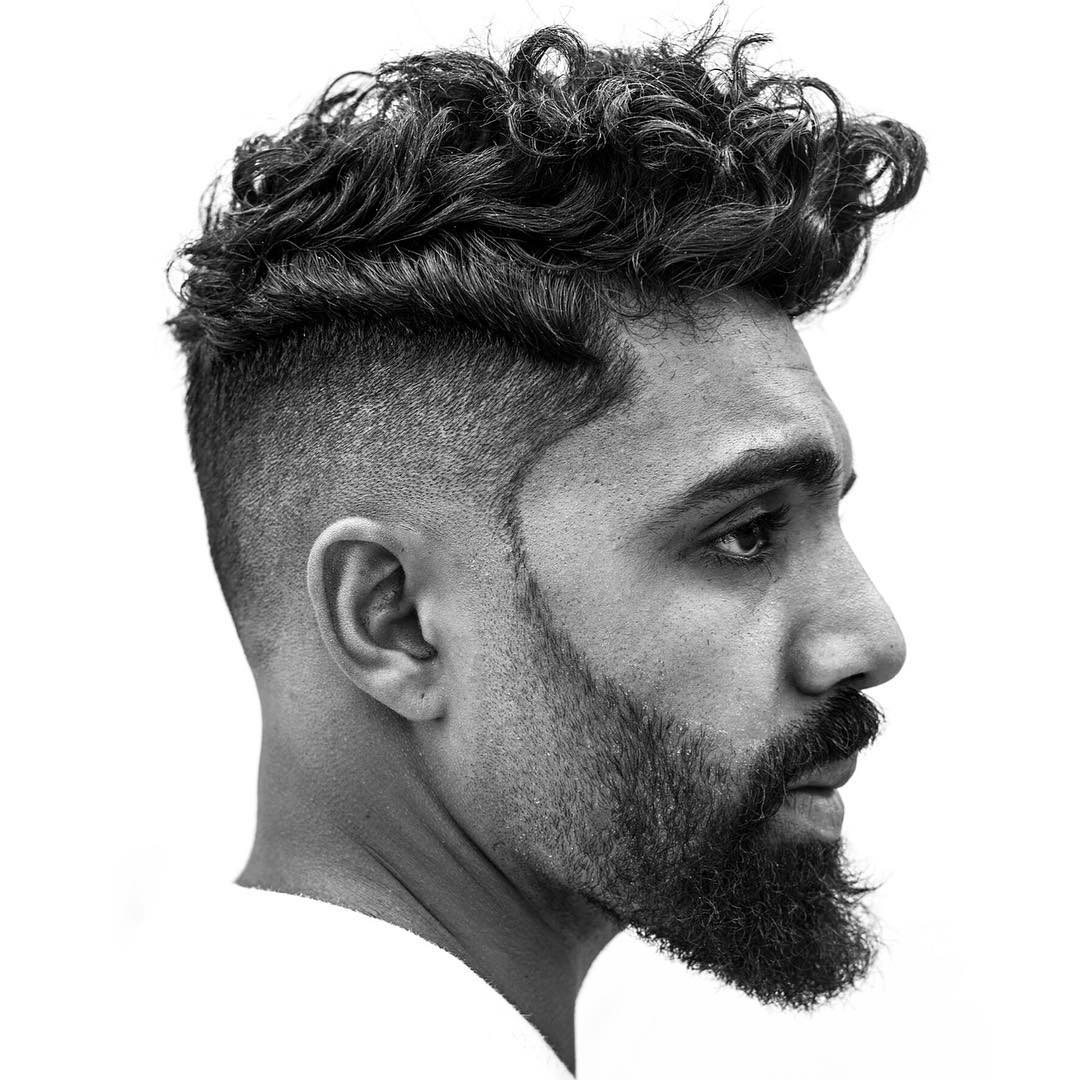 Tight curls add a unique profile to a pomp. The low fade also keeps going into the beard for a unique finish.
33. Silver Pomp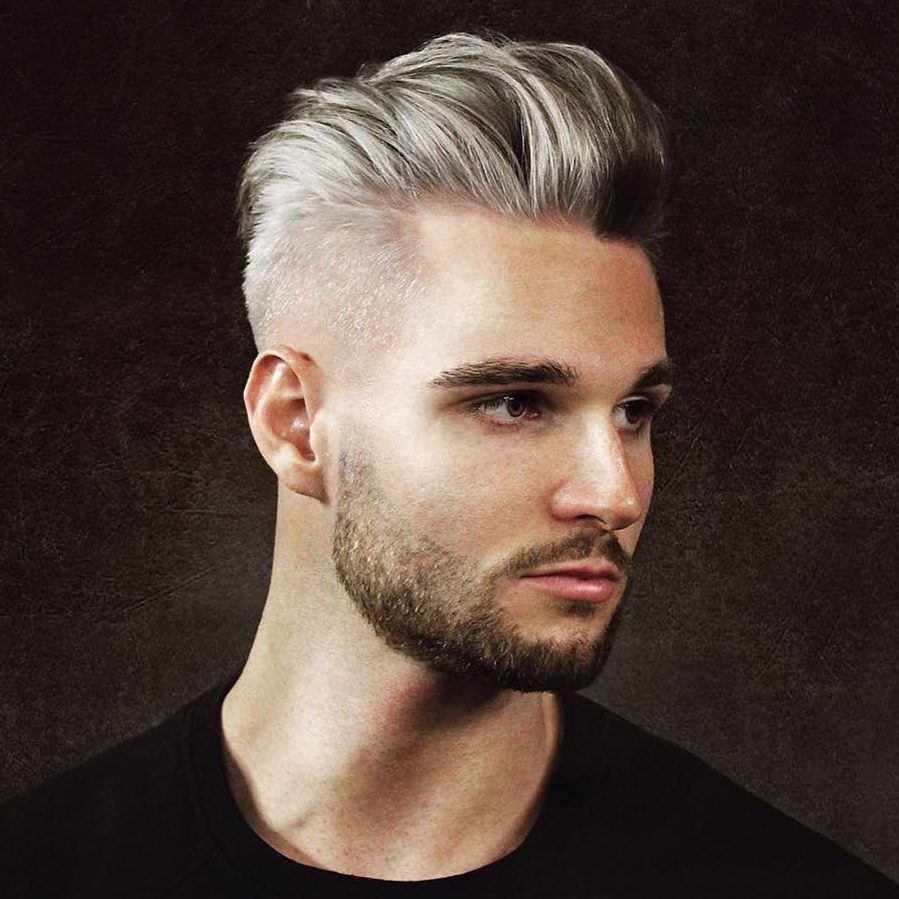 Hair color adds to the appeal of a pomp.
34. Purple Pompadour + Burst Fade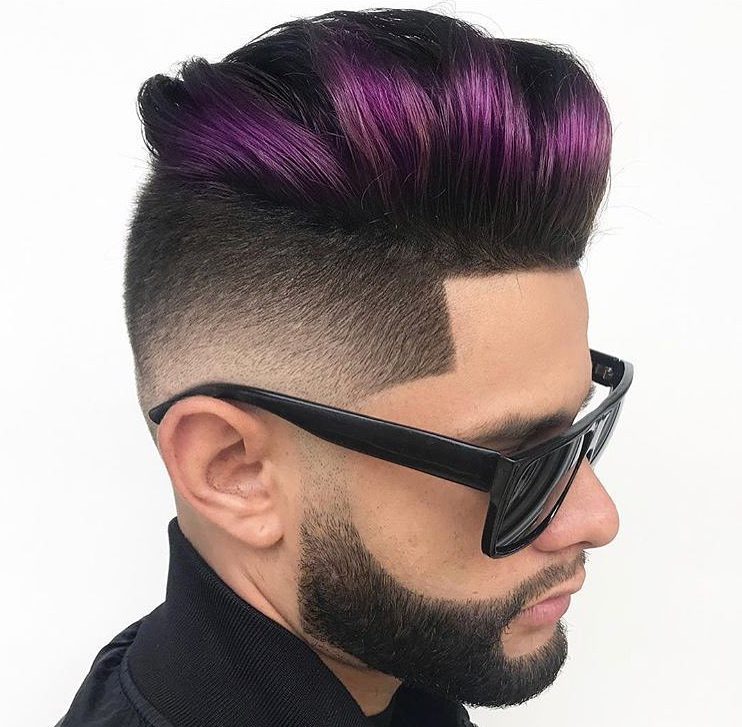 This fresh pomp style features oversized texture, bright purple color and a burst fade behind the ear.
35. Pompadour + Skin Fade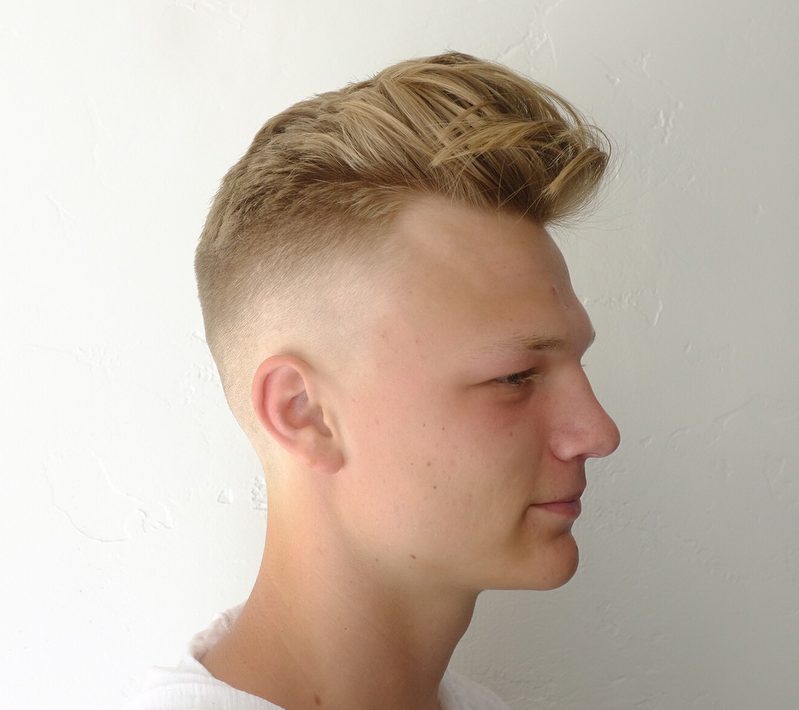 The pompadour is an excellent cut and style for any age, including the teenage years. It is easy to style and a great way to learn how to use hair product.
36. Pomp With Flow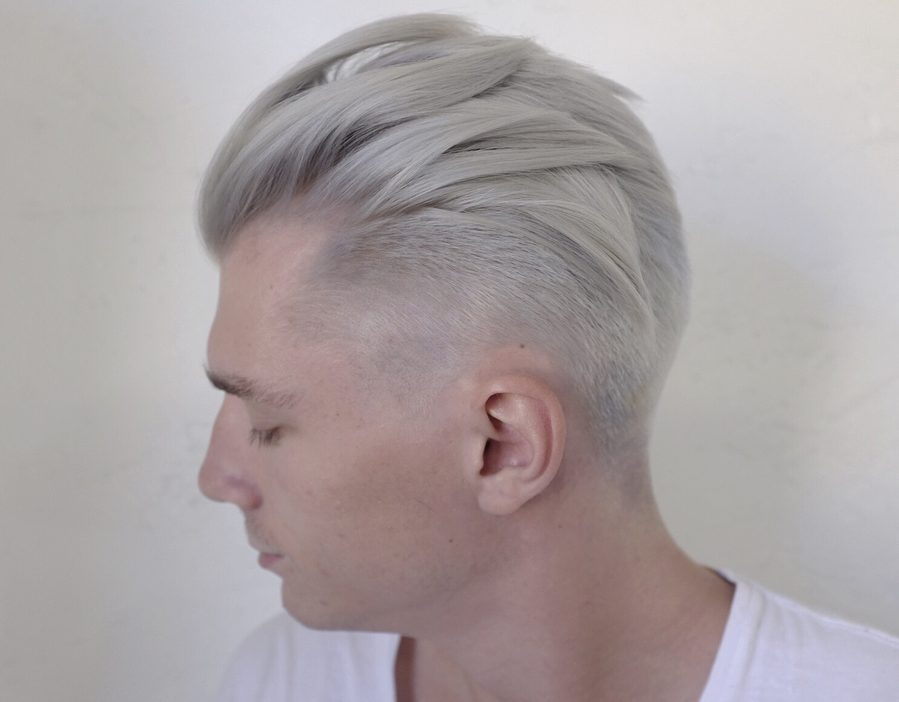 Pompadours are being reinvented with textured styling. Large pieces are pulled back with that pomp profile. Platinum color adds to the fresh and modern look.
37. Thick Hair Pomp + Mid Fade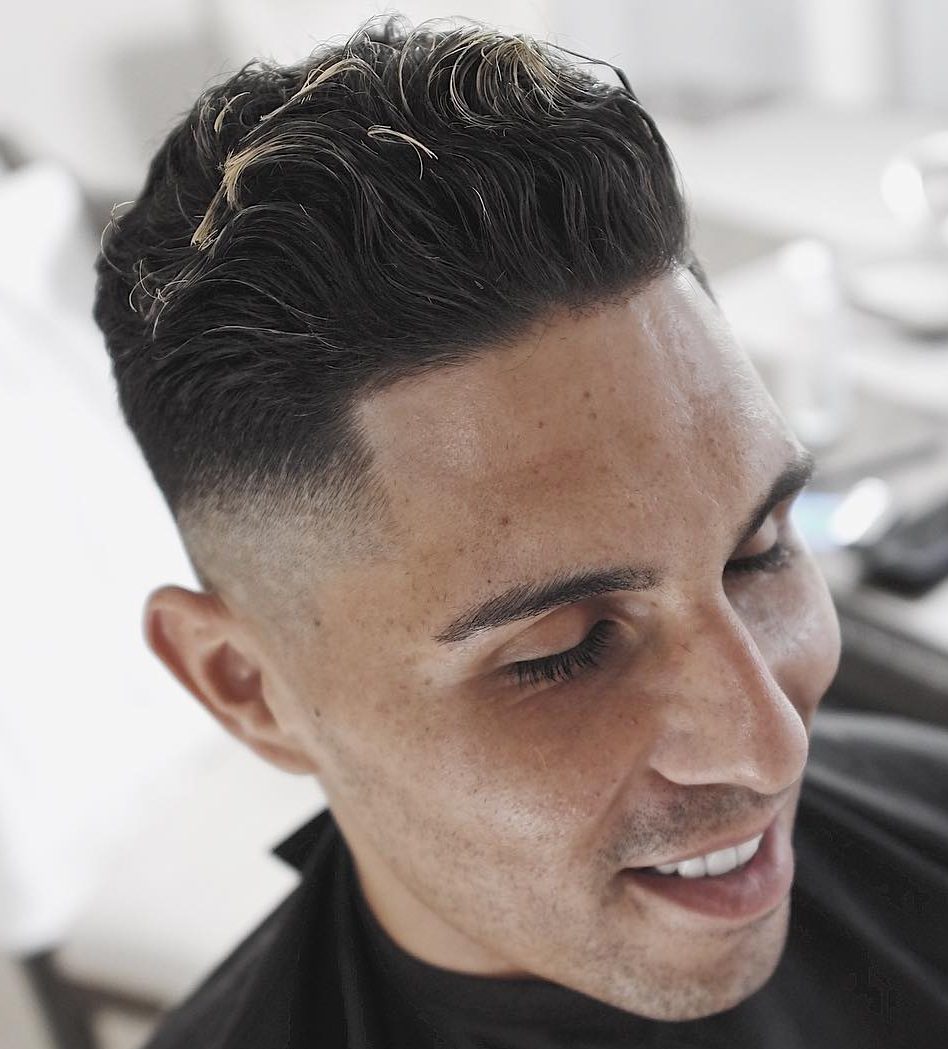 Having wavy hair puts you on top of this year's texture trend. Use a product that enhances texture and provides hold.
38. Side Part Pompadour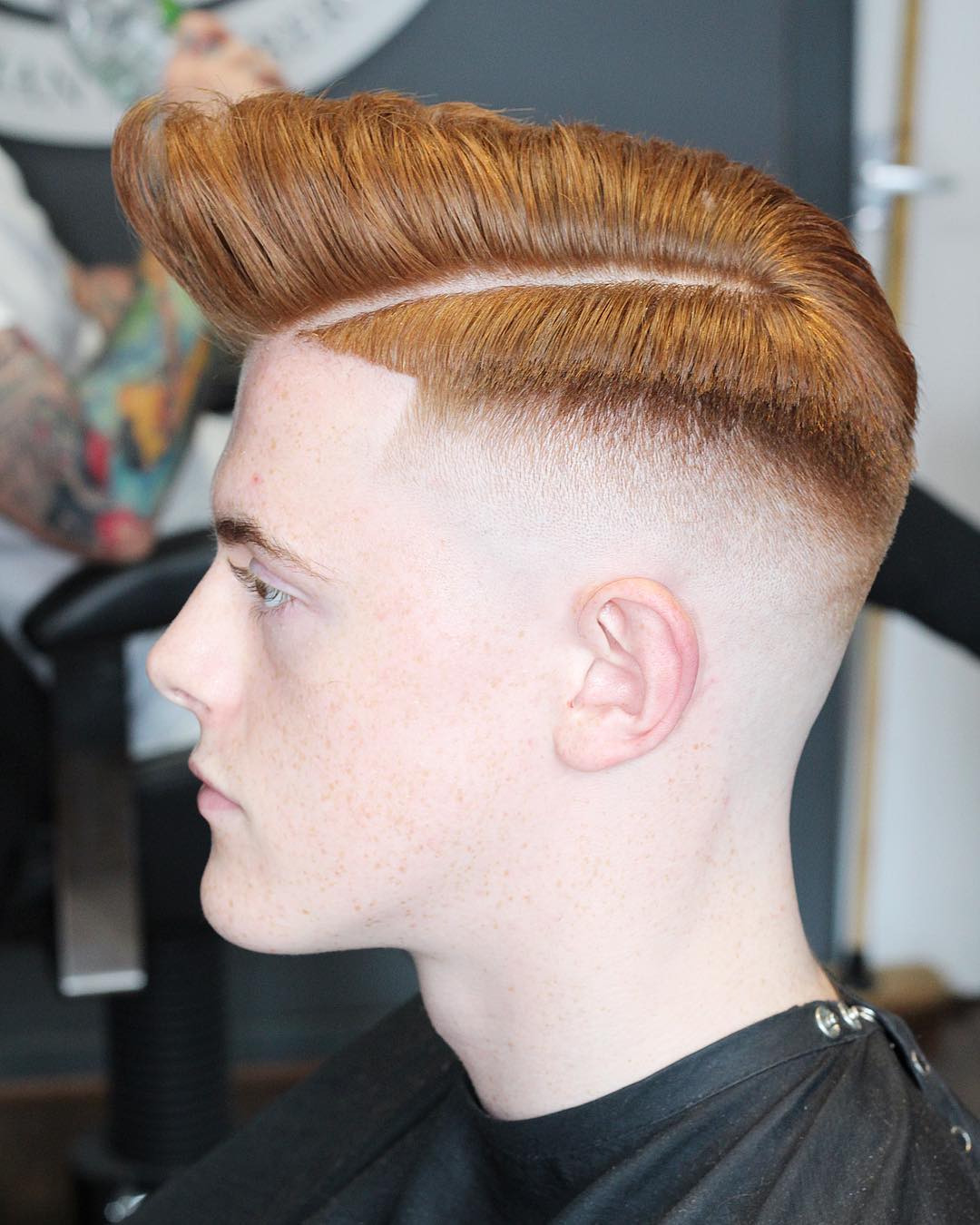 This retro pomp with a shaved part and bald fade is bold with and without red hair.
39. Low Fade Pomp + Curly Hair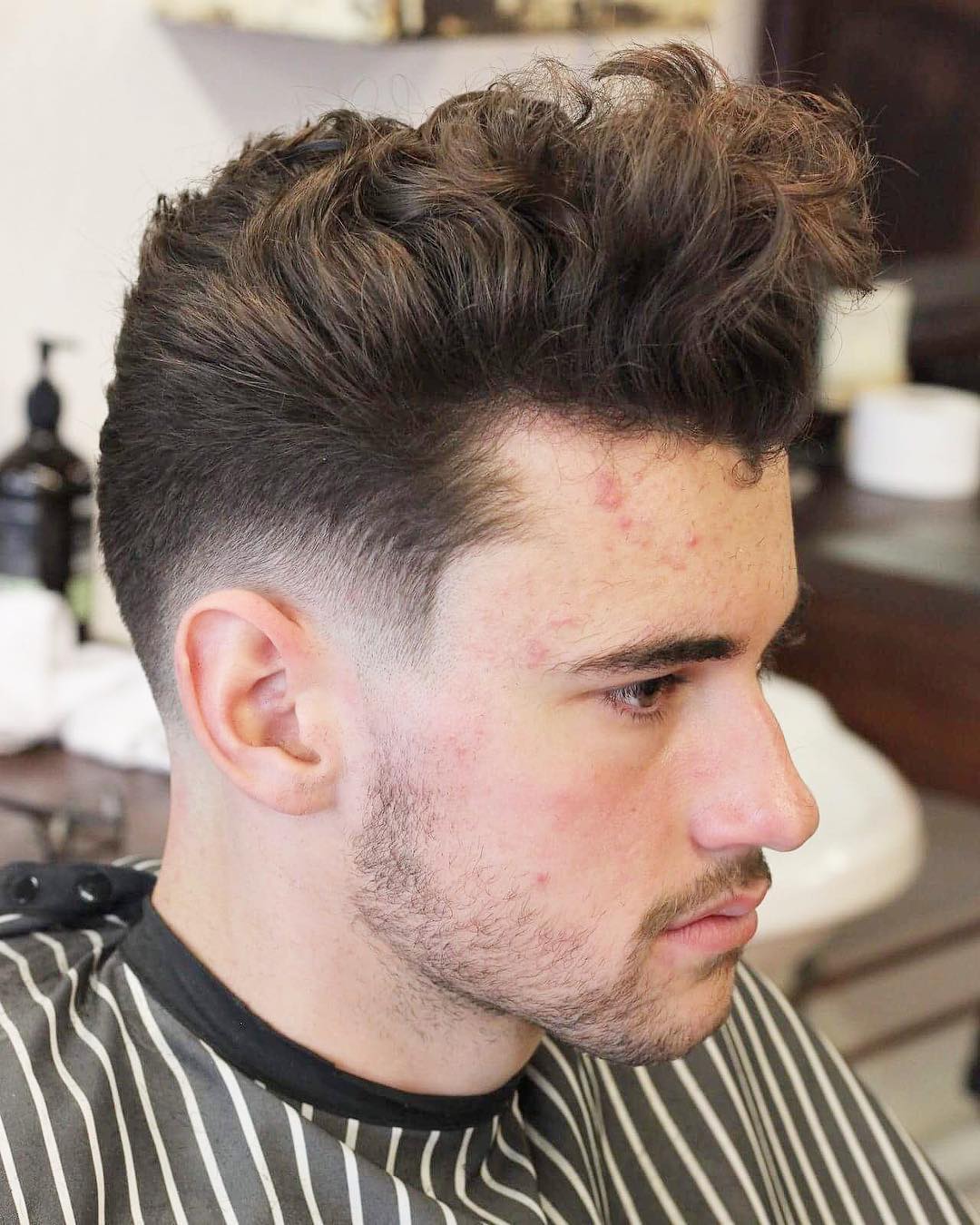 A very low fade over the ear and curly texture on top are unique finishing touches for this pompadour haircut.
40. Pomp Fade + Slicked Back Hair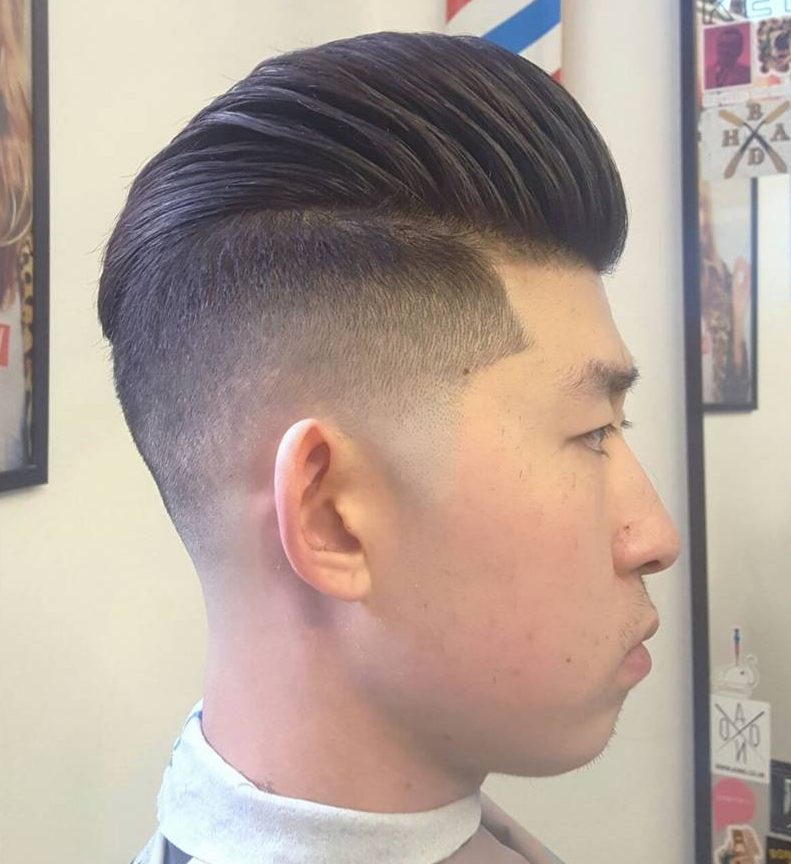 The high fade pomp is easy to style and looks good on everybody. Thick hair makes achieving that height easy but the right pomade is also essential.
41. Short Thick Hair Pomp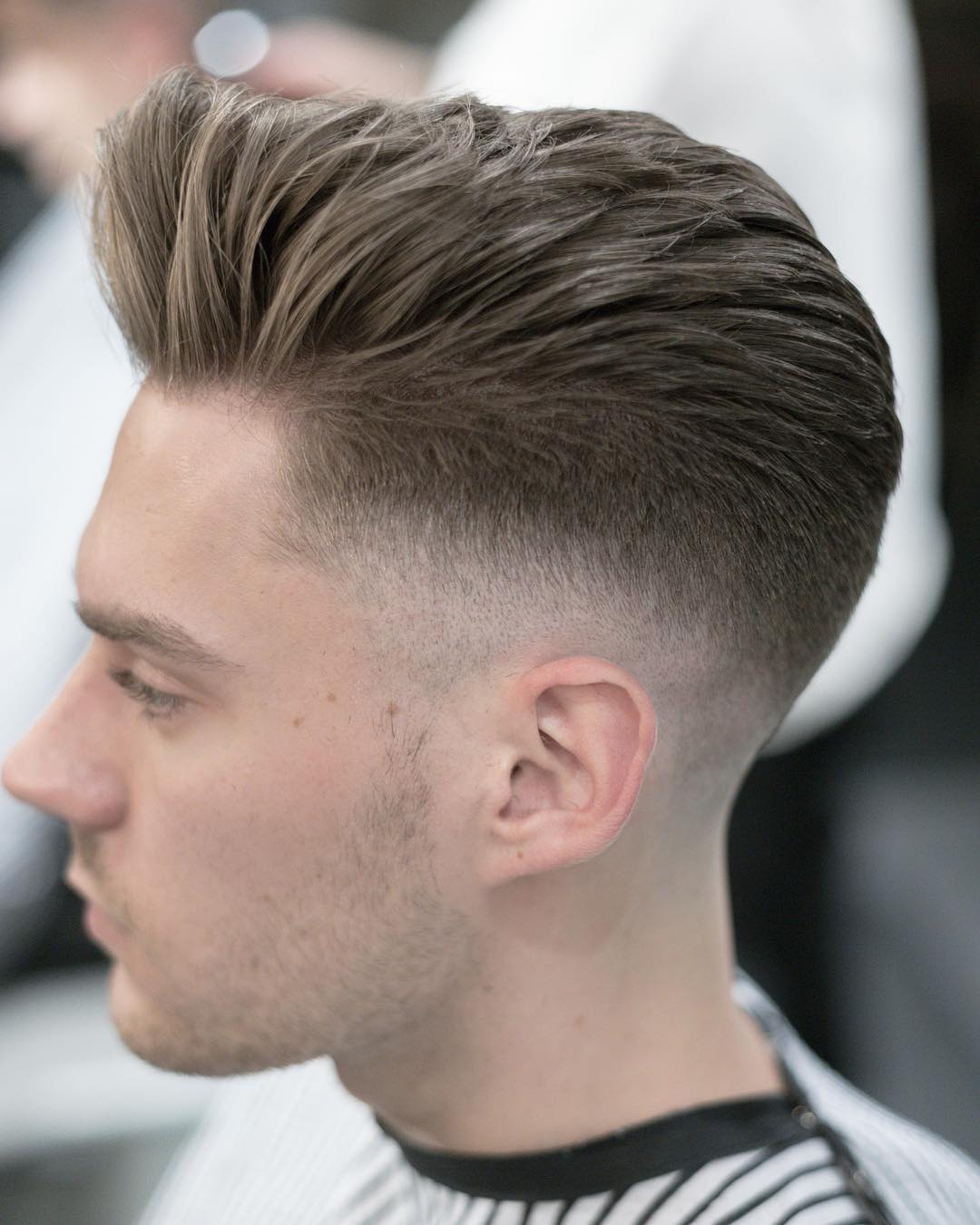 Pompadour haircuts can be longer or shorter. This is about as short as it gets with 2″ long hair on top styled with a combination of height and texture.
42. Pompadour with Side Part + Step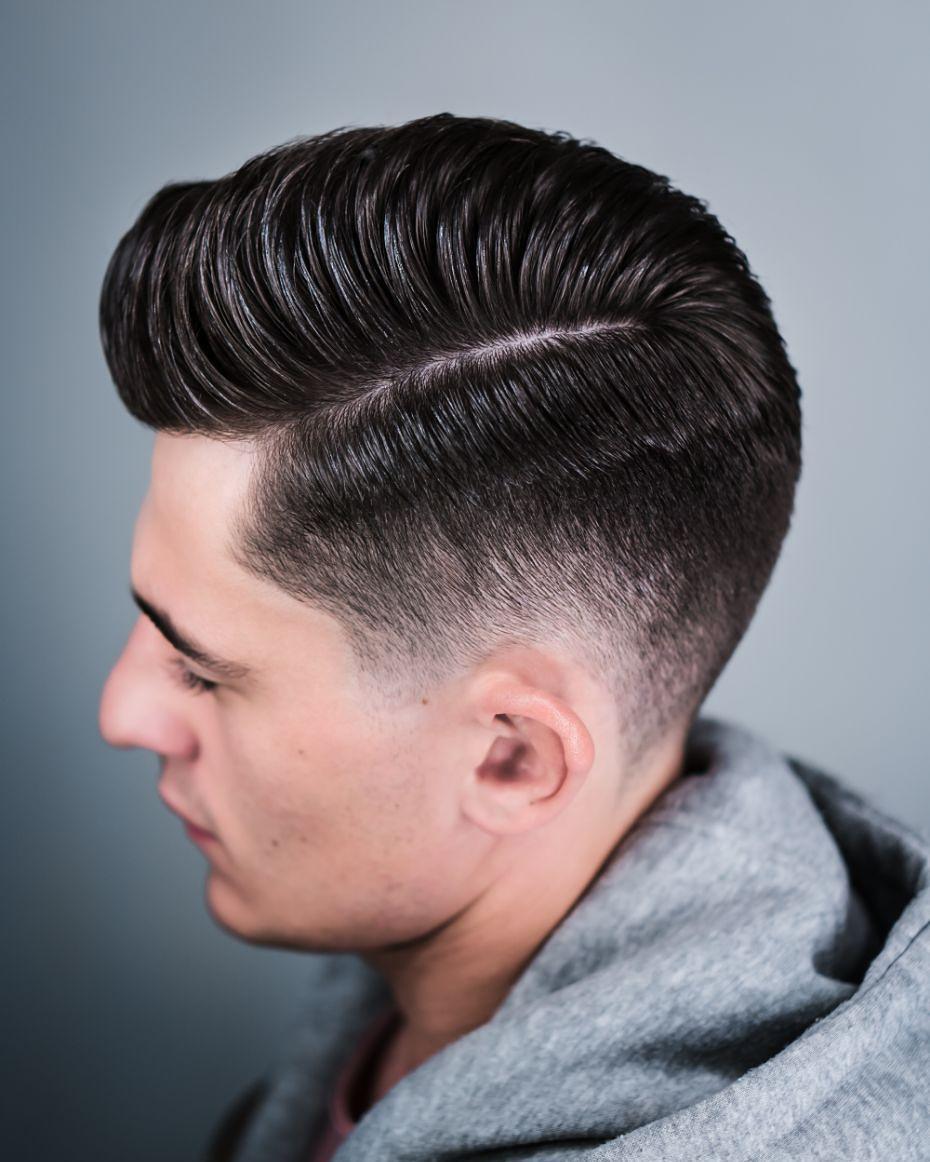 A defined side part separates longer hair from short on this low fade cut.
43. Pompadour For Fine Hair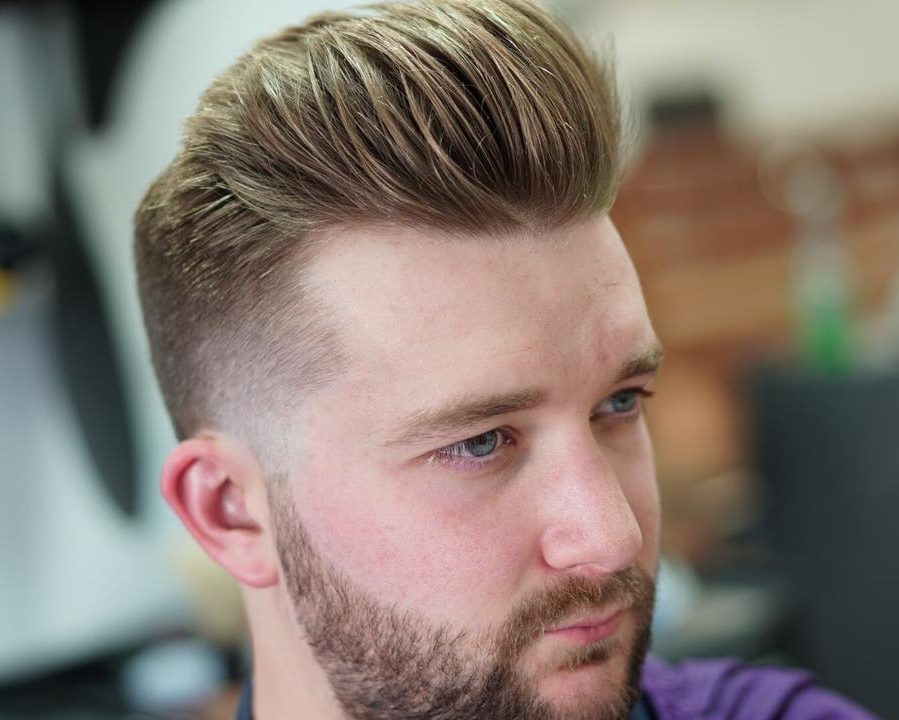 The pompadour is a good choice for every hair type, even hair on the finer side. The combination of length and height make the most of hair. Most hair types will also benefit from a blast of hot air while styling to help train hair up and boost volume.
44. Very Long Pompadour Haircut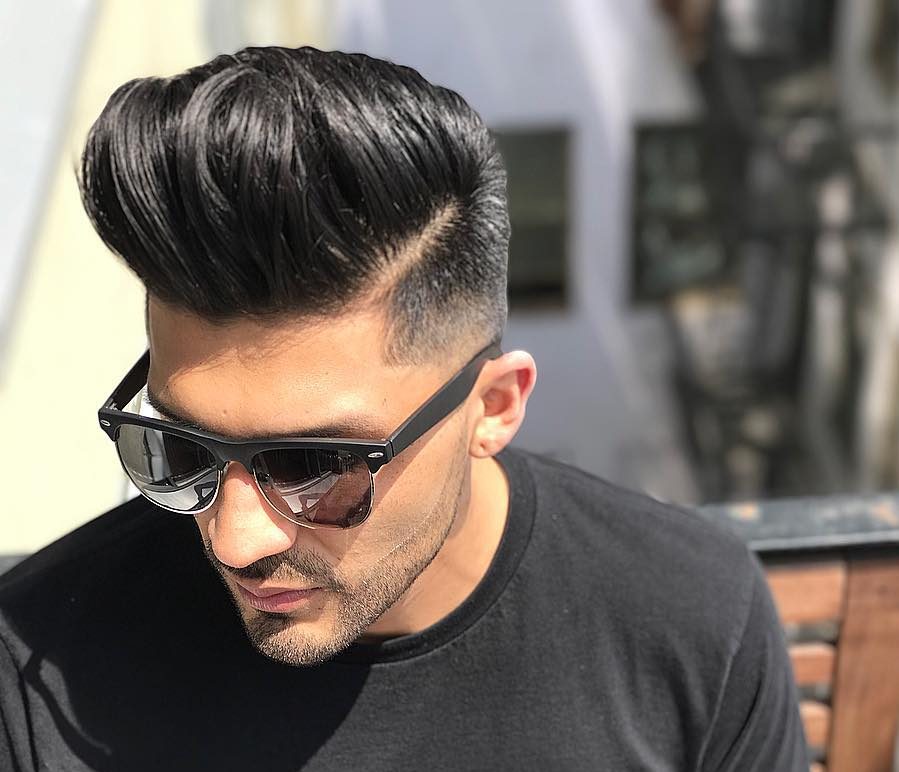 Longer hair can style an even higher pomp.
45. Tapered Pompadour Haircut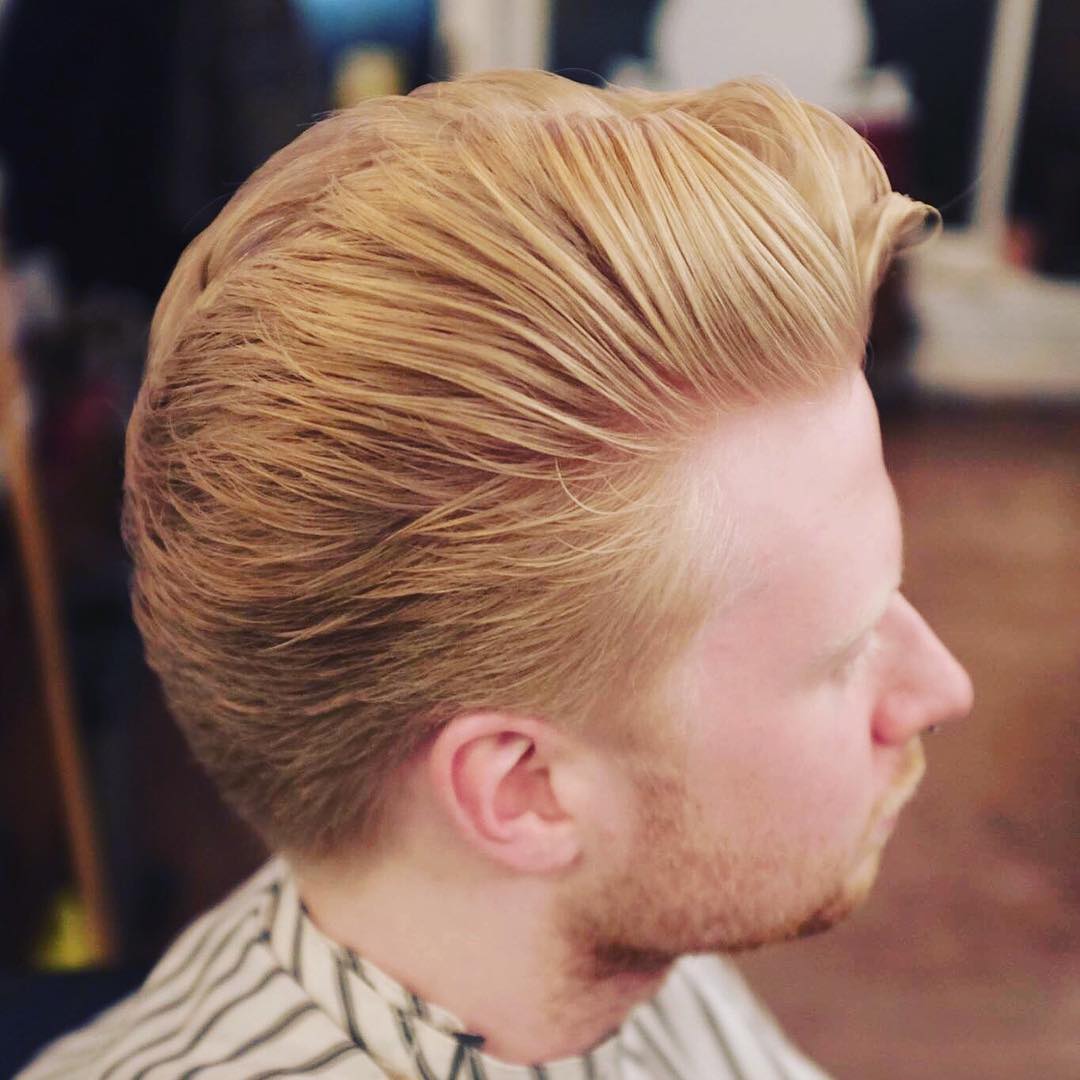 Medium length sides require styling. This classic look has a hint of a jelly roll at the front and is combed into a duck's ass at the back.