Short sides with long hair on top is a cool and stylish men's haircut. The sides can be shaved into a mid to high skin or shadow fade. Another option is a scissor cut taper with short hair that gets shorter but doesn't reveal any skin.
On top, long hair can be worn in all kinds of different ways. Even better, you can get all these different looks from one cut. One of the easiest and most popular options is short sides with the long top slicked back. This can be a pompadour or undercut hairstyle. Just work in product and comb it back. For more height, use a blow dryer while pulling hair up.
Another cool and easy way to style the long on top, short on sides haircut is loose. With a side part or undercut, work hair over to one side. This works well for unwashed second day hair that still has some pomade in it. Or use a product that adds texture or grit to mimic the look.
Adding texture or messiness is totally on trend. Modern pompadours often have a lived-in piecey finish or thick spiky definition. Or work fingers through hair for a messy look all over.
These aren't the only ways to style this cool medium length haircuts. Keep reading for more looks and haircuts with short sides for medium hair on top and curly hair.
1. Short Sides, Long Top Men's Haircut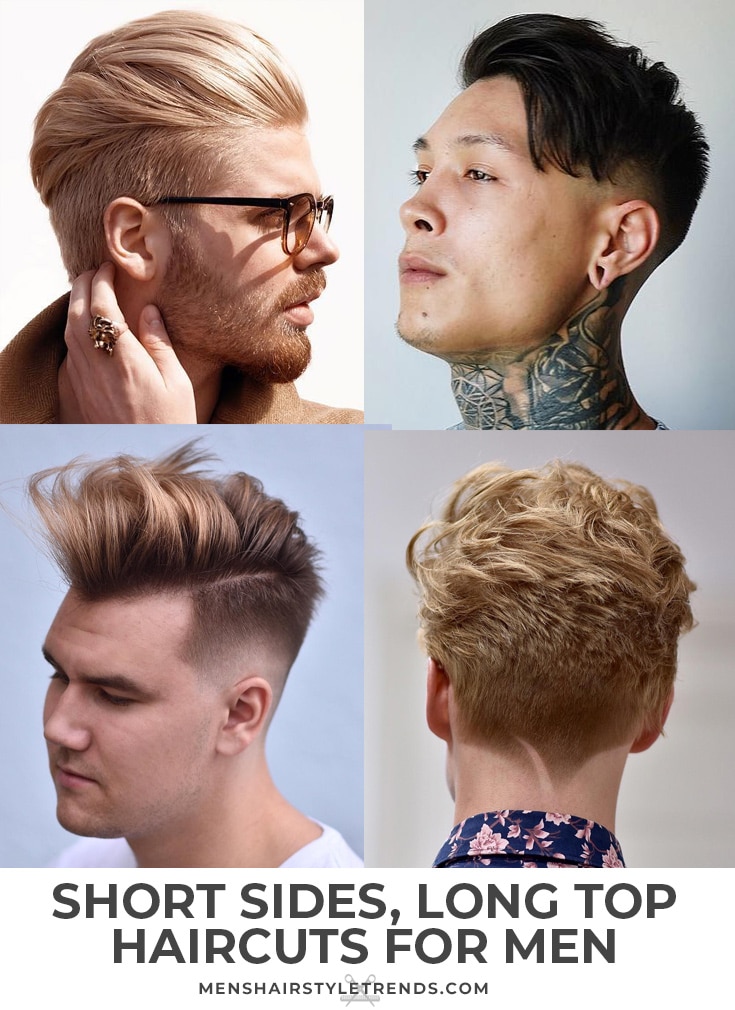 (L-R Paulets – Jōvan Reyne Figueroa – Iisakki Nummi  – Iisakki Nummi)
2. Medium Length Hairstyles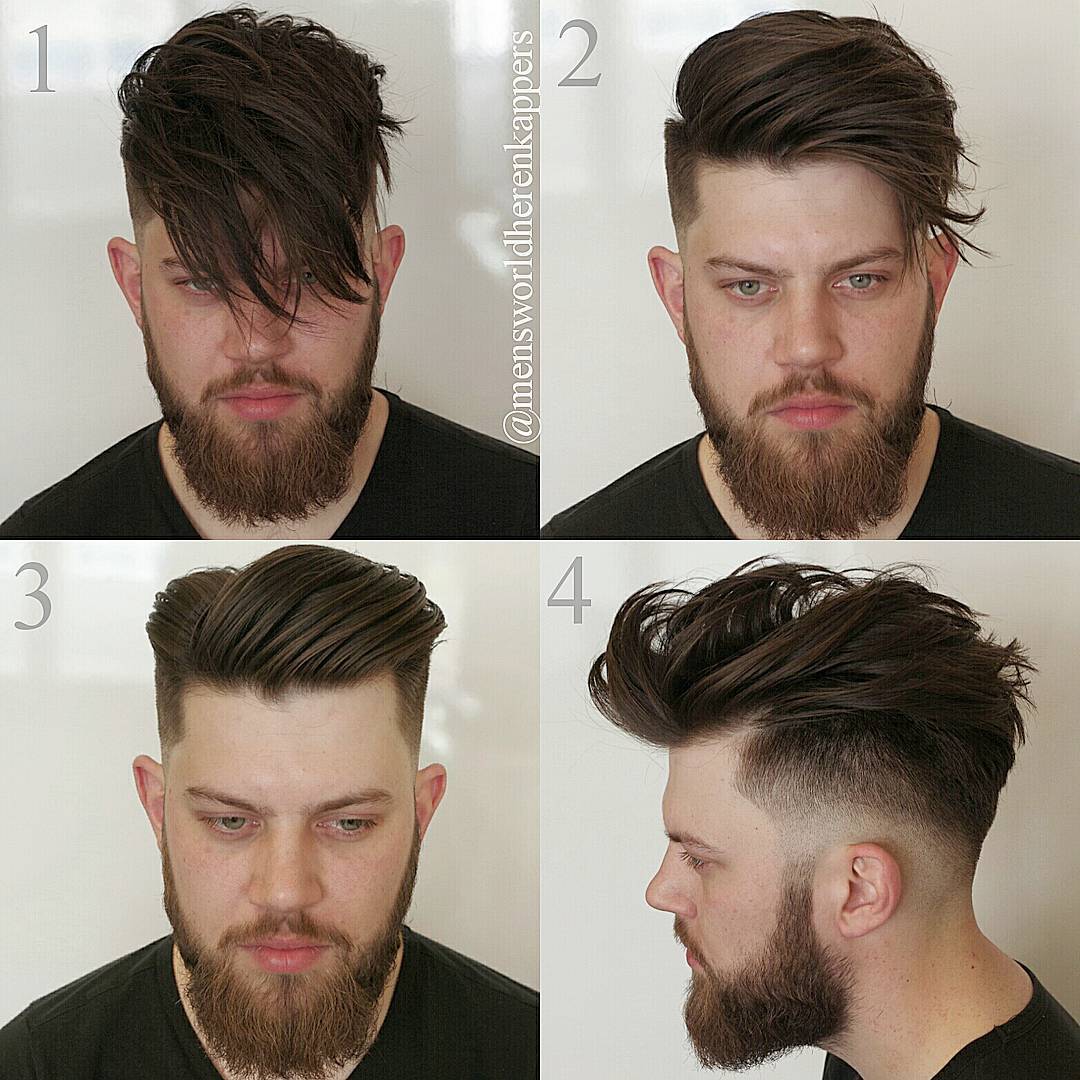 One of the cool things about this haircut is the variety of possible hairstyles. You can absolutely wear a pomp every day but if you like to mix it up, here are four different looks. Messy fringe can be worn forward or over to one side. For a different take on the pomp, add a side part to slicked back hair. High volume messy pomp hawks are another cool option.
3. Side Part Hairstyles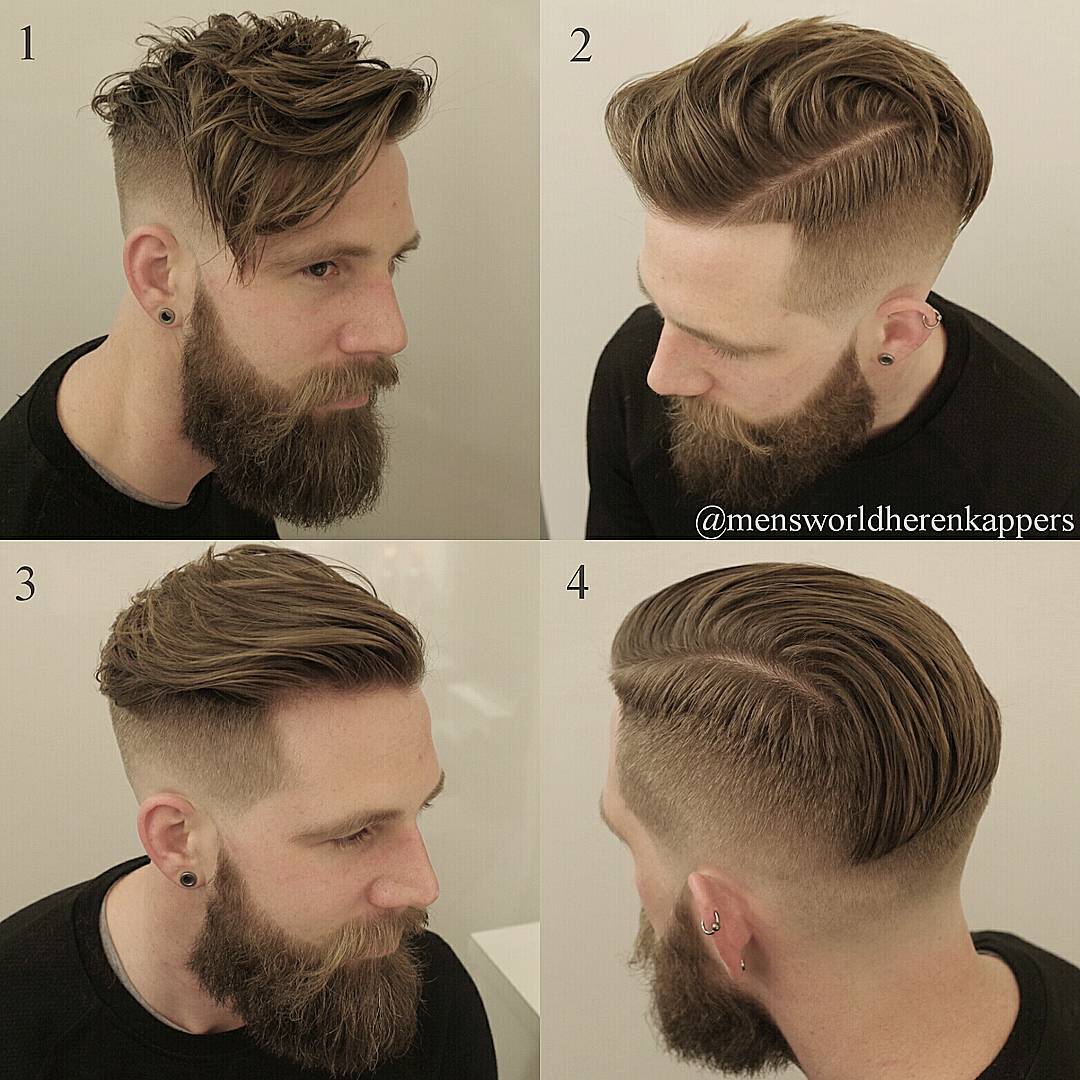 Here are some more messy, textured and swept back looks. Hair can be worn over to one side or pulled back. For a unique way to wear a comb over fade, pull long hair straight back to create a unique shape over shorter hair.
4. Short Sides, Medium Top Men's Haircut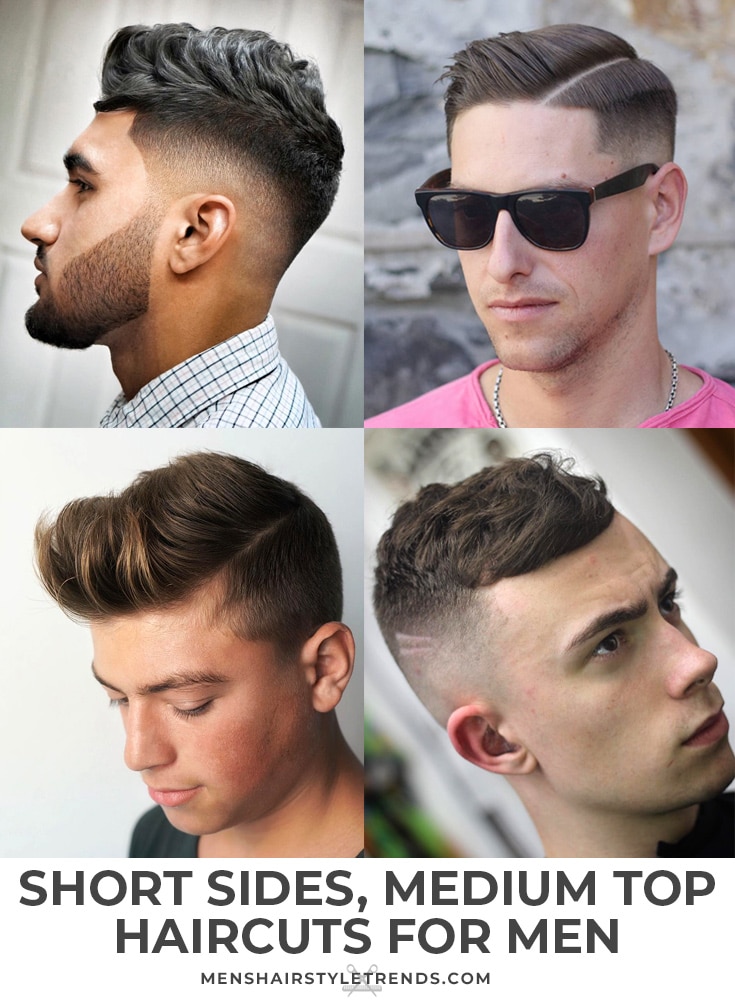 (L-R Wes Staucet – We Married Hair – Jōvan Reyne Figueroa –Charlie Baker)
Medium length on top with short sides haircuts can create even more hairstyles. This length can be a better option for challenging ultra thick hair or thin, fine hair that looks even finer when worn long.
Try thick spikes from something trendy or a classic side part for a clean cut look. A quiff with tousled texture is a flattering high volume style and cool version of a pomp. For thick hair with some wave, wearing hair combed over with a natural finish is another trendy update to a classic cut.
5. Long Top, Short Sides Haircuts for Curly Hair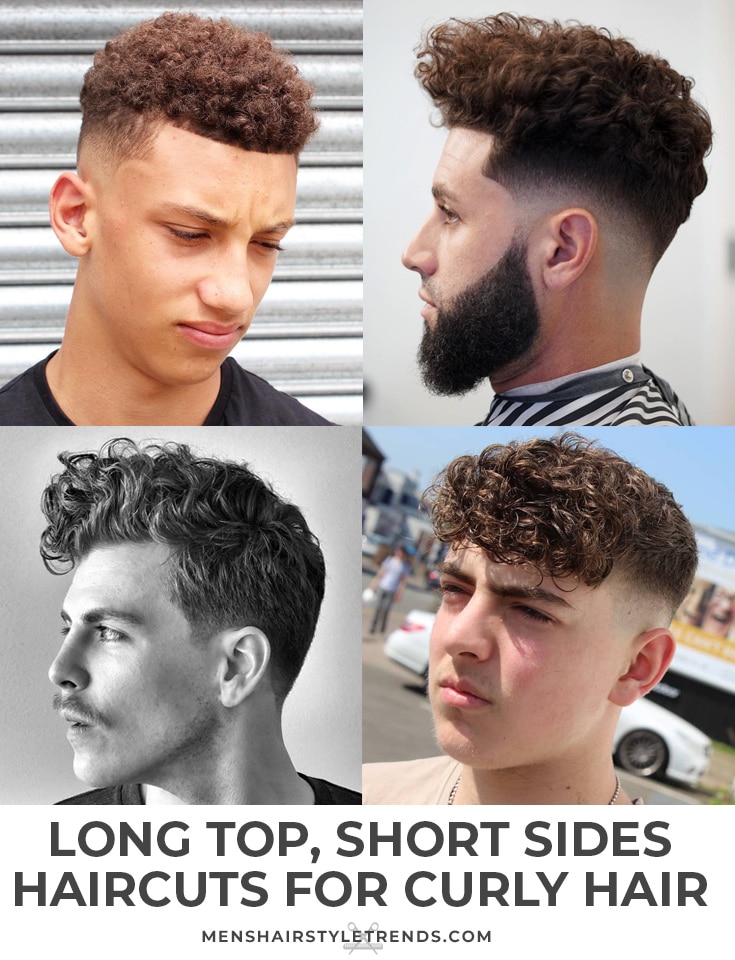 (L-R JBS Lifestyle – Zeke the Barber – Matthew Conrad – Levi's Barbershop) –
The long on top, short on sides haircut also works well for curly hair. Whether it's a taper or type of fade, short sides make curls look great and easy to style. A curly high top works well for tighter and kinky curls.
For a cool hipster style, try a curly sweep back or comb over style. Try a pomade made for curly hair that provides hold and conditioning. Finally, crop haircut trend with forward fringe looks excellent with curly hair.
The long top, short sides combination is a versatile men's haircut that works for straight to curly hair and a wide variety of hairstyles. The same cut can be worn in classic and clean styles or trendy texture. Have fun experimenting with all these styles and whatever else you can dream up.