Taper fade haircuts never go out of style, they just get updated. The latest looks, from crops to mullets, look just as good with a taper as classic styles.
Tapers and fades have a lot in common, but they are two different things. They both work with any men's hairstyle and can but cut low, medium, or high. Keep reading for what a taper fade is plus the most popular haircuts from around the world.
Sometimes fade haircuts are also called taper fades or tapers. Just in case, always show your barber a picture of what you want.
We'll cover all the types of taper fades for straight, curly and Black hair. Scroll all the way to the bottom to see some tapers with beards.
Taper Fade vs Fade
There seems to be a lot of confusion about what a taper fade is. Taper fade haircuts and fades both refer to how hair is cut at the sides and back of the head. They both go from short to shorter at the neckline. Tapers and fades also both grow back in clean, compared to blocked napes or defined necklines.
The taper fade is a quick fade at the sideburns and neckline. Those areas blend right into the skin from your haircut of choice and will grow back looking clean and natural. The area behind the ear is left short and cleaned up with a defined line. That arch behind the ear is what separates a taper fade from a fade.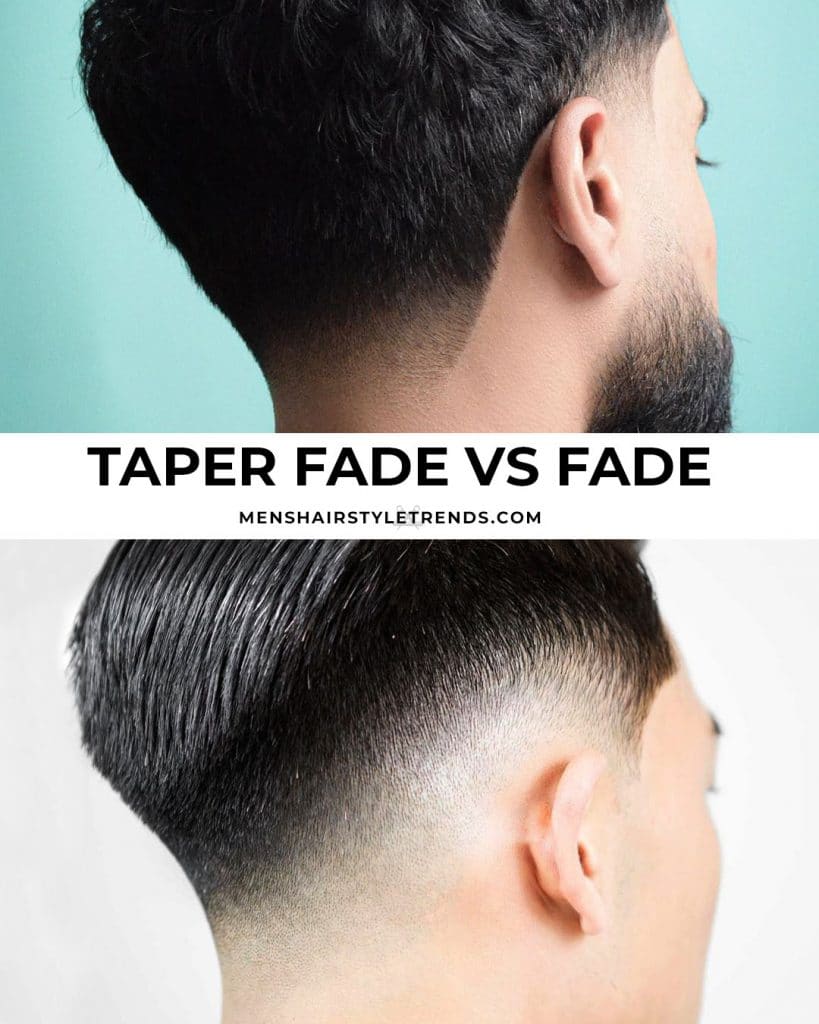 A fade haircut changes the hairline all the way around. Fades can be low, medium, or high but they all create a new hairline. This is all a great look because it is streamlined, focuses attention on the hair on top, and grows out clean.
Haircuts With Taper Fade
Let's start off with a selection of the most popular tapered styles. Then we'll get into more specific tapers and hairstyles.
Low Taper Fades
The most popular way to wear a fade is low.
High Taper Fades
There are two ways a taper fade can be high. One is to take that taper up higher at the temples and neckline. The other is to add a taper to a high fade. Here's both.
Mid Taper Fades
When low it too low and high is too high, the medium taper fade is just right.
Taper Fades For Curly Hair
A rounded curly mop top is cool but not for everyone. Check out these curly top, short sides looks that end in a taper.
Black Taper Haircuts
Taper haircuts keep more hair on the head than fades. With style like curls, afros and waves, more hair is better so finish them with a taper.
Beards With Taper Fades
We know about beard fades, now here's the bear taper.
Taper Fade vs Taper Haircuts
A taper fade and a taper haircut are two different things. Taper fades refer to the treatment of the sideburns and neckline. A taper haircut is a type of classic cut with some length all around. It's usually scissor cut and can be a variety of lengths. The edges can have a taper fade or not.
A taper fade combines the best of both worlds by starting with longer hair that goes down to the skin in a smooth transition. This type of cut will use scissors and clippers. We'll start with examples of taper and fade haircuts and move on to all the different ways to wear taper fades.