If you only do one thing to take care of your beard, it should be brushing. Using a beard brush can do the same thing as a beard shampoo, beard oil, beard balm, and even a beard straightener, but to a lesser degree.
Brushing your beard cleans hair and skin, conditions and softens hair, fights frizz, smooths kinky beard hair, and stimulates circulation. For any facial hair longer than stubble, brushing is the easiest way to get the beard you want.
A beard brush is not the same as a hairbrush or comb. Instead of nylon pins, beard brushes are made of bristles, usually boar but also vegetal or synthetic. You can use a brush with a handle but some men find a military-style brush without a handle easier to use on facial hair.
The best beard brushes are made of boar bristle. Boar bristle is exactly what it sounds like, the hair of wild pigs. It works well as a brush for people because it is made of keratin, the same composition of human hair and the bristles are stiff, yet soft. Boar bristle brushes:
Moisturize Natural beard conditioning by transferring sebaceous oils from the chin to the tip of the beard.
Soften Texture Brushing with boar's hair loosens beards curls, naturally straightening facial hair.
Increase Circulation Stiff but soft bristles gently stimulate blood flow to the hair follicle, which can help improve hair growth.
Exfoliate Brushing the chin exfoliates skin to prevent in-grown hairs and beard dandruff.
Cleanse Boar bristles separate each facial hair during brushing to remove foreign particles. Use a brush between shampoos.
The brushes come in medium, firm, and stiff bristles. In general, thicker and curlier beards will need a stiffer brush but it's also a matter of preference.
Boar bristles come from boars who are raised for meat as well as their bristles. Like any animal enterprise, some producers are more humane than others. Therefore, our recommendations take into account where the bristles come from. These won't be the cheapest options but we hope they are more kind. We also have some cruelty-free vegan recommendations.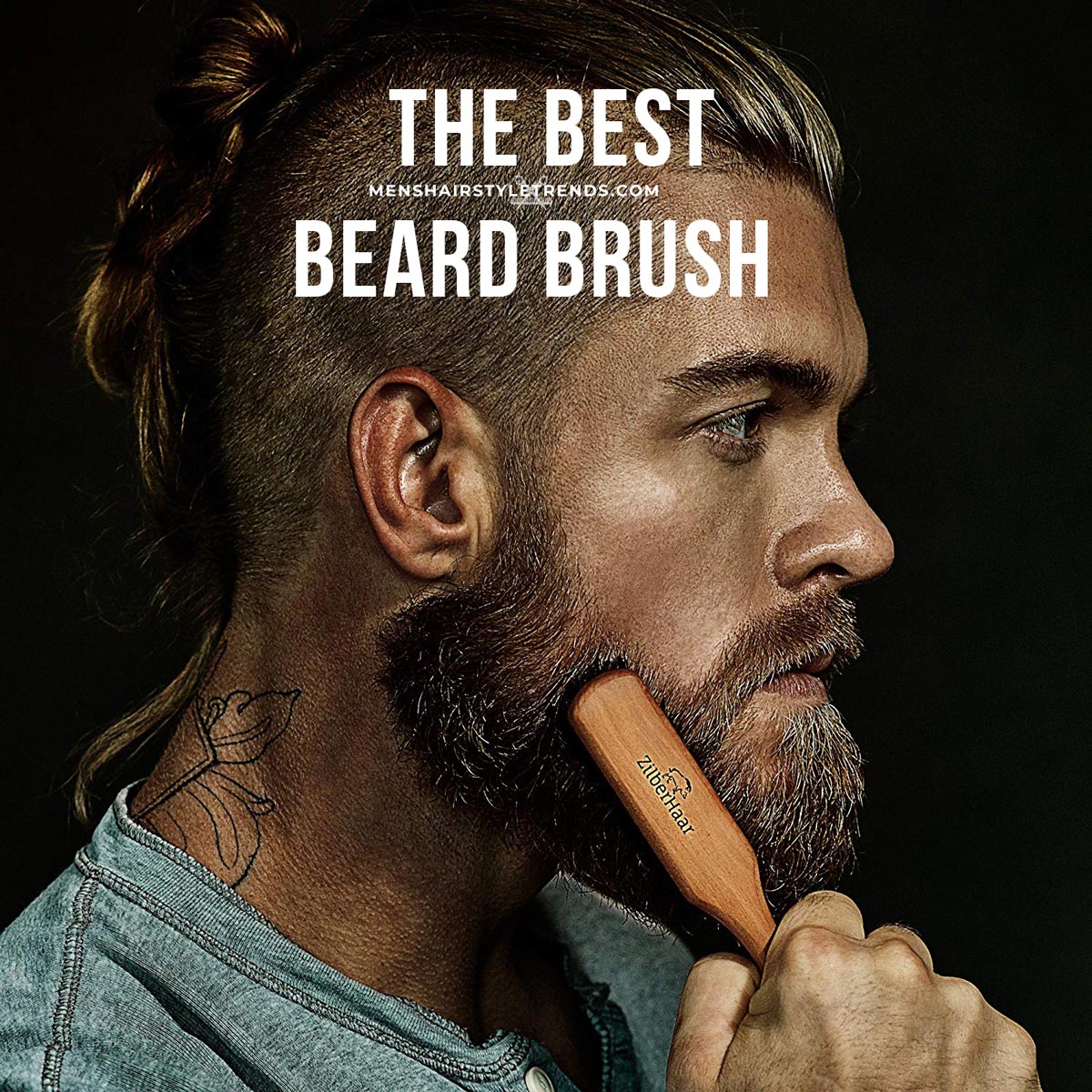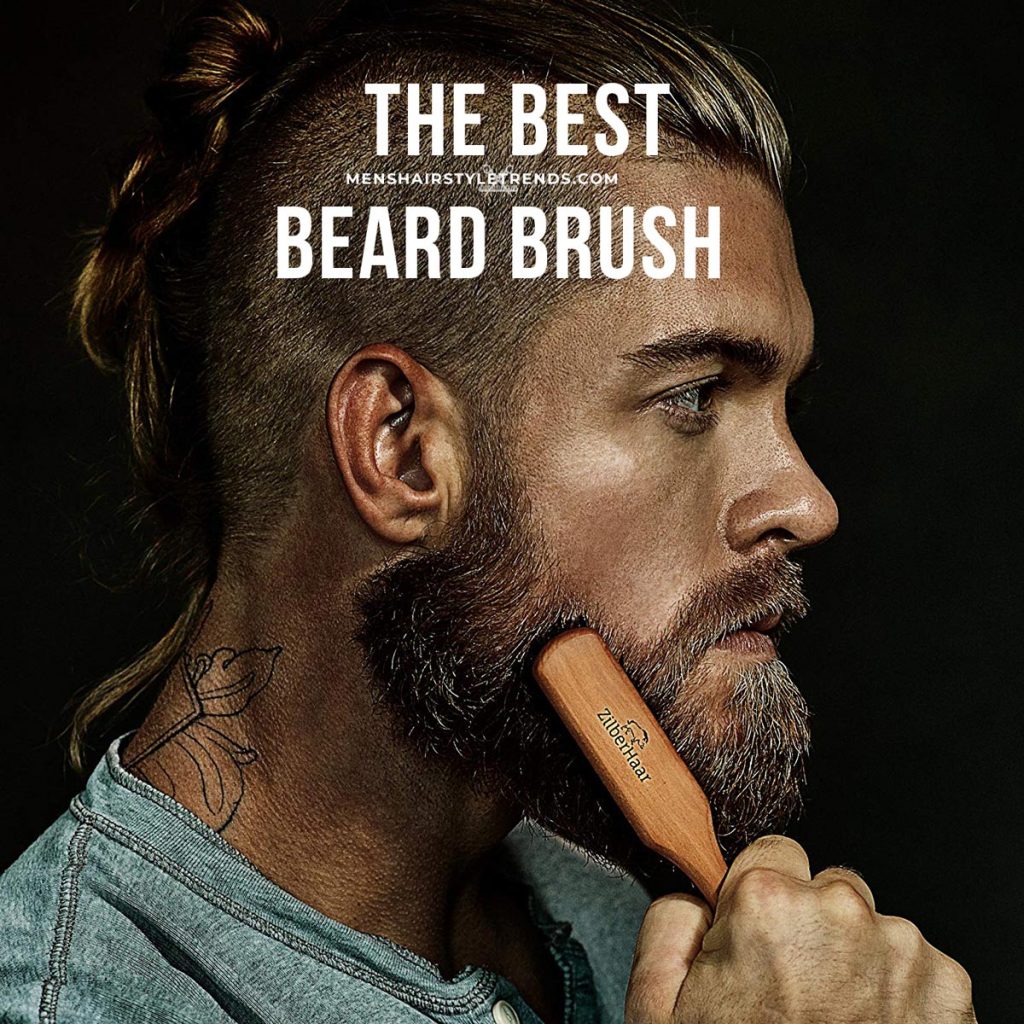 The Best Beard Brushes
Kent Gentleman's Brush – This is the OG beard brush. Kent Brushes was established in Great Britain in 1777 and they continue to produce high-quality products, even still making some brushes by hand. With white boar bristles, the brush is easy to hold, has just firm enough bristles, and should last a lifetime.
Kingston Grooming Contour Boar Brush – The curved design fits comfortably in the hand and provides maximum contact with the face and head. Bristles are medium-soft and are reinforced so they won't fall out, a common problem with cheaper brushes. It also comes with a travel box and money-back guarantee.
Desert Breeze Wild Boar Brush – This is a hairbrush but gets a special mention because of the high quality. The 1st cut bristles come from wild boar raised in the high Tibet Plateau. The brush is crafted in Germany by a family shop that has made brushes for over 100 years with locally-grown pearwood.
Dovahlia Boar Bristle Hair Brush Set – The set includes a boar bristle brush, wood tangling comb, and hemp bag for travel. The shape is a medium-sized paddle brush with a handle that works for hair on the head and facial hair. Bristles are harvested from a special breed of boars in a manner similar to shearing sheep.
Vegan Beard Brush
The alternatives to boar bristle are vegetal fibers like tampico or synthetic bristles. Here's one of each.
ZilberHaar Vegan Beard Brush – This cruelty-free brush is made of stiff tampico bristles, a cactus plant fiber extracted from Agave leaves, and a walnut handle. Featuring made in Germany craftsmanship, this brush is guaranteed for a lifetime.
Tombstone Synthetic Beard Brush – This wood military brush is made with synthetic bristles that also exfoliate skin, distribute natural oils, and distribute blood flow.
How to Use a Beard Brush
Dry Hair Always brush a dry beard. Wet hair is weaker and more prone to damage.
Detangle If facial hair gets knotted, detangle with a wide-tooth comb first and finish with the brush.
Root to Tip Similar to brushing hair, brush from root to tip makes a beard brush most effective in distributing oils and softening texture.
How to Take Care of a Boar Bristle Beard Brush
Brush out hair or dirt in between bristles with a comb, wire brush cleaner, or another brush. Then, wash the bristles carefully with lukewarm water and soap or shampoo. Don't get the wood handle wet.
To dry the brush, turn the bristles down onto the countertop. When the brush is dry, always store it with the bristles facing up.