Denver is home to all the flavors of barber shops and then some. There are classic shops, hipster joints, and salons catering to men. What really stands out is the personalities behind the some of the stores. There is Chuck, the 90+ year-old barber; Norine, the the energy behind Chopz; and Semion, a 4th generation barber from the former Soviet Union who created a Barbershop for All. Every one of these barber shops cuts great hair but they have different pricing, menus, and atmospheres. It's all about finding the right one for you.
This top 10 list is based on a combination of Yelp ranking and awards. It isn't a definitive list of Denver barbers. A few more highly rated barbers include Wise Guys, Tried and True Barbershop, O'Brien's Tonsorial Parlor, BC Barber Company, Piper's Parlor, and The Usual Barbershop.
Now on to the top 10 Denver barbershops:
10. Alfani's Barbershop
4.5 stars – 47 reviews
Enjoy the classic atmosphere at Alfani's Barbershop along with friendly service and expert cuts. Alfani's offers a range of services from cut and color to line ups and neck trims. They can do everything from a short fade to a mohawk or leopard print hair dye. Look for their scissor-mustache logo.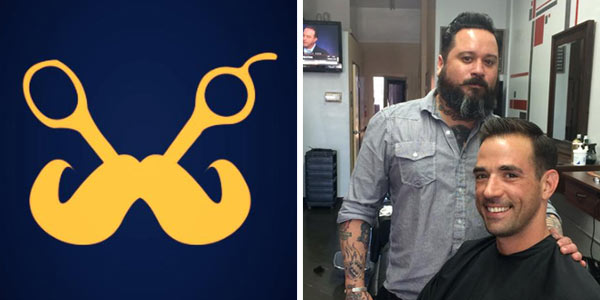 Very mellow, comfortable old school shop. Very friendly and ultra diligent in providing a good cut. Success – my wife says it's the best haircut she's seen on me! Highly recommend if you're seeking a good barber. – Josh C.
1240 E Colfax Ave. (720) 379-6471
9. Al's Barber Shop
4.5 stars – 53 reviews
Al's Barber Shop is a no frills joint with locations in Larimer Square as well as Boulder. While walk-ins are welcome, they cannot always be accommodated. Count on friendly service and expert cuts.

I've been coming to Al's Barber Shop for nearly 5 years now, and it's the only place I've ever been consistently happy with my haircut…
The thing that sets this place apart is that they really know what they're doing. They listen to what you want, and, importantly, they'll tell you if it might not work with your head/face shape, and can give you suggestions that would work better. They also cut your hair so that it looks good on the first day AND grows in properly, which saves me from having to get trims or enduring the mullet my hair inevitably creates.
Bonus: straight razor on the back of the neck with warm shaving cream and a hot towel afterward. This place is the best. – Sam S.
1425 Larimer St. | 303-534-1583
8. Chuck's Barber Shop
5 stars – 39 reviews
In business since 1963, Chuck has been cutting hair for over 50 years. He and fellow barbers Dan Lee still give that classic service with friendly banter, a straight razor neck shave, and vibrating shoulder massage. Cash only, of course.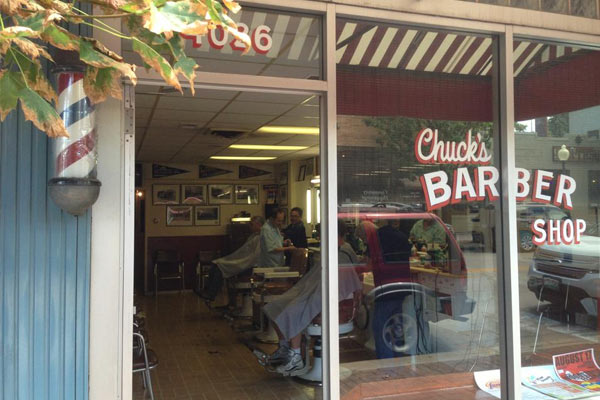 As with other reviews, Chuck's is what a haircut should be about, old school to the bone! It's not about speed here but attention to detail that is missing from your cookie cutter places. The straight razor neck shave, the scalp massage, the talc powder brush it's all here. When I'm back in town I'll be back! – Mike H.
4026 Tennyson St. | 303-455-0594
7. GQ Barber Lounge
4.5 stars – 55 reviews
The GQ Barber Lounge is not a barbershop but a "upscale mens hair salon." It is for guys who want to look good and are willing to pay for it. They might not be cheap but they certainly are through. The Performance Cut rings in a $42 but gets you a consultation, massage, hot towel, shampoo and conditioner, cut, style, and hot lather neck shave as well as complimentary neckline trims between cuts. For $26 more, the Full Service Performance Cut does all that plus an express facial and manicure. If you need something extra, they also do hair color, cover grey, and scalp treatments for a range of issues.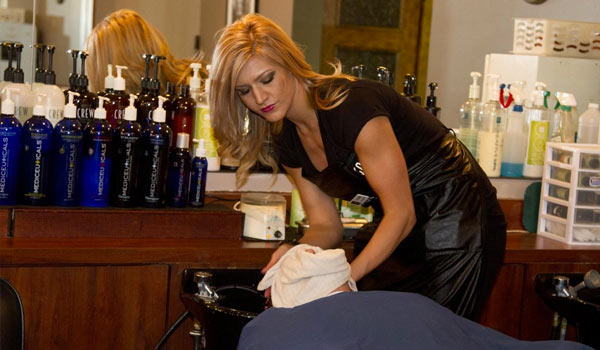 Amazing business in every aspect. To say GQ Barber Lounge is a top-tier shop is an understatement…I could write a book about why I love this shop. But I will just make it short and sweet.
I asked for a bald fade. Most people understand this is the most difficult cut there is…[A]ll I can say is that she nailed it! Nuff said.
Great people. Great service. Great place.
This is what we need to see more of in the rapidly expanding world of barbering.
I highly recommend GQ Barber Lounge to any and all men looking for a high-end experience without any gimmicks. Quality. – Elijah M., National Educator/Men's Hair-Cutting Specialist
1605 17th St. | 303-991-1010
6. Salon Joa
5 stars – 104 reviews
Salon Joa is a full service day spa that also features cuts for women and men. Cuts range in price from $25.00 – $35.00 based on length. Stay cleaned up between cuts with a reasonably priced line-up or neck clean up. If you go for the shaved look, they offer a straight razor head shave as well. They are also experts in Asian hair.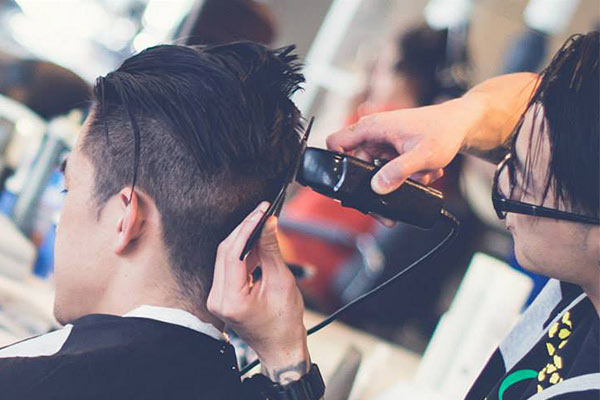 Hoa is the best barber in town and for a reasonable price which is hard to find these days. Always a great cut and experience. Been following him around for a few years and now has his own place which is much deserved. He and his wife have a fantastic setup and all around vibe. Would give 6 stars if I could. – Keith F.

Overall a fantastic place. I really like getting a mens cut here better than several other higher end "men's" places (even the ones that give you free beer). They are very accommodating, quick, use scissors and layer the hair so it looks good instead of using clippers all the way around, which looks so much better as it gets longer. I would honestly pay more than they charge and always had to before for the quality of the job done. – Alex W.
7155 E. Colfax Ave. | 303-284-9535
5. Ollie's Barbershop
4.5 stars – 15 reviews
Once a retro two chair shop, Ollie's Barbershop has moved and gotten bigger and better. It is still a classic shop with fresh cut and straight razor shaves. If you have a beard, take advantage of the basic beard trim that comes free with a haircut. Like all old school shops, it's cash only but do make an appointment.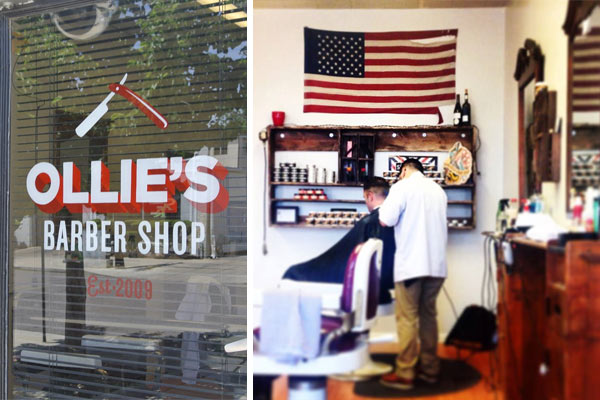 Would highly recommend this place if you are cool with a lower budget facility and cool laid back barbers. I got the back of my neck tapered, which I don't think any stylist/barber has recommended before, but it looks great. These guys seem way able than your average stylist at a chain. Cash only, but a better quality that what you would get at a place like Floyd's for sure. Also a cool environment mixing old school barber with a hipster vibe. I felt more hip just walking by the place! – Brian S.
616 E. Kentucky Ave. | 720-326-6608
4. Leetsdale Barber Shop
5 stars – 41 reviews
Leetsdale Barber Shop is the real deal, an old school barbershop with experienced professionals. The decor is bare bones vintage and it's a great place to "simply relax, watch a game or get involved in some 'man talk'" with the barbers. The barbers are older but have the experience and know-how for all the modern cuts. Like all classic barbershops, it's walk-ins and cash only. In addition to cuts, they offer shaves, beard trims, facials, tonics and scalp massages as well as shoe shines.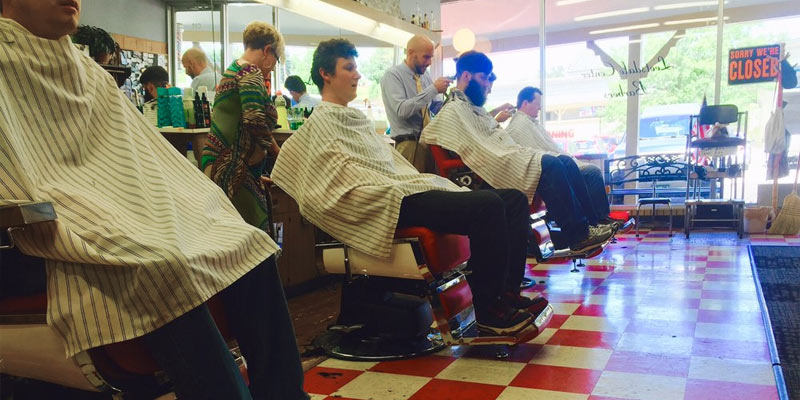 Great classic neighborhood shop. Took the dudes here for fades and hot shaves. No appointments taken – walk ins only. If you need a no frills expertise hot shave or fade these are your guys. – Lisa P.

One of the last few remaining classic barber shops in Denver. Everyone here is a classically trained barber, not some high school dropout who should be working at Super Cuts. The place has a genuine nostalgic feel with all original decor from 50s-60s. All the barbers are incredibly polite and the place is very welcoming to new guys (like myself). Only been there 4 times now but very excited to go back soon for my next cut and beard trim. – Peter R.
600 S Holly St. | 303-388-0454
3. Chopz Men's Salon
5 stars – 11 reviews
Chopz Men's Salon has everything a guy needs to get groomed. On top of haircuts and color, they offer waxing and massages. While there aren't many Yelp reviews, Chopz is a repeat A-List Winner and Denver favorite.
Norine is awesome. I always feel comfortable with her choices. She knows hair and male grooming. CHOPZ is not fancy. it's very casual. Almost like hanging out in a friends rec-room. No attitude. if, as someone pointed out, it's funky…I say bring on the funk. –  Geoff G.
605 Grant St. | 303-863-9900
2. Proper Barbershop
4.5 stars – 103 reviews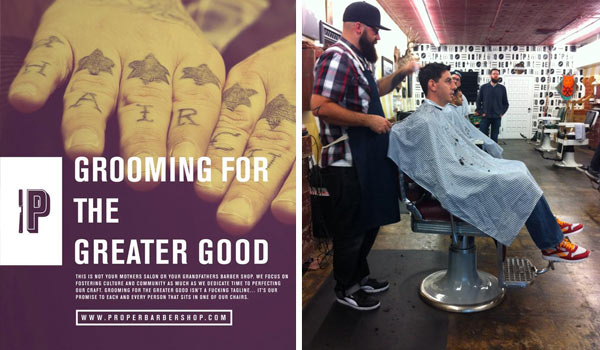 With the slogan, "grooming for the greater good," Proper Barbershop combines the best of old school and modern barbershops. There is the usual service menu of haircuts and a shave, plenty of banter, and vintage Playboys plus drinks and loud tunes. Be sure to take advantage of free maintenance between cuts.
I've visited this shop many times since they've opened and have always been treated to great customer service,  good music,  great conversation, and best of all, great haircuts…Proper has the community feel of that old barber shop that a grown man can enjoy and not dread having to do. What I'm saying is. They're not JUST a place to get a haircut. It's a place to visit and shoot the shit, laugh and unwind while getting a haircut. It may not be for everyone and that suits me fine… – Jason T.
3923 Tennyson St. | 303-303-862-7537
1. Semion Barbershop For All
4.5 stars – 119 reviews
Semion Barbershop For All is a full service barbershop that provides color, brow waxing, and haircuts for long hair in addition to the usual menu. A cut is $23 and even cheaper for teens and kids. Semion is a 4th generation barber from the former Soviet Union who cut his chops back home, at Astor Place in New York City, and at Floyd's in Denver before opening his own shop, which incorporates all the best practices of his barbershop experiences. Semion's takes walk-ins and appointments up to 4 days in advance.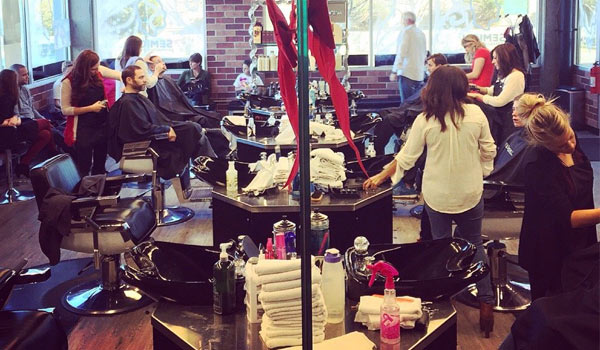 I have been cutting my hair with Semion for about 13 years now! Not only is he just a genuinely great guy but he and all of his staff do an incredible job at cutting hair. I come out of his establishment looking so fresh and so clean every time!
You can't put a price on looking good and I can guarantee you will come out looking better than ever after Semion and his staff work their magic on you!
On top of the high quality of haircuts, the atmosphere is very cool and modern, as well as really affordable prices all around!
I am a lifetime customer and would recommend this joint to everyone!!!! – Sharod D.
507 Lincoln St. #102 | 303-284-8954