It was all about embellishing the fade haircut for men in 2015.
Don't expect this trend to disappear too soon, there will be plenty more variations of the fade in 2016.
We took a look back at what we saw this year and picked out these top 10 super clean and cool looking men's fade haircuts. Each has a different style and length of hair on top.
10. Super Short + Clean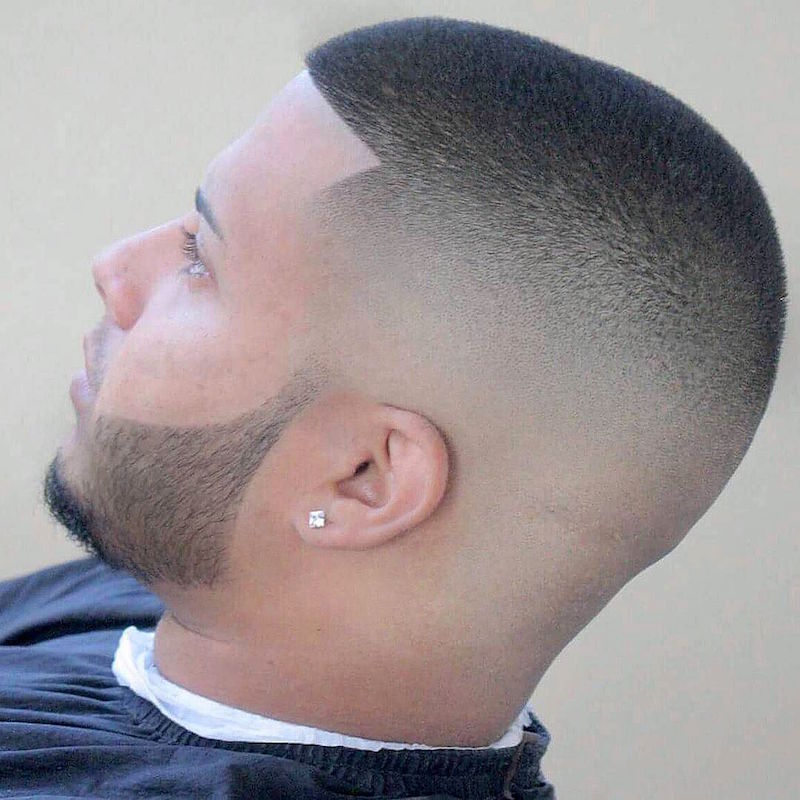 Haircut by Giovanni McGlasson
For the guy who wants a trendy cut without styling, this high taper fade is the answer. Keep the look fresh with barber visits as frequent as every 2-3 weeks if hair grows quickly.
9. Fade + Textured Hair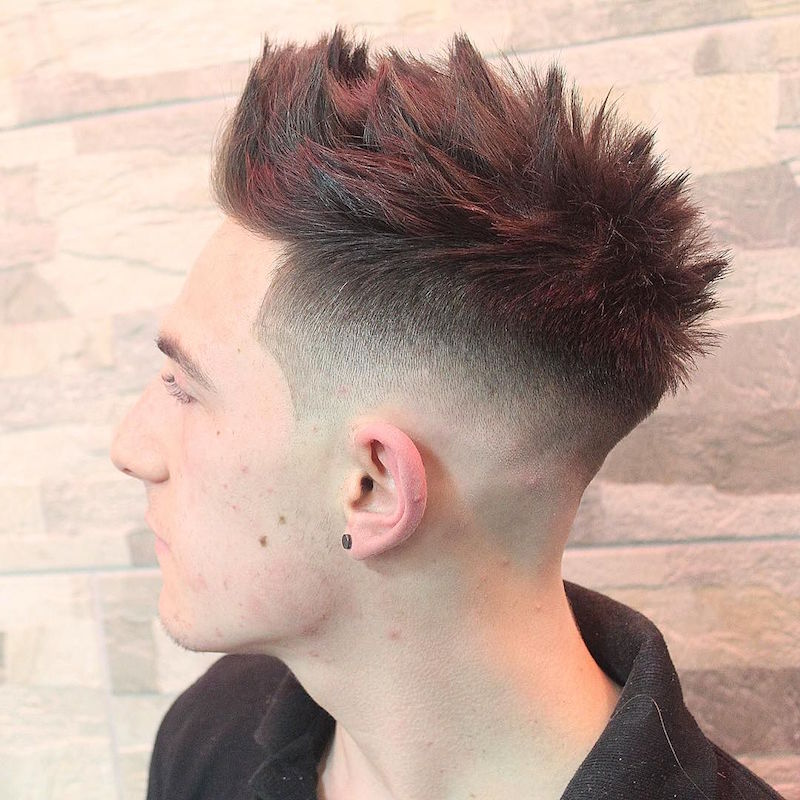 Haircut by Micky Graham
A cool combination of a blurry fade and spikes on top. Use a matte product to get the bedhead-like spikes.
8. Hard Part Pomp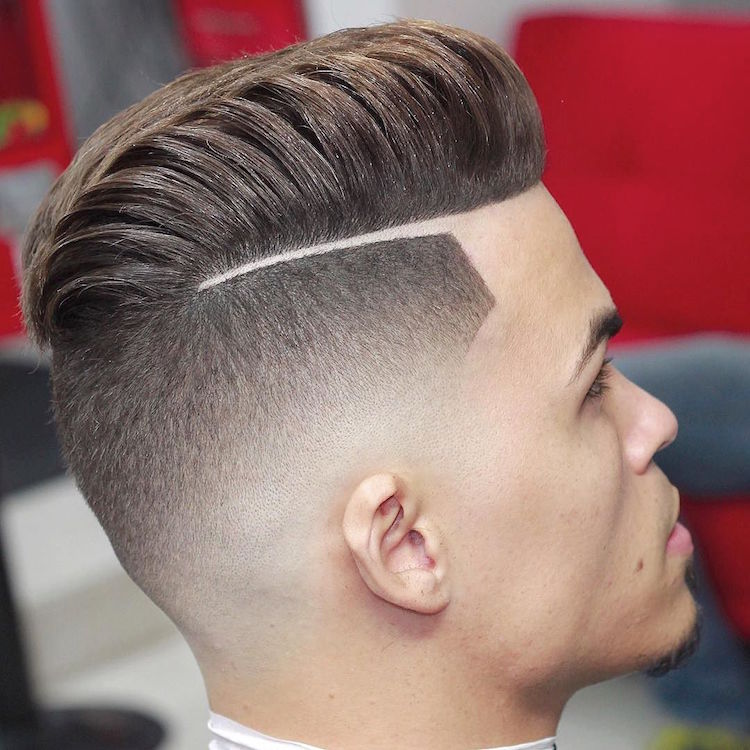 Haircut by Wester Barber
This sick pomp extends the hairline with a razor part that also creates defined separation between long and short hair. It's a clean cut look all around with a burst fade around the ears and ultra smooth pomp.
7. Skin Fade Pomp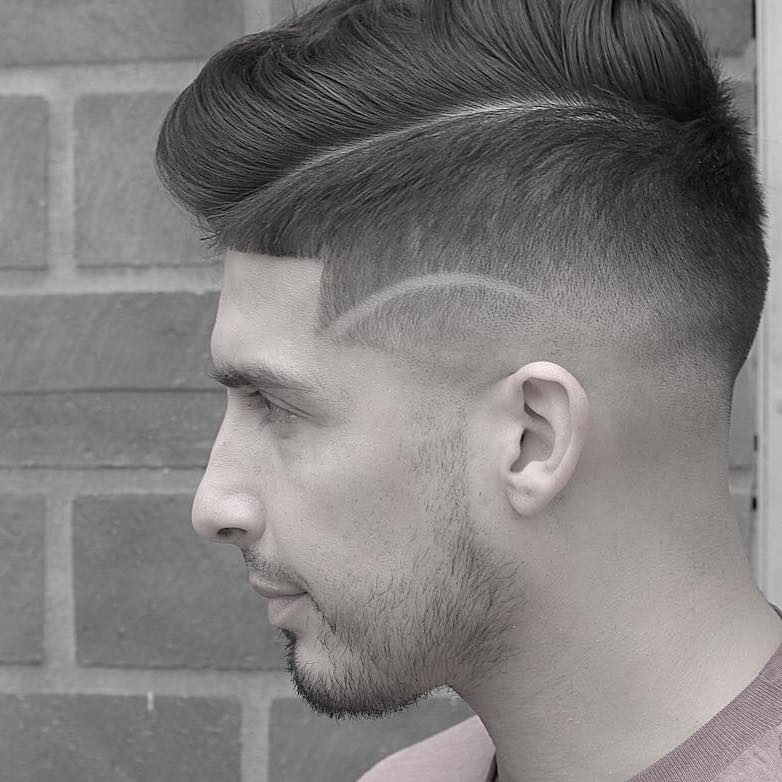 Haircut by DTown President
Another way to rock the hard part is in an arc. This long on top, short sides and back features two parts, one in the midst of the skin fade. The curved cut mirrors the line of slicked across hair on top.
6. Bald Fade + Thick Loose Hair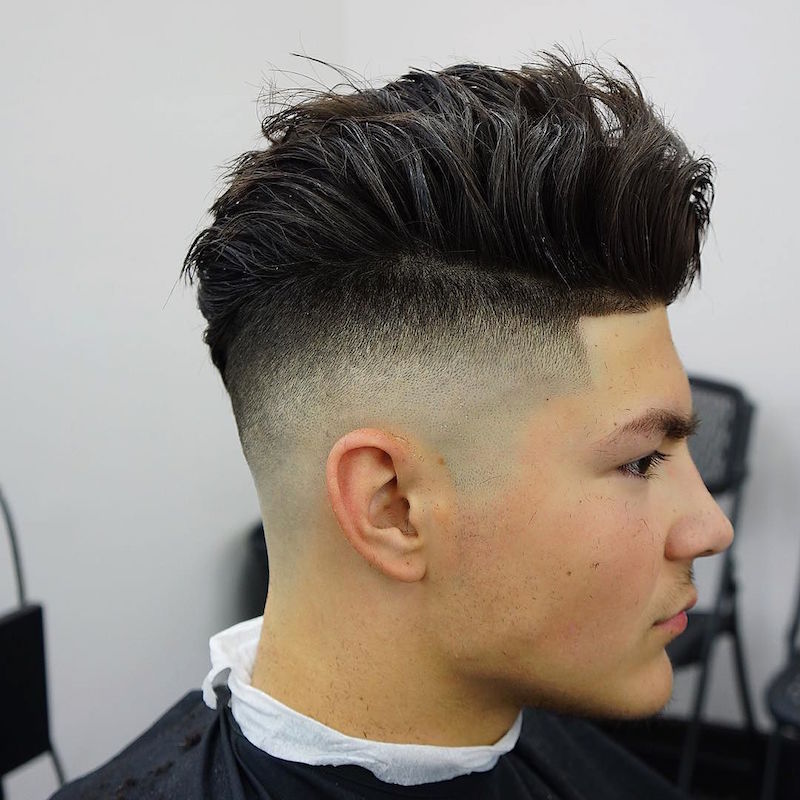 Haircut by criztofferson
For guys with thick hair, a bald fade with length on top keeps hair easy to style while making the most of hair's natural fullness. This cool style has plenty of volume and texture, looking cool and just messy enough.
5. Skin Fade + Natural Curls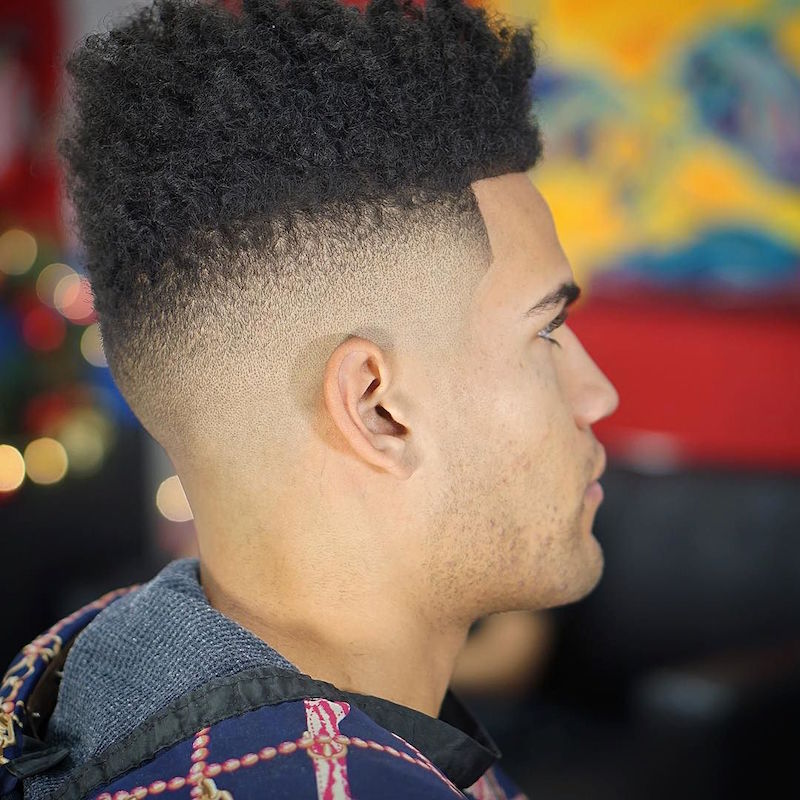 Haircut by Edward
This fresh skin fade cuts hair short in a line extending from the forehead and around the back of the head. Up top, kinky curls are worn almost flat top high but with a natural edge.
4. High Fade + Loose Curls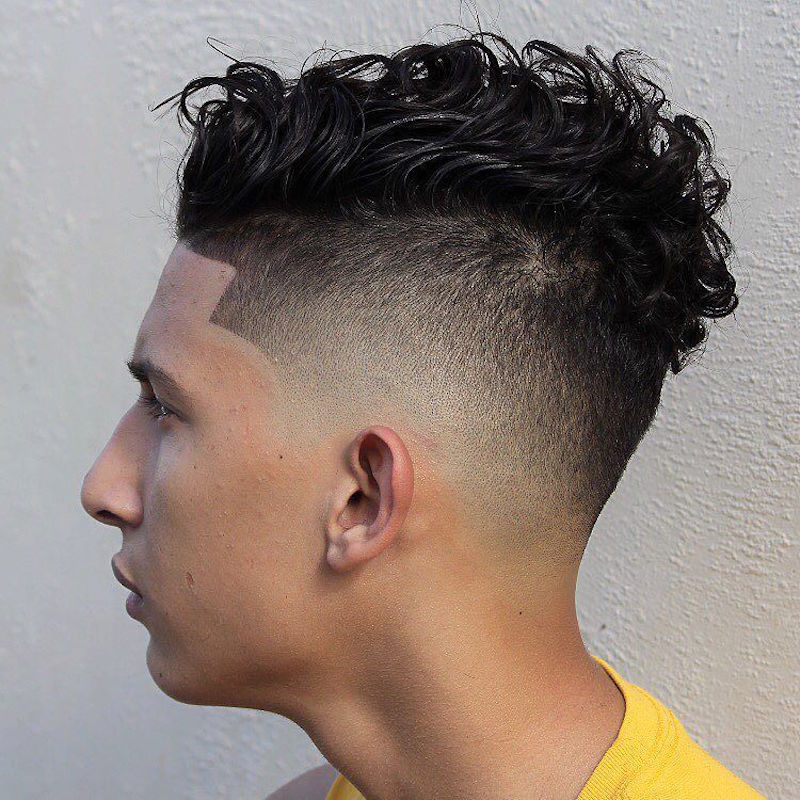 Haircut by Nelly
This fade is so high, it is bordering on mohawk territory. It's a quick and easy style for guys with curly hair. Just work a medium hold product through hair and you're good to go.
3. Short Wavy Hair + Hard Part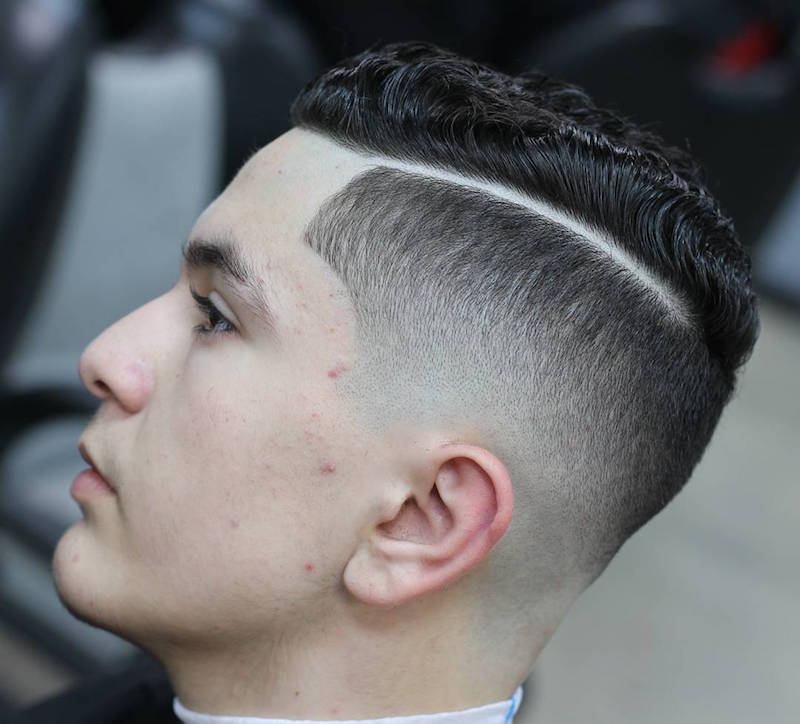 Haircut by Alex Parjus
An exercise in juxtaposition, this cool men's haircut contrasts long and short, straight and waves. The sides taper down to the skin along the hairline. Up top, hair is worn in a combover that brings out the volume and texture of wavy hair.
2. Perfect Fade + Hard Part + Natural Waves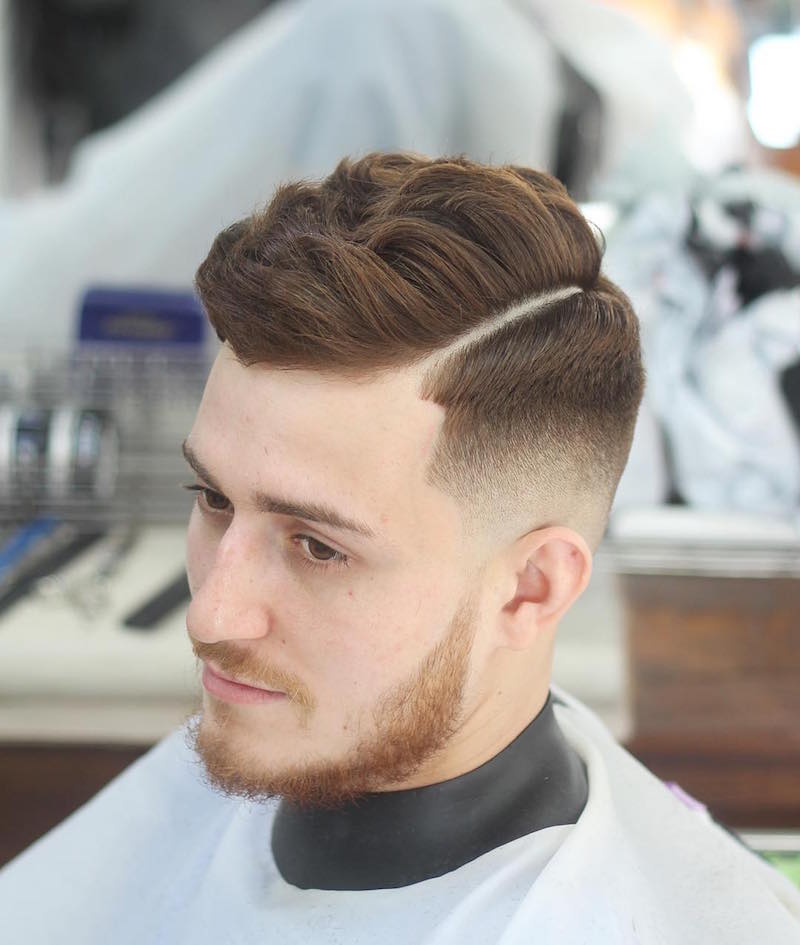 Haircut by Alan Beak
To get this volume and natural waves without product, all it takes is a few minutes with a blow drier. Guide hair up with fingers while blasting air in the same direction. The short hair below the hard part will also benefit from some hot air to help it lay down flat. Use a touch of matte product if necessary.
 1. Textured Hair + Side Hard Part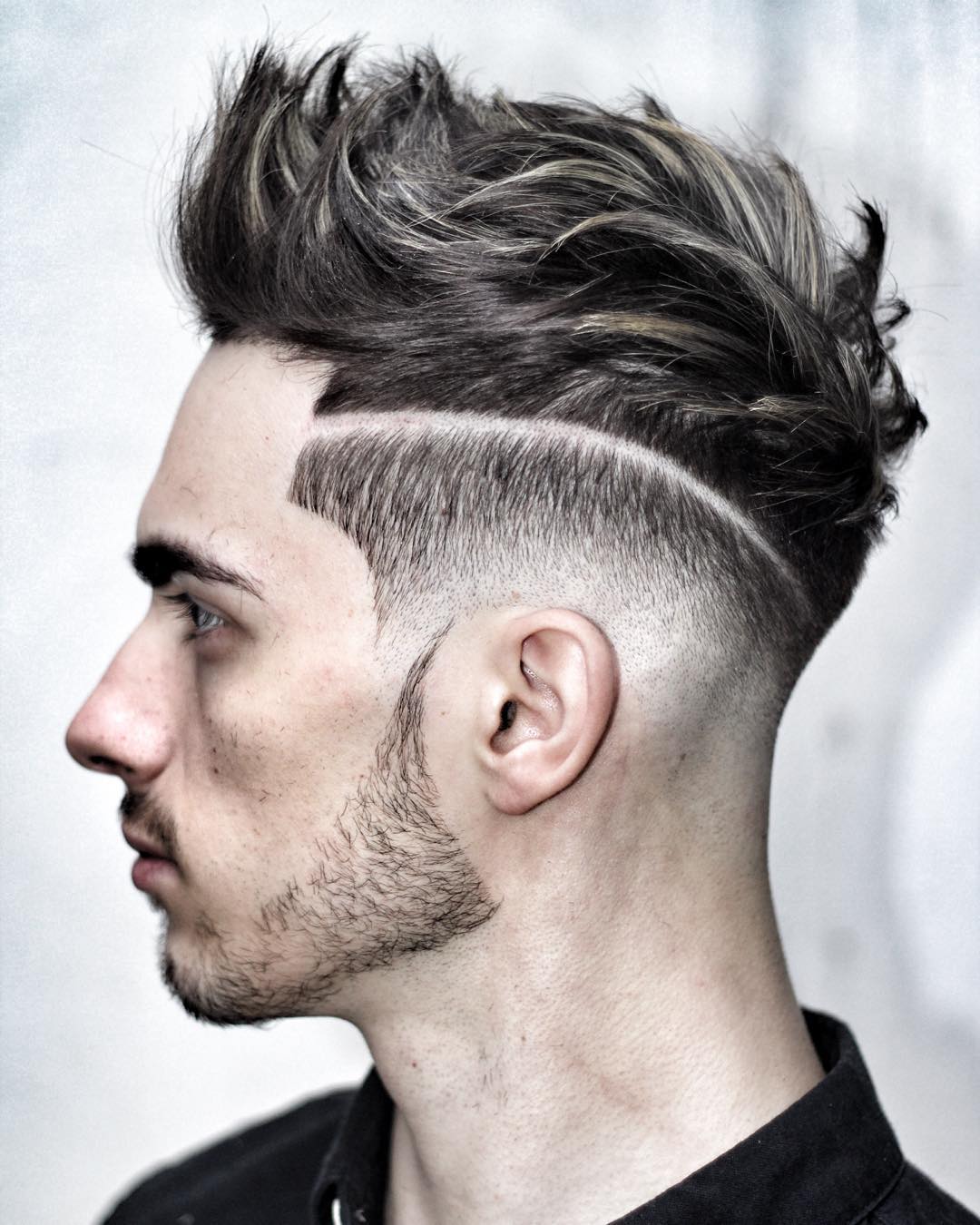 Haircut by Ryan Cullen
It's easy to see why this is top fade haircut of the year, with bold styling from root to tip and color too. Up top hair is formed into the textured peaks that are the cool way to wear spikes today. Moving down, a razor part at the temple echoes the line of longer hair. Below that, a taper fade exposes skin just above the hairline all around.
If you love this look, get some styling tips from your barber and go back often to keep the fade and razor part blurry and fresh.
For more cool haircut and hairstyle ideas take a look at these top posts: