These top haircuts for men are the most flattering classic cuts and some of the latest trends.
Whether it's for short or longer hair, fine or thick, all of these men's hairstyles look good and are easy to wear.
Mix it up by combining different hairstyles on top with your favorite look at the sides and back. While fades reigned last year and are still going strong, longer sides are gaining popularity along with low fades and neck tapers.
Check out twenty-five of our favorite looks, in no particular order.
1. Textured Slick Back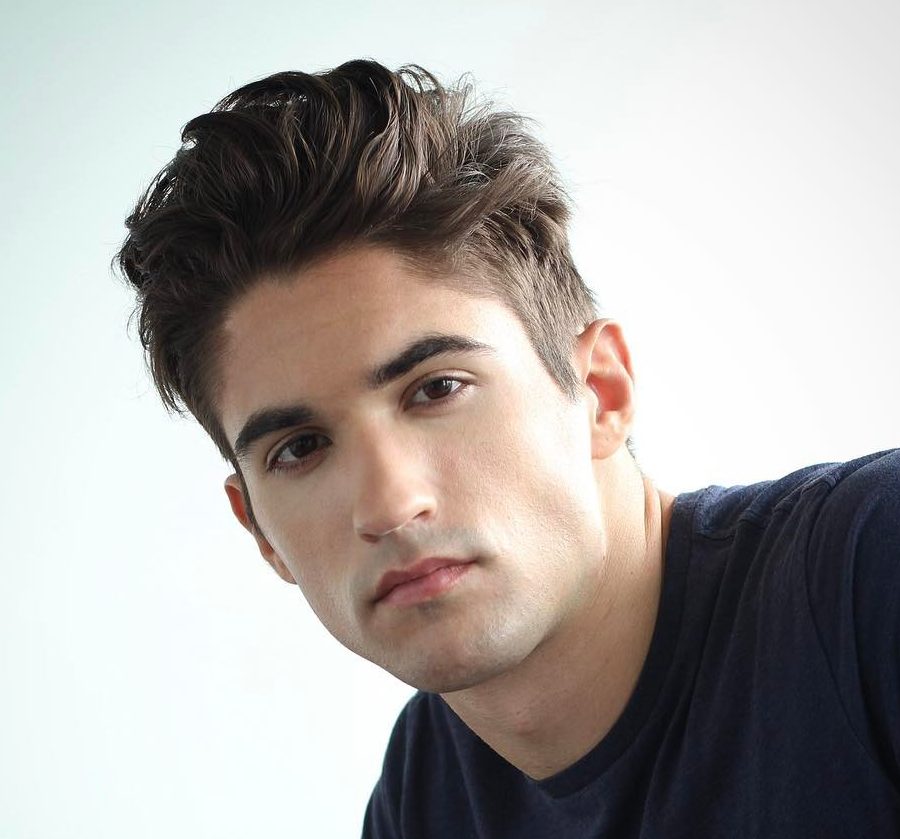 This year is all about texture and tousle, meaning it's easier to style men's hair than ever. Rub a touch of product between palms, work it through almost dry hair with fingers and that's it.
2. Short Quiff + Mid Fade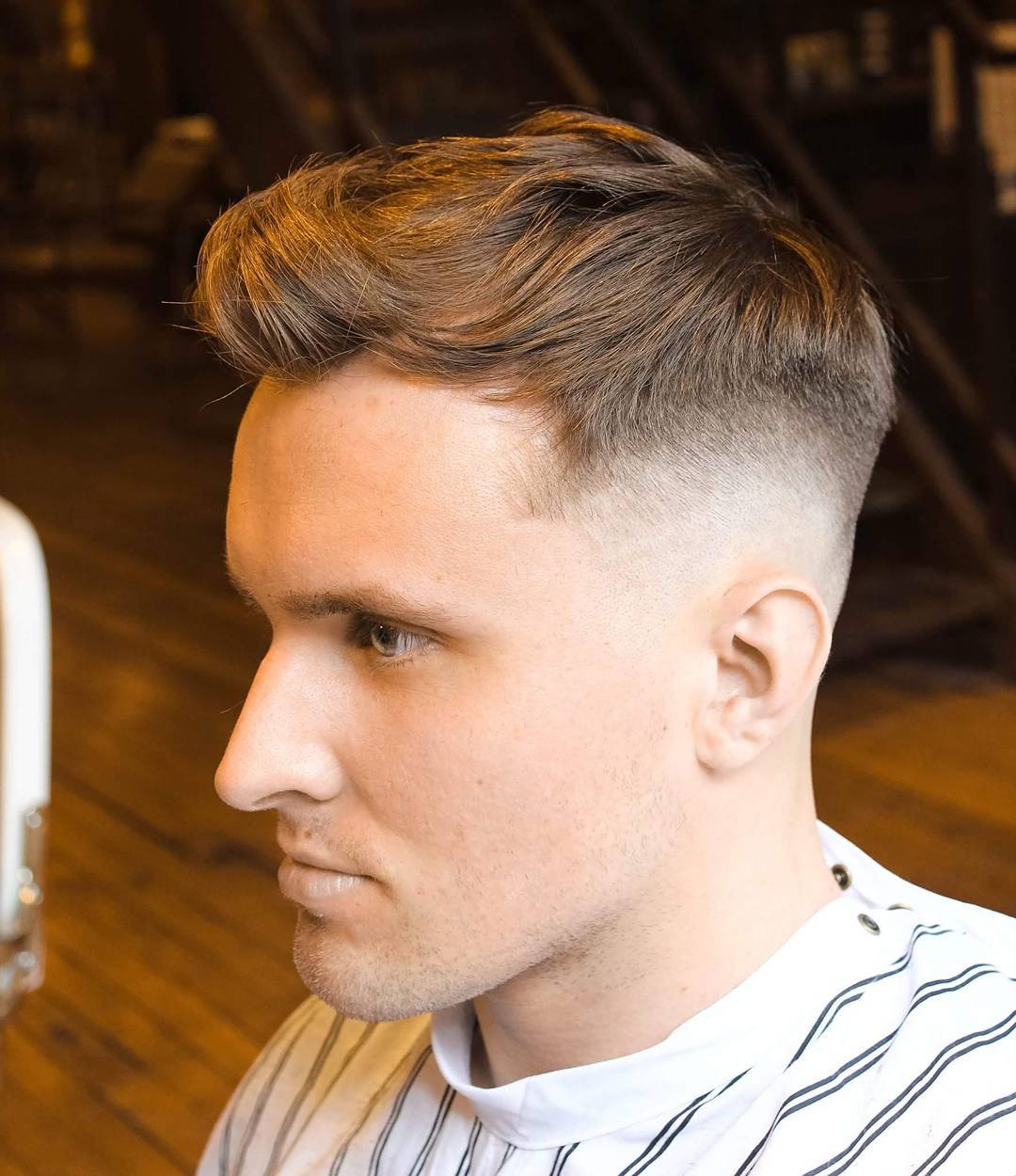 A quiff hairstyle has a burst of volume at the forehead with flat hair on top. This is about as short as it gets while being able to get that signature profile.
3. Short Hair + Drop Fade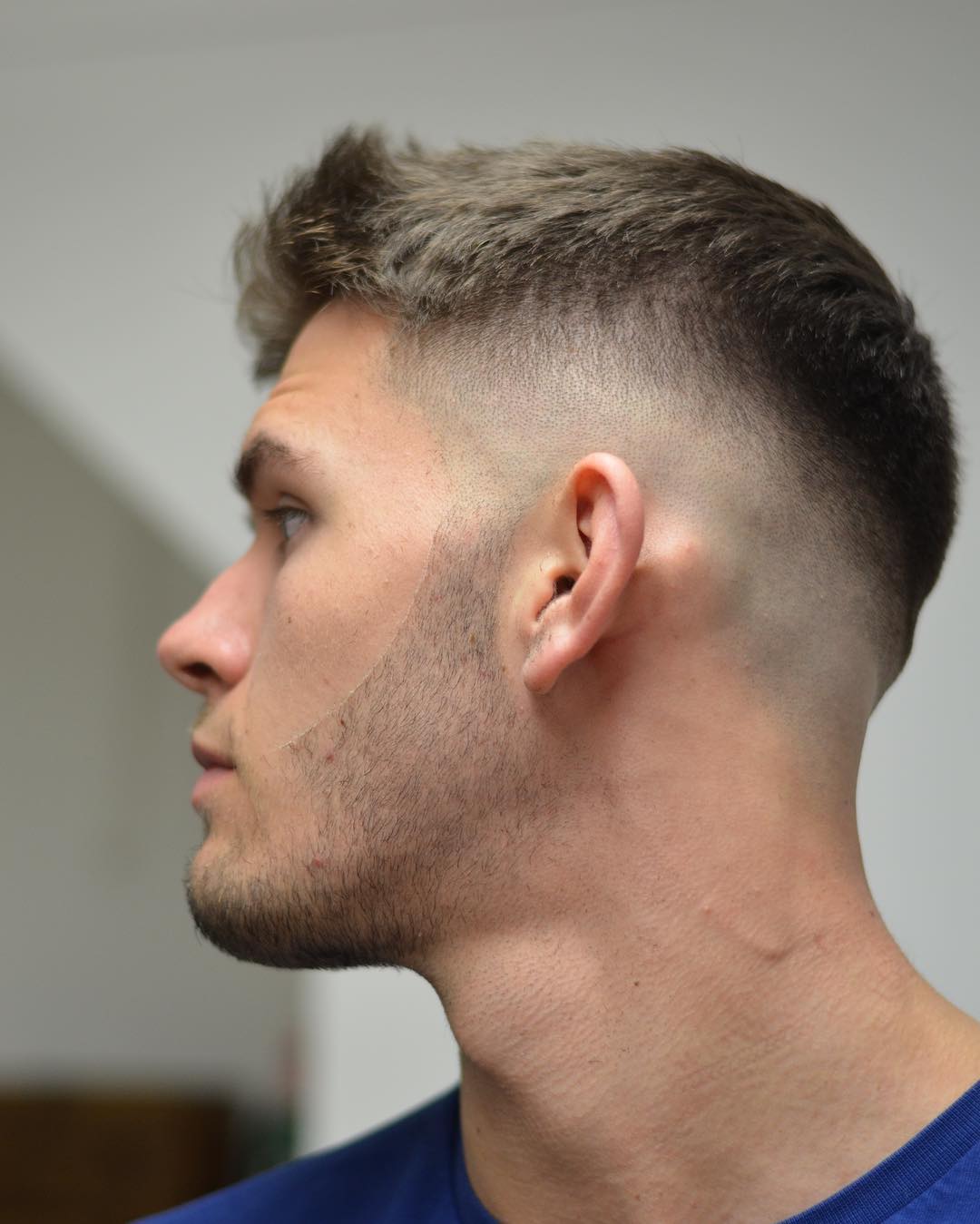 A bald fade that drops down behind the ear adds even more style to this short, textured crop.
4. Medium Cut for Thick Hair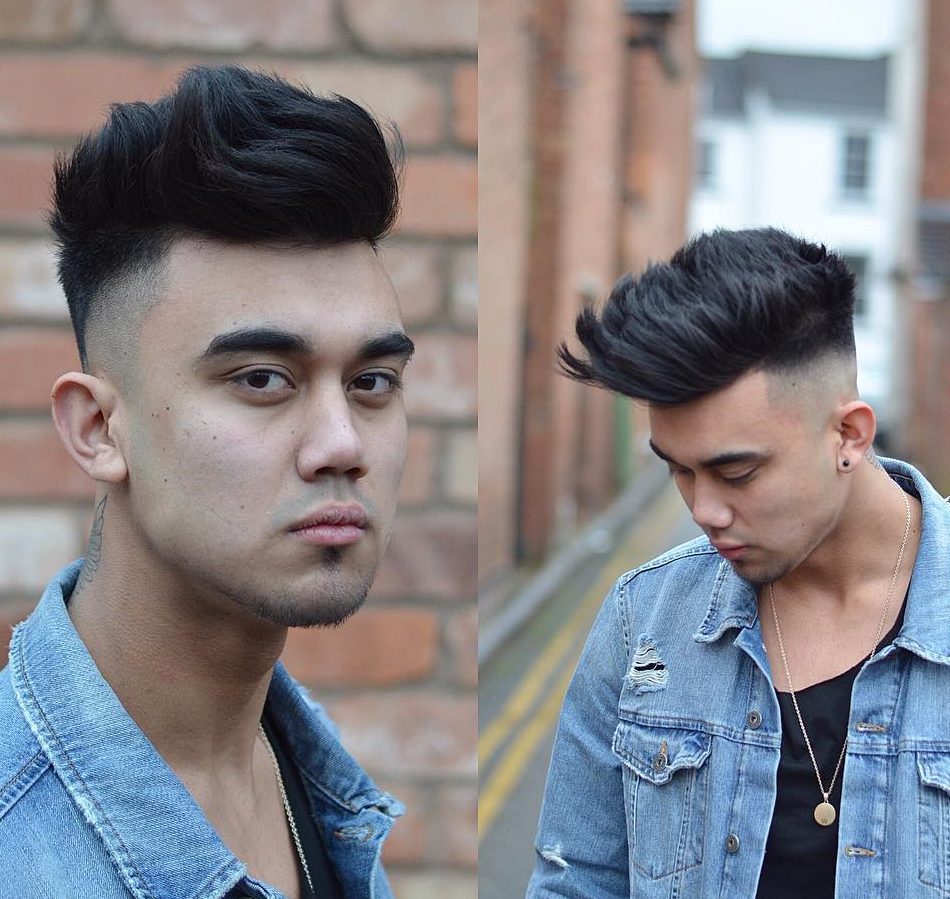 Thick hair is made for these types of high volume styles. Use a blow dryer and guide hair into place to get all day hold with minimal product. Mix it up by wearing hair slightly tousled or straight up.
5. Messy Side Part Hairstyle
It's not just the sides of hair that are getting longer. Lots of men's popular looks are worn longer and looser. This is a great example with the classic side part styled with plenty of volume and a tousled finish.
6. Long Curls + Temple Fade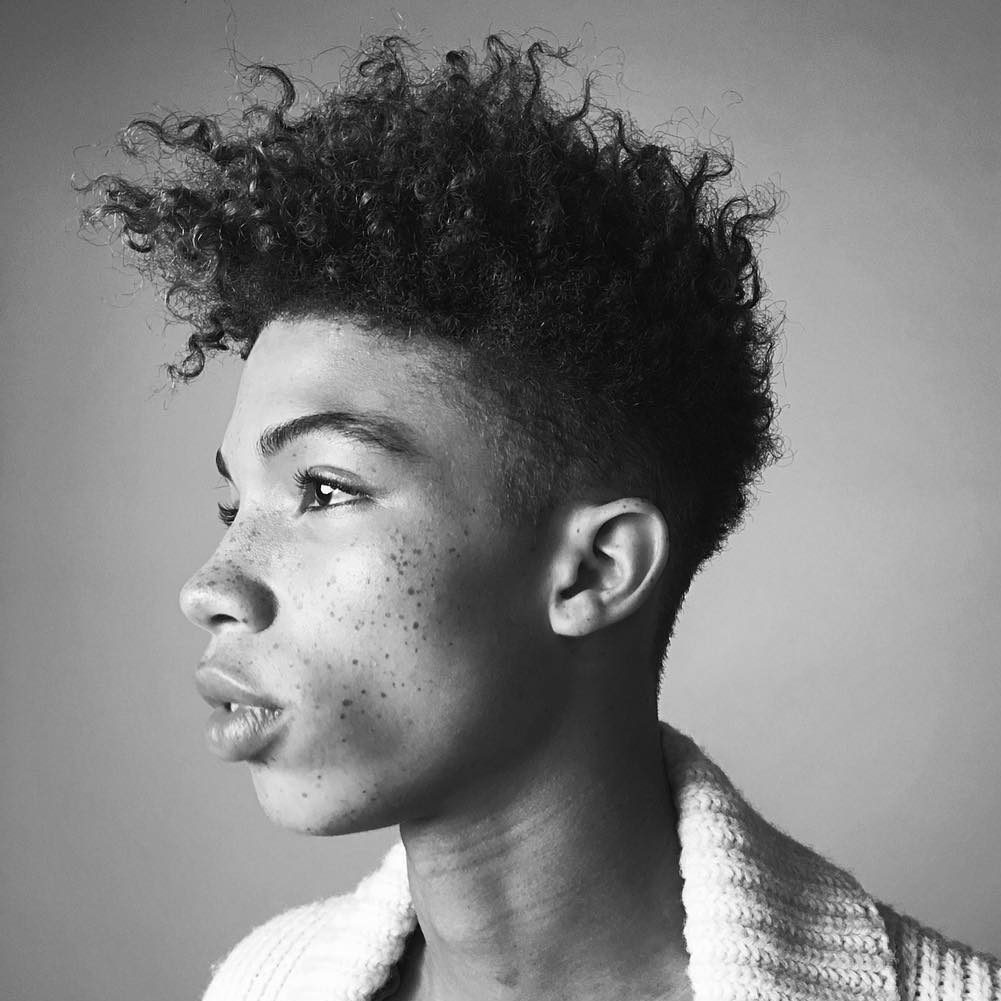 All types of hair are getting longer, including curly and black hair. With a cut that layers and shapes curly hair, these longer styles are as easy to wear as shorter cuts.
7. Tousled Style for Fine Hair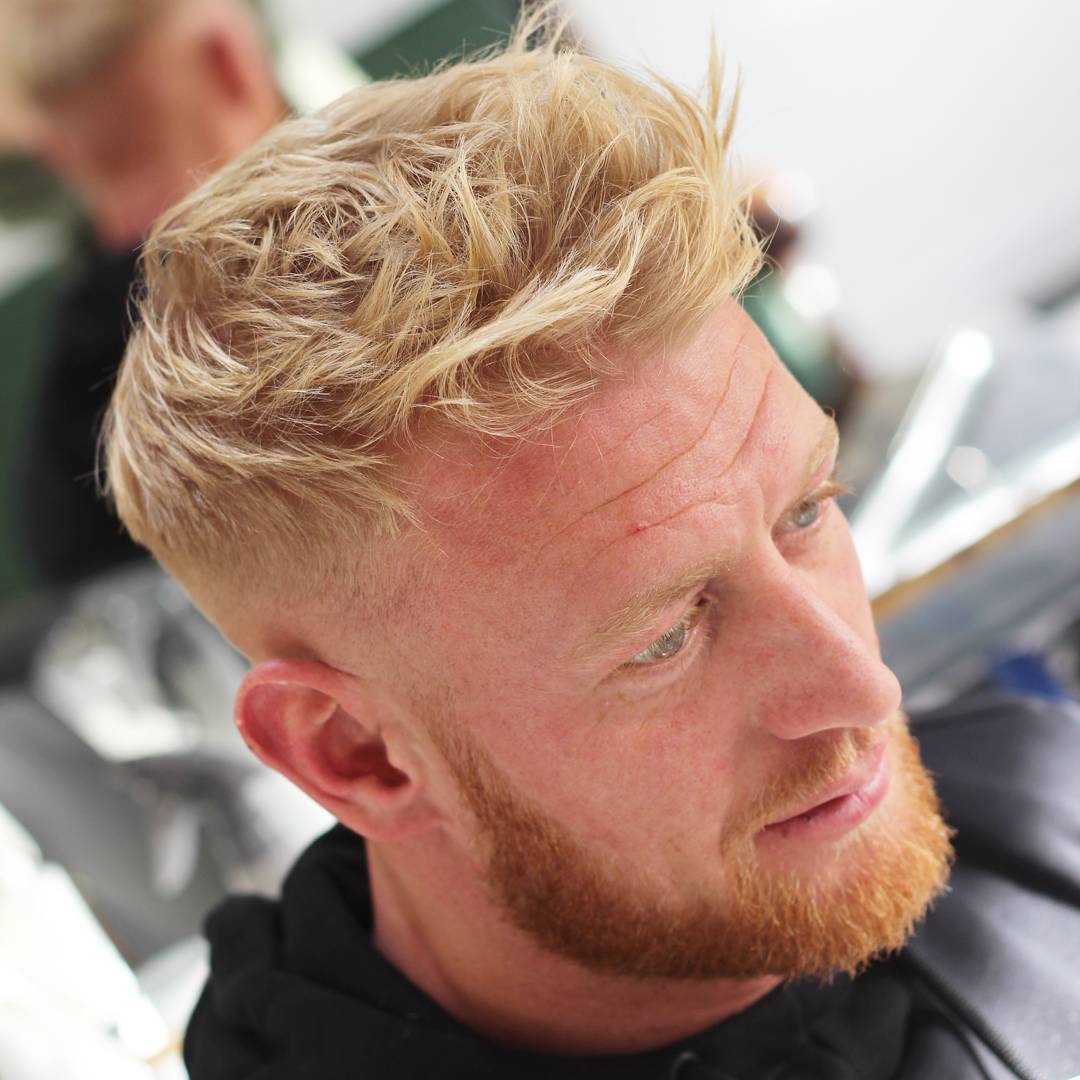 The textured and tousled trend isn't as easy to achieve for guys with fine hair but it can be done. It's all about a combination of the right cut and texturizing product that bulks up hair, adds definition and provides hold.
8. Natural Flow + Taper + Temple Fade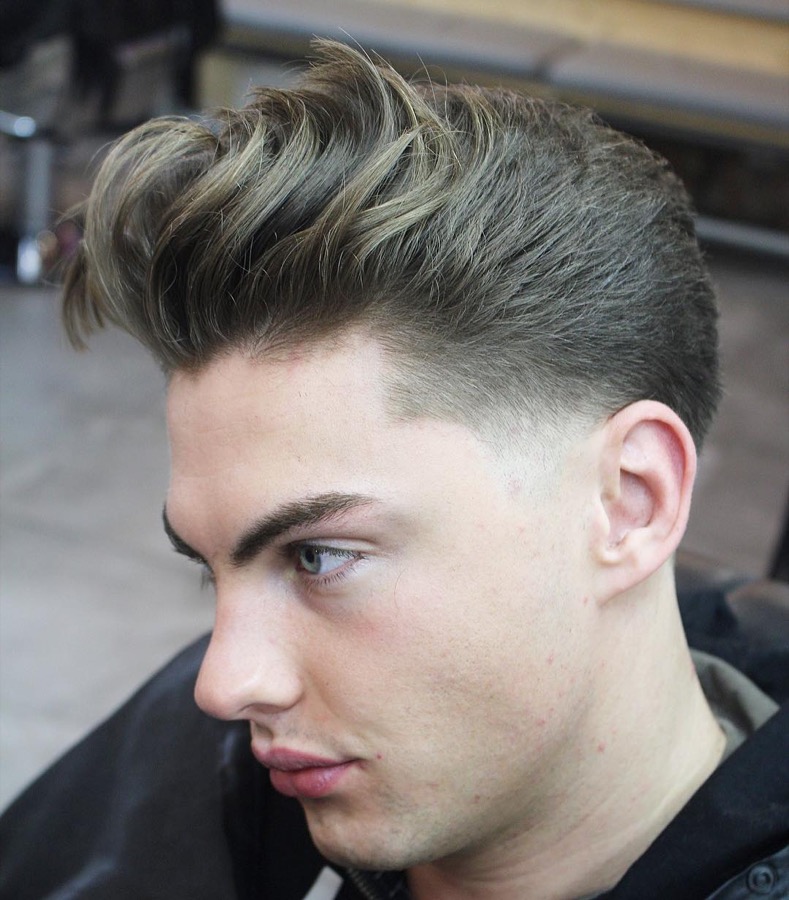 This cool cut contrasts long hair styled into a messy slick back with a clean cut taper and temple fade.
9. Short Curls + Neck Taper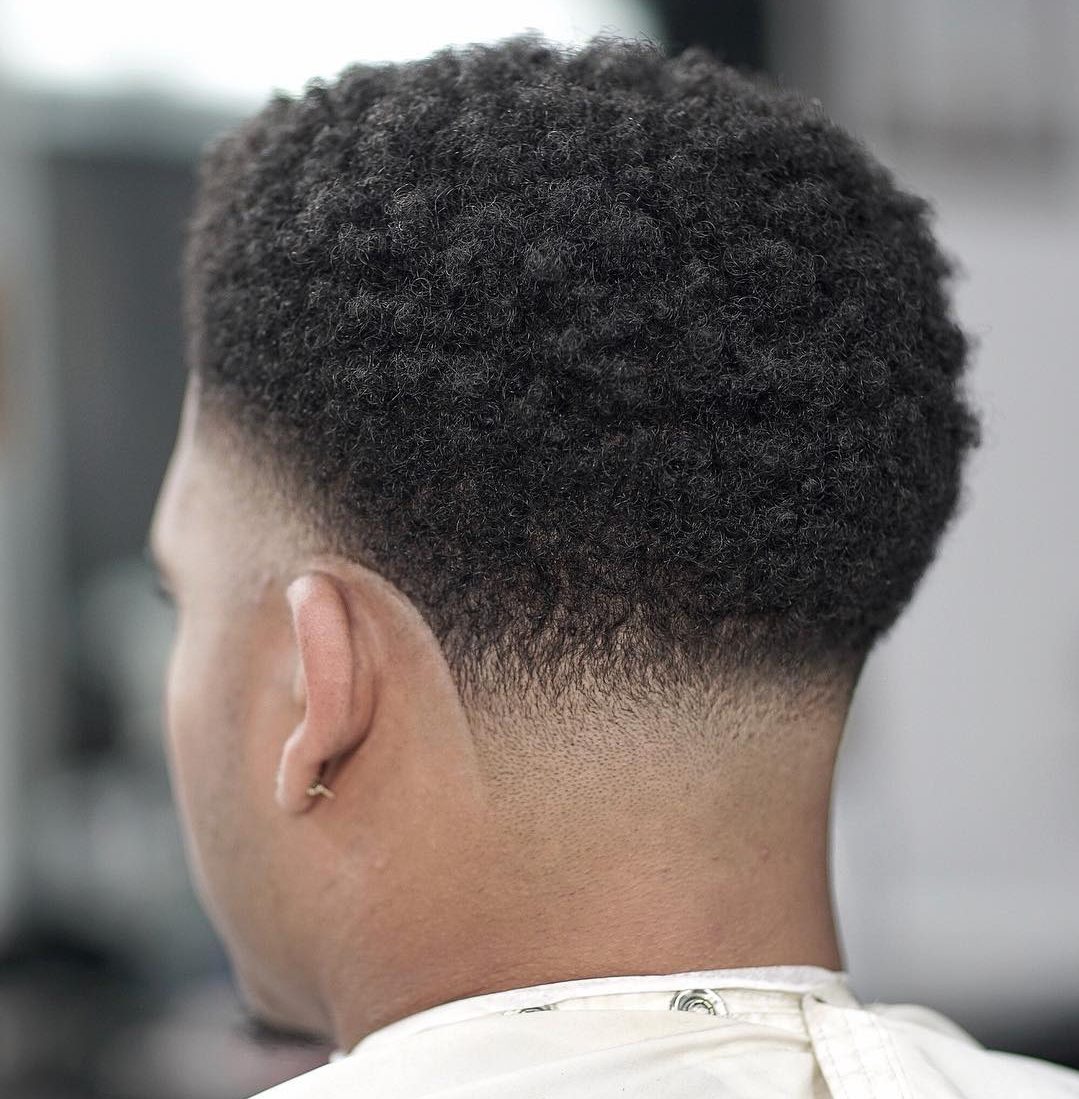 These clean cut edges are a flattering frame for a short curly haircut. The same low fade all around would look great with longer hairstyles too.
10. Textured Crop + Bald Fade Hair Design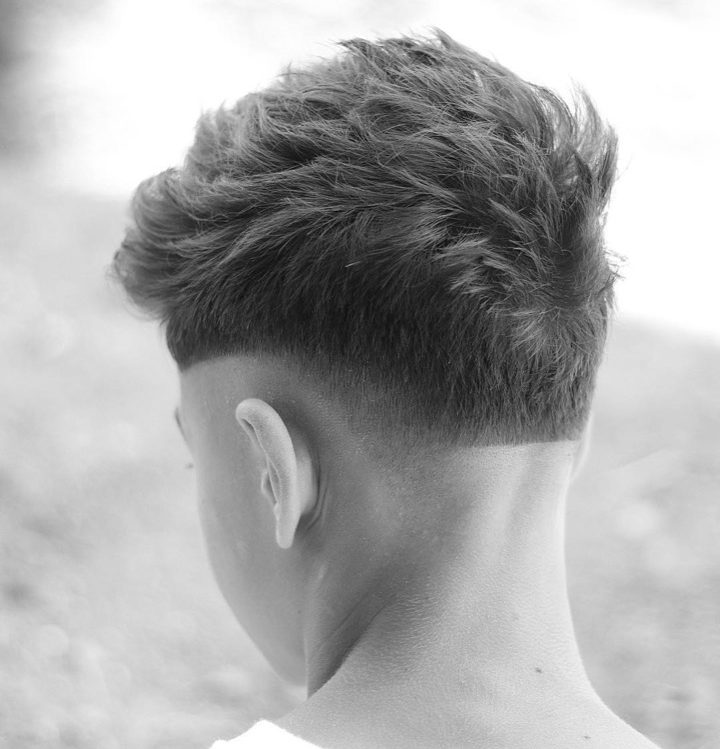 On top, this is the trendy textured crop that is everywhere right now. Usually worn with some type of fade, this style gets a bold finish with straight edges at the temples and neckline.
11. Thick Crop + Mid Fade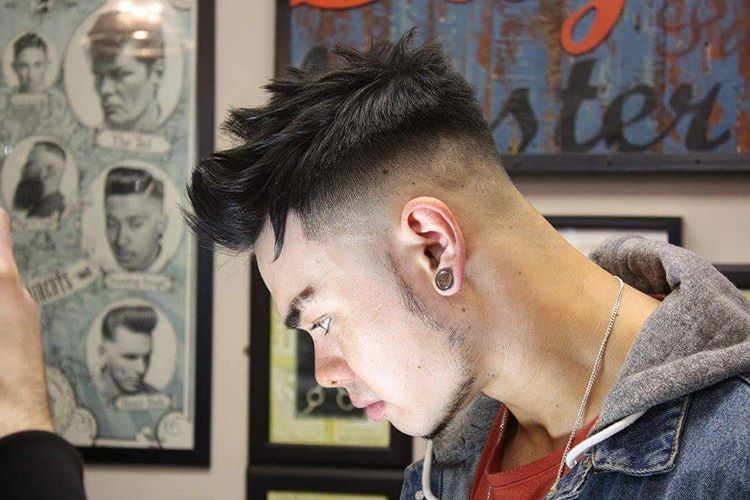 Another cool way to rock the textured crop, this cut showcases ultra thick hair while keeping it stylish and manageable. A mid fade can be kept up with regular barber visits but also looks good growing out.
12. Textured Crop + High Fade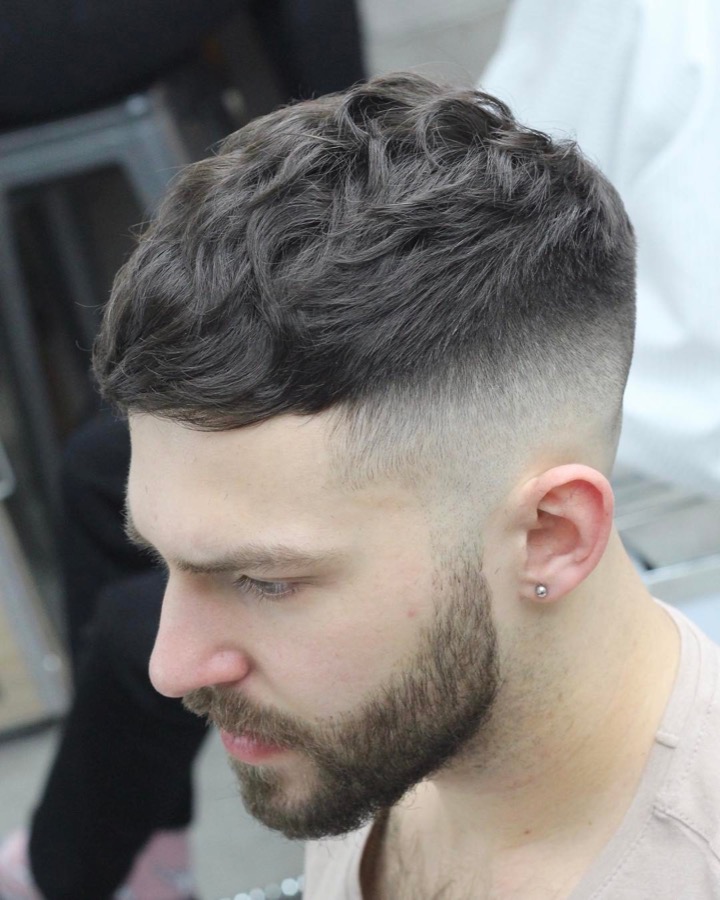 Seriously, this cut is everywhere because it looks good, is easy to style and is a fresh look as far as men's hair goes. It's an excellent short hairstyle for guys with wavy hair that works with hair's texture.
13. Messy Pomp + Temple Fade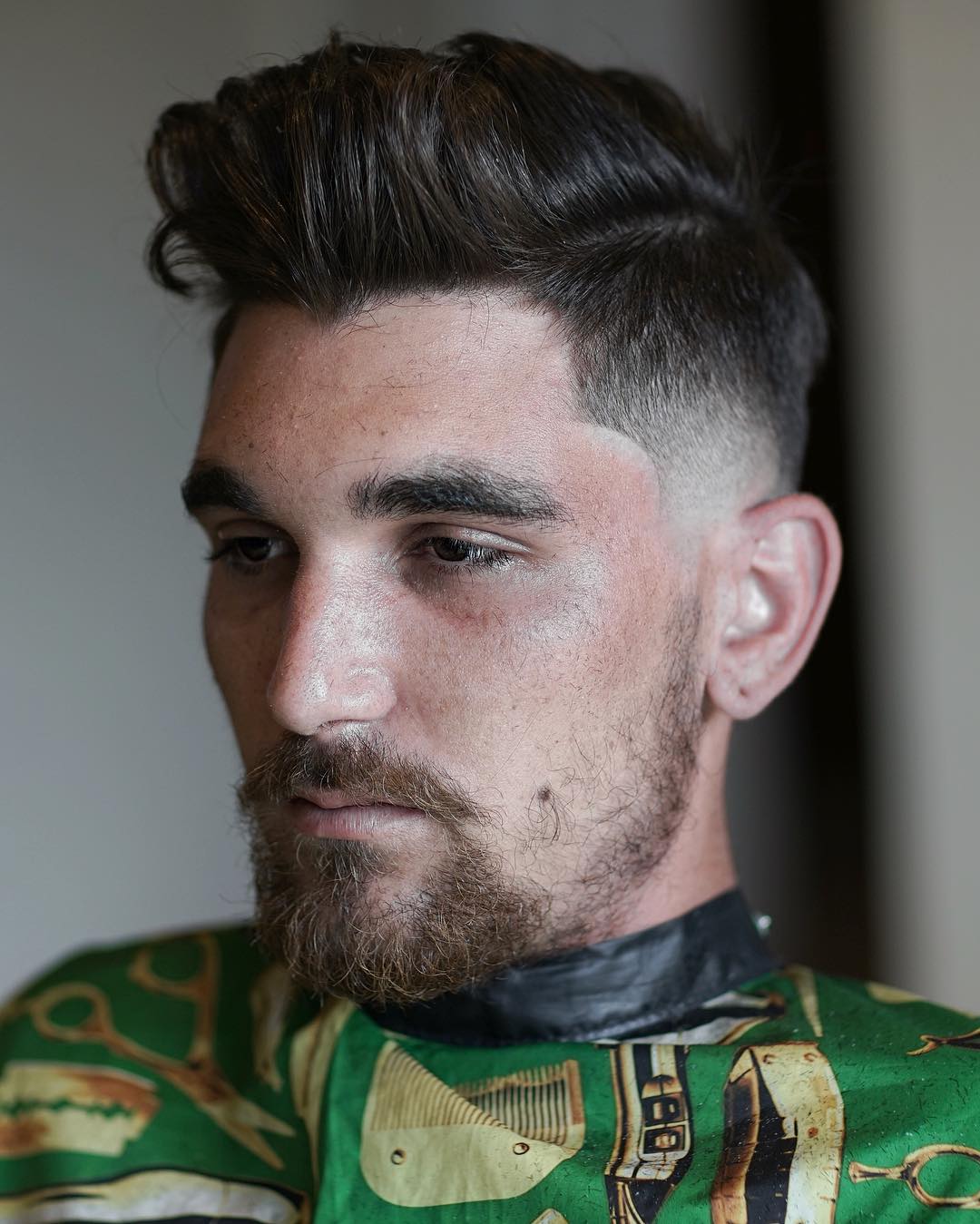 Mix and match different trends to create your own unique cut. This cool style features a matte pomp styled with some tousle and a high fade that goes down to the skin at the temples.
14. Matte Pomp + High-Low Fade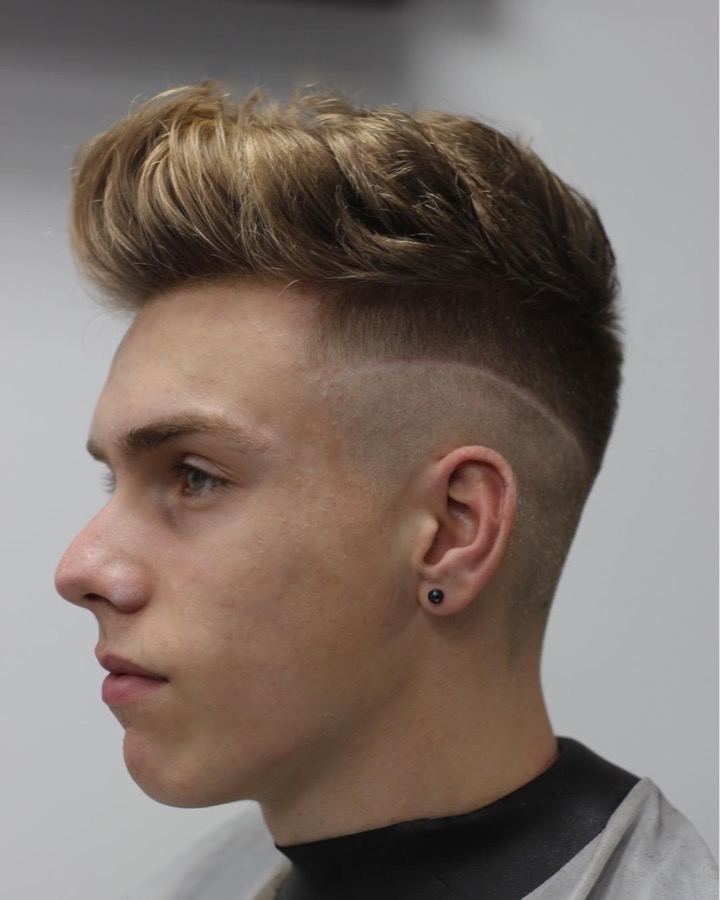 Men's hairstyles are constantly evolving. Here's a modern version of the pomp styled dry with texture plus a high low fade that combines two fades in one.
15. Crop with Angled Fringe + Bald Fade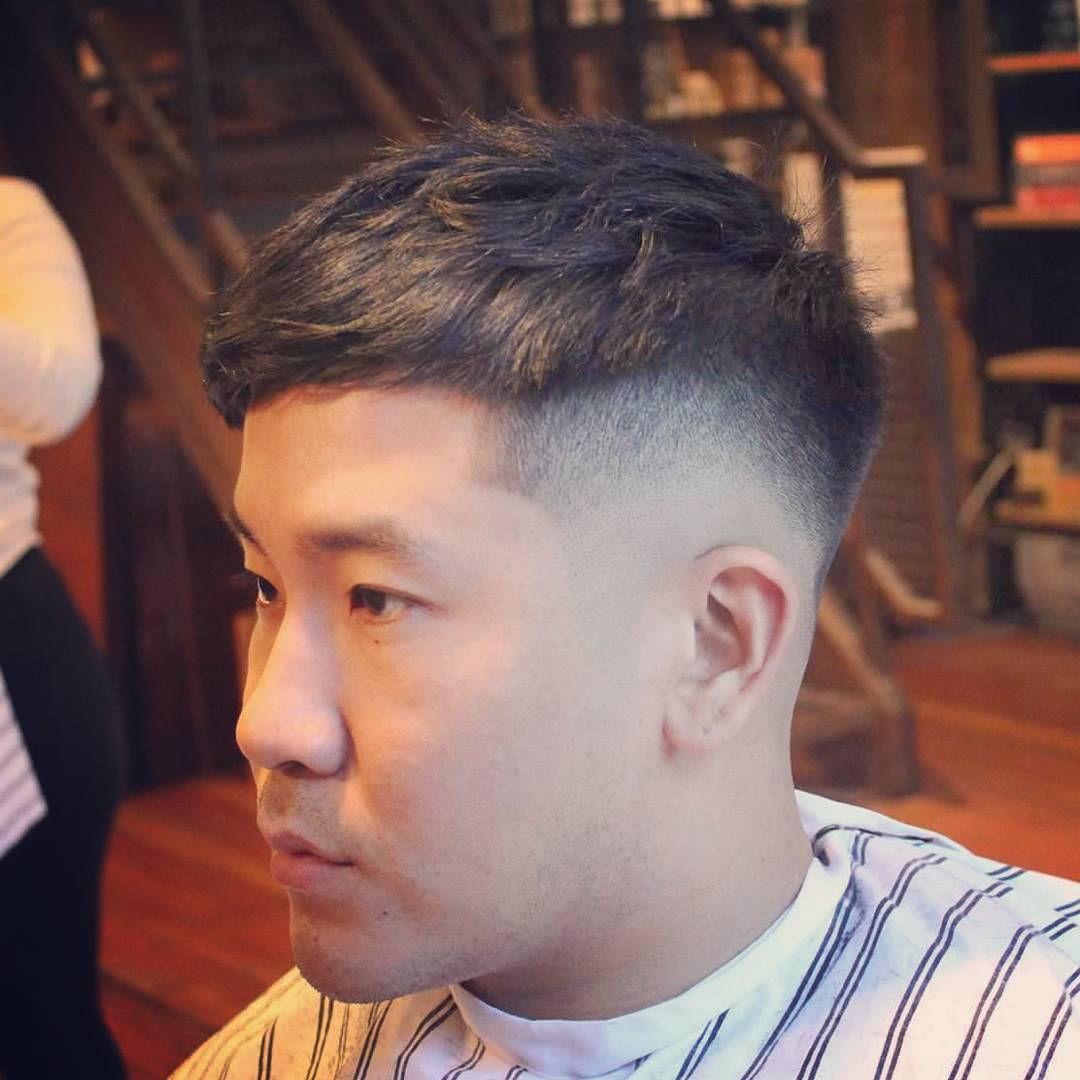 The layering and texture is a cool way to wear thick and coarse hair. Every version is a little bit different to work with your particular face shape, hair type and daily styling.
16. Fohawk + High Fade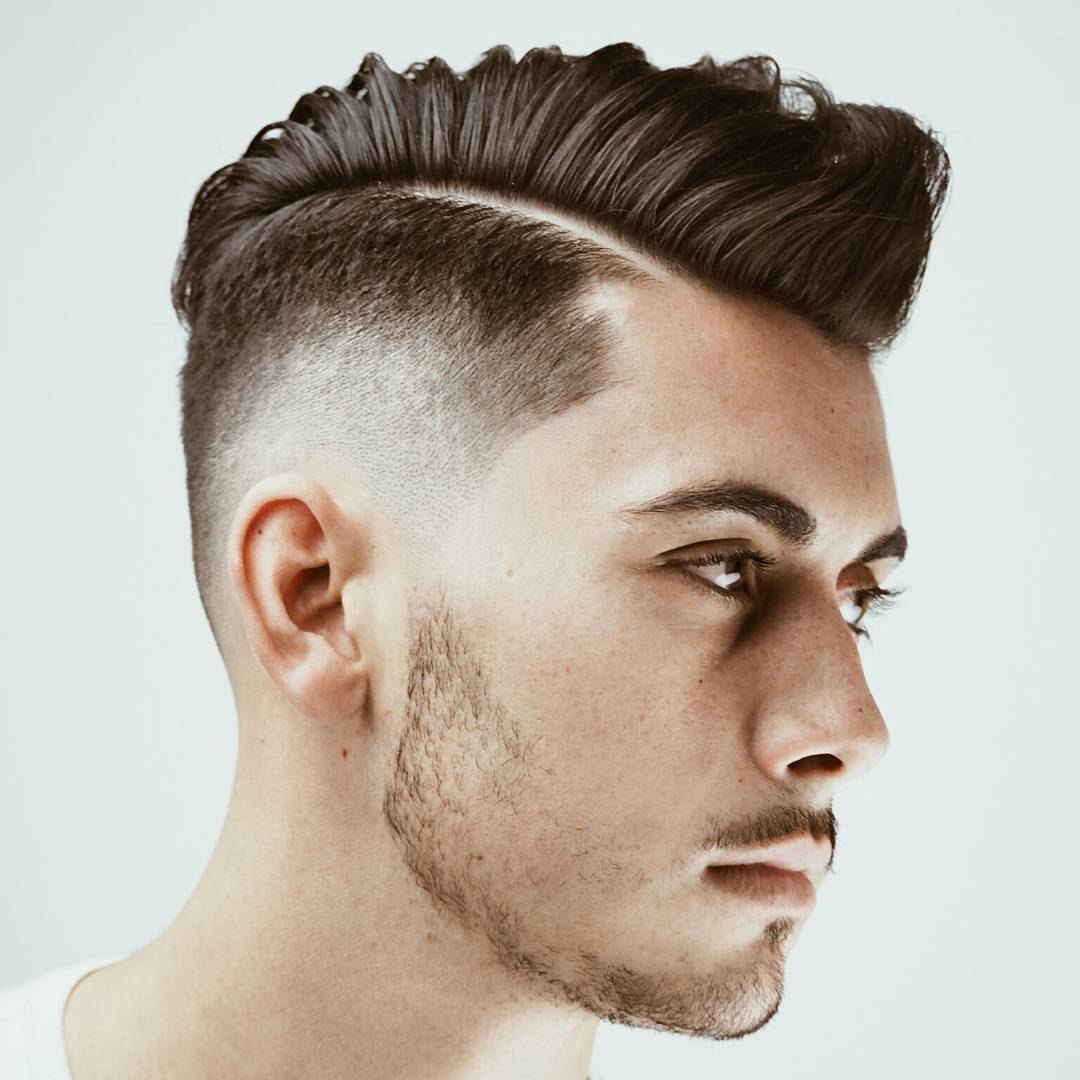 The faux hawk is another men's hairstyle that keeps changing. It still looks cool with spikes but this pomp hawk it both tough and sophisticated. A high fade and shaved parts draw even more attention to this fresh style.
17. Fade Haircut + Hair Design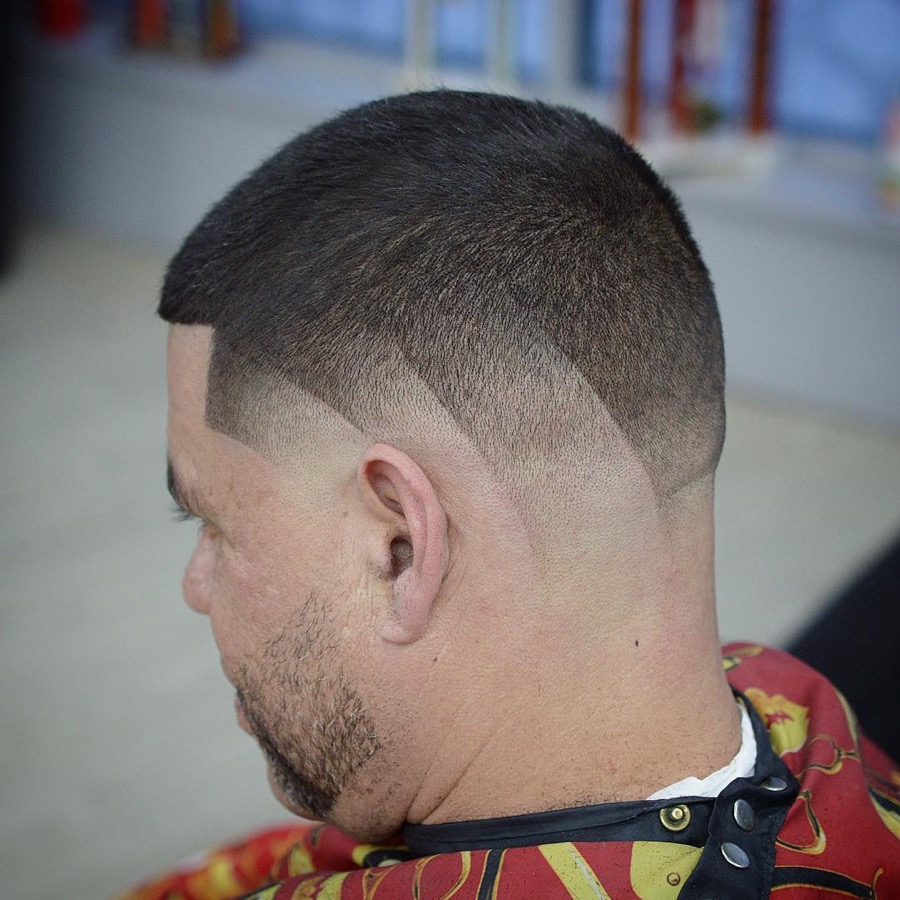 A fade adds plenty of polish to a buzz cut but this shark gill-inspired hair design brings it to the next level. With ultra short hair like this, you can try a new design every couple of weeks.
18. Buzz Cut + Edge Up + Drop Fade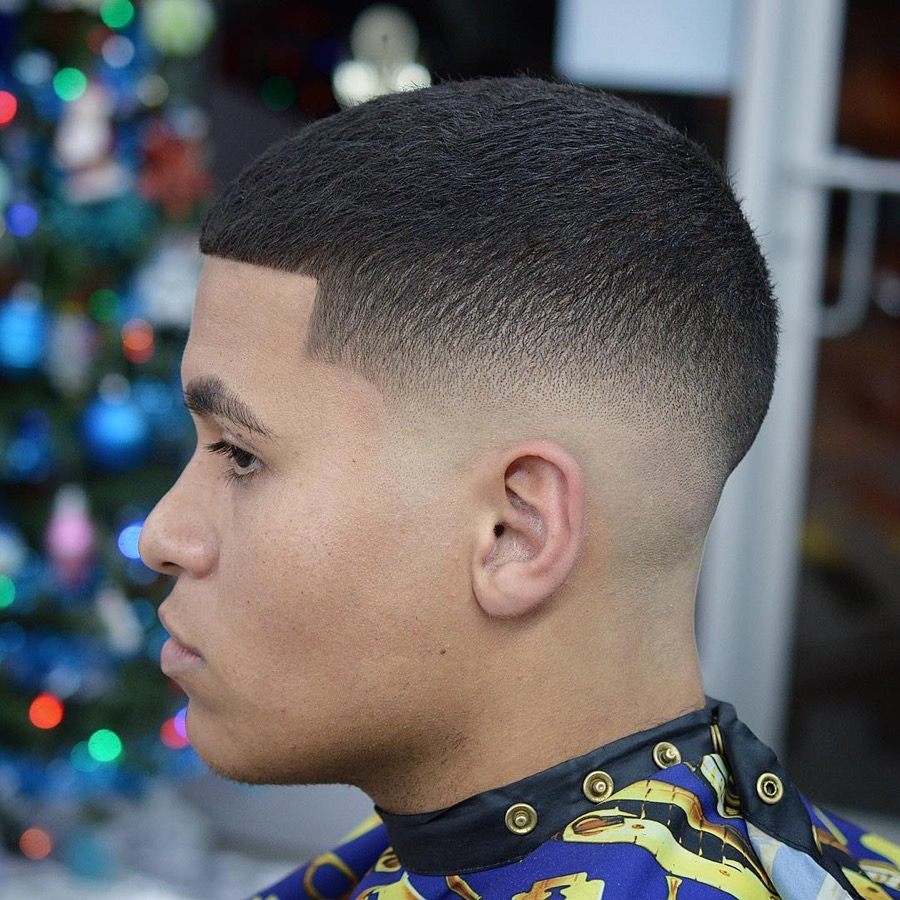 You could do a buzz cut at home but it won't look this good. Edges get the pro treatment with a line up at the forehead and bald fade that follows the hairline.
19. 360 Waves + Low Fade + Surgical Line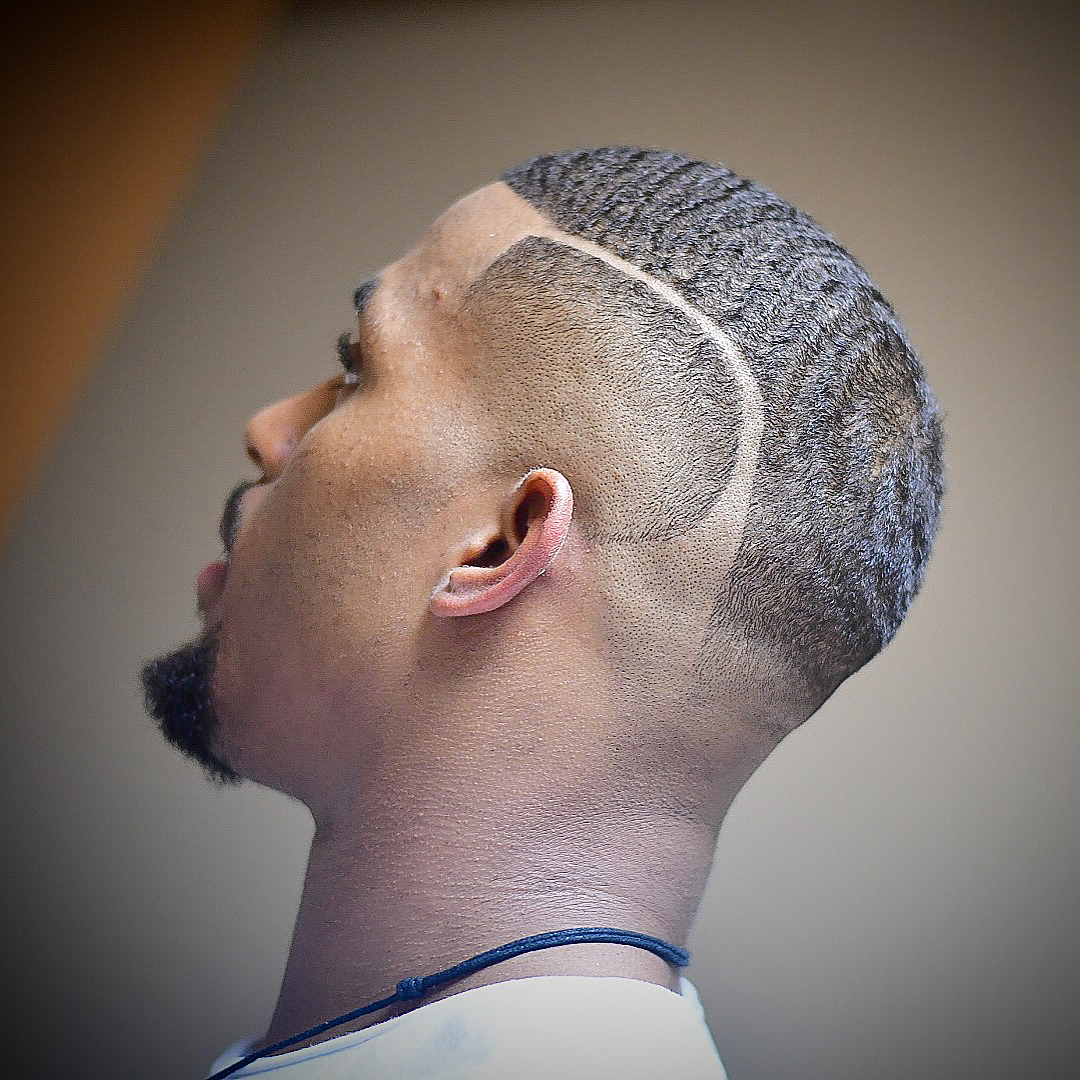 Hair doesn't have to be long to be stylish or interesting. There is a lot going on here with minimal length. Continuous waves on top are broken up by a low bald fade and surgical line that drops down behind the ear.
20. Spiky Texture + High Fade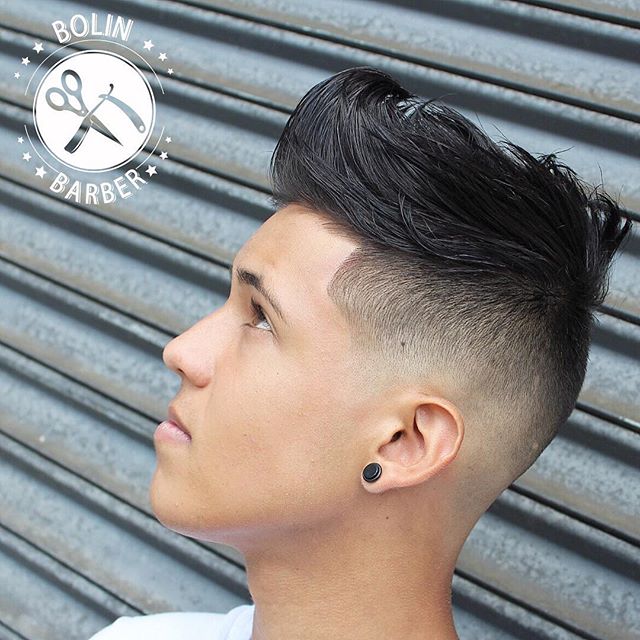 This long on top, short sides and back hairstyle looks great and is easy to style. There is no way to get this messy pomp wrong.
21. Spiky Crop + High Fade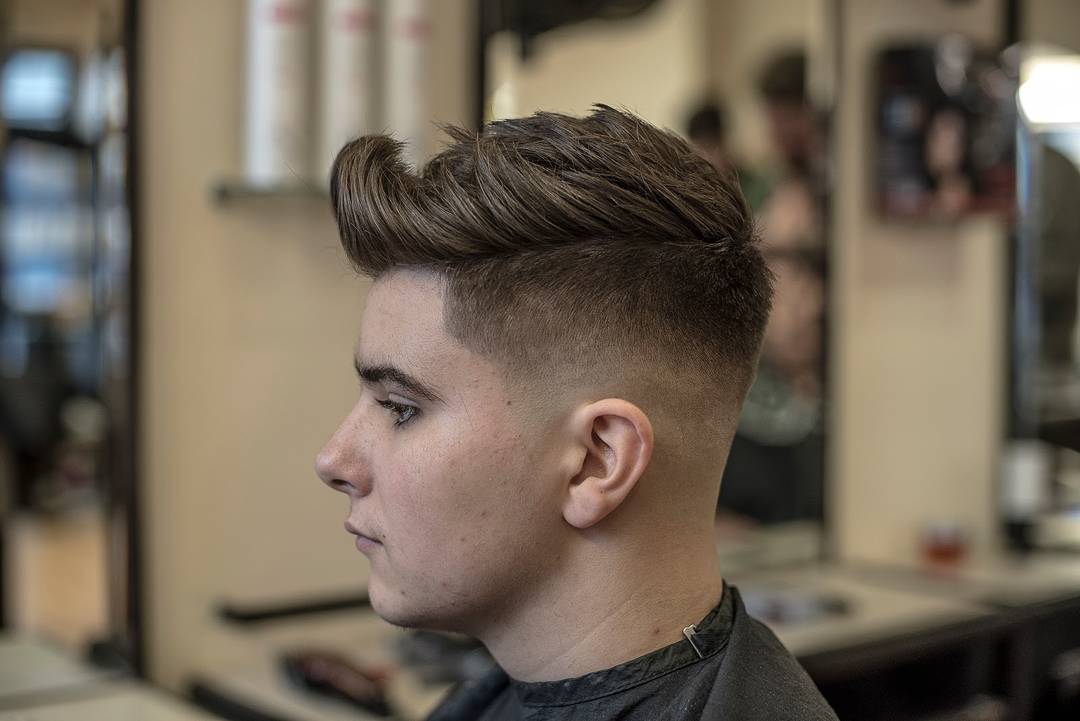 The textured crop can be worn up or down. In this case, it is styled up with a quiff at the front and plenty of texture.
22. Short Faux Hawk Fade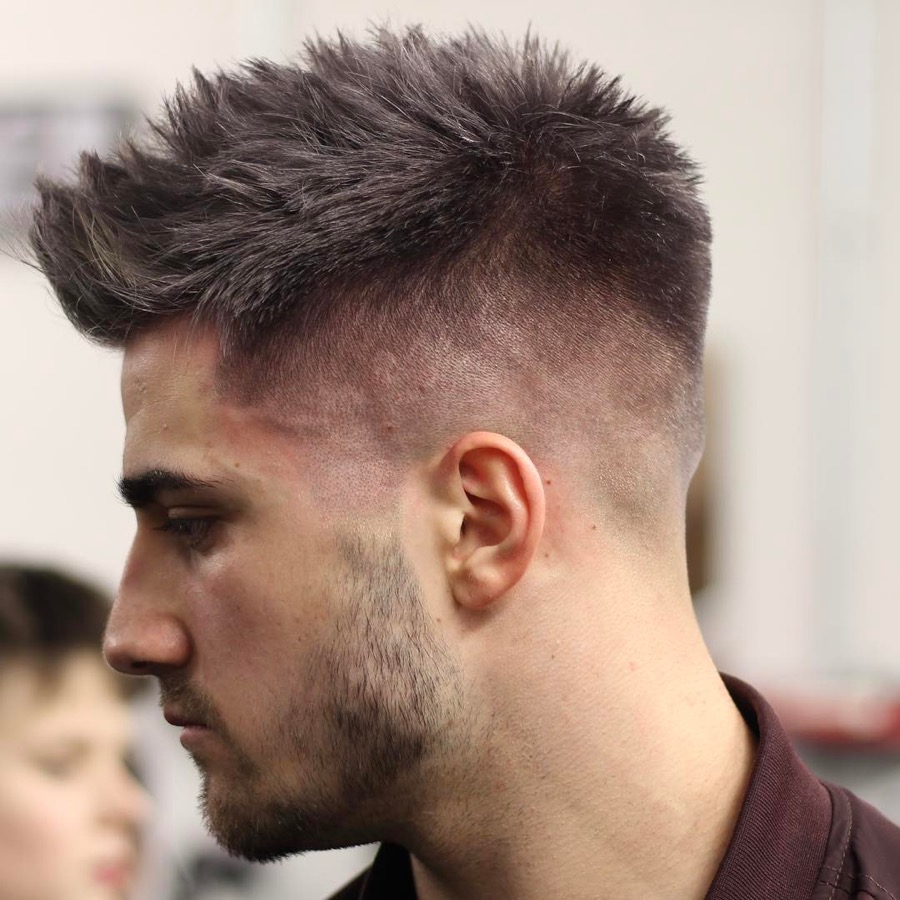 Here's a classic version of the fohawk with short hair. The mid drop fade helps accent the height of spiky hair up top.
23. Classic Slick Back + Taper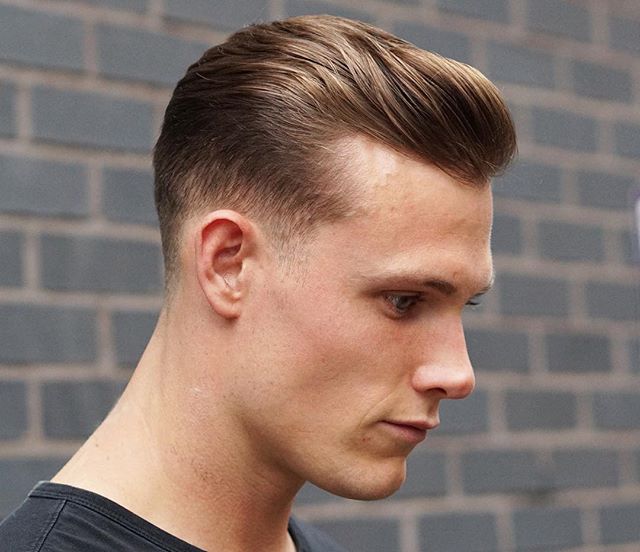 Versions of slicked back hair have been popular for men for over a hundred years. It is one of the top haircuts for men because it looks great and is easy to style. This one gets an update this year with matte product and a taper around the sides and back, although any kind of fade would look great too.
24. Taper Hairstyle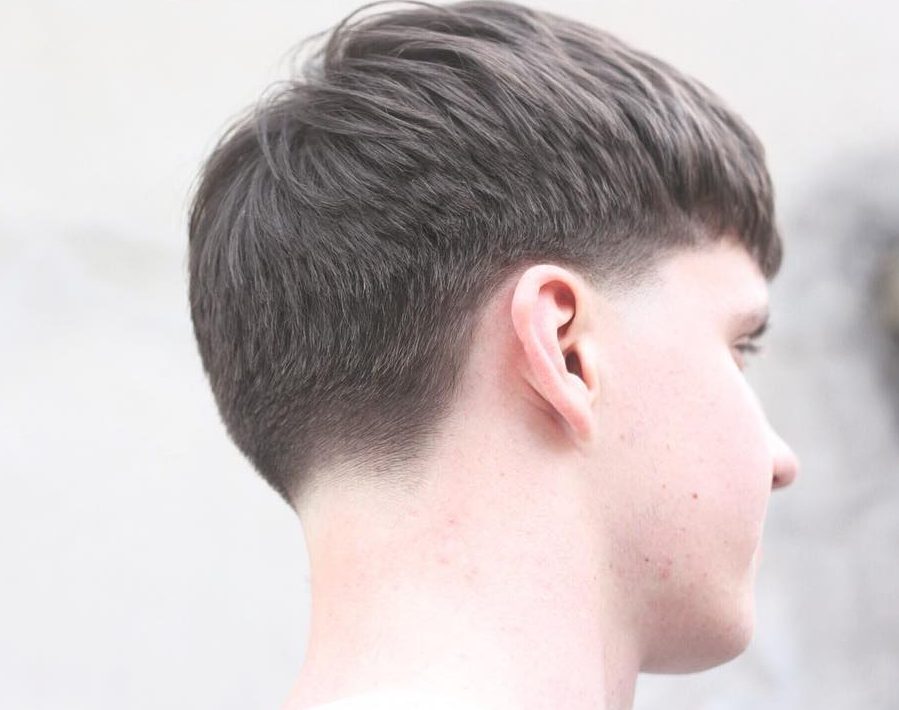 Taper hairstyles are similar to fades but are long and don't cut hair all the way down to the skin. They are clean cut and cool but still conservative enough for any job.
25. Messy Texture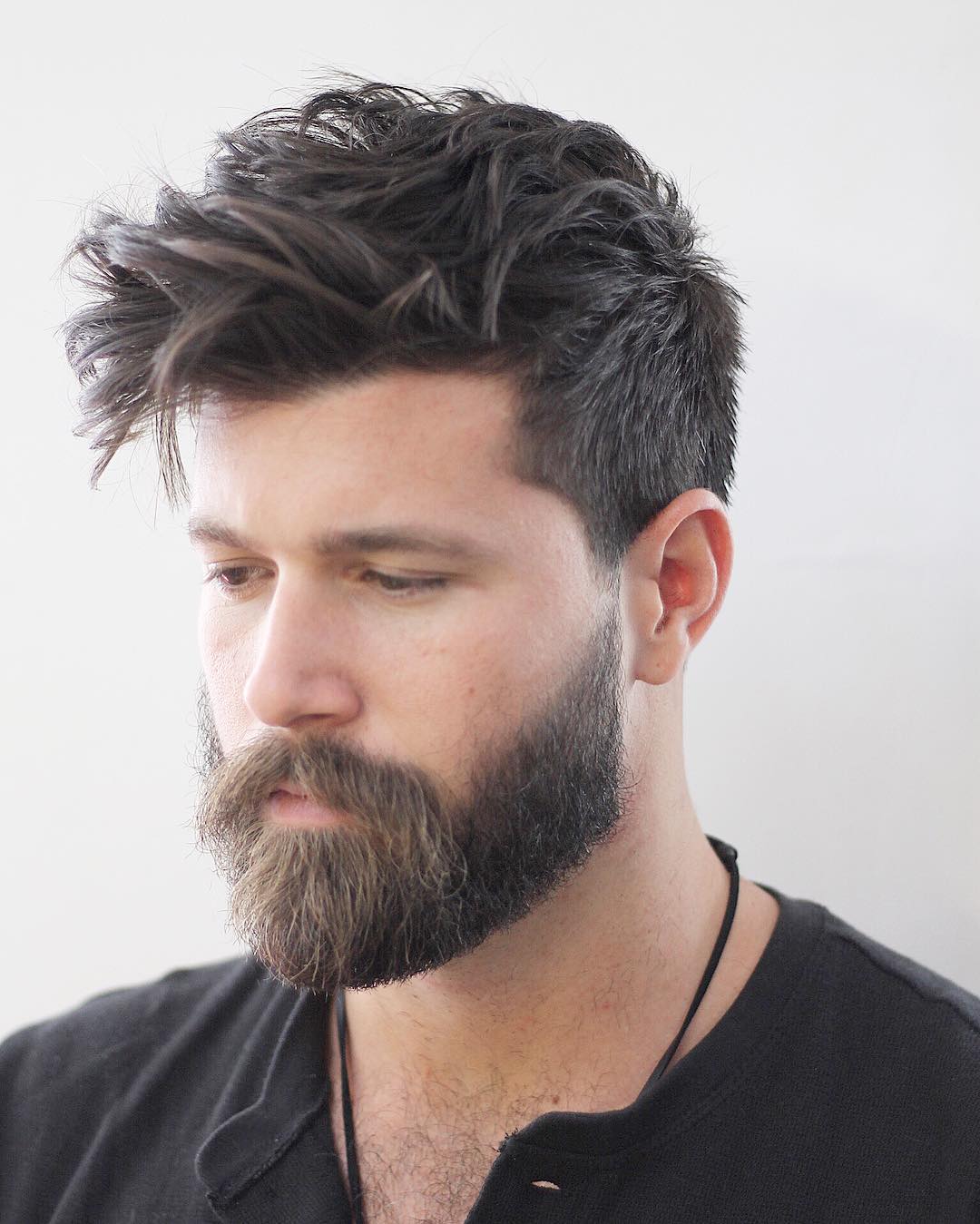 This year's texture trend is a cool update on the bedhead look. Layered haircuts bring out definition and the rest is done by styling hair with a texture-enhancing product and fingers.