Now that the year is halfway over, some men's hair trends are well-established while new ones are just getting started. Here are some of the hottest trendy haircuts for men that are easy to wear as well as some that push the envelope.
For the fashion forward, shaved lines have a huge trend. Lines can be cut at the front or back, as one or more and can continue into the brow or beard. This type of hair design has been taken a step further with shaved shapes from a defined line or some type of fade. Either way, this popular haircut makes a bold statement.
One of the most popular looks right now is spiky hair. Modern spikes are all about texture and can be styled anything from professional to messy. This top trend works for all hair types, from fine to thick and of course normal too.
Building on this year's texture trend, guys with curly hair are wearing hair longer to highlight that natural texture. Crop fade haircuts can bring out curls whether they are short or with long fringe. Or go all out with a modern afro.
We've talked enough about it, here's what it looks like.
1. Shaved Shapes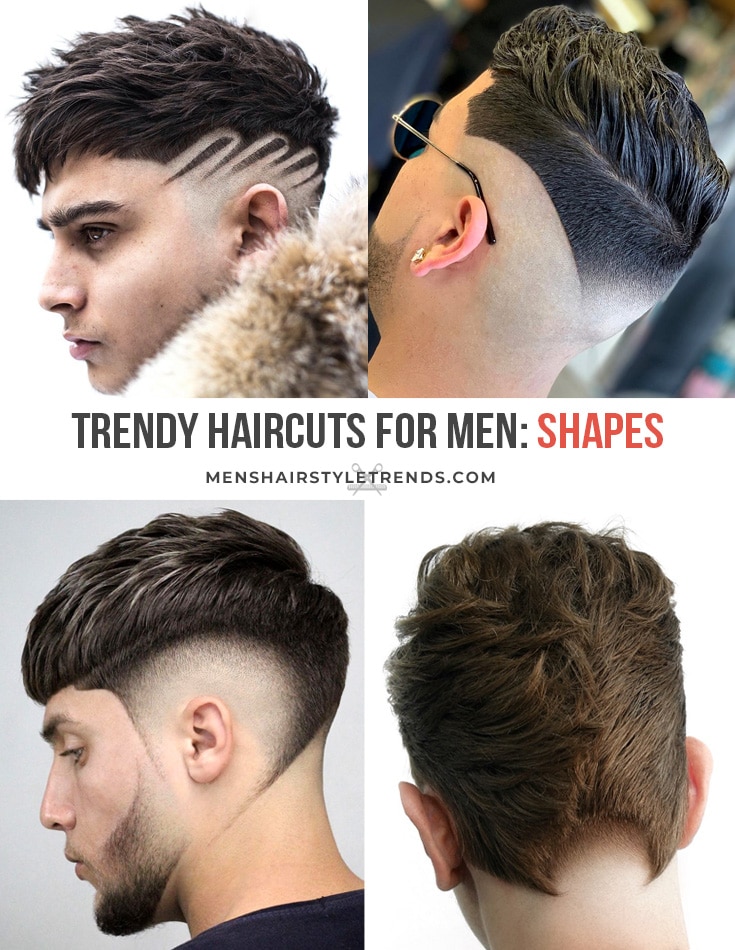 Barbers just keep getting more creative and innovative. If you want to use your scalp as a canvas, let them have some fun. In some cases, fades are giving way to defined lines while in other cases new types of fades are being invented.
A spiky textured crop is echoed in the arcs and lines below. Instead of your typical high fade with comb over on top, this version features an arc on one side that merges with the fade on the other.
Burst fades that spread out behind the ear like a sun burst are not new but extended edges that highlight the shape is a fresh look. We've been talking about neckline hair designs for a while now but this pincer-shaped nape on a taper haircut is a a new one.
2. Line Haircuts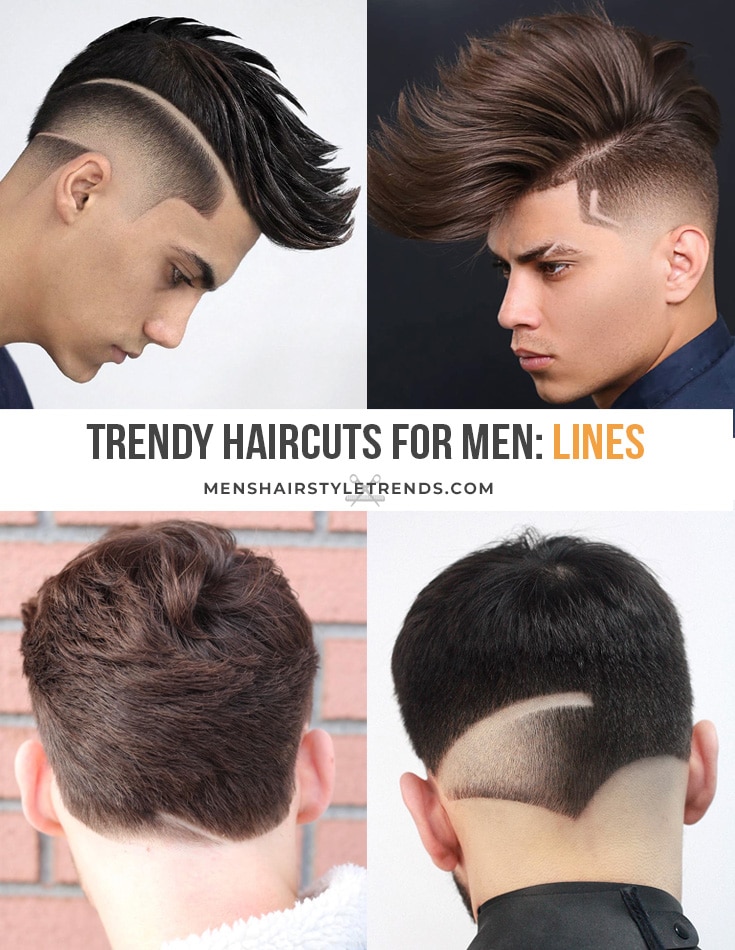 Line haircuts are a huge trend this year and this simple hair design can be added to any haircut in subtle or bold slashes. The shaved part has been popular for a while now but adding a curve and a second line, each with its own fade is a something else entirely.
A mohawk with a line up really doesn't need much spicing up but if you're going to do it, why not add an arrow and brow slash. Now for the more conservative guys out there, try a subtle neckline hair design. Shaved lines don't have to be thin. A thick bar over a V-shaped neckline is as cool as it is unexpected.
3. Spiky Hair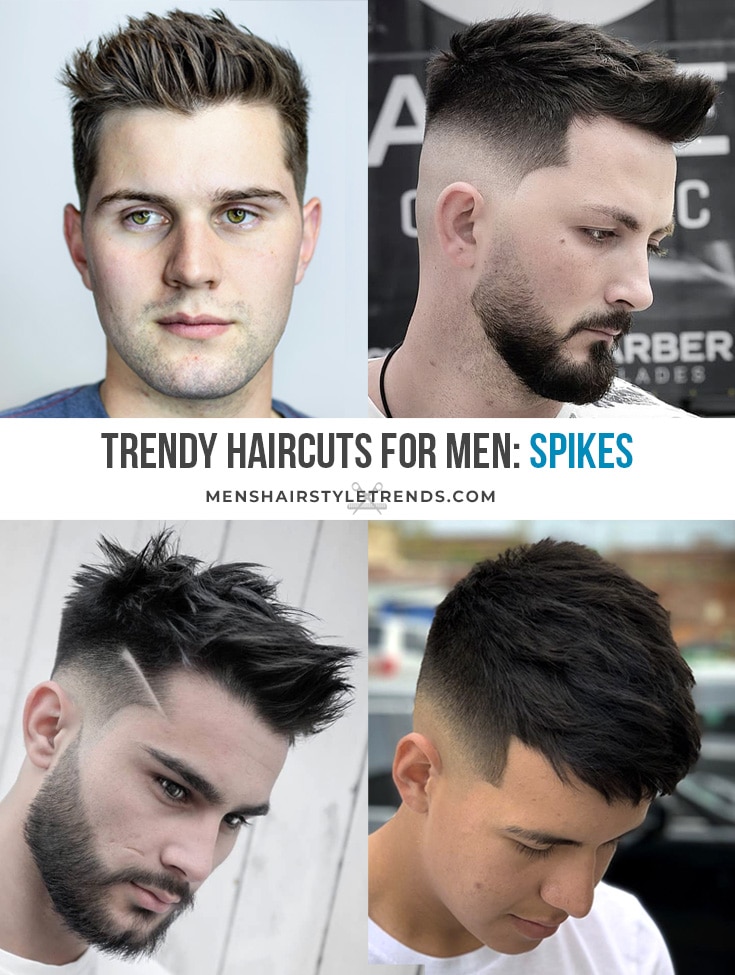 As part of the textured hair trend, spikes are back in a big way. There are lots of ways to get the look, with chunky spikes, a quiff, messy spikes, or subtle texture on the diagonal.
To style these spiky looks, a product should add both texture and volume. Words to look for are mud, clay or fiber. Pomades that mention texture or definition should also work. Stick to products with a matte or low shine finish for a modern style that also doesn't look greasy.
American Crew Fiber thickens, texturizes and holds short hair up to 3″ with high hold and low shine. Fibers are also easily reworked throughout the day.
Smooth Viking Styling Clay adds texture and volume to all hair types, including fine with strong hold and a matte finish.
Gatsby Moving Rubber Spiky Edge can spike up the thickest and longest hair and is especially good for Asian hair.
4. Curly Hair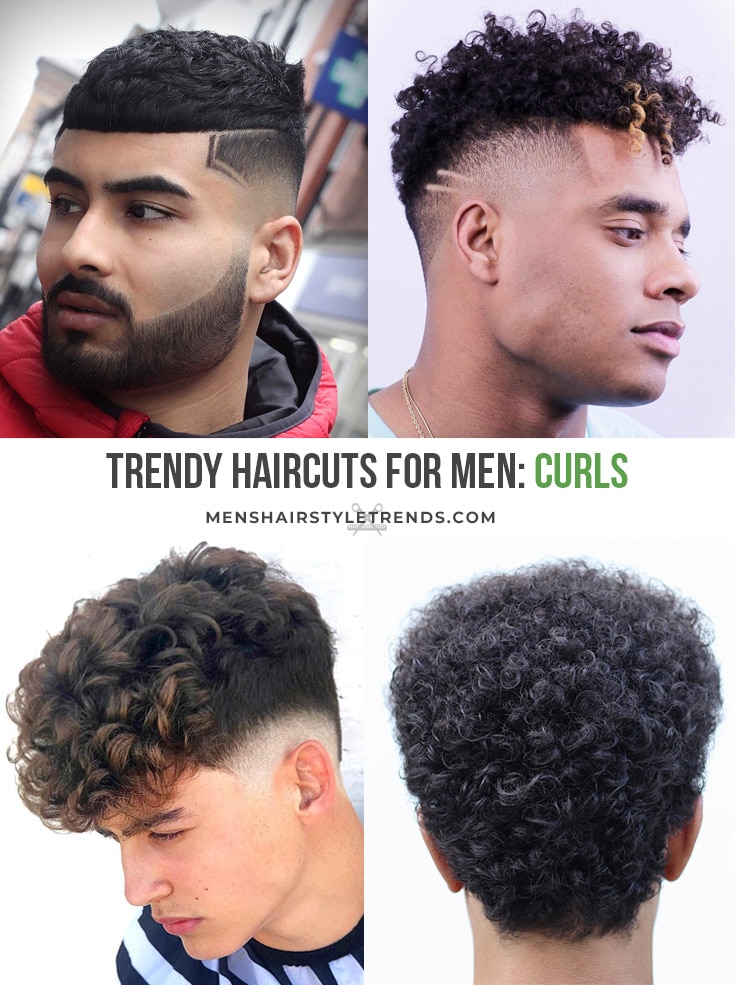 Longer looks are popular for wavy and curly hair types. You already have what everyone wants, so show it off. That can be a blunt crop fade with a hint of texture or a heavy crop with forward fringe. Add some lines, color or don't.
Guys with curls don't have to get a fade though. This completely scissor-cut style creates a flattering and modern shape but keeps a nod to the always cool afro. At this length, a hair product to define curls, fight frizz and provide some hold is beneficial. Since curly hair can be dry, look for cream formulas that moisturize and hold.
Viking Crew Forming Cream is a high hold, matte product with a pliable formula that is easy to apply to curls.
Layrite Natural Matte Cream also provides a flexible hold and matte finish but with a medium hold formula and their signature cream soda scent.
For looser hold, use any type of curl cream. It doesn't matter if it's packaged for men or women. This product is designed for curly hair.