There are a lot of reasons to own hair clippers, even without the Coronavirus lockdown. You can trim facial hair yourself, mow down a forest of arm, leg, or chest hair, or touch up between haircuts. Now that haircuts are not available everywhere or to everyone, it might be time to start cutting hair at home. Make the job easier with the best cordless hair clippers.
Why cordless? In general cordless electronics do not provide the same power as
(cordless drill, I'm looking to you.) However, the ease of use and portability makes the trade-off worth it. Shaving often puts clippers at funny angles, especially with cutting hair or grooming the body. Cordless clippers mean there is no cord to twist around or get tangled. Even better, some of these clippers are waterproof and can be used in the shower.
Which of these is the best cordless clipper? Well that depends on what you want to use it for. To manscape from head to toe, look for clippers with the multiple heads and clipper guards. Ceramic blades stay cooler than steel and are corrosion-free. Waterproof clippers can be used in the shower and washed clean. Professional clippers are more powerful and sharper. And cheap clippers perform on a budget.
On top of that, these clippers all come with extras. Clipper guards help cut hair and beards. An adjustable blade makes it easy to cut close and fade hair. Some clippers come with additional heads for narrow cuts or the nose and ears.
Cordless is the same as rechargeable or battery-operated clippers. All of these cutters have lithium-ion batteries that can be recharged. Some can be used while plugged in. Some are USB. And run times range from 60 to 300 minutes.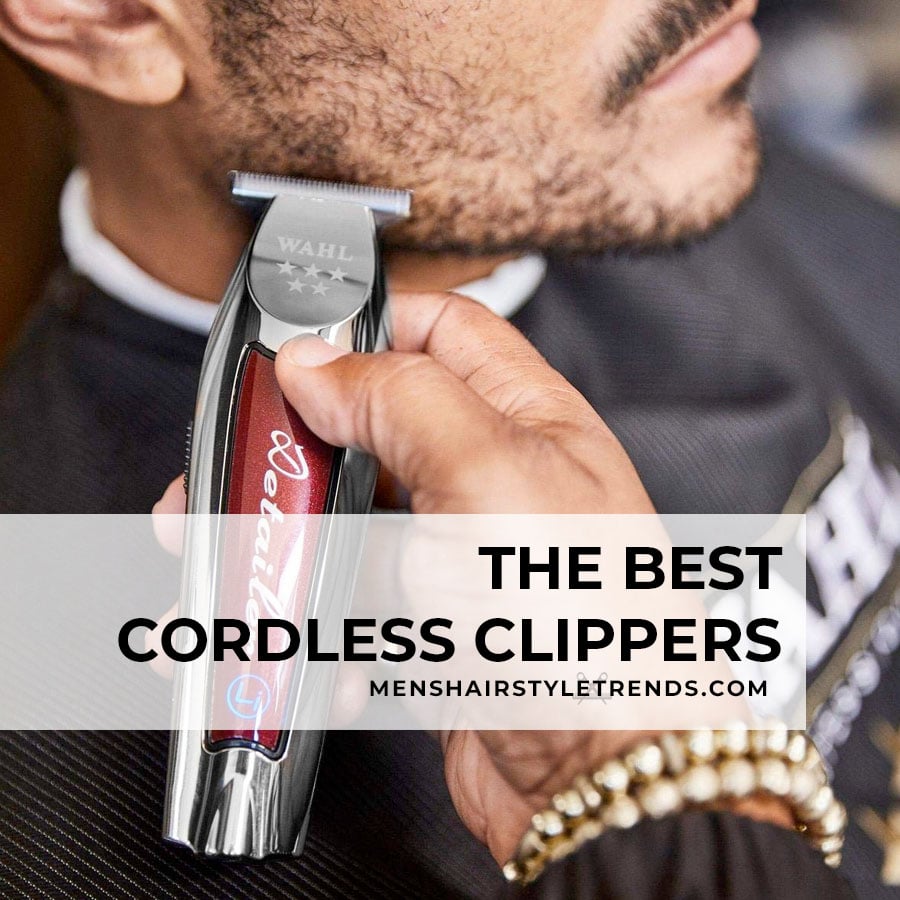 Now here are our top cordless clipper picks in 5 categories. Check out the table further down below to compare features at a glance.
All-in-One Clippers
Philips Norelco Multigroom Series 7000
If you want cordless hair clippers that can trim all your hair, this is the one. This multi-groom tool can be used on the head, beard, body, and face. The self-sharpening blades don't need oil and last up to 5 years. In addition to 14 clipper guards, this steel trimmer comes with a foil shaver, precision trimmer, nose-and-ear trimmer, and extra-wide attachments. (It does not come with a ball trimming head so don't risk it.)
The Lithium-ion rechargeable battery runs for up to 5 hours per charge or the trimmer can be used while plugged in. Finally, this trimmer is washable so rinse off those all tiny hairs under the running water.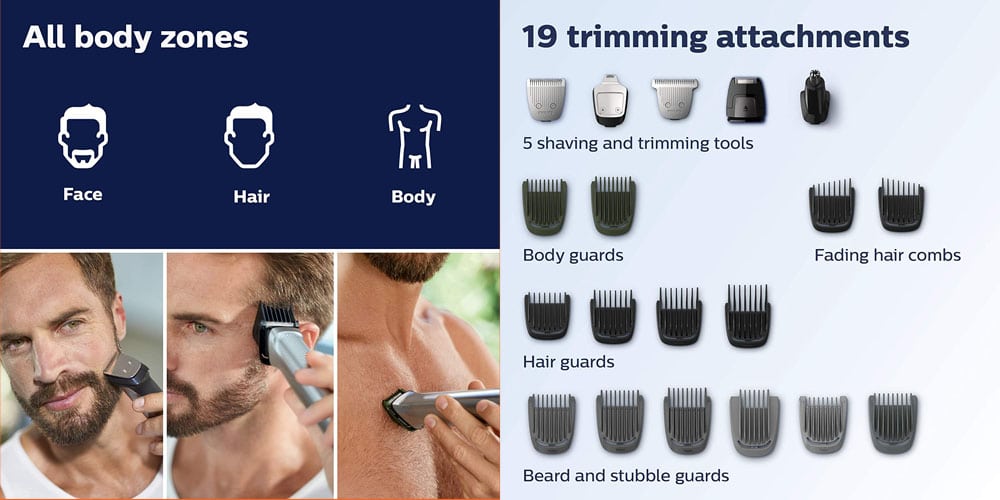 Ceramic Blade Clippers
KERUITA Rechargable Hair Trimmers
These are not your dad's hair clippers. The self-sharpening ceramic and titanium blades stay sharp and never overheat. The adjustable blade goes from .08mm to 2.0mm and six comb attachments cut hair from 3mm to 12mm. It also has two gears for a quieter option to cut kids hair. Best of all, these trimmers are waterproof for easy cleaning or if you like to groom in the shower.
A 1500mAh Lithium-Ion Battery charges the 3.7V high power motor. The USB cord can be plugged into a computer or adapter. Run time is up to 210 minutes with the LED displaying the remaining battering use.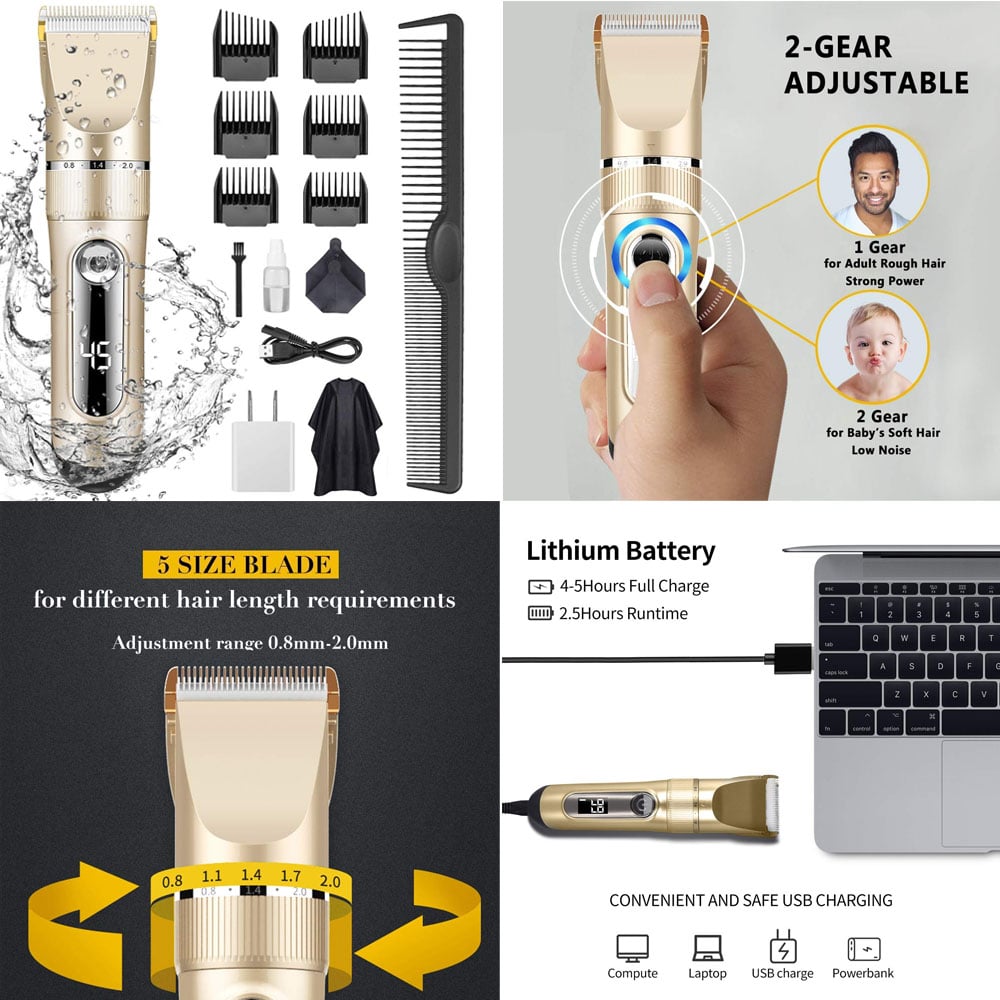 You may not know this brand but it's great product. It also comes with a comb and cape for at-home haircuts. They also proved a 24 month guarantee so try it without any risk.
Waterproof Clippers
Hatteker 3-In-1 Waterproof Men's Grooming Kit
The blades are precision ground for sharpness, durability, high and to prevent skin irritation. The blade of these hair clippers can be adjusted from 0.5mm to 2.5mm. It also comes with a beard trimmer head, detail trimmer, head, and precision dial head that goes from 3mm to 8mm plus six guide combs between 3mm to 24mm.
The Lithium ion battery comes with a base charges in 90-120 minutes for 120 minutes of run time. The USB displays the percentage of charge. The USB outlet can be plugged into a computer or adapter. This model is completely waterproof and comes with a base.
5 BEST CORDLESS CLIPPERS
ALL-IN-ONE
Philips Multigroom
CERAMIC BLADE
Keruita
WATERPROOF
Hatteker 3-In-1
PROFESSIONAL
Wahl 8171
BUDGET
Liberex
Blades
Self-sharpening
Ceramic + titanium
Precision ground
Wide + steel
Ceramic + titanium
Adjustable Blade
No
Yes
Yes
No
Yes
Attachments
14 guards, 4 heads
6 guards
6 guards
3 guards
4 guards
Run Time
300 min
210 min
120 min
100 min
60 min
Digital Display
No
Yes
Yes
No
Yes
Waterproof
No but washable
Yes
Yes
No
No
Professional Cordless Clippers
Wahl Professional 5-Star Series Detailer Li #8171
This is the cordless version of the barber's favorite trimmer. From Wahl Professional's commercial grade line, they say it is intended for professional use but plenty of people use them at home. Be warned that the blades are sharp and the motor is strong. That's why they are professional and cost more.
The zero-gapped 2215 Adjustable T-Wide Blade cuts close and creates crisp, clean lines. This model comes with 3 clipper guards from 1/16″ to 3/16″ but more are available through Wahl. For a narrower blade and double the runtime, check out the Wahl Mag, also for professionals.
The rechargeable lithium-ion battery has a run time of 100 minutes and comes with a charging stand. It can also run corded and features a swivel cord. This product is proudly made in U.S.A.
Budget Cordless Clippers
Liberex Cordless Electric Hair Clipper
These cordless clippers are only $30.00 and just as highly rated as options from bigger brands and with higher price tags.
The combination of ceramic and titanium blades stay sharp longer than steel and don't overheat. Change the blade setting with the push of thumb from .04″ – 0.07″ or add 4 attachments combs (0.1″, 0.24″, 0.35″, 0.47″.
It takes 90 minutes in the charging stand for 60 minutes of cordless use. It also works while plugged in. These clippers are powerful, yet quite. The LED display tells you battery life is left. For international travelers, the voltage adjusts automatically. They also offer a 60-day money-back guarantee.
Another set of cheap cordless clippers worth looking at are these from Geedar for only $10 more.