Getting 360 waves is about brushing more than anything else. Wave products and compression are also essential but the most important step is brushing.
The process of waving is apply product, brush-brush-brush, maybe more product, wear a durag, and repeat.
Keep reading for the brush pattern that forms 360 waves, what type of brush to use, and our top picks. Keep reading for how compression from a wave cap or durag is the final step in wolfing waves.
How To Brush Hair For 360 Waves
The brush pattern for 360 waves is similar to the arms on a clock. Beginning at the crown, brush hair forward towards the forehead. Then, starting at the crown again, brush at an angle towards 3 o'clock or 9 o'clock the direction doesn't matter. Continue around the head until you get back to the beginning.
Then do it again. Repeat between five and fifteen more times. The more you brush, the faster waves will develop so get in the habit of brushing all the time – in the shower, while watching TV, anytime you're sitting around. Some wave brushes even have a cover so you can brush on the go.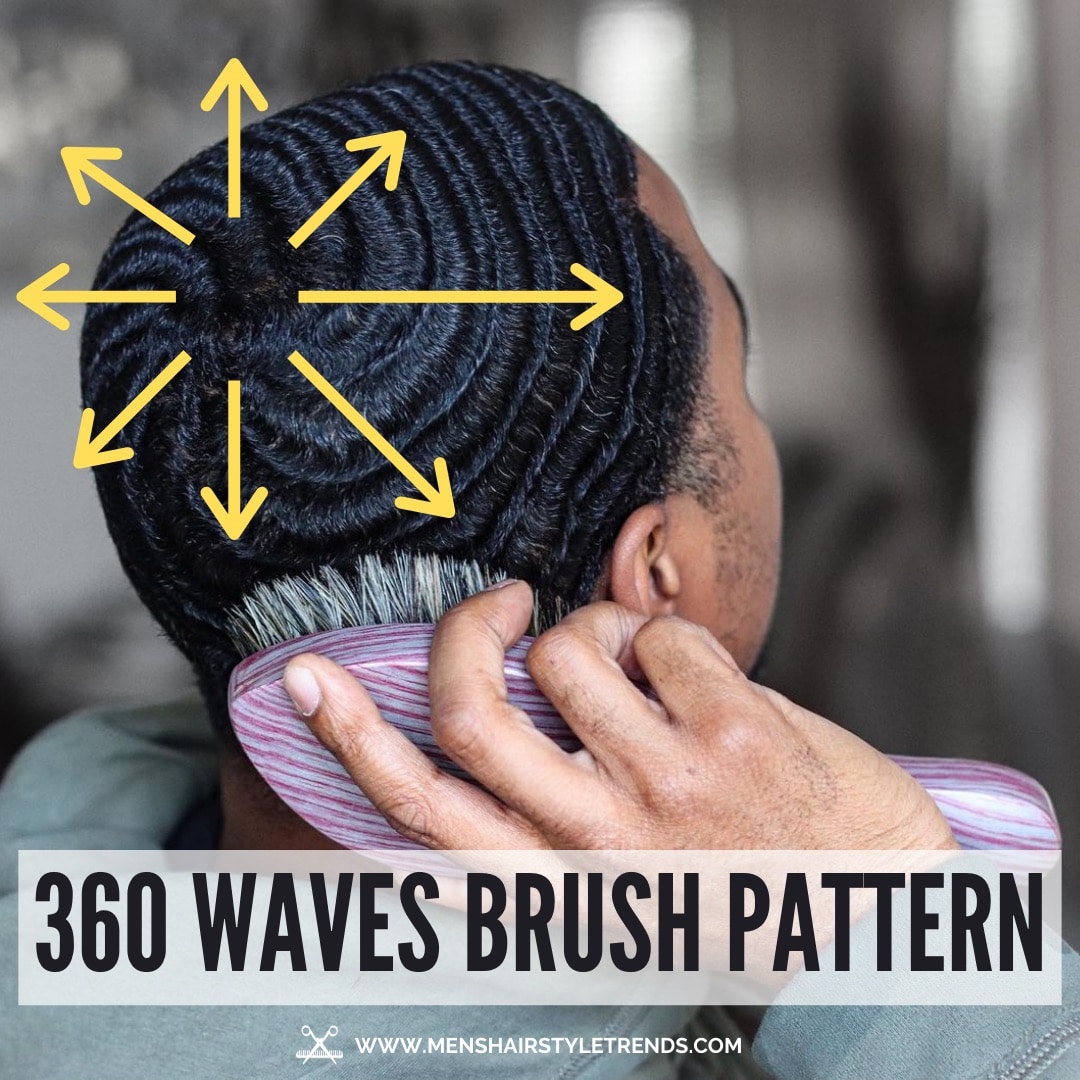 Types Of Wave Brushes
Some brushes are marketed for waves but all you need is a boar bristle brush. Boar bristles are excellent at distributing hair oils to naturally condition hair. This also makes them good for working product or conditioner throughout hair. Boar bristles are also the best for comfortably brushing the scalp to remove dirt, oil, and dead skin cells.
Boar bristle and wave brushes can have soft, medium, or hard bristles. The soft brush is essential for wolfing from start to finish. Whether you need a medium, hard, or medium-hard brush depends on how thick and coarse hair is.
Start waving with a soft brush. As hair gets longer and waves get deeper, a brush will feel softer. When that happens, it's time to move on to a harder brush with more rigid and dense bristles that have enough tension pull longer hair into a wave pattern.
Wave brushes are available with a handle or military brushes that fit in the palm. That's just a preference. You're going to spend a lot of time brushing so find a style that feels comfortable.
If you already have a boar bristle brush, you don't need to get a new one for waving.
THE BEST SOFT, MEDIUM + HARD BRUSHES FOR WAVES
1. Best Soft Wave Brush
A soft brush, or softy, is useful for all steps of the waving. A soft brush is gentle on hair and scalp at the start of waving when hair is short and for finer, straighter hair types.
A soft brush is also important for established 360 waves. Use one to evenly distribute hair products like conditioner and pomade. A softy is also used after a medium or hard brush session to lay the top layer of hairs into your wave pattern.
– It's one of the cheapest boar bristle brushes but also one of the best. Expect some shedding for the first few uses but then it should stop.
2. The Best Medium Brush For Waves
Most people will get the most use out of a medium brush. They for are usually made of 100% boar bristles. The harder the brush, the more pull it has to lay down waves.
The Torino Pro Medium Brush has the pull of a harder brush but that is still gentle on the scalp. The brush head has a large surface area so each each brush stroke covers plenty of scalp.
3. The Best Hard Bristle Brush For Wavers
Not all wavers may end up using a hard bristle brush but this is a good one. The hard brush is excellent to get at the scalp in the shower. The stiff bristles can damage hair so brush slowly and for no longer than a minute.
This cool brush comes with a cover so you can take it anywhere. It's also available in with soft and medium bristles.
4. Two-In-One Wave Brush
This double-sided brush is essentially but one get one free. It only works if you like to hold the brush by the handle though.
5. The Best Waterproof Wave Brushes
Brushing while shampooing is great for 360 waves but not for every wave brush. Instead of wood, the 360 Sport Wave is made of indestructible poly-epoxy that can be used in the shower and makes it easy to clean.
This long-lasting brush is available with soft, medium-soft, and medium bristles.
How Long Does It Take To Get Waves?
The waving process and outcome is different for everybody. Thin, curly hair can start to wave in under a week with well-formed 360 waves in another week. Hair that is thick or coarse may take twice as long and see perfect waves in a month or more.
Compression
The three components of 360 waves are products, brushing, and compression. Compression locks in moistures and keeps hair laid down in waves. Wear a wave cap or durag for at least an hour after brushing and while you sleep. The compression should be tight but not uncomfortable.