Here's what you need to know about how to straighten hair for men. This guide isn't only for wavy, curly, and Black hair texture though. If straight hair doesn't do what you want, additional straightening can add control for cowlicks, frizz, as well as thick and coarse hair types like Asian and Hispanic hair.
There are four ways to straighten hair. At home, you can use a blow dryer, flat iron, or hot brush to straighten hair. The last straightening method is a keratin treatment, which permanently straightens hair and grows out, and is best left to the professionals. Try one method or them all to find what works for you.
All heated styling can damage hair so use a protectant spray before and be sure to use conditioner in every shower. A heavier mask from time to time helps minimize split ends and breakage as well.
For guys with curly hair, straight hair may not work with your existing haircut. As always talk to your barber or there may be unexpected results:
Now on to the hair straightening methods.
1. Blow Dry + Brush
Blow drying hair straight is a popular method because it uses tools that most people already have. How long it takes depends on how long and thick hair is as well as how detailed you are. For every day, most guys can get this done in 5-10 minutes. Getting ready for special events can take longer.
To blow dry hair straight, start with damp hair. Brush and detangle hair and apply heat spray. If your dryer has a concentrator nozzle, use it. This attachment goes from a tube to a narrow rectangle, making it easier to dry hair section by section.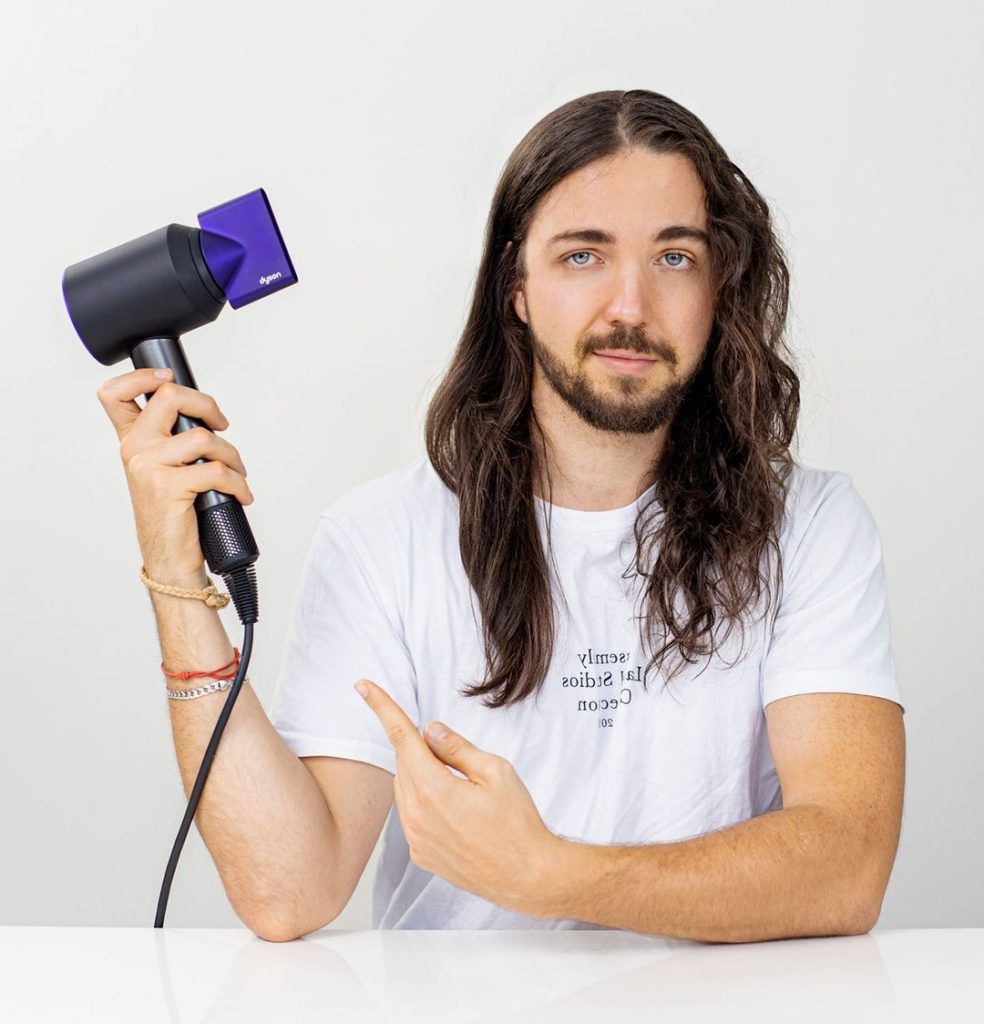 Dry the front of hair first by pulling a small section of hair along the forehead up with the brush. With the nozzle about half an inch away from hair, dry hair from roots to tips. Repeat the process with the remaining sections of hair. For the back of the head, comb hair flat to the scalp and aim the blow dryer down onto it. This straightens hair without adding volume.
When hair is all the way dry, blast it with cold air to set the style. Now it's time for your favorite pomade. If product doesn't have enough hold for your hair, lock the look in place with a finishing spray, the more masculine name for hair spray. Modern versions of hair spray leave hair more moveable and touchable than ever. Hold the can about a foot away from the head and spray a light coating all over.
Hair Brush
The opinion on what brush to use while straightening hair really varies. A brush needs to be able to grab and pull hair. Start with what you have and if that's not working, try one of these.
Vented Brush The vented brush is designed for blow drying with vents that allow hot air to flow through the brush to decrease drying time. The ball-tipped nylon bristles massage the scalp and detangle hair. This can also be a every day brush.
Paddle Brush – The paddle brush gets its name from the ping pong paddle-like shape. The larger area gives a great scalp massage. The brush can also be used to straighten hair but the size may it make it more awkward to use than a smaller brush. A paddle brush with boar bristles will pull hair straight better than one with only nylon bristles.
Boar Bristle – A boar bristle brush is a must have grooming tool for men. The stiff bristles scratch the scalp, distribute natural oils through hair, and help blow dry hair with a smooth finish. Boar bristle brushes are also great for beards.
Round Brush – The round boar bristle brush is designed to create that tension you need when blow drying as well as add volume. Use a round brush to create a high volume look for the front of hair. It is designed to be used with longer hair. Check out this Robin James tutorial to see it in action.
Denman Brush – Like Kleenex, this brand name has become a category of its own. The Denman Classic Styling Brush is the original nylon bristle brush. It works for all hair types and detangles and straightens while reducing frizz. It is designed to create the tension required to straighten hair.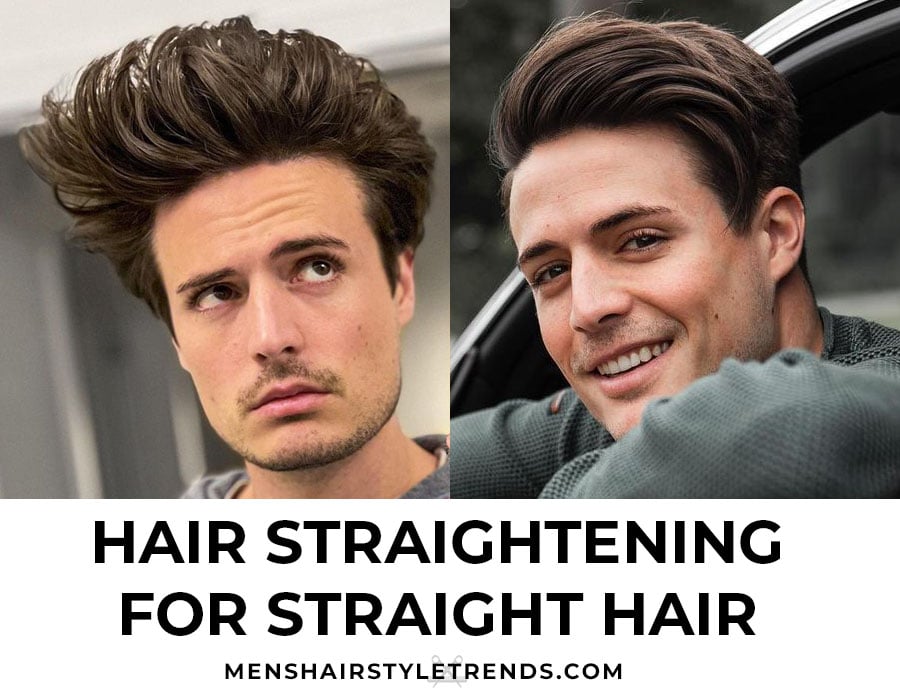 Blow Dryer
Are expensive blow dryers better? Yes, because they will dry hair faster and last longer. However, that doesn't mean they are necessary. For people with a budget, there are plenty of good and affordable blow dryers available.
Men with very thick and/or very curly hair who blow dry frequently may want to invest in a pricier model. If money is no object, there is nothing better than the Dyson Supersonic Hair Dryer.
For most guys, any blow dryer will work. Anything over 1800 watts is plenty to dry short and medium length hair. It should have multiple speeds, a cold shot, and a concentrator attachment is a bonus.
Conair InfinitiPro 1875 Ionic Ceramic Dryer – This is one of the top-selling hair dryers. It has everything you need with 3 heat and 2 speed settings. Ionic output reduces frizz and boosts shine. It also has a removable filter to prevent buildup and comes with a diffuser for drying curly hair and a concentrator for straightening hair.
Trezoro Ionic Dryer – If you're look for quiet power, this is the dryer for you. This model features 2200W, 3 heat and 2 speed settings plus ceramic and tourmaline distribute heat evenly for faster blow drying. It comes with two concentrator nozzles.
T3 Featherweight Travel Hair Dryer – A travel dryer is a great way to get a higher quality dryer at a lower price. The smaller version of the T3 Ionic Cura at a fraction of the cost and size. It has two heat/speed setting plus a cold shot but no attachments.
2. Flat Iron
The days of straightening hair with an iron on an ironing board are long gone. For stubborn locks, straightening hair with a flat iron can be easier than blow-drying with a brush. A flat iron has plates on both sides that heat up. Simply clamp a section of dry hair between the plates at the roots and work the tool down to the tips.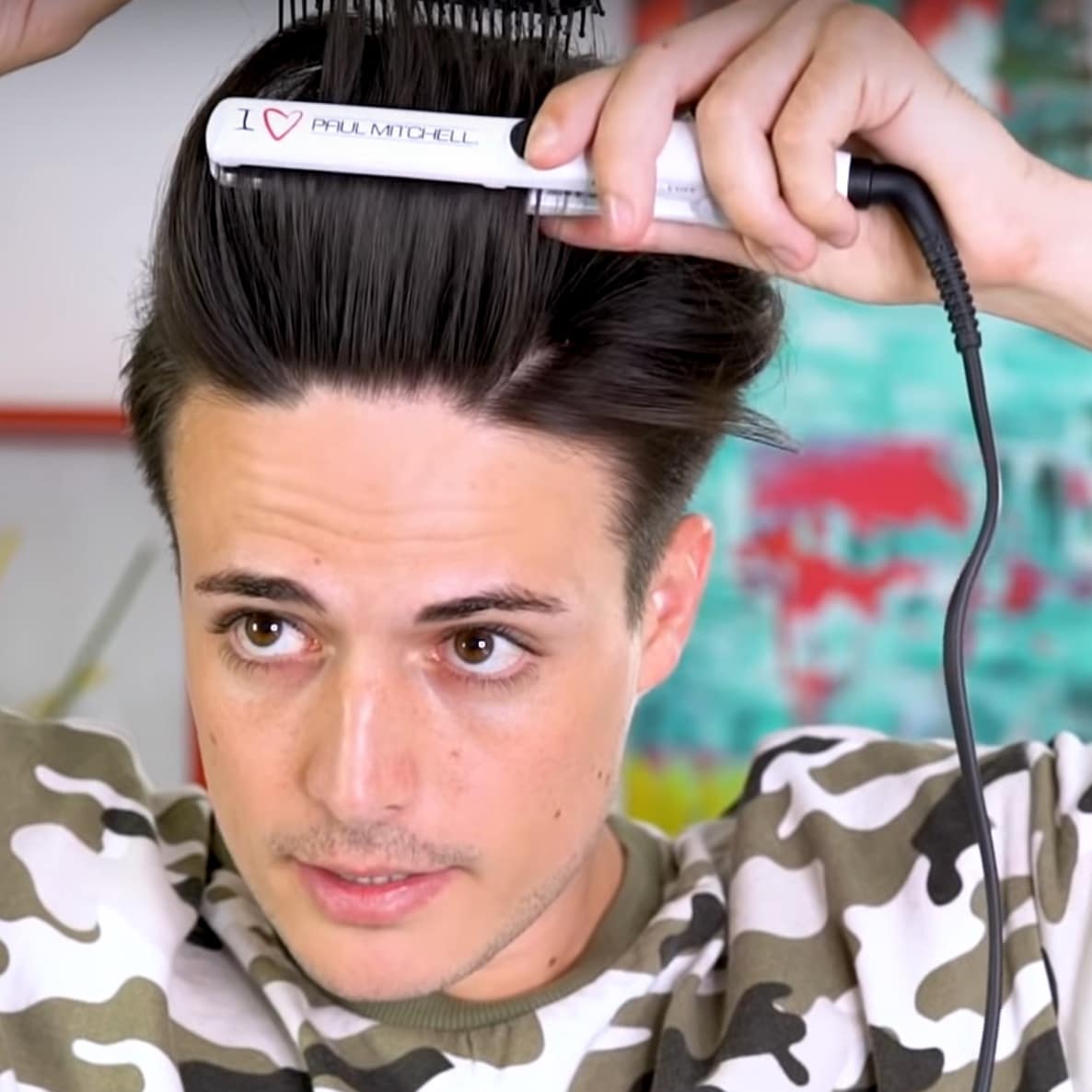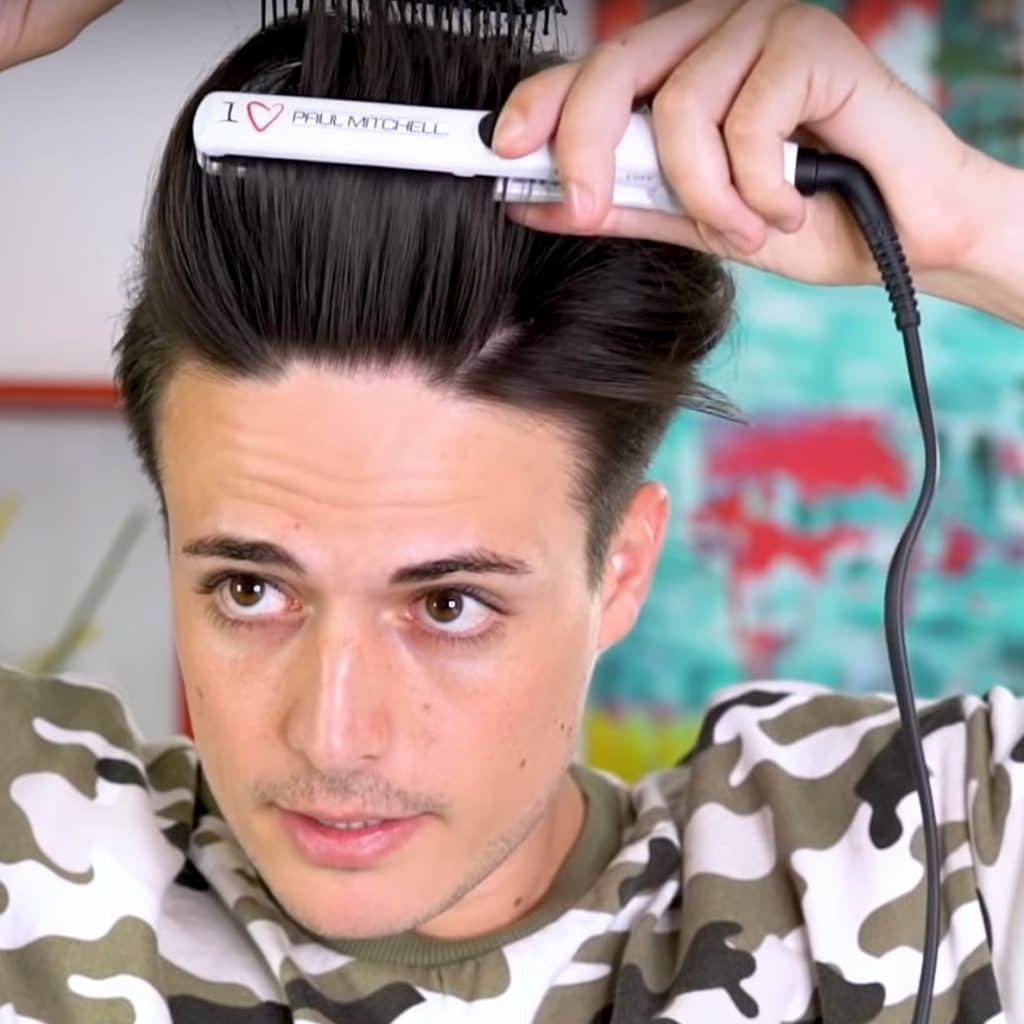 Flat irons should be used on dry hair. Watch the heat settings to protect hair. Thinner, straighter hair can use a lower setting while thicker and curlier hair requires more heat. And always use a heat protectant product first.
Here are some heat settings for each hair type:
250-300F – Fine, thin or bleached hair
300-375F – Normal hair, wavy hair
375-400F – Thick hair, curly hair
For men, the many sizes that flat irons come in are helpful. For shorter and medium length hair, a 1/2″ or 1″ flat iron will work. For long hair, a wider flat iron will speed up the process of flat ironing hair. Some models feature longer plates that allow larger sections of hair to be straightened as well.
There are also three main types of flat irons: ceramic, tourmaline, and titanium.
Ceramic
Ceramic flat irons are the most affordable option. Ceramic is a smooth surface that won't snag hair and distribute heat evenly. Ceramic doesn't get as hot as as tourmaline or titanium so it is better for fine to normal hair but may not work for thick or curly hair.
Andis 67095 High Heat Ceramic Hair Flat Iron – Better known for their clippers, this is part of Andis's at-home product line. The 1″ ceramic plates heat up in 30 seconds and shut off automatically. Choose from 20 heat settings up to 450 to smooth all hair types. The narrow shape makes it easy to use and get down in the roots.
Tourmaline
Tourmaline is a semi-precious, crystal silicate material that is ground to create a smooth coating. It produces negative ions that smooth frizz, flyaways, and static. Heat distribution of tourmaline is the best and can straighten the hair with less heat and fewer passes over hair. Many flat irons combine ceramic and tourmaline.
HSI Professional Glider – This flat iron uses tourmaline-infused ceramic plates to straighten hair without frizz or static. Use the knob to dial between 140°F to 450°F. The inovative design has micro-sensors to evenly distribute heat and regulating temperature so make straightening faster. It also comes with heat-resistant glove
Titanium
Titanium flat irons are metal and heat up fastest, get the hottest, and are the most durable. This is what professionals use and can also make sense for men with very thick or curly hair who frequently straighten it.
BaBylissPRO Nano Titanium Ultra-Thin Straightening Iron – The ultra-slim and lightweight design makes this flat iron easy to maneuver. It is barely wider than the 1″ wide plates, making it easy to get close to the root. The plates are also 5″ long, so larger sections of hair can be straightened. It works for thick and longer hair types. The 50 heat settings up to 450° means you can dial in to just the right temperature for your hair.
3. Hot Brush
Also called a straightening brush, this styling tool is literally a heated hairbrush. The hot brush is quickly gaining popularity because it is easy to use, affordable, and cuts down on styling time because it dries and styles hair at the same time. The only requirement for a hot brush is medium length hair, which is especially easy for guys with curly hair thanks to the longer length of coiled hair.
Using a hot brush is as easy as brushing your hair. Start with damp hair coated by a heat protectant spray and start brushing, getting as close to the root as possible. Don't worry about getting burned because the bristle layer prevents the heated element from making contact with the skin.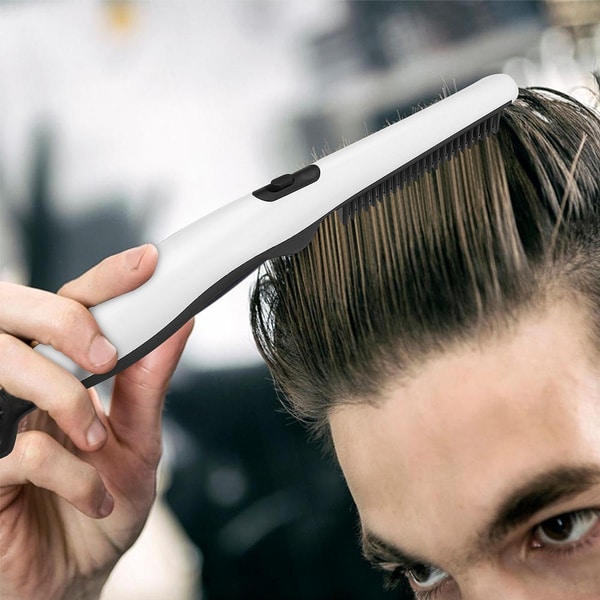 Similar to blow drying, start at the front of the head, focusing on the part of hair that is most visible. Dry and straighten hair by combing it backwards and then over to each side. Finish by combing the sides and the back until dry.
Now that hair is straight and dry, work in your favorite hair product. Straight hair may even last a second day.
There are a growing number of straightening brushes available. A hot brush should have multiple temperature settings.
fansrocck Hair + Beard Straightening Comb This is a two-in-one product designed for men. The ceramic element distributes heat evenly and the silicone brush head prevents burns. There are three temperature settings between 330°F to 410°F that work for all hair types and beards.
TYMO Ring Hair Straightener Brush The TYMO has a cool design that is backed up by a great product. A set of heated bristles is covered by longer bristles to prevent burns. It heats up in only 20 seconds with a choice of 5 heat settings between 266F and 410F for fine to thick and curly hair. The TYMO also automatically turns off after 30 minutes. It also comes with a detangling brush, bag, and heatproof glove. This is the older design with a black brush and purple ring. There is also a newer version in light pink, if you prefer.
REVLON One-Step Hair Dryer & Styler – This is the original hot brush with over 10,000 satisfied customers. Instead of heated bristles, it is a brush-shaped hair dryer with vents as well as bristles. It offers low and high settings plus cool. Unlike the heated brush, it sounds like a hair dryer.
4. Keratin Treatment
The straightening keratin treatment is also commonly called a Brazilian blowout. Similar to a perm, chemicals are applied to the hair and it is straightened with a flat iron. A keratin treatment grows out, so lasts from three to six months. All you need for this is a minimum of two-inch-long hair but longer is better.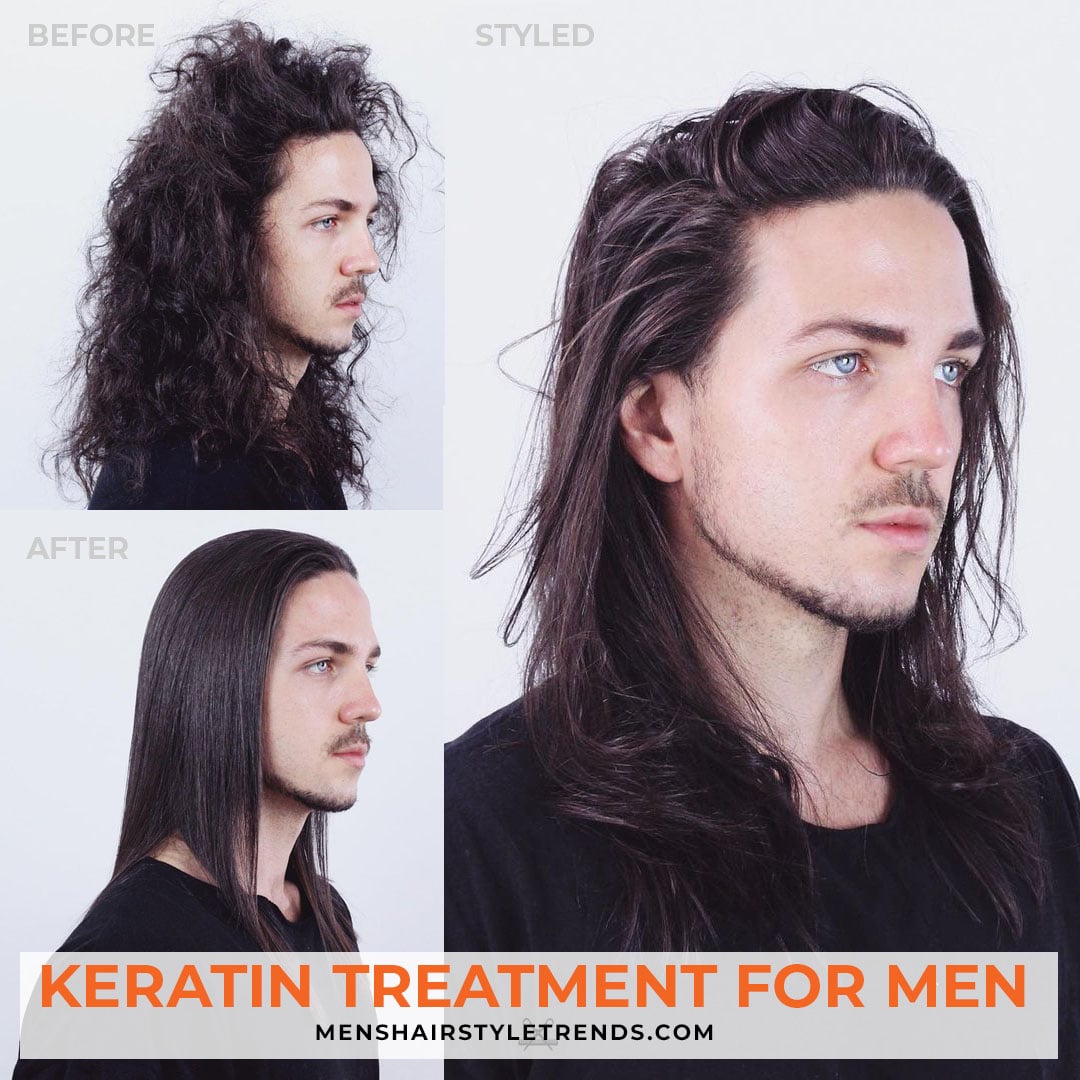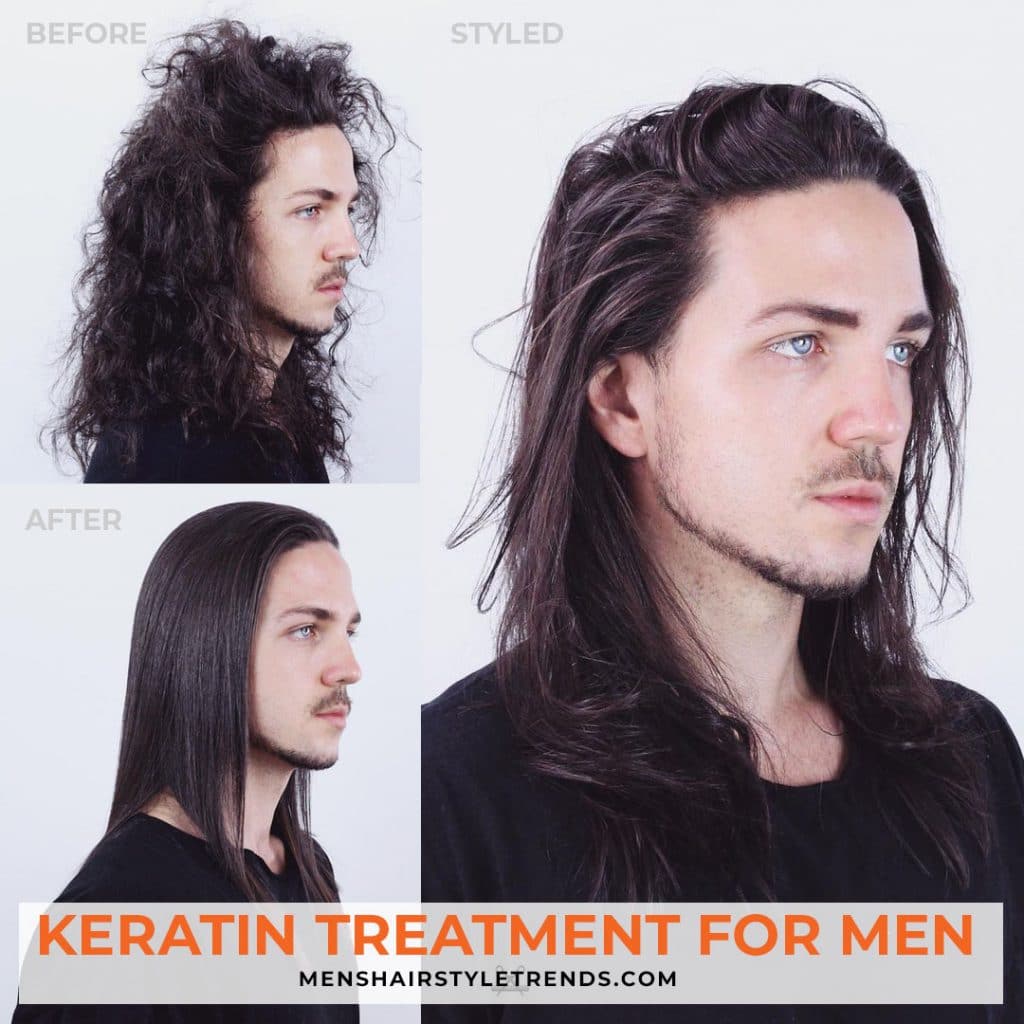 There is a lot of talk about whether or not the Brazilian blowout contains formaldehyde. Many formulas claim to be formaldehyde-free but that is not entirely true. They may not contain formaldehyde but it is created when the chemicals are heated. Not to worry, though. Formaldehyde is a gas so as long as you are in a well-ventilated salon, there is minimal risk. The real risk is for people frequently working with formaldehyde.
A keratin treatment is best done by professionals. First, hair is blown dry and straightened, then apply the treatment and let it sit. Afterward, hair will flat ironed straight and you've got a whole new look. Afterward, hair should be left alone for three days because any styling may set in the hair. Also, a good conditioner or hair mask can combat any styling damage. For more detail, there are plenty of videos out there documenting the process, like this one by Jake Daniels.
A haircut for straight hair instead of curly may be the last step.
5. Products
While it is the process of applying heat to hear that does most of the work, there are heat protectant sprays that also help hair stay smooth and straight.
Now that hair is straight, first try whatever pomade you have on hand. If that's not working, here are some pomade guides to answer questions and recommend the best products: