The appearance of thinning hair is alarming for men at any age, from 16 to 60. Here are all your thinning hair questions answered plus how to stop hair loss, how to make hair appear thicker, and the best products and styles for thinning hair.
1. Why is my hair thinning?
You're not alone, if that helps. Most men experience some kind of hair loss in their life, with 50% of men seeing noticeable hair thinning by age 50. Some guys start to lose hair before the age of 21 so enjoy what you've got.
Male Pattern Baldness
Almost all of hair loss, up to 95%, is genetic and caused by male pattern baldness, known clinically as Androgenetic alopecia. Hair loss is a result of changing hormone levels.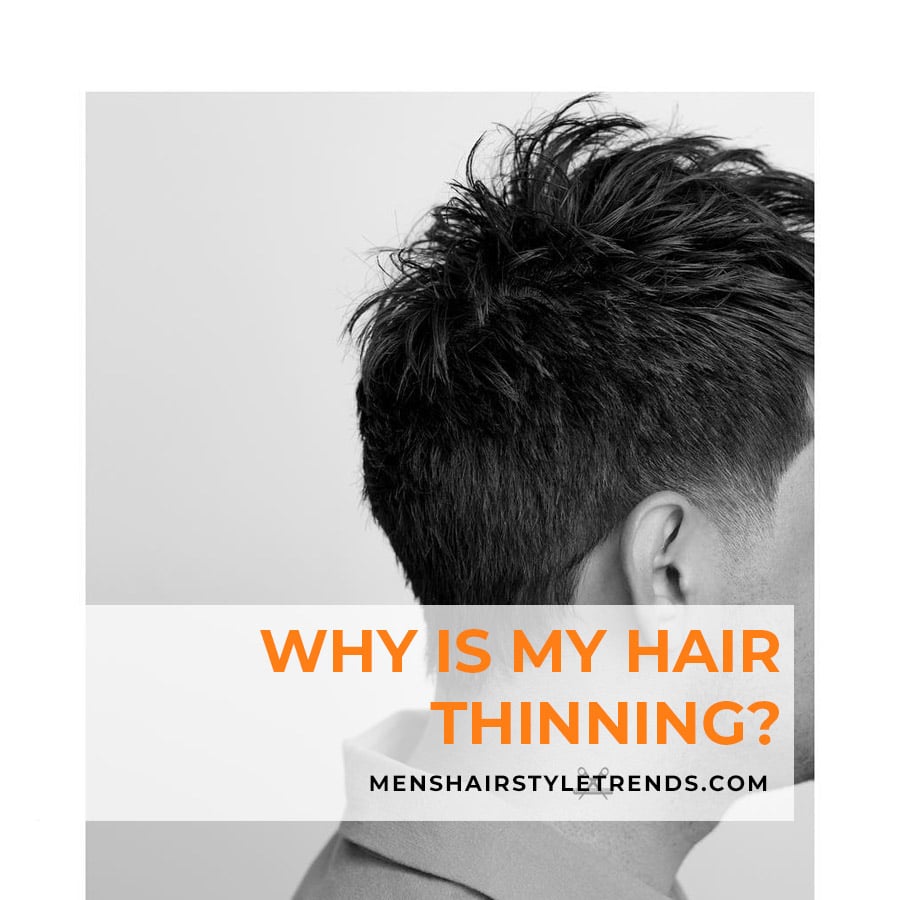 Hair loss in men is caused by dihydrotestosterone, or DHT. DHT is one of the hormones that create masculine traits. While DHT is associated with body hair growth, it as also associated with thinning hair.
Male hair loss happens when the hair follicles slowly become miniaturized. Then hair's active growth phase becomes shorter while and the resting/shedding phase becomes longer. Eventually new hairs are not able to emerge from the scalp surface and grown hair falls out more easily.
Male pattern baldness is not a sign of any medical issues but has been linked with coronary heart disease, an enlarged prostate or prostate cancer, diabetes, obesity, and high blood pressure.
Telogen effluvium – Heavy shedding
If hair suddenly falls out instead of gradually thinning over time, it's usually from something other than male pattern baldness. Other causes of male hair loss can be:
Diseases like anemia or a thyroid problem
Radiation or chemotherapy
Medications, such as blood thinners, high doses of vitamin A, and anabolic steroids
Scalp infections
Vitamin imbalances like not enough iron or too much vitamin A
Stress
The good news is that this type of hair loss can be reversed once the issue is addressed.
2. How to stop hair thinning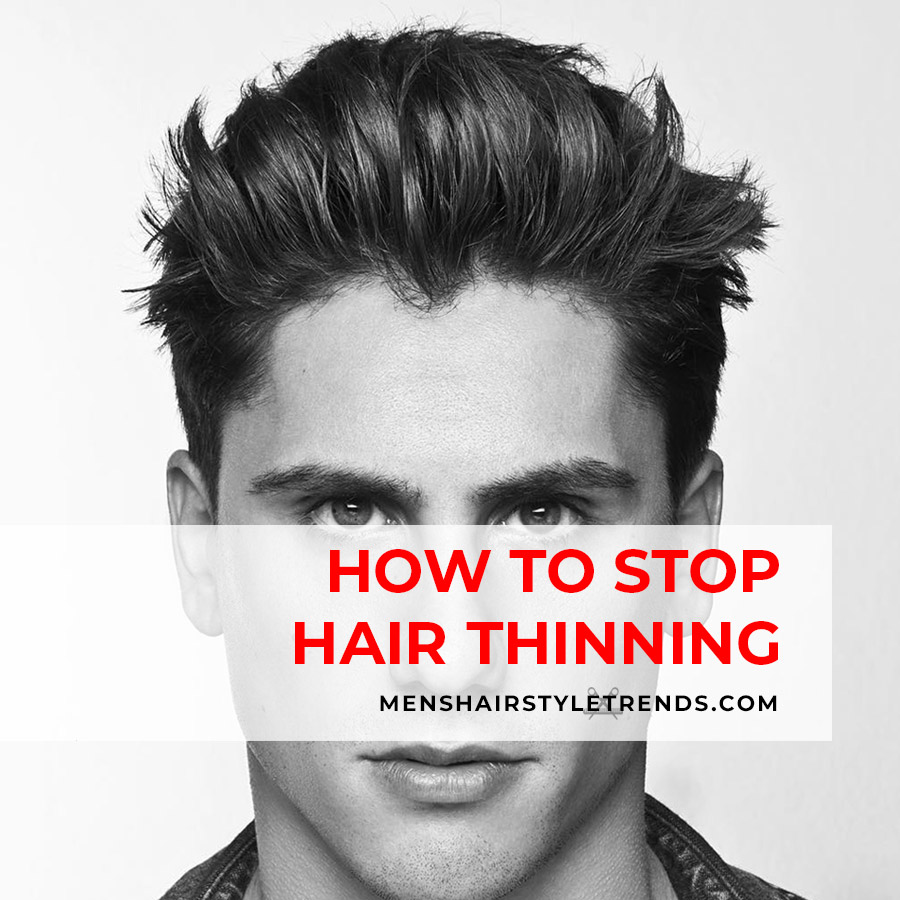 While there is no cure for androgenetic alopecia, some medications can slow down hair loss. The sooner that these products are used, the more effective they can be so don't just worry about hair loss, do something about it.
A healthy lifestyle is also good for hair. That means a nutritious diet, exercise, especially weight lifting, and as much sleep as you can get. And no smoking, because it can speed up cause hair loss to occur faster.
It has never been easier to get help for hair loss with online subscription programs like Hims, Keeps, and Roman.
One study found that a were 80% of men taking 1/mg daily of oral finasteride experience increased intensity of hair growth compared to 52% of men using 5% topical minoxidil. For optimal results, Minoxidil and Finasteride can be used together.
Some research shows that shampoo with 2% ketoconazole can have the same impact as 2% Minoxidil and speeds up hair regrowth when used with Minoxidil and Finasteride.
Keep reading for more information about each drug.
Minoxidil aka Rogaine
Minoxidil is a an excellent product for hair loss because it doesn't need a prescription, is applied topically, and very affordable. Also known by the brand name Rogaine, Minoxidil is an FDA-approved, over-the-counter treatment apply directly to the scalp in a liquid or foam.
Minoxidil has been clinically proven to slows hair loss and can regrow hair in 2 out 3 men. However, it is most effective for recent hair loss, under age 40, and hair loss will return if you stop using it. It can take up to 4 months to see results. For even more hair regrowth, Minoxidil can be used at the same time with Finasteride and a ketoconazole shampoo.
Minoxidil is a vasodilater – it widens the blood vessels and increases blood flow. When applied to the scalp, it increases blood flow to hair follicles, along with the oxygen and nutrients required for hair growth.
Minoxidil does have some side effects so it can be helpful to start with a lower dose or once and day and then increase the dosage and/or frequency. If you experience headaches, dizziness, confusion, chest pain or fast heartbeats, stop using Minoxidil and see your doctor. Common but less serious side effects include scalp irritation, unwanted hair growth, and initial hair shedding.
If you're using for Minoxidil for beard growth, which is not officially recommended, do not use it on the scalp at the same time.
Finasteride aka Propecia
Finasteride is a daily oral prescription that lowers DHT levels by blocking the metabolism of testosterone. It has an even higher success rate than Minoxidil, with slower hair loss in 88% of men and regrowth for 66% of users. It can take 6 months to see results and only works while you're using it.
A small percentage of men, between 4% and 6%, experience decreased sex drive and ejaculation problems, which almost always disappear when the drug is stopped. Also, pregnant women should not touch the drug because it can cause birth defects in baby boys.
While it is more effective at treating thinning hair, Finasteride is a bigger commitment than Minoxidil because it is a hormone disruptor, requires a prescription, and has more serious side effects.
Ketoconazole Shampoo
The easiest way to fight hair loss is with this dandruff shampoo. Ketoconazole inhibits the enzyme that converts testosterone into DHT. Used on its own, the shampoo increased hair regrowth as much as 2% Minoxidil solution. When used in conjunction with both 5% Minoxidil and daily Finasteride, hair regrowth was seen in as little as 30-90 days, compared with 4-6 months.
If you're only going to take one step to fight hair loss, this is the easiest, cheapest, and safest.
3. How to make thin hair thicker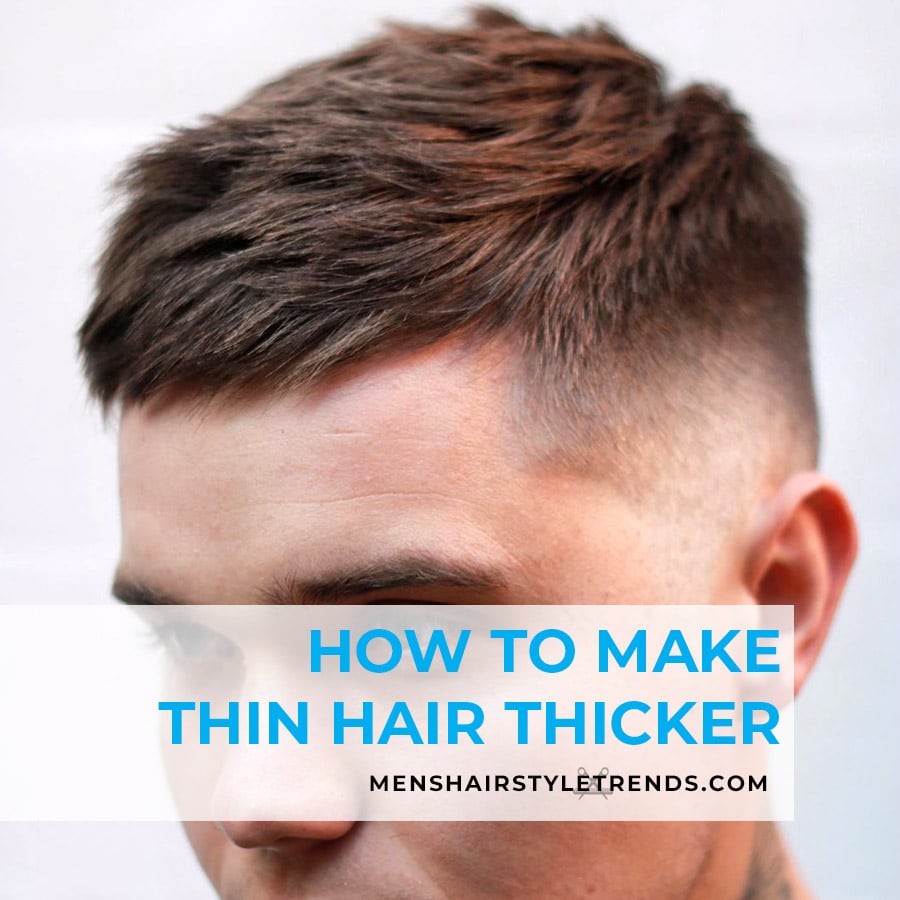 Thickening Products
Hair thickening products either work to slow hair loss or coat strands of hair to make hair temporarily thicker. Use them every step of the way, from shampoo to conditioner to styling products. Here's what to look for and some product recommendations.
DHT Blockers
Since DHT causes hair loss, topical DHT blockers can prevent or slow the process. Natural DHT blockers include saw palmetto, biotin, nettle, pygeum bark, and pumpkin seed oil. DHT blockers are often combined with rosemary oil, peppermint, caffeine, and/or B vitamins that increase blood flow to the scalp. Look for shampoos and conditioners with these products.
Shampooing hair too frequently can contribute to hair loss so use a DHT-blocking shampoo and conditioner or conditioner only.
Hairgenics Pronexa Hair Loss Therapy Conditioner – This bio-based product combines DHT blockers including saw palmetto, regrowth ingredients like biotin and collagen, and conditioning keratin and silk proteins.
Biotin Conditioner – In addition to strengthening hair, biotin is a natural DHT blocker. This is an affordable thickening conditioner that also adds volume and fights dandruff.
Hair Color
Hair dye coats hair strands to change the color and make it appear thicker. The key is finding a color flatters your skin tone and minimizes the contrast between hair and scalp. Ideally this will take place in a salon.
If you want to do this yourself, try one of the many wash-in hair dyes for men. These products are easy to use, add color with each shampoo so you won't go too dark, and are easy to wash out or keep up roots.
Hair Fibers
For mild cases of hair loss, hair fibers can add thickness and volume. Use them daily or when you want to look your best. Fibers works well for hair loss at the temples, hair line, and crown.
These are powders made of proteins that bond to hair with static electricity. They look natural, resist wind, rain, and perspiration, and wash out with shampoo. Find a brand with the best color match to your hair.
Hair fibers are easy to use. First, dry and style hair. Then, shake fibers onto the thinning areas. Now gently pat hair to set the fibers in place. For extra hold and texture, finish with hair spray.
BOLDIFY Hair Thickening Powders – At $24.00 an ounce, Boldify is not only the cheapest fiber product but the highest rated. It is available in 9 colors, including grey and white. They claim to have shinier fibers that appear more like real hair and an ultra lightweight formula that won't clump. They offer a lifetime money back refund for any reason and guarantee a color match so there's not reason not to try it.
TOPPIK Hair Building Fibers – Made from natural keratin, the same type of protein found in real hair, to look natural and undetectable. Also available in 9 shades, though each brands colors vary.
Strand Maximizer – These natural looking fibers are available in 7 shades. The powder also helps volume hair. They also ensure customer satisfaction with a money-back guarantee.
Best Brush for Thin Hair
Many men with thinning hair shy away from brushes and combs because it can feel like more hair falls out. Don't be. Those strands are coming out one way or another.
Brushing exfoliates the scalp, stimulates blood flow to the hair follicles, and distributes the scalps oils for natural conditioning. On top of that, it can help create the best style.
A boar bristle brush has stiff bristles that detangle hair without damage. In addition, it can evenly distribute product, smooth hair, boost volume, and help hair style in place all day.
Keep reading for more ways to help thin hair look thicker.
4. What causes thinning hair?
Most hair loss is genetic. Thinning hair is not caused by wearing a hat, running fingers through hair, or styling products.
Don't be afraid to brush hair. Brushing helps hair grow by exfoliating the scalp and stimulating circulation. Any hairs that come out were going to fall out anyway. On top of that, brushing hair distributes the scalps oils through to the ends of the hair for natural conditioning that also reduces the need for shampoo and dry shampoo.
5. How to style thin hair
A combination of a flattering haircut and the right products can make all the difference for thin and thinning hair.
See a great stylist or barber who can customize a cut based on your pattern of hair loss as well as hair type, texture, and preferences. Whether you need texture to make hair look thicker or more length in some areas to minimize trouble spots, the right haircut is the best place to start making thin hair appear thicker.
In terms of hairstyles for thin hair, volume and texture are the key to making hair appear thicker. That can be casual texture, trendy spikes, or a modern pompadour. The key is going up.
The right products can make a big difference. To make thin hair appear thicker, look for volumizing and thickening products. Whether you're boosting height or plumping each individual strand of hair, the result is fuller locks.
One way to boost volume without any product is changing your part. After being lying in one direction for a long time, moving the part over or to the opposite side will help lift hair up and away from the scalp.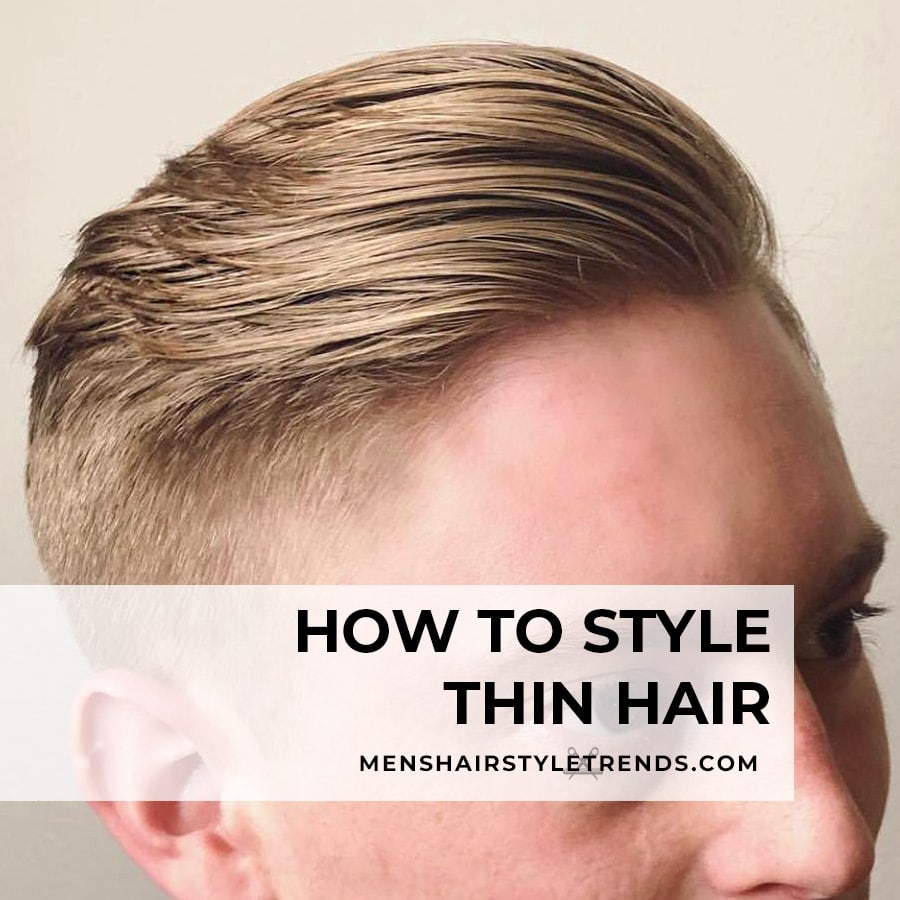 Now in order of most to least hold, here are the types of products to look for and a few of the best.
Matte Pomade
For thin hair, a shiny finish can highlight hair's thinness and look greasy. The best pomades for thin hair have a matte finish and low to medium hold that won't weigh hair down. If you see the words volume, texture, or thicken on a product, that is good too.
Imperial Barber Matte Pomade Paste – This product does everything for thin hair – in addition to a shine free medium hold, it strengthens, thickens, and adds texture to hair. It can be used for loose and natural, textured and spiked, or clean and combed men's hairstyles.
Challenger Matte Cream Pomade – Not too much shine and not too much hold, this pomade is just right. The water soluble formula washes out with water, making it easy to skip the shampoo.
Dry Shampoo + Pomade Hybrid
This type of product combines dry shampoo for texture and pomade for hold. This combination of volume and density is ideal for bulking up thin hair, short hairstyles, and the spiky, messy, and textured looks that are trendy right now.
R+Co Badlands Dry Shampoo Styling Paste – Similar to the product above, this paste has a lighter hold that is touchable and reworkable and slightly less gritty. It adds texture and density without weighing hair down, making it suitable for the thinnest hair.
Texture Lotions + Creams
These products are designed to add texture to fine and thin hair types. They also work well to tame medium and longer locks or curly hair. This light hold product won't weight hair down and works well for looser styles like the pompadours and side part hairstyles that suit thin and thinning hair.
Textured and creams can also be layered with other products like mousse for more volume or a pomade for more hold.
American Crew Light Hold Texture Lotion – As the name says, this lightweight product is designed to add texture and a touch of hold. It's perfect for the thin hair and longer styles. To avoid any crunchiness, run fingers or a comb through hair after the lotion has dried.
Jack Black Texture Cream – If you don't like the classic American Crew scent, this cream is fragrance-free. It thickens hair, moisturizes, and holds all at once.
Mousse
You may not have used this product before but will have seen it in many hairstyle pictures. Mousse is a lightweight foam that provides excellent volume and hold to fine and thin hair.
For maximum volume and hold, combine mousse with a hair dryer. Either way, apply the foam from roots to tips of damp hair. Work hair up and out from the scalp to minimize the appearance of thin hair.
6. How to help thinning hair
The best way to help thinning hair is start treatment as soon as possible. Hair loss treatments are most effective at preventing thinning hair than regrowing it. Don't wait to see a doctor or dermatologist to discuss treatment options.
7. How to prevent hair thinning
As they say, an ounce of prevention is worth a pound of cure. A healthy lifestyle with a minimum of stress is ideal. Of course, that is much easier said than done.
Your shower routine can also contribute to hair loss. Daily shampooing daily is too often. Shampoo strips the scalp oils that keep hair and skin moisturized. This actually kick starts oil production, which will make you want to shampoo more. Instead, start by shampooing every other day.
Ultimately, two to three shampoos a week is plenty. You can still shower every day, just rinse and condition. Water-based hair products should rinse right out but if you're using oil-based product, re-application may not be necessary.
8. How to tell if your hair is thinning
As part of its growth cycle, hair falls out all the time, making room for new hair to grow. Between 50 and 150 hairs a day is considered normal. At some point, most guys start to notice more hair loss than before. Hair that does grow back is finer, thinner, and shorter than it used to be.
Male pattern baldness shows up the same pattern for most men: a receding hairline and thinning around the temples. So if you see more hair in the sink and a change in your hair line, it is likely beginning to thin.
9. What is the best shampoo for thinning hair?
There are a few options when it comes to shampoo for thinning hair. First, products with ketoconizale have been to shown to reduce hair loss. That isn't for everyday though. On top of that, there are DHT blocking products that slow hair loss. Finally, thickening or volumizing formulas will help hair appear fuller temporarily.
Remember that shampooing every day is not recommended. Instead, look for conditioners that block DHT and/or volumize and thicken hair to get all the benefits without the damage.
10. Does biotin help thinning hair?
Biotin supplements only help grow thicker hair if you have a deficiency. However, if you eat a varied diet, not eating enough biotin is rare.
The only hair vitamin that is proven to work in studies is Nutrafol, a physician-formulated combination of natural ingredients that encourage hair growth. The multi-faceted approach includes marine collagen, ashwagandha, curcumin, saw palmetto, and biotin to help grow hair as well as boost mood and improve sleep.
Like all other hair regrowth products, this nutraceutical will be most effective at the initial stages of hair loss.
11. How to make thin hair look thicker naturally?
In addition to the thickening hair products recommended above, there is one easy way to make thin hair look thicker. That is dry shampoo. This product is designed to absorb sweat and oil to refresh hair without a shower. A secondary benefit is added volume and thickness. Look for dry shampoos that also have texture for an extra boost.
Even though dry shampoo is meant for off-shampoo days, it can be used as a styling product. Spray it onto the roots and work it in with fingers. Finish styling with a brush, comb, or fingers.
The powder in dry shampoo is white so be sure to work it in to hair thoroughly or opt for dry shampoo with a tint. Also keep in mind that too much dry shampoo can clog pores so wash it out every few days.
Hair Dance Volumizing Dry Shampoo – This is the most cost effective and organic dry shampoo. Apply this powder by spreading into hands and working it into roots. The light colored powder becomes translucent after absorbing oil.
Garnier Fructis Texture Tease Dry Finishing Spray – This is technically a hair spray but it uses micro-mineral powder to add texture and volume to hair while absorbing oil.
BOLDIFY Hair Thickening Spray – This company specializes in products that thicken up hair, including hair fibers. While billed as a thickening product, it is also absorbs oil and adds volume. Just spray it into damp hair before drying hair.
12. Does wearing a hat thin your hair?
Can wearing a baseball cap make you go bald? Nope. Running fingers through your hair won't cause it, either. Neither will combing, brushing, twisting, or styling. In fact, brushing hair stimulates circulation of the hair follicles.
13. What age does men's hair start to thin?
By age 20, about 20% of men have at least some visible hair loss. By the time you turn 30, you have a 25% chance of displaying some balding. By age 50, 50% of men have at least some noticeable hair loss. By age 60, about two-thirds are either bald or have a balding pattern.
14. What is the best short haircut for thin hair?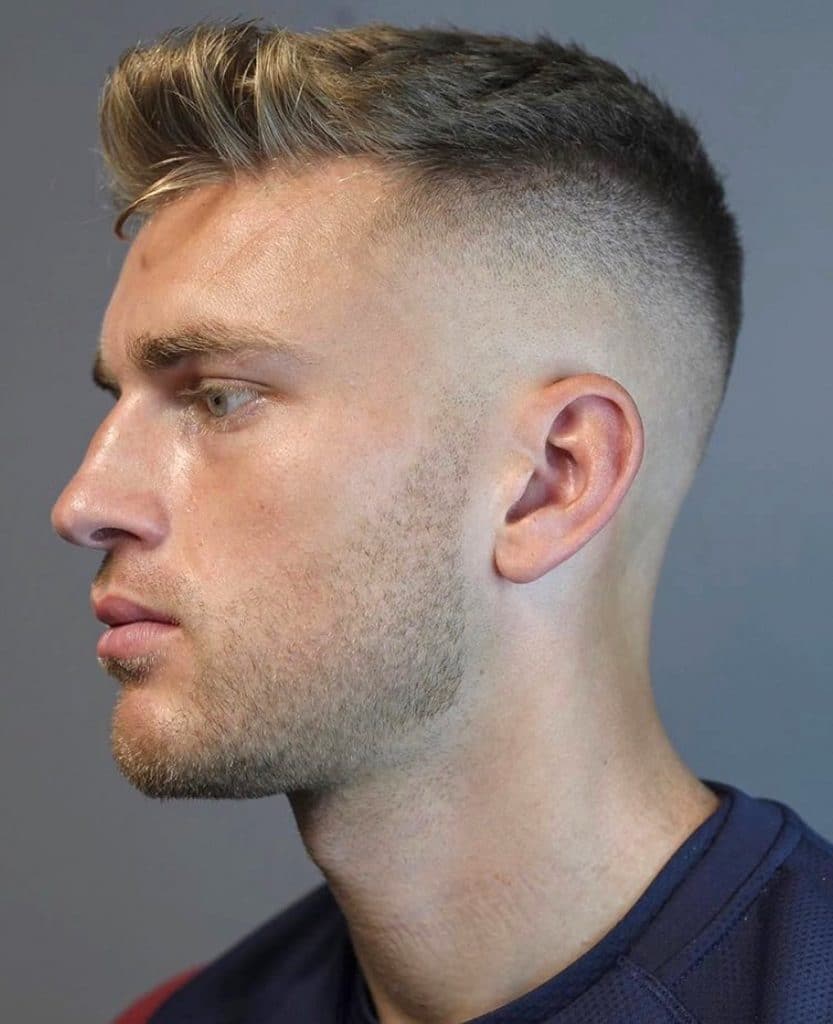 Of course hair loss patterns, face shape, and hair type impact the best haircut for men but in general, the crew cut is the best short cut for thinning hair. The fades sides make hair on top appear thicker in comparison.
Hair at the forehead is longer at the front and gets shorter towards the crown. This means hair can be styles into fringe to minimize a receding hairline, spiked up for maximum scalp coverage, or combed over or slicked back.
We use affiliate links and may receive a small commission on purchases. Please read our disclosure.