There are lots of reasons to color hair for men. Maybe you want lighter hair, darker hair, or brighter hair or maybe you just want to cover grays. There is a range of hair color options for men including semi-permanent, permanent, natural, and shampoo-in dyes.
Made for men hair colors tend to be easier to use and semi-permanent, so they wash out without showing roots. There is no reason not to use women's hair dye though. There is more color selection, formulas, and price points. The point is finding the best option for you.
When it comes to coloring hair, there are more options than all-over color. Choose one bold streak or multiple streaks or color just the top while leaving the sides and back natural. Hair can be one color or many. Check out some tips and pictures below.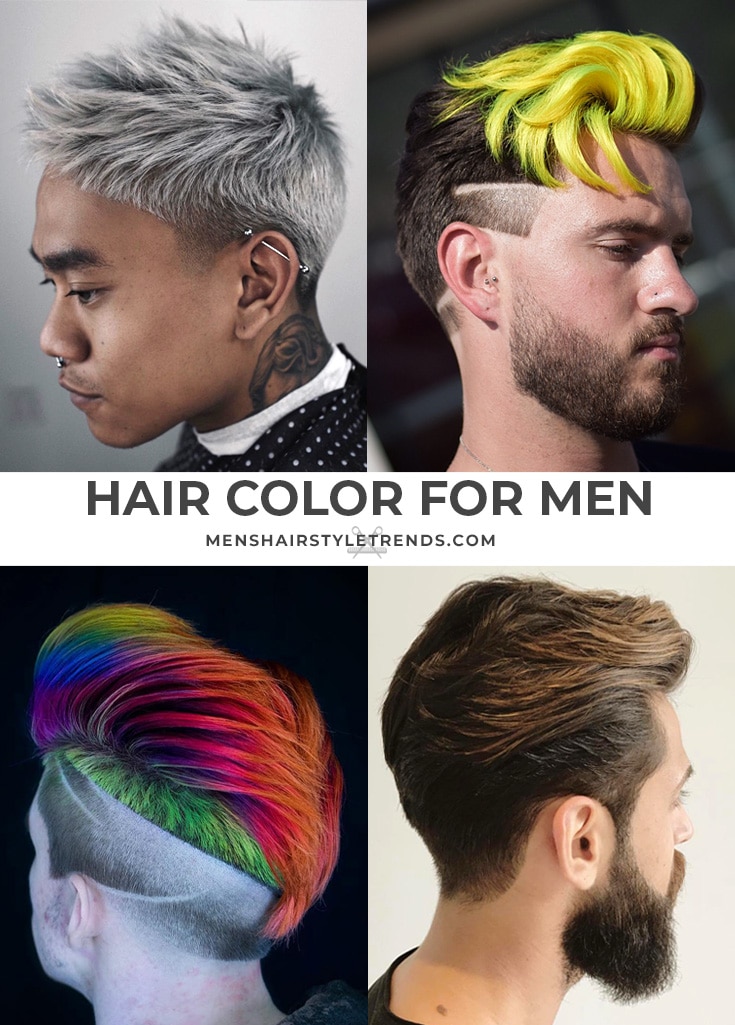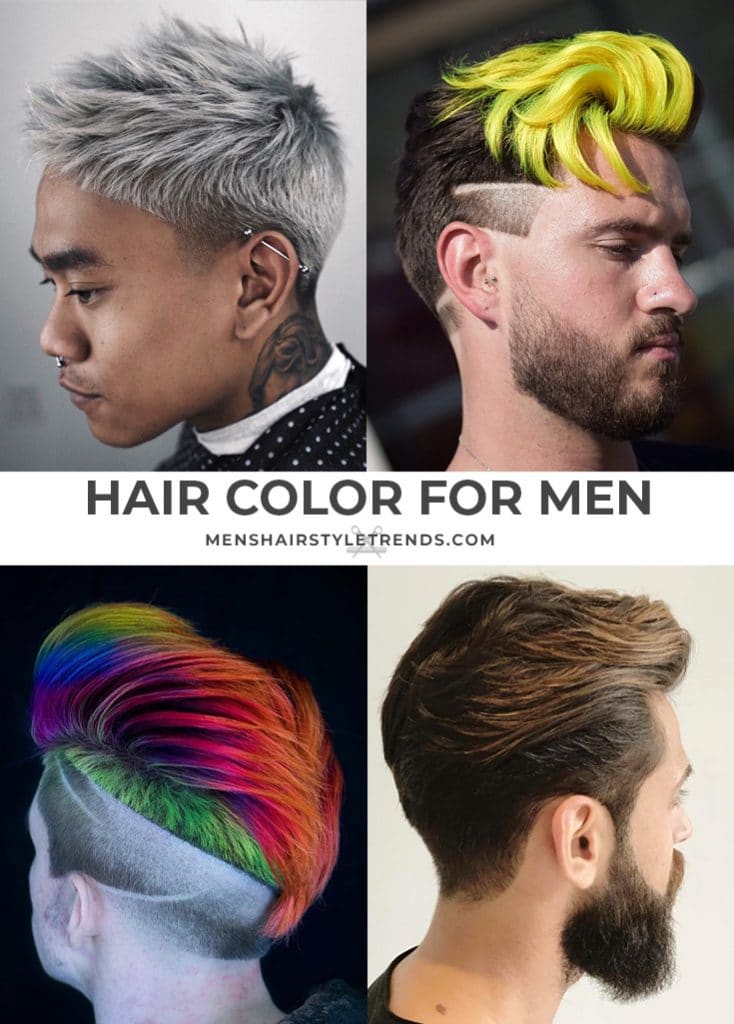 Gray Hair Color for Men
One of the most common reasons that men use hair color is cover grays. If you want to dye your hair gray or silver, that process is similar to going blonde. When covering grays, a subtle change is less obvious. Build color over time to get coverage without all the questions.
The easiest way to cover grays is with a color depositing shampoo like the plant-based Aveda Black Malva Shampoo to add cool tones to dark hair. Just for Men Control GX Gray Reducing Shampoo is another option with additional formulas with conditioner, anti-dandruff, and beard shampoo and lighter hair from blonde to medium brown.
For longer laster coverage, try one of the Just for Men products meant for that purpose.
For Men AutoStop Men's Hair Color is one of the easiest to use hair dyes for men with a no-mix, comb-in color that stops developing after 10 minutes so it can't get too dark. However, make sure to choose a color close to your current hair color from the 10 available colors. When in doubt, go lighter first.
Reviewers report that the dye can be used for multiple applications for short hair. This dye grows out with hair so re-apply when you notice roots so it can last up to 8 weeks.
Hair Color for Black Men
The best hair color for black men is any color you want. Every color of the rainbow is an option from platinum white to cherry red or sky blue and deep violet, and anything in between. All of those colors require bleach plus additional color, so are best left to the professionals.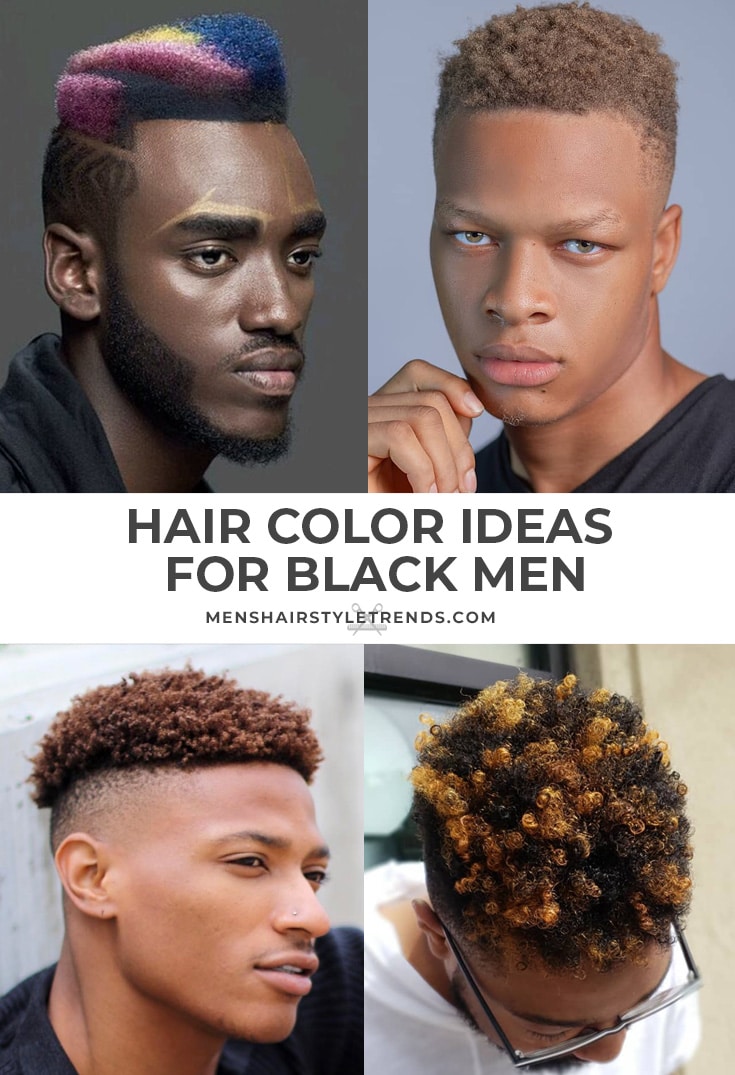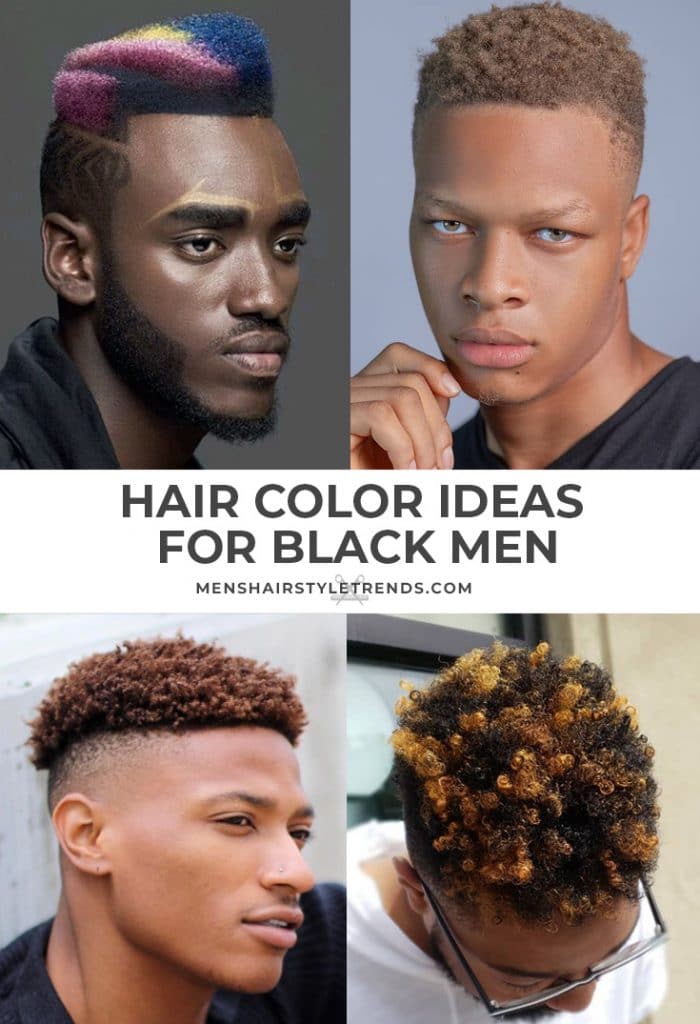 Going darker is easy to do on your own though. Kinky curly black hair tends to be dry so choose a gentle hair dye and follow up the process with ample conditioner.
For a darker color or to cover grays, SoftSheen Carson, a specialist in black and African-American haircare, is the most popular hair color for black men.
Dark and Natural is a shampoo-in hair color for black men that contains aloe vera and honey for moisture. Work it into hair for 5 minutes and rinse out. It can be used up to 15 minutes for a darker color. It is only meant for use on the head so don't try it on a beard or anywhere else on the body. It is available in Dark Brown, Natural Black, and Jet Black.
For gentle lightening or to add a red tint, try henna. More on that below.
Hair Color for Men with Brown Skin
Most men with brown skin have dark hair somewhere between brown and black. The question is do you want to go darker or lighter? Adding red, blue and purple is especially flattering.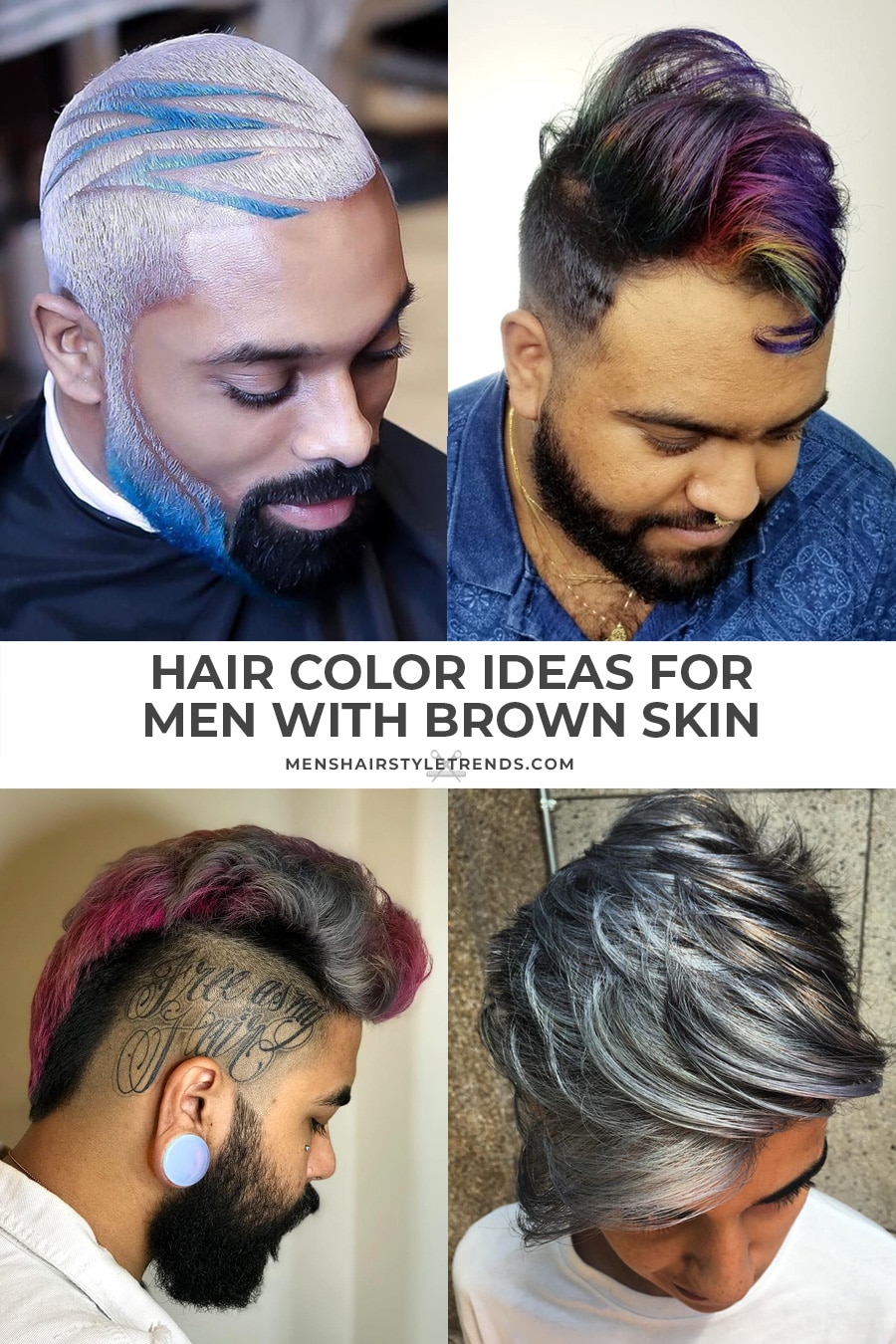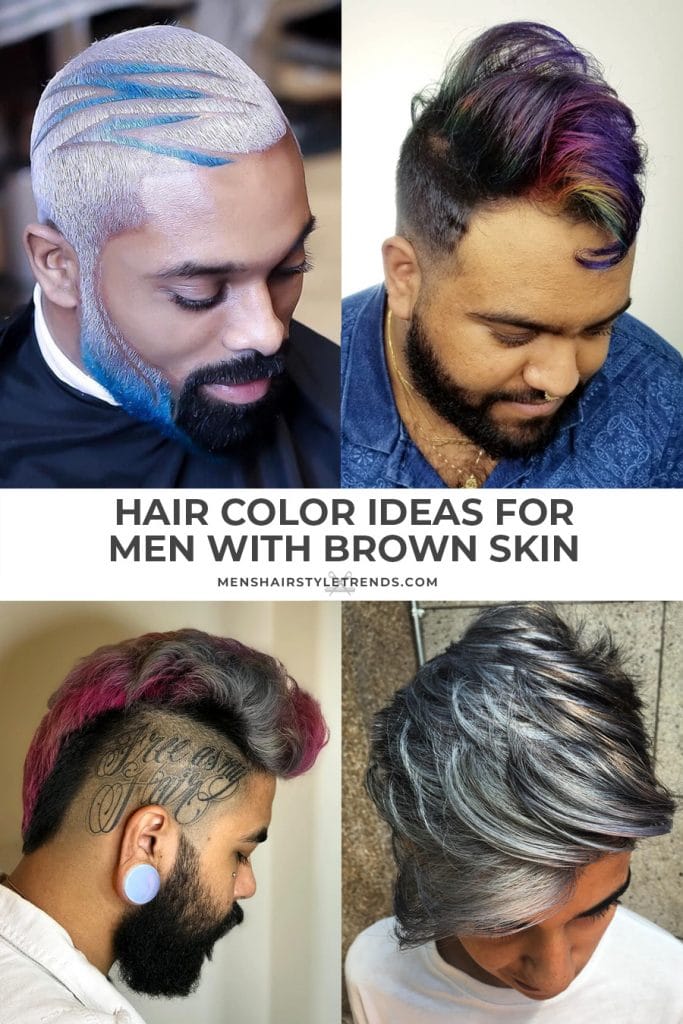 Going a shade lighter brown or darker black can change your appearance but not too dramatically. Blonde hair can also be a popular hair color for men, especially icy or silver shades. The key to making it work for every skin color is finding a shade that works for you.
Blonde Hair Color for Men
Have you been wondering if blondes really do have more fun? Find out yourself. Blonde shades range from darker ash blonde to almost white platinum blonde. And of course, going all over blonde is just one option. You can also add highlights, streaks, dye the top of hair, or create your own unique look.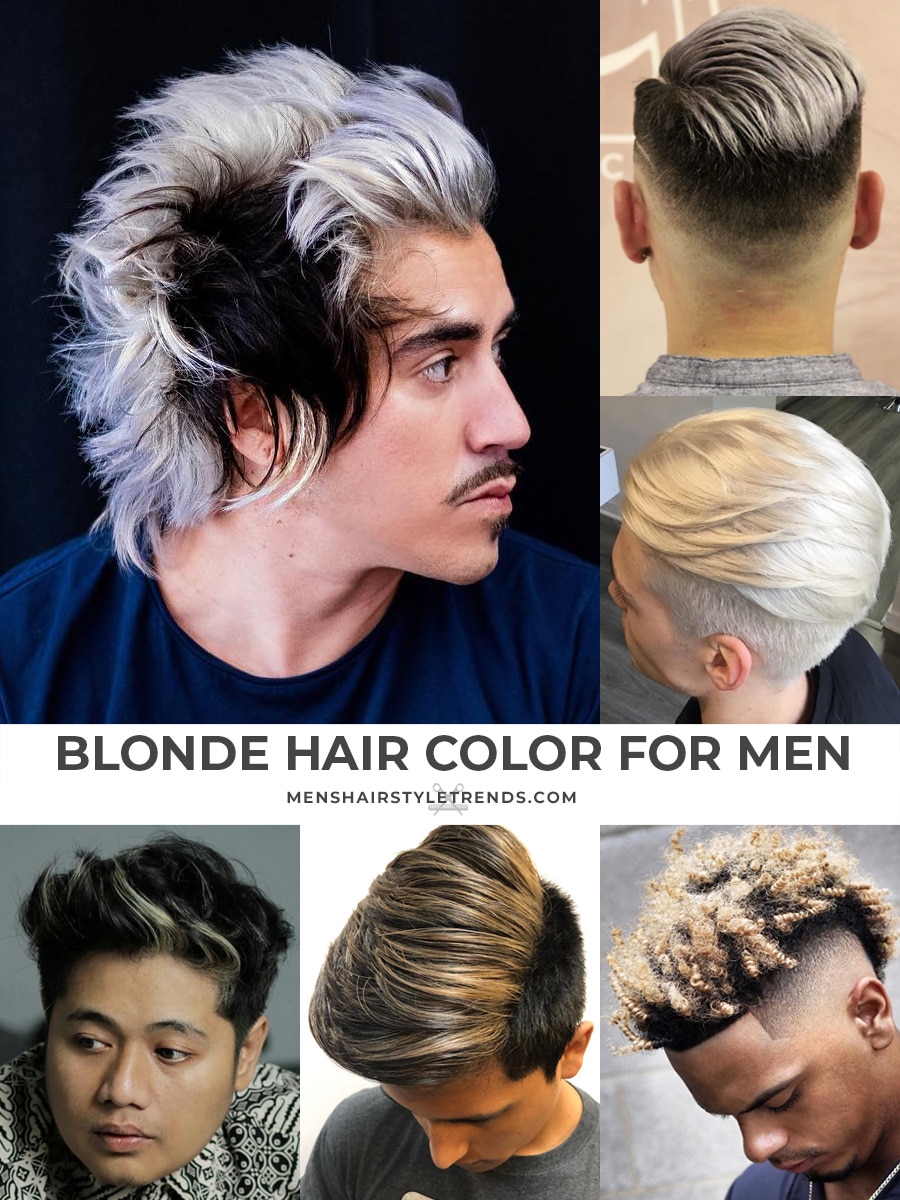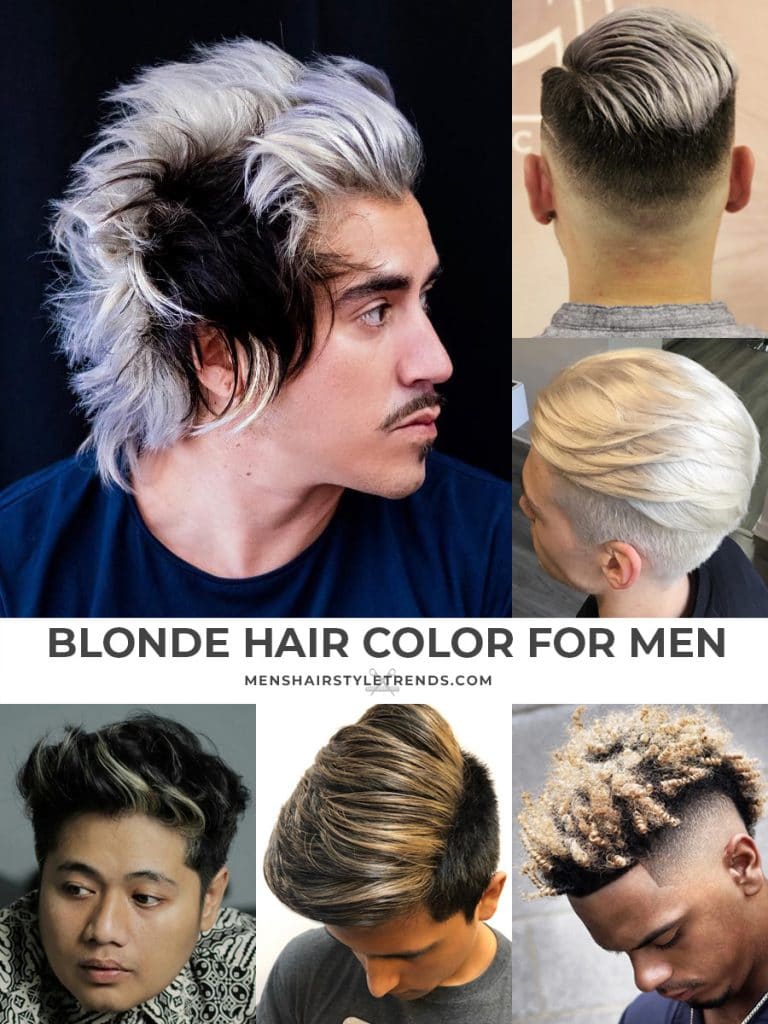 The most flattering shades for you depends on your skin tone. Opposites attract so cool blonde colors flatter warm skin tones with yellow and gold undertones. Warm blonde hues work best for cool skin tones with notes of pink and olive.
Find out your skin tone by checking your wrist and eyes. If you see blue or purple veins at the wrist, you are cool-toned. Green veins indicate warm skin tones. For the eyes, warm skin tones tend to have gold flecks while cool tones have blue and green specks. If you a combination of warm and cool indicators, you likely have neutral skin and can wear any hair color.
While bleaching hair is ideally left in the hands of professionals, not everyone has the budget. If you do choose to go blonde at home, choose a gentle dye, follow up with a conditioner for color-treated hair, and use a toner or blonde shampoo to eliminate brassy tones. These products add a contrasting blue or purple tone to cancel out yellow. Don't skip this step.
One of the best at home blonde dyes is Schwarzkopf Professional Blond Me. The bleach has to be mixed with a developer. A higher indicates a stronger product. Volume 10 developer changes color by one level, volume 20 changes hair by 1-2 shades, and volume 30 changes hair color 3-4 shades. While volume 40 developer is available, it can be very damaging to hair. If you want to go white blonde, that's what it takes. Another tip, apply bleach to unwashed hair so that scalp oils can reduce hair damage.
Follow up with blonde shampoo like Clairol Professional Shimmer Lights Blonde Shampoo or L'Oréal Paris EverPure Blonde Shampoo and deep conditioning like Aussie 3-Minute Miracle Color. If hair is especially yellow, brighten and moisturize hair with a toner like B UNIQ Purple Hair Mask.
Cool Hair Colors for Men
Sometimes called merman hair color, bold and bright hair colors are a cool choice for men. Dip your toes in the water with a few bright streaks, go further by coloring the top of hair, or take the plunge with all-over color or a complete rainbow.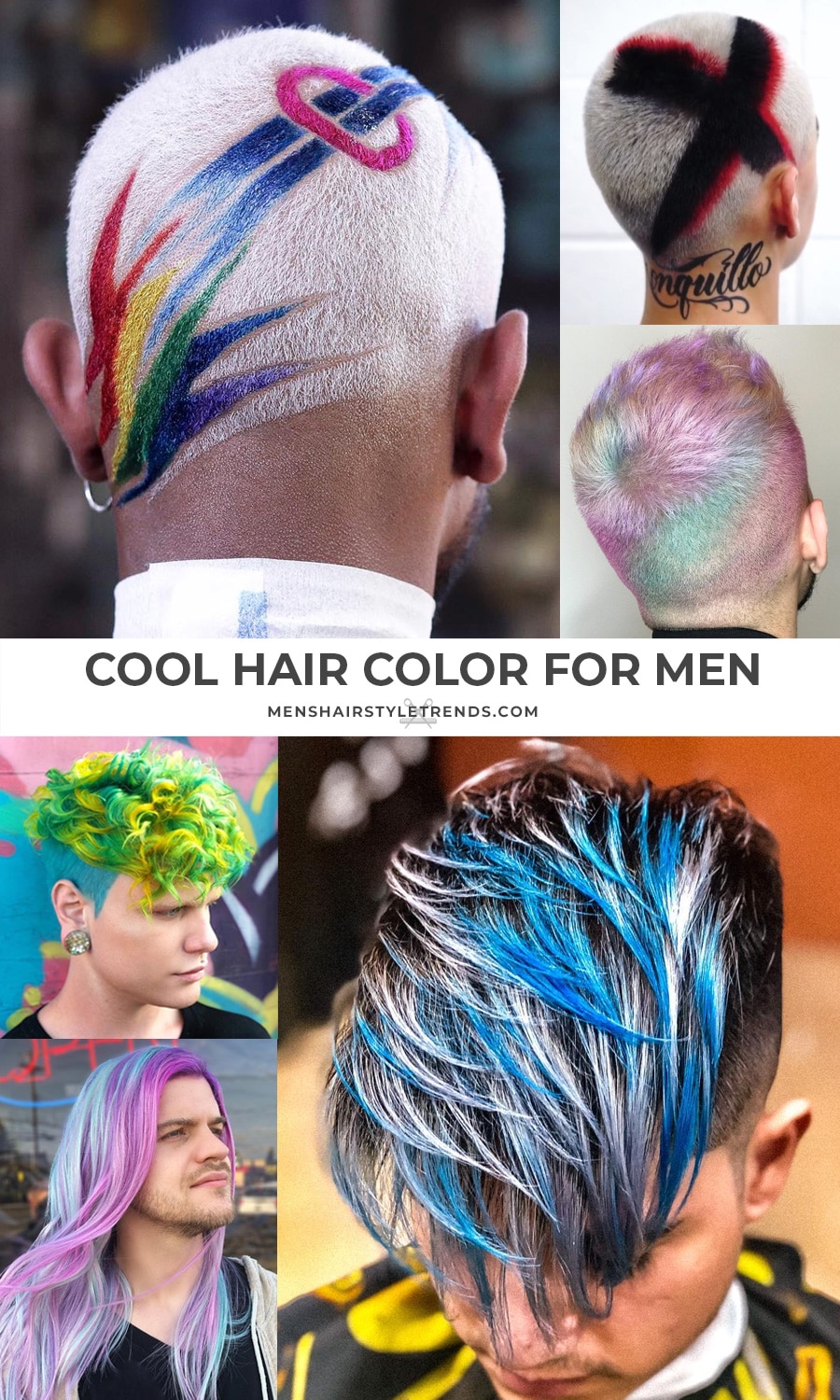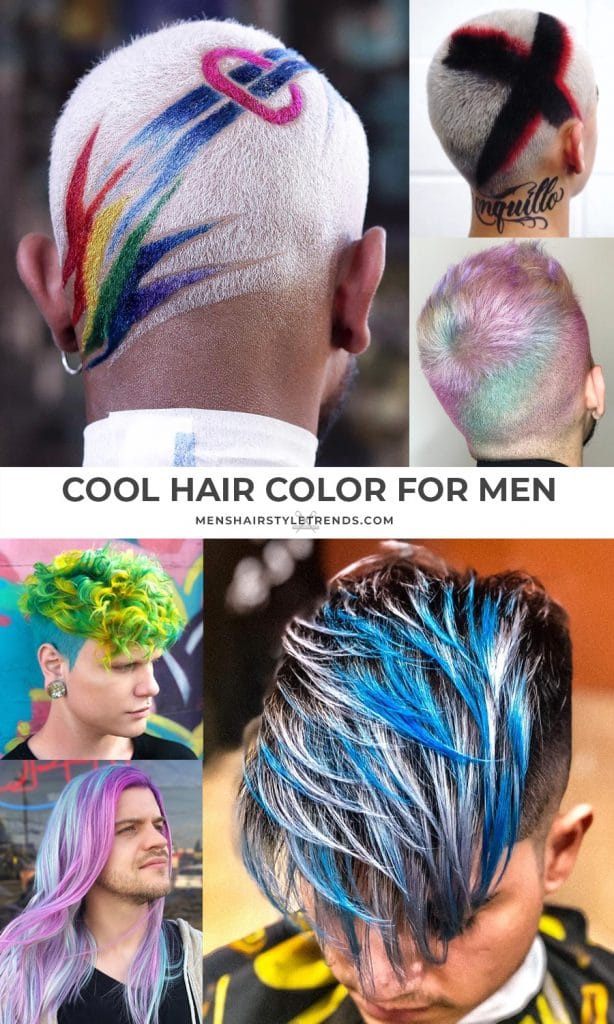 Professional treatment will result in the brightest, longest lasting color and can create unexpected combinations. All over color or streaks can be done at home. Bleach first and then pick a color from Manic Panic or Punky Color, the Crayola crayons of hair dye.
Natural Hair Color for Men
There are plenty of reasons to choose a natural hair color. They can be less damaging to hair, safer for the environment, minimize allergic reactions, and potentially healthier. While some of the chemicals in hair color are associated with an increased risk of cancer, minimal exposure means they are unlikely to do harm.
Natural hair dye will not have the saturated color or long life of chemical dyes. This can be a good thing, especially for men looking for a subtle change.
Henna
The most natural hair dye is henna, which is made up of ground leaves of the henna plant, Lawsonia inermis. This herbal hair color has been since ancient Egypt and perhaps even earlier. The color depends on your starting hair color but it can add an orange, red, burgundy, brown tint, or even black tint.
Henna is easy to apply. Mix the powder with an acid like lemon juice, let it sit, and brush onto hair. Henna can take a week to oxidize into its final color so give it some time. Henna can also be used on the brows and beard.
The Henna Guys make one of the most popular henna powders without any additives. It comes in 11 colors, including red/orange, natural red, wine red, light brown, medium brown, mahogany, indigo, and jet black. They also offer a money-back guarantee so there is no risk.
Black Henna
To darken hair, black henna adds indigo. It can be used to darken hair or cover grays. The process is the same as with regular henna. The product lasts from 4-8 weeks but can be reapplied whenever roots are visible, but only apply to the roots.
Henna Maiden Black Hair Dye is "nature's way to cover gray". Containing only henna and indigo, it is as natural as it gets.
Ammonia-Free Hair Dye
The next category of natural hair dyes eliminate ammonia, the product that creates that bad hair dye smell. Ammonia changes the pH of dye, swells the hair shaft, and allows for deeper and longer-lasting color. Ammonia-free dyes are gentler but won't be as dramatic. Ammonia also has to be replaced with other chemicals that mimic its effect.
HerbaTint is applied like a typical permanent hair dye but without ammonia or harsh chemicals. Made in Italy, the product is subject to the stringent European Union rules. For men with short hair, this product is designed to be used in one or two applications.
Clairol Natural Instincts for Men is a drugstore ammonia-free formula that washes out gradually over 28 shampoos so there are no harsh root lines. Available in light brown, medium brown, dark brown, brown black, and black, this demi-permanent dye can be used every one and three months to boost color or cover grays.


Red Hair Color for Men
When it comes to red hair, this is a wide spectrum of shades from copper to burgundy to primary red. You can apply a red dye on top of hair to boost the color or for truly red hair, bleach first and then add color. Either way, red hair color washes out very quickly so skip the shampoo as much as possible and add a color-depositing shampoo to maintain the hue. That being said, red fades out into flattering shades of pastel pink . Here are a few options to do it yourself.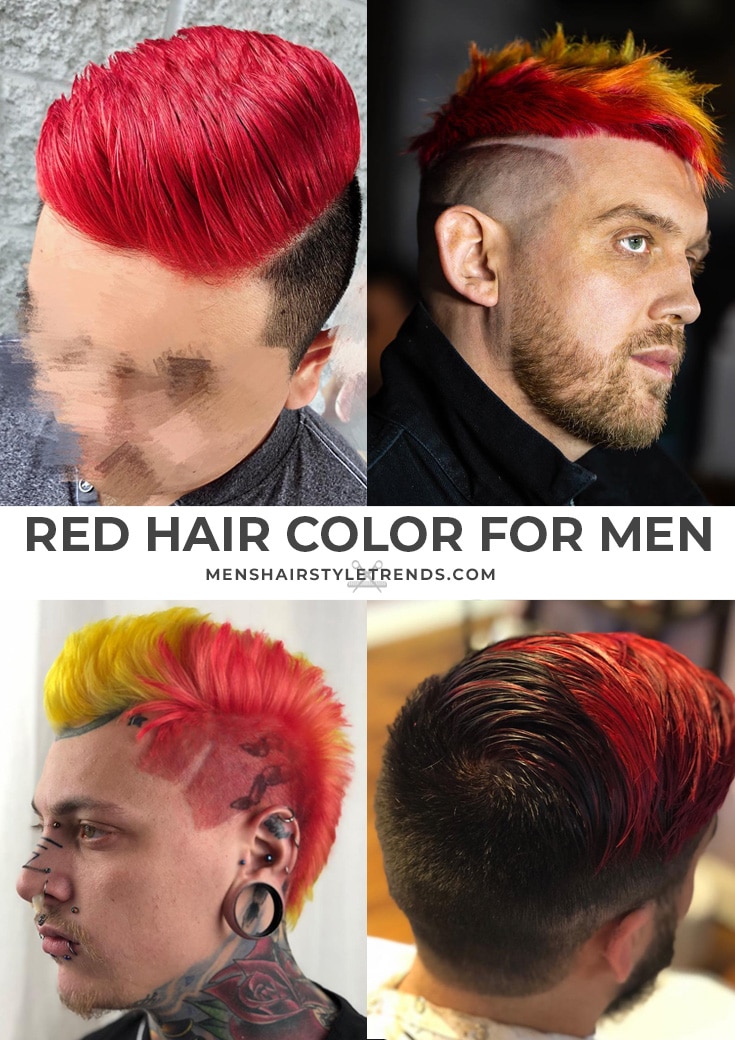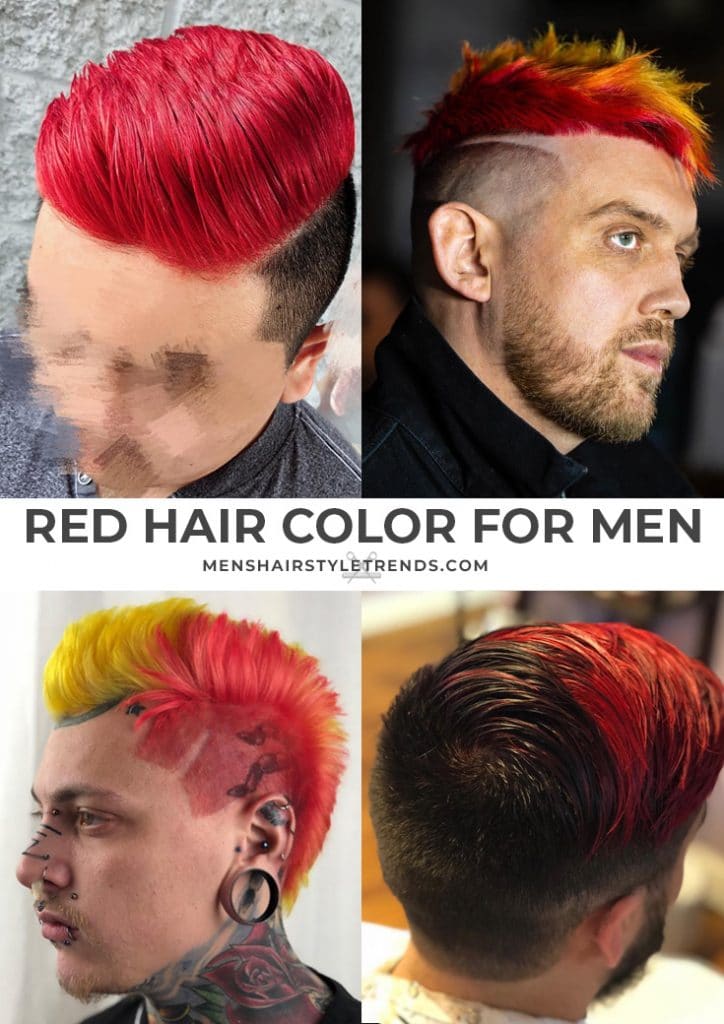 As mentioned above, henna is a safe, easy and temporary way to add red to any hair color.
Keracolor Clenditioner Color Depositing Conditioner Colorwash can be used to subtly dye hair or maintain color. It is available in 15 colors so you can branch out into the color wheel with no more effort than a daily shampoo.
Manic Panic Wildfire Red can be applied on top of existing hair color or to bleached hair. This legendary vegan semi-permanent hair dye is available in 51 colors, including multiple shades of red.
Sparks Long Lasting Red Velvet is the brightest, longest-lasting hair dye with minimal staining. It works best with pre-lightened hair but doesn't have to be. It is available in 19 fun colors.
Ash Brown Hair Color for Men
Ash brown is a combination of gray and brown. It can be used to cover grays, lighten or darken hair, or tone down orange/red hues. Ash brown dye can be available in light, medium and dark shades.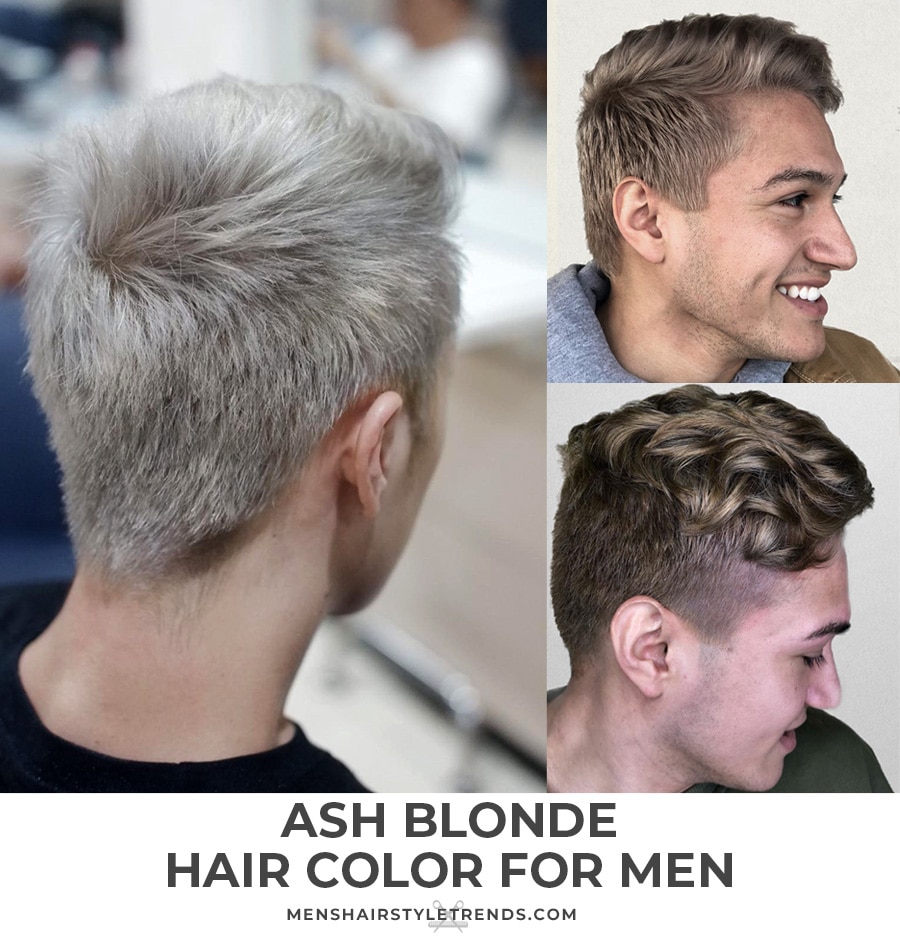 Just For Men Original Formula Ash Brown is the easiest way to dye hair with a shampoo-in formula that takes just 5 minutes to develop. The ammonia-free formula gradually washes out.
Garnier Hair Color Nutrisse Nourishing Creme Light Ash Brown covers gray while moisturizing hair. This permanent dye will need to be touched up at the roots but it will completely cover gray hair.