We always try to accommodate our entire audience whether you have thick hair, wavy hair, straight hair, fine hair or curly hair. After a lot of recent requests on our Facebook page, today's focus is in on the best men's hairstyles for curly hair
Curly hairstyles for men just keep getting cooler. Medium or long hair on top is becoming more common, and so is fringe falling down over the forehead. These are frequently paired with fades or undercuts to keep hair clean cut and easy to manage.
Styles are kept looking fresh and on trend with hard parts, hair designs and more.
Check out these 21 fresh new curly hair hairstyles for men, in order from shortest to longest.
21. Short Curly Hair In Smooth Waves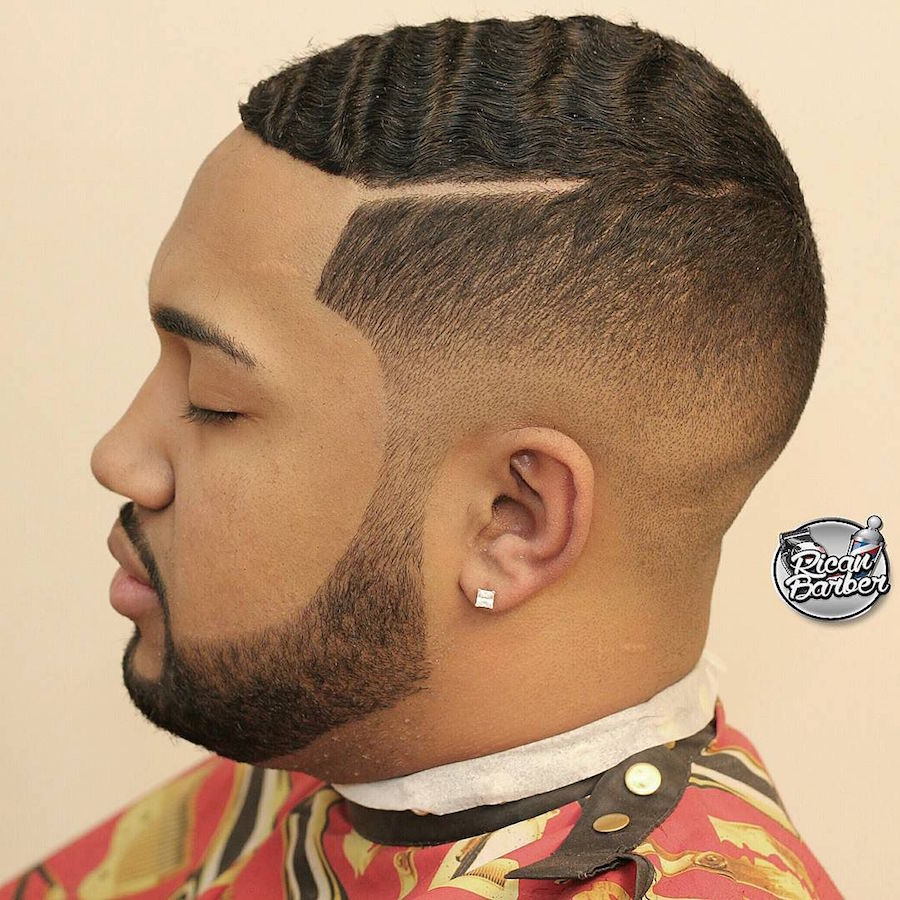 Haircut by Axel
This cool cut is an exercise in opposites. Thick hair on top is juxtaposed with a blurry skin fade while a straight surgical part contrasts wavy hair.
20. Short Curly Hair + High Fade + Fringe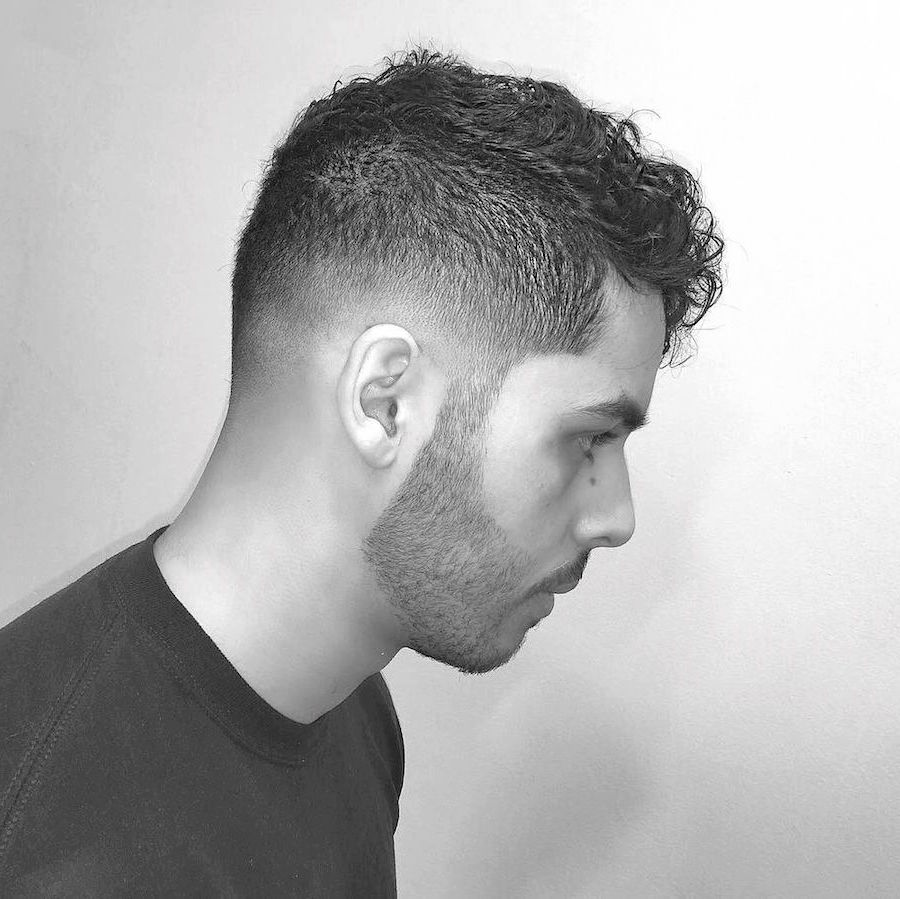 Haircut by Luis Chevere
This haircut for curly is that hard to find combination of stylin' and easy to wear. A high fade concentrates length to just the top of the head while layering helps bring out curly texture.
19. Short Curly Hair Haircut + Hard Part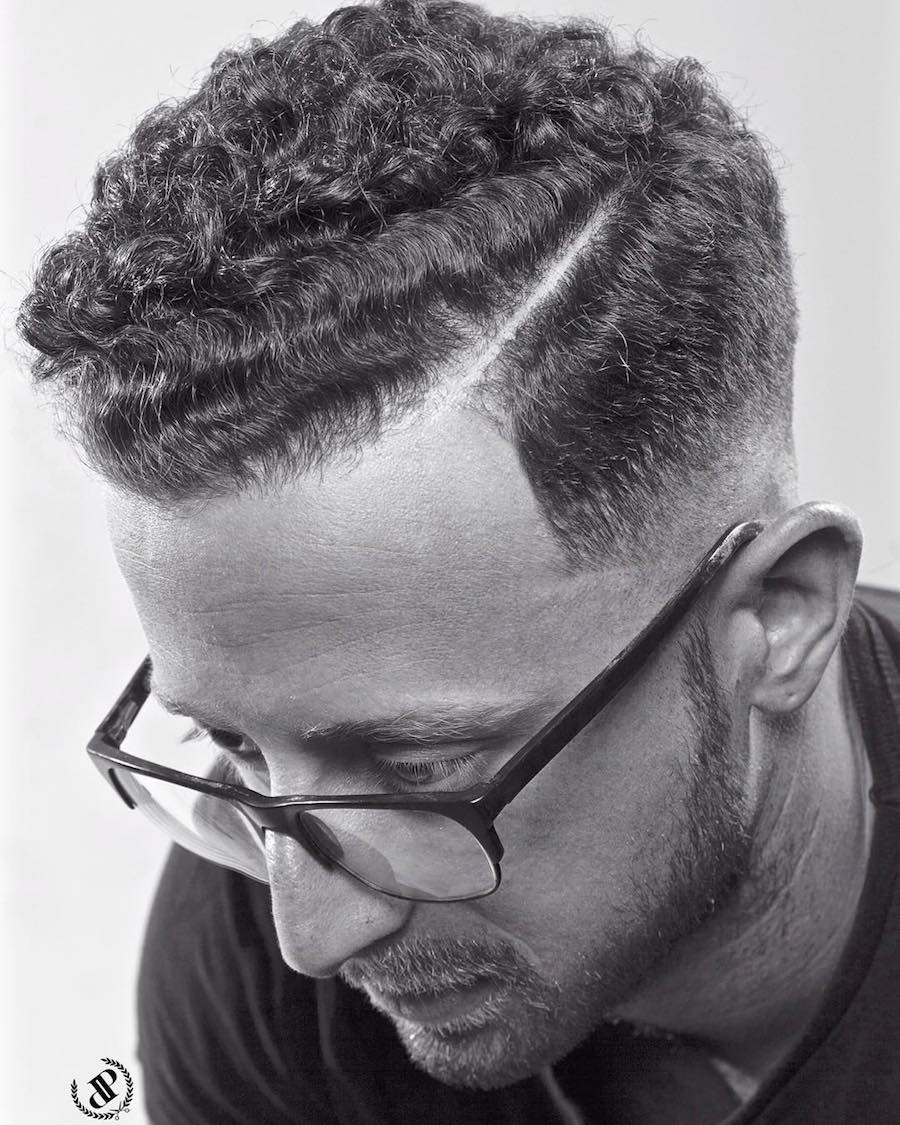 Haircut by Dan Perri
This classic side part hairstyle looks great with curly hair. A hard part off to one side adds a modern twist.
18. Clean Skin Fade + Curls Cut Short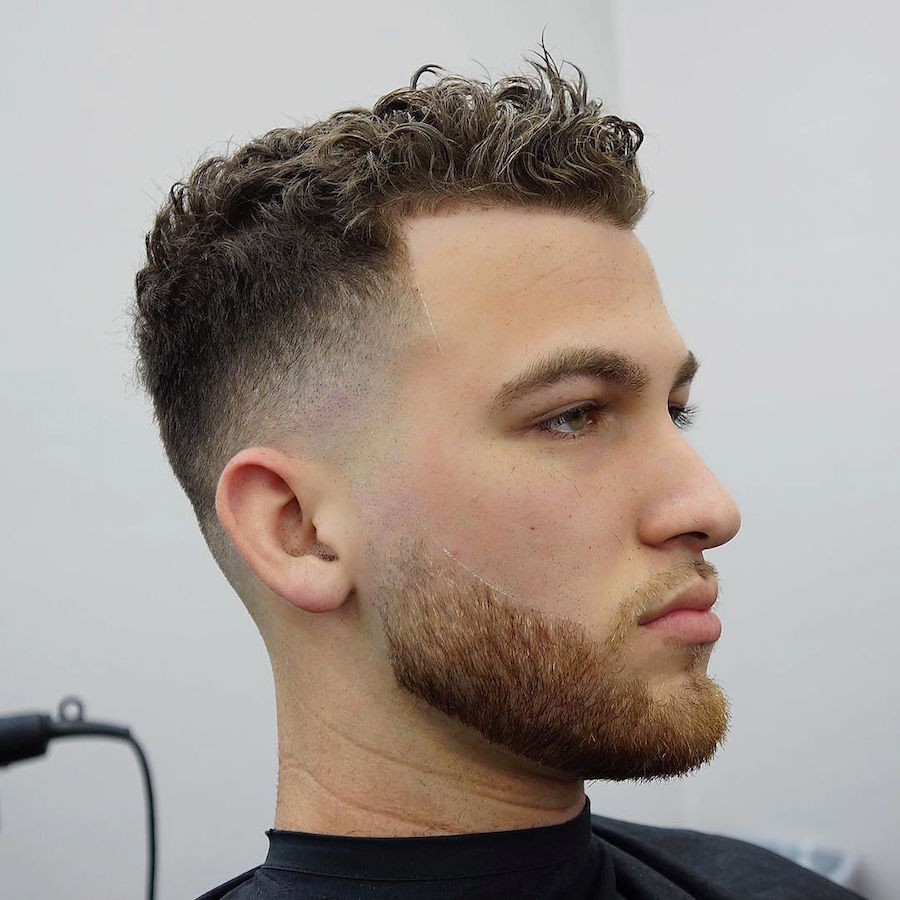 Haircut by criztofferson
This modern men's haircut balances easy to wear short hair with just enough length for hair to curl. Use a touch of product to define curls and add some height at the hairline.
17. Short Textured Hairstyle For Curly Hair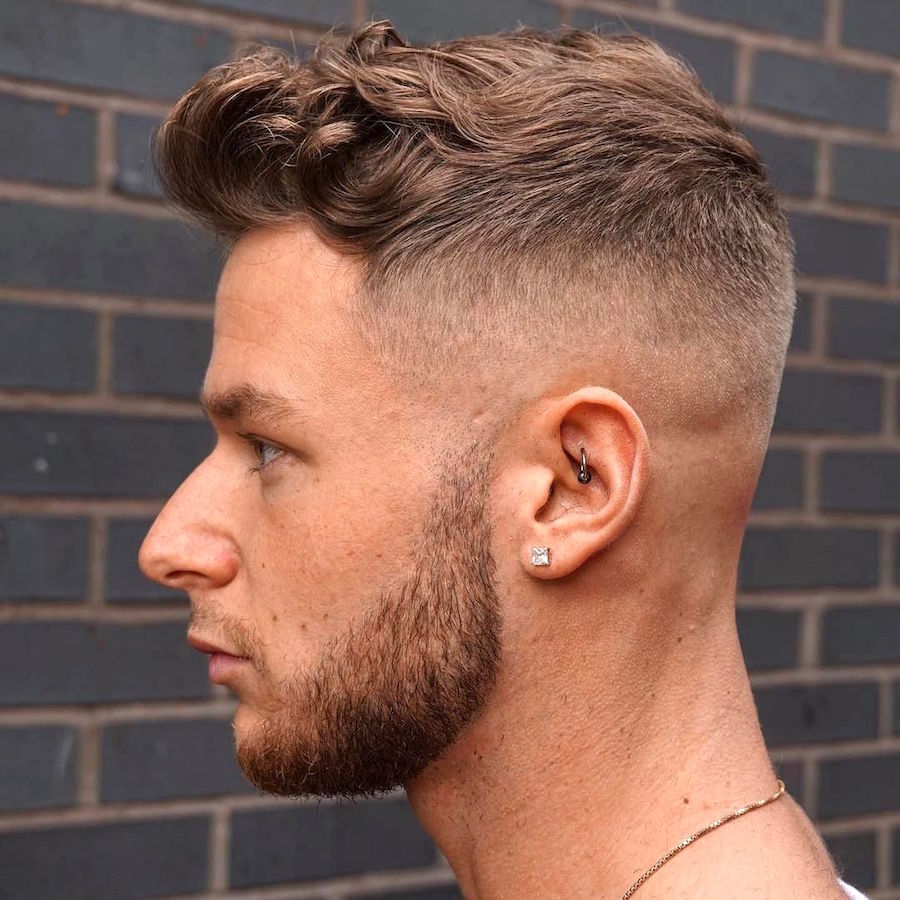 Haircut by Ross Parlane Barbershop
This curly version of the popular pomp is a modern classic. Long on top curls give the style plenty of volume as well as texture.
16. Medium Length Curls + Mid Skin Fade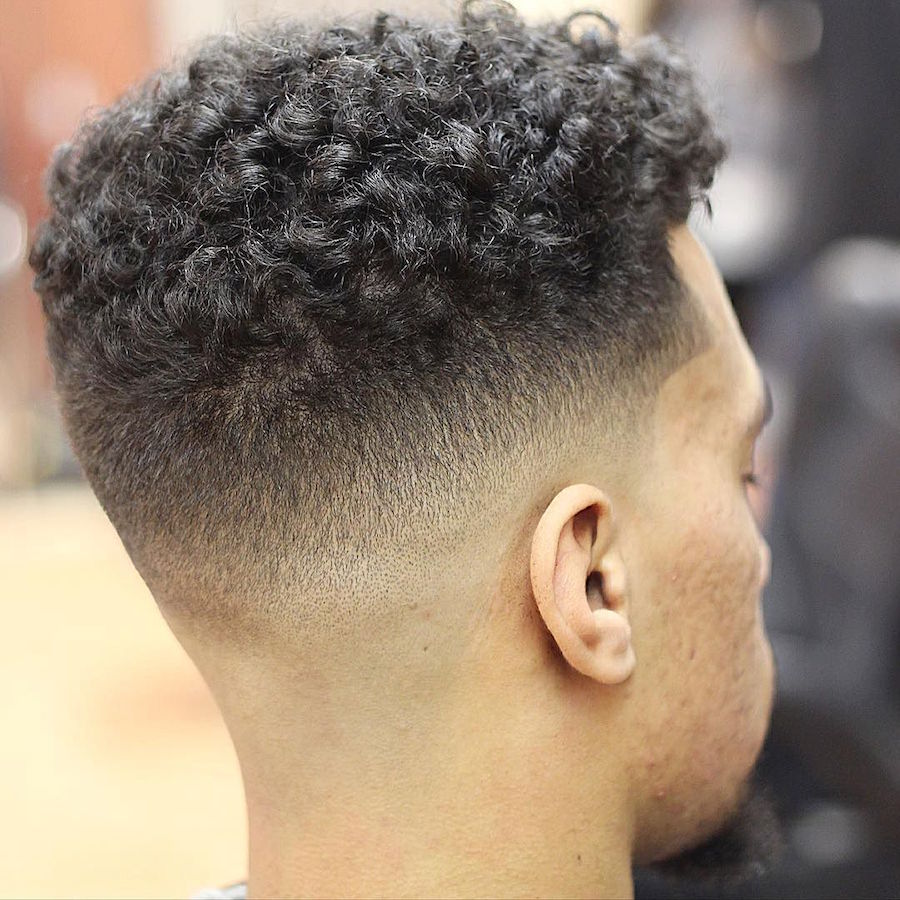 Haircut by Barber Juan at Phil's Barber Shop
For extra curls on top, try this mid fade cut that leaves plenty of hair on top. At this length, no styling is necessary but a touch of curl cream can combat frizzy hair when the weather turns humid.
15. Textured Curls + Hard Part + High Skin Fade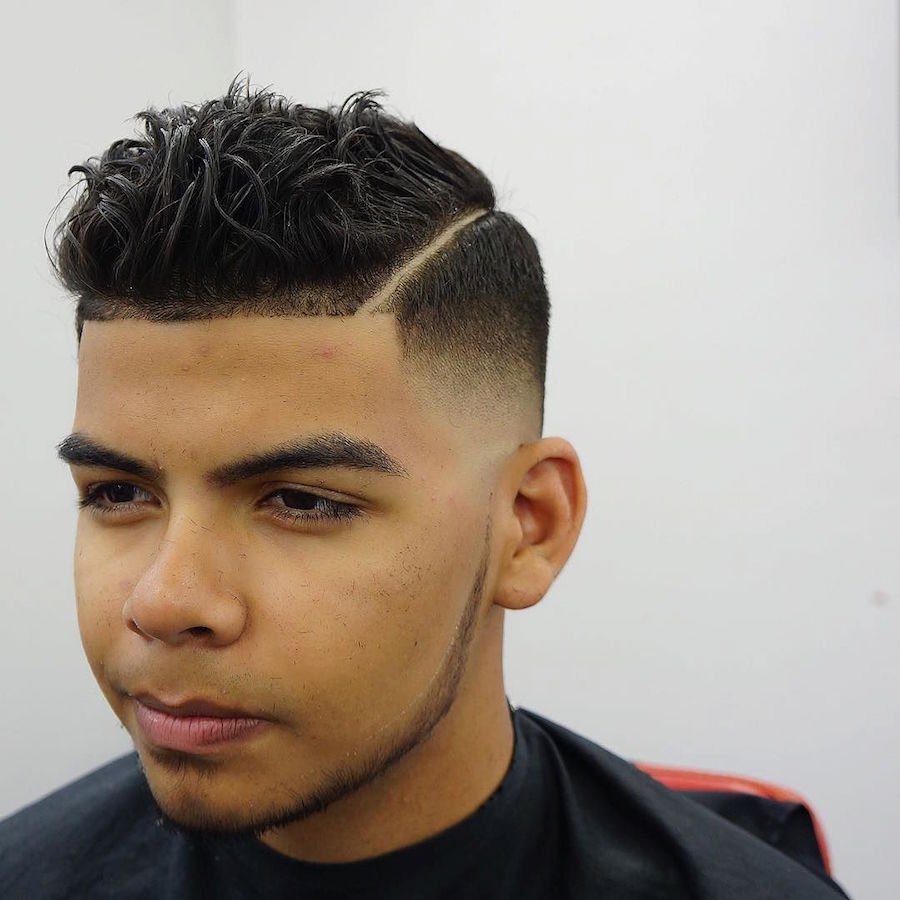 Haircut by criztofferson
This dope cut works with loose curls to make an easy to wear and stylish spiky 'do. Keep the entire look fresh with regular trims.
14. Drop Fade + Textured Curls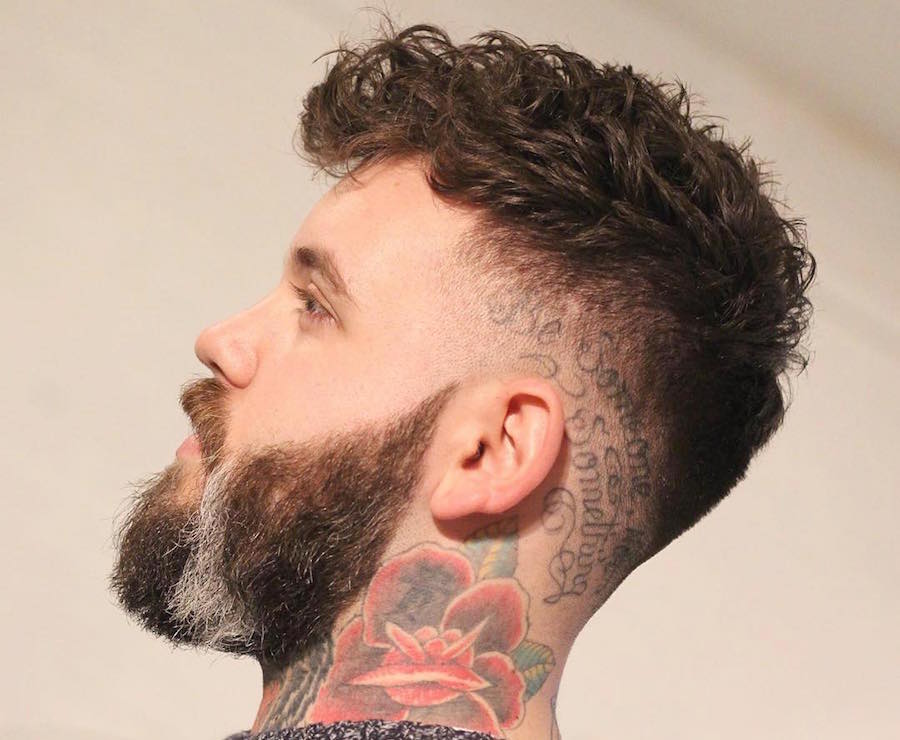 Haircut by Jak Finch
This is one of the best cuts for men with curly hair and can be styled anywhere from casual to formal. The fade at the hairline looks great with or without ink.
13. Two-Tone Curls + Low Skin Fade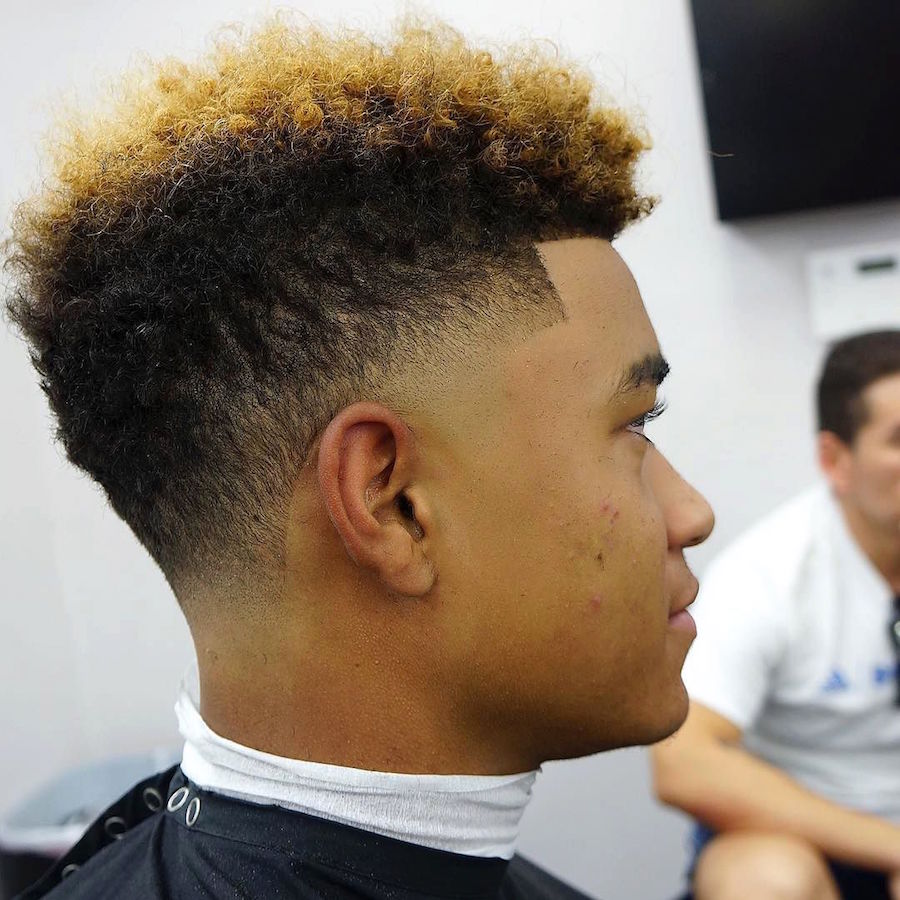 Haircut by criztofferson
Color is a welcome addition to men's hair. This blonde tips emphasize kinky curls while a burst fade keeps this cut neat and tidy.
12. Dope Center Hard Part in Curls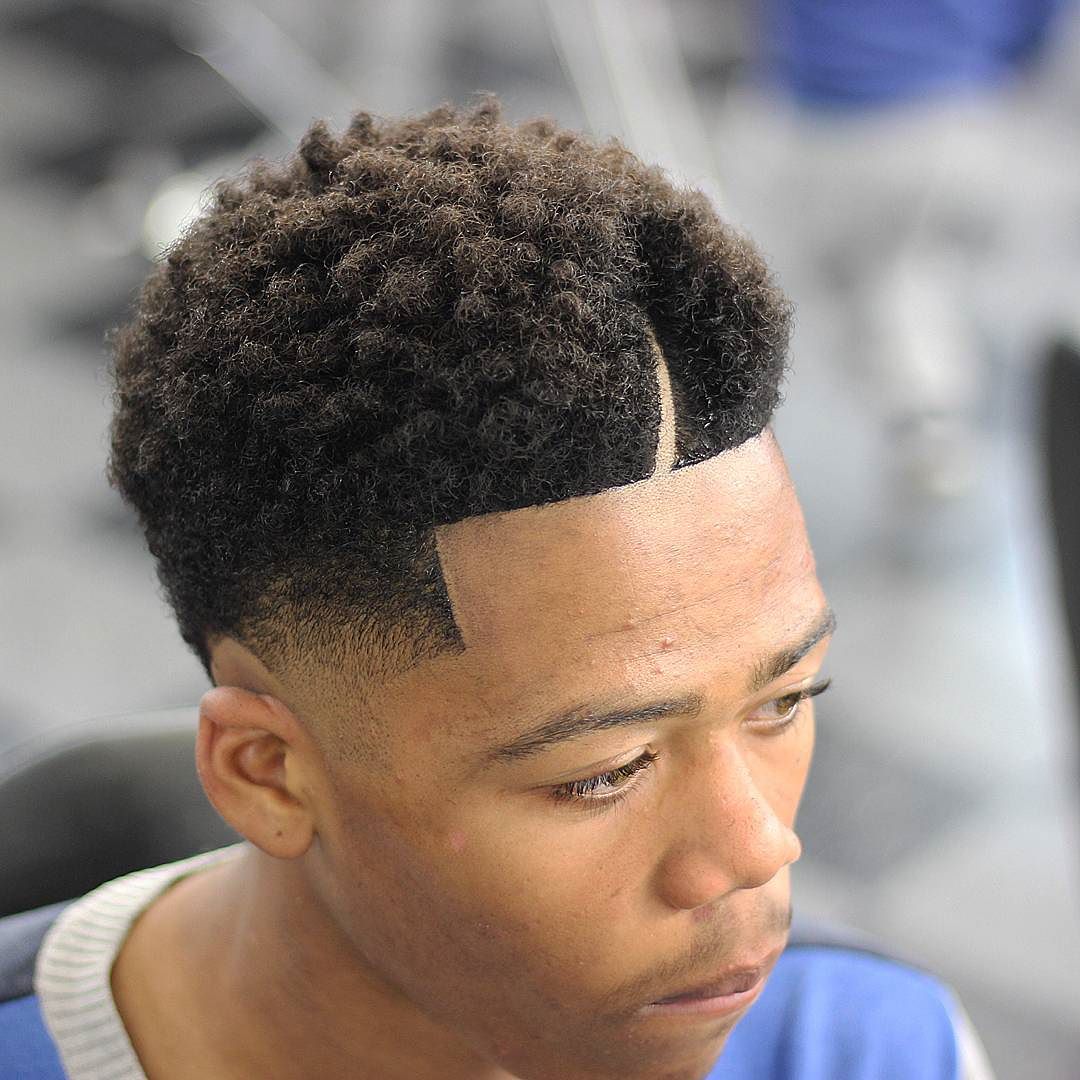 Haircut by Ulises Benavides
With tight curls, cuts can get creative without requiring much styling. This dope cut features plenty of height with a rounded profile interrupted by a curved razor part.
11. High Fade + Curly Slick Combover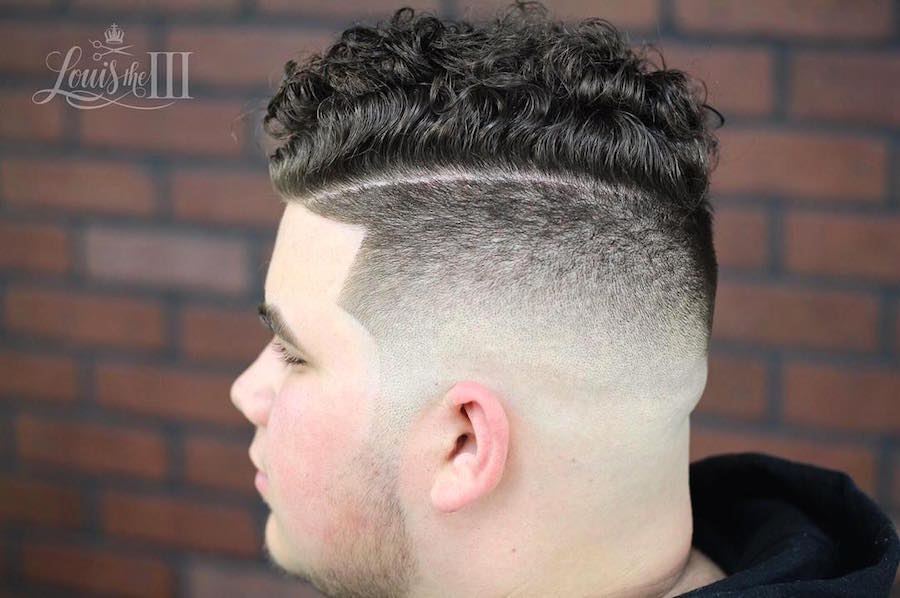 Haircut by King Louis
The combover works really well for guys with curly hair. Have your barber cut hair to be styled across and bonus points for a surgical part.
10. Skin Taper + Curls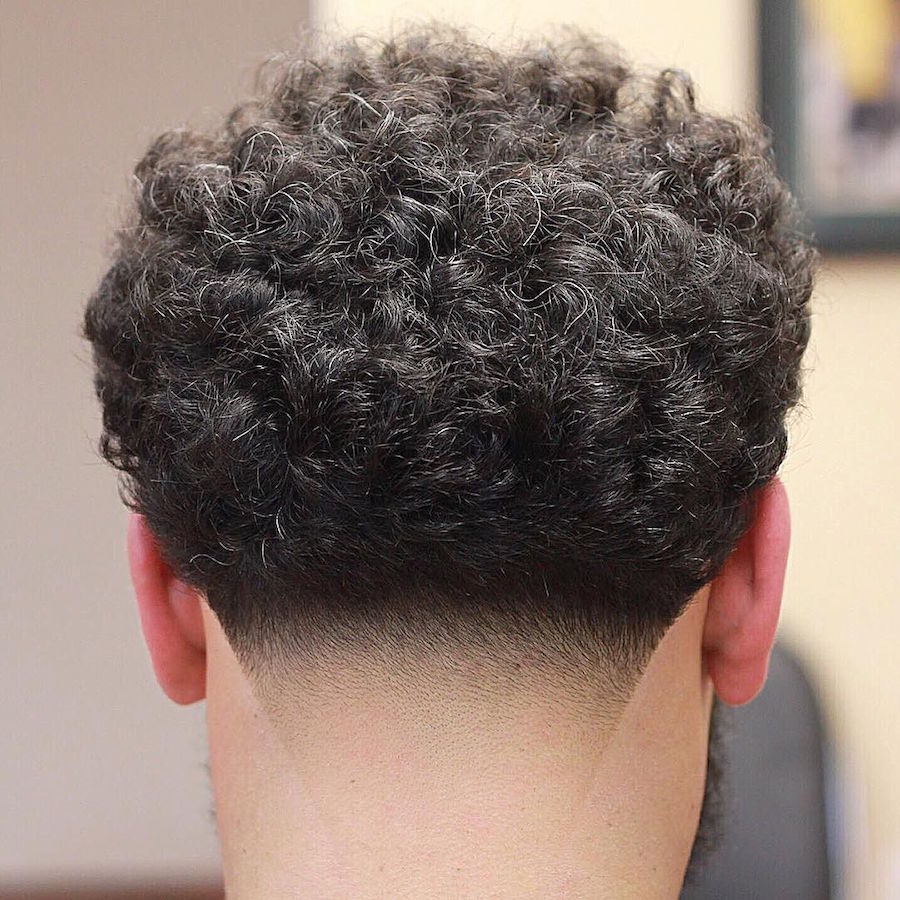 Haircut by Phil
For an on trend profile, combine longer curls with a fade at the neck.
9. Short Sides + Curly Textures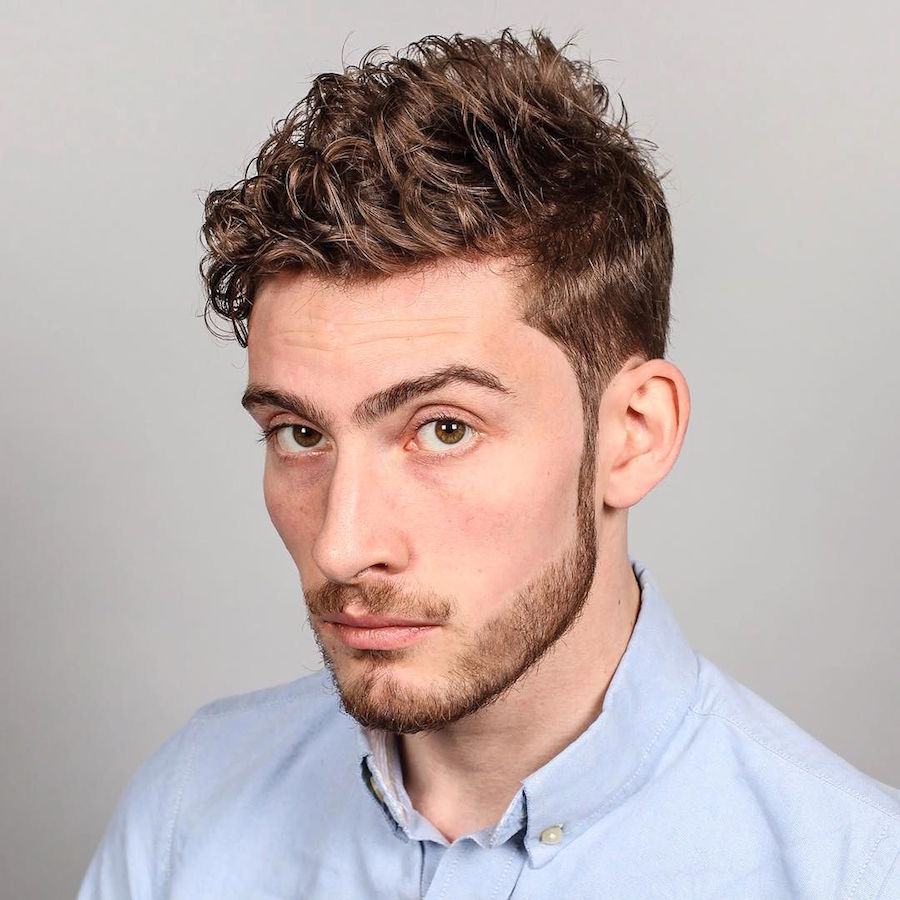 Haircut by Stell
This layered cut with short sides brings out curly texture as well as body and movement. Use a medium strength styling product for volume and hold.
8. Short Sides + Medium Length Curly Hair On Top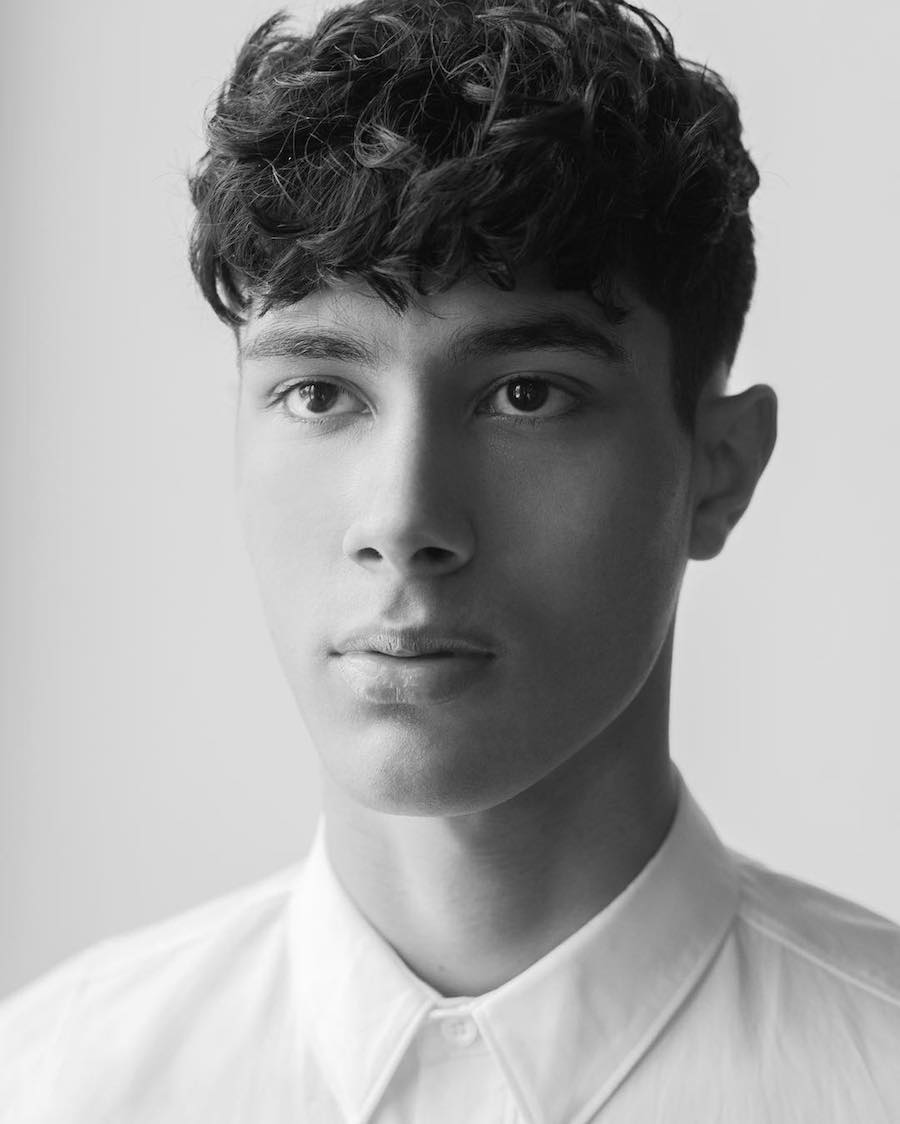 Haircut by Whitney Vermeer
The forward fringe style is a big one this year and works really well with curls. This long on top, short sides and back cut can also be styled in a combover, messy or back.
7. Drop Fade + Curls On Top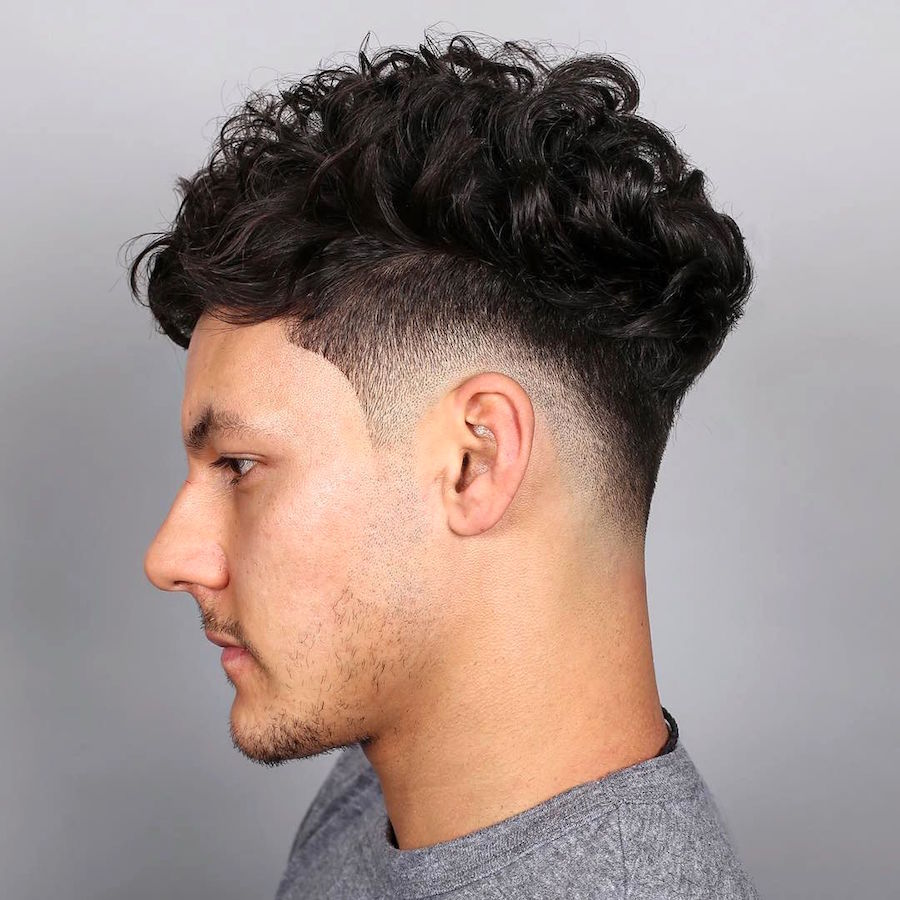 Haircut by Henry Stevens
This medium length cut leaves curls long on top to create a rounded profile that is echoed in the drop skin fade.
6. Mid Skin Fade + X-Ray Design + Long Curls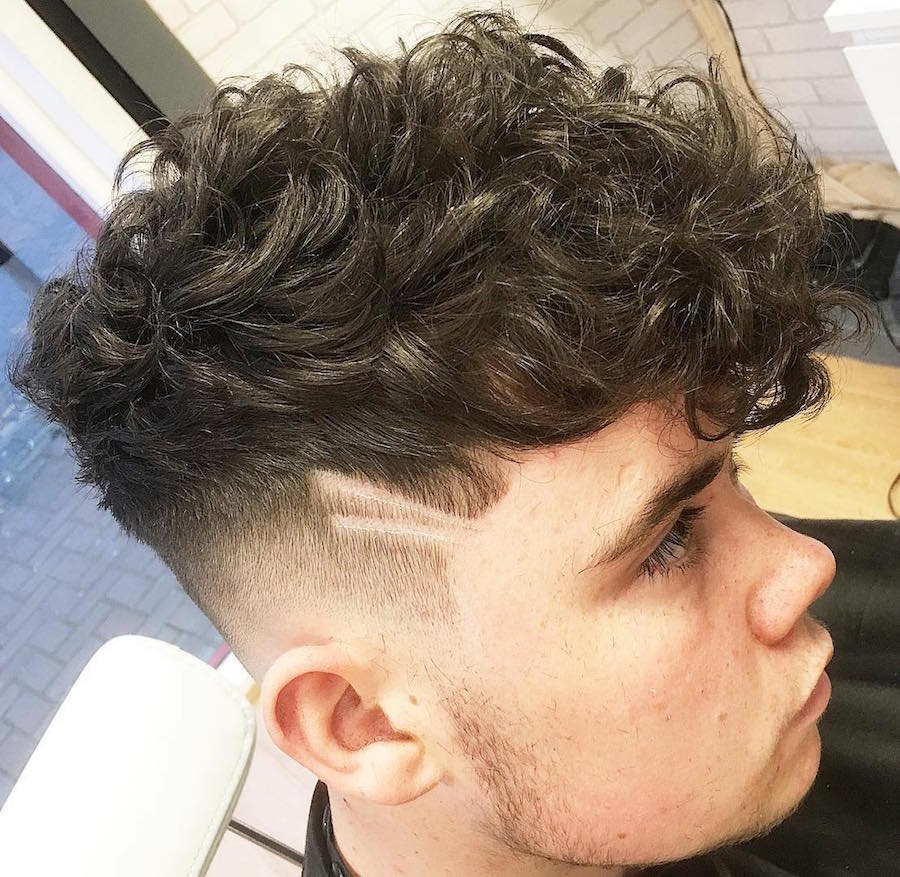 Haircut by Charles Gray
Another forward fringe style, this cut is heavy on top with a high skin fade. A pair of shaved lines complete the cool look.
5. Fresh Skin Fade + Longer Curls + Cool Hard Part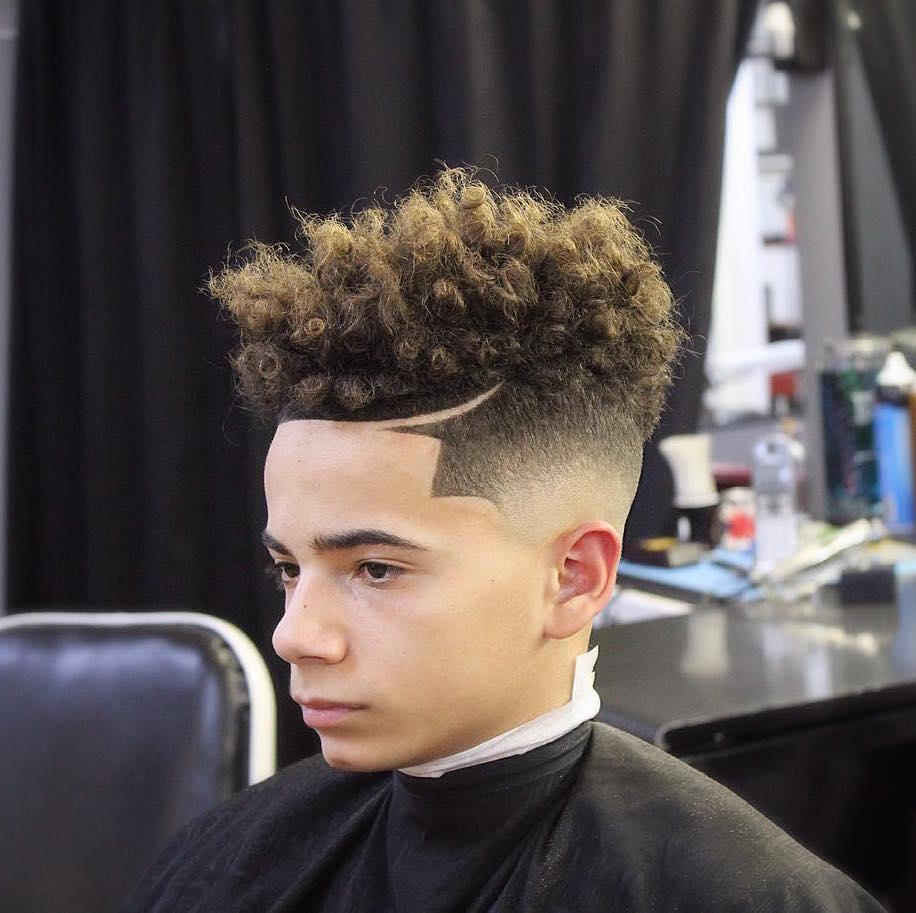 Haircut by Alexis Ramos
This curly cut has it all – length and volume, color, a razor part and skin fade. Add it all together for a dope look.
4. Long Curly Fringe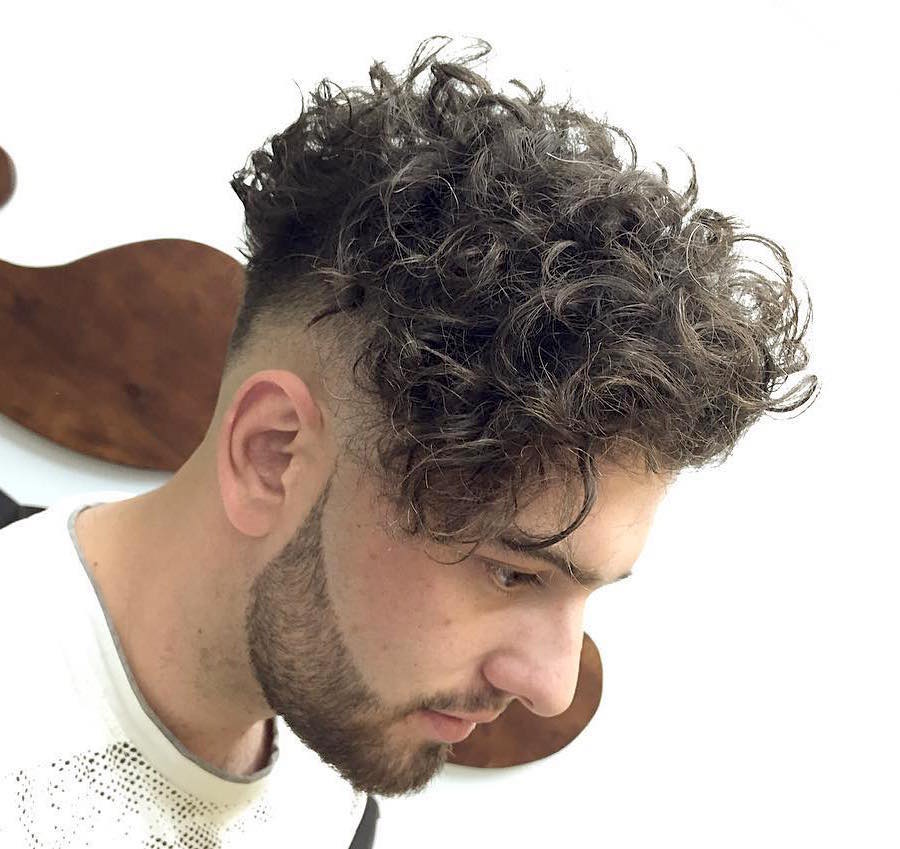 Haircut by Alvaro Vargas Roso
Shaving the sides up high means long curly hair on top can fall over skin without additional volume. This cool angled cut does just that.
3. Fro-Hawk + Hair Design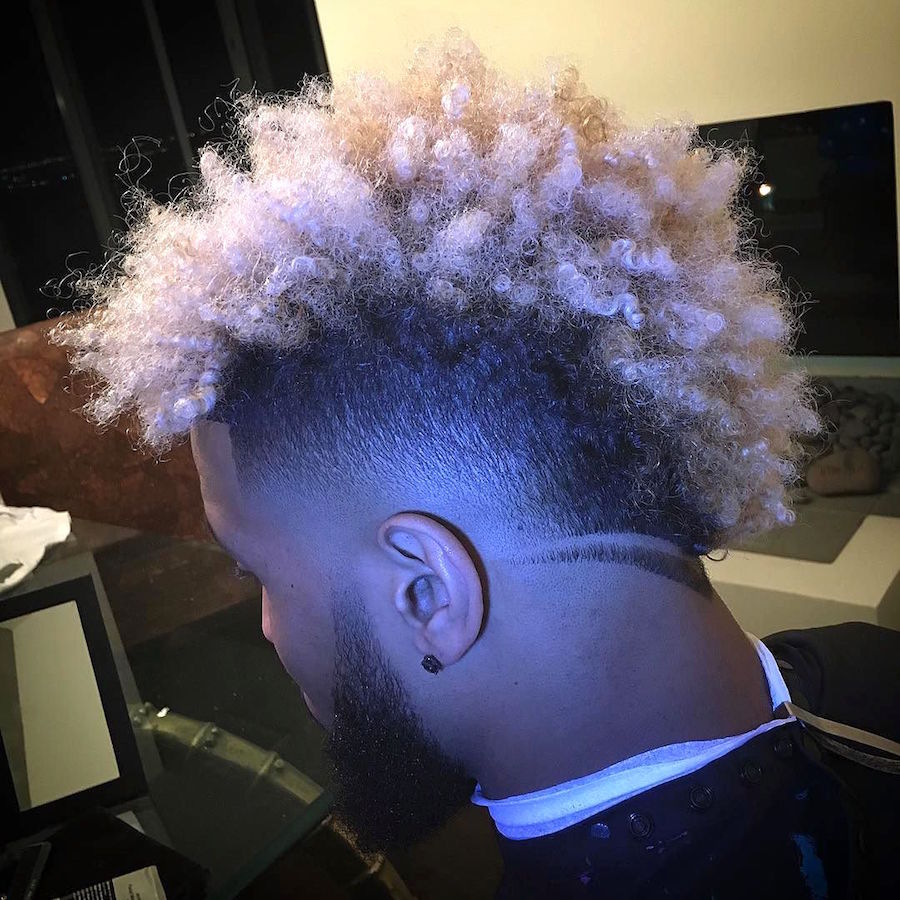 Haircut by Marcus Phillip Hatch
One of the coolest cuts out there for guys with tight curls is the fro-hawk. This version is even fresher with a burst fade, hair design and platinum ends.
2. Textured Messy Curls + Long Fringe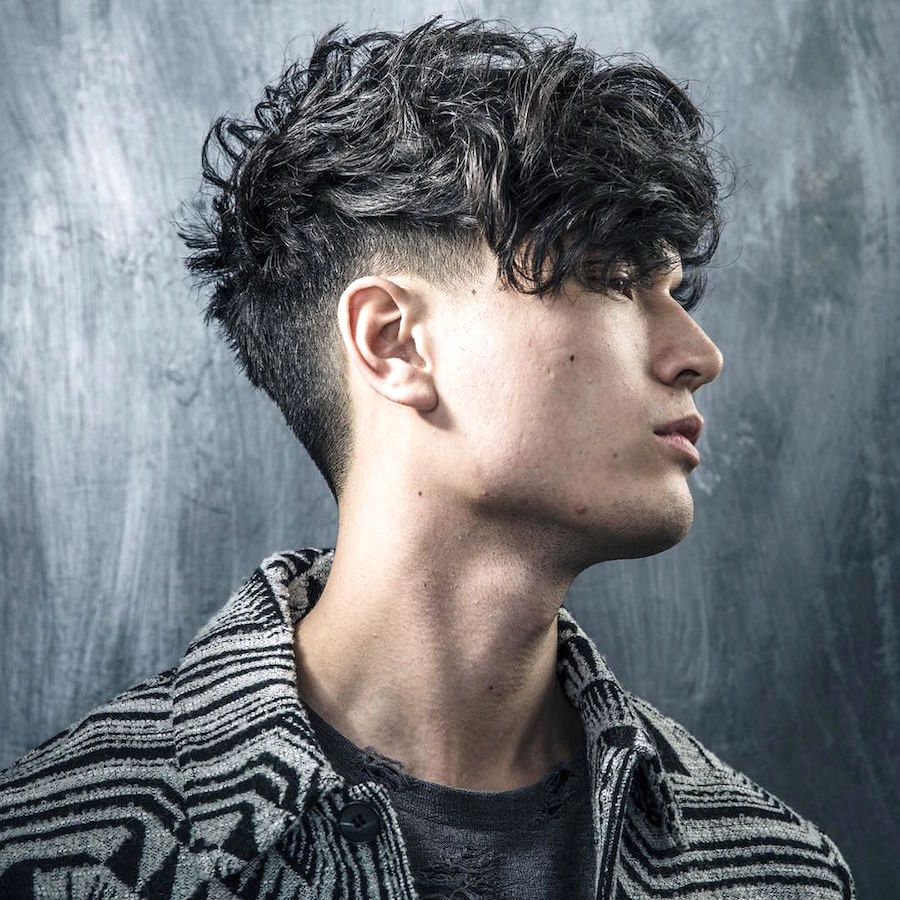 Haircut by Braid Barbers
This messy textured look is one of the top trends for the year. Long fringe is swept to one side for a cool and flattering style.
1. Long Curly Hair Undercut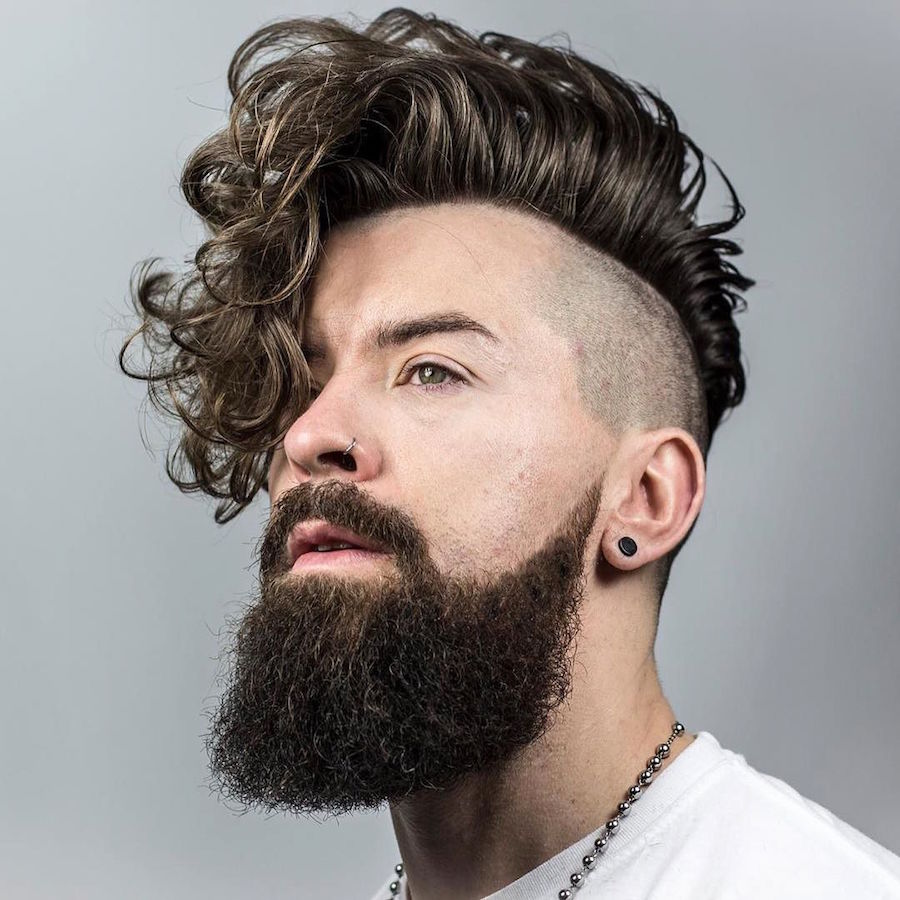 Haircut by Braid Barbers
Curls, even long curls, can be totally bad ass. Of course it helps to pair them with an undercut and full beard.
This post may contain affiliate links. Please read our disclosure for more info.