This is the ultimate guide to the best hair products for men. We're covering the best styling products for most guys as well as all products for all kinds of hair types including thick, thinning, fine, curly, wavy, gray, and long. There are also hair regrowth products, hair thickening products, and hair color options.
In addition to these recommendations, here are some product buying tips to keep in mind:
While all of these product recommendations are based on good to great reviews, there are plenty of other solid products out there. Look for the type of product that works for your hair.
Don't be afraid of women's products. Hair is hair.
Barber recommendations are always helpful but keep in mind that shops will be affiliated with or sponsored by one or two brands. Again, keep in mind the type of product.
Some of these products are expensive. If you are new to styling hair, you may want to start off with cheaper drugstore brands. For pricier options, minimize risk by buying products from companies that offer guarantees or retailers that accept returns.
Beware of fake products on Amazon. The comments will let you know what sellers to trust and who to stay away from.
And a tip about how to use styling products. Most pomades can be applied to damp or dry hair. Dry hair always gives a stronger hold because water slightly dilutes the product. This also allows for layering of products.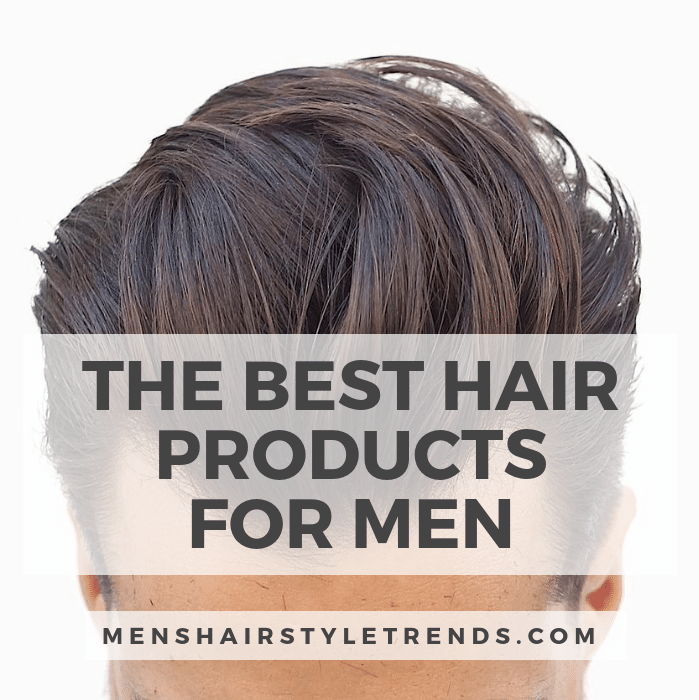 Now on to the best hair products for men, by category.
1. Best Hair Growth Products For Men
For a more in-depth look at the best hair growth products for men, check out here's how to stop hair loss.
Rogaine 5% Minoxidil Foam – The most popular hair growth treatment for men comes in an easy to apply foam. Up to 25% can be regrown after 60-12o days of twice daily use.
Kirkland Minoxidil 5% Topical Hair Regrowth Treatment – This cheaper hair regrowth treatment available from Costco and Amazon actually gets a higher rating than Rogaine. It comes with a dropper and needs to be applied twice a day. Like most hair regrowth products, it is most effective for men with low to moderate hair loss.
Lipogaine Big 5 Hair Rejuvenating Shampoo – A more natural alternative to Rogaine, Lipogaine uses saw palmetto to block DHT, caffeine to stimulate hair growth, biotin to decrease hair breakage and increase elasticity, argan oil for vitamin E and castor oil for omega-3 fatty acids and antibacterial properties. The result is thicker, fuller hair for most users.
Nizoral – While this is an anti-dandruff shampoo, the active ingredient ketoconazole has also been shown to reduce hair loss.
Propidren DHT Blocker and Hair Growth Supplement – While there is no evidence that hair loss supplements work, the reviews for this product are impossible to ignore. Propidren gets 4.7 out of 5 stars on Amazon and provides a 100% money-back guarantee. Combine with a topical product for even better results.
2. Best Hair Styling Products For Men
Axe Messy Look Flexible Hair Paste – This popular and highly rated paste features medium hold and natural finish that gives both flexibility and staying power. It works best for short to medium length hair. Some guys don't love the smell but it is light and fades away quickly. Use it for messy, textured styles or neat, combed looks.
Smooth Viking Styling Clay – Clay products are popular because they provide a matte finish, absorb oil and add texture, which is one of this year's defining men's hair trends. Clay works by clinging to the strands and holding them together. This technique also adds thickness and texturizes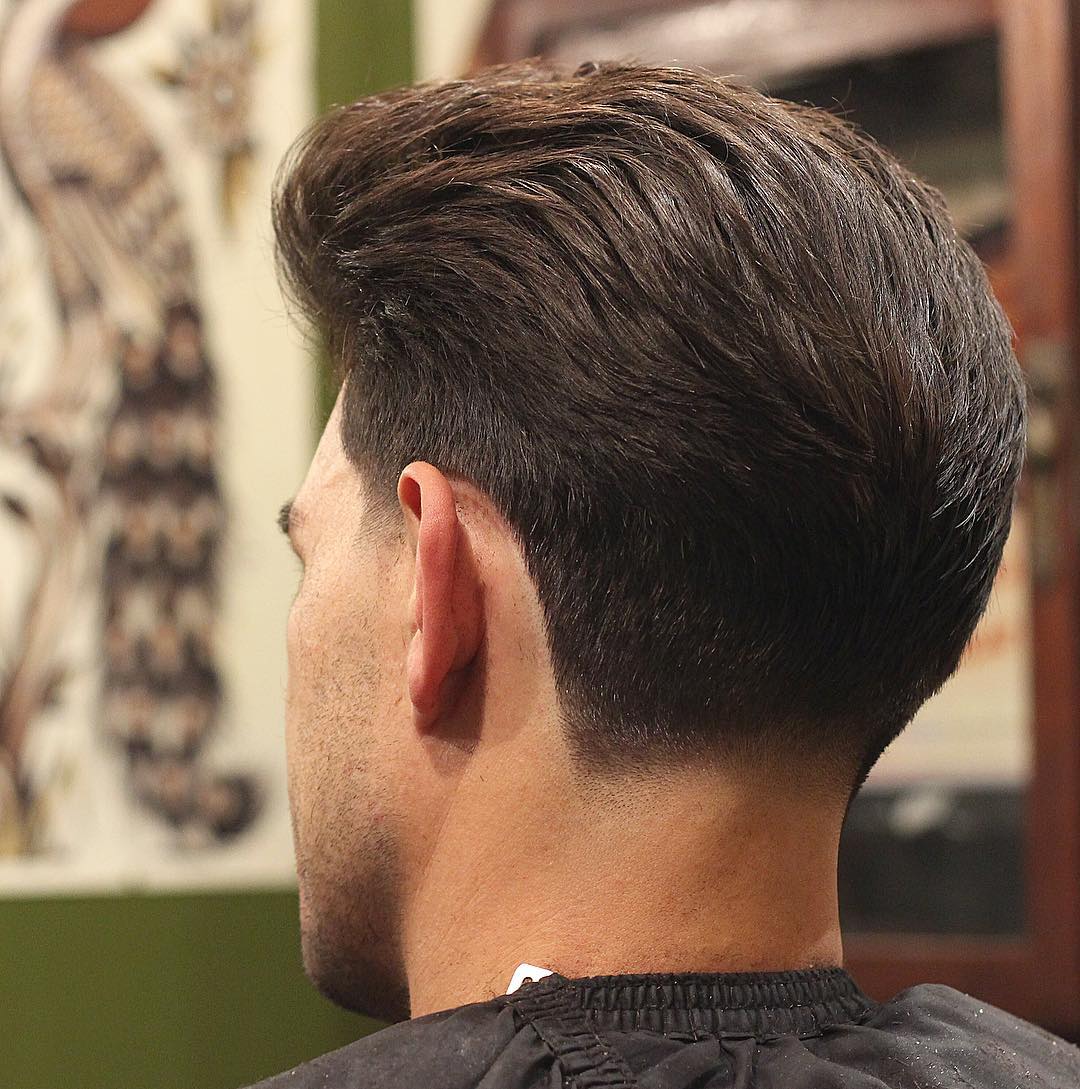 Pompadour styled with Layrite Natural Matte Cream Pomade by Ramses
Layrite Natural Matte Cream Pomade – The lightweight, water-based shaping cream combines texture and flexible hold to create a wide range of hairstyles. The matte finish and medium hold feels soft and natural and can be reworked without adding water. It also features a signature cream soda scent.
Dove Men + Care Sculpting Paste – Many users rate this product as highly as more expensive pastes. This product is design for men with active lifestyles. The medium hold paste creates textured styles with a matte finish that can be reshaped and restyled throughout the day.
Aveda Men Pure-Formance Grooming Clay – A versatile styling clay with strong hold, texture, and a matte finish that works for all hair types. Style hair with fingers or a comb.
3. Men's Curly Hair Products
Products for curly hair balance curl definition with hold. These products also add moisture to condition hair and make locks more manageable.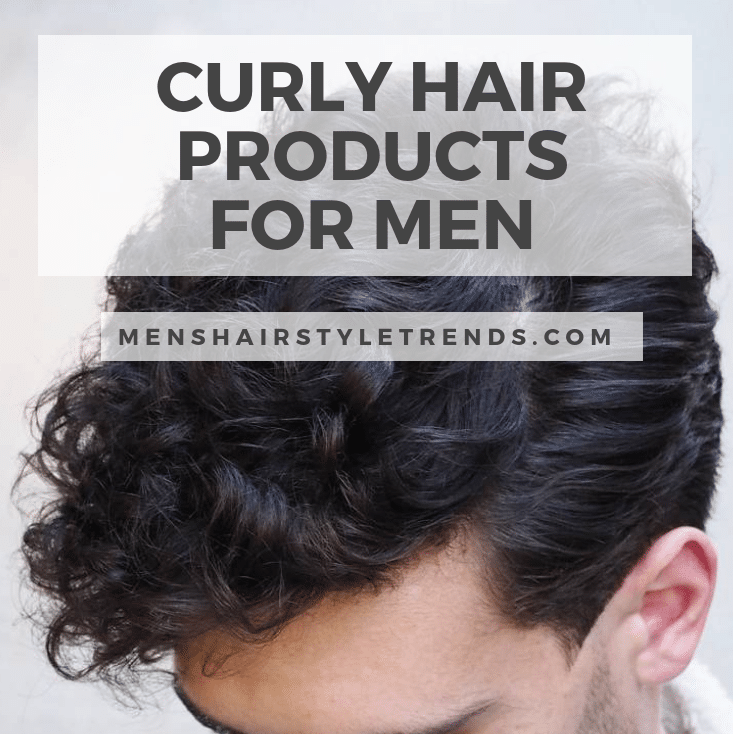 Jack Black Sleek Finish Texture Cream – Work this lightweight cream into damp hair for flexible control and anti-frizz properties with a healthy sheen.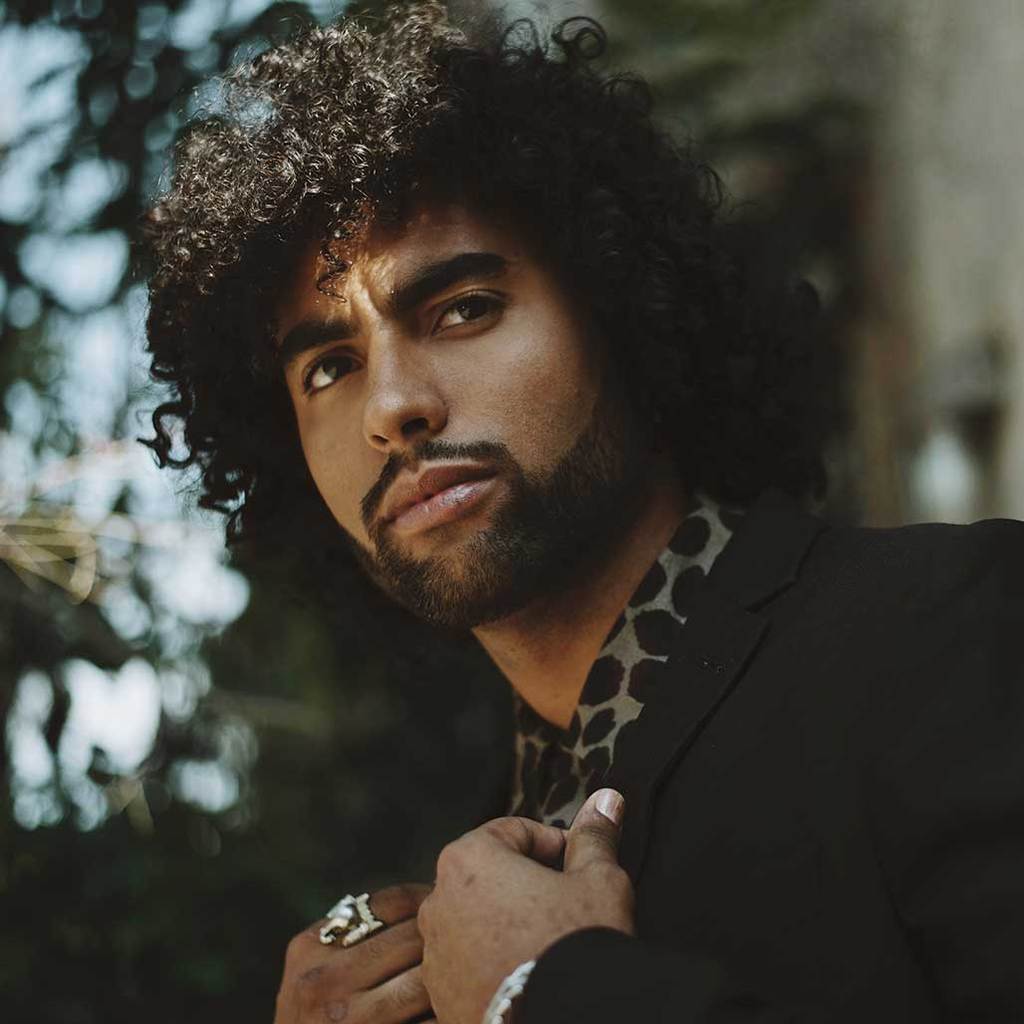 Scotch Porter Hair Balm – All-natural ingredients replenish moisture while providing a soft, natural hold. It keeps wavy and curly hair frizz-free while adding texture.
Aveda Brilliant Humectant Pomade – Aveda is known for its plant-based products that work well for curly hair. This humectant pomade locks in moisture to define curls with a bit of shine.
4. Men's Hair Products For Thick Hair
These are the strongest hold hair products for men available that control the thickest of hair.
Suavecito Pomade Firme – This is the highest-rated pomade for men, at 4.9 stars out of 5 for the 3-pack. That's right, guys buy this product 3 at a time. The strong version of the original formula works for the same pompadours, slick backs, and side parts but for curly, thick, and stubborn hair. Apply to dry hair for less shine and a stronger hold or damp hair for more shine and a slightly less hold. Reactivate with water.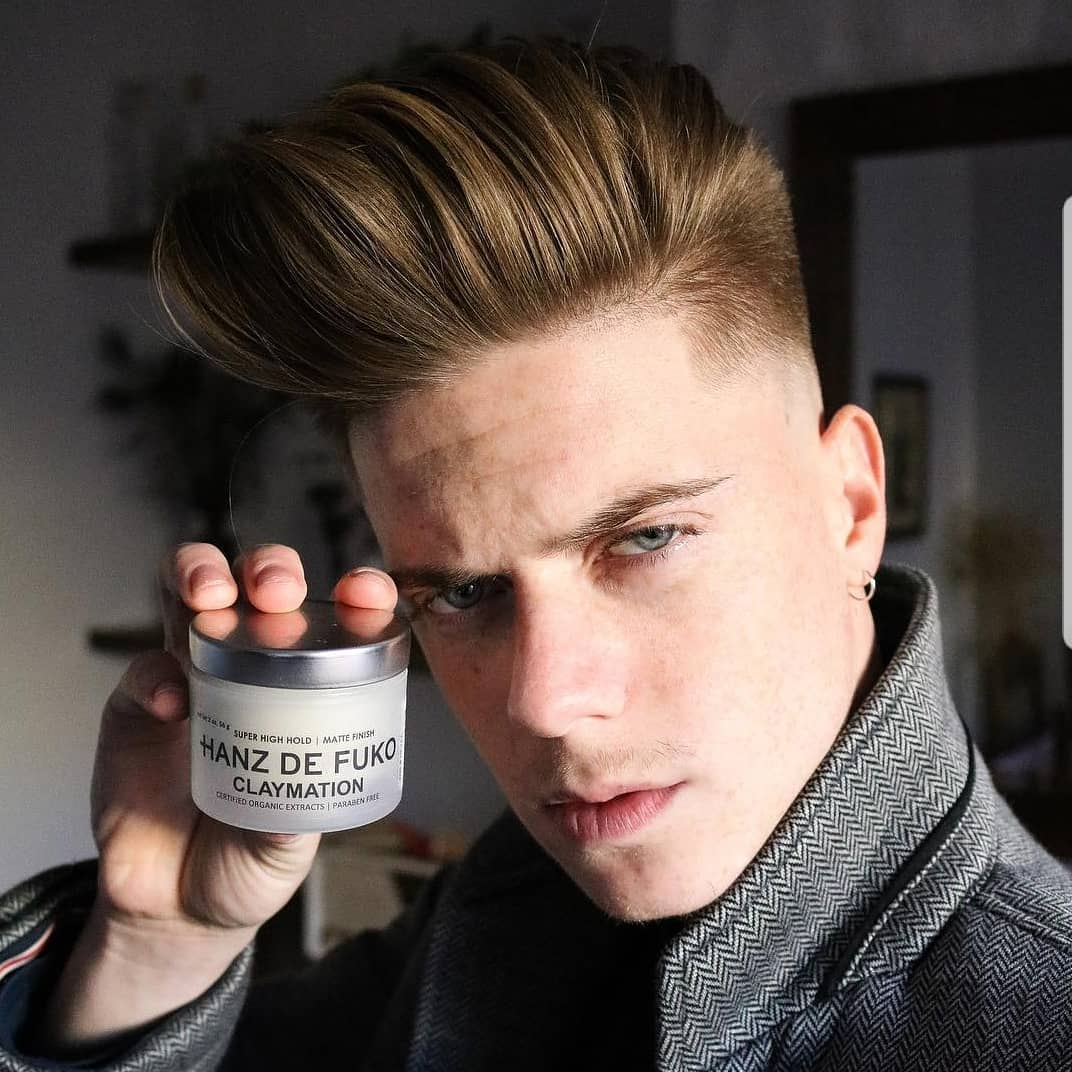 Flawless matte
Hanz de Fuko Claymation – With super high hold and a matte finish, this is one of the strongest shine-free products that will tame the thickest, most stubborn hair all day.
Rodante Texture Cream Paste – Create tousled hairstyles or smooth edges with this water-soluble medium-strong hold paste. With coconut and argan oils to repair, moisturize, and add a little shine. This semi-matte finish product works for all hair types but excels for thick hair up to medium length. The tangerine scent is a bonus.
Uppercut Deluxe Pomade – This water-based pomade has a strong hold with a shiny finish. It is strong enough for thick hair up to medium length. This type of product is best for classic looks like pompadours, side parts, or slick backs.
Johnny B Mode Styling Gel – Gel gets a bad rap because it can contain drying alcohol and dries crunchy but it is a popular men's hair product thanks to its ease of use and ultra strong hold. Modern gels, like this one by Johnny B. eliminated the alcohol to maintain moisture. This medium-strong hold product is ideal for thick hair. Add a wet or dry but use just a little bit at a time to prevent a hard finish.
5. Men's Hair Products For Long Hair
Long hair requires a different routine than short hair. Long hair takes years to grow so it requires extra care and conditioning to look best.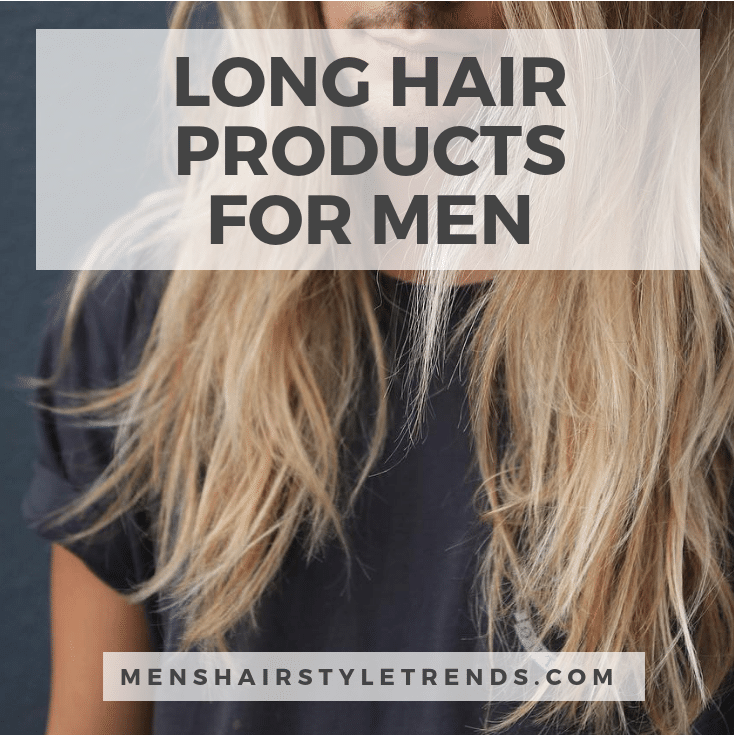 Shampoo
Skip shampoo as much as possible. Start skipping a day and work up to a couple of days in between. Dry shampoo can extend the time between shampoos by absorbing oil. Other than that, use whatever you like.
R+Co Badlands Dry Shampoo Paste – Most dry shampoos are a spray powder that can be applied to oily roots. This paste works best to mitigate grease by applying to clean hair before skipping a day or two of shampoo.
Styling Products
For men with long hair, styling products control hair, and minimize frizz. There are a few different types of product that work. If these particular brands and price points don't appeal, look for the same product types like styling creams, frizz-fighting serums. There is no need to stick to men's products. Hair is hair.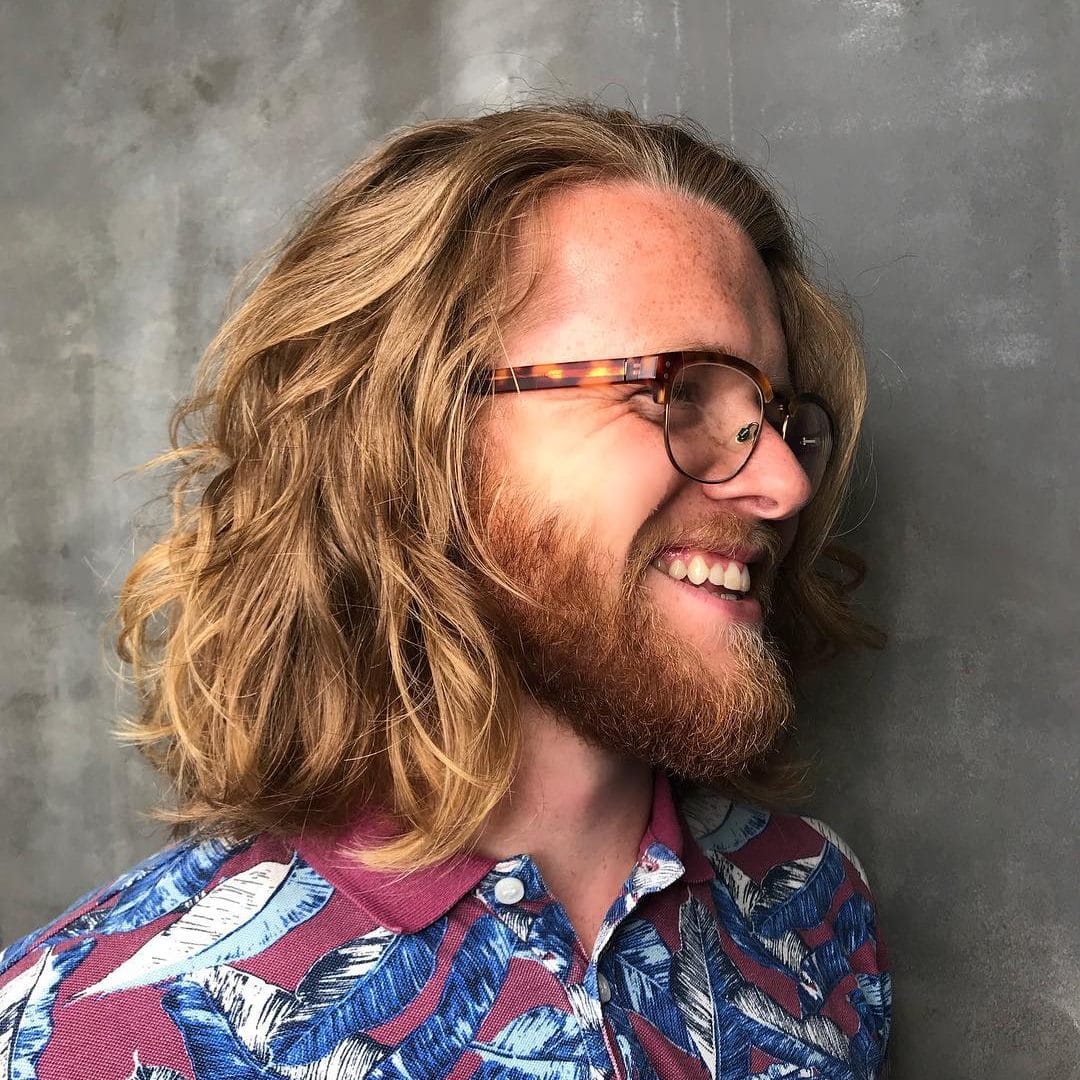 These products are suitable for all types of men's hairstyles for long hair. Use them with slicked back looks, hair worn down, or man buns. Also, check out the anti-frizz products for more options suitable for long hair.
American Crew Texturizing Lotion – This easy to apply lotion adds light control for hair of all lengths, for a natural look with some definition. Natural extracts including ginseng make hair look thicker and increase manageability.
Baxter of California Grooming Cream – This is a versatile product for all hair types that is just right for long hair. It has a shine-free light hold that still lets hair move. Apply to damp hair for light hold or drier hair for even more flyaway control.
Paul Mitchell Super Skinny Serum – Lightweight silicone smooths and conditions hair while adding shine and speeding up drying time. Just work it through damp hair and let air dry for frizz-free hair.
6. Men's Hair Products For Thin Hair
For thin hair, look for shampoo and conditioner that thickens hair.
Shampoo + Conditioner
Brickell Daily Strengthening Shampoo for Men – This natural shampoo increases thickness with hydrolyzed protein, boosts volume and shine with amino acids and peppermint and tea tree oils for scalp health and an invigorating scent.
Dove Men+Care Thick and Strong Shampoo and Conditioner – This 2-in-1 shampoo and conditioner was designed specifically for men with fine and thinning hair, or concerned about hair loss. It contains caffeine and calcium for stronger, more resilient hair. It also helps with dandruff.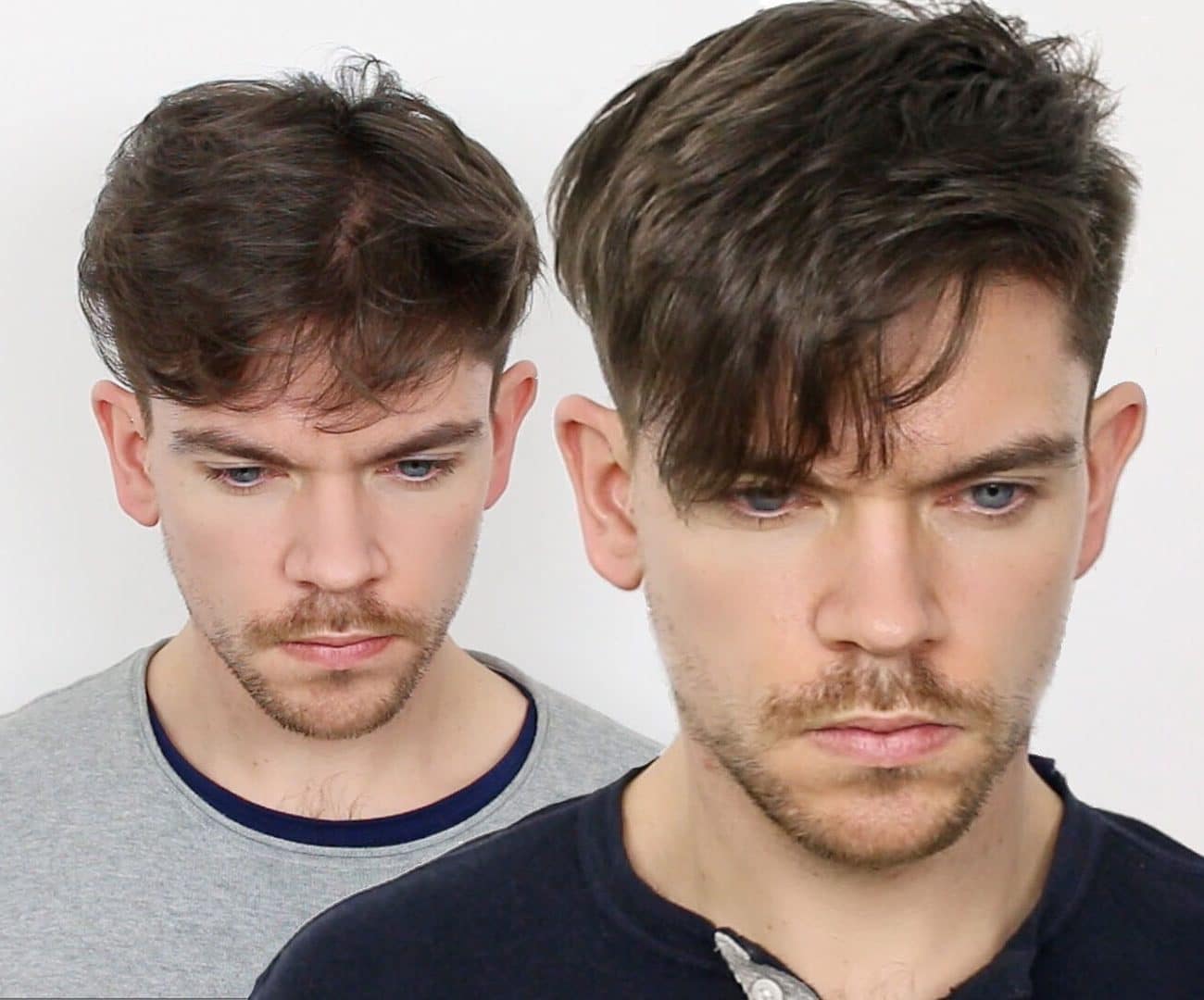 Robin James before and after 4 weeks of Nioxin System 1 use
Nioxin System 1 Cleanser & Scalp Therapy Duo – While Nioxin reduces hair loss due to breakage, its main strength is as a hair thickening treatment, delivering denser-looking hair. This is one of the most effective hair thickening products available.
Styling Products
In general, styling products for men with thin hair should be light to medium strength and shine-free. Creams and pastes tend to be better than pomades for this hair type.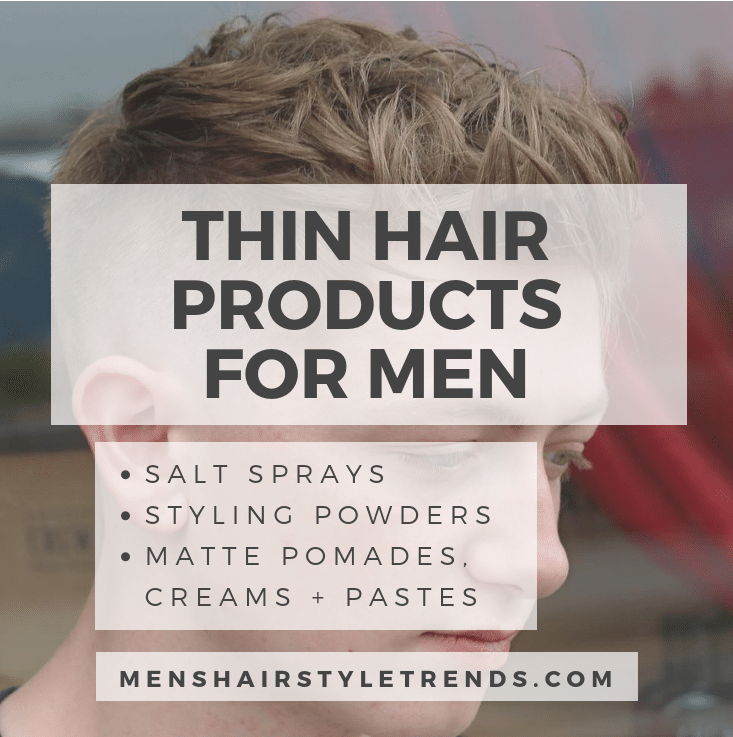 Label.m Deconstructor – This matte paste creates natural hold with plenty of volume, texture, and separation for fuller looking hair.
American Crew Boost Powder – Provides flexible hold and thickens hair. It also retains natural moisture and softens hair. Sprinkle product into hands and then sprinkle it evenly on dry hair, focusing on the roots for maximum lift and separation. This product can be used on its own or combined with other products.
Pravana Nevo Full Volume Volumizing Foam Mousse – Mousse is a foam that doesn't weigh hair down. In addition to boosting volume, Cottonseed Protein thickens hair. Work through damp hair and air or blow dry.
7. Men's Hair Color Products
If you want to color hair at home, these options are easy to use and effective while being subtle. Always use semi-permanent hair dye that rinses out over time to avoid a harsh root line that results from using permanent dye. Hair dye can also color skin so apply Vaseline around the forehead, ears, and neckline and use gloves.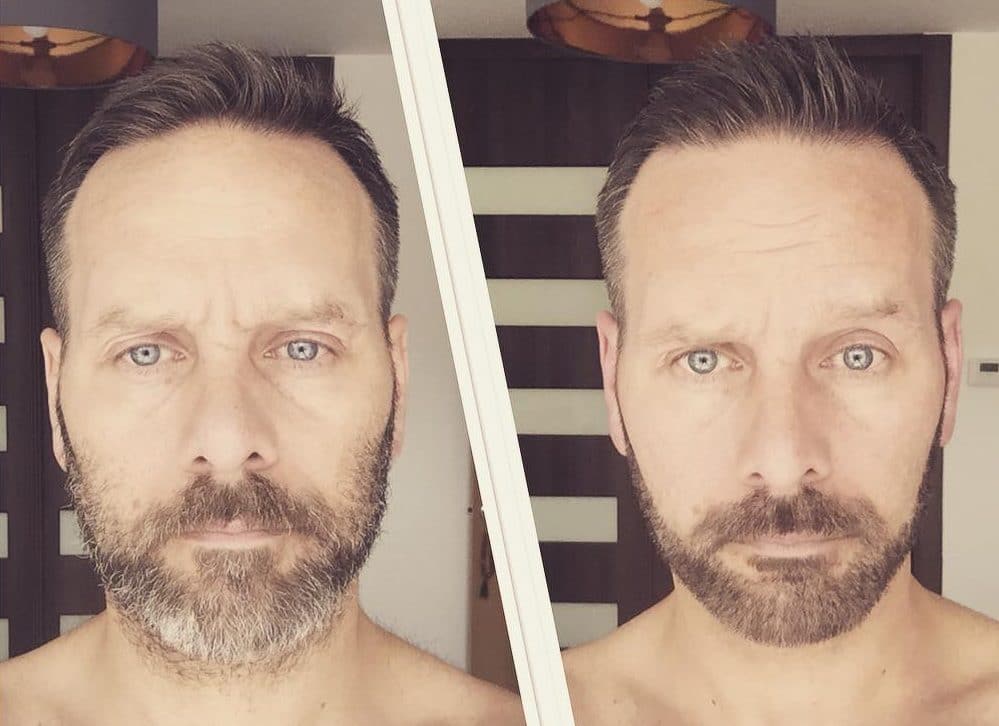 Just For Men Original Formula Men's Hair Color – This is the most popular and well-known men's hair color product. This shampoo-in hair color takes just 5 minutes to cover gray for up to 8 weeks. The color isn't as effective on ultra-short hair like a haircut with faded sides. Just for Men is available in 13 colors, multiple formulas as well as beard options so you will find one that meets your needs.
Clairol Natural Instincts For Men – Some reviewers prefer Clairol to the well-known Just for Men because the color lasts longer and doesn't turn grays brassy. The semi-permanent dye takes just 10 minutes to apply and lasts up to 3 months. If one of the 5 colors doesn't match your hair, the women's formula is the same but available in more colors and in more stores.
Redken 5 Minute Camo Hair Color for Men – Originally a salon formula, this is now available for home use. You'll also need pro-oxide 10 volume developer to mix with the dye. Then apply to hair for 5 to 10 minutes for about 4 weeks of color. Available in 6 shades.
Aveda Black Malva Shampoo – Designed to brings out cool, deep tones in dark hair and minimize brassy tones, this plant-based shampoo darkens hair. Add the conditioner for deeper color. Although this color shampoo is not recommended for blonde or grey hair, some users have great results. Use it on it's own or in addition to hair dye.
Even the gentlest hair color can dry out hair so add a conditioner. In addition, a color-safe shampoo will extend the life of each dye session.
Pureology Hydrate Shampoo – One of the top picks for color-safe shampoo, this sulfate-free formula gently cleanses hair without stripping color.
Neutrogena Triple Moisture Silk Touch Leave-In Cream – Designed for dry hair, this leave-in conditioner adds moisture, fights frizz, and protects against UV rats.
8. Hair Thickening Products For Men
Hair thickening products coat hair to make it fuller as well as boost volume. Also, check out the recommendations for thin hair and fine hair.
Shampoo and Conditioner
Pura D'or Hair Thinning Therapy Shampoo – With 12 active ingredients including niacin, biotin, argan oil detoxify the scalp and encourage stronger, healthier hair. Most users report thicker hair as a result of using this organic product.
Every Man Jack 2-in-1 Thickening Shampoo and Conditioner – Created for fine and thinning hair, this combination shampoo and conditioner fortifies hair and thickens hair with soy proteins while glycerin and shea butter condition and soften locks.
Nioxin System 1 Cleanser – This product is so good, we are mentioning it twice. While Nioxin reduces hair loss due to breakage, it's main strength is as a hair thickening treatment, delivering denser-looking hair. This is one of the most effective hair thickening products available.
Styling Products
Nioxin 3D Styling Pro Thick Thickening Spray – This product does it all – thickening hair with just enough hold. This light hold product that leaves plenty of natural movement minus any frizz.
BOLDIFY Hair Thickening Spray – Users report that this product can double hair's volume as well as thicker hair. This texturizing and volumizing product can be used on its own or as a foundation for other styling products. Just work it through towel-dried hair and style with fingers.
Every Man Jack Thickening Grooming Cream – Designed to beef up each strand of hair in addition to boosting fullness, this medium hold cream creates thicker, natural looking hairstyles with a matte finish.
American Crew Fiber Pliable Molding Creme – Fiber-like, resinous product made with lanolin and beeswax helps thicken, texturize, and increase fullness to hair. Provides a strong, pliable hold with a matte finish. Works for straight and curly hair up to 3″ long.
9. Hair Loss Products For Men
In addition to the hair regrowth products mentioned above and in this how to stop hair loss post, there is one amazing hair loss product for men.
TOPPIK Hair Building Fibers – These fibers are statically charged colored keratin protein that intertwines with existing hair to fill thin and even small bald patches. Available in 9 colors, Toppik fibers resist wind, rain, and perspiration but wash out easily with shampoo.
Like other hair loss products, hair fibers work best for the initial phases of hair loss when there is more hair to work with. While it covers some scalp areas, it will be noticeable on large bald patches.
Some people use this product on a daily basis while others save it to boost confidence for special events like dates or job interviews.
XFusion by Toppik Keratin Hair Fibers – Another hair fiber formula by the same company, this product is rated even higher than the original. Also available in 9 colors, XFusion fills in thinning areas, conceals hair loss, and makes fine hair look thicker and fuller.
10. Men's Hair Products For Fine Hair
Fine hair is easy to weigh down so look for lightweight styling products. If you want to beef up hair, thickening shampoo and conditioners, as well as products, can make hair appear fuller. Also, check out the product recommendations for thin hair and hair thickening products above.
Styling Tools
The secret to thicker, fuller hair is blow drying. Heat creates more volume and shape than any product can. Use it with a round brush that grabs onto hair in a way that a comb cannot. Watch a few Youtube tutorials for technique but the general idea is to pull hair in the direction you want it to stay in.
Uppercut Deluxe Quiff Roller – Made my a men's hair company, this small round brush is the right size for shorter men's hair as well as longer styles. Billed as a quiff roller, this is how guys create ultra-high pompadours but you can use it to enhance fine hair in a range of hairstyles.
Revlon 1875W Compact Travel Hair Dryer – We picked this model because it excels for the size and price. In general, look for a blow dryer that has multiple speed and heat options so you can use a high speed and low to medium heat setting to minimize heat damage to hair.
Styling Products
TRESmmé Thermal Creations Volumising Mousse – Apply this mousse before blow drying to protect hair from heat damage and add sky high volume.
Label M. Thickening Tonic – This UK brand is not as well known stateside but is an effective thickening product for fine hair as well as a base product to build on. It is most effective when used before blow drying.Label.m Resurrection Style Dust – Once hair is dry, work in a touch of styling powder for a combination of volume, texture, and hold. For some hairstyles, this will be enough product but for higher volume pomp-type looks, finish with a pomade. Pete & Pedro Clay – Clay products work well for fine hair because they add thickness and volume with a matte finish. With medium hold, this clay pomade helps fine hair reach its full potential.
Paul Mitchell Tea Tree Shaping Cream – This highly rated fiber pomade provides strong, long-lasting hold with moveable texture and a matte finish. It works well for all kinds of hairstyles for fine hair and can be reshaped throughout the day. It also works for other hair types, including thick hair.
11. Men's Hair Straightening Products
The easiest way to straighten wavy and curly hair for men is to apply pomade to damp hair and create a combed style like a slick back or pompadour.
Reuzel Pink – A traditional oil-based pomade with heavy hold, Reuzel Pink can hold the toughest hair and straighten out curls. Apply to damp hair and comb it out. Beeswax holds onto moisture but makes this product harder to wash out, meaning it can work for multiple days.
Imperial Barber Classic Pomade – A water-based alternative has the strongest hold with low shine that washes out easily.
The other way to straighten hair is with a blow dryer and round or flat brush. Follow it up with a flat iron if necessary. Look for a 1″ flat iron that works for men's short hair. Always begin with a heat protectant spray that also fights frizz.
Here are the best products to use to straighten men's hair with a blow dryer.
L'Oréal Paris SLEEK IT Iron Straight Heatspray – This spray protects hair from heat damage up to 450° and fights frizz at the same time.
Brazilian Blowout Thermal Straightening Balm – A balm instead of a spray, this heat-activated product protects hair from styling, helps straighten out waves and curls, and resists frizz and humidity.
12. Men's Wavy Hair Products
With plenty of natural texture and volume, wavy hair may be the ideal hair type. Wavy hair products ideally define wavy with more hold than curly hair products. Look for products with the word flexible, pliable or molding.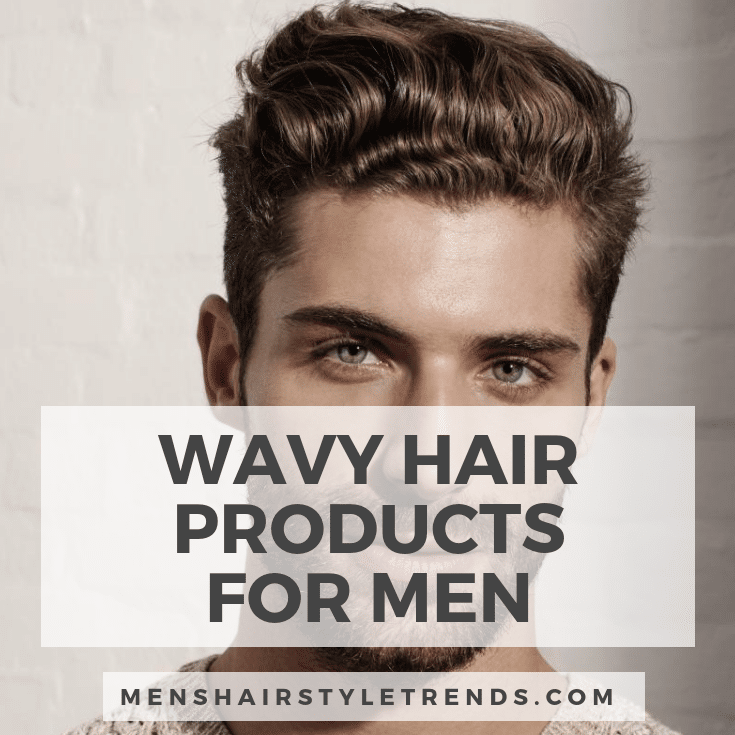 Oribe Rough Luxury Soft Molding Paste – An ultra-pliable molding paste that provides definition, texture, and shine with flexible hold.
V76 by Vaughn Molding Paste – With flexible hold and moisturizers, this molding paste defines and holds wavy hair.
Imperial Barber Fiber Pomade – Fiber pomades work for all hair types but are excel for wavy hair with a pliable, re-stylable, and wash out easily with a medium hold and plenty of shine.
13. Men's Anti-Frizz Hair Products
Frizzy hair can come from hair type, damaged hair, or humid weather. Either way, that halo of hair is not ideal, especially with longer hair, especially in the summer. The first defense against frizz is conditioning. Second, look for lightweight products that tame frizz and flyaways with natural hold. These products work for all hair types and may be desired by guys with fine, thick, curly, or medium to long hair.
In addition to adding anti-frizz products to your hair regimen, minimize dryness and damage by shampooing as little as possible, ideally once a week. Also, using a minimum of hair products will minimize buildup that can weigh hair down and need to be washed out.
Garnier Fructis Sleek & Shine Intensely Smooth Leave-In Conditioning Cream – This drugstore product costs about $3 but is worth so much more. Just work in a little bit to damp hair and air dry for softer, smoother hair even in high humidity. This is an excellent everyday product for guys with curly or long hair wanting to fight frizz without much hold.
Kiehl's Magic Elixir – This hair restructuring concentrate combines rosemary leaves and avocado oils that heal the scalp and hair. Apply the product to dry hair and wait 10 minutes before shampooing for softer, more manageable hair with less frizz. This product also eliminates dry scalp.
Suave Moroccan Infusion Styling Oil – Oils are very popular now for the face, hair, and beard. This is a very affordable option with excellent results. Use the oil to condition hair before shampooing, on damp hair or dry hair. Use a minimal amount to start and don't work into the roots to avoid a greasy finish.
Axe Natural Look: Understated Cream – This softening cream enhances natural hairstyles with just enough control and volume. If you're wary of Axe products due to the smell, you may enjoy this has a refreshing woodsy scent.
Boar Bristle Brush – Made from actual boar bristles, this stiff brush redistributes oils produced by the scalp down to the tips. Also popular for men with beards, boar bristle brushes add shine and tame frizz for straight hair.
14. Men's Matte Hair Products
Matte hair products have a natural finish without any shine.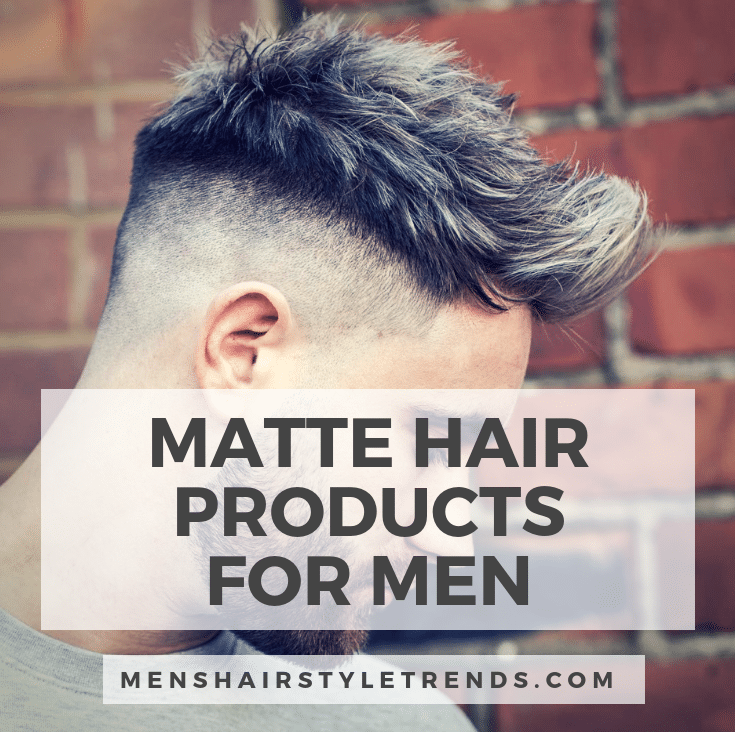 Bed Head for Men Matte Separation Workable Wax – We have recommended this product over and over again. Beeswax, cera caranauba and a blend of polymers provide separation and matte definition for this year's hottest men's hairstyles with texture and a natural finish. Use on dry hair as a finishing product or on damp hair for a more natural look. The pliable wax also provides humidity resistance.
Johnny B. Street Cream – This fiber pomade offers an 8/10 hold strength with a matte finish. This strong hold product adds plenty of volume and some texture. The pliable finish can be reworked as the day goes on and rinses out easily.
Blind Barber 90 Proof Pomade – Created by the New York City-born barbershop of the same name, this pomade is as good as the barbershop that created it. The strong hold, matte finish pomade uses hops to boost volume and fight dandruff and tonka beans for a semi-sweet vanilla-like scent. Work it into towel-dried hair and style as usual. The water-based product rinses out easily.
15. Men's Gray Hair Products
Shampoos can eliminate yellow tones, darken hair or do both. Check out the men's hair color products if you want to cover or eliminate gray hair.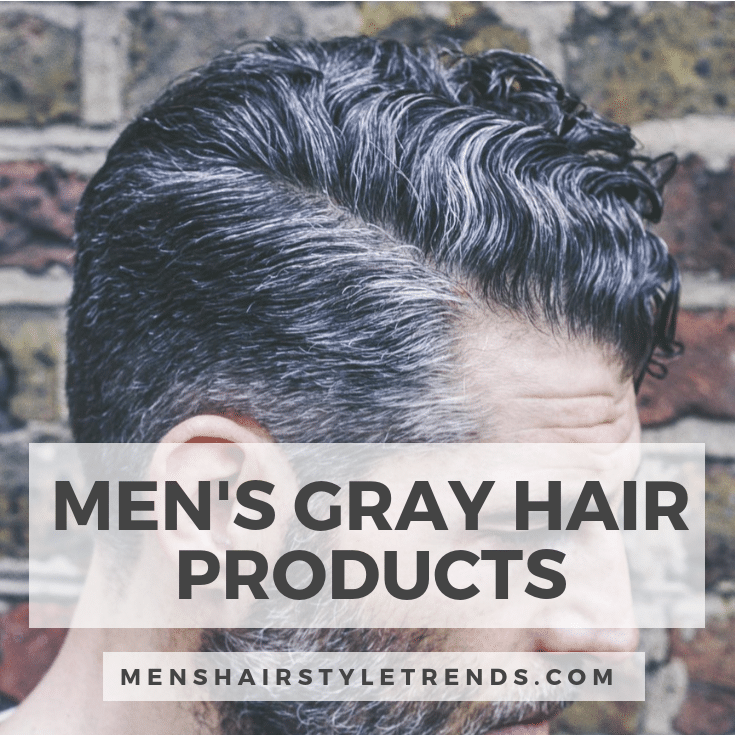 American Crew Gray Shampoo – Turns gray hair to silver by removing brassy yellow tones while Hydrolized Milk Protein smoothes and softens hair.
Aveda Blue Malva Shampoo – Adds silvery brightness to gray hair.
Just For Men Control GX Grey Reducing Shampoo or Just For Men Control GX 2 in 1 Shampoo and Conditioner – This shampoo and shampoo/conditioner works like a hair dye to darken hair and reduce grays. The process is gradual and works for all hair colors. Just shampoo hair as usual until you like the color and maintain with a few washes a week. One user reported that his turned white hair orange on the first use but became brown with more applications so keep going if you're not happy with results.
Conditioner
Aussie 3 Minute Miracle Moist Deep Conditioning Treatment – Grey hair tends to be more dry and brittle so conditioner is a must. A daily conditioner is helpful but a weekly deep condition can also help fight frizz. This deep conditioning treatment is available at most drugstores and grocery stores for about $3.
Hair Dye
Check out the men's hair color products for more recommendations but this one is gray hair and male-specific.
Just For Men Touch Of Gray Comb-In Men's Hair Color – This comb-in hair dye is meant to add more pepper to salt-and-pepper hair. Available in 4 colors, it lasts up to 8 weeks.
Styling Products
Pomades with oil and shine can make grey hair look greasy and yellow. Instead, look for matte products. Try a clay product for added volume and texture for men's grey hairstyles.
American Crew Grooming Spray – This men's hair spray works well for gray hair that tends to fly away. It adds shine, moisture, and hold while protecting hair from sun damage. Use the spray on its own or as a finishing spray over another product.
Admirable Matte Clay – A clay/creme hybrid, this product has light hold that works well for fine hair, wavy hair, and medium length hairstyles. The light tobacco scent is a bonus.
Layrite Cement Clay – This renowned pomade company is creating new formulas beyond those with classic shine. This clay-based product has all the hold that Layrite is known for in a matte formula. This product works well for men with thick hair or longer than a couple of inches but also works for thinner hair types too.
Imperial Blacktop Pomade – This unique product darkens hair with a tint added to a low shine, water-based medium-strong hold product. It works for all hair types, including wavy and curly. Apply to damp hair for a looser hold or add more product to dry hair for maximum hold.